30 PD3.1 Protocol Chips and Their 11 Manufacturers: A ChargerLAB Analysis
Introduction
In recent years, new technologies like Gallium Nitride (GaN) and Silicon Carbide (SiC) have garnered significant attention, driving rapid development in the fast-charging industry. Fast-charging products are evolving with a trend towards multifunctionality, multiple ports, high power, and compact size. With the introduction of the latest USB PD3.1 fast-charging standard by the USB-IF Association and the official commercialization of Apple's 140W PD3.1 charger, numerous manufacturers throughout the industry chain have been drawn into the market. The chip industry surrounding the USB PD3.1 fast-charging standard continues to expand, laying a solid foundation for the future explosion in higher power markets.
Significant Upgrade in Fast Charging Standards
In May 2021, the USB-IF association officially released the USB PD3.1 fast charging standard, significantly increasing the maximum charging power to 240W. Additionally, the standard introduced three sets of fixed output voltage values (28V, 36V, and 48V) and three sets of adjustable AVS (Adjustable Voltage Supply) ranging from 15V to 28V, 15V to 36V, and 15V to 48V.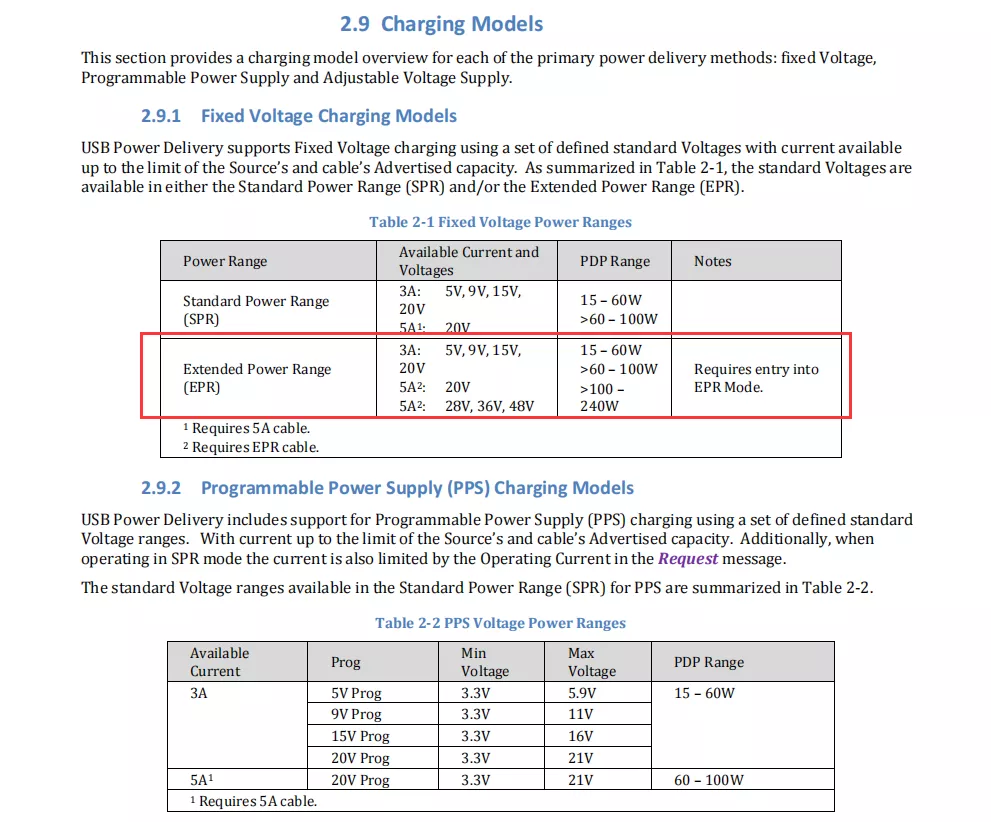 The latest USB PD3.1 fast charging standard represents an advanced version of the PD3.0 standard, encompassing all aspects of PD3.0 while ensuring full backward compatibility. In terms of nomenclature, USB PD3.0 is gradually being replaced by USB PD3.1 SPR (Standard Power Range). Products featuring PD fast charging with power up to 100W can be referred to as USB PD3.1 SPR devices, while those with power exceeding 100W fall under the USB PD3.1 EPR (Extended Power Range) category.
Meeting the demands of the USB PD3.1 EPR application presents new challenges for power supply products, particularly for components within fast chargers such as the master control chip, protocol chip, MOSFET, capacitor, transformer, and connector.
PD3.1 Fast Charging Protocol Chips
Protocol chips play a crucial role in USB PD3.1 fast-charging chargers. Since the release of the USB PD3.1 fast-charging standard and the introduction of Apple's 140W charger, quite some time has passed. According to incomplete statistics from ourselves, several manufacturers have already launched USB PD3.1 EPR protocol chips during this period. These companies include Chipsea, Hynetek, Infineon, Injoinic, iSmartWare, Jadard, Leadtrend, MERCHIP, Southchip, Unicmicro, and Weltrend.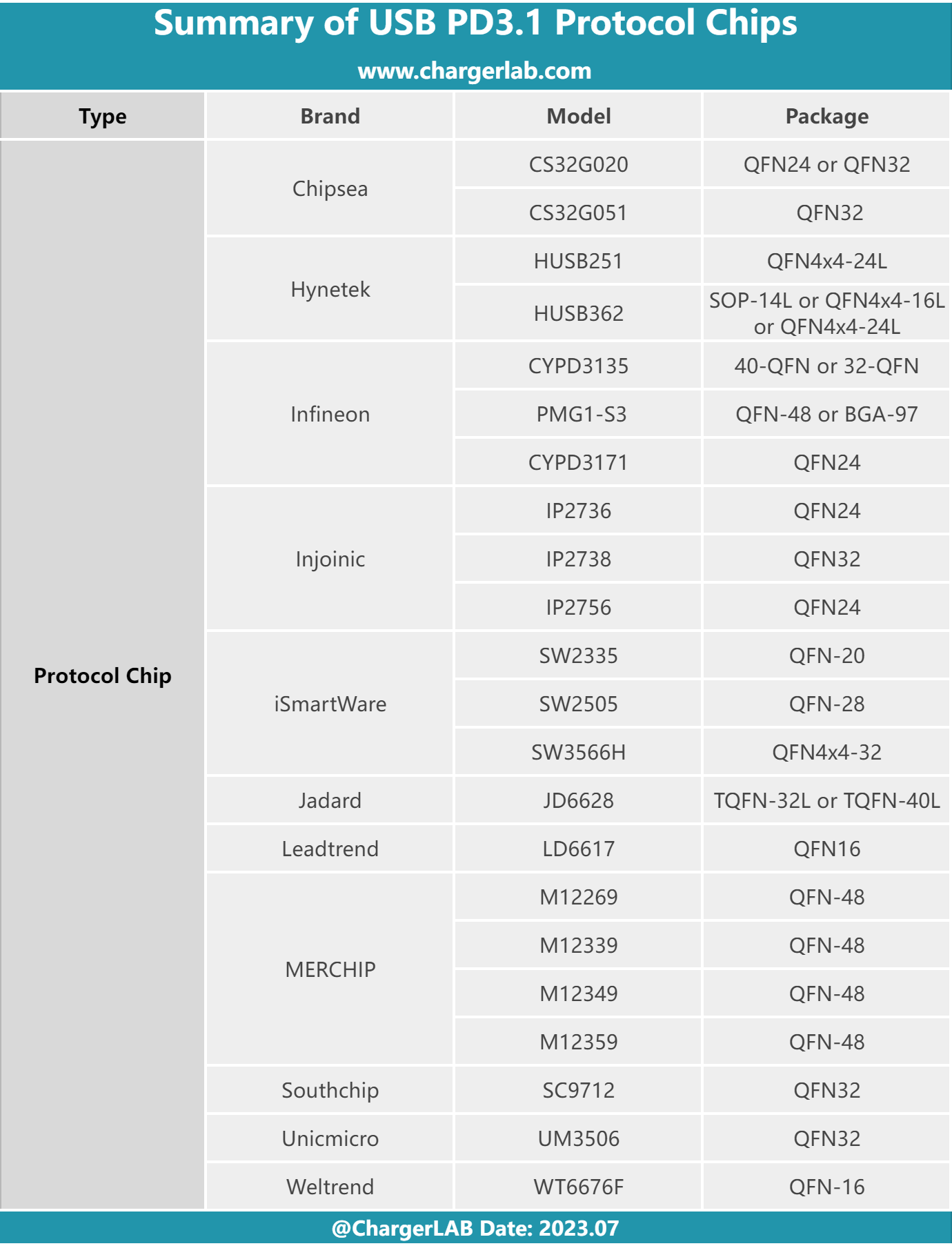 The ranking is not in any particular order and is sorted alphabetically.
Chipsea
CS32G020
Chipsea's CS32G020 is a versatile dual-channel product that has now obtained USB IF's official PD3.1 certification, with a TID of 9231. It can simultaneously meet the demands of two-way PD fast charging applications, supporting PD3.1, PPS, QC4+, FCP, SCP, AFC, VOOC, BC1.2, Apple 2.4, and many other fast charging protocols, offering an exceptionally compatible fast charging experience.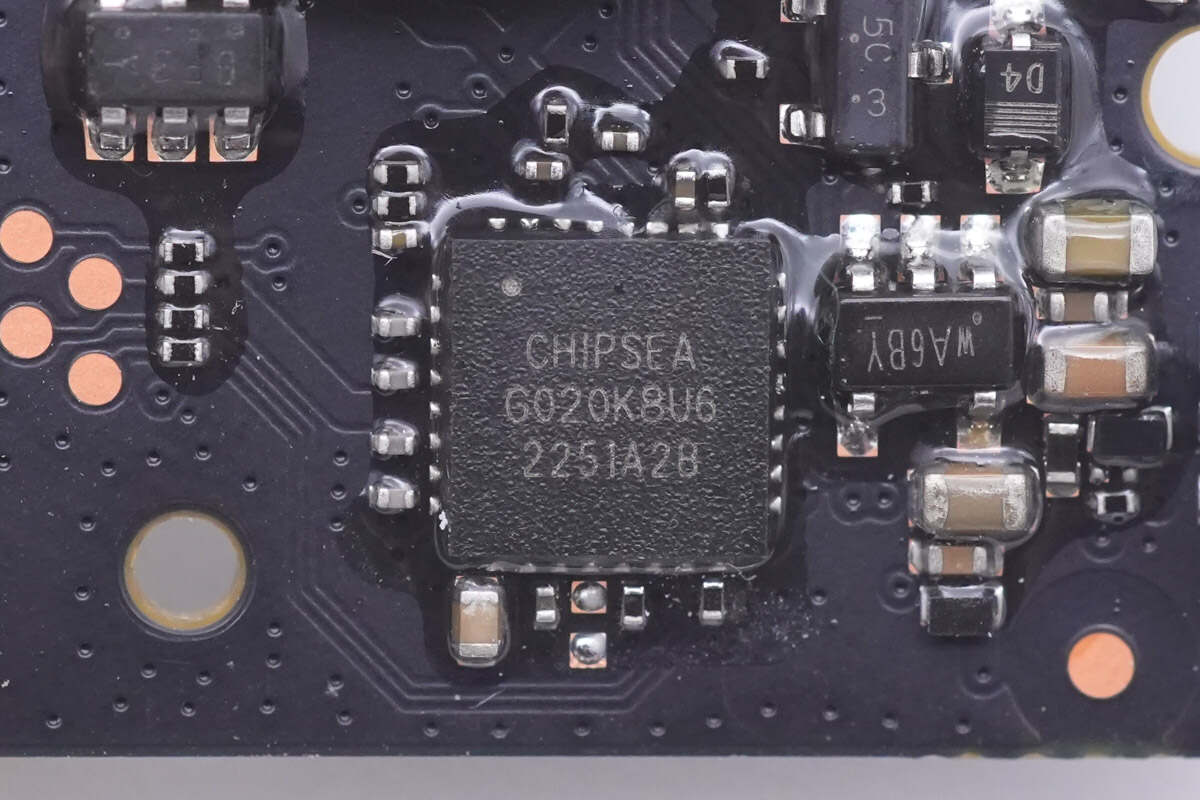 Additionally, it facilitates decent fast charging compatibility while supporting high-definition video transmission and multi-screen interaction for end products. This makes it widely applicable in various domains, such as PC power adapters, mobile phone chargers, power banks, HUBs, as well as industrial control and applications requiring high-performance MCUs. A complete SDK development platform is provided, making it convenient for evaluating and verifying end products.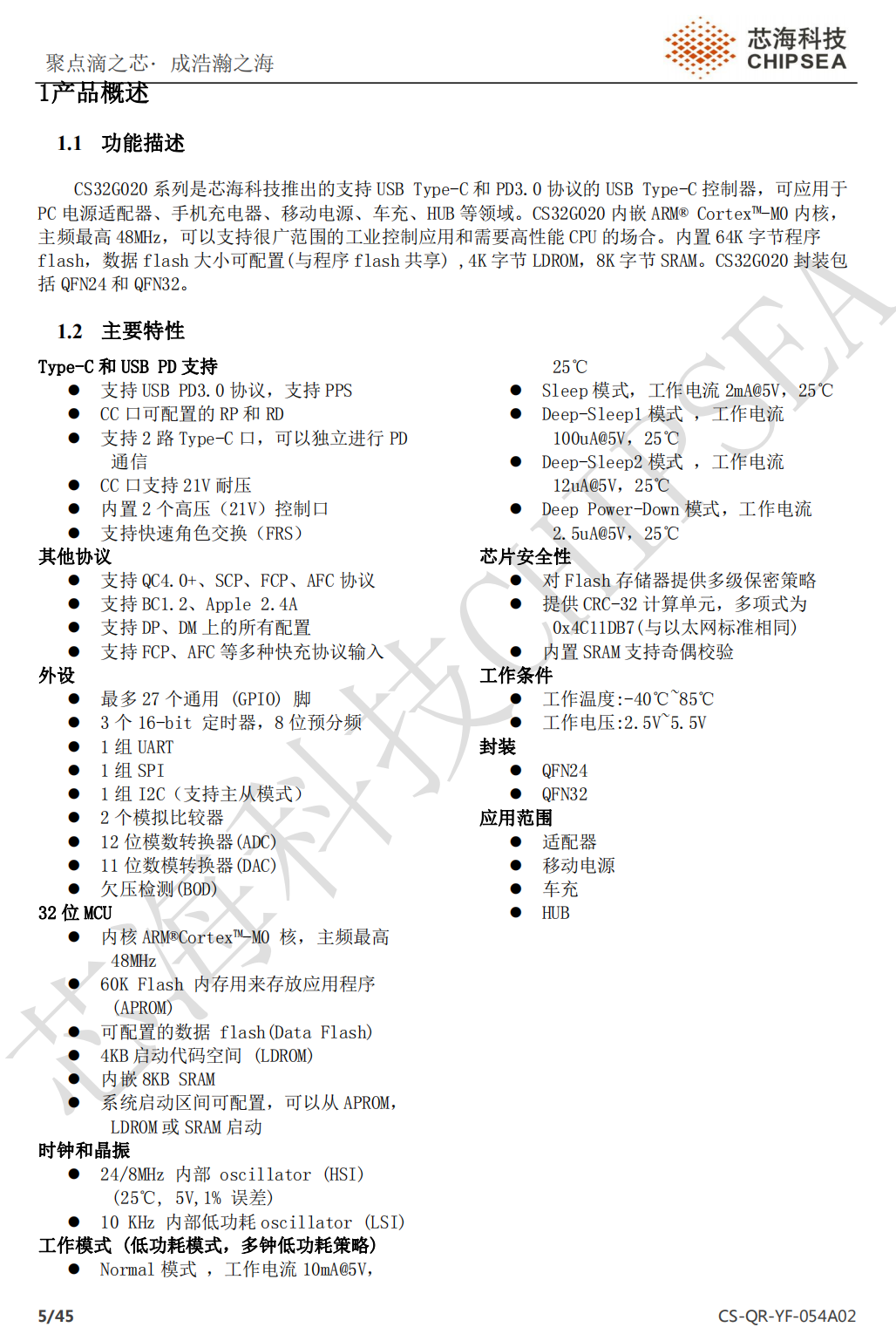 It is worth mentioning that building upon the solid foundation of the CS32G020, Chipsea has iterated to develop its derivative product - CS32G020Q. It is AEC-Q100 certified, making it widely applicable for charging and discharging in various automotive applications, such as armrest boxes, and seats. Additionally, it can be used for high-performance car chargers. This product is also actively pursuing PD3.1 certification.
CS32G051
Chipsea's CS32G051 is a USB PD controller designed for PC applications. It integrates all the functions of USB-C CC and PD, an HPD detection module, SBU Switch, USB2.0 MUX, and USB BC1.2.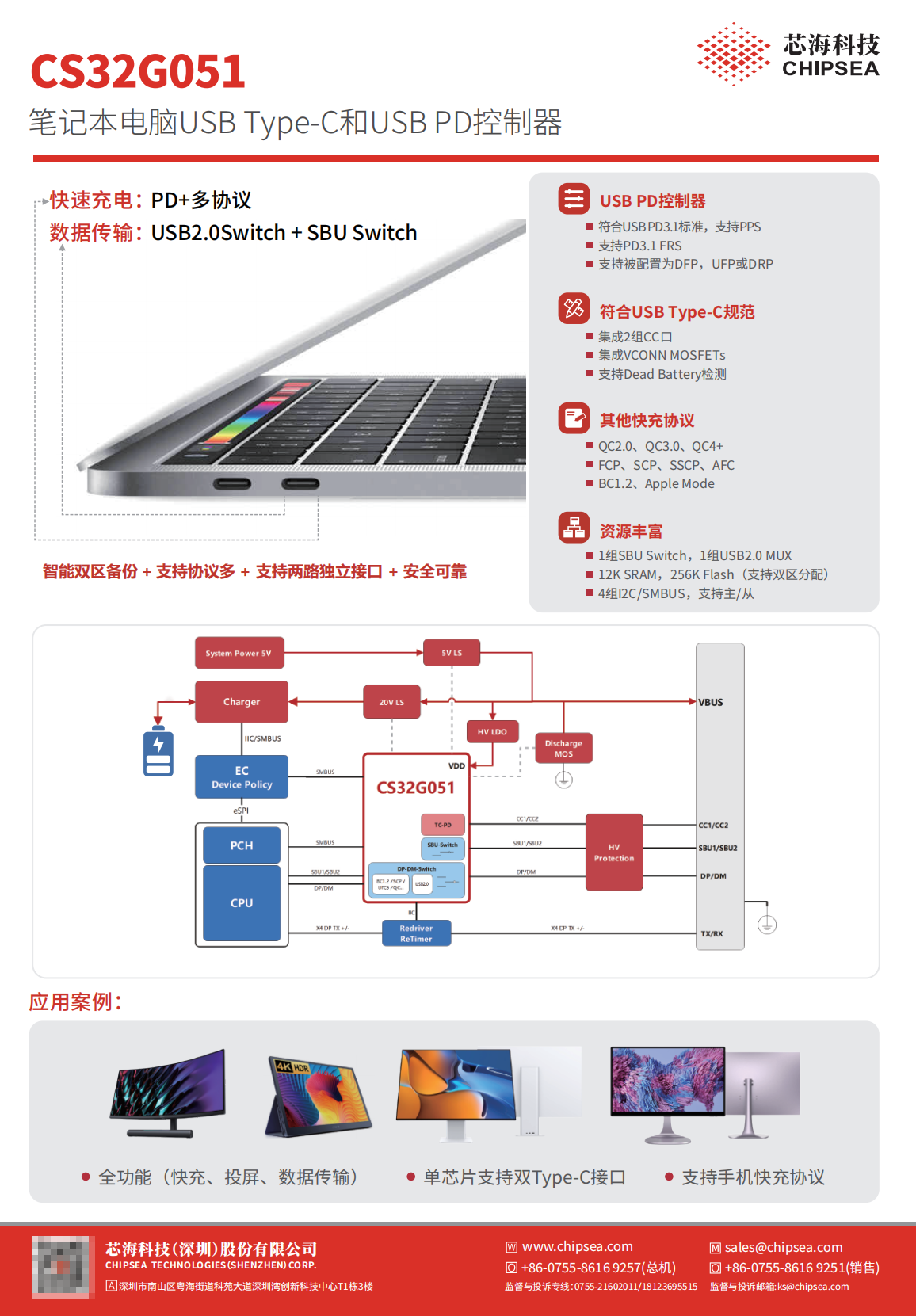 It complies with the USB PD3.1 standard, supporting PPS, PD3.1 FRS, and is also compatible with QC2.0/3.0/4+, FCP, SCP, SSCP, AFC, and BC1.2 charging protocols. It can be configured as DFP, UFP, or DRP. Moreover, it can enable the design of dual USB-C port chargers with just a single chip, featuring fast charging, screen mirroring, data transmission, and other functionalities. This product is specifically tailored for the PC ecosystem by Chipsea.
Hynetek
HUSB251
Hynetek's HUSB251 is a PD protocol chip that supports USB-C DRP. The chip supports PPS PDO and EPR PDO, and all PDOs fully comply with USB PD 3.1 Rev.1.8 specifications, including support for 28V EPR FPDO and EPR AVS. It also supports QC2.0, QC3.0, AFC, FCP, and UFCS fast charging protocols, making it highly compatible. The chip has an integrated NMOS driver for power control using NMOS.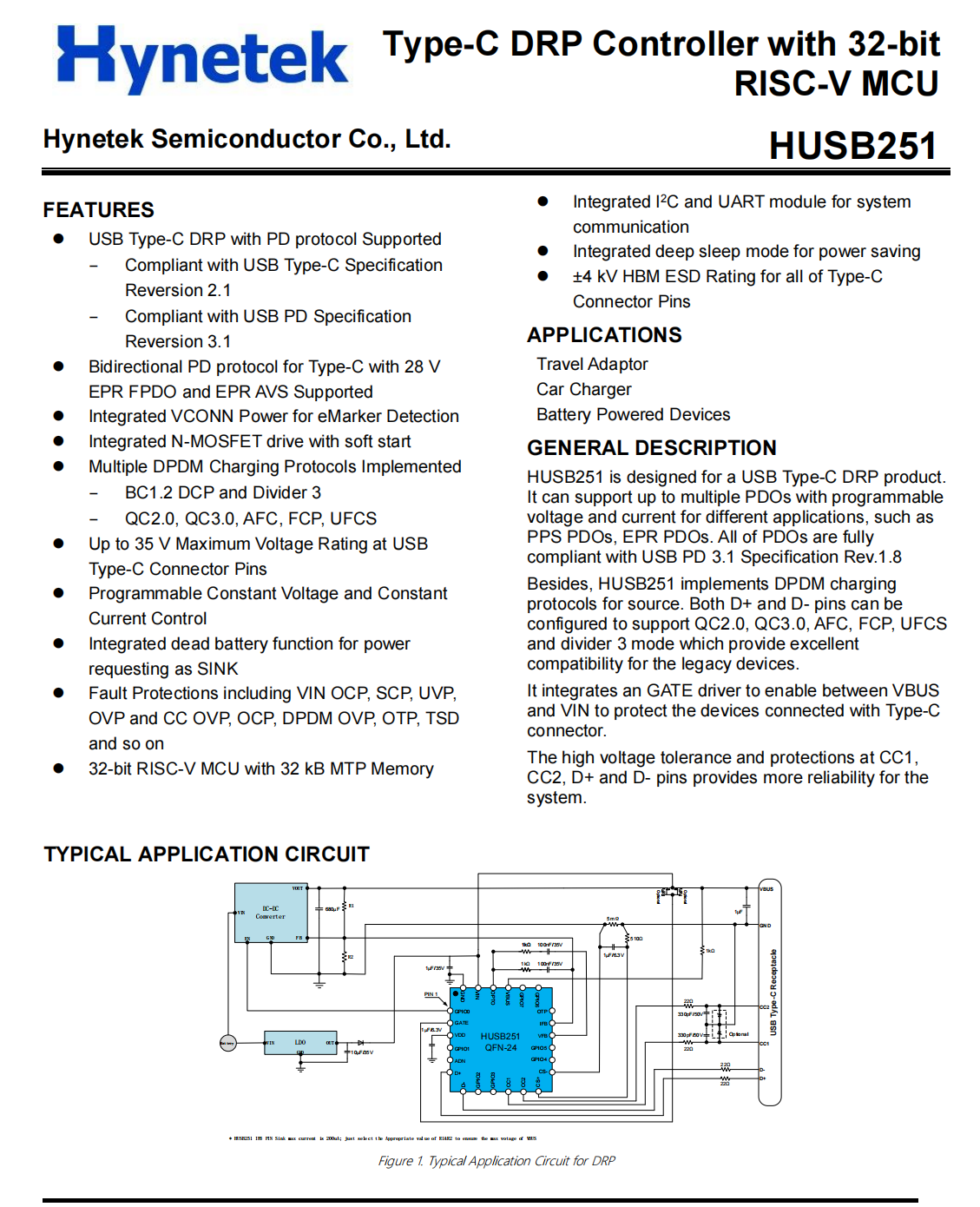 The chip also integrates Vconn power for E-marker chip detection, supports programmable constant voltage and constant current control, and integrates multiple protection measures and overheat protection. It includes a 32-bit RISC-V MCU and 32KB MTP storage, as well as I2C and UART interfaces.
HUSB362
Hynetek's HUSB362 is a high-performance PD protocol chip that supports PD3.1 EPR and integrates an MCU. It supports multiple PDOs with programmable voltage and current, such as PPS PDO and EPR PDO, all fully compliant with USB PD 3.1 V1.7 specifications. It supports EPR mode with 140W (28V5A), PPS supports from 18W to 100W, and AVS supports from 100W to 140W. It has passed USB-IF Association's PD3.1 compliance test, with a TID of 9329.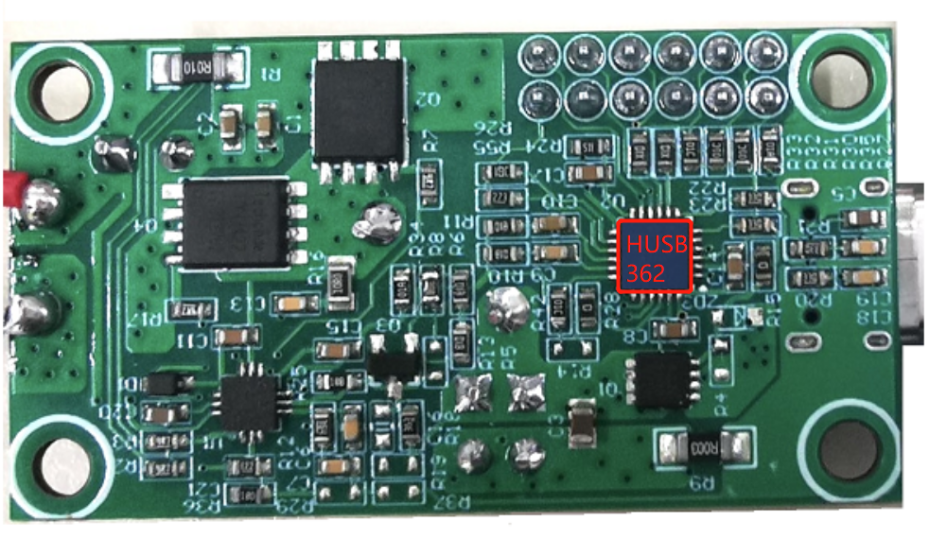 This chip also implements programmable DPDM PHY, where D+ and D- pins can be configured to support QC2.0, QC3.0, AFC, FCP, and Divider 3 modes, ensuring excellent compatibility with traditional devices.
It integrates N-MOS driver and is fully protected for LPS (limited power supply).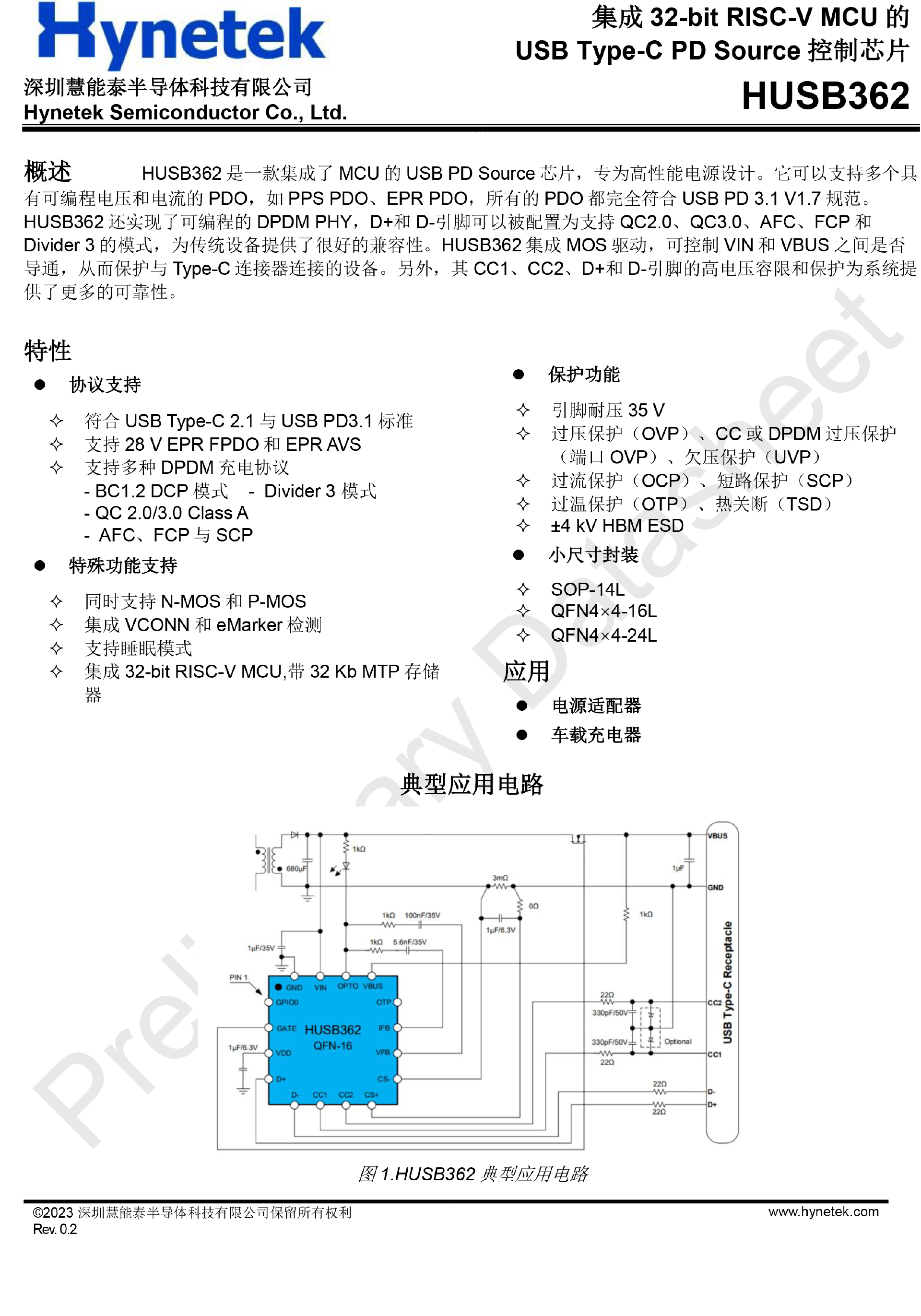 Furthermore, it features a dual-loop design, allowing users to implement application design with minimal peripheral components, thereby enhancing space utilization and reducing design complexity and BOM costs.
Infineon
CYPD3135
Infineon's CYPD3135 is the industry's first USB PD3.1 fast charging protocol chip, worth mentioning is that this chip was specially customized by Apple for Infineon. It belongs to the EZ-PD CCG3 series, a highly integrated USB-C controller that complies with the latest USB-C and PD standards. CCG3 is a complete USB-C and USB power port control solution used in laptops, monitors, docking stations, power adapters, and other devices.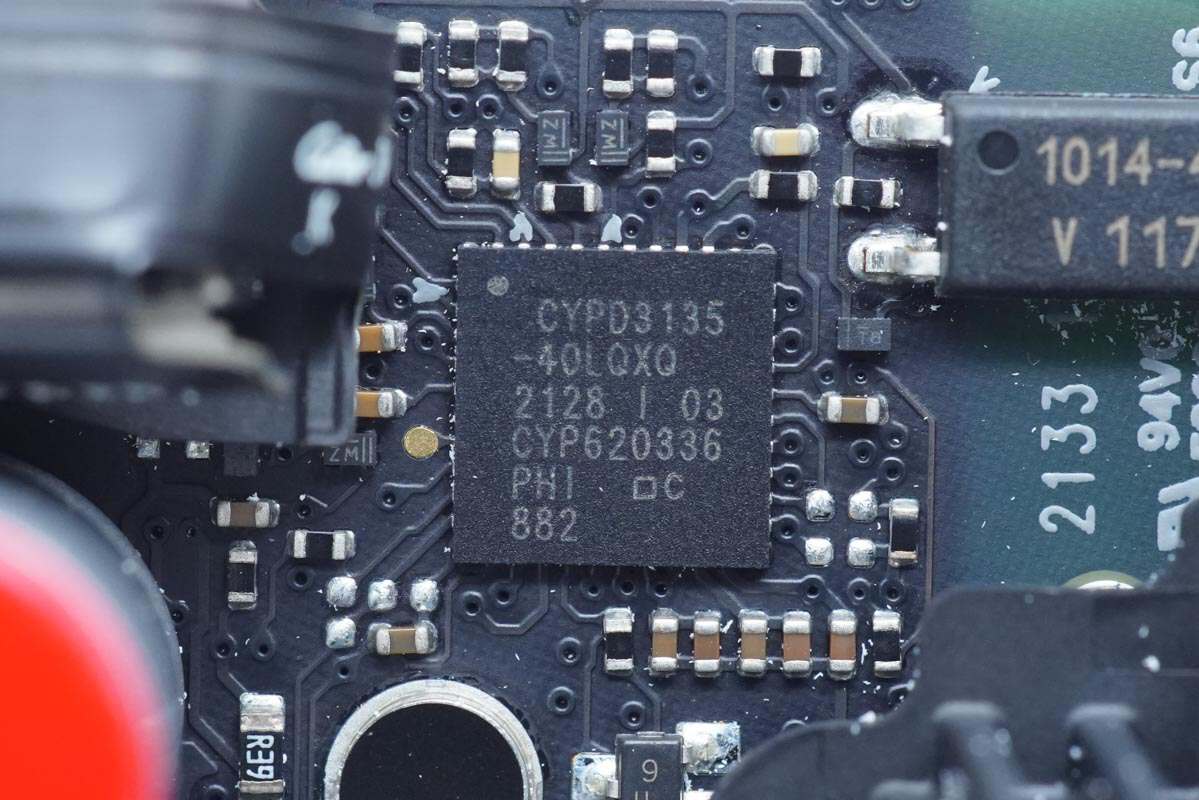 It uses proprietary M0S8 technology, with a 32-bit, 48-MHz ARM Cortex-M0 processor, 128 KB flash, 8 KB SRAM, 20 GPIOs, and a full-speed USB controller. CCG3 also integrates two sets of gate drivers to control external VBUS FET and system-level ESD protection. In the power domain, CCG3 is available in two package forms: 40-QFN and 32-QFN.
EZ-PD PMG1-S3
Infineon's EZ-PD PMG1-S3 is a new generation USB PD3.1 protocol chip that supports 28V 5A (140W) output and input. The PMG1 series of protocol chips have an integrated MCU, providing additional controls, suitable for smart speakers, laptops, power tools, storage devices, and more.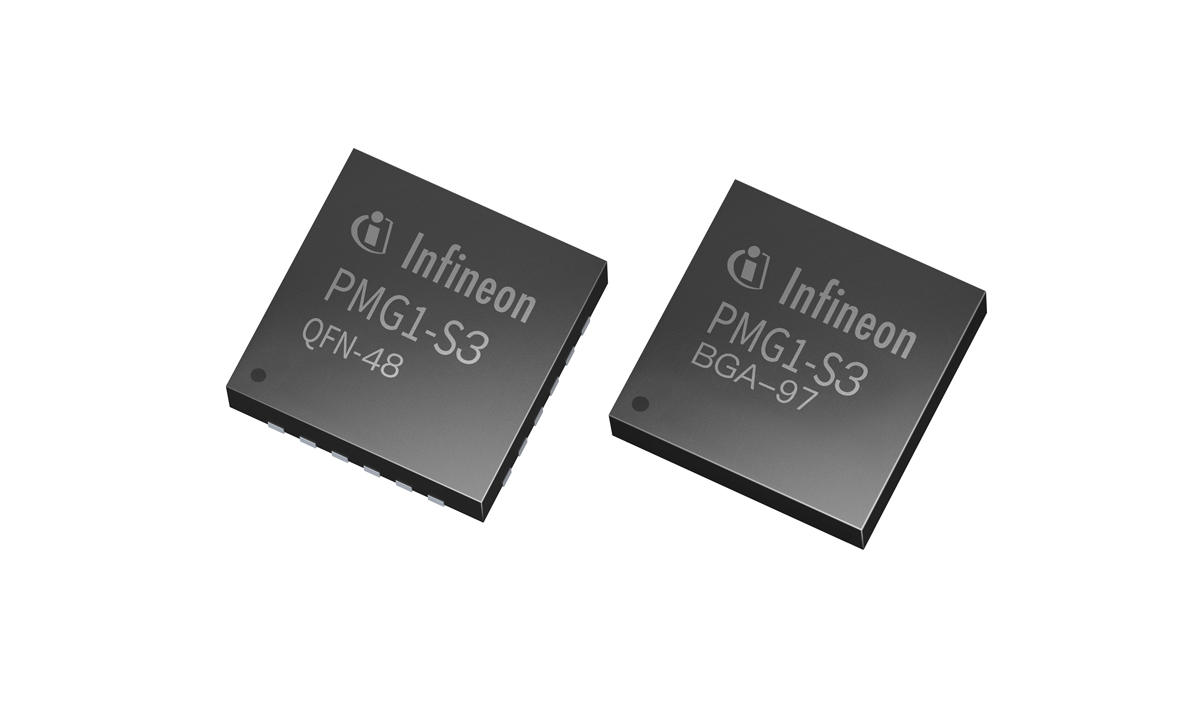 This PD3.1 chip comes in QFN-48 and BGA-97 packages, integrating ARM M0, and M0+ processors, 256K flash, and 32K SRAM. PMG1 also offers overvoltage, overcurrent, and reverse current protection, and supports secure firmware boot and signature firmware updates.
CYPD3171
Infineon's CYPD3171 is a protocol chip supporting USB PD3.1 for power bank applications, belonging to the CCG3PA series, with an integrated ARM Cortex-M0 processor, 64KB flash, and 8KB SRAM, supporting bidirectional applications.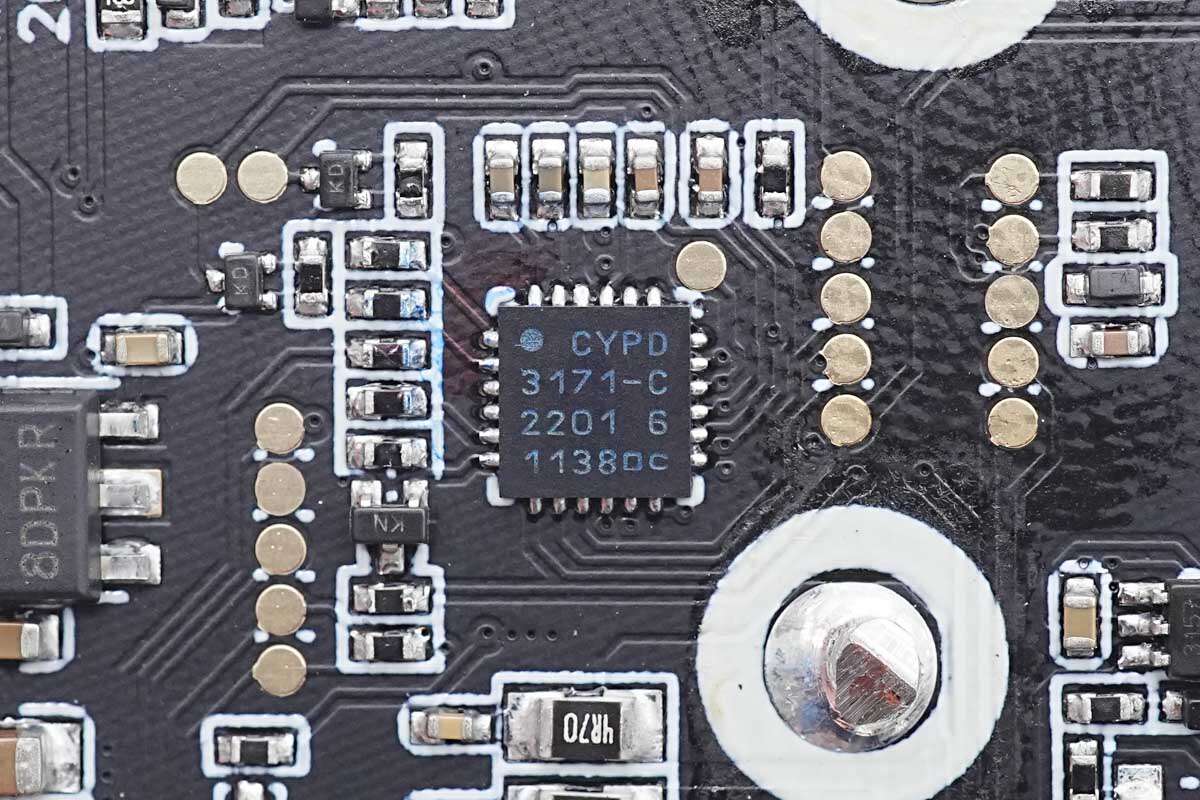 It supports USB-C and USB-A port applications, as well as QC4.0, Apple 2.4A, and Samsung AFC charging protocols. It integrates various system-level protection functions and supports VBUS to CC short circuit protection, available in QFN24 package.
Injoinic
IP2736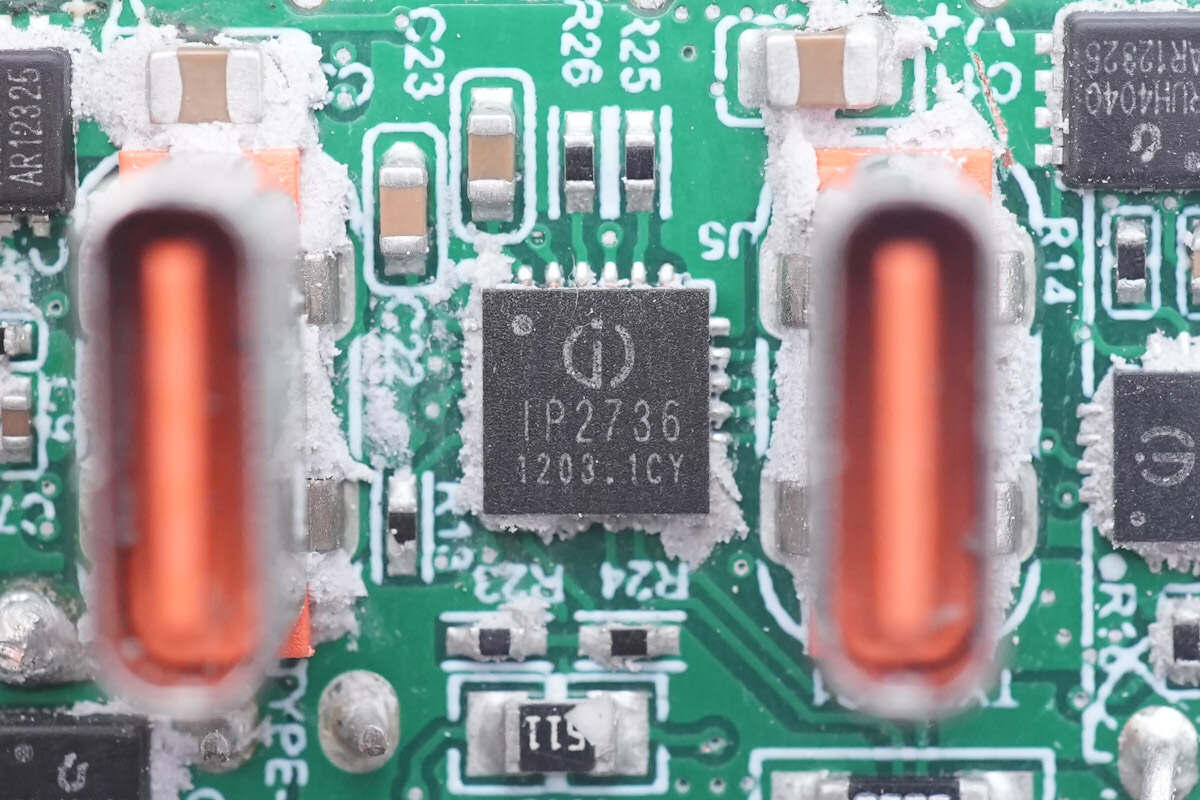 Injoinic's IP2736 protocol chip integrates voltage references, programmable voltage/current loop control, and low-end current detection, with output supporting line loss compensation. It can be used in areas such as car chargers, energy storage power supplies, chargers, power banks, electric tools, etc.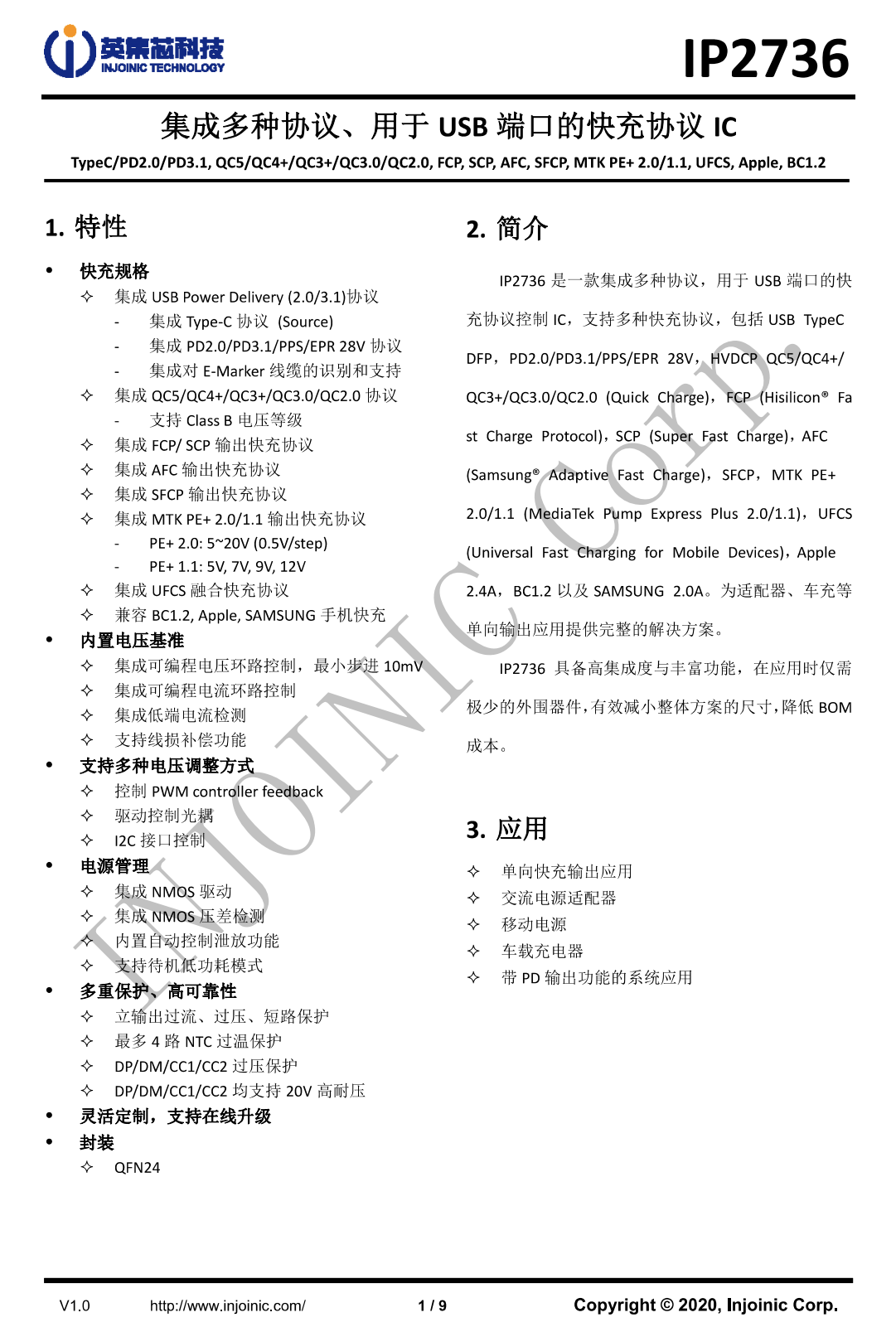 Thanks to support for multiple feedback forms, IP2736 can be paired with QR, ACF, LLC, and other circuit architectures for PD fast charging, as well as with buck boost circuits for high-power car chargers and power banks, etc.
IP2738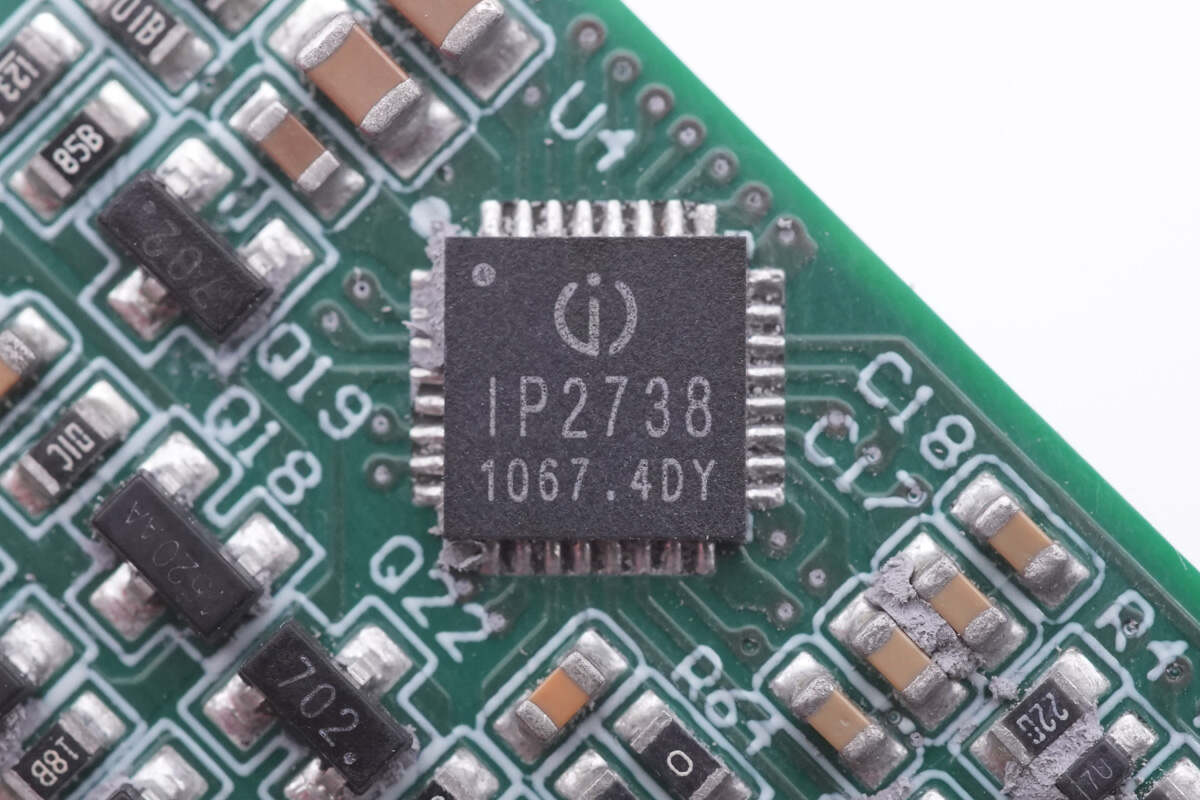 Injoinic's IP2738 is a two-way protocol chip supporting fast charging applications with dual-port power range from 18W to 140W. It has independent feedback control and USB PD control, equivalent to integrating two IP2736 chips into one, naturally having the same fast charging specifications. It supports USB PD3.1 28V EPR and a wide range of fast charging protocols, with excellent compatibility.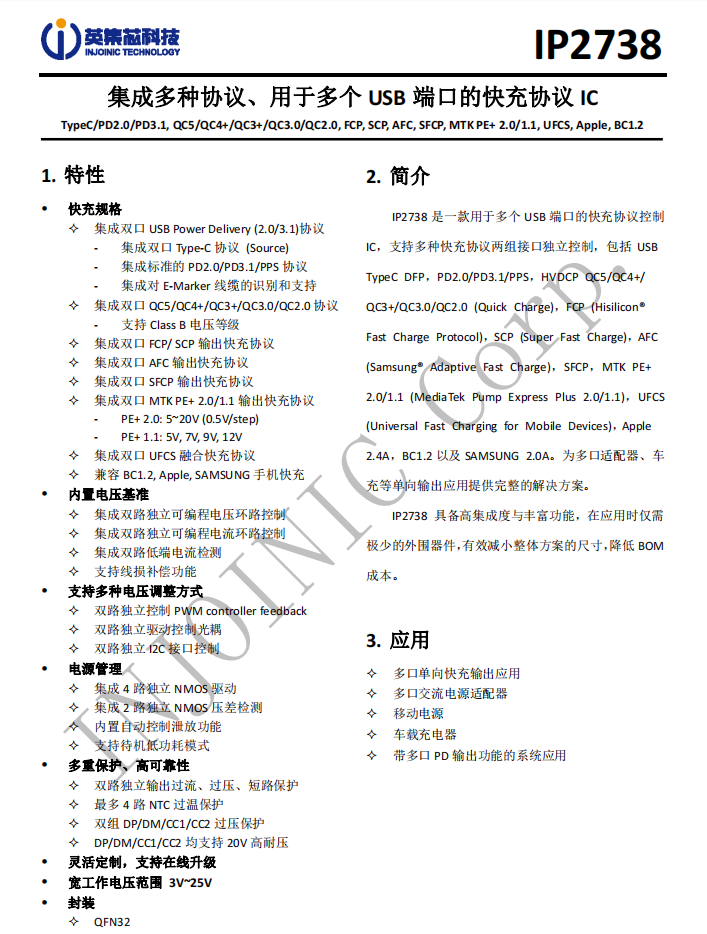 It also has four independent NMOS drivers, which can be used for multiple port output control, and supports two-way independent overcurrent, overvoltage, and short circuit protections, ensuring safe usage.
IP2756
Injoinic's IP2756 is a multi-protocol integrated fast charging protocol control IC for USB ports, supporting PD2.0/PD3.1 SPR&EPR 36V, HVDCP, QC5/4+/3+/3.0/2.0, VFCP, UFCS, Apple 2.4A, BC1.2, and Samsung 2.0A, among many other fast charging protocols.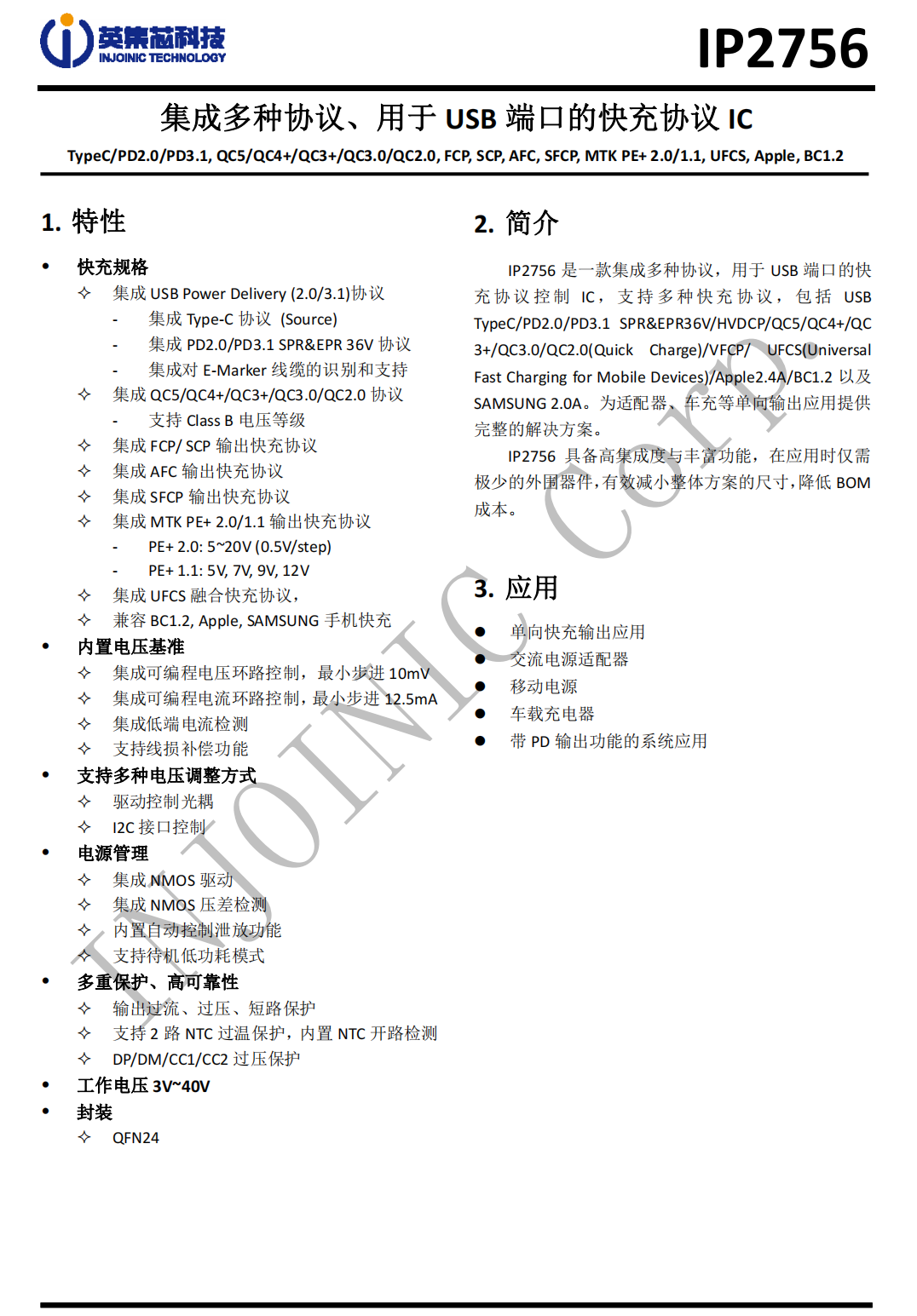 IP2756 features high integration and rich functionalities, requiring very few peripheral devices during application, effectively reducing BOM costs.
iSmartWare
SW2335
iSmartWare SW2335 is a highly integrated fast charging protocol controller. It embeds an ARM Cortex-M0 core, with a maximum operating frequency of 40MHz, and supports general peripheral interfaces like I2C, UART, and GPIO. It supports PD3.1, BC1.2, UFCS, and various mainstream DPDM fast charging protocols.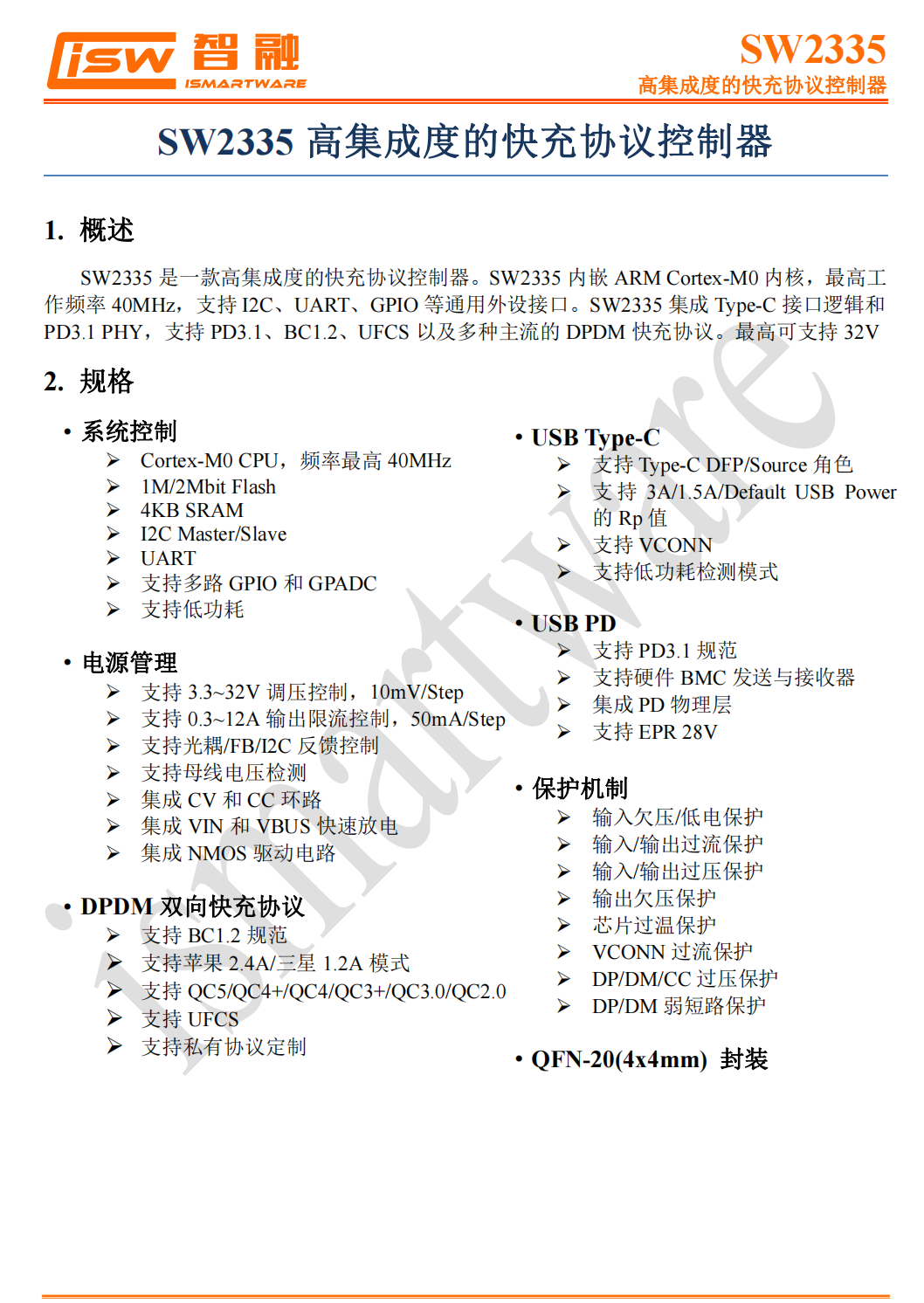 The chip integrates CV and CC loops, and inside the chip, multiple protection functions are integrated, with a QFN-20 (4x4mm) package.
SW2505
iSmartWare SW2505 is a low-power controller chip that supports PD3.1, QC, UFCS, and other protocols, with an integrated MCU and 16 GPIOs. The USB-C port supports online upgrades and online simulation debugging, and it also supports optocoupler/FB control and I2C master/slave mode.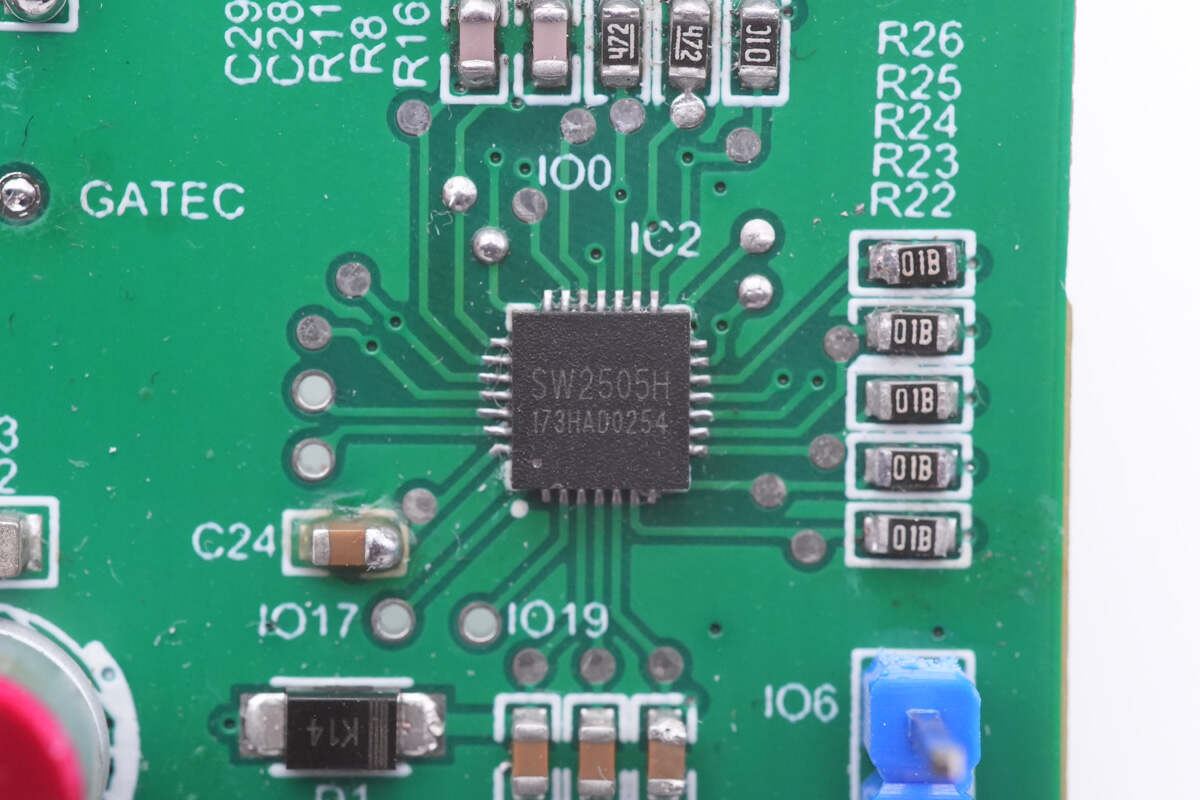 It supports PD3.1, QC, UFCS, SCP, AFC, VOOC, SFCP, PE, and other mainstream fast charging protocols, with an embedded ARM Cortex-M0 core, 128K Flash, and 4K SRAM.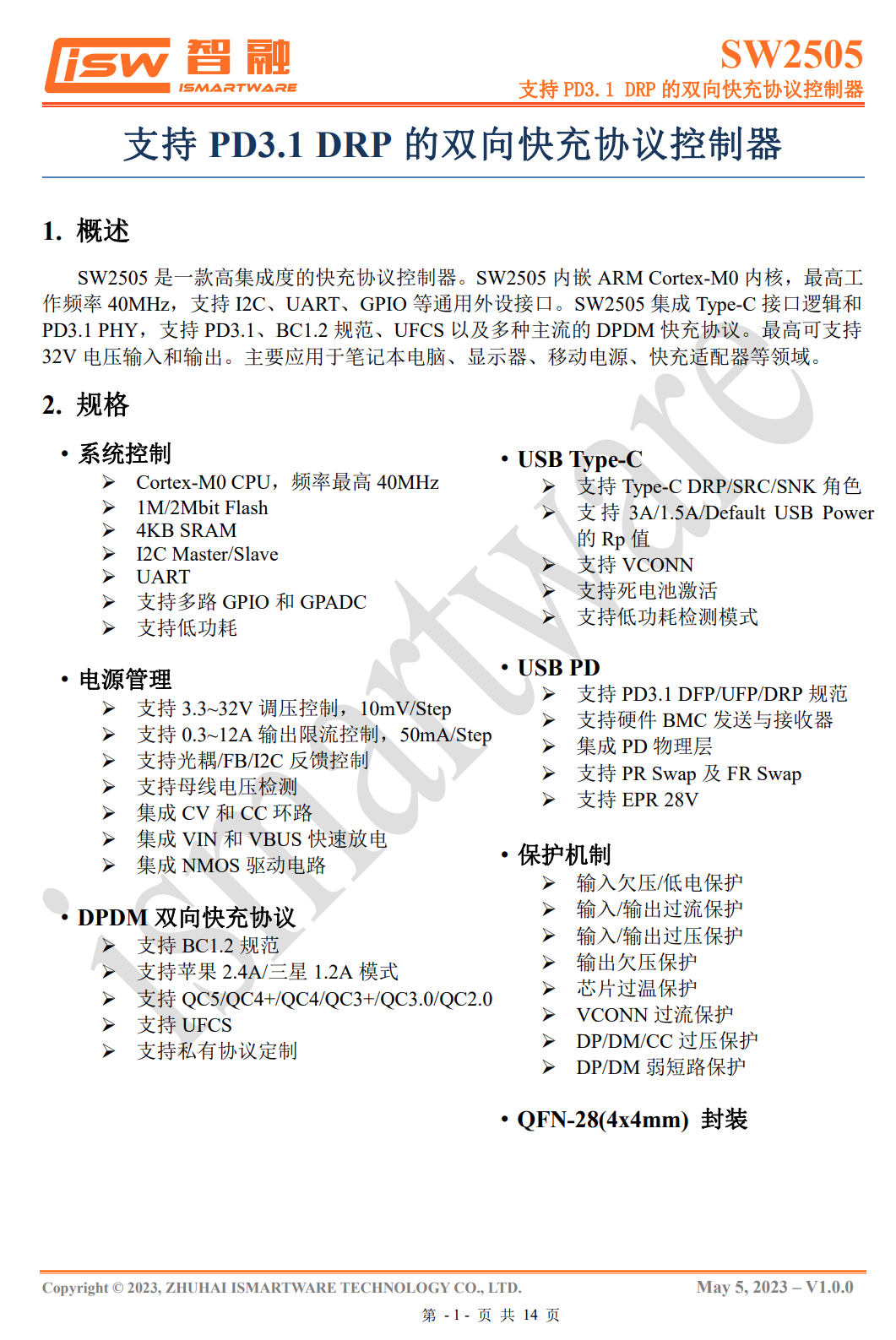 It integrates output CV/CC loop control, NMOS driver control, 12-bit ADC converter, as well as multiple protection measures such as overvoltage protection, undervoltage protection, and overcurrent protection.
SW3566H
iSmartWare SW3566H is a highly integrated dual-port fast charging SOC that supports USB-C and USB-A charging, with support for dual-port independent current limiting. The chip integrates a high-efficiency synchronous buck converter, supporting 20V7A and 28V5A outputs, and it supports PD3.1, QC, SCP, UFCS and other fast charging protocols, as well as custom fast charging protocols, with a maximum support of 140W output.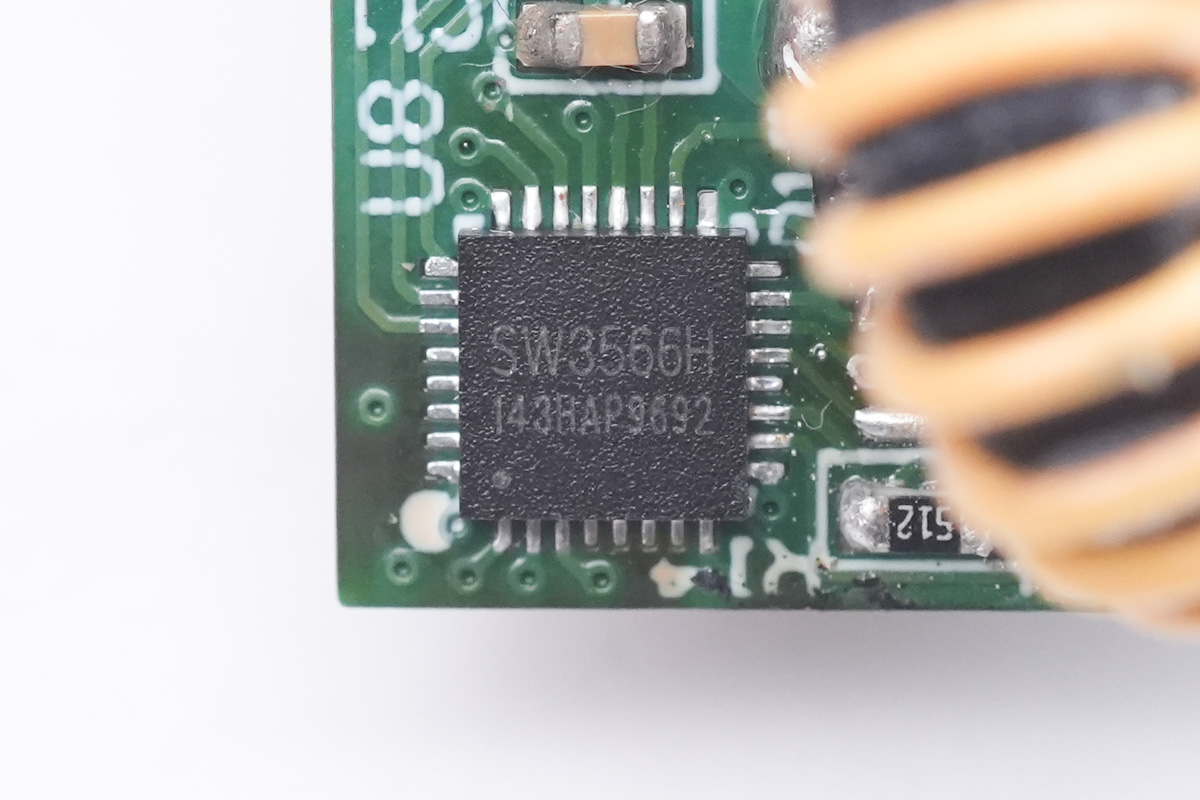 It integrates CC/CV mode and supports PWM and PFM working modes. Output current, line loss compensation, and other protection thresholds can be set through the I2C interface, and the built-in ADC can sample data from a total of 9 channels, supporting external MCU for parameter display.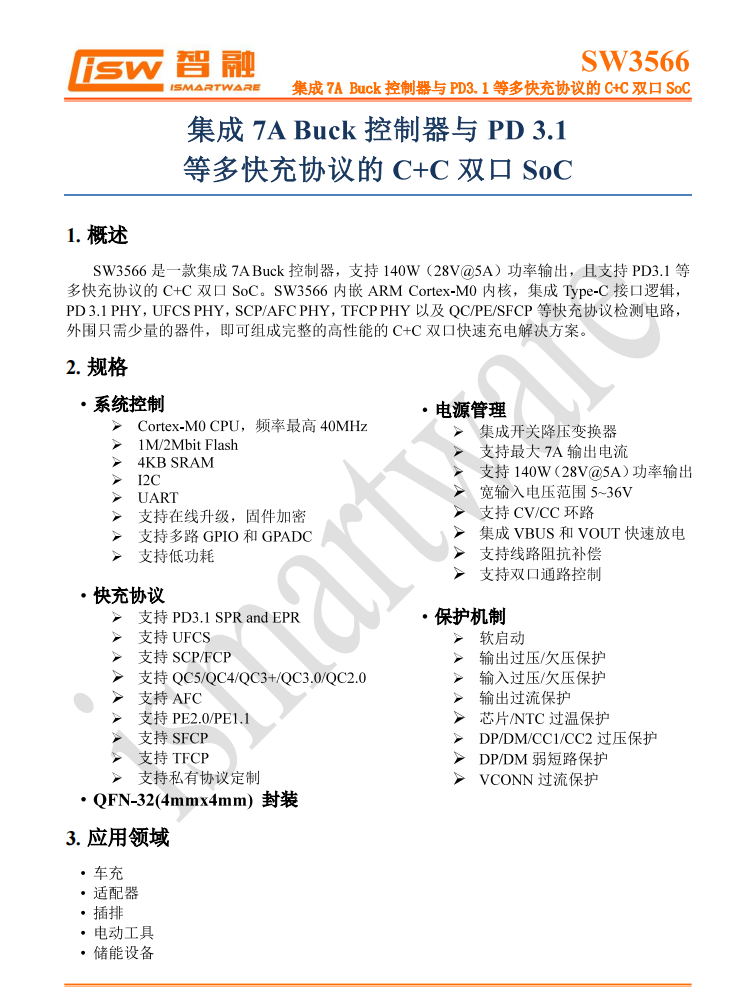 It also supports 36V input voltage, 7A maximum output current, and multiple protection measures, including power limitation protection, with a QFN 4x4-32 package.
Jadard
JD6628
Jadard JD6628 is a highly integrated protocol chip that supports PD3.1 and PPS output, with support for 3.3-28V output voltage. It covers various protocols, including UFCS, Huawei SCP, FCP, Qualcomm QC2.0/3.0/3+. It also integrates dual amplifiers, separately used for constant voltage and constant current control.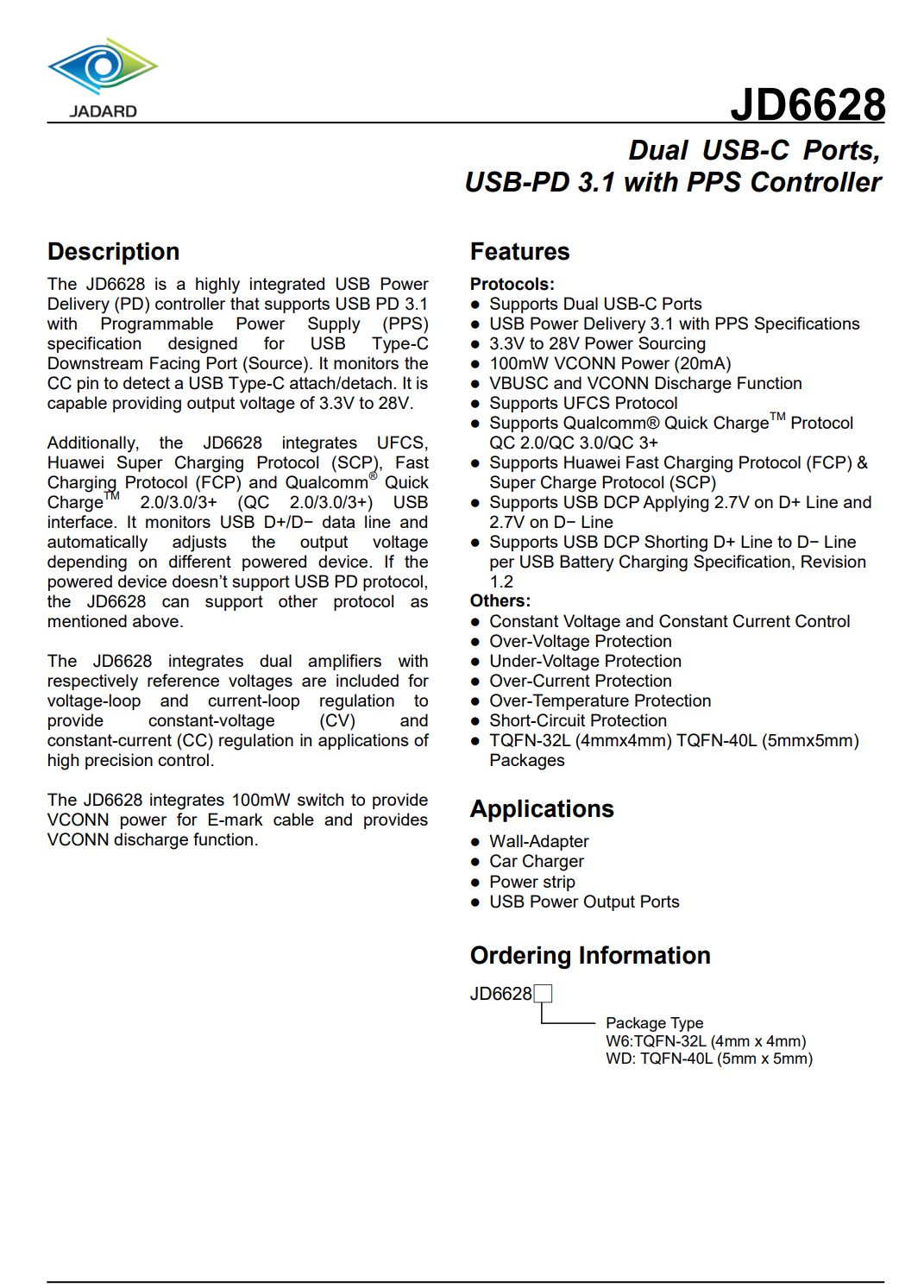 It also features VBUS discharge and VCONN discharge, and incorporates protections like overvoltage protection, undervoltage protection, overcurrent protection, short circuit protection, and overheat protection, making it suitable for fast charging chargers, car chargers, and other applications. It comes in TQFN 4x4-32L and TQFN 5x5-40L packages.
Leadtrend
LD6617
LD6617 is Leadtrend's latest highly integrated USB PD 3.1 controller, featuring an embedded 8-bit MCU with 32kbyte OTP and 256+384bytes SRAM, 11-bit ADC, parallel voltage regulator, voltage/current monitor, and controller, all in a simplified peripheral design.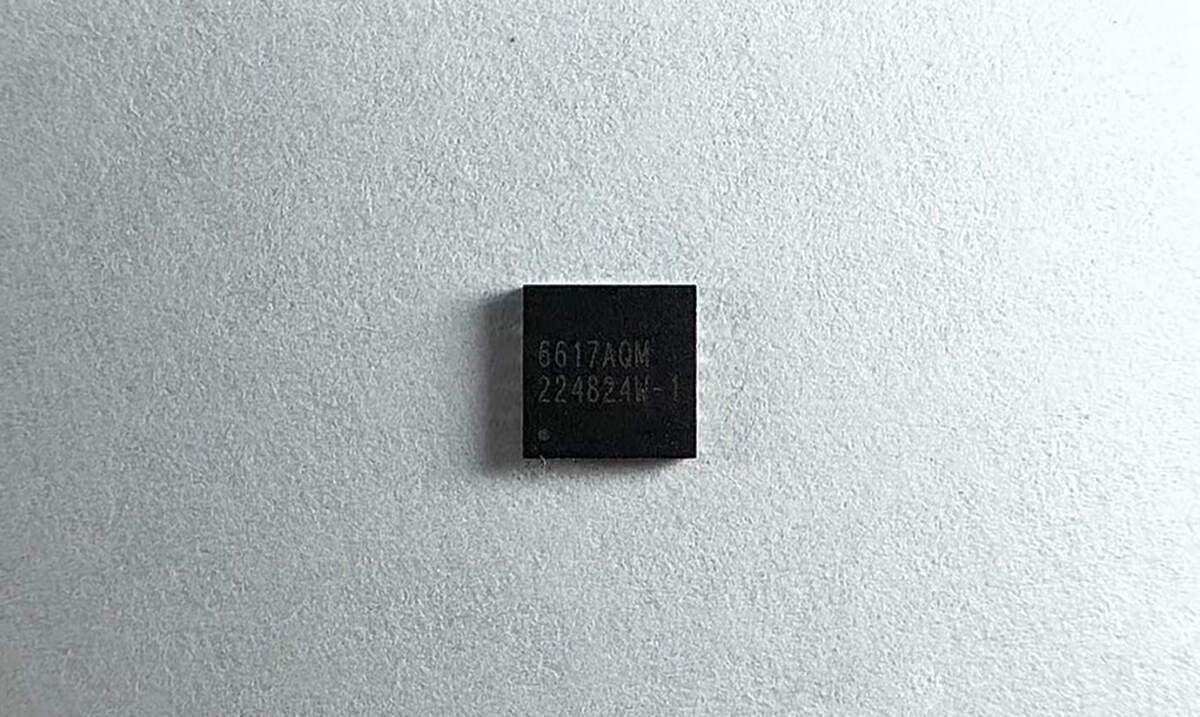 It supports a wide operating voltage range of 3.3V~45V, making it compatible with USB PD 3.1 SPR and EPR 28V/36V protocol specifications, as well as proprietary protocols like QC3.0, FCP, and AFC. This makes it ideal for use in various PD charging products, such as power adapters, wall chargers, and car chargers.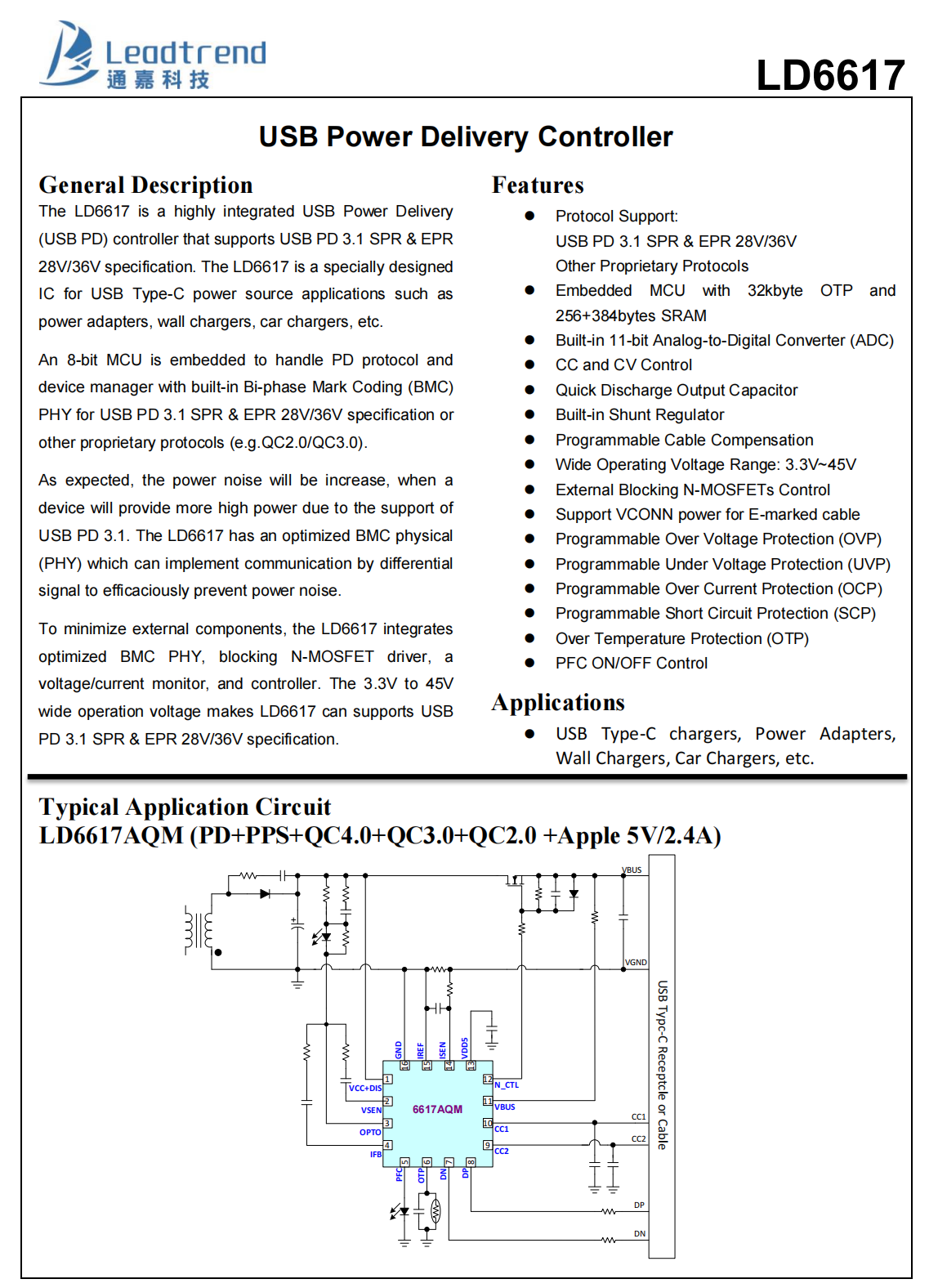 Moreover, it supports VCONN power for E-marker cables, CC/CV control, capacitor fast discharge, programmable cable compensation, PFC switch control, and other versatile features.
MERCHIP
M12269
The MERCHIP M12269 is quite unique as it is the industry's first power SOC to obtain PD3.1 dual-certification. It boasts several features, including efficient charge and discharge management, automatic matching of optimal charging modes, high integration, and an internal loop compensation circuit.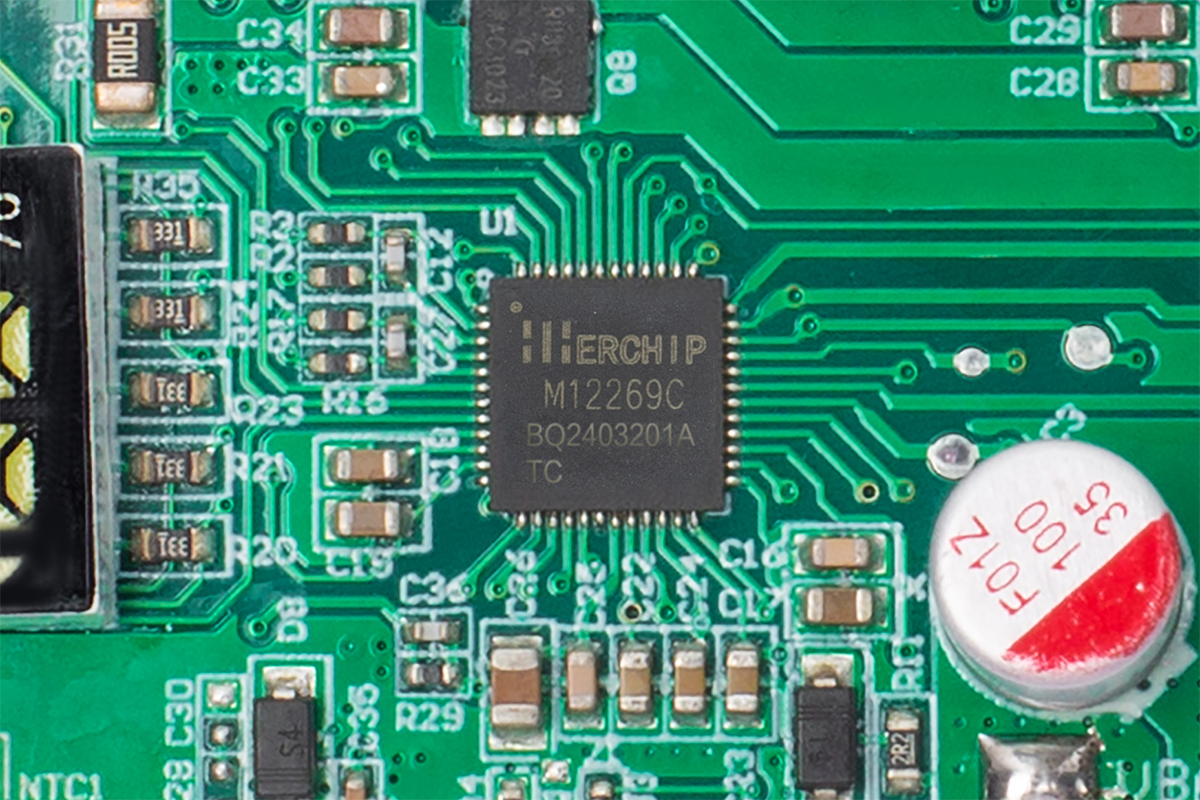 The chip integrates synchronous buck-boost voltage converter, driver module, and display module, providing a maximum input/output power of 140W for a single USB-C port. It supports various mainstream fast charging protocols and offers multiple protection functions. With minimal peripheral components, it can easily form a 140W multi-port power bank.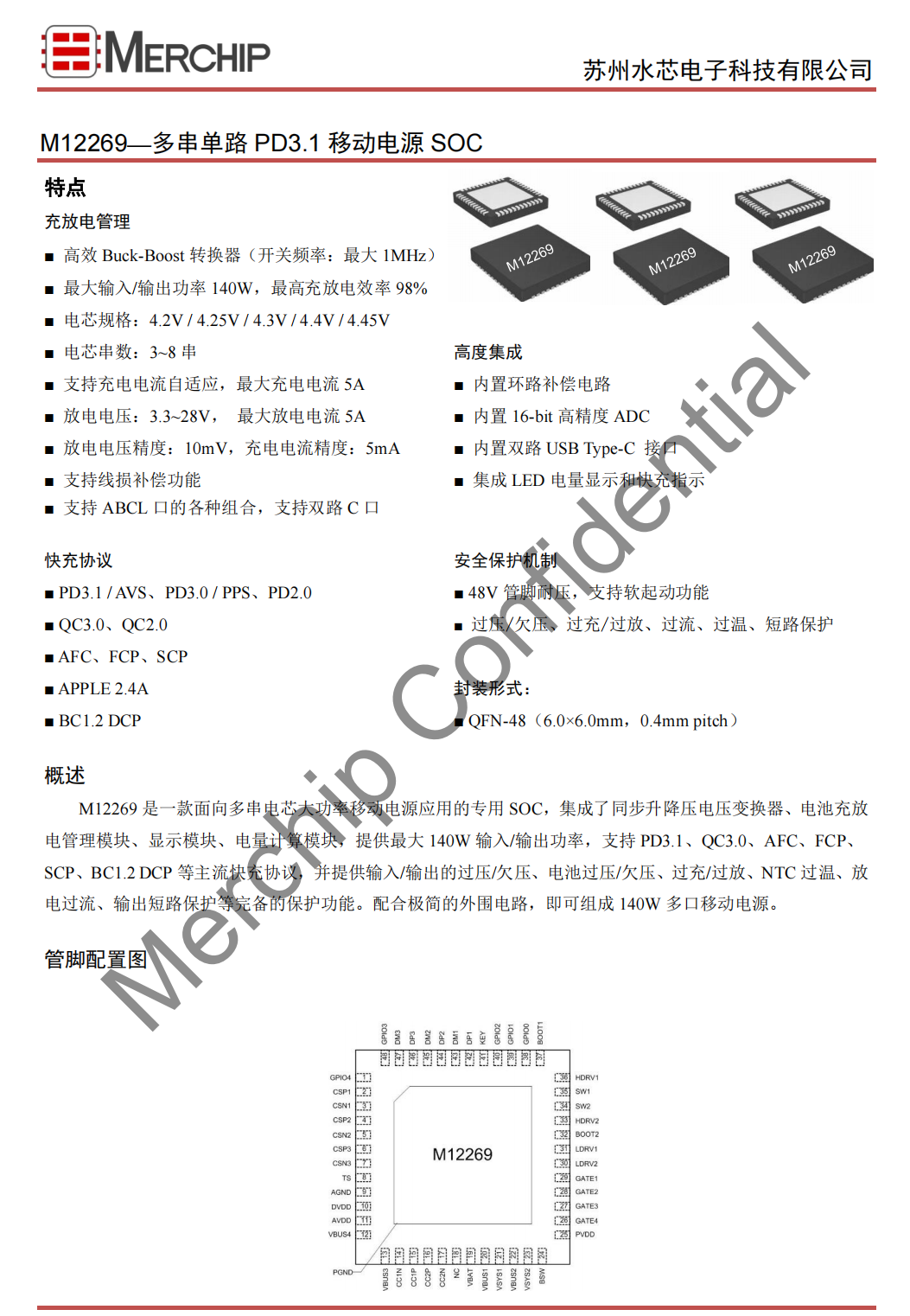 The M12269 is a CCA three-port bidirectional 140W PD3.1 buck-boost SOC, achieving the highest integration level among multi-port fast charging SOCs. It sets a record for voltage accuracy at 10mV and is customizable to meet diverse demands for multi-port bidirectional fast charging. It is compatible with PD, QC, SCP, FCP, AFC, Apple 2.4A, BC1.2 DCP, and other mainstream fast charging protocols.
M12339
The MERCHIP M12239 is a high-power SOC designed for power banks, integrating synchronous buck-boost voltage converter, battery charge and discharge management module, display modules, and energy calculation module. It offers a maximum input/output power of 140W, supporting PD3.1, QC3.0, AFC, FCP, SCP, BC1.2 DCP, and other mainstream fast charging protocols.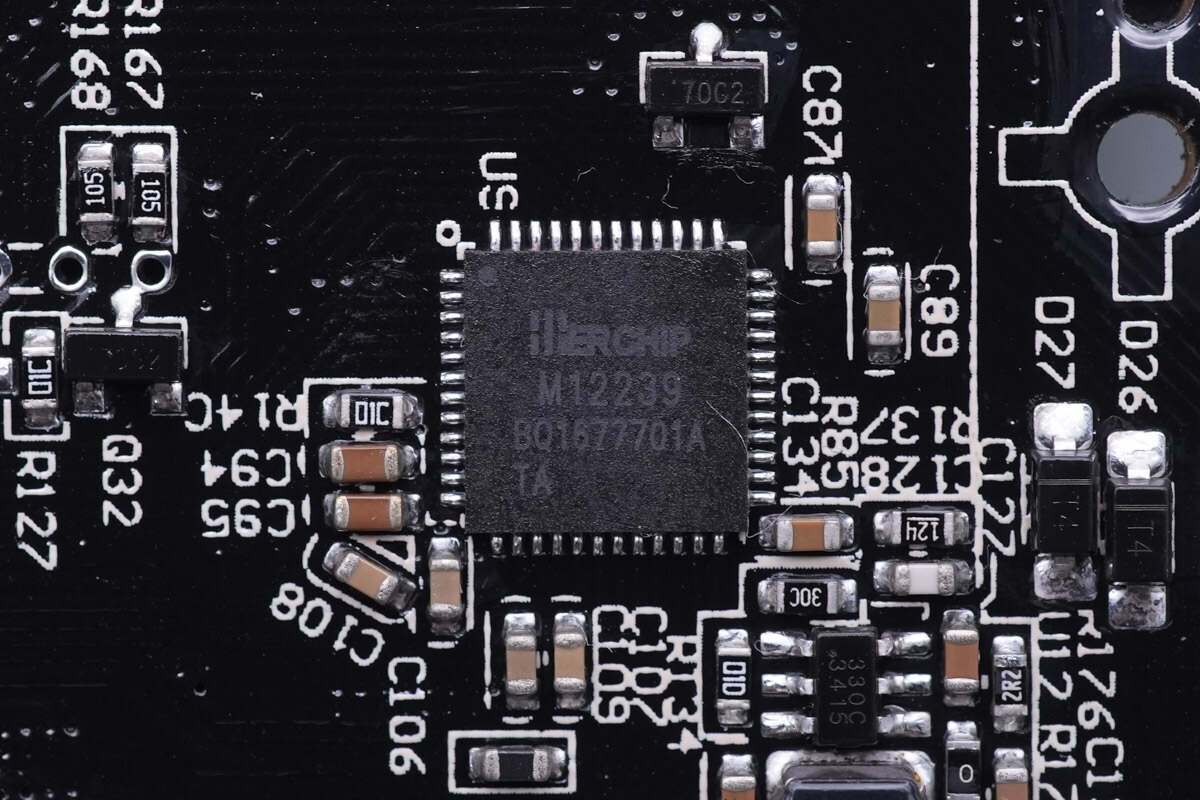 With an internal microprocessor and a small number of peripheral components, it can easily realize a 140W bidirectional USB-C power bank design. The chip supports multi-port fast charging and can be extended to a two-way 140W multi-port power bank with an additional DC-DC chip.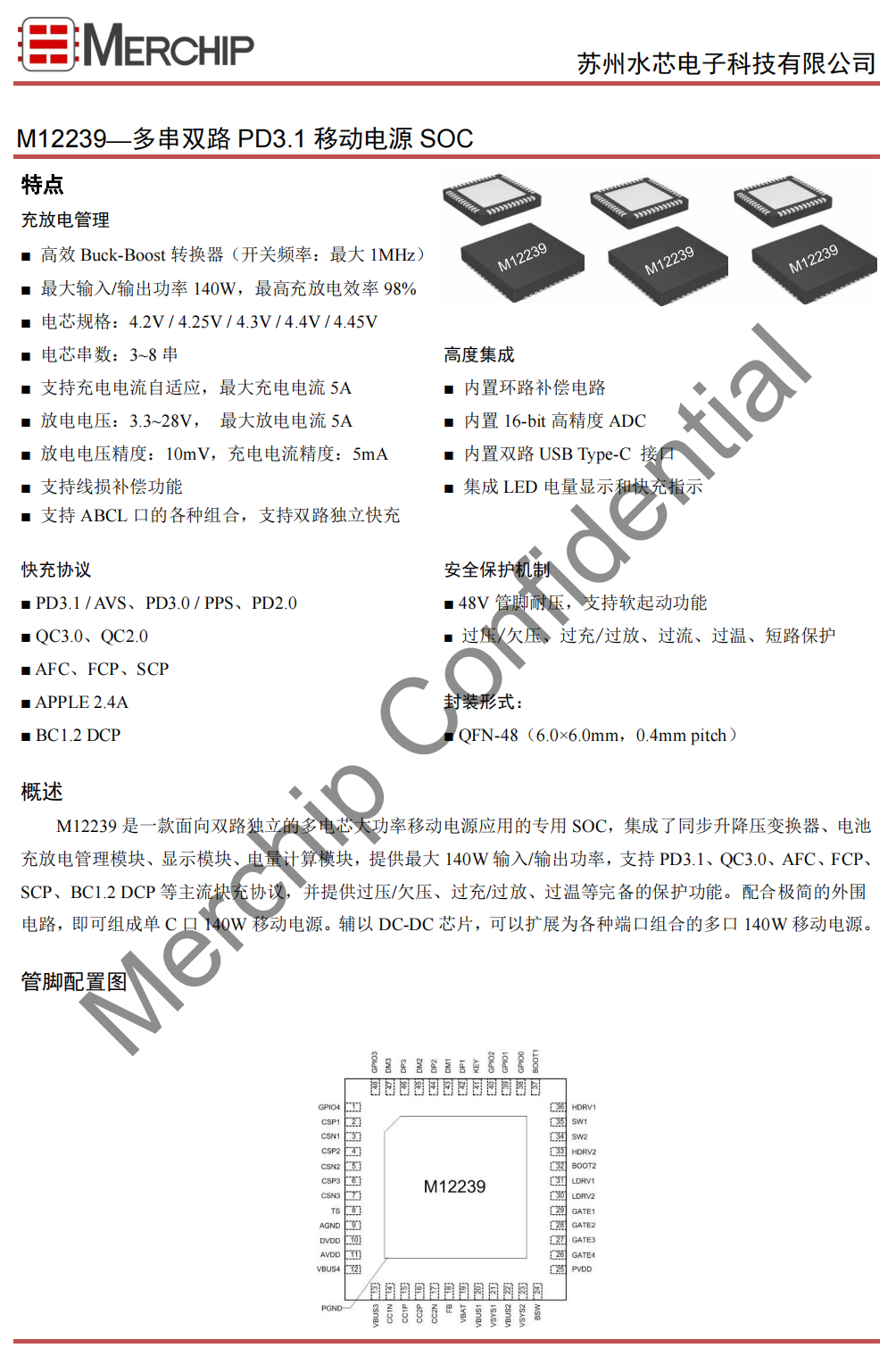 The M12239 supports 3-8 cell series battery applications, offering a wide output voltage range of 3.3-28V, and provides comprehensive protection functions, including overvoltage/undervoltage, overcharge/over-discharge, and over-temperature protection. It is suitable for PD3.1 fast charging power banks and portable power stations with large capacities. It comes in a QFN6 x 6-48 package.
M12349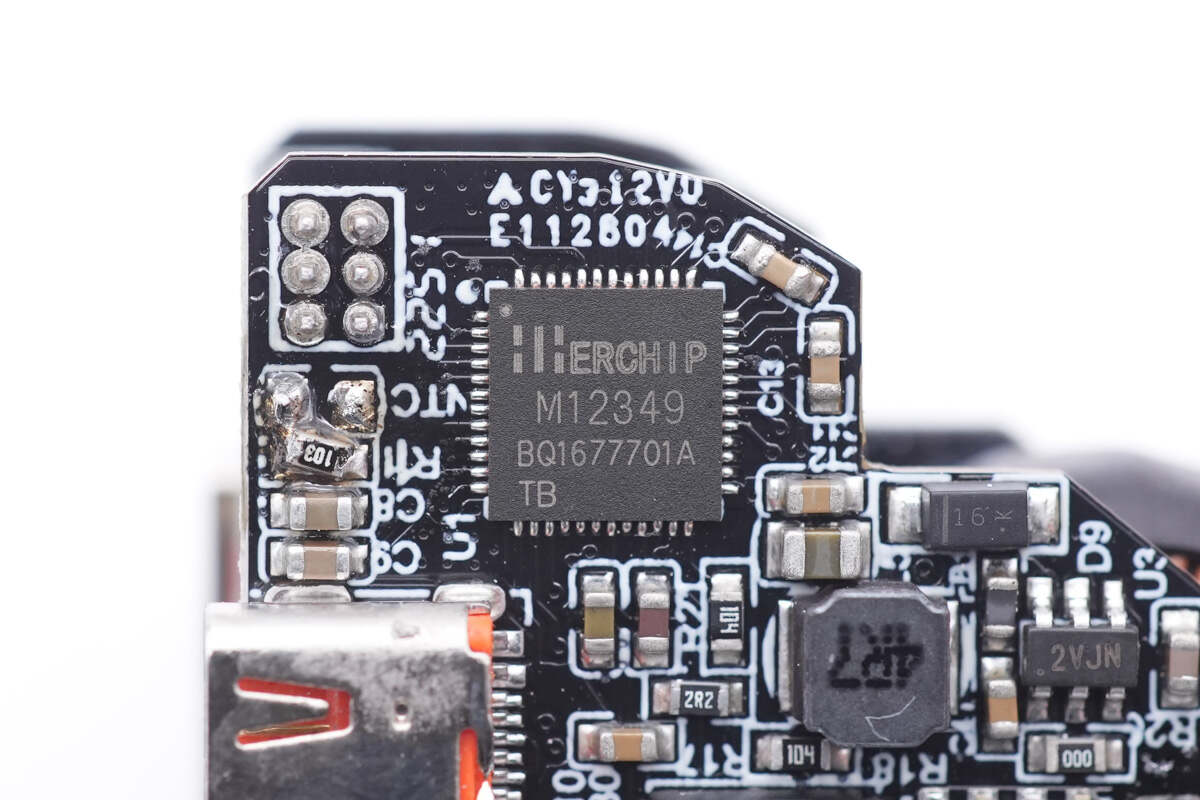 The MERCHIP M12349 is a PD3.1 protocol supported USB-C+USB-A dual independent buck-boost SOC. The chip integrates MCU, and features a 42V input voltage and 3.3-28V output voltage range, with a maximum output current of 5A. It supports dynamic power allocation for dual-port charging and independent fast charging control for dual ports.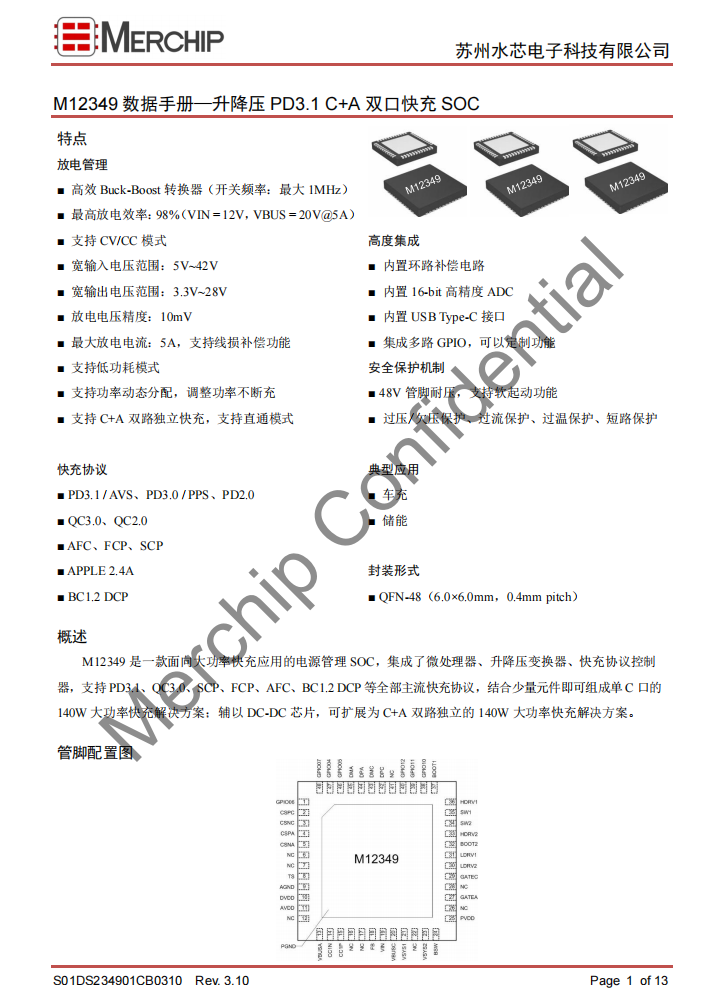 The chip supports PD3.1, QC3.0, SCP, FCP, AFC, and other mainstream fast charging protocols. With external MOSFETs and inductors, it can form a complete high-power USB-C fast charging solution. It also includes an internal loop compensation circuit and comprehensive protection functions.
M12359
The M12359 from MERCHIP is a highly anticipated multi-port fast charging SOC, featuring several breakthrough technologies. It supports the PD3.1 protocol. It employs a seamless dynamic power allocation technique for simultaneous dual-port fast charging from USB-C ports. Additionally, during dual-port fast charging, the USB-A port can also support wireless headphone charging. Both USB-C ports can achieve a maximum output power of 140W.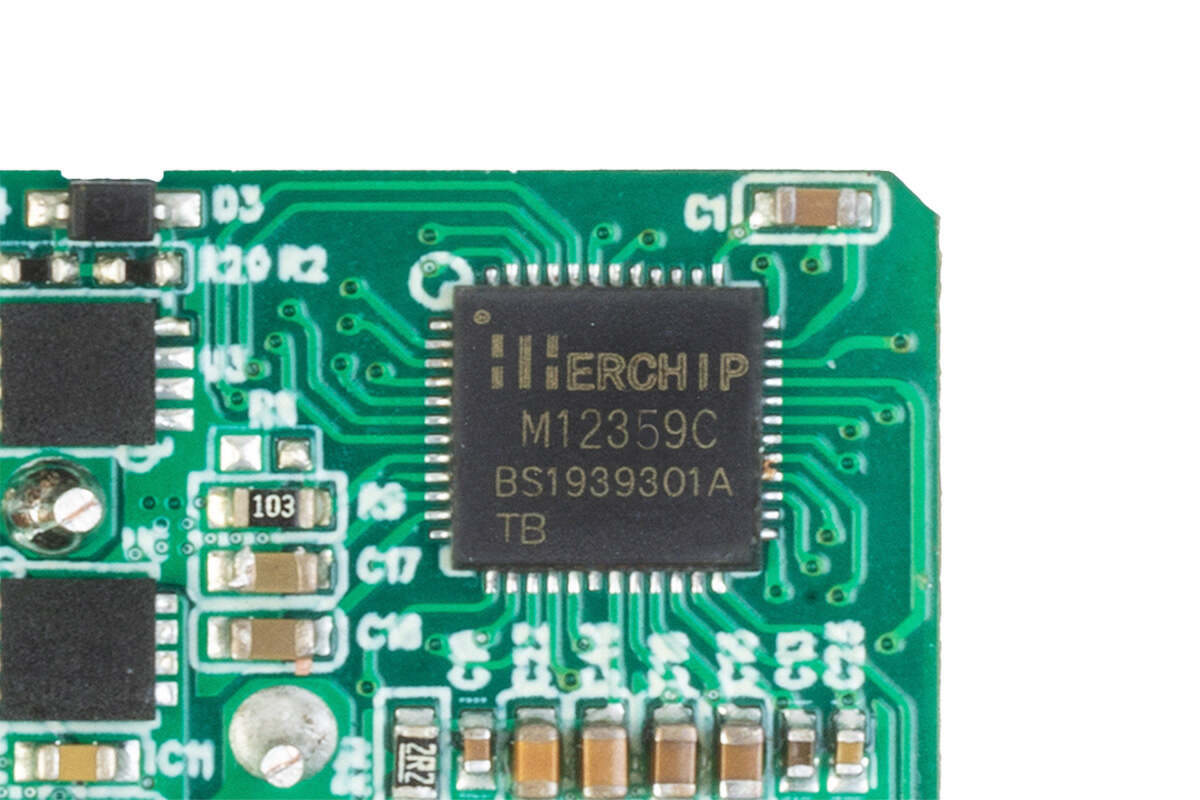 Moreover, this chip breaks multiple industry technological barriers, offering a world-leading integrated solution for simultaneous 140W fast charging of MacBook and iPhone. Its intelligent functions and high performance redefine the industry standards.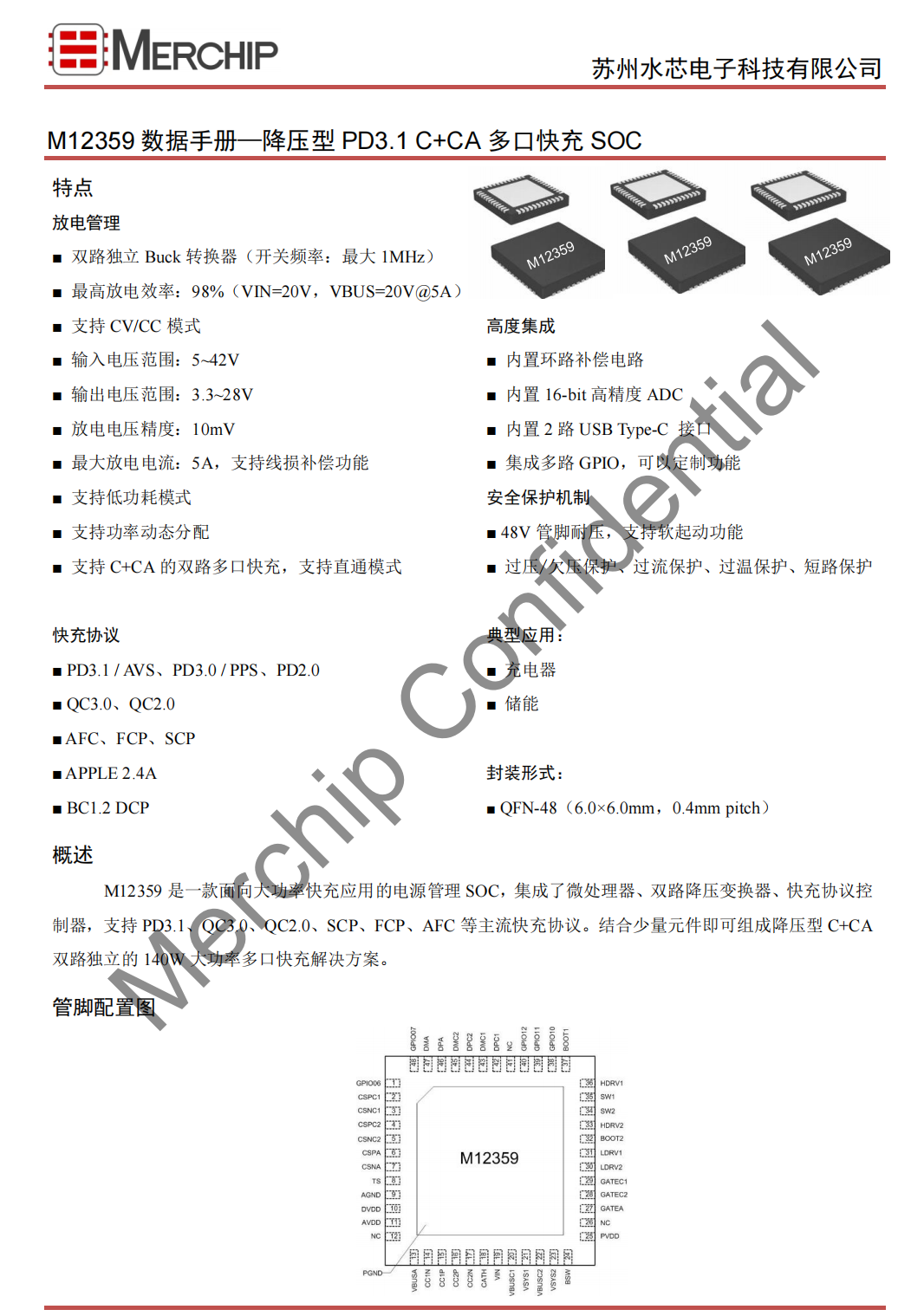 The M12359 is a three-port 140W PD3.1 independent buck SOC, supporting IIC interface and providing an SDK tool package and development environment, allowing for customer secondary development.
Southchip
SC9712
The SC9712 is a highly integrated dual-port fast charging SOC that supports multiple fast charging protocols. It incorporates a 36V high-efficiency synchronous buck controller and comes with one set of USB-C ports and two sets of DPDM fast charging protocol ports, allowing for the maximum reduction of external components. It enables dual-chip collaboration to achieve fast charging for dual USB-C ports, and the 2C1A configuration does not require an MCU.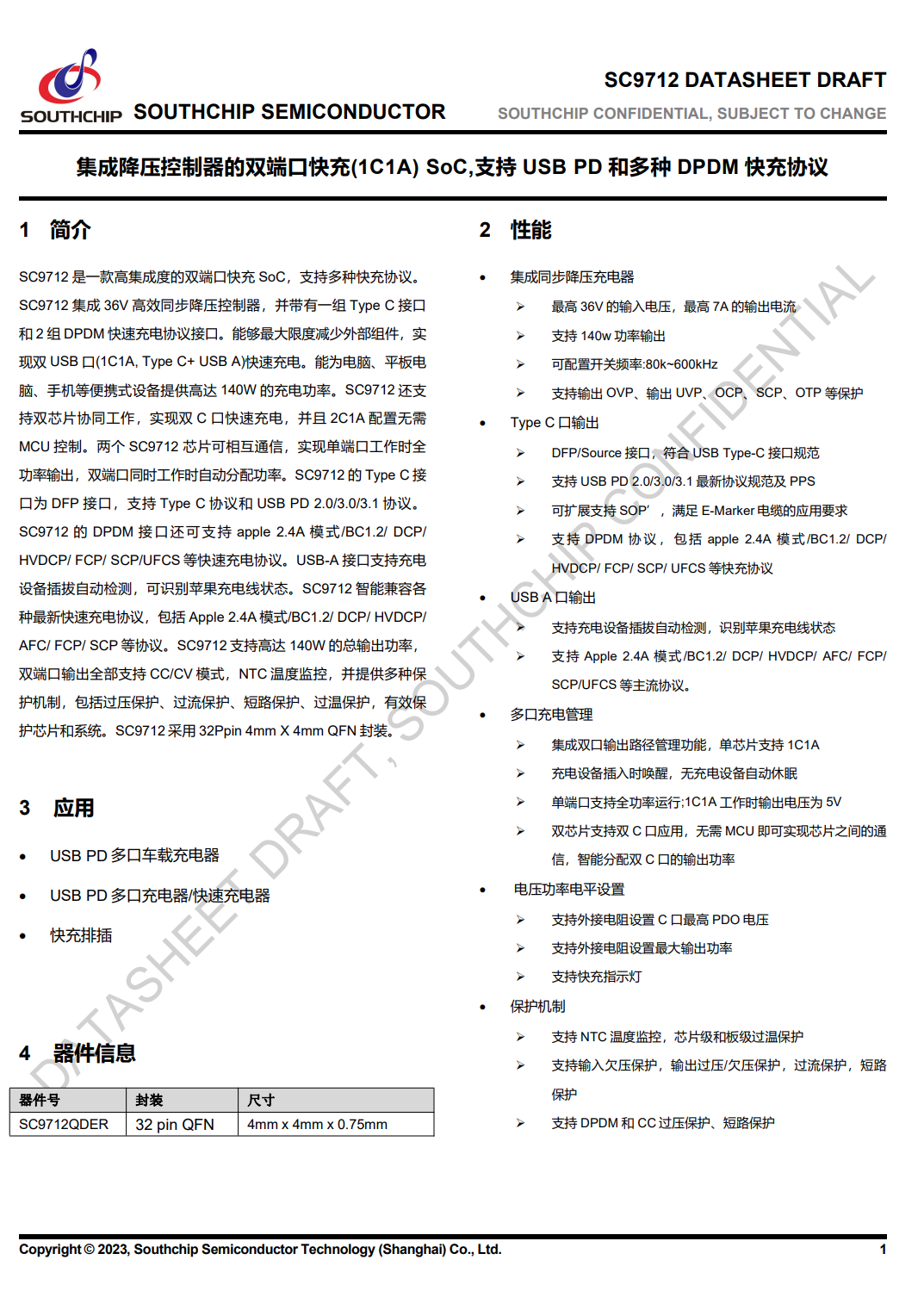 With a maximum total output power of 140W, both ports support CC/CV mode, NTC temperature monitoring, and multiple protection mechanisms. It adopts 32-pin 4 x 4mm QFN package.
Unicmicro
UM3506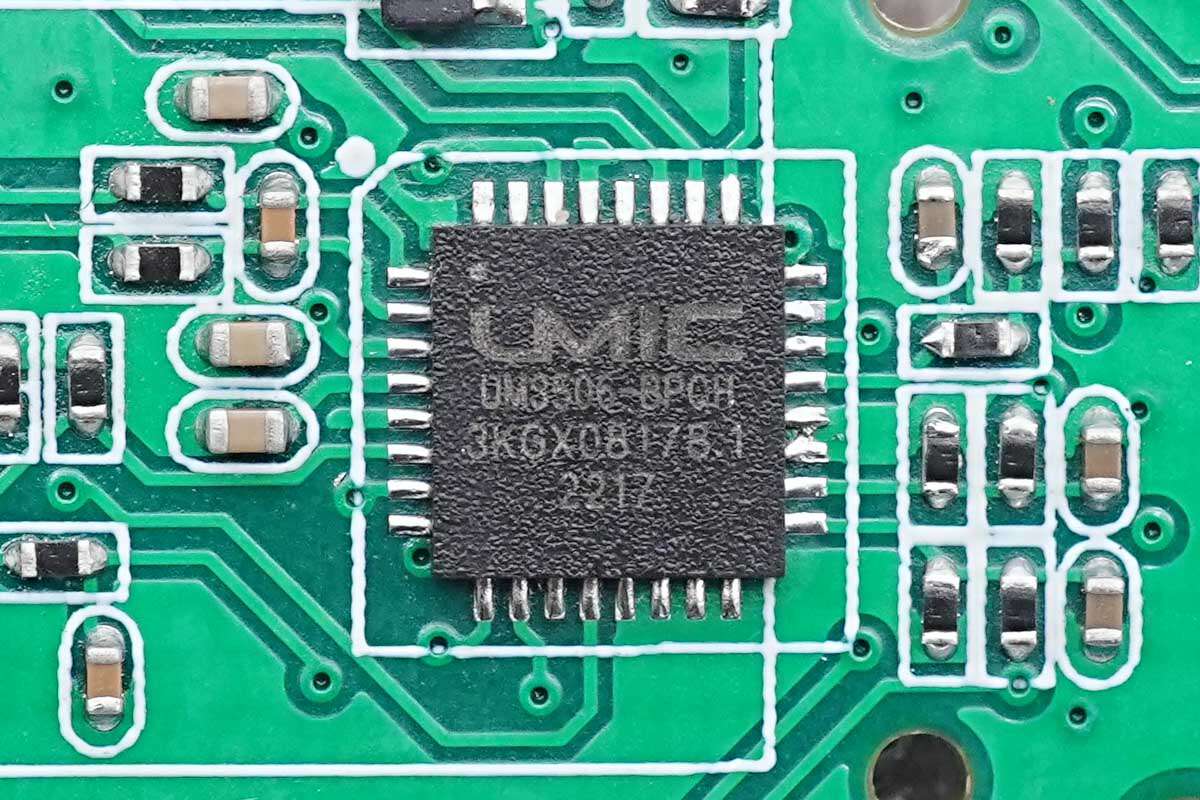 The Unicmicro UM3506-BPQH is a fast charging controller that supports PD3.1 and boasts full SRC/SNK/DRP support capability. It supports SPR, EPR (PD3.1) mode, and PD message chunk mode. The chip comes with a high-voltage LDO and supports 3.3-24V power supply.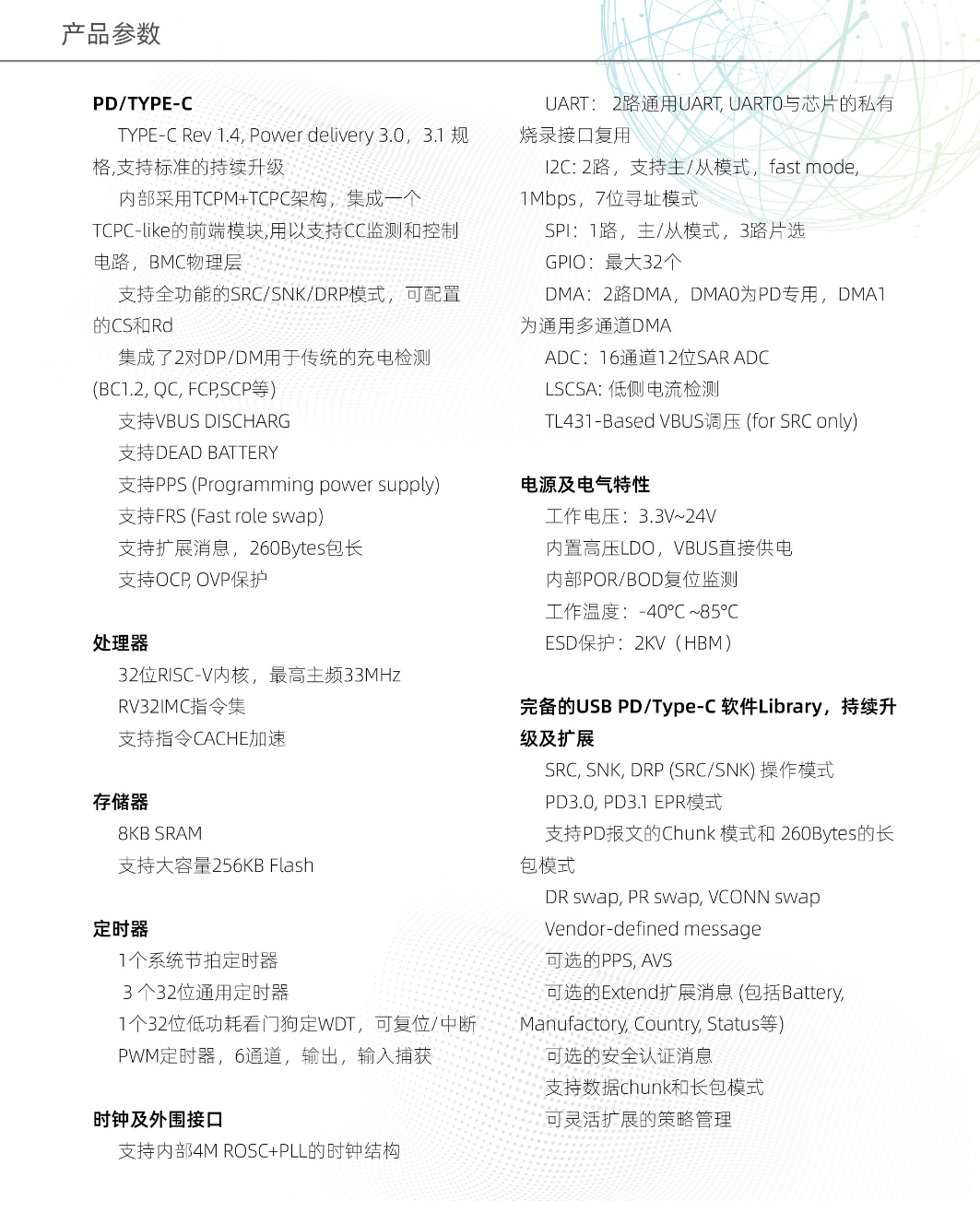 Featuring 2 pairs of DP DM pins, it supports BC, QC, and other protocols, allowing for flexible expansion. The chip is equipped with a high-performance 32-bit RISC-V core, with a maximum clock frequency of 33MHz, 8KB SRAM, and 256KB FLASH. It also has 2 UART and 2 I2C interfaces, along with one SPI interface, and supports low-side current detection. The chip adopts QFN32 package.
Weltrend
WT6676F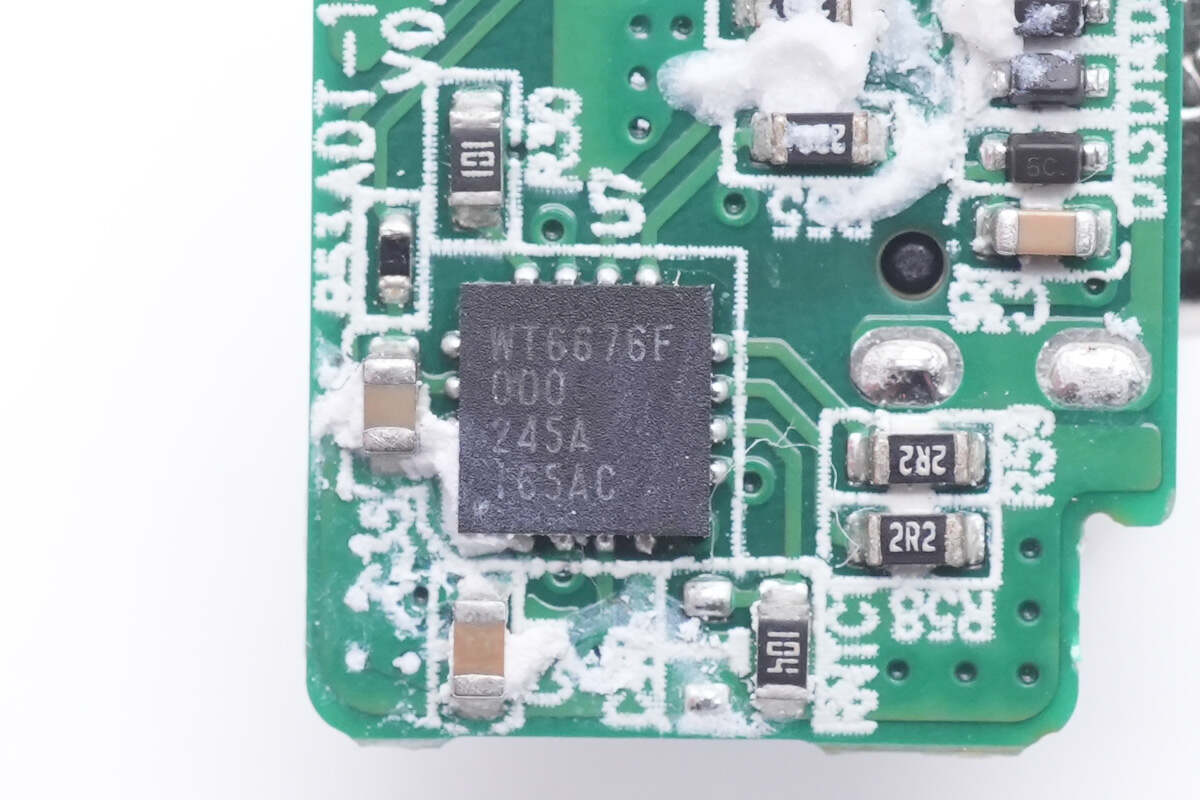 The Weltrend WT6676F is a protocol chip that supports USB PD3.1 and features a 36V output voltage. It supports programmable constant voltage and constant current control, and integrates a low-side current sampling amplifier, supporting line loss compensation. The chip also provides programmable protection functions, including overvoltage, undervoltage, overcurrent, and overheat protection.
Internally, the chip has a 10-bit ADC for voltage and current detection, an 8-bit MCU, an NMOS load switch driver, and a built-in power supply voltage regulator. It supports PFC control and energy-saving mode, with an input voltage of up to 45V. The chip adopts QFN-16 package.
As the latest high-power charging standard, USB PD3.1 brings a brand-new fast charging experience and provides a more universal solution for high-power devices like laptops. With a single charger, you can meet the power needs of various electronic products, eliminating the need to produce chargers that support only proprietary protocols. This helps reduce carbon emissions and minimize waste, such as packaging.
Since the release of USB PD3.1, multiple companies such as Infineon, Injoinic, iSmartWare, Meraki, Hynetek, Jadard, ConvenientPower, and VIA have positioned themselves in the USB PD3.1 fast charging chip market. Each company's products have their unique features, covering different applications like LLC synchronous rectification, synchronous buck, protocol, E-marker, etc. These companies have become the industry pioneers in the USB PD3.1 fast charging market.
With more and more chip manufacturers entering the USB PD3.1 market, we believe that the entire fast charging ecosystem will gradually mature.
Related Articles:
1. PD3.1 Supported | Legendary Launched LDR6020 Chip Series
2. Summary of Hynetek USB PD3.1 Fast Charging Solution
3. ChargerLAB Reveals 11 PD3.1 E-Marker Chips from 7 Manufacturers
The article is originally written by @
Joey
posted on Chargerlab. All rights reserved.