Summary of Hynetek USB PD3.1 Fast Charging Solution
Introduction
In May 2021, the USB Implementers Forum (USB-IF) officially introduced the USB PD 3.1 fast charging standard, elevating the maximum charging power to 240W. This upgrade also added three sets of fixed output voltage values—28V, 36V, and 48V—along with three Adjustable Voltage Supply (referred to as AVS) ranging from 15V to 28V, 15V to 36V, and 15V to 48V.
Later, in October of the same year, Apple's 16-inch MacBook Pro was unveiled with a standard 140W PD 3.1 GaN charger, effectively ushering in the commercial use of the USB PD 3.1 fast charging technology. The massive user demand played a pivotal role in accelerating the growth of the 140W fast charging market. This new fast charging standard posed fresh challenges to almost all components within fast chargers, particularly power chips, protocol chips, MOSFETs, capacitors, transformers, connectors, and more. Even the cables that bridge fast chargers to devices faced entirely new demands on their core E-marker chips.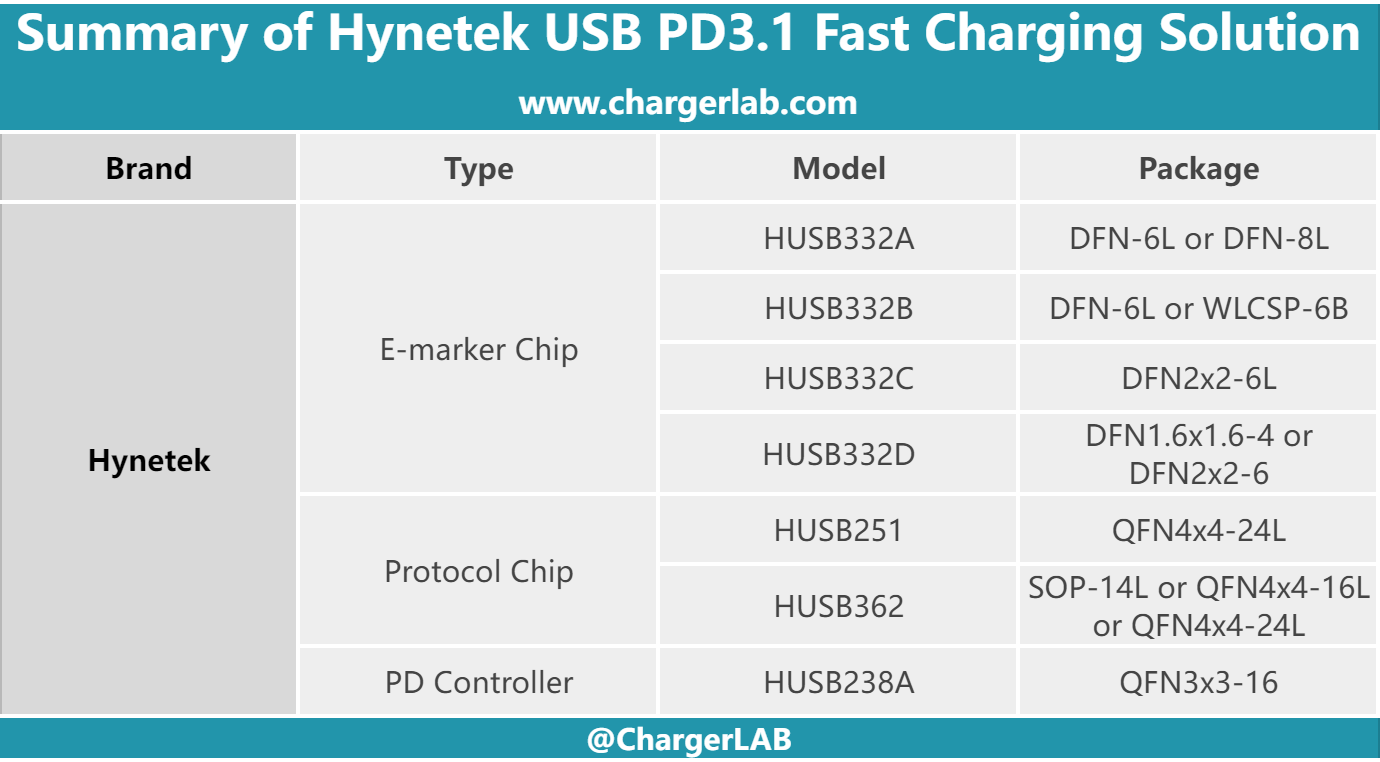 As a company with years of expertise in the fast charging domain, Hynetek adeptly seized the market opportunity. They successively introduced the HUSB332x series of E-marker chips, the HUSB251 and HUSB362 protocol chips, as well as PD controllers. By taking the lead in critical component advancements, Hynetek provides customers with high-performance, highly reliable solutions.
E-marker Chip
HUSB332A
Continuing with Hynetek, HUSB332A is an E-marker chip introduced by them. It provides backward compatibility with USB 2.0, PD 3.0, USB4, and Thunderbolt 3 specifications, while also supporting the advanced USB PD3.1 EPR. Notably, it has received certification from the USB-IF association, with the TID number being 4324.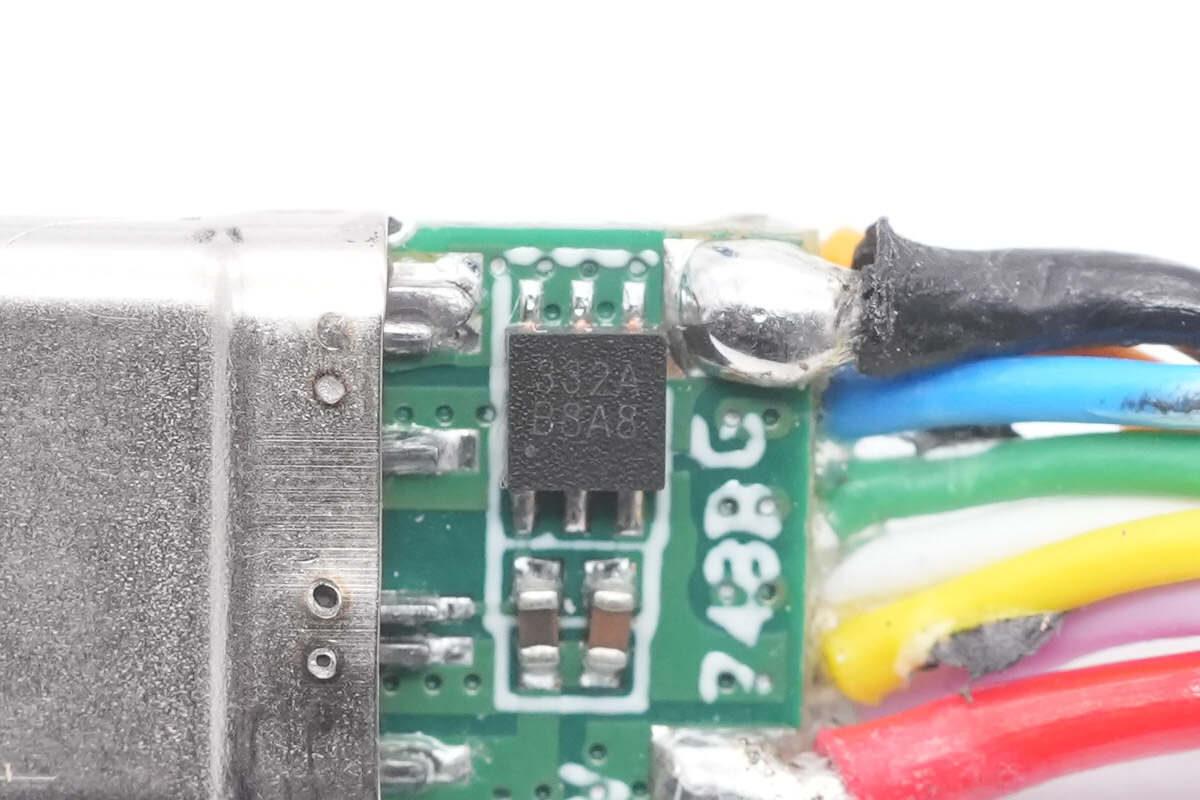 It integrates the Ra resistor and VCONN diode internally, allowing for zero peripheral design. Its built-in One-Time Programmable (OTP) memory unit supports multiple reprogramming cycles.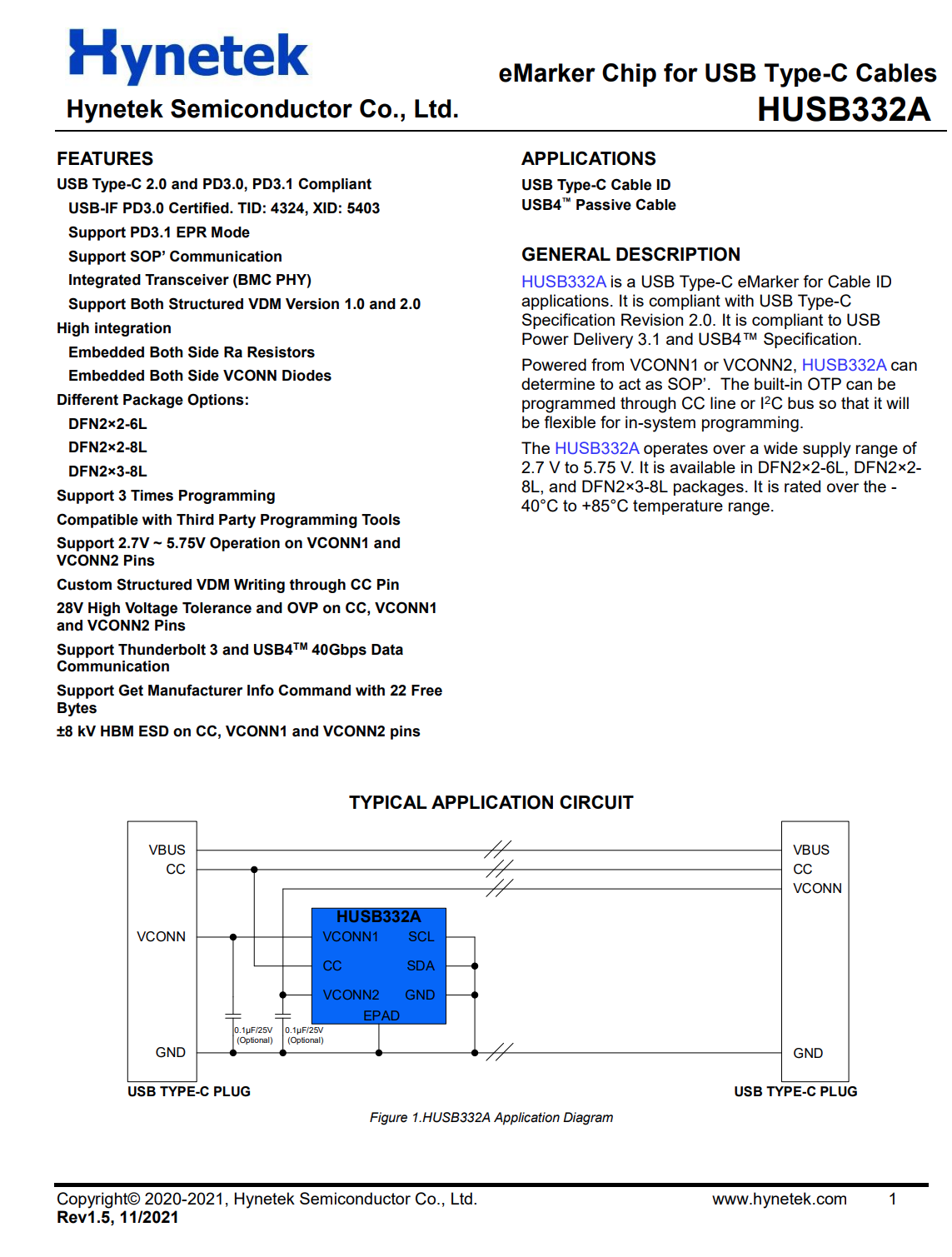 It can support 28V high voltage tolerance on CC, VCONN1 and VCONN2 Pins, and is suitable for PD and USB4 passive cables.
HUSB332B
Next up is Hynetek HUSB332B, which is quite remarkable as it is the industry's first chip to pass the USB PD3.1 E-marker Silicon Certification, with a TID number of 6773.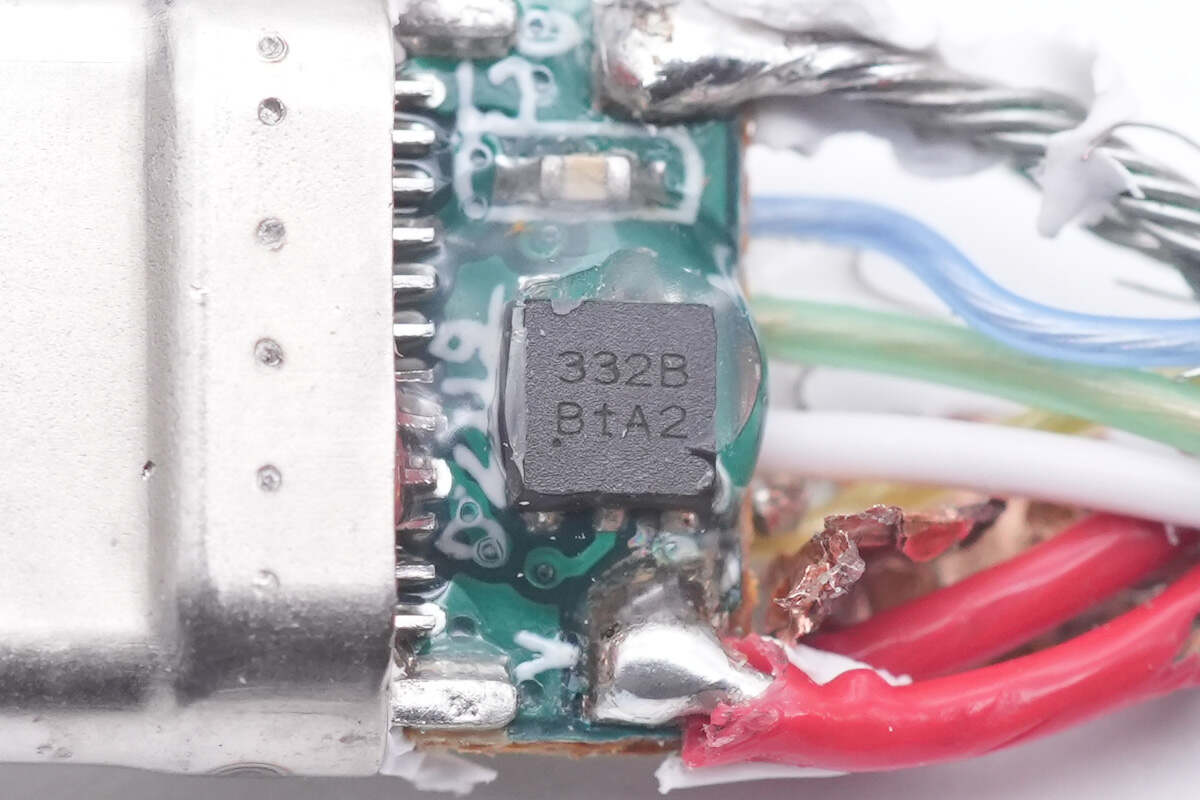 It can support power transmission of up to 240W and data transfer speeds of up to 40Gbps.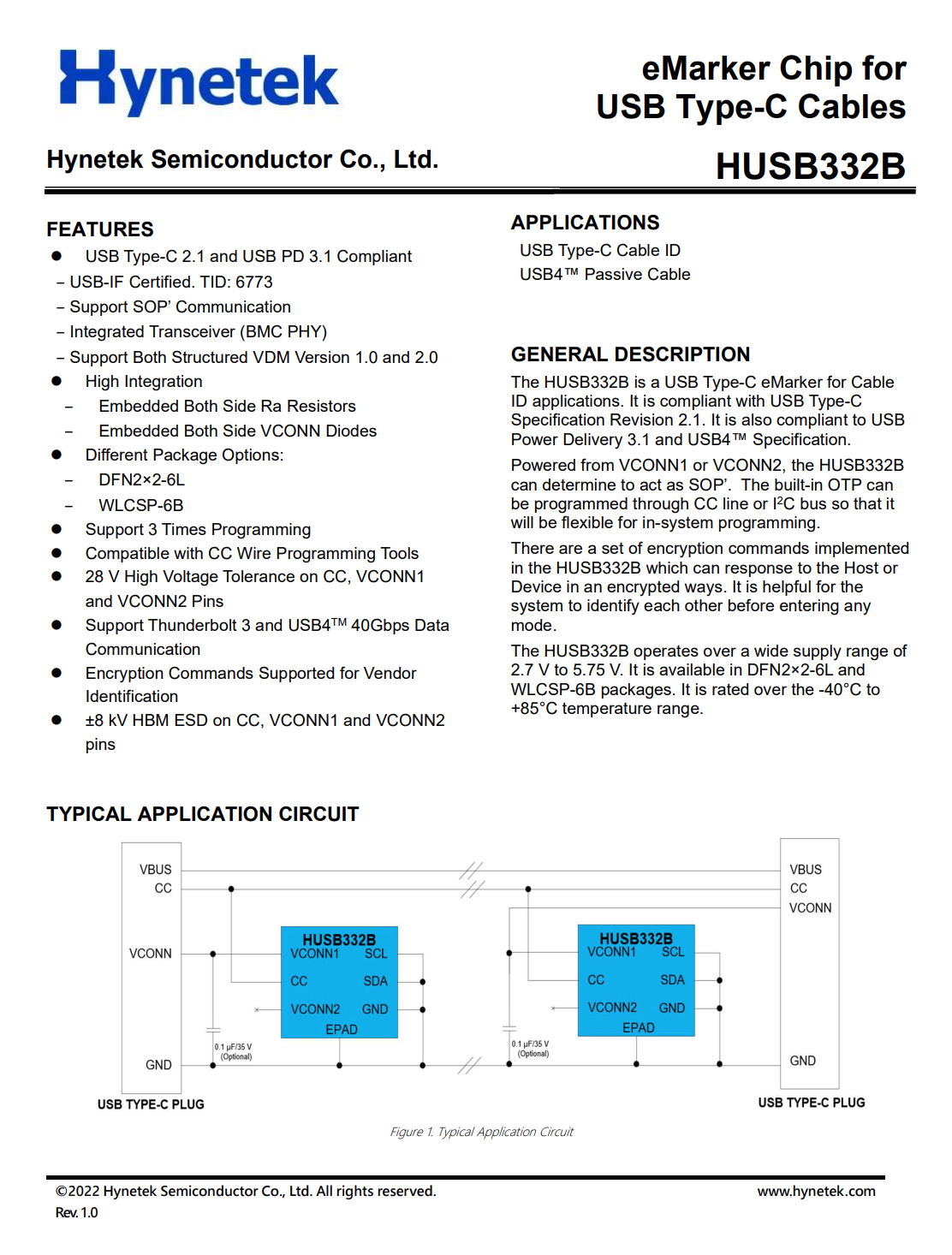 Furthermore, it comes with built-in encryption functionality, which allows devices to identify the cable, making it convenient for manufacturers to customize their products.
HUSB332C
The Hynetek HUSB332C has received certification from USB-IF, identified by the TID: 8655. This chip supports up to four times programming and allows programming via CC wires using tools.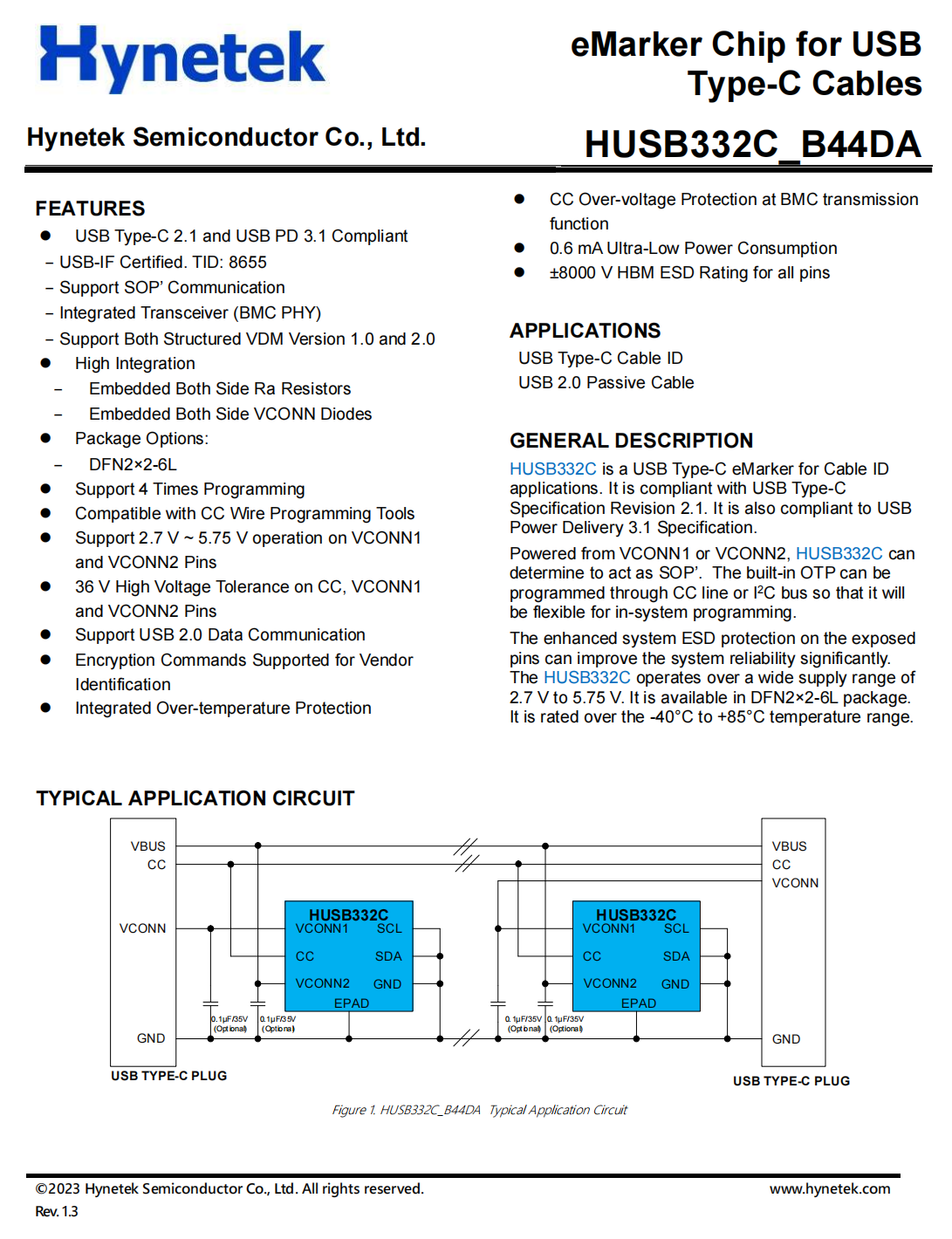 In comparison to its predecessors, the HUSB332C integrates a thermal protection feature. It can automatically cut off power to provide protection in cases of elevated connector temperatures, eliminating the need for additional overheating protection measures. This enhanced reliability makes the chip suitable for Thunderbolt 3 and Thunderbolt 4 cable applications.
HUSB332D
Likewise, the Hynetek HUSB332D has successfully achieved USB-IF certification, marked by TID: 9125. This chip supports up to three times programming and is compatible with third-party programming tools.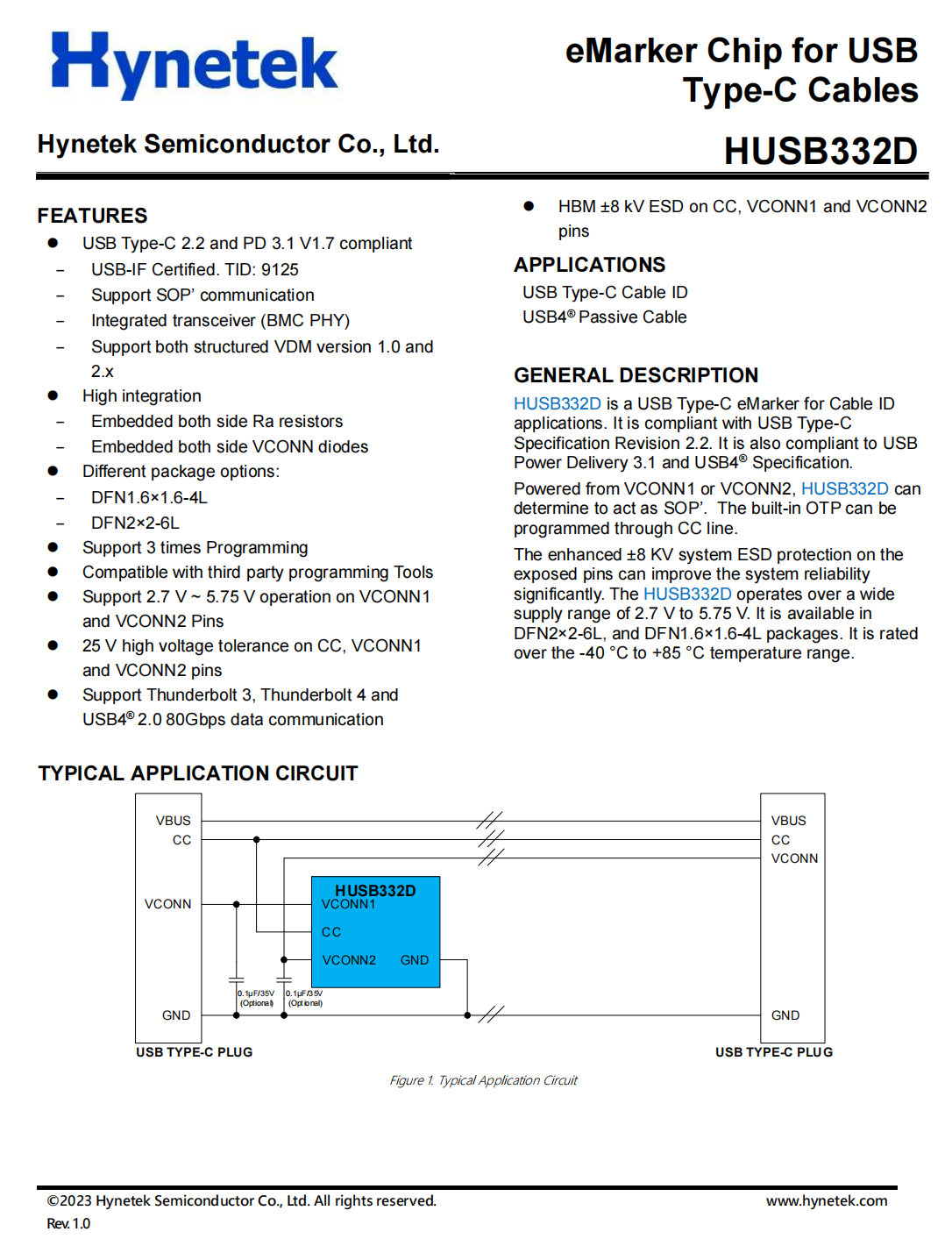 The HUSB332D boasts extensive compatibility, supporting Thunderbolt 3, Thunderbolt 4, and USB4 80Gbps data communication. Its CC, VCONN1, and VCONN2 pins are capable of withstanding 25V, ensuring robust performance. The chip is available in two package options: DFN1.6x1.6-4 and DFN2x2-6. It effectively caters to USB-C and passive Lightning 4 cable applications.
Protocol Chip
HUSB251
Hynetek's HUSB251 is a PD protocol chip that supports USB-C DRP. The chip supports PPS PDO and EPR PDO, and all PDOs fully comply with USB PD 3.1 Rev.1.8 specifications, including support for 28V EPR FPDO and EPR AVS. It also supports QC2.0, QC3.0, AFC, FCP, and UFCS fast charging protocols, making it highly compatible. The chip has an integrated NMOS driver for power control using NMOS.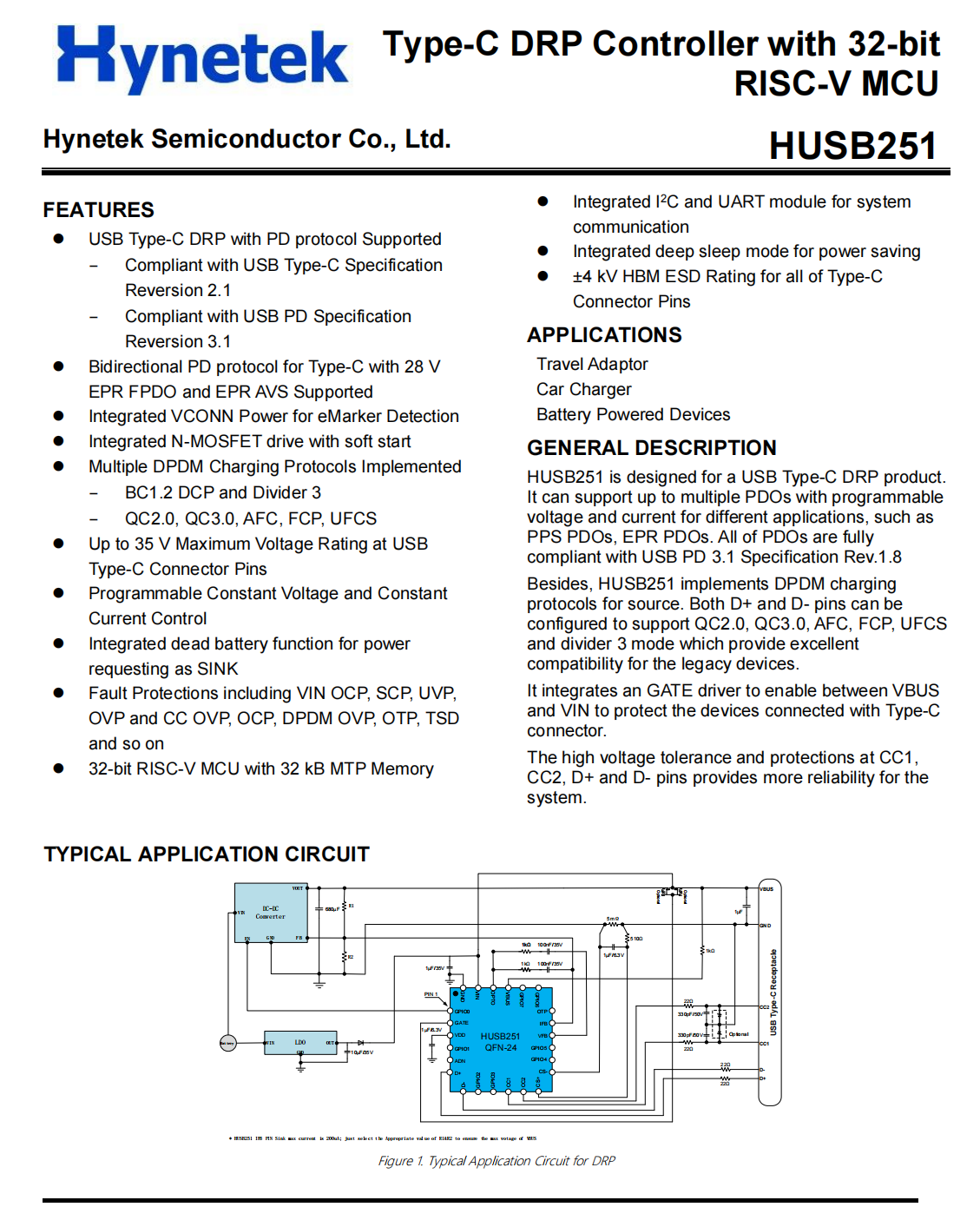 The chip also integrates Vconn power for E-marker chip detection, supports programmable constant voltage and constant current control, and integrates multiple protection measures and overheat protection. It includes a 32-bit RISC-V MCU and 32KB MTP storage, as well as I2C and UART interfaces.
HUSB362
Hynetek's HUSB362 is a high-performance PD protocol chip that supports PD3.1 EPR and integrates an MCU. It supports multiple PDOs with programmable voltage and current, such as PPS PDO and EPR PDO, all fully compliant with USB PD 3.1 V1.7 specifications. It supports EPR mode with 140W (28V5A), PPS supports from 18W to 100W, and AVS supports from 100W to 140W. It has passed USB-IF Association's PD3.1 compliance test, with a TID of 9329.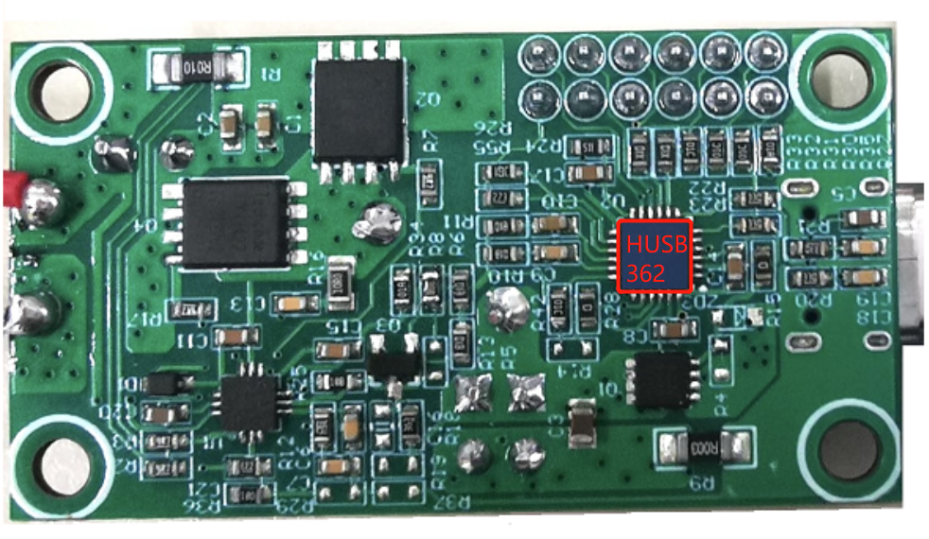 This chip also implements programmable DPDM PHY, where D+ and D- pins can be configured to support QC2.0, QC3.0, AFC, FCP, and Divider 3 modes, ensuring excellent compatibility with traditional devices.
It integrates N-MOS driver and is fully protected from LPS (limited power supply).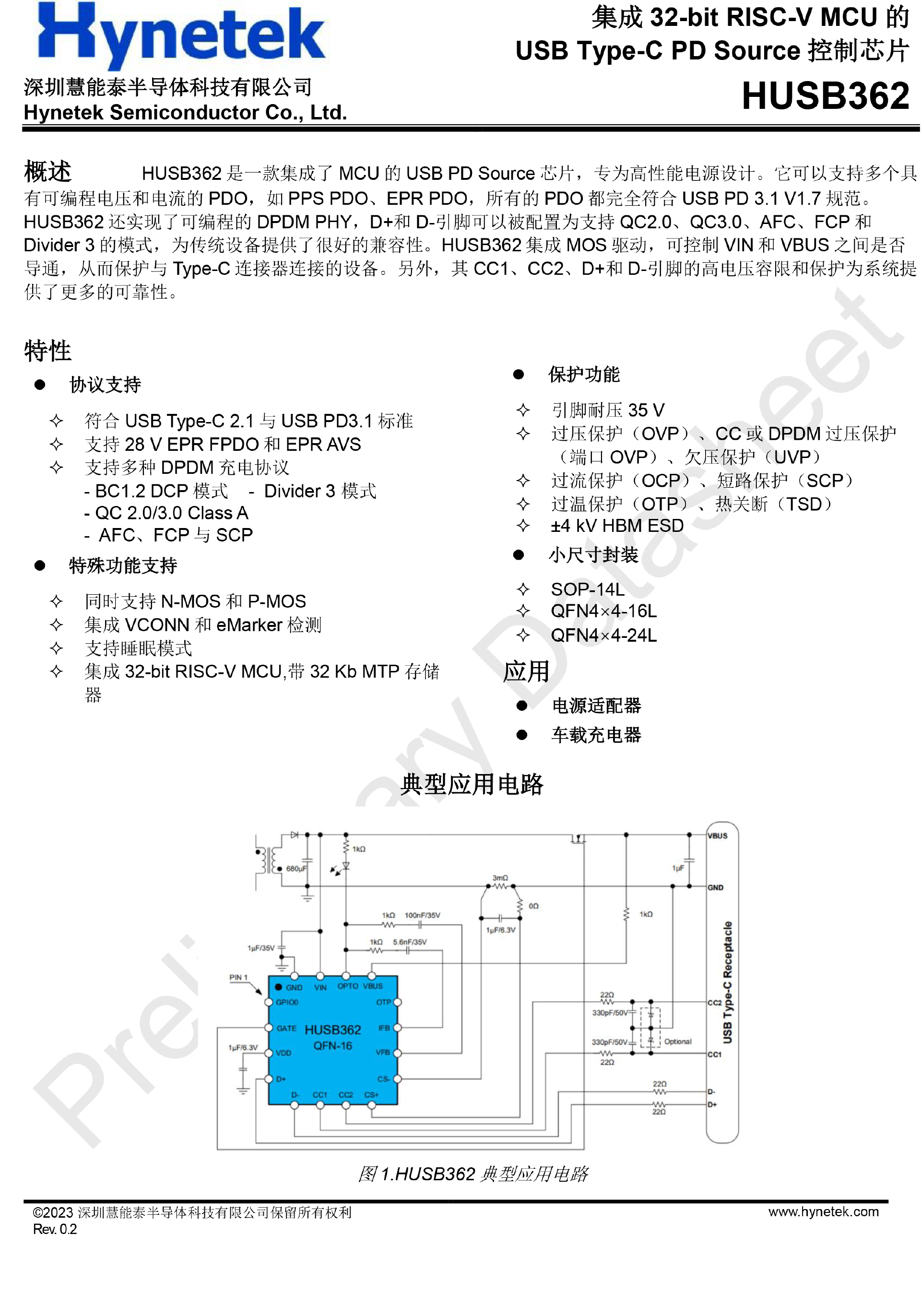 Furthermore, it features a dual-loop design, allowing users to implement application design with minimal peripheral components, thereby enhancing space utilization and reducing design complexity and BOM costs.
PD Controller
HUSB238A
The HUSB238A stands as an exceptionally integrated standalone USB Type-C® and Power Delivery (PD) Sink controller. This controller amalgamates CC logic, USB PD protocol, and traditional protocols, providing support for Type-C V2.1 and USB PD3.1 standards. It also accommodates PPS (Programmable Power Supply) 20mV and AVS (Adjustable Voltage Supply) 100mV voltage regulation. Remarkably, it can handle rated power transmission of up to 240W (48V5A).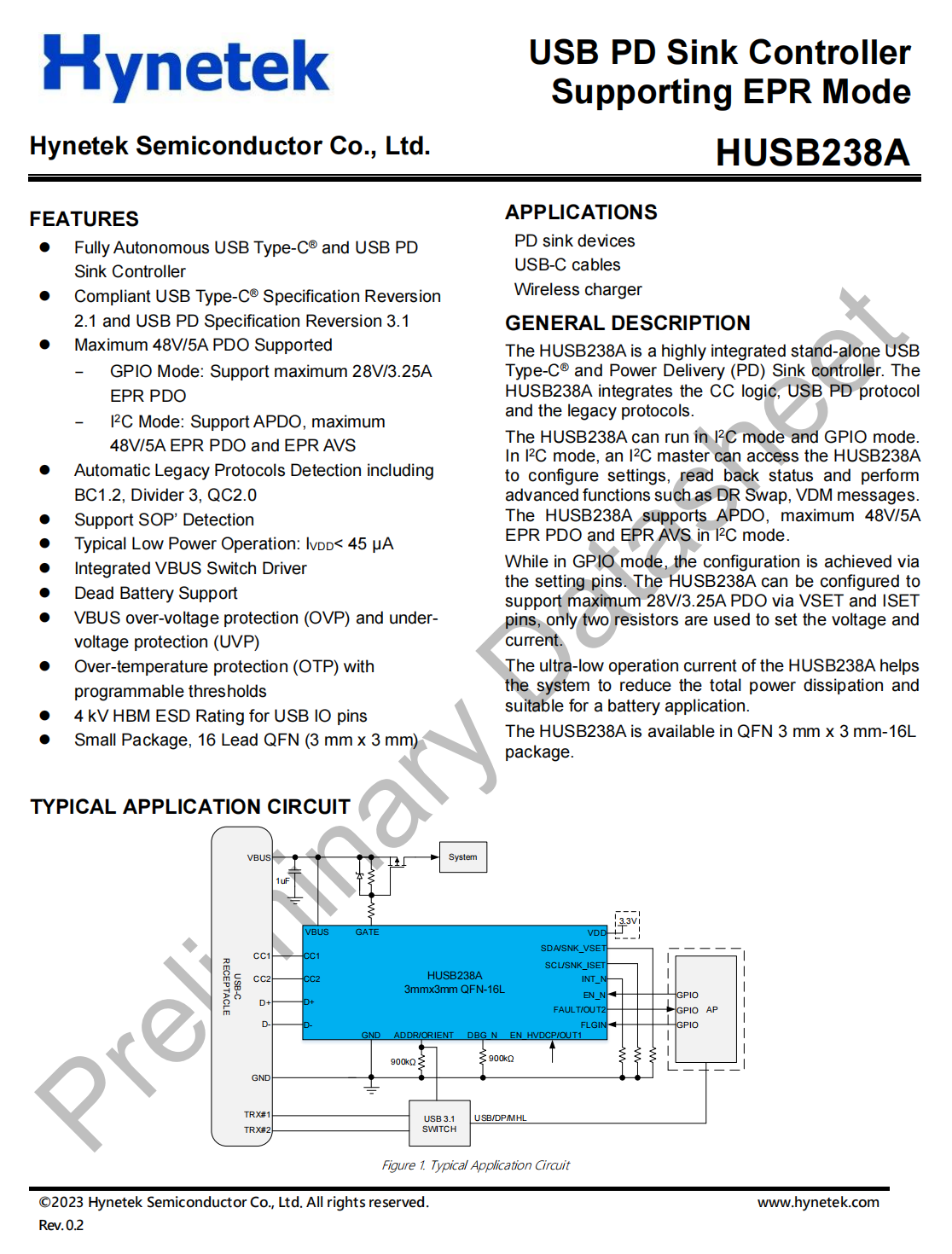 This versatile controller can operate in both I2C and GPIO modes. Under the I2C mode, the MCU can access the HUSB238A to configure settings, retrieve status information, and perform advanced functions like DR swapping and VDM handling. In the GPIO mode, the configuration is achieved through pin settings. Furthermore, the controller comes equipped with built-in electrostatic discharge protection and overheat protection, enhancing its overall reliability. It adopts QFN3x3-16 package.
ChargerLAB has gained insight that Hynetek's products have been adopted by prominent brands including Lenovo, Samsung, ZMI, Bull, Anker, and Belkin. The chip's performance has garnered commendation from these customers.
Hynetek Semiconductor Co., Ltd. focuses on intelligent energy control technology, mainly for the intelligent fast charging and digital energy fields, providing high-performance digital-to-analog mixed chip products. The company is headquartered in Qianhai, Shenzhen, and has R&D centers in Shanghai and Hangzhou, Zhejiang. Our core R&D team comes from top semiconductor companies at home and abroad, with strong R&D and innovation capabilities.
Summary of ChargerLAB
Currently, Hynetek has successfully completed an all-encompassing product layout within the USB Type-C ecosystem. On the output end, Hynetek offers a diverse array of highly integrated, high-performance USB-A, USB-C ports, and USB-A+USB-C multi-port fast charging protocol chips. Notably, the HUSB362 model fulfills the demands of modern high-performance multi-port fast charging designs, supporting up to 140W output.
On the input end, Hynetek provides a range of products, including USB-IF certified PD Sink Controller HUSB238, USB PD DRP products with integrated MCUs like HUSB251, and fully autonomous USB Type-C controllers like HUSB320, catering to various application needs.
Furthermore, in the cable end, Hynetek boasts a comprehensive patent portfolio, with six relevant patents already awarded. They've introduced several cutting-edge E-marker products that have garnered significant attention. Notable among them is the HUSB332D, heralding the era of 4-pin E-markers, the world's first E-marker chip certified through PD3.1, the HUSB332B, the HUSB332C featuring built-in overheat protection, and the HUSB335 that seamlessly integrates with the UFCS ecosystem. These innovations have received widespread acclaim.
Related Articles:
1. PD3.1 Supported | Legendary Launched LDR6020 Chip Series
2. Simulation Model of Industry's First 1200V GaN-on-Sapphire Device Released by Transphorm
3. ChargerLAB Reveals 11 PD3.1 E-Marker Chips from 7 Manufacturers
The article is originally written by @
Joey
posted on Chargerlab. All rights reserved.