ChargerLAB Reveals 11 PD3.1 E-Marker Chips from 7 Manufacturers
Introduction
As per the recent mandatory regulations introduced by the European Union, mobile phones and tablets are now required to adopt a standardized USB-C port. In line with this requirement, Apple's upcoming iPhone 15 series will feature the USB-C port, aligning it with the existing iPad series and sharing the same charger.
With the transition to USB-C on the iPhone 15, there is great potential for enhancing the data transfer rate from the current Lightning connector to the latest USB4 specification set by USB-IF. This upgrade will enable the iPhone 15 to meet the demands of applications such as video transmission, data transfer, and high-definition audio, all through the use of compatible cables. To achieve these high-speed capabilities, the cables will be equipped with an E-marker chip, which identifies the cable's data transfer capacity, ensuring that it does not become a limiting factor for data transmission.
Significant Upgrade in Fast Charging Standards
In May 2021, the USB-IF association officially released the USB PD3.1 fast charging standard, significantly increasing the maximum charging power to 240W. Additionally, the standard introduced three sets of fixed output voltage values (28V, 36V, and 48V) and three sets of adjustable AVS (Adjustable Voltage Supply) ranging from 15V to 28V, 15V to 36V, and 15V to 48V.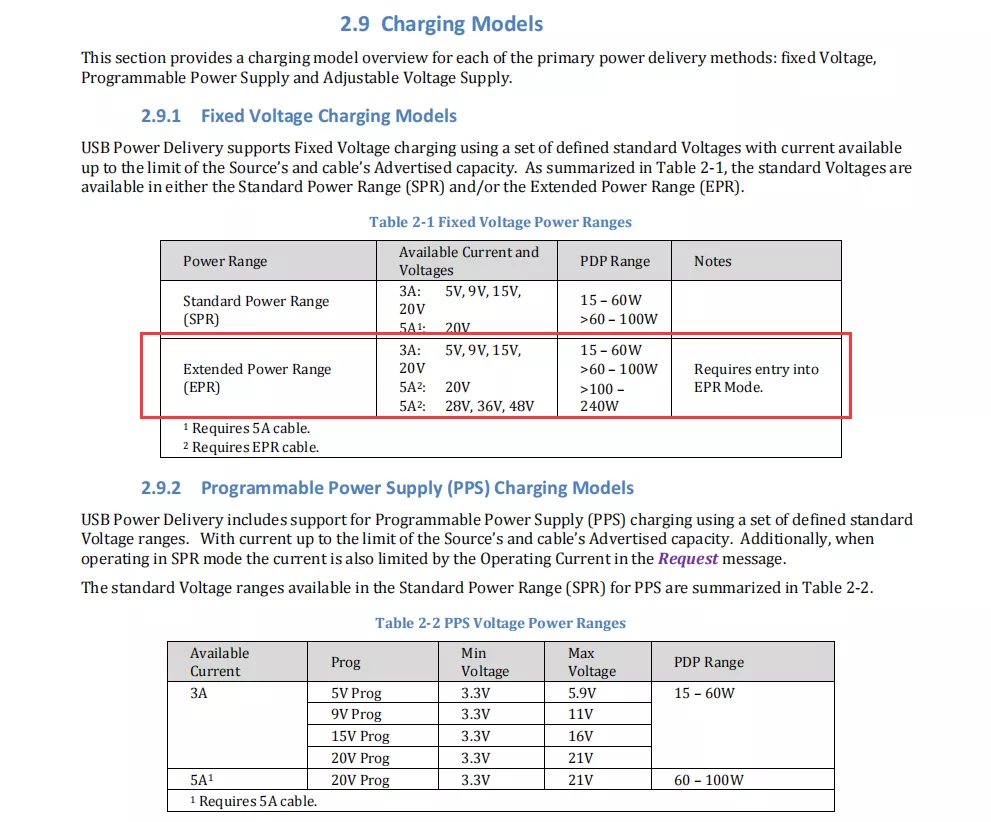 The latest USB PD3.1 fast charging standard represents an advanced version of the PD3.0 standard, encompassing all aspects of PD3.0 while ensuring full backward compatibility. In terms of nomenclature, USB PD3.0 is gradually being replaced by USB PD3.1 SPR (Standard Power Range). Products featuring PD fast charging with power up to 100W can be referred to as USB PD3.1 SPR devices, while those with power exceeding 100W fall under the USB PD3.1 EPR (Extended Power Range) category.
Meeting the demands of the USB PD3.1 EPR application presents new challenges for power supply products, particularly for components within fast chargers such as the master control chip, protocol chip, MOSFET, capacitor, transformer, and connector.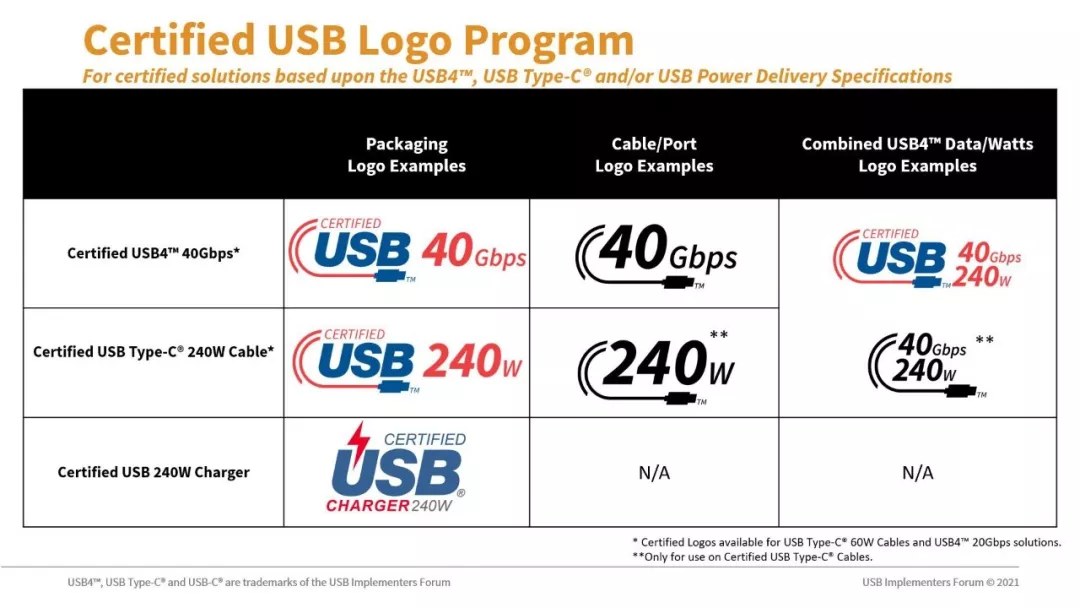 Regarding cables, under the USB PD3.1 standard, there are two specifications: standard cables with a 20V rating and EPR cables with a 50V rating. It's important to note that as of the end of December, the USB-IF association has terminated the certification process for standard 100W cables. Henceforth, all USB-C to USB-C cables will require 240W certification. This not only imposes higher demands on cable materials but also necessitates the inclusion of the latest standard E-marker chip.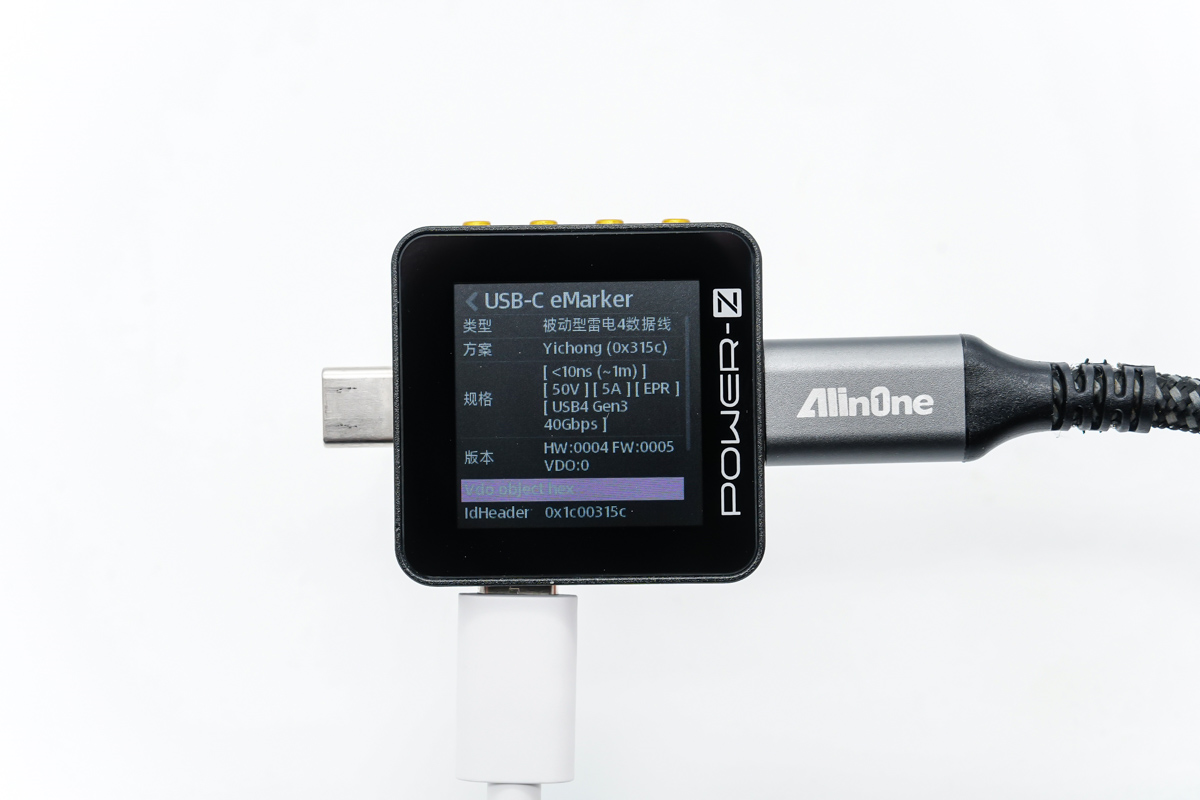 ChargerLAB POWER-Z KM002C has shown that the new EPR cables can support power transmission of up to 50V 5A, which is 250W while maintaining the 40Gbps data transfer standard.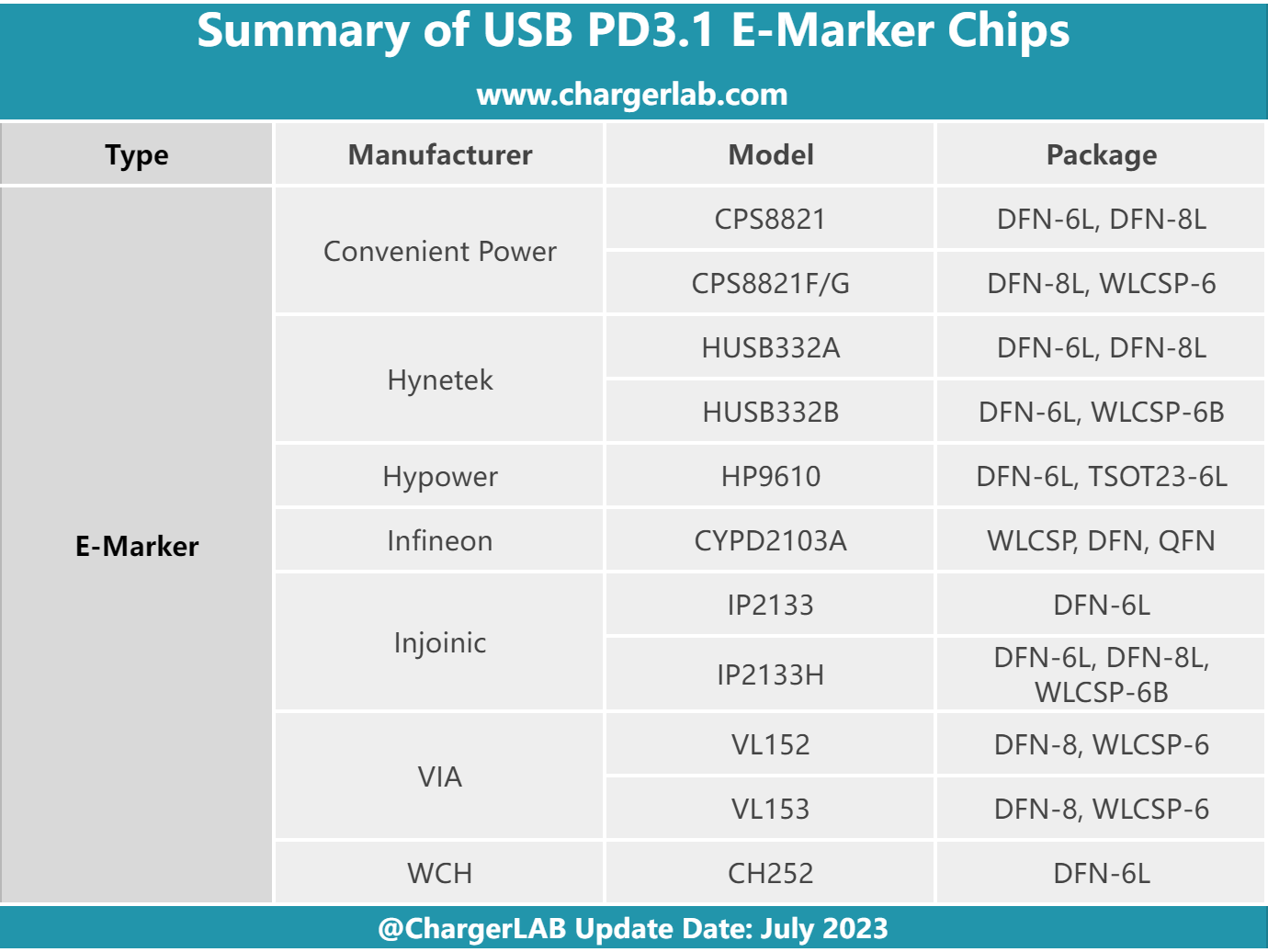 The updated cable specifications have spurred an upgrade in E-marker chips. It is worth noting that various manufacturers, including Convenient Power, Hynetek, Hypower, Infineon, Injoinic, VIA, and WCH, have already introduced E-marker chips that comply with the USB PD3.1 fast charging standard. And today, ChargerLAB will categorize these E-marker chips by brand and provide a detailed introduction to their characteristics.
Convenient Power
CPS8821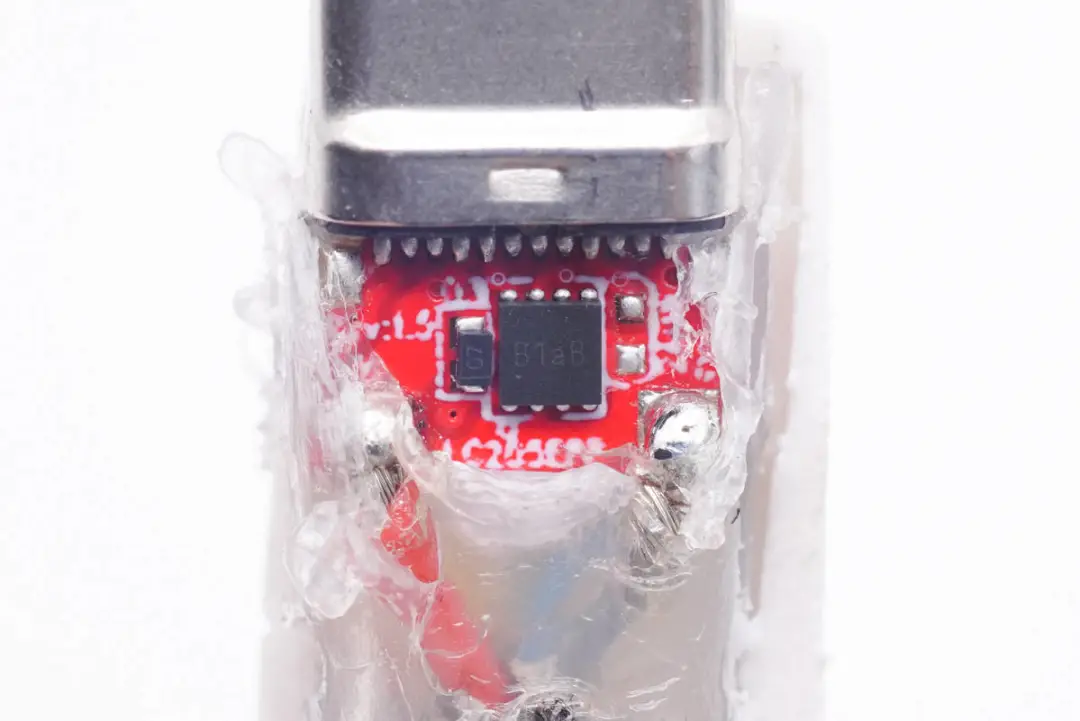 The first E-marker chip is the CPS8821B from Convenient Power, which can handle up to 240W and is compatible with USB4, Thunderbolt 4, Thunderbolt 3, USB3.2 Gen1/Gen2, USB3.1, and USB2.0 data transfer. It is currently in mass production and available for shipment.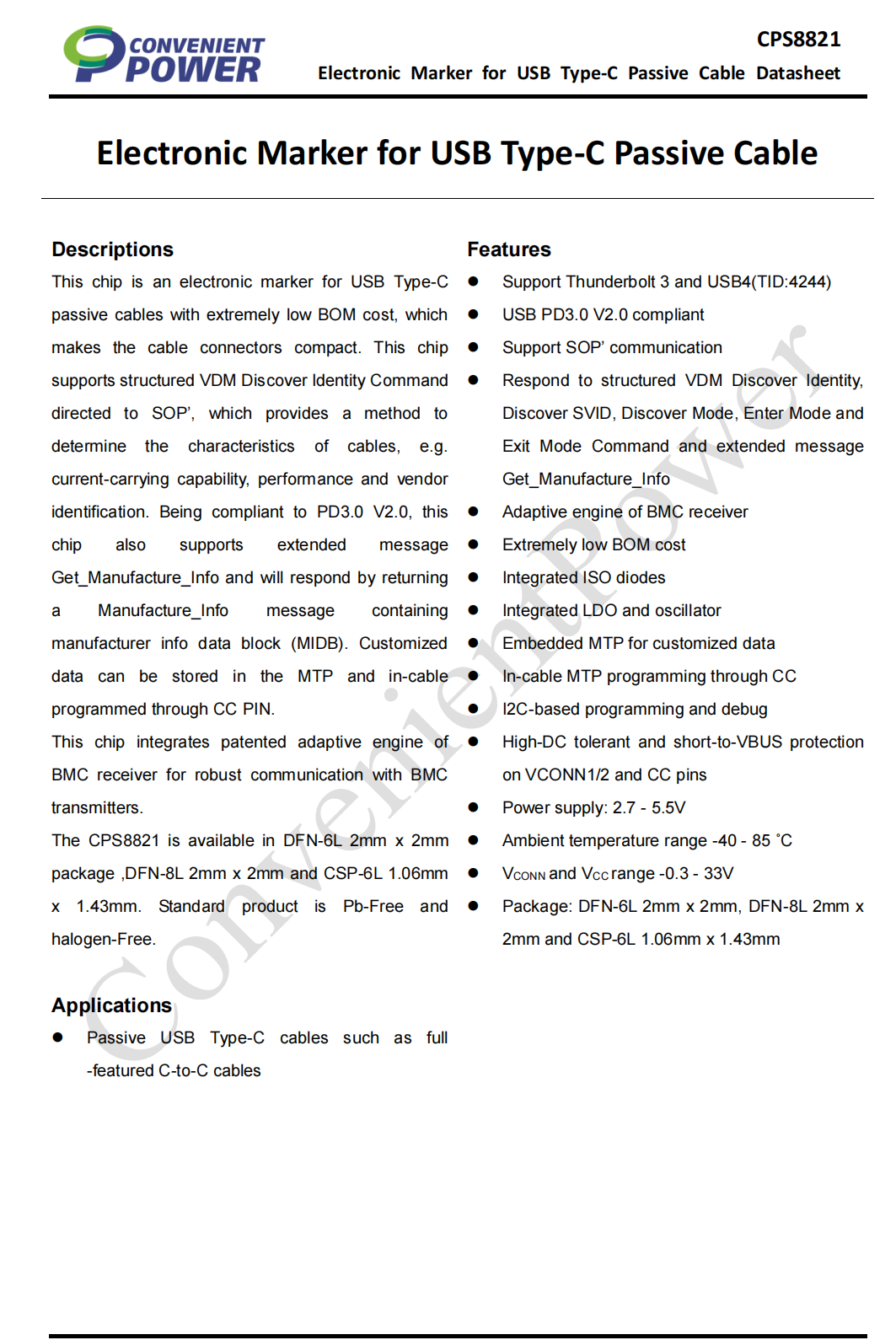 The CPS8821 series supports all the features of USB4, including Discover Identity, Discover SVID, Discover Modes, Enter Modes, and Exit Modes commands.
Moreover, it also supports CC wire programming, providing I²C-based programming and debugging capabilities, which facilitates manufacturers in their development process.
CPS8821F/G
CPS8821F/G is another newly launched E-marker chip from Convenient Power, and its fundamental features are similar to CPS8821, including compatibility with various protocols and support for the same set of commands.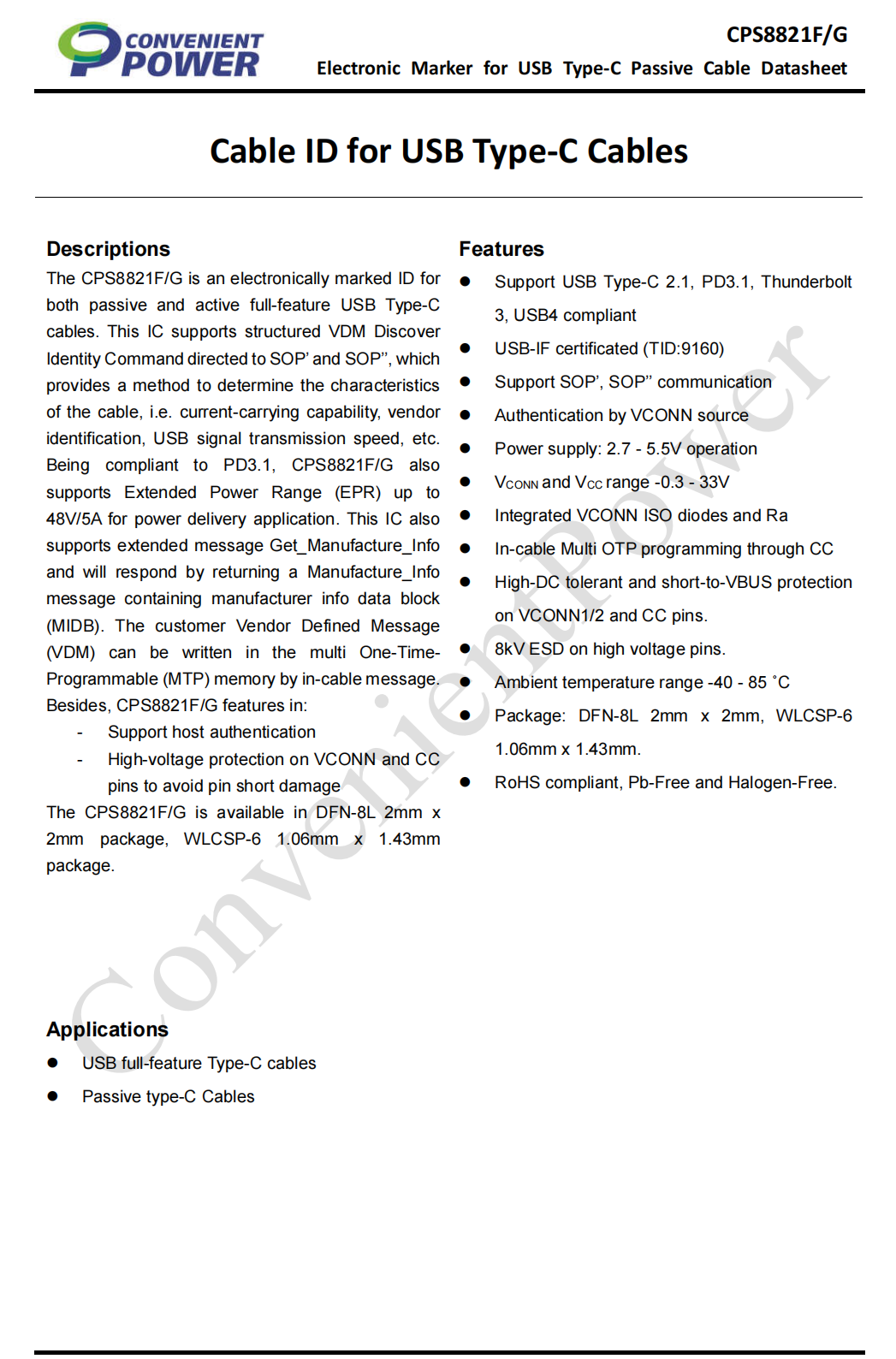 It also features host authentication and high-voltage protection on VCONN and CC pins to avoid pin short damage.
Hynetek
HUSB332A
Continuing with Hynetek, HUSB332A is an E-marker chip introduced by them. It provides backward compatibility with USB 2.0, PD 3.0, USB4, and Thunderbolt 3 specifications, while also supporting the advanced USB PD3.1 EPR. Notably, it has received certification from the USB-IF association, with the TID number being 4324.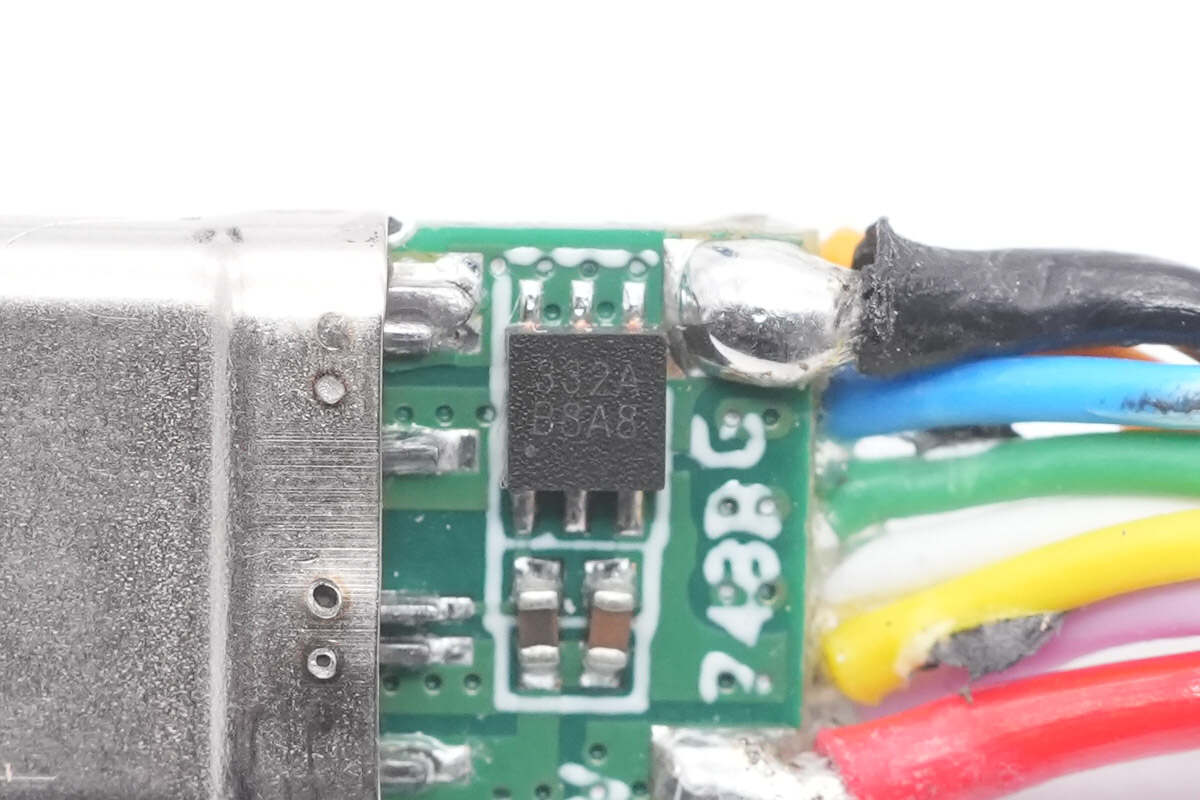 It integrates the Ra resistor and VCONN diode internally, allowing for zero peripheral design. Its built-in One-Time Programmable (OTP) memory unit supports multiple reprogramming cycles.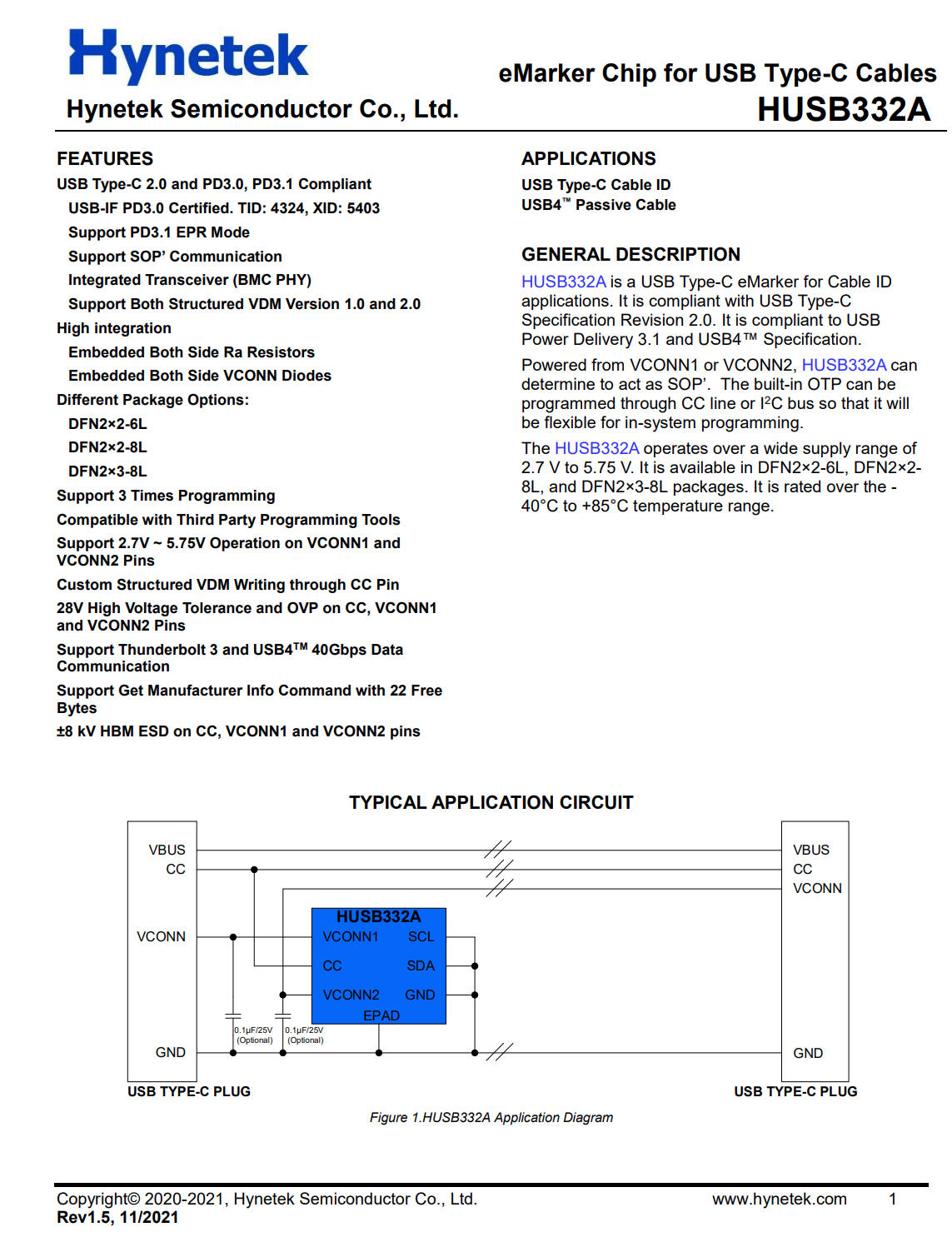 It can support 28V high voltage tolerance on CC, VCONN1 and VCONN2 Pins, and is suitable for PD and USB4 passive cables.
HUSB332B
Next up is Hynetek HUSB332B, which is quite remarkable as it is the industry's first chip to pass the USB PD3.1 E-marker Silicon Certification, with a TID number of 6773.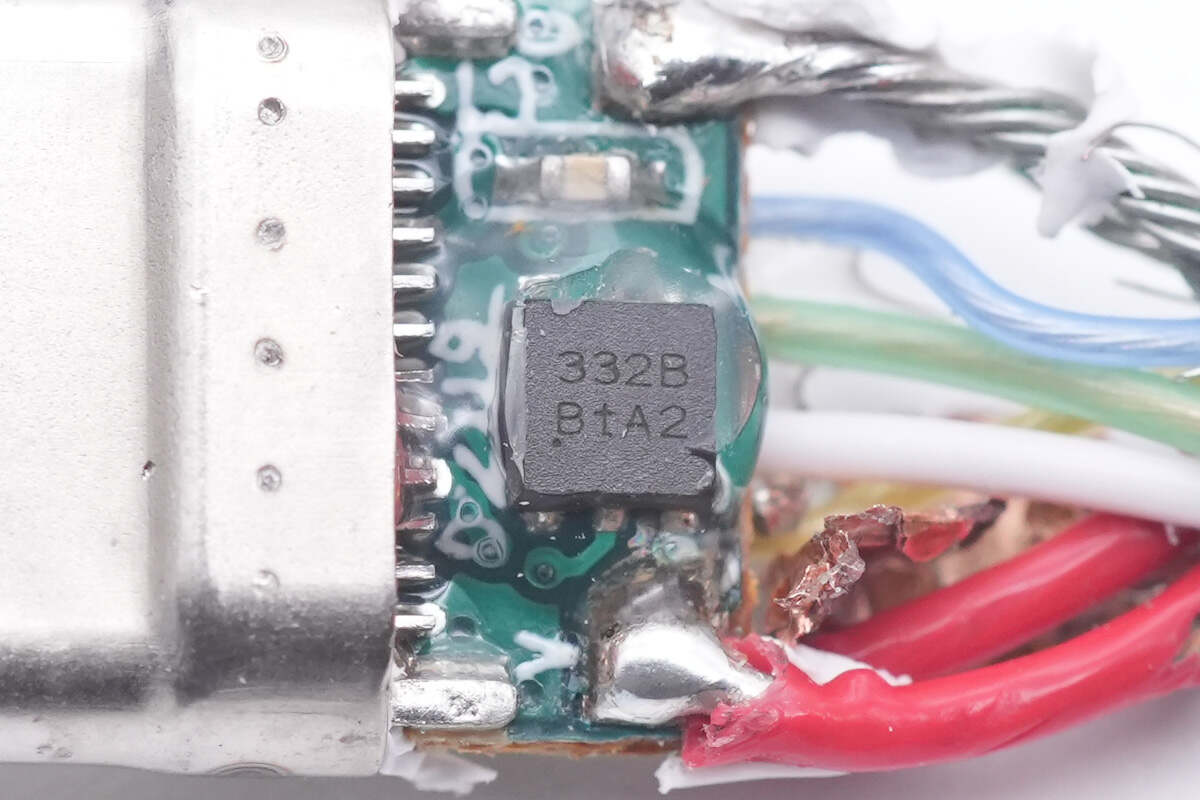 It can support power transmission of up to 240W and data transfer speeds of up to 40Gbps.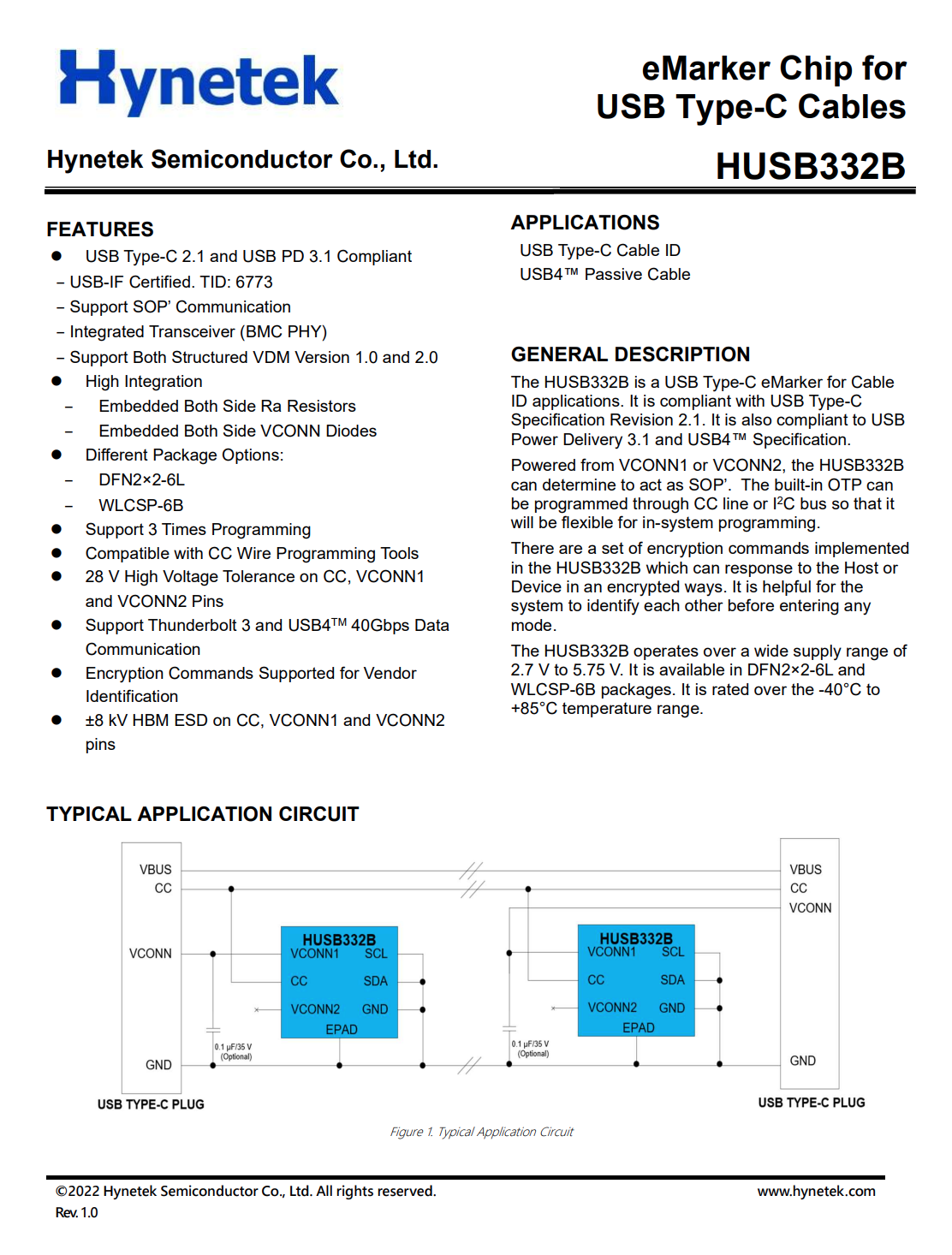 Furthermore, it comes with built-in encryption functionality, which allows devices to identify the cable, making it convenient for manufacturers to customize their products.
Hypower
HP9610
Hypower's HP9610 E-Marker chip, like the others mentioned, has also obtained certification from the USB-IF association, with the TID number being 8815.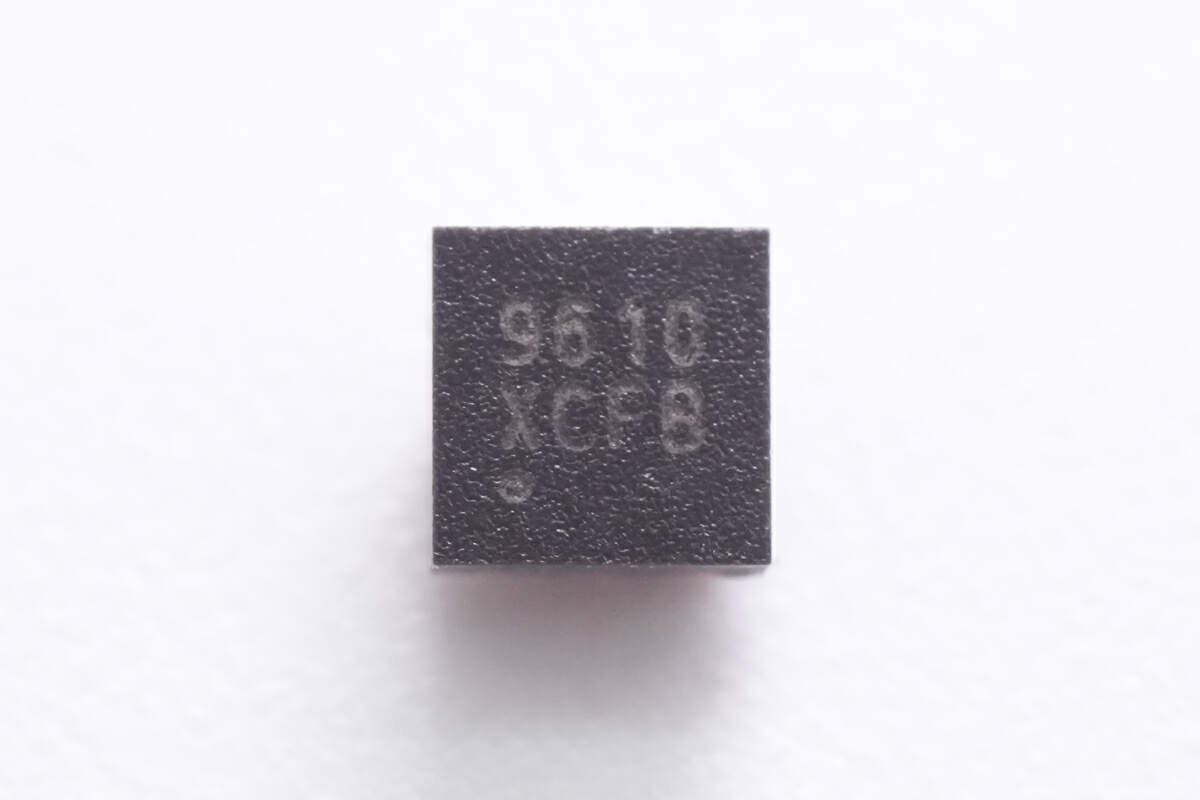 It is a chip that complies with PD3.1 and USB-C R2.1 specifications, fully meeting the E-mark standard for passive cables that meet protocol requirements. With support for dual port VCONN and Ra, a single chip can fulfill the requirements of dual USB-C cables. This provides an incredibly straightforward and cost-effective solution, reducing the Bill of Materials (BOM) for passive cables.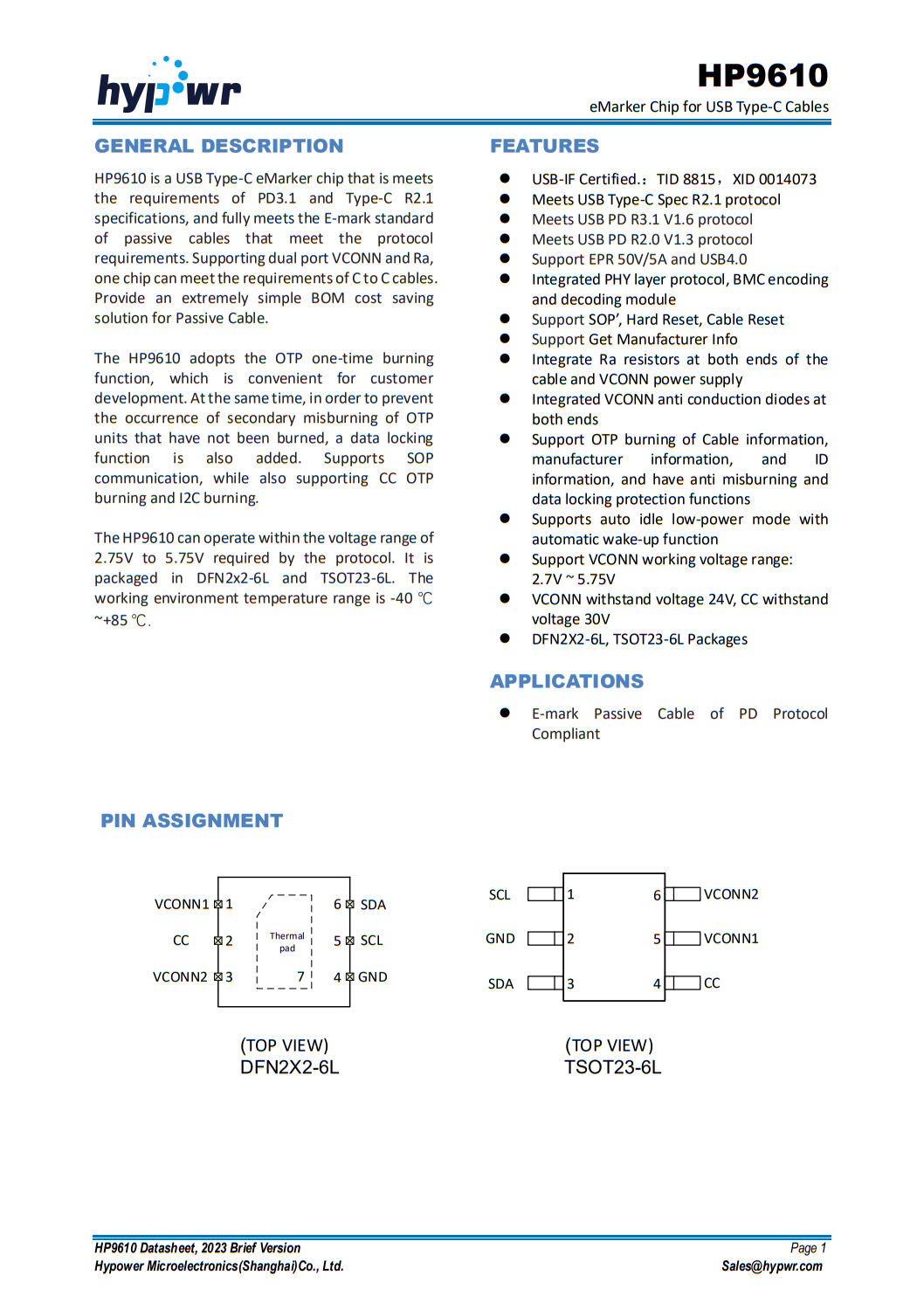 In addition, it supports EPR 50V/5A power delivery and USB4.0. The chip also integrates a VCONN diode and includes a data locking feature.
Infineon
CYPD2103A
Next up is one of our old friends, Infineon, with the model CYPD2103A. This E-Marker chip features a built-in 48MHz Cortex-M0 CPU, 32KB of flash memory, and 4KB of SRAM, supporting repeat programming.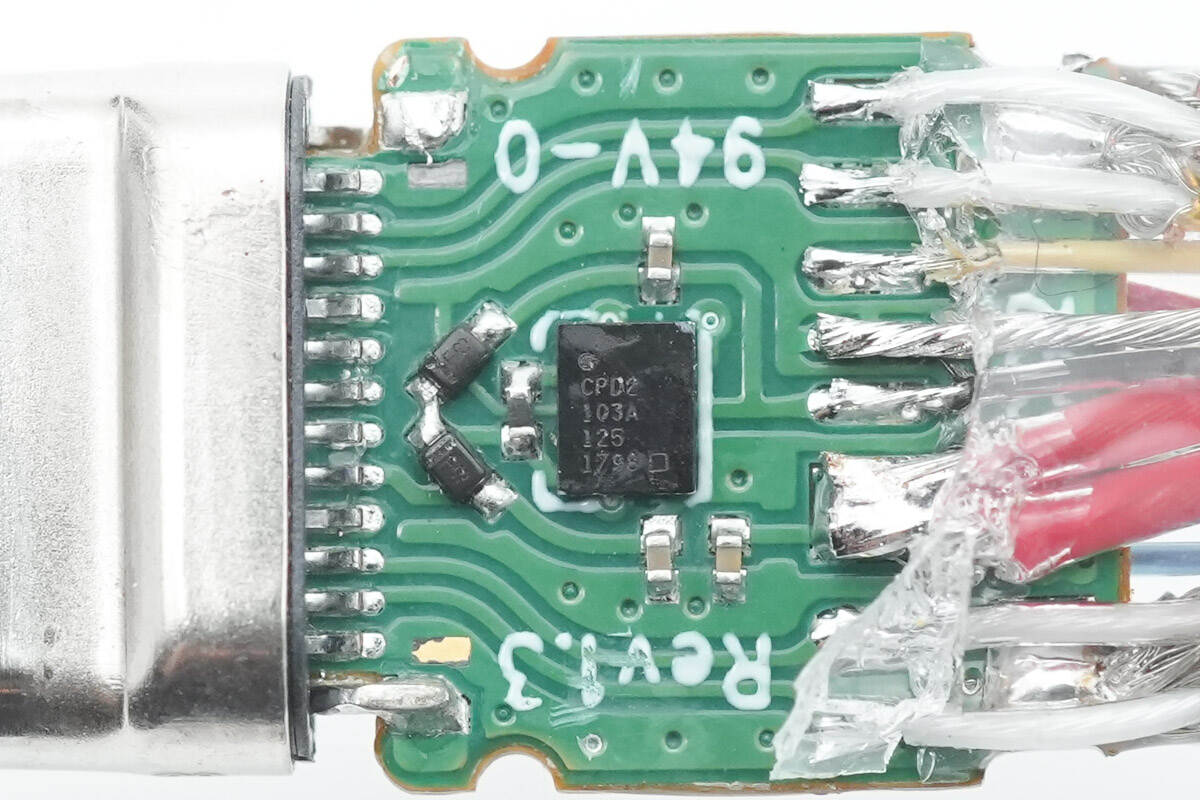 In terms of structure, it integrates timers, counters, oscillators, Type-C baseband physical layer, and UFP (Upstream Facing Port) and EMCA (Electronically Marked Cable Assembly) terminal resistors.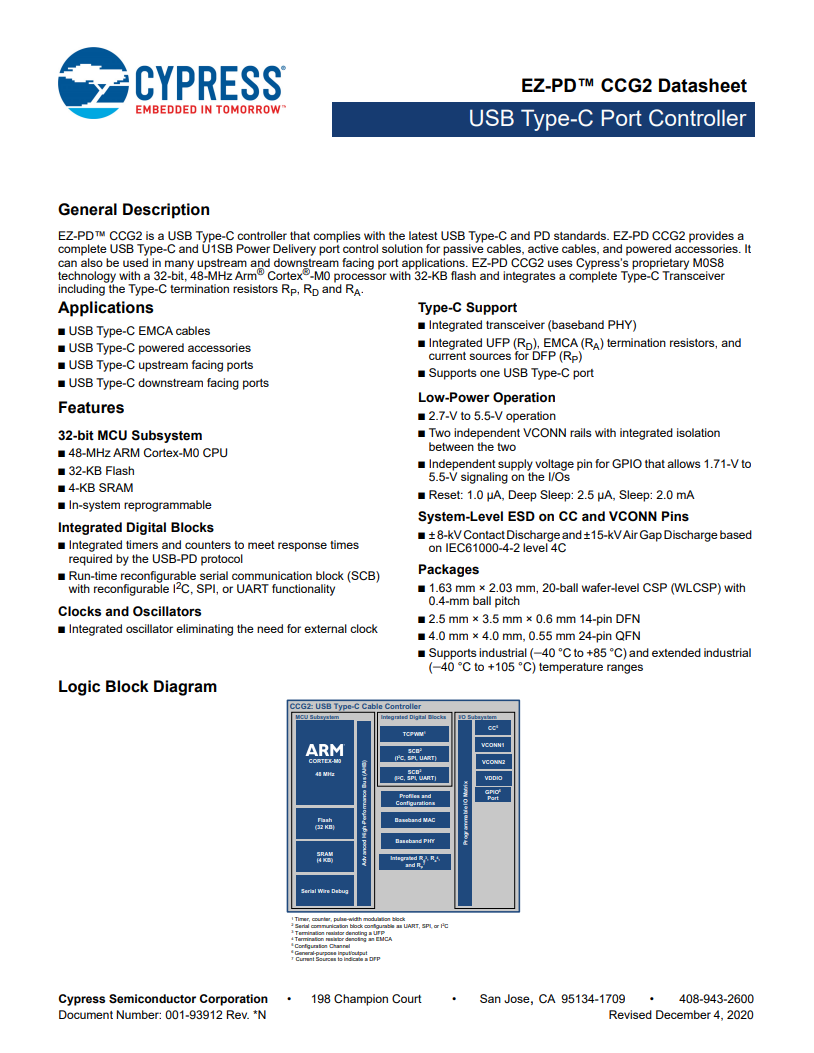 Furthermore, it utilizes Cypress's specialized M0S8 technology and offers three different packaging options to meet various application requirements.
Injoinic
IP2133
The Injoinic IP2133 supports USB PD3.1 EPR applications, SOP' communication, and EPR mode. Additionally, it integrates hardware-level BMC (Biphase Mark Code) protocol and physical layer protocol.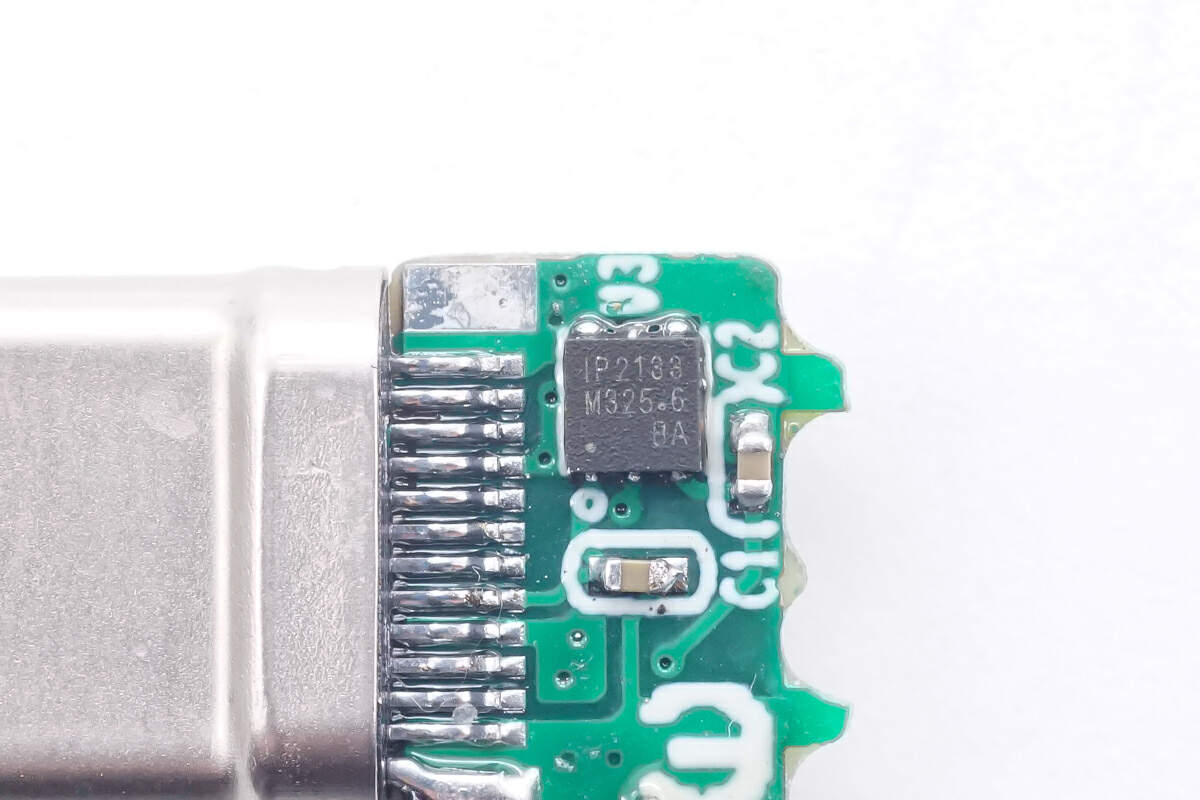 It also incorporates VCONN diode and Ra resistor, resulting in a simplified BOM and an extremely straightforward application circuit. The built-in memory supports write protection, ensuring data security by preventing unauthorized access or modifications.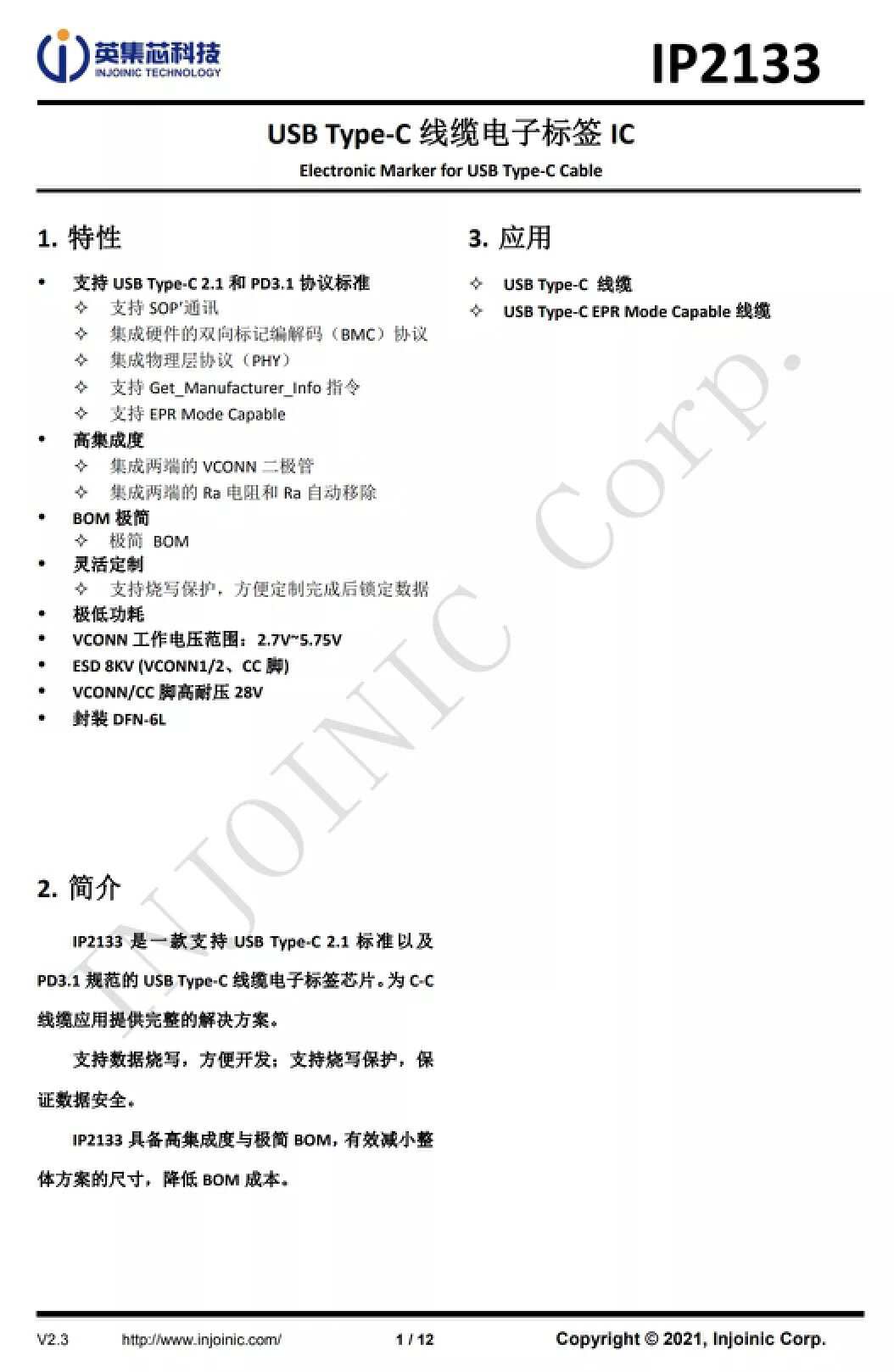 The IP2133 is available in two variants: IP2133, which does not support EPR mode, and IP2133_EPR, which does support EPR mode, catering to different usage requirements.
IP2133H/TH
The IP2133H/TH is the flagship E-Marker chip in the IP2133 series and the first product to be certified under the PD3.1 V1.7 standard. It comes in two packaging options: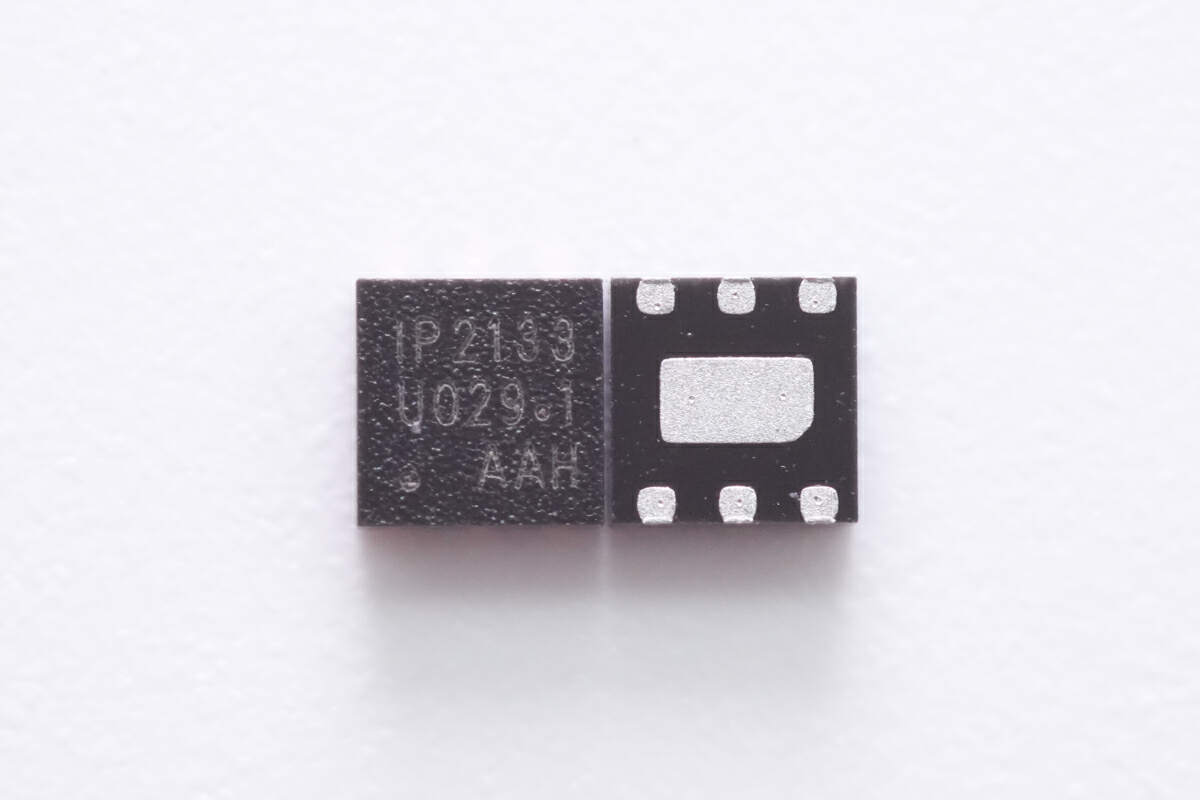 IP2133H in DFN2 x 2-6L package.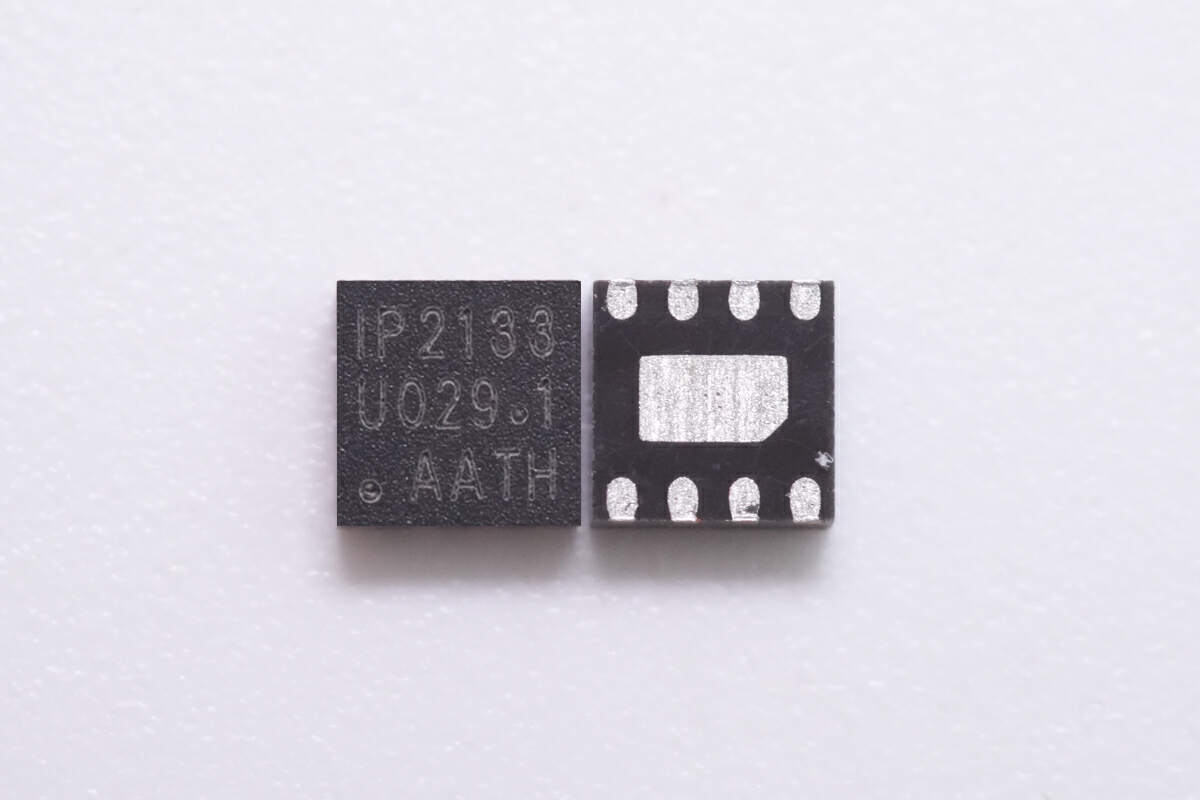 IP2133TH in DFN2 x 2-8L package, featuring additional SCL and SDA pins.
This chip supports USB-C 2.2 standard and PD3.1 specifications, integrating hardware-level BMC protocol and PHY. It also supports commands for obtaining manufacturer information and includes a temperature sensor specifically designed for cables.
IP2133H supports EPR 240W power delivery, SOP' and SOP'' commands, USB4 80G, and is suitable for Thunderbolt 4 and Thunderbolt 3 cables. It allows for four reprogramming cycles and features personalized write protection, providing manufacturers with a comprehensive solution.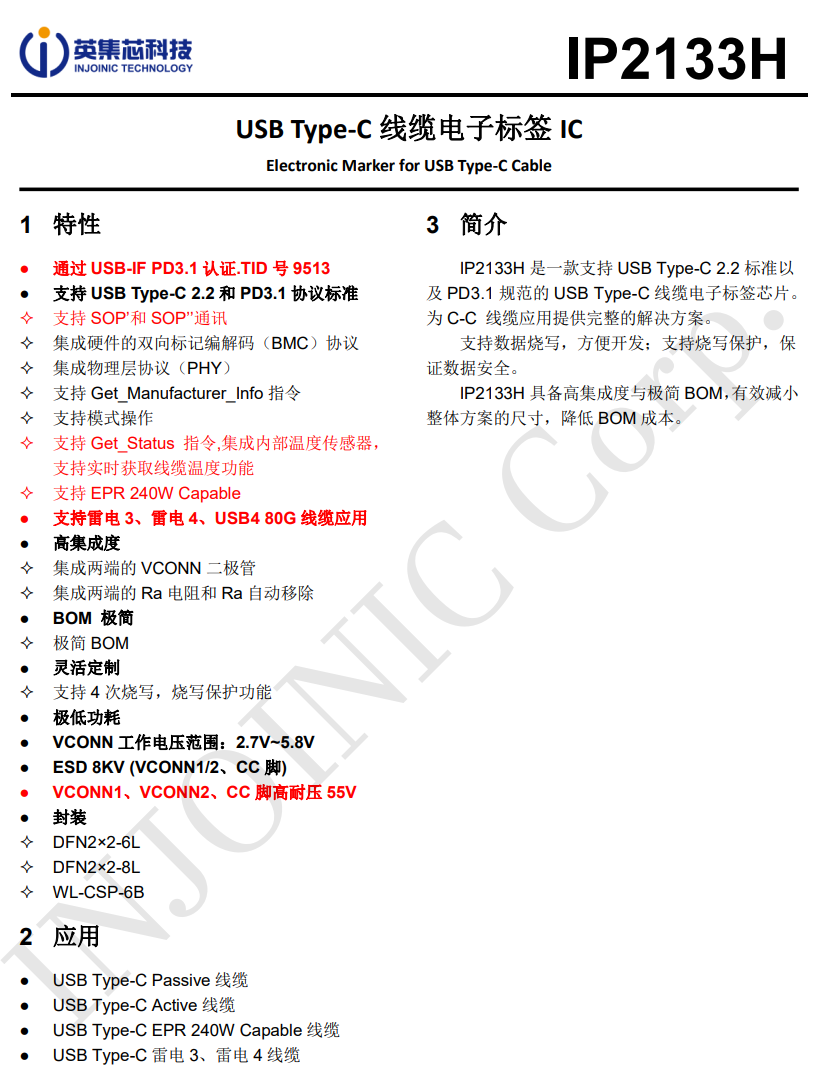 Moreover, Injoinic IP2133H offers a WLCSP-6B package to cater to various cable requirements.
VIA
VL152
This E-Marker chip comes from VIA and bears the model VL152. The chip is compliant with the PD3.0 standard, and its TID number is 1030051.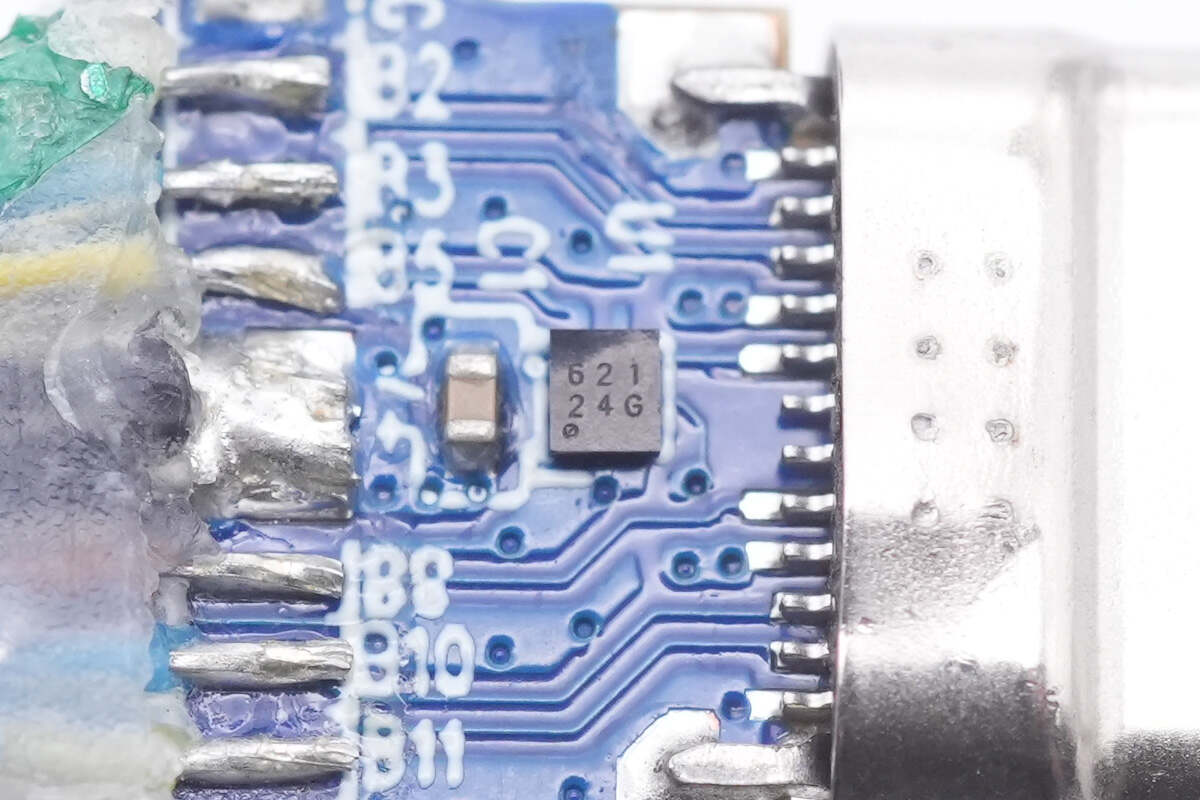 It supports chip programming via the CC wire and can be programmed and debugged through SMBus, while also being compatible with third-party programming tools. The chip integrates a VCONN diode and Ra resistor and is available in DFN2 x 3-8 or WLCSP-6 package.
VL153
VL153 is a brand-new E-Marker chip launched by VIA. It shares the same Pin-to-Pin design as the previous generation VL152, allowing customers to upgrade their products with minimal cost implications. However, it offers DFN-8 and WLCSP packaging options, catering to various application scenarios. VL153 supports multiple programming methods and protective measures, eliminating the need for external components and simplifying the design process while reducing costs.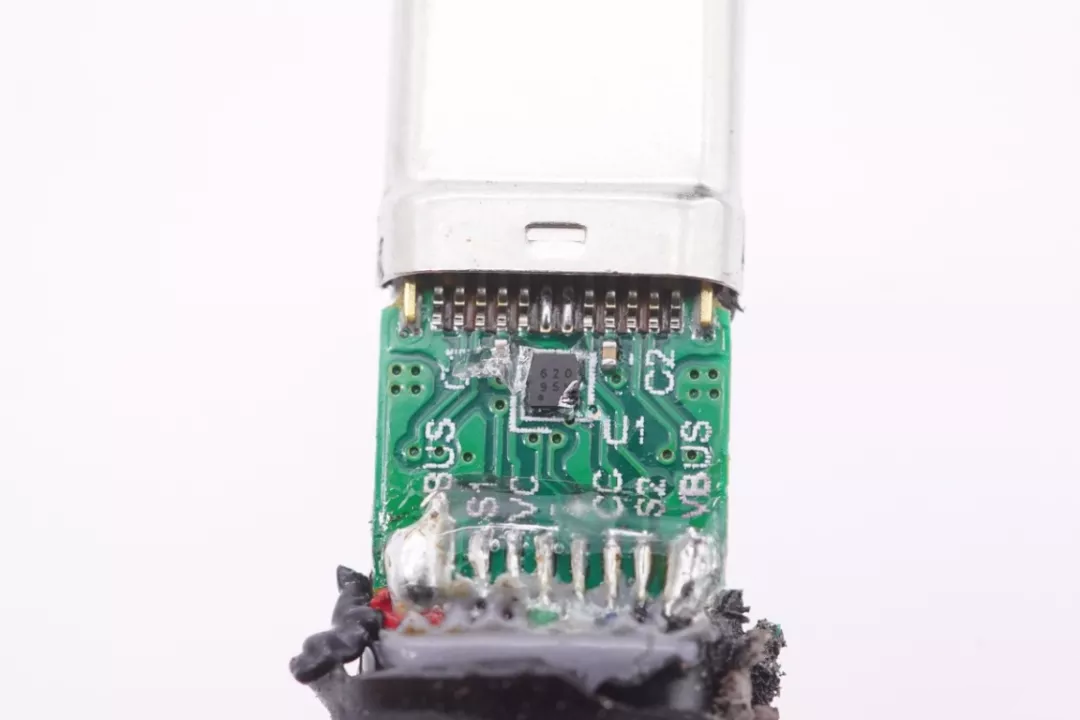 This chip is suitable for USB-C and Thunderbolt 3 passive cables, compliant with both USB PD 3.0 and USB4 specifications.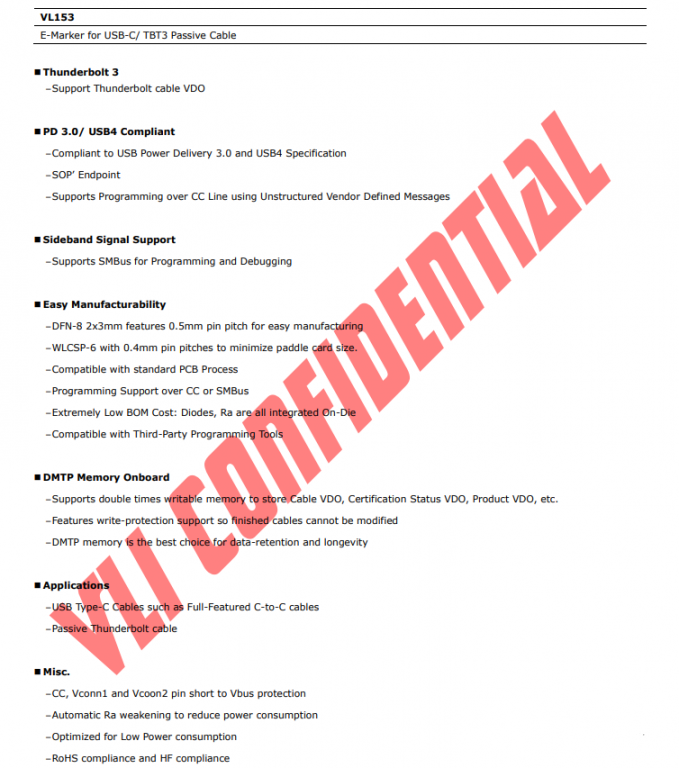 It also supports two write-in information cycles, has write protection capabilities, and boasts the advantage of a long lifespan.
WCH
CH252
The CH252, introduced by WCH, supports USB-C 2.1 and PD 3.1 standards, making it suitable for various USB-C cable-related applications. It has obtained certification from the USB-IF association, and its TID is 9134.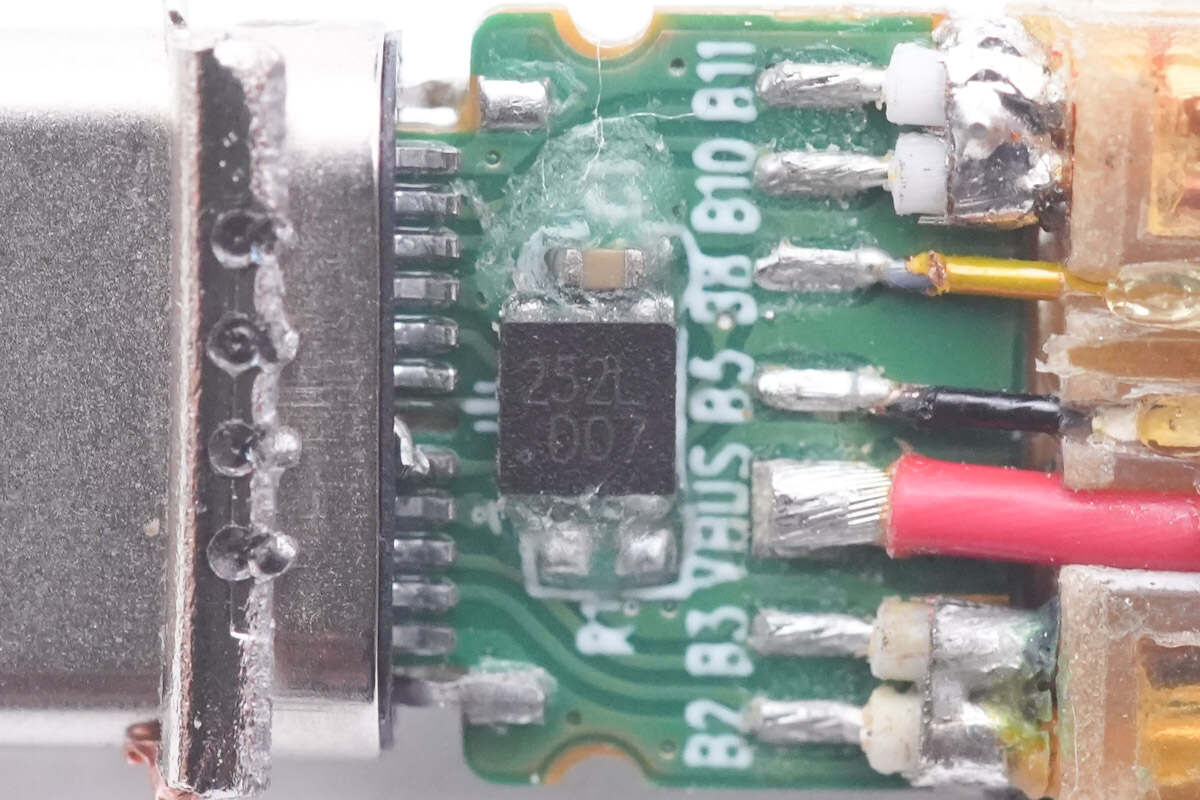 Integrated with a VCONN diode, Ra resistor, and high-voltage LDO, this chip can operate as a standalone unit, eliminating the need for external components.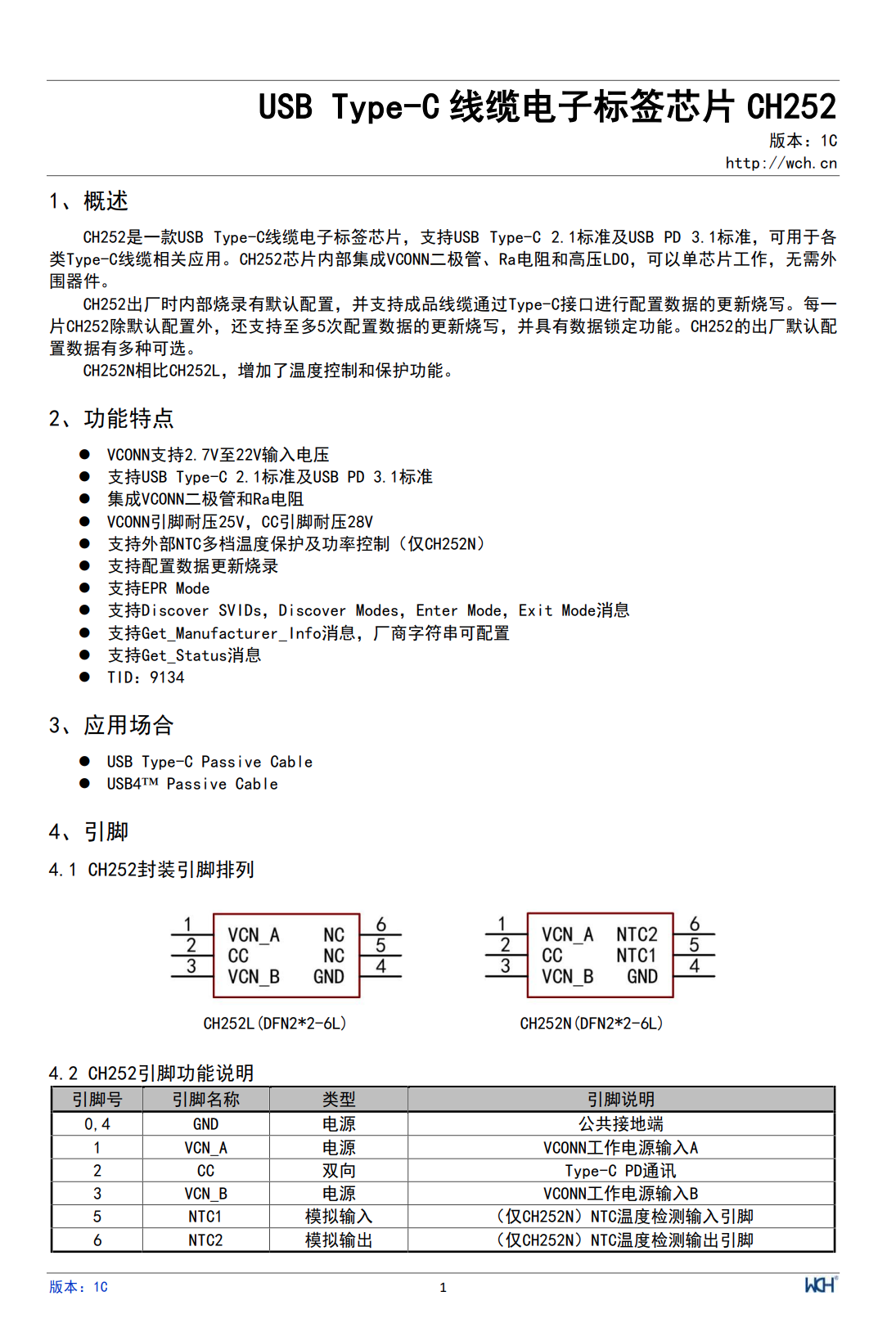 Additionally, the CH252 comes with optional default configurations pre-burnt at the factory. It also supports up to 5 updates for configuration data burning and includes a data locking function for added security.
The USB-C port, with its intuitive plug design, high data transfer speed, and high power delivery capabilities, has gained widespread popularity and is poised to replace traditional DC barrel jacks, becoming the first universal and standardized interface. With USB-C's ecosystem, manufacturers can reduce the production of chargers, leading to a decrease in environmentally harmful packaging and better protection for the environment.
As the USB-C standard advances, high power and high data transfer speed will become more prevalent in various devices, necessitating the use of more E-marker chips in corresponding cables. This time, ChargerLAB has compiled a list of seven chip manufacturers, offering a total of eleven E-marker chips that support PD3.1. All of these chips are capable of meeting the demands of cables capable of 240W power delivery and 40Gbps high-speed data transfer.
Each of these chips from the manufacturers has its unique features, with pins fortified by high-voltage protection to enhance cable reliability. Additionally, the built-in temperature sensor allows for overheating protection, minimizing the risk of high-temperature hazards during usage. These features add value to the cables and ensure a safer user experience.
Related Articles:
1. Injoinic Unveils Flagship E-Marker Chip IP2133H
2. Simulation Model of Industry's First 1200V GaN-on-Sapphire Device Released by Transphorm
3. Navitas Power Forward with Next-Gen GaN and SiC Power Semiconductors at PCIM 2023
The article is originally written by @
Joey
posted on Chargerlab. All rights reserved.