Seven AHB Controllers and Their Six Manufacturers: A ChargerLAB Analysis
Introduction
In recent years, thanks to the development of new materials such as gallium nitride (GaN) and silicon carbide (SiC), as well as related technologies, the fast charging industry has gradually grown. Fast charging products have shown a trend towards multifunctionality, multiple ports, high power, and compact size. Additionally, the USB PD3.1 fast charging standard, with a maximum power limit of 240W, has significantly expanded the scope of fast charging applications. The third-party market driven by Apple's 140W PD3.1 fast charger has also injected momentum into the development of fast charging at 100W and above.
In high-power power supply design, LLC and AHB are two mainstream topologies in the industry. Although both topologies have been around for some time, AHB architecture entered the consumer power supply field a bit later than LLC. However, due to its advantages in terms of cost and design complexity, AHB architecture quickly gained industry attention.
AHB stands for Asymmetrical Half-Bridge, and an AHB controller uses two MOSFETs to form a half-bridge structure, connected in series with a capacitor and the primary winding of a transformer, collectively storing energy. It transfers the energy stored in the capacitor to the secondary components through an additional MOSFET.
Compared to traditional flyback converters that dissipate energy as heat due to transformer leakage, AHB controllers not only recycle the energy lost but also achieve zero-voltage switching (ZVS) for the main MOSFET and zero-current switching (ZCS) for synchronous rectifiers. This reduces switching losses and heat generation.
Characteristics and Advantages of AHB Topology
The AHB topology involves both the transformer excitation inductance and the resonant capacitor inside the asymmetric half-bridge in storing energy. Compared to the flyback converter, it reduces the volume to some extent. AHB combines the advantages of the flyback converter and the asymmetric half-bridge, utilizing the excitation current to achieve MOSFET ZVS (Zero Voltage Switching) and the resonant current to achieve secondary rectifier diode ZCS (Zero Current Switching). AHB is well-suited for wide voltage output applications, and in comparison to the LLC topology, it offers significant advantages in applications with wide output voltage variations like PD fast charging, providing substantial cost benefits. AHB's switching frequency is limited to a relatively narrow range, making it highly beneficial for EMI filter design. AHB is suitable for high power density and cost-effective topologies.
Compared to the LLC architecture, the AHB architecture has the following advantages. Firstly, the AHB architecture's secondary side is a single-power-device topology, effectively reducing system costs. Secondly, the AHB architecture places significantly lower voltage stress on secondary rectifier diodes compared to traditional flyback architectures, enabling the use of lower voltage-rated MOSFETs, which greatly reduces system costs and debugging complexity, especially in applications requiring high output voltage like PD fast charging. Thirdly, in the AHB architecture, the transformer and resonant capacitor jointly store energy, effectively reducing the size of the transformer.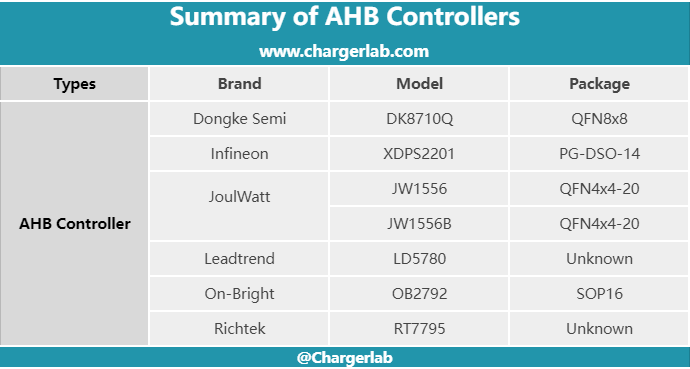 It's the above characteristics and advantages of the AHB topology that enable its application in single-port/multi-port applications, PD3.1 fast charging, and it has gained significant industry attention. According to ChargerLAB's incomplete statistics, renowned industry manufacturers such as Dongke Semi, Infineon, JoulWatt, On-Bright, Richtek, and Leadtrend have already introduced or are about to release new AHB controllers. Let's take a closer look at them.
The following manufacturers are listed alphabetically.
Dongke Semi
DK8710Q
DK8710Q is Dongke Semi's first AHB GaN IC in the industry. It integrates two GaN FETs to form a half-bridge, efficiently recycling leakage energy and achieving ZVS for the main FET and ZCS for synchronous rectifiers. This improves conversion efficiency, reduces power device stress, lowers switching losses, and enhances electromagnetic interference (EMI) performance.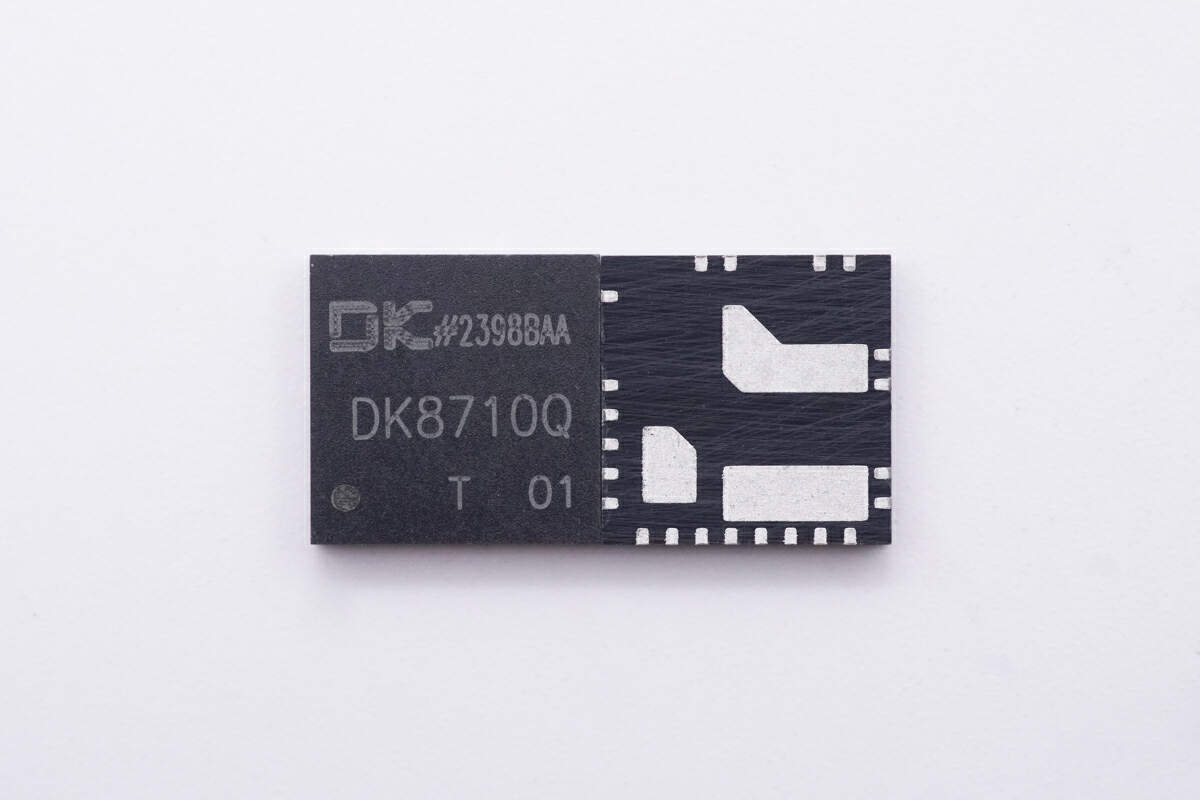 It features high-voltage start-up and safety-compliant X2 capacitor discharge circuits, with standby power consumption below 50mW. It supports a maximum switching frequency of 1MHz, offers adaptive dead-time control, and achieves peak conversion efficiency of 95%. The chip includes high and low input power compensation circuits, ensuring consistent maximum output power under different input voltage conditions.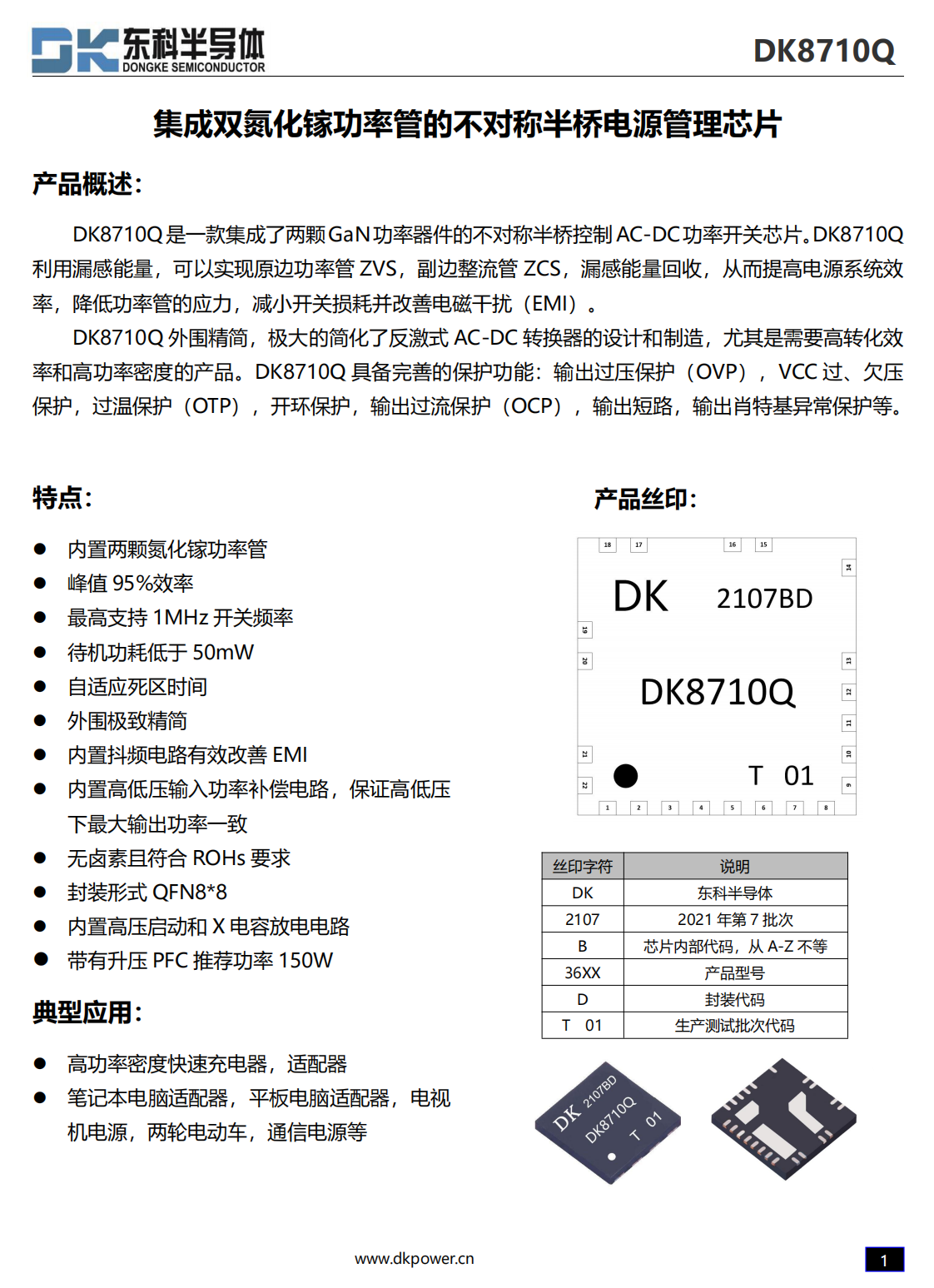 DK8710Q also includes over-voltage protection, supply over-voltage, under-voltage protection, over-current protection, open-loop protection, output short-circuit protection, and Schottky abnormal protection. The chip supports 150W output power, suitable for current USB PD3.1 chargers with 140W output requirements. It is applicable to PD3.1 fast charging, laptop adapters, TV power supplies, fast chargers, and other high-power applications. DK8710Q is packaged in QFN8x8, making it compact with simplified peripheral components and strong heat dissipation capabilities.
Infineon
XDPS2201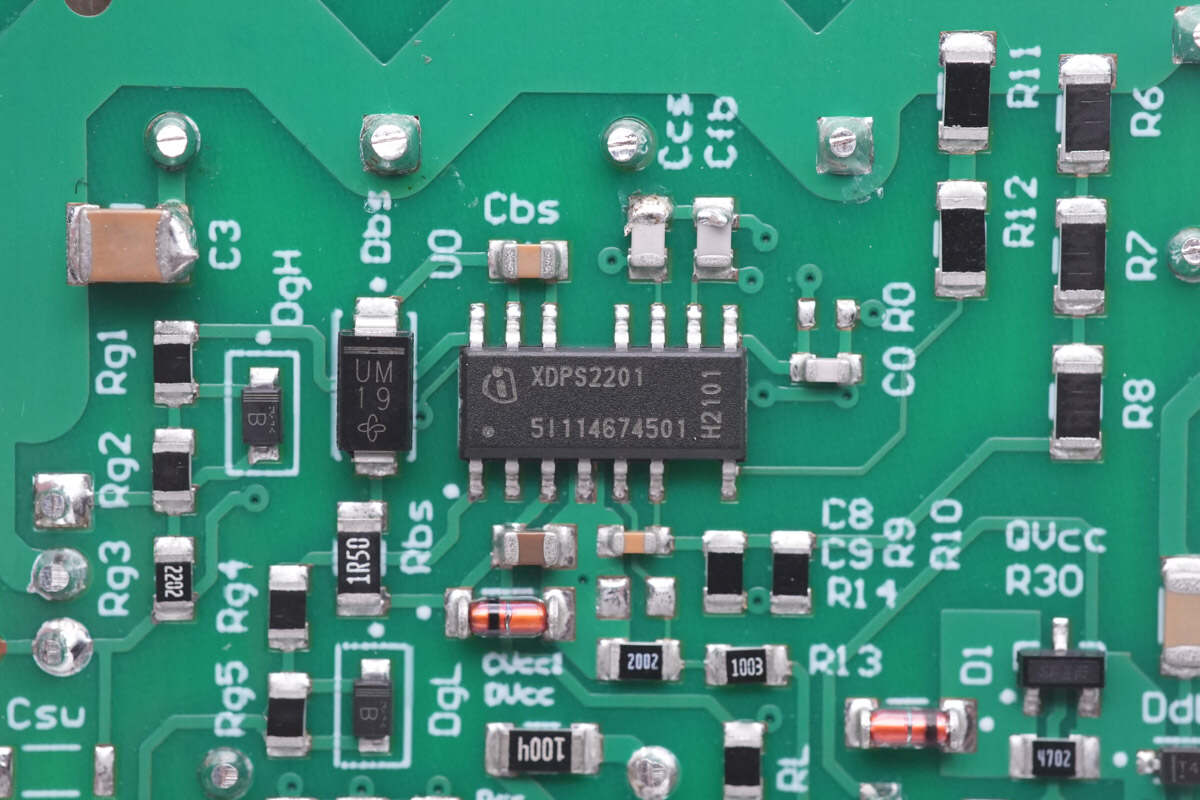 Infineon XDPS2201 is a digital hybrid flyback controller with an integrated 600V high-voltage start-up circuit and high-side/low-side MOSFET drivers. It can be paired with the IGI60F1414A1L half-bridge GaN chip, providing customers with a highly integrated, efficient, high-performance, and low-temperature-rise GaN fast charging solution.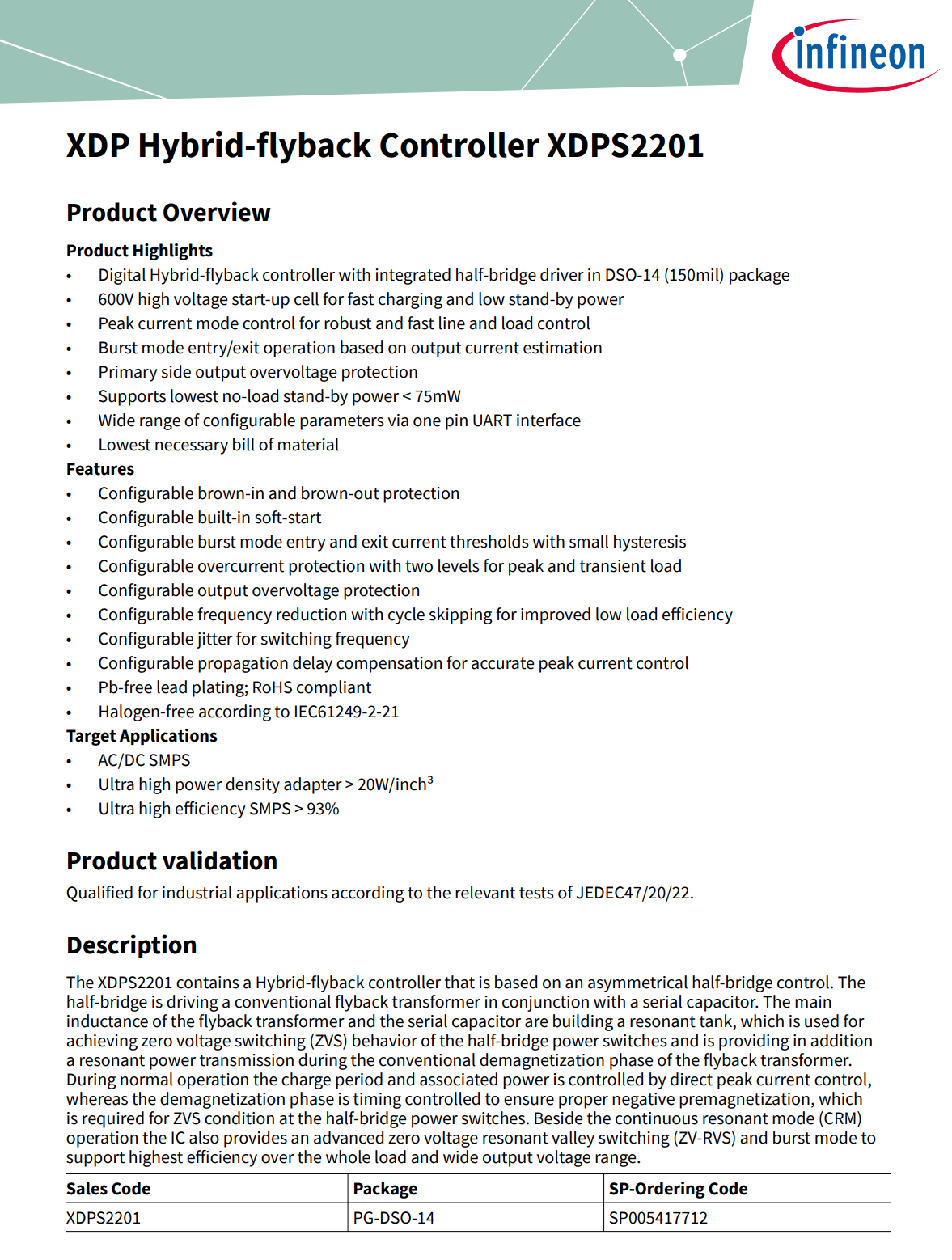 It uses peak current mode control for fast load response and automatically switches to burst mode based on output current levels, supporting primary-side over-voltage protection. Standby power consumption is less than 75mW, and it can be configured through a single-pin UART interface. The XDPS2201 is packaged in PG-DSO-14, offering simplified peripheral components.
JoulWatt
JW1556
JoulWatt JW1556 is an asymmetric half-bridge flyback controller, packaged in QFN4x4-20, suitable for offline flyback converter applications. It has an input voltage range of 2.5-38V, a maximum operating frequency of up to 1.5MHz, and supports fast charging applications ranging from 65W to 300W.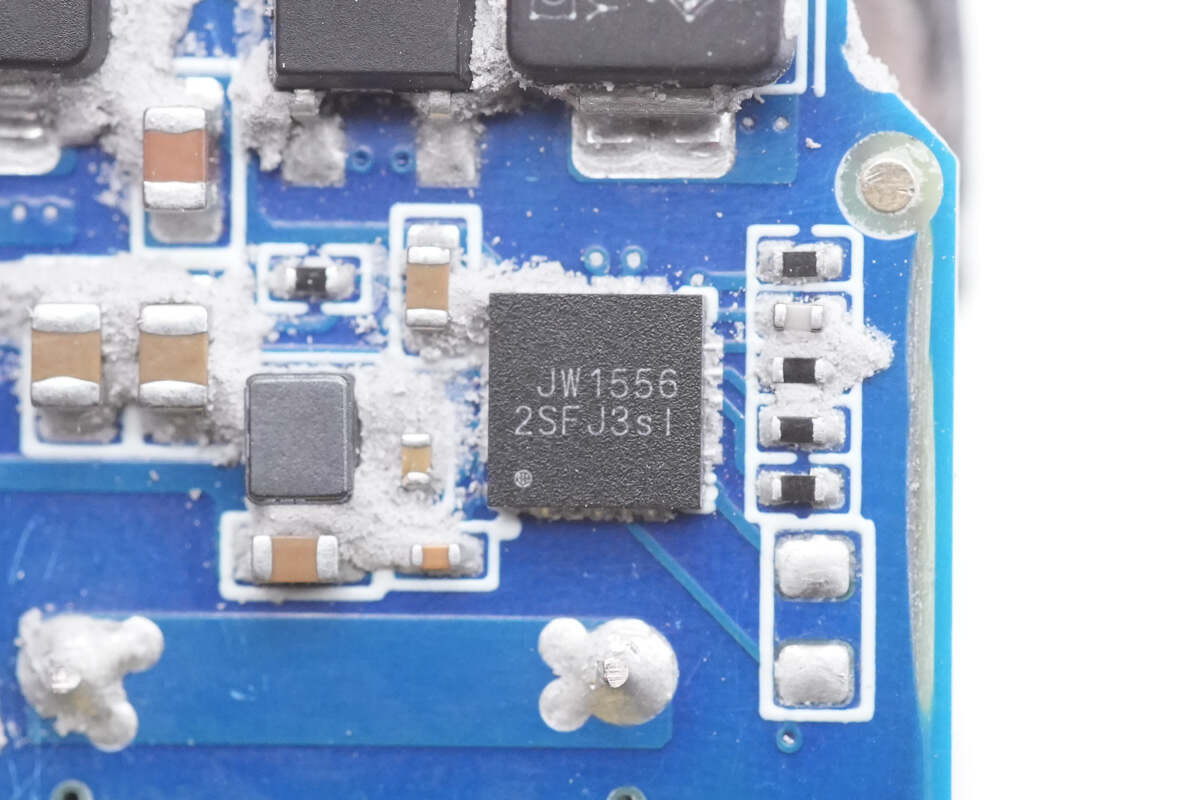 It operates in ZVS mode under heavy loads, supports Adaptive ZVS, and optimizes efficiency. Under light loads, it operates in DCM mode, providing primary and auxiliary switch control, high-voltage start-up, X capacitor discharge control, burst mode control, adjustable line compensation, and other features.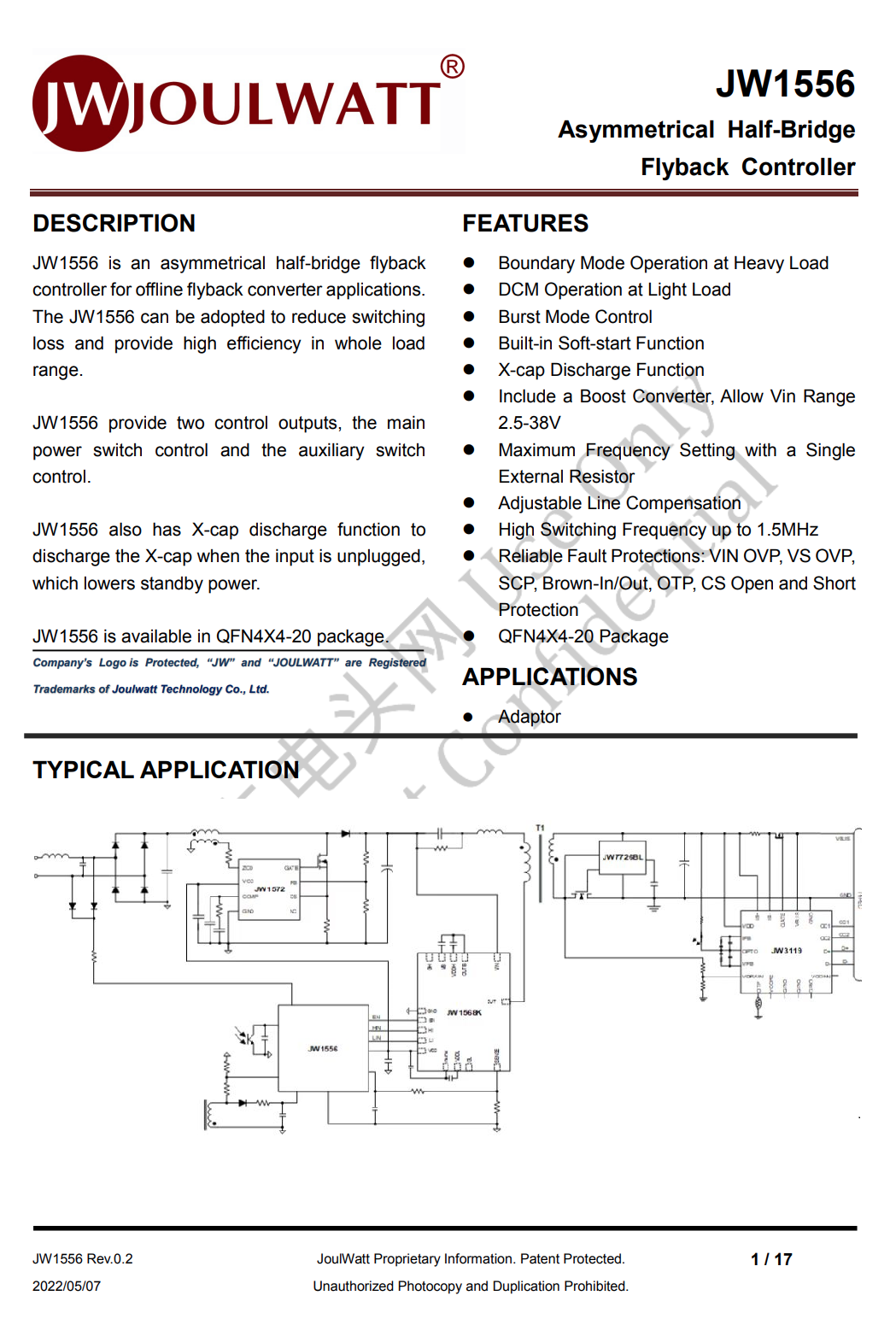 JW1556 can set the operating frequency through a single external resistor, keeping the design simple with minimal peripherals. The chip includes soft start, VIN OVP, VS OVP, SCP, Brown-In/Out, OTP, CS open circuit, and short circuit protection, enhancing the reliability of the power supply system.
JW1556B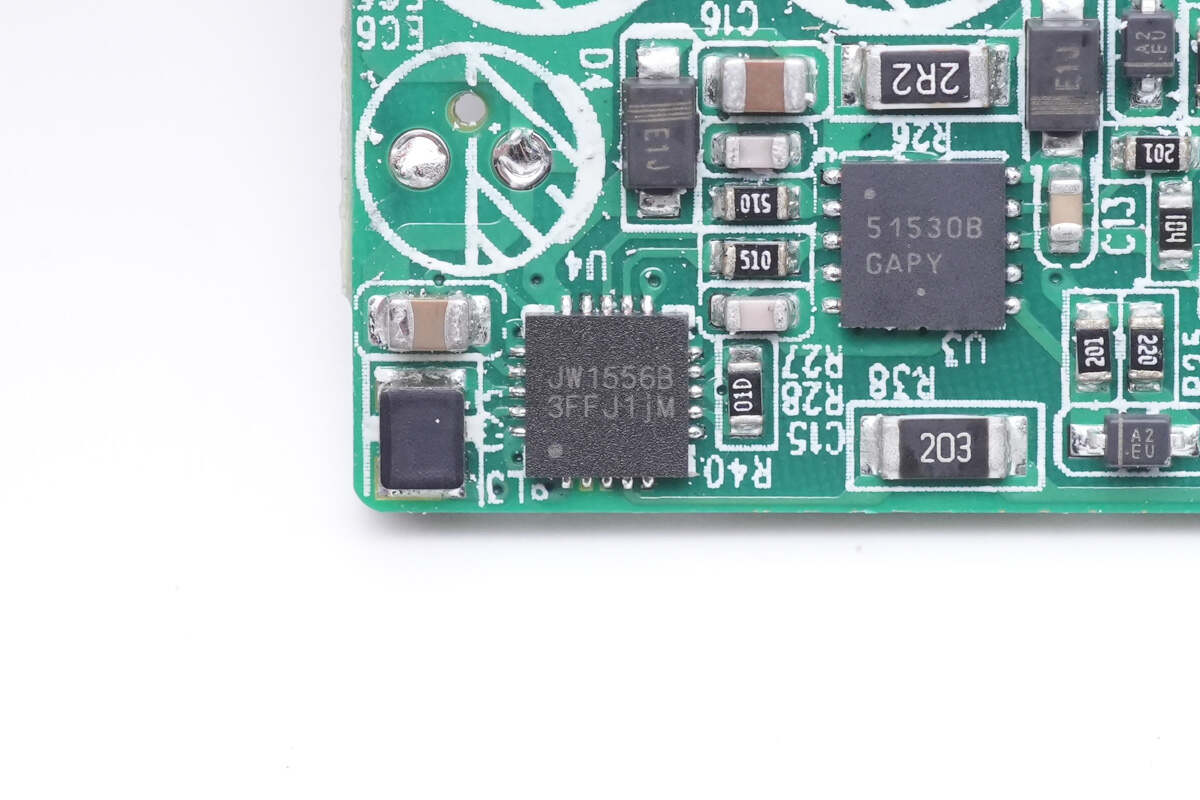 JW1556B is an optimized model by JoulWatt for peak load scenarios, supporting a wide input voltage range of 0-38V. It is suitable for the laptop market, which demands 1-2 times peak power.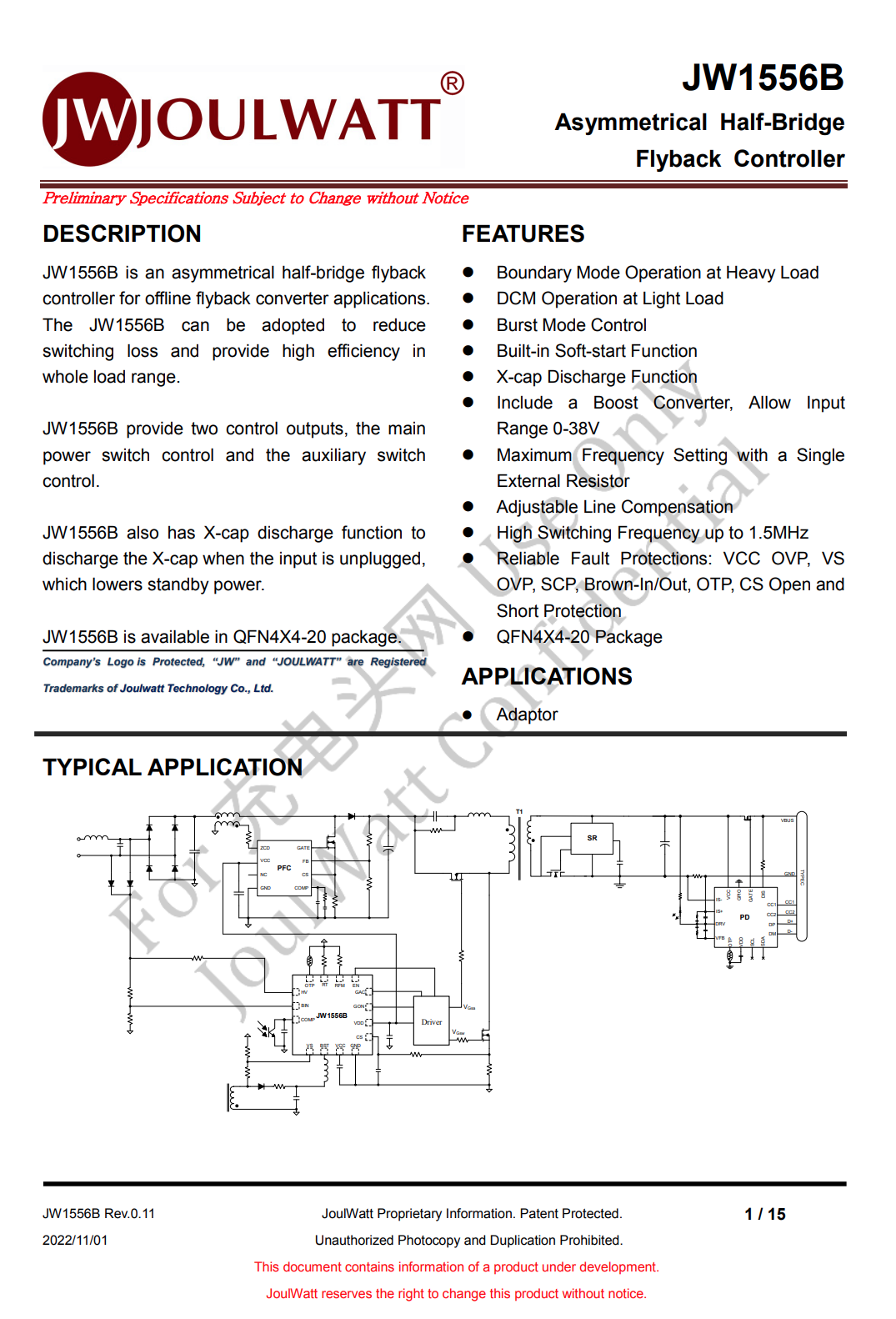 Many key features of JW1556B are the same as JW1556, such as QFN4x4-20 packaging and a maximum operating frequency of 1.5MHz, as well as support for high-voltage start-up, X capacitor discharge control, burst mode control, adjustable line compensation, and more.
Leadtrend
LD5780
ChargerLAB has learned from the manufacturer that Leadtrend's AHB controller model is LD5780, expected to be released in the second half of 2023. Detailed information on this device will be provided at that time, so stay tuned.
On-Bright
OB2792
On-Bright OB2792 is an AHB controller designed for zero-voltage switching resonant converters. Under normal operation, the high-side charging cycle employs conventional peak current control, while the low-side turn-on cycle is regulated by an internal adaptive control loop. Under heavy loads, the chip operates in continuous resonant mode, while under light loads, it enters a frequency foldback mode, achieving zero-voltage switching and reducing switching losses.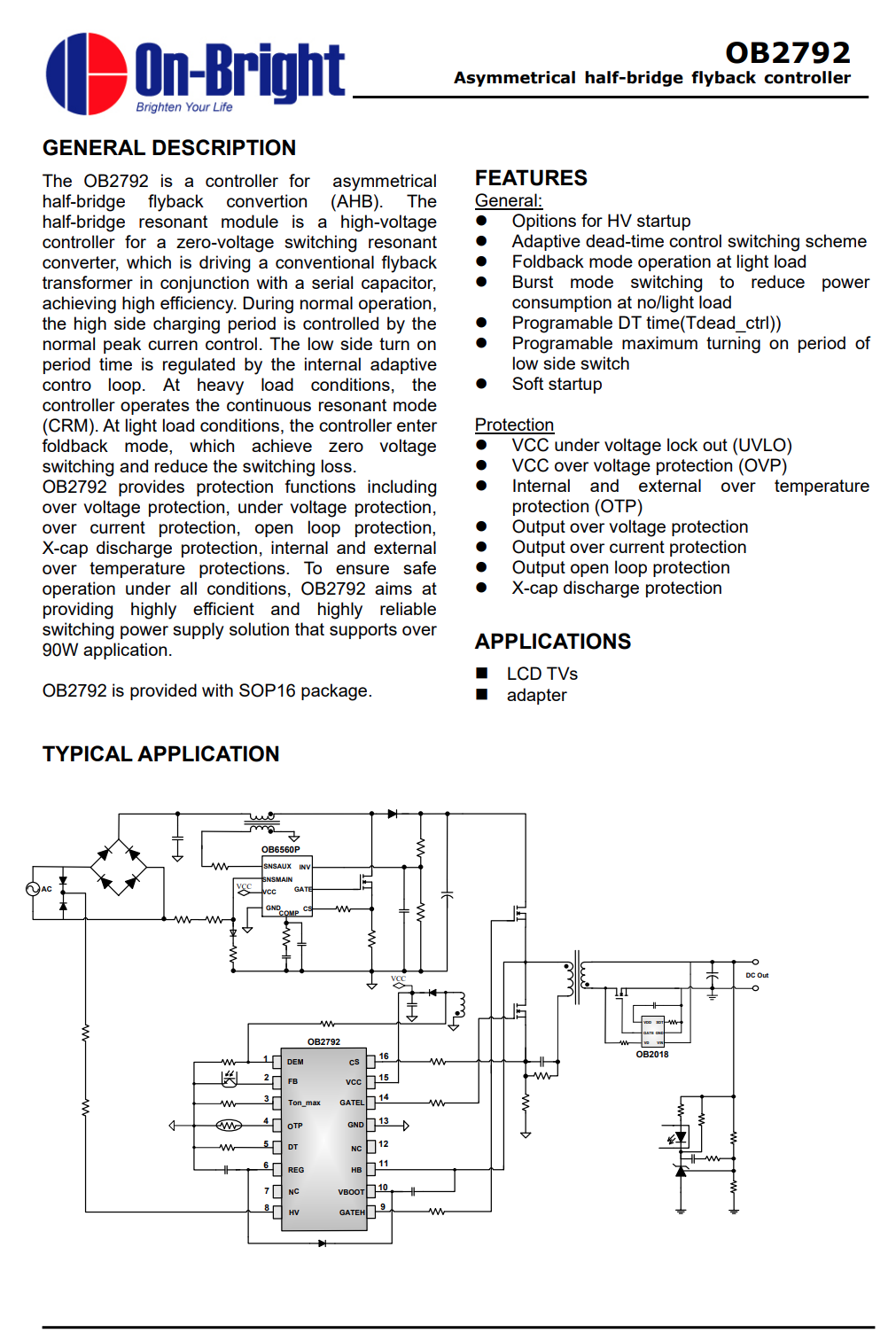 It supports over-voltage protection, under-voltage protection, over-current protection, open-loop protection, X capacitor discharge protection, internal and external over-temperature protection. It is designed to provide an efficient and reliable switching power supply solution for applications requiring 90W and above.
Richtek
RT7795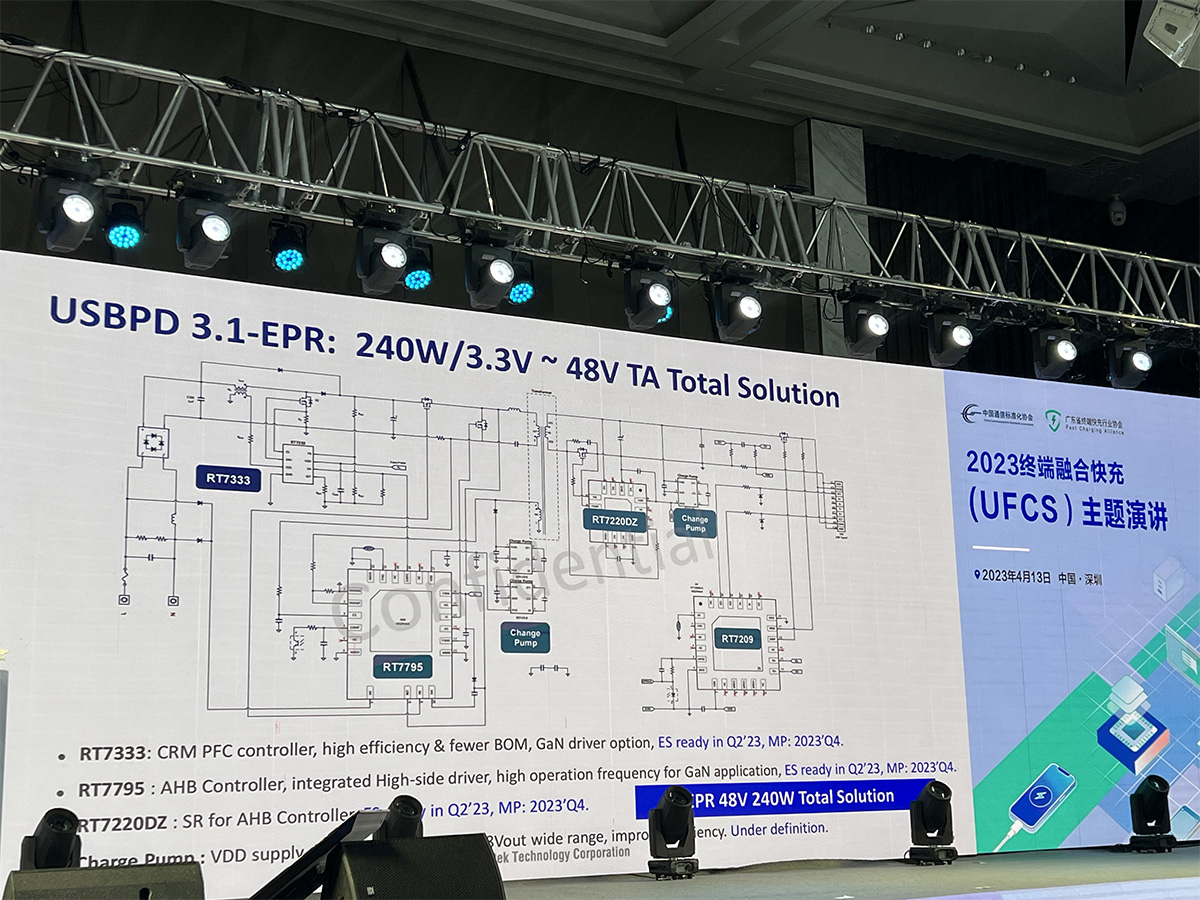 At the 2023 Terminal Integration Fast Charging Summit (UFCS), Richtek introduced its latest RT7795 AHB controller product designed for high-power gallium nitride fast charging power supplies. The RT7795 is expected to be in production in the fourth quarter of this year. Detailed information on this product will be provided by ChargerLAB at that time, so please stay tuned.
The increase in power limits brought by the new USB PD3.1 fast charging standard has expanded the applications of fast charging. With Apple's introduction of the MacBook Pro supporting 140W fast charging, there is growing demand for high-power fast charging for multiple devices simultaneously. The continuous market demand has driven the innovation and development of high-power fast charging technology.
In high-power power supply design, AHB topology can reduce circuit complexity and system costs, and it allows for better power density. This is beneficial for both engineers and consumers. Compared to LLC topology, AHB topology can be seen as a complement in the face of increasingly stringent design requirements, providing more flexibility in high-power power supply design.
The successful commercial use and attention received by the AHB topology have fully demonstrated its performance and advantages, providing a new choice for high-power power supply design. Manufacturers such as Dongke Semi, Infineon, and others have led the way in introducing AHB controller products, enriching the options in this emerging topology and positively driving the development of the high-power power supply market.
Related Articles:
1. 30 PD3.1 Protocol Chips and Their 11 Manufacturers: A ChargerLAB Analysis
2. Innovating Power: Exploring Six 140W PD3.1 Power Bank PMICs
3. ChargerLAB Reveals 11 PD3.1 E-Marker Chips from 7 Manufacturers
The article is originally written by @
Joey
posted on Chargerlab. All rights reserved.