Injoinic IP5356 Master Control Chip Adopted by Anker 622 Power Bank
Introduction
In recent years, Apple has introduced MagSafe charging technology in its smartphones, allowing for wireless charging through magnetic alignment, eliminating the need for precise coil placement and making it extremely convenient to use. With iPhones enjoying a significant market share, third-party manufacturers have been quick to release various styles of magnetic wireless power banks.
Anker has one such magnetic wireless power bank, the 622 Magnetic Battery (MagGo), which features the IP5356 master control chip developed by Injoinic. This chip integrates multiple mainstream fast charging input/output protocols and offers various excellent features, simplifying circuit design and saving internal space. Next, ChargerLAB will provide a brief overview of this power bank and the IP5356 chip it incorporates.
Anker 622 Magnetic Battery (MagGo)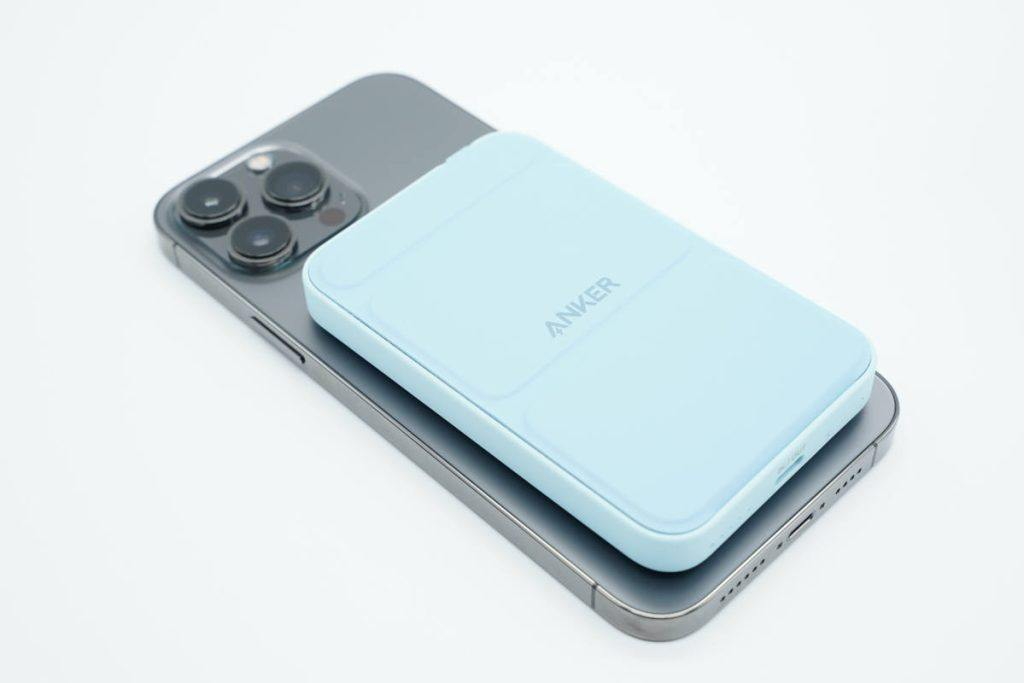 The Anker 622 Magnetic Battery (MagGo) sports a light blue color scheme, presenting a slim and sleek profile with a matte, fingerprint-resistant surface and smooth, rounded edges. It can attach directly to the back of an iPhone for charging, or it can charge the phone via a USB-C to Lighting cable. Additionally, this power bank can also serve as a phone stand. With a built-in 5000mAh high-voltage lithium battery, it's compact in size and easy to use.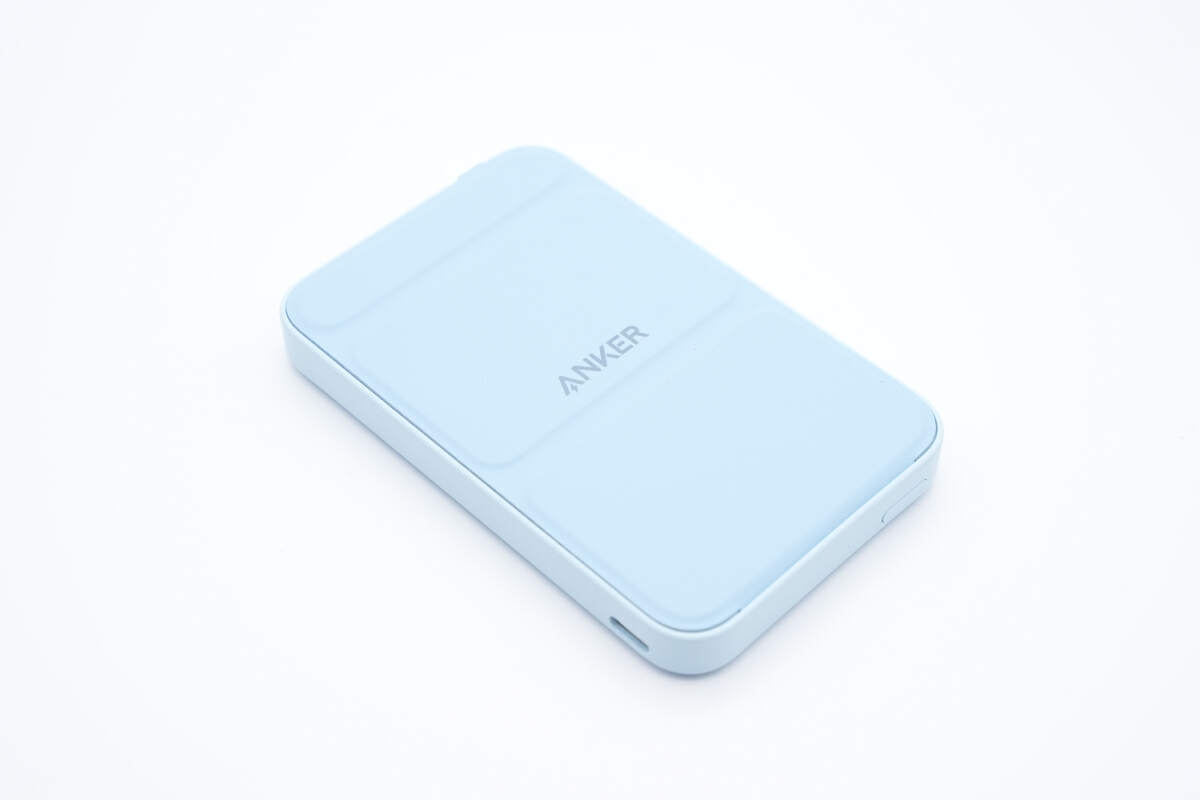 The device's edges have a convenient "notch" design for easy access and use, demonstrating meticulous attention to detail.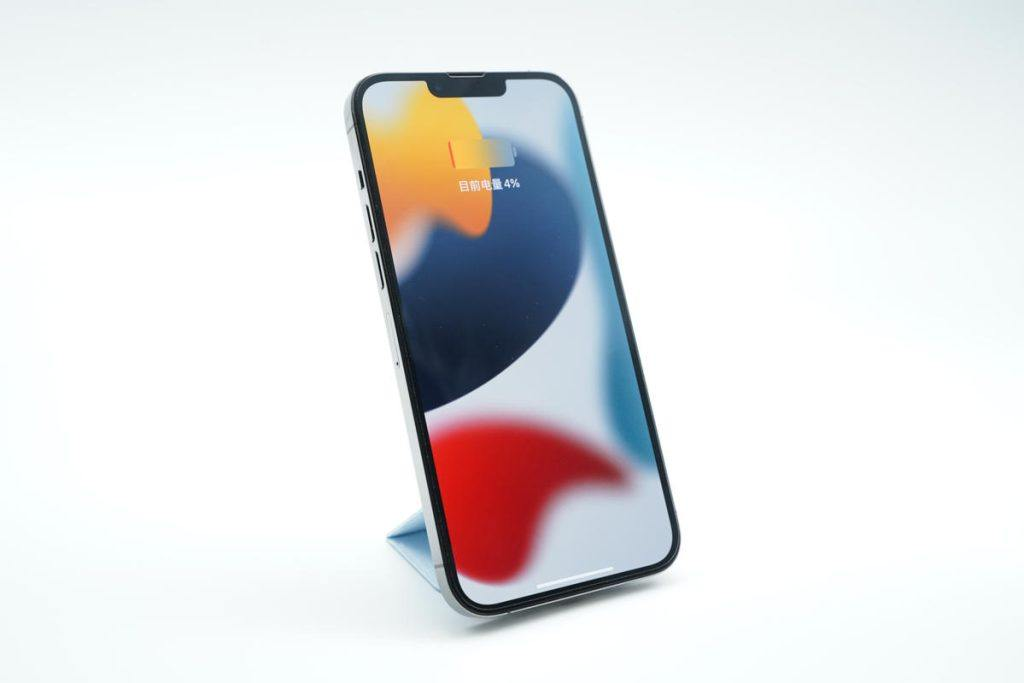 One of the standout features of this product is its built-in foldable magnetic stand. This design allows the magnetic power bank to transform into a vertical wireless charger in seconds without compromising its portability, greatly enhancing its practicality.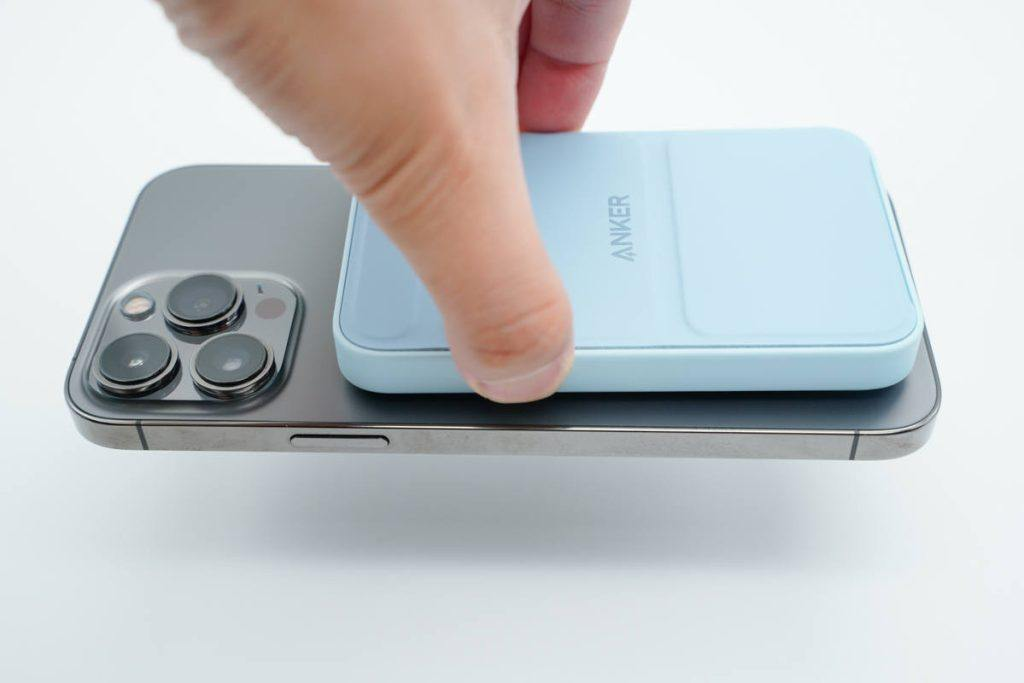 As shown in the picture, when used as a regular power bank, it offers strong magnetic attachment, just like Apple's own MagSafe Battery Pack. It can even support the weight of an iPhone 13 Pro Max, which is 238g, providing consumers with the convenience of secure and reliable attachment.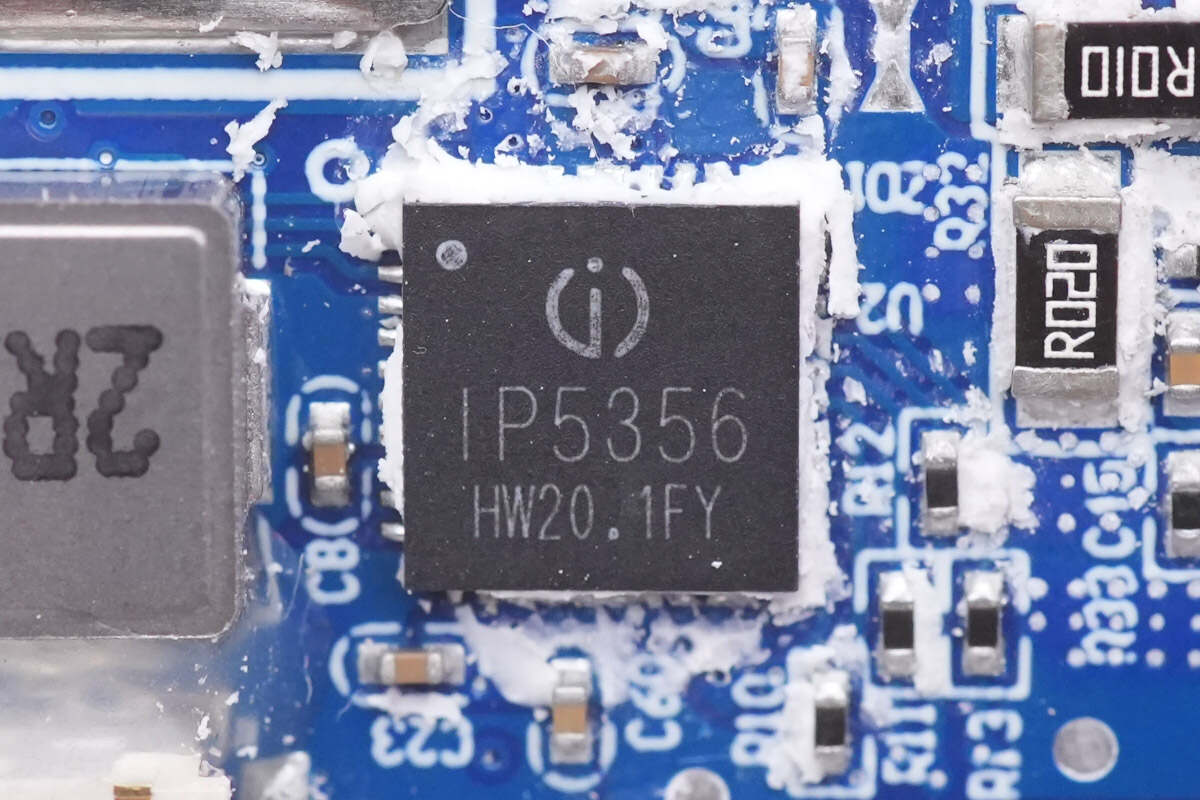 The master control chip used in this portable power bank is the Injoinic IP5356. It's a versatile System-on-Chip (SoC) for power banks that integrates various mainstream fast charging input/output protocols, voltage buck-boost converters, lithium battery charging management, battery level indicators, and more. It provides a comprehensive solution for the development of fast charging portable power banks.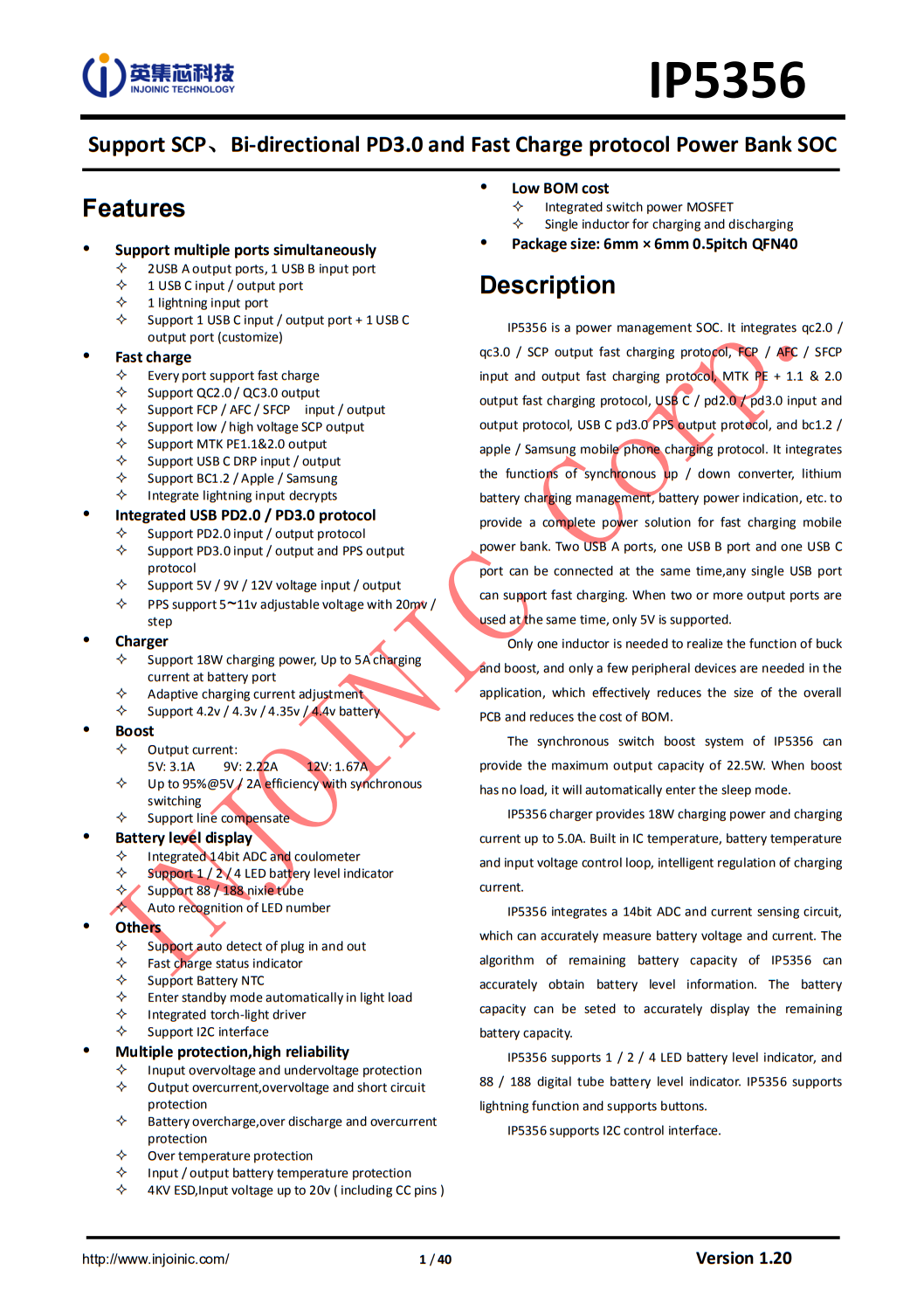 Its synchronous switch boost system can deliver a maximum output of 22.5W, supporting four interfaces: USB-A (x2), Micro USB, and USB-C. Each of these USB ports can individually support fast charging. When using two or more output ports simultaneously, the voltage intelligently drops to 5V. The IP5356 incorporates all the necessary power MOSFETs and path management MOSFETs, requiring only one inductor to achieve both voltage reduction and boost functions. This minimizes peripheral components, effectively reducing the overall solution's size and Bill of Materials (BOM) cost.
Furthermore, ChargerLAB learned that other products that use Injoinic's highly integrated power bank SoC include the Realme 10000mAh 18W Power Bank 2, Black Shark Bidirectional Fast Charging Power Bank, Baseus Mini S Bracket 10W Wireless Charger Power Bank, JOYROOM 22.5W Fast Charging Power Bank, and Anker 525 Power Bank (PowerCore 20K), among many others. These products have undergone rigorous market testing and have gained recognition from numerous manufacturers in the charging industry.
Summary of ChargerLAB
In conclusion, Injoinic is a design company focusing on digital-analog hybrid chips. The main business is R&D and sales of power management chips and fast charge protocol chips. The Injoinic IP5356 master control chip, as discovered in many pervious teardowns, has been recognized by Anker, a company with extensive experience in the charging industry, confirming its outstanding stability and reliability. It can provide exceptional wireless charging performance, allowing Anker to use the IP5356 as a core component in its products and offer users an outstanding product experience.
Related Articles:
1. PD3.1 Supported | Legendary Launched LDR6020 Chip Series
2. 30 PD3.1 Protocol Chips and Their 11 Manufacturers: A ChargerLAB Analysis
3. ChargerLAB Reveals 11 PD3.1 E-Marker Chips from 7 Manufacturers
The article is originally written by @
Joey
posted on Chargerlab. All rights reserved.