Innovating Power: Exploring Six 140W PD3.1 Power Bank PMICs
Introduction
As society continues to evolve, the demand for faster charging has grown significantly. In May 2021, the USB-IF association introduced the latest USB PD 3.1 fast charging standard, followed by the release of the USB-C cable and connector specification revision 2.1 in October of the same year. These developments have provided standardized guidelines for the advancement of the USB PD 3.1 fast charging ecosystem.
ChargerLAB, in collaboration with various sources, has compiled information on six power management integrated circuits (PMICs) suitable for the power bank sector, all of which integrate the PD 3.1 protocol. Notably, these PMICs can deliver a maximum charging power of up to 140W. This integration of extremely high power output capability into a single-chip solution offers significant convenience and efficiency for the design and manufacturing of devices such as power banks.
The following list is presented in alphabetical order and does not imply any specific ranking.
Chipsea
CS32G051
Chipsea's CS32G051 is a USB PD controller designed for PC applications. It integrates all the functions of USB-C CC and PD, an HPD detection module, SBU Switch, USB2.0 MUX, and USB BC1.2.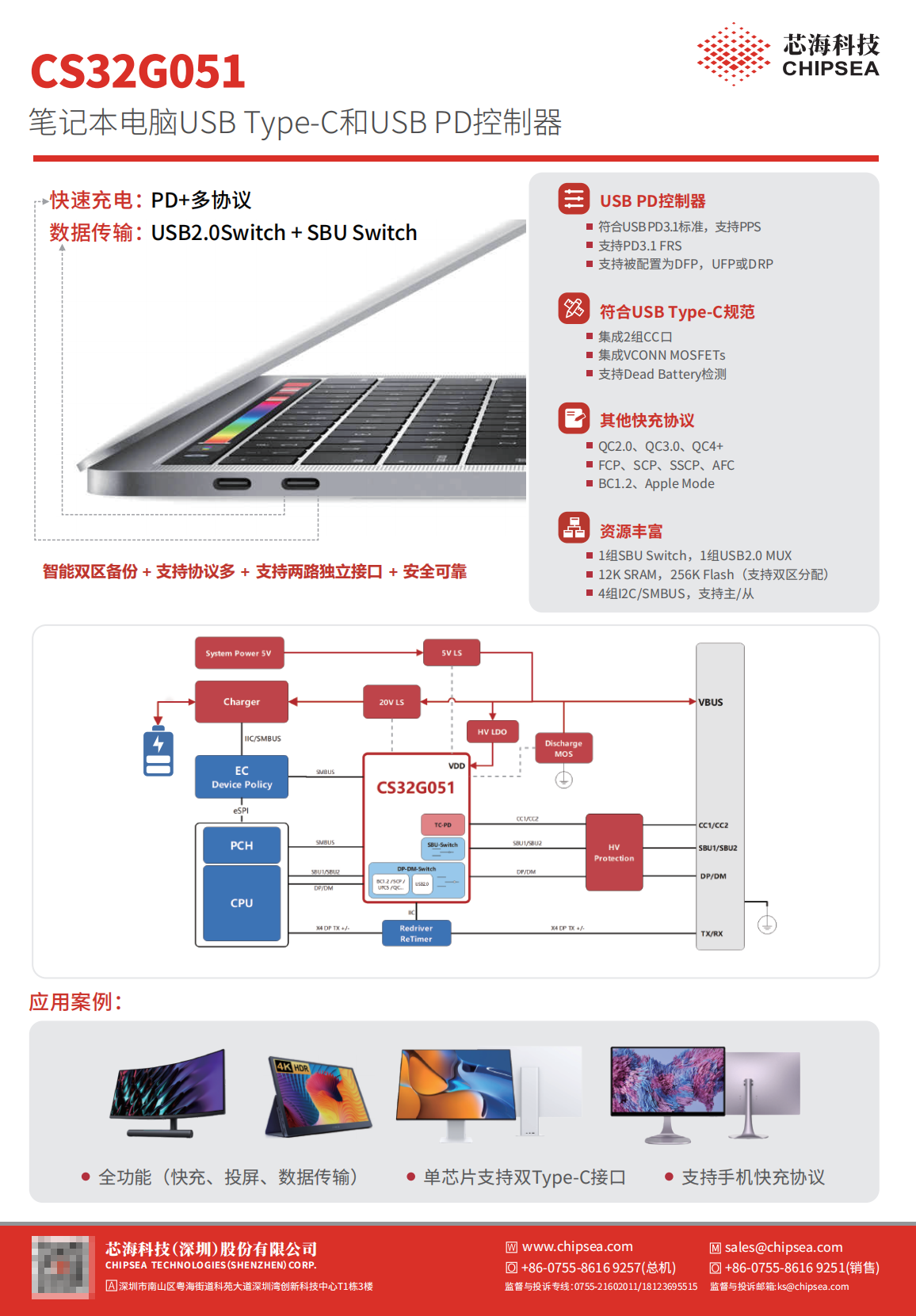 It complies with the USB PD3.1 standard, supporting PPS, PD3.1 FRS, and is also compatible with QC2.0/3.0/4+, FCP, SCP, SSCP, AFC, and BC1.2 charging protocols. It can be configured as DFP, UFP, or DRP. Moreover, it can enable the design of dual USB-C port chargers with just a single chip, featuring fast charging, screen mirroring, data transmission, and other functionalities. This product is specifically tailored for the PC ecosystem by Chipsea.
EPCMicro
EPC3020
The EPCMicro EPC3020 is a multi-port fast charging master control chip that supports intelligent dual-independent PD 3.1 and dual DC/DC high-power functions. It boasts a maximum output power of 140W and supports intelligent power supply protocols. This chip can simultaneously manage the high-power fast charging needs of multiple devices, catering to various fast charging requirements in different scenarios.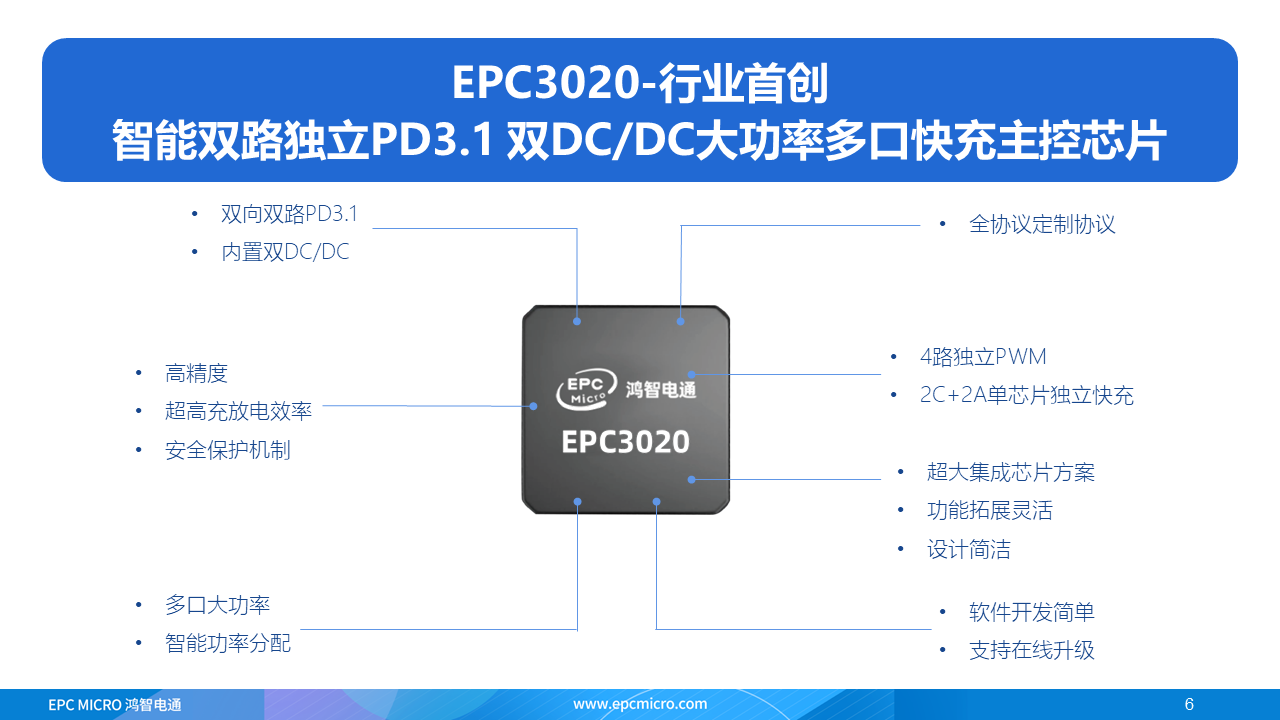 Integrated within a single chip are bi-directional PD 3.1 protocol, dual DC/DC converters, and 4 PWM channels. This extensive integration enables chip solutions with superior efficiency, exceeding 95% in application efficiency. It achieves low latency, high precision, and multiple safety protections. Its product design is streamlined, allowing for differentiated applications through software configurations.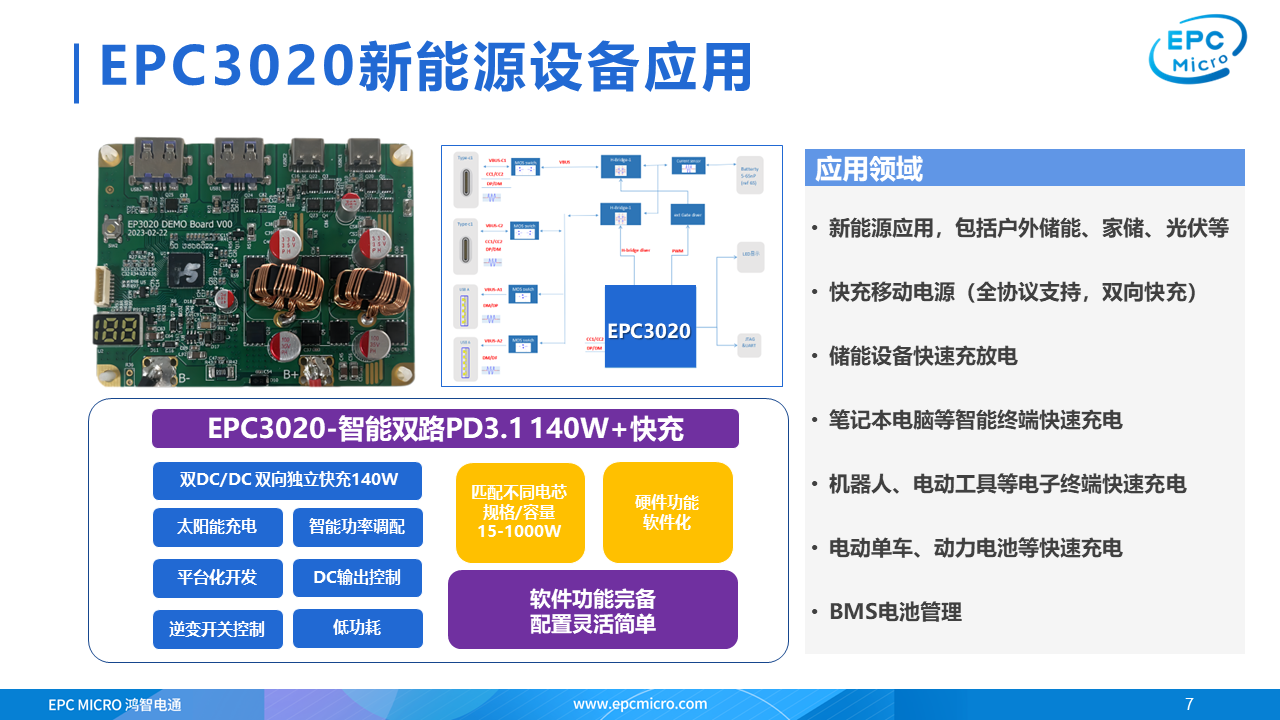 As illustrated, its applications span a wide range, including outdoor energy storage, home energy storage, photovoltaics, fast-charging power banks, rapid charge and discharge for energy storage devices, fast charging for laptops and other intelligent terminals, rapid charging for robots, power tools, electric bicycles, and battery management systems (BMS).
For outdoor energy storage, the EPC3020 offers comprehensive solutions, supporting various cell types and unlimited series connections. It supports a single-chip 2A2C four-port output, making it suitable for large-capacity energy storage applications with diverse applications.
Injoinic
IP2366
The Injoinic IP2366 is a lithium battery charge and discharge management chip that integrates various input and output fast charging protocols, including AFC/FCP/PD2.0/PD3.0/PD3.1, and synchronous buck-boost converters. It offers charging and discharging power of up to 140W. This chip boasts high integration and rich functionality, requiring only a single inductor to achieve synchronous buck-boost functionality. It demands minimal peripheral components during application, effectively reducing the overall solution size and lowering the Bill of Materials (BOM).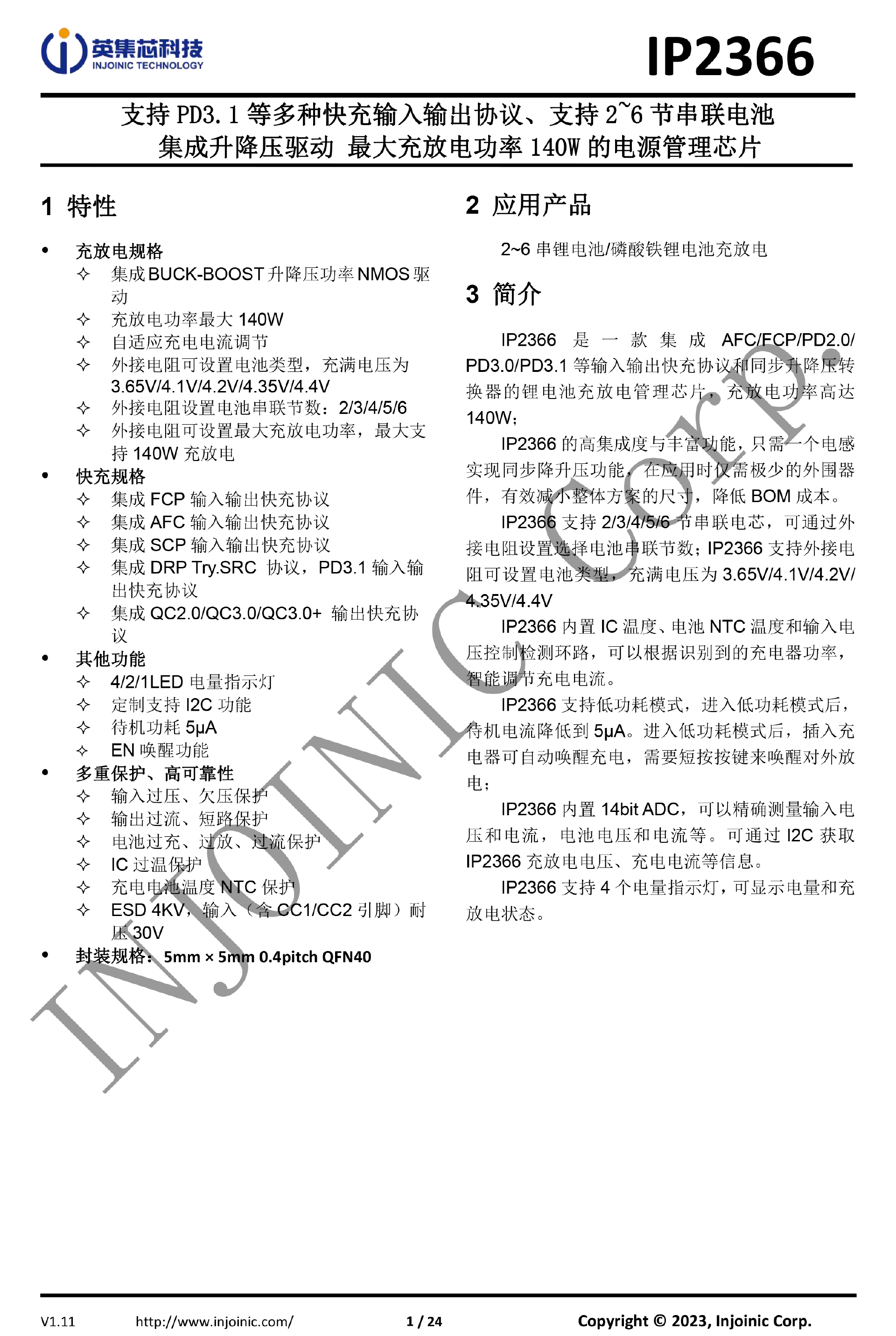 It supports up to six series-connected battery cells and various battery configurations. It features intelligent charging regulation, low-power modes, and precise measurement capabilities. With an I2C interface, it can provide information such as charging voltage and current. Additionally, it includes four indicator lights to display battery capacity and charging/discharging status, providing a comprehensive and efficient management solution for lithium battery applications.
iSmartWare
SW2505
iSmartWare SW2505 is a low-power controller chip that supports PD3.1, QC, UFCS, and other protocols, with an integrated MCU and 16 GPIOs. The USB-C port supports online upgrades and online simulation debugging, and it also supports optocoupler/FB control and I2C master/slave mode.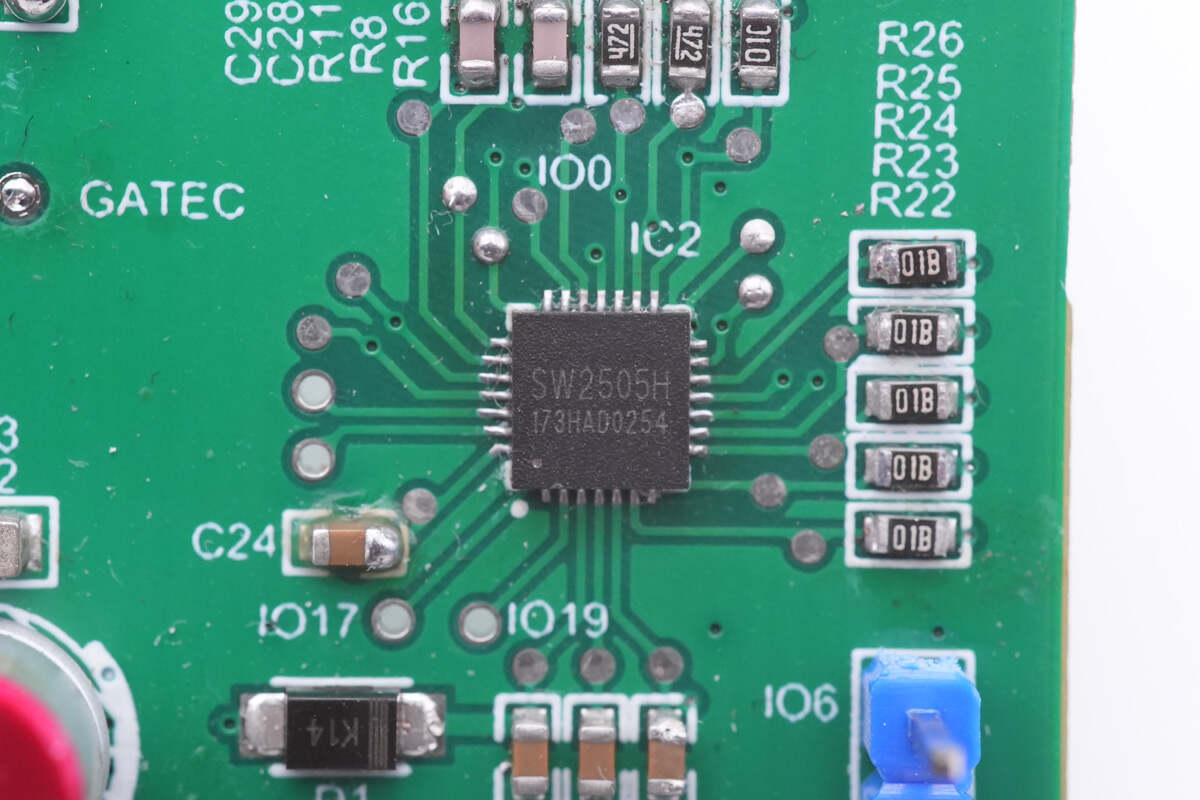 It supports PD3.1, QC, UFCS, SCP, AFC, VOOC, SFCP, PE, and other mainstream fast charging protocols, with an embedded ARM Cortex-M0 core, 128K Flash, and 4K SRAM.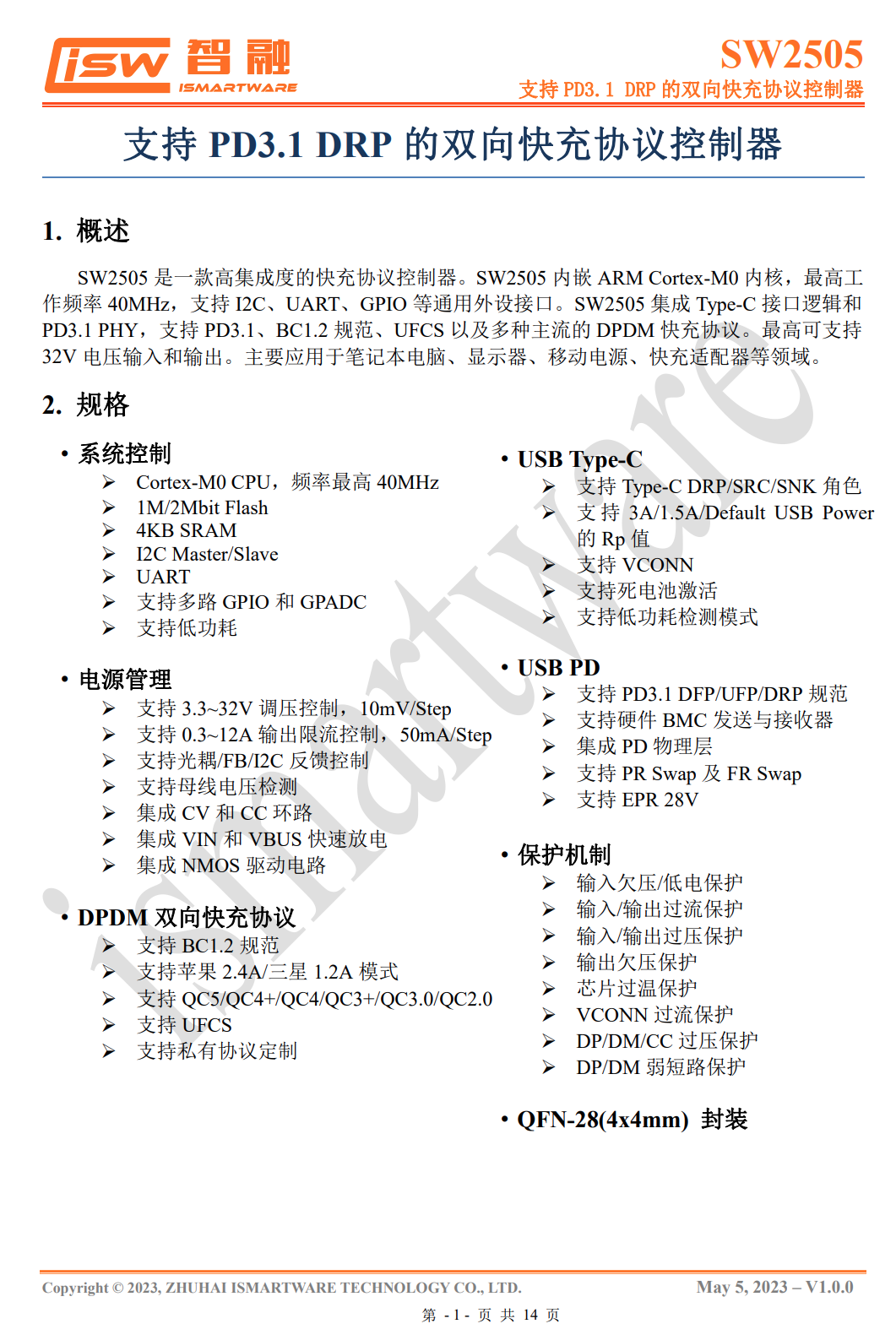 It integrates output CV/CC loop control, NMOS driver control, 12-bit ADC converter, as well as multiple protection measures such as overvoltage protection, undervoltage protection, and overcurrent protection.
MERCHIP
M12269
The MERCHIP M12269 is quite unique as it is the industry's first power SOC to obtain PD3.1 dual-certification. It boasts several features, including efficient charge and discharge management, automatic matching of optimal charging modes, high integration, and an internal loop compensation circuit.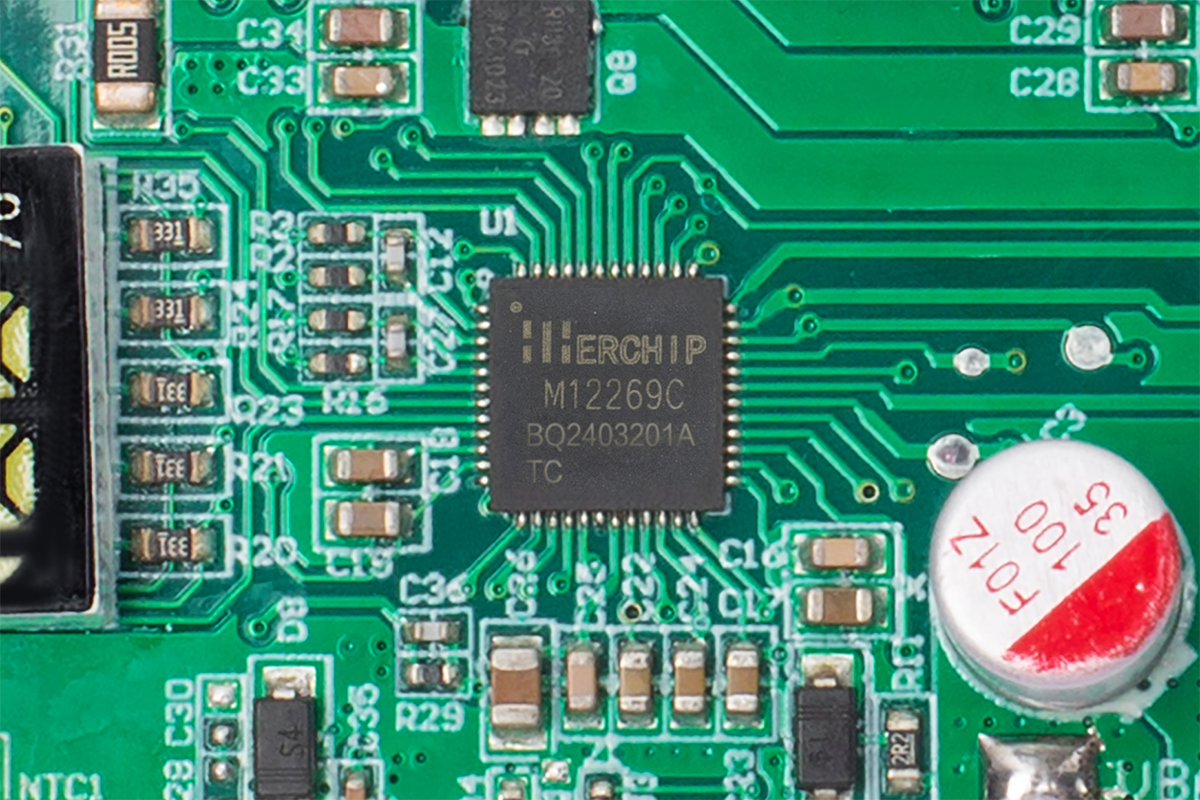 The chip integrates synchronous buck-boost voltage converter, driver module, and display module, providing a maximum input/output power of 140W for a single USB-C port. It supports various mainstream fast charging protocols and offers multiple protection functions. With minimal peripheral components, it can easily form a 140W multi-port power bank.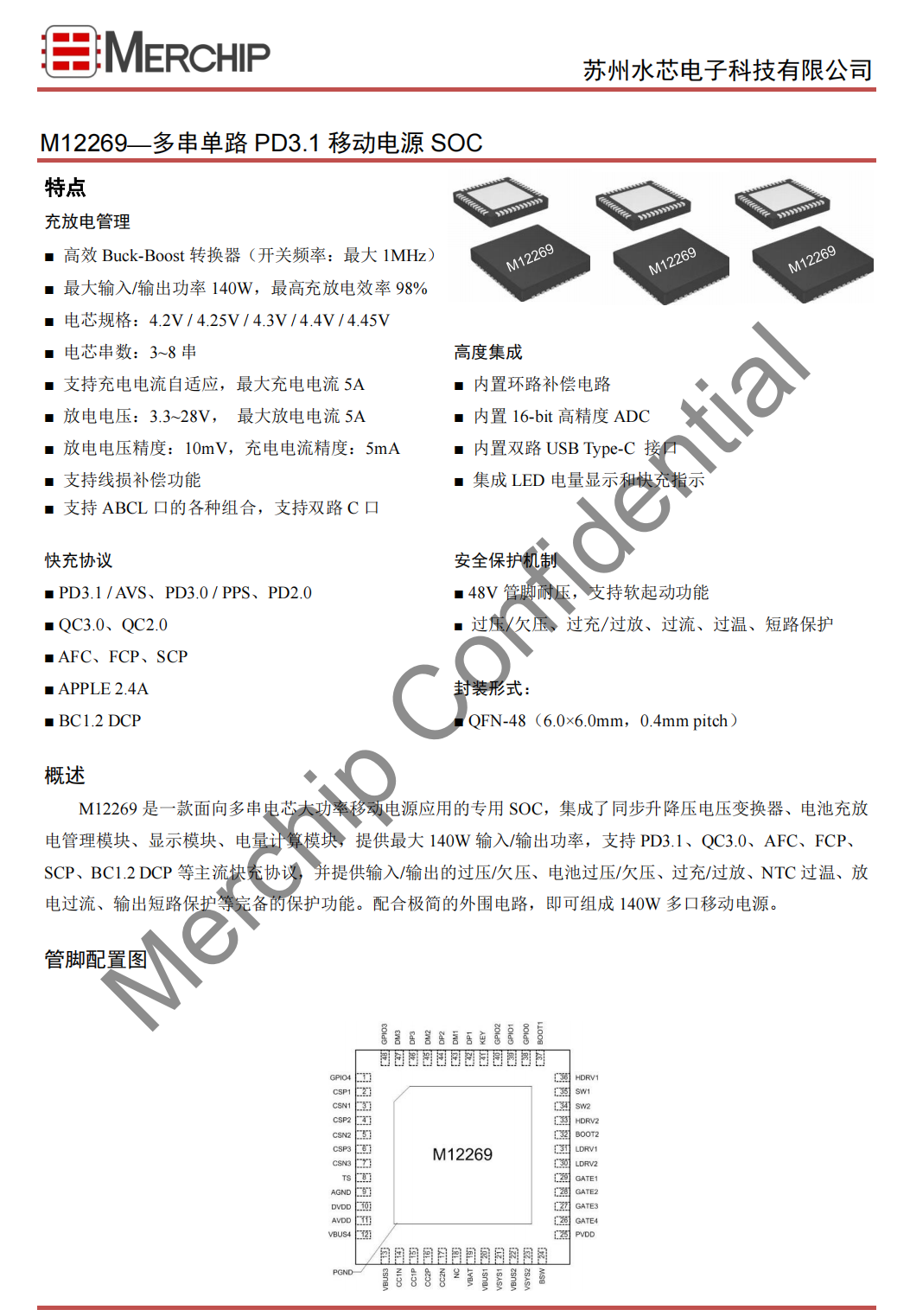 The M12269 is a CCA three-port bidirectional 140W PD3.1 buck-boost SOC, achieving the highest integration level among multi-port fast charging SOCs. It sets a record for voltage accuracy at 10mV and is customizable to meet diverse demands for multi-port bidirectional fast charging. It is compatible with PD, QC, SCP, FCP, AFC, Apple 2.4A, BC1.2 DCP, and other mainstream fast charging protocols.
M12339
The MERCHIP M12239 is a high-power SOC designed for power banks, integrating synchronous buck-boost voltage converter, battery charge and discharge management module, display modules, and energy calculation module. It offers a maximum input/output power of 140W, supporting PD3.1, QC3.0, AFC, FCP, SCP, BC1.2 DCP, and other mainstream fast charging protocols.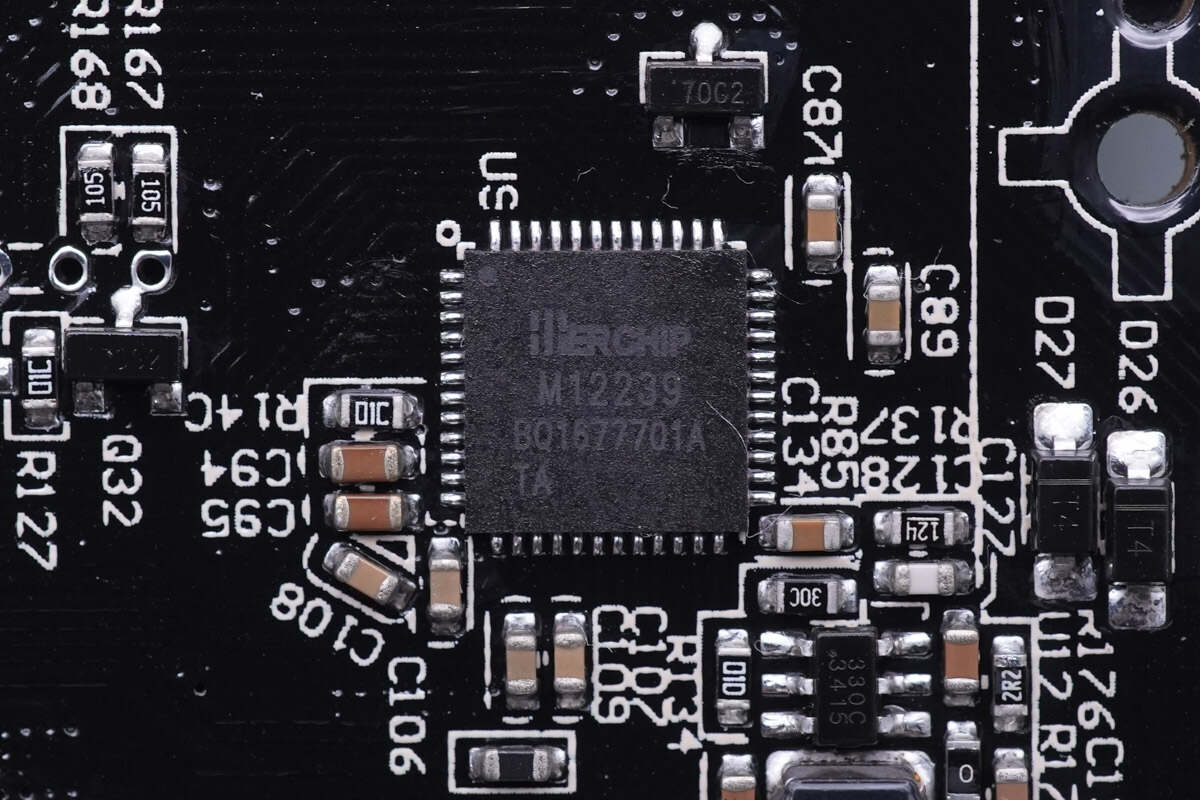 With an internal microprocessor and a small number of peripheral components, it can easily realize a 140W bidirectional USB-C power bank design. The chip supports multi-port fast charging and can be extended to a two-way 140W multi-port power bank with an additional DC-DC chip.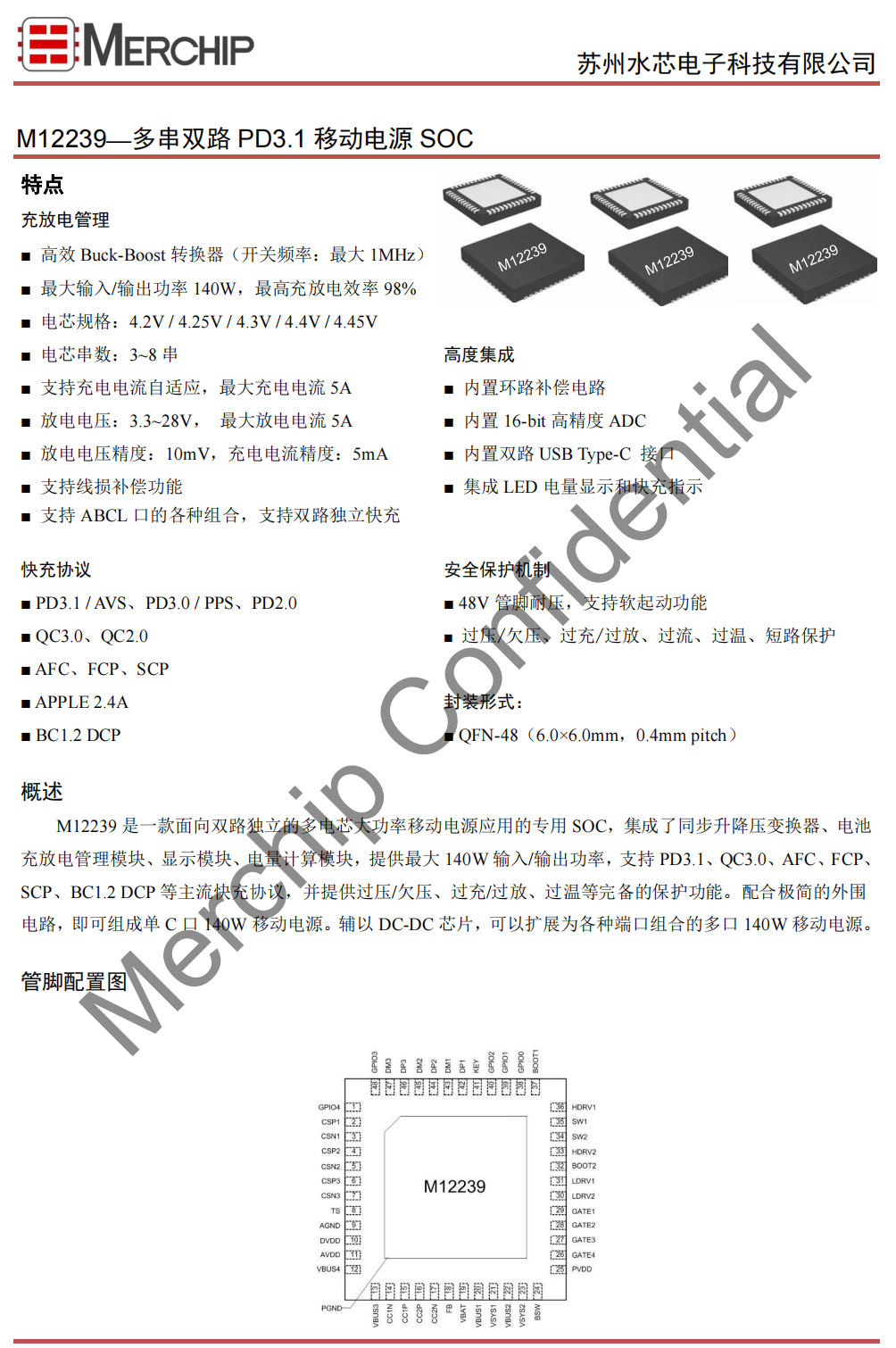 The M12239 supports 3-8 cell series battery applications, offering a wide output voltage range of 3.3-28V, and provides comprehensive protection functions, including overvoltage/undervoltage, overcharge/over-discharge, and over-temperature protection. It is suitable for PD3.1 fast charging power banks and portable power stations with large capacities. It comes in a QFN6 x 6-48 package.
Summary of ChargerLAB
USB PD 3.1, as the latest high-power charger standard, introduces a fresh fast-charging experience, providing a more universal and compatible solution for high-power devices like power banks. It optimizes battery management through bidirectional communication, extending battery lifespan. PD 3.1 not only enables fast-charging for various devices but also serves versatile power delivery purposes, enhancing compatibility and elevating the intelligence of power supply management. This advancement brings more efficient and convenient power management experiences to a wide range of electronic devices.
With the continuous progress of technology and the evolving demands of the times, chips supporting PD 3.1 fast charging exhibit diversity and unique features. These chips not only continue to advance in technology but also rapidly expand in terms of functionality and performance. Thanks to their exceptional flexibility and high-power transmission capabilities, these chips have found widespread applications across different industries and various use cases. Moreover, their introduction has opened up new possibilities in the field of power transmission, facilitating faster and smarter charging and power supply for various devices.
Related Articles:
1. 30 PD3.1 Protocol Chips and Their 11 Manufacturers: A ChargerLAB Analysis
2. Twelve 20W GaN ICs and Their Eleven Manufacturers: A ChargerLAB Analysis
3. ChargerLAB Reveals 11 PD3.1 E-Marker Chips from 7 Manufacturers
The article is originally written by @
Joey
posted on Chargerlab. All rights reserved.