Injoinic Unveils Flagship E-Marker Chip IP2133H
Introduction
The E-Marker chip is utilized to indicate the power transmission capability and data transfer speed of USB-C cables. When the cable exceeds a transmission current of 3A and supports USB3.0 data transfer, it requires the use of an E-Marker chip for cable identification. In the realm of current fast charging for smartphones, both high-power and high-current fast charging necessitate the application of an E-Marker chip to identify the cable's power transmission capability. This enables fast charging, allowing mobile phones to quickly reach full battery capacity within a remarkably short time.
Injoinic Technology has introduced the industry's first E-Marker chip, the IP2133H, which supports a withstand voltage of 55V for the CC and VCONN pins. This remarkable chip is not only the first in the industry to attain PD3.1 V1.7 standard certification (TID: 9513), but it is also the pioneering E-Marker chip capable of internal temperature data retrieval. With this cutting-edge feature, users can precisely monitor cable temperature.
Injoinic Introduces the IP2133H E-Marker Chip
The Injoinic IP2133H is an electronic marker chip designed for USB Type-C cables, adhering to the USB Type-C 2.2 standard and PD3.1 specifications. The chip integrates the hardware biphase mark code (BMC) protocol, as well as a physical layer (PHY) protocol . It supports commands for retrieving manufacturer information and reading status, while its built-in temperature sensor enables cable temperature monitoring.
It can support EPR (Extended Power Range) 240W power transmission and offers support for SOP' and SOP'' instructions. It also caters to USB4 80G, Thunderbolt 4, and Thunderbolt 3 cable applications. The chip integrates VCONN diodes and Ra resistors, resulting in a simplified peripheral component layout. Additionally, it supports up to four programming cycles and incorporates personalized programming protection to offer a comprehensive solution for USB-C cables.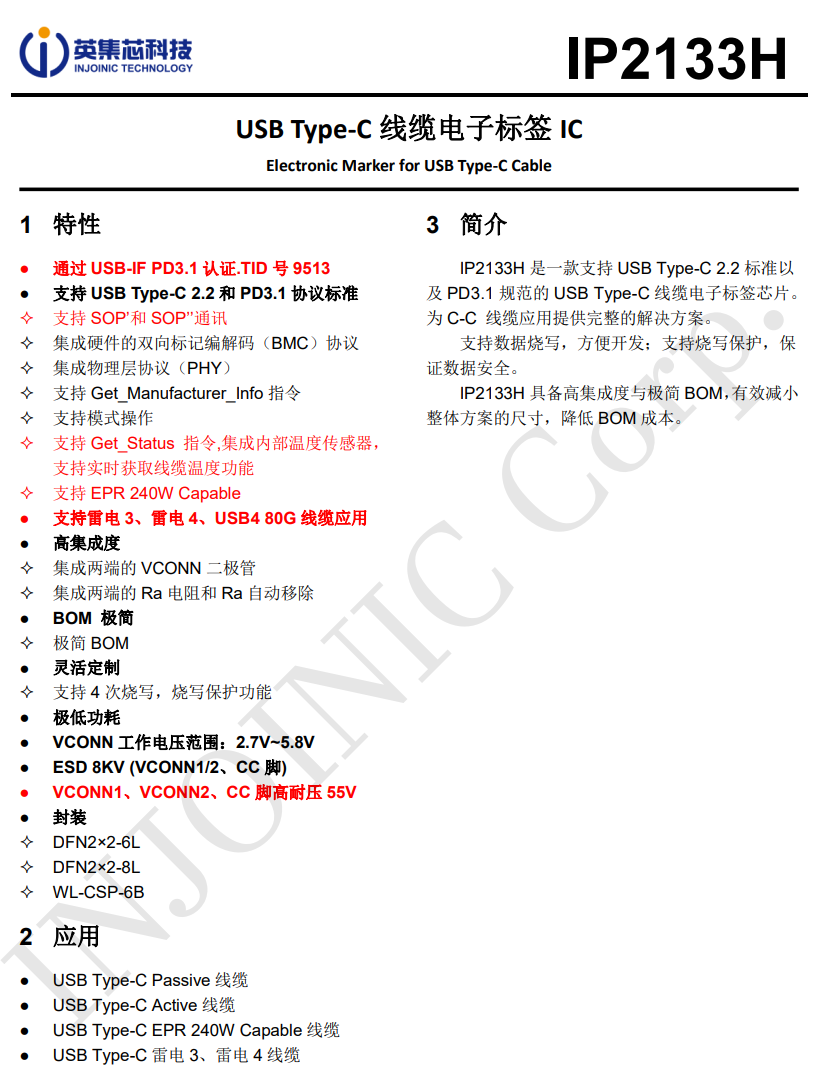 It is available in DFN2 x 2-6/8L and WLCSP-6B packages, catering to diverse requirements of data cable applications. It provides support for both passive and active USB-C cables, including EPR 240W cables, as well as Thunderbolt 3 and Thunderbolt 4 cable applications.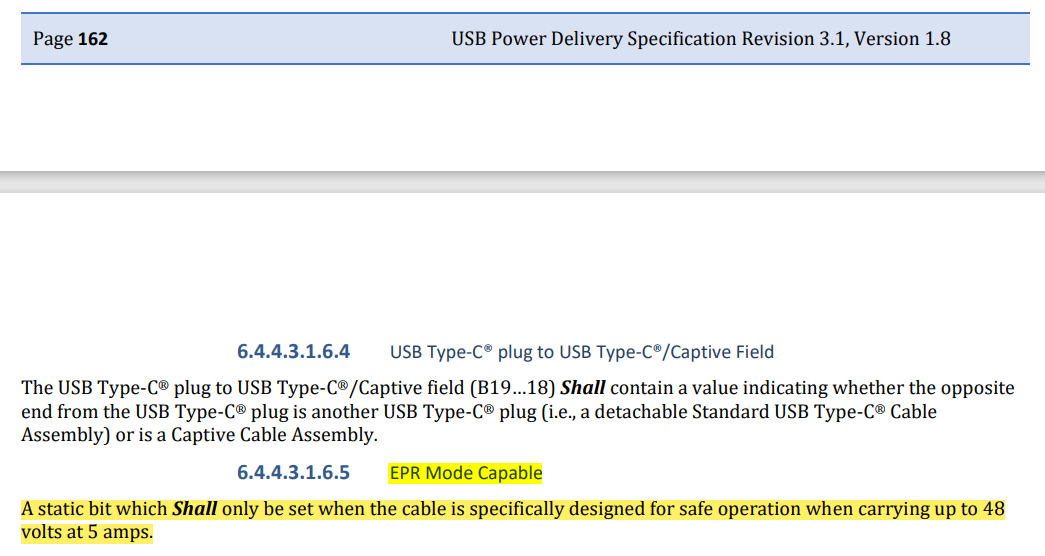 According to PD3.1 EPR V1.8 specifications, once a cable declares support for EPR applications, it needs to support 48V/5A. Due to the physical structure of the CC pin and VBUS pin being adjacent in the USB-C connector, there is a possibility of CC, VCONN pins coming into contact with the VBUS pin. Therefore, in EPR cables, the withstand voltage of the E-Marker chip's CC and VCONN pins becomes particularly important.
Injoinic IP2133H addresses the high withstand voltage requirements of E-Marker chips in USB PD3.1 applications by enhancing the withstand voltage capability of CC and VCONN pins to 55V. Even if there is contact between the pins and VBUS, the chip will not be damaged, thereby improving the reliability of the cable.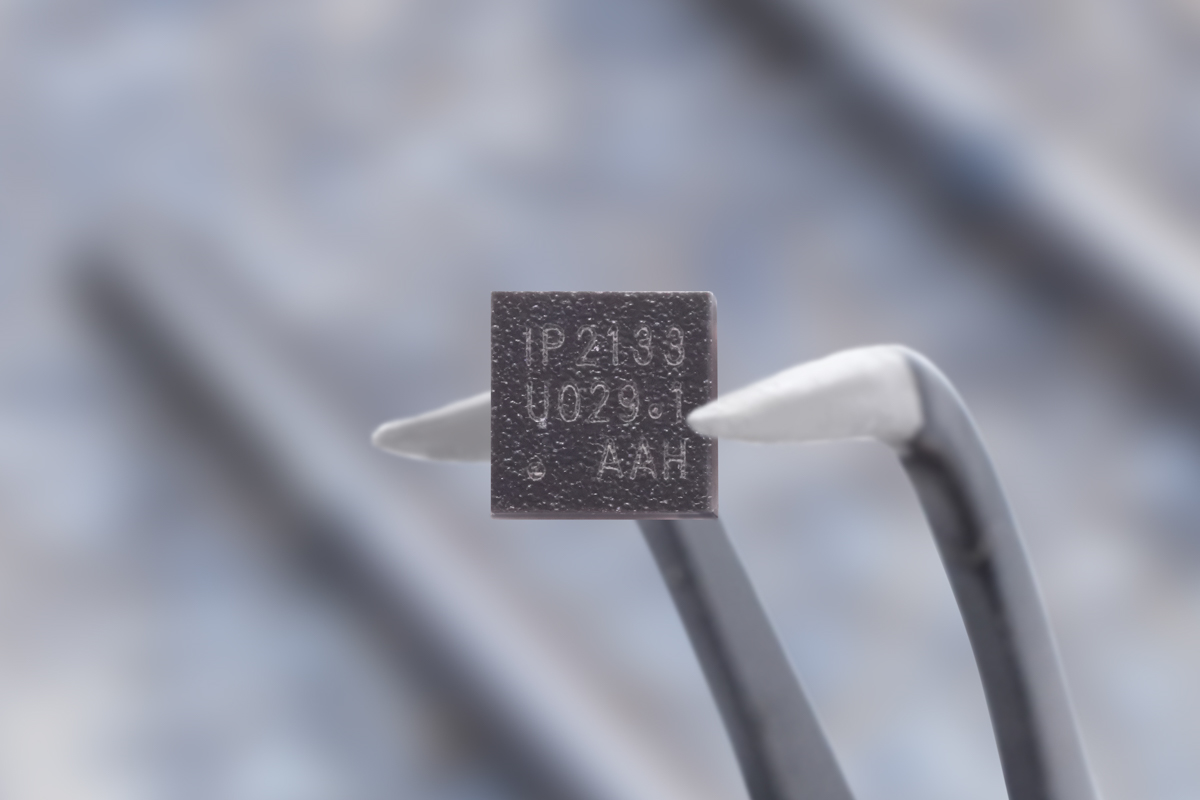 This is how the IP2133H looks like.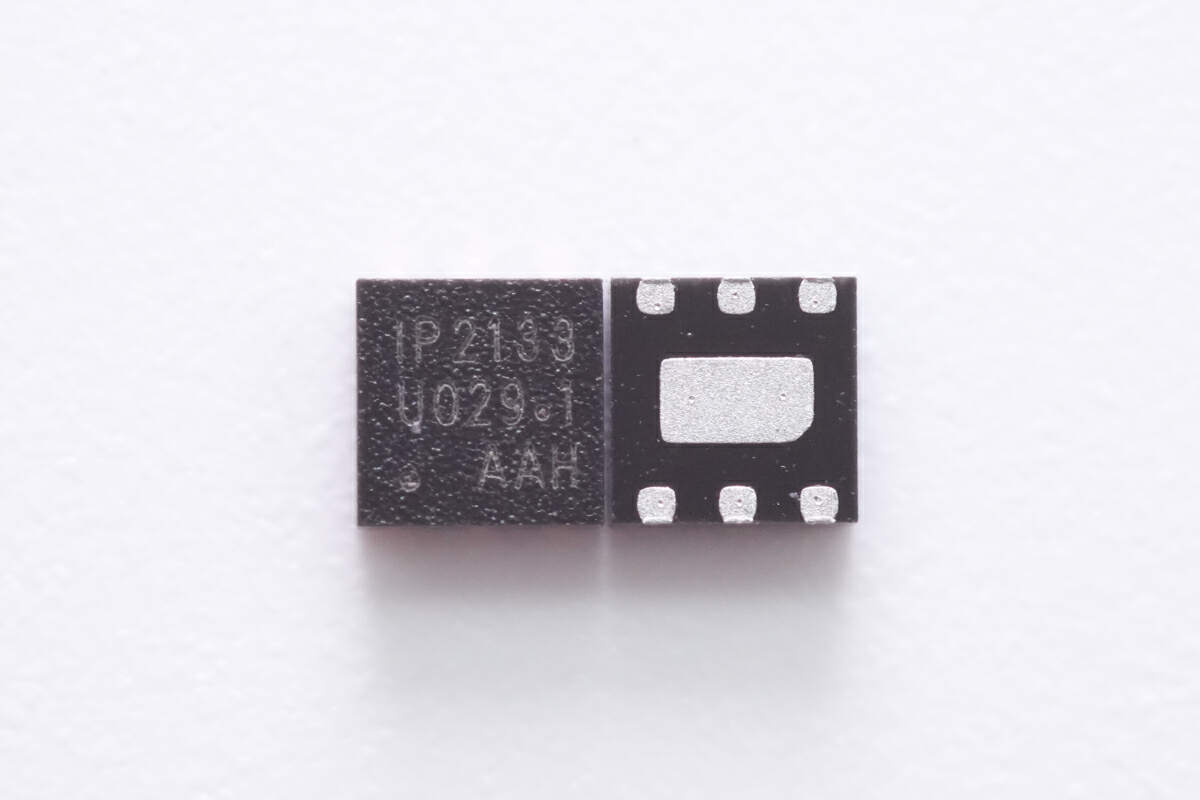 And it adopts DFN2 x 2-6L package.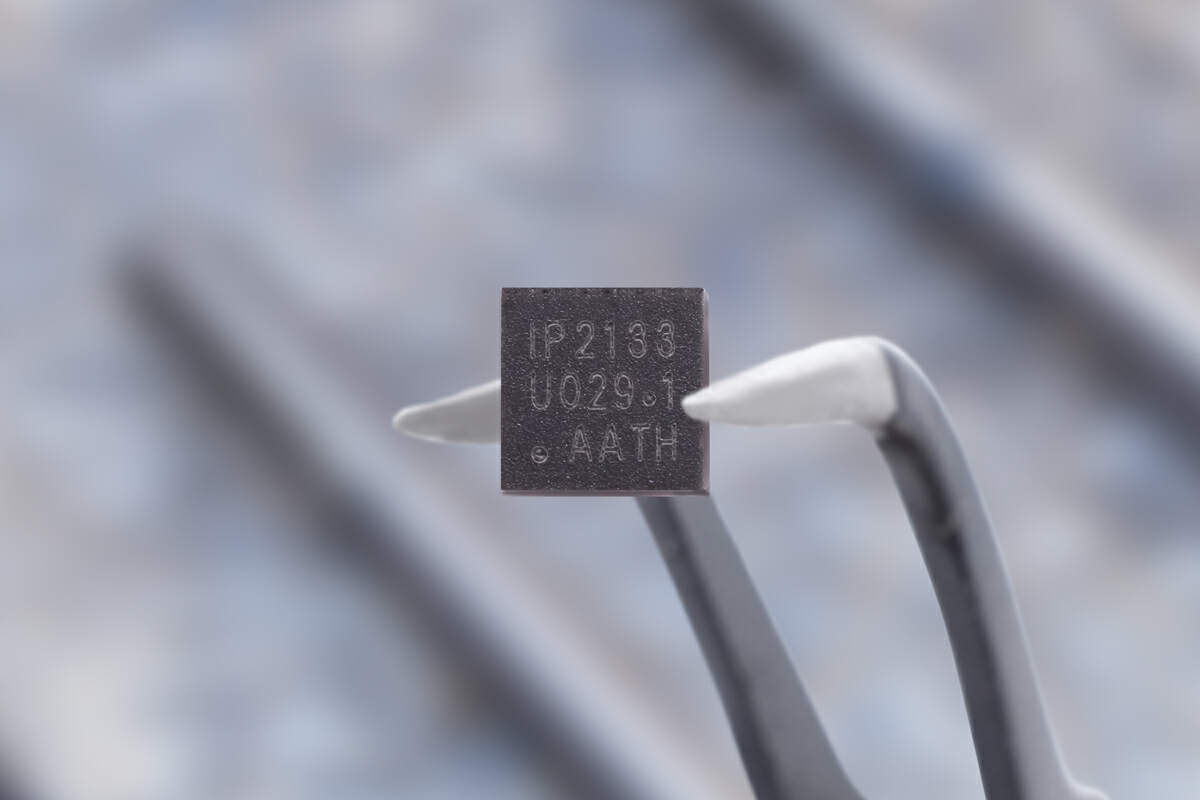 This is how the IP2133TH looks like.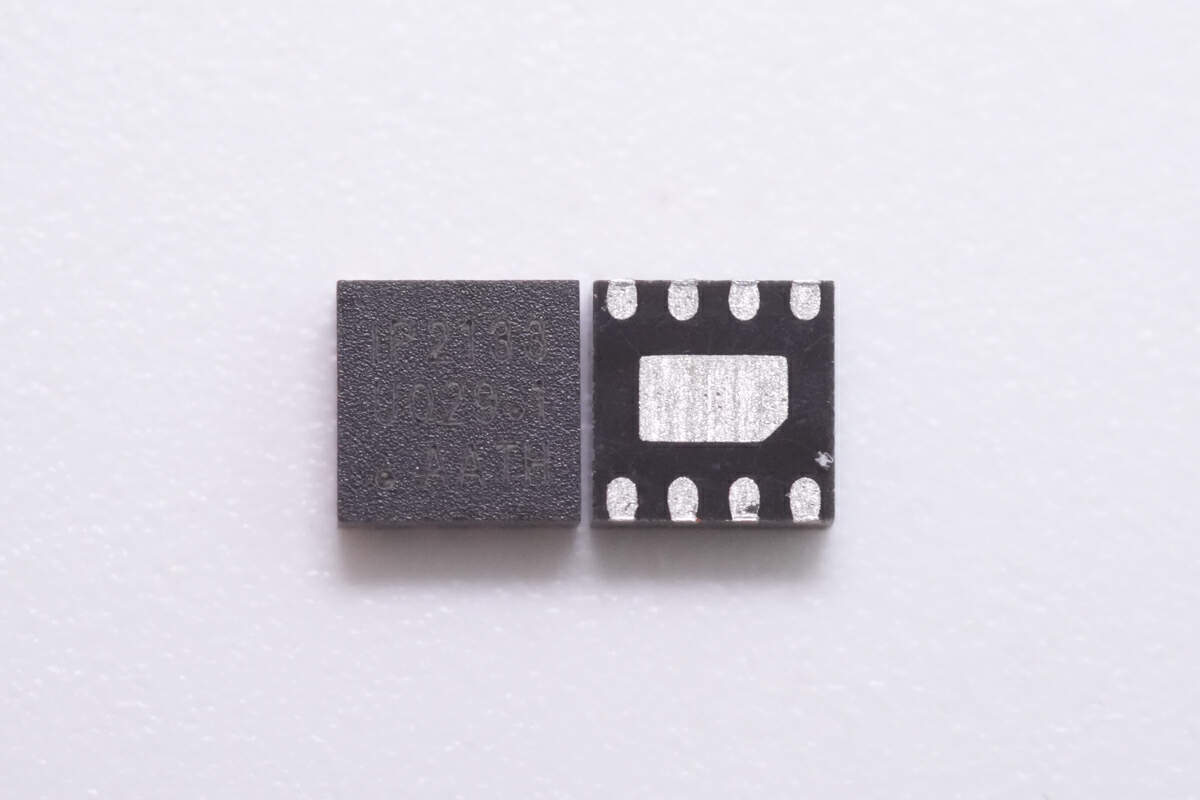 It adopts DFN2 x 2-8L package, with the addition of SCL and SDA pins.
Summary of ChargerLAB
With the increasing power transmission of USB-C ports, USB-C cables that support EPR will use E-Marker chips for cable identification. The Injoinic IP2133H supports USB Type-C 2.2 standard and PD3.1 specifications. The chip integrates an temperature sensor, allowing the retrieval of cable temperature for overheating protection. Additionally, the IP2133H supports active cable applications and provides a withstand voltage of 55V for CC and Vconn, significantly enhancing cable reliability.
Related Articles:
1. Navitas Celebrates 75,000,000 GaN Power Shipments
2. Simulation Model of Industry's First 1200V GaN-on-Sapphire Device Released by Transphorm
3. Navitas Power Forward with Next-Gen GaN and SiC Power Semiconductors at PCIM 2023
The article is originally written by @
Joey
posted on Chargerlab. All rights reserved.