Twice the Convenience: Baseus Qpow 2 Power Bank Equipped with Two Integrated Cables
To make users' travel more convenient, in December 2019, Baseus introduced the Qpow Pro Digital Display Power Bank equipped with a 20W PD charging cable. In June 2023, they released the second generation of this power bank, featuring performance upgrades, increased battery capacity, and an enhanced selection of built-in cables, aiming to provide a superior portable charging experience during travel.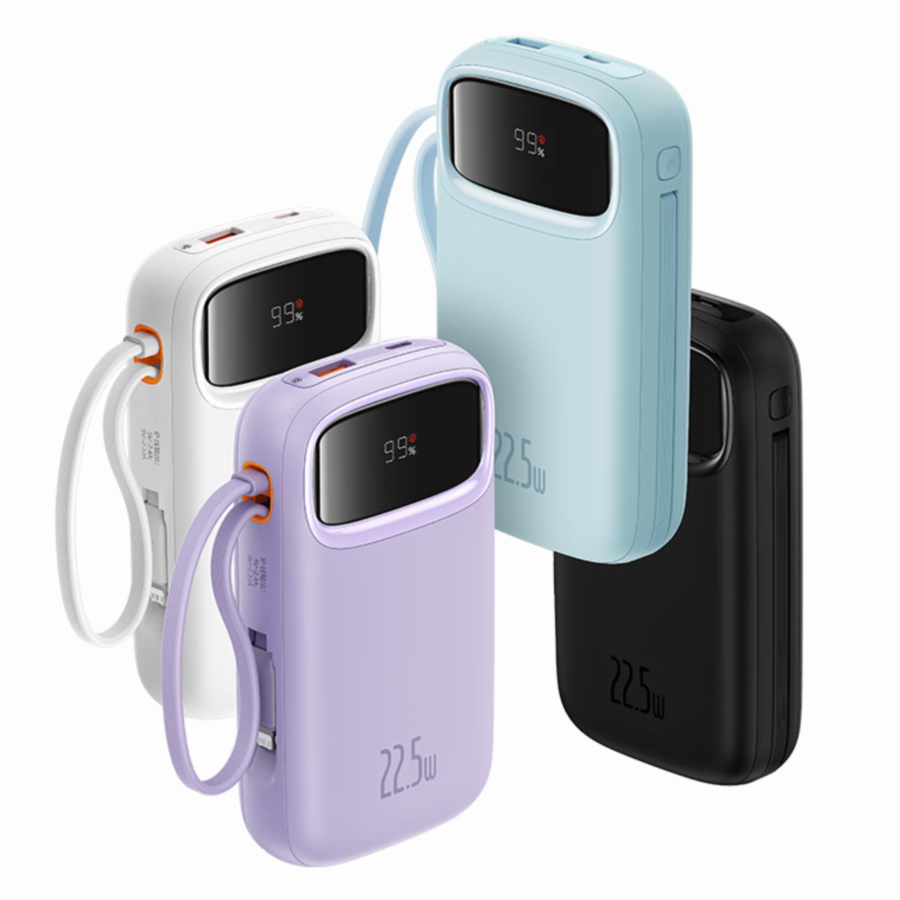 The Baseus Qpow 2 Digital Display Power Bank is a device that comes with two built-in cables. The model number is PPQD3-20, with the size of 135 x 75 x 30mm (5.31 x 2.95 x 1.18 inches) and a weight of approximately 370g (13.05 oz). It has a built-in battery capacity of 5000mAh and is available in four color options: White, Purple, Blue, and Black.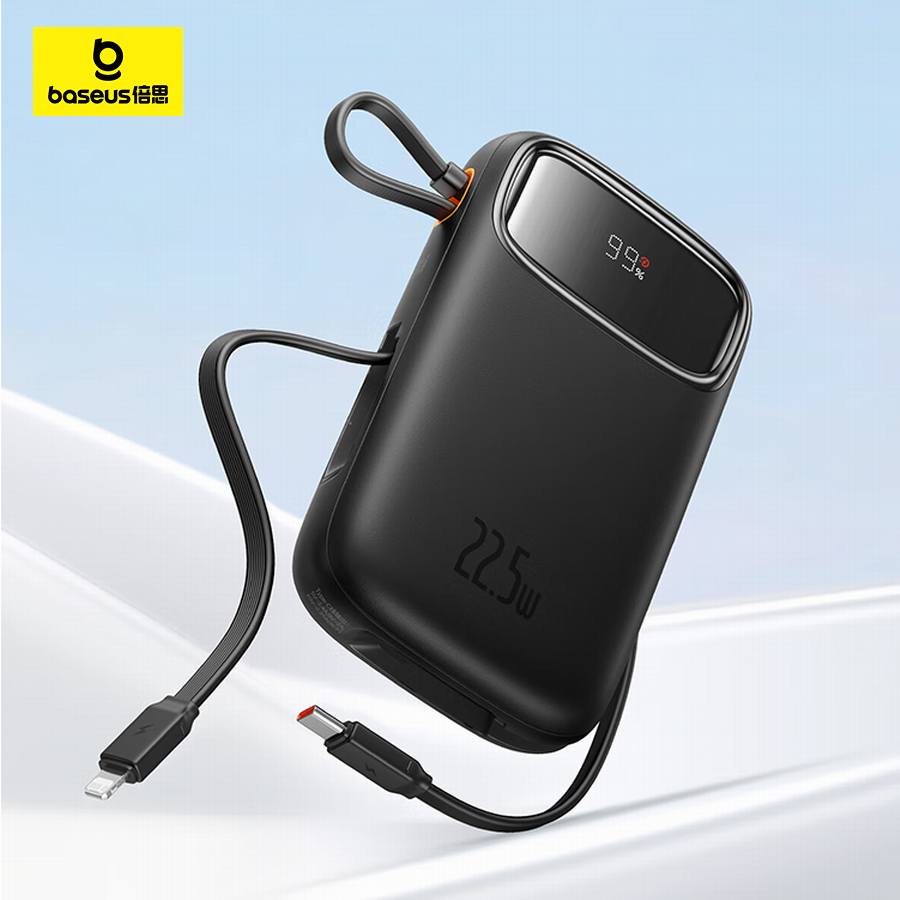 The side of the power bank features a power check button, which allows entering a low current mode by long-pressing for 3 seconds, enabling convenient charging of wearable devices, wireless headphones, and other low-current devices. It also includes a hidden digital display that shows the current remaining battery percentage, providing a clear understanding of the charging status. Additionally, there is a fast charging indicator light that helps users determine if the device is in fast charging mode.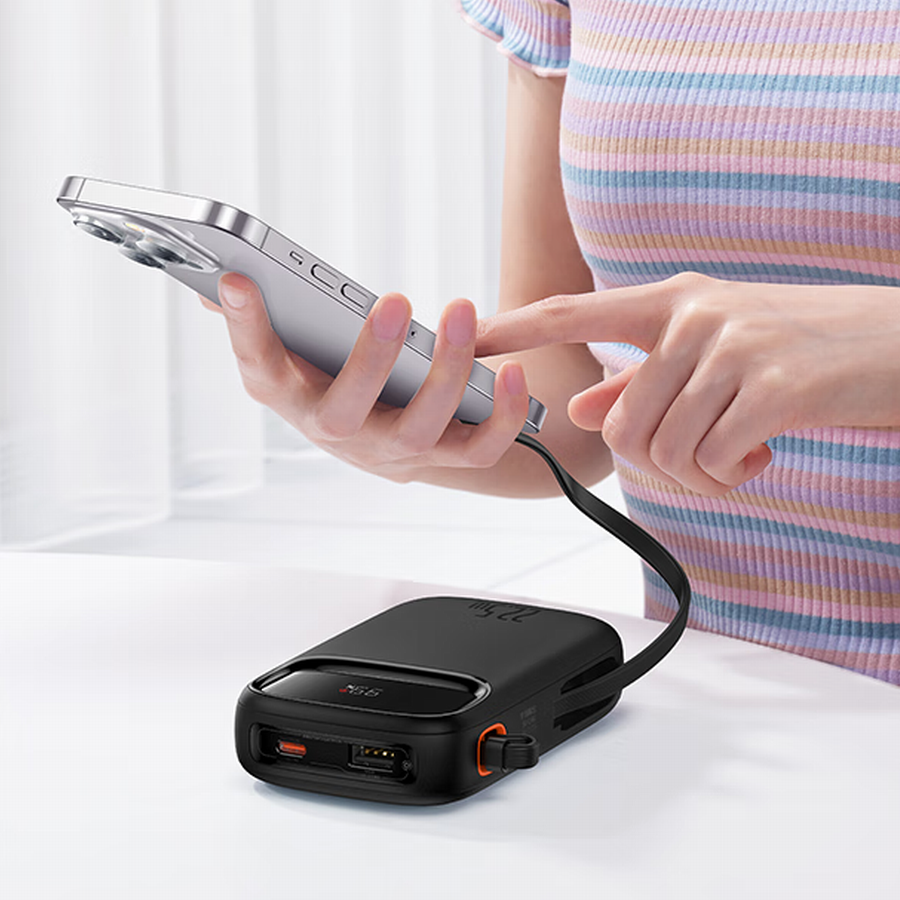 The main highlight of this product is its built-in cables. Compared to the first generation, the second generation has been upgraded to include two cables. It integrates an Apple Lightning cable and a USB-C cable on the side and bottom respectively. Both cables are made of highly elastic TPE flat cables, which have undergone 10,000 swings of testing, ensuring flexibility and durability. The Lightning cable adopts a unique threading structure, allowing it to be slowly pulled from the cord end towards the connector end when charging is needed, and when not in use, it can be quickly pulled towards the cord end, transforming into a hanging rope for easy storage. The USB-C cable is embedded from the right side to the bottom of the power bank and can be pulled out for use when needed.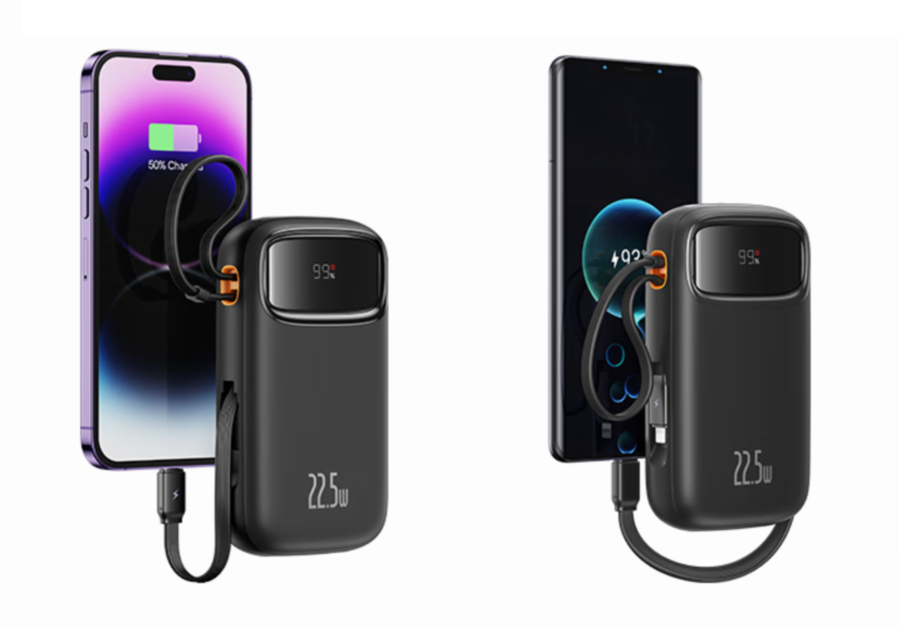 The Lightning cable supports two output PDOs: 5V2.4A and 9V2.22A, providing 20W PD fast charging output, suitable for iPhone 8-14 and other iOS devices, capable of charging iPhone 14 up to 50% in just 30 minutes. In addition to supporting the three most common PDOs of 5V2.4A, 9V2A, and 12V1.5A, the USB-C cable also supports 22.5W (10V2.25A) Huawei SCP protocol, enabling it to charge Huawei P50 up to 60% in 30 minutes.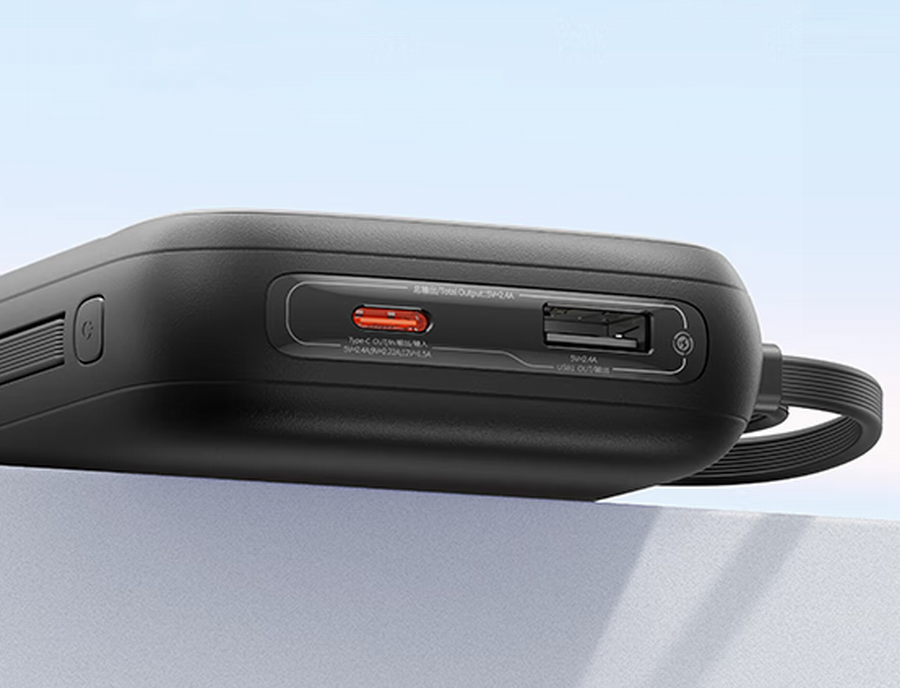 In addition to the built-in cables, the top of the power bank features 1A1C dual ports, with the USB-C port using an orange-colored receptacle and supporting 20W fast charging. The PDOs for USB-C are 5V2.4A, 9V2.22A, and 12V1.5A, while the USB-A port supports 12W output. As for input, the USB-C is also used for charging with the maximum power of 18W.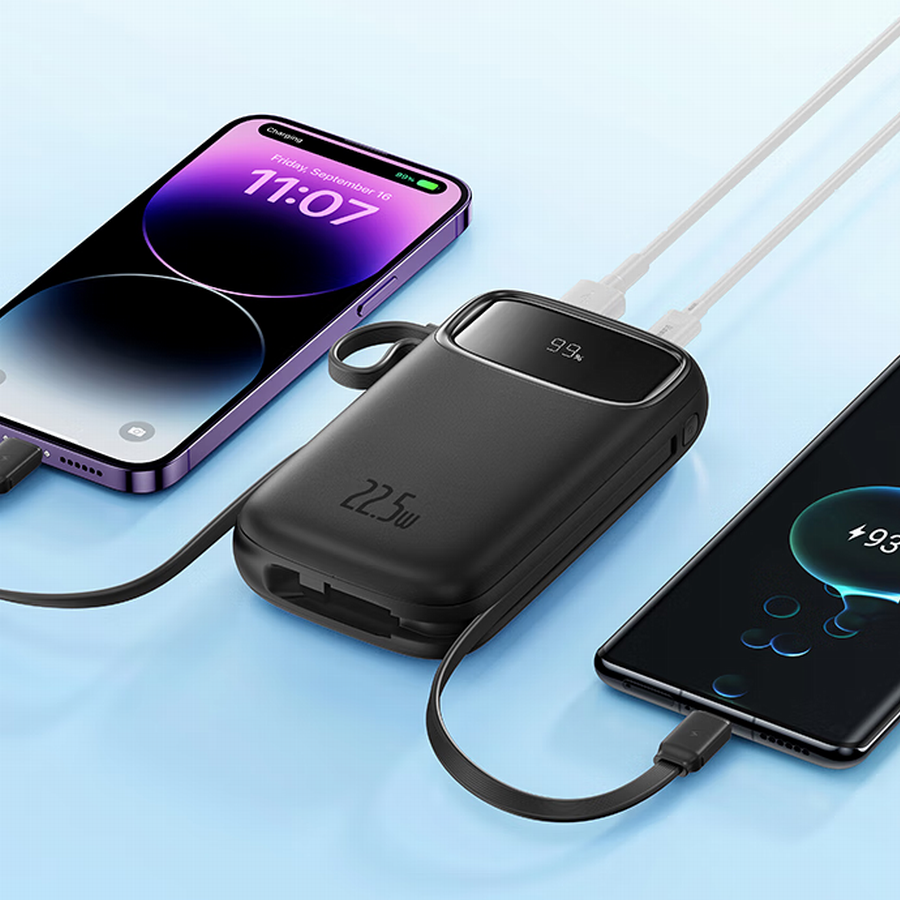 With the integration of two cables and the 1A1C output ports on the body, simultaneous output is possible, allowing up to four devices to be charged at the same time (locking into 5V charging mode), providing greater convenience for charging multiple devices.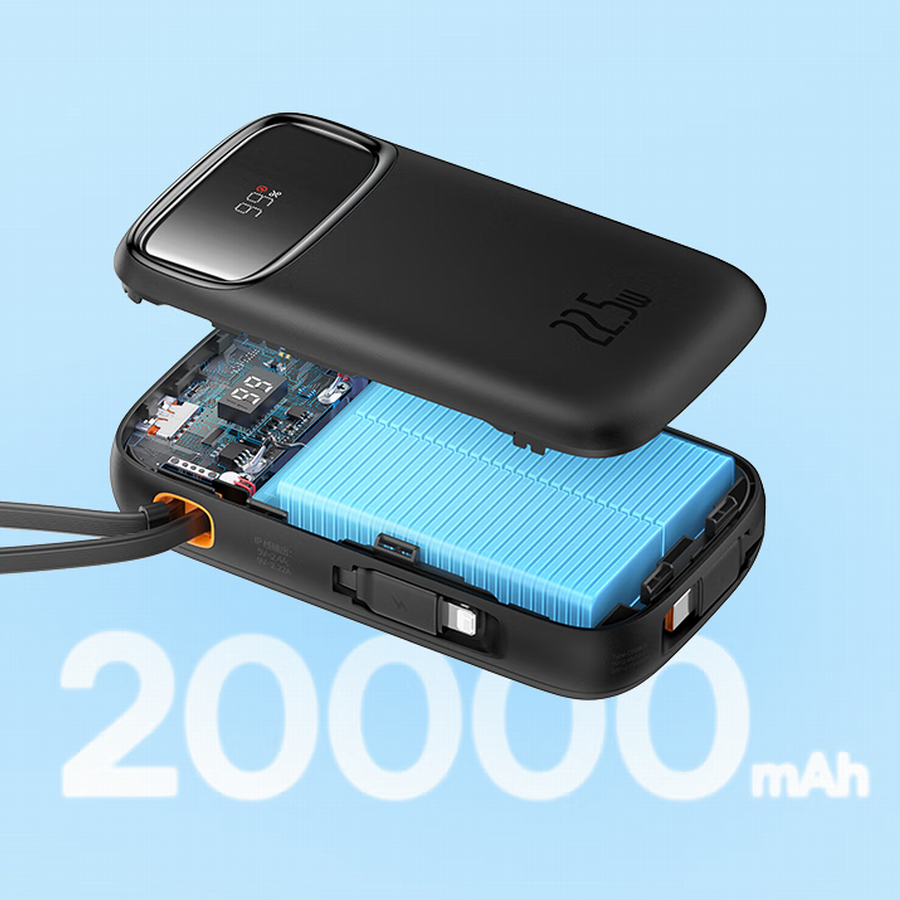 The battery capacity has been increased to 20000mAh, doubling the capacity compared to the first generation's 10000mAh. With this larger capacity, it can charge an iPhone 14 approximately 3.6 times or a Huawei Mate 50 around 2.7 times, providing longer battery life for consumer electronics.
Summary of ChargerLAB
As the second-generation product, the Baseus Qpow 2 Digital Display Power Bank doubles its battery capacity to 20000mAh, providing a stronger battery life. The digital display area has noticeably reduced in size, while a fast charging indicator light has been added. The built-in cables have been upgraded from a single cable to a combination of Apple Lightning and USB-C cables. The design feature of the cables also remains the same, allowing the Lighting cable to serve as convenient hanging ropes for easy carrying.
Based on Baseus' expertise in manufacturing electronic accessories, it is safe to conclude that the product quality should be commendable. It is worth noting that currently, this product is exclusively available for sale within China at a price of 159 yuan ($22). However, it is hopeful that the Qpow 2 Power Bank will eventually reach a wider global market like itspredecessor.
Related Articles:
1. Baseus Launched 20W Kickstand Magnetic Fast Wireless Charging Power Bank on Amazon
2. Baseus Launched 20W Popsicle Fast Charging Power Bank
3. Baseus Launches New 20W PD Magnetic Wireless Power Bank
The article is originally written by @
Joey
posted on Chargerlab. All rights reserved.