USB-C is COMING! | Apple's Wonderlust iPhone 15 Event Scheduled for September 12th
Yesterday, Apple's official website updated its "Apple Events" section, announcing the highly anticipated tech event - the Apple Fall Event scheduled for September 12th. During this event, Apple is expected to unveil the iPhone 15 series.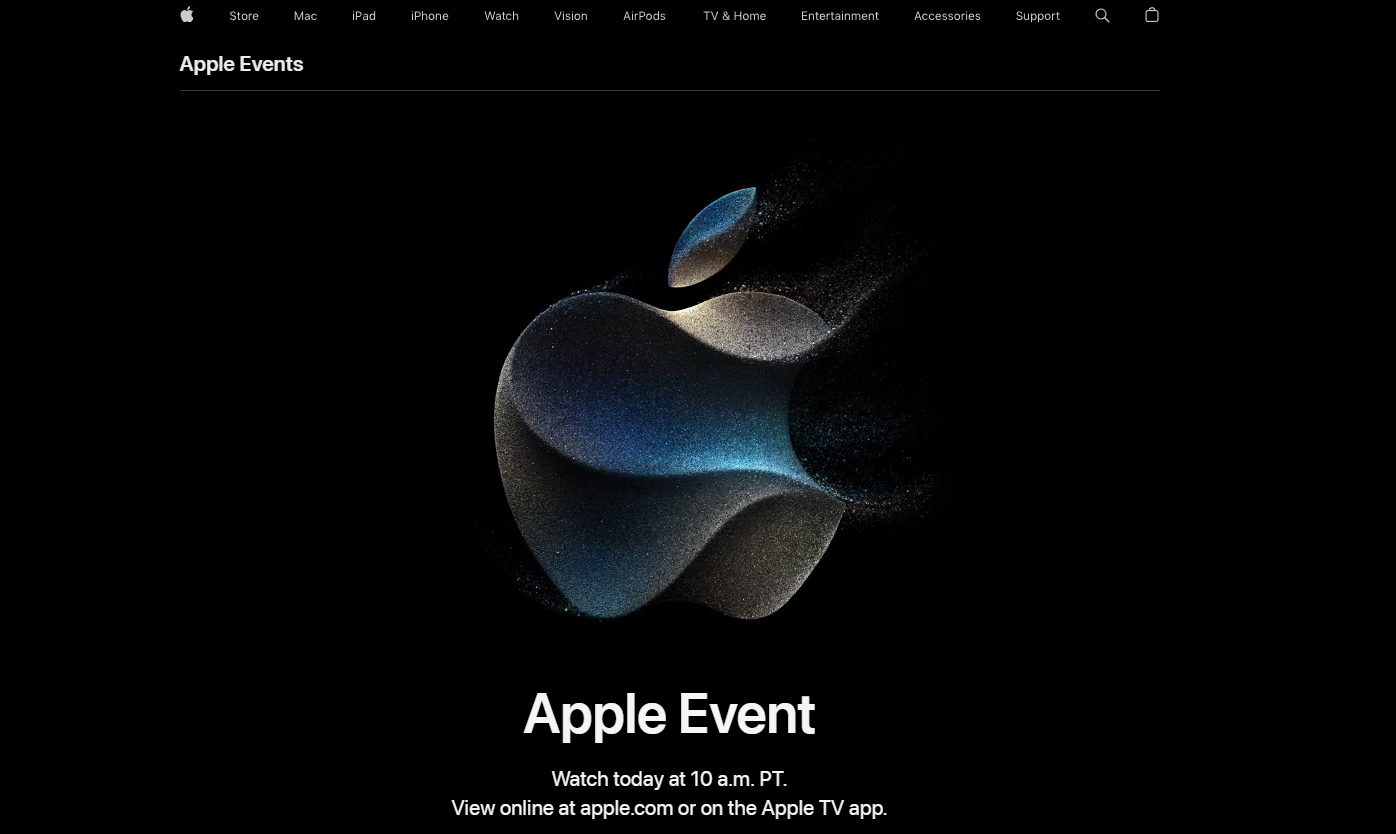 Here is the Apple Event page.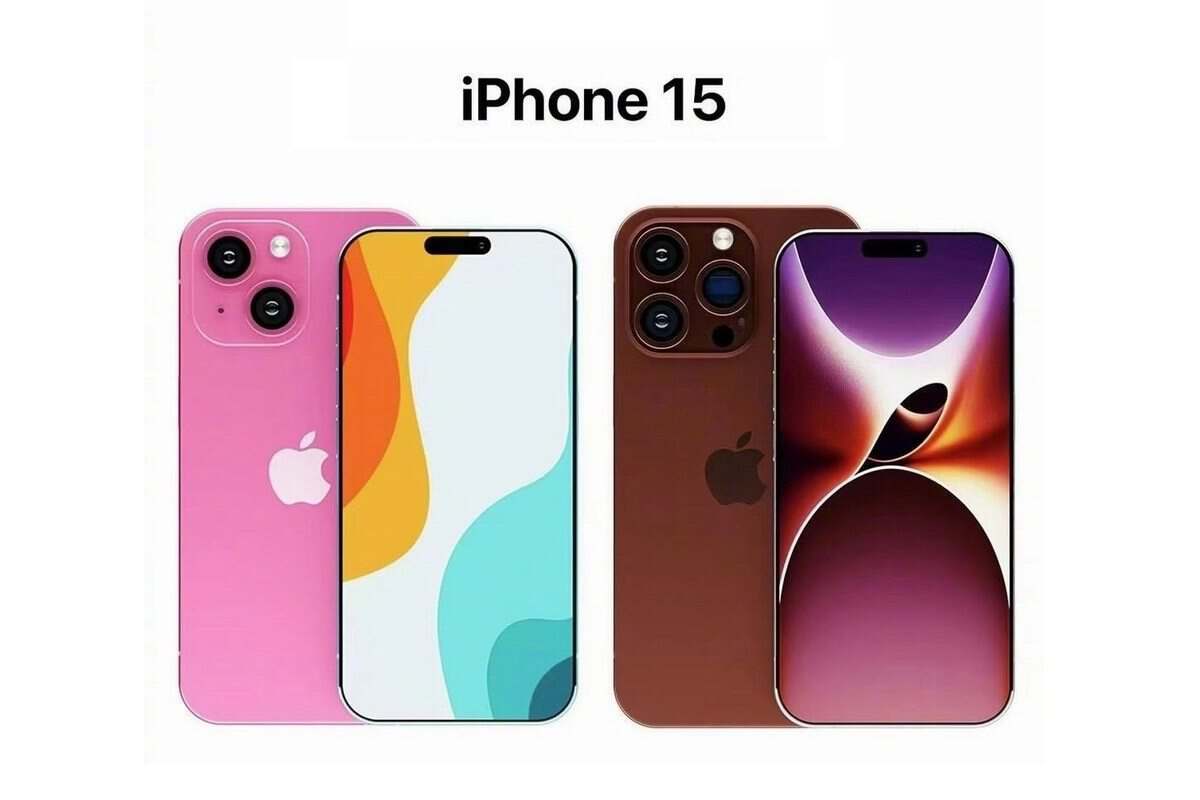 The iPhone 15 series has been generating excitement for the past six months. Apart from the well-known transition to USB-C ports, what other highlights can we expect in terms of cables, battery capacity, and charging?
iPhone 15 Series Switches to USB-C Ports with Two Transfer Speeds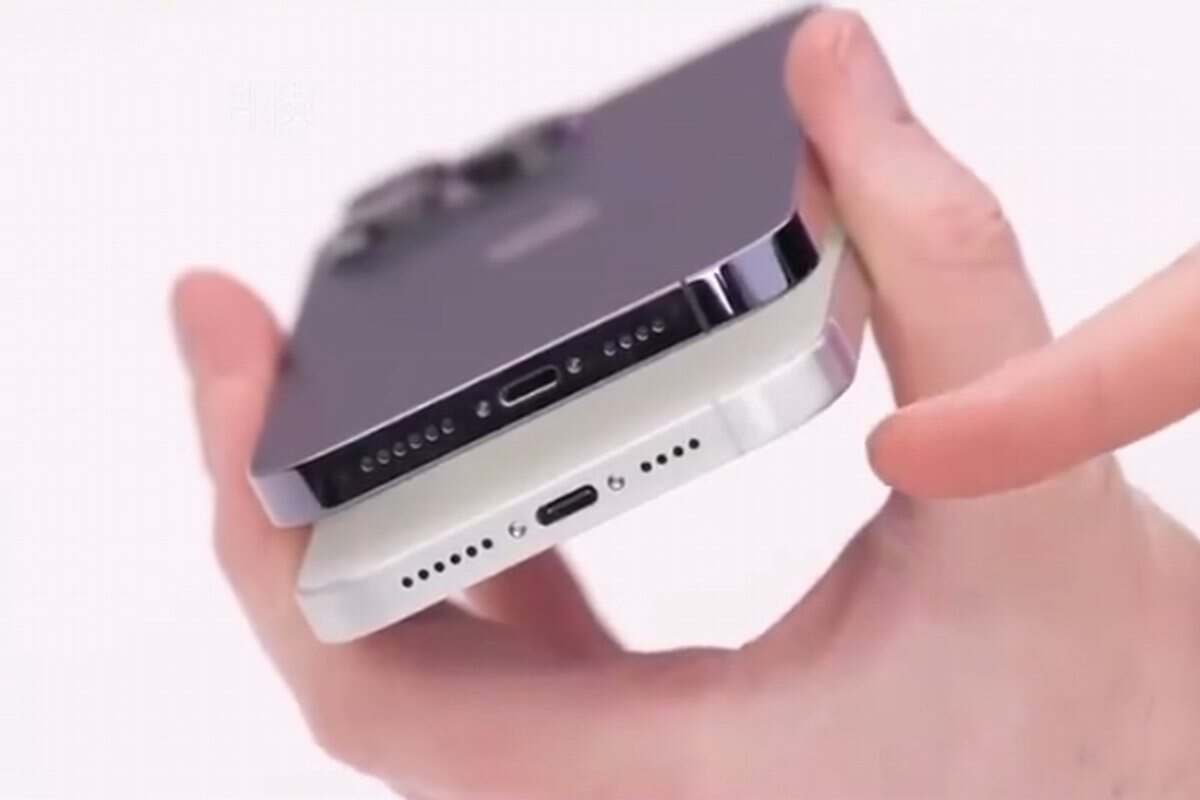 For most users, the most significant change in the iPhone 15 series is the transition from the long-standing Lightning port to the more universal USB-C port. This shift means that the entire iPhone 15 series will embrace USB-C, making accessories more universal. Users won't need different accessories for different devices, resulting in a more streamlined setup.
Additionally, the iPhone 15 series will feature ports with two bandwidths: high-speed and low-speed. Entry-level models will continue to use USB 2.0 (480Mbps) low-speed ports, while high-end models (such as the Pro) will introduce high-bandwidth ports. This addition of high-speed ports will allow the iPhone 15 to function as a personal smart terminal, easily connecting to high-speed docking stations through a "one cable to rule them all" and providing convenient access to all peripherals, charging, and high-resolution screen projection, among other sweet features.
Colorful USB-C Cables with Enhanced Braiding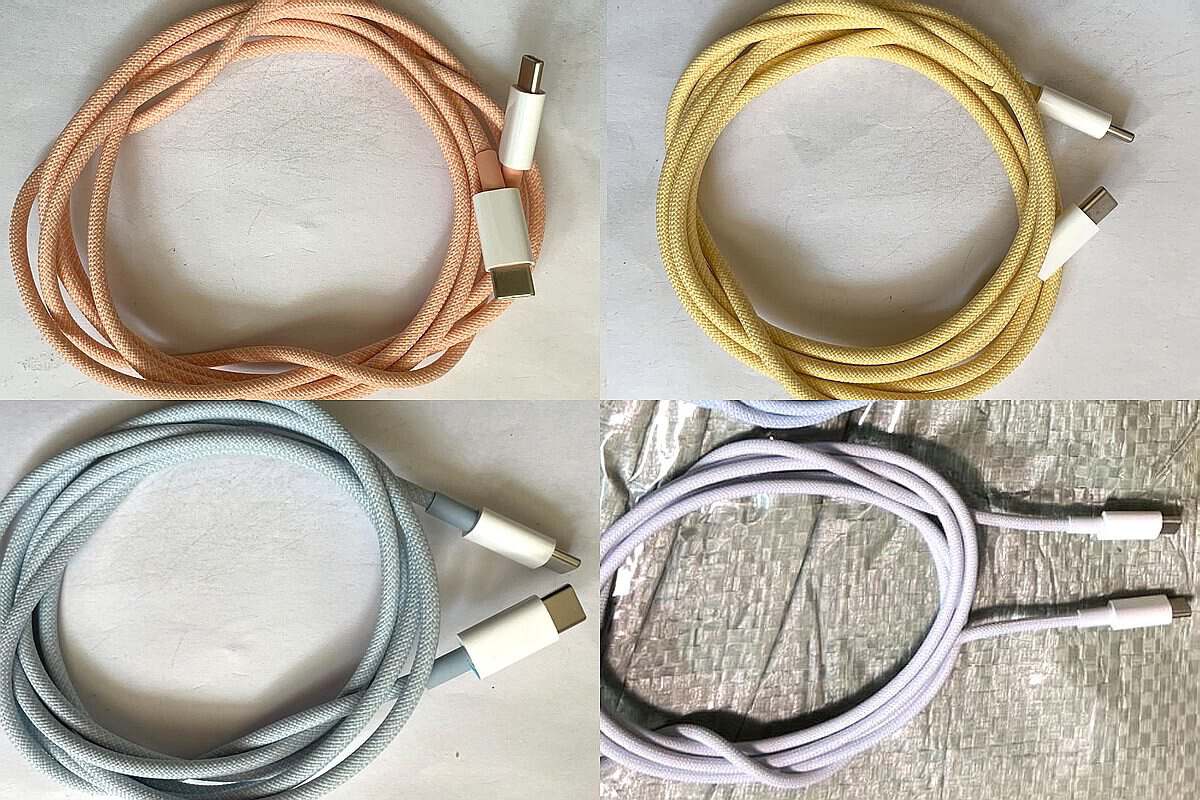 Accompanying the port change is a modification to the cables. The iPhone 15 series will come with USB-C cables in various colors, including black, white, yellow, orange, and blue, likely matching the corresponding iPhone models' colors. The cable's winding method has also been altered from the previous circular card reel to an oval-shaped winding style.
Moreover, the cable length has been extended to 1.5 meters, providing a wider radius of use. In terms of performance, the standard cable does not include an E-marker chip, allowing a maximum power transmission of 20V3A (60W) and supporting a data bandwidth of USB 2.0 (480Mbps).
5000mAhBattery Capacity Increases Again, Approaching 5000mAh
With each iPhone generation, battery life has improved, not only due to processor advancements but also thanks to larger battery capacities. According to MacRumors, the iPhone 15 series will feature the highest battery capacity specifications in Apple's phone history, with the highest capacity nearing 5000mAh.

Specifically, the iPhone 15 will have a 3,877mAh battery, the iPhone 15 Plus 4,912mAh, the iPhone 15 Pro 3,650mAh, and the iPhone 15 Pro Max 4,852mAh. Compared to the iPhone 14 series, all four models will see significant capacity increases. Coupled with the energy efficiency improvements from the new A17 processor, the iPhone 15 series is expected to deliver impressive battery life.
Charging Power Increase? Still Uncertain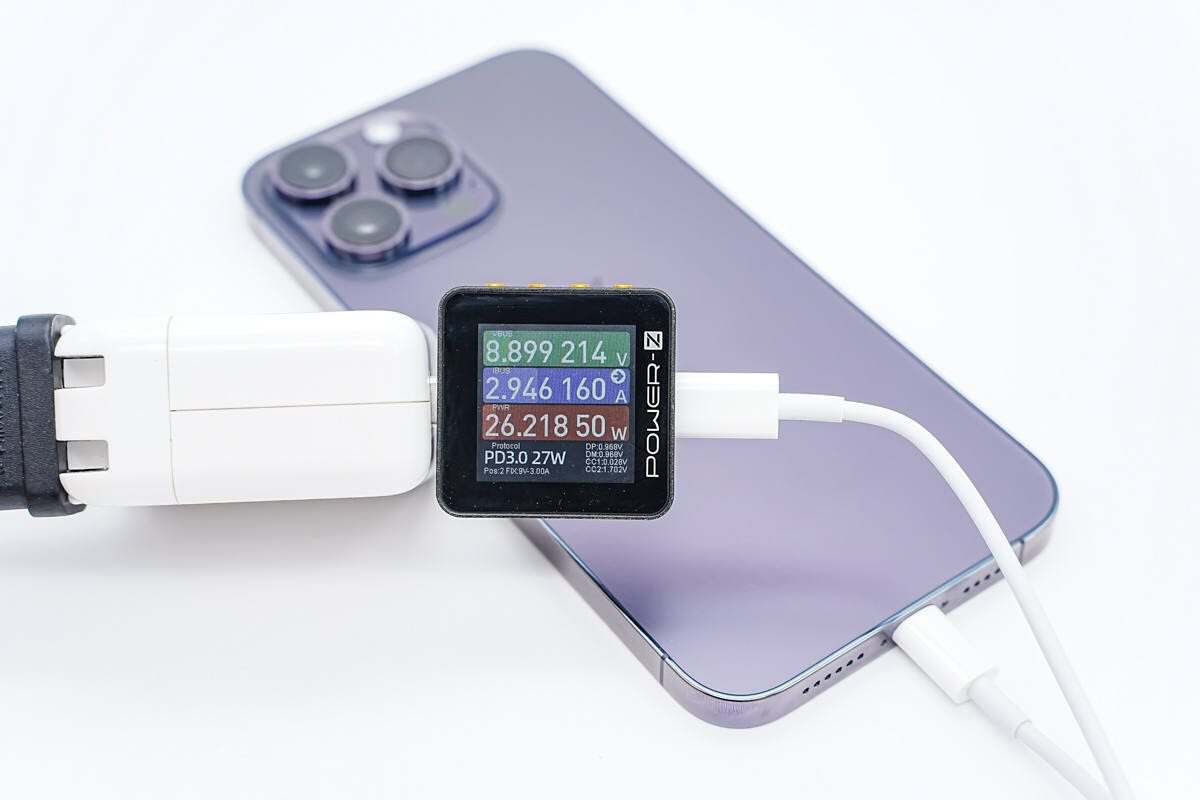 Since the iPhone 8, Apple has supported the USB PD universal fast charging standard. With each new iPhone iteration, the charging power has seen incremental increases. It started with the iPhone 8's 12W PD and reached 27W PD with the iPhone 14 Pro.
Previously, iPhones used a "pure PD" charging solution, where the voltage level negotiated was 9V 3A PDO, resulting in a power limit of 9x3=27W. Unlike some Android phones that use charge pump technology and the PPS protocol to adjust voltage efficiently for high-power fast charging, iPhones did not employ this method.
Whether the iPhone 15 series will upgrade its fast charging power and technology remains unknown.
Still No Charger Included
For a long time, iPhones came with a 5W charger, even for models like the iPhone 8, which supported PD fast charging. It wasn't until the release of the iPhone 11 Pro and iPhone 11 Pro Max that Apple included a USB PD fast charger in the package. Surprisingly, these two models were the only iPhones to include a PD charger.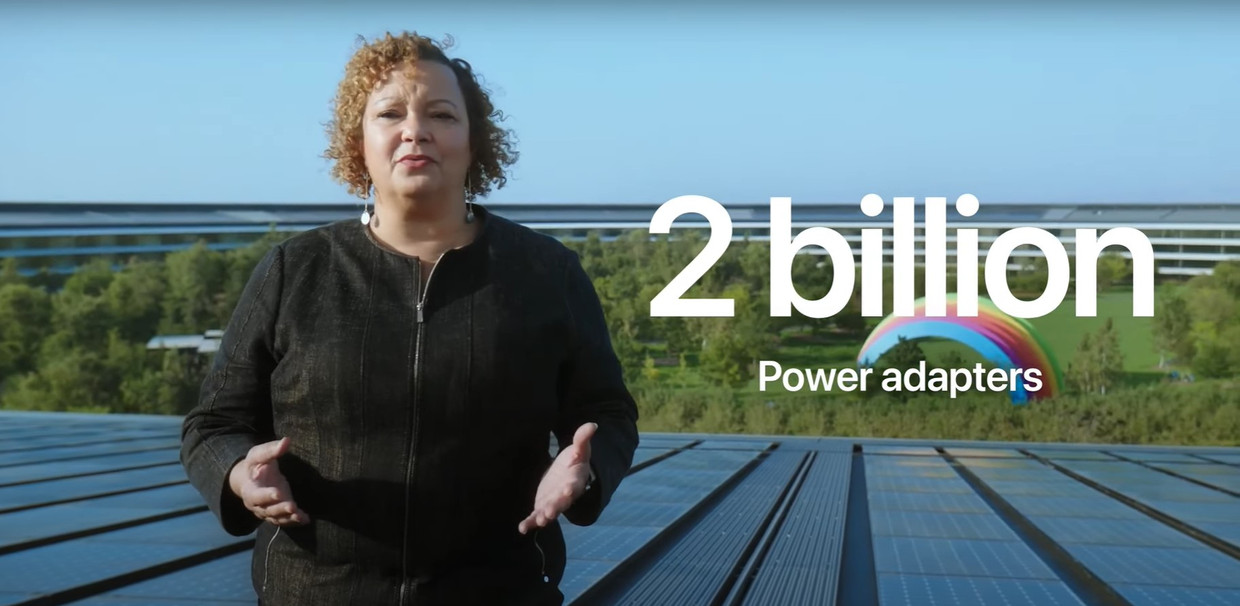 Starting with the iPhone 12 series in 2020, Apple no longer includes chargers in the box. Apple stated that there are currently 2 billion Apple chargers in the world. This move helps reduce waste caused by unused accessories, makes iPhone packaging smaller for more efficient storage and transportation, and cuts over 2 million tons of carbon emissions annually. Of course, Apple's motives for this decision are well understood.
Considering that the iPhone 15 series is transitioning to USB-C ports, it's likely that Apple will continue its policy of not including chargers.
Summary of ChargerLAB
The iPhone 15 series will feature USB-C ports with both low-speed and high-speed bandwidth options. The accompanying cables will also switch to USB-C and come in a variety of durable braided colors, likely matching the iPhone models' colors. Battery capacity will increase significantly, with the highest-capacity model approaching 5000mAh. However, the charging power and technology upgrades for the iPhone 15 series remain uncertain.
This "minor change" of switching from the Lightning port to USB-C will mark a significant milestone in Apple's smartphone history, as it involves substantial shifts in the ecosystem, moving from the closed ecosystem of MFi certification to a more open ecosystem with high potential. This change benefits accessory manufacturers and consumers alike, fulfilling the long-awaited desire for a universal port among Apple enthusiasts.
As this article is being published right before Apple's event, ChargerLAB will also get hands-on with the new devices and provide readers with first-hand reviews of the iPhone 15 series. Interested readers can look forward to future updates.
Related Articles:
1. Compatible With Qi2 | Apple iPhone 15 Support 15W Wireless Charging Without MagSafe
2. Breaking News: iPhone 15's USB-C Port and the Revelation of a Mystery Chip!
3. First Look at iPhone 15's Included USB-C Cable: Unveiling New Craftsmanship and Design
The article is originally written by @
Joey
posted on Chargerlab. All rights reserved.