First Look at iPhone 15's Included USB-C Cable: Unveiling New Craftsmanship and Design
Introduction
With just one month left until the release of the brand-new iPhone 15, details about the iPhone 15 series were unveiled in mid-August. It was confirmed that the new iPhone is finally abandoning the long-used Lightning port in favor of the USB-C port. Recently, another leak has surfaced, revealing the USB-C cable included with the iPhone 15. This upgraded cable boasts a braided design and a silicone inner layer for enhanced durability and flexibility. The length has also been extended to 1.5 meters (4.92 ft), and various color options are provided.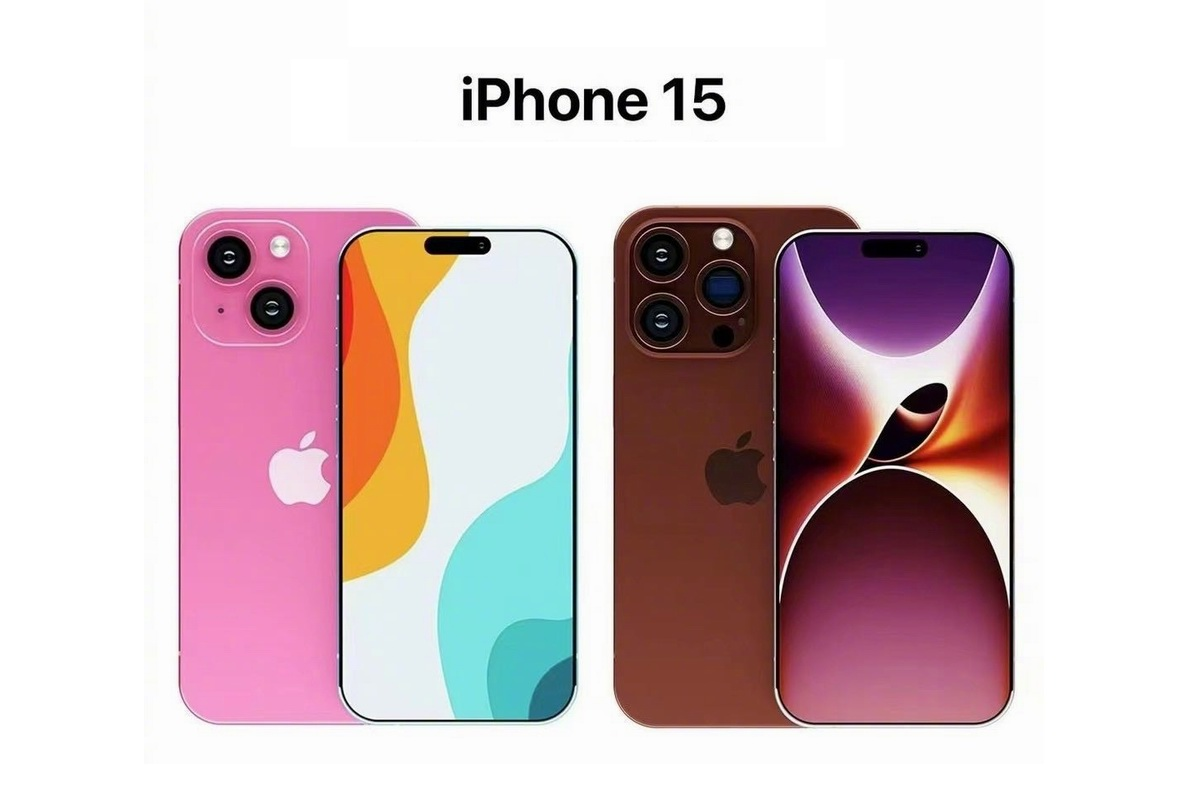 Exposure of the iPhone 15's Included USB-C Cable
On August 21st, @KosutamiSan revealed a spy photo of the USB-C cable included with the iPhone 15. The upgraded design features a more durable braided pattern with a silicone layer, and the details of its connector pins at its potential support for high-speed specifications.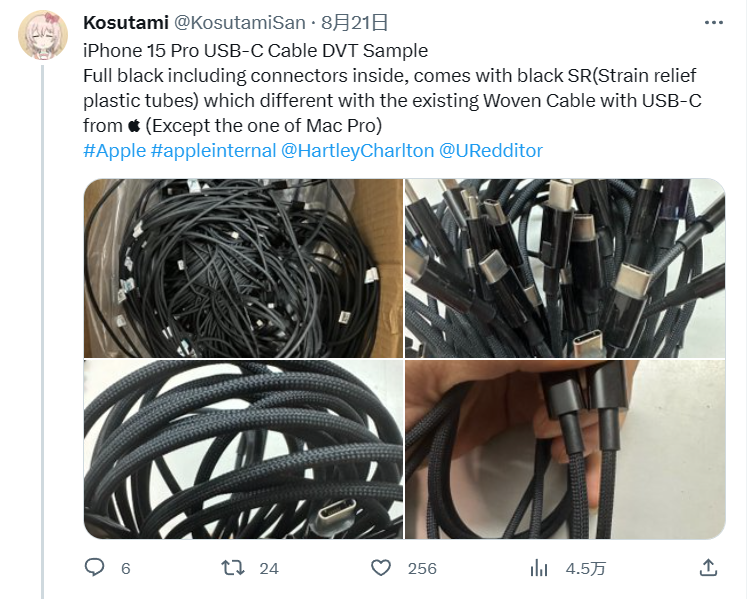 The material of the included cable for iPhone has undergone several changes over time. Initially, the cable used a stiff and less flexible PVC material, resulting in widespread breakage. As new generations of iPhones supporting fast charging capabilities were introduced, the included cable material transitioned to TPU, which is more flexible than PVC and reduces the likelihood of damage.
This time, the material of the included iPhone 15 cable has once again been upgraded. The inner layer uses a softer silicone material, making the cable more pliable and easier to store. The outer layer is braided, closely resembling the craftsmanship of Apple's Thunderbolt 4 Pro Cable, which retails for over a hundred dollars.
Upgrade to Braided + Silicone Material for Greater Flexibility and Durability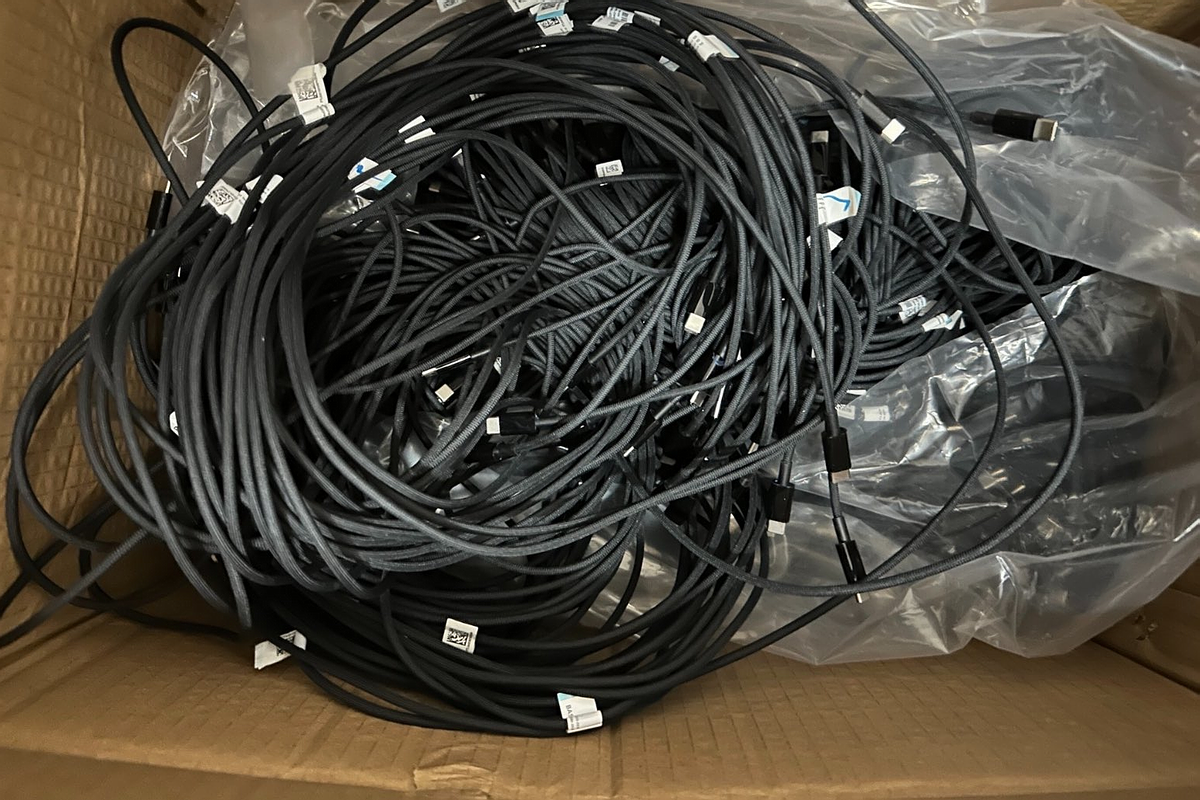 From the leaked spy photos, it's evident that the iPhone 15's included USB-C cable is a small batch prototype, housed in cardboard packaging. It is in the Design Verification Test (DVT) phase of the new hardware design and manufacturing process and is not yet the final version.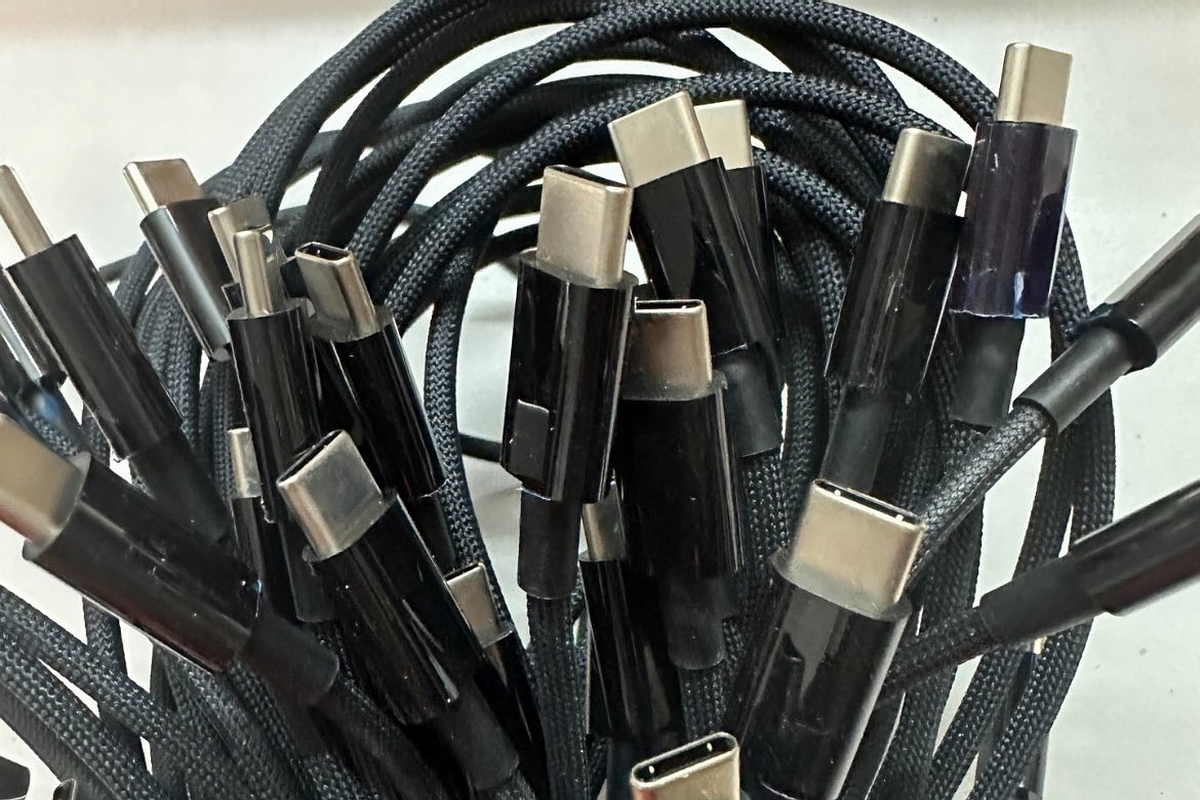 First, let's take a look at the connector, the length of the USB-C connector on the iPhone 15's included cable is similar to the USB-C connector on the standard iPhone 14 USB-C to Lightning cable. It has a plastic casing with a glossy finish, and the metal components of the plug are made using a more durable integrated molding process.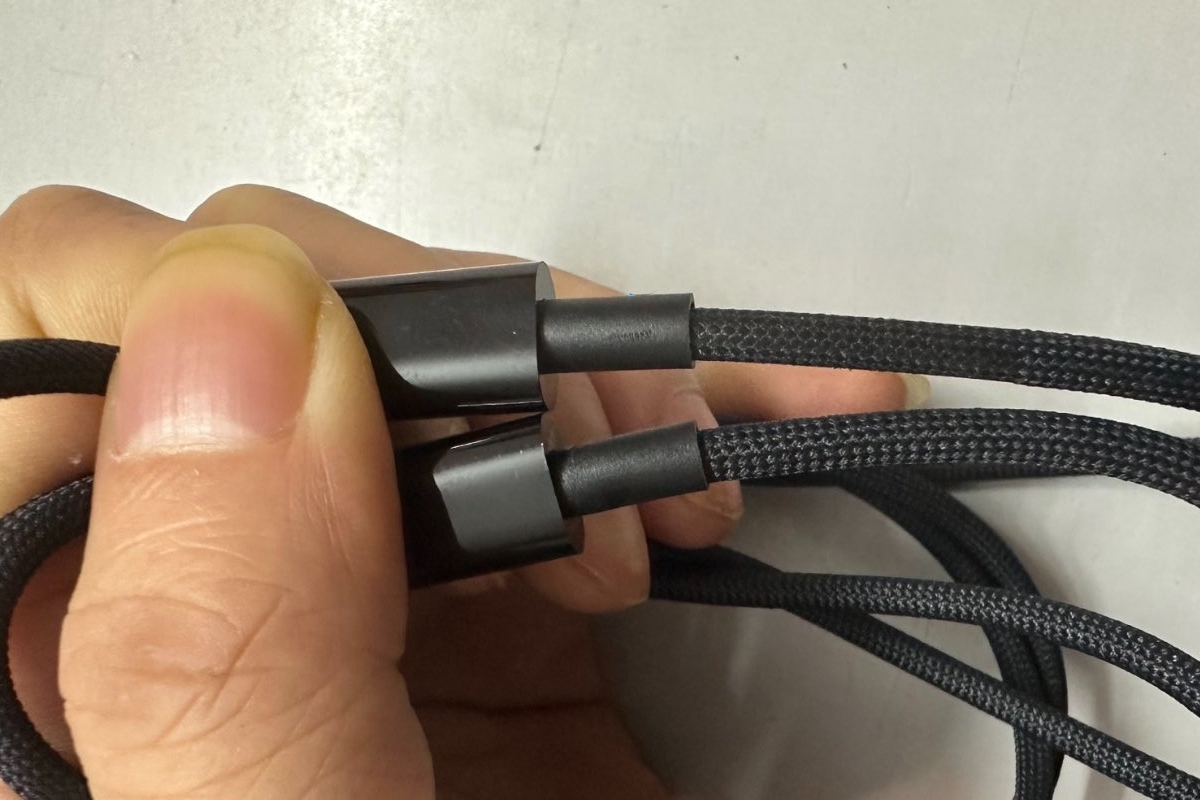 A closer inspection reveals a significant protective sleeve between the connector and the cable itself. This sleeve is designed to alleviate fatigue damage caused by bending and folding the cable during use.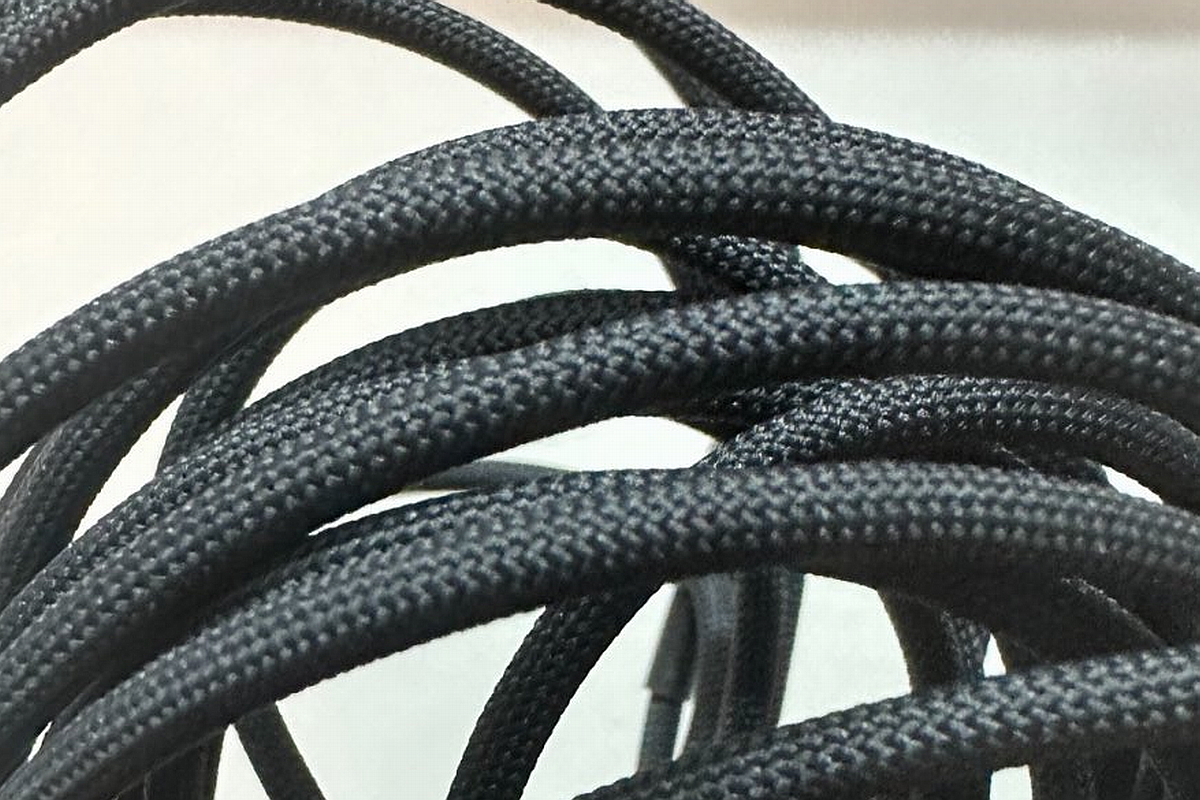 The braided outer sheath of the iPhone 15's included USB-C cable employs a twisted technique that is less likely to fray and offers increased durability compared to commonly seen braided cables.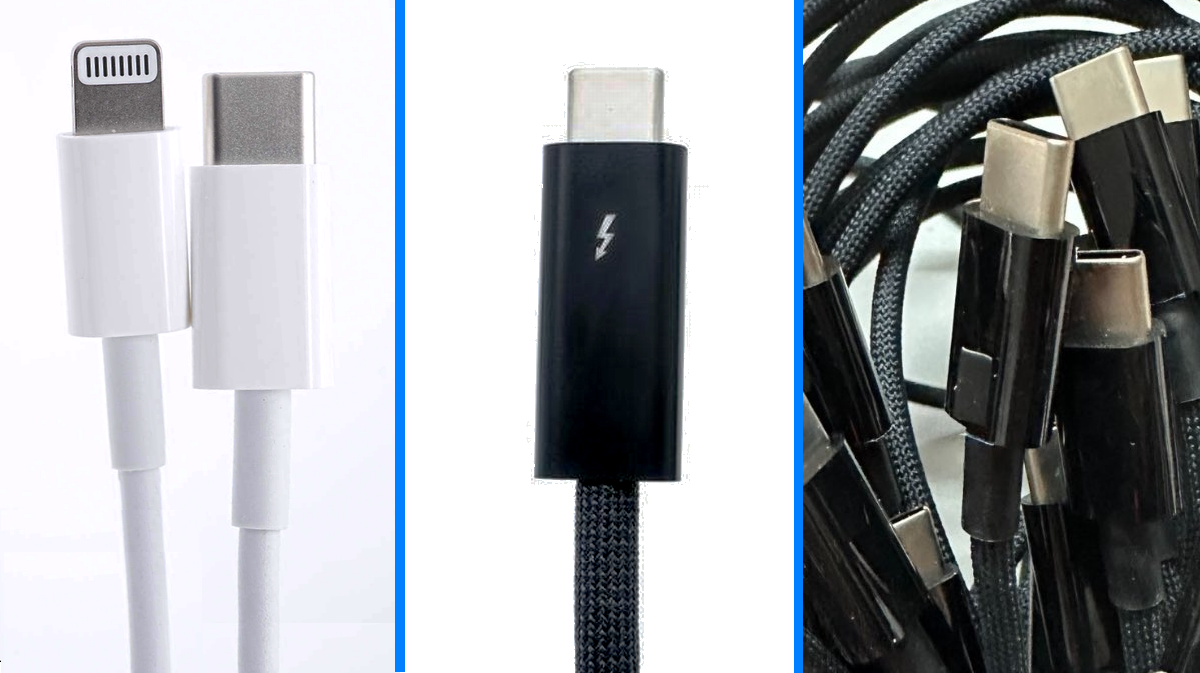 Furthermore, those familiar with ChargerLAB's teardown videos might notice a resemblance between the iPhone 15's included USB-C cable and Apple Thunderbolt 4 Pro Cable (model A2734). However, when compared side by side, they are distinct.
The Thunderbolt 4 Pro Cable's connector is longer and uses a matte finish, lacking additional protection. In contrast, the connector on the iPhone 15's included USB-C cable is similar to the USB-C connector of the previous USB-C to Lightning cable, featuring a glossy outer shell and a similar length, complete with a protective sleeve.
Color Variations Corresponding to iPhone Models, Increased Length to 1.5 Meters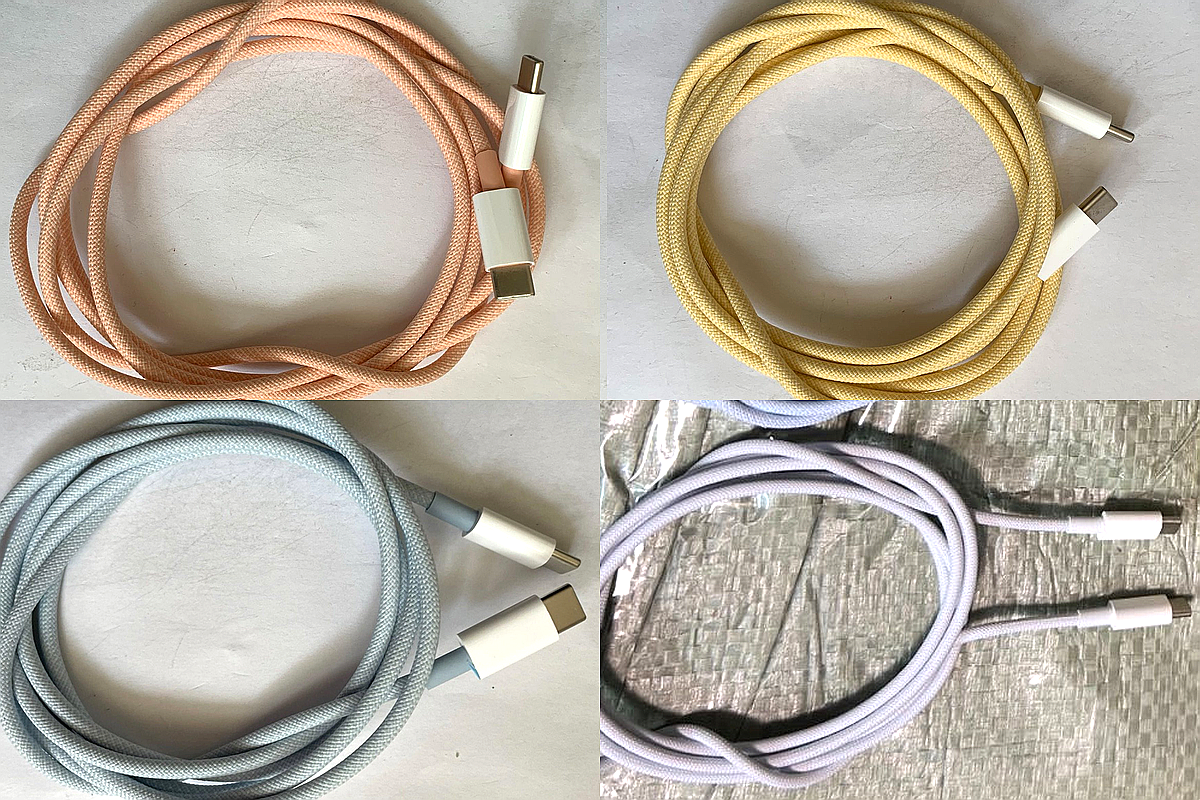 The cable is offered in a variety of colors, including black, white, yellow, orange, and blue, likely designed to match the corresponding colors of the iPhone models.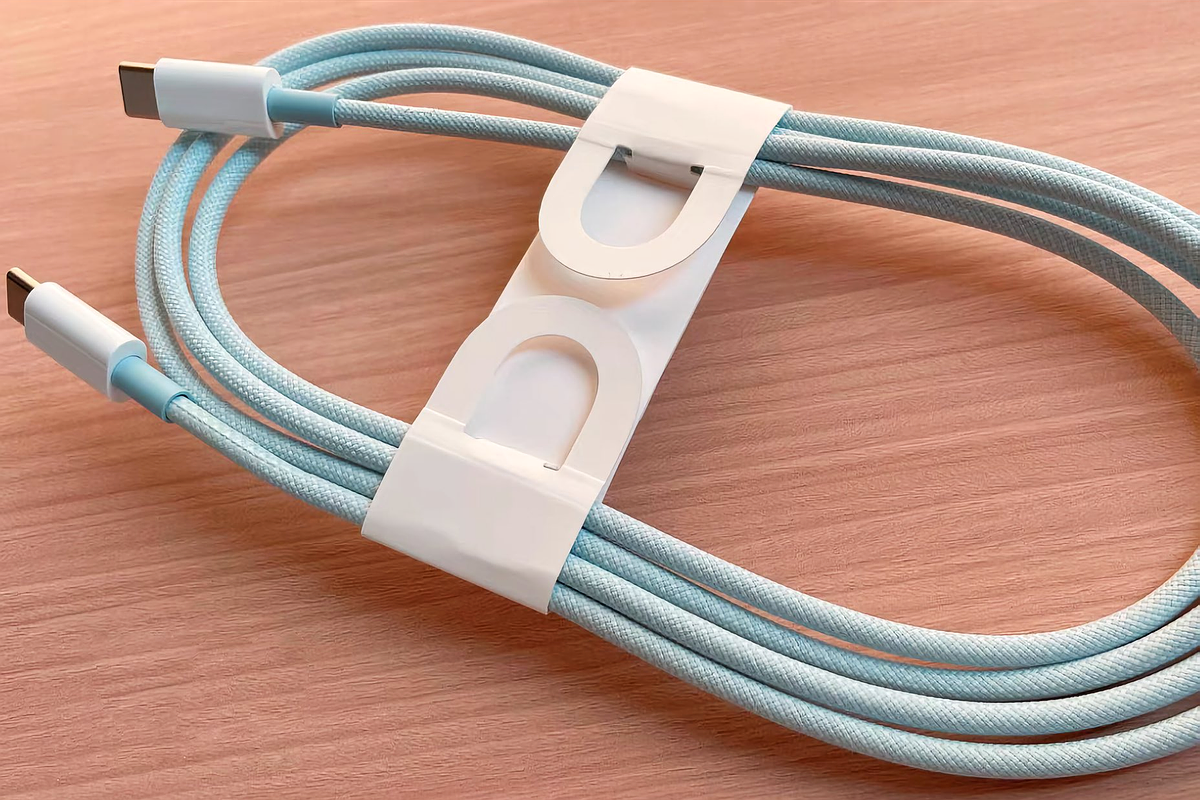 Additionally, the wrapping technique for the iPhone 15's included USB-C cable has changed from the previous round shape to an elliptical shape. The cable's length has been extended to 1.5 meters, providing a wider radius of use.
Non-Full Pin Design, USB2.0 Low Transmission Speed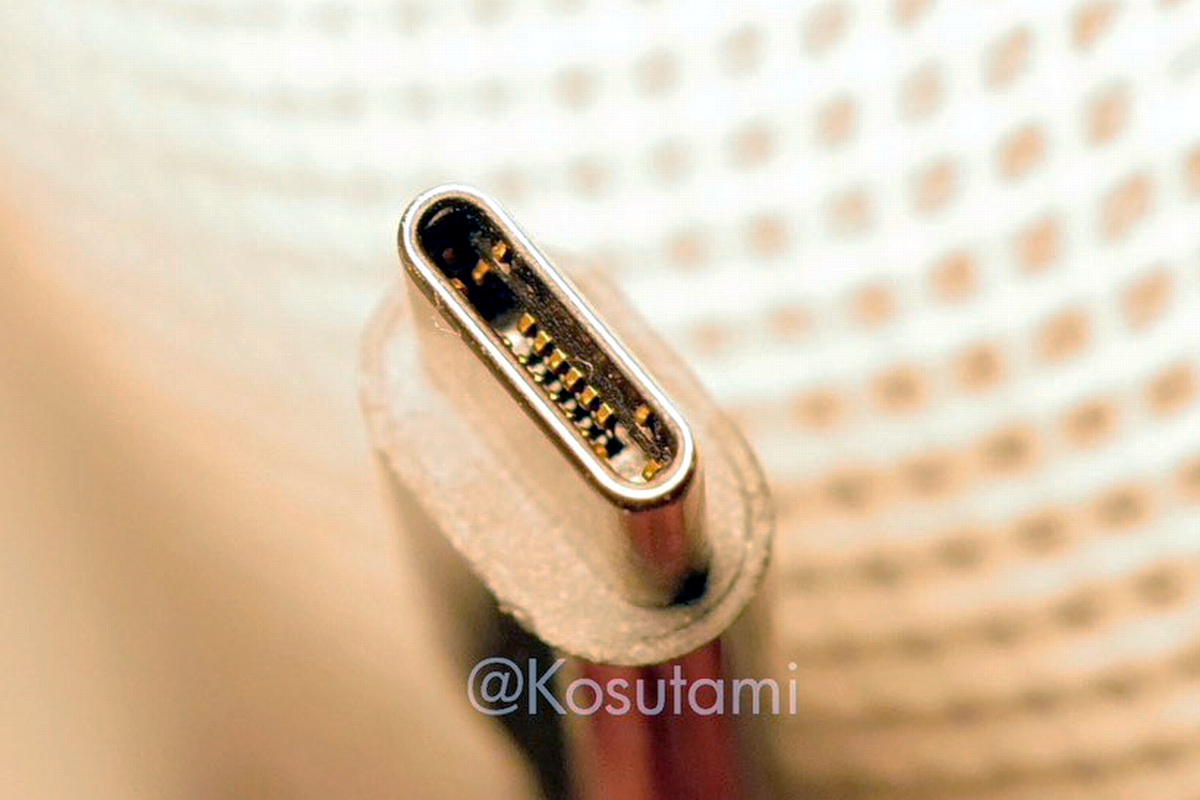 The iPhone 15's included USB-C cable connector features a non-full pin design, with a total of 16 pins symmetrically arranged in two rows. This kind of design implies that this cable is meant for lower transmission speeds, lacking high-speed channels such as TX1, RX1, TX2, and RX2, and doesn't support high-speed specifications like USB3.0/3.1/3.2 or Thunderbolt. It can only operate at USB2.0 (480Mbps) based on the D+, D- channels.
Observing closely, it's evident that compared to standard USB-C cables, the iPhone 15's included USB-C cable has wider and sturdier pins. This design indicates prolonged durability, efficient large current transmission, and better electrical characteristics. According to the leak, this cable lacks an E-marker chip and can support 3A current and a maximum power of 20V3A 60W based on the USB PD universal fast charging standard.
In simple terms, performance-wise, this is a USB-C to USB-C cable that's commonly seen, but with superior craftsmanship.
Entire Series Equipped with USB-C Ports, but with Two Transfer Speeds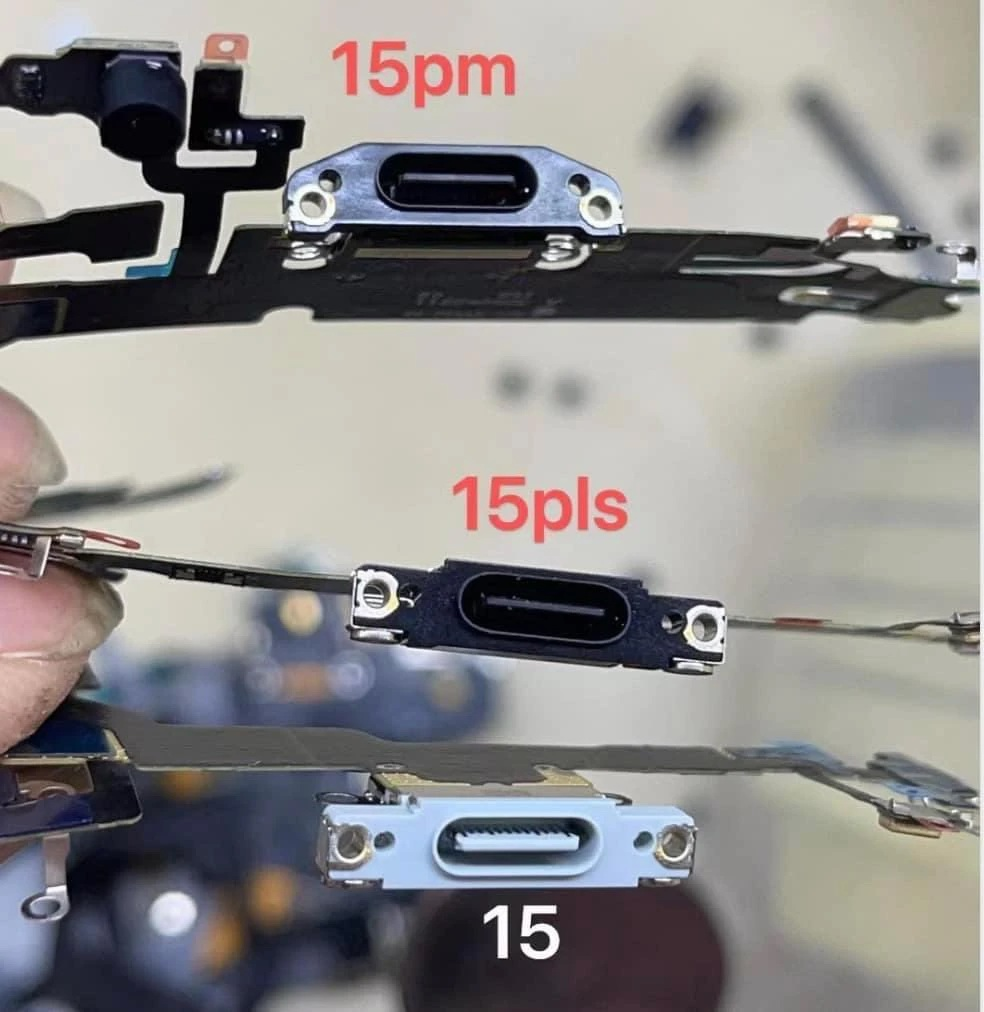 Previously exposed iPhone 15 models featured USB-C female sockets, including the iPhone 15 Pro Max, iPhone 15 Plus, and iPhone 15. The internal plastic sheets reveal a consistent layout on both sides, comprising a total of 24 pins. Notably, the power supply pins GND and VBUS have longer lengths than the other data pins, indicating the standard USB-C configuration.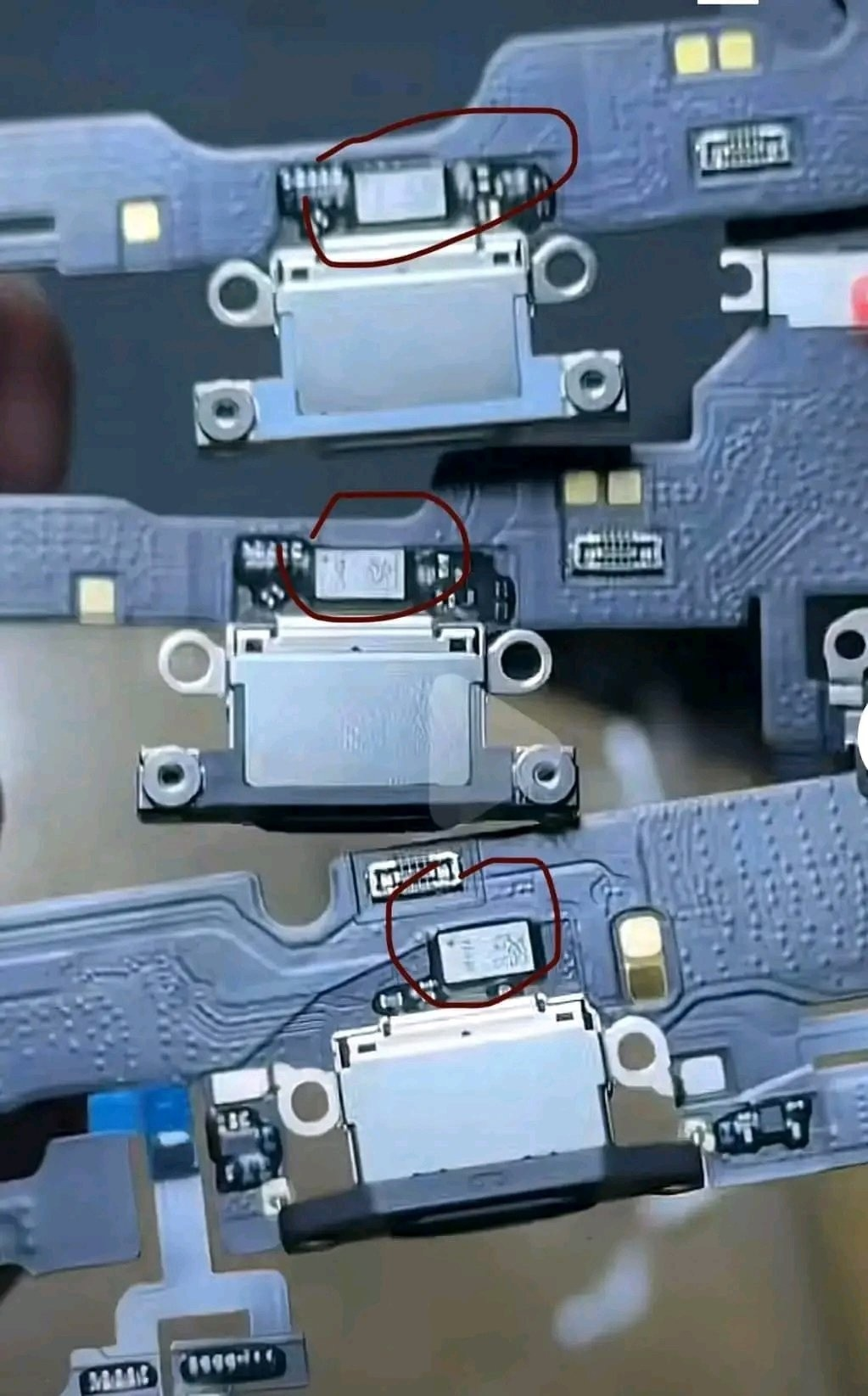 What's more, a mysterious IC is faintly visible behind the USB-C female socket. Upon magnification, it becomes apparent that this IC is a Retimer chip. It primarily serves to reconstruct signals and reduce signal jitter. This chip, commonly found in ChargerLAB's disassembled Thunderbolt/USB4 high-speed devices, improves signal transmission stability for high-bandwidth data ports. Based on this, ChargerLAB boldly speculates that the high-end models of the iPhone 15 series, such as the Pro and Pro Max, are likely to support Thunderbolt/USB4's 40Gbps high-speed data transmission, while the base model iPhone 15 might only have USB2.0 low-speed ports.
From this leak, it's highly possible that the included cable will either be standard with the base model iPhone 15 or included across the entire iPhone 15 series, with the advanced high-speed cable available as a separate accessory for individual purchase. This aligns with Apple's usual approach.
iPhone 15's Included USB-C Cable Could Be Priced at $24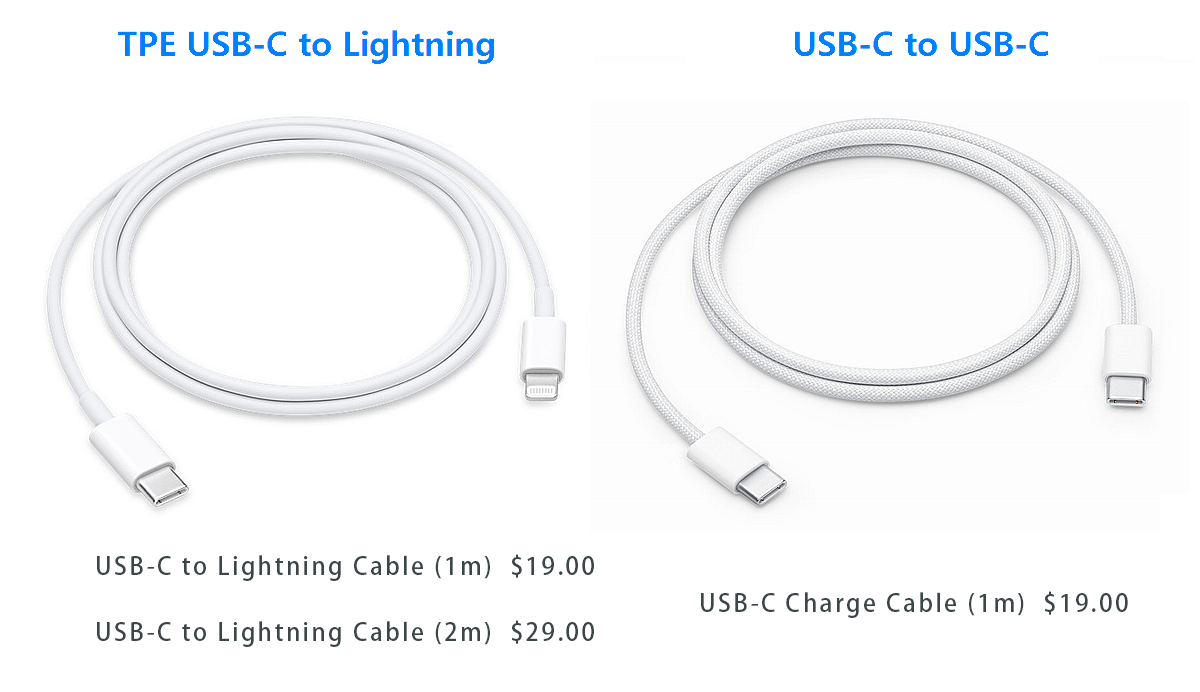 Turning to pricing, Apple's official website offers various cables. The most common is the TPE material USB-C to Lightning cable, priced at $19 for 1m and $29 for 2m. It features the C94 certified chip and is part of the MFi ecosystem.
Another option is the braided USB-C to USB-C cable, which differs from the cable described in this article. It doesn't have a protective sleeve, and only the 1m length is available, priced at $19.
Hence, it's reasonable to assume that the iPhone 15's included cable might be priced around $24 upon launch as a new product. Alternatively, it could replace the current 1m braided cable as an extended version, maintaining the $19 price point.
EU Regulations and Compatibility with Third-Party Accessories
It's important to note that there is currently no 100% accurate information confirming whether the iPhone 15 series will fully support third-party USB-C cables. Full support means whether using third-party cables will lower data transmission speeds, reduce charging power, or even render the cable completely unusable.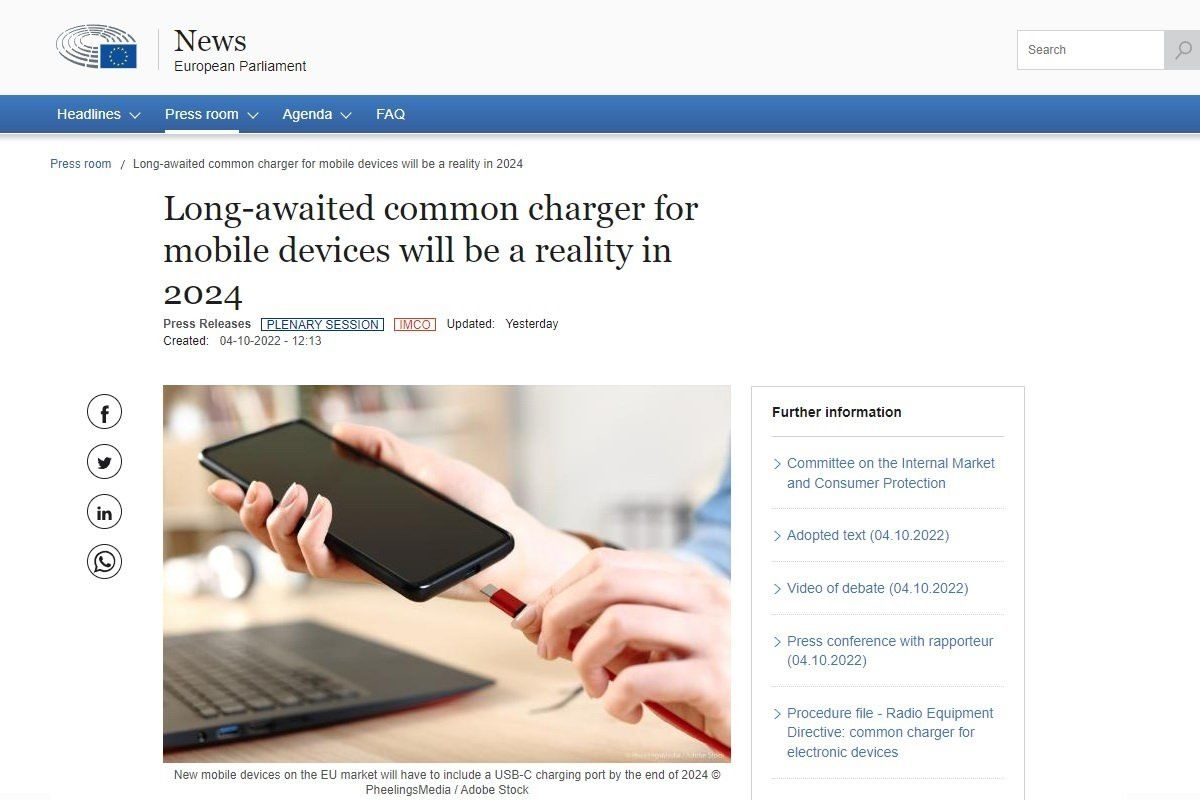 In recent years, the EU has convened multiple meetings and passed legislation to establish USB-C as the universal charging standard for small electronic devices by the end of 2024. This law applies to devices including newly manufactured phones, tablets, cameras, laptops, headphones, handheld gaming consoles, portable speakers, e-readers, keyboards, mice, and portable navigation systems – covering a wide range of common portable consumer electronics products in the market.
In addition to standardizing the USB-C port for consumer electronic devices, the EU has specific requirements for fast charging protocols: "Devices that support fast charging will all have the same charging speed, allowing users to charge their devices at the same speed with any compatible charger."
While Apple has consistently favored establishing unique industry standards, faced with the EU's substantial authority and the vast European market, it is likely to make significant concessions. In conclusion, ChargerLAB speculates that the iPhone 15 series will likely be highly compatible with third-party USB-C accessories, especially low-speed USB-C cables, allowing for full compatibility.
USB-C Universal Ecosystem for Android and Apple
USB-C, with its broader compatibility compared to Lightning, alleviates the need for third-party accessory vendors to pay extra for items like MFi certification chips or membership fees. This reduction in additional costs significantly cuts down product expenses. Situations where Apple claimed 80% of the profits from third-party USB-C to Lightning cables might become a thing of the past.
Taking the widely recognized fast charging brand Anker as an example, their 3 ft 5-Series MFi-certified USB-C to Lightning cable is priced at $19.99. Meanwhile, the same brand's 5-Series USB-C to USB-C cable, boasting similar materials and length, is priced at only $15.99. This demonstrates the higher cost-effectiveness of accessories based on the universal USB-C standard. If we consider cables with TPE material, which is a level lower, they can even be priced a dollar cheaper. Clearly, under the universal USB-C standard, third-party cables offer both quality and affordability.
Summary of ChargerLAB
The USB-C cable included with the iPhone 15 series is designed for lower transmission speeds, utilizing a non-full pin connector that supports USB 2.0. Without an E-marker chip, the cable can only handle power transmission up to a maximum of 20V3A 60W. The cable material has been upgraded to braided and silicone, resulting in a flexible, durable, and non-fraying design. The widened pins enhance electrical performance. While its performance might be modest, the craftsmanship is exceptional.
The use of USB-C ports in the iPhone 15 series is now a confirmed feature. The revelation of the included USB-C cable in the iPhone 15 series further supports the understanding of the phone's finer details. The iPhone 15 series models may feature various configurations such as USB 2.0, USB 3.2, or Thunderbolt. The USB 2.0 braided cable included as standard likely covers only basic functions. For advanced functions, users may need to purchase higher transmission rate cables at an additional cost.
Regarding third-party accessory compatibility, it's highly probable that it will be universal, presenting a major advantage for the third-party accessory market. This change will result in a substantial drop in accessory prices, benefiting players across the industry chain, accessory vendors, and users alike.
Certainly, users and the industry have had their fill of the shortcomings of the Lightning port. With a variety of devices including iPhones, Android phones, desktops, laptops, tablets, and headphones requiring cables of different specifications, the lack of interchangeability poses a challenge. Charging at a friend's place or using accessories like docking stations, card readers, and other add-ons becomes complicated. The iPhone 15's complete adoption of USB-C resolves this issue by making all accessories universal. There's no longer a need for assorted adapters, making desks tidier and backpacks neater.
Related Articles:
1. Compatible With Qi2 | Apple iPhone 15 Support 15W Wireless Charging Without MagSafe
2. Breaking News: iPhone 15's USB-C Port and the Revelation of a Mystery Chip!
3. Why Small Wearable Devices / Apple Watch Charges So Slowly?
The article is originally written by @
Joey
posted on Chargerlab. All rights reserved.