Upgrading to iPhone 15? Don't Toss Your Lightning Cables – Try This!
After the release of the iPhone 15 series with USB-C ports, Apple fans worldwide are gearing up for an upgrade. This transition marks a significant point in iPhone history, but it raises questions about the fate of the existing Lightning cables.
The original Lightning cables will no longer connect to the new iPhone 15 series. To prevent users from wasting resources, Apple has introduced the USB-C to Lightning Adapter. With this adapter, iPhone 15 series users can continue to use their existing Lightning cables for charging, data transfer, and audio functions.
Apple Launched USB-C to Lightning Adapter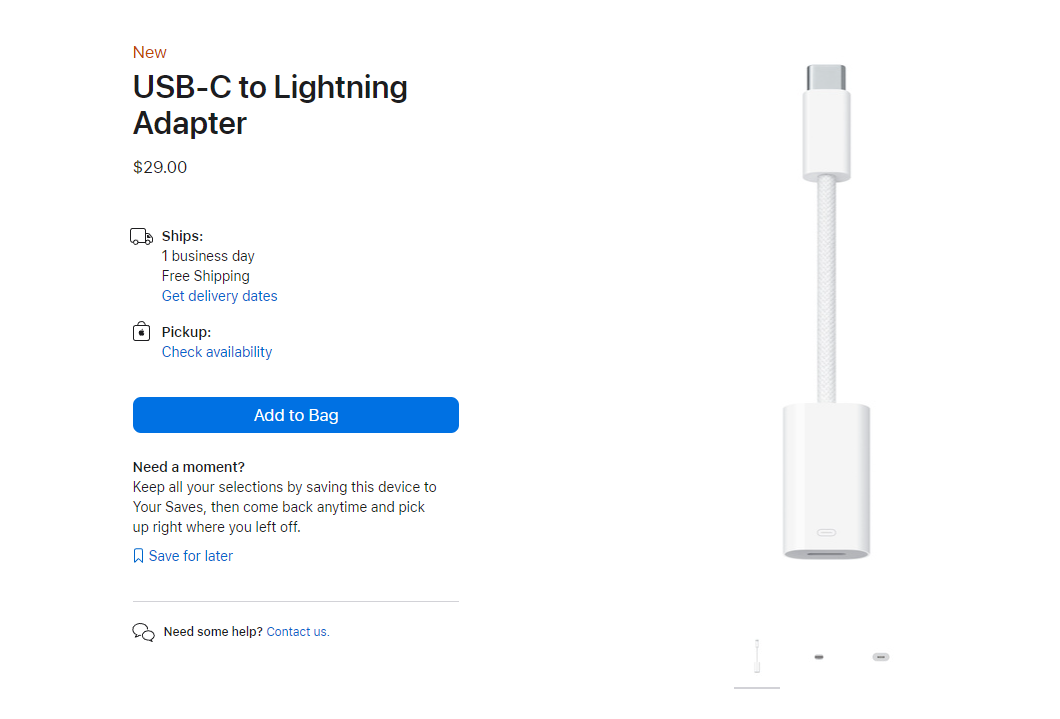 Currently, this adapter is available on the Apple Store, priced at $29, and it is in stock.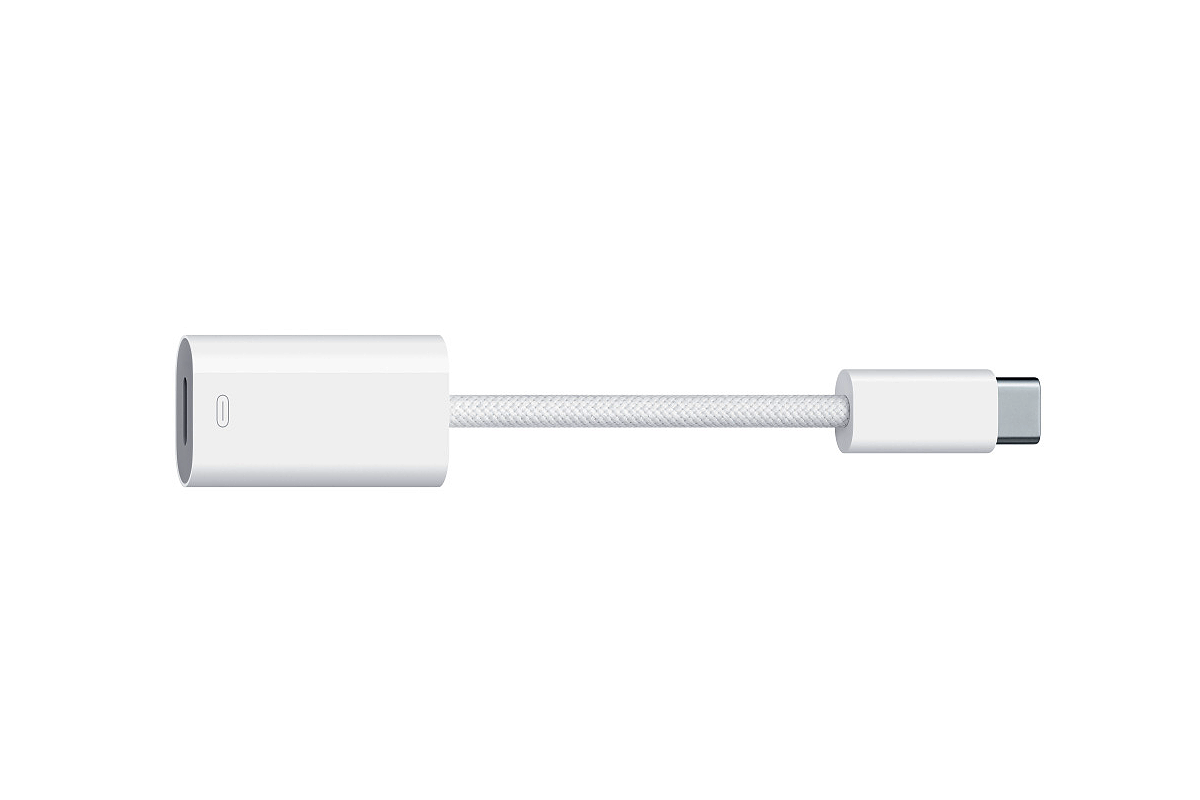 It features a classic Apple style, with a very portable short cable design. The cable is externally woven with twisted wire craftsmanship, and there is no additional protection at the connection points of the two connectors. The connectors are in pure white glossy finish, with one end being a Lightning female port and the other end a USB-C male port.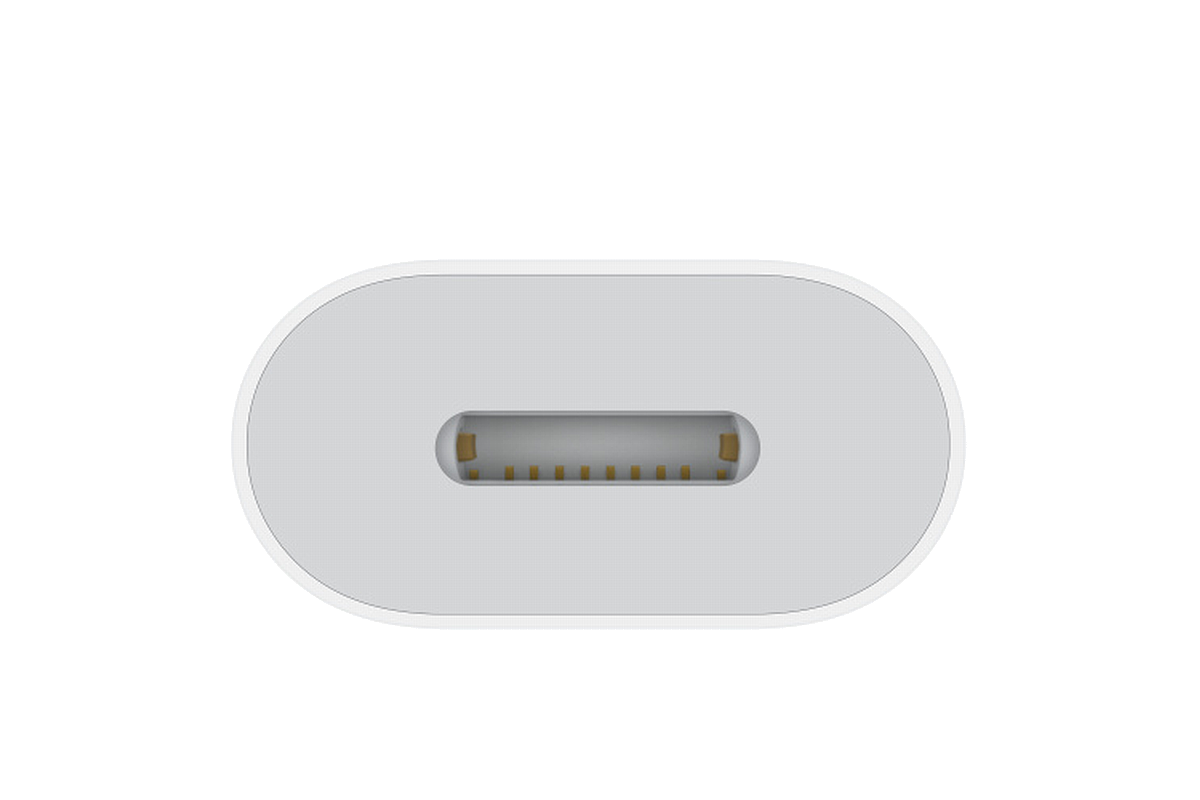 The Lightning female port has a single-sided pin design, similar to the standard Lightning port,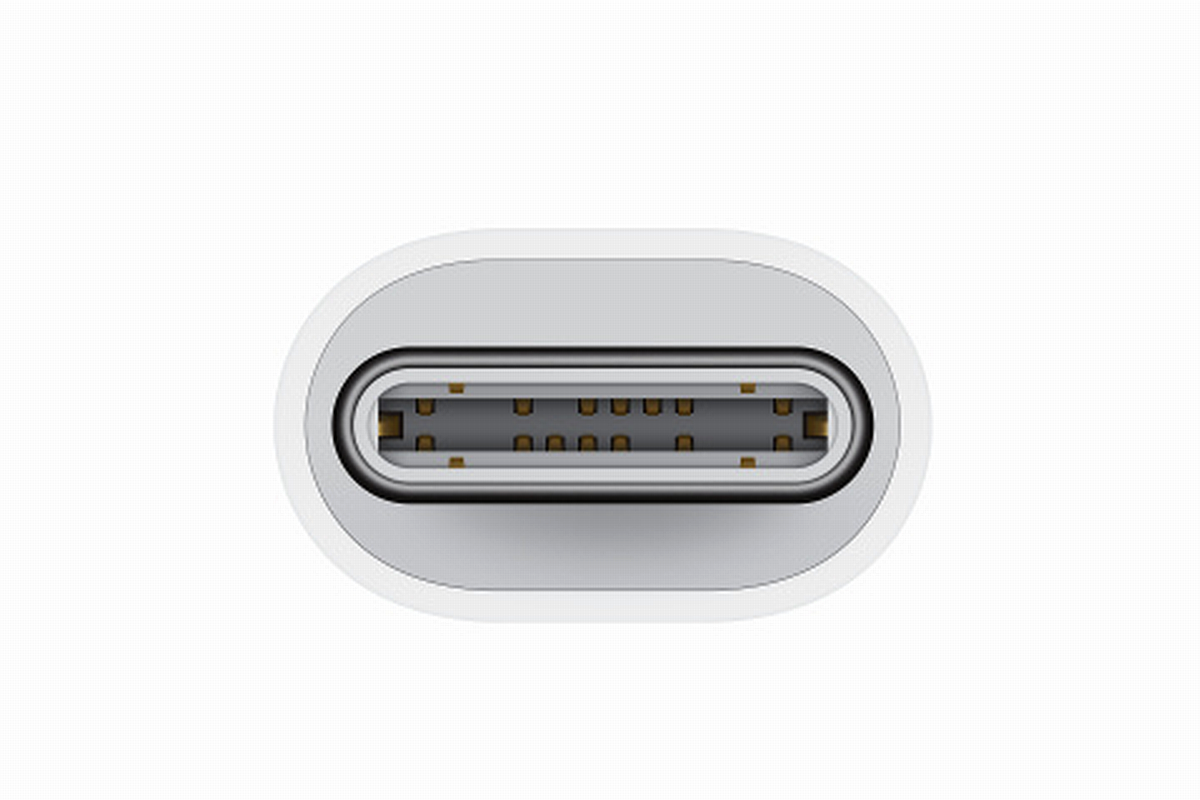 while the USB-C male port has a non-full pin design, allowing insertion from either side.
Supports Charging, Data, and Audio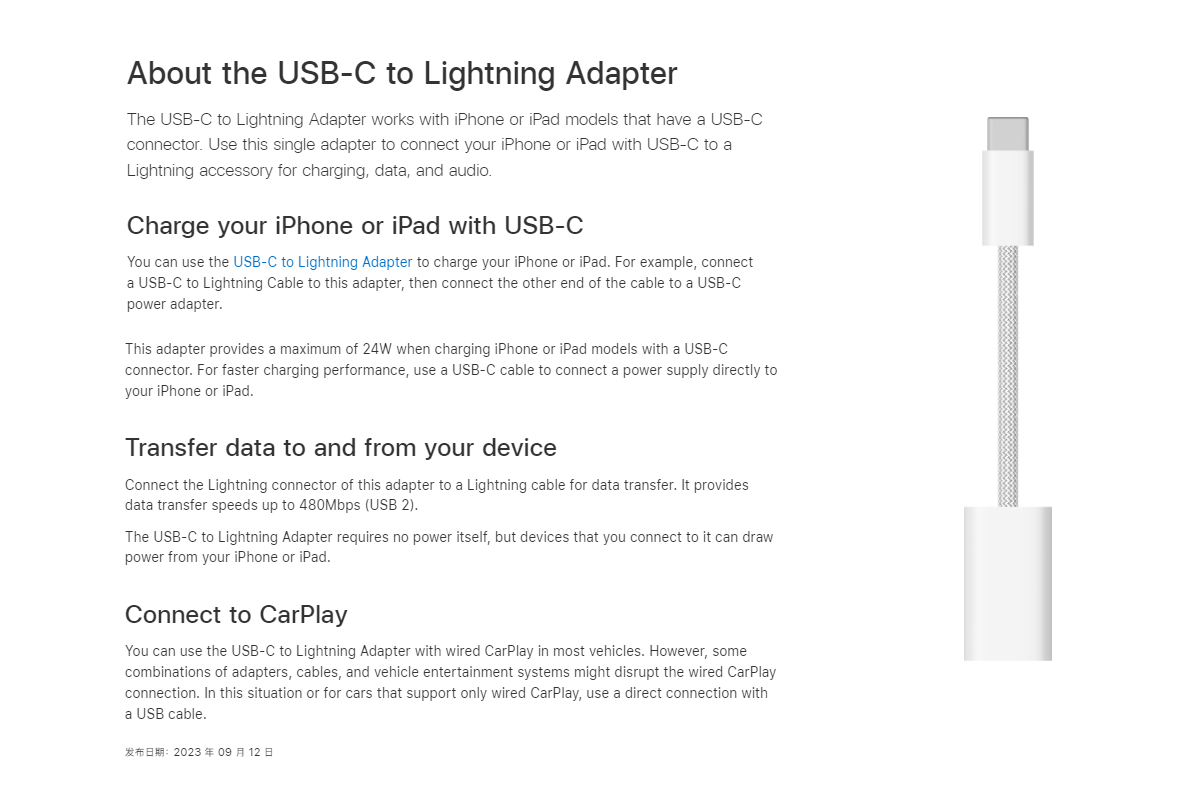 The Apple USB-C to Lightning Adapter is compatible with iPhone 15 series and iPad devices with USB-C ports. After plugging in the adapter, you can use Lightning cables (including USB-A to Lightning and USB-C to Lightning) to connect to chargers, PCs, headphones, and more.
In terms of performance, when you plug it into electronic devices and connect a Lightning cable, it supports charging, data transfer, and audio transmission. When using a USB-C to Lightning cable with a USB PD charger, it supports fast charging with a maximum power of 24W, data transfer rates of up to USB 2.0 (480Mbps), and CarPlay connectivity.
Who Is It Suitable For?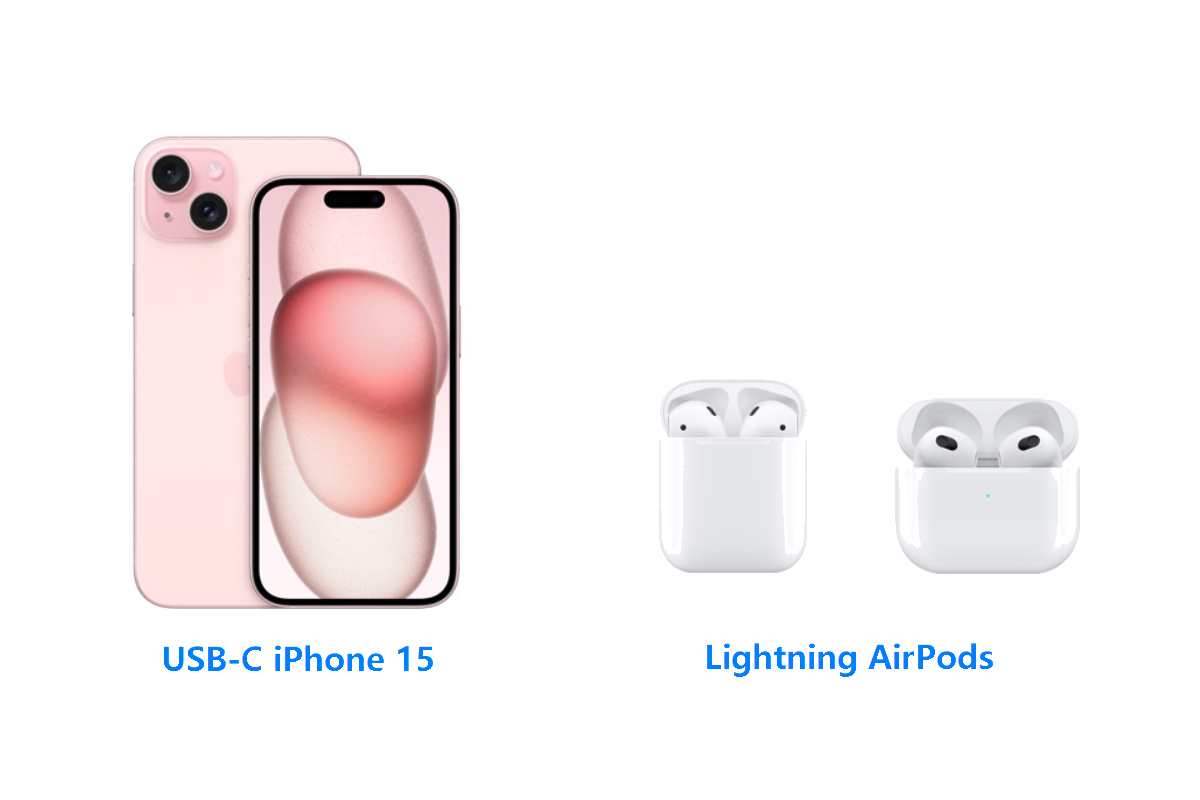 Users who have purchased the iPhone 15 series and still have other devices using Lightning ports, such as AirPods, older iPhone models, and iPads, may find it burdensome to carry and store both USB-C and Lightning cables. The USB-C to Lightning Adapter is compact and convenient, allowing these users to manage both types of devices with just a cable and an adapter.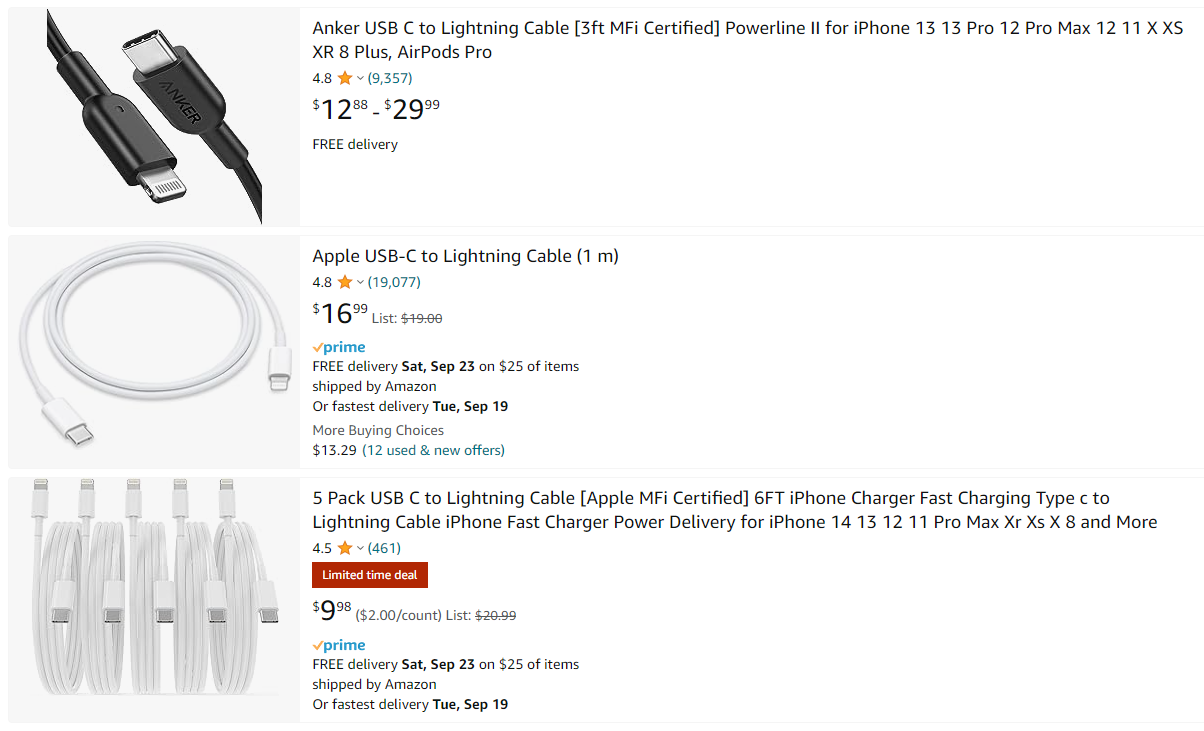 Furthermore, since the introduction of USB PD fast charging with the iPhone 8, many users have invested in USB-C to Lightning cables. It's common for people to have several of these cables, including both Apple's original cables priced at $19 (when not on sale) and third-party cables ranging from a few bucks to tens of dollars. It would be a waste to abandon these expensive cables that can still be used. Users with a significant stock of old Lightning cables may consider purchasing the USB-C to Lightning Adapter.
However, if you have few Lightning cables and no other devices with Lightning ports besides the iPhone 15 series, it may not be advisable to get the USB-C to Lightning Adapter. It's recommended to invest in USB-C cables from this point forward.
Summary of ChargerLAB
The introduction of the Apple USB-C to Lightning Adapter serves two purposes. First, it enhances cable compatibility while remaining portable, catering to both Lightning and USB-C devices. Second, it allows users to continue using their old Lightning cables, preventing them from discarding multiple cables at once.
It's worth noting that the AirPods Pro 2, which originally used Lightning ports, has also transitioned to USB-C charging cases after the Apple Event. It's believed that devices still using Lightning ports will eventually switch to USB-C. Considering the somewhat non-affordable price of $29 for the USB-C to Lightning Adapter, most users are better off using that budget to purchase brand new USB-C to USB-C cables, which offer advantages in terms of cable integrity, 10Gbps high-speed transmission, and maximum charging power limits.
Related Articles:
1. Fast Charge Your iPhone 15: Five Top 35W Charger Picks
2. Get Ready for iPhone 15 | A MFM Certified MagSafe Charger Buying Guide
3. Five Charging Stations for iPhone 15 and More
The article is originally written by @
Joey
posted on Chargerlab. All rights reserved.