Five Charging Stations for iPhone 15 and More
Introduction
Electronic devices, including smartphones, tablets, and laptops, have become indispensable companions in our daily lives. At the same time, we often face issues such as a shortage of power outlets, interference between charging adapters, and tangled cables. To address these challenges, desktop charging stations have emerged as a solution. Whether it's for work, study, or entertainment, choosing a versatile desktop charging station is crucial.
As Apple's new flagship, the iPhone 15 series finally adopts USB-C across the board. Below, we recommend five options that not only support charging for the iPhone 15 series but also provide power for laptops, PCs, and other devices through desktop power outlets.
These rankings are in no particular order and are sorted alphabetically.
Anker
Anker 525 GaN 67W Charging Station
The Anker 525 GaN 67W Charging Station features a minimalist design with a transparent matte finish created using ultra-nanometer vacuum coating technology. It offers three color options: Aurora White, Phantom Black, and Natural Green. This charging station uses a front-and-back partition design, with the most frequently used USB fast charging modules located at the front and AC power outlets at the back.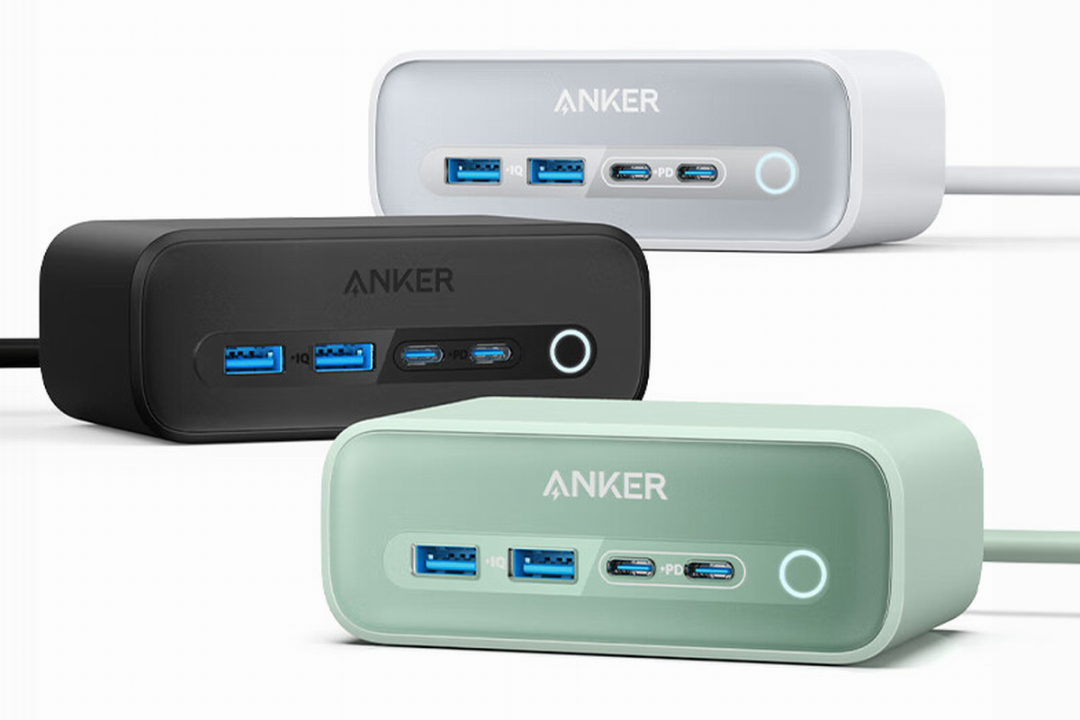 It has four USB output ports (2C2A), supporting a maximum of 67W PD fast charging, making it more than capable of charging the iPhone 15 series. On the AC side, it provides three AC outlets, supporting 250V10A AC power transmission specifications. This product is made using third-generation gallium nitride (GaN) technology, allowing multiple charging ports and a safe power strip to be combined in a compact design, significantly saving desktop space and making it more convenient for travel.
Baseus
Baseus 100W GaN3 Pro Power Strip
The Baseus 100W GaN3 Pro Power Strip features a two-tone design with a matte and glossy finish. The power cord also includes a zip tie for cable management. In addition to the power station, it comes with a 1m-long USB-C to USB-C cable that supports a 5A high current.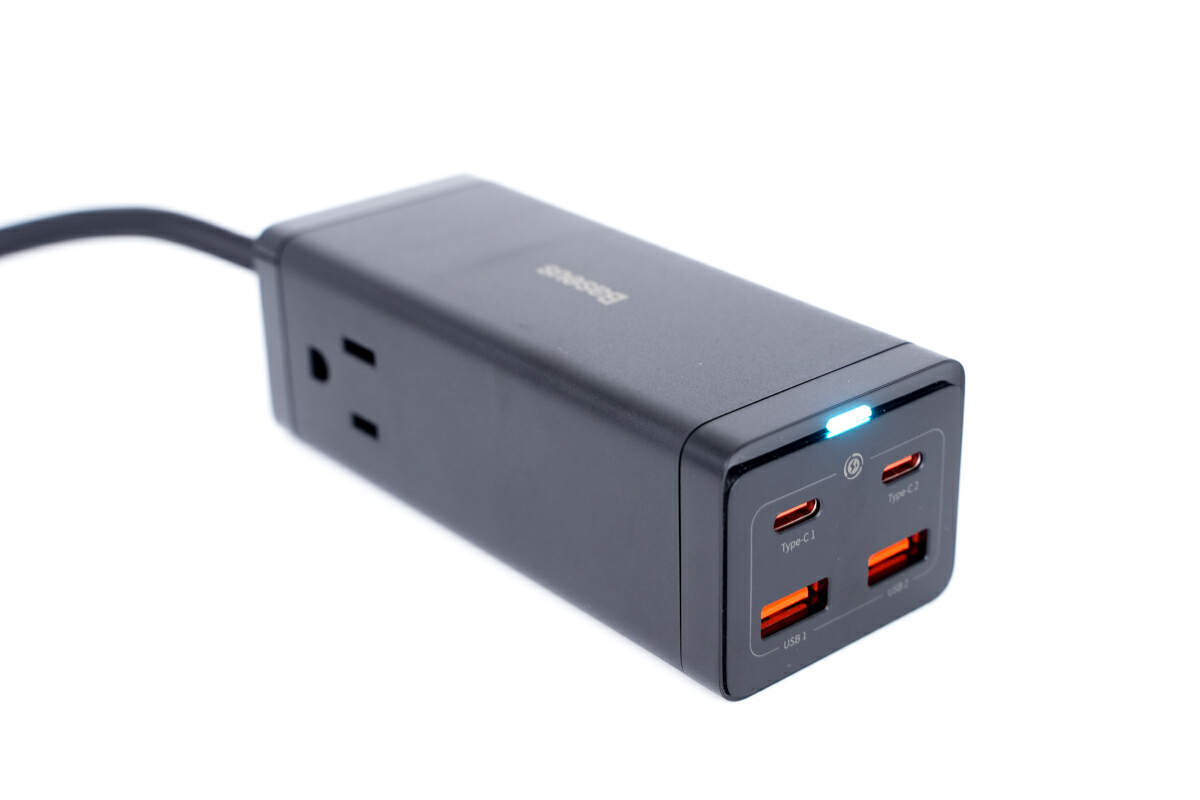 This power strip has one AC outlet on the side and four USB ports (2C2A) on the front, with two USB-C ports supporting up to 100W charging and two USB-A ports supporting up to 60W charging. This excellent port configuration alleviates users' concerns about interface allocation, ensuring that fast charging is available regardless of how you connect your devices.
CANDYSIGN
CANDYSIGN 120W Detachable 2-in-1 Charging Station
The CANDYSIGN 120W Detachable 2-in-1 Charging Station introduces a modular design, consisting of a desktop charging station and a power strip that can be separated to meet both home and travel needs in a compact form. The exterior features a gray-and-white design, exuding a vintage charm.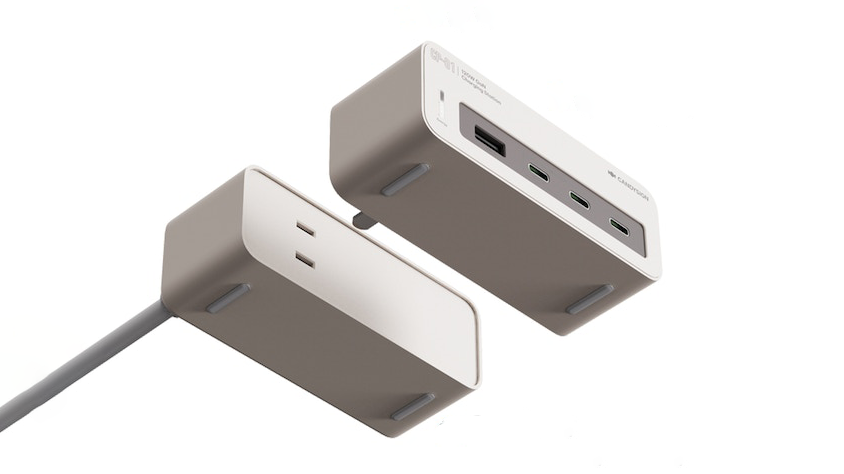 When used as a desktop charging station, it serves as a large charger with a 4C1A port configuration, meeting all your desktop charging needs. The USB-C1 port supports a maximum output of 100W PD, while USB-C2, C3, and C4 support up to 65W charging, with the single USB-A port offering 18W. The power strip module features two AC outlets, supporting a maximum of 2500W power. CANDYSIGN provides an advanced charging solution that meets the demands of home and travel scenarios, offering flexibility for a simplified lifestyle.
Redow
Redow Wireless Charger Station (45W)
The Redow Wireless Charger Station (45W) is made of fire-resistant PC and features a design with an overall white color and a glossy black front panel. It includes a hidden LED digital display on the top to show power consumption. Despite its compact size, it's suitable for most home settings with its 1m power cord.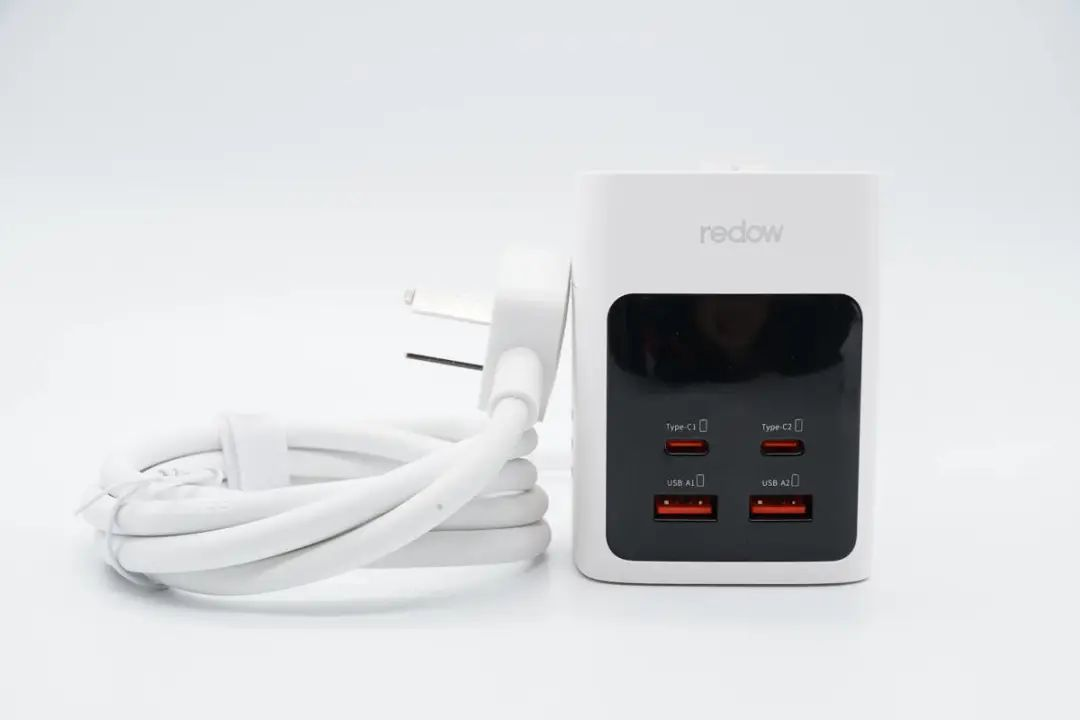 In terms of performance, it has four USB ports (2C2A), with the USB-C supporting 20W fast charging and the USB-A supporting 10W charging. Additionally, it has an area for wireless charging on top, allowing you to charge up to five devices simultaneously. Both sides of the charger feature an AC outlet, supporting a maximum of 1250W.
UGREEN
UGREEN 100W DigiNest Pro 7-in-1 GaN Charging Station
The UGREEN 100W DigiNest Pro 7-in-1 GaN Charging Station continues the design of a radio, making it a sleek addition to your desktop. With a maximum AC power output of 2500W, it can meet the power needs of multiple devices.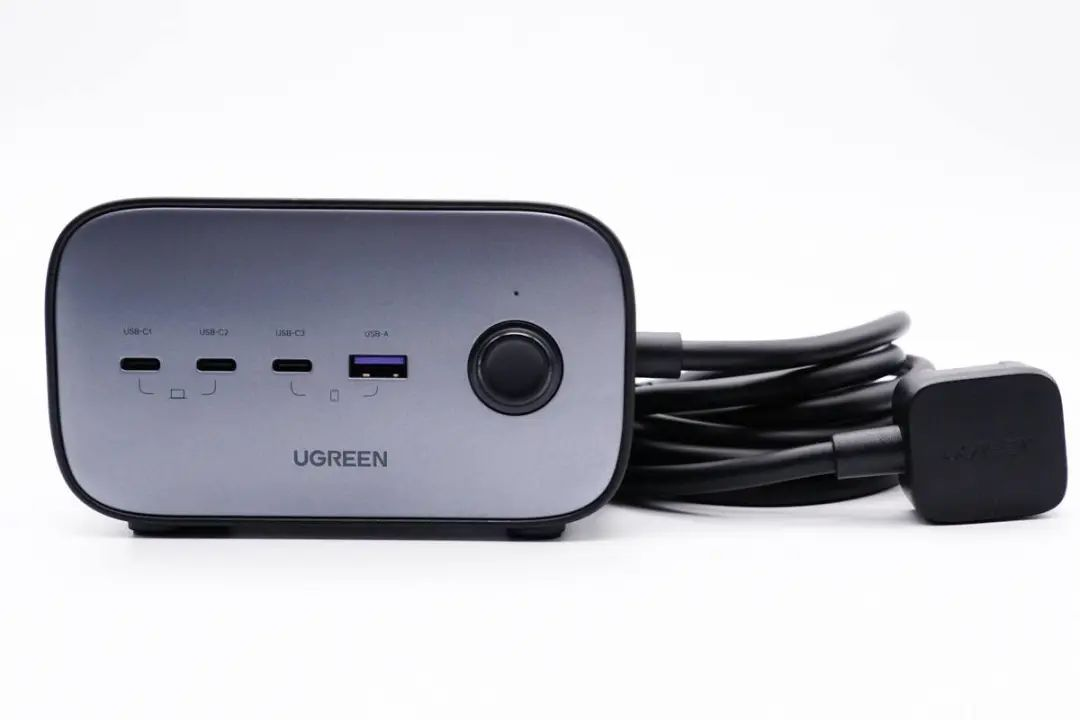 In terms of performance, it offers two AC three-prong outlets and one two-prong outlet. On the front, there are three USB-C and one USB-A ports, supporting multiple charging protocols to accommodate both old and new devices. The USB-C port can deliver a maximum output of 100W, while the USB-A port provides 22.5W. When placed on your desktop, even with multiple cables, you can keep them neatly organized, creating a more comfortable workspace.
Summary of ChargerLAB
Desktop charging stations combine the advantages of multi-port chargers and regular power strips. They not only provide charging for everyday electronic devices but also offer multiple AC power outlets to meet the power needs of computers and other appliances, showcasing excellent compatibility.
Moreover, the five products recommended today all feature multiple USB-C ports that support PD fast charging protocol, making them a perfect match for the all-new iPhone 15 series. Additionally, their maximum output power exceeds the maximum charging power of the iPhone 14 series, which is 27W. This means they are highly likely to meet the potential charging power increase of the iPhone 15 series.
Related Articles:
1. Fast Charge Your iPhone 15: Five Top 35W Charger Picks
2. Get Ready for iPhone 15 | A MFM Certified MagSafe Charger Buying Guide
3. An Ultimate PD3.1 Product Buying Guide: Chargers, Cables, Chips, and More
The article is originally written by @
Joey
posted on Chargerlab. All rights reserved.