Dive into the World of MagSafe: Apple's Latest Offerings
Introduction
During the recent Apple Fall Event, in addition to unveiling the Apple Watch S9/Ultra and the iPhone 15 series, Apple also introduced three different types of MagSafe protective cases for the new iPhones: Clear Case, Silicone Case, and FineWoven Case. Apple's in-house magnetic protective cases not only come with dedicated pop-up animations but also work seamlessly with various magnetic accessories, cardholders, and magnetic power banks, providing a more elegant user experience.
Furthermore, in line with Apple's commitment to environmental sustainability, the Leather Wallet has been discontinued, replaced by a brand-new woven material wallet, further enriching the MagSafe product ecosystem.
iPhone 15 Clear Case with MagSafe
This protective case is made from highly transparent polycarbonate, offering flexibility, a comfortable grip, and excellent protection. Both the outer and inner surfaces of the case have scratch-resistant coatings, not only protecting against scratches but also preventing the yellowing commonly associated with transparent cases.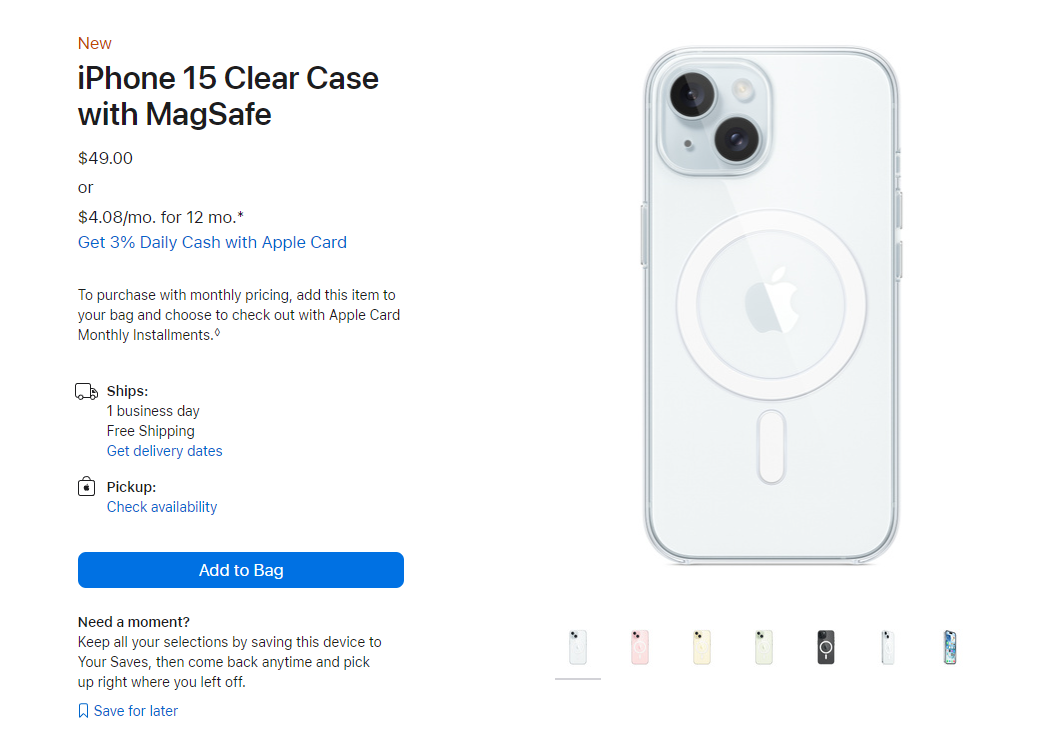 The case features built-in magnets, automatically attaching to the MagSafe charger when near, eliminating the need to remove it for charging. Additionally, the embedded magnetic ring allows the phone to be compatible with various other MagSafe accessories.
iPhone 15 Silicone Case with MagSafe
For those seeking a more distinctive option, the iPhone 15 Silicone Case with MagSafe might be the way to go. It is entirely constructed from silicone material, providing a superior tactile feel, and the soft interior lining offers meticulous protection. It comes in a choice of nine colors, including Orange Sorbet, Winter Blue, and Light Pink, allowing for more personalization.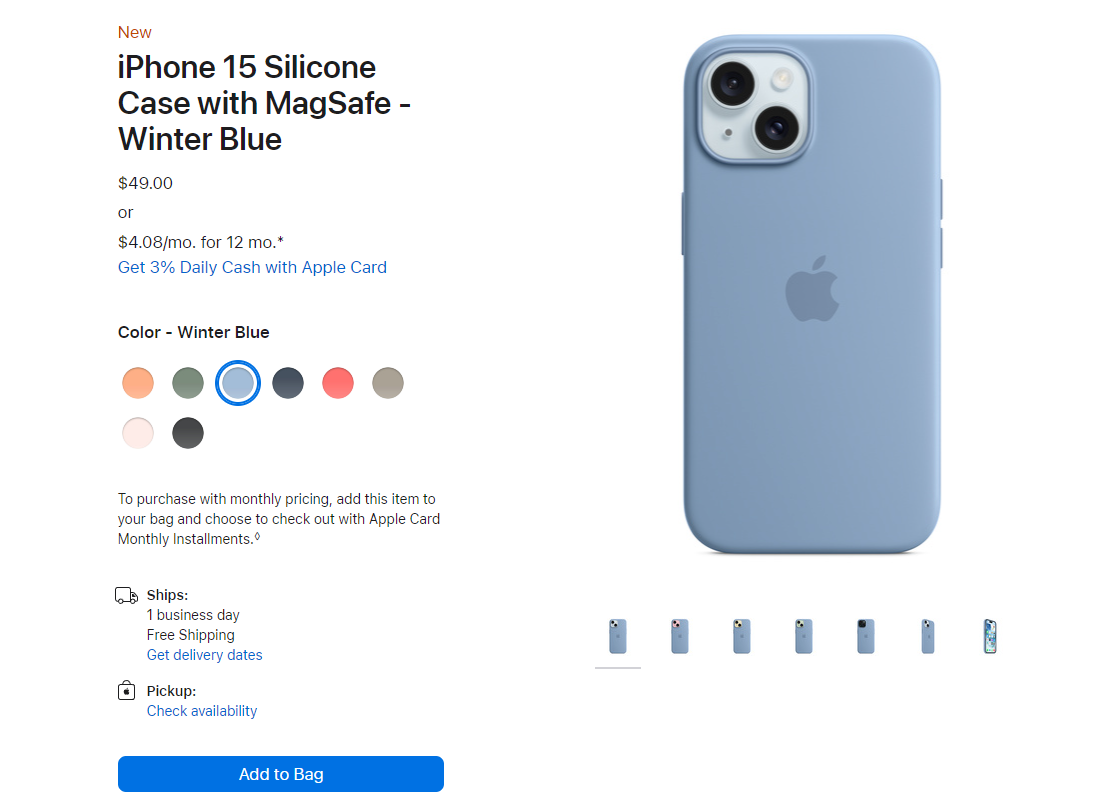 If you find your phone's original color too dull and the matte glass back of the iPhone 15 series too slippery to hold, this silicone case is a better choice compared to the clear case. It offers higher customization within the same price range and is less prone to yellowing.
iPhone 15 FineWoven Case with MagSafe
Crafted from a brand-new, more durable microtwill, this case has a soft texture reminiscent of suede. This material is more environmentally friendly than the previous leather material, significantly reducing carbon emissions. It comes in five color options, including Pacific Blue and Evergreen.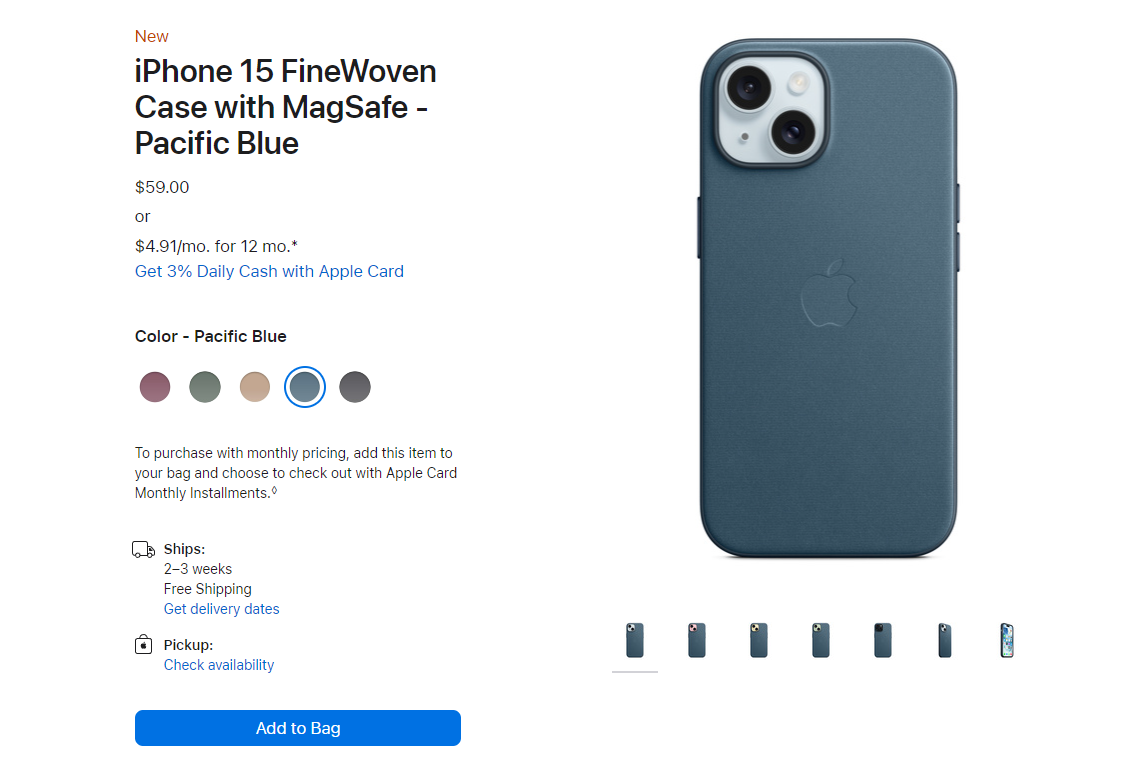 Compared to the Leather Case it replaces, this case's square and regular stripes give it a more orderly appearance. However, it's worth noting that, according to Apple's official statement, this new material may develop marks with prolonged use, especially when used with MagSafe accessories. This might be the environmental cost to pay.
iPhone FineWoven Wallet with MagSafe
This cardholder is also made from the same new, durable microtwill, providing a soft feel while maintaining environmental friendliness. It comes in the same five color options as the FineWoven Case.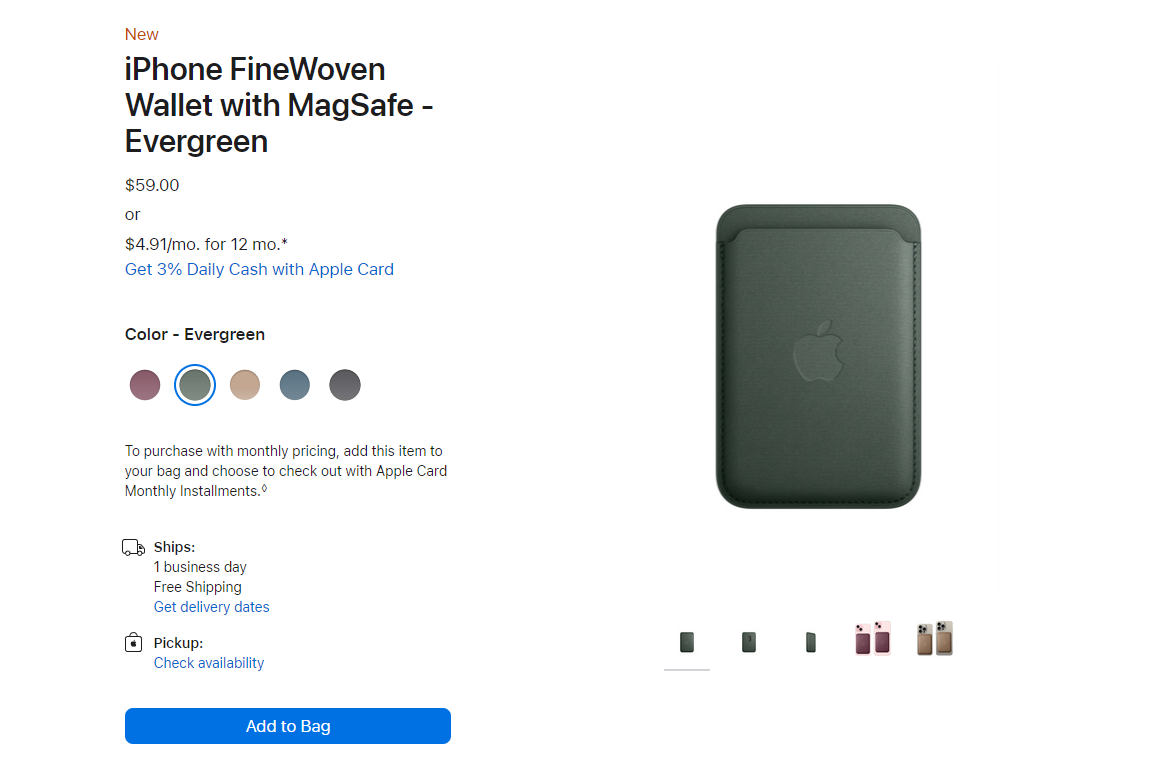 The cardholder features strong magnets, easily attaching to the back of the iPhone and serving as a stand-alone MagSafe protective case. It combines fashion with functionality, capable of holding up to three cards and supporting a tracking feature that notifies you of its last known location when separated from the phone.
Summary of ChargerLAB
In recent years, Apple has continuously expanded its range of MagSafe accessories and opened up the MFM certification (Made For MagSafe) to more accessory manufacturers, collectively enhancing the MagSafe magnetic ecosystem. With the Wireless Power Consortium's promotion of the Qi2 wireless charging protocol, there will be an increasing number of Android smartphones supporting and benefiting from the convenience of magnetic ecosystem accessories.
Back to these four MagSafe accessories introduced by Apple, with prices ranging from $49 to $59, they may not be considered cheap. However, they do offer some additional features and characteristics compared to third-party phone cases without MagSafe certification, such as more stable magnetic attachment, exclusive pop-up animations, and faster charging speeds. Will you consider them? If so, be sure to click the corresponding purchase button below each product.
Related Articles:
1. Fast Charge Your iPhone 15: Five Top 35W Charger Picks
2. Get Ready for iPhone 15 | A MFM Certified MagSafe Charger Buying Guide
3. Upgrading to iPhone 15? Don't Toss Your Lightning Cables – Try This!
The article is originally written by @
Joey
posted on Chargerlab. All rights reserved.