Twelve 20W GaN ICs and Their Eleven Manufacturers: A ChargerLAB Analysis
Introduction
Once upon a time, 20W fast charging was a highly popular term in the charging industry. However, the development pace of fast charging technology far exceeded the expectations of industry professionals. Mobile phone fast charging has continuously pushed beyond incredible figures like 120W, 200W, and even 300W. Against this backdrop, 20W fast charging might seem a bit inadequate, yet its corresponding market size remains significant.
Firstly, 20W fast charging features a distinct Apple ecosystem attribute. As long as upcoming iPhone models don't receive significant power updates, the 20W fast charging market can maintain a certain scale. Furthermore, on a global scale, development varies across regions, and 20W fast charging products, with their "great value for money" aspect, can still carve out a niche in relatively less advanced areas, generating demand. With these factors in mind, they are enough to entice relevant manufacturers to continue investing.
The Last Mile of GaN
When discussing the birth and eruption of the 20W fast charging market, it's impossible to ignore Apple's definition of smartphone fast charging power and the execution of related "environmentally friendly" strategies, all of which can be traced back to the release of the iPhone 12 series.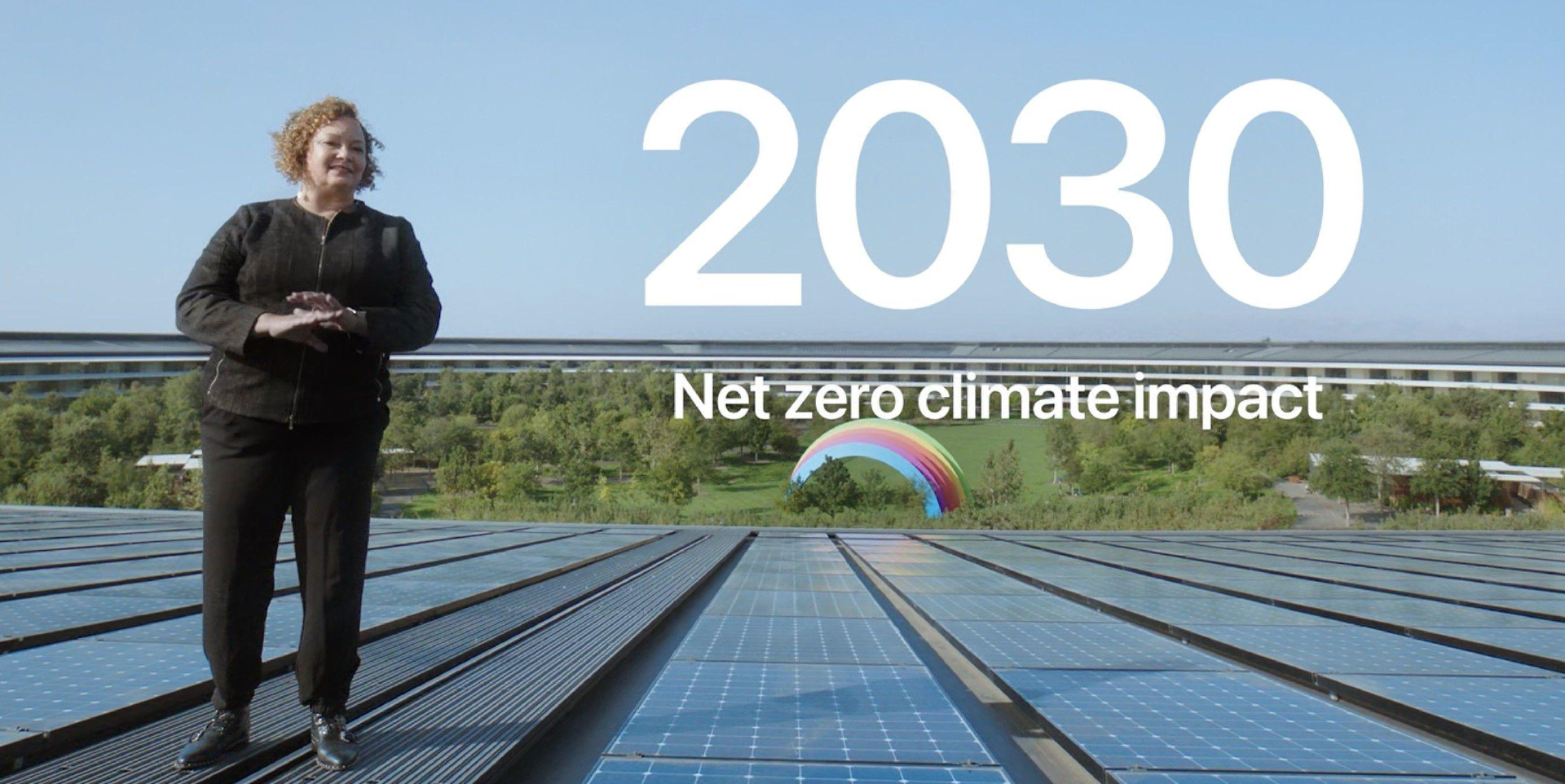 On October 14, 2020, Apple unveiled its iPhone 12 series, not only elevating wired charging power from 18W to 20W and introducing support for the new 15W MagSafe wireless charging but also, for environmental reasons, discontinuing the inclusion of chargers and earphones with the new devices. Moreover, even models like the iPhone 11, iPhone XR, and iPhone SE that were still available on the Apple website that year had their bundled chargers removed.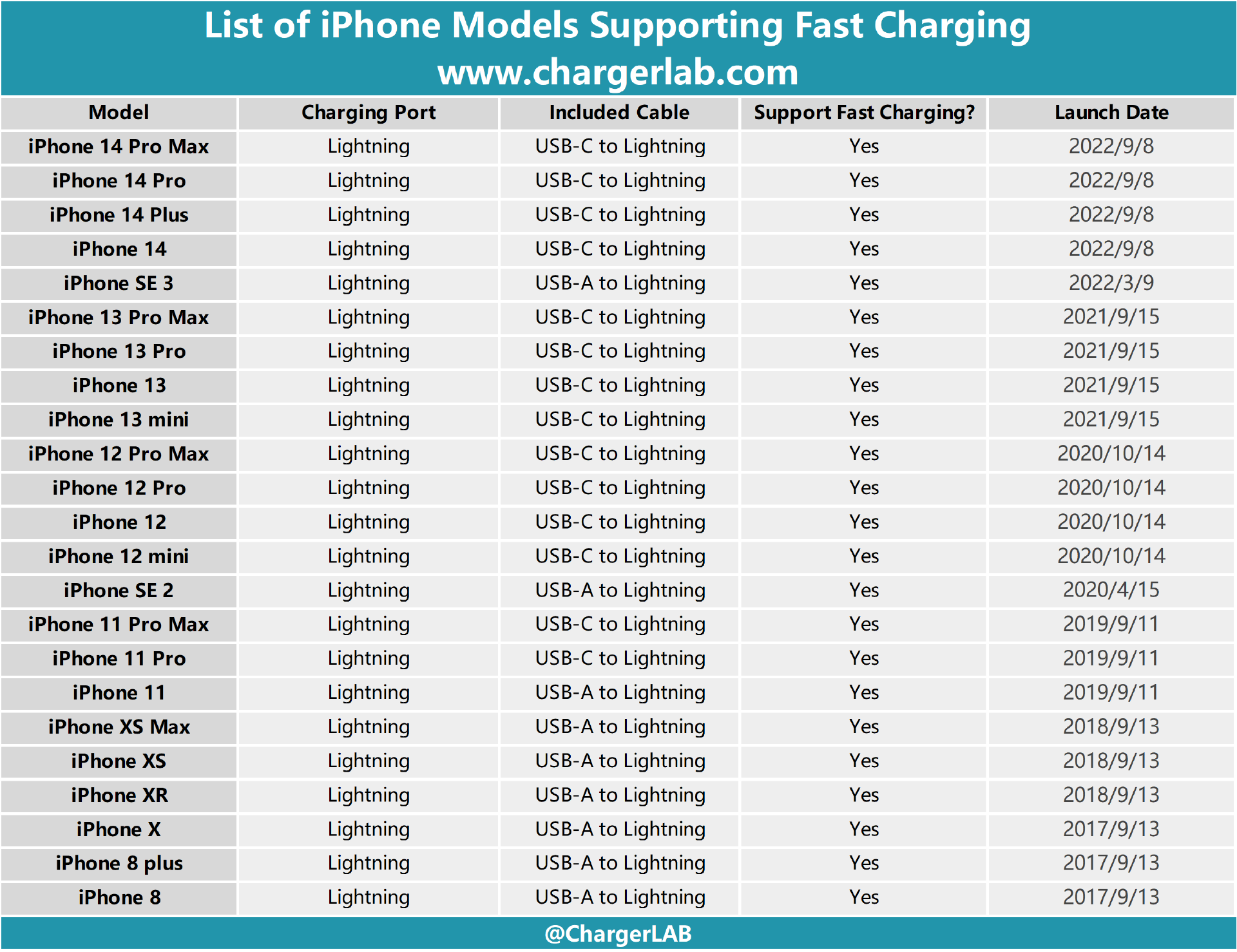 It's worth noting that since the iPhone 8, subsequent iPhones have supported fast charging. However, suddenly discontinuing the inclusion of chargers for several models inevitably created a void in the fast charging market, potentially affecting hundreds of millions of users. As a result, this announcement instantly ignited the 20W fast charging market, with major brands like Anker and Xiaomi quickly joining the fray.
As of today, the development of the 20W fast charging market has spanned nearly three years. Many brands have released 20W fast charging products that have reached the $1-2 per watt range with discounts, or even cheaper. The competition in terms of pricing has become increasingly fierce. Additionally, mini chargers, as a new product form, are gaining more and more favor among consumers, which places higher demands on the fast charging solutions used within such products.
GaN IC solutions significantly simplify the peripheral circuits of switching power supplies and reduce the use of components. This reduces the development complexity and cost of mini chargers, while also offering better reliability and efficiency performance, giving them a natural advantage over traditional fast charging solutions.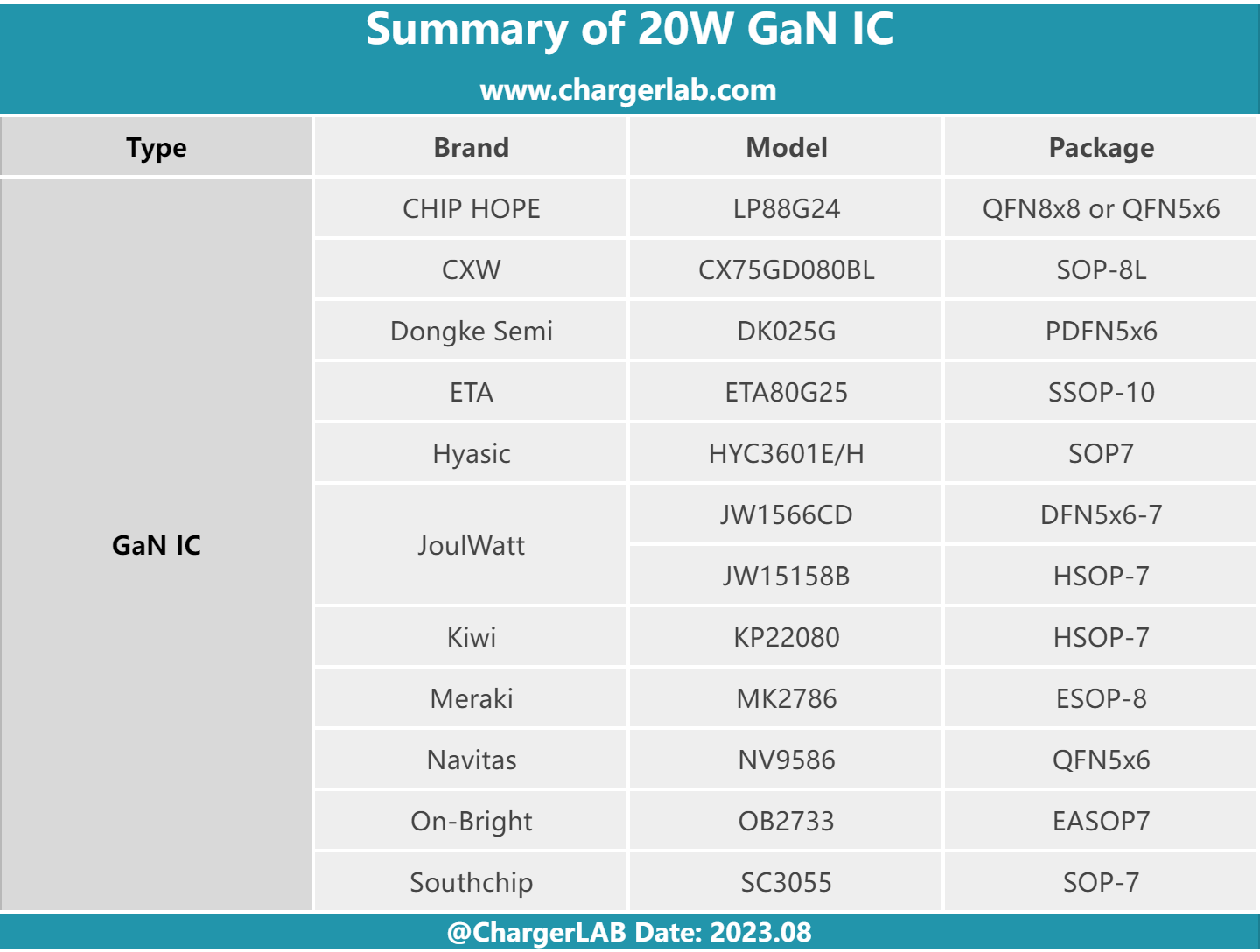 According to ChargerLAB's statistics, in the 20W fast charging market, there are currently various manufacturers such as Dongke Semi, CHIP HOPE, CXW, ETA, Hyasic, JoulWatt, Kiwi, Meraki, Navitas, On-Bright, Southchip, and others that have introduced corresponding GaN ICs to meet market demands, providing consumers with affordably priced 20W fast charging products. Note: The list is in alphabetical order.
CHIP HOPE
LP88G24
The CHIP HOPE LP88G series is a high-performance, high-reliability high-frequency GaN IC. It integrates high-voltage startup and X-capacitor discharge, and is designed for PD fast charging applications with overcurrent protection.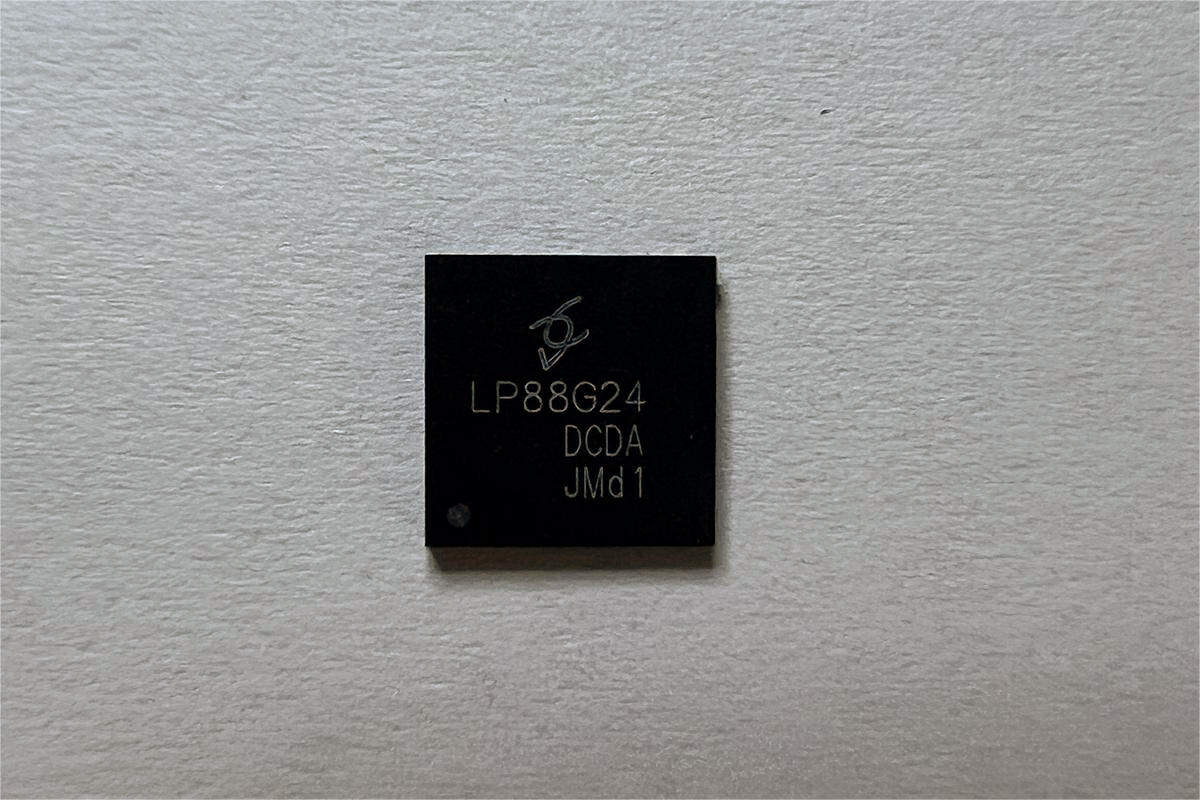 The chip operates in QR mode under heavy loads and in MPCM mode under light loads to lower switching frequency.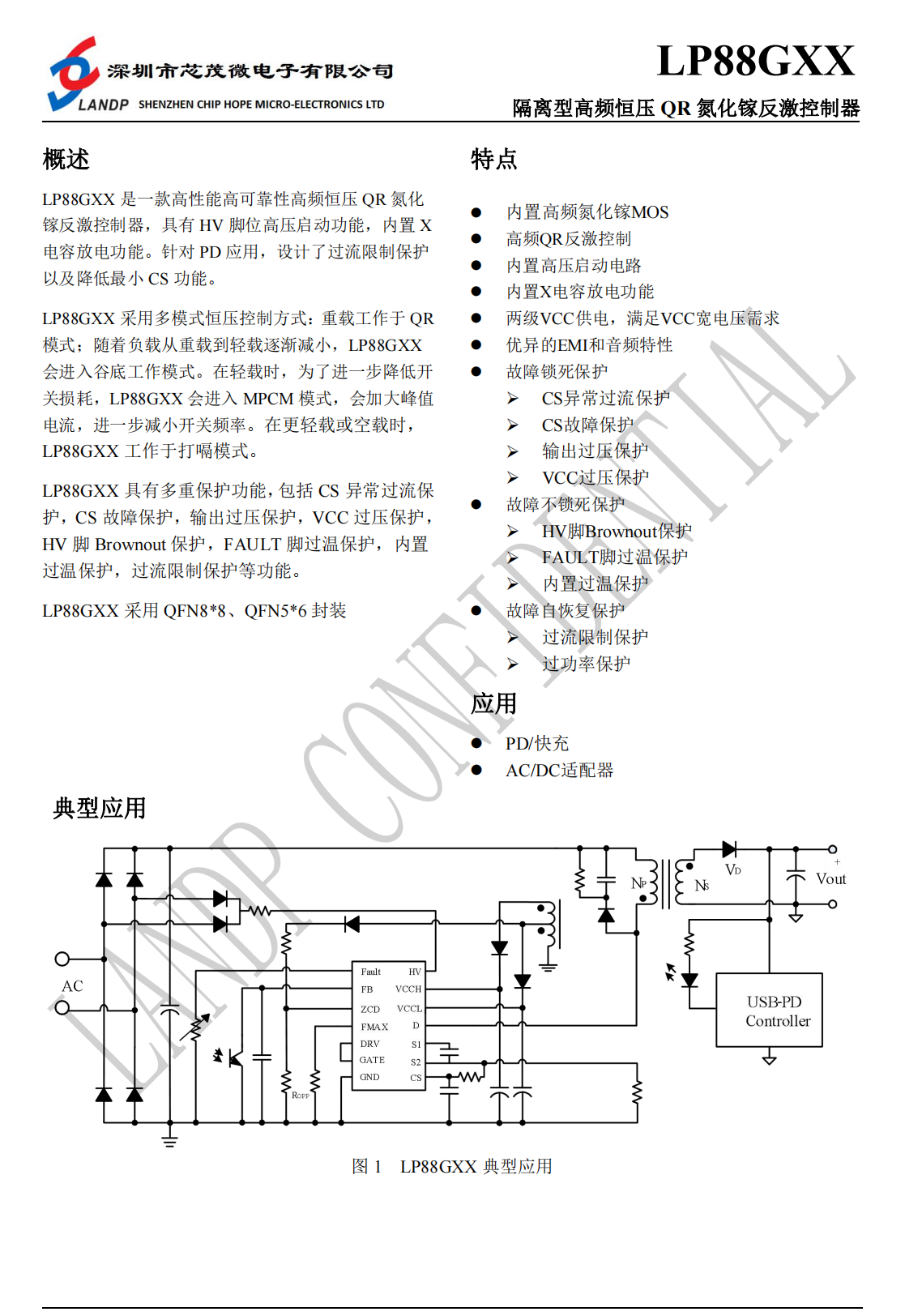 The LP88G series GaN IC integrates protection mechanisms for abnormal overcurrent, sampling resistor short/open, overvoltage, brownout, overheating, etc. The chip also features dual-level VCC power supply, withstanding voltages of up to 200V, eliminating the need for external power supply chips.
CXW
CX75GD080BL
The CXW CX75GD080BL is a high-frequency, high-performance quasi-resonant power chip with an internally integrated high-voltage GaN FET, suitable for switch power applications up to 27W.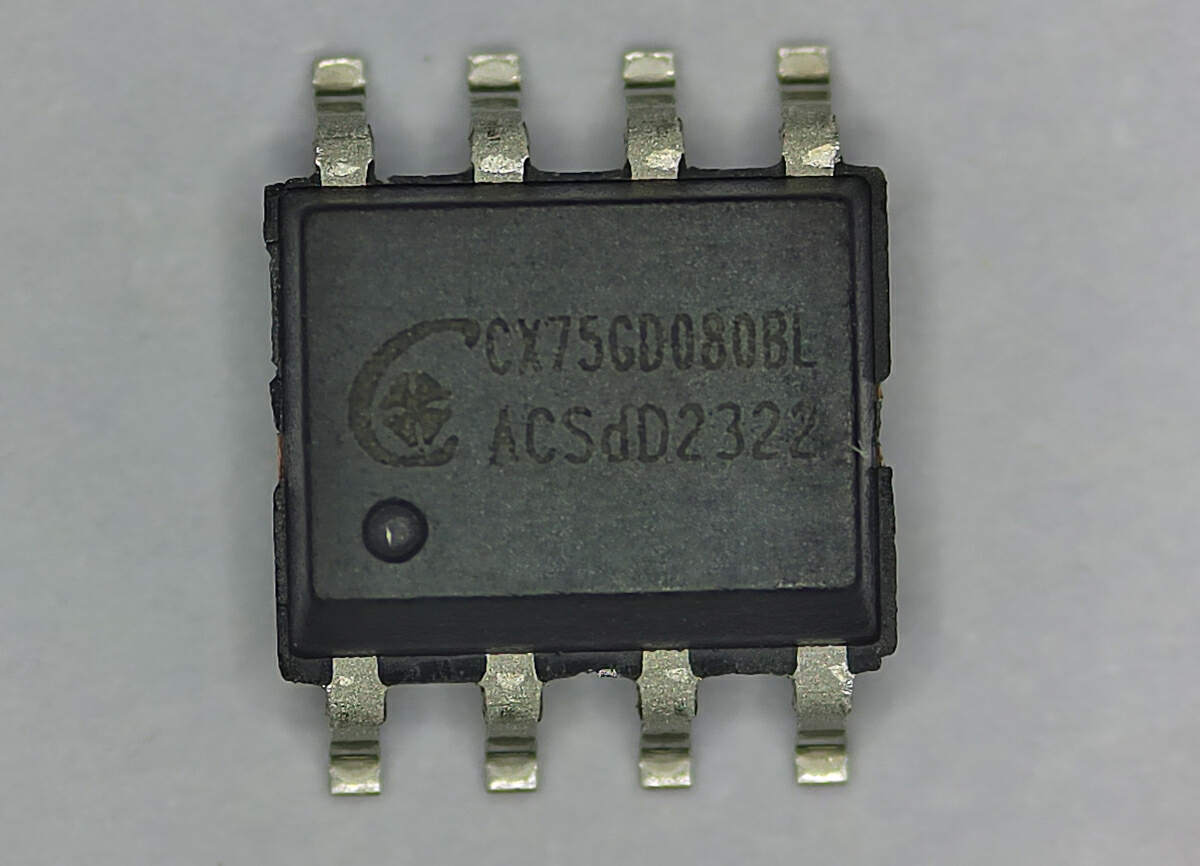 This chip operates at a high frequency of up to 200KHz and supports quasi-resonant mode operation across the full power range.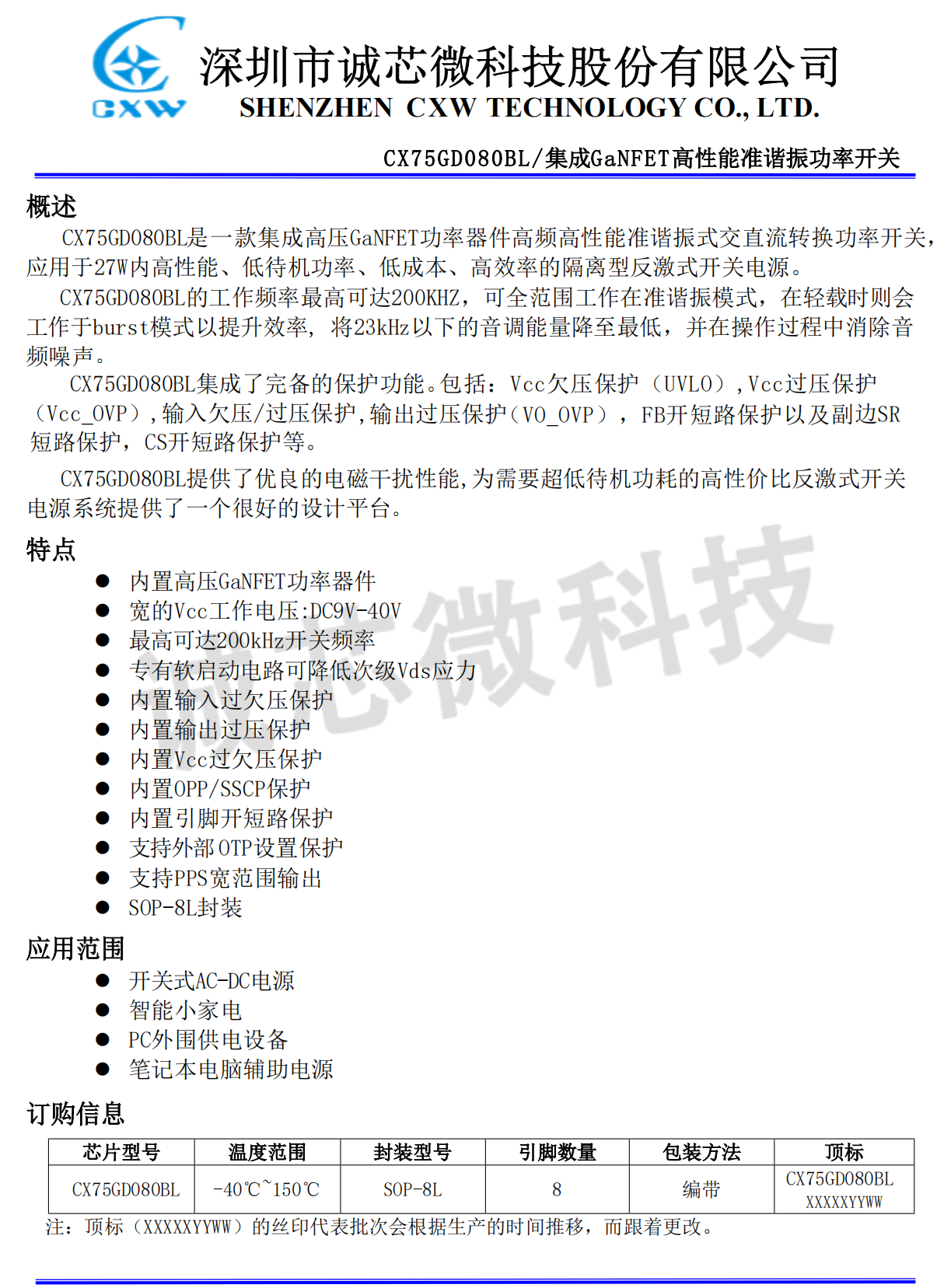 It also integrates protection features such as undervoltage/overvoltage, open circuit/short circuit. The chip is available in an SOP8L package, suitable for PD fast charging and power adapters.
Dongke Semi
DK025G
The DK025G is a quasi-resonant flyback AC-DC power switch chip that integrates a 650V/800mΩ GaN HEMT. The chip supports a maximum switch frequency of 250KHz and integrates GaN FETs, controllers, drivers, high-voltage startup circuits, and protection units.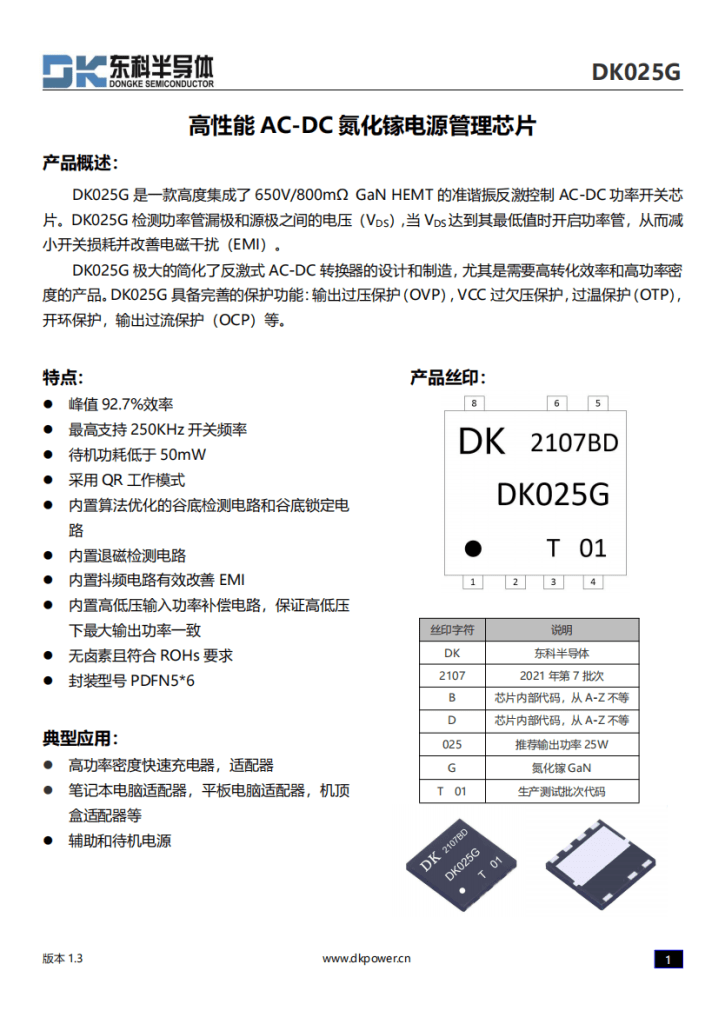 The DK025G adopts a PDFN5x6 package, enabling heat dissipation through PCB copper foil to simplify cooling requirements and reduce temperature rise. It significantly simplifies the design and manufacturing of flyback AC-DC converters, especially for products requiring high efficiency and power density. It features comprehensive protection functions such as output overvoltage protection (OVP), VCC over/undervoltage protection, over-temperature protection (OTP), output overcurrent protection (OCP), etc.
ETA
ETA80G25
The ETA80G25 comes in an SSOP10 package, with a withstand voltage of 650V and an integrated 850mΩ D-mode GaN FET.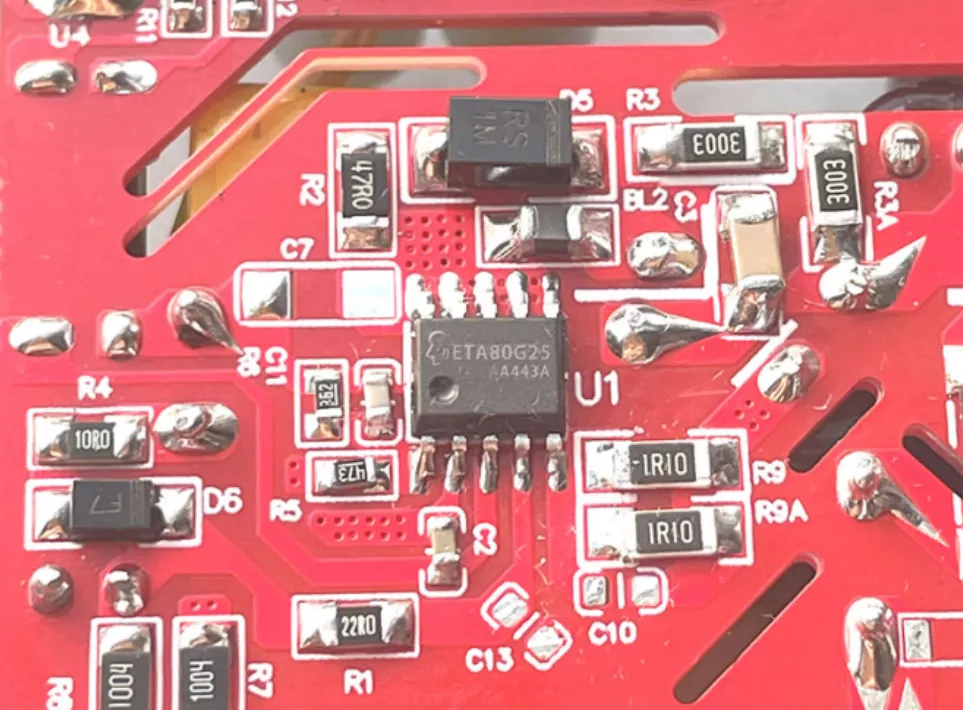 It supports input voltages of 90-264V and outputs of 27W. It can operate in CCM/QR/DCM modes, with a maximum full-load switching frequency of 80kHz. Under light loads, it supports frequency foldback control, maintaining high-efficiency operation across the entire power range.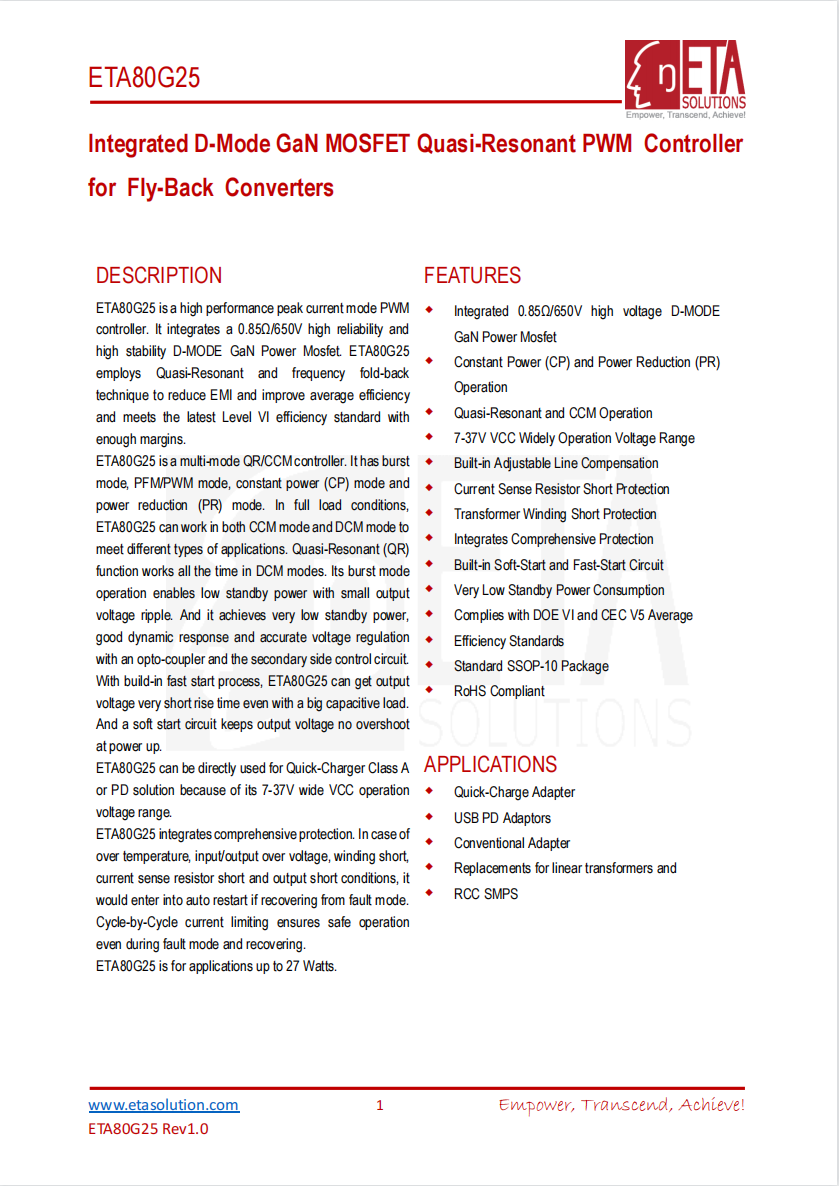 The ETA80G25 integrates multiple protection features, including input overvoltage and undervoltage protection, output overvoltage and overcurrent limitation, as well as over-temperature shutdown. The provided devices support features like latch-off and automatic restart, which are essential for fast charging and USB PD designs.
Hyasic
HYC3601E/H
The Hyasic HYC3601E/H features built-in intelligent multi-mode digital control, supporting CCM/DCM/PFM/QR modes for a balance between efficiency and performance. It integrates an enhanced high-voltage GaN FET, a digital multi-mode flyback controller that eliminates interference caused by parasitic parameters and reduces external component count, providing a streamlined and efficient power solution for GaN fast charging. The chip comes in an SOP7 package.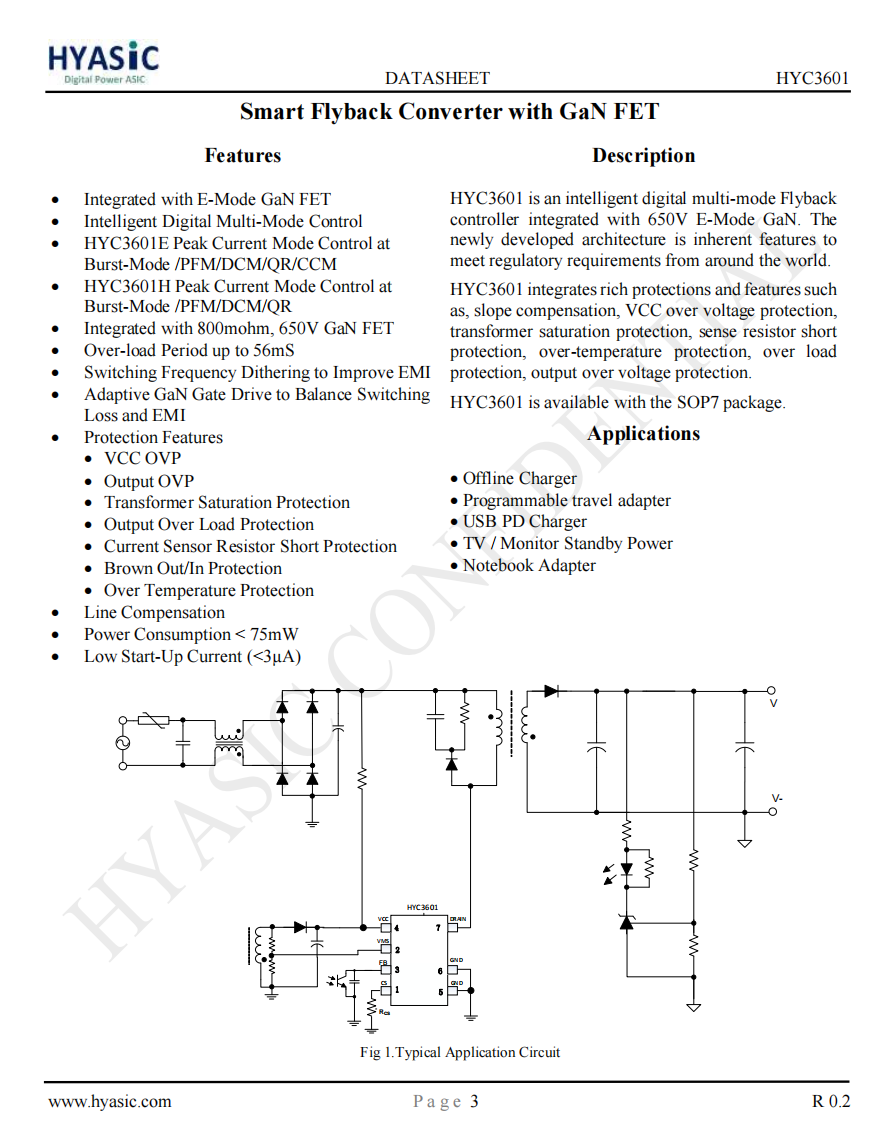 The HYC3601E/H features adaptive GaN gate drivers that balance switching losses and EMI. Its jitter frequency function improves EMI performance. The chip adopts secondary side feedback, catering to wide voltage range output requirements for fast charging. It also incorporates rich protection features.
The standby power consumption is less than 75mW, with low startup current. It supports frequency inverse control technology, enhancing efficiency for high-voltage input conversions. It can be used in applications such as chargers, USB PD fast charging, standby power supplies for TVs and monitors, laptop adapters, etc., to improve energy efficiency and reduce costs.
JoulWatt
JW1566CD
JoulWatt JW1566CD is a flyback topology GaN IC that supports high-voltage startup and wide-range power supply, designed for PD and QC fast charging applications. It boasts ultra-low standby power consumption and offers protections such as overvoltage, undervoltage, open-circuit, and overcurrent.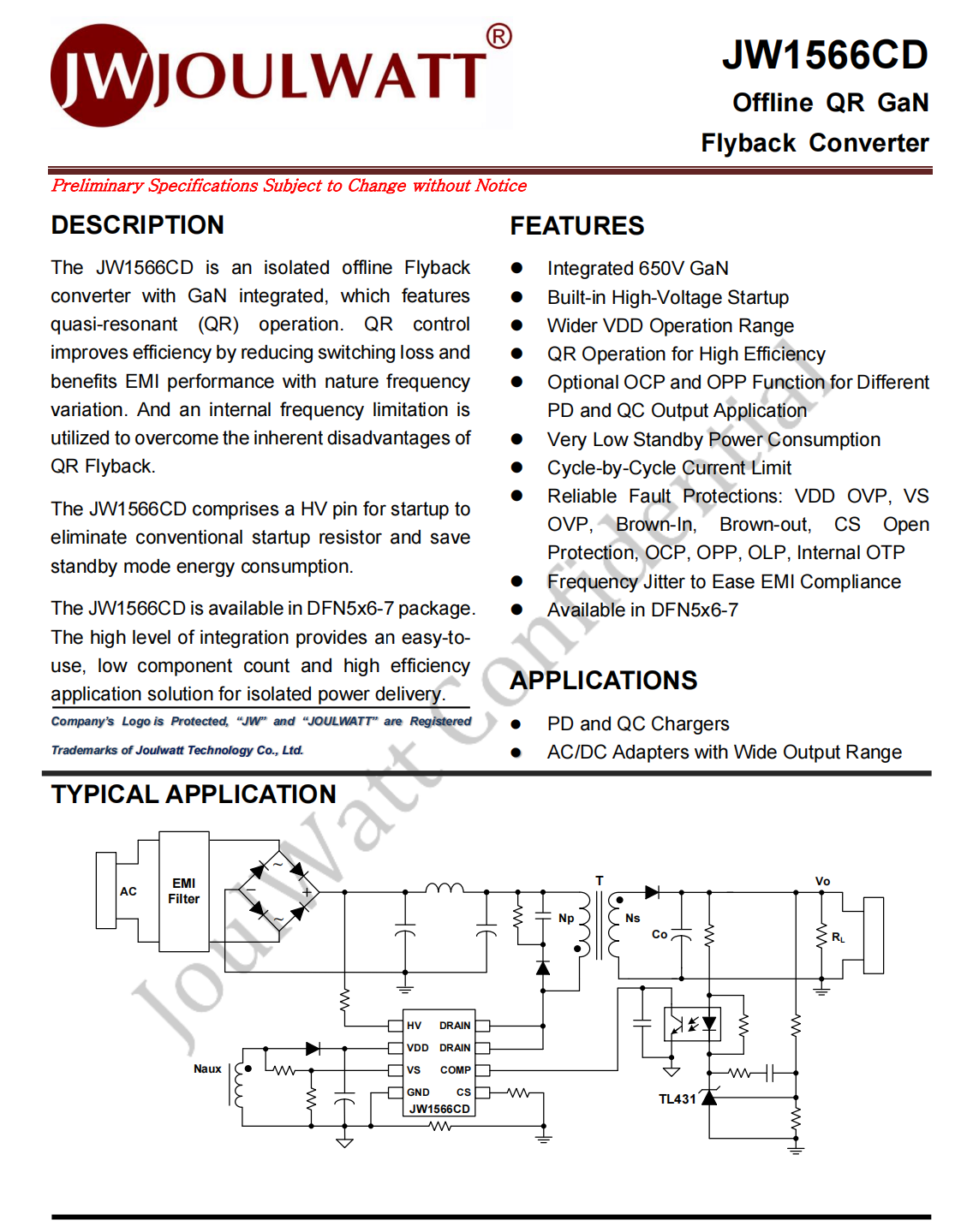 The chip adopts DFN5x6-7 package and provides a high-efficiency, compact solution for USB PD fast charging and switch power applications. With high integration, the chip simplifies applications and reduces the number of external components.
JW15158B
JoulWatt JW15158B is an isolated flyback converter with an integrated 650V 1200mΩ GaN FET. The chip supports PWM and PFM control, achieving high efficiency across various input and load conditions. It supports high-voltage startup with a wide supply voltage range of up to 90V, and its maximum operating frequency is 110kHz.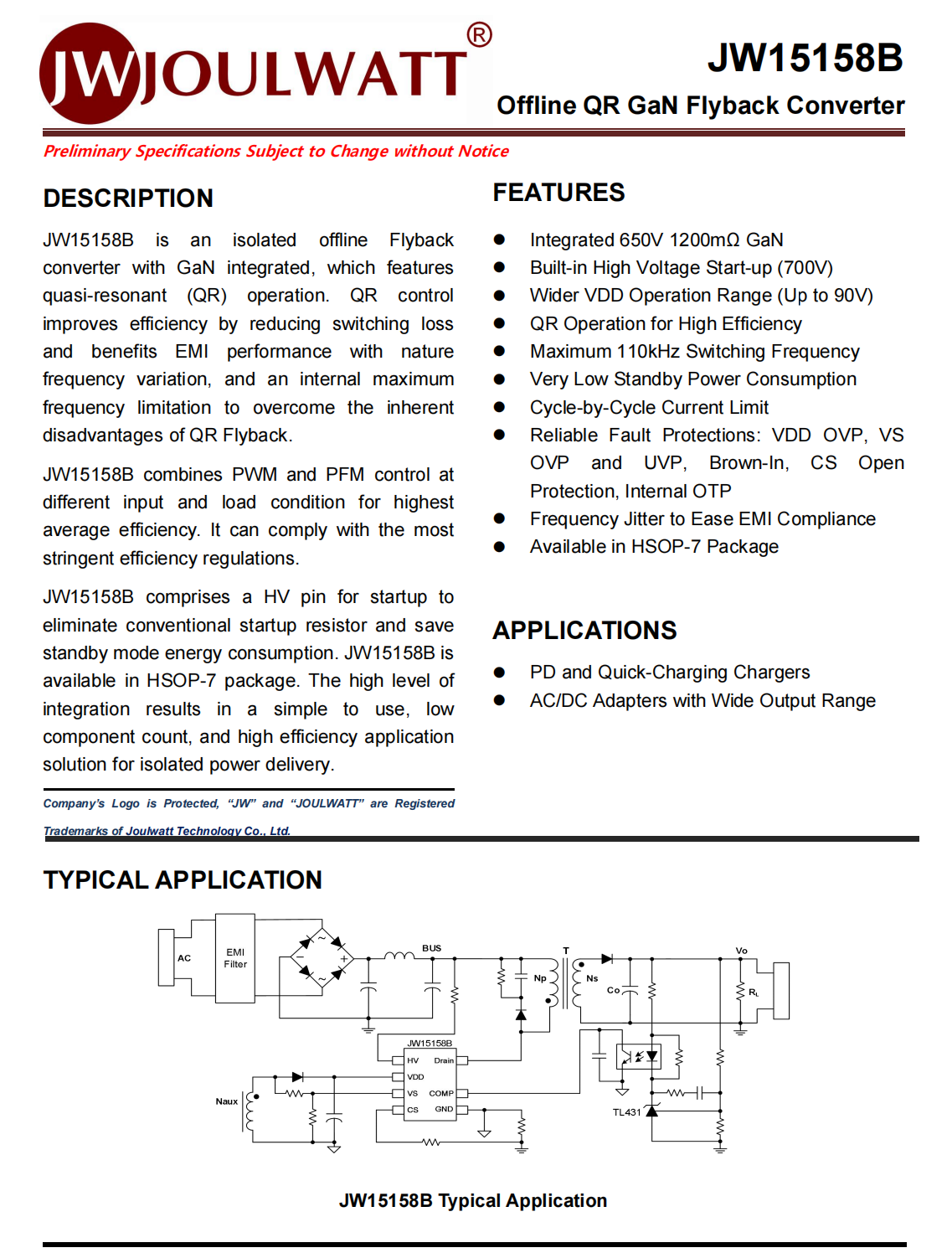 The chip includes protections like overvoltage, undervoltage, open-circuit, overcurrent, over-power, and overheat. It features EMI-enhancing jitter frequency and is available in an HSOP7 package, suitable for PD fast charging and switch power applications.
Kiwi
KP22080
Kiwi KP22080 is a GaN IC with an integrated enhanced GaN FET and high-voltage startup circuit. It features low standby power consumption of under 30mW.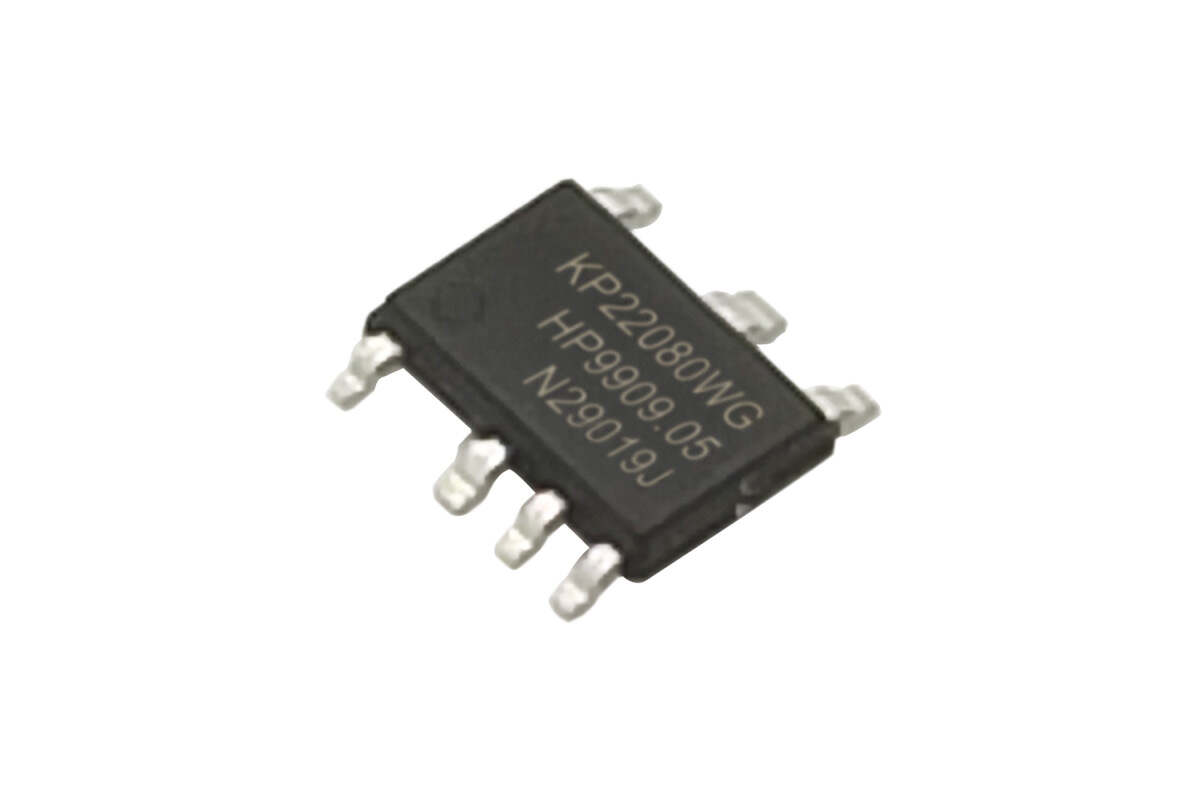 The chip offers selectable working frequencies of 130/220KHz and supports full-range quasi-resonant operation. It integrates peak current jitter function and drive current configuration for optimizing system EMI performance.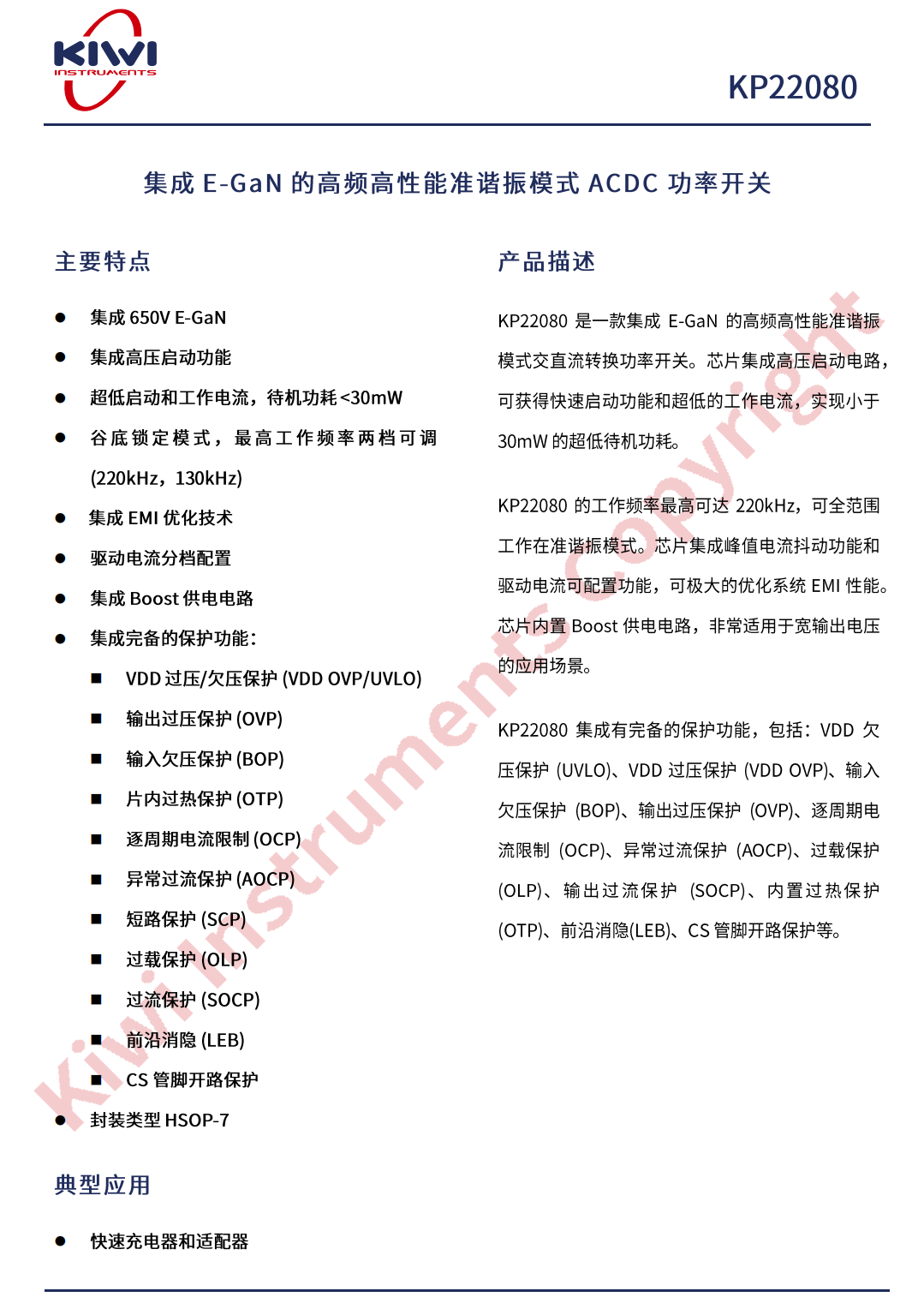 The chip also integrates boost supply and is suitable for PD fast charging applications with wide voltage output requirements. It comes with multiple protections such as undervoltage/overvoltage protection, overvoltage protection, cycle-by-cycle current limiting, abnormal overcurrent protection, overload protection, overheat protection, open circuit protection. And it adopts HSOP-7 package, providing excellent heat dissipation.
Meraki
MK2786
Meraki MK2786 is a high-frequency GaN IC optimized for PD fast charging applications. It integrates a 650V 1Ω GaN FET with a maximum operating frequency of 130KHz. The chip features a wide VCC supply range of 9-85V, covering the wide voltage output of PD fast charging without the need for additional components.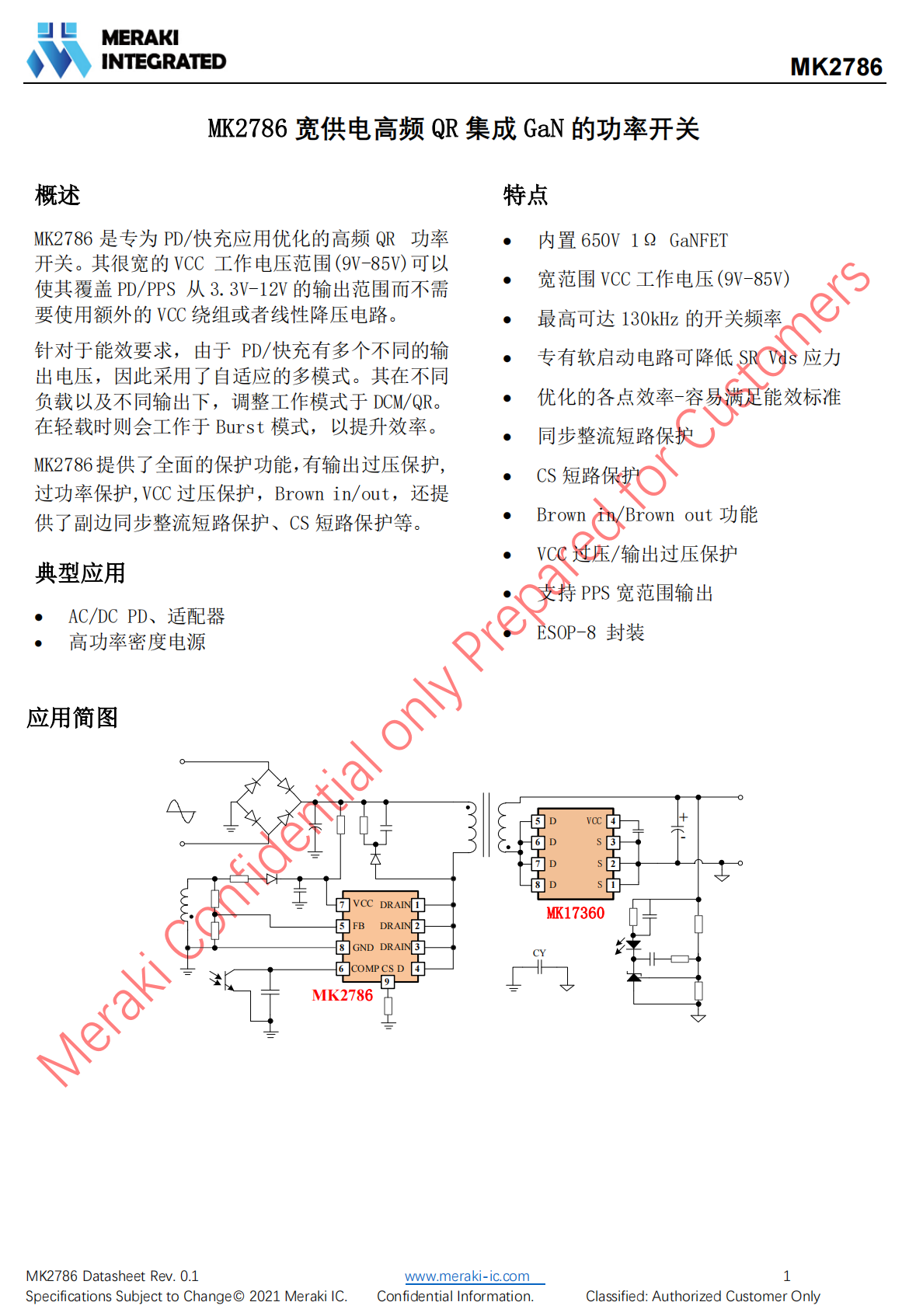 It supports adaptive multi-mode control, automatically switching between DCM/QR and Burst modes based on different loads. The chip includes comprehensive protection functions like output overvoltage protection, over-power protection, VCC overvoltage protection, synchronous rectification short circuit protection, and current sampling resistor short circuit protection. The chip is packaged in ESOP-8, with simplified peripheral components, suitable for PD fast charging and adapter applications.
Navitas
NV9586
Navitas NV9586 integrates a 600mΩ GaN FET and high-frequency QR controller. It features lossless current detection, high integration, high conversion efficiency, enabling compact fast charging designs. It supports 25W output power and integrates high-voltage startup and X-capacitor discharge. The chip supports CCM/QR/DCM control modes and includes protection features like cycle-by-cycle current limiting, AOCP, OTP, and LPS. Its ultra-low standby power consumption is only 20mW.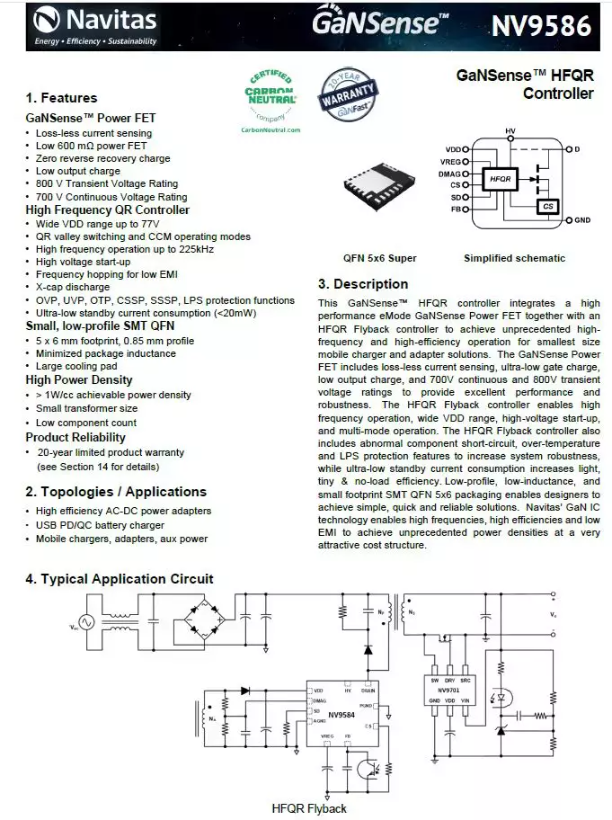 With a maximum switch frequency of 225kHz (optionally 129kHz), engineers can flexibly design and optimize transformer size and EMI performance. The chip requires no additional clamp circuit, covering a wide VDD supply range of 6.8-80V, aiding in BOM cost savings and PCB size reduction. It comes in a QFN5x6 package.
On-Bright
OB2733
On-Bright OB2733x is a highly integrated GaN IC with extremely low standby power consumption. It supports wide-voltage range output, suitable for PD fast charging applications. The chip operates in QR mode at full load and switches to PFM mode to increase efficiency as the load decreases. When the load is minimal, the chip enters an extended burst mode to minimize standby power consumption, achieving high conversion efficiency across the full load range.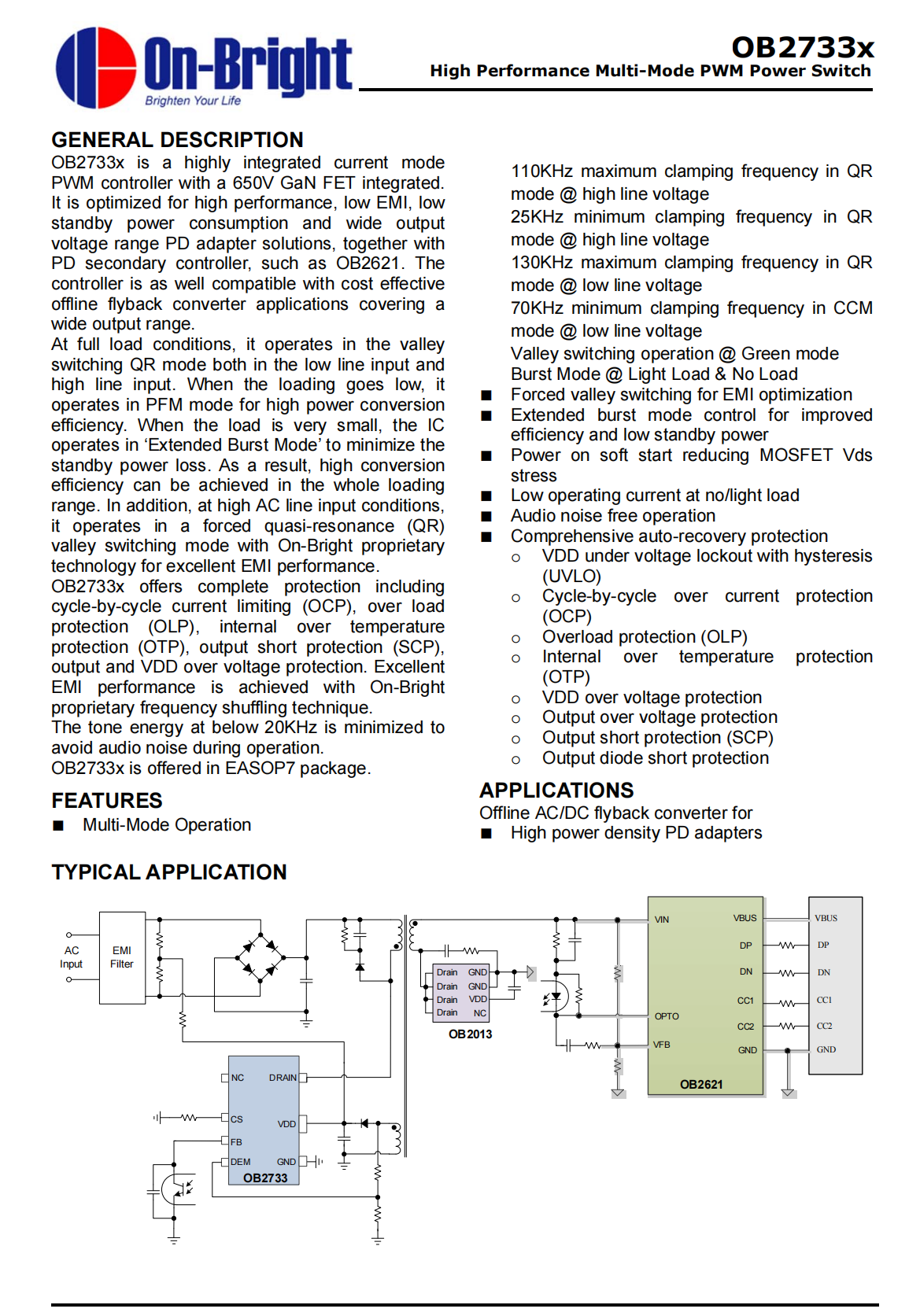 It integrates complete protection features such as cycle-by-cycle overcurrent protection, overload protection, overheat protection, output short circuit protection, output overvoltage protection, and supply overvoltage protection. It also incorporates On-Bright's proprietary frequency extension technology. The chip comes in an EASOP7 package, suitable for high-power density PD fast charging applications.
Southchip
SC3055
Southchip SC3055 is a highly integrated GaN IC with an integrated 650V withstand voltage, 650mΩ on-resistance GaN FET, and high-frequency QR controller.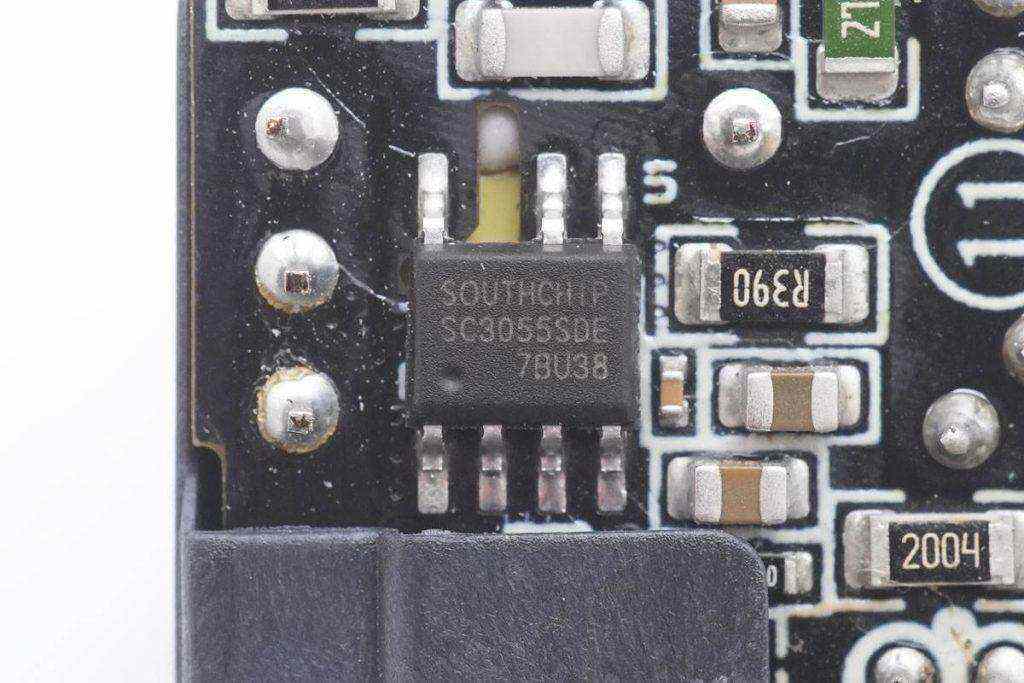 Enhanced thermal dissipation is achieved with a thermal pad on the bottom. It integrates soft start functionality and employs segmented power supply technology to support wide voltage range output. The chip includes over-temperature protection and comprehensive protection features such as overcurrent, overload, and overvoltage protection. With a switching frequency of up to 135kHz, it enhances system power density, meeting the demand for increasingly compact designs in applications with power under 25W. The chip is packaged in SOP7.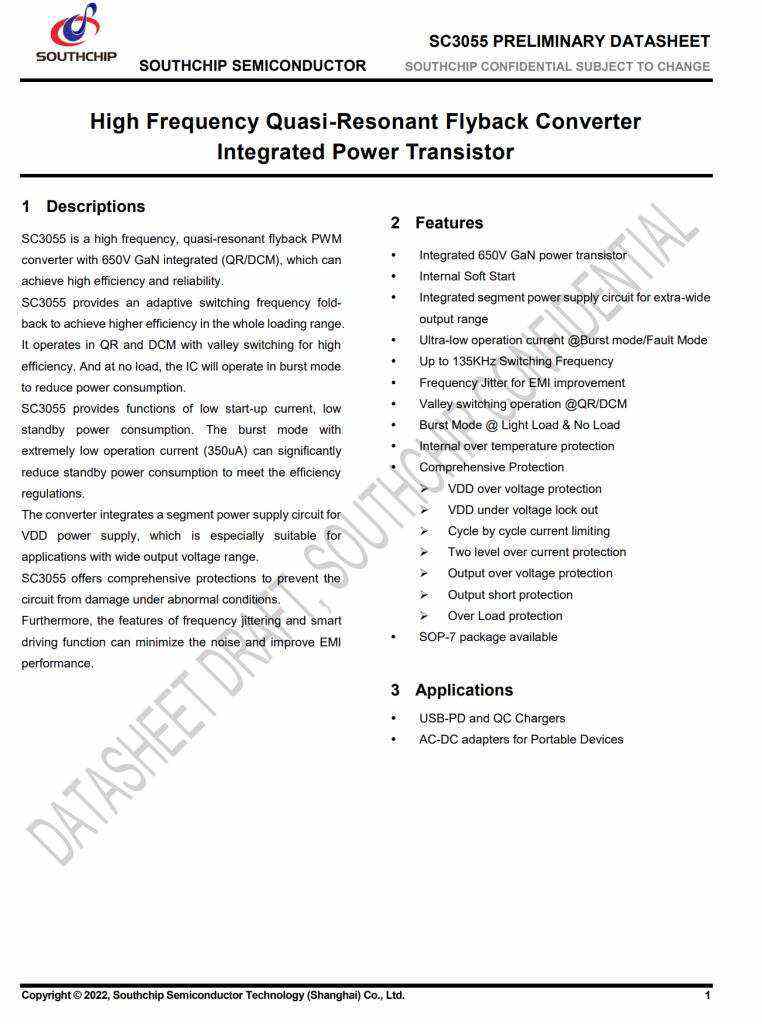 In Burst/Fault mode, it features an ultra-low operating current of only 350uA and supports Brown In/Out functionality.
The widespread commercial use of GaN technology in consumer power products has significantly improved the efficiency of chargers, drastically reduced their size, and enhanced portability, making them highly favored by consumers. Currently, major smartphone and laptop brands like Xiaomi. Huawei, OnePlus, IQOO, Lenovo have all entered the GaN fast charging market, indicating a promising future for GaN fast charging.
The emergence of GaN ICs has consolidated functions that previously required three separate chips. This advancement fundamentally addresses the challenges in controlling and driving GaN power devices, simplifying fast charger design and reducing costs for related manufacturers.
While fast charging is showing a trend towards multifunctionality, multiple ports, high power, and small size, the 20W fast charging market remains an essential component. The introduction of 20W GaN ICs by the mentioned manufacturers fills the gap in fast charging technology development in this segment. This has played a proactive role in advancing the 20W fast charging market and providing consumers with more affordable and high-quality products.
Related Articles:
1. 30 PD3.1 Protocol Chips and Their 11 Manufacturers: A ChargerLAB Analysis
2. Summary of Hynetek USB PD3.1 Fast Charging Solution
3. ChargerLAB Reveals 11 PD3.1 E-Marker Chips from 7 Manufacturers
The article is originally written by @
Joey
posted on Chargerlab. All rights reserved.