Forward Thinking | 9 Qi2 Wireless Charging Chips by 6 Leading Manufacturers
Introduction
As we all know, Apple made significant innovations in wireless charging starting from the iPhone 12 series, introducing the new MagSafe wireless charging, which improved both charging speed and user experience. However, to achieve the touted 15W MagSafe charging, third-party products need to use Apple's MFi certified wireless charging modules; otherwise, even if they can be used, the power will be greatly reduced, which impacts consumer choices.
With the implementation of EU regulations, Apple has gradually become more open in the charging domain. They are also actively promoting the latest Qi2 wireless charging standard by the WPC. Rumors have circulated that the upcoming Apple iPhone 15 will open up the previously encrypted 15W magnetic wireless charging. In other words, with Qi2 certification, third-party products can provide users with a relatively fast wireless charging experience even without Apple's MFi certification.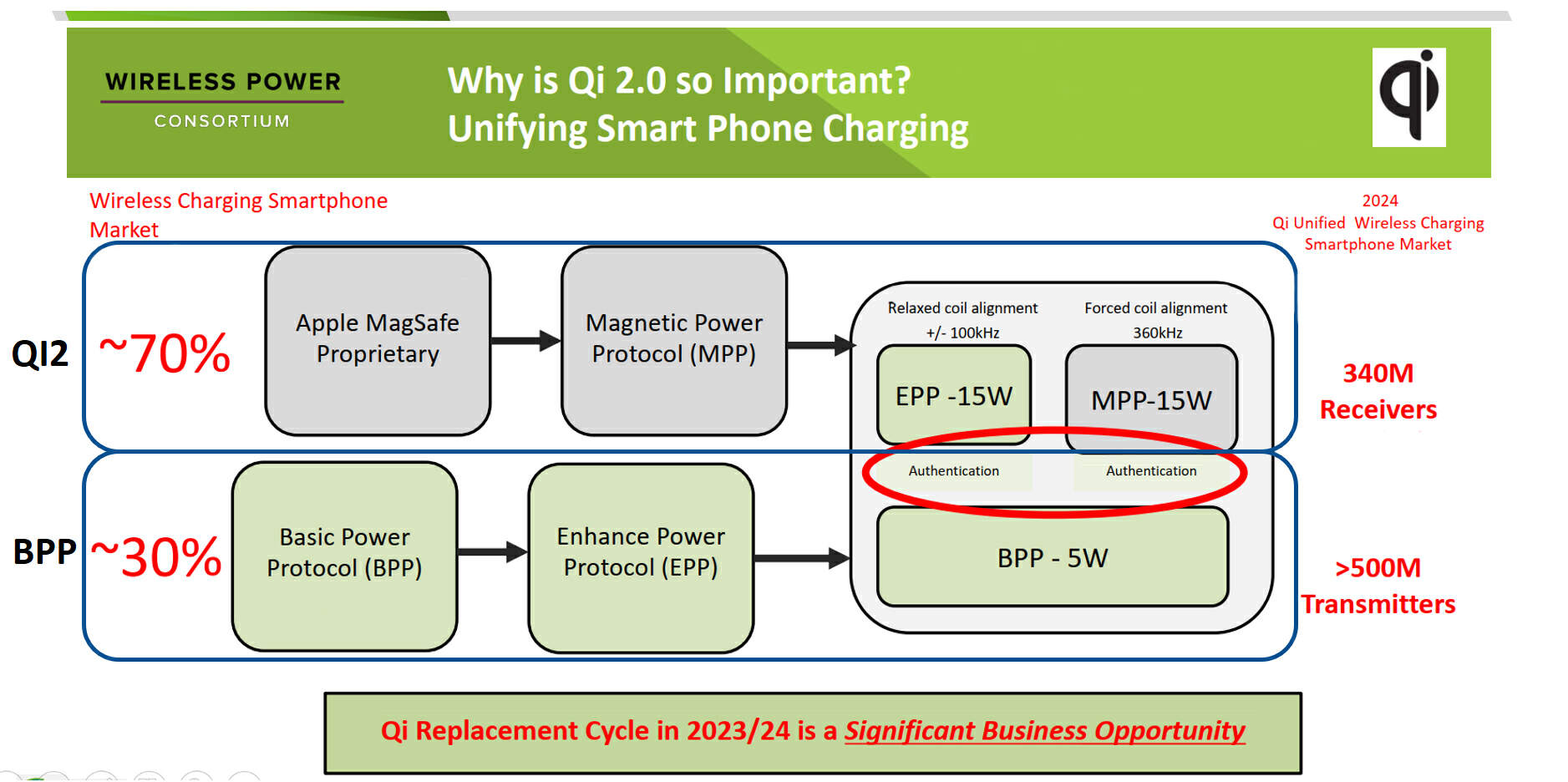 (All data above from the official WPC forecasts)
Entering the previously closed Apple ecosystem with unchanged performance and better prices signifies a lot for every industry professional. The release of the Qi2 standard will undoubtedly further drive the development of the entire magnetic wireless charging ecosystem, positively impacting the industry.
The latest Qi2 wireless charging standard from the WPC is optimized based on Apple's MagSafe, utilizing the MPP (Magnetic Power Profile) protocol. It makes wireless charging more user-friendly in terms of alignment and usage, offering better compatibility and charging efficiency. The WPC has standardized and integrated authentication verification to enhance practicality and convenience, further promoting the widespread adoption of wireless charging.
Qi2 certification requires products to include both EPP (Extended Power Profile) and MPP transmission areas, and they must incorporate authentication. Single BPP (Baseline Power Profile) wireless chargers cannot obtain Qi2 certification, and in multi-coil wireless chargers, while BPP can be included, there must be at least one EPP or MPP.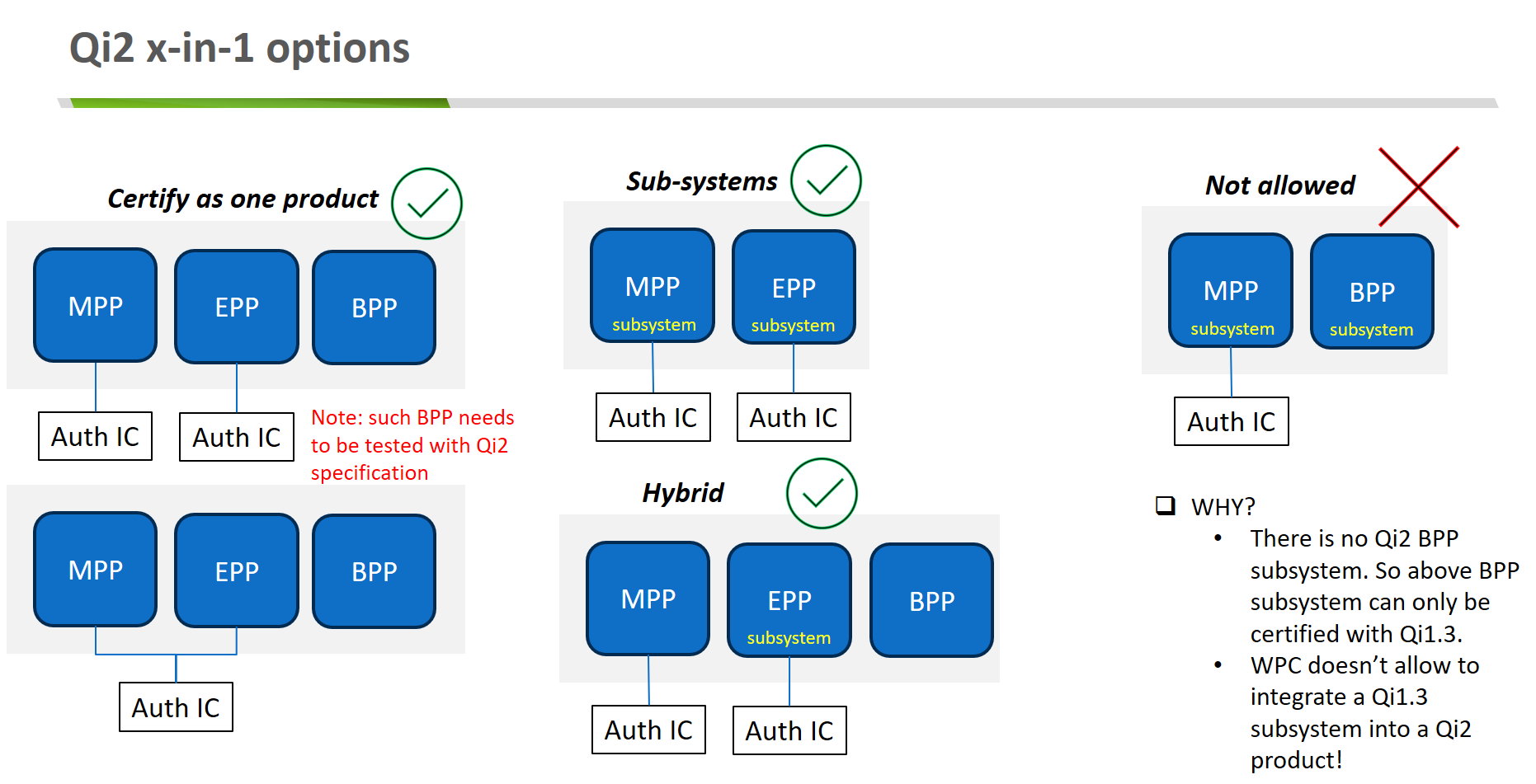 Qi2 certification must pass ATL verification, and currently, there are 11 authorized WPC labs, such as Intertek, SGS, Granite River Labs, Korea Testing Certification (KTC), and others.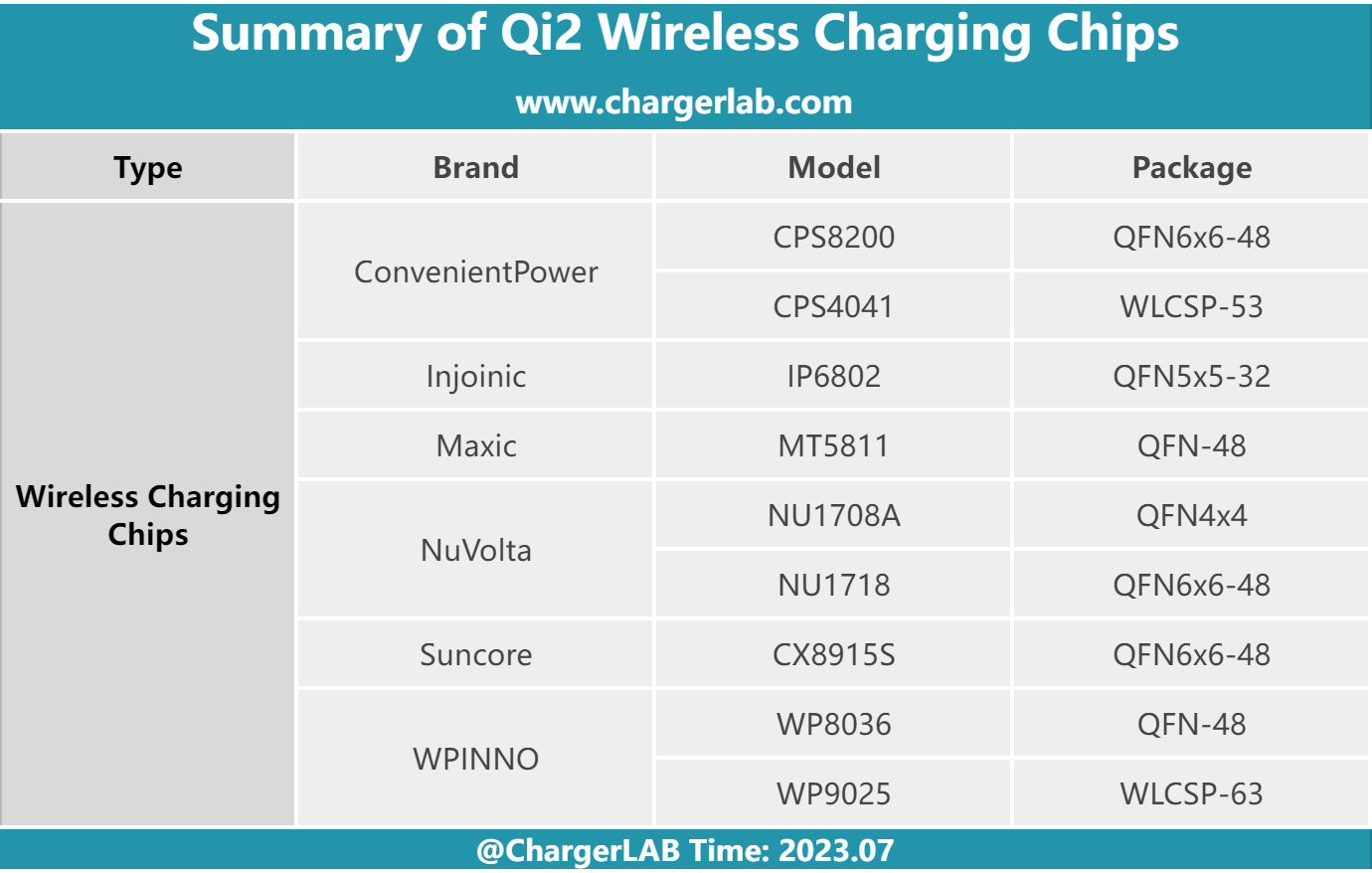 While the brand-new Qi2 wireless charging standard brings significant opportunities, it also imposes higher technical requirements on wireless charging systems. According to incomplete statistics from ChargerLAB, several manufacturers have already launched Qi2 standard wireless charging chips, including ConvenientPower, Injoinic, Maxic, NuVolta, Suncore, and WPINNO, to meet the upcoming demands of the new wireless charging market.
Note: Rankings are not in any specific order, listed alphabetically.
ConvenientPower
CPS8200
ConvenientPower CPS8200 is a highly integrated and efficient wireless charging transmitter chip, featuring a 32-bit processor, 64+2KB MTP (Multi-Time Programming), 32KB ROM, and 2KB SRAM. MTP supports read and write protection.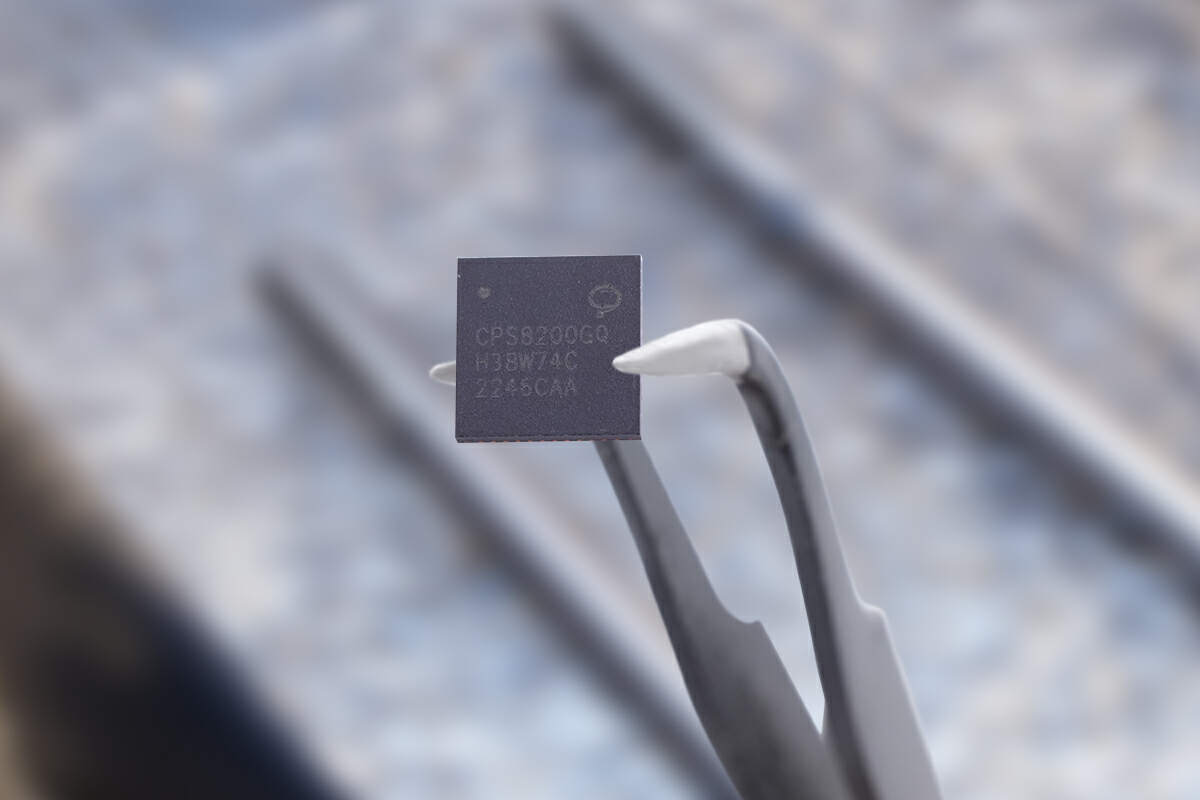 It supports QC2.0, QC3.0, PD3.1, SCP and AFC, and has integrated three pairs of half-bridge drivers. When paired with corresponding MOSFETs, it can complete a Qi2 wireless charging product.
CPS8200 also supports 24V power voltage, 45V for the power stage, and integrates over-voltage, over-current, and over-temperature protection. It includes a buck-boost converter, DC-DC controller, communication module, etc., with extremely low standby power consumption. It uses the QFN6x6-48 package.
CPS4041
ConvenientPower CPS4041 is also a highly integrated and efficient wireless charging transmitter chip, compatible with the Qi2 standard. It supports 60W wireless charging reception and 20W wireless charging transmission, making it particularly suitable for smartphones and portable devices. The chip integrates efficient synchronous full-bridge/half-bridge rectifiers for converting the AC from the coil induction to DC output. The chip also has an integrated low-dropout regulator (LDO), suitable for battery-powered devices.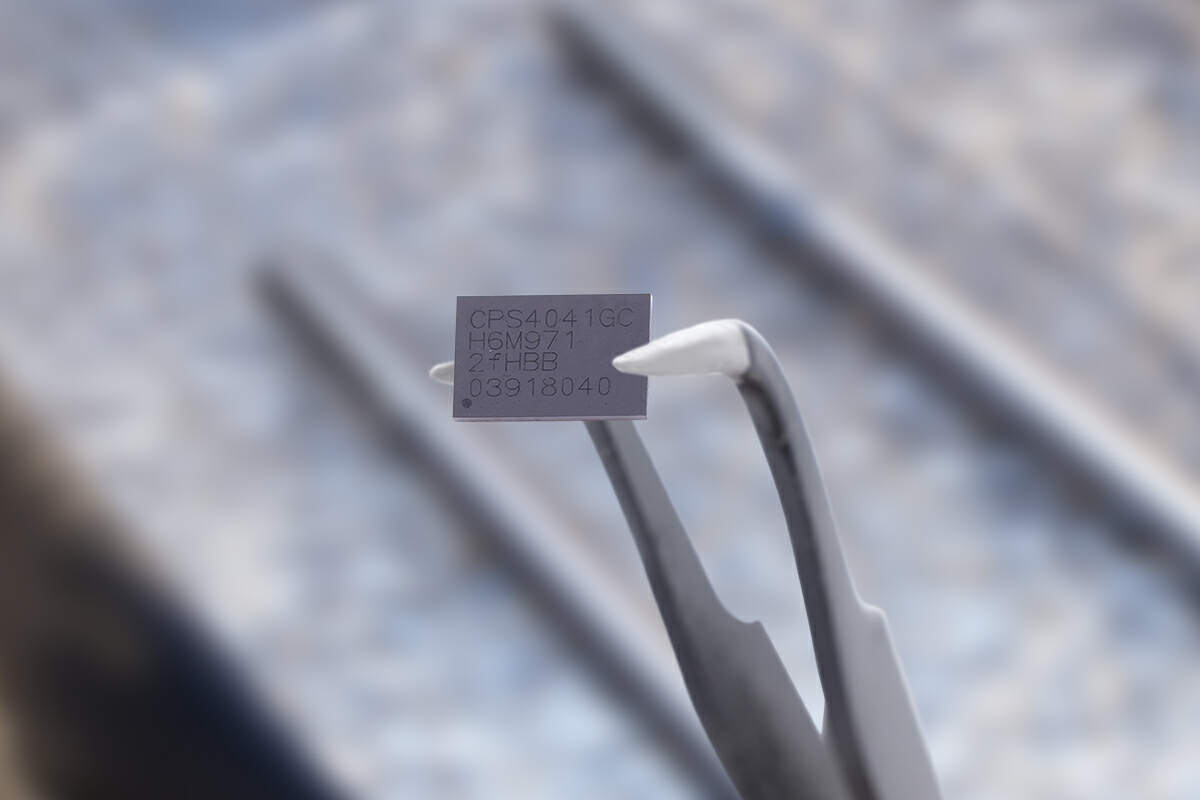 It integrates a 30mΩ synchronous rectifier, with 1% current sampling accuracy and dedicated temperature sensing. It includes a 32-bit processor and a 12-bit ADC for input and output power detection.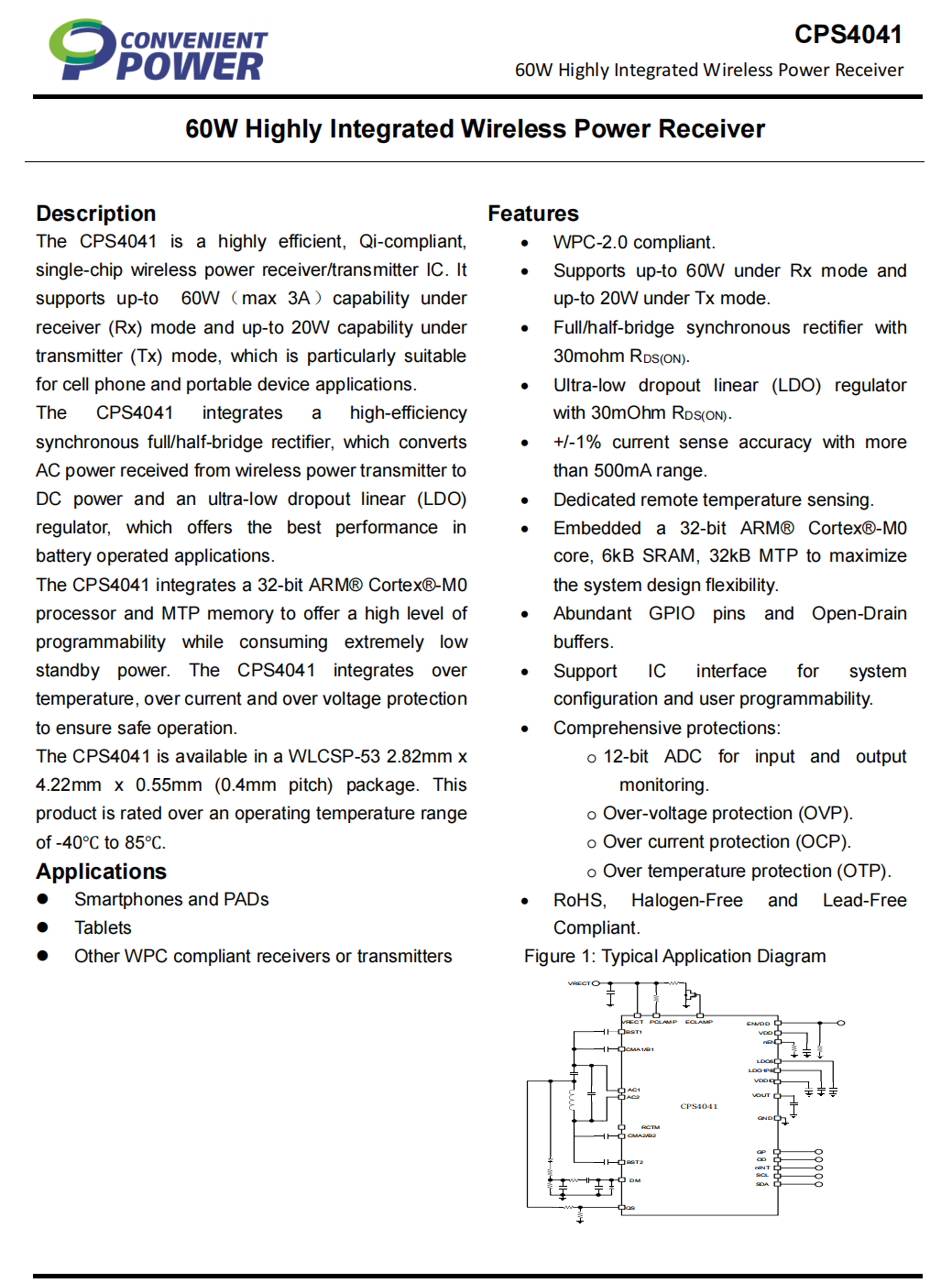 CPS4041 also integrates rectifier over-voltage protection, LDO over-current protection, and over-temperature protection. It uses a 2.82x4.22mm WLCSP-53 package.
Injoinic
IP6802
IP6802 is a complete single-chip wireless charging SOC. This chip supports the PD3.0 protocol and supports PD and DP&DM fast charging power supply, supporting input voltage from 4V to 20V. It integrates full-bridge drivers and digital demodulation, eliminating the need for external drivers and op-amps, making it possible to create a complete Qi2 wireless charging product with only four MOSFETs and a few peripheral components.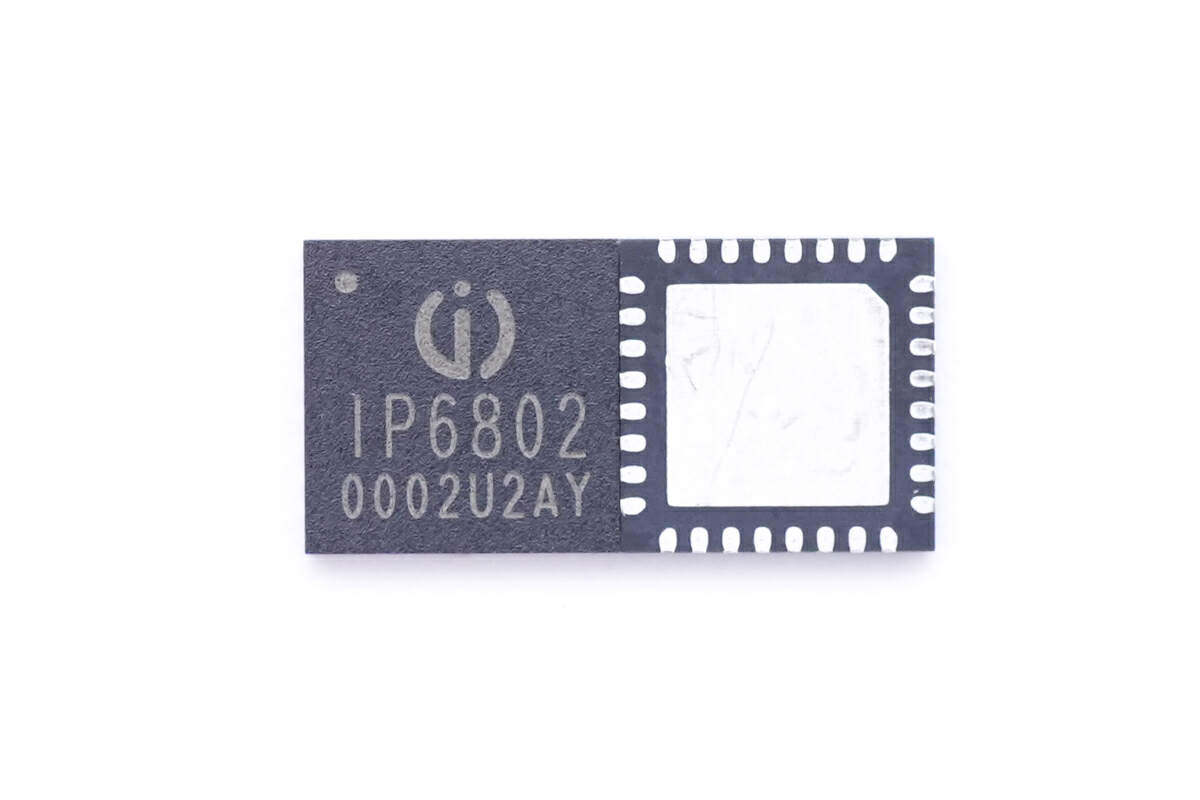 It integrates a 32-bit MCU, ADC, timers, and H-bridge drivers, and also includes I2C communication, supporting customization and certification testing. It has a built-in 32KB MTP storage, supporting firmware upgrades, allowing users to customize through PC.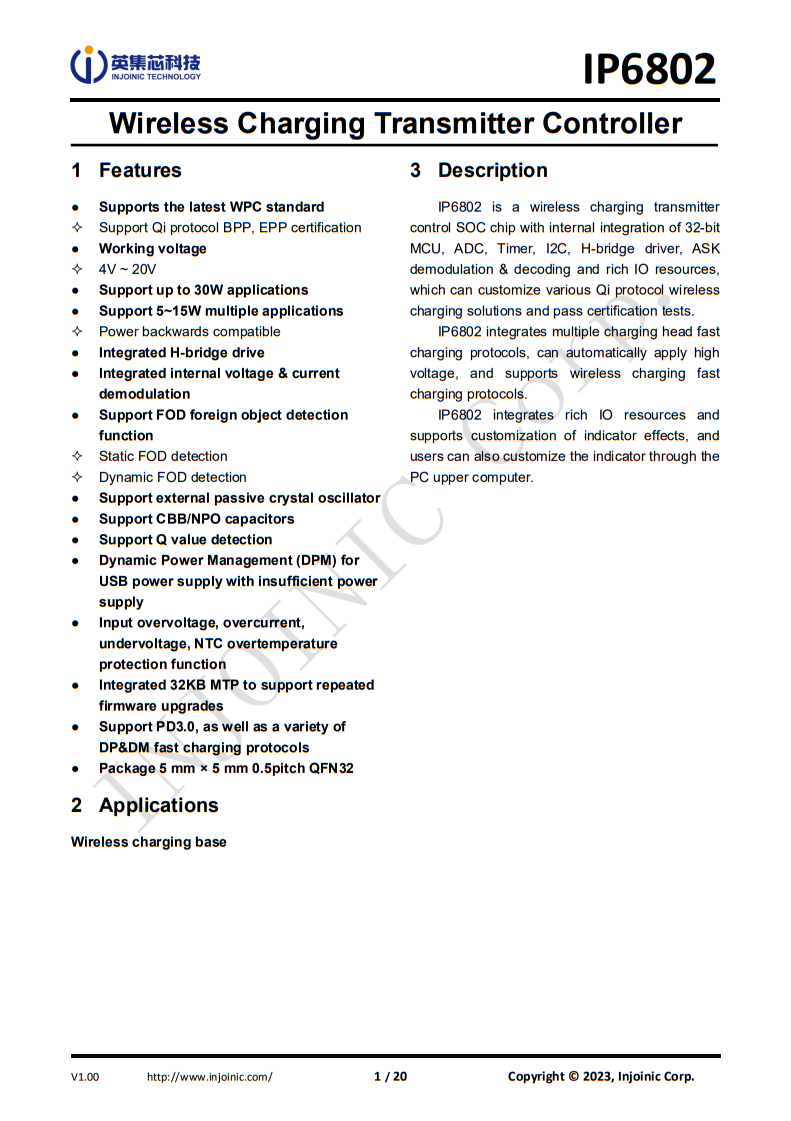 IP6802 has built-in dynamic power regulation, which, for USB power adapters with insufficient power delivery, can maintain uninterrupted wireless charging by reducing the transmission power. It also supports static and dynamic FOD (Foreign Object Detection) and various protection functions. The chip uses a QFN5x5-32 package, allowing for very compact end products to meet personalized design needs.
Maxic
MT5811
Maxic MT5811 is a highly integrated Qi wireless charging transmitter chip with fast charging protocols like USB PD, QC, and a 15W output power support.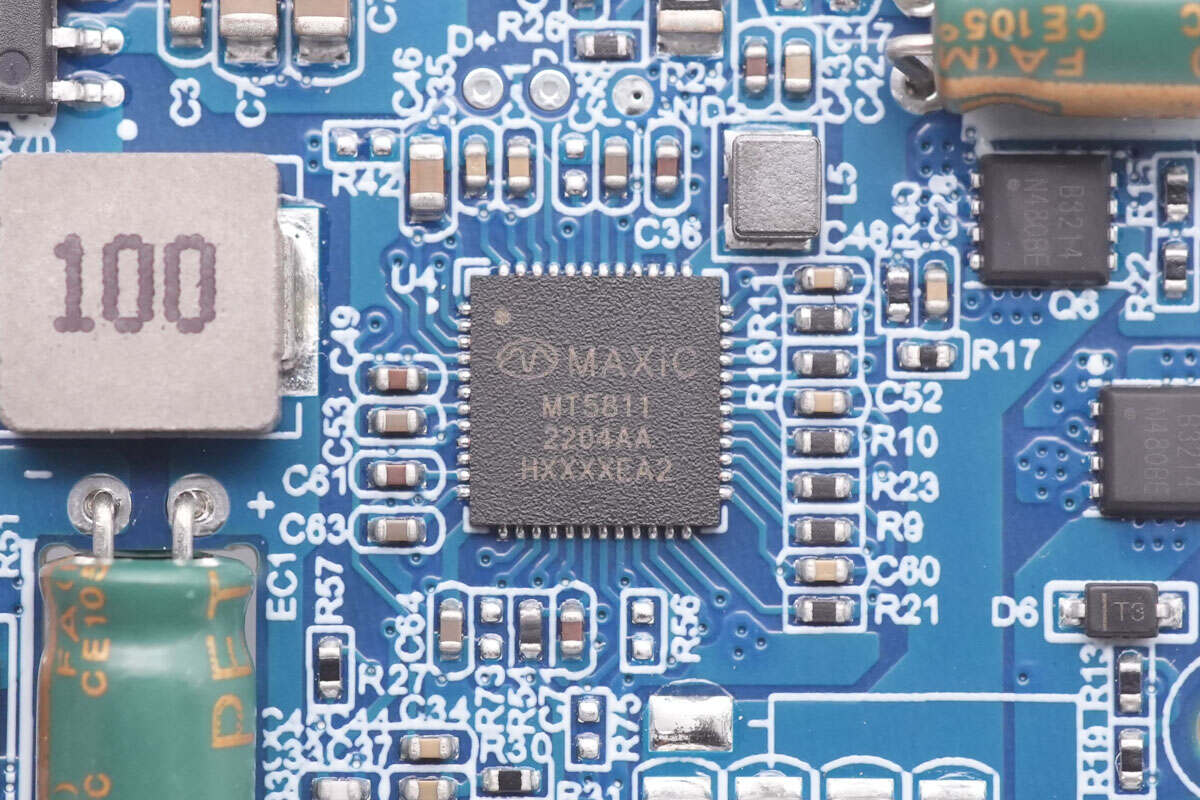 It integrates an ARM M0 processor, with an efficient and compact design, providing a strong and self-contained secondary development capabilities. The chip integrates 3 pairs of NMOS drivers, eliminating the need for external drivers.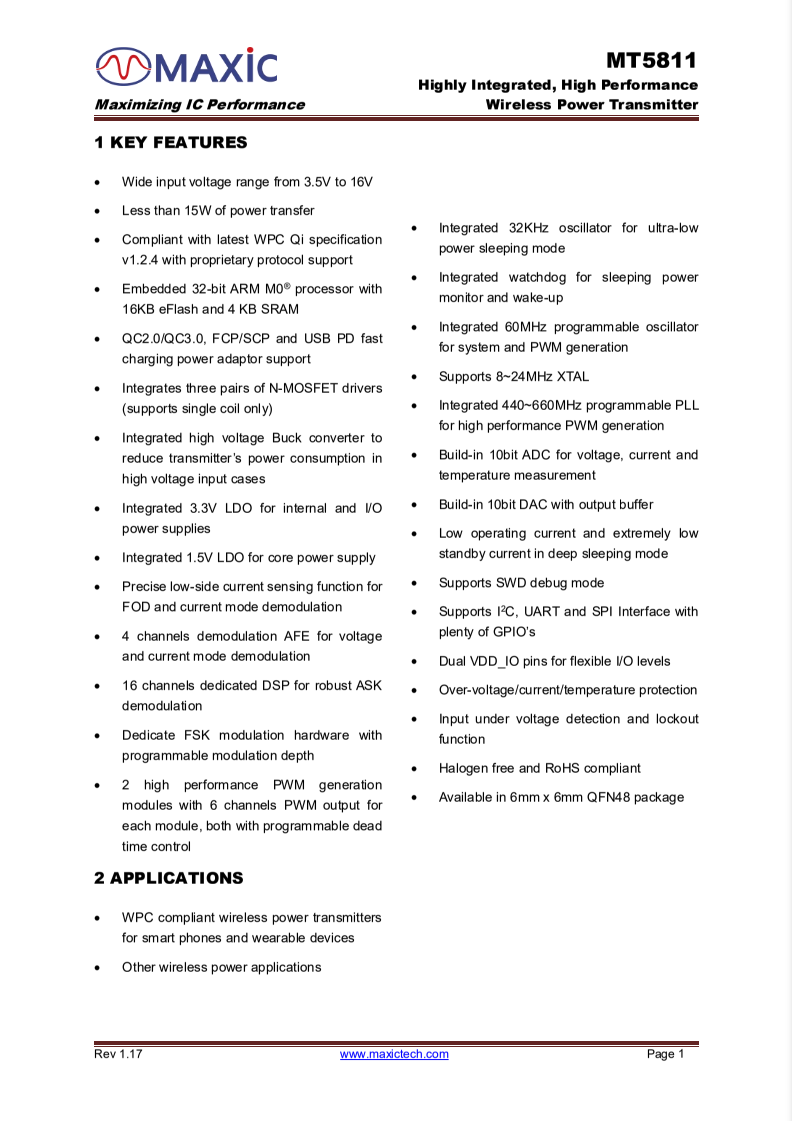 MT5811 has strong scalability, adopting a highly integrated embedded SoC architecture and flexible interface design, suitable for various low-cost, low-power applications, widely used for 5G terminals, wearable devices, IoT, smart appliances, etc.
NuVolta
NU1708A
NuVolta NU1708A is a highly integrated wireless charging transmitter chip supporting input voltages from 4.5V to 20.5V. It integrates efficient full-bridge MOSFETs and corresponding drivers while also incorporating a wireless charging master control chip, greatly reducing space usage.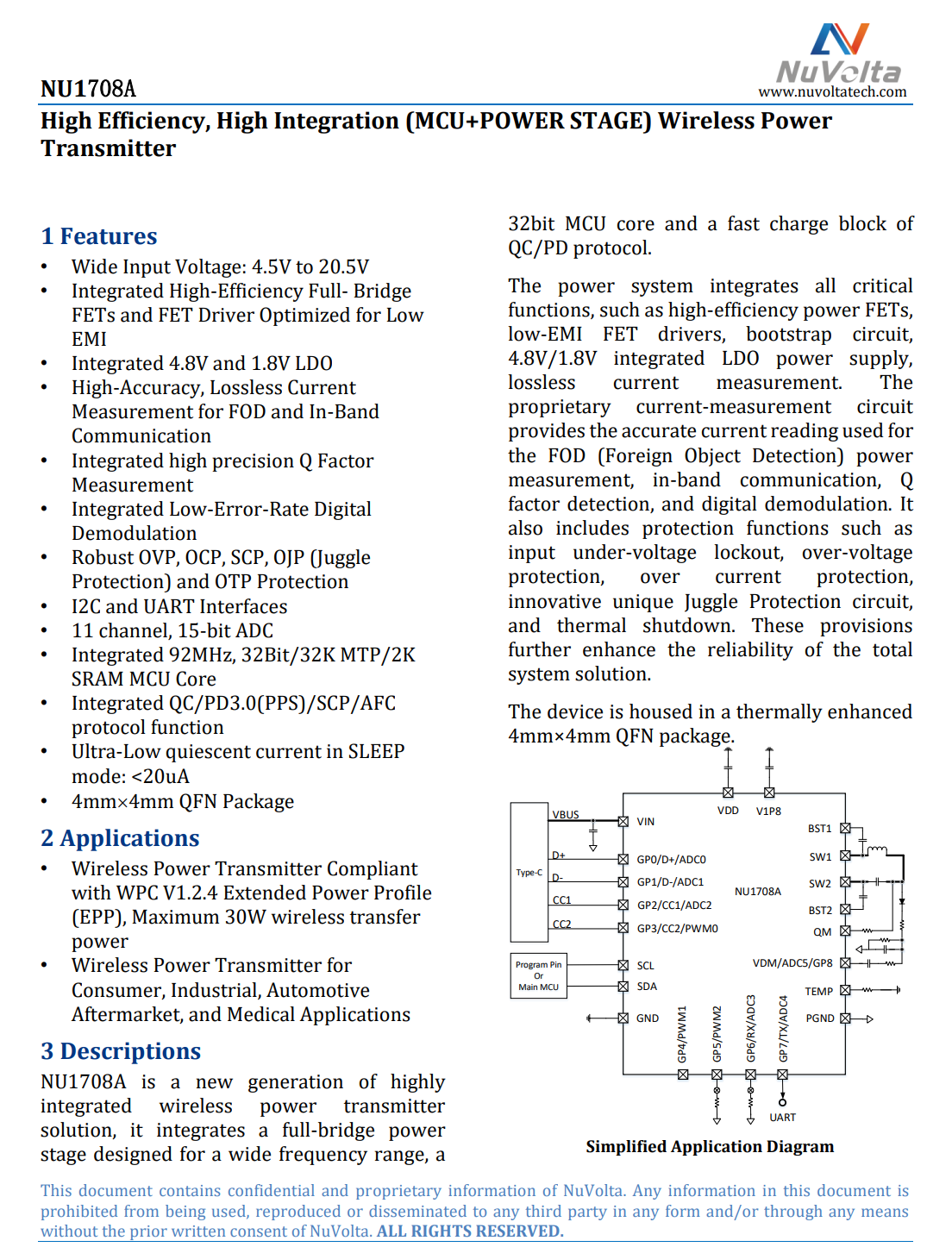 Additionally, it integrates a 92MHz 32-bit MCU, 32KB MTP, and 2KB SRAM, along with PD and QC fast charging protocols and various protection features.
NU1718
NuVolta NU1718 is also a highly integrated wireless charging transmitter controller, supporting input voltages from 4.5V to 30V. It integrates buck-boost controllers and three pairs of half-bridge drivers, supporting dead time and slew rate.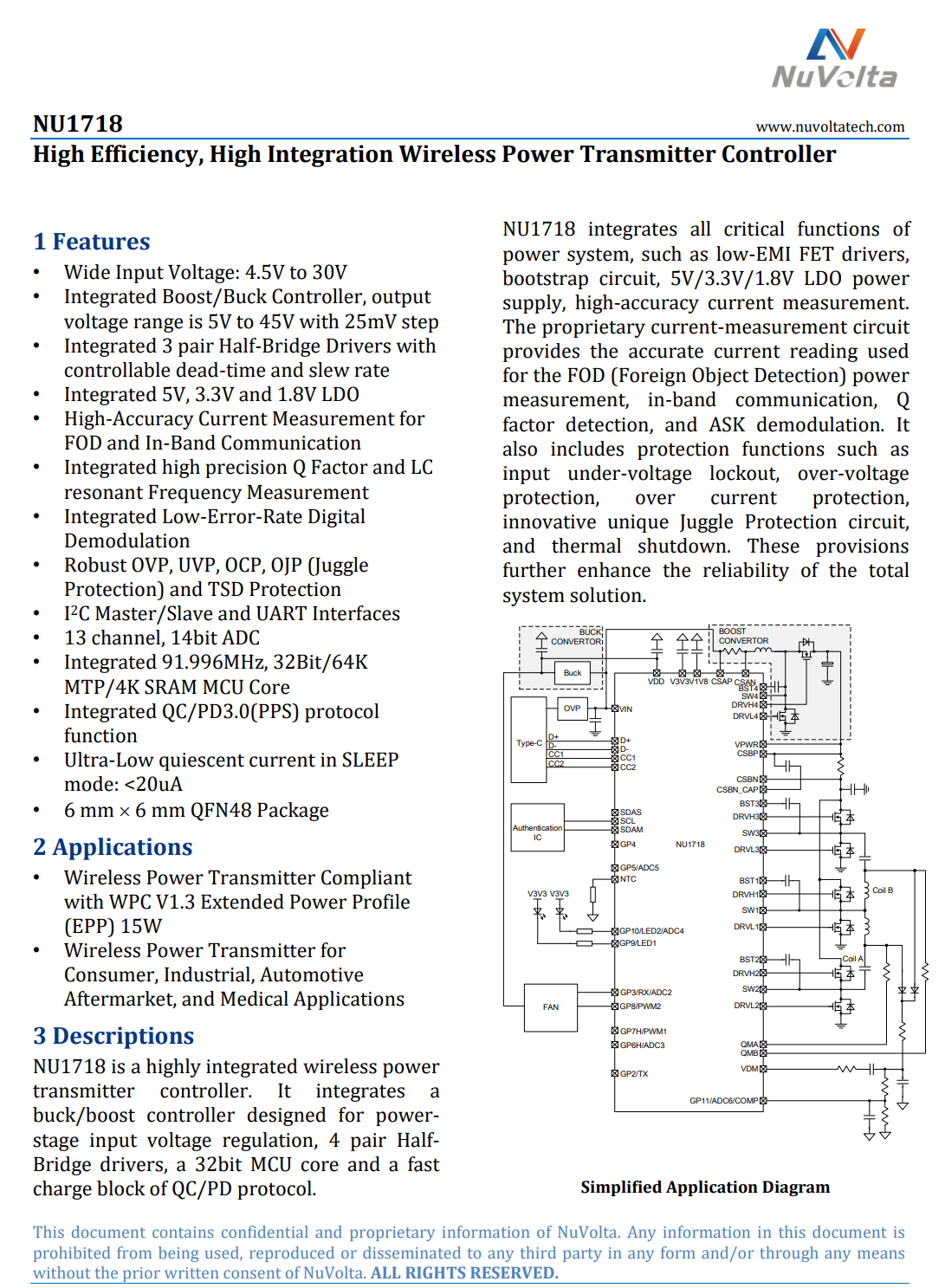 It includes 5V, 3.3V, and 1.8V regulators, high-precision current sensing for FOD (Foreign Object Detection) and In-Band communication, as well as multiple protection features, a 92MHz 32-bit MCU, 64KB MTP, and 4KB SRAM.
It also integrates QC and PD fast charging protocols, with a static current in sleep mode of less than 20μA, making it suitable for desktop wireless charger applications.
Suncore
CX8915S
CX8915S is a highly integrated and efficient wireless charging SOC, compatible with the WPC Qi2 wireless charging standard, integrating all the necessary functions for a wireless charger, including PD and QC fast charging protocols, and LDO, and complete full-bridge MOSFET drivers, requiring only a minimal number of external peripheral components.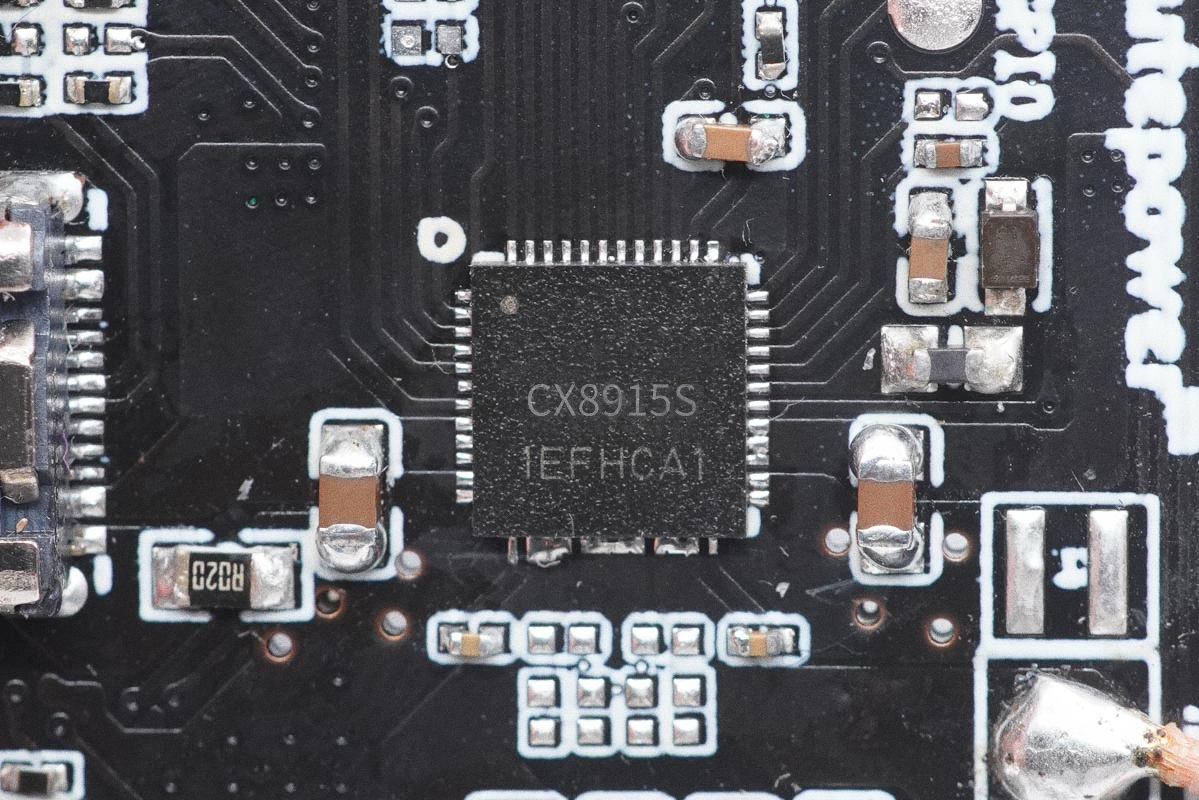 It supports USB PD and QC, integrating a 32-bit ARM core with a frequency of up to 96MHz, built-in 32KB+4KB storage, supporting 4 independent PWM outputs, versatile and flexible PWM functionality, up to 6 16-bit timer channels, supporting 12-bit resolution ADC, and includes a built-in temperature detection channel, as well as two ACMP and OPA modules.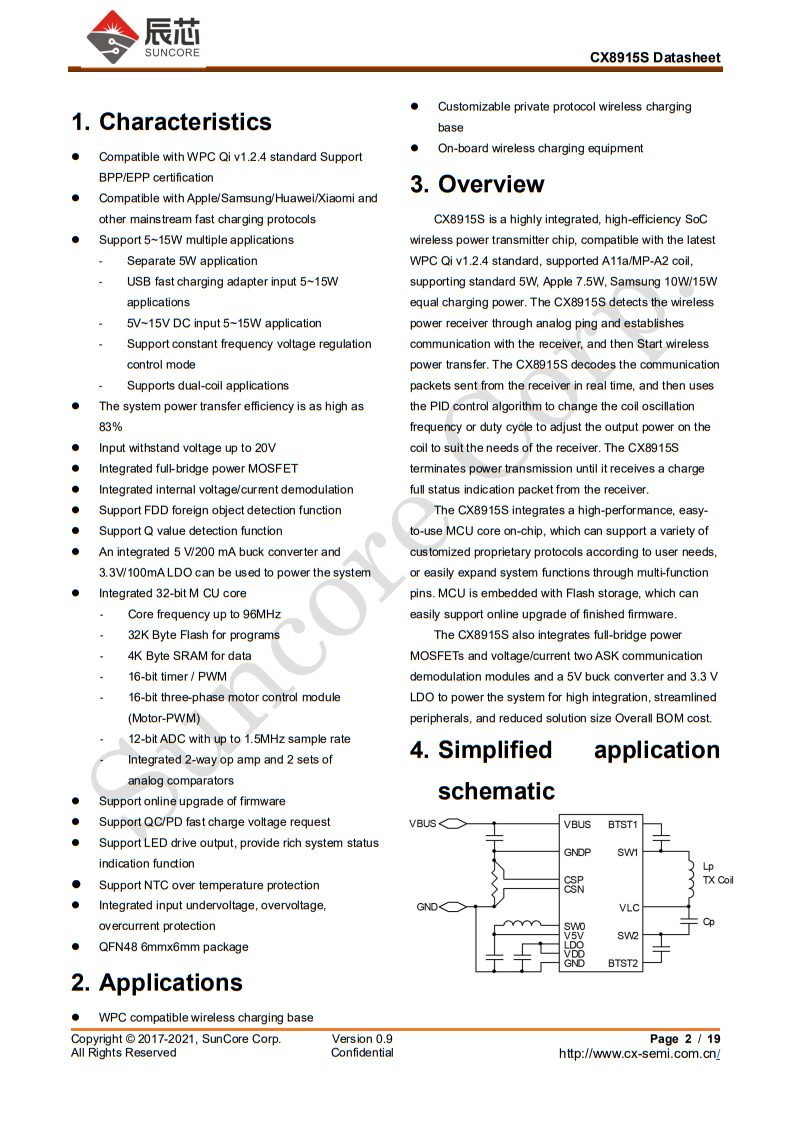 CX8915S is a comprehensive chip, integrating the MCU core required for wireless charging, PWM generator, PD and QC voltage request, buck-boost and regulator circuits, etc., with very streamlined external circuit components. It uses a QFN6x6-48 package.
WPINNO
WP8036
WPINNO WP8036 is a wireless charging main control chip compliant with the WPC Qi2.0 standard, supporting BPP, EPP, and MPP applications. It integrates an ARM M0+ CPU, 64K Flash, and 4K RAM. It supports PD, QC, and AFC fast charging.
The chip has built-in over-voltage protection, under-voltage protection, over-current and over-temperature protection, as well as FOD functionality, compatible with mainstream wireless charging for smartphones, and supports custom LED display. It has high-precision voltage and current detection, supports single-coil and multi-coil applications, and uses a QFN48 package.
WP9025
WP9025 is a single-chip wireless charging receiver and transmitter chip compliant with the WPC Qi 2.0 standard, supporting 55W wireless charging reception and 15W wireless transmission, suitable for smartphones. It includes rectifier output over-voltage protection, over-temperature protection, supports output voltages from 5V to 20V, and supports online upgrades and user-programmable foreign object detection functionality.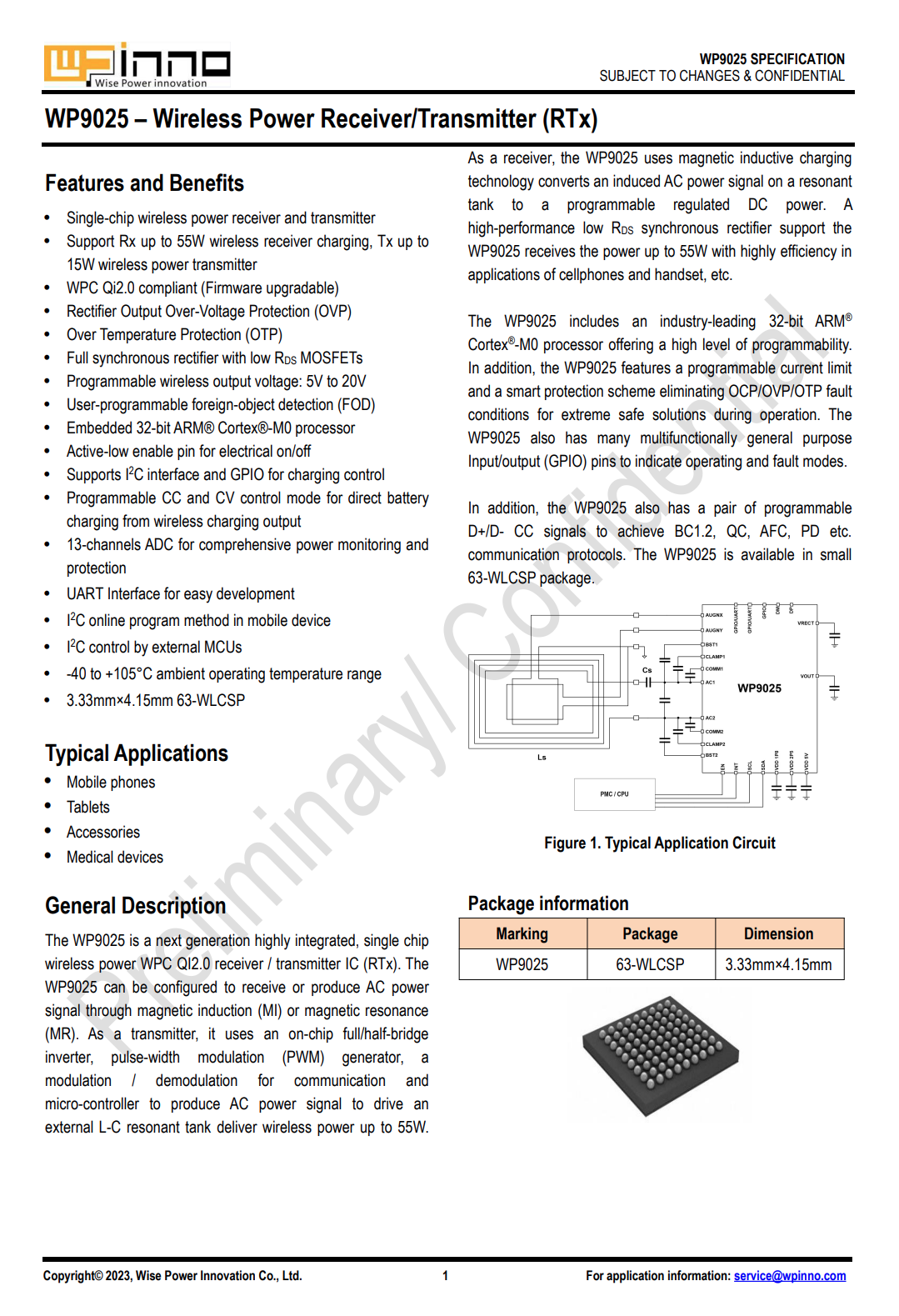 It includes a 32-bit ARM M0 processor, supports constant voltage and constant current control for directly charging the battery through wireless charging, supports online programming via the I2C interface and external MCU control. The chip uses a 3.33x4.15mm 63-WLCSP package.
Summary of ChargerLAB
In the current market landscape, the unveiling of the latest Qi2 wireless charging standard by the WPC, coupled with the imminent launch of the iPhone 15 featuring open 15W wireless charging, is poised to create a significant ripple effect. This dynamic shift is primed to fuel an immense surge in demand for cutting-edge accessories aligned with the Qi2 wireless charging standard.
Leading the charge, companies such as ConvenientPower, Injoinic, Maxic, NuVolta, Suncore, and WPINNO have astutely recognized this trend. They've proactively introduced an innovative lineup of wireless charging chips designed to seamlessly integrate with the new Qi2 standard. By obtaining Qi2 certification, these chips empower iPhone 15 users with the ability to embrace 15W rapid wireless charging, providing customers with a decisive advantage in capturing the forefront of the burgeoning wireless charging market.
Related Articles:
1. Driving the Ubiquity of Qi2 Standard | Injoinic Unveils Wireless Charging SOC IP6802
2. Compatible With Qi2 | Apple iPhone 15 Support 15W Wireless Charging Without MagSafe
3. Navitas Power Forward with Next-Gen GaN and SiC Power Semiconductors at PCIM 2023
The article is originally written by @
Joey
posted on Chargerlab. All rights reserved.