Hynetek Unveils E-Marker Chip HUSB332D
Introduction
As we all know, USB-C is a universal, versatile, and reversible USB connection standard first released in 2014. It provides fast data transfer and charging capabilities for various devices, ranging from smartphones to laptops, monitors, and peripheral devices, including the latest iPhone 15 series. We have written many buying guides for it. If you are interested, you can check it out on our website.
However, due to its highly complex nature, ensuring compatibility between devices and the safety of power transmission has become a concern. This has led to the introduction of USB E-marker chips. When two devices are connected, this chip assists in establishing the correct communication channel between them to ensure smooth data and power transmission, preventing overheating or overloading, thus enhancing stability and safety of the connection.
Currently, E-marker chips are primarily used in devices with USB-C connections, including laptops, smartphones, tablets, peripheral devices, USB charging cables, and adapters. In fact, we have took apart many cables with this chip, and without exception, they are of high quality. These chips monitor the connected device, verifying its type, performance, and charging requirements. They help ensure compatibility between devices and improve power transmission efficiency, allowing devices to charge and transfer data more quickly.
HUSB332D
HUSB332D is the latest USB-C E-marker chip from Hynetek. It supports USB-C 2.2, USB Power Delivery 3.1, USB4 2.0, Thunderbolt 3, and Thunderbolt 4 specifications. It also supports USB PD3.1 EPR (Extended Power Range) and has been certified by the USB-IF Association with the TID number 9125.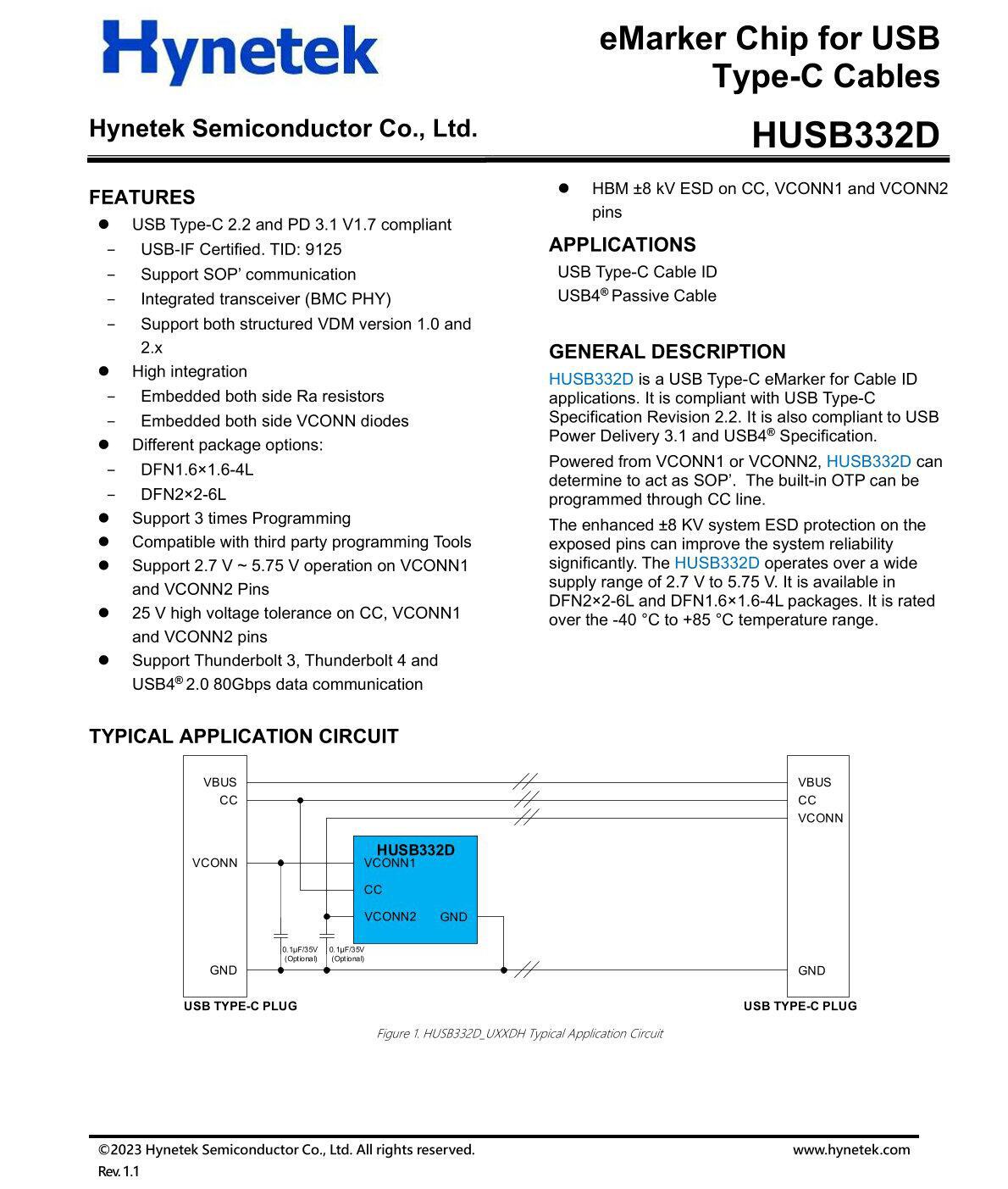 This chip supports SOP' communication and integrates a transmitter (BMC PHY) and structured VDM versions 1.0 and 2.x, providing greater flexibility for various applications. Its highly integrated design embeds Ra resistors and VCONN diodes, simplifying design and wiring while improving efficiency. Thanks to its highly integrated design, it offers multiple package options, including DFN1.6×1.6-4L and DFN2×2-6L, all in an extremely compact form. Furthermore, the HUSB332D has a groundbreaking 4-pin design, which offers the following advantages:
1. Extremely simplified peripheral circuit wiring, significantly reducing the design complexity of high-performance cables.
2. A more aesthetically pleasing paddle card, with an expected reduction of 0.5mm in PCB length.
3. A significant improvement in pin spacing for surface mounting.
4. The DFN2×2-6L package form of the HUSB332D is compatible with some of Hynetek's previous E-marker chips, enabling quick product upgrades to help hit the market faster.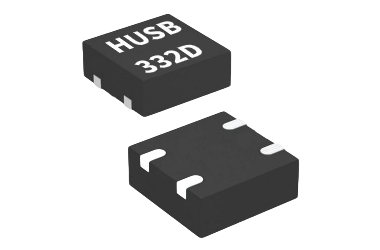 Additionally, it supports triple programming, is compatible with third-party programming tools, has a wide power supply range, and offers high-voltage protection for CC, VCONN1, and VCONN2 pins (up to 25V). HUSB332D also provides excellent electrostatic discharge protection (HBM ±8 kV ESD) and is suitable for USB-C cable identification and USB4® passive cable applications.
Summary of ChargerLAB
HUSB332D is Hynetek's latest USB-C E-marker chip, supporting USB-C 2.2, USB PD 3.1, USB4 2.0, Thunderbolt 3, and Thunderbolt 4 specifications, with USB-IF certification. It integrates multiple features, including a highly integrated design, various packaging options, extremely compact packaging, triple programming support, a wide power supply range, and excellent electrostatic discharge protection. It is suitable for USB-C cable and USB4 passive cable applications.
Related Articles:
1. Injoinic Unveils Flagship E-Marker Chip IP2133H
2. ChargerLAB Reveals 11 PD3.1 E-Marker Chips from 7 Manufacturers
3. Navitas Power Forward with Next-Gen GaN and SiC Power Semiconductors at PCIM 2023
The article is originally written by @
Joey
posted on Chargerlab. All rights reserved.