Convenience Meets Innovation | UGREEN Launched 100W 4-in-1 Wireless Charging Station
The increasingly competitive fast charging industry has raised users' demands for fast charging. In addition to supporting high-power output, it is also necessary to consider charging multiple devices and preferably provide wireless charging. This has forced accessory manufacturers to come up with innovative solutions. Recently, UGREEN has launched a 4-in-1 wireless charging station that incorporates new GaN technology. It supports 100W fast charging output, features a 2C1A port configuration, and includes the Apple original MagSafe wireless charging module, satisfying users' needs for charging multiple devices in one go.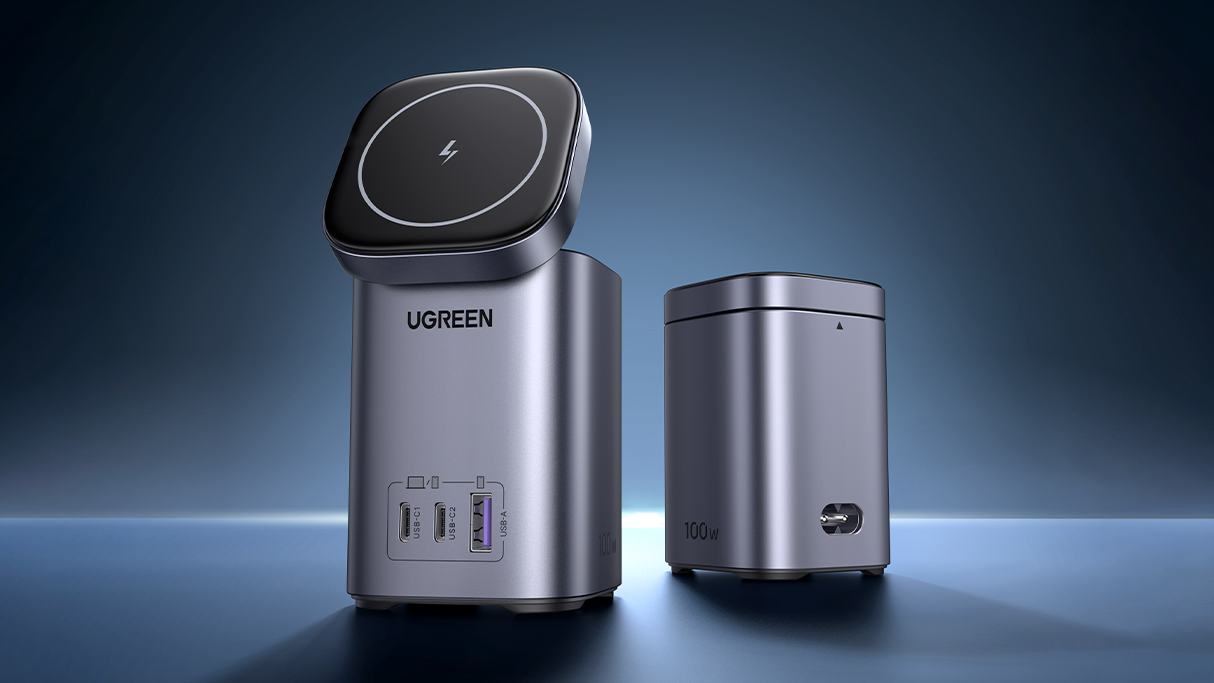 The UGREEN 100W 4-in-1 Wireless Charging Station adopts a vertical design, with a silver-gray main body and a flexible gray-black top cover. On the front, there is the USB fast charging output ports, including two USB-C ports, one USB-A port, and the Apple original magnetic wireless charging module is on the top. The built-in power adapter is made using GaN technology and can be directly plugged into a standard 220V household socket using the common IEC C7 connector. It comes with a standard 2m (6.56 ft) cable, allowing for convenient extension of the charging station to the desktop.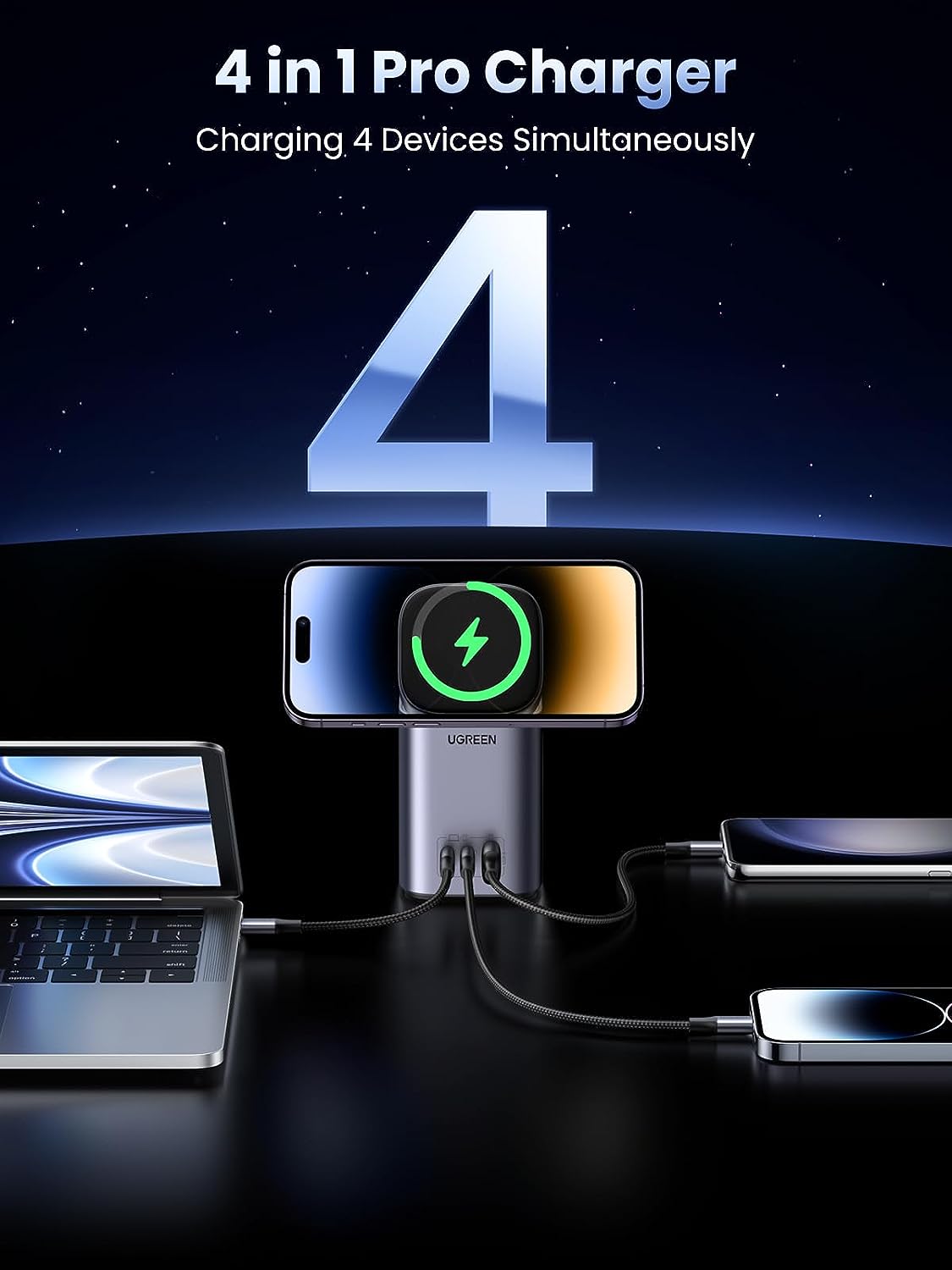 When used individually, both USB-C1 and USB-C2 support a maximum output of 100W. This means you can achieve the optimal experience with either of the ports. They support five fixed PDOs of 5V3A, 9V3A, 12V3A, 15V3A, and 20V5A, as well as a set of PPS voltages ranging from 3.3V to 21V at 3A. The USB-A port supports four PDOs of 5V3A, 9V2A, 12V1.5A, and 10V2.25A, with a maximum output power of 22.5W.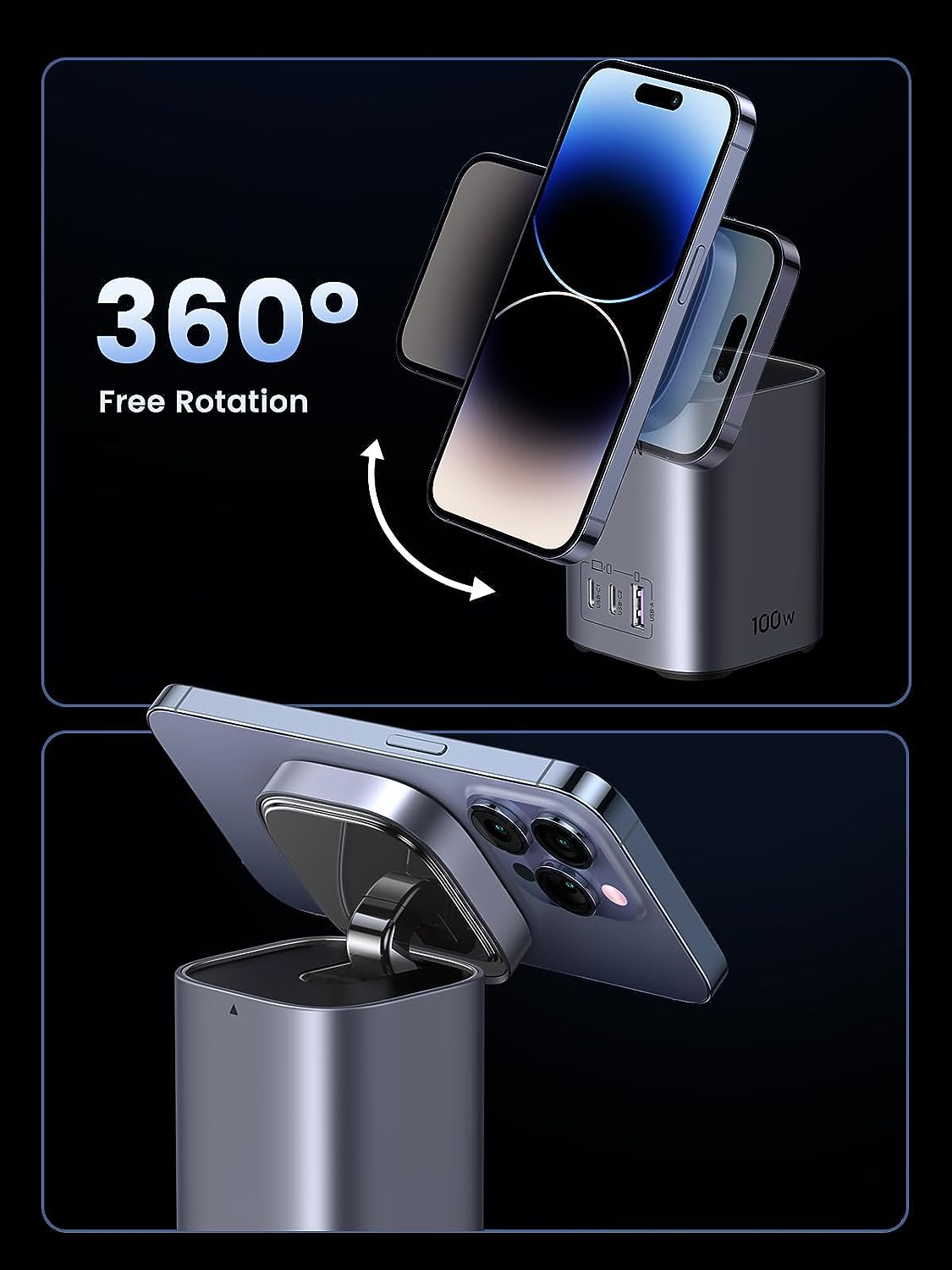 The flexible top cover houses the Apple original MagSafe wireless charging module, which supports 15W magnetic wireless charging. It is compatible with iPhone 12 to 14 series and automatically aligns and attaches for charging. This charging station offers exceptional versatility as it supports both landscape and portrait orientations, allowing you to effortlessly charge your devices in the orientation that best suits your needs. Moreover, it is designed with a tilting feature that enables you to adjust it to a desired angle, providing added convenience as it can double as a reliable phone stand. Whether you're watching videos, conducting video calls, or simply browsing content, this charging station ensures optimal visibility and usability in any orientation.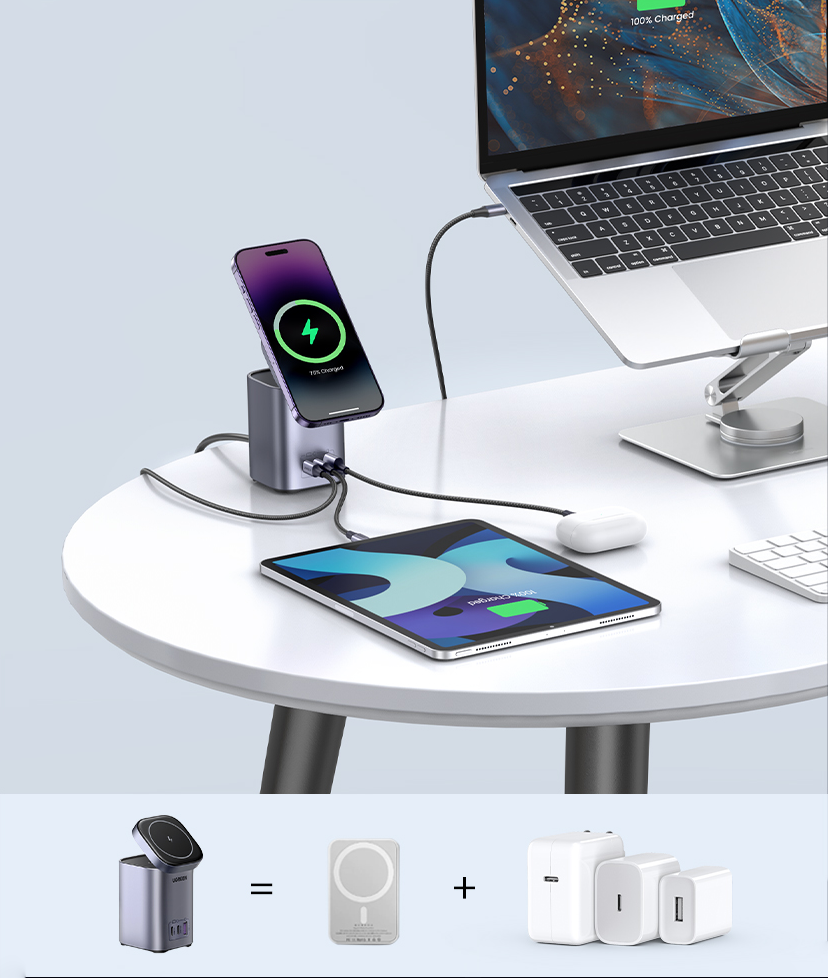 In situations where multiple devices are simultaneously being utilized, this charging station showcases its intelligent capabilities by accurately identifying the number of devices being charged. With its flexible power distribution strategies, including options such as 100W, 65W+30W, 45W+30W+22.5W, it efficiently allocates power to each device, ensuring optimal charging performance across the board. Remarkably, this charging station has the capacity to charge up to four devices simultaneously, providing a convenient and streamlined charging solution for all your devices in one central station.
Summary of ChargerLAB
UGREEN has introduced a groundbreaking 4-in-1 wireless charging station that raises the bar in the competitive fast charging industry. Leveraging cutting-edge GaN technology, this charging station delivers an impressive 100W fast charging output, ensuring rapid and efficient charging for multiple devices. With its versatile port configuration, including USB-C and USB-A ports, users can conveniently charge a wide range of devices simultaneously. The standout feature of this charging station is the incorporation of the Apple original MagSafe wireless charging module, providing seamless and secure charging for compatible iPhone models. UGREEN's commitment to innovation and user-centric design is evident in this feature-packed charging station, making it a top choice for those seeking a reliable and efficient charging solution.
Additionally, it's worth noting that this advanced charging station is currently available for purchase exclusively on Chinese e-commerce platforms such as Tmall and JD.com. We highly recommend staying connected with ChargerLAB to stay updated on the latest information about the availability of this charging station in different regions.
Related Articles:
1. Review of SliceCharge 3 Pro Wireless Charging Station
2. Teardown of MOMAX 100W 7-in-1 GaN Charging Station (With Wireless Charging)
3. Teardown of Baseus 65W PowerCombo Tower Charging Station With Retractable Cable
The article is originally written by @
Joey
posted on Chargerlab. All rights reserved.