UFCS Supported | Huntkey Launched 45W Dual Port GaN Charger
Fast-charging consumer electronic products have become widely popular, with the need for fast charging integrated into people's daily lives. Today's fast-charging devices not only need to provide the basic function of charging but also have higher requirements for protocol compatibility, safety, portability, and charging multiple devices simultaneously. Recently, Huntkey introduced a new product to the fast-charging market: the 45W Dual Port GaN Charger. It supports the UFCS fusion fast charging standard, enables simultaneous fast charging of two devices, and boasts an elegant and lightweight design.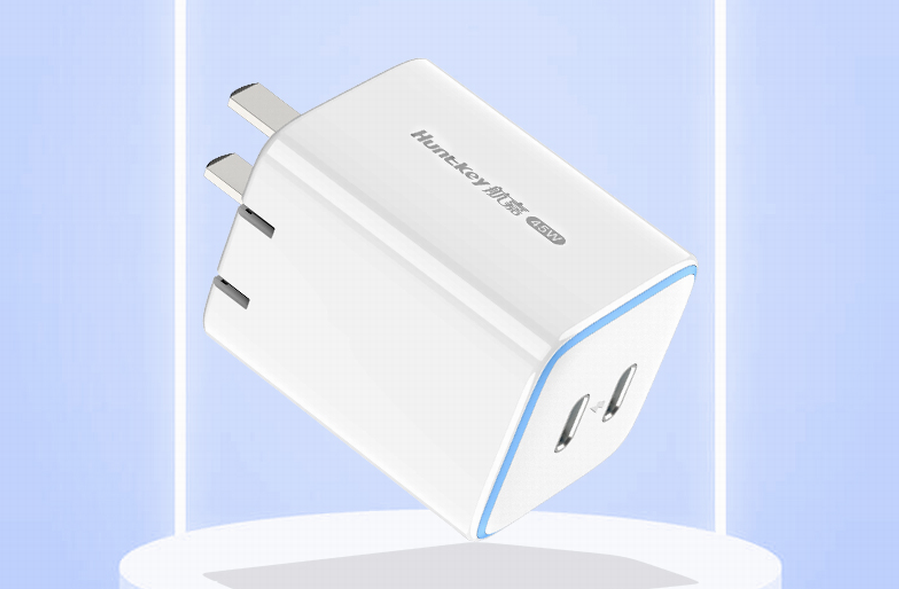 The Huntkey 45W Dual Port GaN Charger, model HKC04520023-0A1, has a sleek and glossy shell with blue accents on the output panel, creating a refined and compact texture. With a foldable plug design, it measures 38.5 x 38.5 x 51.5mm (76.33cm³), ensuring that it doesn't interfere with adjacent sockets like other bulky chargers. Its compact size allows for easy portability, making it convenient for travel.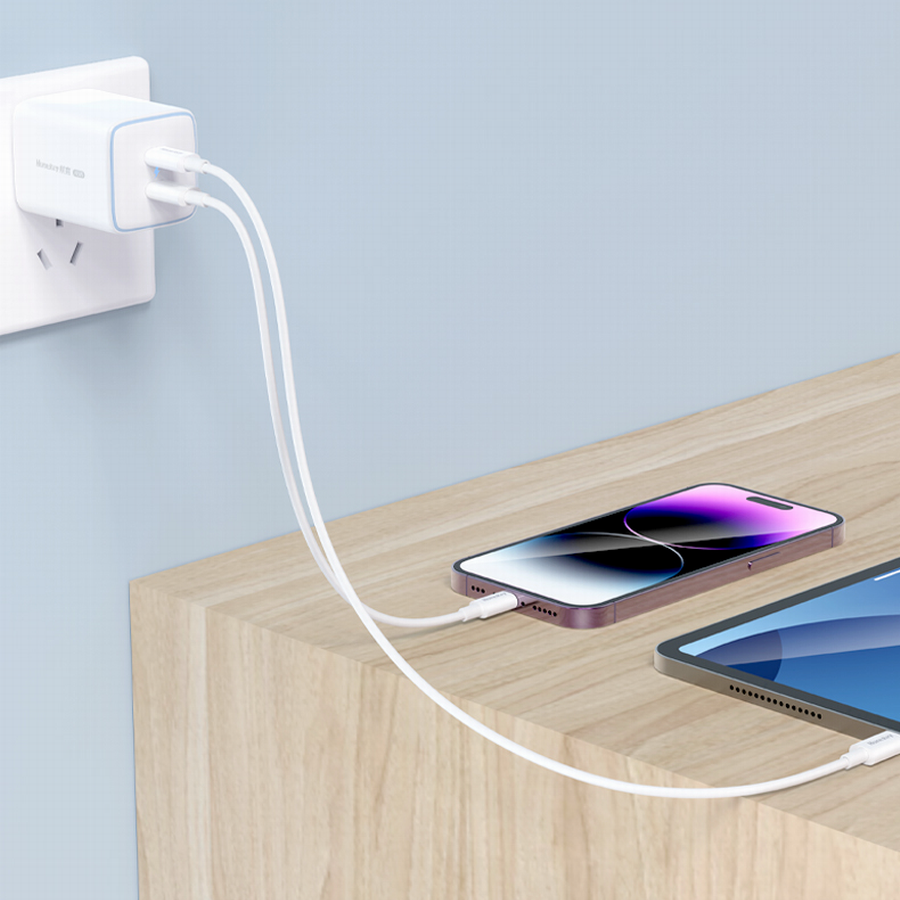 This charger has a maximum output power of 45W. It can charge the iPhone 14 Pro up to 60% in just 30 minutes and the MacBook Air up to 70% in one hour. The two USB-C ports offer the same maximum power, ensuring an optimal charging experience regardless of which port you use. It supports five fixed PDOs of 5V3A, 9V3A, 12V3A, 15V3A, and 20V2.25A. When charging two devices simultaneously, the charger intelligently adjusts the power to 20W+20W, allowing for fast charging without any waiting.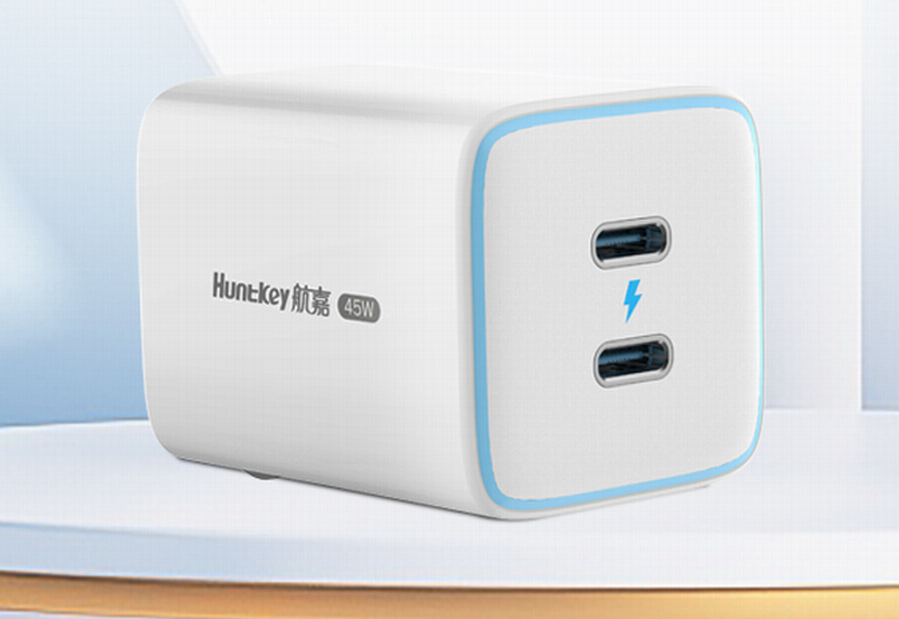 It not only boasts impressive fast-charging capabilities but also supports the UFCS fusion fast charging protocol. This means that it can provide quick charging for a variety of smartphone brands, including Huawei, Xiaomi, OPPO, and OnePlus. Additionally, it is compatible with popular charging standards such as PD3.0, PPS, and QC4+, ensuring widespread compatibility with a wide range of devices. With its versatility and broad support for different protocols, this charger offers a reliable and efficient charging solution for users, making it a convenient choice for most charging needs.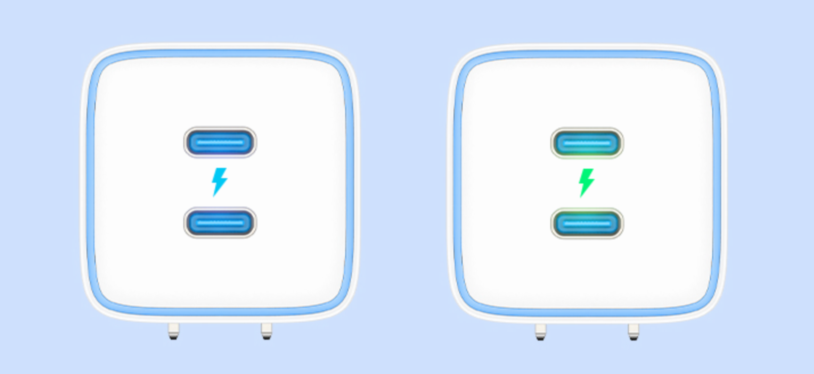 Huntkey has added a thoughtful touch by incorporating a lightning-shaped charging indicator light between the two output ports. This small lightning symbol illuminates in two colors to indicate the charging status. A blue light indicates that the charger is in high-power output mode, while a green light indicates low-power/trickle charging mode. With this design, you can easily see whether your device is fully charged or in the process of charging.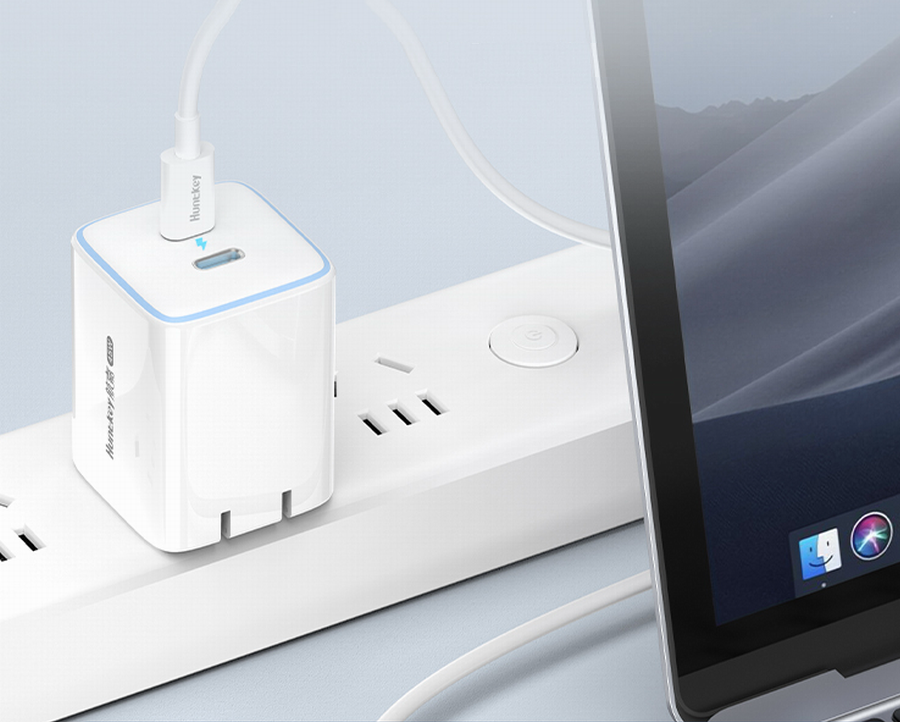 The charger utilizes GaN technology, which offers high-frequency, high-efficiency performance. Compared to traditional silicon one, GaN technology provides higher conversion efficiency, smaller size, and lower heat generation. Additionally, it incorporates advanced features such as ignition protection technology, gold-plated current-carrying technology, and common-mode noise optimization technology, ensuring multiple circuit protections for enhanced safety.
Summary of ChargerLAB
In conclusion, the Huntkey 45W Dual Port GaN Charger presents a compelling option for fast-charging enthusiasts. Its elegant and portable design, coupled with the support for UFCS fusion fast charging standard and simultaneous charging of two devices, makes it a versatile choice. The inclusion of a lightning-shaped charging indicator light adds a visually appealing element to the charger, providing clear and intuitive information about the charging status. While offering high conversion efficiency and multiple circuit protections, the charger maintains a balanced approach between functionality and design aesthetics. Overall, the Huntkey Dual Port GaN Charger stands as a competitive option in the fast-charging market, appealing to users seeking a reliable and convenient charging solution.
As the Huntkey 45W Dual Port GaN Charger prepares to hit the market, ChargerLAB will continue to provide updates on this product. Stay tuned for more information regarding its availability and performance. Keep an eye out for future announcements and reviews from us.
Related Articles:
1. Completely Different | Teardown of Apple 35W Dual USB-C Compact Power Adapter
2. Huntkey Launches New SSH608C Power Strip with A One-handed Intelligent Control Plug
3. Small but powerful丨mophie launched a speedport 45 2-port GaN wall charger (45W)
The article is originally written by @
Joey
posted on Chargerlab. All rights reserved.