UGREEN Launched GS1200 Portable Power Station
As the negative impact of the epidemic has gradually decreased, more people have been able to return to their regular routines, including enjoying outdoor activities such as fishing and camping. However, the need for reliable power sources to keep electronic devices running has become increasingly important. This is where portable power stations come in, as they allow people to power their devices anytime and anywhere, enhancing their outdoor experiences.
UGREEN, a company that primarily specializes in digital accessories, recognized this need and partnered with BYD to develop portable power stations. In October 2022, UGREEN launched its first portable power station, the GS600, officially entering the portable power station market. In February 2023, they released their second portable power station, the GS1200, also developed in partnership with BYD. It adopts lithium iron phosphate safety batteries with 3,000 charge-discharge cycles and is equipped with flash charging, ultra mode and other features.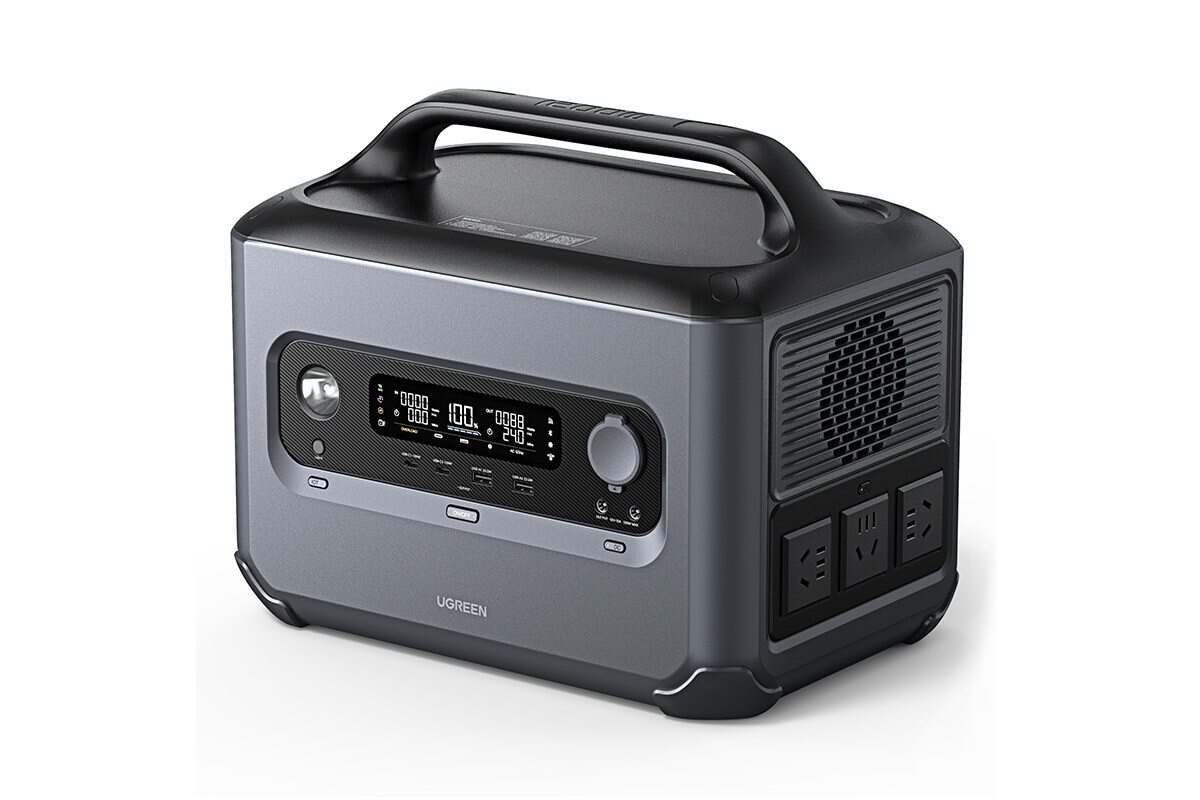 The GS1200 portable power station shares the sleek gray and black design of its predecessor, the GS600, with a handle on top for easy carrying. The USB ports, light, and car outlet are conveniently located on the front, while the left and right sides house the input port and AC outlet respectively. The multi-functional display allows users to monitor the remaining capacity and power consumption, and a built-in intelligent cooling fan ensures stable operation even at high temperatures.
1 kWh Lithium Iron Phosphate Batteries
Lithium batteries are an essential energy storage part of today's life. Common electronic products such as mobile phones, tablets, notebooks, and wireless headphones are equipped with them to provide power. Most of them adopt lithium-ion batteries, and after many charge-discharge cycles, the capacity of lithium-ion batteries will drop rapidly. Also, the impact resistance and high temperature resistance are also relatively poor, and that's why there is so much news about mobile phone battery explosions. As an energy storage device with high power, the portable power station has hundreds of batteries inside, so safety is the top priority.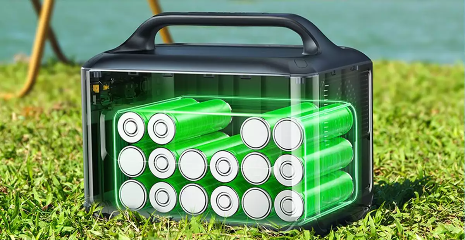 The UGREEN GS1200 portable power station adopts safer lithium iron phosphate batteries to make battery packs, with a total power of 1024Wh, which has a higher temperature resistance than ordinary lithium-ion batteries. Even if it encounters impact, the stability of lithium iron phosphate batteries is also higher than ordinary Lithium-ion batteries, and are not easily to catch fire and explosion. In addition, the 3,000 cycle life of the lithium iron phosphate battery is also far beyond the traditional lithium-ion battery, which is six times longer.
1200W Output for Normal Mode, 2500W for Ultra Mode
In terms of output, the GS1200 portable power station boasts impressive capabilities. It has two 100W USB-C ports and two 22.5W USB-A ports that support fast charging output, allowing users to charge their devices quickly and easily. It also features three AC outlets, which use the same sine wave inverter boost technology as household electricity, providing more compatibility. In normal mode, the GS1200 has a rated output power of 1200W, making it capable of powering various electronic devices.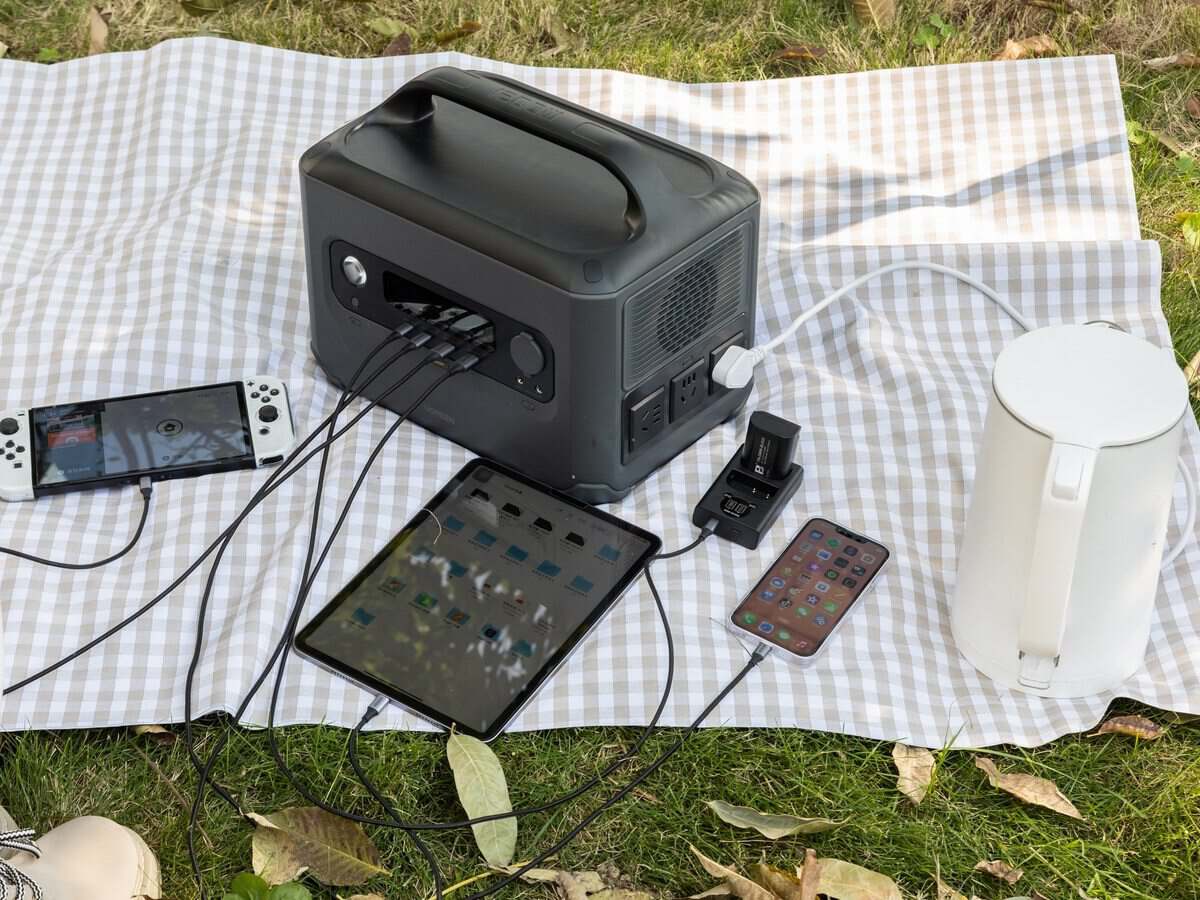 However, for high-power equipment such as induction cooktops, kettles, and electric drills, users can switch to ultra mode, which delivers up to 2500W of power, enabling more possibilities for electronic products.
Flash Charging Technology
The time it takes to charge the portable power station is an important part that affects the user experience. The charging power of an ordinary portable power stations is usually low, and the charging time is often as long as 6-8 hours. After the battery is exhausted, the user can only wait for a long time, and the experience is not great.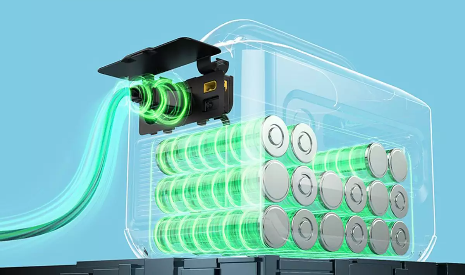 The UGREEN GS1200 portable power station adopts flash charging technology, which can be fully charged to 100% in just 1.5 hours, and all it needs is a AC power cord, no power adapter is required. Even if the portable power station is exhausted, it can quickly recover after a short time, and it will be fully charged immediately.
Charge Anywhere
The input ports of the UGREEN GS1200 portable power station are placed on the left side of the portable power station and covered with a rubber pad for protection. After pulling it up, you can see the protection reset button, three-prong AC input, XT60 DC input, and grounding screw hole from left to right.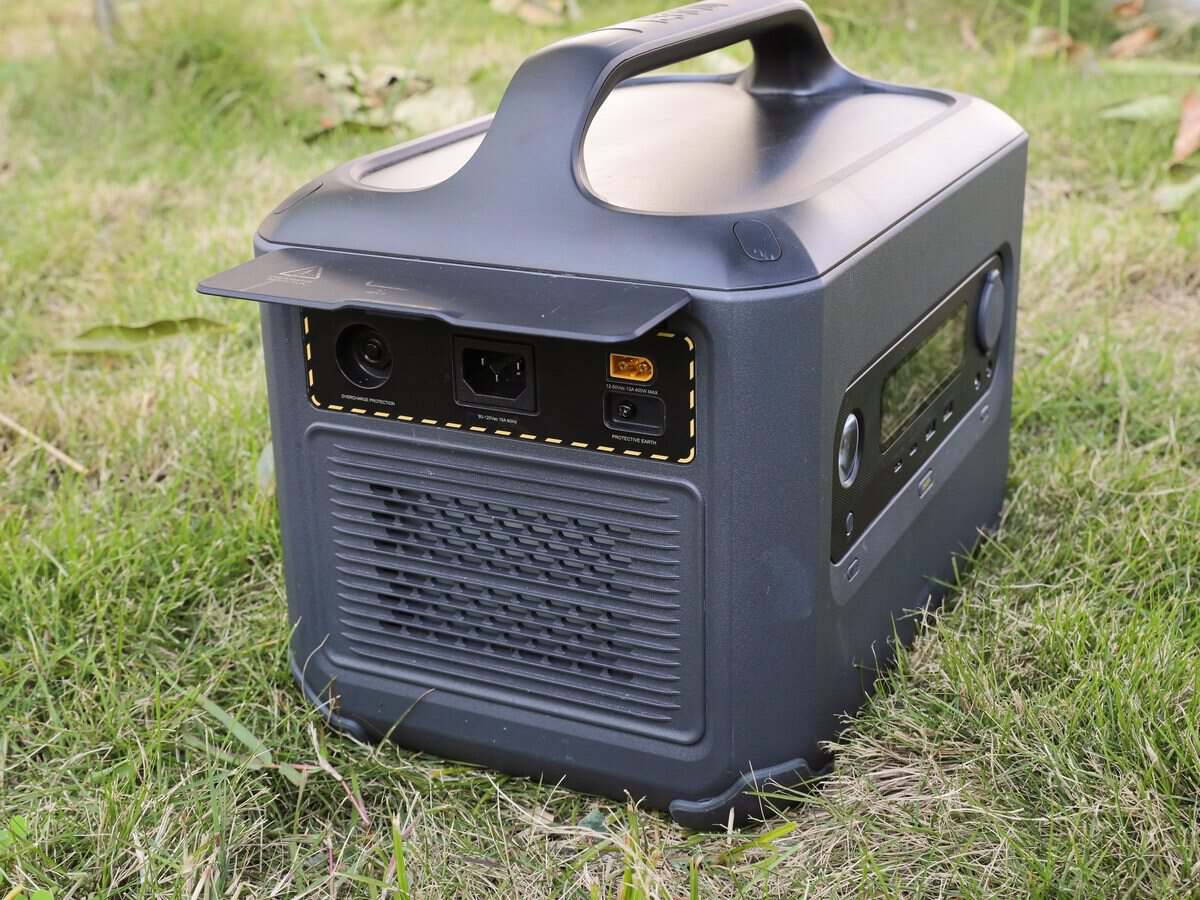 The UGREEN GS1200 supports AC input, car outlet input and solar input. The three charging methods cover home, on the road, and camping scenarios, which can meet the needs of every user.
Summary of ChargerLAB
The UGREEN GS1200 portable power station boasts impressive capabilities such as lithium iron phosphate safety batteries, 2500W ultra mode, flash charging technology, and multiple input ports, making it ideal for outdoor activities like fishing and camping. The GS1200 also features a multi-functional display for monitoring remaining capacity and power consumption, and a built-in intelligent cooling fan to ensure stable operation.
The UGREEN GS1200 is the second portable power station developed by UGREEN and BYD. It has stronger performance, larger capacity, and high-level safety. They expected to launch more portable power stations of different models in the future.
The company aims to meet the increasing demand for reliable power sources to keep electronic devices running anytime and anywhere.
Related Articles:
1. Review of UGREEN 100W DigiNest Pro 7-in-1 GaN Charging Station
2. Review of UGREEN 65W DigiNest Cube 7-in-1 GaN Charging Station
3. Teardown of Baseus 67W GaN5 Charging Station (With HDMI Port)
The article is originally written by @
Joey
posted on Chargerlab. All rights reserved.