Top 10 Most-Followed Electronic Accessories Brands on Instagram in June 2023
Instagram was launched in October 2010, and it quickly gained popularity among users. Within two months of its release, it had already reached 1 million registered users. Over the years, Instagram continued to grow and attract more users, becoming one of the most popular social media platforms worldwide. It gained significant traction with the younger demographic due to its focus on visual content, filters, and easy-to-use interface.
It also attracted numerous businesses to enter and expand their market, including electronic accessories brands. ChargerLAB compiled a follower ranking list on Instagram for this category to see how things are going. The data was collected on June 26, 2023. In addition, we have also made a similar ranking list for TikTok. You can click here to view it.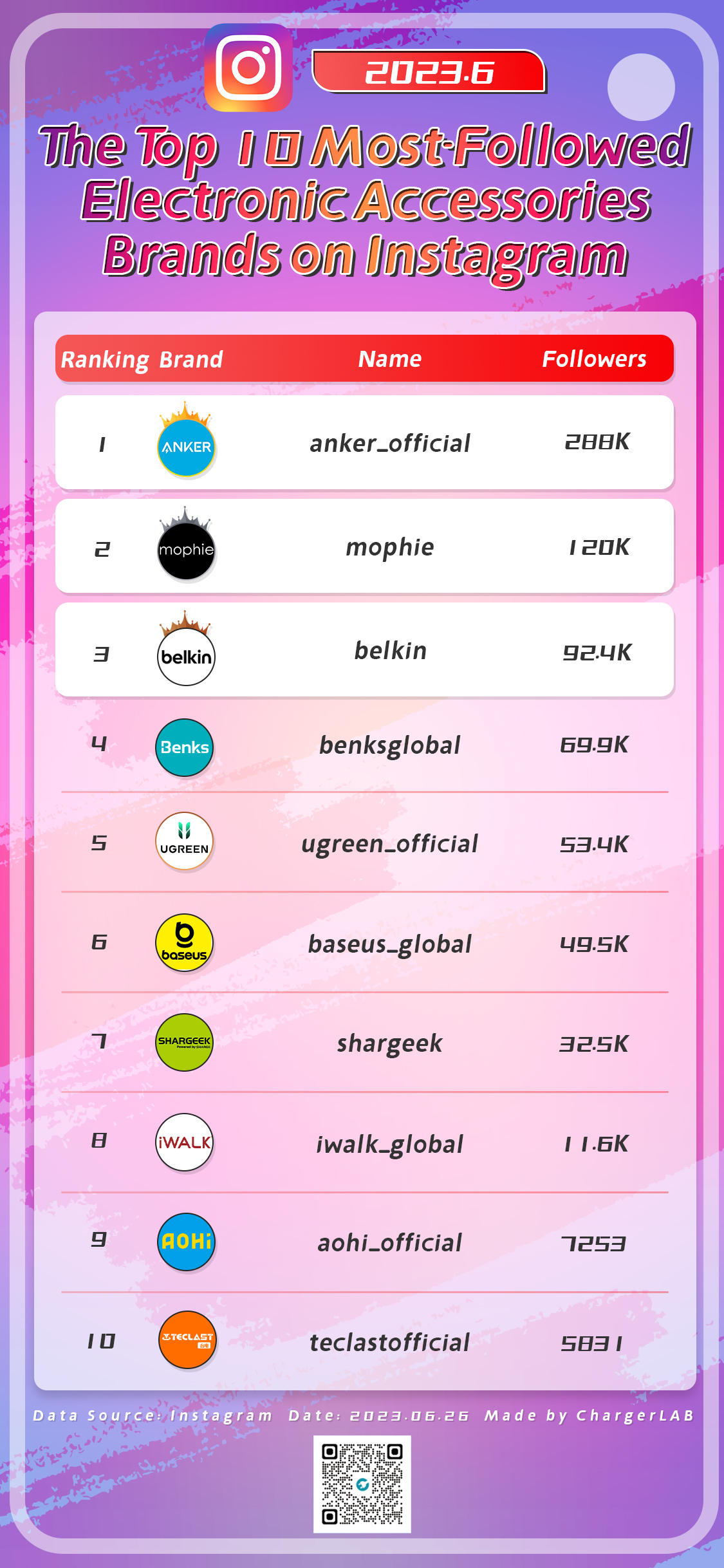 ANKER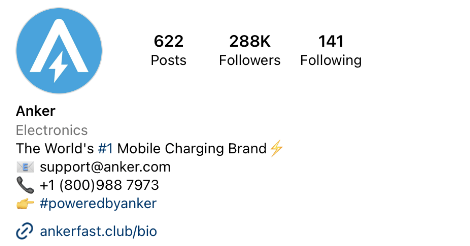 Unlike TikTok, the champion on Instagram is Anker, with 622 posts, 288K followers, and following 141 other users.
Anker is the global leader in charging technology, which includes phone chargers, power banks, earbuds, headphones, speakers, data hubs, charging cables, torches, and screen protectors. Anker is pioneering Power Delivery technology to charge phones, tablets, and laptops at unprecedented speeds.
Mophie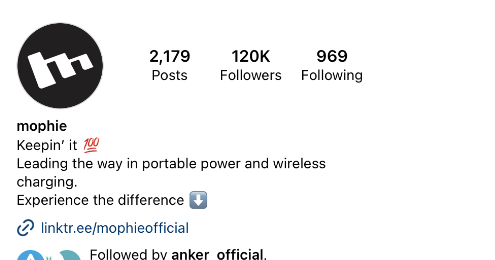 Ranking second is Mophie, which is not even in the top ten list on TikTok. They have 2179 posts, 120K followers, and following 969 other users.
Mophie, based in California, USA, is an acclaimed and highly regarded designer and manufacturer of mobile smart devices and accessories. Their creative designs and innovative solutions have earned them widespread recognition and praise in the industry. Mophie has established a strong partnership with Apple, being a strategic collaborator for many years. Their range of accessories can be found in Apple Stores, all meticulously crafted to meet Apple's stringent quality requirements. This has resulted in Mophie receiving high accolades and official endorsement from Apple for their exceptional design and manufacturing standards.
Belkin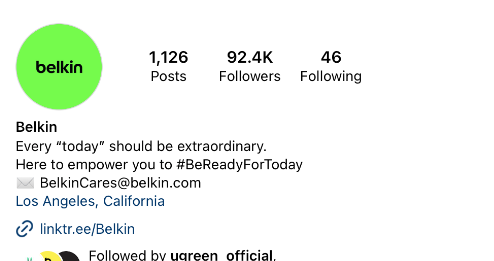 Belkin takes the third spot with 1126 posts, 92.4K followers, and following 46 other users.
Established in 1983 in California, USA, Belkin has become a leading global manufacturer of electronic peripherals. They offer comprehensive connectivity solutions for computer, digital, and mobile device users. Their wide range of products has consistently garnered prestigious awards such as the CES Innovation Award, Red Dot Design Award, and PC Magazine's Best Product of the Year.
Benks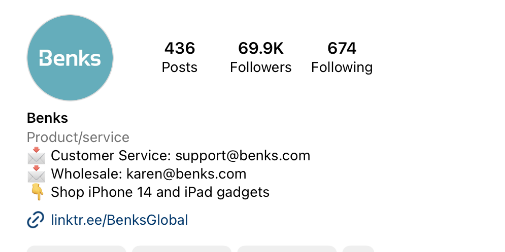 Coming in fourth is Benks, with 436 posts, 69.9K followers, and following 674 other users.
Benks is a collective of tech enthusiasts, dedicated Apple aficionados, and visionary creators who have come together with a shared mission to innovate and develop technology products that bring value to people's lives. Since 2008, they have continuously pushed the boundaries, particularly in the realm of screen protectors and phone cases, striving to achieve the utmost quality.
UGREEN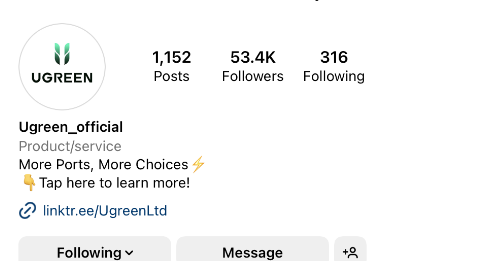 UGREEN, which topped the TikTok list, only secures the fifth spot here. They have 1152 posts, 53.4K followers, and following 316 other users.
Established in 2012, UGREEN is a high-tech enterprise that combines research, design, manufacturing, and sales. It is globally renowned as a leading brand in the technology consumer electronics industry. UGREEN dedicated to offering users comprehensive digital solutions. Currently, they have a diverse range of high-quality products in the areas of data transmission, audio-video, charging, storage, and mobile accessories. These products are sold in various countries and regions.
Baseus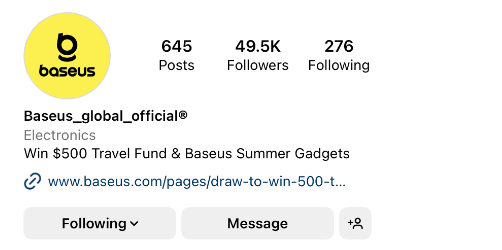 Our familiar friend, Baseus, follows closely with 645 posts, 49.5K followers, and following 276 other users.
Baseus originates from the core value "Based on User". They are passionate to create minimalist products with easy-to-use design and haut class texture that cover all user's preference. With more than a decade of focus on consumer electronics, innovation and creativity led them to numerous patents, international design awards, and a vast variety of product.
Sharge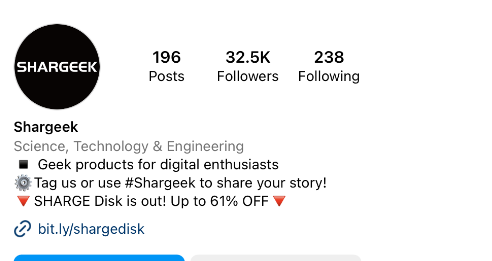 Ranking seventh is Sharge, with 196 posts, 32.5K followers, and following 238 other users.
Shargeek was founded in 2020, with core team members from well-known technology brands such as DJI and Meizu. They specialize in the research and manufacturing of high-quality, uniquely designed charging products. While prioritizing efficient charging, Shargeek also seeks to incorporate a sense of design and personalization, allowing their charging products to transcend mere functionality and seamlessly integrate into daily life. Their STORM 2 100W Transparent Super Power Bank, launched in 2021, quickly gained popularity across various online platforms.
IWALK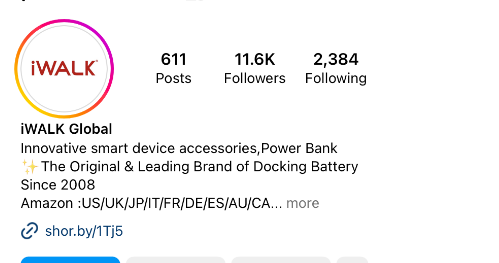 IWALK takes the eighth spot with 611 posts, 11.6K followers, and following 2384 other users.
Established in 2003, iWALK started as a simple assembly factory for mobile phone batteries and has grown into a research and production-oriented company specializing in advanced Apple and smartphone peripherals. With a diverse and comprehensive product line of over 30 items, iWALK's products are highly sought after in more than 40 economically developed countries worldwide.
Aohi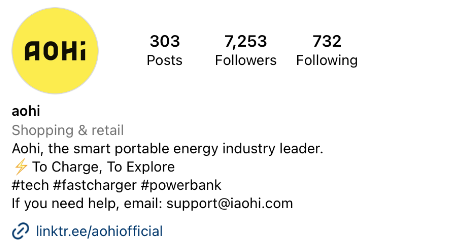 In ninth place is AOHi, with 303 posts, 7253 followers, and following 732 other users.
Founded in 2004, Aohi is an independent brand of Aohai technology, aims to apply innovative techniques to develop charging devices, to provide complementary and valued added smart devices, services and solutions to charging industry. Aoha works with many global famous brands and is their core charger supplier, such as Google, Amazon, Belkin, vivo, Xiaomi, OPPO, DJI, ASUS, Nokia, TP-Link etc.
Teclast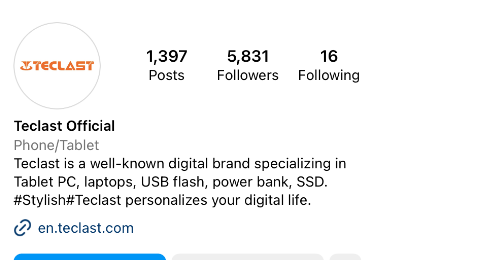 Last but not least, Teclast, which has 1397 posts, 5831 followers, and following 16 other users.
Teclast is an enterprise that integrates research and development, production, sales, and service of IT and consumer electronics products. With over 200 million customers and a rapid annual growth rate of more than 8 million, Teclast is dedicated to the brand concept of "To Let More People Enjoy the Digital Life".
Summary of ChargerLAB
The above is the current Instagram ranking, featuring 8 brands with over 10,000 followers. Anker claims the top spot with an impressive 288,000 followers, followed by mophie with 120,000 followers in second place, and Belkin with 92,400 followers in third place.
When it comes to the number of posts, mophie, Teclast, UGREEN, and Belkin all have surpassed 1,000 posts. Their high update frequency and extensive range of updates ensure that users are provided with the latest information and activities regarding new products in a timely manner.
The number of accounts a brand follows indicates the level of interaction and friendliness between the brand, its followers, and other accounts, including businesses. However, as corporate accounts, they generally follow a limited number of accounts compared to personal accounts, exercising caution when adding followers. Benks, AOHi, mophie, and IWALK all follow over 500 accounts, with IWALK having the highest number of followers at 2,384.
The above is all the content of this list. If you are interested, you can stay tuned for further updates and information from these brands. Don't miss out on the latest developments and exciting announcements in the world of these electronic accessories.
Related Articles:
1. The Top 10 Most-Followed Electronic Accessories Brands on TikTok in February 2023
2. Best-Selling Power Banks on Amazon India in May 2023
3. Best-Selling Chargers on Amazon US in April 2023
The article is originally written by @
Joey
posted on Chargerlab. All rights reserved.