5000mAh Battery & 23W Charging | Charging Review of Google Pixel 7 Pro
Introduction
Hi, guys. Welcome back to today's ChargerLAB. We posted the charging compatibility test of the Google Pixel 7 Pro last month, you can click here to take a look. We found it supports up to 23W. Today, let's take a look at more details on the charging performance of this phone.
Product Appearance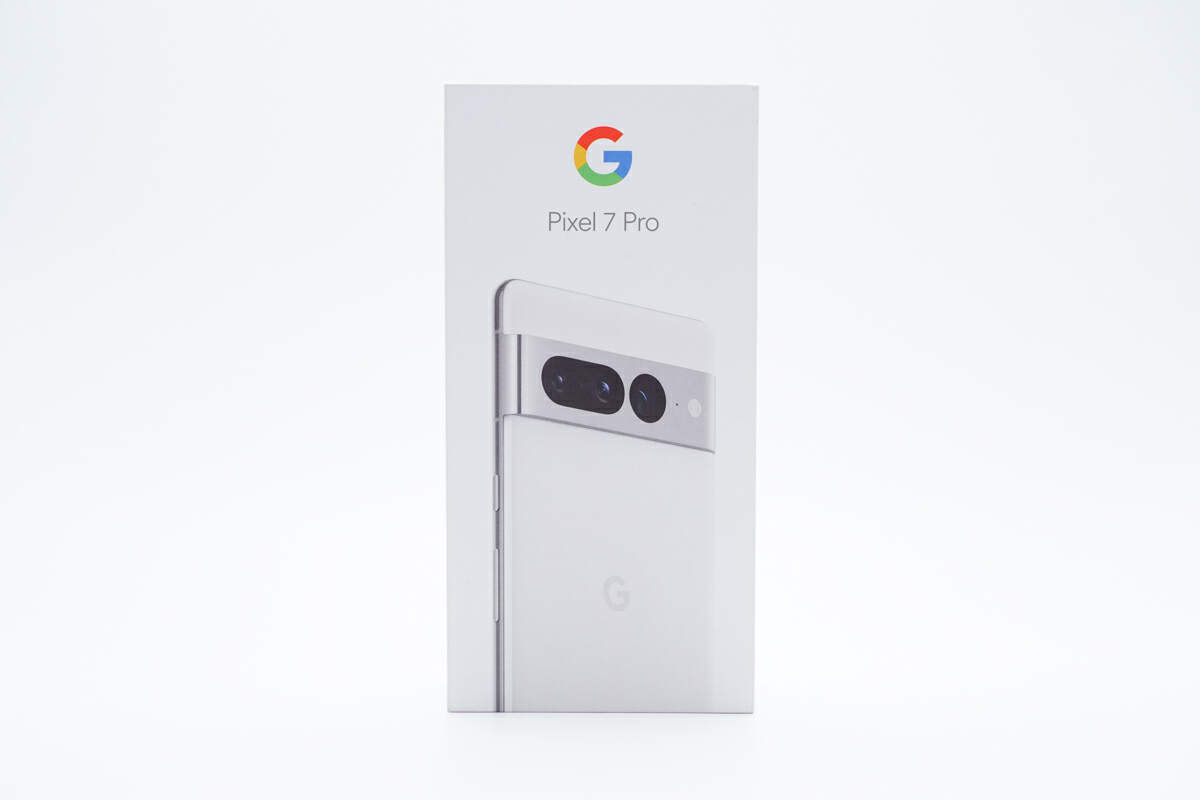 The packaging box got the iconic "G" logo on the front, showcasing a clean and minimalistic design.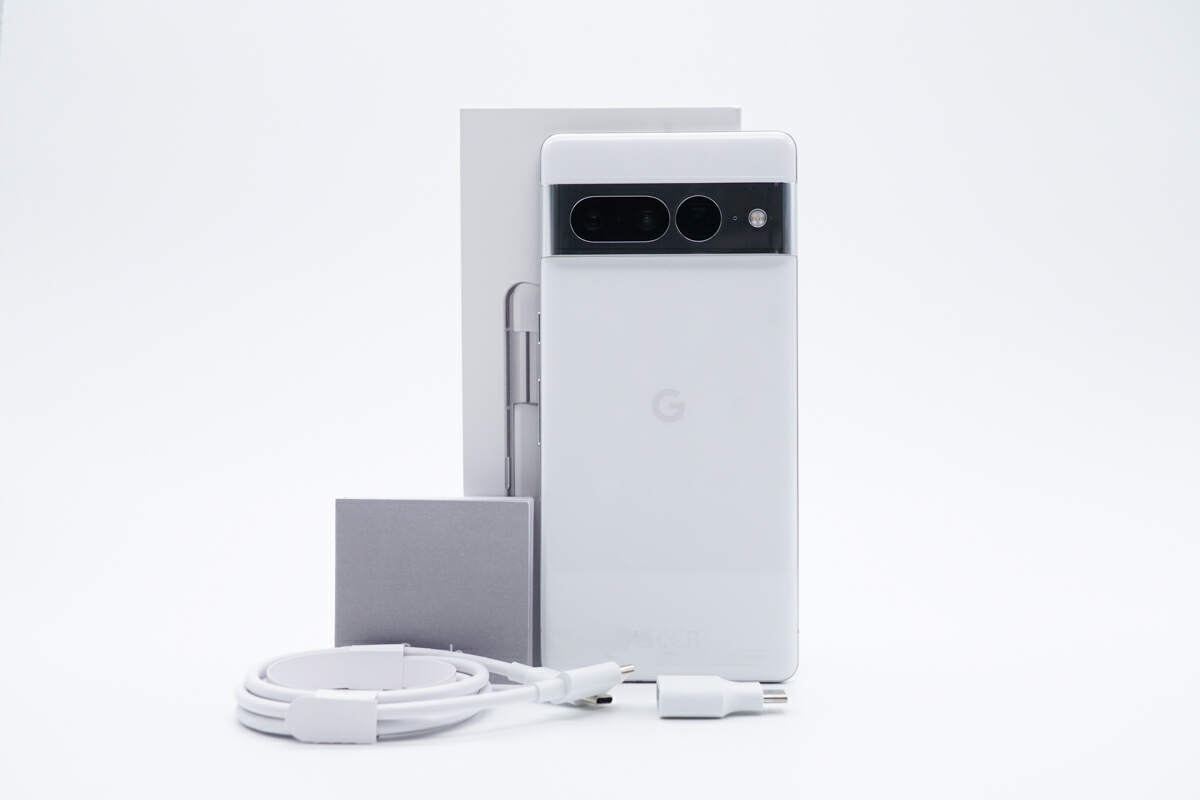 Take out all the stuff, the contents include a dual USB-C charging cable, a USB-A to USB-C adapter, and user manual, excluding the phone itself. Similar to Apple, the charger is not included in the box.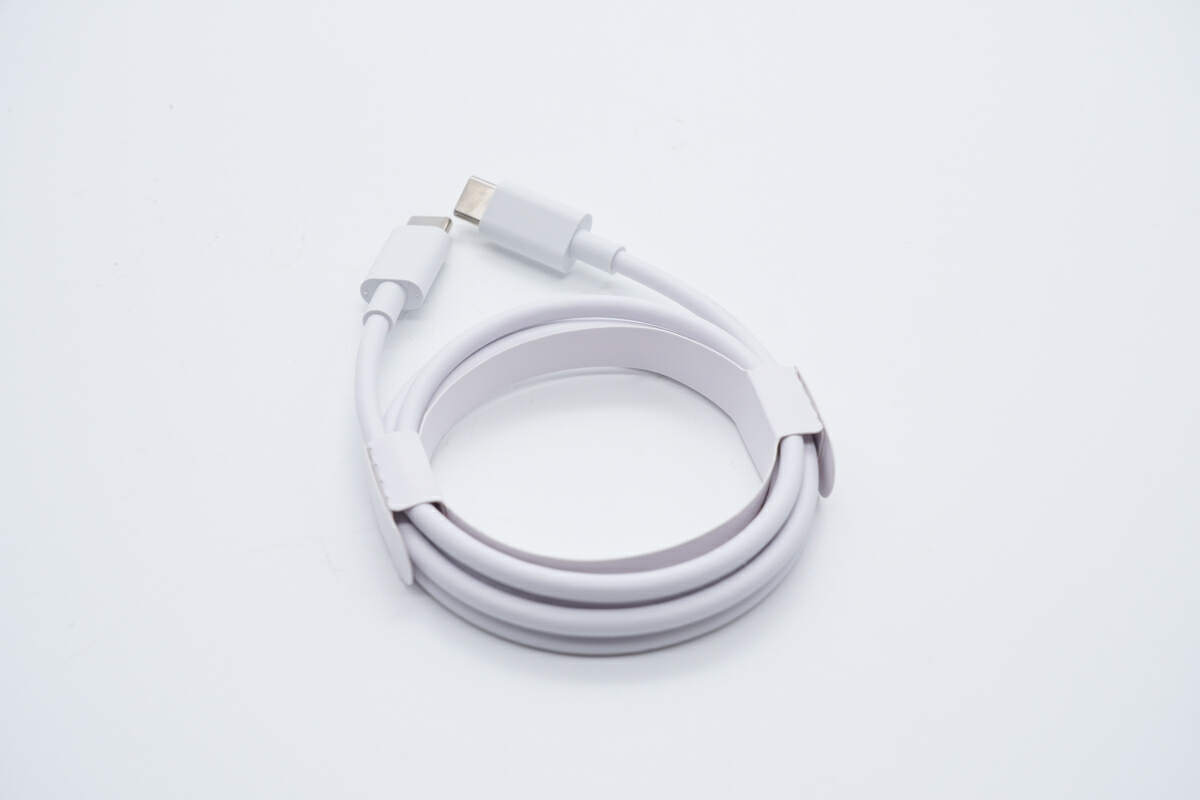 The cable is bundled and secured with eco-friendly paper tape.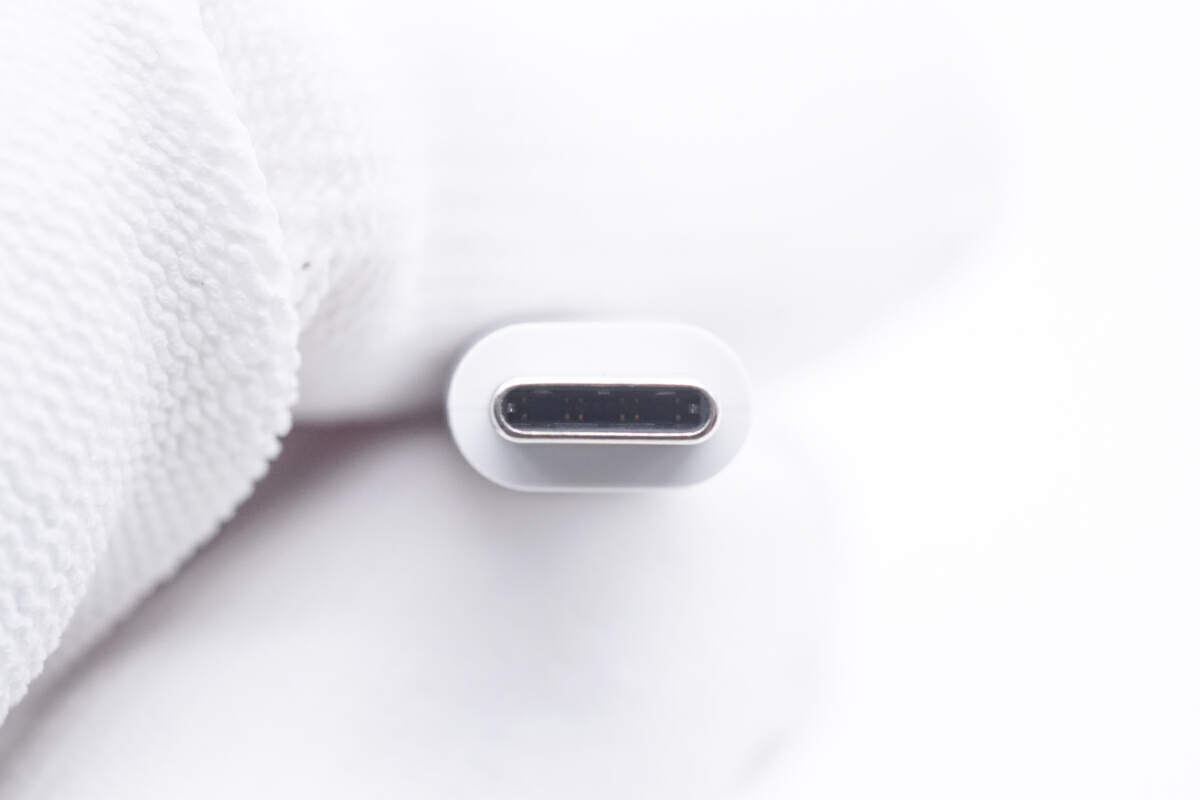 And the USB-C connector features specially designed pins.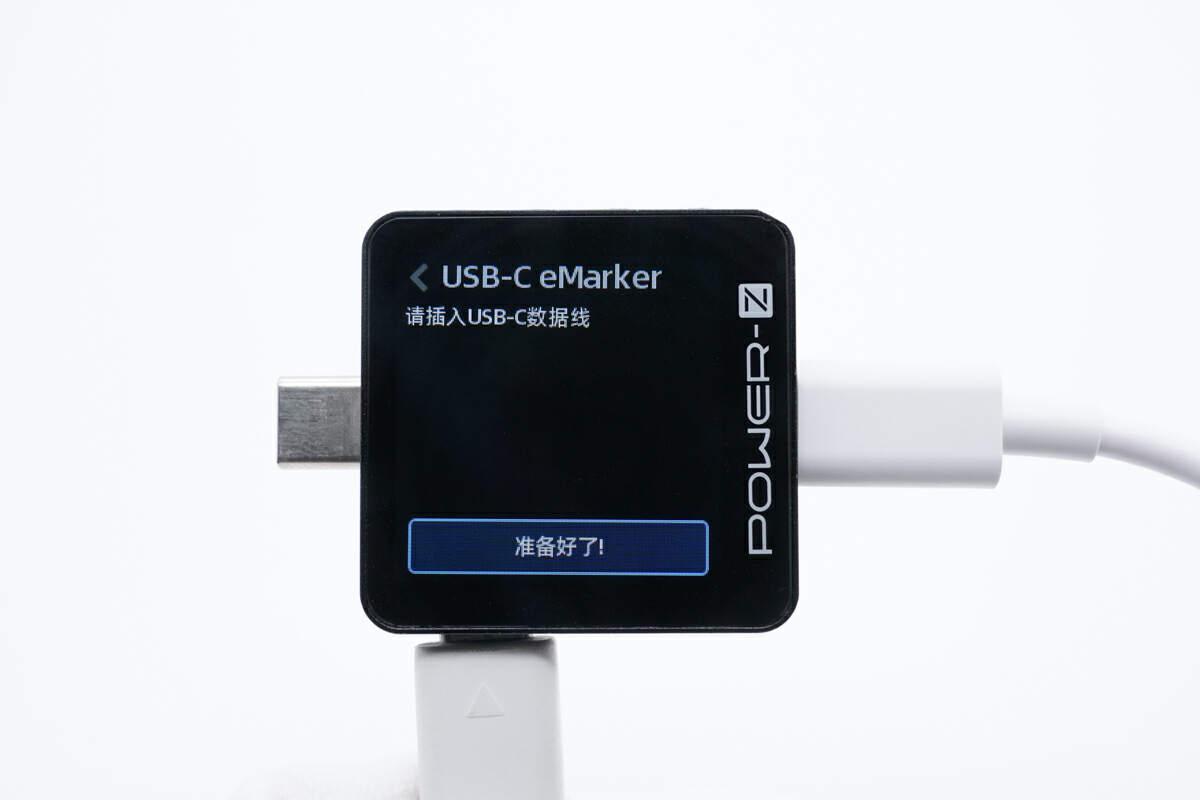 The ChargerLAB POWER-Z KM003C shows it's not equipped with an E-marker chip, which means the current cannot exceed 3A. It also means you can use an ordinary third-party cable to replace it.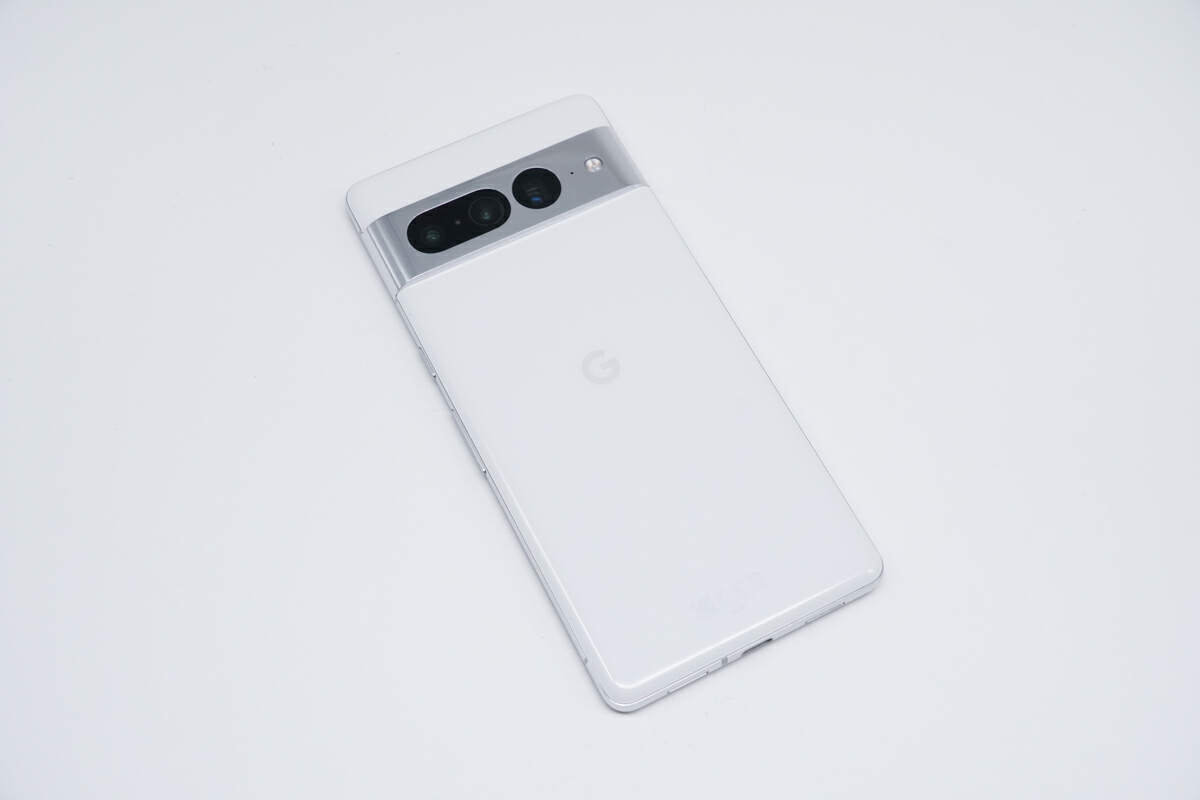 The phone continues the classic design of its predecessor. In terms of charging, the Pro version is equipped with a 5000mAh battery that supports both 23W wired and wireless fast charging capabilities.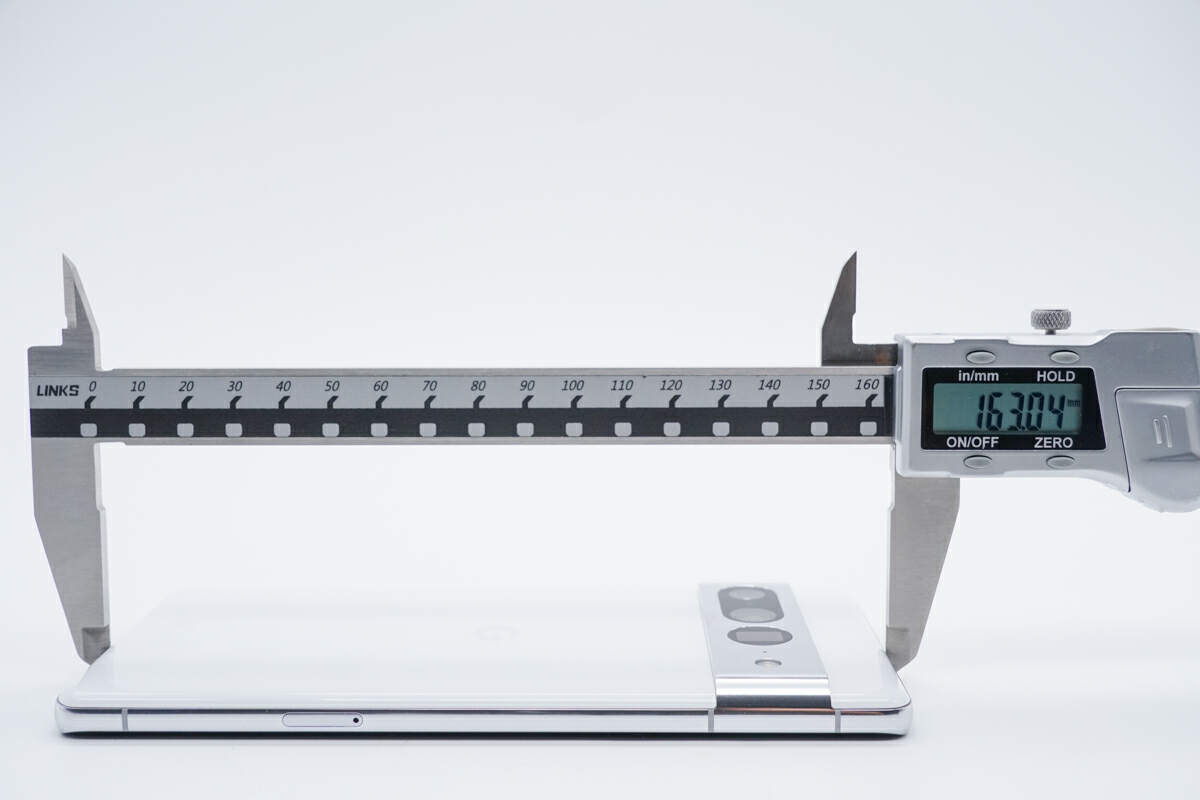 The length of this phone is about 163mm (6.42 inches).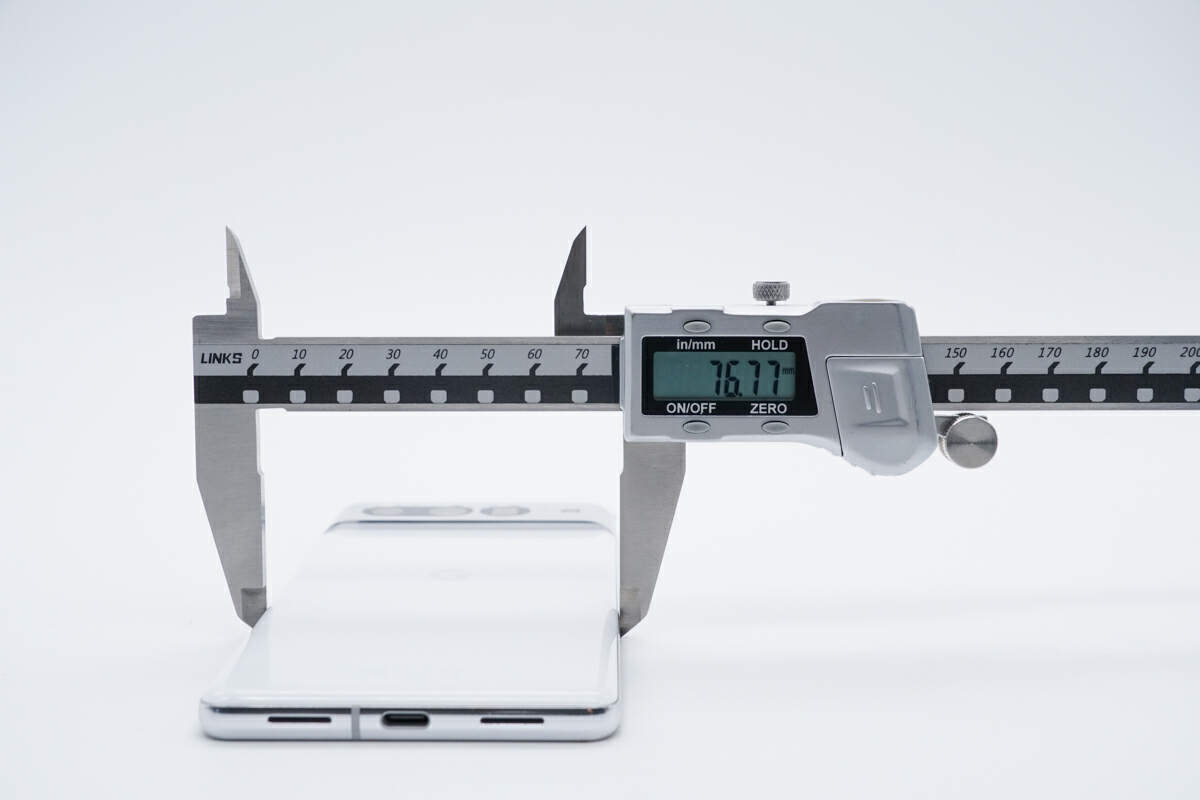 The width is about 77mm (3.03 inches).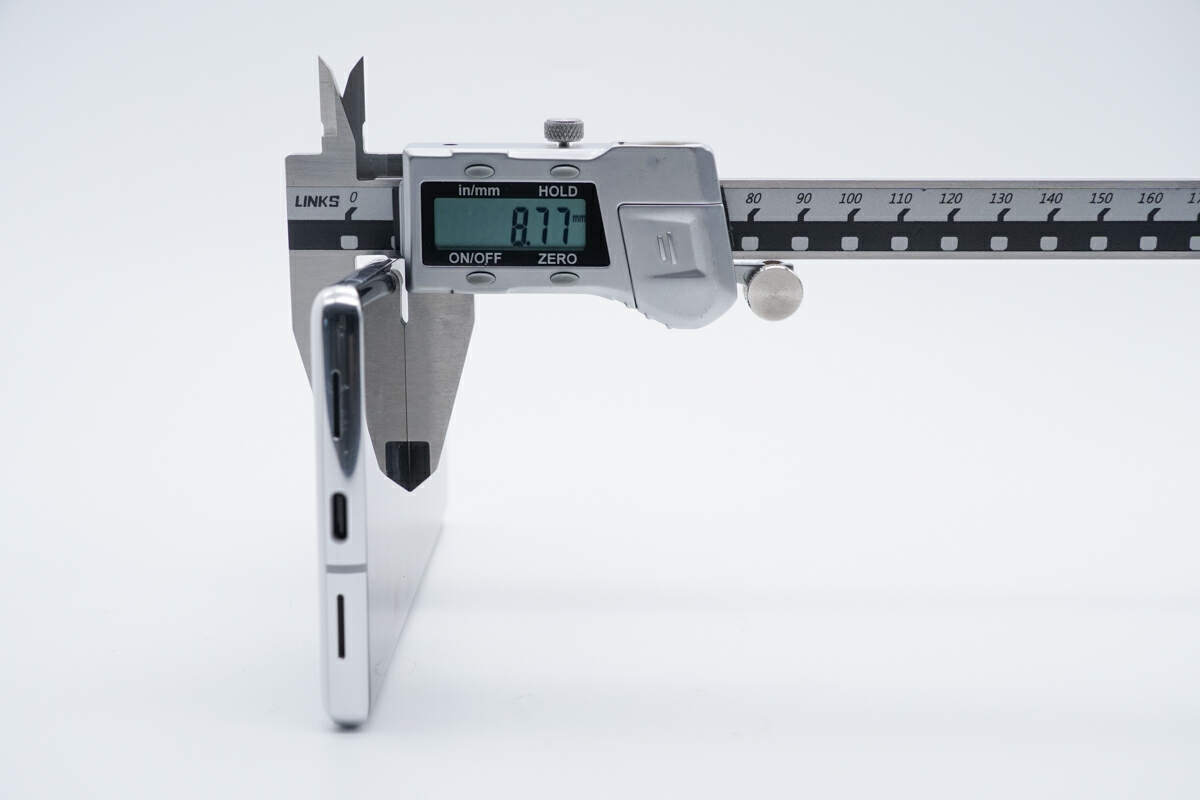 The thickness is about 8.8mm (0.35 inches).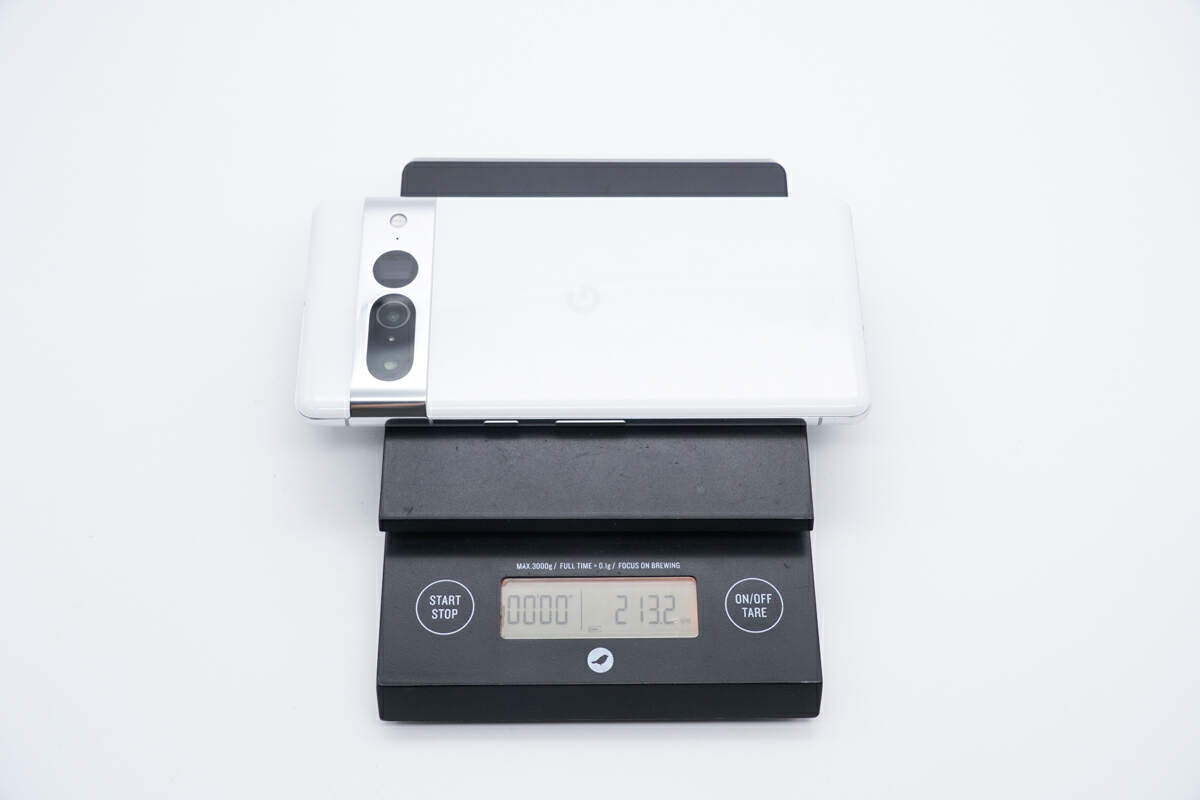 And the weight is about 213g (7.51 oz).
Charging Review
Next, ChargerLAB will provide you with a detailed overview, exploring its compatibility, charging capabilities, and more.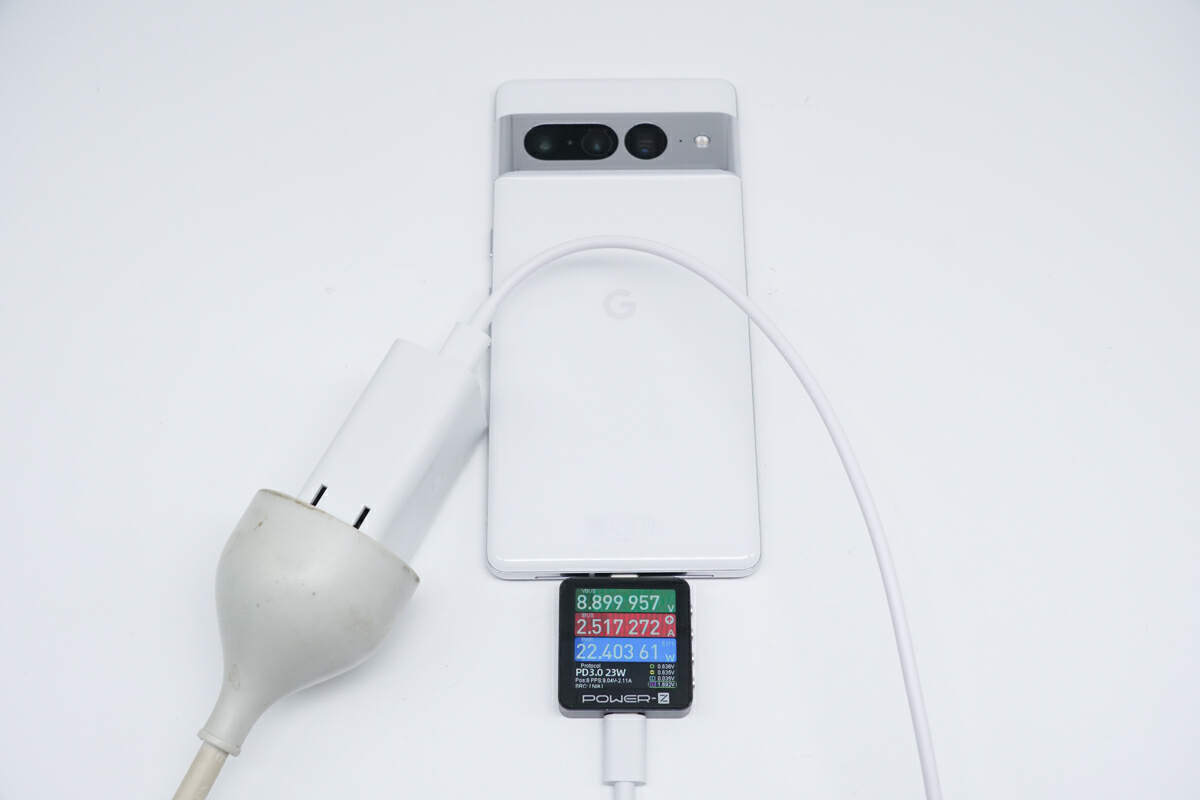 First, when use the 65W charger purchased on their official store (model: G8JK8LPS) and the included dual USB-C cable to charge it, the KM003C shows the power is 8.9V 2.52A 22.4W.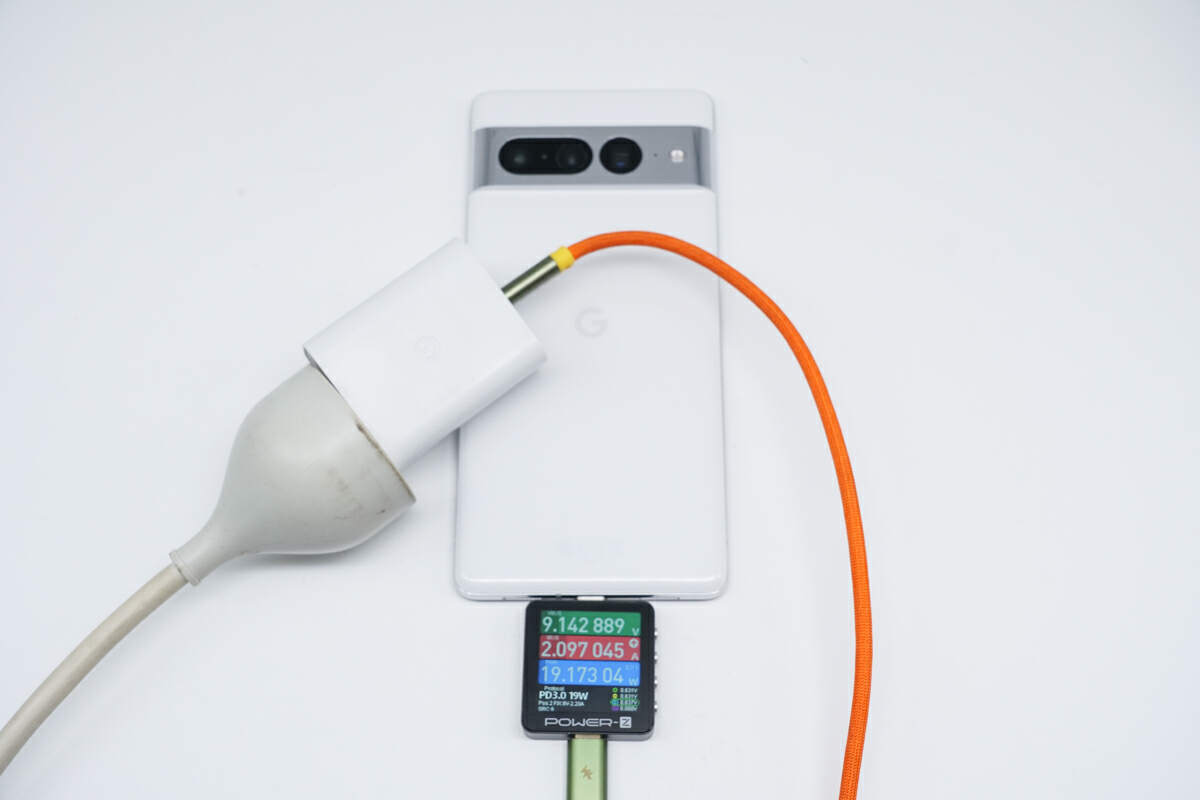 Then, replace the cable with a third-party one, the power reduced to 9.14V 2.10A 19.17W.
Charging Compatibility Test
As for the charging compatibility, you can click the related articles to check every single device.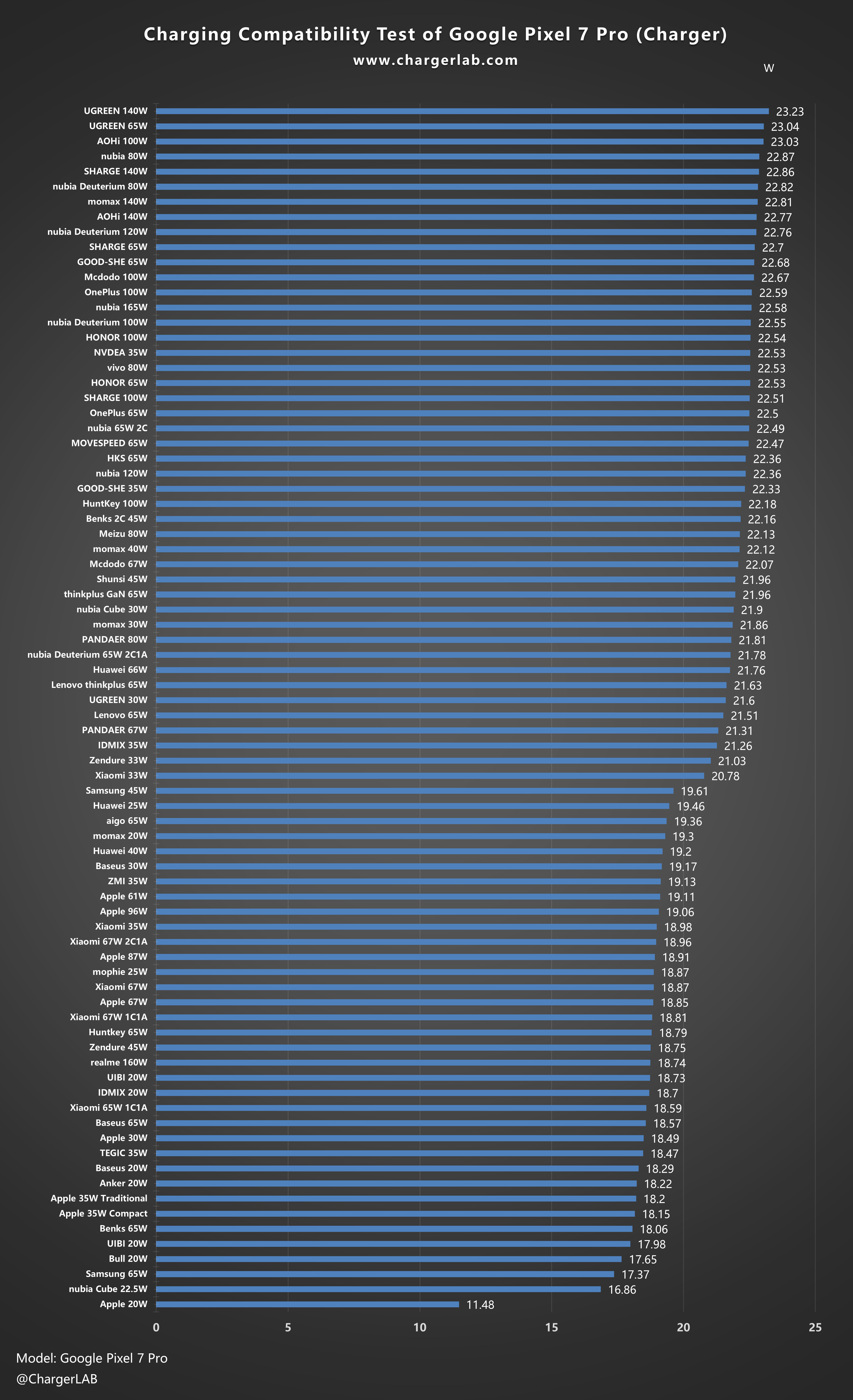 From the results, most charging devices can successfully charge it, such as chargers.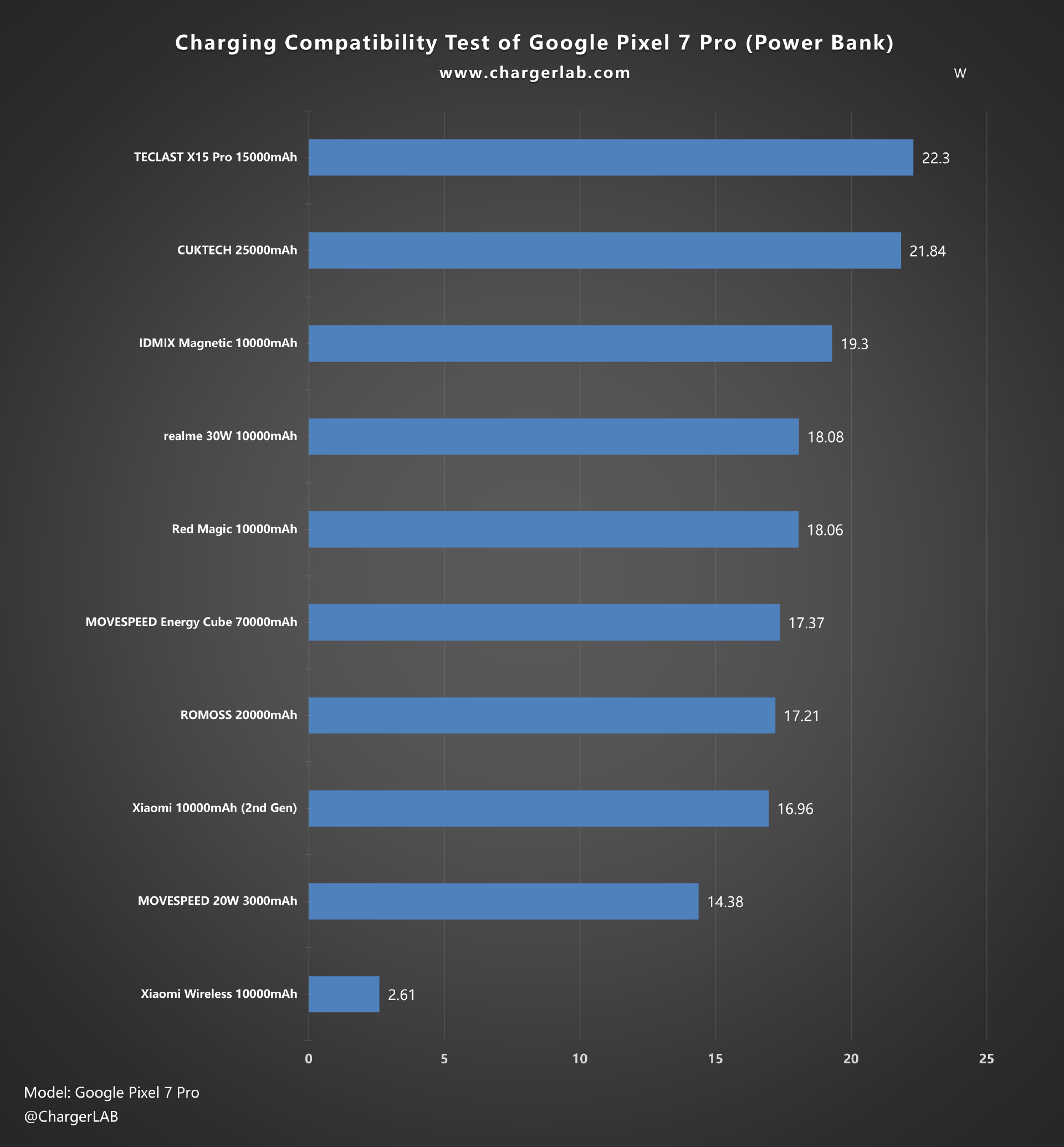 Power banks.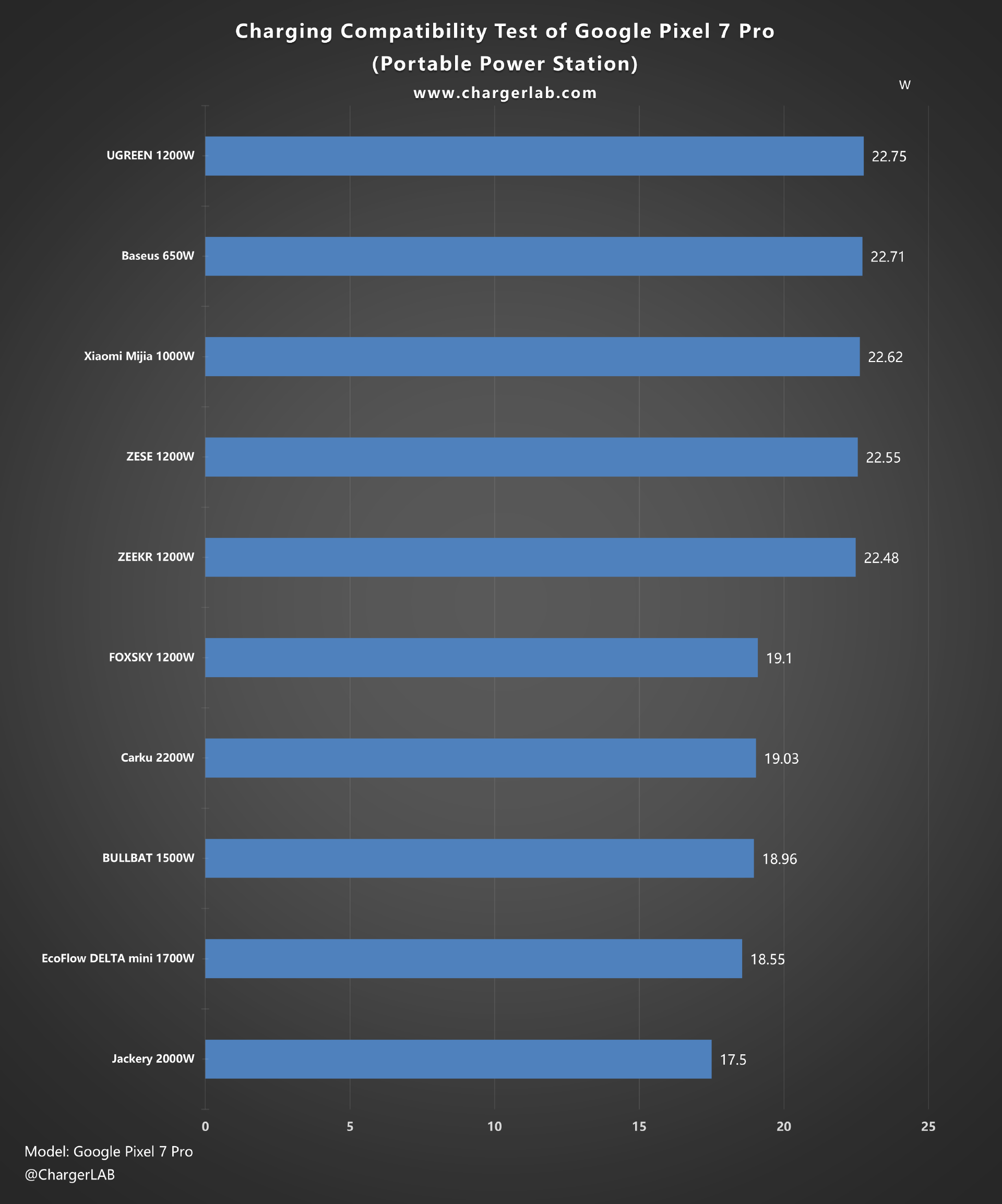 And portable power stations. But devices that support the PPS protocol can charge it faster.
Full Charging Test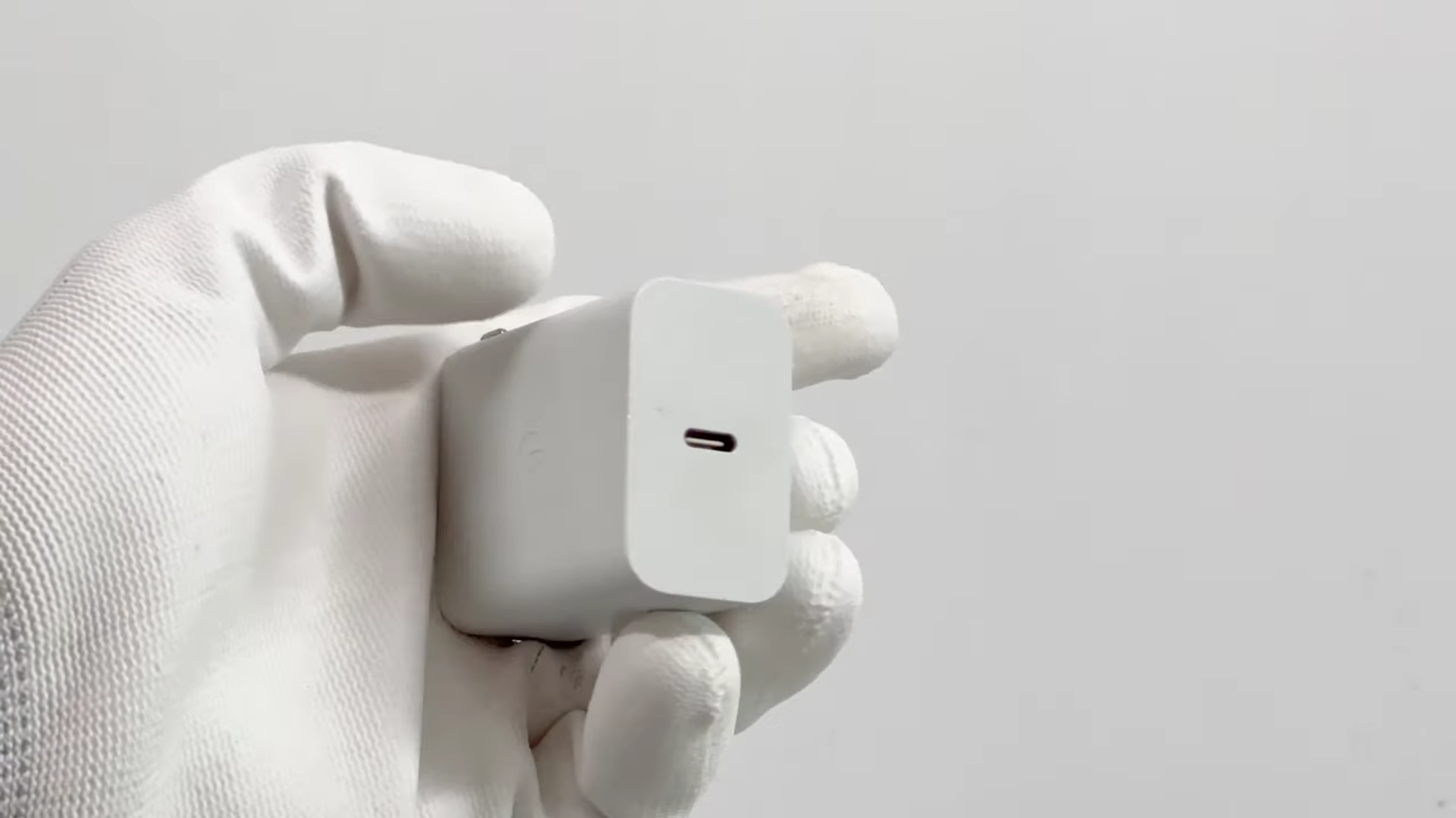 Since we do not have a Google 30W charger, we choose a Google 65W charger to test it.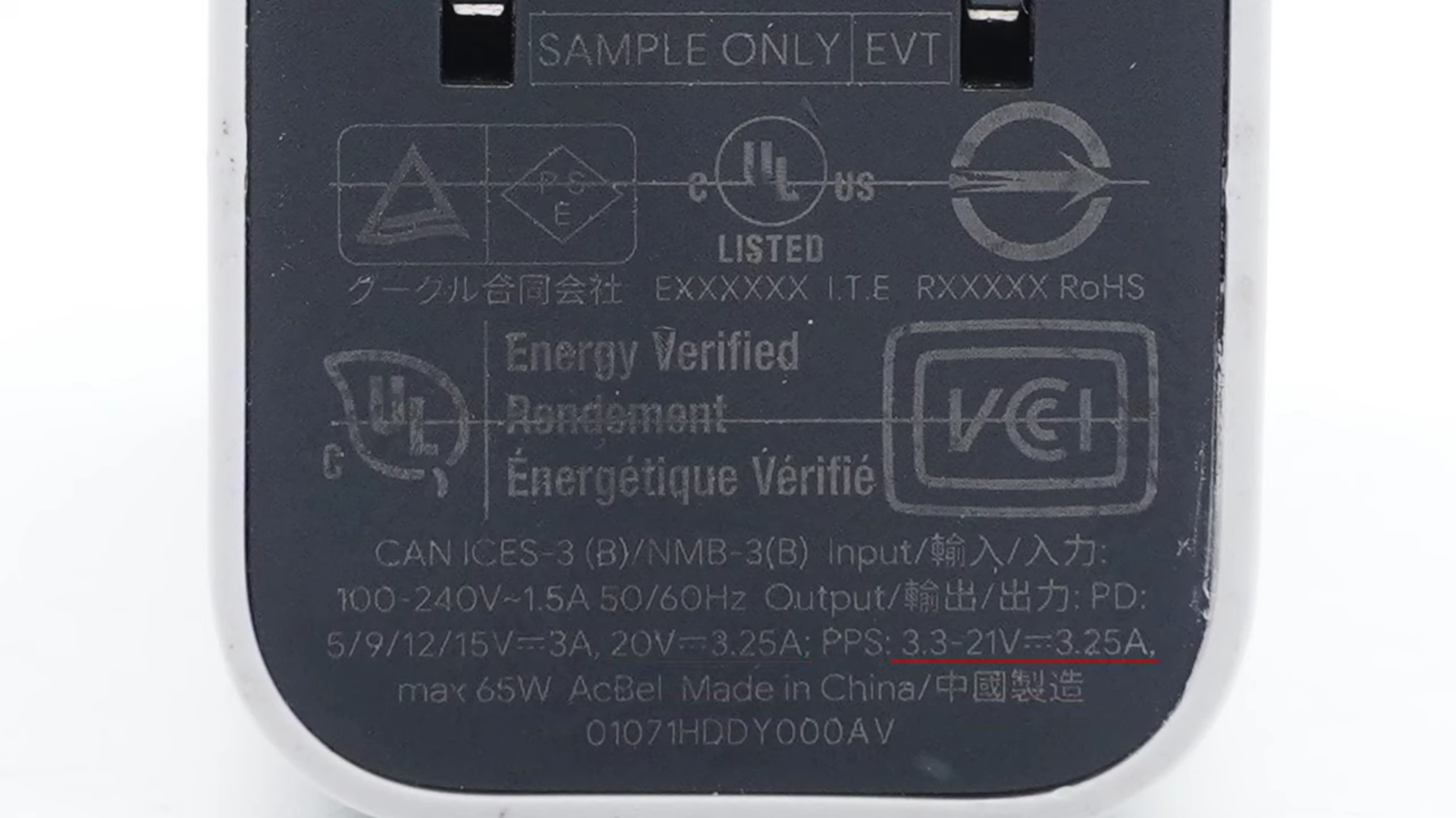 It supports PD protocol of 20V 3.25A and PPS protocol of 3.3-21V 3.25A.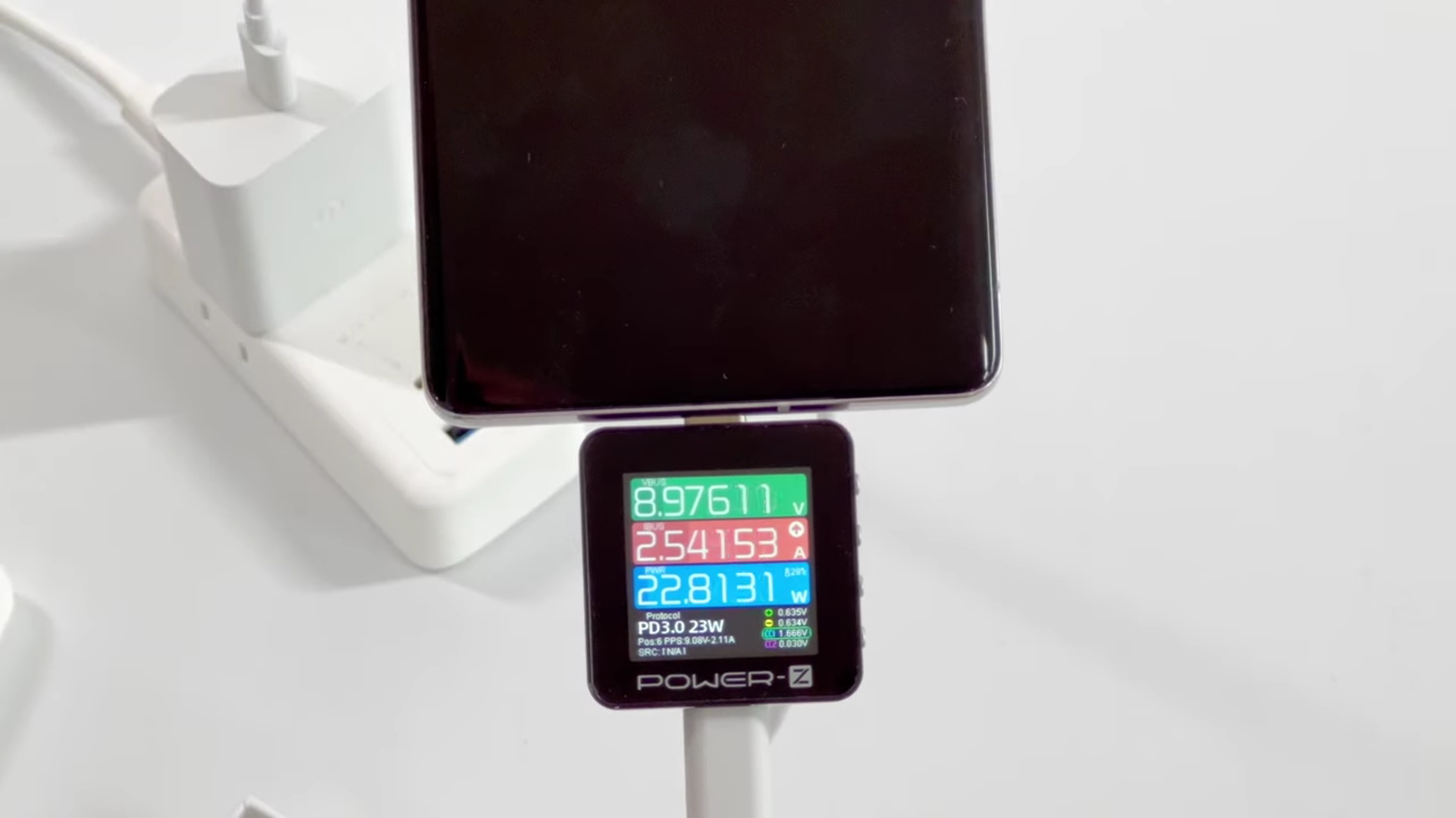 The peak power is about 23W.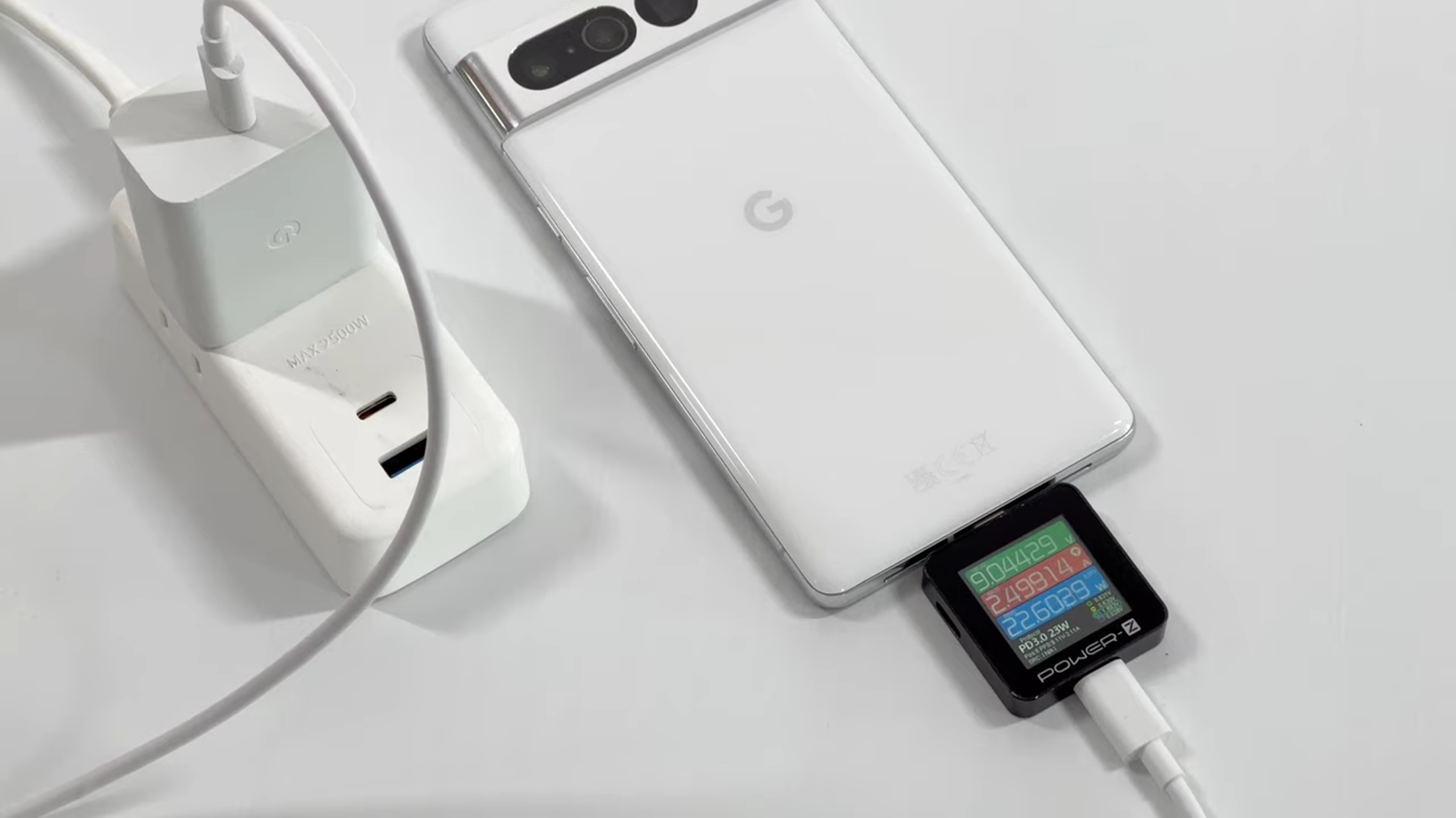 Even if we replace it with a 5A cable, the result is the same. Next, let's use the Google 65W charger to charge it fully. Here is the charging curve made by the PC software of POWER-Z.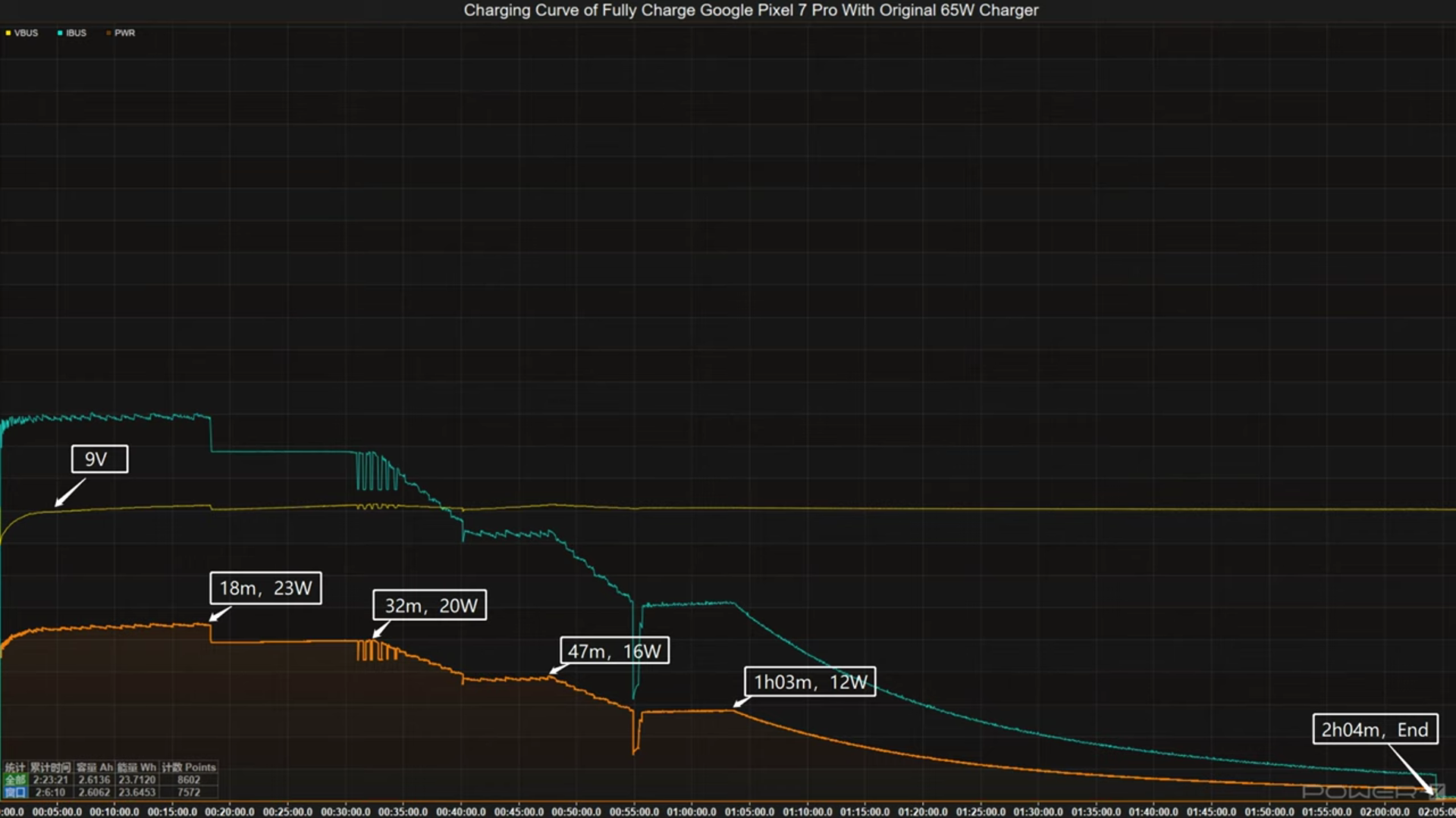 The charging curve can be divided into five parts.
The charging power fluctuates with current, while voltage is maintained at 9V, and the peak power is about 23W. After 18 mins, it gradually drops to 20W, 16W and 12W in turn. The final part begins at 1 hour and 3 mins, and the power slowly drops to almost zero. It takes 2 hours and 4 mins to be fully charged.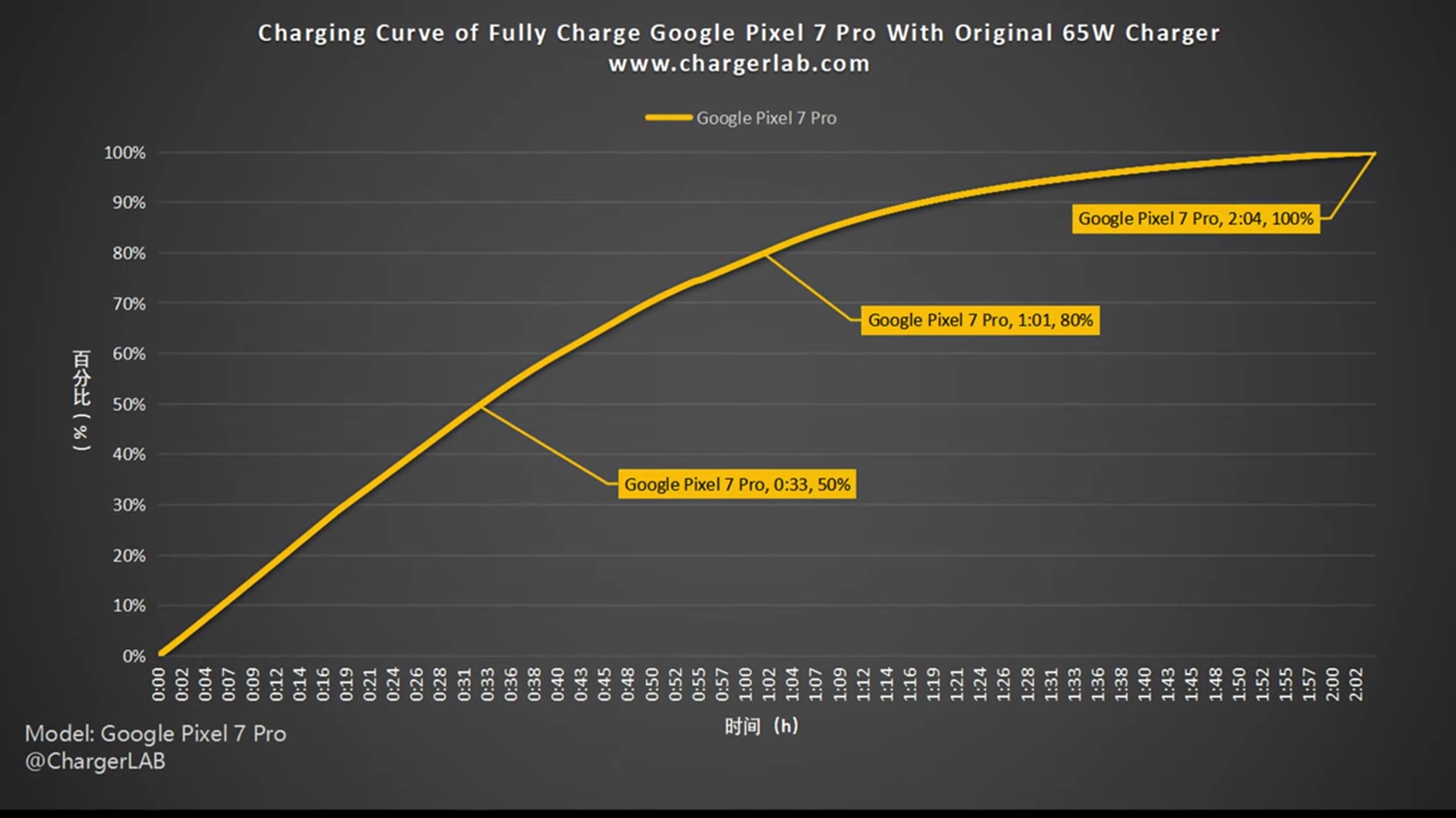 We also plot it into another curve. It only takes half an hour to reach 50%, same as Apple's iPhone, and it needs an hour to reach 80%. The remaining 20% takes more than an hour to fill up.
Temperature Test
When testing the full charging curve, we put the charger into a 25°C (77℉) thermotank and got its surface temperature.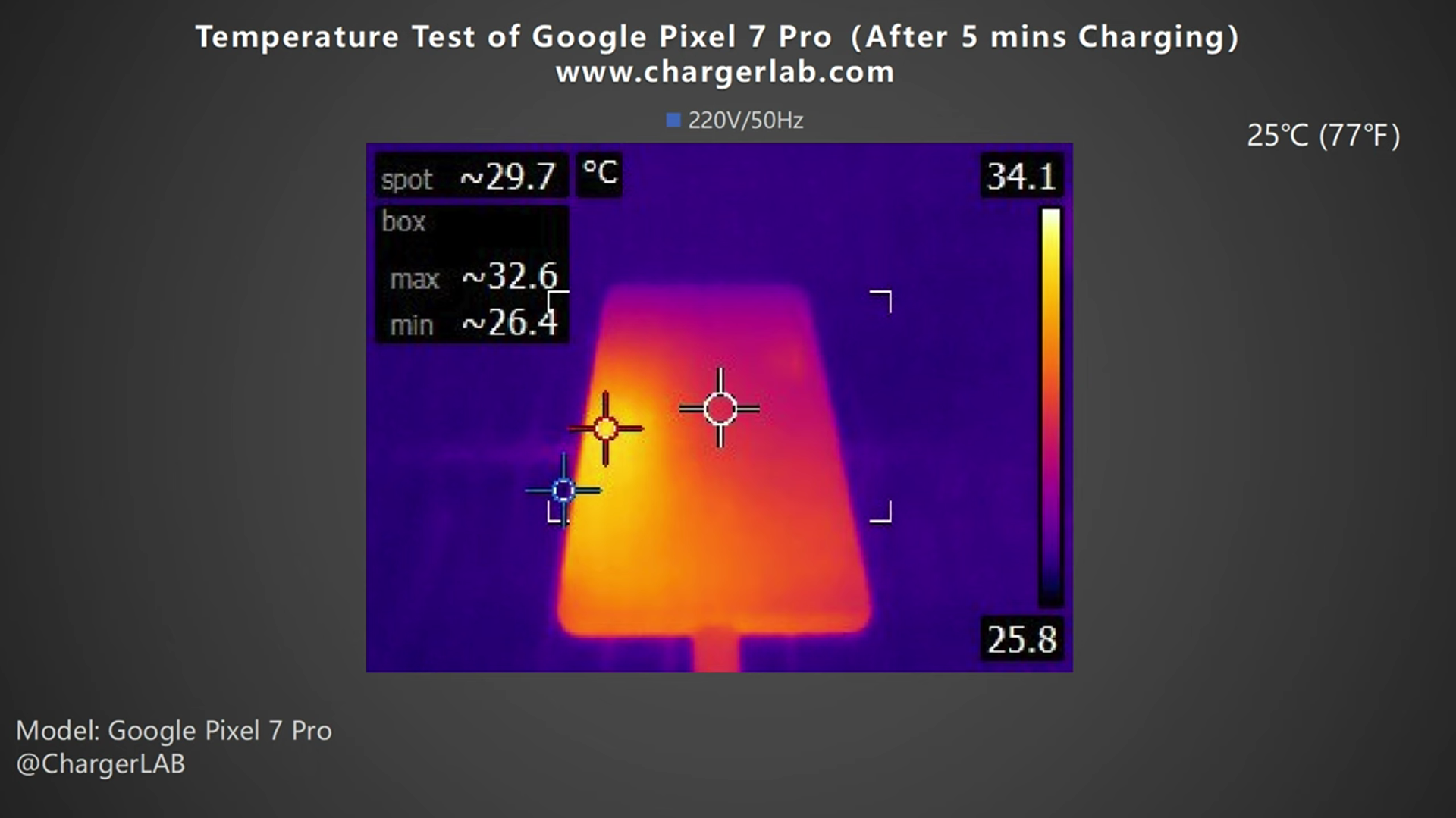 After 5 minutes of charging, the maximum temperature on the front is 32.6°C (90.68°F).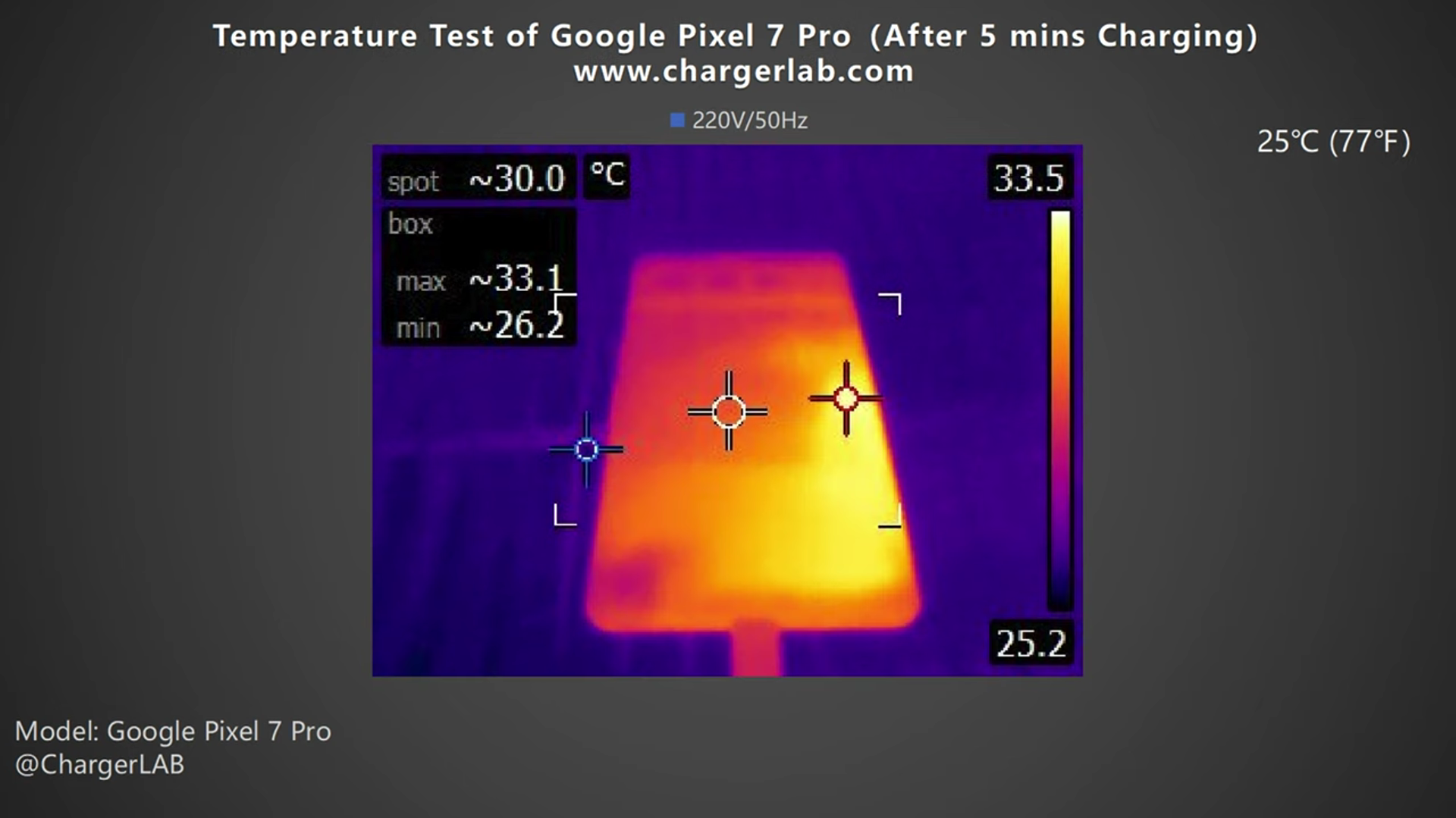 And 33.1°C (91.58°F) on the back.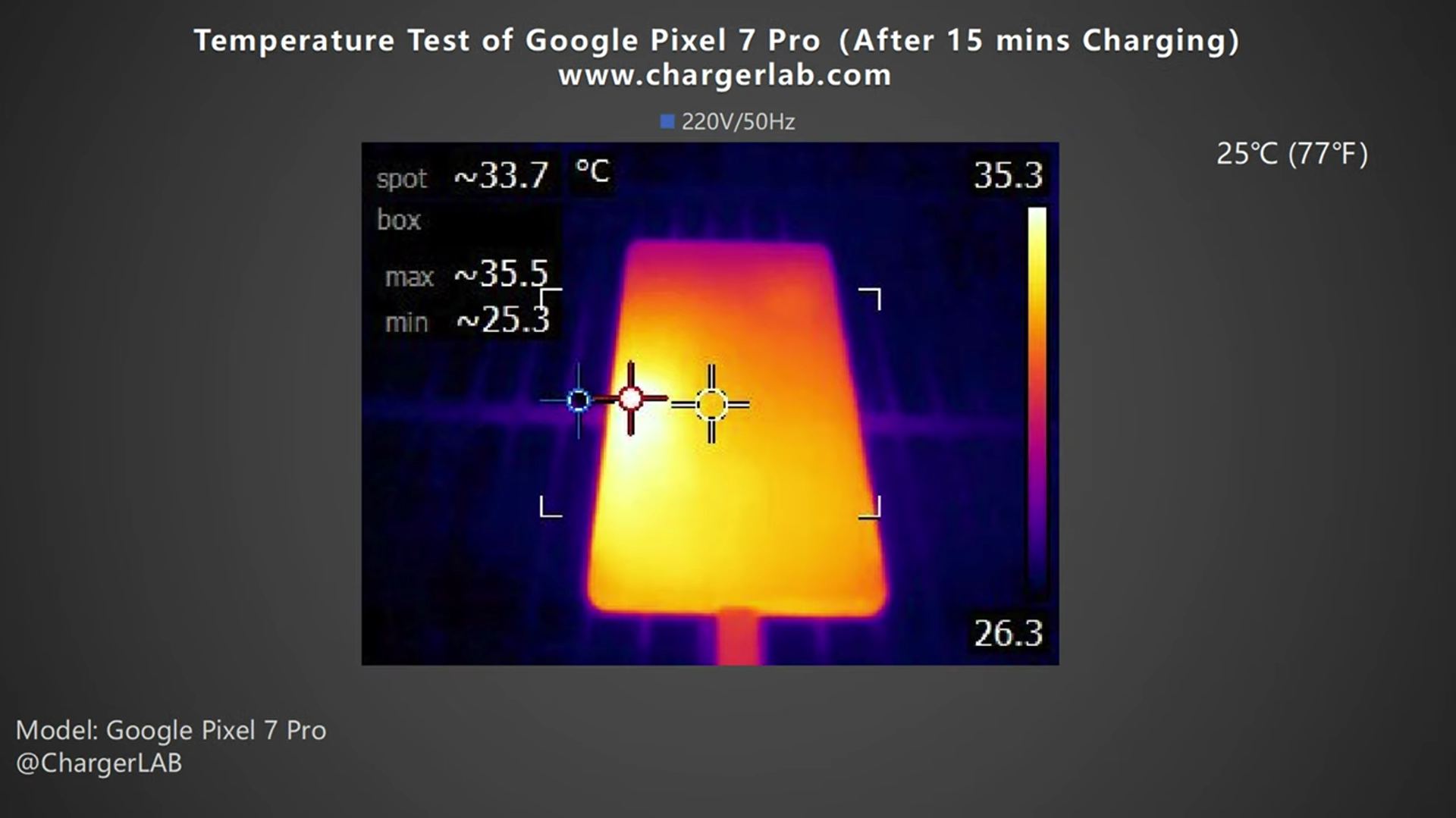 After 15 minutes of charging, the maximum temperature on the front is 35.5°C (95.9°F).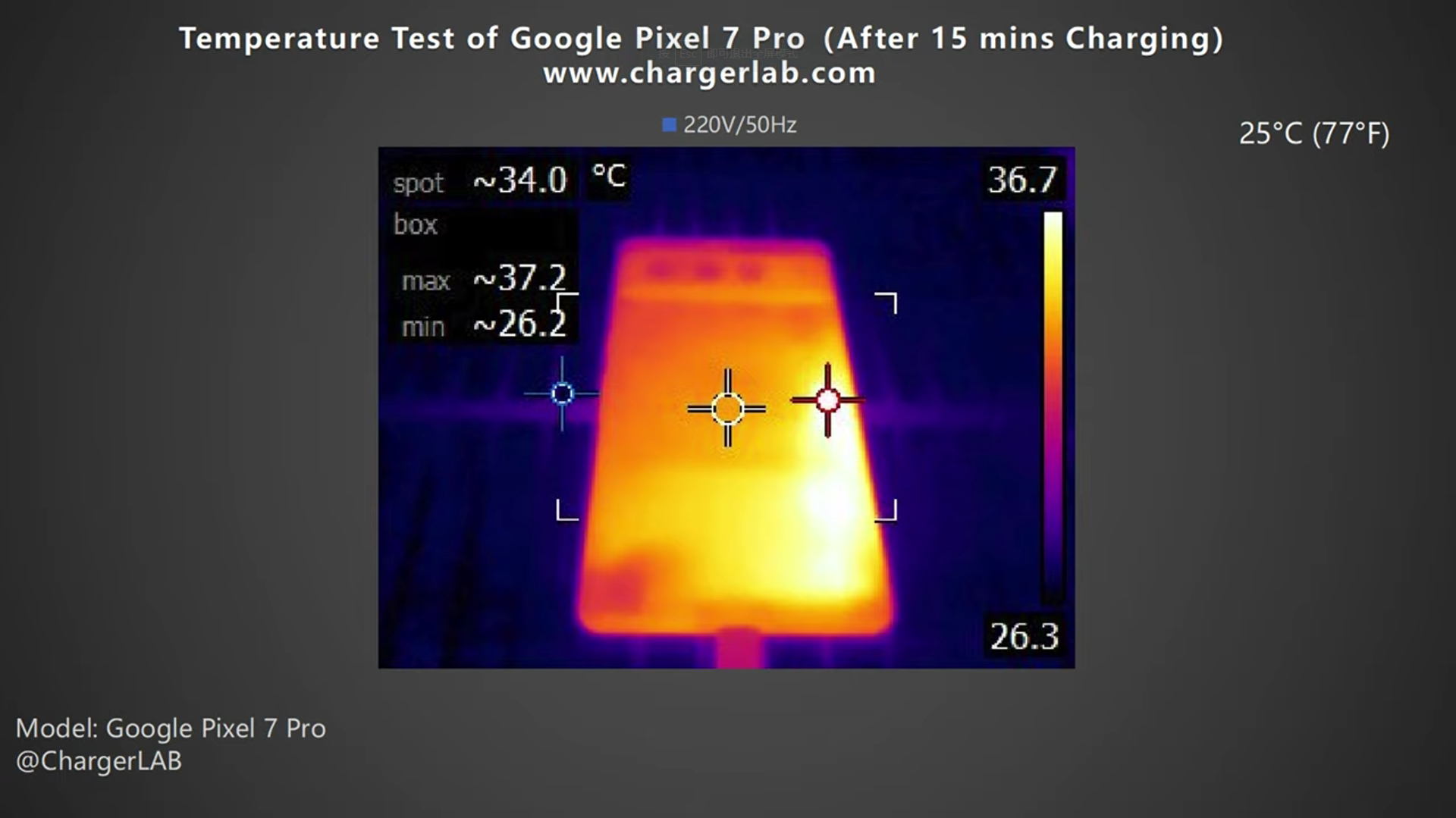 And 37.2°C (98.96°F) on the back.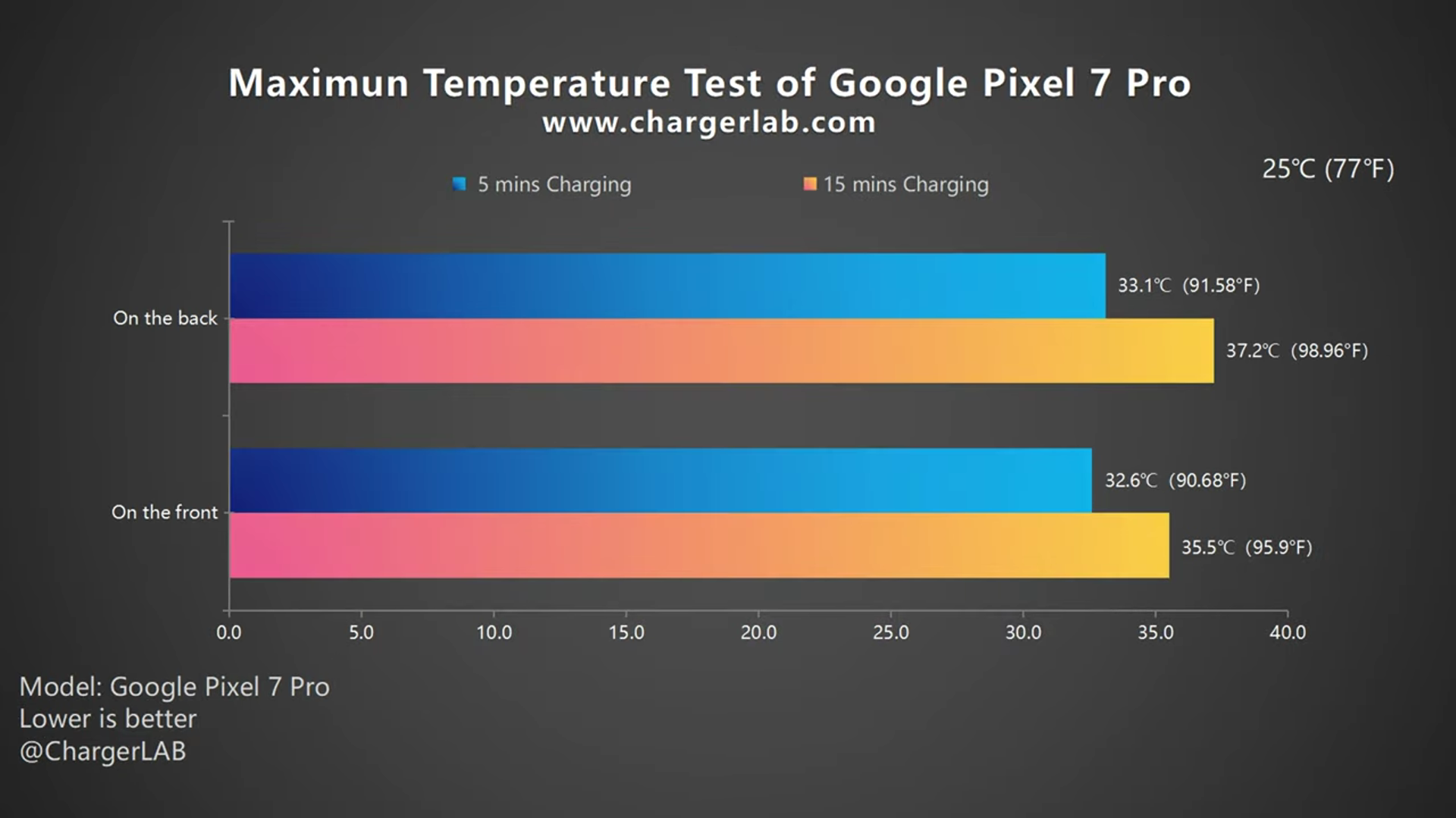 According to the charging curve we just mentioned, the phone is charged at about 23W from 0 to 15 mins.
But the maximum temperature is the same as your body temperature, so it's just warm, not hot.
Compared to some high-power charging phones, the Google Pixel 7 Pro charges slower, but also cooler.
Summary of ChargerLAB
In conclusion, the Google Pixel 7 Pro is equipped with a large 5000mAh battery. While it does not come with a charger, it does include a charging cable, similar to current offerings from Apple and Samsung. Its charging performance is also very similar to iPhone and Samsung phones. It can be charged with any PD charger and an oridnary USB-C cable, but the peak power won't exceed 23W, bringing lower surface temperature. So, just got a 20 or 30W PD charger if you don't have one.
Related Articles:
1. Google Pixel 7 Pro - ChargerLAB Compatibility 100
2. Google Pixel 7 Pro | ChargerLAB Compatibility 100 Reveals Charging Details
3. Up to 23W | Charging Review of Google Pixel 7 Pro (Video)
The article is originally written by @
Joey
posted on Chargerlab. All rights reserved.