Samsung Galaxy S23: Improved Fast Charging Performance
On February 17, 2023, Samsung announced the release of the Galaxy S23 series, which features the snapdragon 8 gen 2 mobile platform across the board. The S23 Ultra and S23+ models support 45W fast charging, while the S23 model supports 25W fast charging. Since Samsung introduced 45W fast charging in 2019, the highest charging specification for Samsung smartphones has remained at 45W, but the S23 series this year is actually the generation with the greatest improvement in fast charging performance.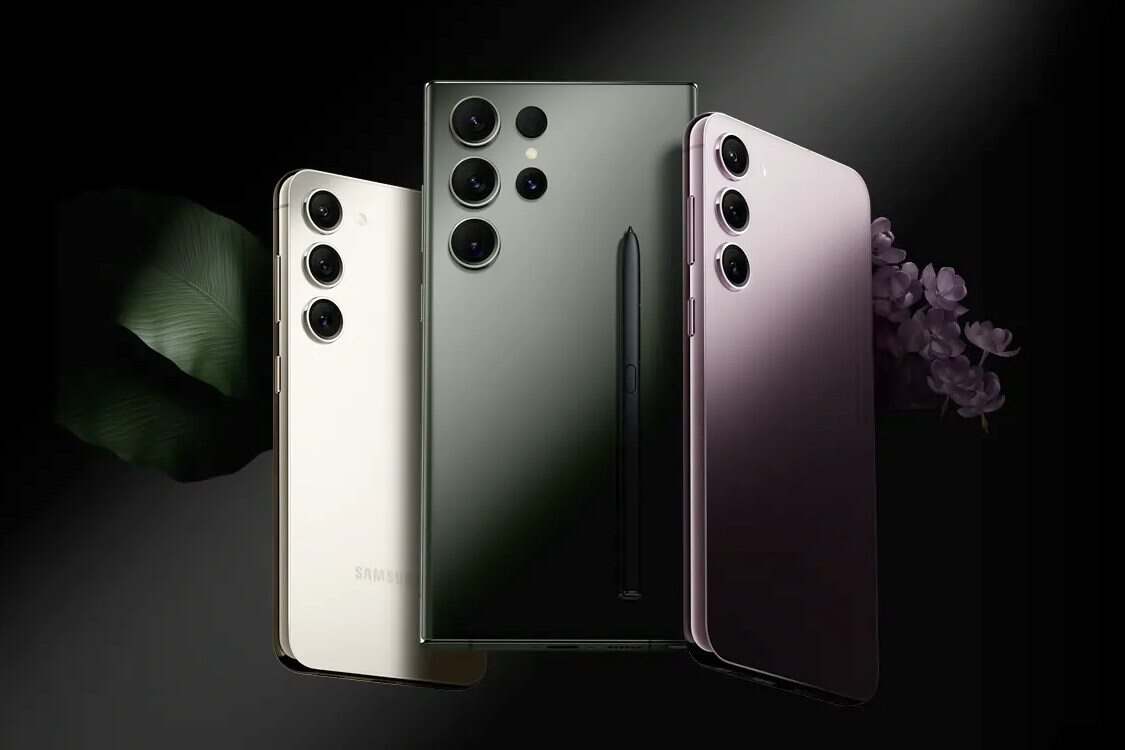 From left to right in the picture are the S23, S23 Ultra, and S23+. The S23 and S23+ have rounded edges, while the S23 Ultra boasts a more angular design and comes with an S Pen.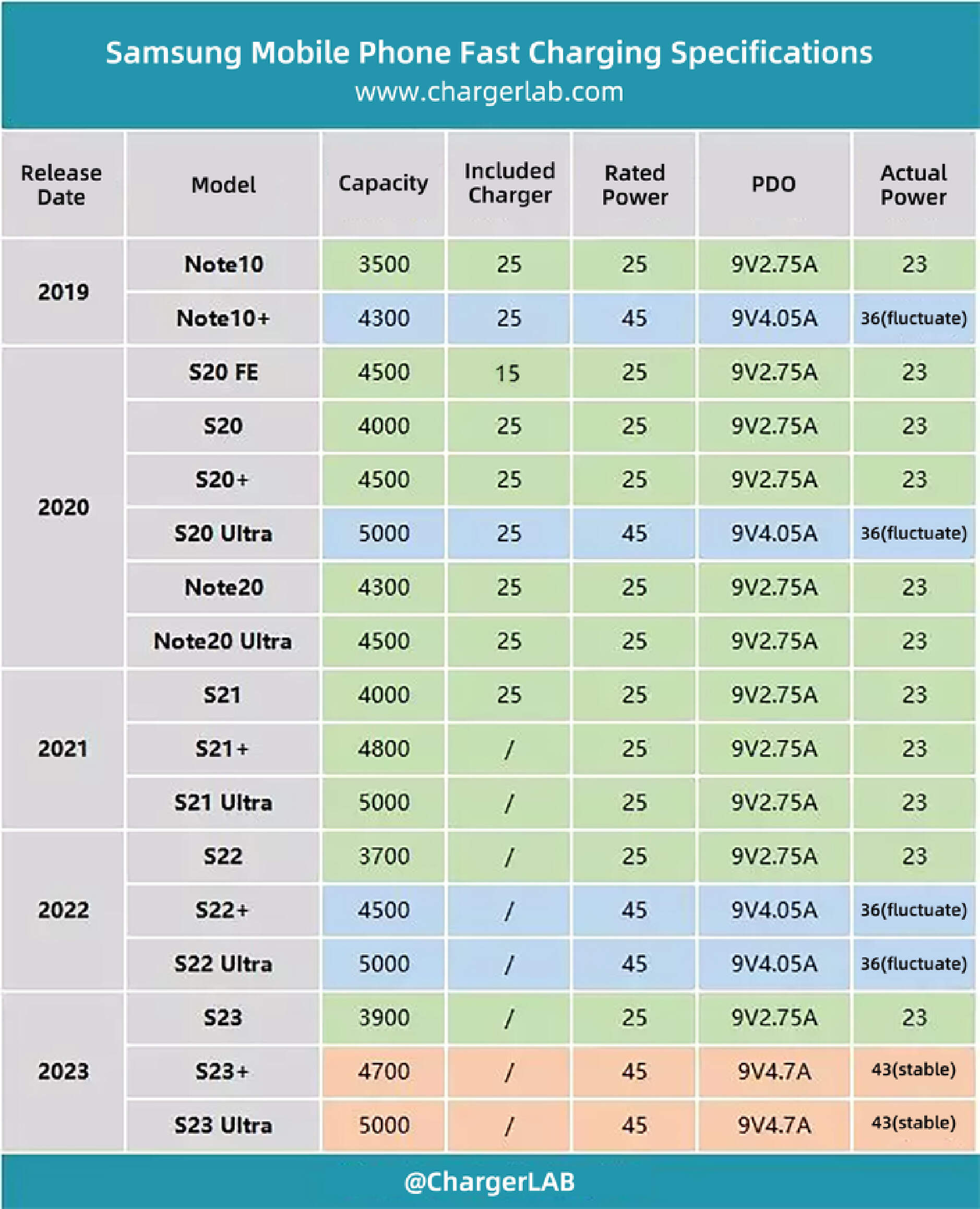 ChargerLAB has compiled a table of Samsung smartphone fast charging-related parameters over the years. The actual charging power is mainly divided into three levels: 23W, 36W (fluctuate), and 43W (stable). The difference between the 45W of the Galaxy S23 series and other models is very obvious.
Once Again, the Entire S23 Series Does Not Include a Charger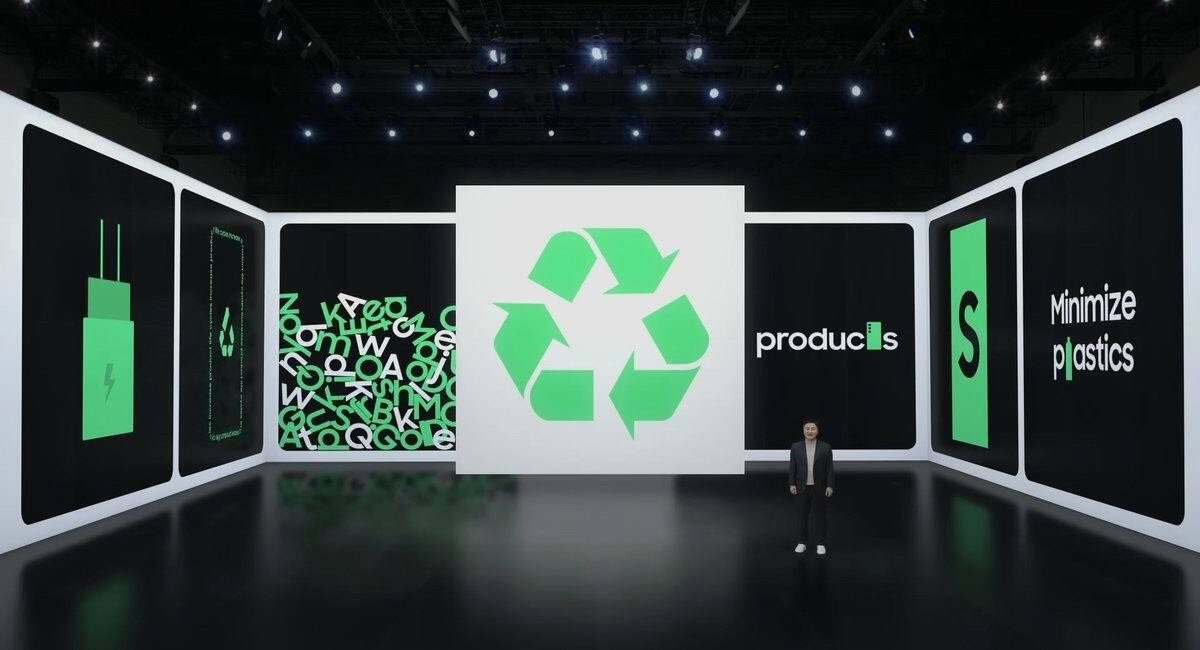 To convey a green, low-carbon environmental concept, Apple took the lead in canceling the included chargers on iPhone 12 series in 2020, and Samsung followed suit. In 2021, the S21+ and S21 Ultra models of the Galaxy S21 series also began excluding the included charger, and in 2022, the entire S22 series followed suit.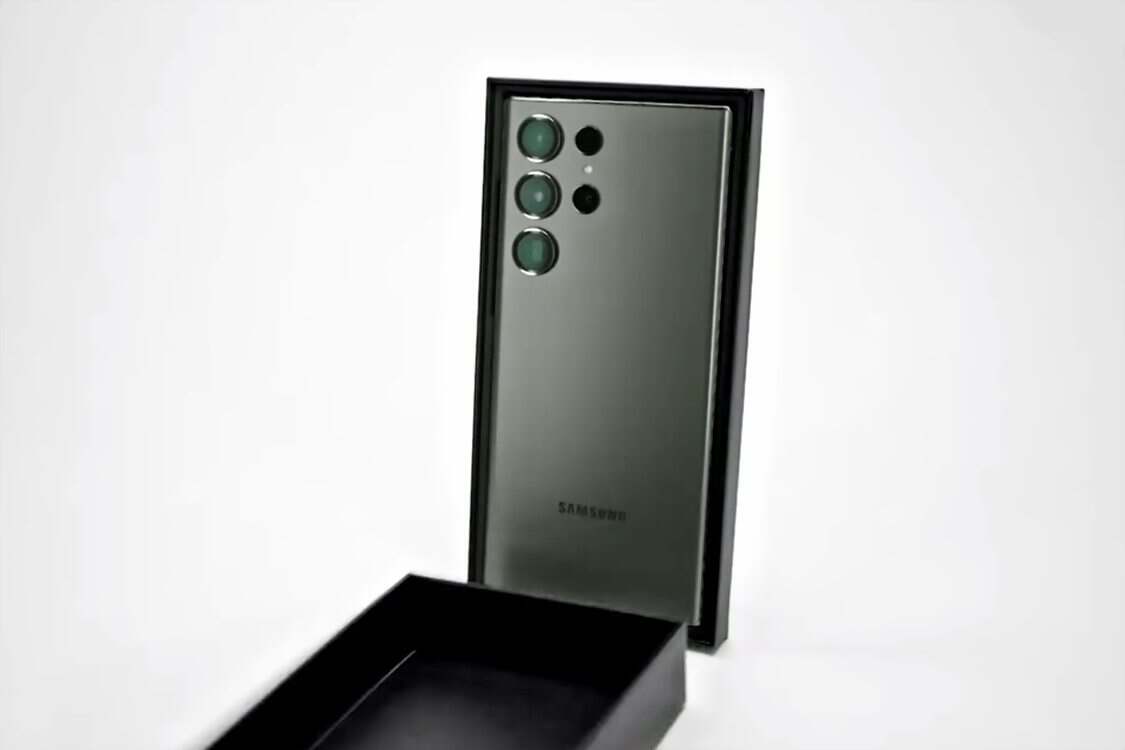 This generation of Galaxy S23 series smartphones still adheres to the environmental philosophy, and after opening the package, you will see only the phone itself, which is very simple. The thickness of the entire phone packaging, compared to packaging that includes a charger, has decreased significantly, reducing shipping, warehousing, and storage costs by half, saving the cost of the charger, and earning an environmentally friendly reputation.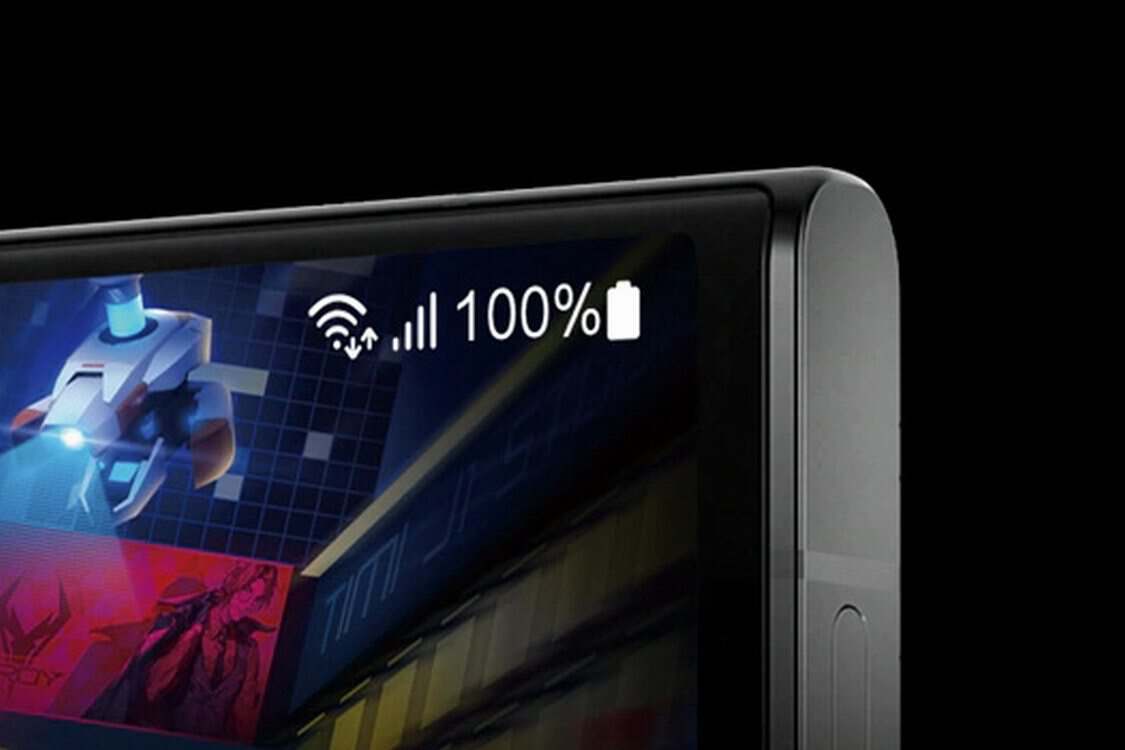 In terms of battery capacity, the S23 Ultra has a battery capacity of 5000mAh, the S23+ has a battery capacity of 4700mAh, and the S23 has a battery capacity of 3900mAh. The fast charging performance of the Galaxy S23 series is very deeply hidden, with the official product information page on the website completely omitting all fast charging-related content, with only one parameter table mentioning it in passing. The S23 Ultra and S23+ both support 45W PPS, while the S23 supports 25W PPS, and all three models support 15W wireless charging.
Previously, the Samsung 45W Fast Charging Experience Was Unsatisfactory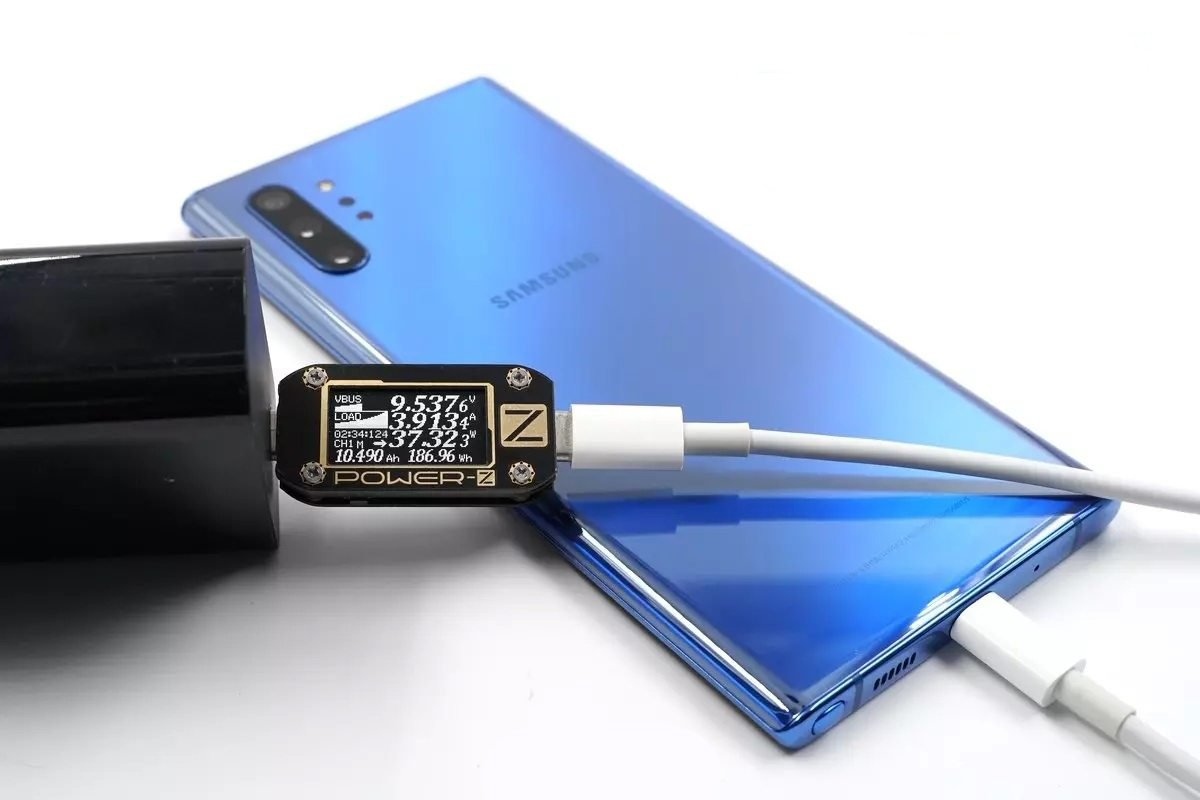 In 2019, Samsung first introduced 45W fast charging on the Galaxy Note10+, and subsequent models such as the S20 Ultra, S22+, and S22 Ultra also support 45W fast charging. In addition, all Samsung phones that want to experience 45W fast charging need to purchase a 45W original charger at their own expense or support 5A PPS third-party chargers. The standard chargers are all 25W (if any).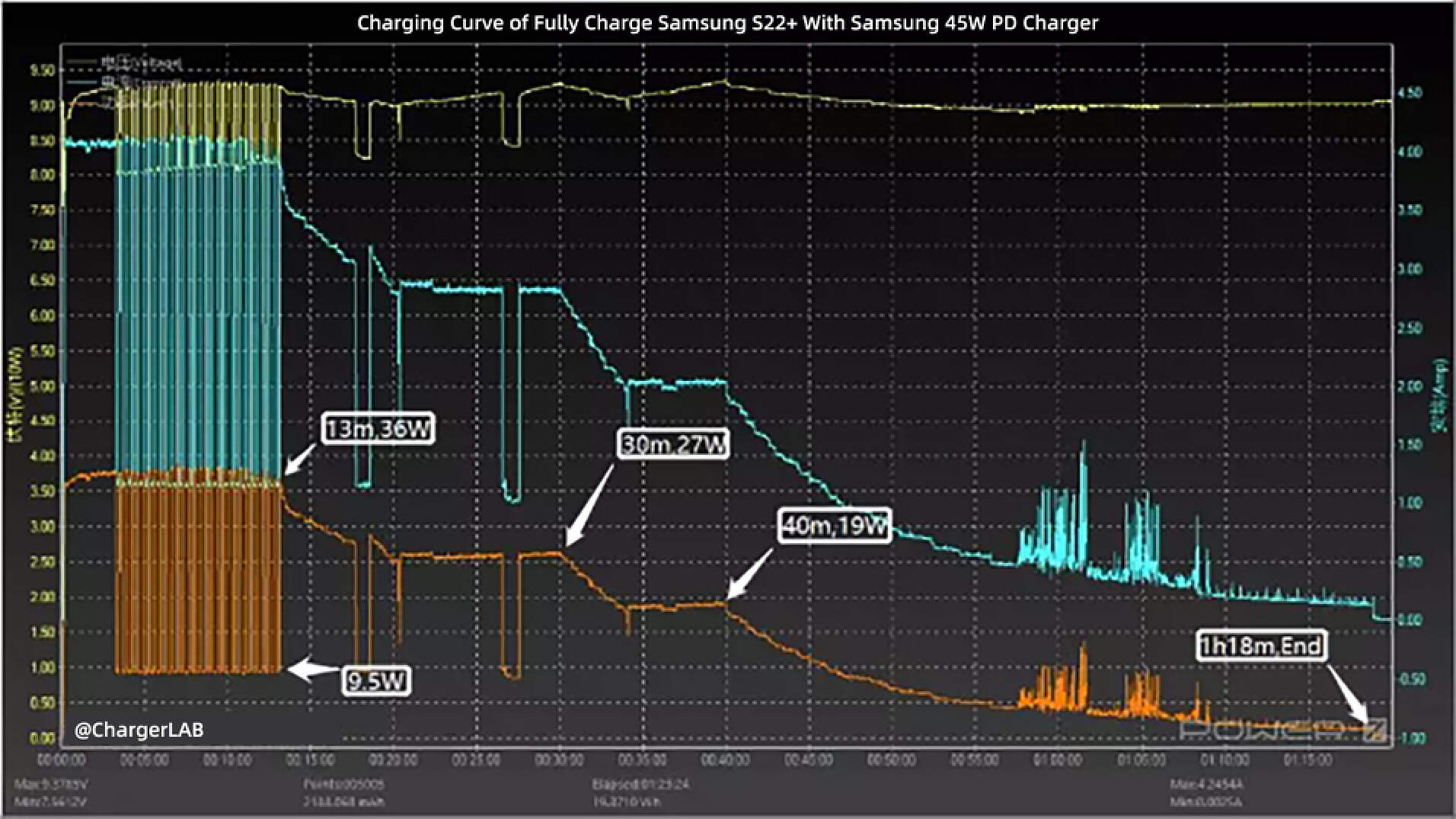 ChargerLAB has tested multiple Samsung phones and found that even if they support 45W fast charging, their high charging power only reach their peak for a moment, with charging power fluctuating repeatedly between 9W and 36W, unable to maintain a stable fast charging curve.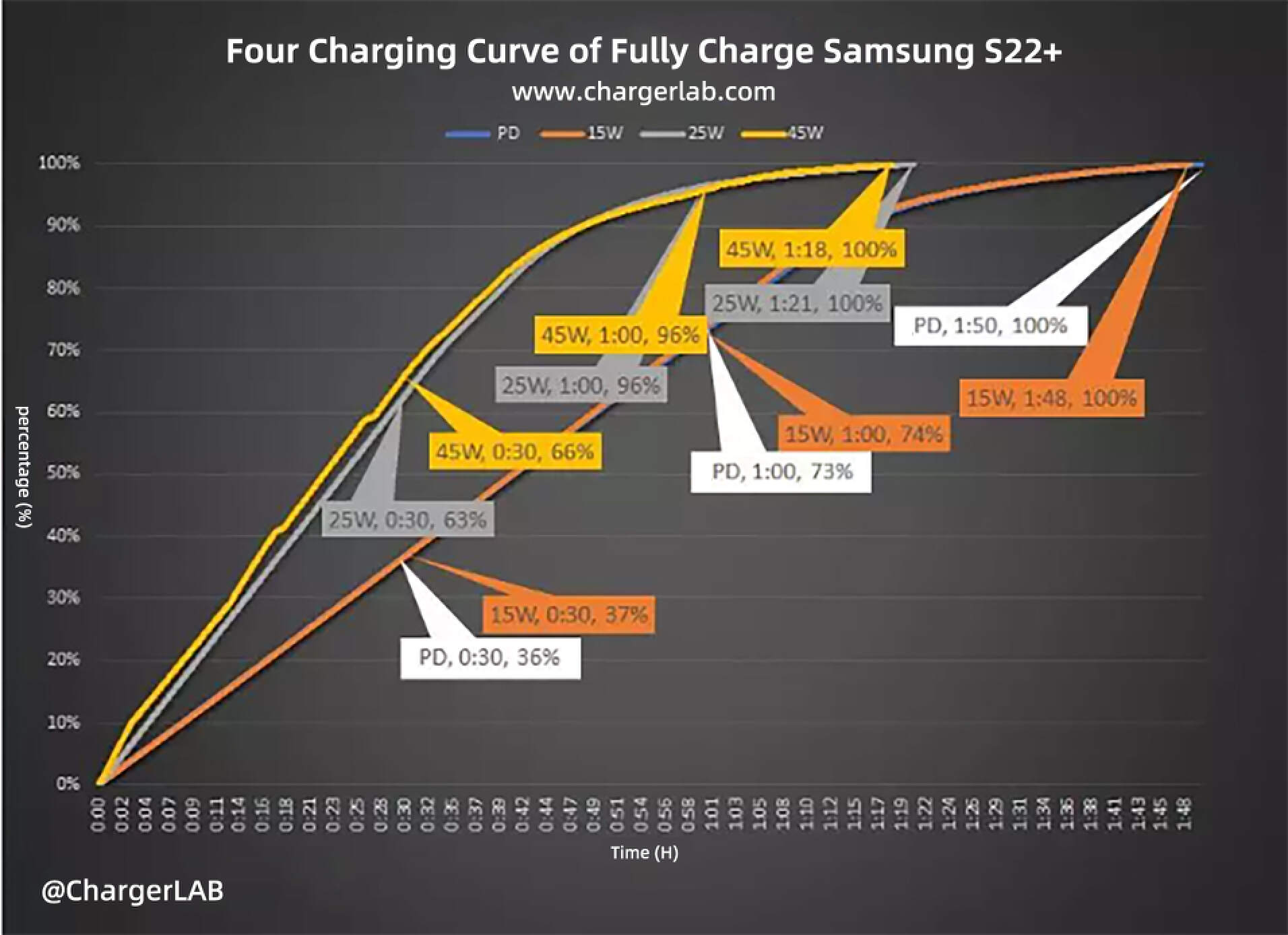 Comparing the charging speed graphs of the Samsung S22+ using multiple chargers, we can see that 25W charges 63% in half an hour, while 45W charges 66% in half an hour. The fluctuating state of the 45W fast charging means that the actual charging speed is almost no different from 25W, taking about an hour and twenty minutes to fully charge, resulting in years of complaints about Samsung's fast charging experience.
The 45W Fast Charging Performance of the S23 Series Has Been Upgraded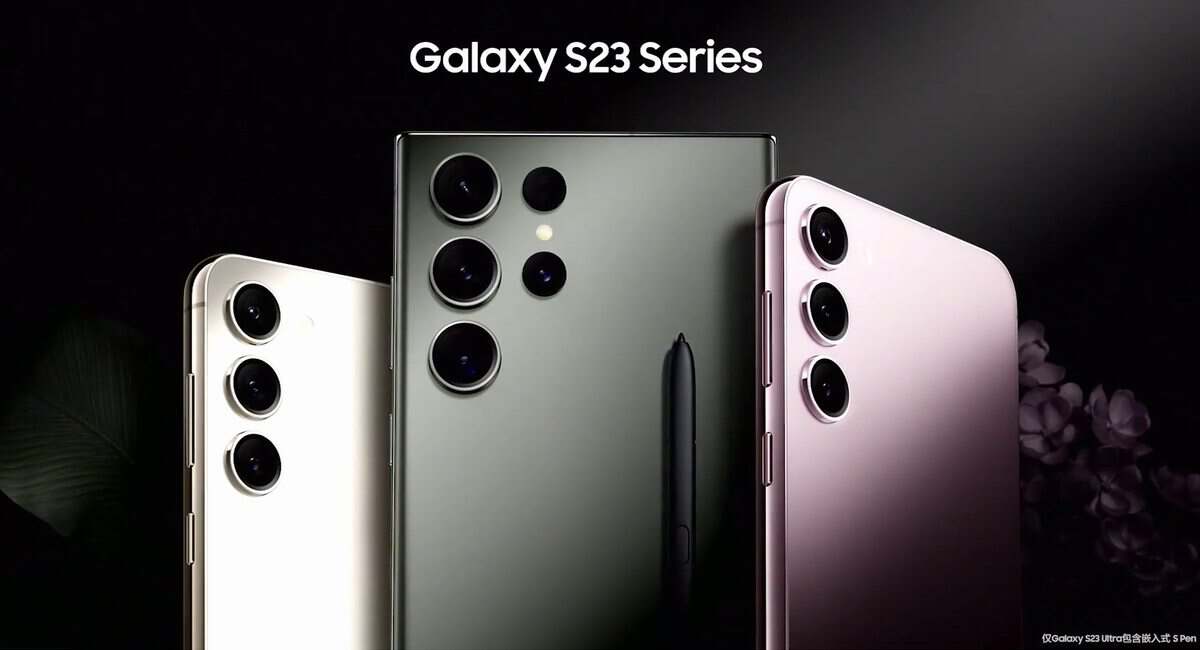 The Galaxy S23 series, like the previous generations, comes with two wired charging specifications: 45W and 25W. At first glance, there seems to be no upgrade. However, many YouTubers have found that this generation has the largest fast charging improvement rate of any Samsung phone in recent years.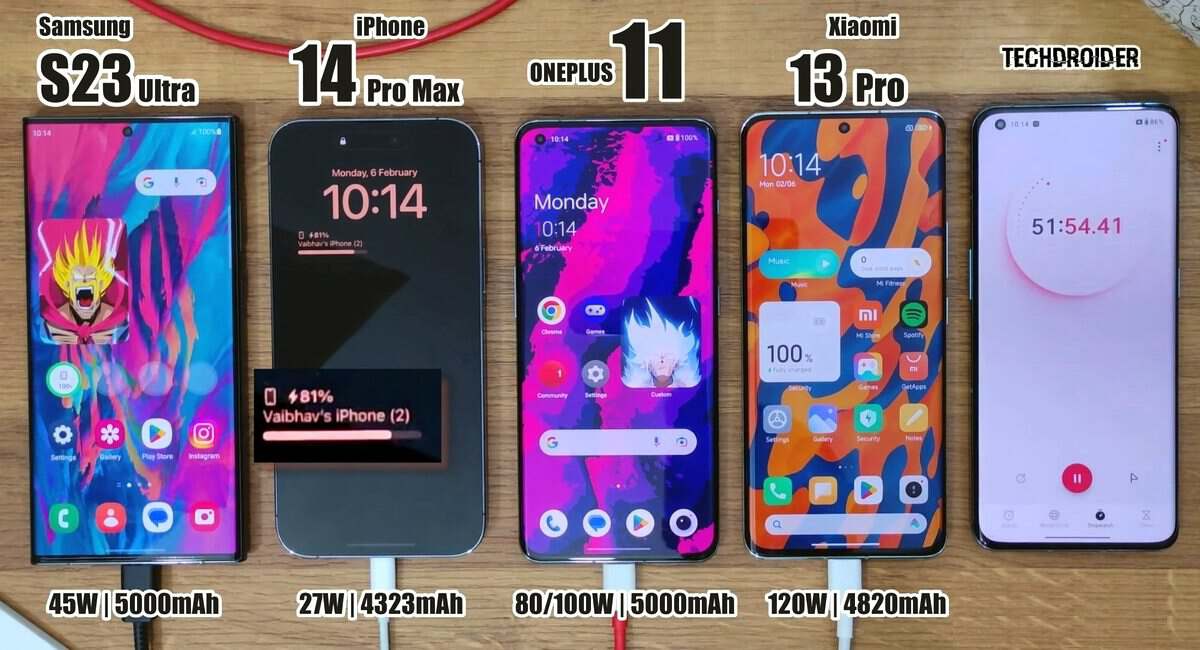 YouTuber TechDroider compared the charging speed of the S23 Ultra to others and found that the S23 Ultra recharges 30% in 10 minutes, 55% in 20 minutes, 76% in 30 minutes, 91% in 40 minutes, and takes 52 minutes to fully charge.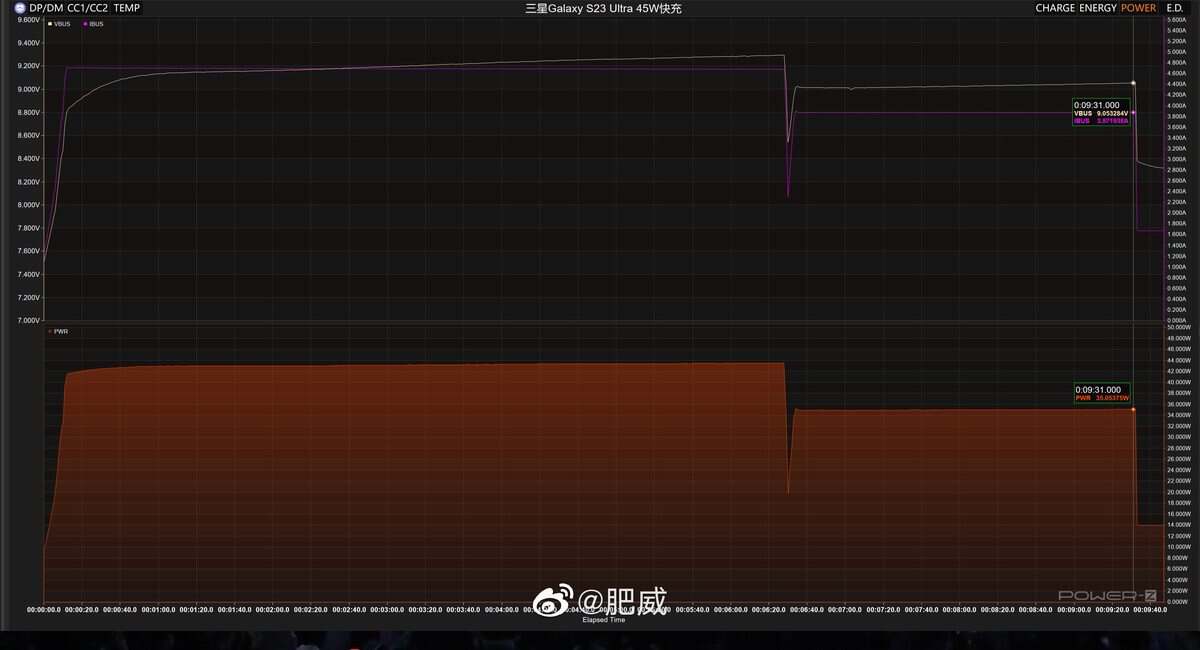 In test data from a Chinese blogger, once the S23 Ultra was triggered the 45W fast charging, it provided a steady performance of 9V4.7A, with an actual power of about 40W-43W and a peak power higher than the previous 45W, maintaining it for up to six minutes before dropping to the second power level, with a power of about 35W.
From the above tests, it can be seen that this generation's S23 Ultra has a higher actual charging power, a longer high-power time, and a faster speed. In terms of charging compatibility, the S23 series uses a semi-open PPS protocol, which is compatible with some chargers that support high current PPS.
Summary of ChargerLAB
In conclusion, Samsung's Galaxy S23 series is a remarkable upgrade from the previous generations, specifically in terms of fast charging. This series has a 45W fast charging system, which is the same as before, but with a significant improvement in efficiency and charging speed. This improvement comes as a result of Samsung's efforts to improve the devices' charging performance and address customer concerns.
Overall, the testing results show that the Galaxy S23 series has the best fast charging capabilities among Samsung's smartphones with 45W fast charging so far. With charging speeds significantly faster than its predecessors, Samsung has succeeded in improving its fast charging technology and delivering an outstanding user experience.
All in all, the Galaxy S23 series showcases Samsung's dedication to delivering innovative technologies and satisfied user experiences, including fast charging improvements, which will certainly set the market standard for many years to come.
Related Articles:
1. Teardown of Samsung 65W Trio Charger (2C1A)
2. Teardown of Samsung 45W GaN Charger EP-T4510 (US Version)
3. Unboxing & Compatibility Test of Samsung Galaxy S22+
The article is originally written by @
Joey
posted on Chargerlab. All rights reserved.