Huawei's Surprise Launch: Mate 60 Series Hits the Shelves
In August 2023, Huawei's latest model, the Mate 60 series, began to generate buzz, but the exact release date remained undisclosed. Speculation about its launch date was rampant. Suddenly, on August 29, 2023, at 12:08 Beijing time, Huawei's official Weibo account released a surprising announcement: the Mate 60 series was directly available for purchase. This new series supports 88W / 66W Super Charge Protocol (SCP) and 50W wireless Super Charge Protocol.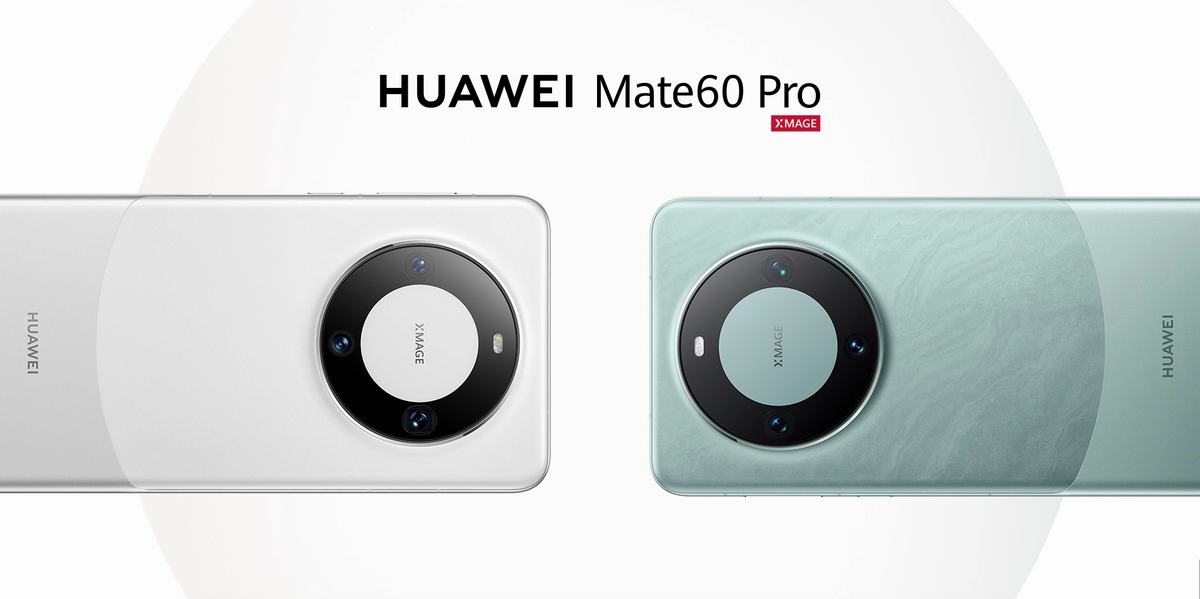 As of now, the cumulative shipments of Huawei Mate series phones have surpassed one hundred million units. To show appreciation for consumer support and affection, Huawei introduced the "Mate 60 Pro Pioneer Program," allowing certain consumers to experience the latest generation of the Mate 60 series in advance. Presently, the Mate 60 Pro is already on sale at Huawei's official online store in China, starting from 6,999 yuan ($960).
Huawei Mate 60 Series Featuring 88W Super Charge Protocol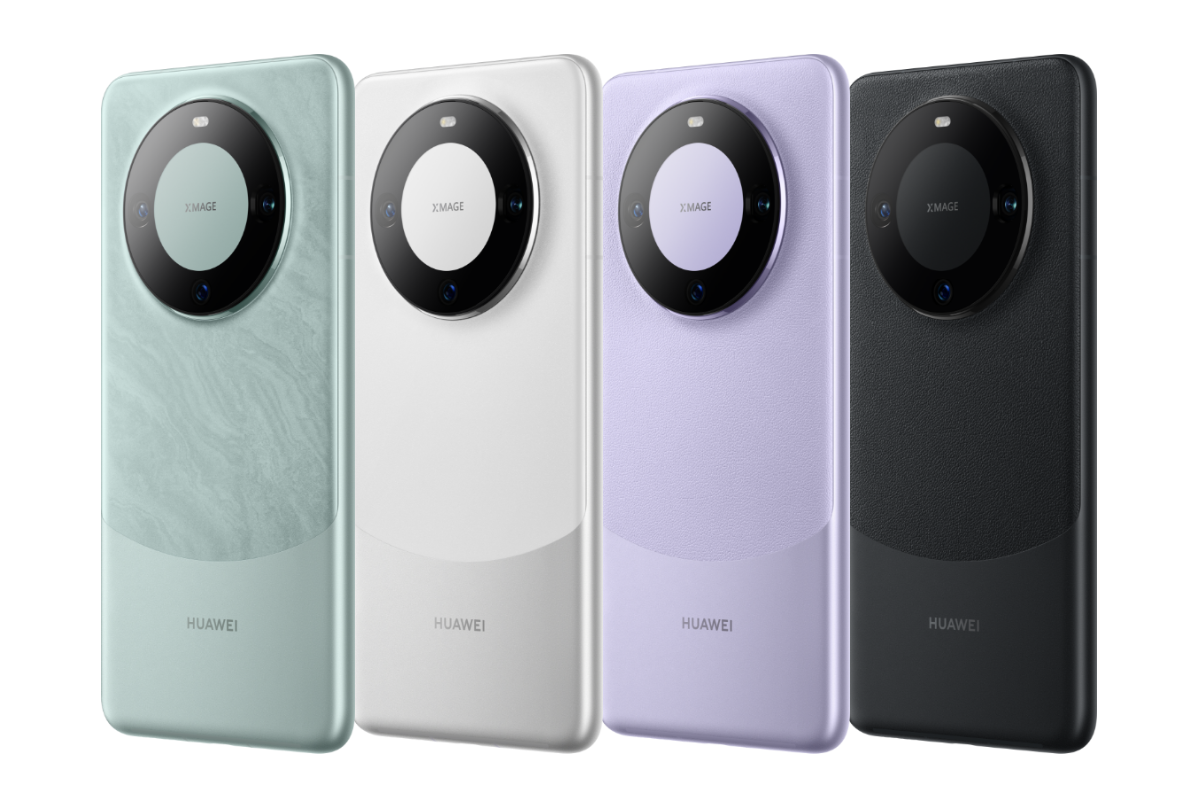 In terms of design, the Mate 60 series inherits some elements while introducing innovations. The concentric circle design of the rear camera, four curved edges, and a two-part back cover create a distinctive appearance. Four color options are available: blue, silver, purple, and black.
Compared to its predecessors, the second-generation Kunlun glass enhances the device's durability. It is now twice as resistant to drops, ten times more resilient against compression, and five times more shock-resistant. The entire device boasts an IP68 level of dust and water resistance.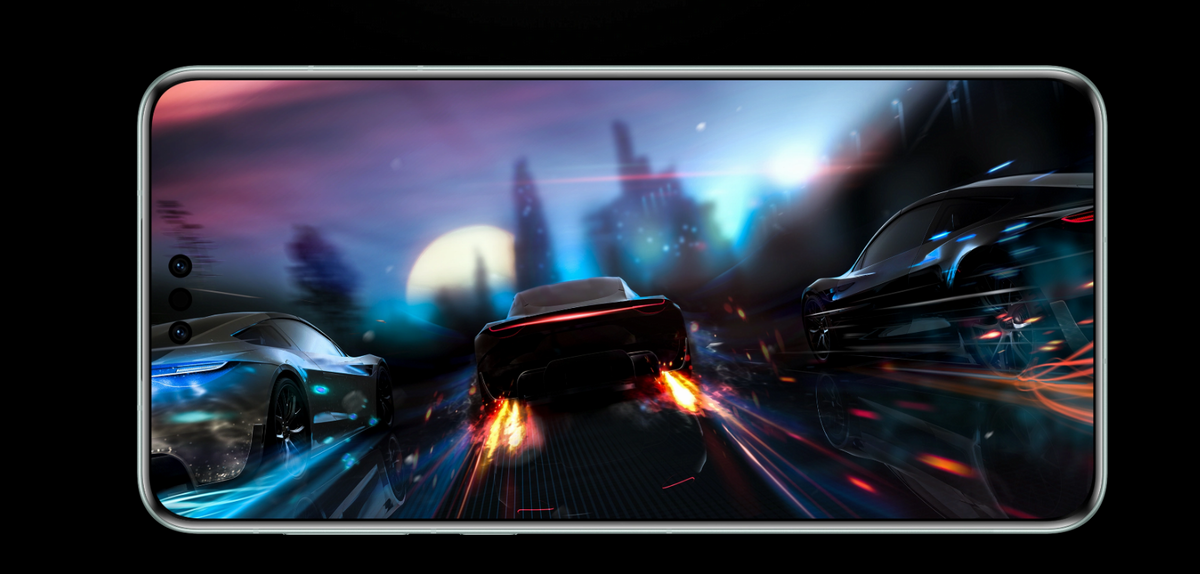 Regarding the display, the Mate 60 features a 6.69-inch OLED screen, with a centered single-hole punch front camera and a resolution of 2688 × 1216. On the other hand, the Mate 60 Pro boasts a slightly larger 6.82-inch display and an upgraded three-hole punch front camera setup, including a 3D depth-sensing camera, with a resolution of 2720 × 1260. Both displays support a color palette of 1.07 billion colors, P3 wide color gamut, and a 120Hz LTPO adaptive refresh rate.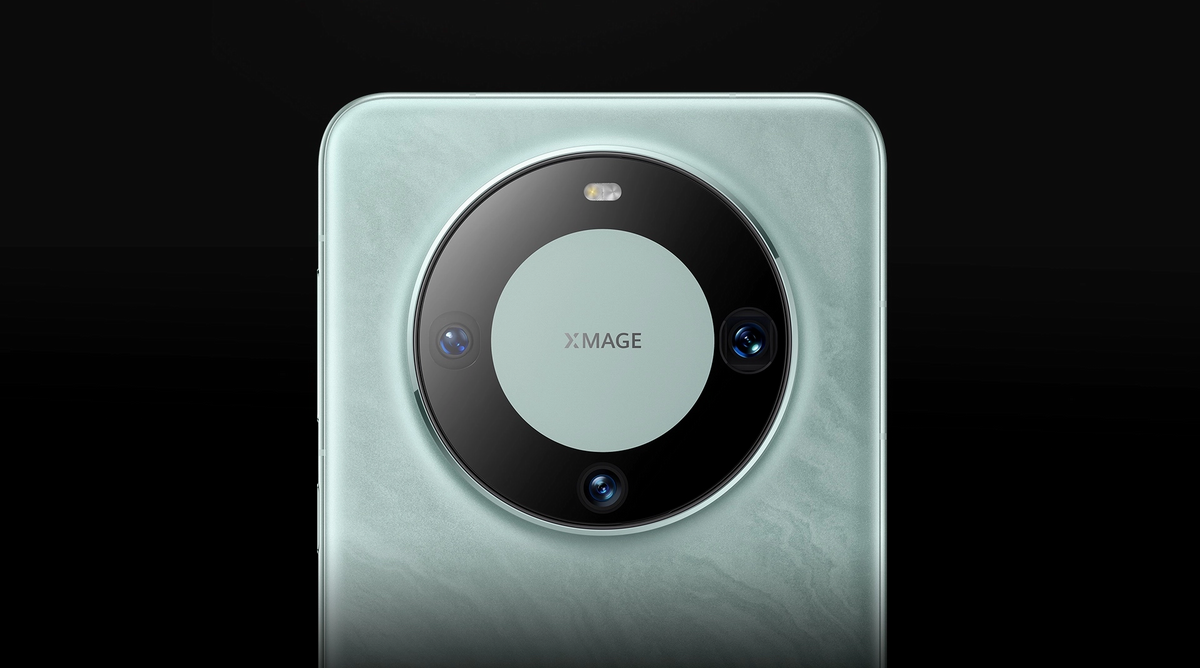 The camera setup of the Mate 60 series consists of a triple-camera configuration on the rear. The main camera features a variable aperture from F1.4 to F4.0, with 50 MP and Optical Image Stabilization (OIS). The ultra-wide-angle secondary camera offers 12 MP with an F2.2 aperture.
The primary difference between the two models lies in the telephoto camera. The Mate 60 employs a 12 MP periscope-style telephoto lens, supporting OIS and 5x optical zoom. In contrast, the Mate 60 Pro utilizes a 48 MP super-macro telephoto lens, supporting OIS and 3.5x optical zoom.
A standout feature of the Mate 60 series is its satellite communication capability. The Mate 60 supports two-way satellite communication, while the Mate 60 Pro goes a step further by enabling satellite calling and receiving. This feature can provide emergency assistance in situations without ground-based networks.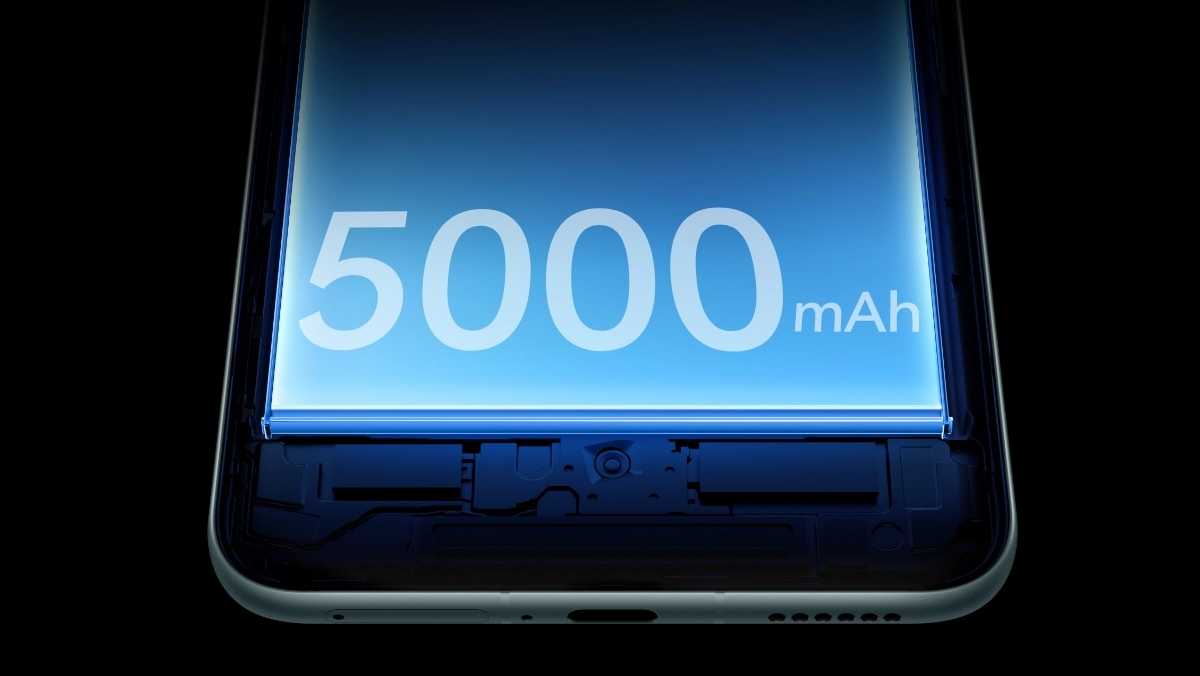 In terms of battery life, the Mate 60 series offers two configurations. The Mate 60 Pro houses a 5000mAh battery using an efficient single-cell solution, supporting 88W wired Super Charge Protocol, 50W wireless Super Charge Protocol, and 20W wireless reverse charging.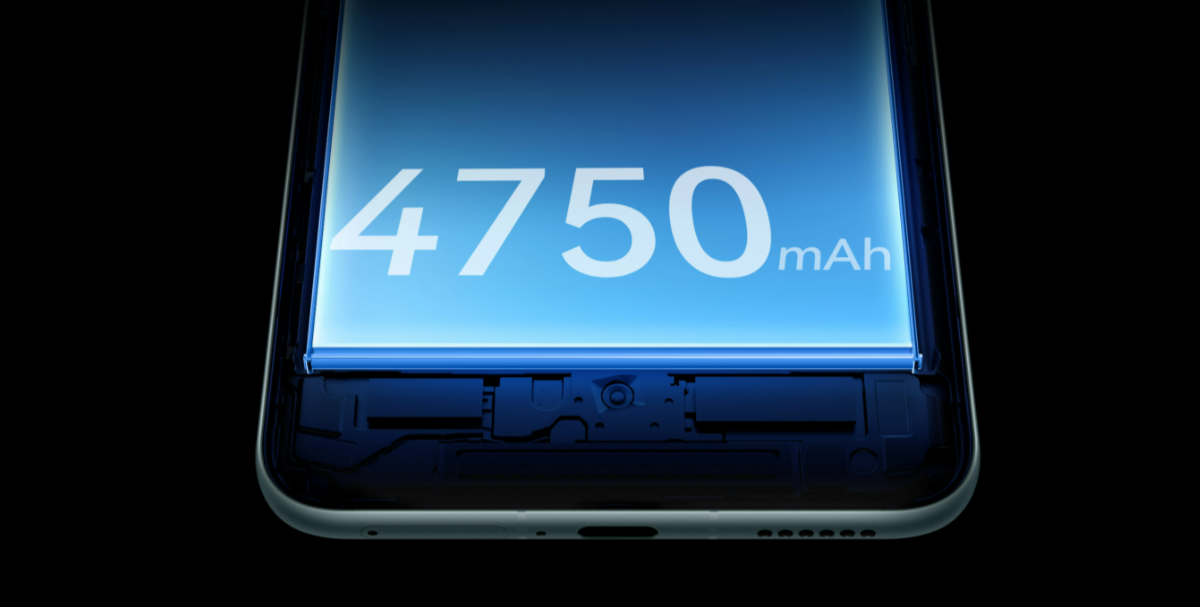 The Mate 60, on the other hand, features a slightly smaller 4750mAh battery with support for 66W wired, 50W wireless charging, and wireless reverse charging.
Development History of Huawei's Wired Fast Charging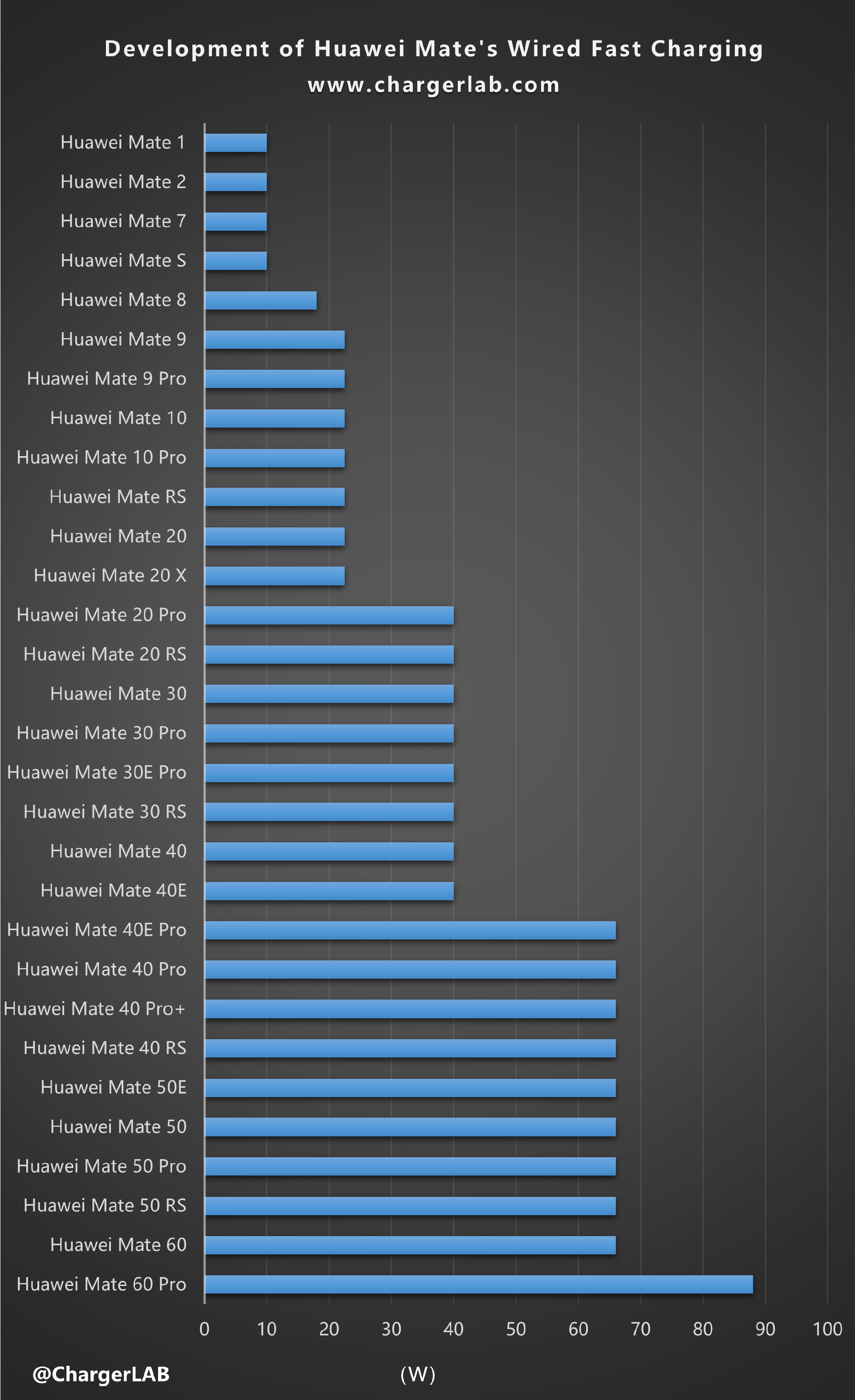 In terms of wired fast charging performance, the top rows of the table, including Mate 1, Mate 2, Mate 7, and Mate S, belong to models that did not support fast charging. They only had regular 5V2A charging, representing the earliest models in the Mate series.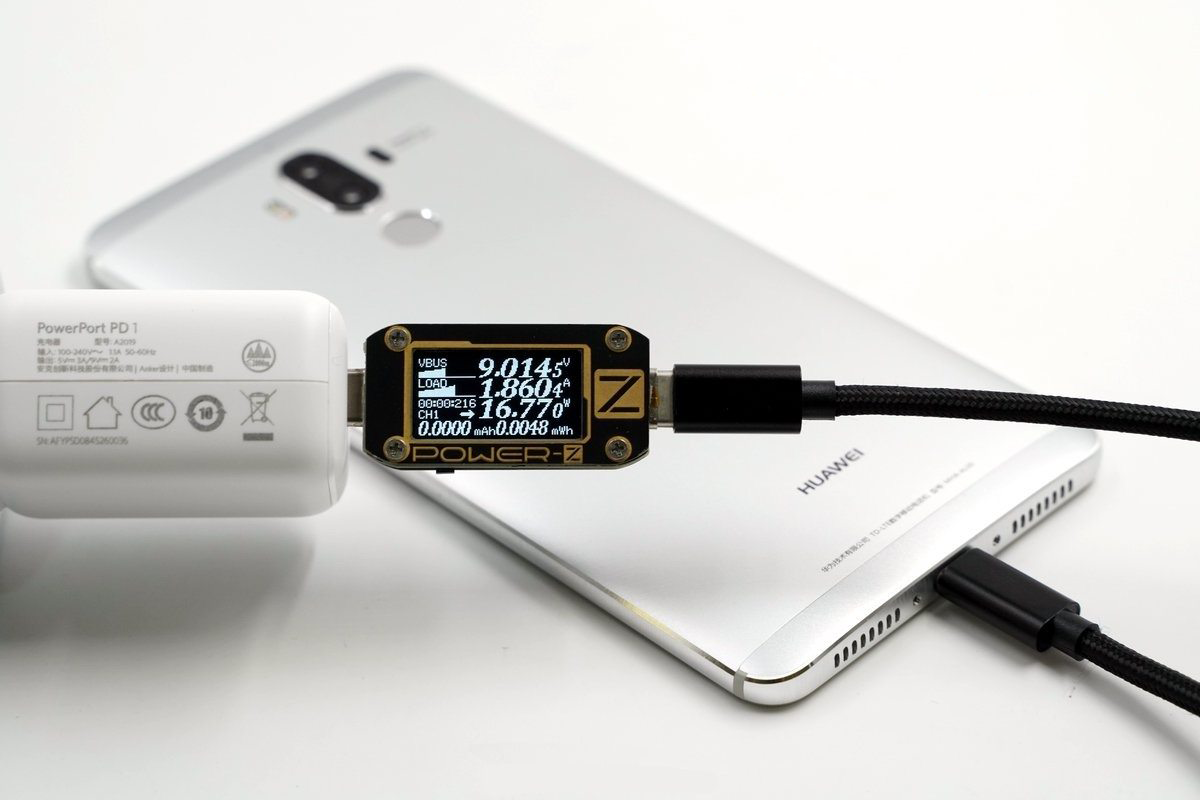 As Huawei began prioritizing charging performance, Mate 8 introduced FCP 9V2A 18W charging. This brought a significant improvement in charging speed compared to the slower standards of previous generations. However, FCP utilized a high-voltage charging scheme, resulting in greater heat generation and limitations in power increase, capping at 18W.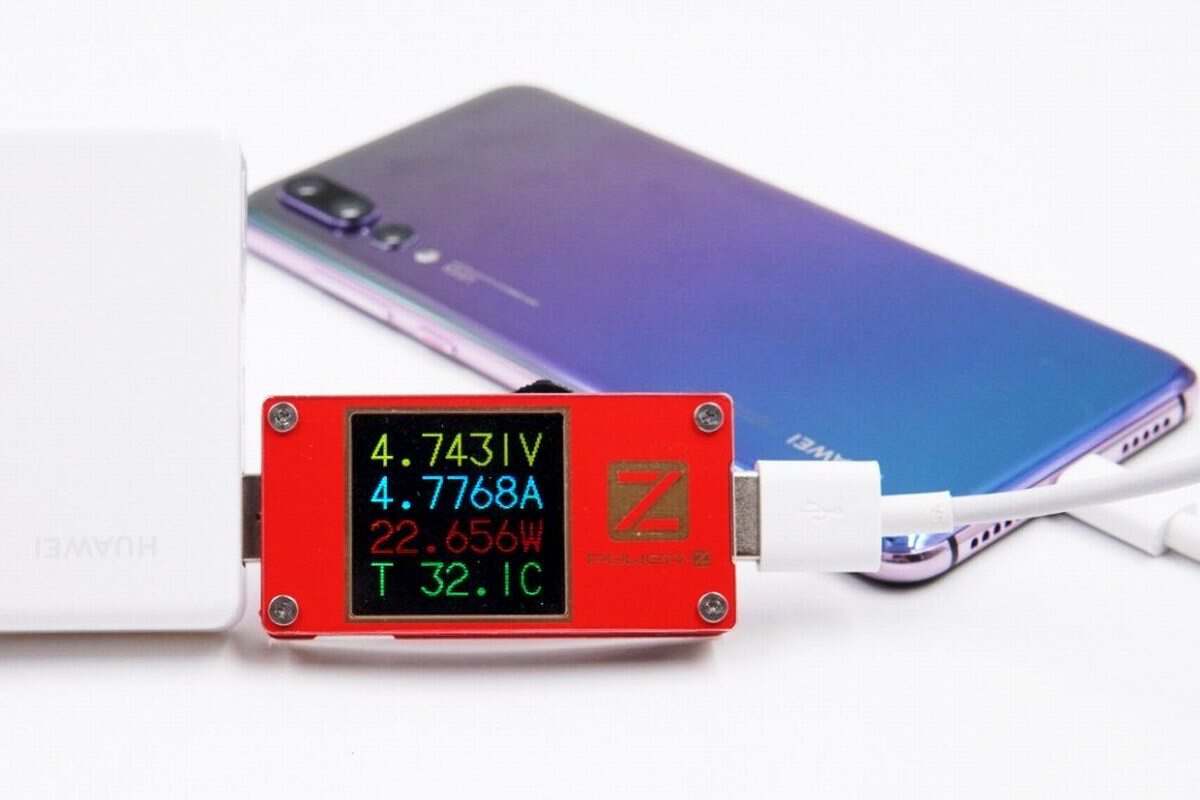 Starting with Mate 9, Huawei adopted the 22.5W SCP scheme. While the power increase relative to the previous 18W FCP was not substantial, SCP employed a 4.5V5A low-voltage direct charging technology. This led to a lower voltage difference with the battery, resulting in highly efficient charging that minimized heat. The 22.5W SCP standard persisted through the Mate 20X and remains one of the most widely used fast charging standards, supported by many chargers and power banks on the market.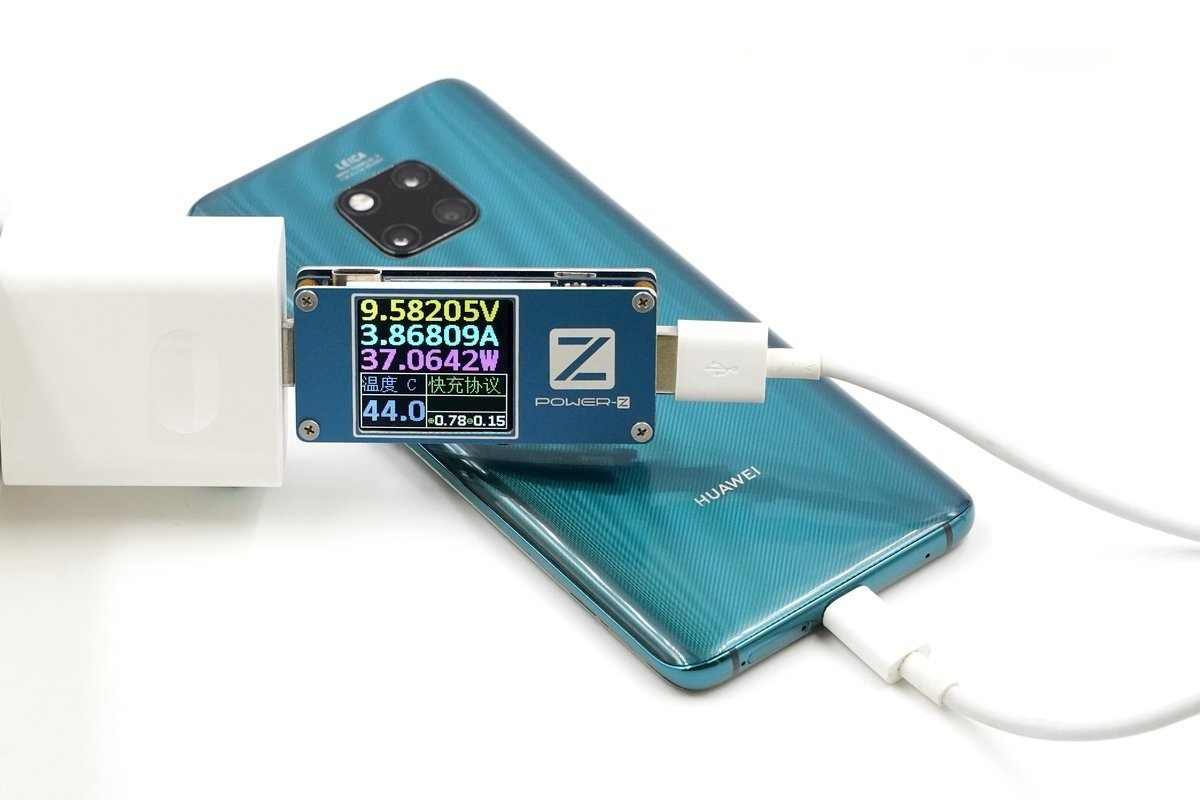 After a period of using the low-voltage direct charging technology of SCP, Huawei encountered limitations in pushing current and voltage higher. This led to the introduction of a new generation SCP with Mate 20 Pro, influencing the fast charging development of subsequent models. Mate 20 Pro adopted a 10V4A 40W SCP, utilizing a charging pump technology to ensure efficient power delivery while avoiding overloading the circuit. The 40W SCP standard became widespread in flagship models and remains a staple even in the current flagship devices of Huawei.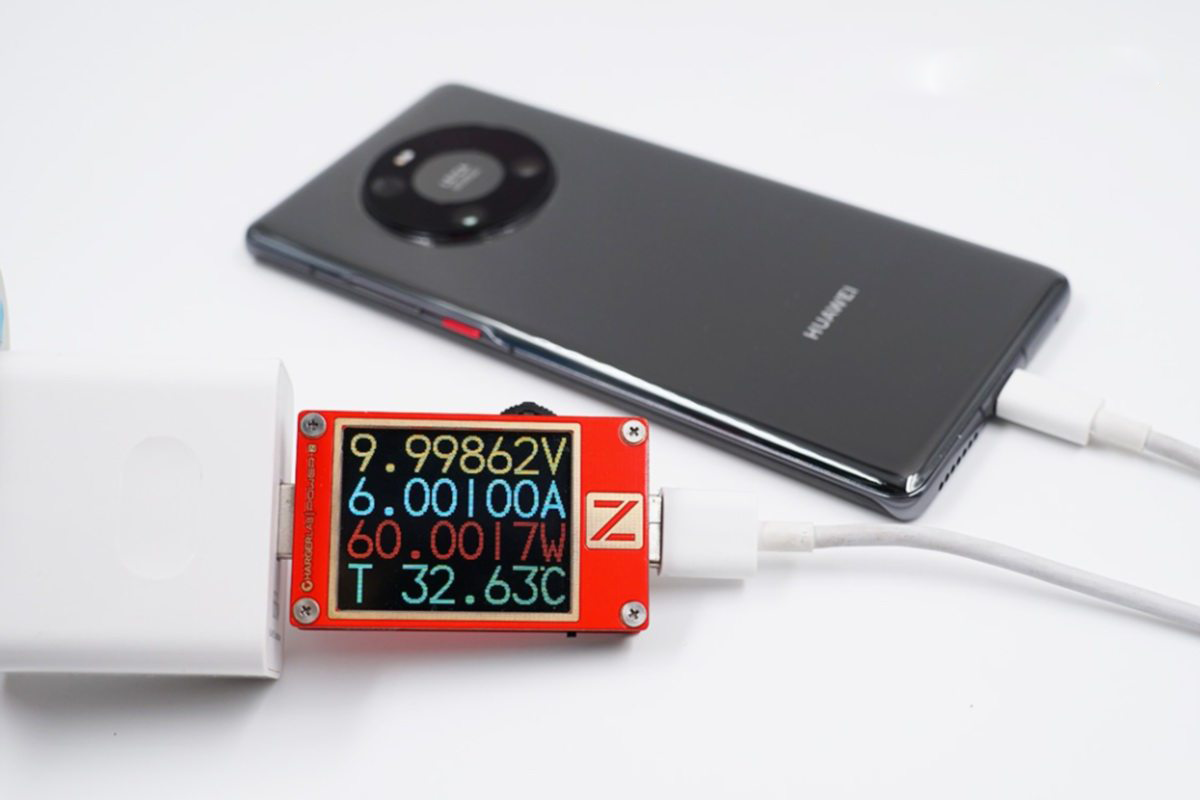 Mate 40 Pro featured the more powerful 11V6A 66W SCP, further improving performance compared to its predecessor. This 66W standard continues to be used in the current Mate 50 series.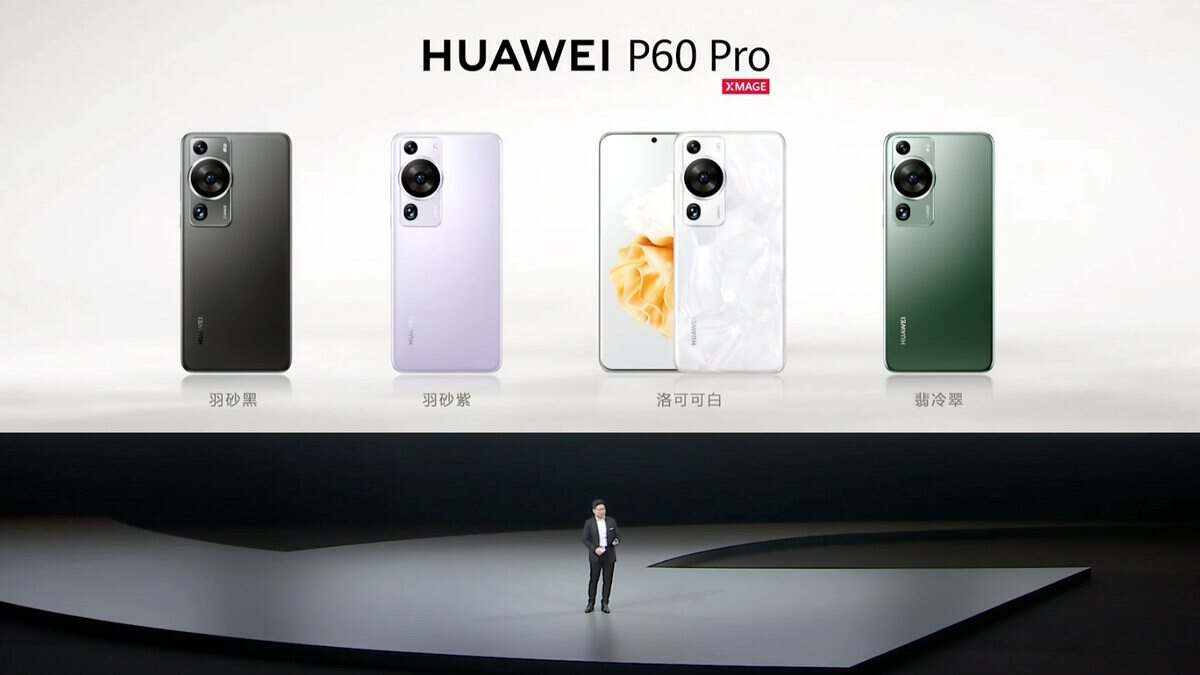 On March 23, 2023, the Huawei P60 Pro and Art introduced a new 88W wired SCP and 50W wireless SCP, surpassing the 66W standard. Now, the 88W super wired fast charging has finally made its way to the Mate 60 Pro.
Huawei 88W SCP Charging Accessories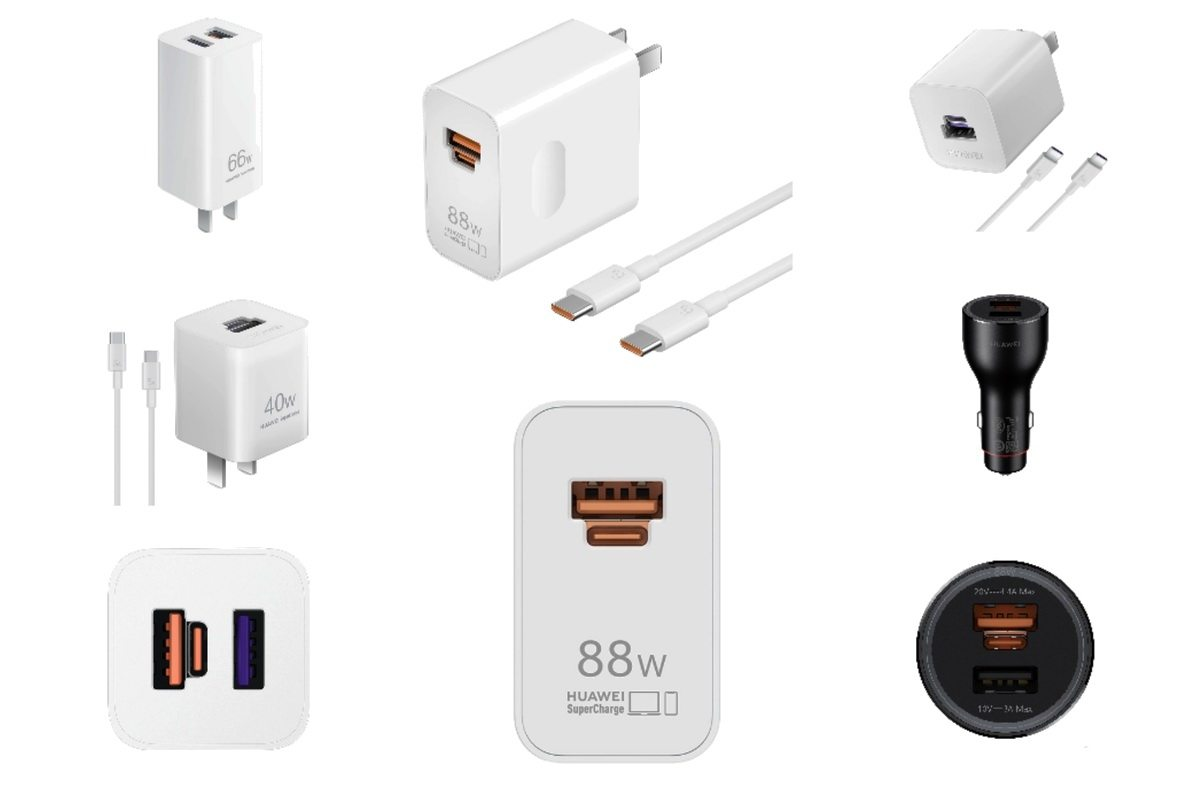 The Huawei 88W Super Charge Protocol is a proprietary protocol that requires the use of original Huawei accessories for the best experience. The related accessory lineup includes the Huawei 88W Fast Charger and Huawei 88W 3-in-1 Car Charger, both featuring a unique fusion port design.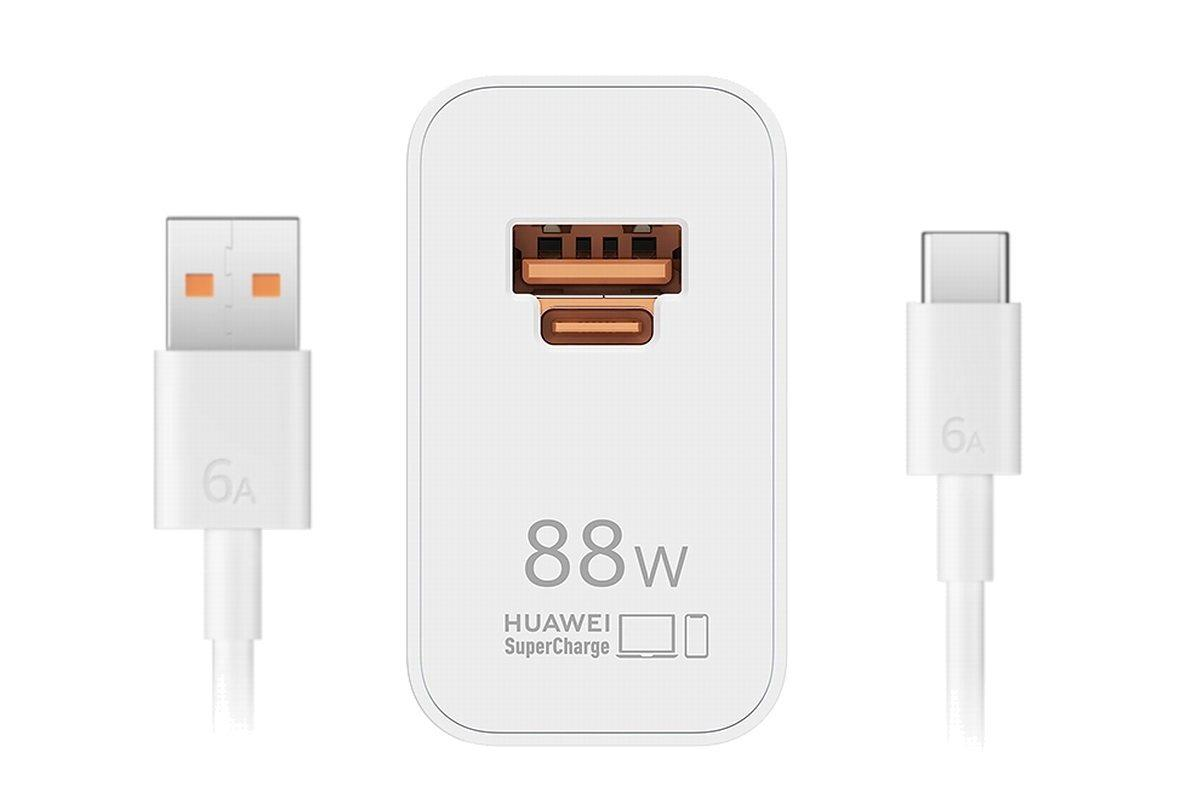 The Huawei fusion port is a highly compatible special port that tightly integrates USB-A and USB-C forms. This design supports various cable types commonly found in the market, such as USB-A to USB-C, USB-C to USB-C, USB-A to MicroUSB, USB-A to Lightning and USB-C to Lightning, greatly enhancing compatibility. Although both ports cannot be used simultaneously, this USB-A or USB-C design increases compatibility without major internal circuit changes, offering higher power density, smaller size, and reduced heat compared to common multi-port chargers.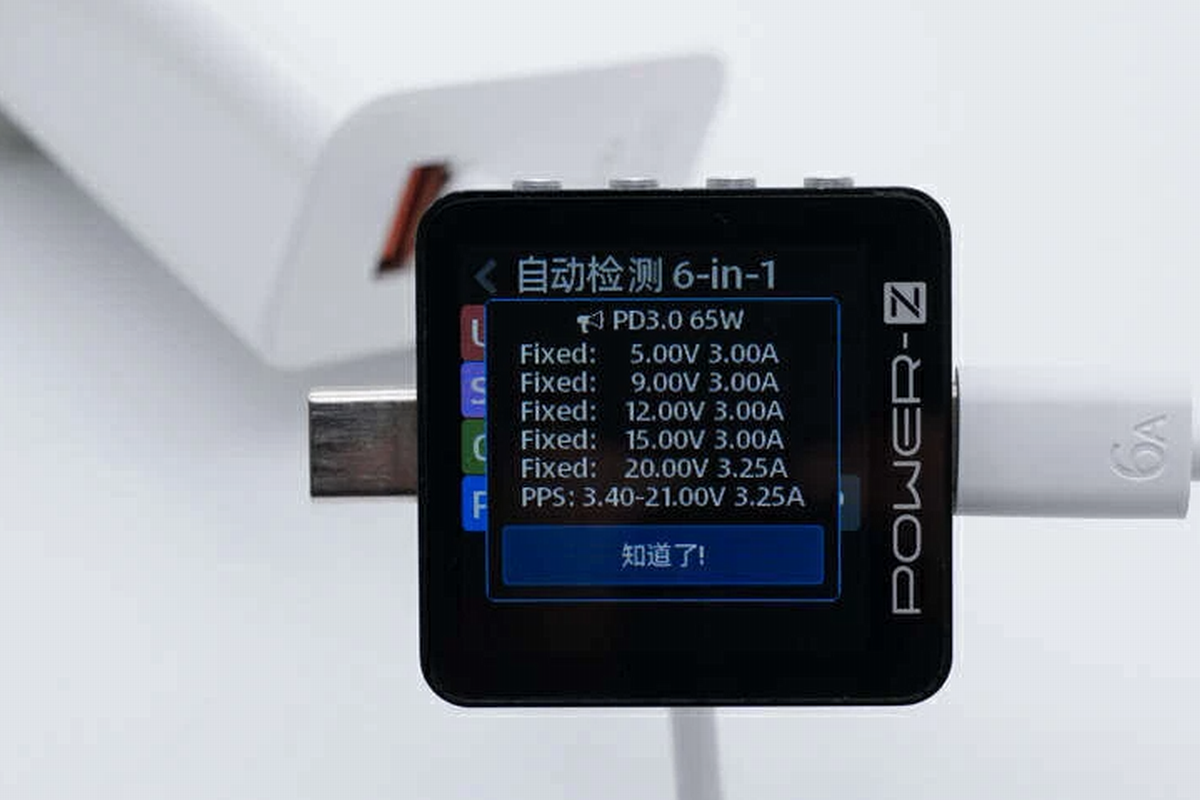 The Huawei 88W Fast Charger is compatible with USB PD fast charging standard, providing up to 65W PD 3.0 output. It supports five fixed PDOs including 5V3A, 9V3A, 12V3A, 15V3A, and 20V3.25A, and a group of wide PPS ranging from 3.4V to 21V at 3.25A.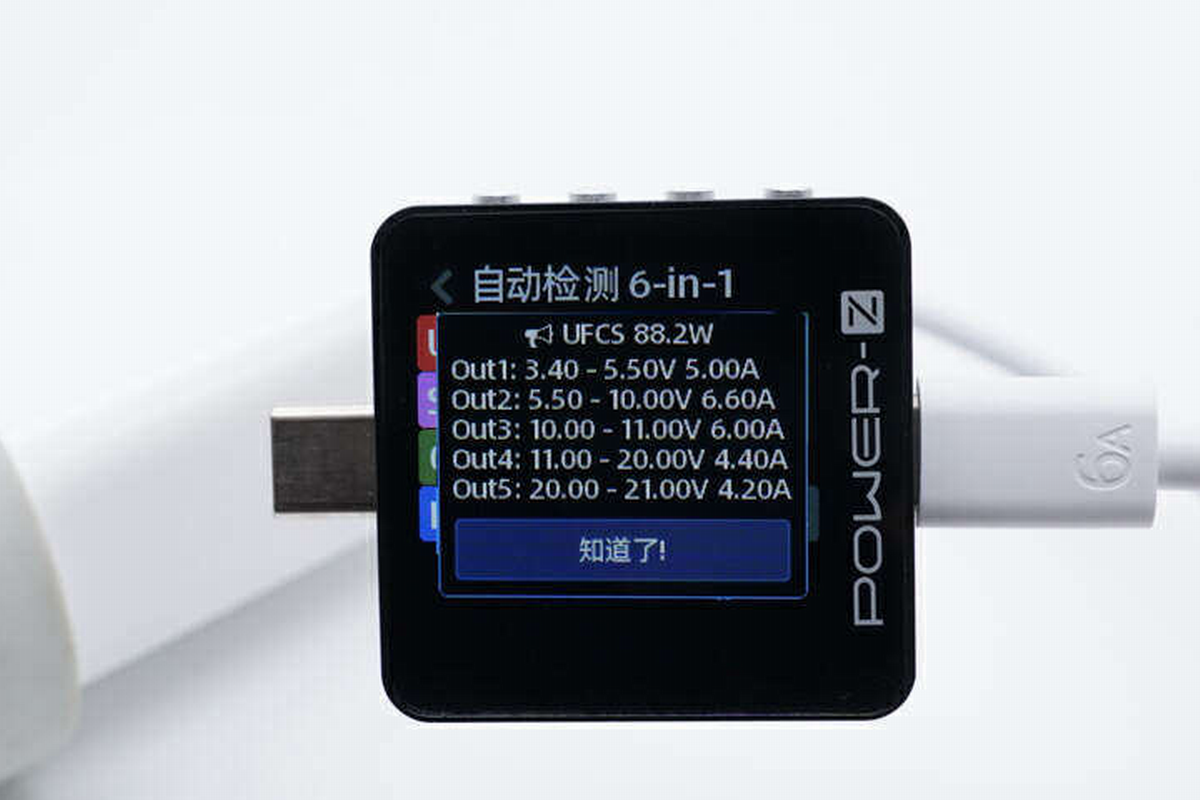 It also supports the proprietary Huawei 88W Super Charge Protocol and is backward compatible with 66W and 40W. Additionally, it supports UFCS fusion fast charging, with a range of 3.4-5.5V at 5A, 5.5-10V at 6.6A, 10-11V at 6A, 11-20V at 4.4A, and 20-21V at 4.2A. This provides a good fast charging experience for devices across brands.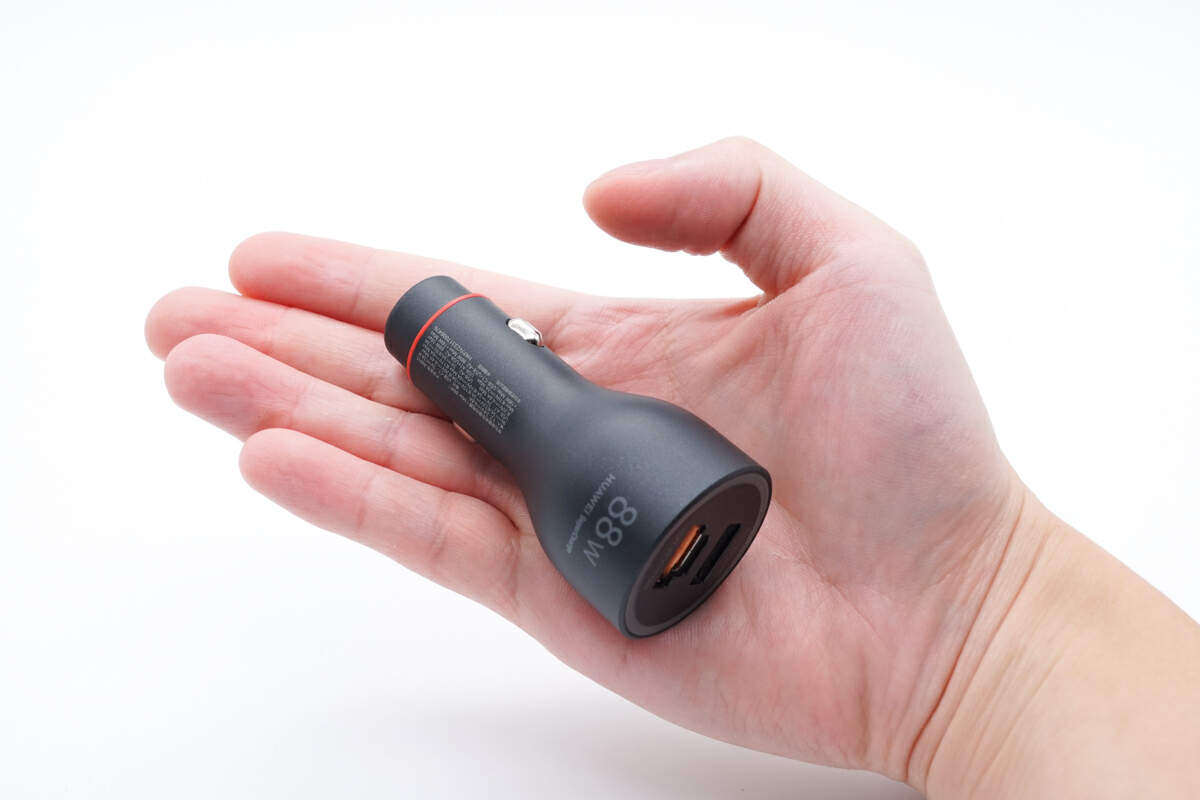 The Huawei 88W 3-in-1 Car Charger features a 1A1C fusion port and an independent USB-A port. Its performance matches that of the Huawei 88W Fast Charger, supporting 88W SCP, UFCS, and 65W USB PD.
Summary of ChargerLAB
To conclude, the sudden launch of the Huawei Mate 60 series through the "Pioneer Program" surprised and excited tech enthusiasts. This series includes two models with differences in screen size, hole punch count, and camera configuration. The Mate 60 Pro features a single-cell 5000mAh battery, expanding 88W wired SCP beyond the P series.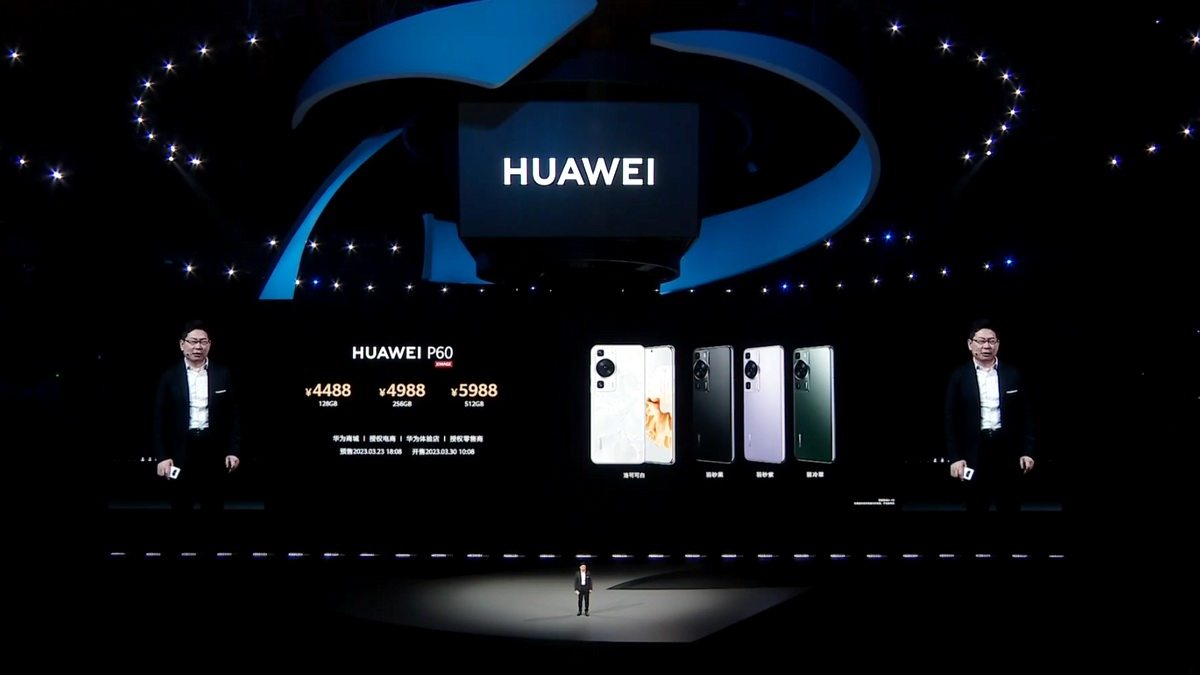 Currently, the official launch event for the Huawei Mate 60 series has not been held, and many details remain unknown. User feedback from those who have obtained the devices suggests the presence of the new Kirin 9000s processor and the return of 5G, which was absent for a few years. With these developments, Huawei's strong comeback in the market is eagerly awaited.
Related Articles:
1. The Platinum Standard | Huawei P60 Series Launch Event
2. HONOR Magic5 Series Launch Event
3. Review of Huawei HW-200325CP1 65W Charger(0.92W/cm³ Power Density)
The article is originally written by @
Joey
posted on Chargerlab. All rights reserved.