Gaming Hot, Console Cool | Introducing the UGREEN USB-C Extension Cable for Nintendo Switch
The Nintendo Switch is a revolutionary gaming console that has achieved an impressive milestone in sales. As of April 2023, the cumulative sales have surpassed an astounding 125.62 million units. This places the Nintendo Switch in the league of the best-selling consoles in history. However, this console is not without its imperfections. While its non-lite versions enable users to connect it to a TV or monitor for gameplay while charging, the design of its dock, which features a double-sided wrap design, can lead to inadequate heat dissipation. Particularly during scorching summer days, some users have reported instances of their consoles experiencing overheating and even deformations due to the heat.
In order to allow players to enjoy their games without being hindered by high temperatures, UGREEN has launched a groundbreaking USB-C extension cable for the Nintendo Switch. This cable enables users to position their console outside the dock, significantly reducing the likelihood of overheating while preserving all the console's original features and functions.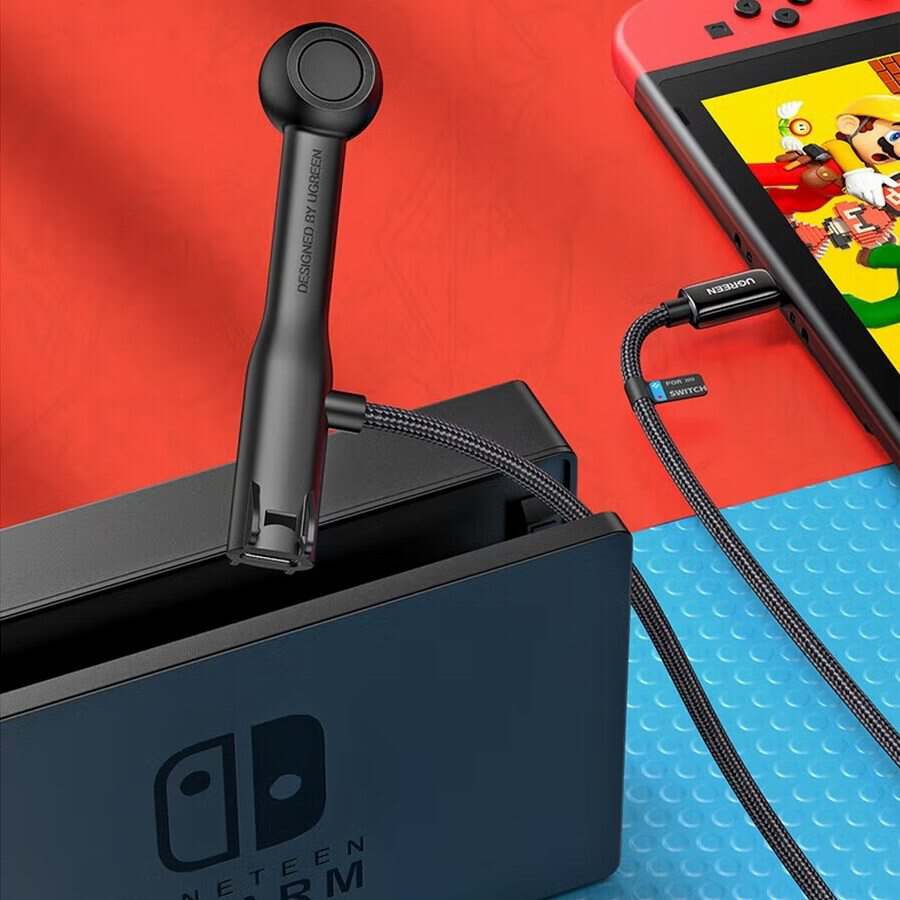 One end of this special extension cable features a standard USB-C port, while the other end boasts a truly innovative and convenient design. With its unique vertical USB-C female connector, this cable effortlessly connects to the USB-C male port discreetly nestled within the dock. This thoughtful and user-friendly design not only ensures a seamless and secure connection but also allows for easy access and hassle-free docking of your Nintendo Switch console.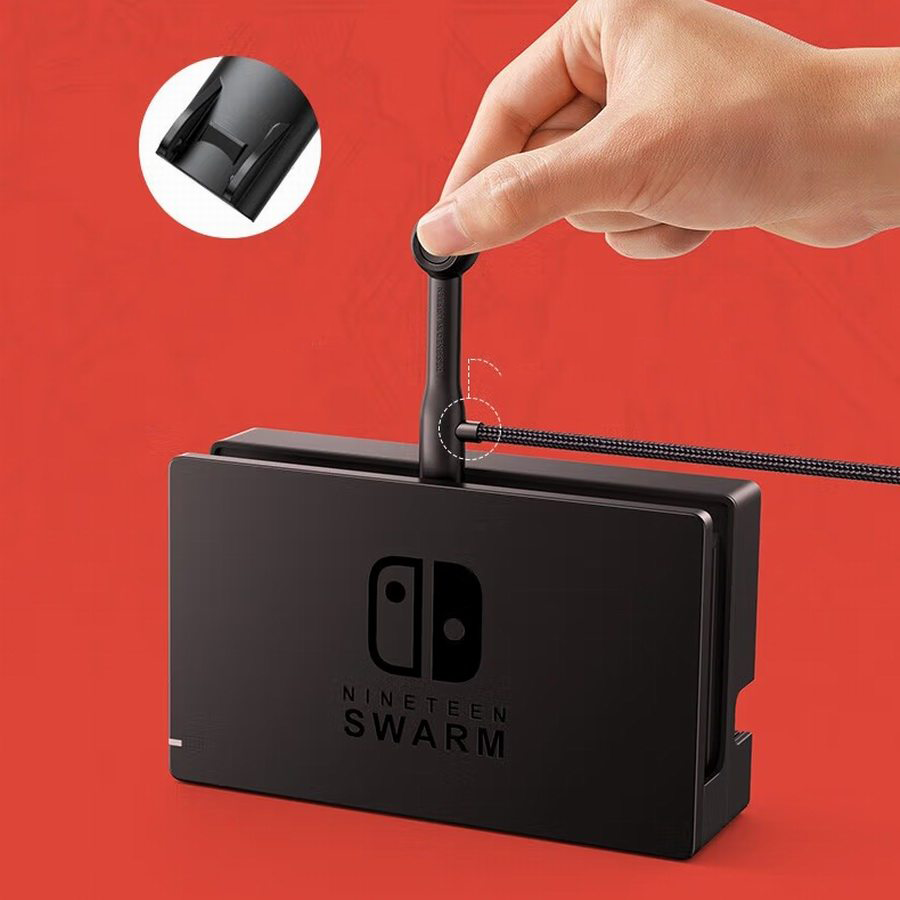 Furthermore, the USB-C female connector goes the extra mile with its double buckle design, guaranteeing a secure and snug fit that remains firmly in place, eliminating the worry of accidental disconnection. What's more, the top area of the connector features a thoughtfully designed circular recess, allowing for easy and comfortable finger grip when plugging or unplugging the cable. In addition to its functional advantages, the cable itself is positioned on the side, contributing to an overall neat and organized design.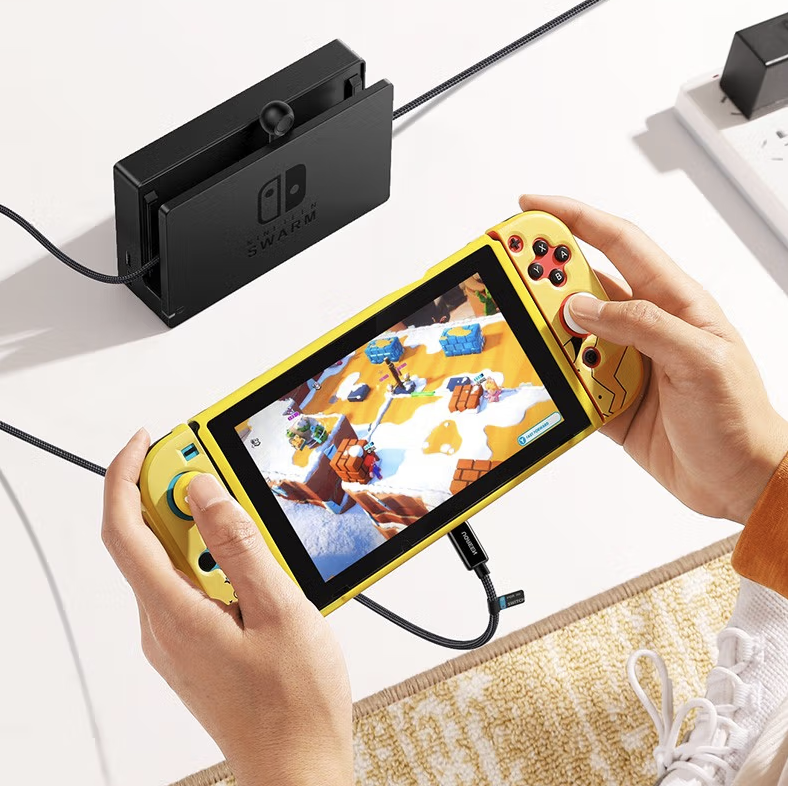 Speaking of the cable itself, it boasts a braided construction, which not only adds a touch of elegance but also enhances its durability and resistance to wear and scratches. This robust design ensures that the cable can withstand the rigors of daily use, providing reliable performance and a prolonged lifespan. Additionally, the connector that plugs into the console section is crafted with an extended zinc alloy connector. This thoughtful design feature allows for seamless compatibility even when using a protective case for your Nintendo Switch.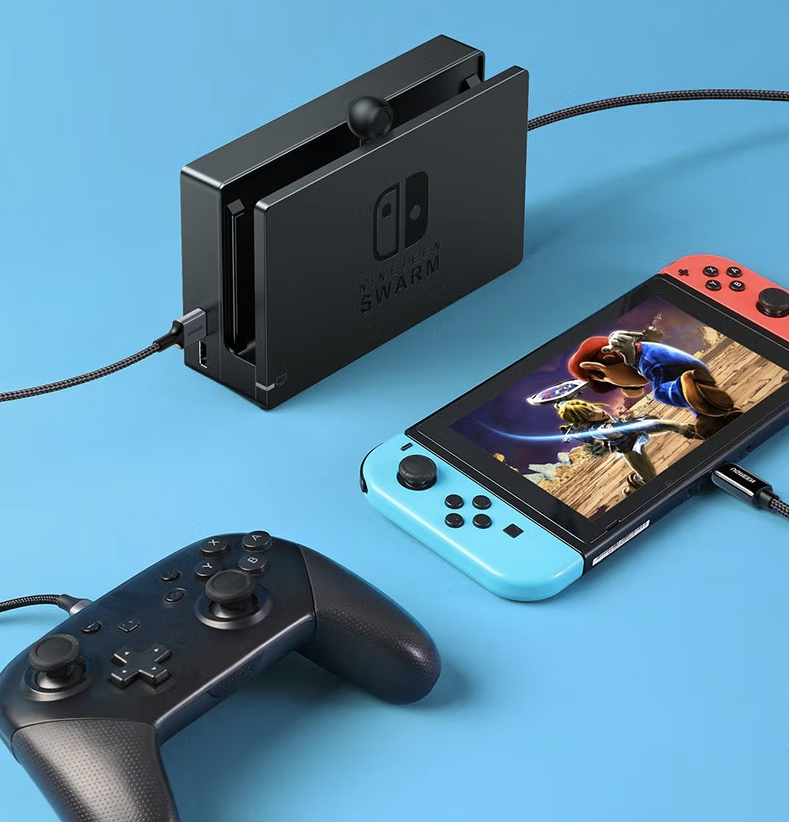 Inside the cable, there is a thickened tinned copper wire core with a gauge size of 21/32AWG (American Wire Gauge). It is equipped with dual shielding layers consisting of aluminum foil and braided mesh, ensuring stable transmission for both power and video signals. It supports USB 3.1 Gen2 (10Gbps) bandwidth and can handle a maximum charging current of 3A (60W). Importantly, it doesn't interfere with the normal operation of USB ports, allowing devices like network adapters and Pro controllers to function flawlessly.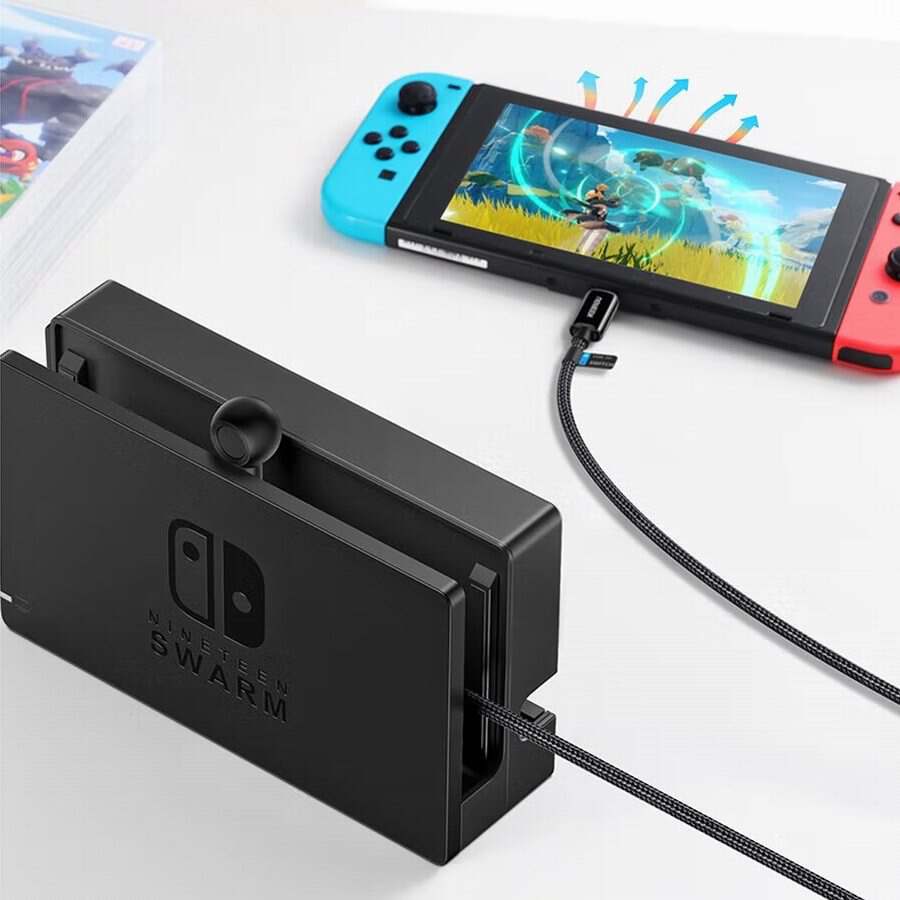 By using this extension cable, you can place the console section in a well-ventilated area, effectively avoiding the issue of excessive heat buildup caused by the dock's dual-sided design. This significantly improves heat dissipation efficiency and helps prevent the Switch from entering sleep mode due to overheating.
Summary of ChargerLAB
In conclusion, the UGREEN USB-C Extension Cable offers a practical solution for Nintendo Switch users to mitigate the impact of high temperatures. By allowing the console to be placed outside the dock, heat dissipation is significantly improved, ensuring a more stable and enjoyable gaming experience. With its thoughtful design, including the unique USB-C connector and durable construction, the cable not only addresses overheating concerns but also maintains the functionality of the Switch and its peripherals. UGREEN continues to innovate and provide solutions that enhance the gaming experience, exemplifying their commitment to delivering high-quality accessories for gamers worldwide.
This innovative product is now conveniently available for purchase on Amazon US, with an affordable price of just $11.65. It's an excellent opportunity for interested readers and Nintendo Switch enthusiasts to enhance their gaming experience. By clicking on the provided link, you'll gain direct access to this remarkable device from UGREEN.
Related Articles:
1. Teardown of Original Nintendo Switch Charging Dock
2. Teardown of HAGiBiS 65W GaN Charger Dock With HDMI (For Nintendo Switch)
3. Teardown of Original Nintendo Switch OLED Model Charging Dock
The article is originally written by @
Joey
posted on Chargerlab. All rights reserved.