Baseus Launched 20W Popsicle Fast Charging Power Bank
Nowadays, smartphones have become indispensable for various activities such as communication, electronic payments, and entertainment. When stepping out briefly, it's crucial to have a reliable power source to avoid the anxiety of low battery levels. Recently, Baseus has introduced a 5200mAh power bank with a built-in cable, featuring a creative design resembling a colorful "popsicle." This portable power bank is not only practical but also visually appealing. Whether you're traveling, attending meetings, or enjoying outdoor adventures, this power bank provides a convenient and stylish solution to keep your devices powered up.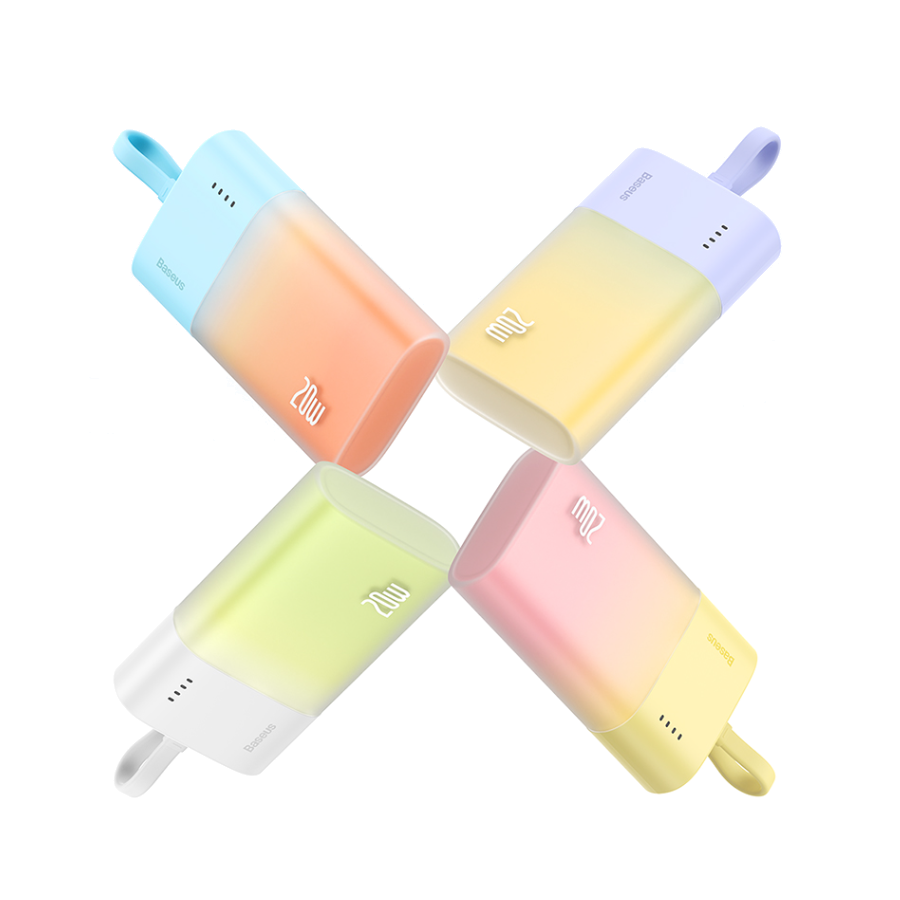 The Baseus 20W Popsicle Fast Charging Power Bank features an innovative and eye-catching design, resembling a delightful popsicle. Its vibrant colors and semi-transparent gradient make it a fashion statement while ensuring it stands out from other power banks in the market. The shell is equipped with four battery level indicators and marked with "20W," supporting various fast charging protocols such as PD, QC, AFC, and FCP. Whether you're charging your iPhone, Huawei, Xiaomi, or other mainstream smartphones, the Baseus 20W Popsicle Fast Charging Power Bank ensures a rapid and efficient charging experience.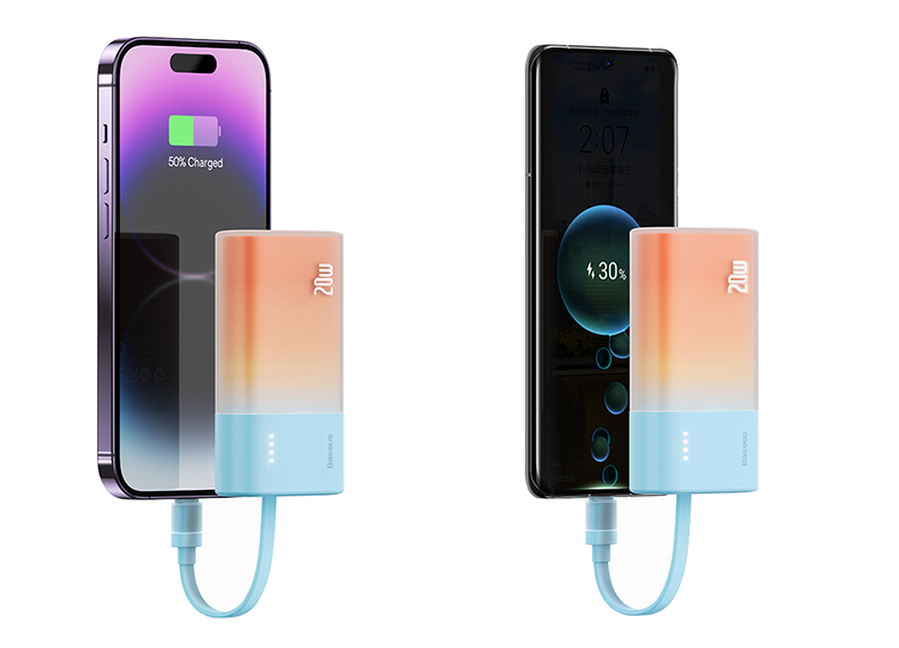 The built-in cable is made of widened and thickened TPE material, ensuring flexibility and durability. It has passed 10,000 swing tests, eliminating the need to carry an additional cable when going out. Even with a protective case on your phone, you can conveniently charge it. The power bank offers two cable options: one with a built-in Apple Lightning connector and the other with a USB-C connector. With the Apple Lightning cable, you can charge an iPhone 14 up to 50% in just 30 minutes, while the Type-C cable can charge a Huawei P50 up to 60% in the same timeframe.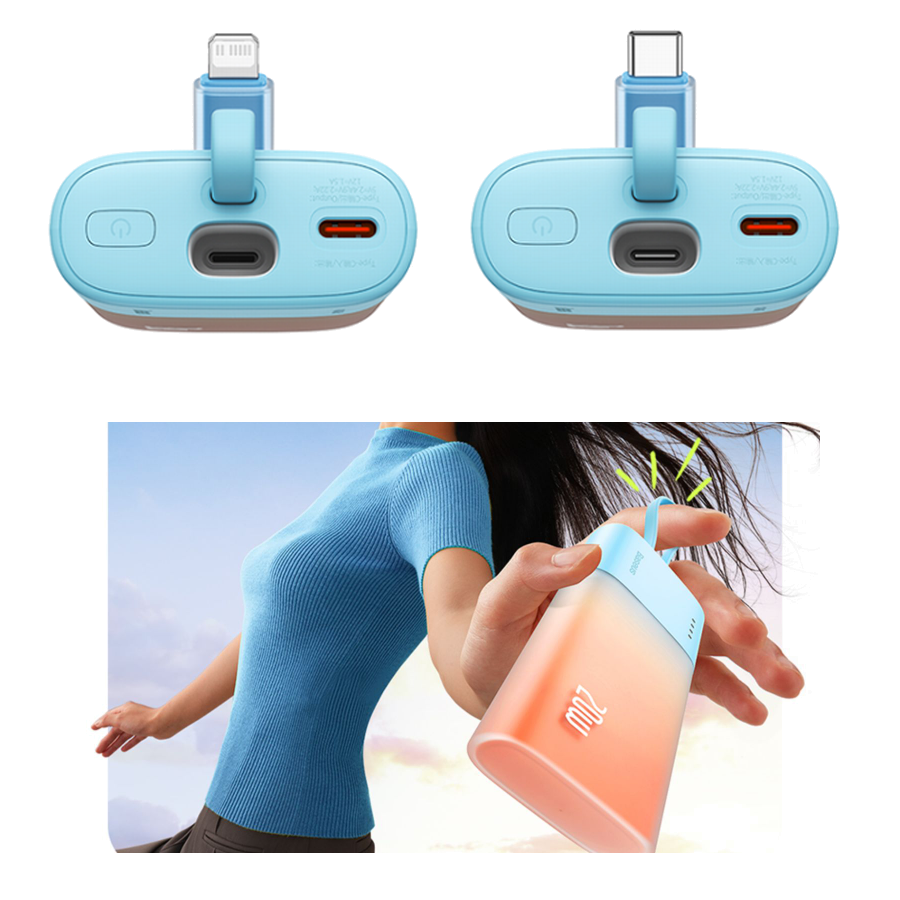 In terms of port configuration, besides the built-in cable, the power bank also features a bi-directional fast charging USB-C port. This means that the Apple Lightning cable supports output, while the USB-C port supports both input and output; as for the USB-C cable, it can support both input and output, and the USB-C port still supports both input and output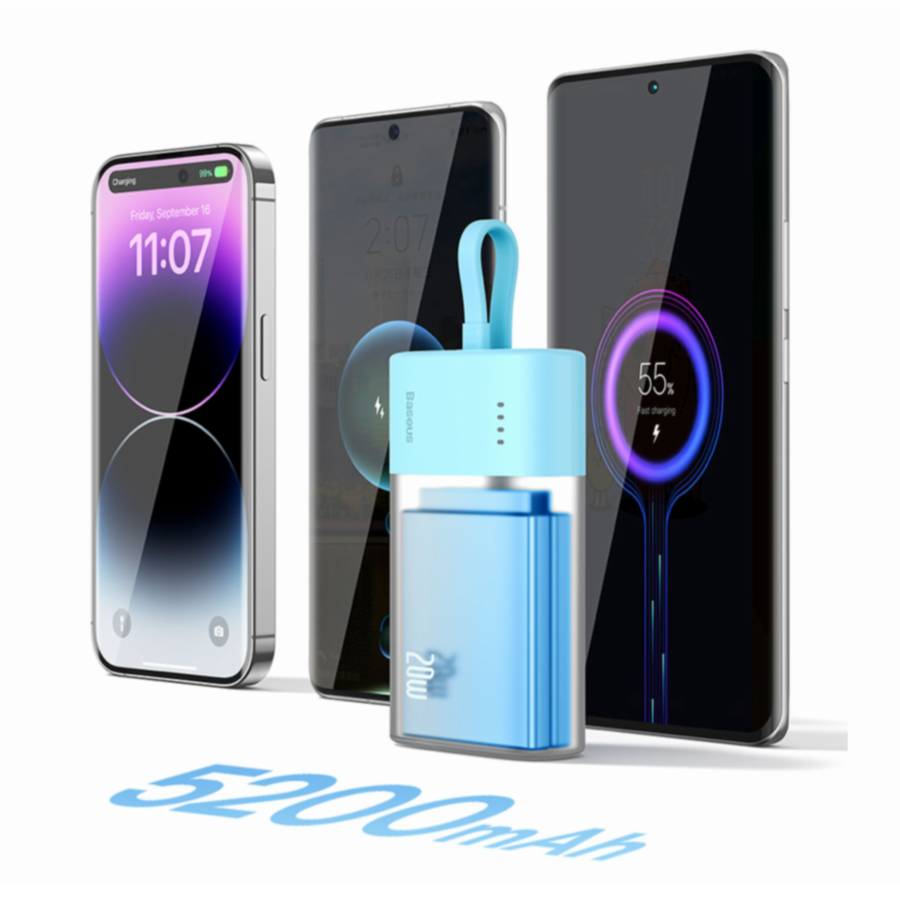 The Baseus 20W Popsicle Fast Charging Power Bank is compact and portable, with a slim and flat design that can easily be carried alongside your phone. With a size of 92.6 x 53.3 x 23.3mm (3.65 x 2.10 x 0.92 inches), it effortlessly fits into your pocket. It houses a built-in 5200mAh battery capacity, which is approximately enough to charge an iPhone 14 1.2 times, a Huawei P50 0.9 times, or a Xiaomi 13 0.8 times. When you need to go out for emergencies, bringing this power bank ensures more than enough full charges.
Summary of ChargerLAB
The Baseus 20W Popsicle Fast Charging Power Bank is a compact and stylish solution for mobile charging needs. With its innovative "popsicle" design, this power bank stands out from the crowd. It features a built-in cable made of durable TPE material, eliminating the need for carrying extra cables. The power bank supports fast charging protocols and is compatible with popular digital devices. Its slim and portable form factor makes it easy to carry alongside your phone. With a 5200mAh battery capacity, it provides ample power for emergencies and day-to-day usage. The Baseus 20W Popsicle Fast Charging Power Bank offers a combination of style, convenience, and reliability, making it an ideal choice for those who seek both functionality and aesthetics in their charging solutions. Stay powered and stay stylish with this impressive power bank.
The Baseus 20W Popsicle Fast Charging Power Bank is currently available for purchase only at the Baseus flagship store on Tmall, a popular online marketplace in China. It offers two cable options: Lightning and USB-C. Additionally, it comes in four attractive semi-transparent colors. The price of the power bank is set at 129 yuan ($18).
Related Articles:
1. Baseus Launched 20W Kickstand Magnetic Fast Wireless Charging Power Bank on Amazon
2. Teardown of Baseus 20W 10000mAh MagSafe Wireless Power Bank (For iPhone 14/13/12)
3. Baseus Launches New 20W PD Magnetic Wireless Power Bank
The article is originally written by @
Joey
posted on Chargerlab. All rights reserved.