Unleashing the Power of Gaming | ASUS Launched ROG Phone 7 Series

ASUS ROG, short for Republic of Gamers, has been a well-known brand in the gaming industry for many years. The company is famous for producing high-quality gaming laptops, desktops, and peripherals that cater to gamers' specific needs. The ROG brand was established in 2006, and since then, it has become synonymous with innovation, performance, and style. One area where ASUS ROG excels is the production of gaming peripherals, such as keyboards, mice, headsets, and monitors. These accessories are crucial for providing gamers with a complete and immersive gaming experience. Back in 2018, ROG first introduce its gaming experience to the smartphones industry.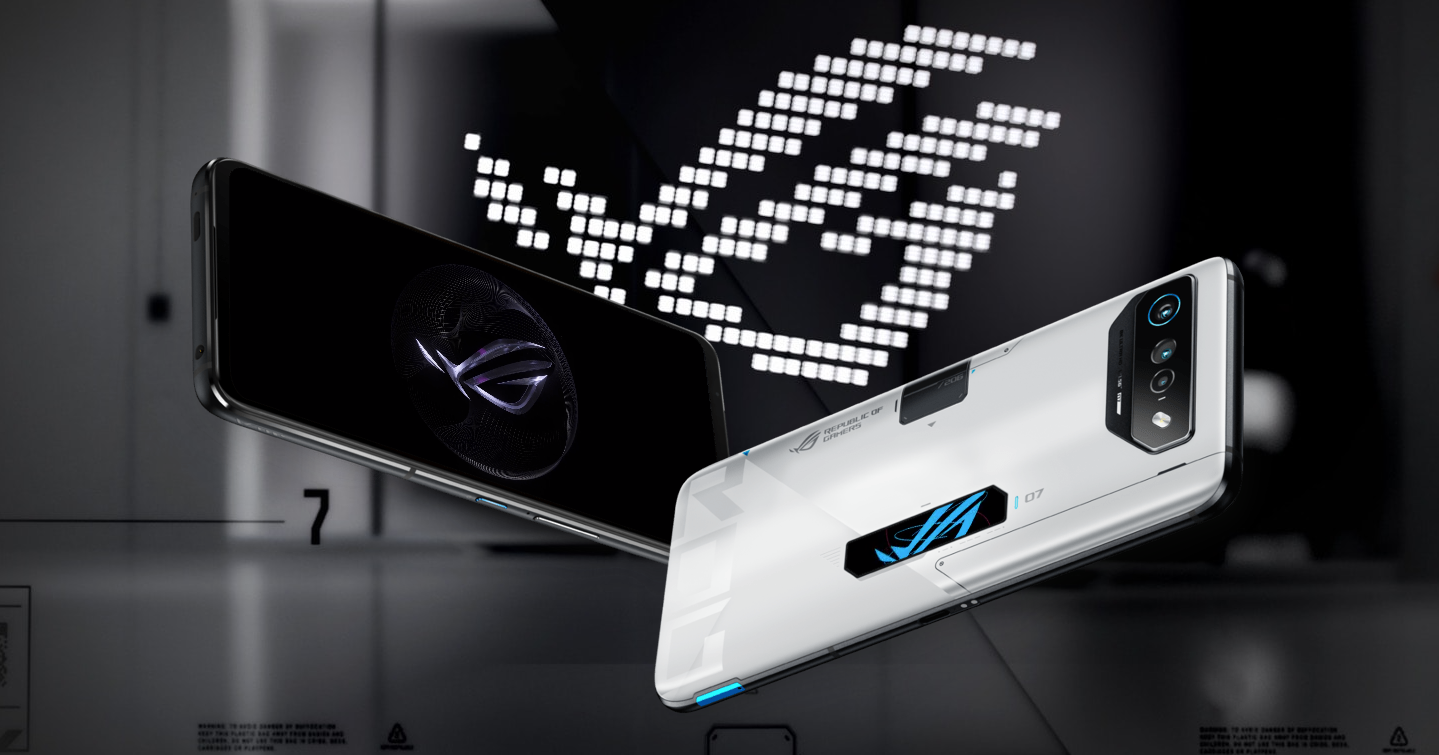 And on April 13th, 2023, ASUS announced the launch of its ROG Phone 7 series gaming smartphones. The series includes two models, the ROG Phone 7 and the ROG Phone 7 Ultimate, as well as a multi-functional peripheral called AeroActive Cooler 7. These phones are among the few gaming phones still available on the market, and they come packed with impressive features. The phones are powered by the Snapdragon 8 Gen 2 mobile platform, UFS 4.0 ROM, and LPDDR5X RAM, making them fast and responsive. They also have a dual USB-C charging port design, a massive 6000mAh battery that supports 65W fast charging, and an innovative "AeroActive Portal" cooling technology that ensures gamers can play for extended periods without their devices overheating. All in all, the ROG Phone 7 series promises a comprehensive and high-end gaming experience for players who demand the very best.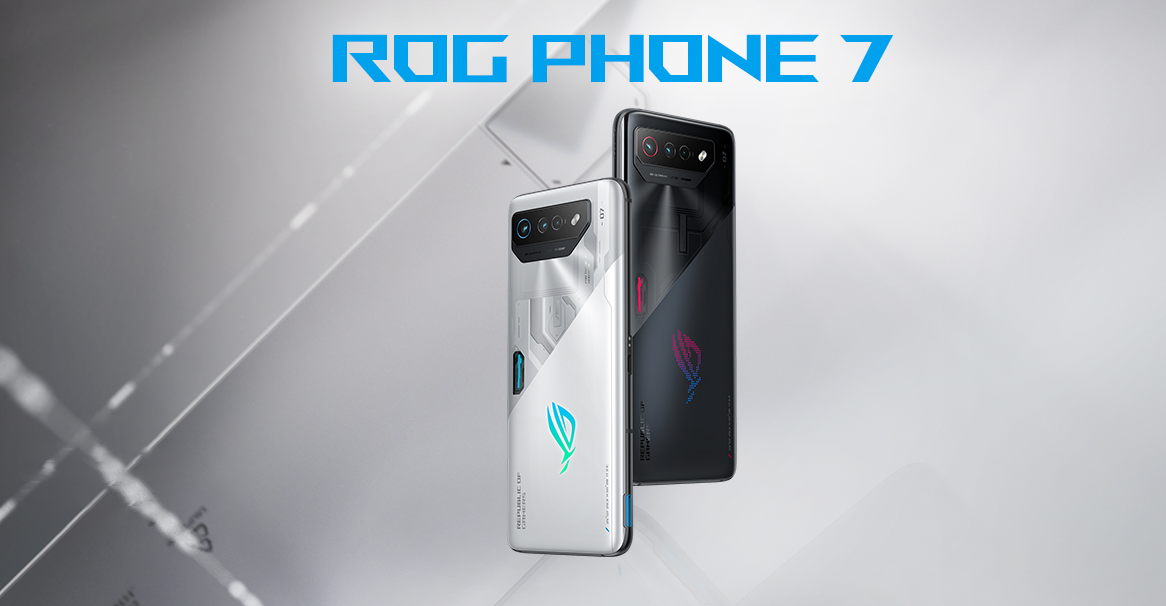 The ROG Phone 7 carries on the esports-inspired design of the ROG Phone 6, featuring bold slash graphics and an eye-catching two-tone color scheme with layered translucent elements. It also comes with an Aura RGB fearless eye dot-matrix logo that supports eight mood-lighting presets and up to 16.77 million color combinations. The phone is available in two colors: Phantom Black and Storm White.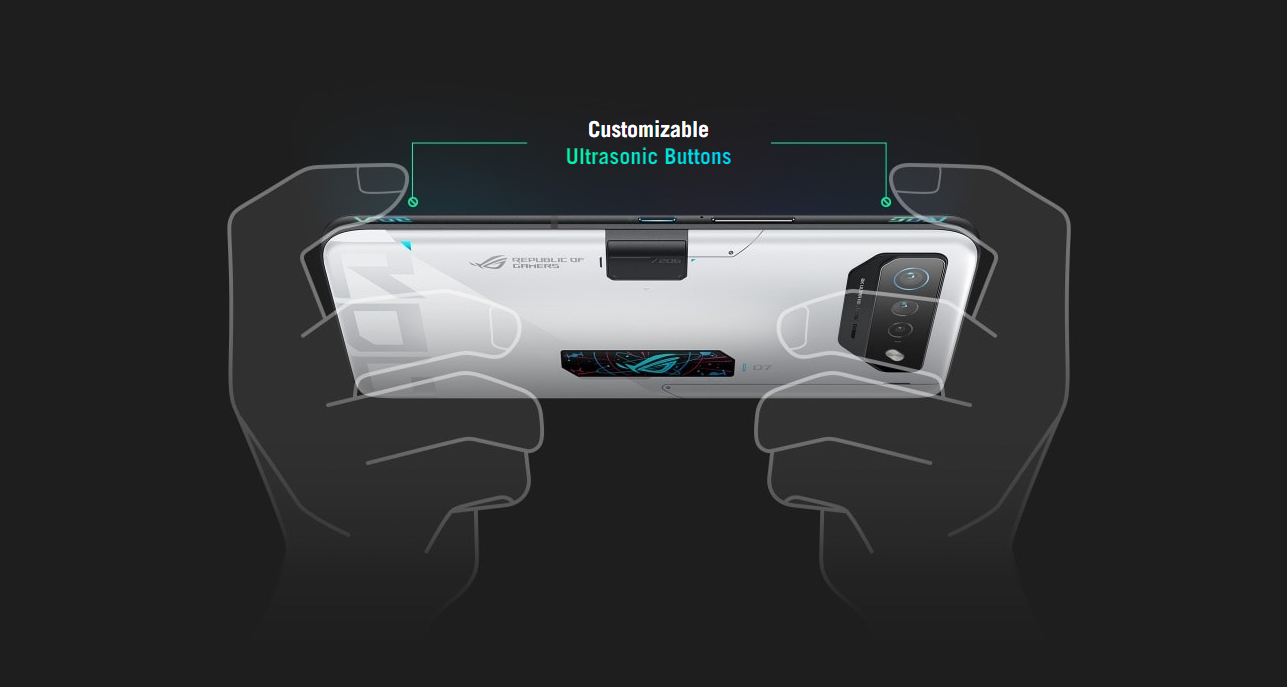 The ROG Phone 7 is equipped with AirTrigger 7, a versatile set of ultrasonic controls that includes two ultrasonic buttons and supports up to nine hand gestures and ten motion gestures. In addition, the AeroActive Cooler 7 comes with four extra buttons that can be fully customized to take full control of the ROG Phone 7.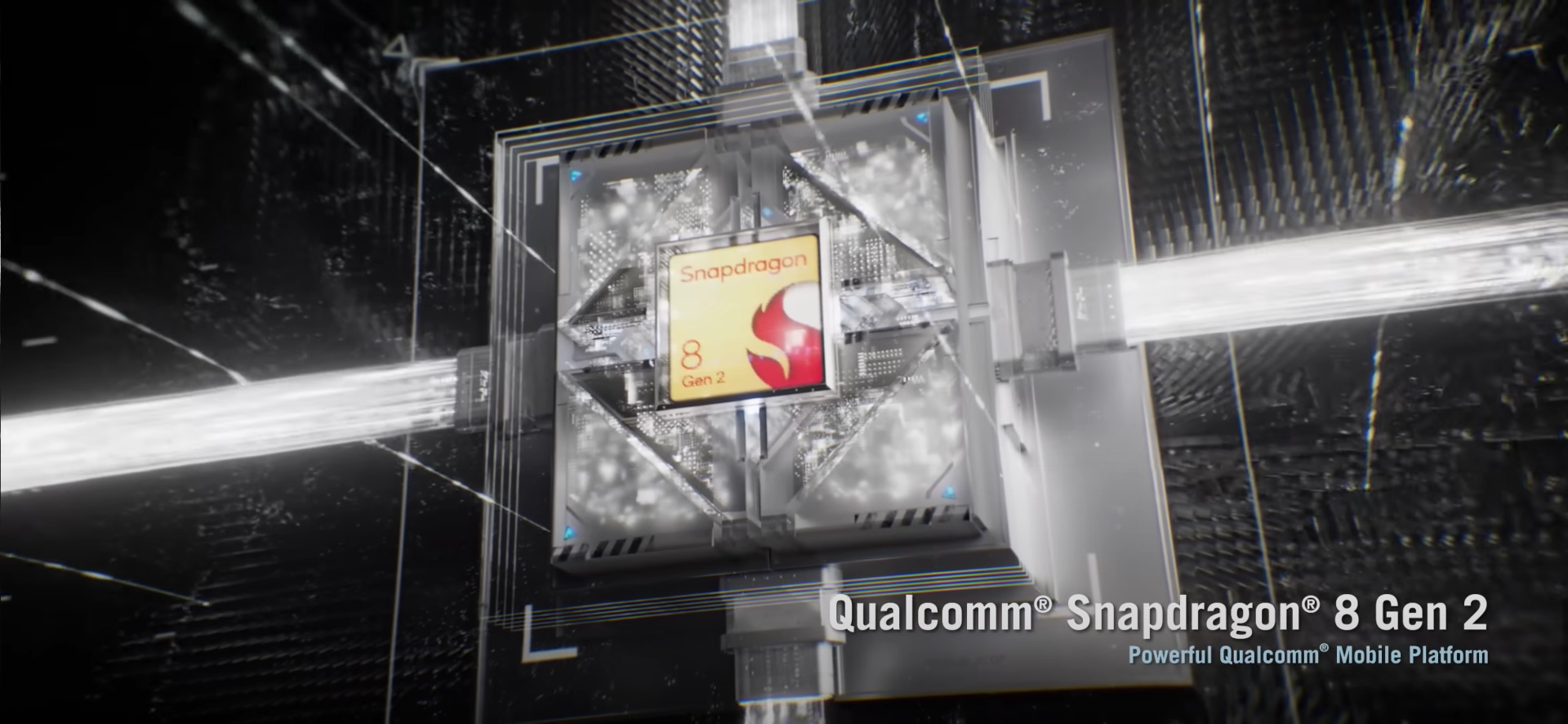 The ROG Phone 7 series adopts the flagship 3.2 GHz Snapdragon 8 Gen 2 Mobile Platform, which is 15% faster and 15% more power-efficient over the Snapdragon 8+ Gen 1 on the ROG Phone 6. It's paired with 8533 MHz LPDDR5X RAM, and UFS 4.0 ROM that's twice as fast as UFS 3.0. All this power is enhanced even further by the unrivaled Armoury Crate performance manager, which gives you precise control over performance and tuning settings.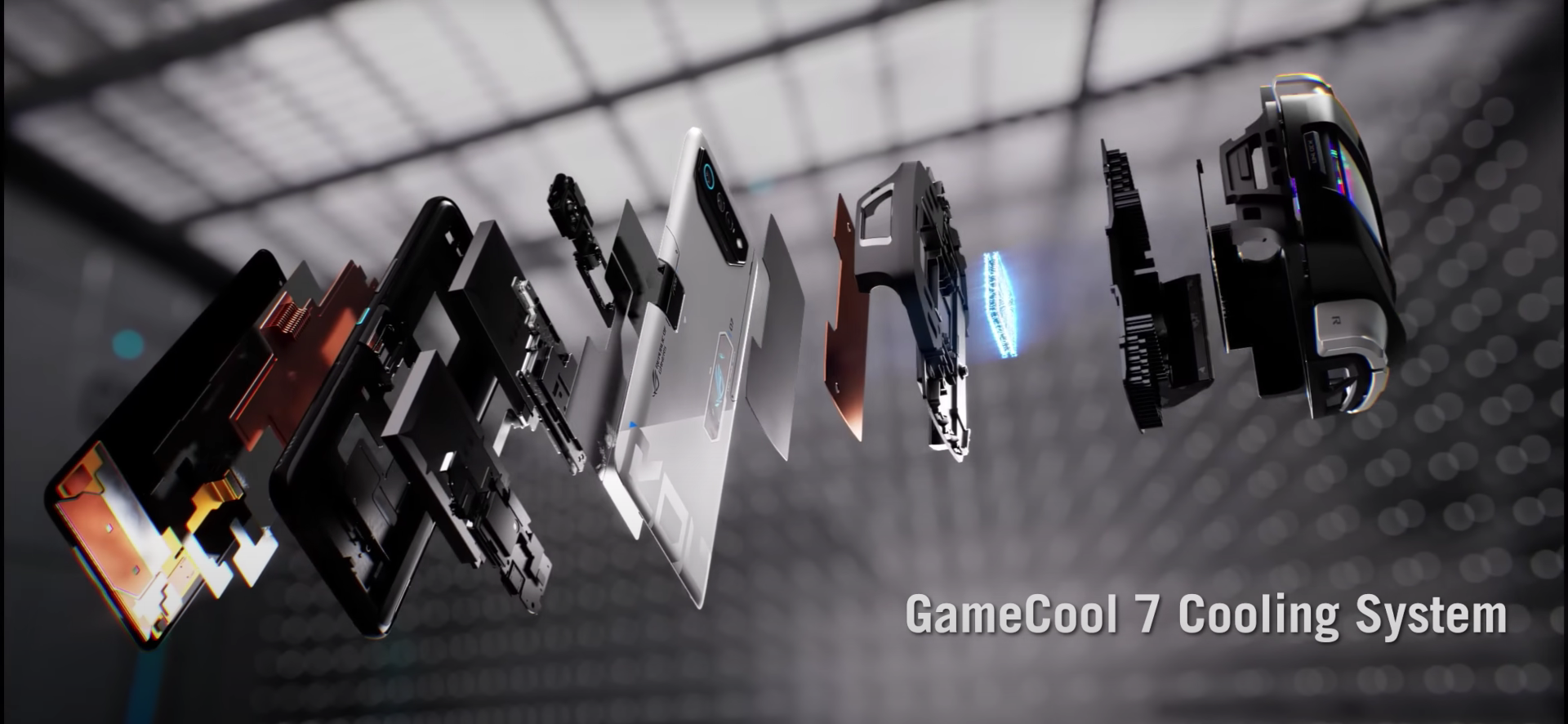 One of the most significant differences between gaming phones and regular smartphones lies in their ability to maximize performance by managing heat. In simpler terms, it all comes down to cooling. The ROG Phone 7 boasts a unique design featuring a centrally located SoC with a 7.0 matrix liquid cooling system. The vacuum chamber houses a 16,000mm² graphene cooling technology and six high-speed reflux channels that work together to rapidly dissipate heat from the processor. As a result, the phone scored an impressive 1.36 million points on AnTuTu benchmark, earning it a spot at the top of the leaderboard.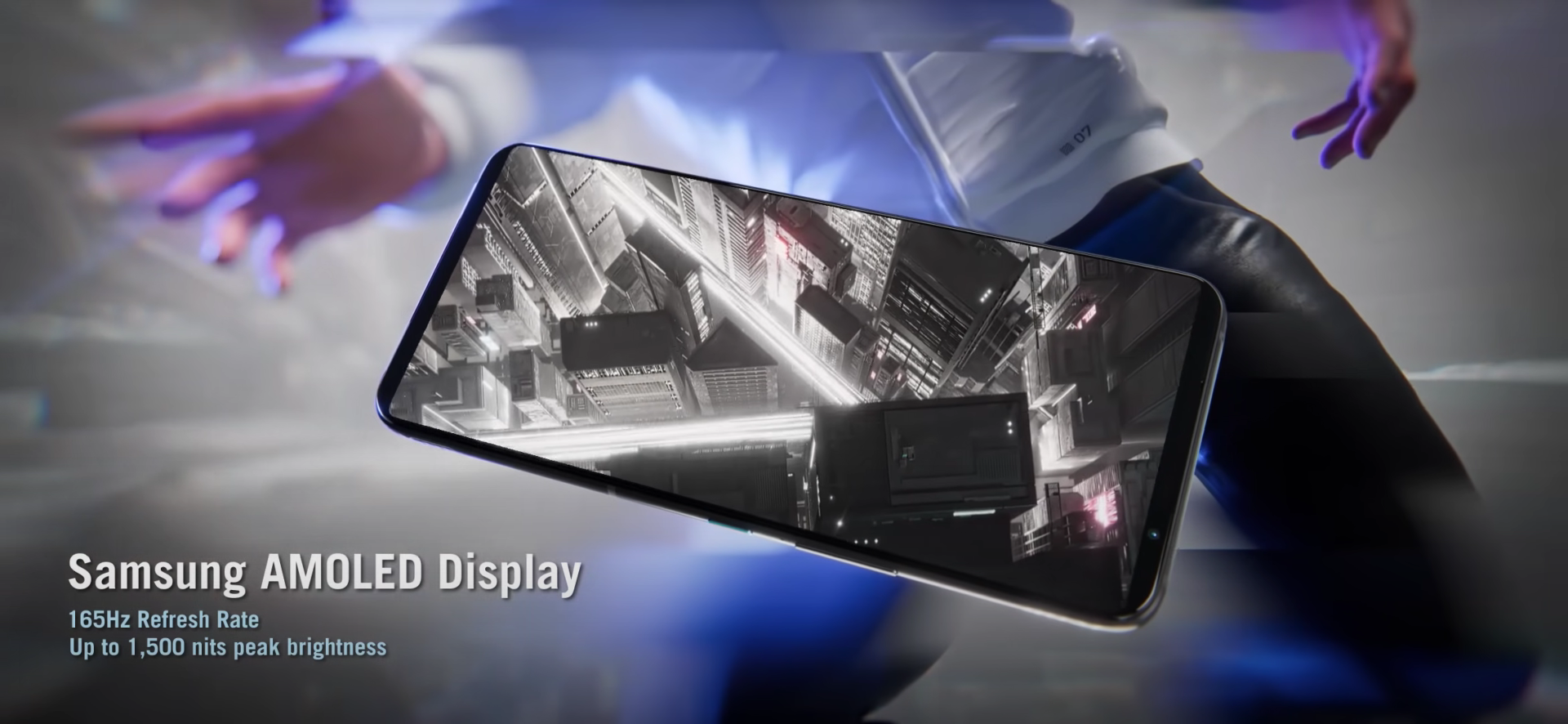 The screen is another highlight of the ROG Phone 7 series. All models feature a 6.78-inch gaming screen designed by Samsung with a diamond-shaped pixel arrangement, a super-fast 165Hz refresh rate, and a peak brightness of 1500nit. The phone's twin front-firing 12 x 16 mm speakers with 50% more effective volume and results in 20% stronger bass performance, which enhances audio quality and provides a more immersive gaming experience.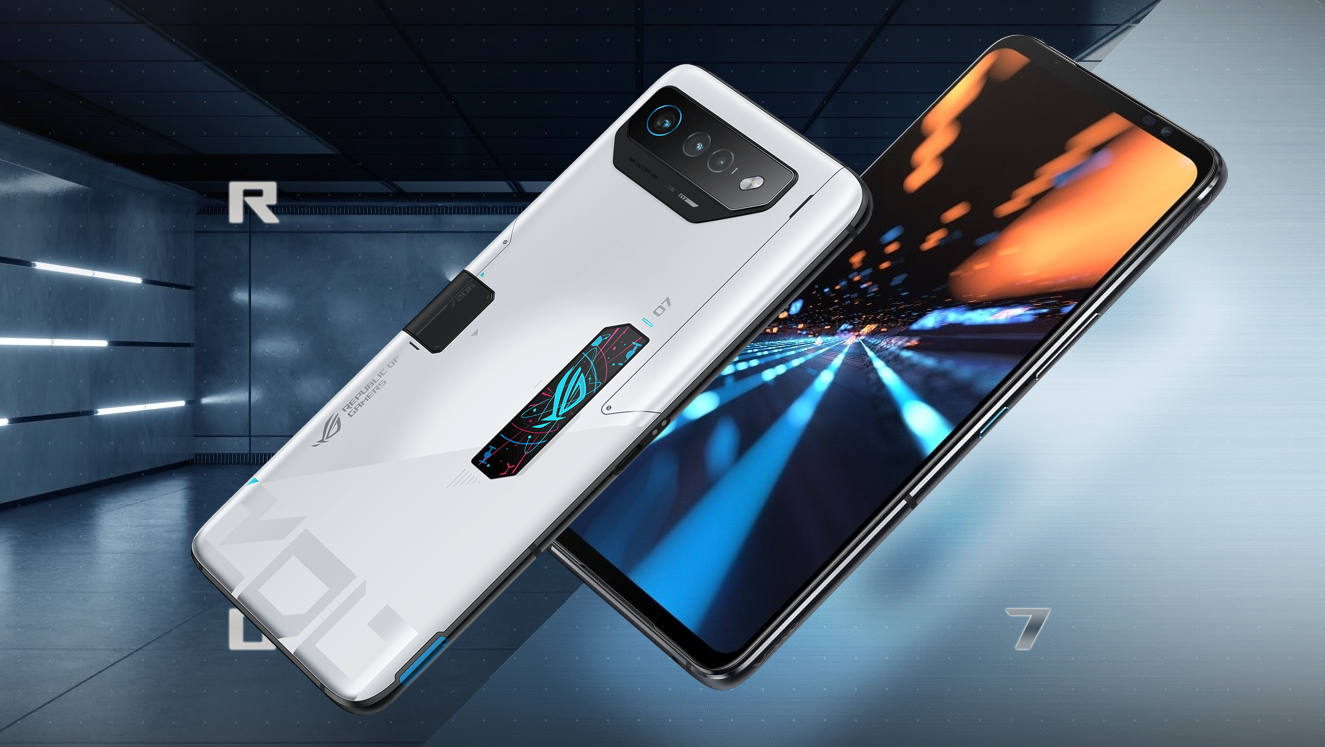 When it comes to the camera, the front-facing camera is equipped with a 32 million pixel OV32C high-definition sensor, while the rear camera features an IMX766 sensor with a 13 million pixel ultra-wide-angle camera and a 5 million pixel macro camera.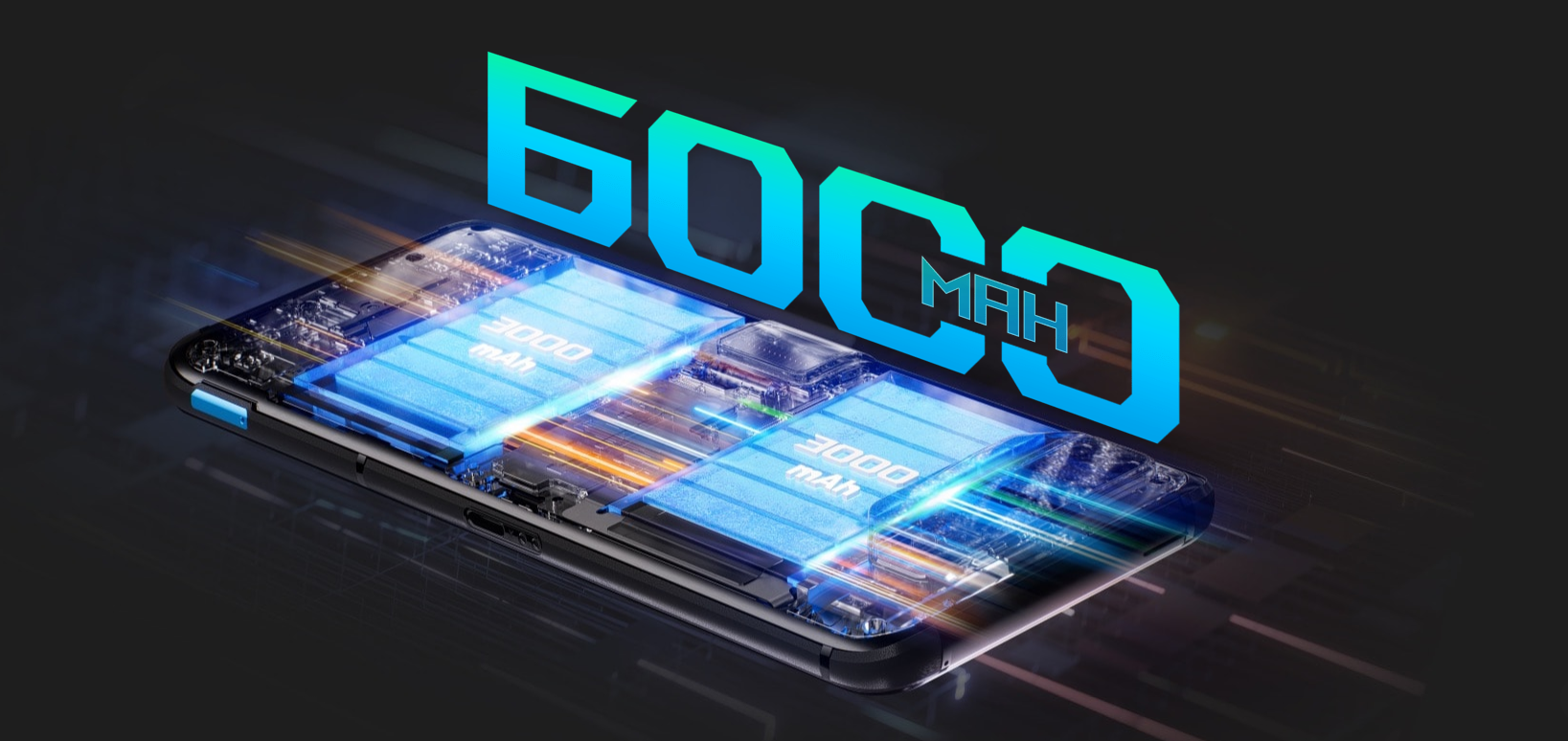 Battery life is another area where the ROG Phone 7 excels. It has a large battery set with a total capacity of 6000mAh, which uses a symmetrical dual-cell design and supports 65W fast charging. With two USB-C ports, one on the side and one on the bottom of the phone, users can enjoy maximum convenience and comfort during gameplay in both horizontal and vertical orientations. The side port uses a USB3.1 full-function port that supports charging, screen projection, and other functions.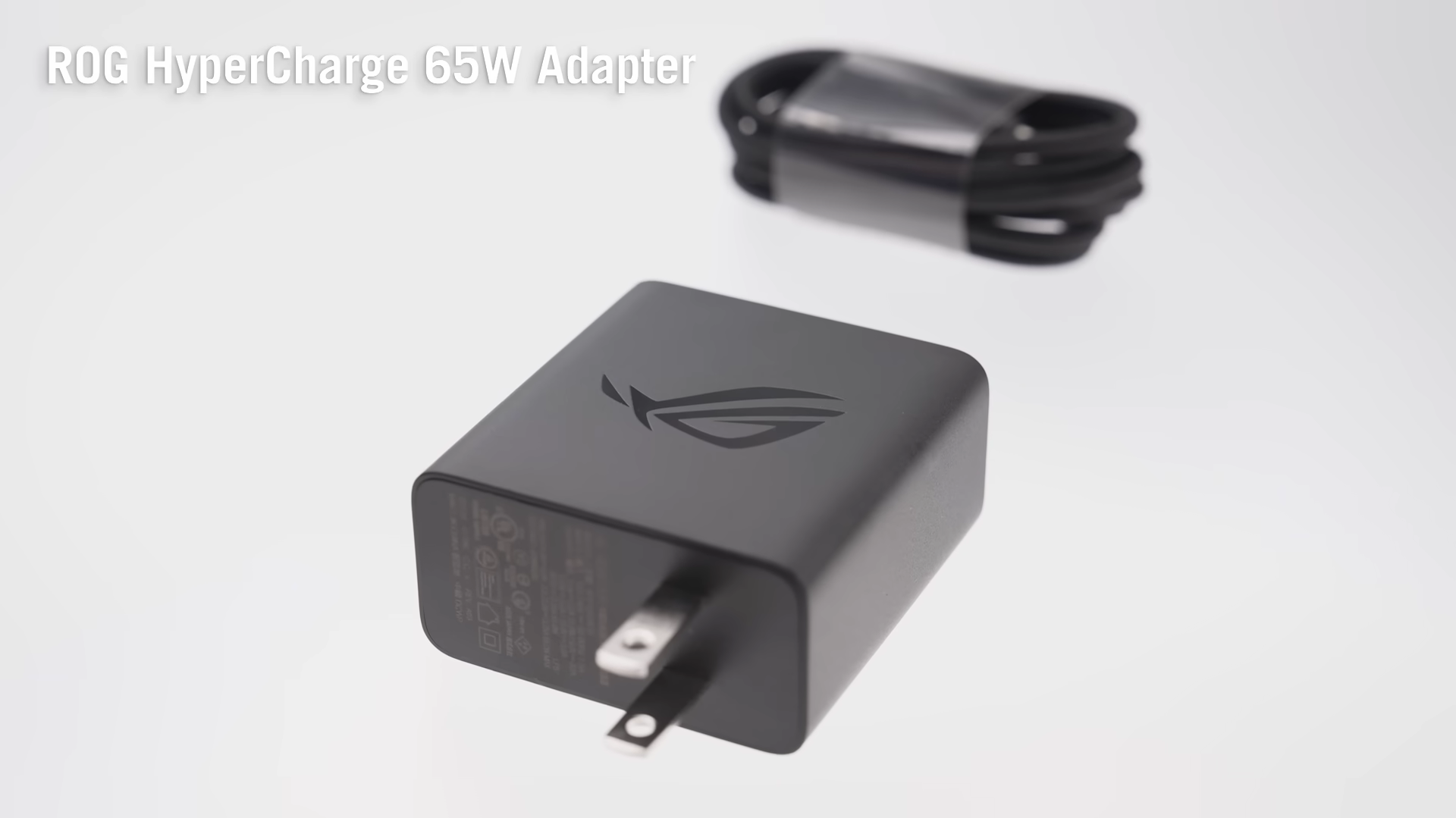 The ROG Phone 7 series comes with a charger and a cable, which is a regular USB-C to USB-C cable. The charger is designed with a single USB-C port, featuring the ROG logo on the side and a power output of 65W. It supports various fast charging protocols such as QC5, PD, and PPS.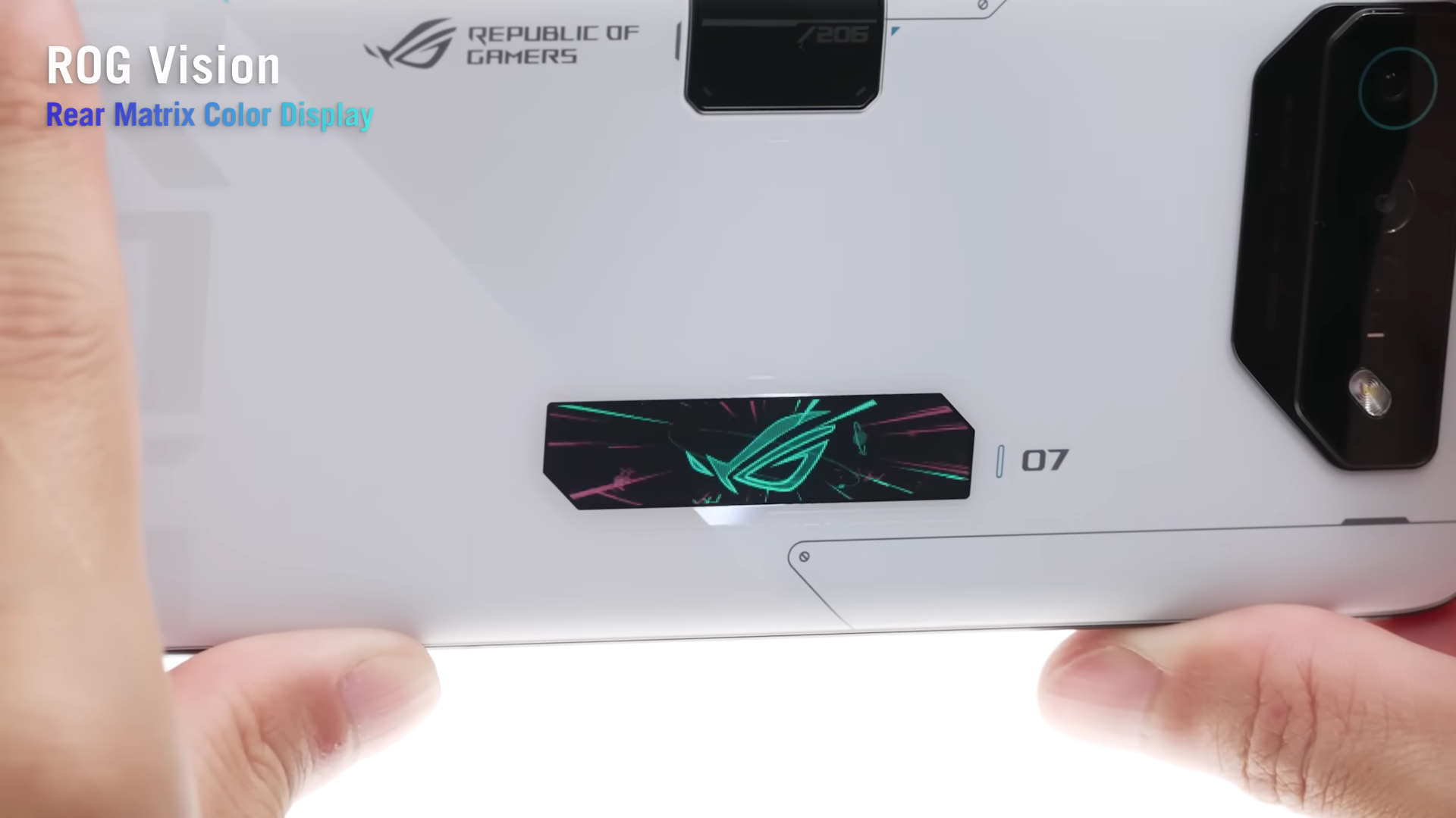 The ROG Phone 7 Ultimate takes things up a notch, offering the ROG Vision feature that displays themed animations in different scenarios.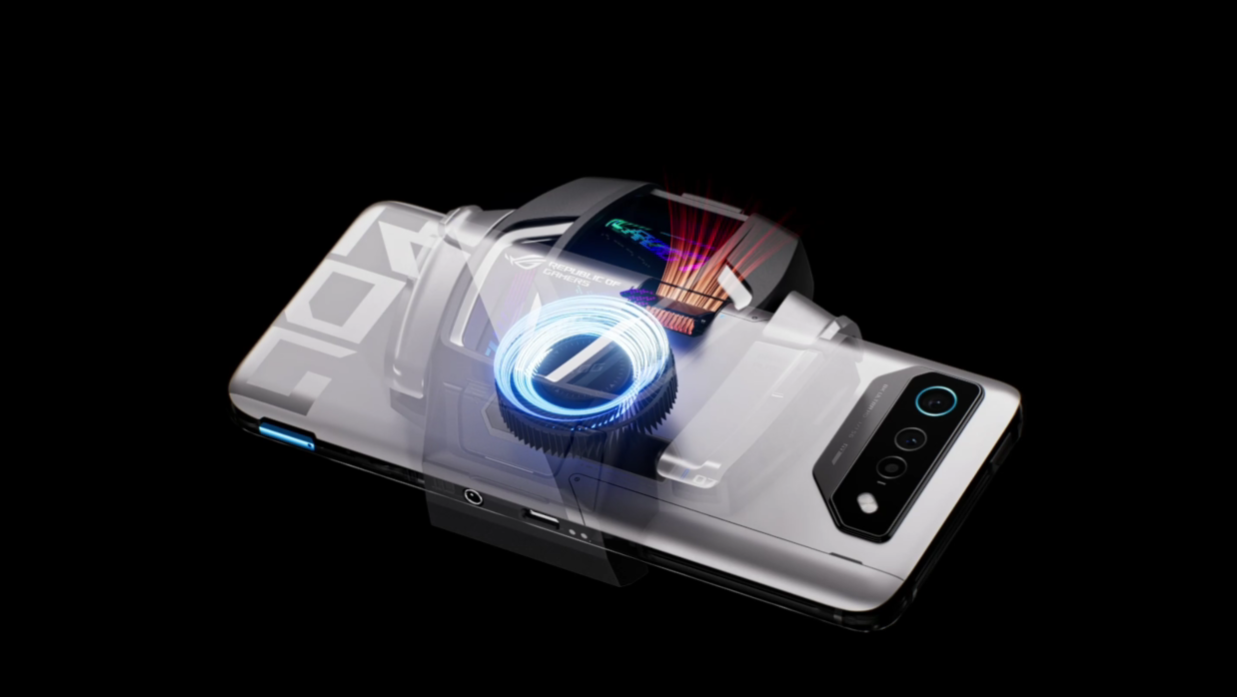 Additionally, the AeroActive Portal improves cooling efficiency significantly. With a cooling area in the phone's middle border made up of precisely engineered parts, driven by a stepper motor that opens and closes the cover, part of the airflow from AeroActive Cooler 7 blows directly onto the cooling fins to cool the phone's interior, while the other part blows towards the screen for dual-sided cooling.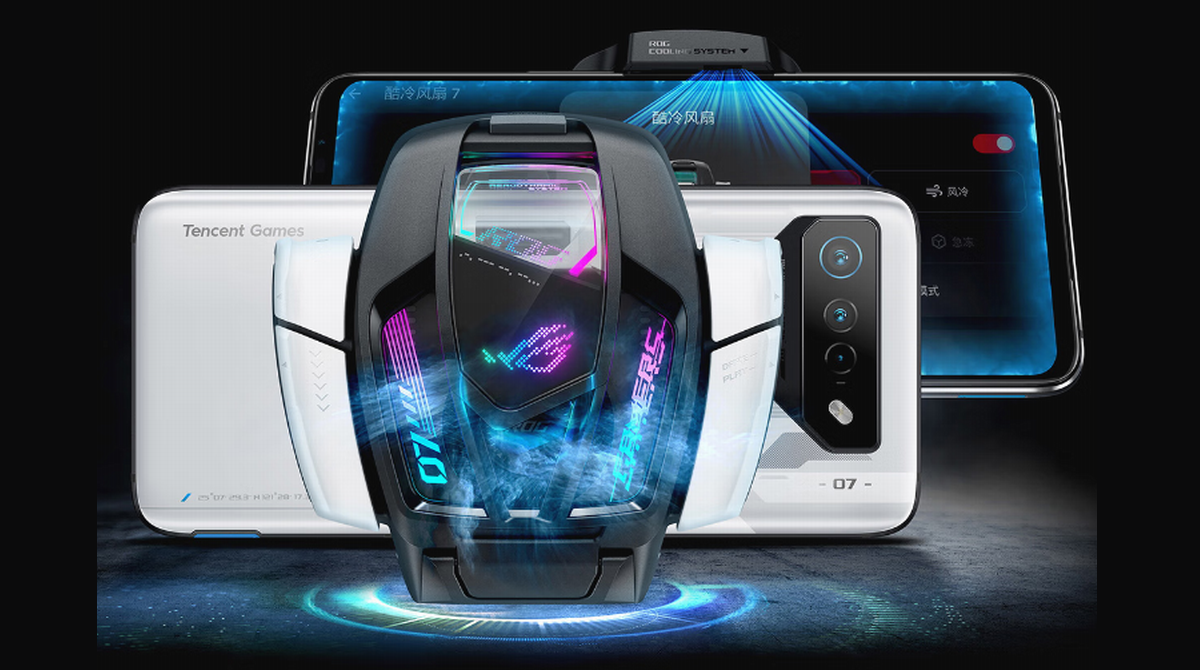 AeroActive Cooler 7 is a versatile phone accessory that includes a fan, semiconductor refrigeration, and speaker modules. Besides its exceptional cooling performance, it also enhances the audio quality by working with the phone's speakers to create a 2.1-channel subwoofer. With four physical buttons on both sides, a USB-C port and a 3.5mm headphone jack at the bottom, AeroActive Cooler 7 offers gamers a comfortable and immersive gaming experience without any restrictions.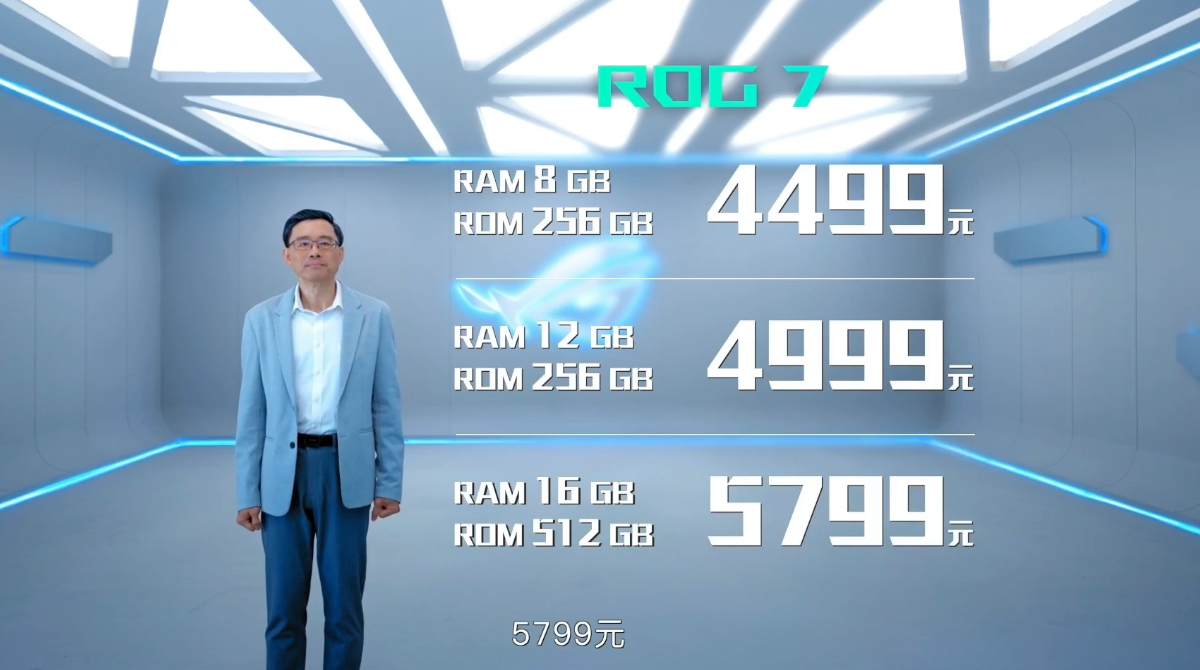 As of now, the ROG Phone 7 series is exclusively available in China and the prices mentioned will only serve as a reference point for customers. The ROG Phone 7 offers three storage capacity choices; 8GB + 256GB for 4,499 yuan ($654), 12GB + 256GB for 4,999 yuan ($726), and 16GB + 512GB for 5,799 yuan ($842).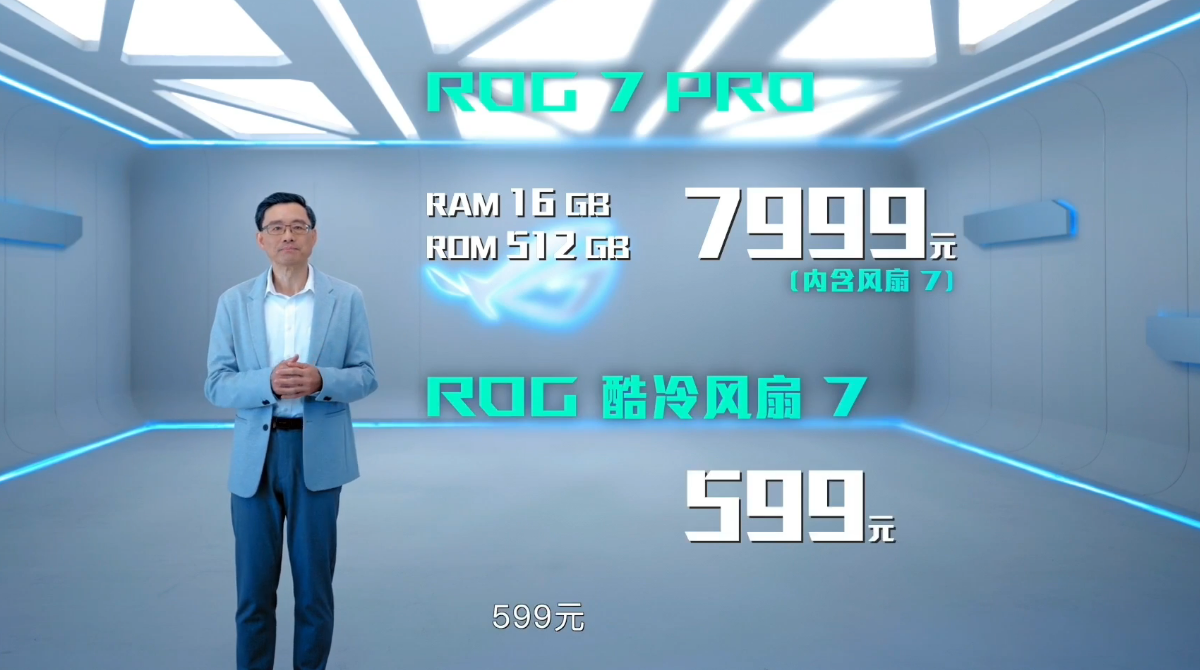 Meanwhile, the ROG Phone 7 Ultimate offers only 16GB + 512GB storage capacity and retails at 7,999 yuan ($1,162). This premium version comes with a free AeroActive Cooler 7 that is worth 599 yuan ($87).
Summary of ChargerLAB
In conclusion, ASUS has launched its much-anticipated ROG Phone 7 series comprising the ROG Phone 7 and the ROG Phone 7 Ultimate, along with the AeroActive Cooler 7. These phones are designed specifically for gaming enthusiasts and come equipped with remarkable features such as Snapdragon 8 Gen 2 mobile platform, UFS 4.0 ROM, and LPDDR5X RAM. The phones boast a massive 6000mAh battery supporting 65W fast charging and an innovative "AeroActive Portal" cooling technology ensuring uninterrupted gaming without overheating issues. The phones have an esports-inspired design, ultrasonic controls, and an unrivaled Armoury Crate performance manager. The screen, speakers, and battery life are all top-notch.
The phone's prices range from $1,499 to $2,499, with the ROG Phone 7 Ultimate being the most expensive model. Overall, the ROG Phone 7 series promises a comprehensive and high-end gaming experience for players who demand the very best.

1. New Gamer on the Block | ASUS Launched the Rog Ally Handheld Gaming Console
2. New Asus Adol 100W GaN Charger Enjoys Quite A Popularity
3. Teardown of ASUS ROG Thor 1600W Titanium Power Supply
本文系作者 @
Joey
原创发布在 Chargerlab。未经许可,禁止转载。