The Era of High-Power Charging | A PD3.1 Cable Buying Guide
Introduction
Our fans are probably aware that at ChargerLAB, the main focus has been on taking apart and reviewing chargers, with only a brief mention of the included cables. Even when we dive deep into the analysis of individual cables, the spotlight has typically been on high-performance Thunderbolt cables. However, on May 25, 2021, a game-changer arrived. The USB-IF association revamped the USB PD 3.1 specification, catapulting the power delivery capabilities from PD3.0's maximum 100W output to an astounding 240W with USB PD3.1. Since that pivotal moment, an increasing array of PD3.1 cables has surfaced, swiftly grabbing the attention that was once predominantly directed towards Thunderbolt.
So in today's buying guide, we will delve into the powerful world of PD3.1 cables. We'll introduce five carefully curated selections of PD3.1 cables, dissecting their unique advantages. From high-quality materials and unique designs to versatility across various scenarios and outstanding charging performance, we'll uncover the nice features of each product. Our goal is to help you find the PD3.1 cable that perfectly matches your needs.
Anker 140W USB-C to USB-C Cable (765)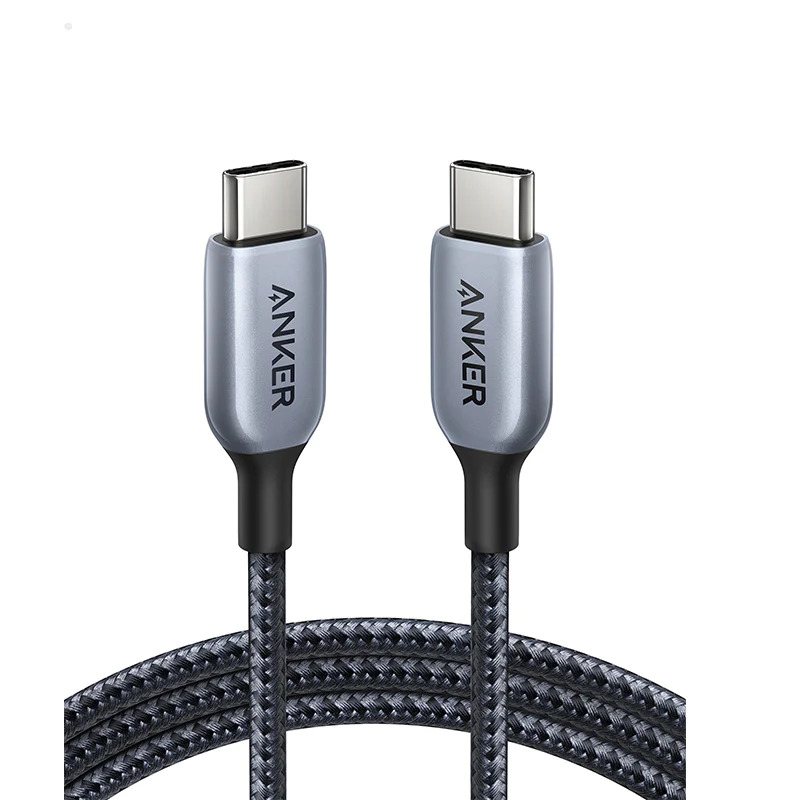 First, let's introduce a 140W USB-C to USB-C cable from a familiar brand, Anker. Known for their high-performance and excellent craftsmanship, this cable is no exception. It supports the latest PD3.1 specification, delivering a maximum output of 140W, as indicated by its name.
Anker's own promotion touts its robust black nylon mesh design, capable of enduring up to 35,000 bends and strong enough to withstand a weight of 175 lbs. With a length of 6ft, this cable can easily handle various complex scenarios, such as outdoor camping or charging your phone while hiking. If you prefer a shorter cable, there's a 3ft version available at a lower price, catering to different needs.
Apple USB-C to MagSafe 3 Cable (2m)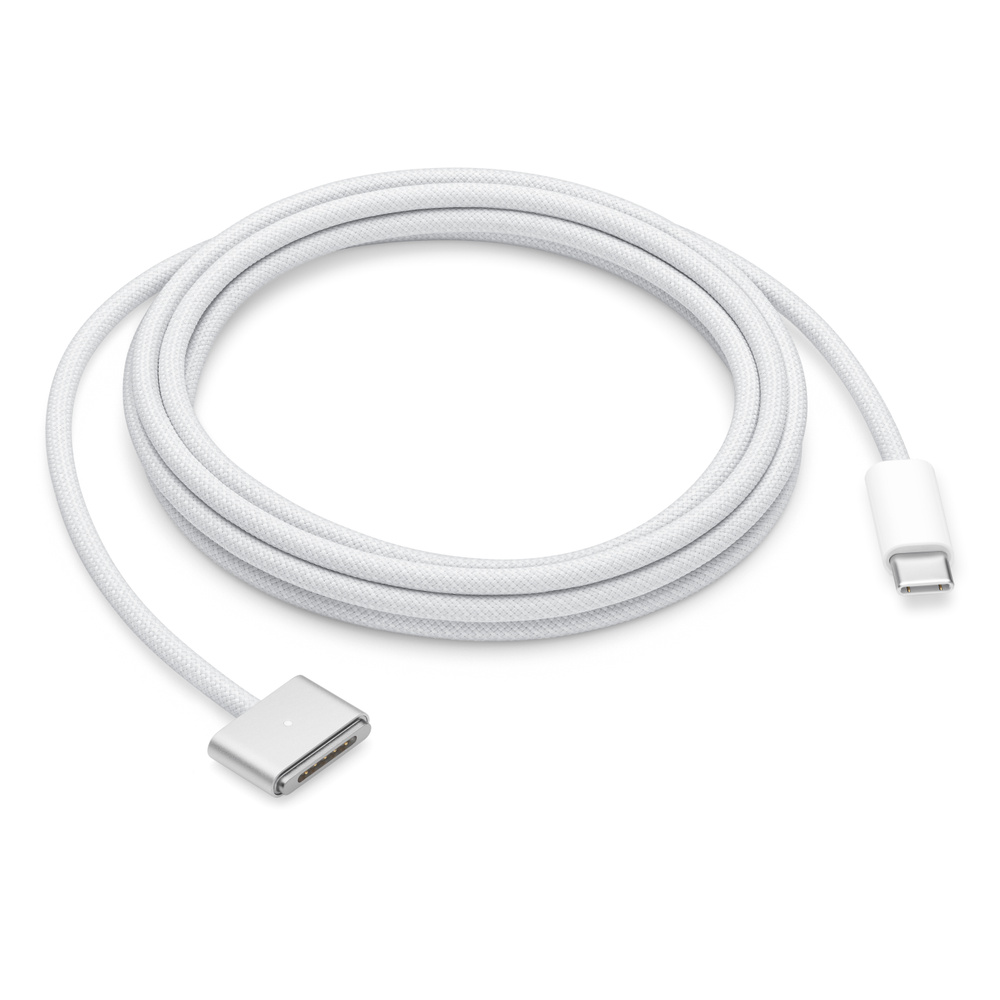 The Apple USB-C to MagSafe 3 Cable (2m) continues the iconic Apple grey-white design, beloved by minimalist enthusiasts. The cable is wrapped in a delicate woven mesh, enhancing its durability. With a length of two meters, it surpasses the majority of cables in the market, making it suitable for various charging scenarios. Compared to MagSafe 2, the MagSafe 3 cable has a stronger magnetic attraction, but it's important to note that it is not backward compatible.
In terms of performance, when used with the Apple original 140W USB-C Power Adapter, it can deliver a maximum power of 140W, surpassing the power output when using a regular USB-C cable. Therefore, for users of the 16-inch MacBook Pro that supports this cable, we strongly recommend purchasing this cable to achieve the best experience.
Baseus 240W USB-C Fast Charging Cable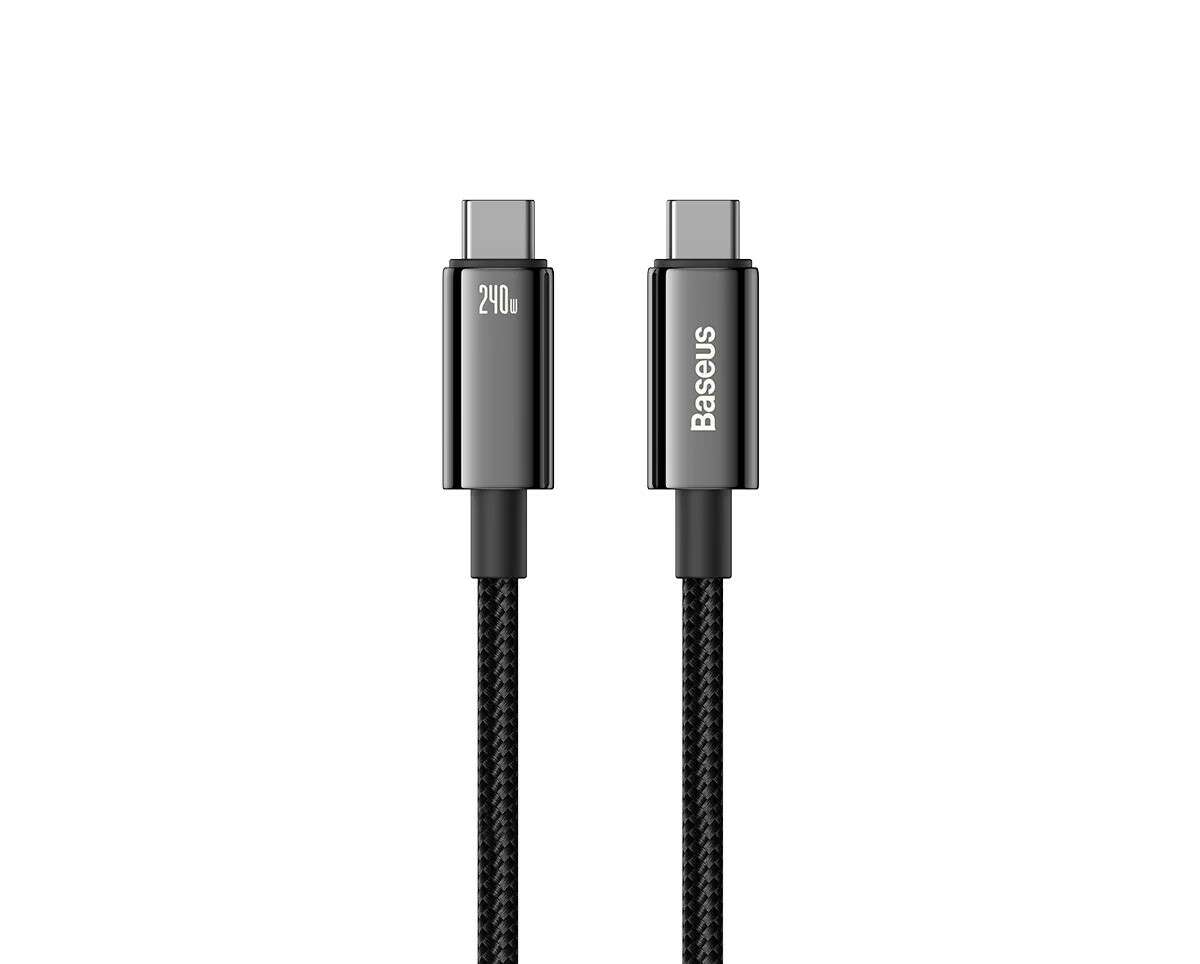 Next, if you're not satisfied with 140W high power and seek the ultimate performance, then this product might meet your expectations - the Baseus 240W USB-C Fast Charging Cable. As its name suggests, it boasts a power rating of 240W (48V5A), reaching the maximum capacity defined by the current PD3.1 specification. To achieve such high-power levels, it's equipped with an advanced E-marker chip, a pivotal component providing smart recognition for fast-charging devices and precise control of current and voltage. Simply put, the E-marker chip ensures high performance.
In terms of appearance, it features a zinc alloy material with a glossy surface at the connector, capable of withstanding over 10,000 plug-ins. The cable itself is designed with nylon braiding, officially promoted to endure 10,000 bend tests, which may seem slightly lower than Anker's, but it's more than sufficient for most scenarios. Additionally, it's available in three lengths: 3.3ft, 6.6ft, and an impressive 10ft, catering to nearly everyone's needs.
ChargerLAB POWER-Z AK001 Test Cable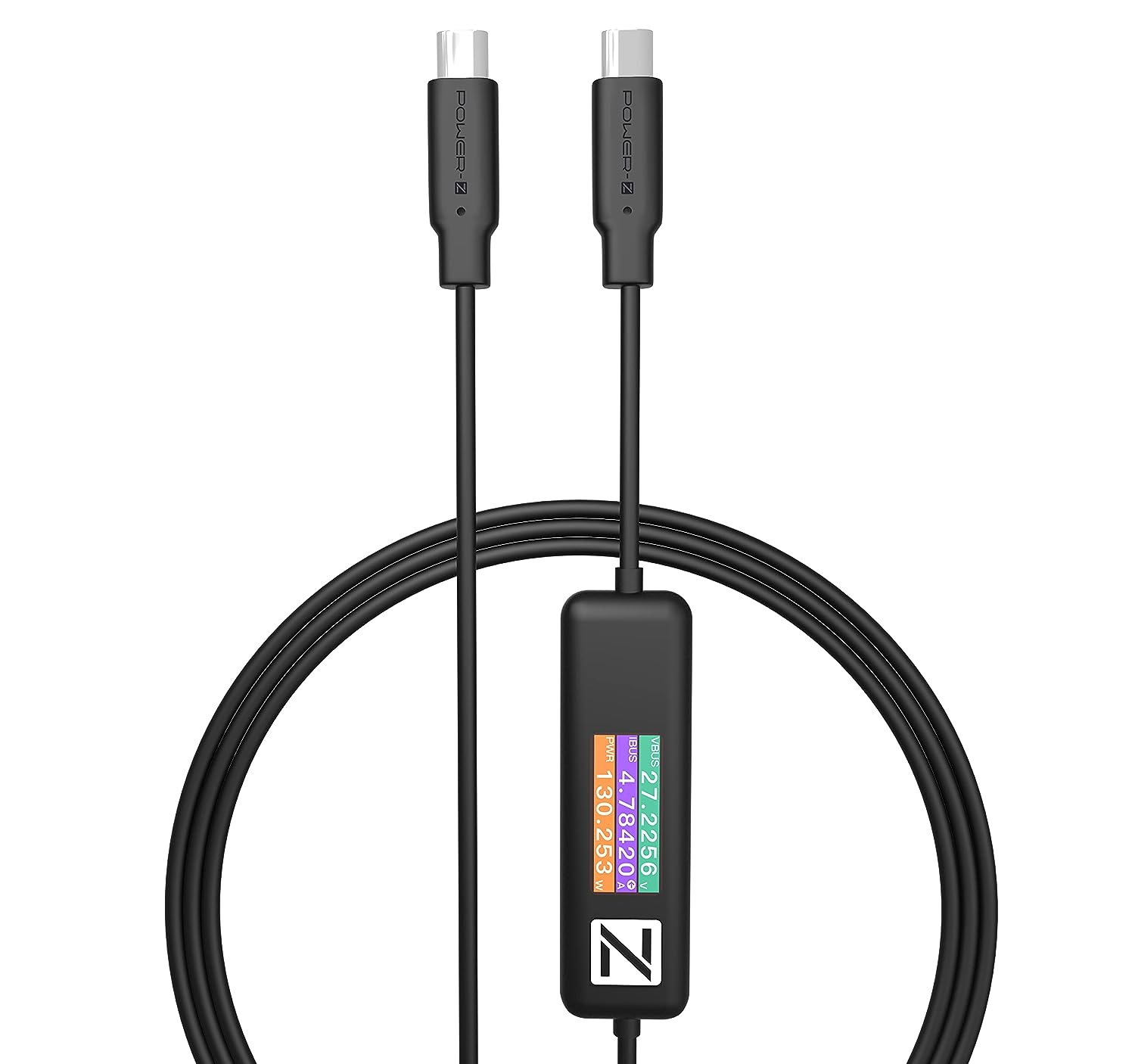 Let's say that you want your cable to do more stuff than just charging, what should you choose? Well, meet the ChargerLAB POWER-Z AK001 Test Cable. It is a PD3.1 cable that can support up to 240W. What makes this cable special is that it has a 0.96-inch color display in the middle, which can provide users with critical information at a glance, such as voltage, current, power, etc., ensuring that you get accurate test results every time. And the translucent matte case lets you see the PCB directly, giving a techy vibe.
SHARGE 240W Phantom USB-C Cable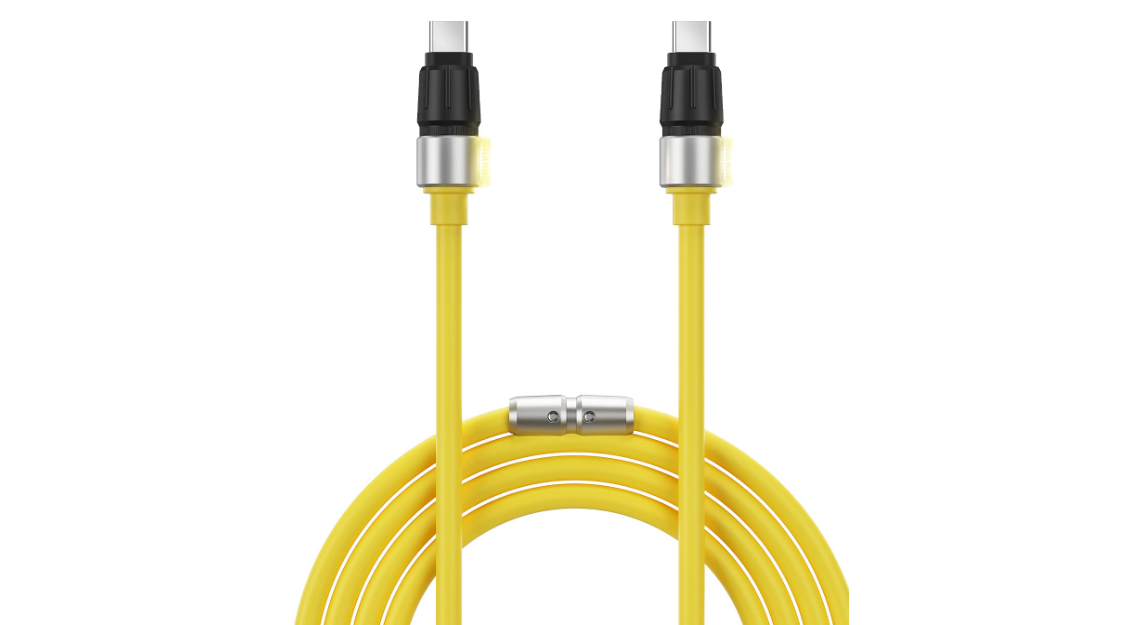 Lastly, if you're not only seeking high performance but also desire a touch of personalization, what should you choose? The answer may well be the SHARGE 240W Phantom USB-C Cable. Among the cables recommended today, this one perhaps stands out as the most unique. It features a distinctive design with alternating silver and gold elements, including metal decorative parts along the cable.
Moreover, it has a unique "starlight" indicator strip that illuminates when the device is powered on, providing visibility for locating the connector at night. All of these make it look like a product that comes from the cyberpunk world. Plus, it also offers two additional color options of white and purple.
In terms of specifications, it naturally supports the PD3.1 standard and offers a maximum power of 240W, meaning it also has a built-in E-marker chip. This cable has a bend lifespan of over 30,000 cycles, and it features ultra-low resistance to maximize efficiency.
Summary of ChargerLAB
In conclusion, as technology continues to evolve, the emergence of USB PD 3.1 has significantly impacted the world of charging. With power delivery capabilities soaring to an impressive 240W, PD3.1 cables are ushering in a new era of charging efficiency. From Anker's robust offering 765 to the unique design of SHARGE Phantom, each product has its unique strengths, catering to diverse needs. Whether you prioritize power, durability, or personalized style, the PD3.1 cable landscape offers a solution tailored to your preferences.
Related Articles:
1. ChargerLAB's Ultimate Cable Selection Guide for Everyone
2. How to Choose the Right Lightning Cable
3. How to Choose the Right USB-C to USB-C Cable
The article is originally written by @
Joey
posted on Chargerlab. All rights reserved.