ChargerLAB's Ultimate Cable Selection Guide for Everyone
As electronic products continue to evolve rapidly, fast-charging technology has seen a significant increase in power. Consumers have also noticed that different charging cables often provide varying charging efficiency to their devices. Factors such as cable length, material, price, and whether they are original or third-party one can influence the charging performance. Today, ChargerLAB will present common keywords to consider when purchasing cables, allowing you to make a better choice.
Original and Third-Party Cables
Currently, cables available on the market mainly fall into two categories: original products and third-party products. Original cables are specifically designed for their respective devices, ensuring optimal compatibility in terms of charging efficiency and data transmission. However, they lack individuality and often come in standard designs. They are typically suitable only for the devices produced by their own manufacturers, and changing devices may lead to a significant decrease in fast-charging efficiency.
Speaking of which, it's important to mention the proprietary charging protocols used by major brands. This is where original cables differ from others. For instance, Huawei has its high-voltage SCP protocol, OPPO uses SuperVOOC protocol, Xiaomi has Mi Turbo Charge protocol, and so on. These protocols are not mutually compatible, and the cables need to be adapted to them to achieve the best charging results. When choosing cables for such devices, it is crucial to ensure they are compatible.
On the other hand, third-party cables are better suited for devices that use standard charging protocols, such as USB PD. Third-party cables often offer a wider variety of options in terms of types, lengths, and even unique features like bent connector, flat design, RGB lighting, or screen displays, providing users with a more personalized fast-charging experience.
Apple MFi Certification
The Apple MFi certification is well-known, and this charging technology barrier created by Apple has allowed the company to reap significant profits in the accessory market. Apple-certified cables, which have undergone strict review and certification by Apple, often come with a higher price tag compared to uncertified one.
MFi (Made for iPod/iPhone/iPad) is an official certification program established by Apple Inc. for its mobile devices such as iPod, iPhone, and iPad. Initiated in 2005, the program aims to ensure good compatibility and stability of related accessories used by Apple users, subjecting peripheral manufacturers to rigorous audits and certifications.

MFi certification is a symbol of Apple's permission for its authorized accessory manufacturers to produce their products. Products with MFi certification have been thoroughly audited and regulated by Apple, ensuring high quality, safety, and reliability. MFi-certified products also have excellent compatibility with Apple devices, avoiding issues like unstable charging or failed data transfer.
However, this level of certification naturally results in higher costs for consumers. As official Apple cables are often more expensive and come with limited design choices, many ordinary consumers prefer to opt for third-party cables that have received MFi certification.
E-Marker Cables
With the widespread use of USB-C ports, many cables now incorporate E-Marker chips. However, it is not mandatory for all cables to have these chips.
Generally, USB-C cables mainly used for charging come with USB 2.0 data transfer capabilities, like the standard USB PD cables commonly found in the market. In the USB 2.0 standard, charging can be divided into two types: 60W (20V/3A) and 100W (20V/5A).
Under the USB-IF association's standards, cables with a current rating of 3A or below do not require E-Marker chips, while those exceeding 3A must be equipped with them. Previously, many USB PD chargers in the market did not exceed 60W in power, so the bundled cables typically lacked E-Marker chips to save costs.
Nevertheless, as fast-charging power in the Android camp continues to increase, many fast-charging cables used by consumers now come with E-Marker chips, often without their knowledge.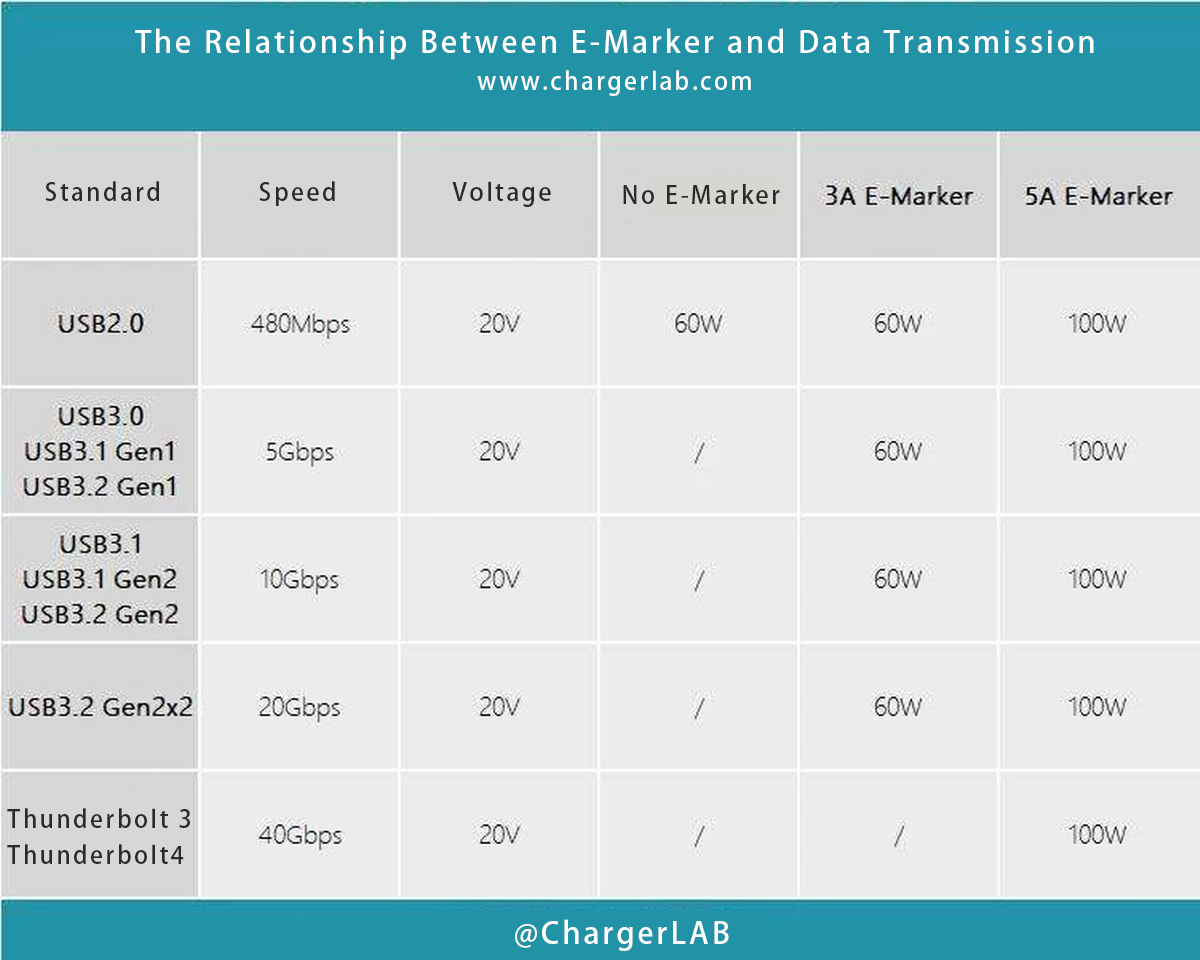 As shown in the image, a full-featured USB-C cable requires an E-Marker chip. This chip contains pre-written specifications, current-carrying capacity, data transfer capabilities, and other parameters related to the cable. Electronic devices retrieve this information from the chip to determine the appropriate power supply or data transfer mode, ensuring best performance.
Therefore, cables equipped with E-Marker chips not only offer higher charging efficiency but also achieve full data transfer capabilities and improved safety.
Cable Materials
PVC
PVC used to be a common cable material due to its qualities like flame resistance, high strength, weather resistance, and good geometric stability.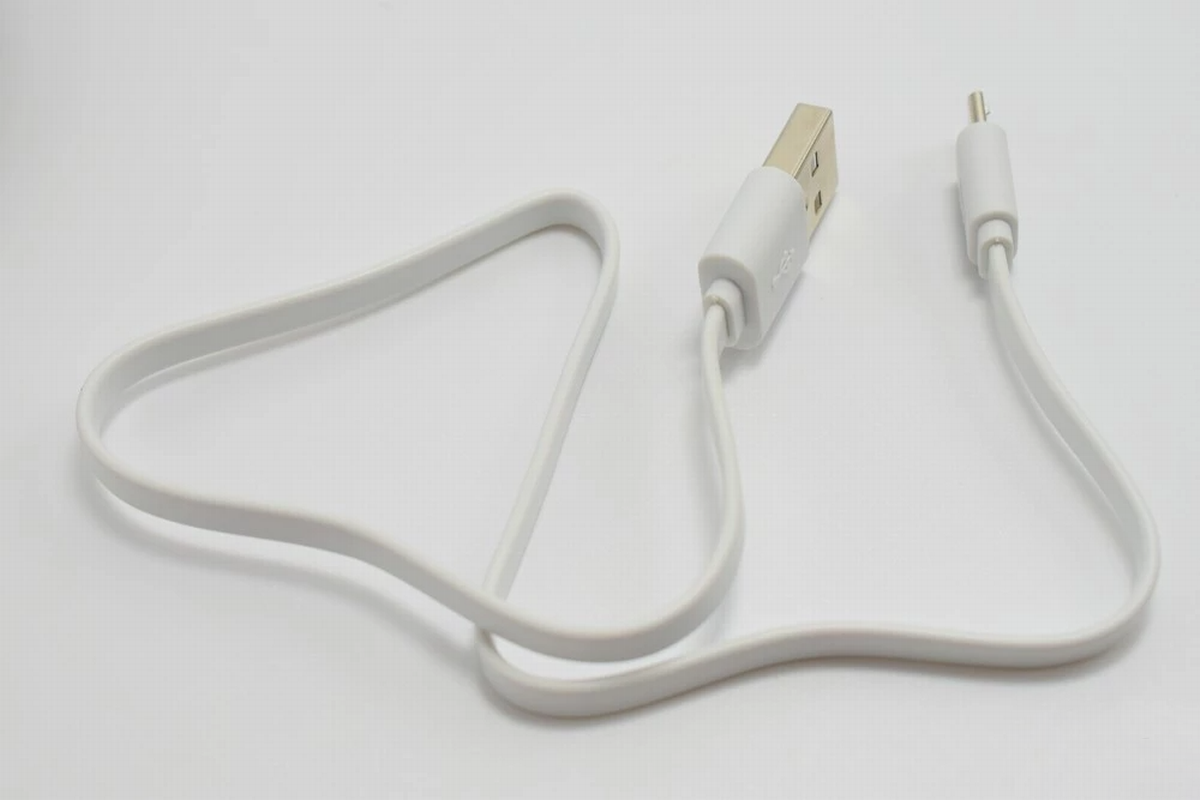 However, with the introduction of the superior TPE material, PVC charging cables have gradually been replaced. For example, Apple's original cables used to be made of PVC, which was prone to oxidation, turning yellow, and being especially fragile at the junction between the port and the cable. Nowadays, this material is rarely used.
TPE
Currently, most electronic products come with TPE cables.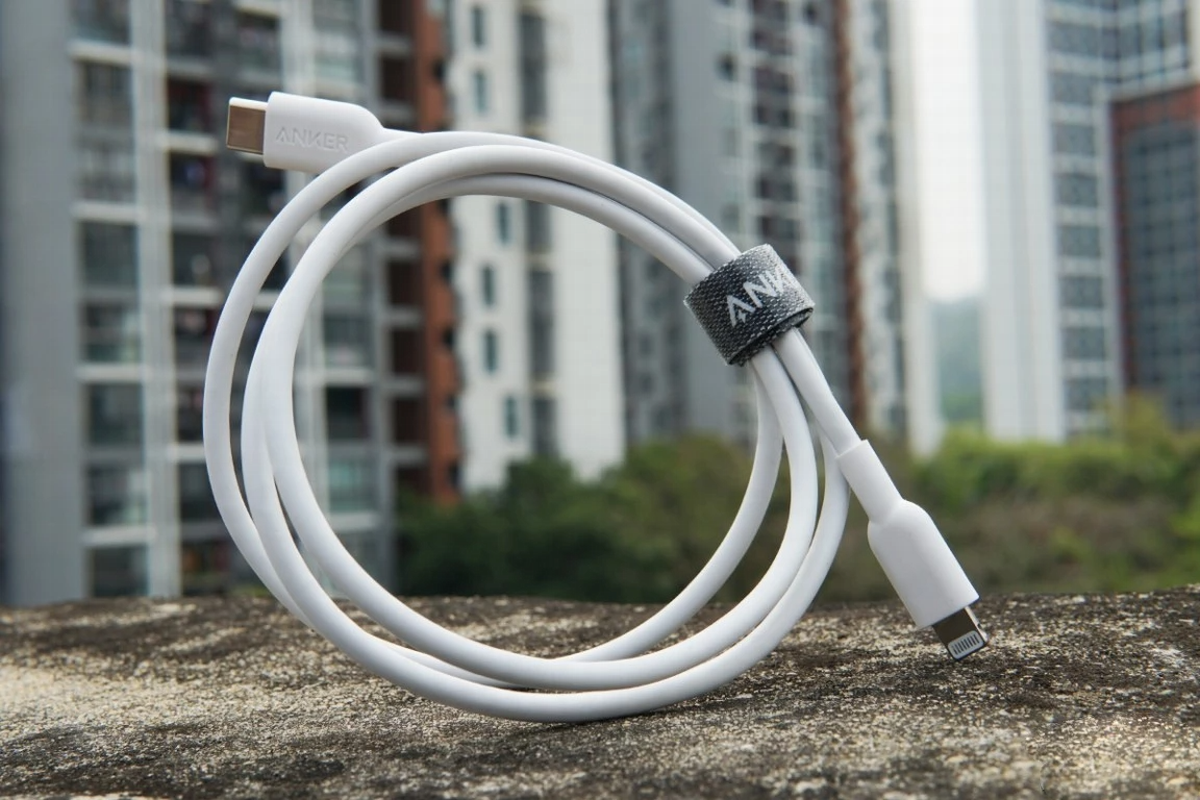 TPE offers advantages such as being safe, non-toxic, highly elastic, and easy to mold. Cables made from TPE are flexible and come in various colors, making them popular among manufacturers. They offer more choices for users.
Braided Cables
Braided cables have become a popular outer material due to their durability and resistance to wear and tear.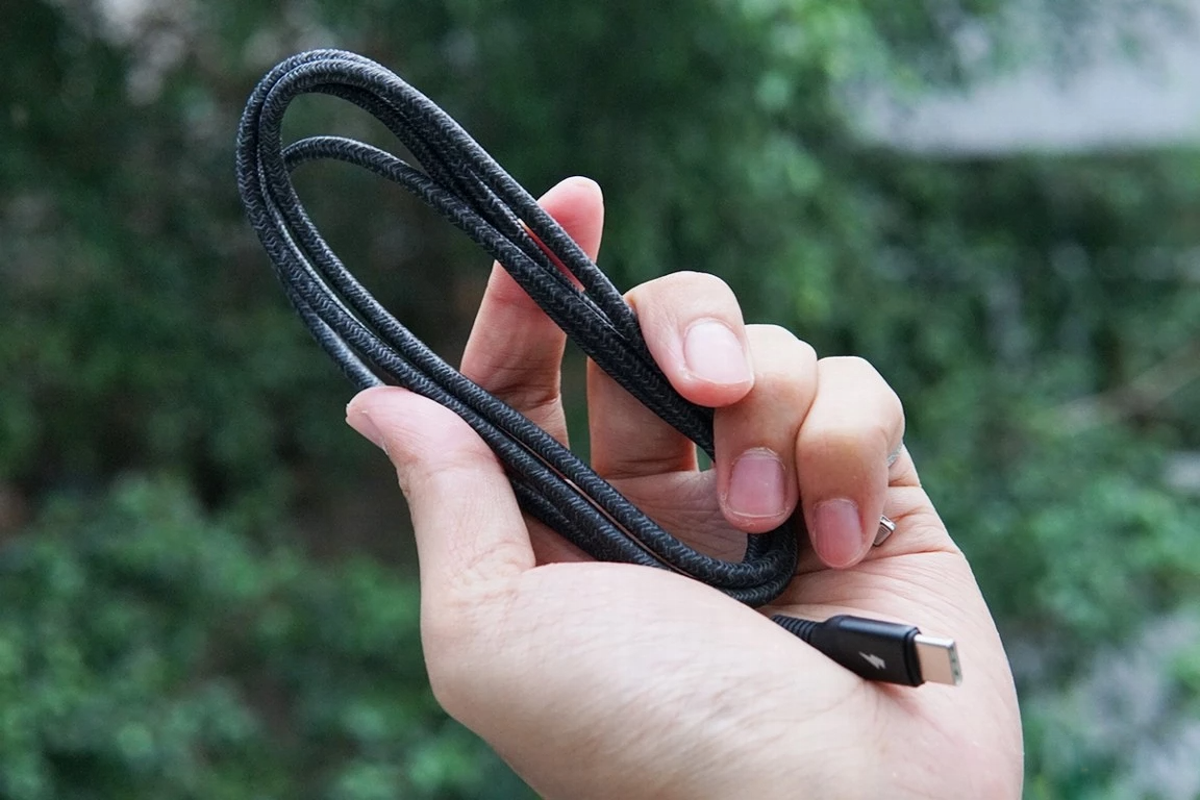 Braided cables are usually thicker and sturdier. Many leading manufacturers have incorporated new nylon materials into their cables, improving the braiding process and making the cables more flexible. For those seeking higher quality, some cables may even contain Kevlar fibers, upgrading them to stronger, more durable options. Braided cables have longer lifespans.
Silicone Cables
Silicone cables are even more wear-resistant, elastic, and flexible. Additionally, silicone is environmentally friendly, chemically stable, and has excellent fire-resistant properties.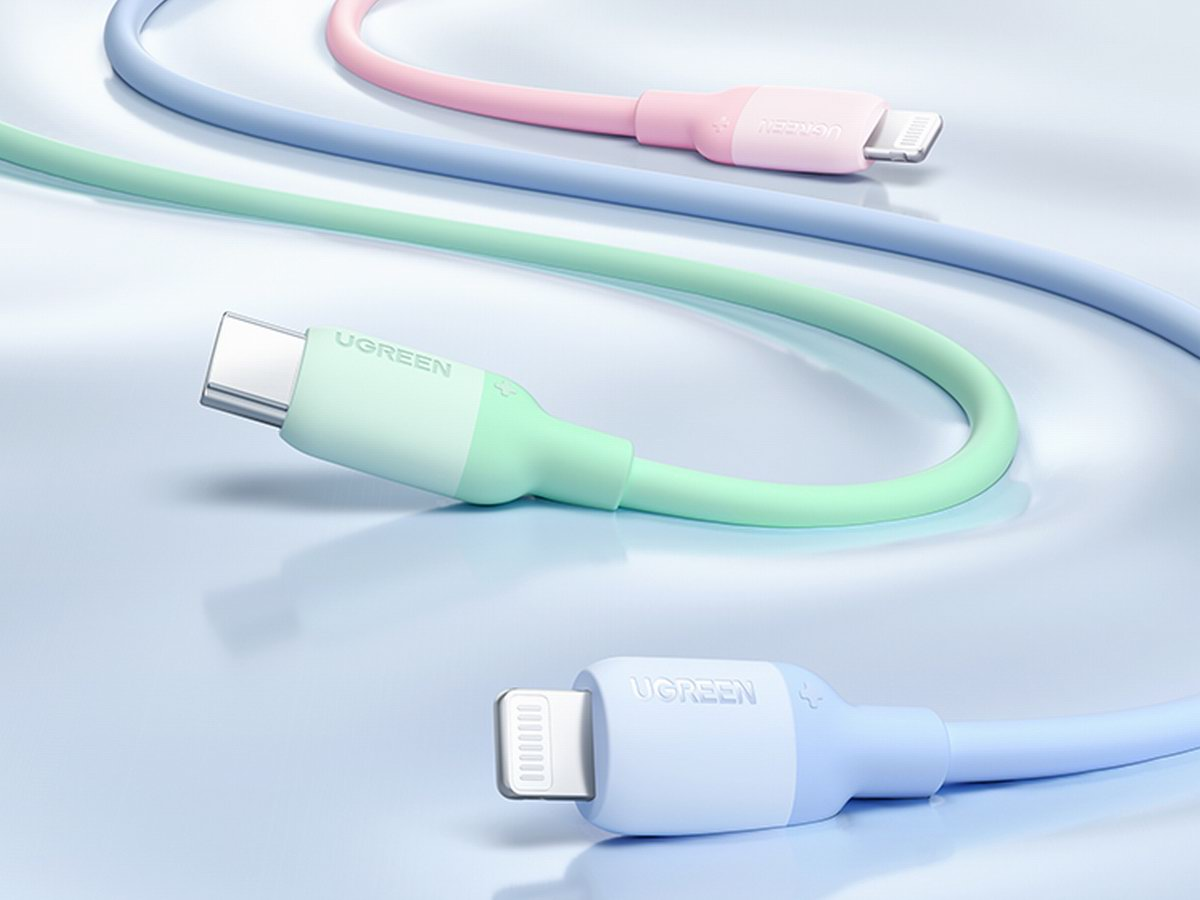 Third-party standard cables are often too thick and stiff, offering an unsatisfactory user experience. Silicone cables, on the other hand, are soft to the touch and not easily tangled.
Cable Length
Different usage scenarios call for different cable lengths.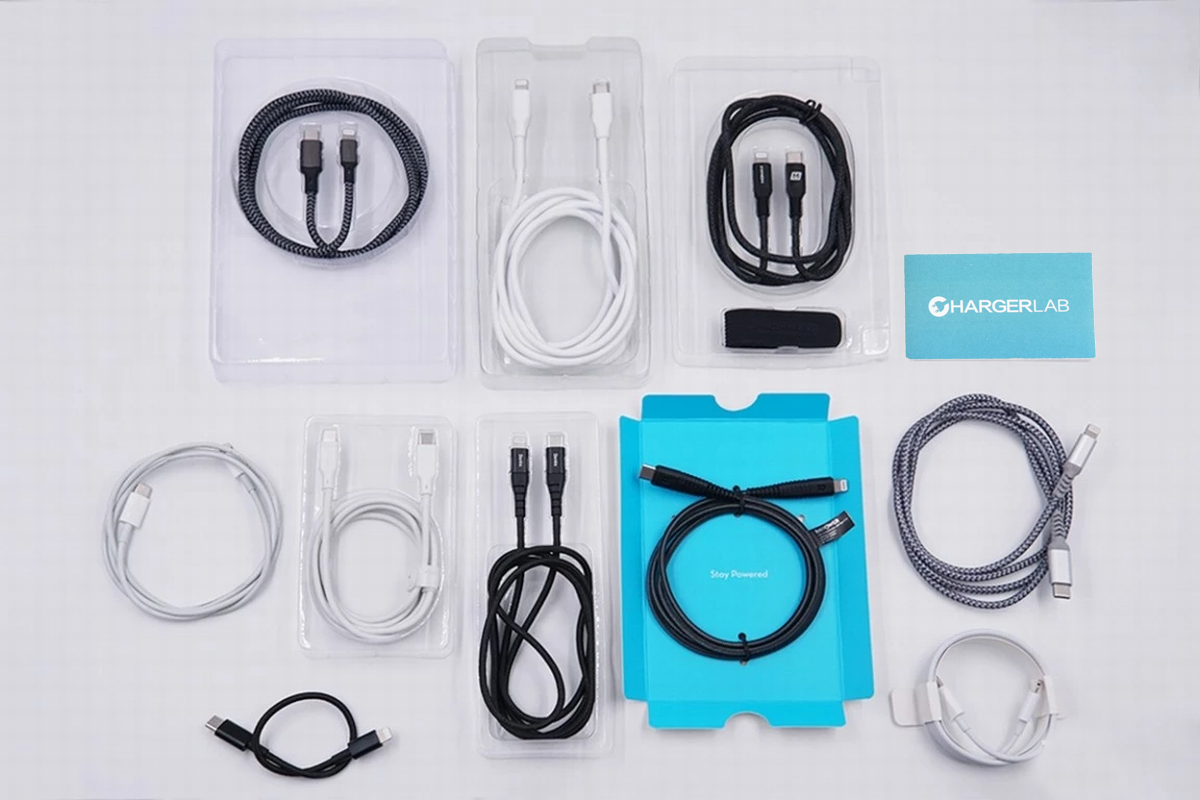 The common 1-meter (3.3 ft) cable is the most frequently used and suitable for daily use. It is not too long to become cumbersome or difficult to store, nor too short to reach the power outlet.
However, in certain situations, longer cables such as 2 or 3 meters can be quite useful. For example, when lying in bed with the charger on a desk, an extra-long cable provides a better user experience.
Short cables are more suitable for use with power banks on the go or charging small-sized electronic products, as longer cables become less convenient to carry and store.
Choosing a reliable and efficient charging cable is indeed a challenging task that requires careful consideration from multiple aspects. Factors to be weighed include cable certification, material used, device compatibility, cable length, and price, among others. For Apple device users, the MFi certification is the primary consideration when purchasing cables. Meanwhile, for other users, with the widespread adoption of USB-C ports, choosing cables equipped with E-Marker chips can lead to higher charging efficiency and better data transmission capabilities. For certain devices with proprietary protocols, opting for original manufacturer cables may be more suitable as they can maximize the fast-charging performance of the device.
Moreover, the cable material is also a crucial factor influencing the user experience, with each material having its own advantages and drawbacks. PVC materials are susceptible to oxidation and discoloration, while TPE materials offer a non-toxic and eco-friendly option. Braided cables excel in durability, being wear-resistant and able to withstand pulling forces, whereas silicone cables provide a soft and skin-friendly feel. Cable length is equally important to consider, with shorter cables offering convenient portability, while longer ones are ideal for home use, offering greater reach.
Related Articles:
1. How to Choose a Convenient Multi-Port Charger for Everyday Use?
2. How to Choose the Right Lightning Cable
3. How to Choose the Right USB-C to USB-C Cable
The article is originally written by @
Joey
posted on Chargerlab. All rights reserved.