Ravpower PD Pioneer 61W GaN Charger Teardown Review: The New Norm
The Ravpower PD Pioneer 61W GaN Charger is one of the hottest selling GaN chargers currently on Amazon. Being one of the smallest 61W charger, with high wattage and a reasonable price tag, it is indeed a charming proposition for tech enthusiasts who want a compact charger to charge all the gears. But specs are just specs, let's dive deeper with our teardown review.

I Unboxing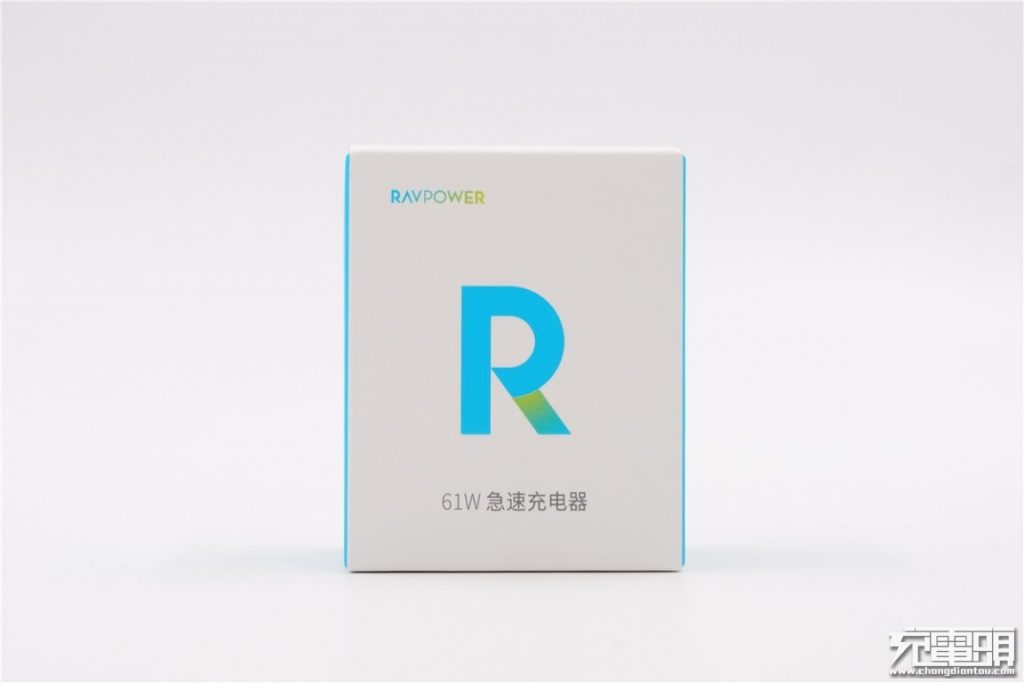 We have the Mainland China version. It comes with a clean with box with Ravpower's updated new logo.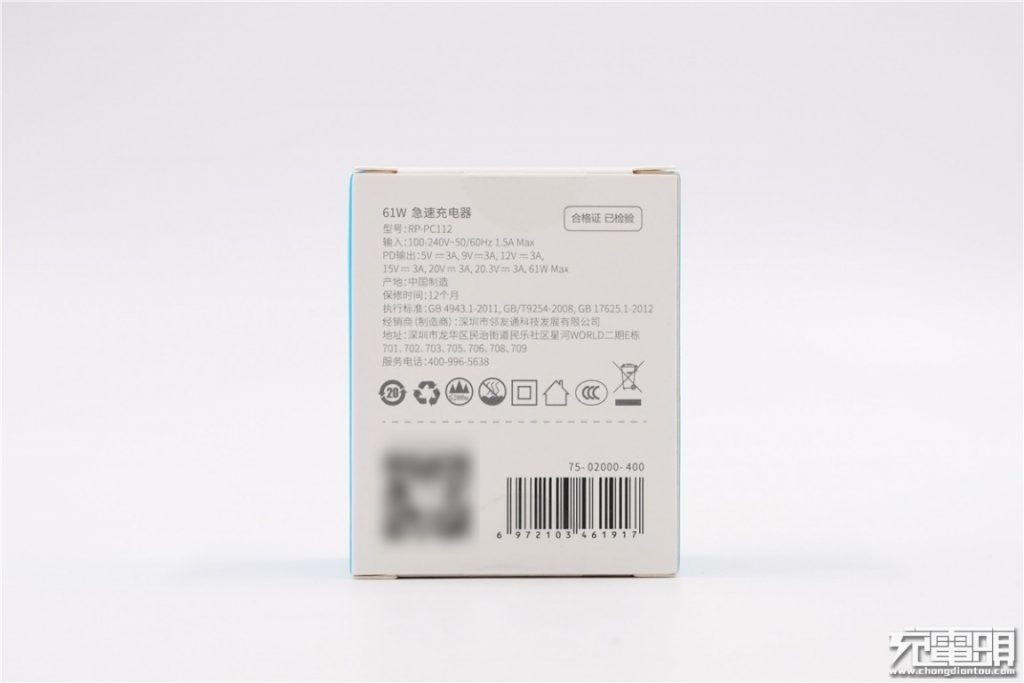 Specifications on the back.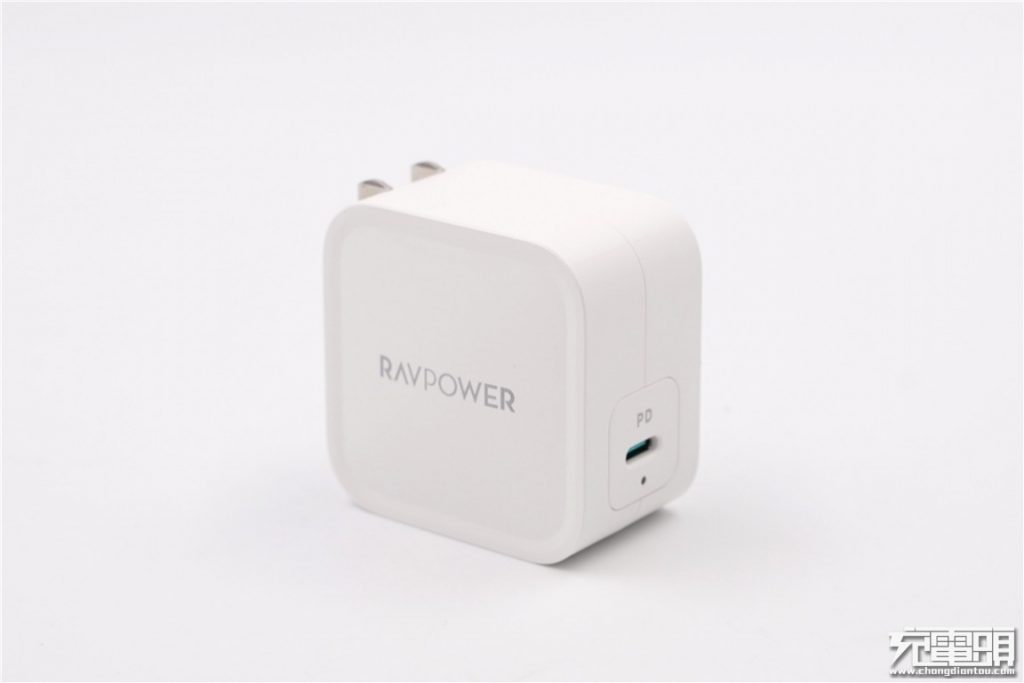 The charger is a square box with rounded corners. It has a glossy finish on the front and rear, and a matte finish on the sides.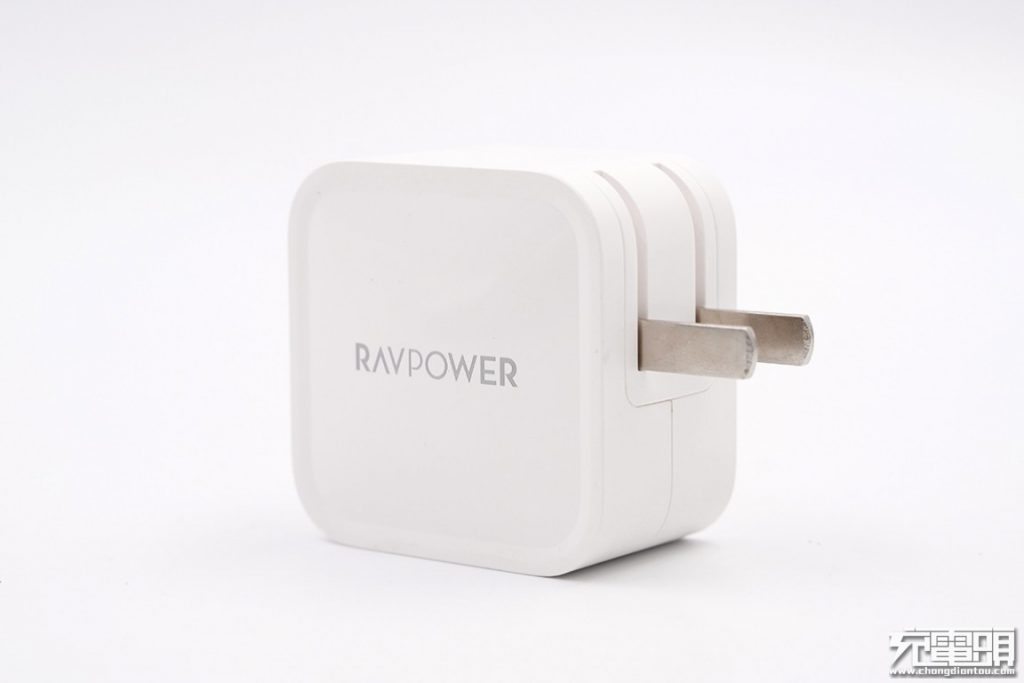 Foldable prongs.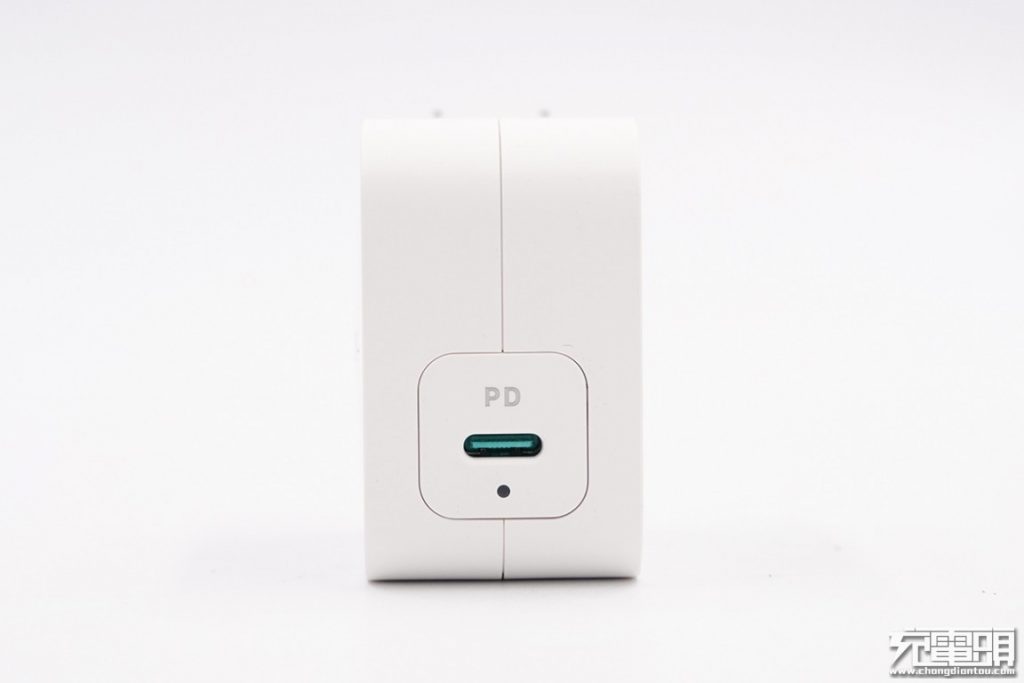 The Single USB-C port has a white plastic tongue inside and an LED indicator down below.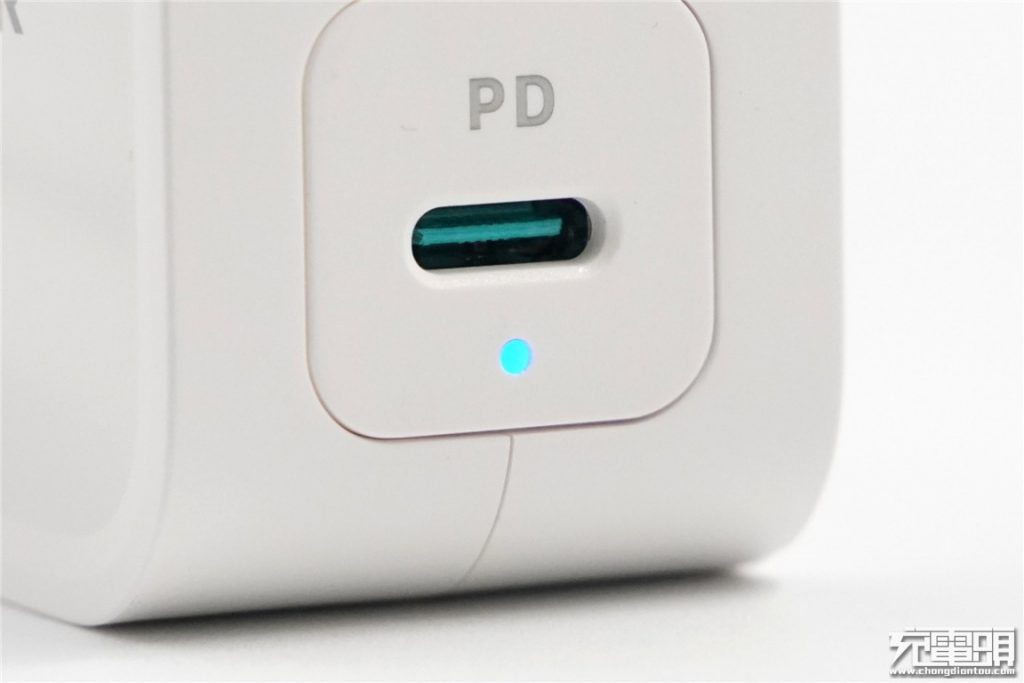 Close-up of the LED indicator.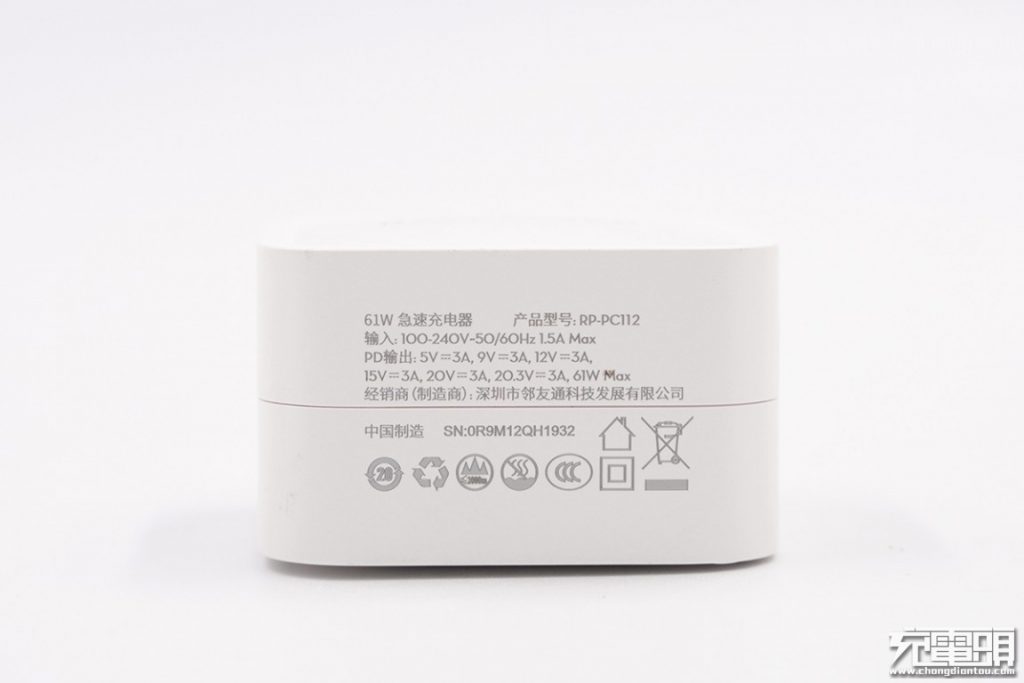 Specifications:
Model: RP-PC112
Input: 100-240V~50/60Hz 1.5A Max
Output: 5V/3A, 9V/3A, 12V/3A, 15V/3A, 20V/3A, 20.3V/3A, 61W Max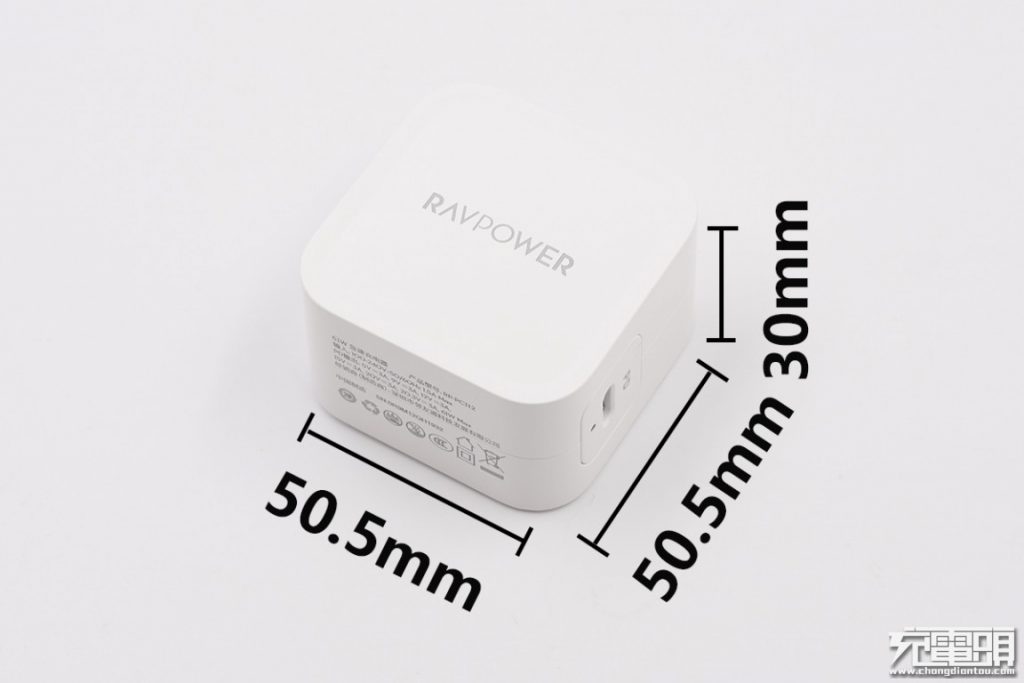 Dimensions: 49x49x32mm (1.9×1.9×1.2in).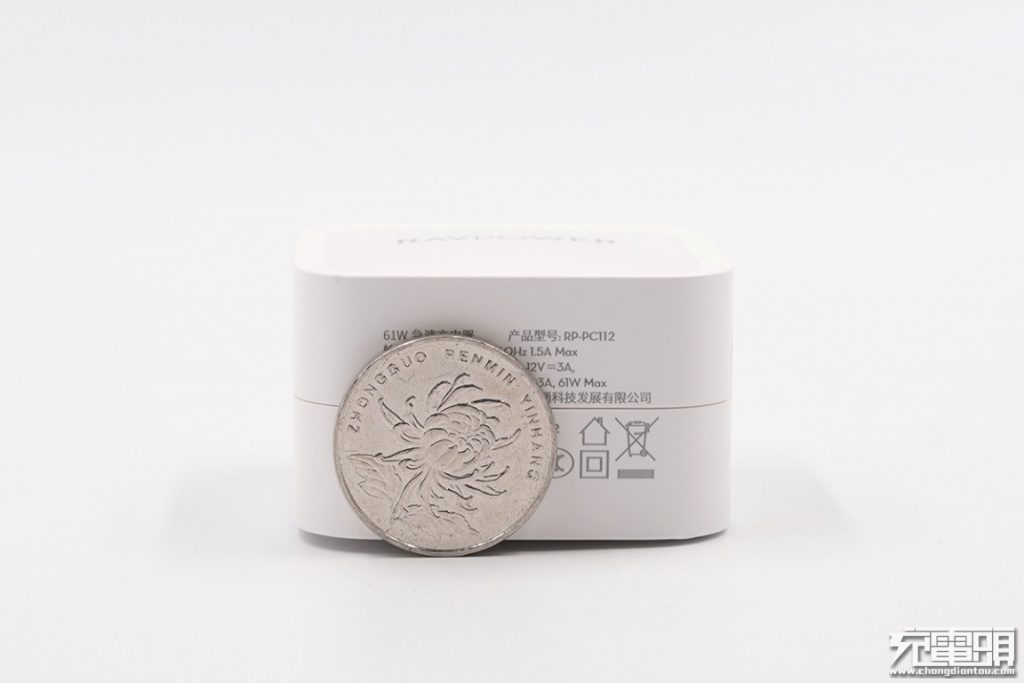 Compared to an 1 Yuan RMB coin.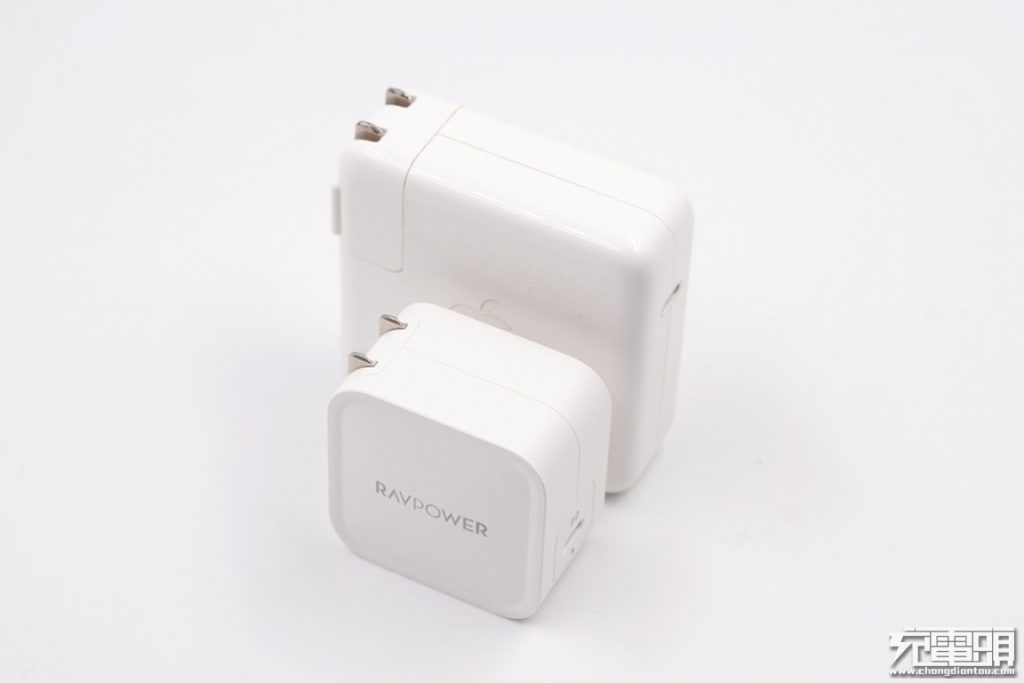 Compared to the Apple 61W PD charger, huge size difference here.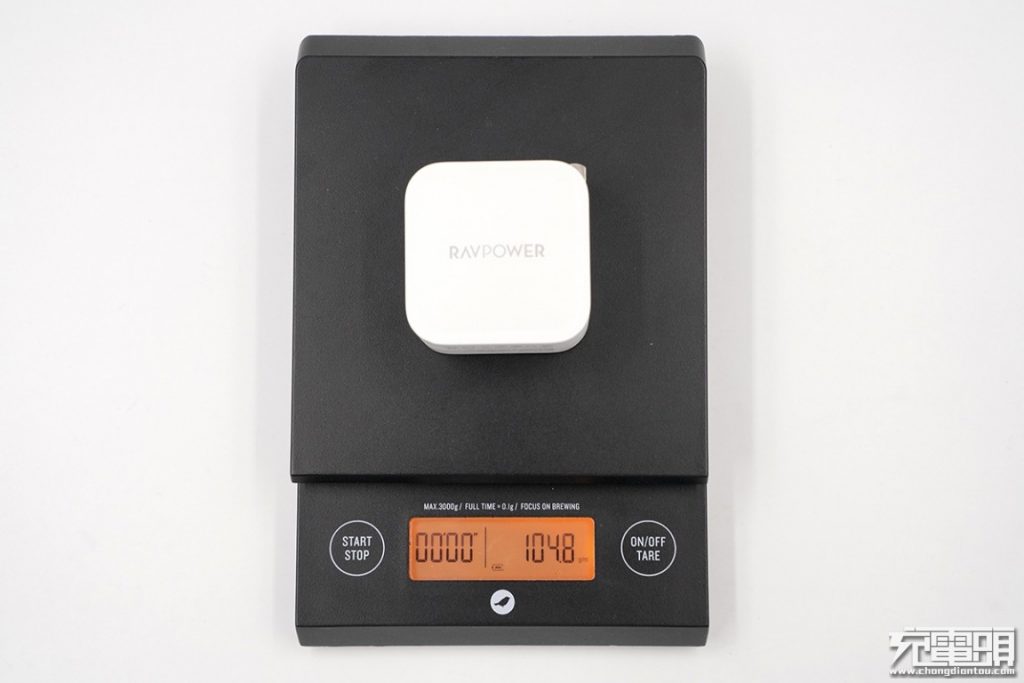 It weighs 104.8g (3.7oz).

II Test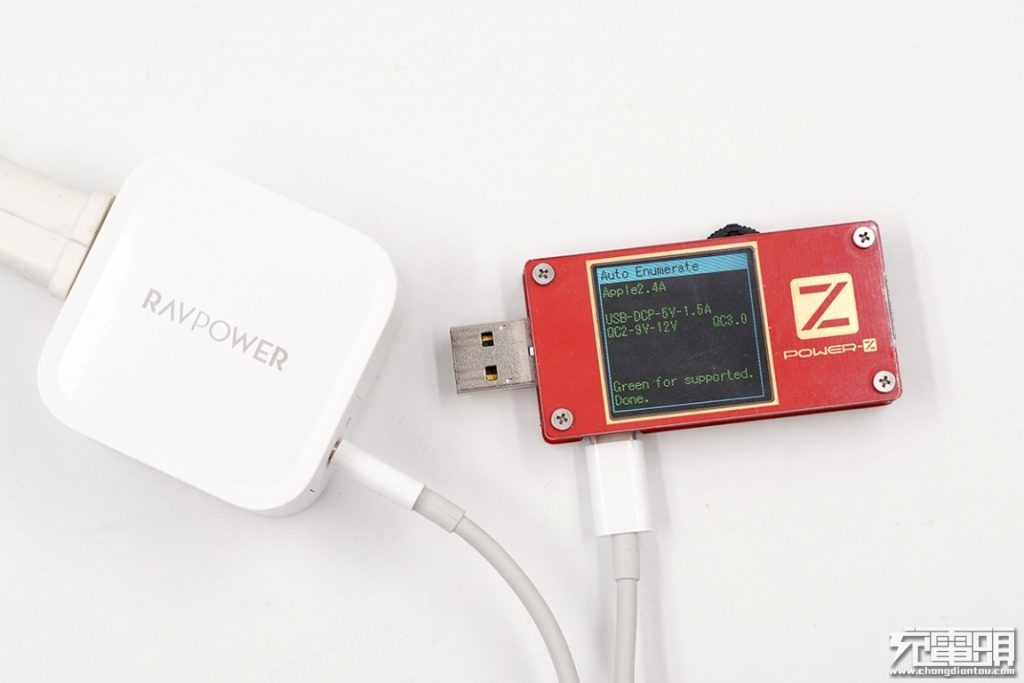 Using ChargerLAB Power-Z KT001 USB power tester, we know that it supports Apple 2.4A, DCP, QC 2.0, and QC 3.0 protocols.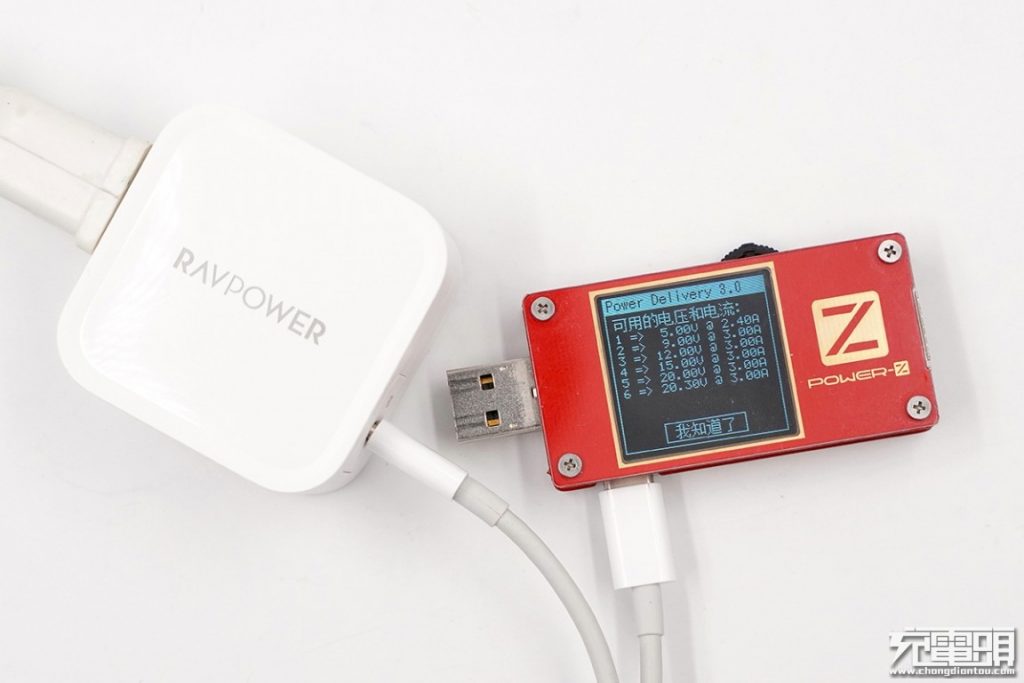 It also supports 5V/2.4A (not 5V/3A because of the protocol chip), 9V/3A, 12V/3A, 15V/3A, 20V/3A, 20.3V/3A.

III Teardown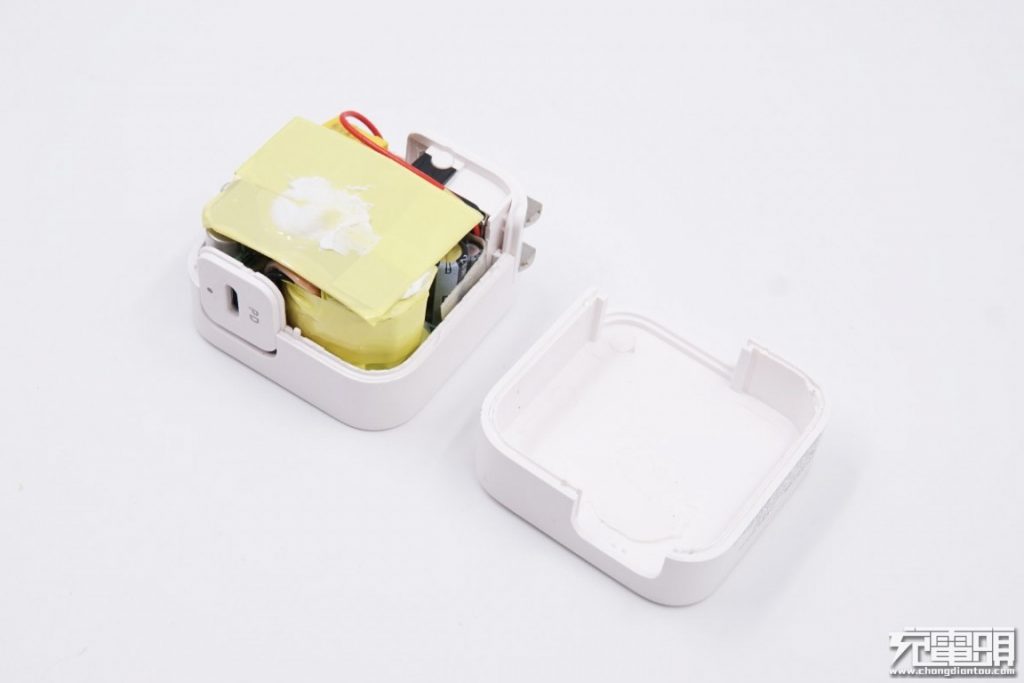 Pry open the case along the side which uses ultrasonic welding.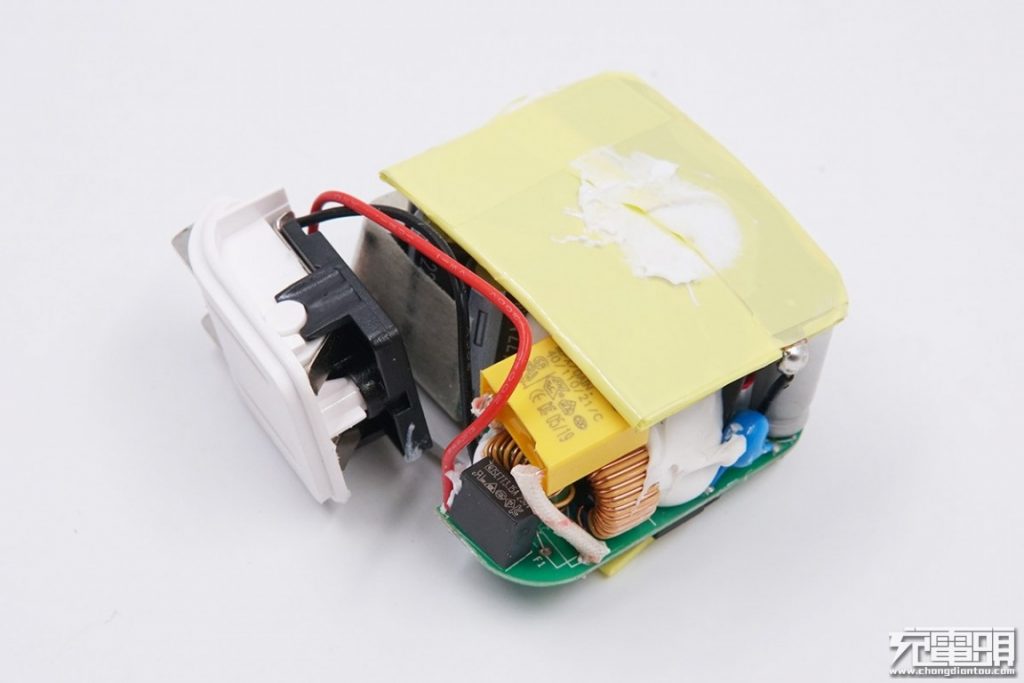 The internal PCBA module connects to the prongs by two wires, and the metal thermal pad on the front side is wrapped with mara tape for insulation. A wire is welded to the edge for grounding. We can see the components for filtering and EMI suppression at the input side.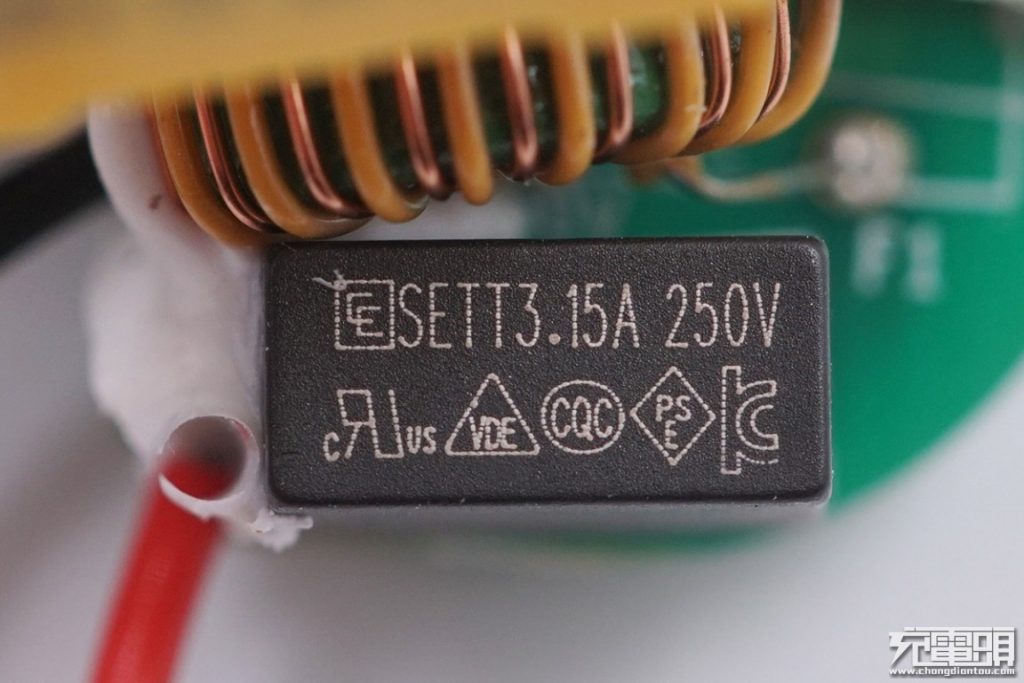 The input delay fuse is from Dongguan Chevron Electronics, specification 3.15A 250V.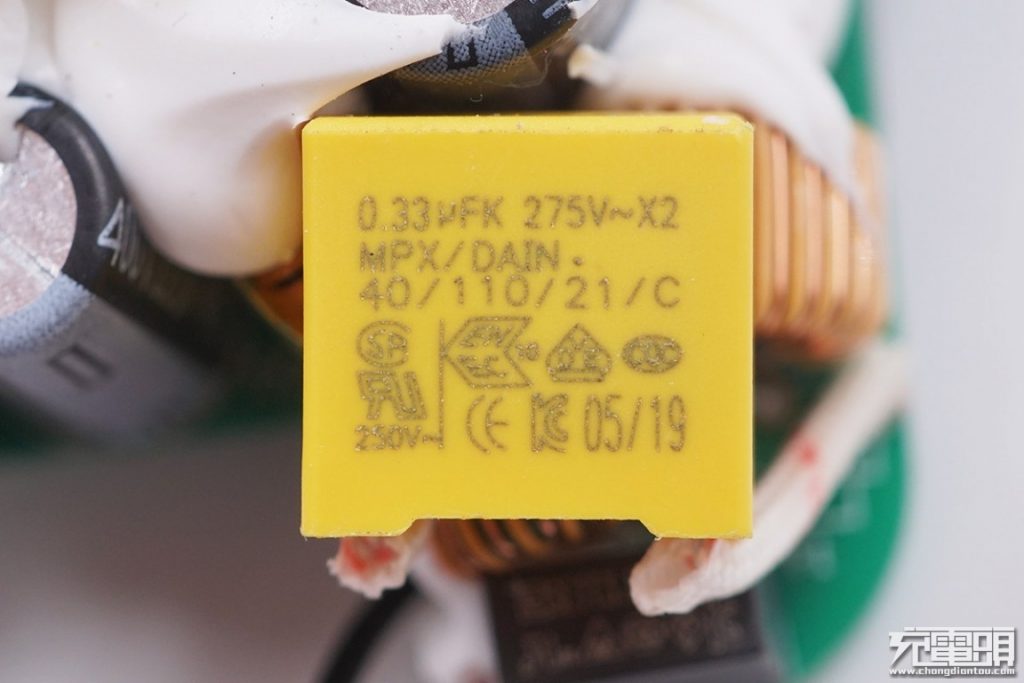 An X safety capacitor with a capacity of 0.33μF.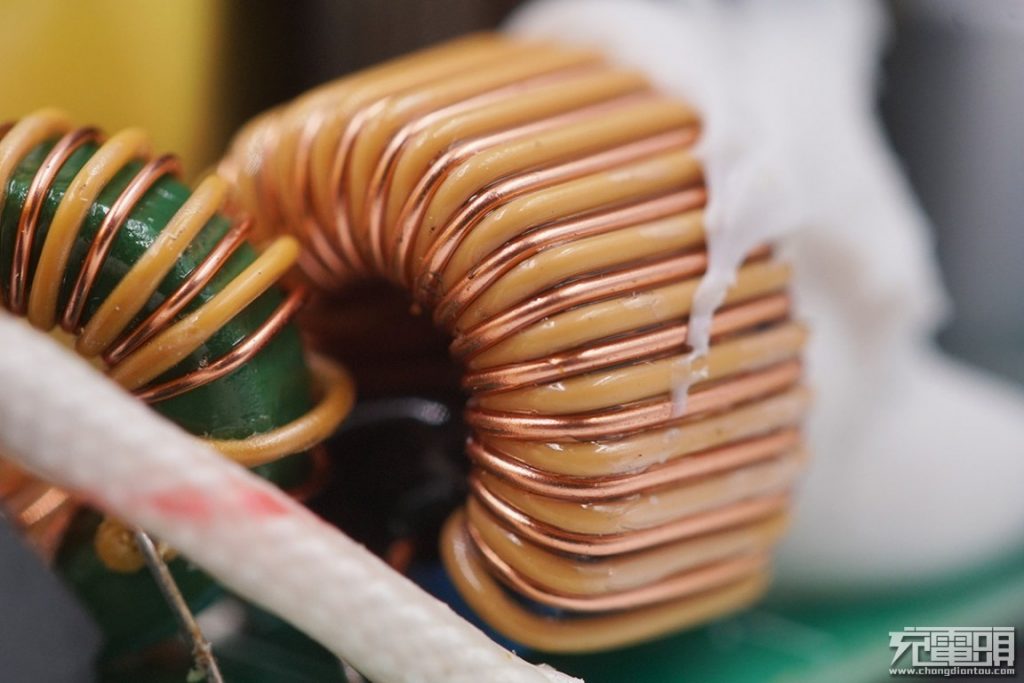 The input side has a common mode choke to eliminate EMI electromagnetic interference caused by the high frequency switch of the GaN power device.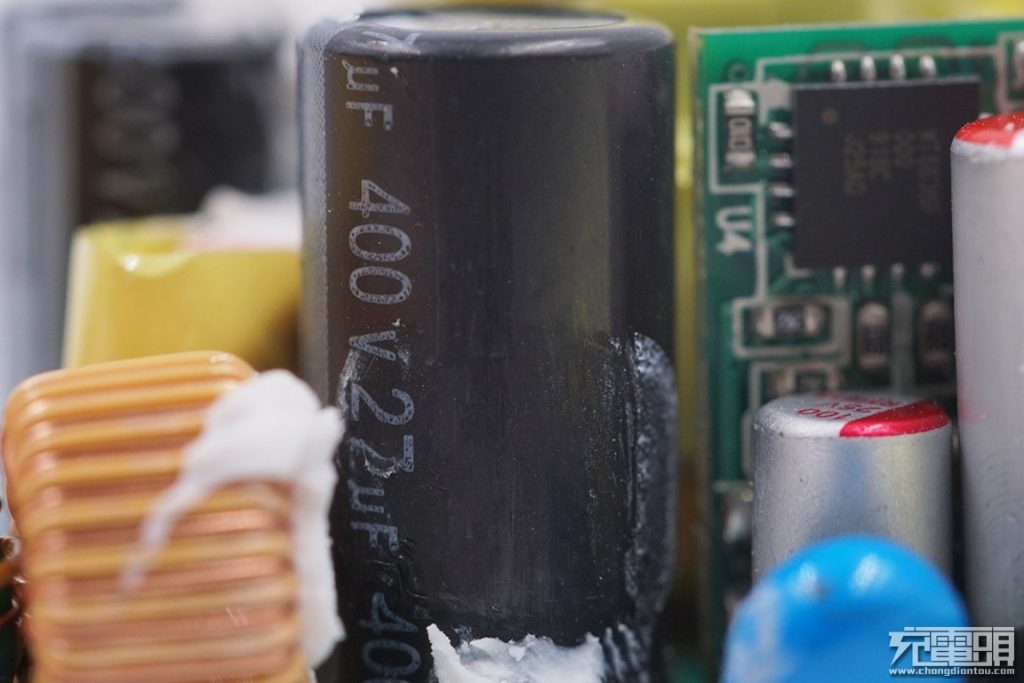 Four AiSHi aluminum electrolytic capacitors are used for primary filtering, the largest one has a specification of 400V 27μF.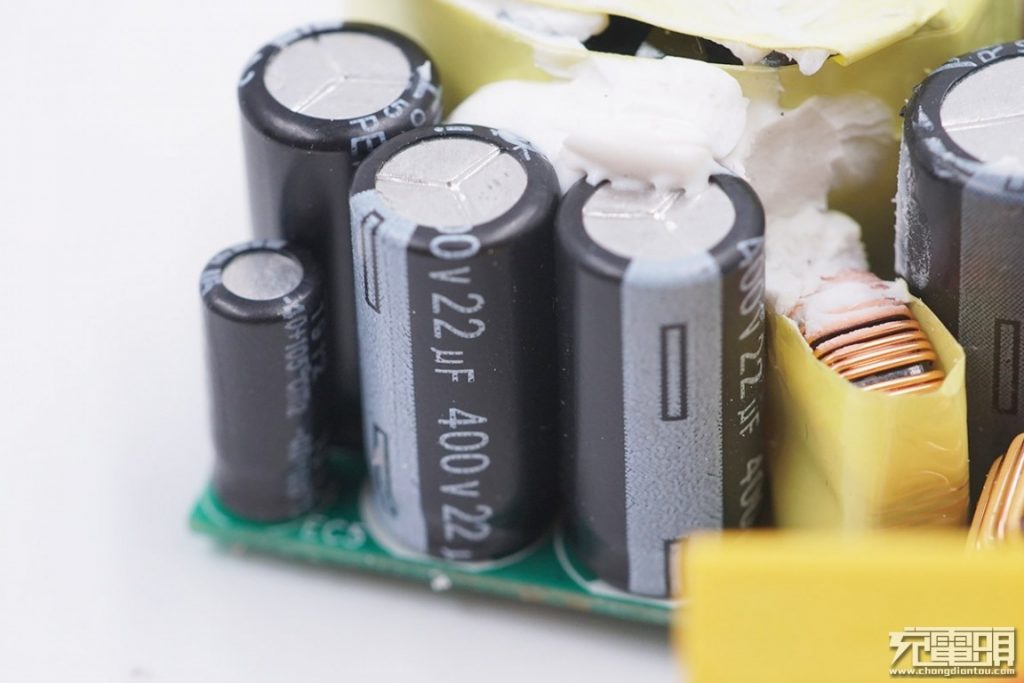 The other three share the same specification of 400V 22μF. In addition, there is a PWM chip power supply capacitor next to it.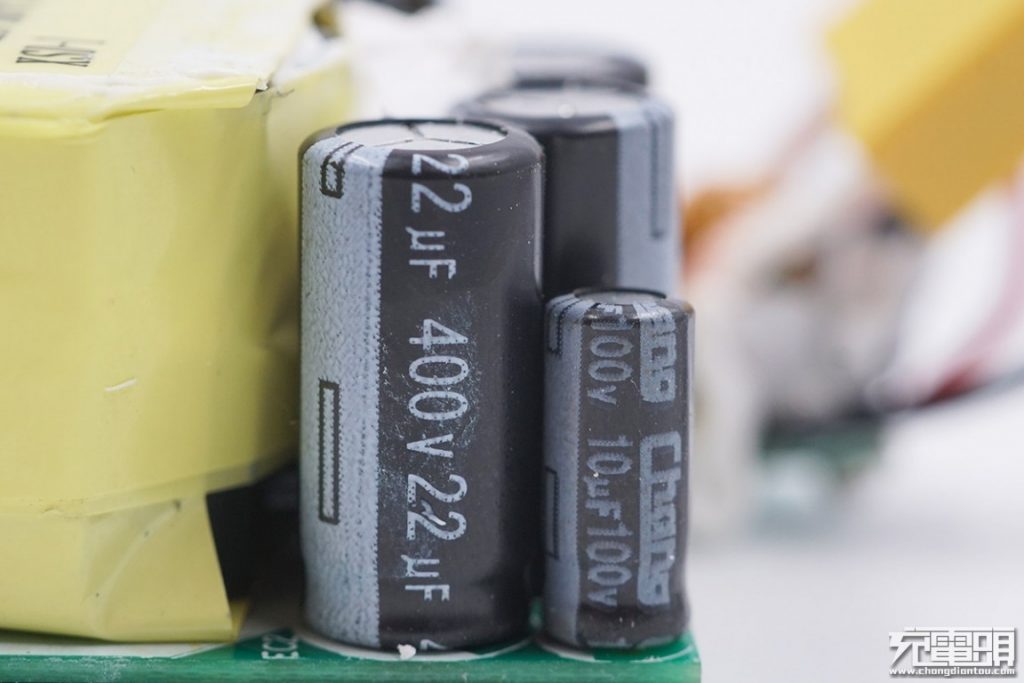 It is from Changzhou Huawei Electronics, 100V 10μF.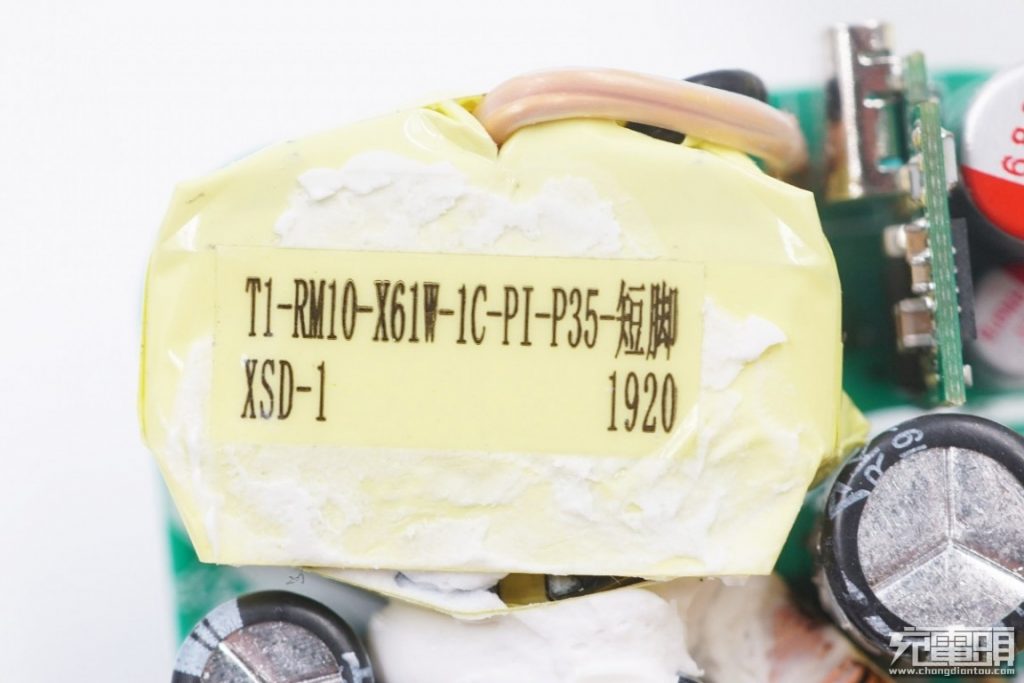 The transformer is wrapped in marathon tape with letter code.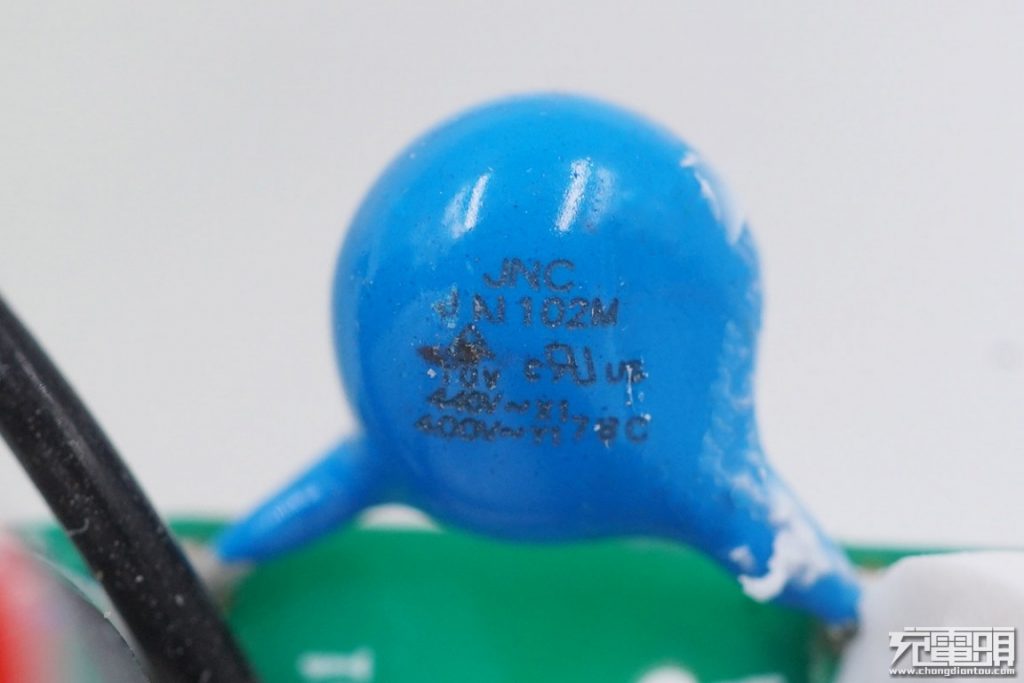 A Y capacitor from JNC is placed between the primary and secondary to reduce output interference.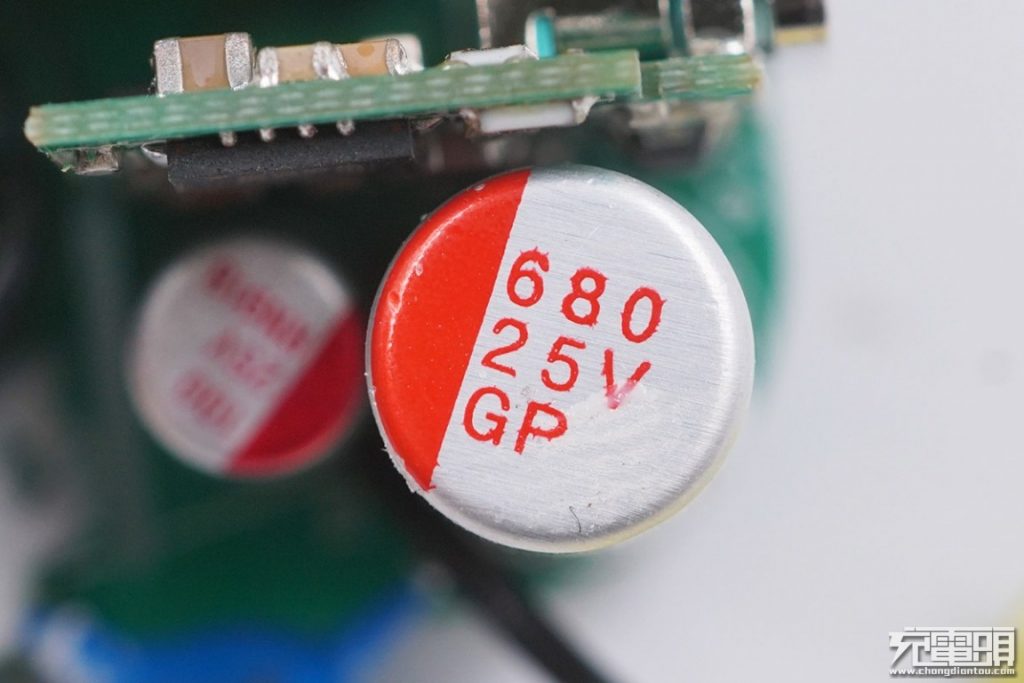 The USB-C port on the secondary side is soldered to a daughterboard for protocols, and two solid capacitors are placed for output filtering, one of which is 680μF 25V.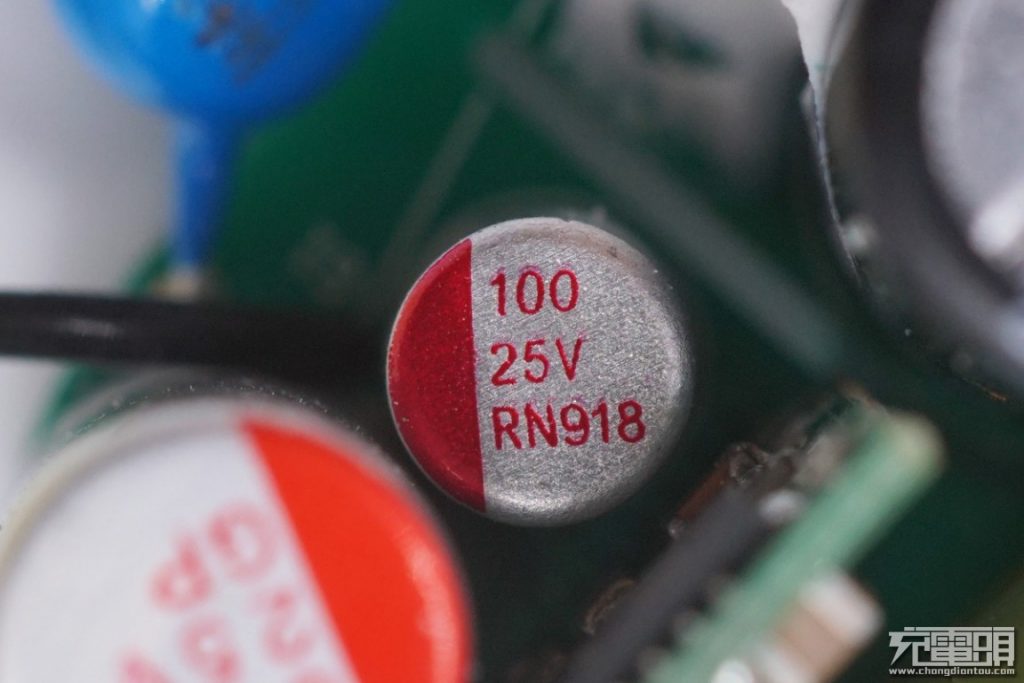 Another one with a specification of 100μF 25V.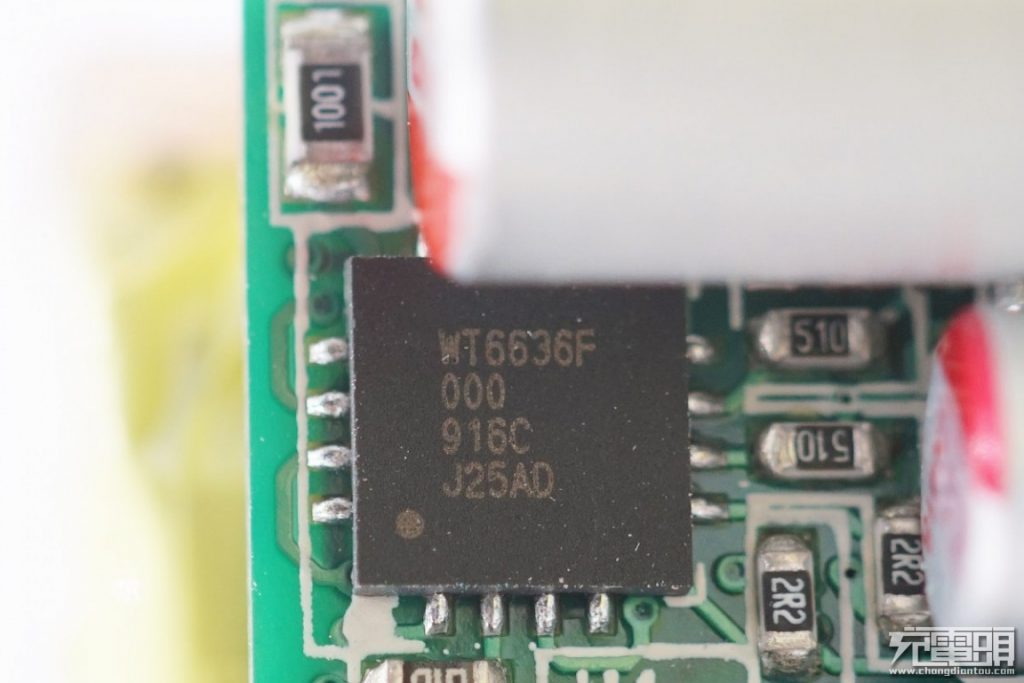 A Weltrend WT6636F is used as the USB-C interface controller. It is a protocol chip (TID No. 1080018) certified by the USB-IF USB PD3.0 (PPS), we have seen it inside the 65W Lenovo Thinkplus "lipstick" charger.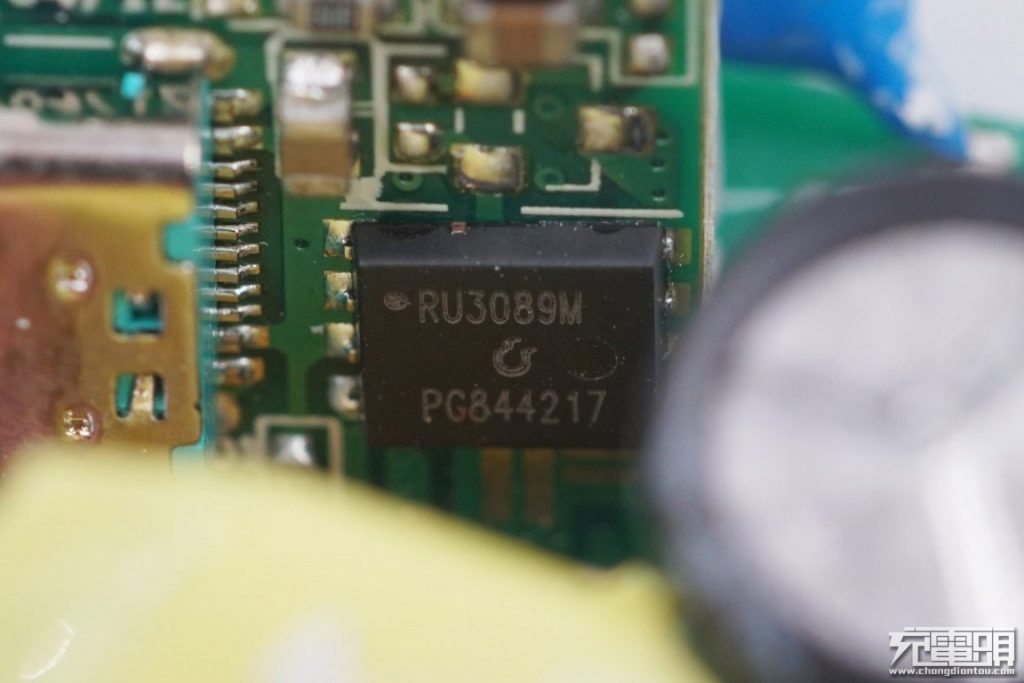 USB-C port output VBUS switch tube, from Ruichips, model RU3089M.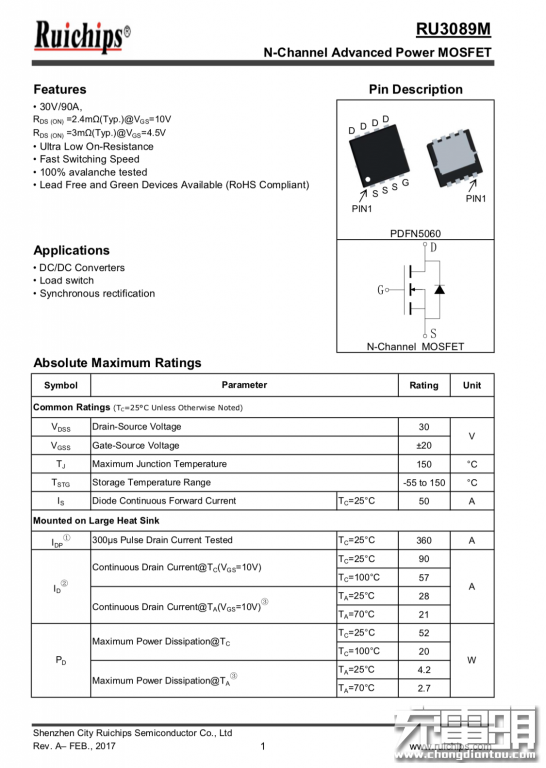 Detailed specifications of the Ruichips RU3089M.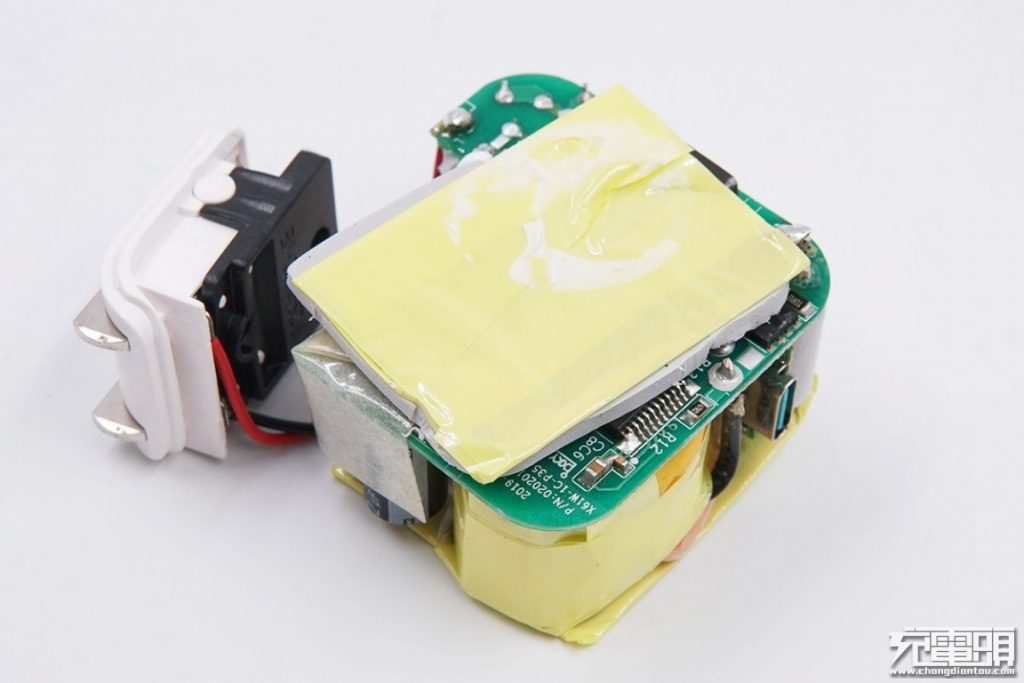 The back of the PCBA is populated with chip components under a thermal pad to spread the heat evenly, to avoid local overheating during the use of the charger.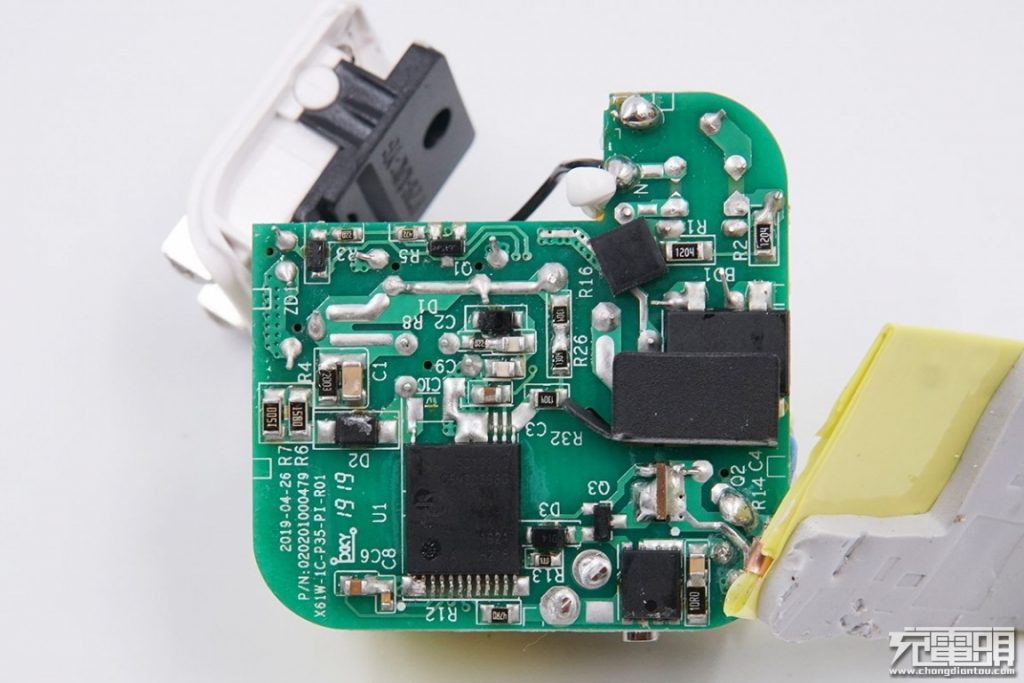 The metal thermal pad on the back is also grounded. The circuit design is very simple. The primary and secondary are hollowed out with an extra isolation plate.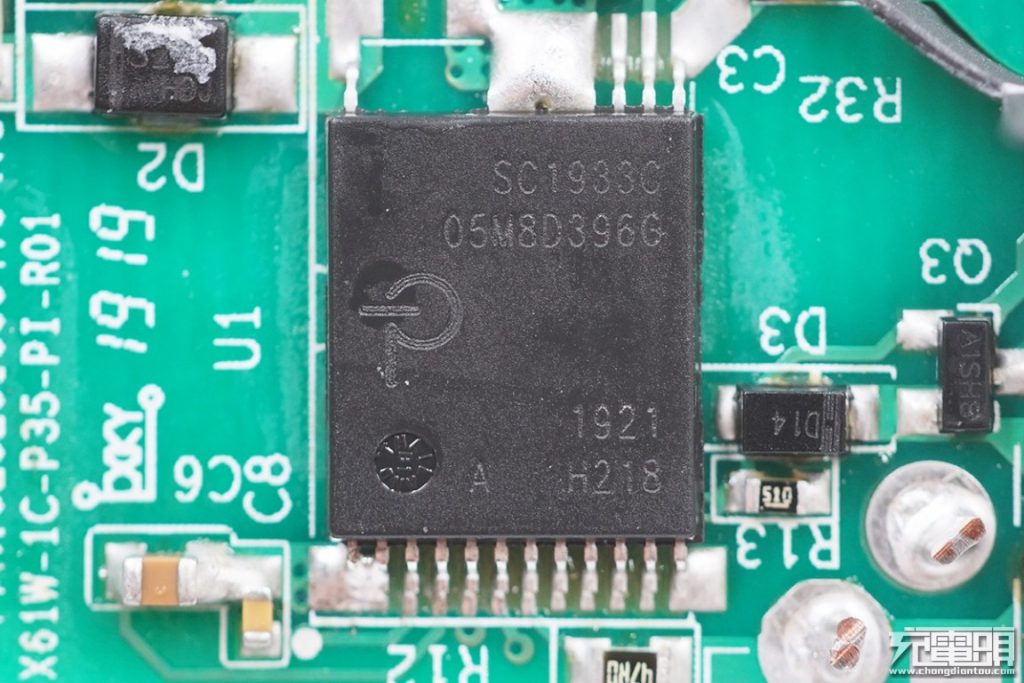 The main controller chip, an SC1933C from PI, is placed between the primary side and the secondary side. It belongs to PI PowiGaN series which is the first GaN-based product launched by PI, marking the full application of GaN components on USB PD fast charging power adapters. Its high frequency and low loss features can improve the power density, reduced size and weight, making it more portable.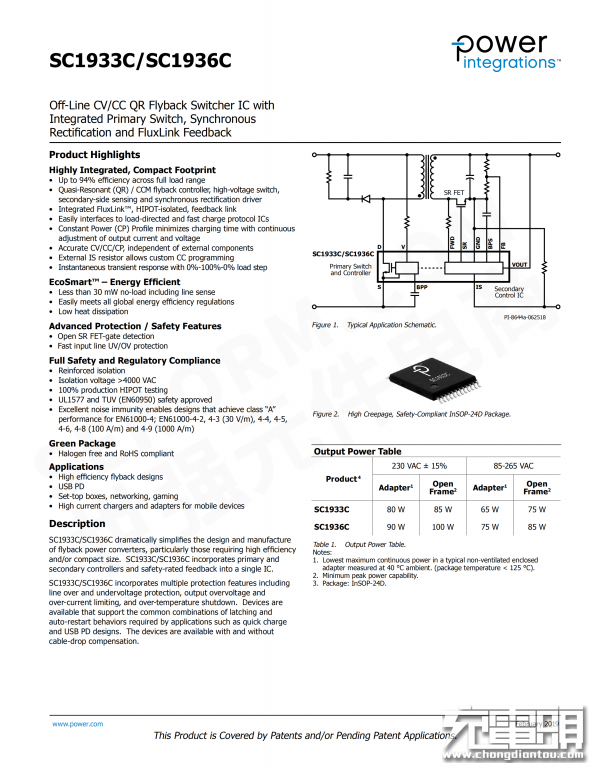 This GaN chip is also used in Anker PowerPort Atom PD 1 and the Anker PowerPort Atom PD 2 with GaN as our teardowns reveal.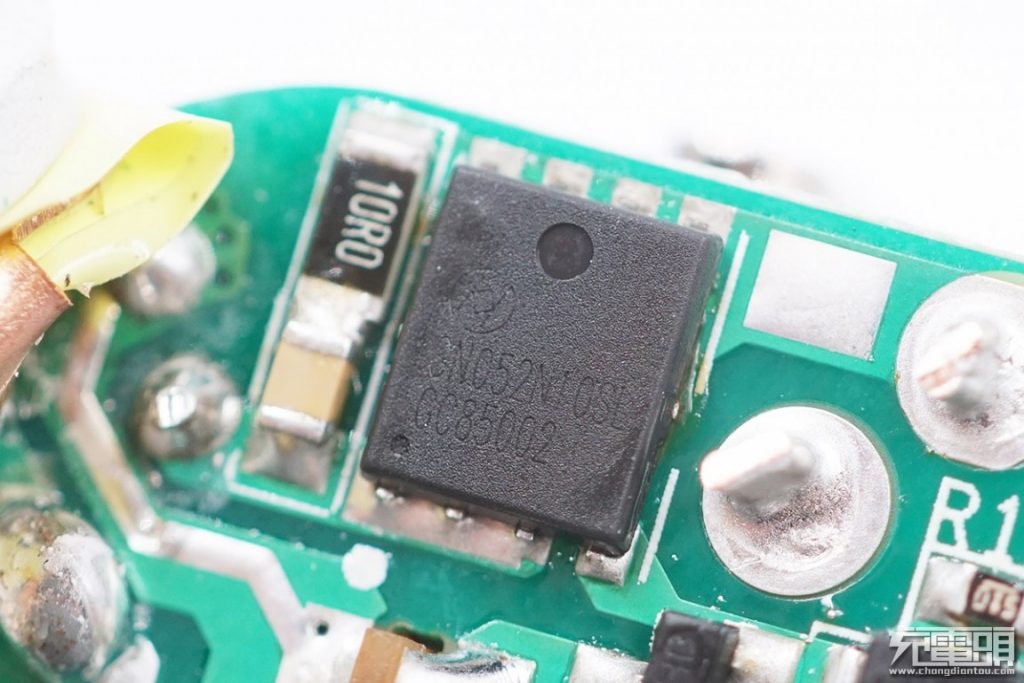 The secondary synchronous rectification MOS transistor is from Hunteck, model HGN052N10SL, and is controlled by the PI SC1933C.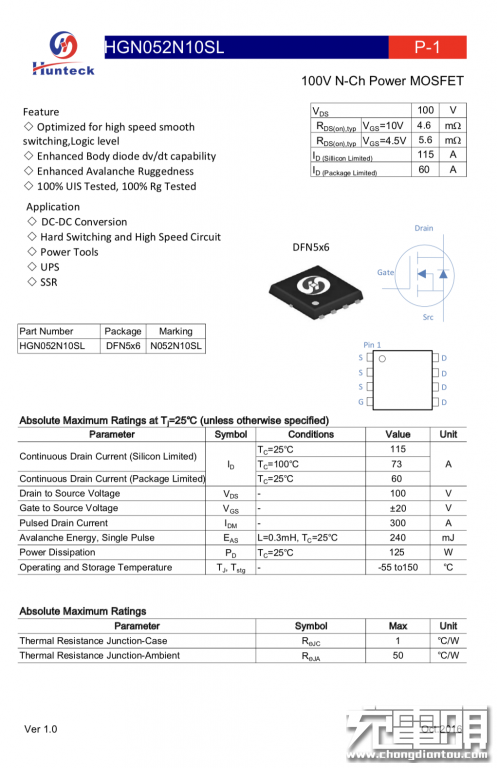 Detailed specifications of the Hunteck HGN052N10SL.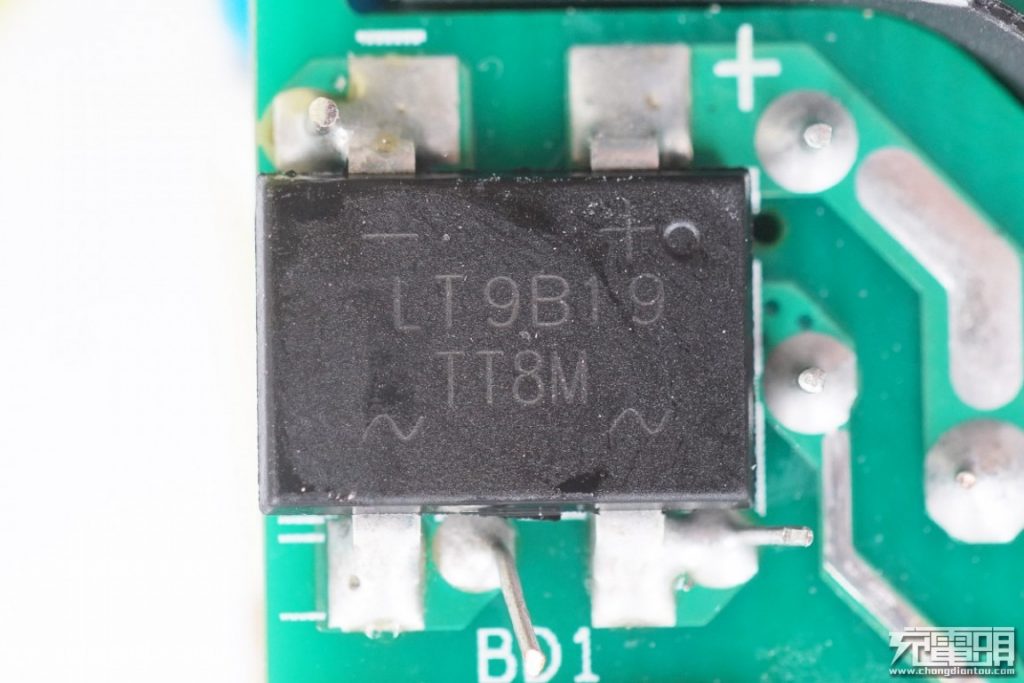 An input rectifier bridge.

All the components.

IV Conclusion

From the teardown of the RAVPower PD Pioneer 61W GaN Charger, we see the mature of GaN technology. Thanks to the GaN solution from Power Integrations, engineers are now able to reduce a great number of components, and create a 60W charger with ultra-high efficiency that's very similar to a conventional 18W charger, which is unimaginable in early days.

Of course, heat dissipation and EMI has to be taken care of due to the nature of the compact size and GaN component. In this case, Ravpower uses two thermal pads and a dedicated common mode choke to get the job done.

The charging performance is stable with all PD steps including 9V, 12V, 15V, 20V, and an extra 20.3V step. However, it lacks PPS support which would otherwise make it a perfect charger.

First came out at $50, and now constantly discounted at around $40, the Ravpower is very reasonably priced as a cutting-edge charger. We have already seen GaN chargers becoming cheaper in recent times if you follow closely to our GaN charger list, and boy the popularization of GaN chargers has begun.

Pros:
Powerful and compact.
Good components and thoughtful design.
Reasonably priced.

Cons:
Does not support PPS.
Note: ChargerLAB is reader-supported. Our editors independently research, test, and recommend the best products. We may earn commissions on purchases made from links on our site.

Source: chongdiantou