Anker PowerPort Atom PD 1 30W GaN Charger Teardown Review: Tiny Beast
On October 25, 2018, ANKER released its ground-breaking new product "ANKER PowerPort Atom PD 1" GaN charger in New York, USA. It received much attention from the industry because of the use of the high frequency and high efficiency GaN (gallium nitride) power IC. Gallium nitride is a new type of semiconductor material which has many advantages, including wider band gap, higher thermal conductivity, higher temperature resistance, and other advantages. Therefore, it has become one of the most promising semiconductor materials. And here's our teardown review of the world's first GaN charger.
I Unboxing
The ANKER PowerPort Atom PD 1 GaN charger comes with classic ANKER package design featuring a clean white box with blue accents.
Our review unit is a Chinese domestic version.
Package contents: charger, user manual, warranty card, qualification certificate, and list of hazardous substances in electronic products.
The ANKER PowerPort Atom PD 1 GaN charger has a rounded rectangle design with a matte finish. Its prongs are unfoldable.
Blue USB-C port with USB PD support.
Compared to a 1 Yuan RMB coin.
When compared with the Apple iPad 30W charger, ANKER 30W GaN charger shows obvious advantage in size.
Model: A2017, input: 100-240V ~ 1.2A 50~60Hz, output: 5V/3A, 9V/3A, 15V/2A, 20V/1.5A. The charger is certified by CCC.
Using our ChargerLAB Power-Z KT001 tester, it shows that the charger supports DCP protocol.
PDO information reveals it is capable of PD3.0 quick charging in 5V/3A, 9V/3A, 15V/2A, and 20V/1.5A.
II Teardown
Crack it open directly with a sledgehammer. The AC input connection adopts soldered wires to connect the pins and the PCB. The back of the pins is glued to the circuit board.
Two PCBs inside, and two input wires are glued together at the weld joint.
A small board between the two PCBs.
Below is the transformer, welded on the primary circuit board. The entire internal isolation piece provides support and insulation, as the main structure of the charger.
Two solid capacitors are on the output side, wrapped by the frame.
The circuit board at the input side mainly consists of power supply circuit for rectifier bridge, absorption circuit, and primary PWM chip.
Input rectifier bridge, ABSR210, 2A1000V.
Rectifier stabilized voltage output provides power for PWM chip.
A large chip on the PCB which is positioned across the primary and secondary PCBs.
This chip is a PI SC1933C which belongs to PI InnoGaN series which is the first GaN-based product launched by PI, marking the full application of GaN components on USB PD fast charging power adapters. Its high frequency and low loss features can improve the power density, reduced size and weight, making it more portable.
On the output side is a USB-C port protocol chip and an output switch tube.
Weltrend WT6615F for USB PD protocol identification and feedback adjustment of output voltage.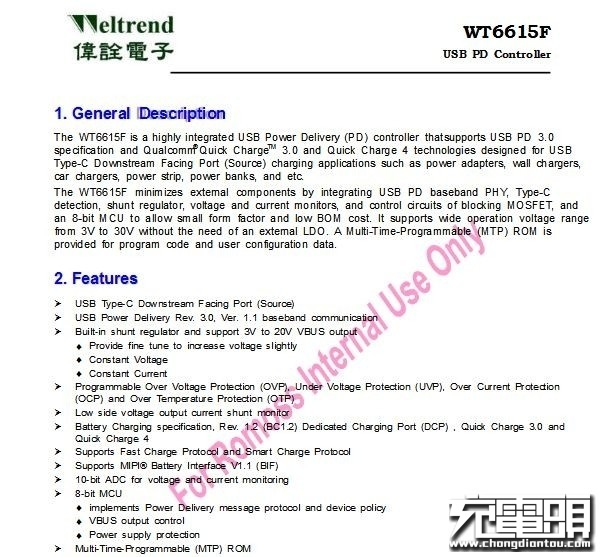 WT6615F is a USB PD controller supporting USB PD 3.0 specification, Qualcomm QC3.0 and QC4 technologies, and DFP downstream port (source) charging applications. The highly integrated WT6615F can be used for power adapters, car chargers, power banks, and other devices. Meanwhile, it supports the latest USB PD Programmable Power Supply (PPS) specification and is versatile for direct charging solutions for mobile devices.
Excelliance EMB09 P03V USB-C output switch MOS, PMOS, withstand voltage 30V, 9.5mΩ conduction resistance, 24A current.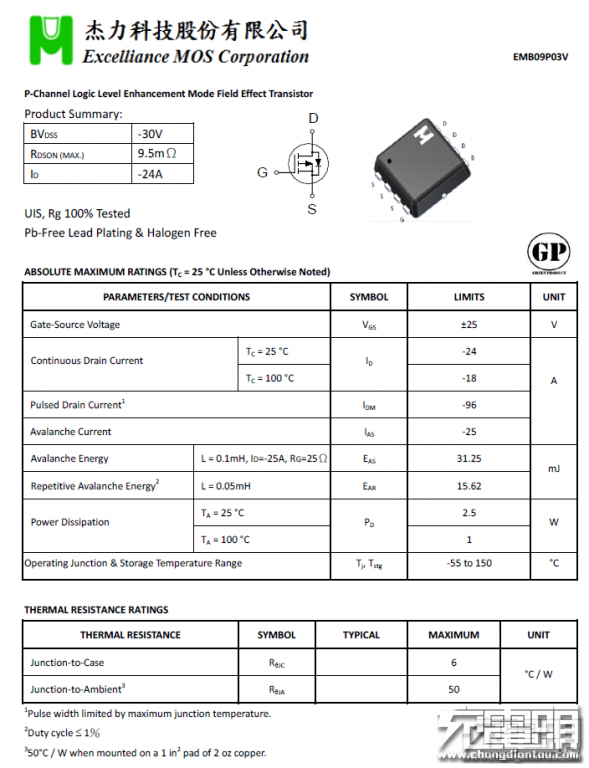 Detailed specification of the Excelliance EMB09P03V.
Weld off the small circuit board and separate the two circuit boards. The isolation hood is well designed. The transformer is entirely wrapped in mylar sheet.
The input filter uses two CapXon 400V 22μF electrolytic capacitors and one 10μF 100V capacitors as the main controller chip power supply capacity.
The input has a fuse and a common mode inductance.
Top view of the primary circuit board, very compact.
Now let's look at the circuit board of the output side.
The output is filtered by two solid capacitors. The large tube is a synchronous rectifier. The Y capacitor is soldered behind the small board to save space. The USB-C port has a blue plastic core and is reinforced with steel sheets.
There are two current sampling resistors on the board for output current detection.
Two solid capacitors with a total capacity of 800μF for stable output.
Output synchronous rectifier tube, AO AONS62922, 120V withstand voltage, low conduction resistance, optimized for synchronous rectification.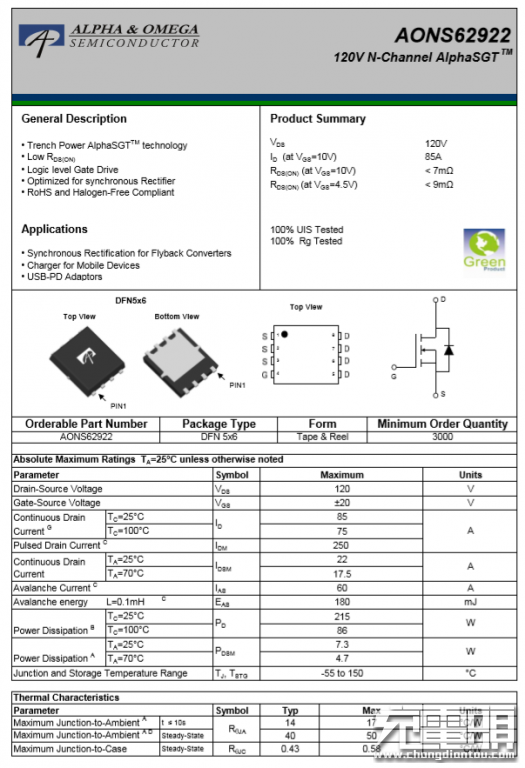 Detailed specification of the AO AONS62922.
All the components.
III ChargerLAB conclusion
Our first impression on the ANKER PowerPort Atom PD 1 charger is its compactness and lightweight compared with the Apple 30W PD charger. In terms of performance, it supports USB PD output in 5V/3A, 9V/3A, 15V/2A and 20V/1.5A, which can meet the power demand of phones and tablets, as well as laptops.
Through teardown, we found that the internal components of the charger are interlaced, and a small board is placed between the two parallel circuit boards for extremely high space utilization. In addition, the well-designed plastic insulation bracket provides insulation and support for the charger and makes the charger more stable and robust.
The PI InnoGaN all-in-one chip is adopted to greatly simplify the design. At the same time, thanks to its high frequency and high efficiency, the 30W output power needs no auxiliary heat dissipation and further saves space. The output adopts synchronous rectification, which reduces the temperature and improves efficiency. The inner layer of the circuit board is coated with copper to help conduct and dissipate heat. The high quality material, thoughtful design, and precision manufacturing make the ANKER PowerPort Atom PD 1 GaN charger a powerful tiny beast.
Note: ChargerLAB is reader-supported. Our editors independently research, test, and recommend the best products. We may earn commissions on purchases made from links on our site.
Source: chongdiantou