Power Your Next Product with a Universal USB-C Power Adapter
Nowadays, consumers want to quickly and conveniently charge their portable devices anywhere. However, there are many types of charging adapters and connectors, which can make determining which charger or chargers to have on hand confusing for the end user.
Carrying multiple charging adapters for different portable devices can be overwhelming. On the other hand, so many charging adapters are produced annually — the latest Global E-waste Monitor report indicates that about 1 million tons of power adapters are produced every year. These chargers are shipped with portable consumer devices such as mobile phones, laptop computers, tablets, digital cameras, smart speakers, power tools, and many other product types. On Jan. 31, 2020, the European Parliament voted to standardize chargers of devices in an attempt to reduce the amount of e-waste generated.
The USB Type-C connector, also called USB-C, offers numerous benefits compared with alternative connectors, such as barrel connectors, USB Type-A connectors, and Micro-B connectors. These benefits include a reversible plug, higher power when using USB Type-C power delivery (up to 100 W), dual-role power capabilities (can act as a sink or source), and higher data speeds.

Figure 1: The USB-C connector is replacing legacy barrel connectors.
In the past several years, the USB Type-C connector has seen massive adoption in mobile phones, notebook PCs, and tablet devices. It is expected that in the next two to three years, the USB Type-C connector will begin to see use in other device types, such as IoT devices, drones, smart speakers, power tools, retail automation, and more. By using the USB Type-C as the universal power connector instead of various kinds of barrel connectors, a device manufacturer reduces its contribution to the e-waste problem. OEMs will also enjoy savings when it comes to production and shipping costs incurred while bundling a power adaptor with its product.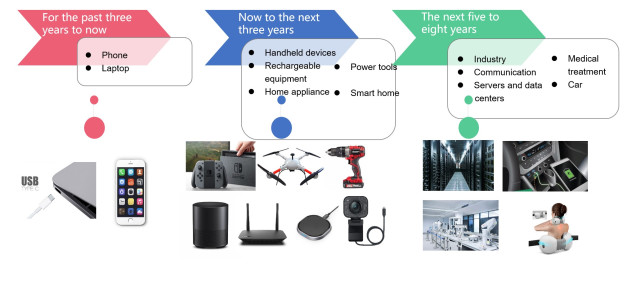 Figure 2: USB Type-C and PD ecosystem expansion
A simple way to implement a new USB Type-C power sink design
A simple way to adopt USB-C in different kinds of electronic devices is to use HUSB238 from Hynetek Semiconductor Co., Ltd. (www.hynetek.com). Even though the HUSB238 is the world's smallest USB PD sink controller, its features and performances are certainly distinguished. Specifically, the HUSB238 features a highly integrated USB PD controller as sink role for up to 100-W power rating. It is USB-IF PD3.0–certified with TID 3666; is compatible with USB PD3.0 and Type-C V1.4; and can support BC1.2 DCP, CDP, and SDP while the source is attached. The HUSB238 can be used in electronic devices that have legacy barrel connectors (also called "barrel connector replacement") or USB Micro-B connectors as an alternative power resource. The HUSB238 is available in 3 × 3-mm DFN-10L and 3.9 × 4-mm SOT33-6 packages. Similar part numbers are CYPD3177 from Cypress Semiconductor and STUSB4500 from STMicroelectronics.
Taking a closer look, the HUSB238 offers high integration in a small package that minimizes the bill-of-materials cost and helps simplify design while enabling the engineer with the ability to quickly convert their products to be powered via a USB-C connector with fewer external components and no firmware required.
Furthermore, Hynetek accelerates the transition from barrel connectors to USB-C connectors with different HUSB238 reference designs, which enables product developers to quickly prototype without any firmware development. Figure 3 summarizes the advantages of the HUSB238.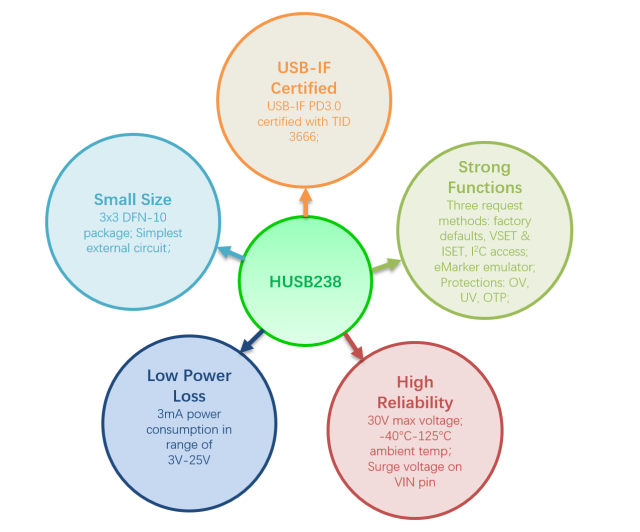 Figure 3: HUSB238 advantages
The system diagram of the HUSB238 is shown below in Figure 4. The HUSB238 communicates with the USB PD source controller to achieve a USB-C and PD handshake via a USB-C connector. The HUSB238 can control the load switch to achieve both over- and undervoltage protection. As the power system usually has similar functions, the load switch does not get used and the VBUS is connected directly to the power system.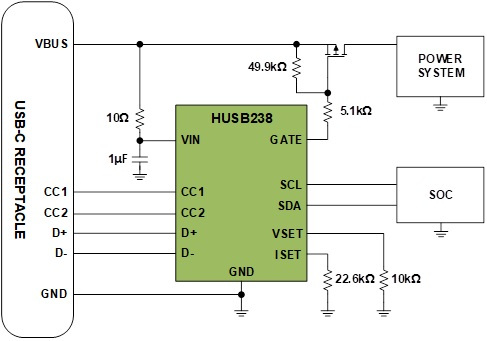 Figure 4: HUSB238 system diagram
The HUSB238 offers two ways for the PD sink to request the PDO from the PD source.
1. The easy and simple way is to select the RVSET and RVSET resistors according to the specifications listed in the datasheet. No software and firmware design is needed.
2. The advanced way is to use an embedded controller for monitoring and advanced settings through the I2C interface.
Figure 5 shows a diagram of an integrated USB Type-C PD and one to four cell batteries charging reference design. The MP2651 is a buck-boost charger for one to four cell batteries from Monolithic Power Systems, Inc. This integrated USB Type-C PD and one to four cell batteries charging reference design is a USB Type-C and PD sink controller system along with a battery charging system capable of 60-W power sinking. This reference design can support charging one to four cell batteries via a USB Type-C port, in addition to Type-C communication and PD negotiations. This reference design board features charging up to 20 V at 3 A.
Furthermore, both the HUSB238 and the MP2651 integrate I2C interfaces as slave devices. The monitoring and advanced configurations can be achieved through an external microprocessor communicating via the I2C interface, such as monitoring the source capacity of the PD power source, the negotiated PDO through the HUSB238. With the I2C interface, the MP2651 can be flexibly programmed within the charging parameters, such as input current limit, input voltage limit, charging current, battery full regulation voltage, and so on. It can also provide the status and faults in operation through registers.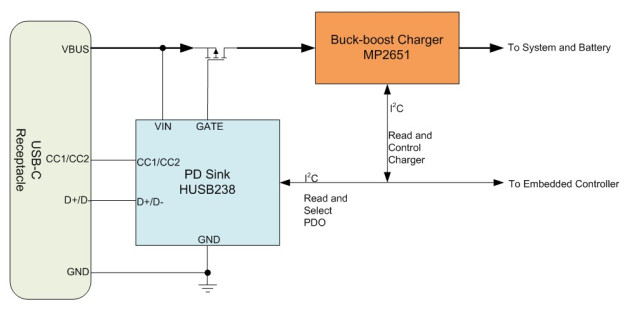 Figure 5: Block diagram of HUSB238 and MP2651 reference design board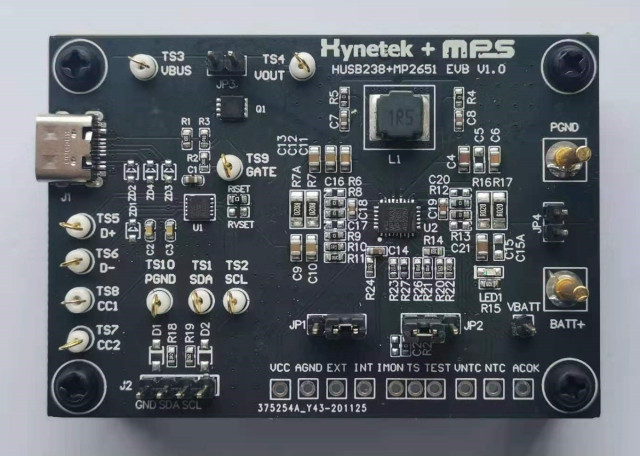 Figure 6: HUSB238 and MP2651 reference design board
A simple way to implement a new USB Type-C DRP design (power source and power sink)
An easy way to adopt USB-C for a new USB Type-C DRP design (to support both power source and power sink) is to employ HUSB311, which is also from Hynetek. The HUSB311 is a TCPC-compliant USB PD PHY controller that implements the Type-C configuration channel (CC) interface and USB PD physical layer (PHY) functions to a Type-C port manager that handles PD policy management. It is designed to comply with USB Type-C, USB PD, and TCPC specifications. It can support various Type-C roles: sink, source, or DRP. It implements Type-C CC analog portion and PD Tx/Rx PHY and protocol state machines. The HUSB311 is available in WLCSP-9B and 2.5 × 2.5-mm QFN-14L packages. Figure 7 shows the system diagram of HUSB311. There are three pin-to-pin compatible part numbers: RT1715, FUSB302, and TUSB422.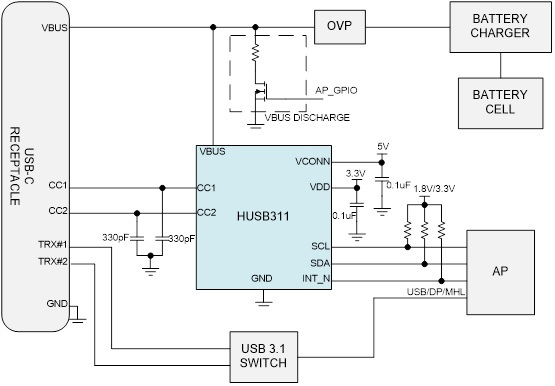 Figure 7: Block diagram of HUSB311
Figure 8 shows a reference design of USB Type-C DRP and battery charging with 20-V, 3-A, 60-W power source and 5-V, 3-A, 15-W power sink. The MP2651 operates at either charge mode or source mode, depending on the USB PD negotiation. Additionally, this reference board also provides a 5-V, 2.4-A, 12-W power source from the USB Type-A interface. The HUSB304 is a USB port controller from Hynetek, which integrates common functions for a USB Type-A port. There is an ultra-low RDS(on) (15 mΩ) N-channel MOSFET integrated. It is designed for a 5-V USB Type-A port application, which requires a high current switch.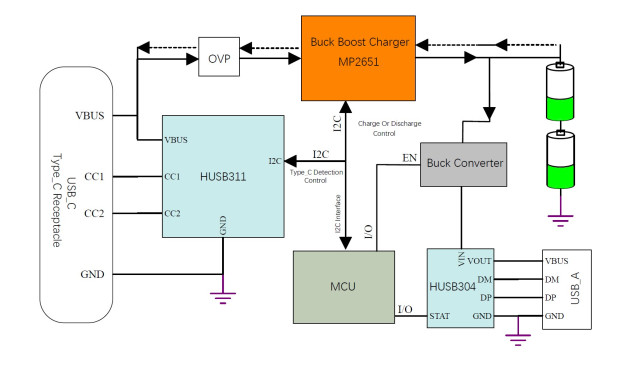 Figure 8: HUSB311 and HUSB304 reference design board
The article is originally written by @
admin
posted on Chargerlab. All rights reserved.