Navitas' GaNFast™ Enables 2x Shrink and 75% More Emergency Lighting
GaN Power ICs deliver dramatic size & safety increase for LED lighting
EL SEGUNDO, Calif.–(PRWeb)— Navitas Semiconductor today announced that GaNFast™ power ICs enable Fulham's HotSpot Plus™ FHSAC1-UNV-70S, a high-reliability 70W normal + 7W emergency back-up lighting power system. GaN power IC technology powers both the main LED luminaire and charges the on-board LiFePO4 battery to provide everyday lighting and up to 90 minutes of emergency runtime.
New, high-speed Gallium Nitride (GaN) power integrated circuits have up to 20x the performance of old silicon chips. By operating at high frequency and simultaneously increasing efficiency, GaNFast power ICs reduce the size, weight and cost of components such as transformers, heatsinks, and printed-circuit boards. The GaNFast 3x-4x increase in power density enables a 2-to-1 reduction in LED hardware and leaves room to expand battery size to 14.4 Whr and increase emergency lighting by 75% for increased safety when compared to similar sized 4W emergency-only systems.
The Hotspot Plus 70S was developed for OEMs looking for a highly reliable, universal LED driver that would meet state and city safety requirements in a single, compact, all-in-one Emergency / LED driver. Ideal for luminaire manufacturers where LED driver space is limited, the HotSpot Plus 70S has the smallest form-factor available (424 x 30 x 25 mm) and features universal 120-277VAC input with a maximum of 70W (programmable constant current output of 350mA – 2400mA /11-55VDC) normal and up to 7W emergency output, which means customers can stock a single LED driver for a broad range of fixtures.
"With the HotSpot Plus™ 70S, our goal was to provide an LED driver + Emergency LED driver with integrated batteries in the same size as a single function non-emergency LED driver, and the Navitas GaNFast power ICs enabled us to reach this goal" said Alvaro Garcia, Senior Director, Product Management, Fulham. "This significant achievement is an industry first, which will enable our customers to design smaller more cost effective LED lighting systems."
"Navitas is very pleased to partner with Fulham in creating these next-generation GaNFast lighting systems." said Gene Sheridan, Navitas CEO. "Fulham joins a rapidly-growing list of mobile and consumer brands in high volume production with GaN power ICs that are setting a new standard in energy savings and power density".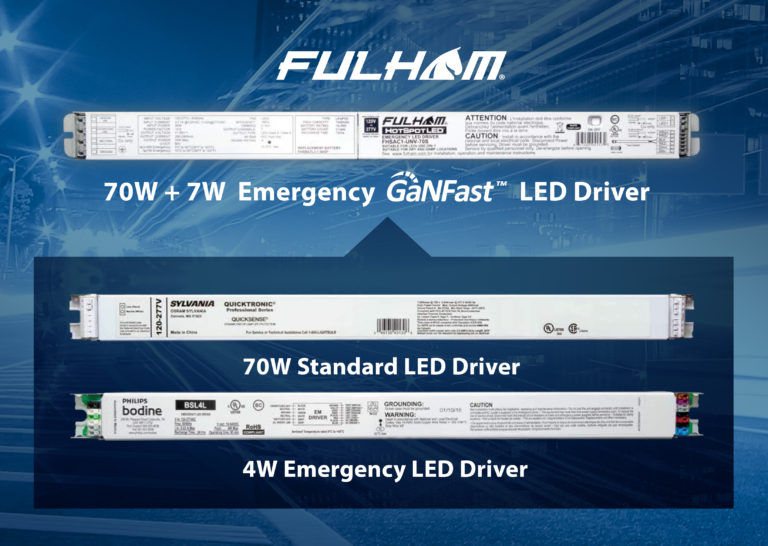 About Navitas:
Navitas Semiconductor Inc. is the world's first and only GaN Power IC company, founded in 2014 and based in El Segundo, CA, USA. Navitas has a strong and growing team of power semiconductor industry experts with a combined 200 years of experience in materials, devices, applications, systems and marketing, plus a proven record of innovation with over 200 patents among its founders. GaN power ICs monolithically integrate power, analog and logic circuits to enable faster charging, higher power density and greater energy savings for mobile, consumer, enterprise, eMobility and new energy markets.
About Fulham:
Fulham Co., Inc. is a leading global provider of intelligent, socially-conscious sustainable commercial lighting components and electronics for use in commercial general lighting, parking structure, signage, horticultural, UV and other applications. The company develops and manufactures a variety of award-winning LED and emergency products, lighting controls, as well as legacy products across multiple lighting platforms. Fulham sells its lighting solutions worldwide through original equipment manufacturers (OEMs) and electrical equipment distribution channels. Headquartered in Hawthorne, Calif., the company has sales and/or manufacturing facilities in the Europe, China, and India,. For more information, visit www.fulham.com, @FulhamUSA or @FulhamEurope.
###
Navitas Semiconductor, GaNFast and the Navitas logo are trademarks or registered trademarks of Navitas Semiconductor, Inc. All other brands, product names and marks are or may be trademarks or registered trademarks used to identify products or services of their respective owners.
Source: Navitas