USB-C Opens a New Era of Portable Projectors
As the USB Type-C interface, also called USB-C, has become a universal interface, the USB Power Delivery (PD) fast charging has quickly become more and more popular. The power input ports of many electronic devices have been converted to USB Type-C interfaces, such as wireless chargers, smart speakers, e-cigarettes, fascia guns, massaging machines, portable juicers, game consoles, drones, etc. Recently, we discovered that there were new portable projectors that also adopted USB Type-C interfaces to support USB PD fast charging. Today we are going to talk about the portable projectors.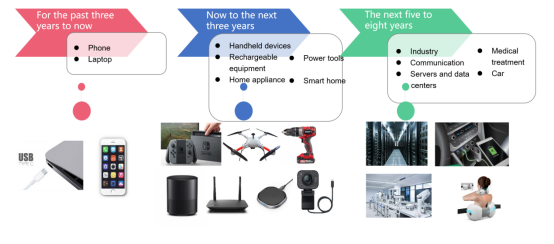 Figure 1. USB Type-C and PD ecosystem expansion
With the advancement of science and the maturity of 5G technology, the Internet of Things (IoT) and Smart Home has become the hottest topic nowadays. Portable projectors have slowly entered into our life, entertainment, learning and work. The new portable projector has a built-in intelligent system. It has wireless networking functions such as WIFI, and can realize projection screen through voice control. The new portable projector is no longer limited to lectures and work meetings. Connected to the Internet, it can be used for watching movies, entertainment and exploring more new ways to play. It also supports wireless connection to iPhone, iPad, iMac, various Android mobile phones, and tablets to achieve wireless display. The new portable projector has a built-in large-capacity Li-ion battery with strong battery life, and it can continue to work for several hours even in a power outage environment.
Obviously, a new USB-C interface is indispensable for portable projectors that are small and easy to move. The USB Type-C interface, which integrates SuperSpeed data communication and up to 100W power transmission, has become the best choice for a new generation of portable projectors. Projection technology is currently mainly divided into two categories: DLP and LCoS. Among them, the core technology of DLP is owned by Texas Instruments (TI), and TI can provide Digit Micromirror Device (DMD) chip products. The principle is mainly to switch the light through the control of the micro-mirror, so as to realize the color scale and gray scale. On the small DMD chip, there are nearly a million of small reflecting mirrors that are smaller than the hair. Compared with DLP technology, the main imaging principle of LCoS (Liquid Crystal on Silicon) chip technology is similar to that of liquid crystal LCD. The voltage is controlled by a microcircuit to twist the liquid crystal. Through the control of the polarized light by the liquid crystal, the light can be controlled. Both technologies have their own advantages and disadvantages. In general, DLP technology currently occupies the mainstream position in the market. With technological innovation, DLP technology has more advantages in terms of image digital processing, seamless image delay, and long life.
With the portable projector adopting the USB-C interface, the data communication and power transmission can be realized at the same time through a single USB-C interface. This interface can completely replace the traditional interfaces such as USB-A, Mirco-B, HDMI and barrel connectors, which making the product more concise and beautiful. Hynetek recently launched the industry's smallest USB PD sink controller HUSB238. The HUSB238 is very suitable for portable projector applications. The following figure shows the typical application block diagram of the HUSB238 in DLP Pico projector.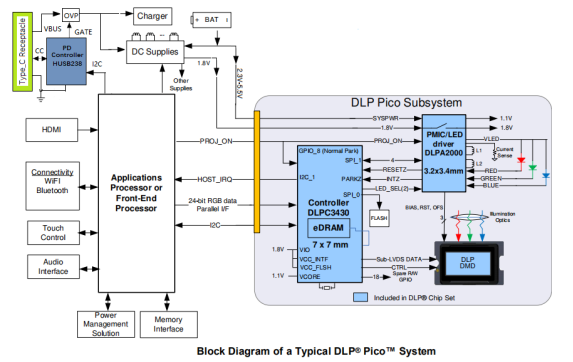 Figure 2. Block Diagram of a Typical DLP Pico System with integrated HUSB238
The HUSB238 features a highly integrated USB PD controller as sink role for up to 100-W power rating. It is USB-IF PD3.0–certified with TID 3666; is compatible with USB PD3.0 and Type-C V1.4; and can support BC1.2 DCP, CDP, and SDP while the source is attached. The HUSB238 can be used in electronic devices that have legacy barrel connectors (also called "barrel connector replacement") or USB Micro-B connectors as an alternative power resource. The HUSB238 is available in 3 × 3-mm DFN-10L and 3.9 × 4-mm SOT33-6 packages. Similar part numbers are CYPD3177 and CYPD3176 from Cypress Semiconductor and STUSB4500 from STMicroelectronics. The HUSB238 has the five major advantages of USB-IF certification, smallest size, low power consumption, high reliability and strong functions.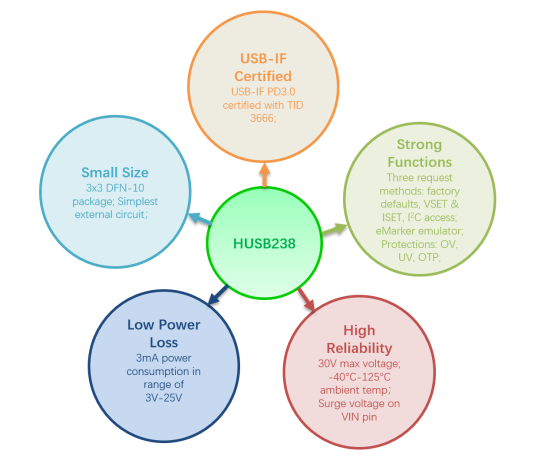 Figure 3. Five advantages of HUSB238
In addition to the USB PD sink controller HUSB238, Hynetek also introduced a new chip HUSB311. The HUSB311 is a TCPC-compliant USB PD PHY controller that implements the Type-C configuration channel (CC) interface and USB PD physical layer (PHY) functions to a Type-C port manager that handles PD policy management. It is designed to comply with USB Type-C, USB PD, and TCPC specifications. It can support various Type-C roles: sink, source, or DRP. It implements Type-C CC analog portion and PD Tx/Rx PHY and protocol state machines. The HUSB311 is available in WLCSP-9B and 2.5 × 2.5-mm QFN-14L packages. HUSB311 can be extended to support Data Role Swap and Power Role Swap commands, which is suitable for portable devices with data communication and power transmission. The USB Type-C system with HUSB311 and the USB SuperSpeed switch chip can completely replace the HDMI ports and DC power ports. The following figure shows a typical application block diagram of the HUSB311.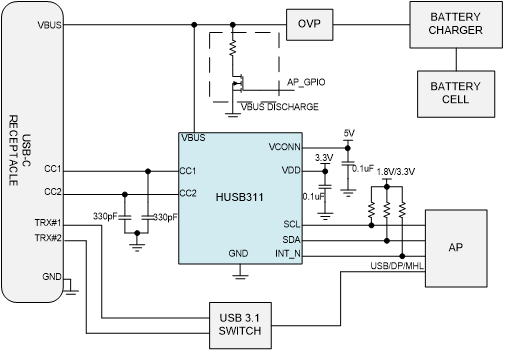 Figure 4. HUSB311 Block Diagram
With integration of the Type-C interface, the portable projectors will become more convenient. The portable projectors are powered by the USB PD power adapter, and the charging rate is faster. Even a portable projector without a built-in battery can be connected with a power bank to perform projection at anytime and anywhere regardless of the site and power supply condition. It is believed that, with the improvement of display technology, portable projectors can really allow every family to enjoy a private theater.
The article is originally written by @
yao
posted on Chargerlab. All rights reserved.