Mophie Launched a Magnetic Car Holder, Support Automatic Adsorption and Rotation
Driving has become the way for many people to commute to the company. As multi-functional mobile devices, mobile phones are often used for map navigation. In the car, traditional mobile phone car holders generally adopt a structure of clamp arm or gravity placement, which is troublesome to pick and place. If it doesn't fit the phone, it is easy to shake, bumps, and vibrates, which affect the viewing of navigation information, and in severe cases, the phone may even fall.
After the iPhone 12 with the revolutionary magnetic design, it allows users to experience the various conveniences brought by magnetism and points out another design route for the car holder. Mophie is glad to bring the magnetic experiences to the mobile phone holder and released the Mophie Magnetic Car Holder.
The Mophie magnetic car holder is all black, and the matted surface allows it to blend into the car's interior atmosphere. The elastic clamping arm is clamped on the blade of the air conditioner. The product adopts a ring-shaped appearance design, and the built-in magnetic parts are perfectly compatible with the iPhone 12 series. It will be automatically attached when the phone is closed.
The car is different from the home, and it needs to face the bumps and vibrations generated by different road conditions. The Mophie magnetic car holder is equipped with 17 strong magnets to provide strong magnetic attraction, which provides stable support to the phone and will not interfere with the user's driving due to vibration.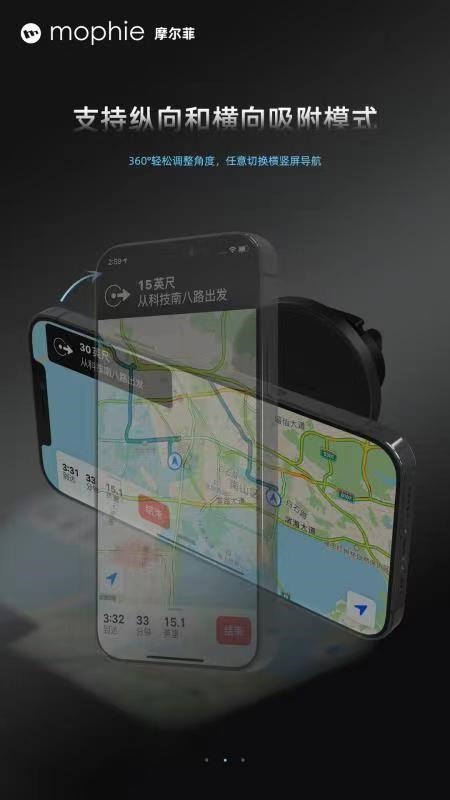 Because of the magnetic attraction feature, users can easily adjust the angle of 360 degrees and use one hand to control it. Whether it is vertical or horizontal, it can be adjusted to the customer's suitable angle to view.
So, whether this such easy-to-use magnetic car holder can only support the iPhone 12 series? Defiantly not. The Mophie magnetic car holder comes with a magnetic ring. You can stick it on the back of other mobile phones to enjoy the convenient experience of the magnetic car holder.
The Mophie magnetic car holder will be launched soon, priced at ¥198 ($30). Built-in 17 strong magnets make it not only easy to use but support vertical and horizontal screen adjustment at will. In addition to supporting the iPhone12 series, other non-magnetic mobile phones can also use the magnetic ring to enjoy the convenient charging experience.
The article is originally written by @
Yi
posted on Chargerlab. All rights reserved.