Hongda Shun released its new 65W Gallium Nitride charger, which can charge three devices simultaneously
Recently, the ChargerLAB was learned that the professional power adapter manufacturer in Consumer Electronics Industry -Shenzhen Hongda Shun Technology Development Co., Ltd, has released its new 65W Gallium Nitride fast charging charger. With the emerging technology of new GaN materials, Hongda Shun's GaN charger realizes to achieve fast charging three electronic devices simultaneously with an competitive charging speed and product size,which is quite convenient and powerful.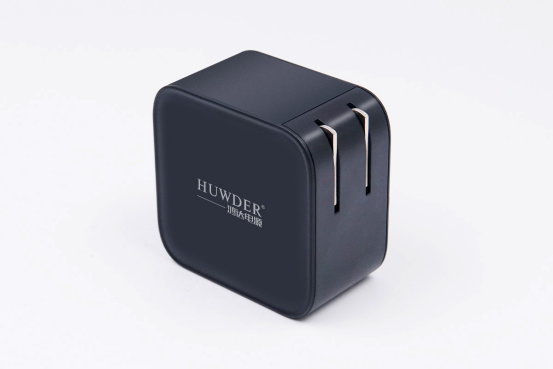 Let's proceed to the material part regarding to this GaN charger.An overall matte craft in black make the charger a delicate touch.Furthermore,a foldable clip head design in AC input effectively reduces the risk of pins scratching and keep item itself more tide.Make your travelling safe and smart.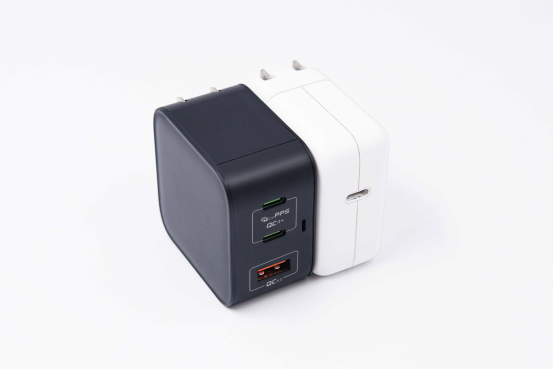 Hongda Shun's 65W charger uses a highly integrated circuit design superimpose the new Gallium Nitride materials used in high-level power adapters,which greatly achieves smaller dimension based on the same power and higher power based on the same dimension.That is under the premise of realizing a maximum output power of 65W and three output interfaces, the volume is only similar to the Apple 30W charger. What a fantastic charger!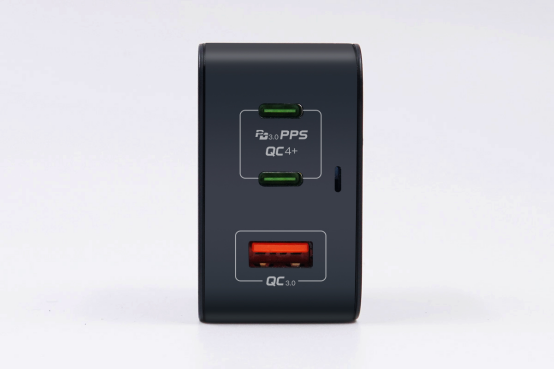 Let's keep going for more details:This GaN charger is equipped with two USB-C interfaces and one USB-A interface, which can charge three digital devices at the same time, and it also supports various mainstream fast charging protocols like PPS/PD3.0/PD2.0/QC4+/QC4/QC3.0/QC2.0/AFC/FCP/SCP/PE2.0/PE1.1/SFCP,which greatly ensure product's compatibility and applicability. What's more, a charger with 2C+1A interface and 65W power basically meet most of the charging needs of devices such as mobile phones, computers, power bank, etc., It just been a perfect solution of users with the request of multifunctional use with only one charger for their mobile phones, computers, power bank etc. What deserves a special mentioning is that the two USB-C interfaces of this GaN charger support dual-port blind set with output of 65W each, and if you use two usb-c port simultaneously,the output power will auto- distribute according to your connected devices, allowing users to get the best & fast charging experience.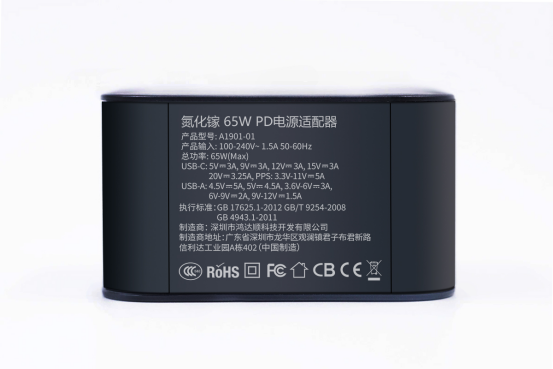 Model and technique information of Hongda Shun's 65W GaN fast charger as bellow:Model: A1901-2Input: 100-240V ~ 50 / 60Hz 1.5A total power: 65WUSB-C: 5V / 3A, 9V / 3A, 12V / 3A, 15V / 3A, 20V / 3.25APPS: 3.3-11V / 5AUSB-A: 4.5V / 5A, 5V / 4.5A, 3.6V-6V / 3A, 6V-9V / 2A, 9V-12V / 1.5AProducts has benn passed various certifications such as RoHS, FCC, CB, CE, etc.Capable for market access conditions to most countries and regions around the world, which specially creating favorable conditions for e-commerce customers and customers with shop or online shop in their countries.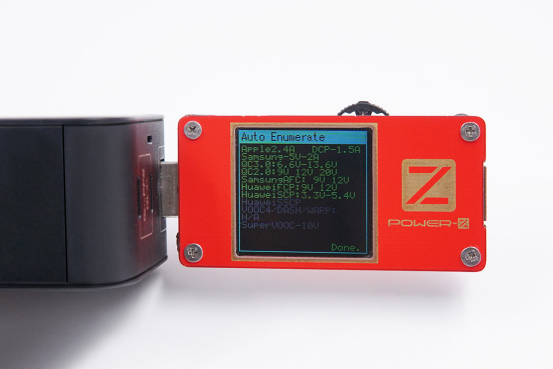 According to the ChargerLAB POWER-Z KT001 test results, the three output interfaces of Hongda Shun's 65W GaN charger support Apple2.4A, DCP, Samsung 5V / 2A, QC3.0, QC2.0, AFC, FCP, SCP and other agreements.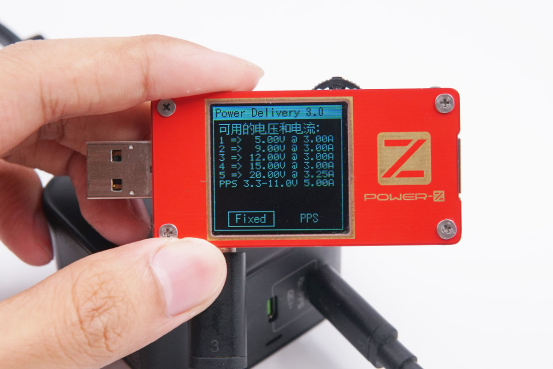 In addition, both USB-C interfaces support PD3.0 fast charging protocol, with 5V / 3A, 9V / 3A, 12V / 3A, 15V / 3A, 20V / 3.25A five fixed voltage gears, and capable for 5A high current PPS output. When dual USB-C interfaces output simultaneously, it supports intelligent power distribution. The maximum output of the two interfaces is C1 45W and C2 18W respectively.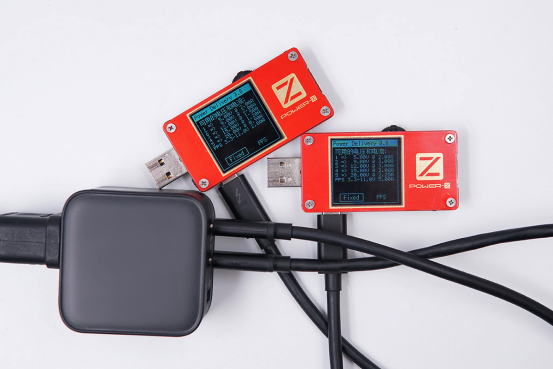 The ChargerLAB Summary Generally speaking, Hongdashun 65W 2C1A Gallium Nitride charger has the advantages of smaller size, high power, multiple interfaces, and multiple protocols compatibility and applicability in real use.For users with request of charging more than one devices, this charger can be a perfect solution of users with the request of multifunctional use with only one charger for their mobile phones, computers, power bank etc.They do not need to headache of their charging anxiety so as to free their hands up to have a better and faster charging experience.At the same time, the capacity of various certifications also facilitates major cross-border e-commerce brands's ODM accordingly. So last but not the least,our followers or friends have an interest on this charger, please continued pay attention to our website update.We will bring you a follow-up detailed product disassembly soon. Lastly, for customers who interested in seeking cooperation opportunities upon this product,you can also directly contact Hongda Shun's sales staff for more news.