A 100-200W Wireless Charging System With the Same Width of Size as the E-scooter & E-Bike Pole
Introduction
Due to the technical threshold and market demand, Hainan Qizhong New Energy Co., Ltd. And JASONSPOWER Co., Ltd. (hereinafter referred to JASONSPOWER) have been established, dedicated to the development of personal transportation (non e-car) wireless charging system. The picture below shows several types of personal transportation.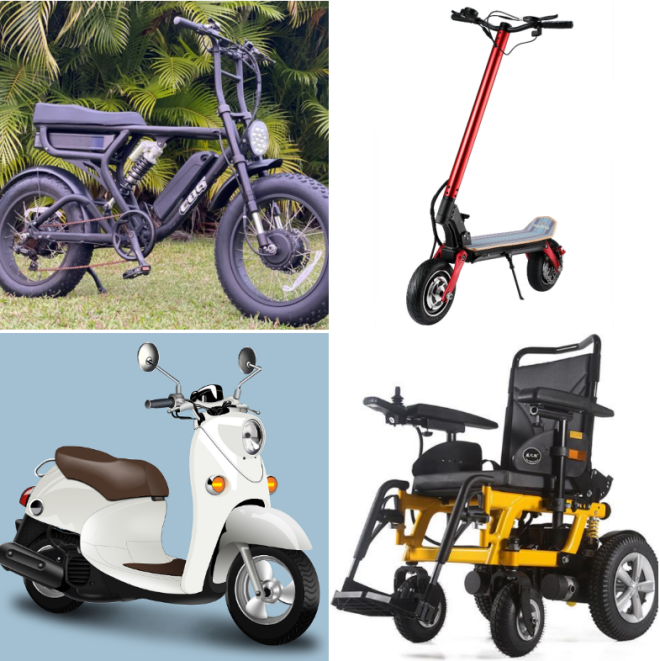 Background
The 100W-class wireless charging system has been tried to be commercialized many times in the past years, but none of them have been successfully promoted wildly. There were below issues to prevent the 100W-class wireless charging system from being widely applied.
1. Size: Too big, generally the size of an opened book.
2. Efficiency: The conversion efficiency of the system is only about 85%, especially since the receiving end needs a special cooling device. When the output is 100W, it needs to generate more than 18W of heat, and most of them are at the receiving end.
3. Cost: Much higher than the same power level DC power supply.
4. Safety: The feedback solutions are easily interfered with, which will delay the OVP, OCP etc. protection strategies.
The 4th issue caused the 1-3nd result for the Rx part and the Tx part have added dc-dc modules, but there was no better solution, so the above series of problems appear by default.
Goals and requirements
Design a wireless charging system that meets the following requirements:
1. Small size, easy to integrate into various products without being obtrusive.
2. Low cost, and it is convenient for widespread promotion.
3. Durable, stable profit from suppliers to customers and not annoying.
4. High conversion efficiency, low temperature, really save electricity.
5. High power, users love that.
6. Safe, the feedback path is really strong.
Achievement
The wireless charging system module released in this article is CDC-A-M100/200-10s, which is a DC-powered lithium battery pack wireless charger:
1. Using CDC-A-T/R-200 chipsets as the core.
2. The size of the transmitter module is 156 x 48 x 25mm (6.14 x 1.89 x 0.98 inches).
3. The size of the receiver module is 156 x 48 x 8mm (6.14 x 1.89 x 0.31 inches).
4. The size of the transmitter circuit board is 54 x 40 x 20mm (2.13 x 1.57 x 0.79 inches).
5. The size of the receiver circuit board is 54 x 40 x 6.4mm (2.13 x 1.57 x 0.25 inches) (the picture is a DEMO board with a thickness of 3mm or 0.12inches).
6. The size of the coil module is 40 x 40 x 5mm (1.57 x 1.57 x 0.20 inches).
7. The default input is DC 42V, and the maximum output is 42V 5A.
8. The whole system power-feedback cycle ≤1ms.
9. The input supports 32V~42V wide voltage.
10. The output is directly connected to the 10S battery pack, and the output supports trickle, constant current, and constant voltage charging modes.
11. Conversion efficiency >92% (input 42V, output 42V 4A) (this efficiency is the system conversion efficiency of the DC power supply to the battery pack).
12. When working for a long time, the maximum temperature rise of the transmitting module is less than 25°C (equipped with a heat dissipation mechanism), and the receiving module does not need a big heat dissipation mechanism.
13. Support FOD detection of φ10mm copper foil paper when is to charge.
14. Provide protection functions such as OVP/OCP/UVP with <1ms response.
15. Support IP65 and long-term vibration conditions, fully complying with the laws and regulations of various countries.
16. In terms of EMS, the distance between two systems is < 20cm (7.87 inches) and they will not interfere with each other.
The DEMO module sample is shown in the figure below: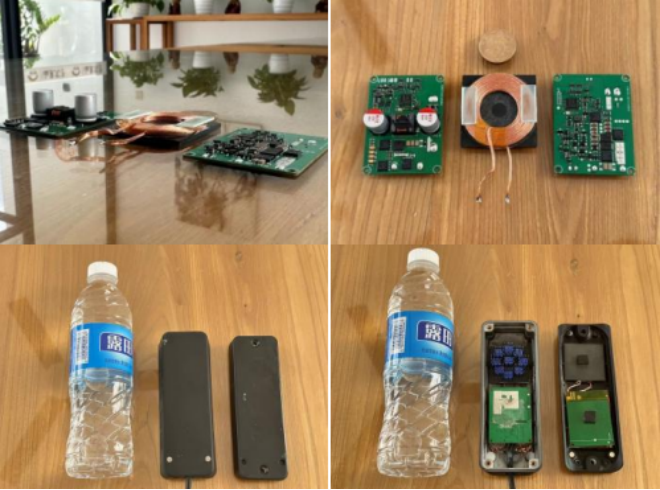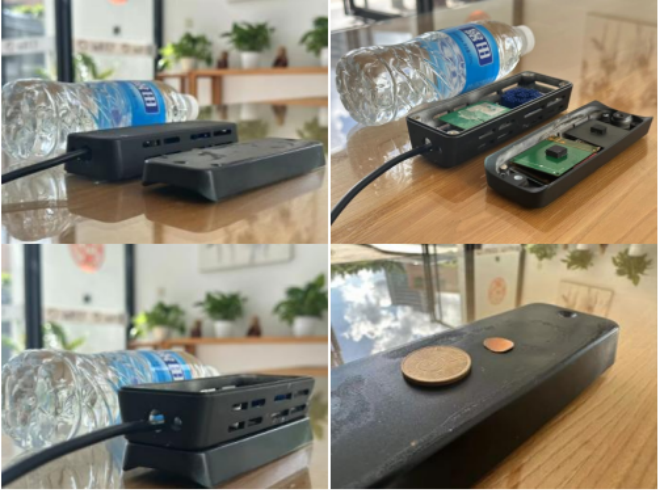 (The 50 cents CNY is used as a reference for the size of φ8mm 0.08mm copper foil)
This DEMO module is installed on the target e-scooter, and the receiving end is directly connected to the input end of the battery pack. The effect is as follows: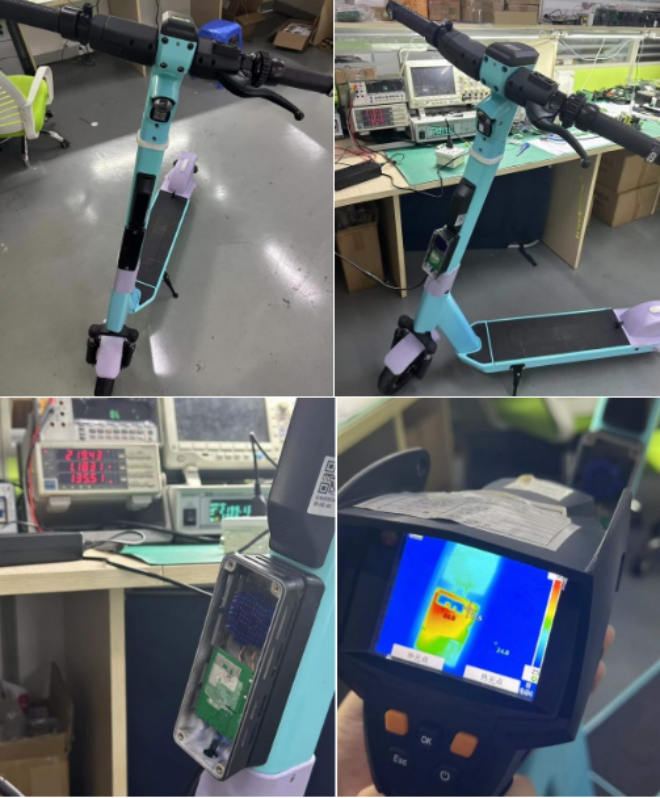 (Note: The rated charging current of this vehicle is 3A.)
Patents
Some invention patents have been applied.
Partners (Example)
PYS High-Tech Co., Ltd. is the EMS partner of JASONSPOWER. It has mature production and manufacturing bases all over the world, so it can support the design and implementation of AC-DC/EMC/ME and other perspectives involved in this field. To provide satisfactory service to global customers.
Invitation
Friends from all over the world are welcome to cooperate with us, give us valuable opinions and suggestions, and join us.
Remark
Hainan Qizhong New Energy Technology Co., Ltd. is a subsidiary of Shenzhen Qitian Taiyi Technology Co., Ltd. And enjoys all the patent rights of Qitian Taiyi. It provides standard architecture and technical specifications for 10~10kW medium power electromagnetic coupling energy transmission systems, as well as the hardware platform and the algorithm support.
JASONSPOWER, located in Taiwan, is a joint venture between Hainan Qizhong New Energy Technology Co., Ltd. and Mr. Jack Chen, who was the business development manager of the Qualcomm wireless charging team. Qizhong New Energy authorizes JASONSPOWER as the only legal partner to target personal wheeled vehicles (non-electric vehicles) globally to provide application services, including chip sales, application solution support, and standard module sales.
Contact method
For business cooperation, please contact Mr. Mason Tsai, Executive Vice President of JASONSPOWER: masontsai@jasonspower.com
Related Articles:
1. Modular Design | Segway-Ninebot Launched New Portable Power Station
2. Simulation Model of Industry's First 1200V GaN-on-Sapphire Device Released by Transphorm
3. Navitas Power Forward with Next-Gen GaN and SiC Power Semiconductors at PCIM 2023
The article is originally written by @
Joey
posted on Chargerlab. All rights reserved.