An Ultimate PD3.1 Product Buying Guide: Chargers, Cables, Chips, and More
Introduction
It has been over two years since the introduction of the new charging standard, PD3.1. Today, PD3.1-related charging accessories, semiconductor industries, and other related products are widely present in the market. However, many individuals have been voicing their complaints about the lack of a professional and comprehensive article covering this vast market. So today, let's set forth on an exploration into the realm of PD3.1.
In this article, we delve deep into the worlds of high-speed charging and connectivity, exploring everything you need to know about PD3.1. From chargers that deliver unparalleled power to cables designed for optimal performance, and the intricate chips that drive it all, we've got you covered.
08/18/2023
+Mokin 140W Ultra Fast USB-C Charger
Apple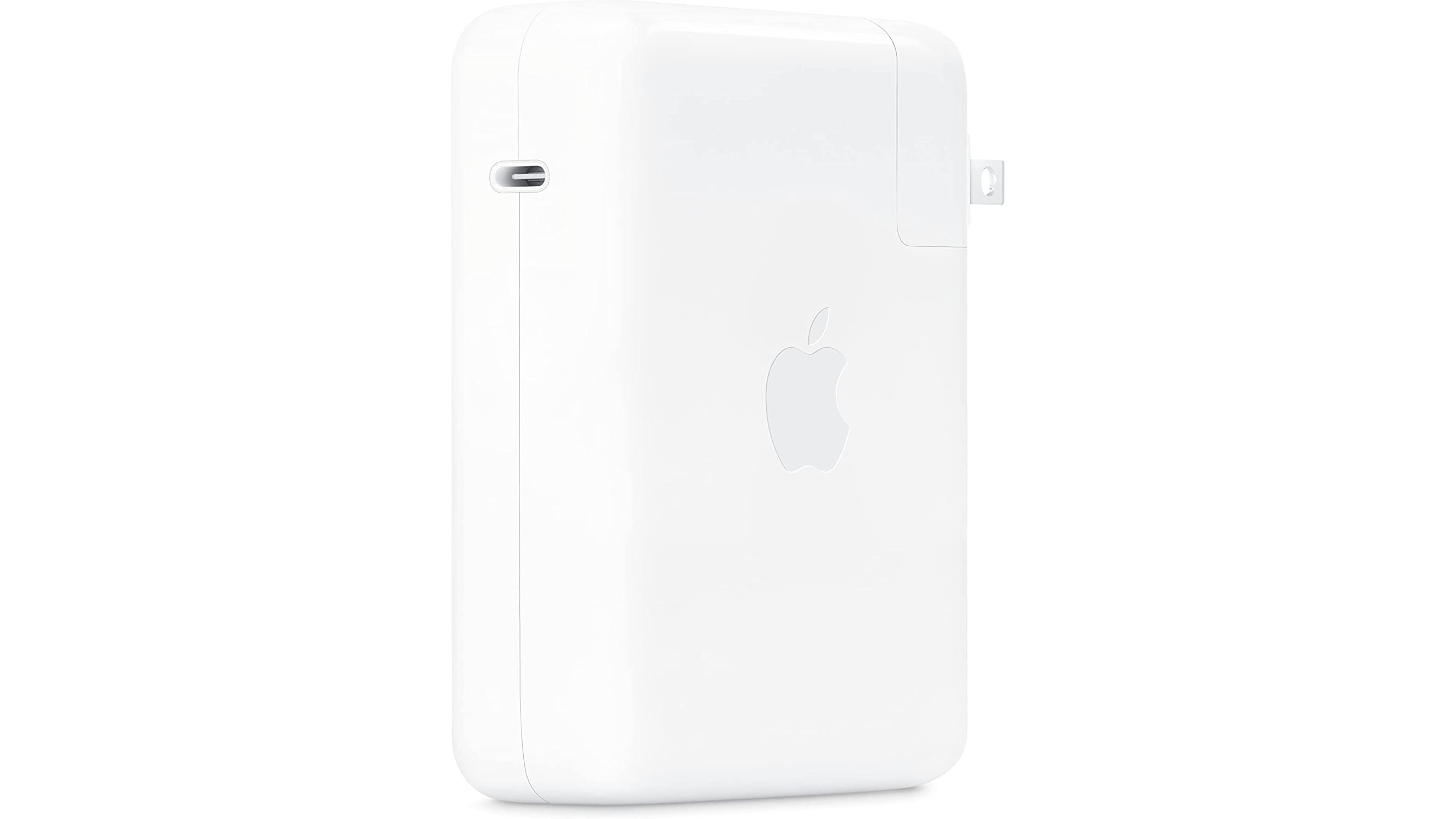 The Apple charger continues the simple design, with an all-white body printed with the Apple logo. It is unusual in the use of replaceable plug design, which is convenient for users to change plugs of different countries and regions. It supports Apple 2.4A, Samsung 5V2A, DCP, and PD3.0 protocols. What's more, It realizes 140W charging with the support of the PD3.1 protocol.
Anker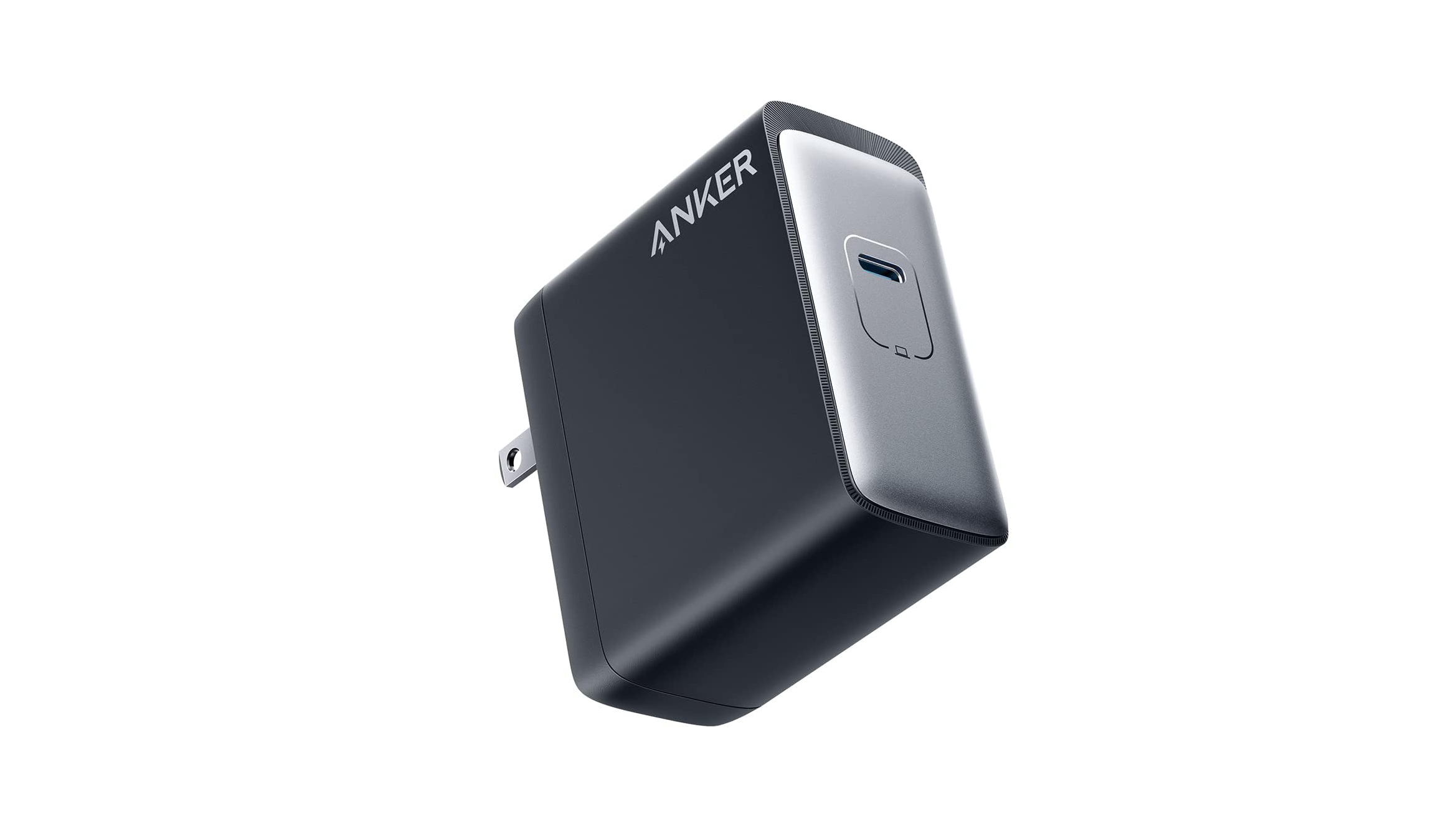 Anker PD3.1 charger has a similar appearance to Apple chargers, but this one is cheaper. It has a foldable plug design, which improves the portability of the charger. It has 5 PDOs, and the maximum power is up to 140W. The single USB-C port design is more suitable for single device users.
AOHi
AOHi Magcube 140W PD3.1 GaN Fast Charger (2C1A)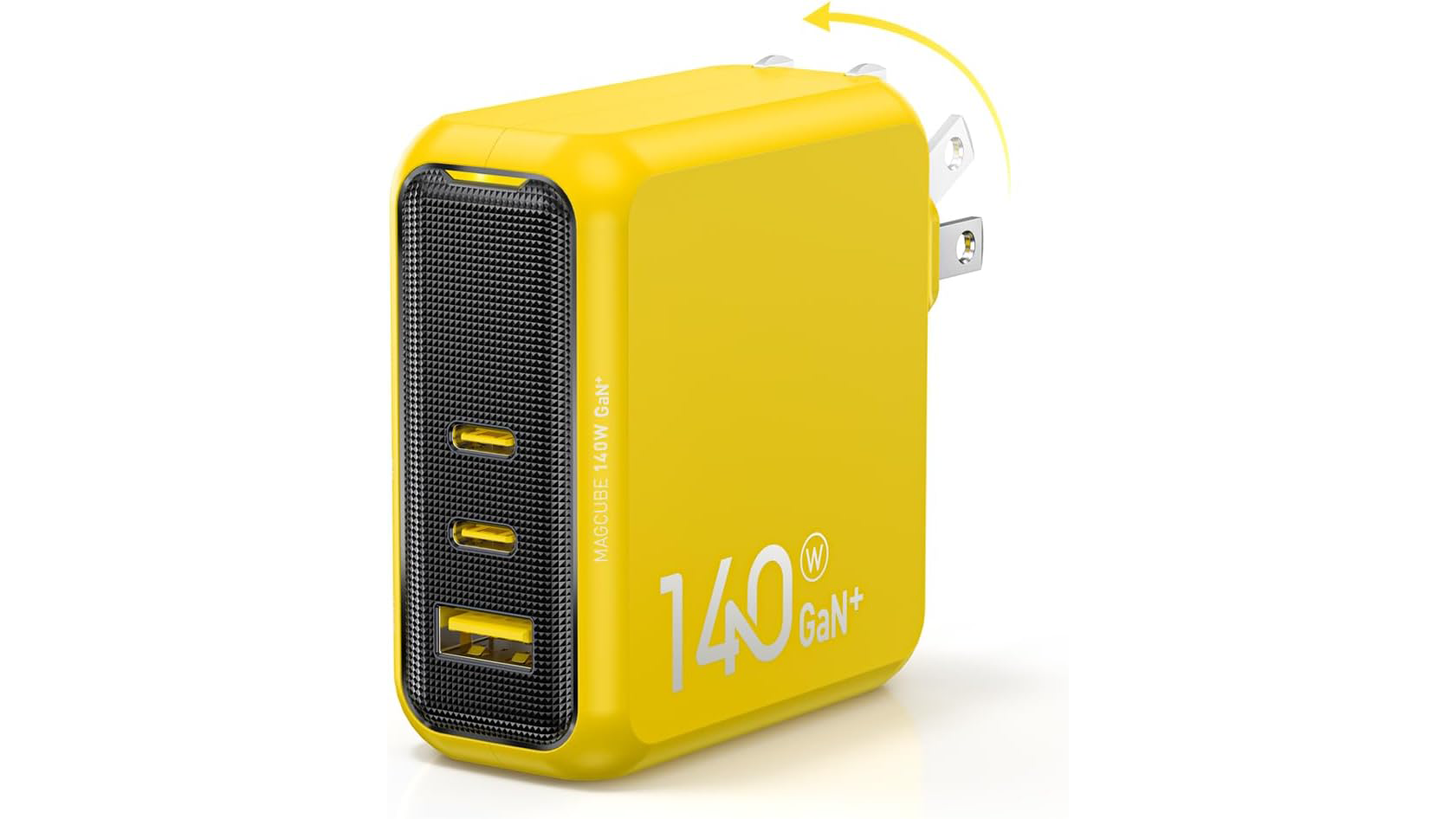 Unlike the previous chargers, the AOHi charger has 3 ports, which makes it more suitable for heavy users. It supports up to 140W charging. The appearance is very unique. Unlike other chargers, which are popular in black and white color, it adopts a yellow eye-catching design. The ports' output performance is excellent, USB-C1 and USB-C2 ports support a maximum of 140W, and the USB-A port supports a maximum of 30W.
Baseus
Baseus 140W PD3.1 GaN 5 Pro Fast Charger (2C1A)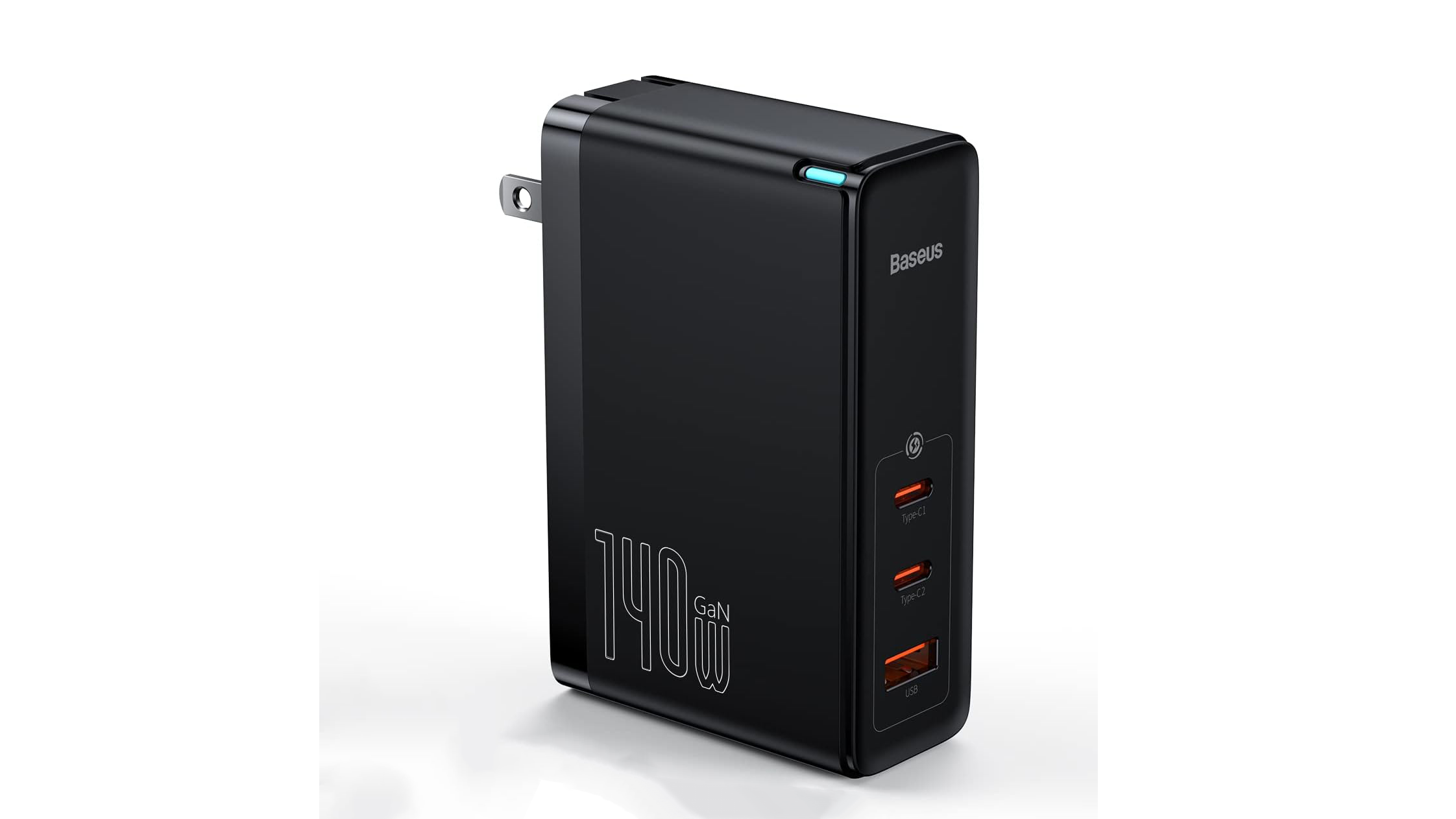 The exterior of the charger features a matte design with 140W lettering and GaN logo on the front. There is a charging indicator light in the corner of the charger that displays the charging status. It also supports 110-240V wide voltage output, USB-C1 supports a maximum of 140W output power, and USB-A port supports 30W output.
Lenovo
Lenovo Legion 140W PD3.1 USB-C GaN Laptop Charger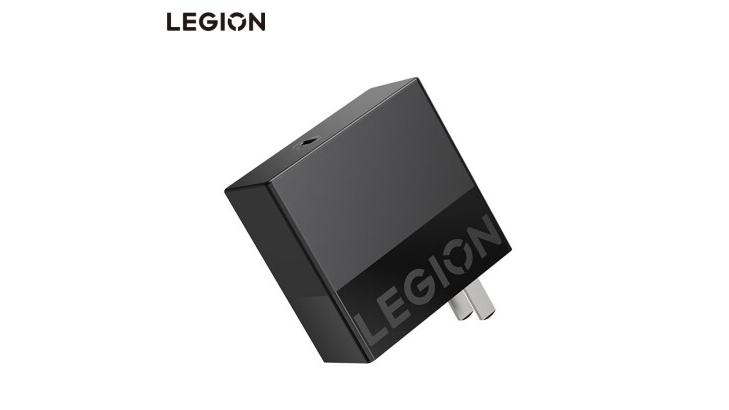 Lenovo, as a computer manufacturer, also produces PD3.1 chargers. This charger should have good compatibility with Lenovo Laptop. The charger comes in an all-black design with a matte exterior printed with a brand label. It uses a single USB-C port output, which undoubtedly supports 140W output power.
REDMAGIC
REDMAGIC 150W Smart GaN Charger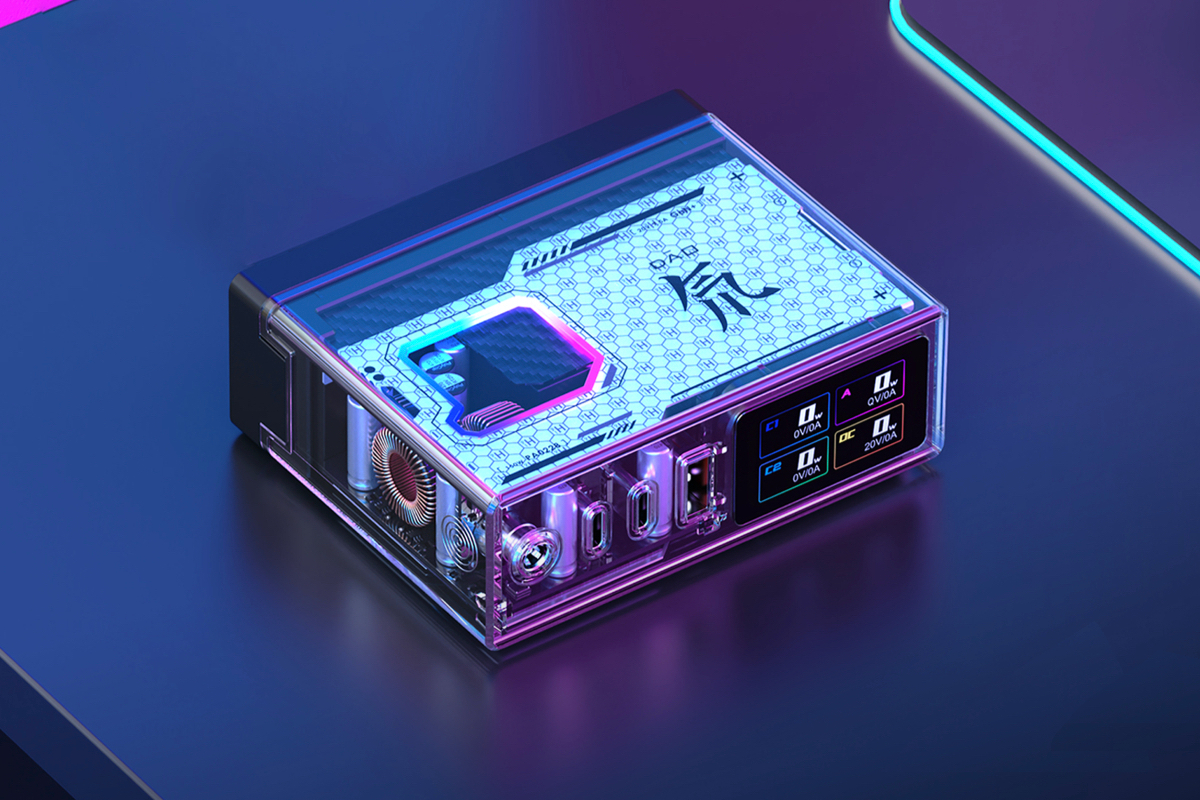 When you first lay eyes on the REDMAGIC 150W Smart GaN Charger, you'll be captivated by its stunning design. It supports the PD3.1 protocol, and its USB-C port delivers an impressive maximum output of 140W. Additionally, with the most sophisticated transparent aesthetic in the REDMAGIC lineup, it elegantly showcases internal components and superconducting heat dissipation metal. Equipped with one USB-A, two USB-C, and one DC port, it can efficiently meet the fast charging needs of mobile phones, tablets, laptops, handheld game consoles, and more.
Cables
Anker 140W USB-C to USB-C Cable (765)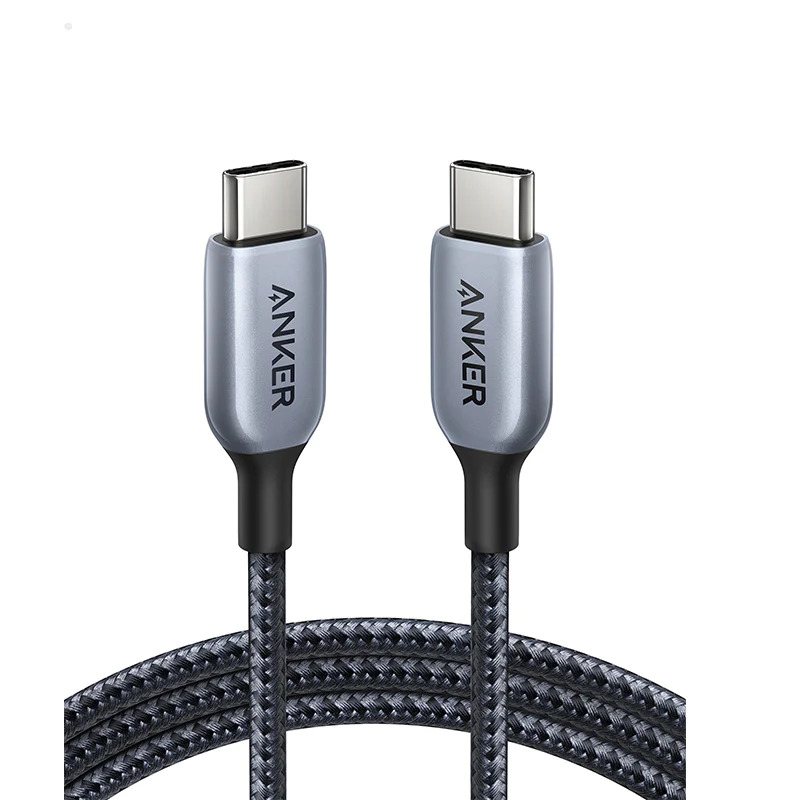 First, let's introduce a 140W USB-C to USB-C cable from a familiar brand, Anker. Known for their high-performance and excellent craftsmanship, this cable is no exception. It supports the latest PD3.1 specification, delivering a maximum output of 140W, as indicated by its name.
Anker's own promotion touts its robust black nylon mesh design, capable of enduring up to 35,000 bends and strong enough to withstand a weight of 175 lbs. With a length of 6ft, this cable can easily handle various complex scenarios, such as outdoor camping or charging your phone while hiking. If you prefer a shorter cable, there's a 3ft version available at a lower price, catering to different needs.
Apple USB-C to MagSafe 3 Cable (2m)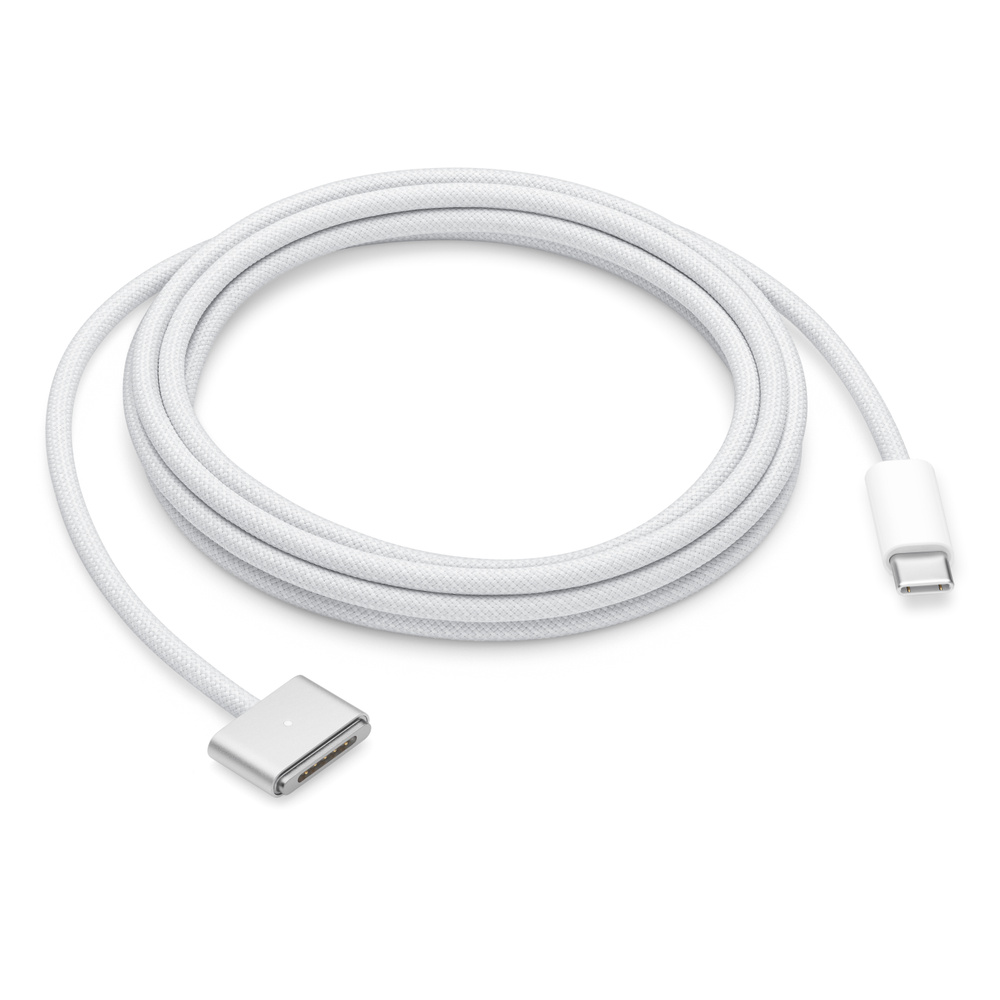 The Apple USB-C to MagSafe 3 Cable (2m) continues the iconic Apple grey-white design, beloved by minimalist enthusiasts. The cable is wrapped in a delicate woven mesh, enhancing its durability. With a length of two meters, it surpasses the majority of cables in the market, making it suitable for various charging scenarios. Compared to MagSafe 2, the MagSafe 3 cable has a stronger magnetic attraction, but it's important to note that it is not backward compatible.
In terms of performance, when used with the Apple original 140W USB-C Power Adapter, it can deliver a maximum power of 140W, surpassing the power output when using a regular USB-C cable. Therefore, for users of the 16-inch MacBook Pro that supports this cable, we strongly recommend purchasing this cable to achieve the best experience.
Baseus 240W USB-C Fast Charging Cable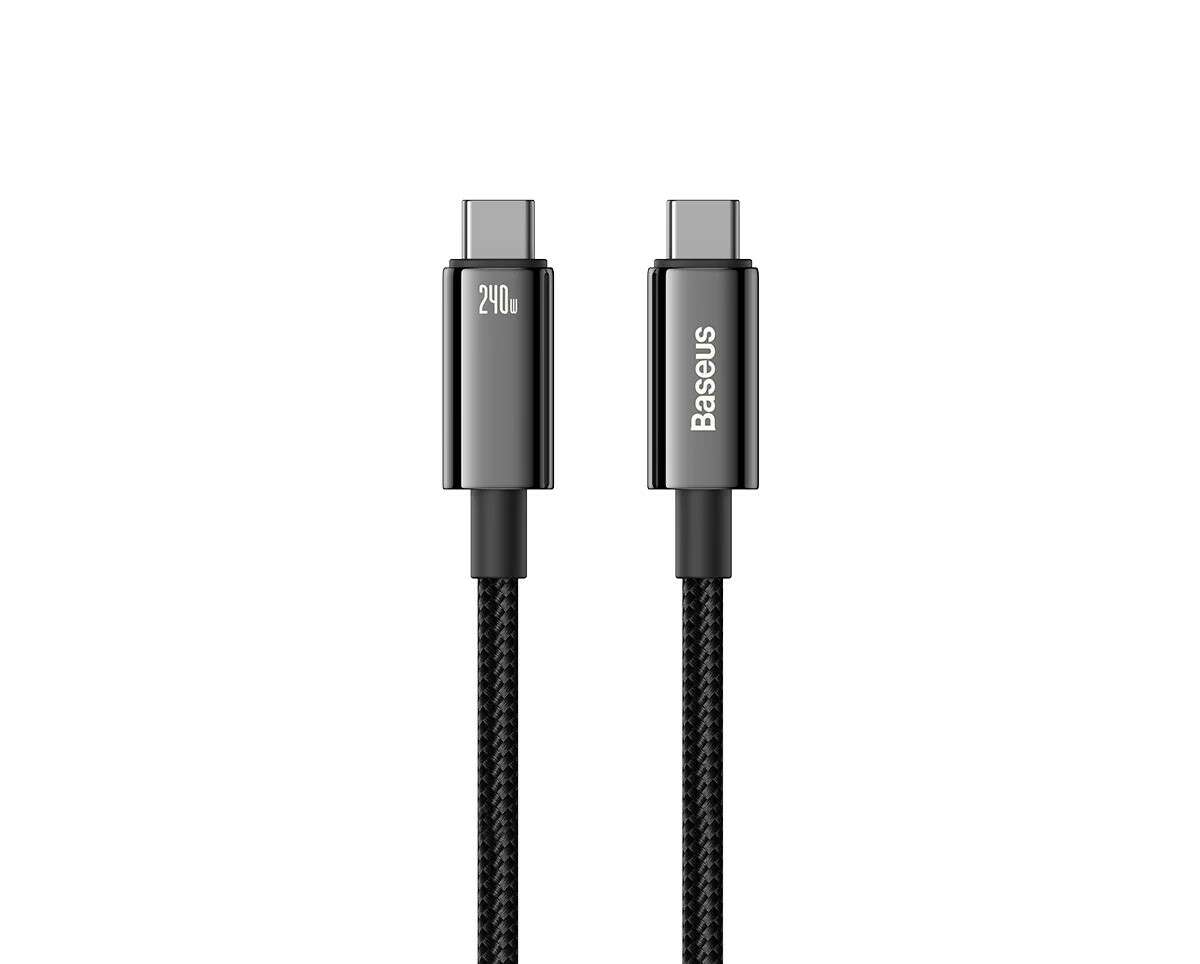 Next, if you're not satisfied with 140W high power and seek the ultimate performance, then this product might meet your expectations - the Baseus 240W USB-C Fast Charging Cable. As its name suggests, it boasts a power rating of 240W (48V5A), reaching the maximum capacity defined by the current PD3.1 specification. To achieve such high-power levels, it's equipped with an advanced E-marker chip, a pivotal component providing smart recognition for fast-charging devices and precise control of current and voltage. Simply put, the E-marker chip ensures high performance.
In terms of appearance, it features a zinc alloy material with a glossy surface at the connector, capable of withstanding over 10,000 plug-ins. The cable itself is designed with nylon braiding, officially promoted to endure 10,000 bend tests, which may seem slightly lower than Anker's, but it's more than sufficient for most scenarios. Additionally, it's available in three lengths: 3.3ft, 6.6ft, and an impressive 10ft, catering to nearly everyone's needs.
ChargerLAB POWER-Z AK001 Test Cable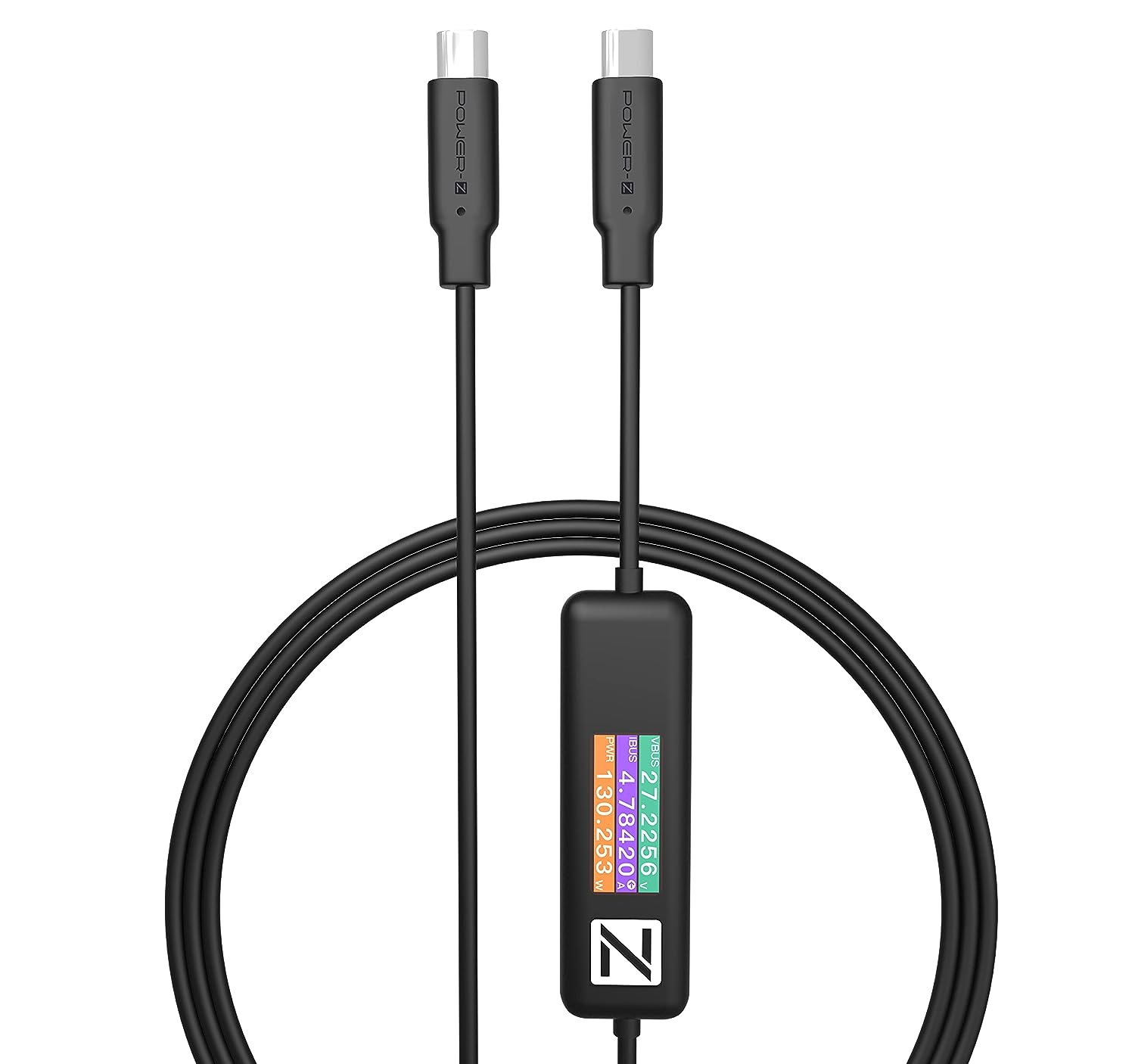 Let's say that you want your cable to do more stuff than just charging, what should you choose? Well, meet the ChargerLAB POWER-Z AK001 Test Cable. It is a PD3.1 cable that can support up to 240W. What makes this cable special is that it has a 0.96-inch color display in the middle, which can provide users with critical information at a glance, such as voltage, current, power, etc., ensuring that you get accurate test results every time. And the translucent matte case lets you see the PCB directly, giving a techy vibe.
SHARGE 240W Phantom USB-C Cable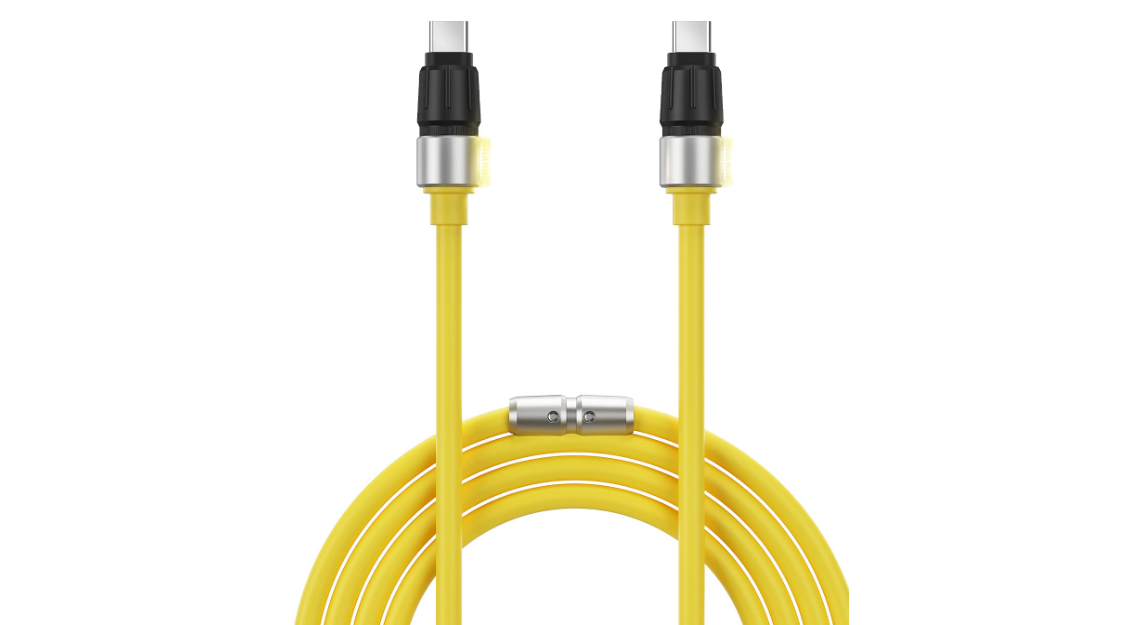 Lastly, if you're not only seeking high performance but also desire a touch of personalization, what should you choose? The answer may well be the SHARGE 240W Phantom USB-C Cable. Among the cables recommended today, this one perhaps stands out as the most unique. It features a distinctive design with alternating silver and gold elements, including metal decorative parts along the cable.
Moreover, it has a unique "starlight" indicator strip that illuminates when the device is powered on, providing visibility for locating the connector at night. All of these make it look like a product that comes from the cyberpunk world. Plus, it also offers two additional color options of white and purple.
In terms of specifications, it naturally supports the PD3.1 standard and offers a maximum power of 240W, meaning it also has a built-in E-marker chip. This cable has a bend lifespan of over 30,000 cycles, and it features ultra-low resistance to maximize efficiency.
Anker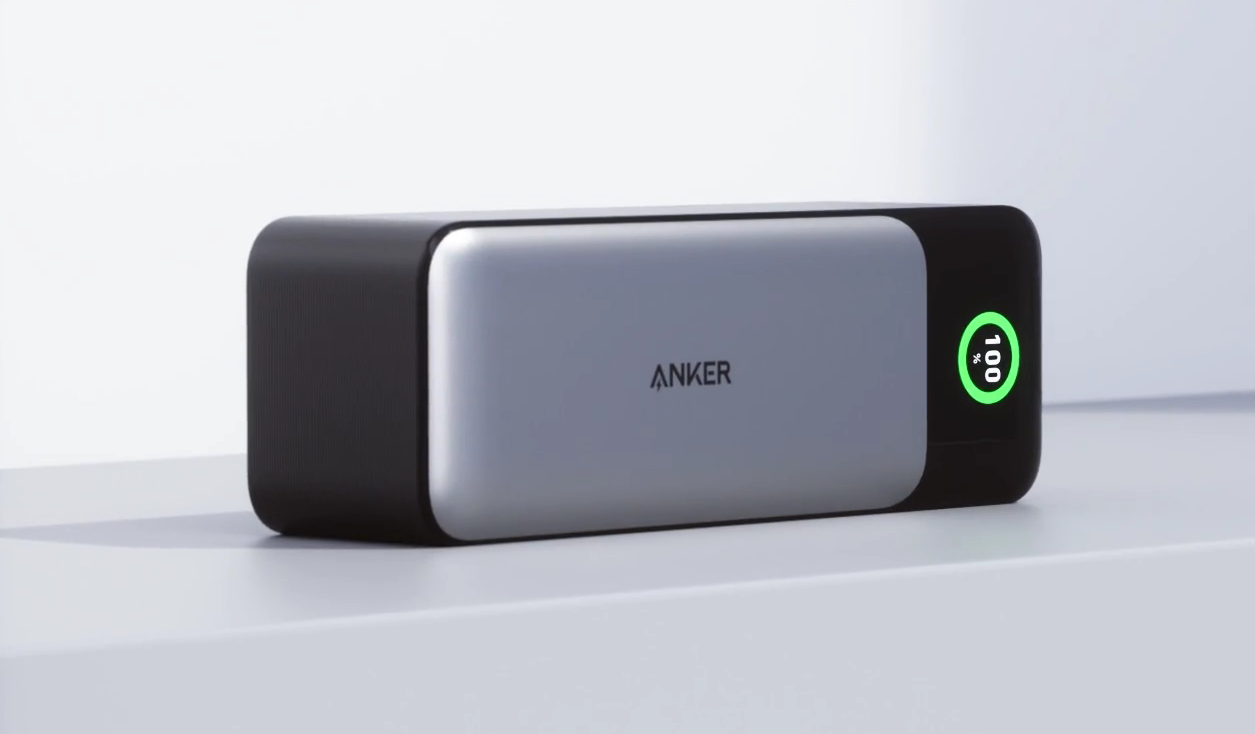 The Anker USB PD3.1 power bank has a 24000mAh battery capacity that can alleviate the power anxiety of most users. The three USB ports of the 2USB-C1USB-A can achieve 140W high-speed charging output and input while charging multiple devices at the same time. The product also applies advanced high-rate technology which enables it to charge Laptop. Moreover, it is equipped with a smart digital display, so users can read the output and input power and estimated time of full charge.
Baseus
Baseus 140W IOTA Portable Power Station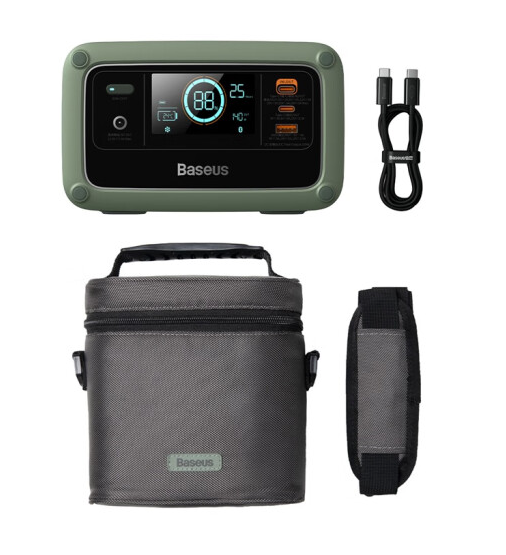 Compared with other power stations, Baseus 140W IOTA portable power station has a smaller and more lightweight body, the overall matte texture with a dark green cover and black body, only 2.2KG weight and charging data display are important selling points of this product. 1USB-A2USB-C ports configuration and 48000mAh battery capacity are enough to face most outdoor charging situations, and 2AC1DC output ports can easily cope with the use of small home appliances. As an intelligent power station, it can also be connected to a mobile phone, and users can view the real-time charging data of the mobile power station through the app.
CUKTECH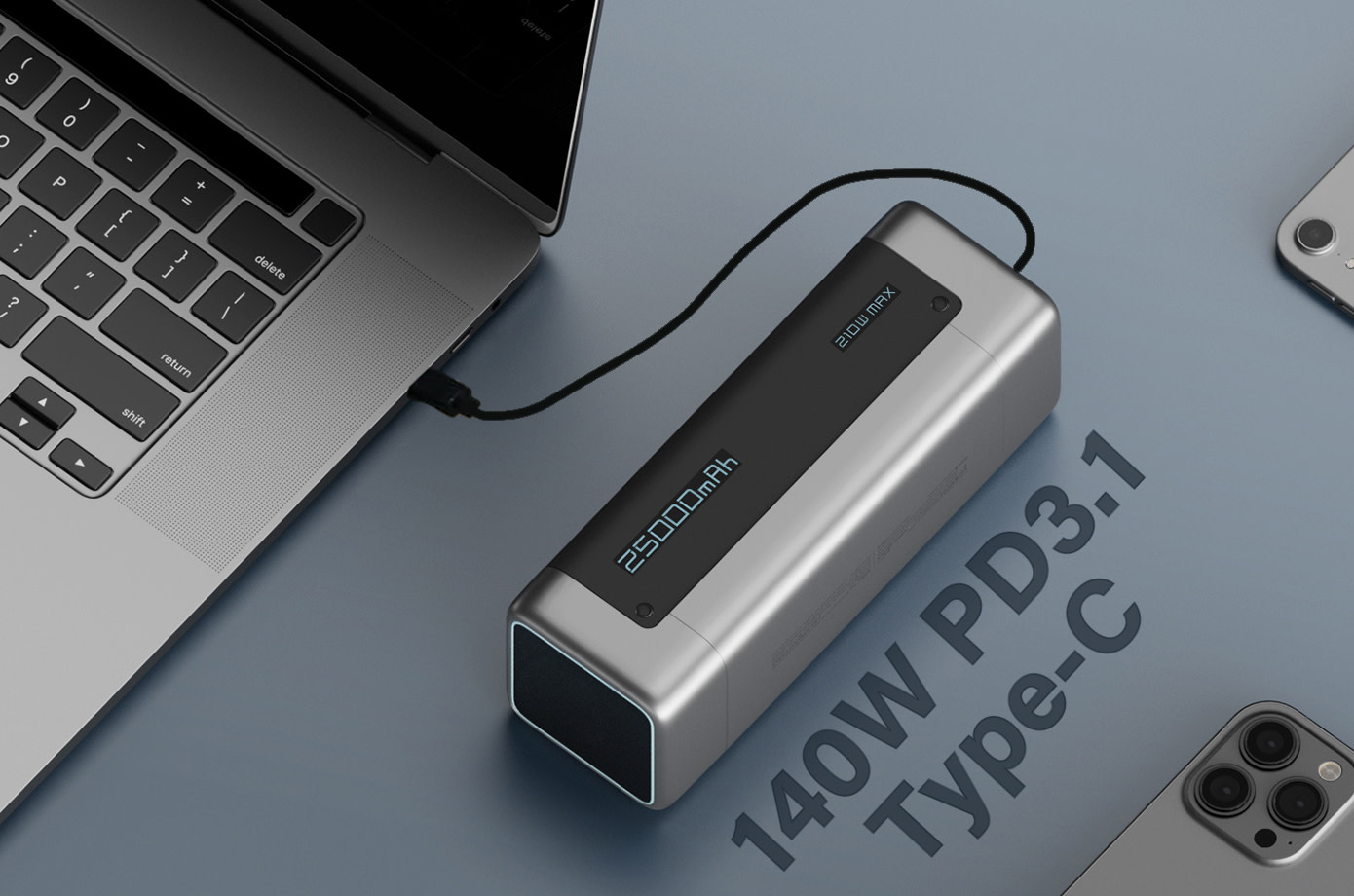 CUKTECH No.20 power bank not only supports the highest USB PD3.1 28V 5A 140W power output but also has a TFT display, which can show the charging status and power situation in real time. In terms of ports, the power bank provides three USB ports of 1USB-A2USB-C, and the 25000mAh power battery capacity can extend usage time. The compact design also improves portability.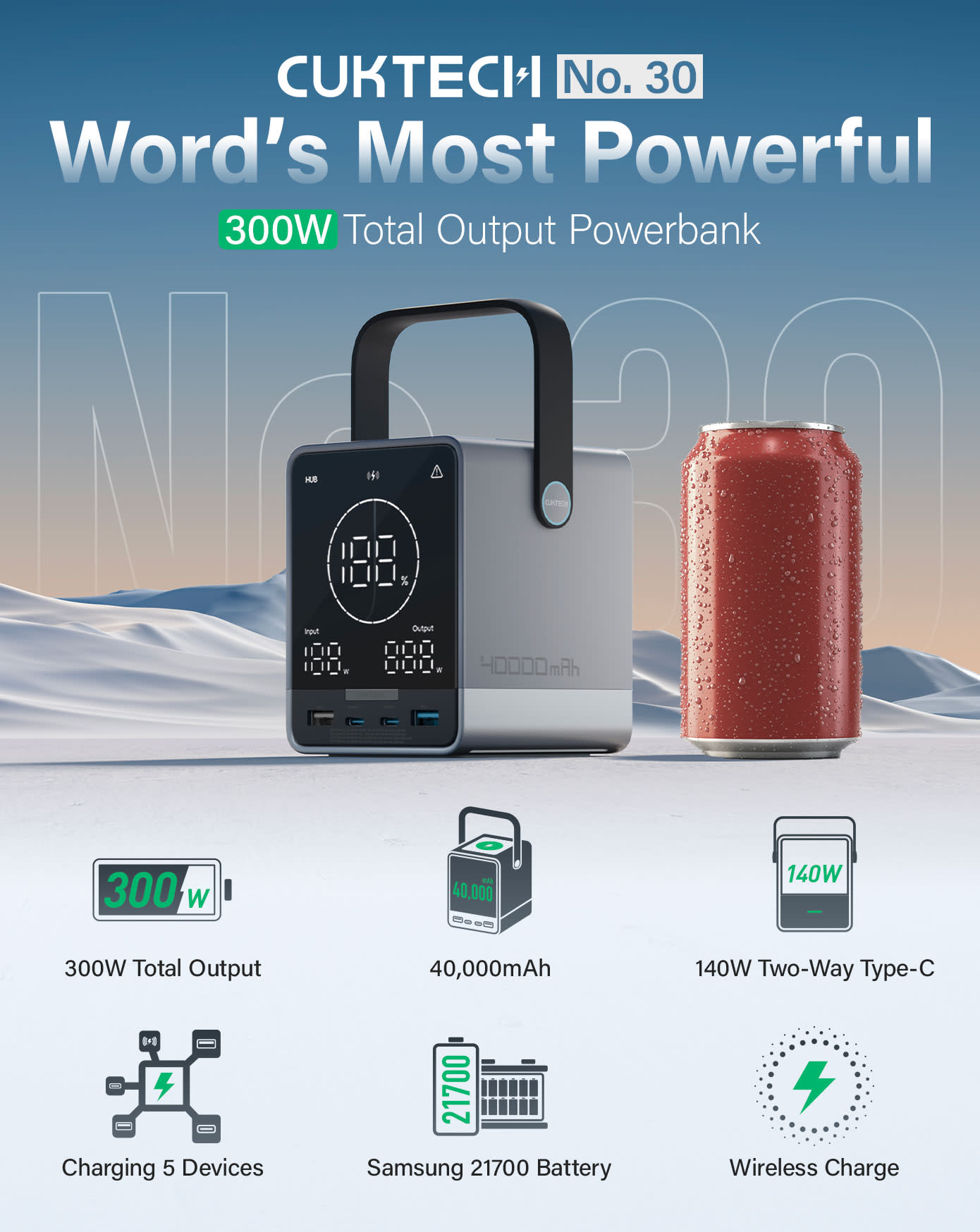 Compared with CUKTECH No.20 power bank, CUKTECH No.30 power bank has a higher 300W output power and a more comprehensive and intuitive digital display, larger 40000mAh battery capacity can also provide users with longer usage time. The port configuration has also been upgraded from the 1USB-A2USB-C of No.20 to 2USB-A2USB-C, and five devices can be charged at the same time. In addition, the No.30 power bank also comes with a USB-C to USB-C cable that supports 240W EPR power transmission and USB 2.0 data transmission capability.
Apple
16-inch MacBook Pro 2021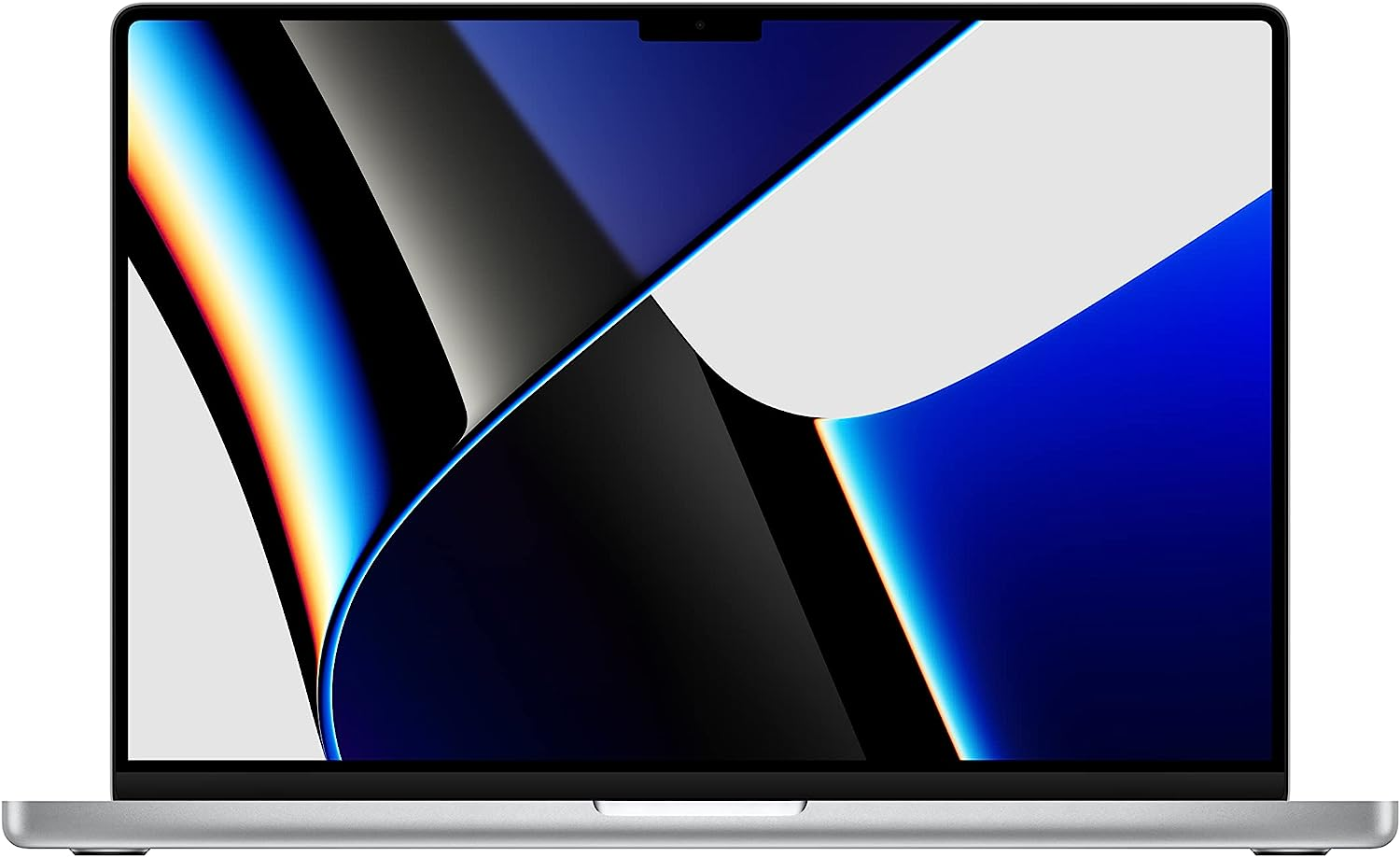 The MacBook Pro, Apple's premium laptop line, has consistently garnered attention since its debut. The 2021 version, in particular, reaches a groundbreaking 140W charging, shattering users' previous expectations of laptop charging. Available in silver and space gray, the MacBook Pro boasts two color options. The 16-inch model features either the Apple M1 Pro or Apple M1 Max chip, both manufactured using a 5nm process. However, the varying core counts offer distinct user experiences. The laptop boasts a 16.2-inch Liquid Retina XDR display with ProMotion adaptive refresh rate technology, capable of reaching a maximum refresh rate of 120Hz.
Charging capability stands as one of the primary differentiators that sets the Pro series apart from other laptops. One of the standout features is the inaugural integration of a 140W charging capacity, coupled with a 140W USB-C power adapter. The laptop is equipped with an array of ports, including three Thunderbolt 4 ports, an HDMI port, a headphone jack, a MagSafe 3 port, and an SDXC card slot.
16-inch MacBook Pro 2023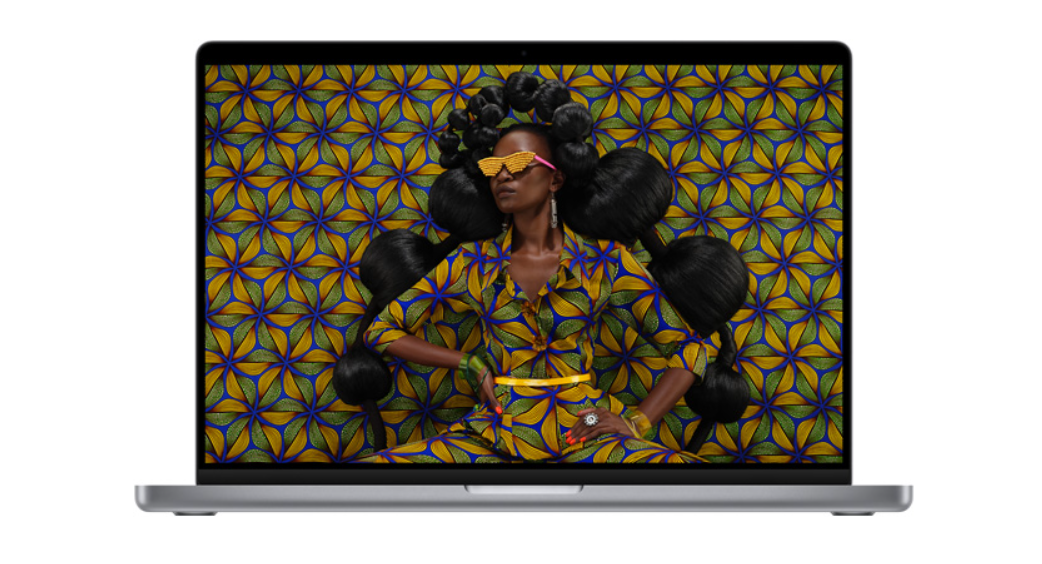 The successor, the 16-inch MacBook Pro 2023, continues the legacy of its predecessor. Equipped with either the Apple M2 Pro or Apple M2 Max chip, it boasts substantial improvements over the 2021 model, with more cores and a more potent graphics processor, truly delivering an all-encompassing Pro experience. The screen remains a 16.2-inch Liquid Retina XDR display, maintaining a resolution of 3456 x 2234 (254 ppi). With the support of ProMotion adaptive refresh rate technology, it can also reach a maximum refresh rate of 120Hz.
Charging remains steadfast at 140W fast charging, with a 100 Wh lithium polymer battery. This, coupled with Apple's efficient ARM-based SoC, ensures excellent energy efficiency, perfectly suited for on-the-go usage. The port configuration remains consistent with the 2021 model, including three Thunderbolt 4 ports, an HDMI port, a 3.5mm headphone jack, a MagSafe 3 port, and an SDXC card slot.
Protocol Chips
Protocol chips play a crucial role in USB PD3.1 fast-charging chargers. Since the release of the USB PD3.1 fast-charging standard and the introduction of Apple's 140W charger, quite some time has passed. According to incomplete statistics from ourselves, several manufacturers have already launched USB PD3.1 EPR protocol chips during this period. These companies include Chipsea, Hynetek, Infineon, Injoinic, iSmartWare, Jadard, Leadtrend, MERCHIP, Southchip, Unicmicro, and Weltrend.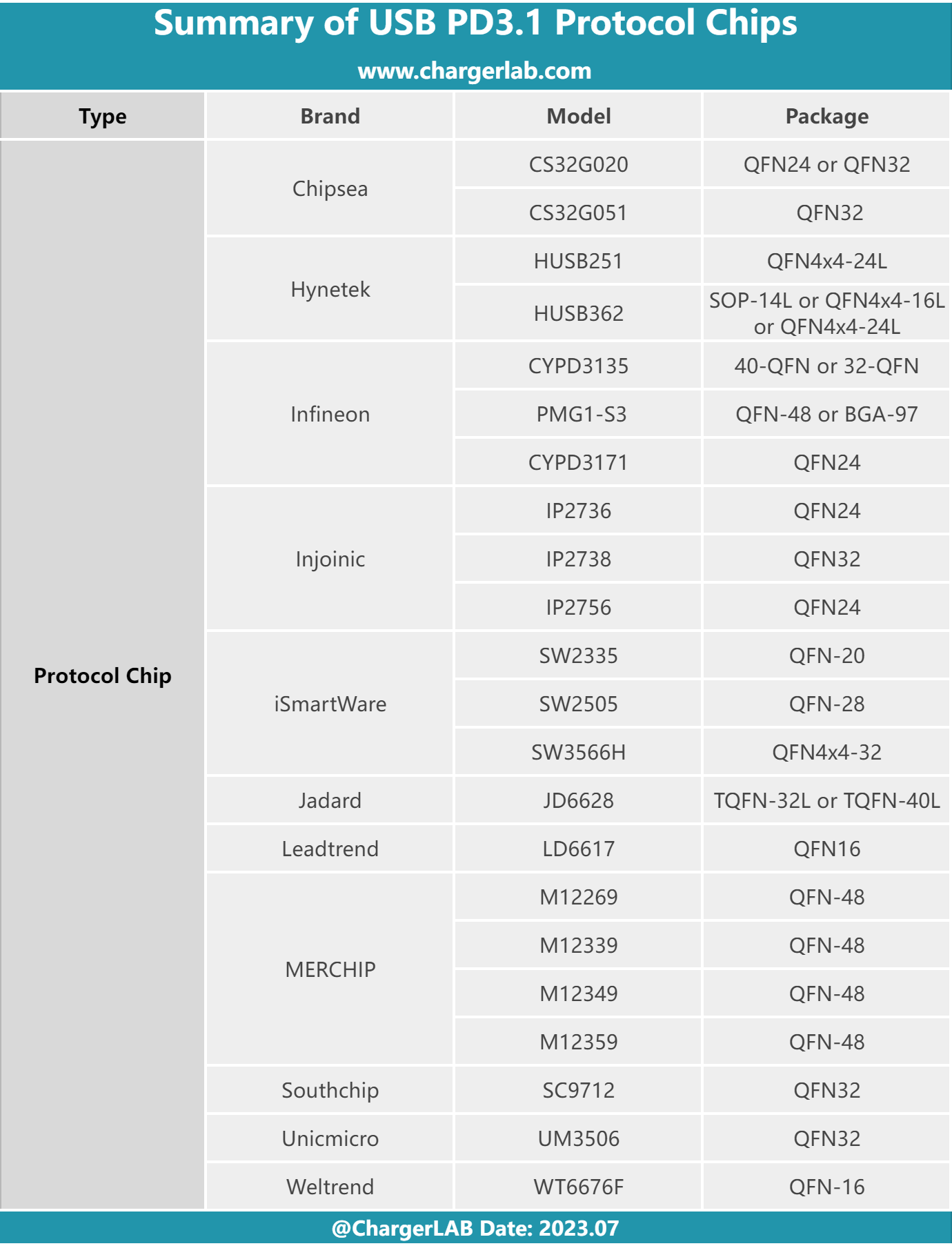 The ranking is not in any particular order and is sorted alphabetically.
CS32G020
Chipsea's CS32G020 is a versatile dual-channel product that has now obtained USB IF's official PD3.1 certification, with a TID of 9231. It can simultaneously meet the demands of two-way PD fast charging applications, supporting PD3.1, PPS, QC4+, FCP, SCP, AFC, VOOC, BC1.2, Apple 2.4, and many other fast charging protocols, offering an exceptionally compatible fast charging experience.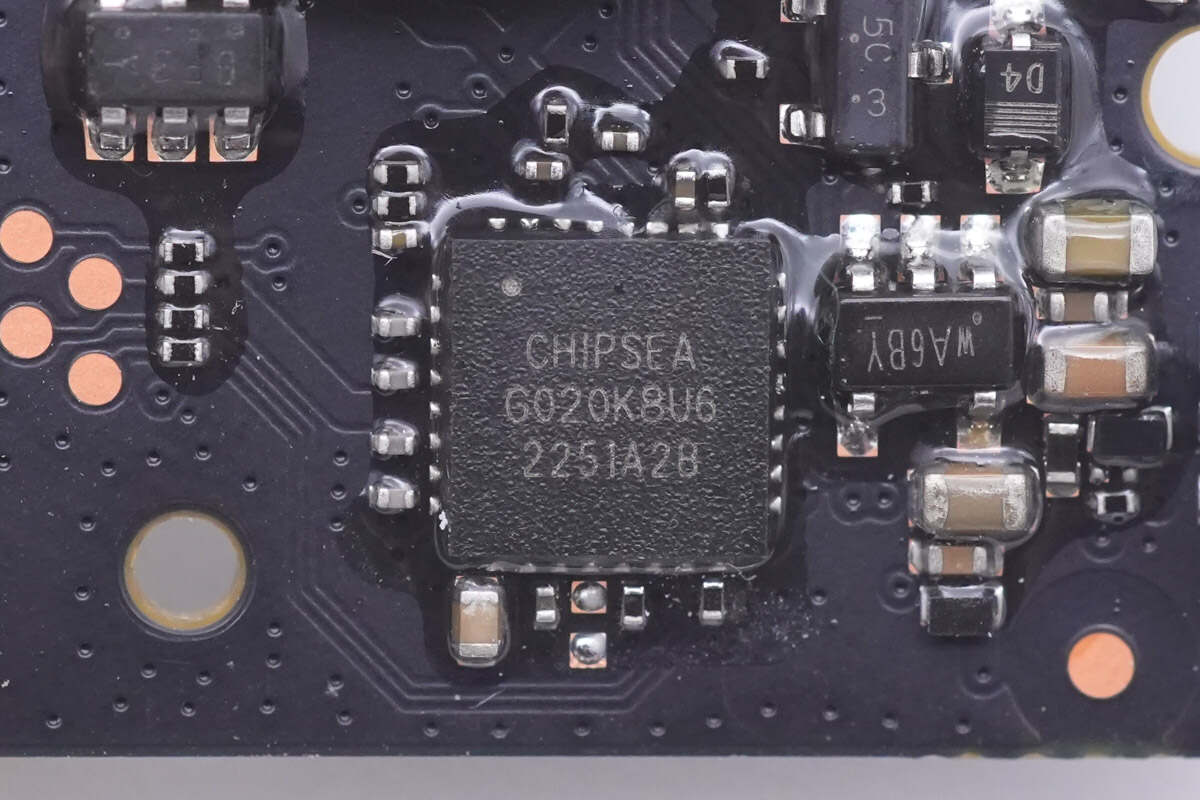 Additionally, it facilitates decent fast charging compatibility while supporting high-definition video transmission and multi-screen interaction for end products. This makes it widely applicable in various domains, such as PC power adapters, mobile phone chargers, power banks, HUBs, as well as industrial control and applications requiring high-performance MCUs. A complete SDK development platform is provided, making it convenient for evaluating and verifying end products.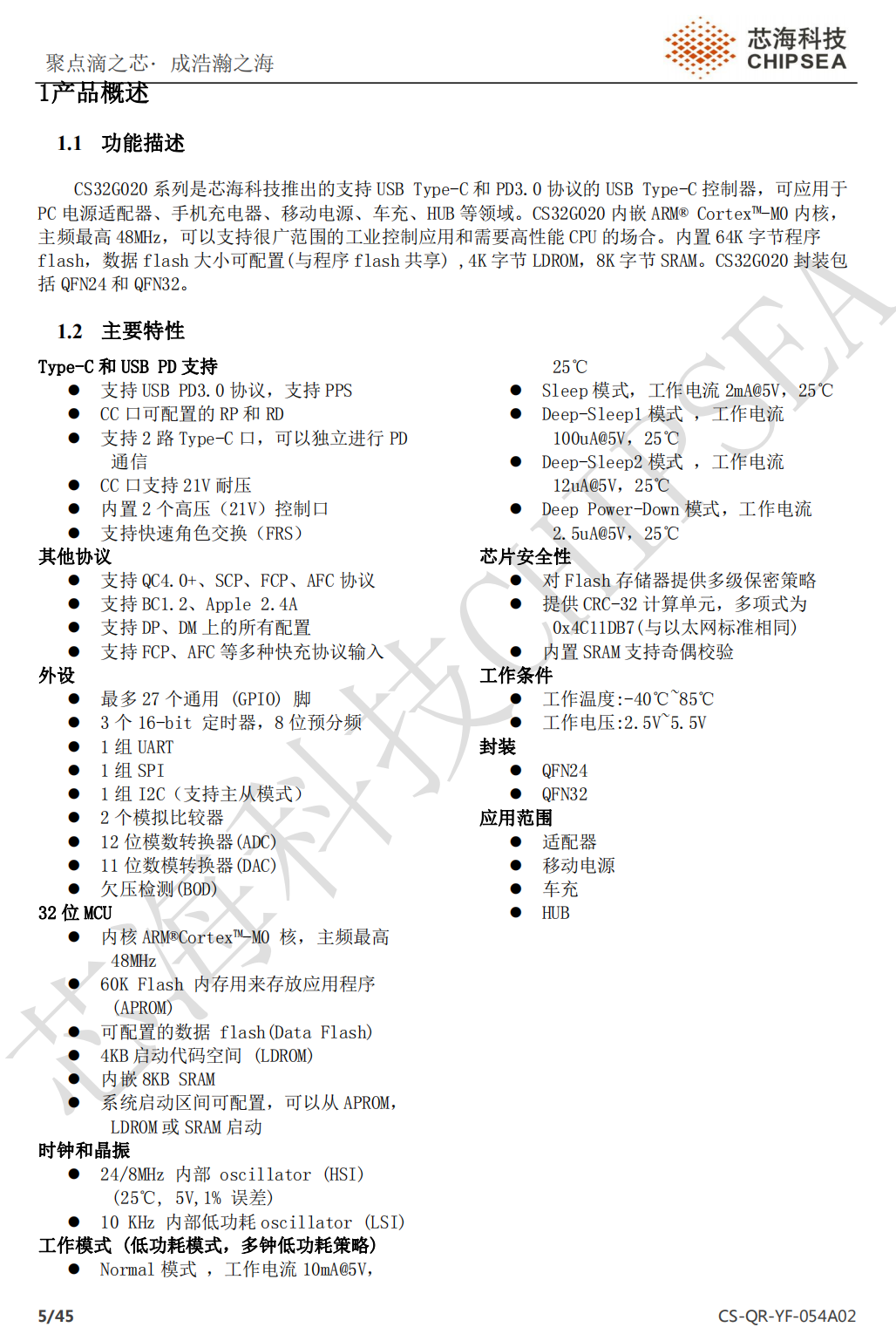 It is worth mentioning that building upon the solid foundation of the CS32G020, Chipsea has iterated to develop its derivative product - CS32G020Q. It is AEC-Q100 certified, making it widely applicable for charging and discharging in various automotive applications, such as armrest boxes, and seats. Additionally, it can be used for high-performance car chargers. This product is also actively pursuing PD3.1 certification.
CS32G051
Chipsea's CS32G051 is a USB PD controller designed for PC applications. It integrates all the functions of USB-C CC and PD, an HPD detection module, SBU Switch, USB2.0 MUX, and USB BC1.2.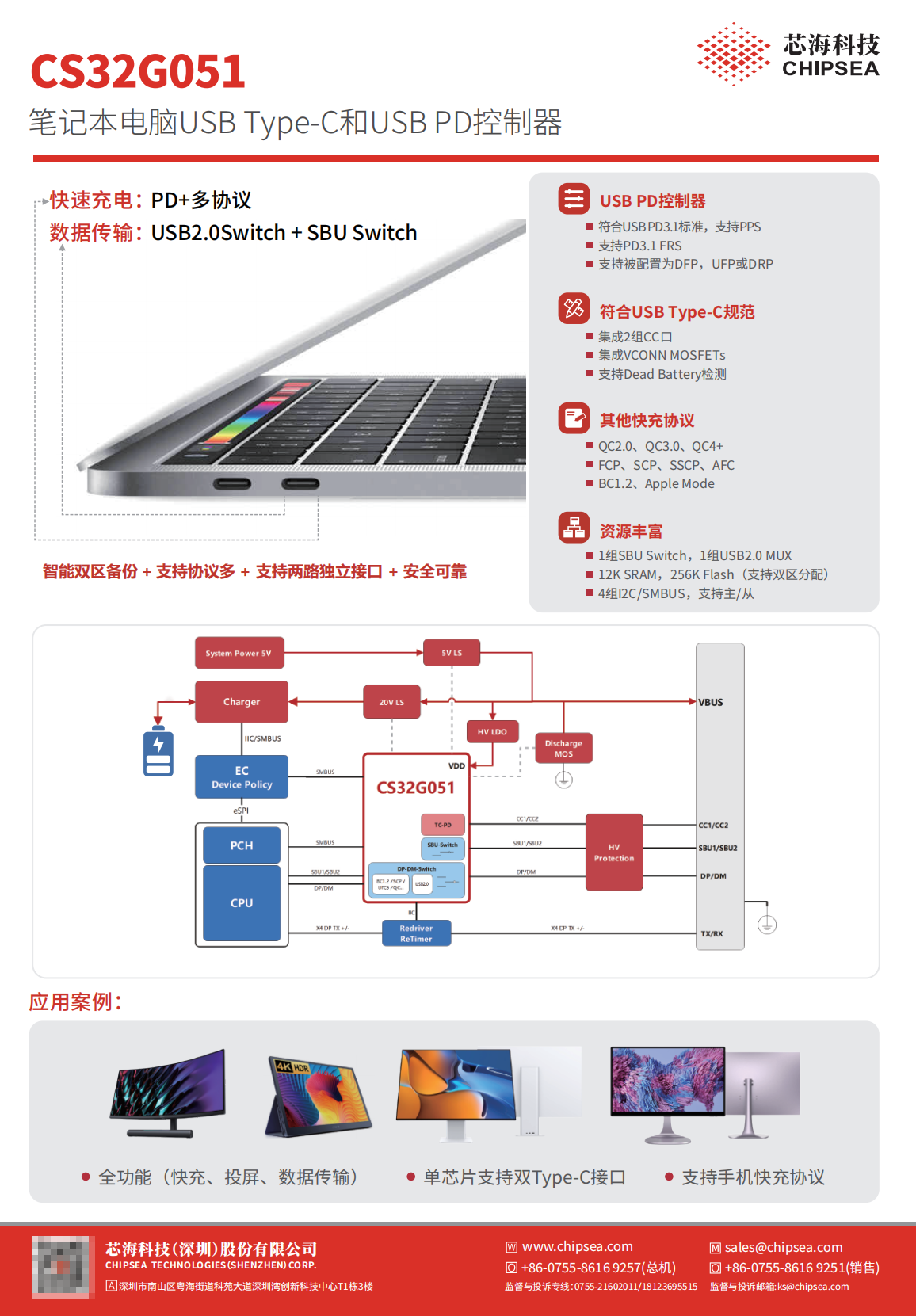 It complies with the USB PD3.1 standard, supporting PPS, PD3.1 FRS, and is also compatible with QC2.0/3.0/4+, FCP, SCP, SSCP, AFC, and BC1.2 charging protocols. It can be configured as DFP, UFP, or DRP. Moreover, it can enable the design of dual USB-C port chargers with just a single chip, featuring fast charging, screen mirroring, data transmission, and other functionalities. This product is specifically tailored for the PC ecosystem by Chipsea.
Hynetek
HUSB251
Hynetek's HUSB251 is a PD protocol chip that supports USB-C DRP. The chip supports PPS PDO and EPR PDO, and all PDOs fully comply with USB PD 3.1 Rev.1.8 specifications, including support for 28V EPR FPDO and EPR AVS. It also supports QC2.0, QC3.0, AFC, FCP, and UFCS fast charging protocols, making it highly compatible. The chip has an integrated NMOS driver for power control using NMOS.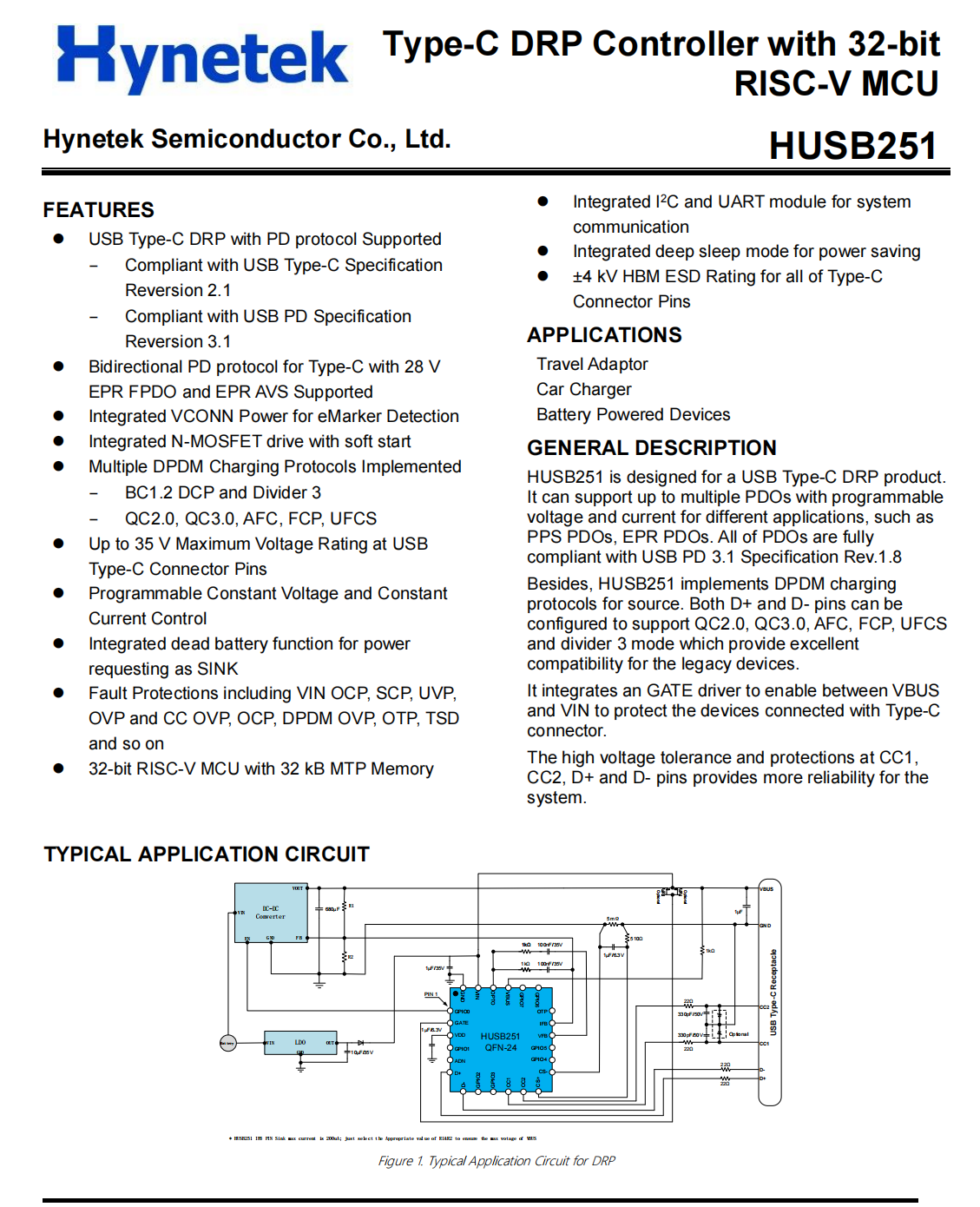 The chip also integrates Vconn power for E-marker chip detection, supports programmable constant voltage and constant current control, and integrates multiple protection measures and overheat protection. It includes a 32-bit RISC-V MCU and 32KB MTP storage, as well as I2C and UART interfaces.
HUSB362
Hynetek's HUSB362 is a high-performance PD protocol chip that supports PD3.1 EPR and integrates an MCU. It supports multiple PDOs with programmable voltage and current, such as PPS PDO and EPR PDO, all fully compliant with USB PD 3.1 V1.7 specifications. It supports EPR mode with 140W (28V5A), PPS supports from 18W to 100W, and AVS supports from 100W to 140W. It has passed USB-IF Association's PD3.1 compliance test, with a TID of 9329.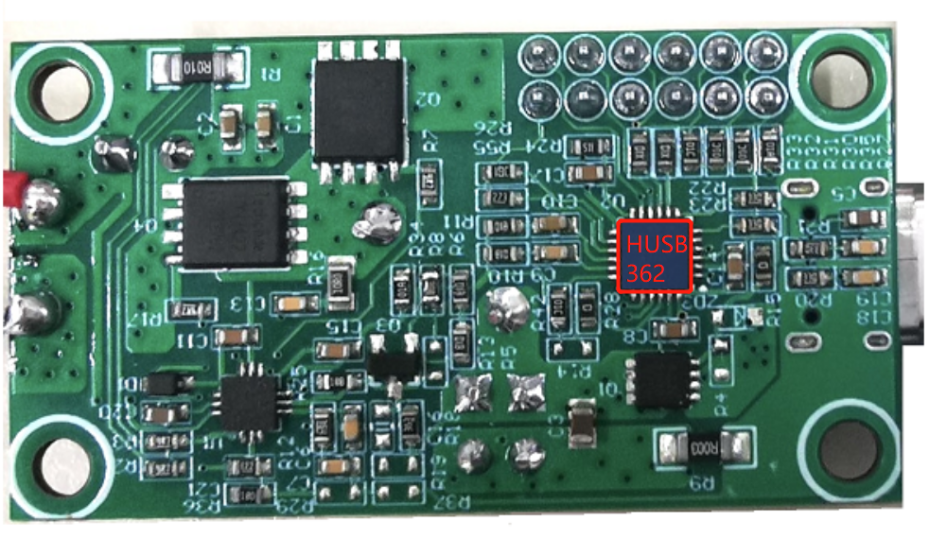 This chip also implements programmable DPDM PHY, where D+ and D- pins can be configured to support QC2.0, QC3.0, AFC, FCP, and Divider 3 modes, ensuring excellent compatibility with traditional devices.
It integrates N-MOS driver and is fully protected for LPS (limited power supply).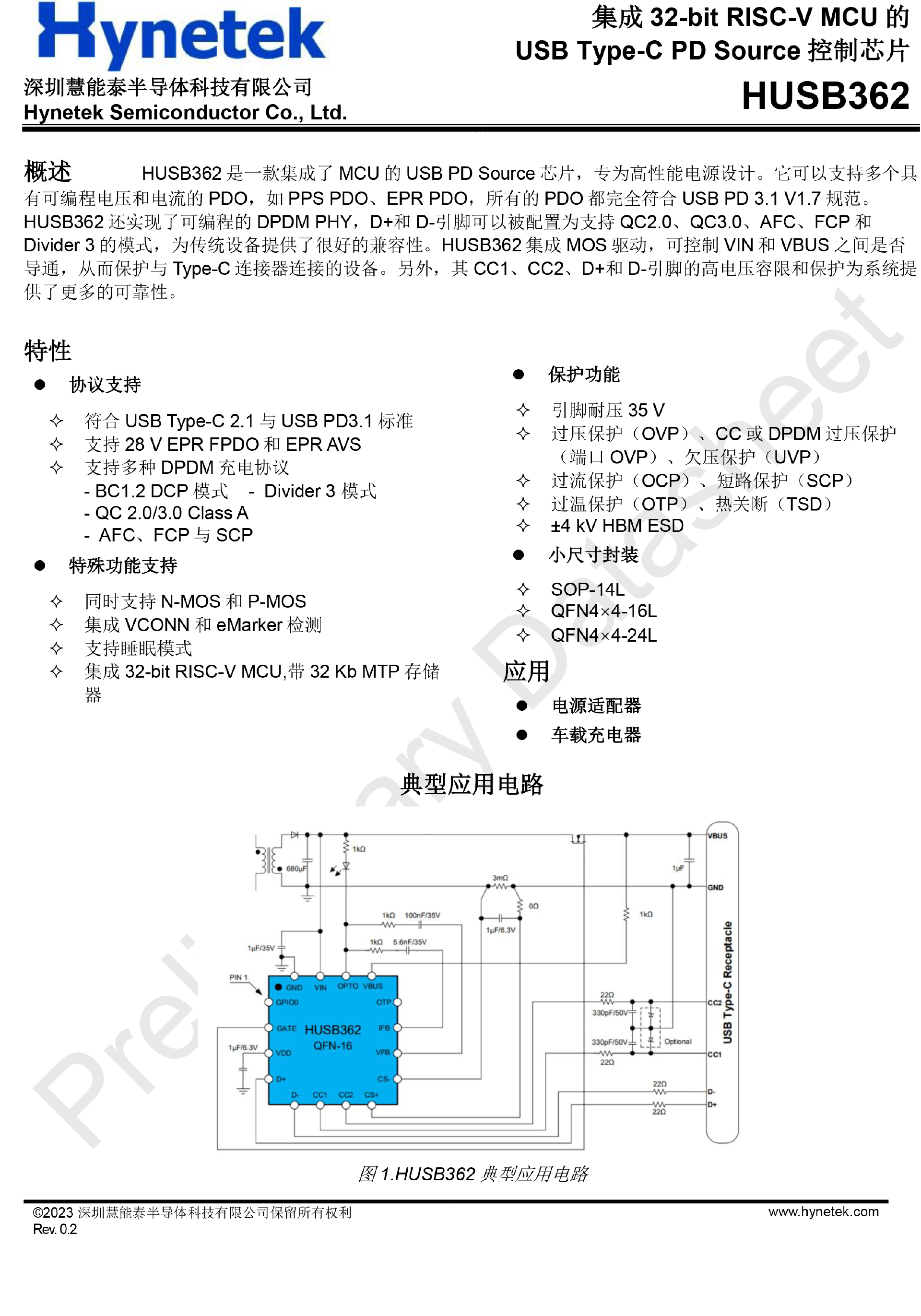 Furthermore, it features a dual-loop design, allowing users to implement application design with minimal peripheral components, thereby enhancing space utilization and reducing design complexity and BOM costs.
HUSB238A
The HUSB238A stands as an exceptionally integrated standalone USB Type-C® and Power Delivery (PD) Sink controller. This controller amalgamates CC logic, USB PD protocol, and traditional protocols, providing support for Type-C V2.1 and USB PD3.1 standards. It also accommodates PPS (Programmable Power Supply) 20mV and AVS (Adjustable Voltage Supply) 100mV voltage regulation. Remarkably, it can handle rated power transmission of up to 240W (48V5A).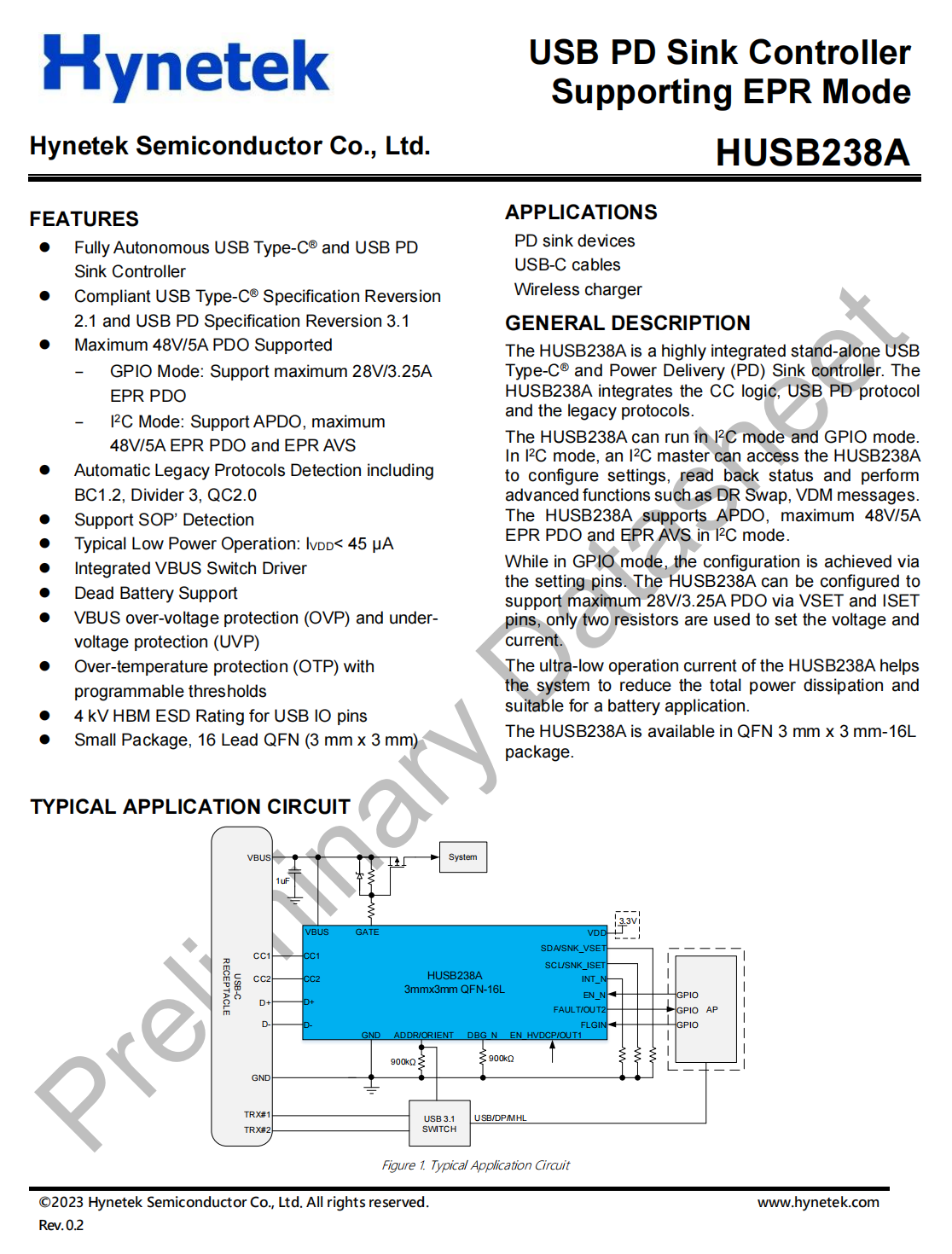 This versatile controller can operate in both I2C and GPIO modes. Under the I2C mode, the MCU can access the HUSB238A to configure settings, retrieve status information, and perform advanced functions like DR swapping and VDM handling. In the GPIO mode, the configuration is achieved through pin settings. Furthermore, the controller comes equipped with built-in electrostatic discharge protection and overheat protection, enhancing its overall reliability. It adopts QFN3x3-16 package.
Infineon
CYPD3135
Infineon's CYPD3135 is the industry's first USB PD3.1 fast charging protocol chip, worth mentioning is that this chip was specially customized by Apple for Infineon. It belongs to the EZ-PD CCG3 series, a highly integrated USB-C controller that complies with the latest USB-C and PD standards. CCG3 is a complete USB-C and USB power port control solution used in laptops, monitors, docking stations, power adapters, and other devices.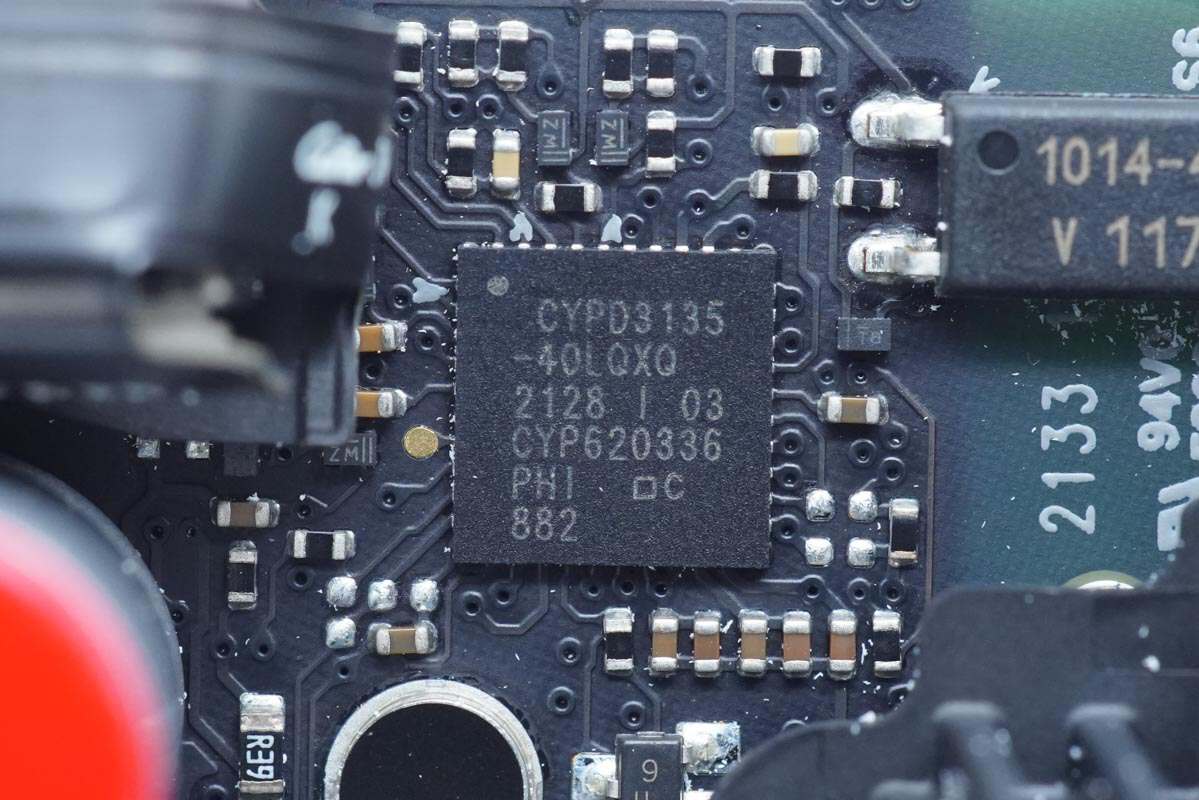 It uses proprietary M0S8 technology, with a 32-bit, 48-MHz ARM Cortex-M0 processor, 128 KB flash, 8 KB SRAM, 20 GPIOs, and a full-speed USB controller. CCG3 also integrates two sets of gate drivers to control external VBUS FET and system-level ESD protection. In the power domain, CCG3 is available in two package forms: 40-QFN and 32-QFN.
EZ-PD PMG1-S3
Infineon's EZ-PD PMG1-S3 is a new generation USB PD3.1 protocol chip that supports 28V 5A (140W) output and input. The PMG1 series of protocol chips have an integrated MCU, providing additional controls, suitable for smart speakers, laptops, power tools, storage devices, and more.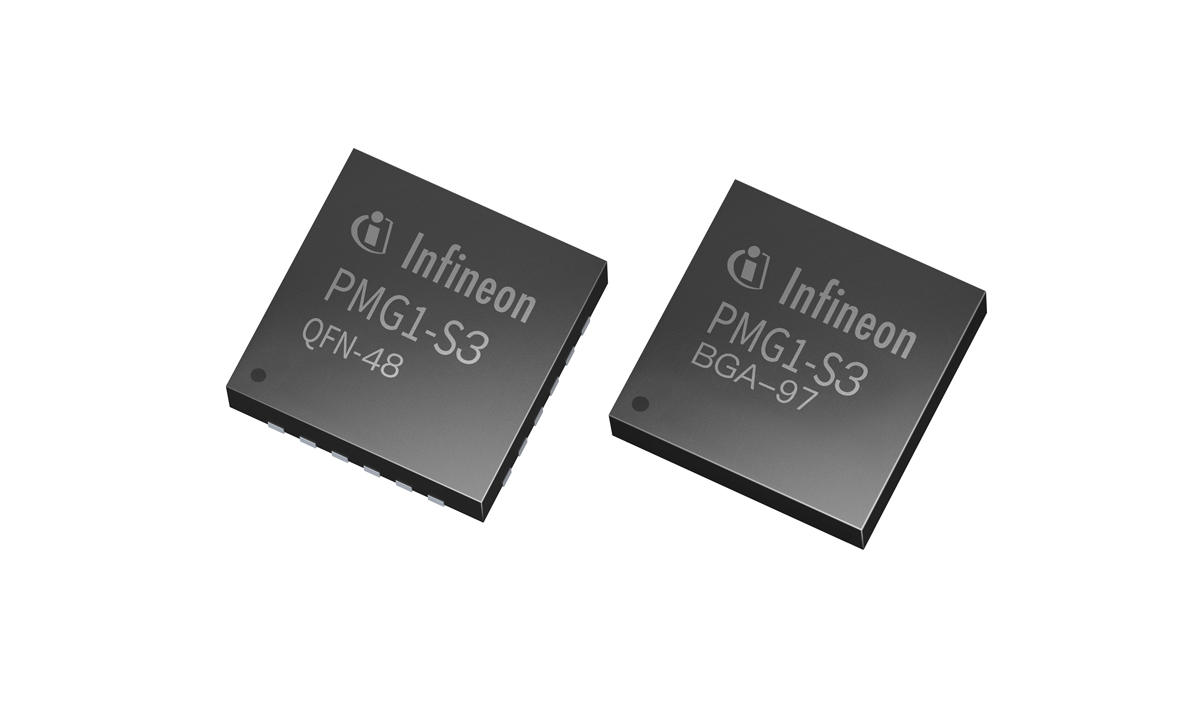 This PD3.1 chip comes in QFN-48 and BGA-97 packages, integrating ARM M0, and M0+ processors, 256K flash, and 32K SRAM. PMG1 also offers overvoltage, overcurrent, and reverse current protection, and supports secure firmware boot and signature firmware updates.
CYPD3171
Infineon's CYPD3171 is a protocol chip supporting USB PD3.1 for power bank applications, belonging to the CCG3PA series, with an integrated ARM Cortex-M0 processor, 64KB flash, and 8KB SRAM, supporting bidirectional applications.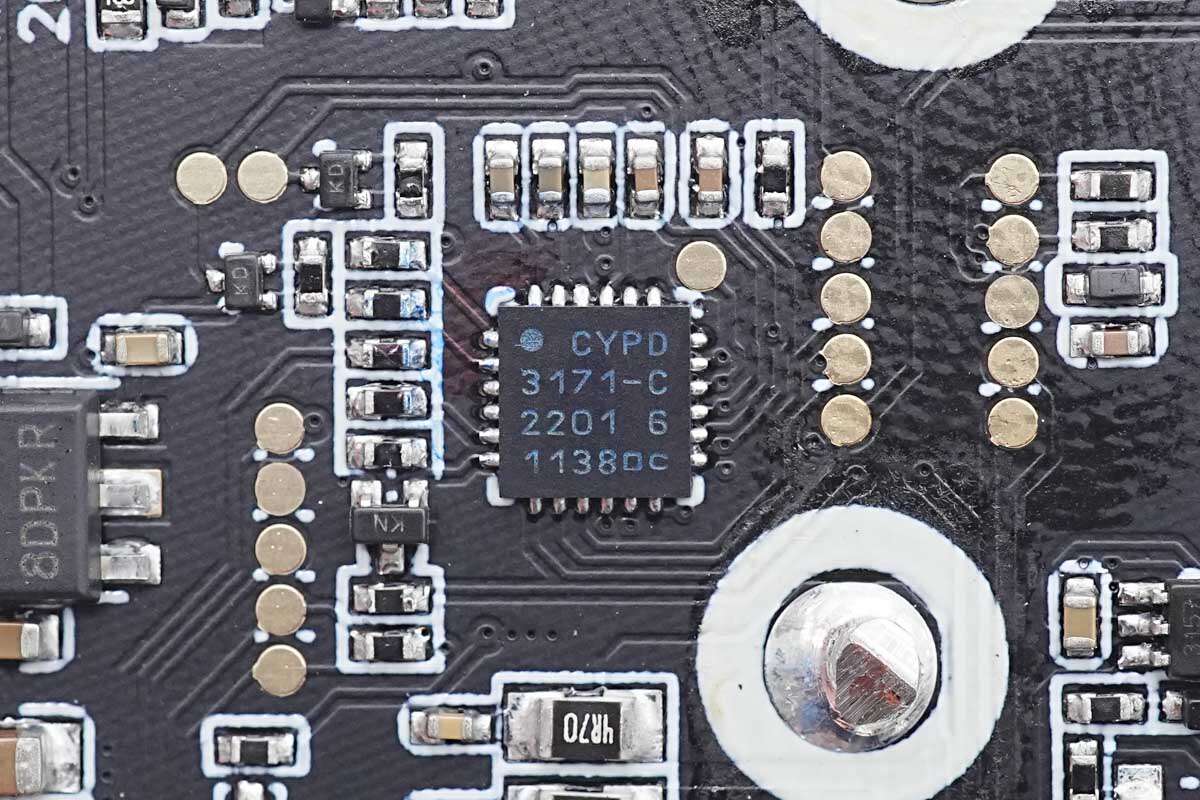 It supports USB-C and USB-A port applications, as well as QC4.0, Apple 2.4A, and Samsung AFC charging protocols. It integrates various system-level protection functions and supports VBUS to CC short circuit protection, available in QFN24 package.
Injoinic
IP2736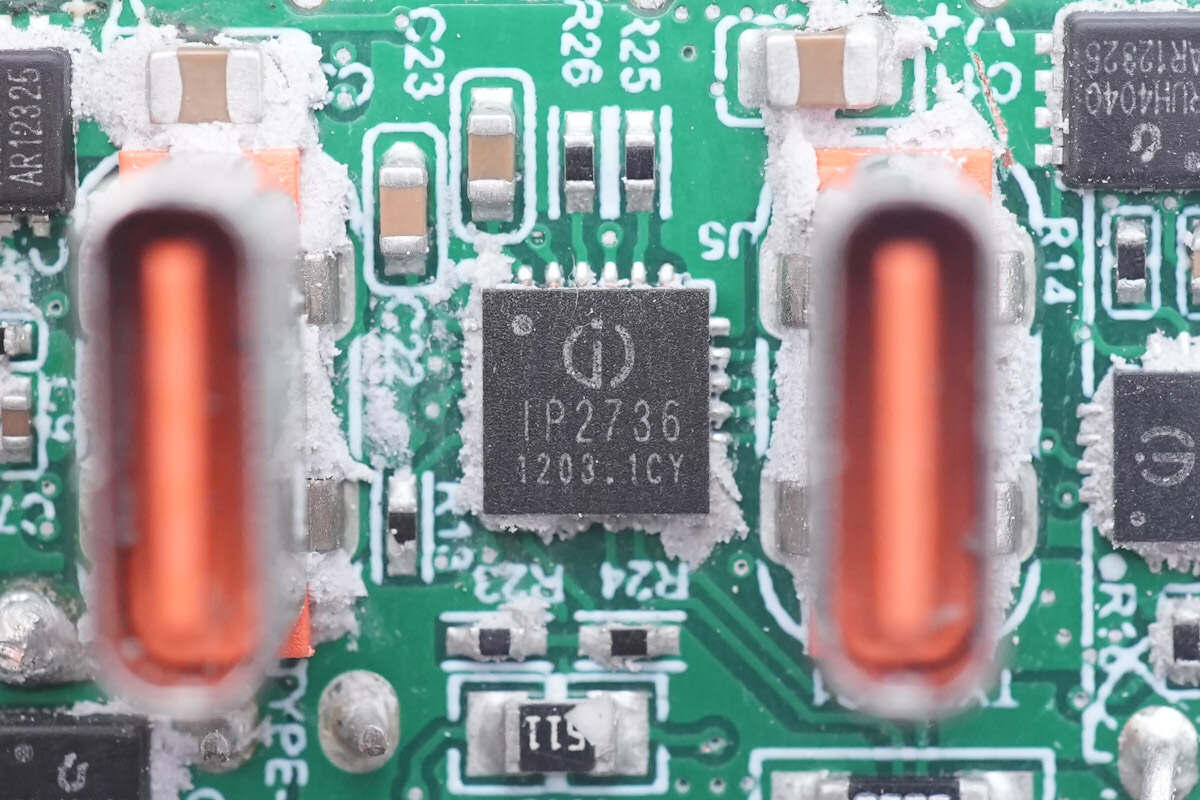 Injoinic's IP2736 protocol chip integrates voltage references, programmable voltage/current loop control, and low-end current detection, with output supporting line loss compensation. It can be used in areas such as car chargers, energy storage power supplies, chargers, power banks, electric tools, etc.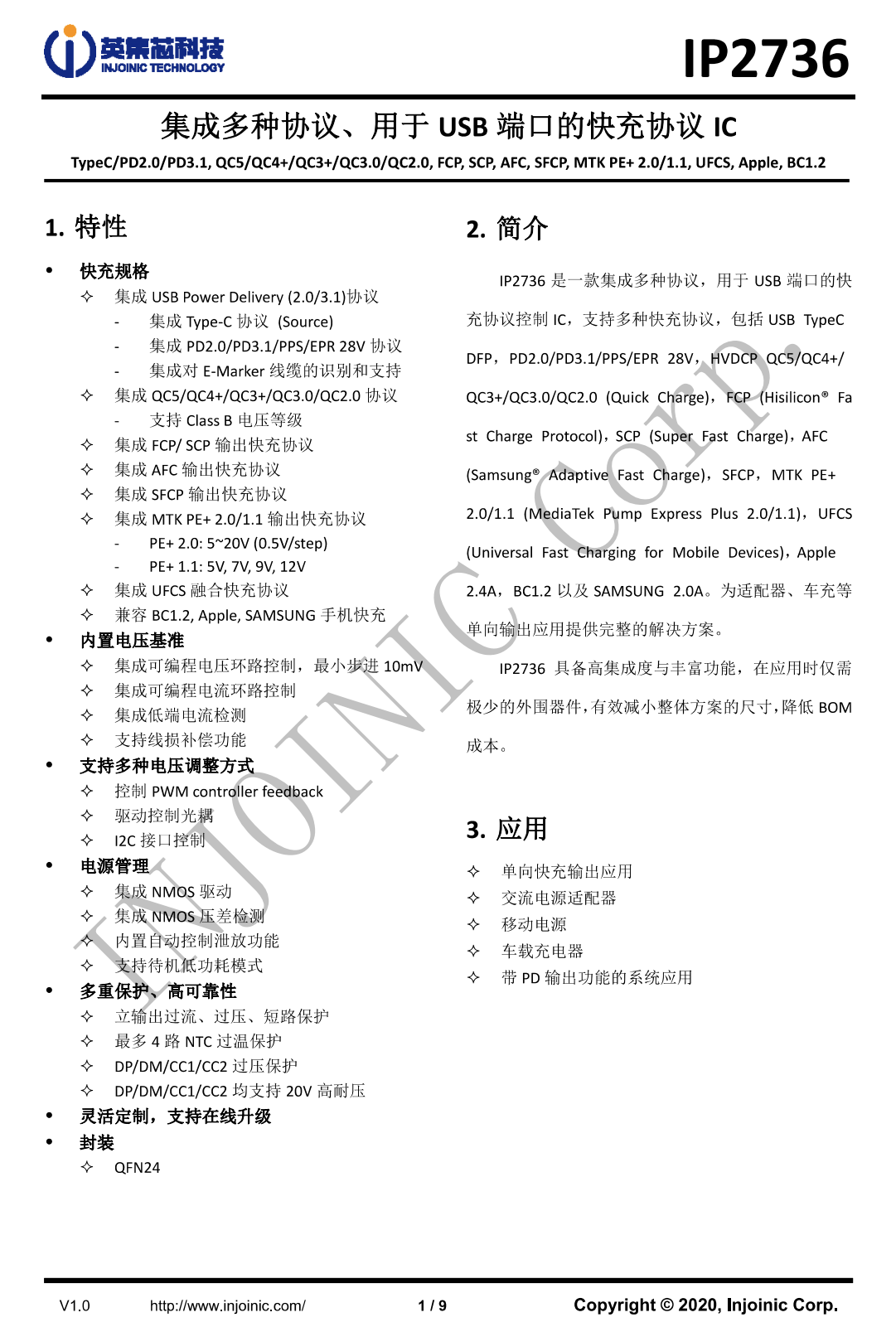 Thanks to support for multiple feedback forms, IP2736 can be paired with QR, ACF, LLC, and other circuit architectures for PD fast charging, as well as with buck boost circuits for high-power car chargers and power banks, etc.
IP2738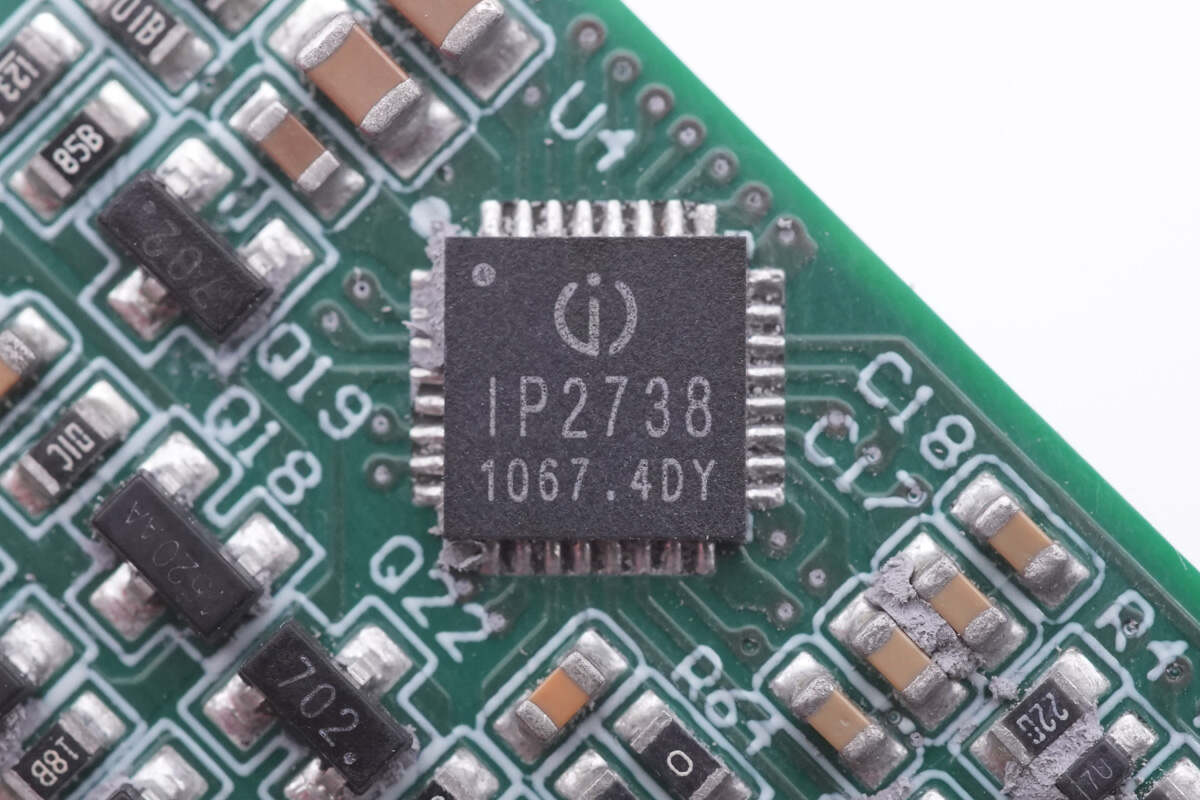 Injoinic's IP2738 is a two-way protocol chip supporting fast charging applications with dual-port power range from 18W to 140W. It has independent feedback control and USB PD control, equivalent to integrating two IP2736 chips into one, naturally having the same fast charging specifications. It supports USB PD3.1 28V EPR and a wide range of fast charging protocols, with excellent compatibility.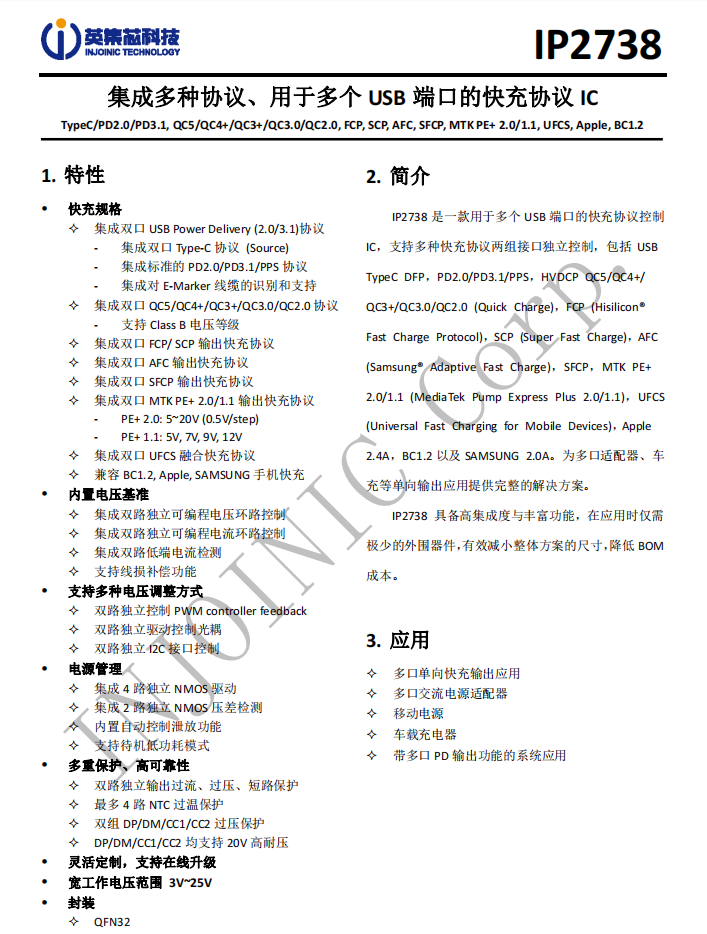 It also has four independent NMOS drivers, which can be used for multiple port output control, and supports two-way independent overcurrent, overvoltage, and short circuit protections, ensuring safe usage.
IP2756
Injoinic's IP2756 is a multi-protocol integrated fast charging protocol control IC for USB ports, supporting PD2.0/PD3.1 SPR&EPR 36V, HVDCP, QC5/4+/3+/3.0/2.0, VFCP, UFCS, Apple 2.4A, BC1.2, and Samsung 2.0A, among many other fast charging protocols.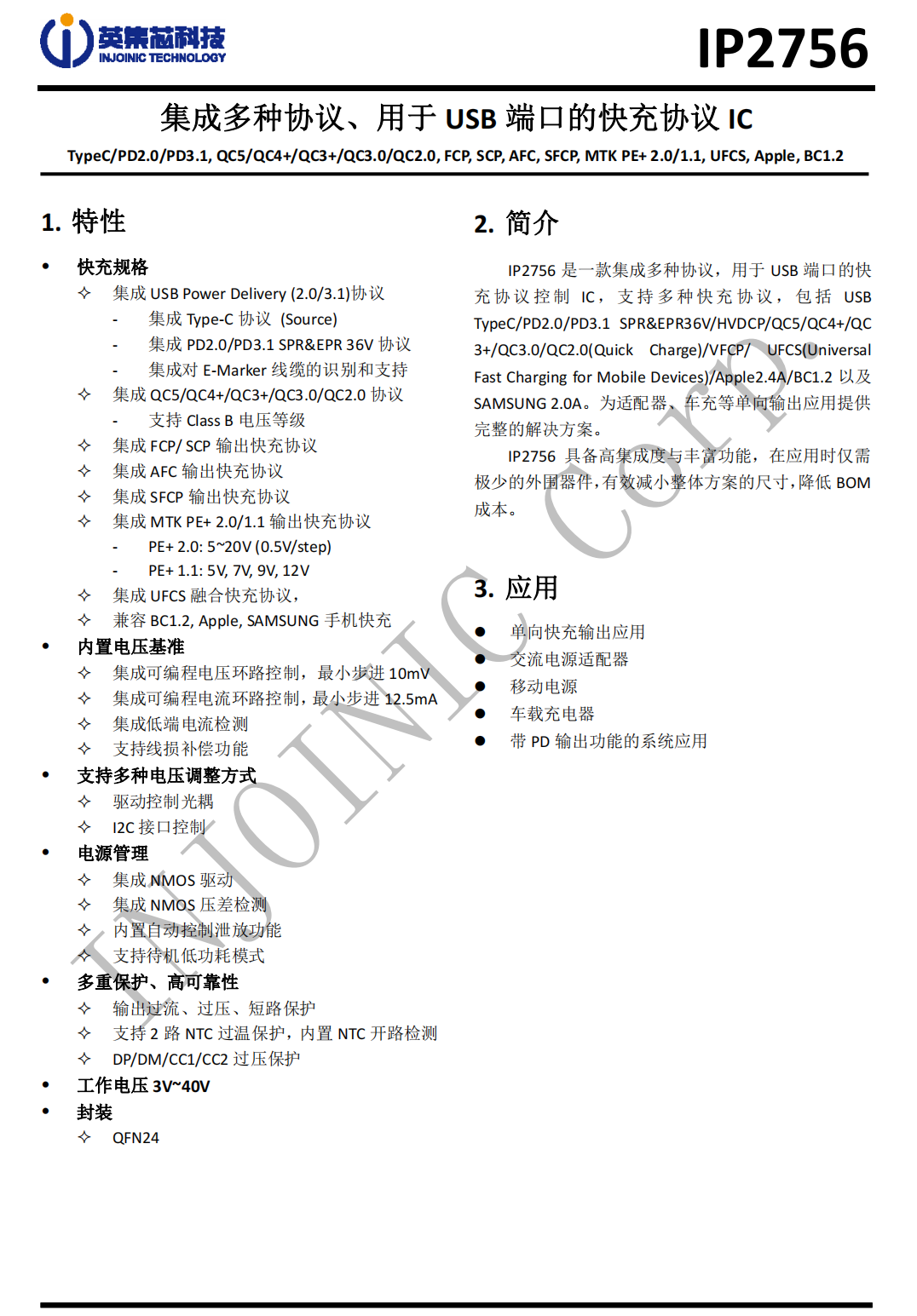 IP2756 features high integration and rich functionalities, requiring very few peripheral devices during application, effectively reducing BOM costs.
iSmartWare
SW2335
iSmartWare SW2335 is a highly integrated fast charging protocol controller. It embeds an ARM Cortex-M0 core, with a maximum operating frequency of 40MHz, and supports general peripheral interfaces like I2C, UART, and GPIO. It supports PD3.1, BC1.2, UFCS, and various mainstream DPDM fast charging protocols.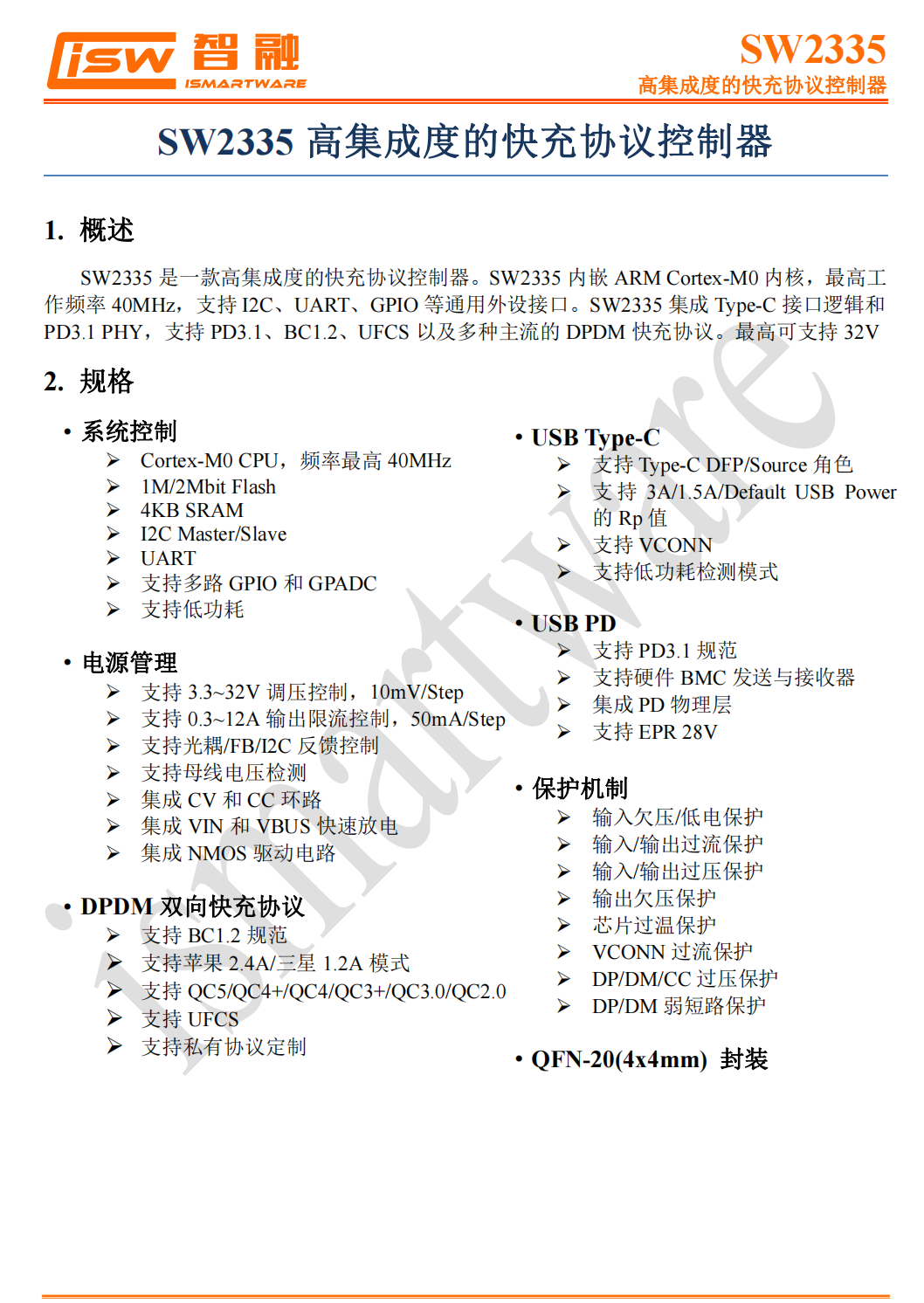 The chip integrates CV and CC loops, and inside the chip, multiple protection functions are integrated, with a QFN-20 (4x4mm) package.
SW2505
iSmartWare SW2505 is a low-power controller chip that supports PD3.1, QC, UFCS, and other protocols, with an integrated MCU and 16 GPIOs. The USB-C port supports online upgrades and online simulation debugging, and it also supports optocoupler/FB control and I2C master/slave mode.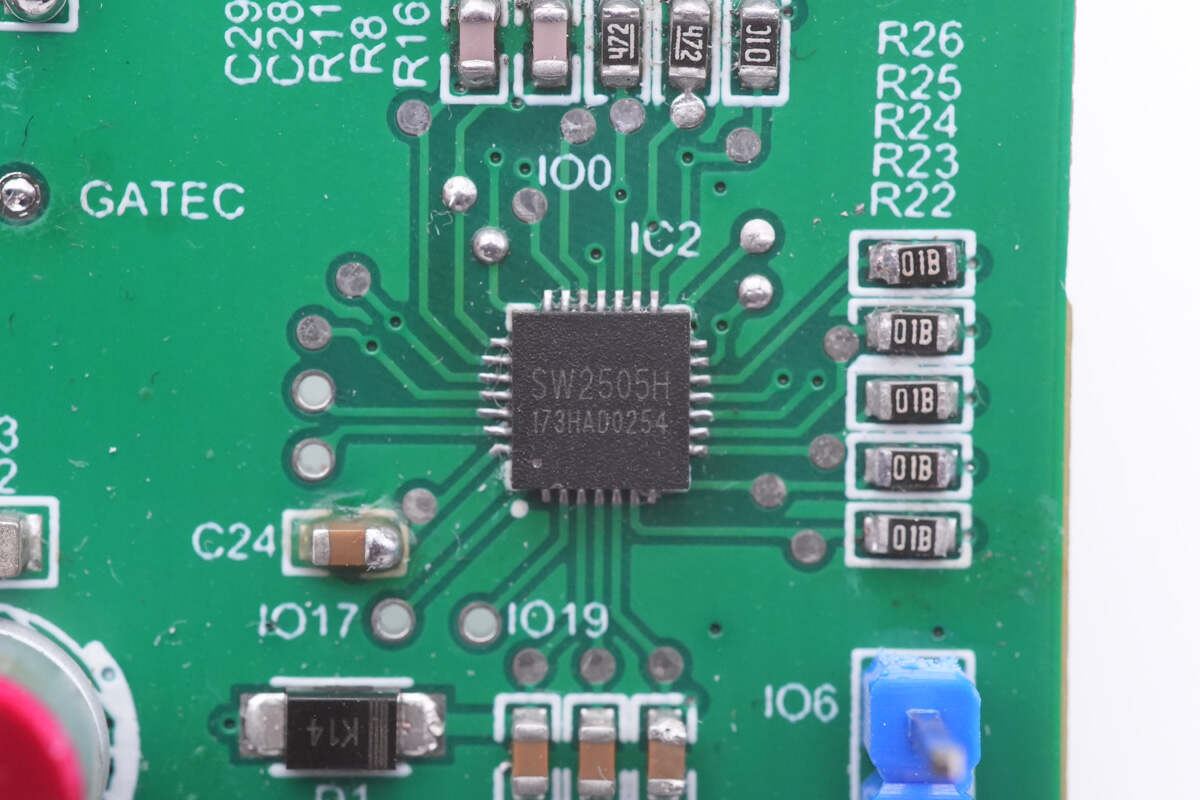 It supports PD3.1, QC, UFCS, SCP, AFC, VOOC, SFCP, PE, and other mainstream fast charging protocols, with an embedded ARM Cortex-M0 core, 128K Flash, and 4K SRAM.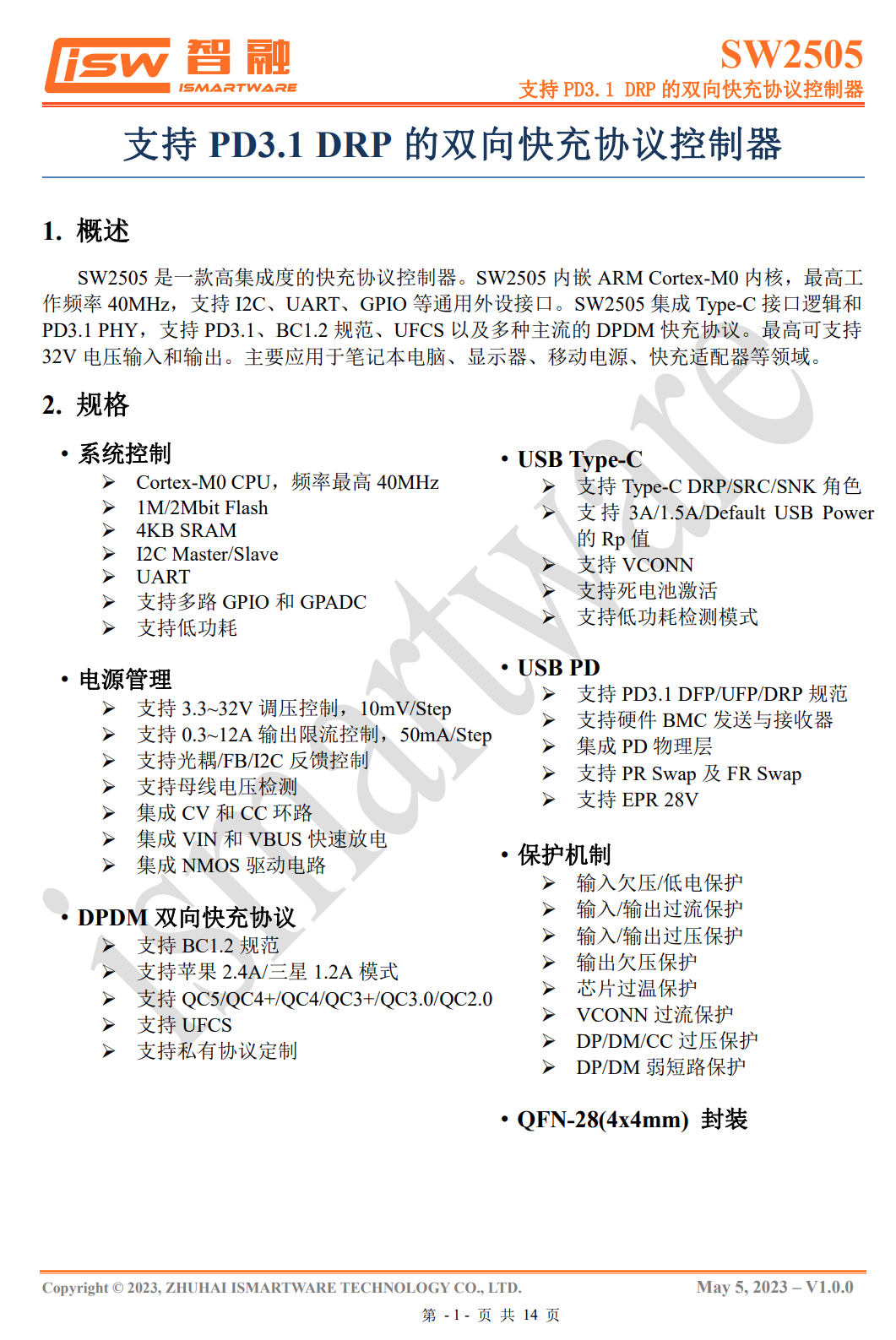 It integrates output CV/CC loop control, NMOS driver control, 12-bit ADC converter, as well as multiple protection measures such as overvoltage protection, undervoltage protection, and overcurrent protection.
SW3566H
iSmartWare SW3566H is a highly integrated dual-port fast charging SOC that supports USB-C and USB-A charging, with support for dual-port independent current limiting. The chip integrates a high-efficiency synchronous buck converter, supporting 20V7A and 28V5A outputs, and it supports PD3.1, QC, SCP, UFCS and other fast charging protocols, as well as custom fast charging protocols, with a maximum support of 140W output.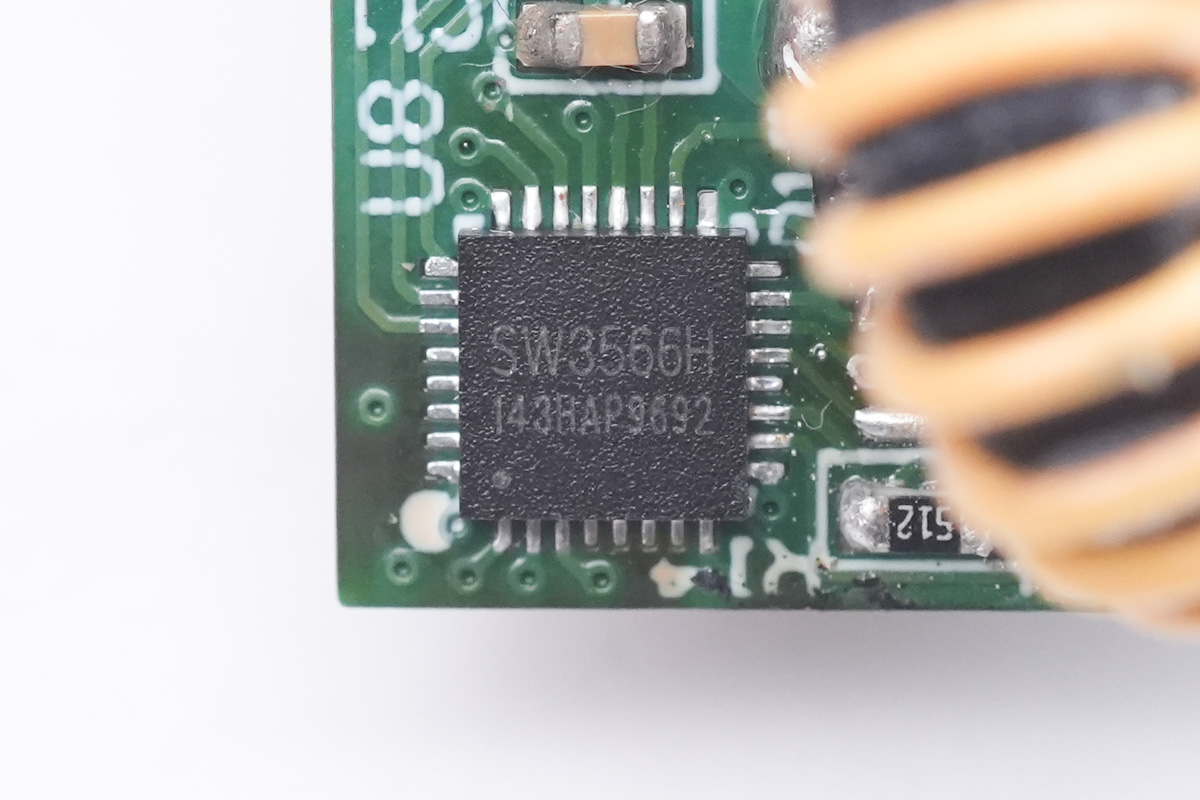 It integrates CC/CV mode and supports PWM and PFM working modes. Output current, line loss compensation, and other protection thresholds can be set through the I2C interface, and the built-in ADC can sample data from a total of 9 channels, supporting external MCU for parameter display.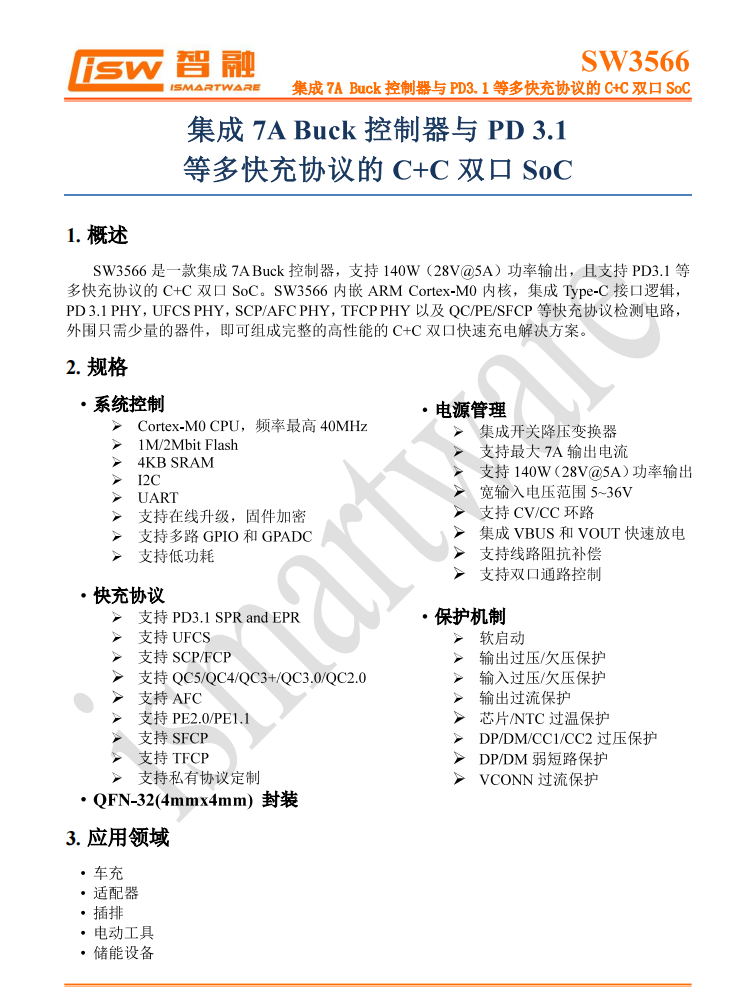 It also supports 36V input voltage, 7A maximum output current, and multiple protection measures, including power limitation protection, with a QFN 4x4-32 package.
SW3561
The iSmartWare SW3561 is a buck SoC (System-on-Chip) that supports dual USB-C port output. It integrates a highly efficient synchronous buck controller, facilitating a 20V 5A power output. The chip supports USB PD3.1 SPR, and it also houses an ARM Cortex-M0 core, Type-C logic, and supports fast charging protocols like PD3.1, QC, SCP, and UFCS. Moreover, the chip supports fast charging protocol customization and achieves a power output of up to 100W.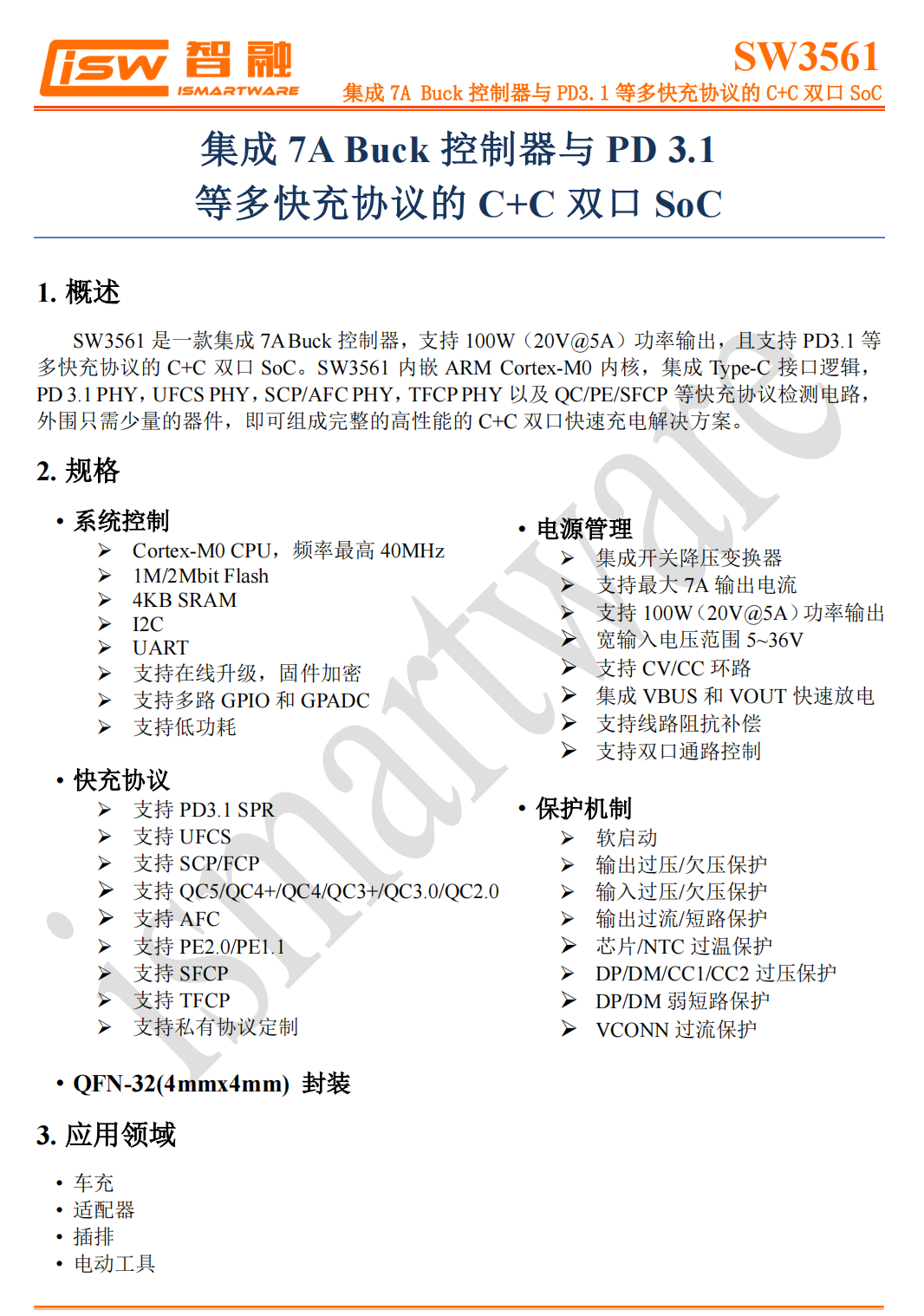 Within the SW3561, the integration of a buck converter and dual USB-C port pathway control, combined with two synchronous buck MOSFETs and a VBUS MOSFET, enables the dual-port buck output. The chip's default buck converter operating frequency is set at 180KHz, with customization options available to meet compact design requirements.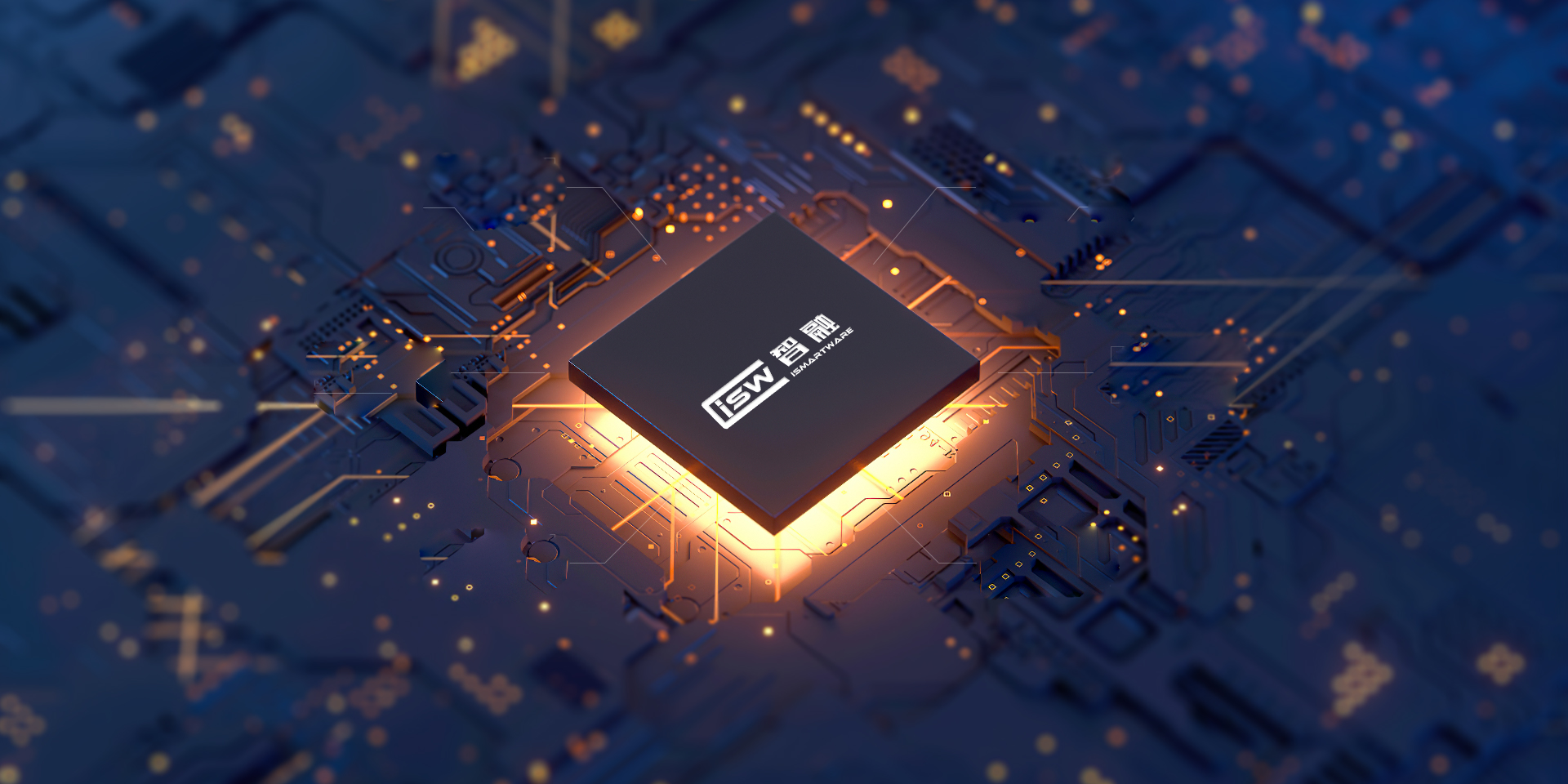 The chip features an I2C interface through which protection thresholds for output current, line loss compensation, and other parameters can be set. The embedded ADC allows data sampling for nine channels including input and output voltages, output current, and chip temperature. This data can be displayed through an external MCU. The built-in MCU in the SW3561 supports automatic power control, negating the need for an external MCU in multi-port buck fast charging applications, streamlining circuit design.
Jadard
JD6628
Jadard JD6628 is a highly integrated protocol chip that supports PD3.1 and PPS output, with support for 3.3-28V output voltage. It covers various protocols, including UFCS, Huawei SCP, FCP, Qualcomm QC2.0/3.0/3+. It also integrates dual amplifiers, separately used for constant voltage and constant current control.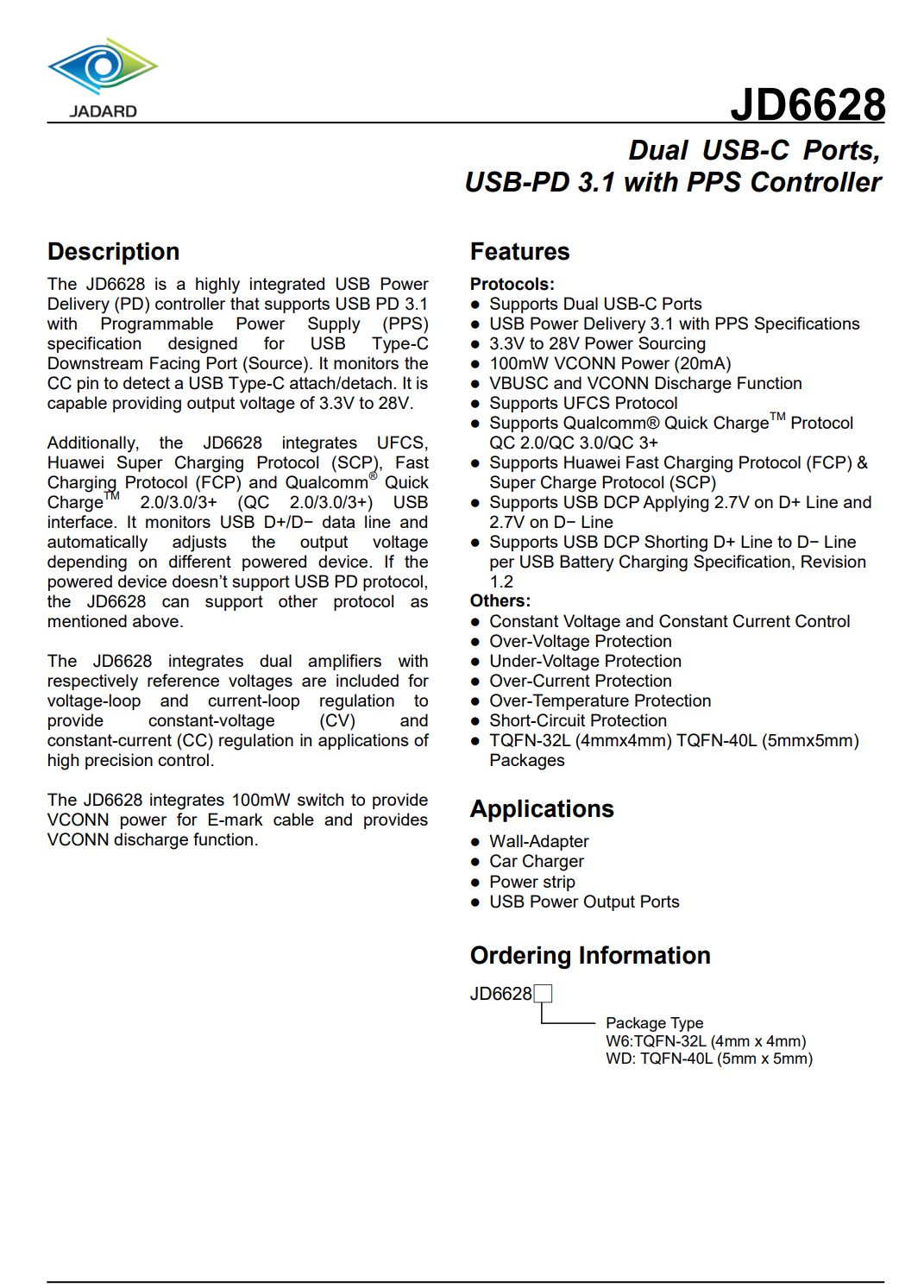 It also features VBUS discharge and VCONN discharge, and incorporates protections like overvoltage protection, undervoltage protection, overcurrent protection, short circuit protection, and overheat protection, making it suitable for fast charging chargers, car chargers, and other applications. It comes in TQFN 4x4-32L and TQFN 5x5-40L packages.
Leadtrend
LD6617
LD6617 is Leadtrend's latest highly integrated USB PD 3.1 controller, featuring an embedded 8-bit MCU with 32kbyte OTP and 256+384bytes SRAM, 11-bit ADC, parallel voltage regulator, voltage/current monitor, and controller, all in a simplified peripheral design.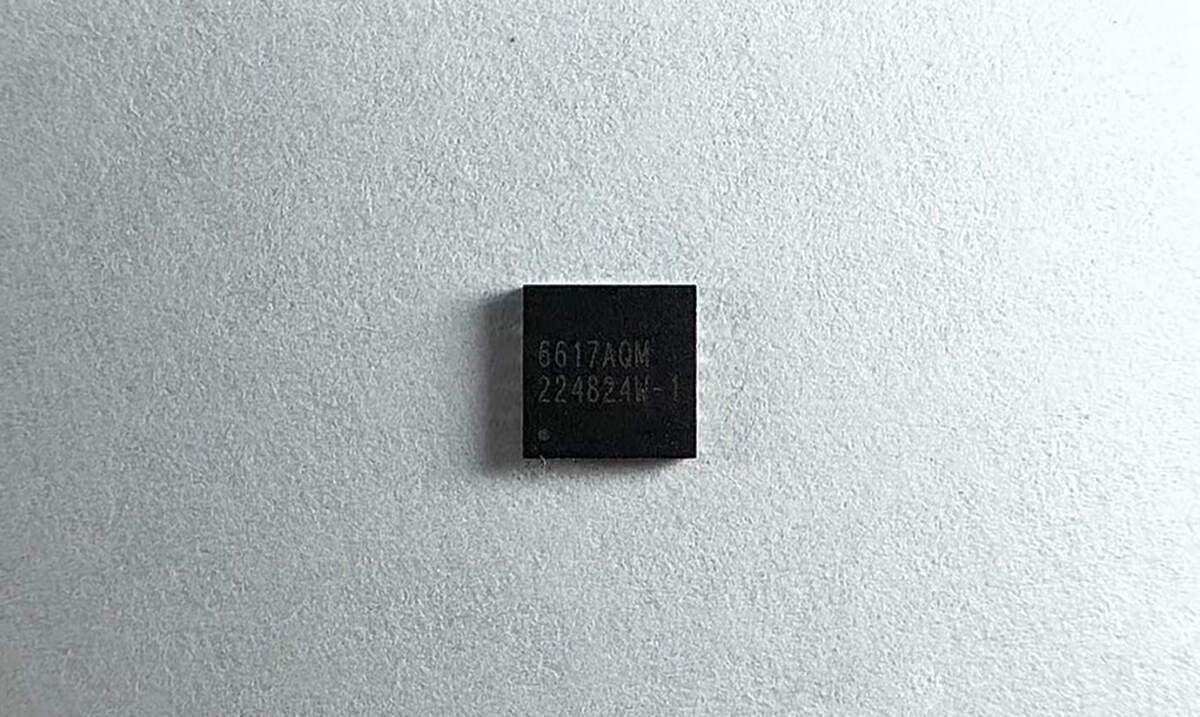 It supports a wide operating voltage range of 3.3V~45V, making it compatible with USB PD 3.1 SPR and EPR 28V/36V protocol specifications, as well as proprietary protocols like QC3.0, FCP, and AFC. This makes it ideal for use in various PD charging products, such as power adapters, wall chargers, and car chargers.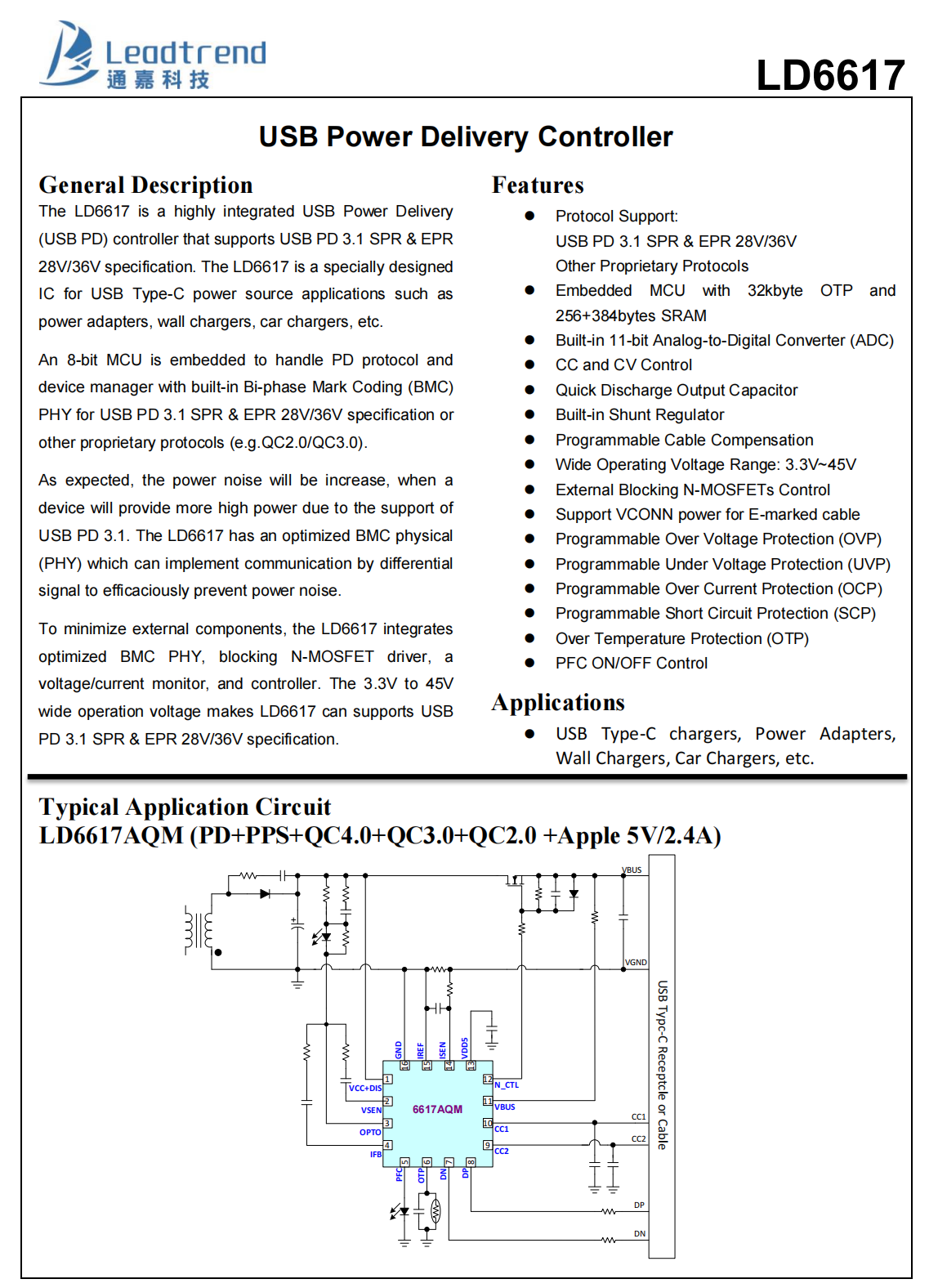 Moreover, it supports VCONN power for E-marker cables, CC/CV control, capacitor fast discharge, programmable cable compensation, PFC switch control, and other versatile features.
MERCHIP
M12269
The MERCHIP M12269 is quite unique as it is the industry's first power SOC to obtain PD3.1 dual-certification. It boasts several features, including efficient charge and discharge management, automatic matching of optimal charging modes, high integration, and an internal loop compensation circuit.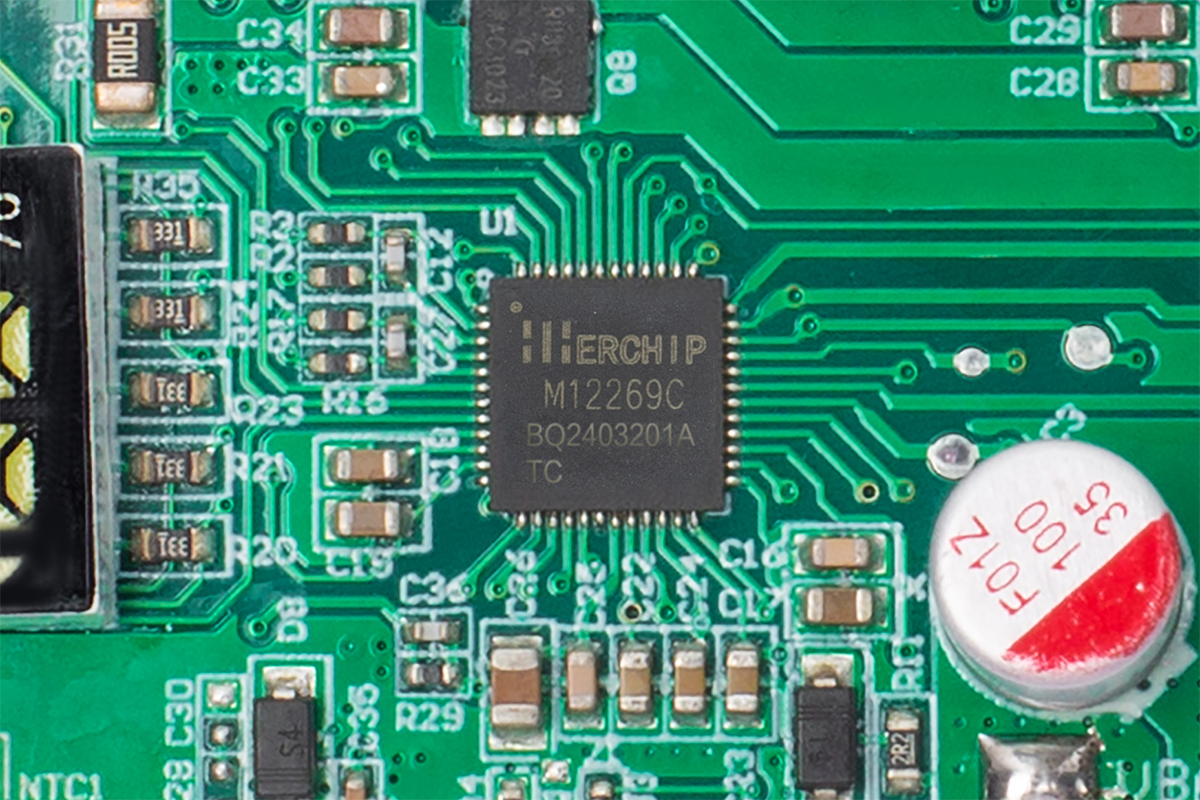 The chip integrates synchronous buck-boost voltage converter, driver module, and display module, providing a maximum input/output power of 140W for a single USB-C port. It supports various mainstream fast charging protocols and offers multiple protection functions. With minimal peripheral components, it can easily form a 140W multi-port power bank.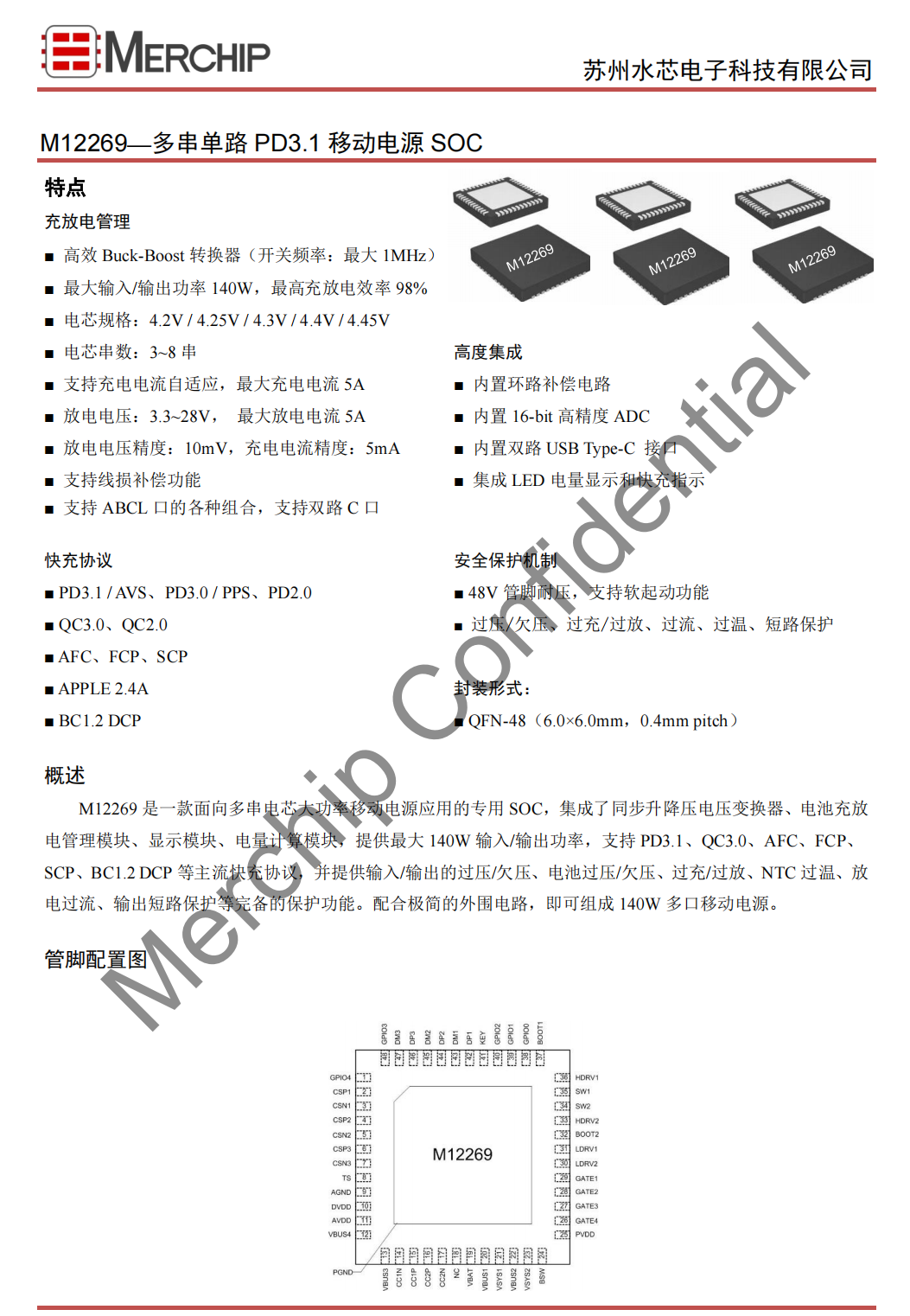 The M12269 is a CCA three-port bidirectional 140W PD3.1 buck-boost SOC, achieving the highest integration level among multi-port fast charging SOCs. It sets a record for voltage accuracy at 10mV and is customizable to meet diverse demands for multi-port bidirectional fast charging. It is compatible with PD, QC, SCP, FCP, AFC, Apple 2.4A, BC1.2 DCP, and other mainstream fast charging protocols.
M12339
The MERCHIP M12239 is a high-power SOC designed for power banks, integrating synchronous buck-boost voltage converter, battery charge and discharge management module, display modules, and energy calculation module. It offers a maximum input/output power of 140W, supporting PD3.1, QC3.0, AFC, FCP, SCP, BC1.2 DCP, and other mainstream fast charging protocols.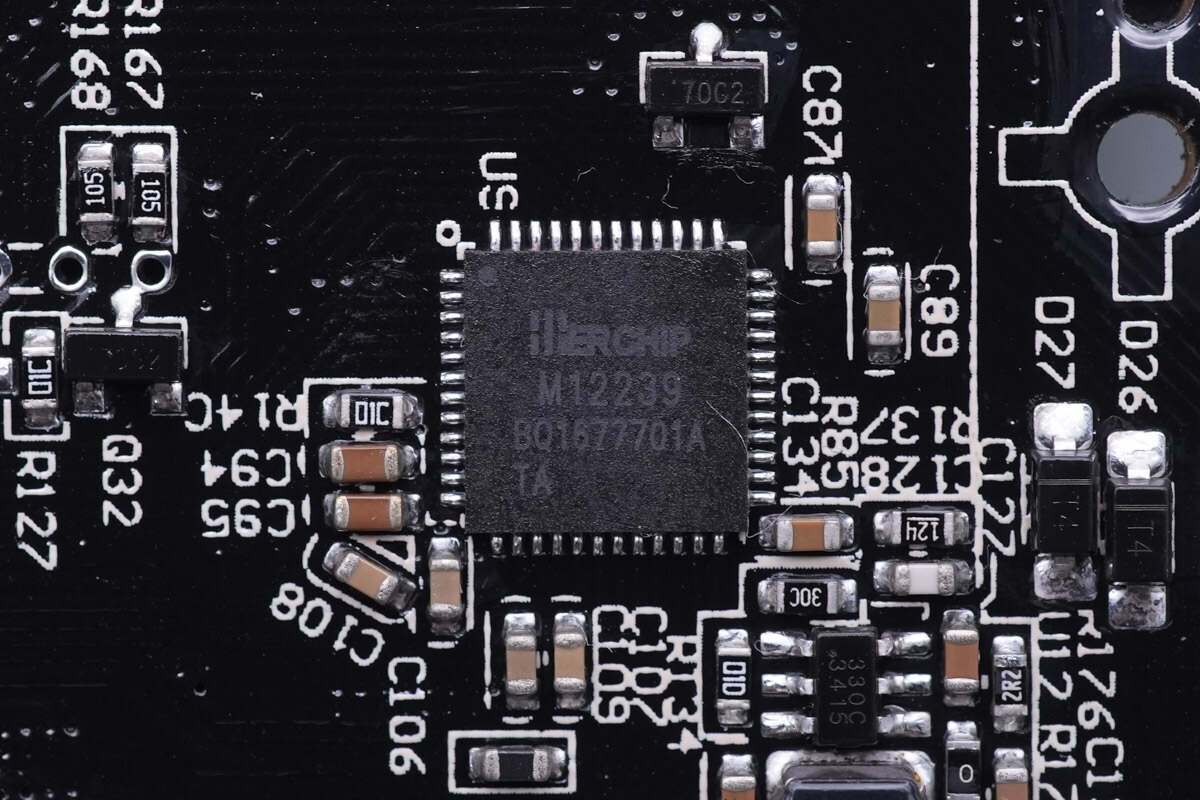 With an internal microprocessor and a small number of peripheral components, it can easily realize a 140W bidirectional USB-C power bank design. The chip supports multi-port fast charging and can be extended to a two-way 140W multi-port power bank with an additional DC-DC chip.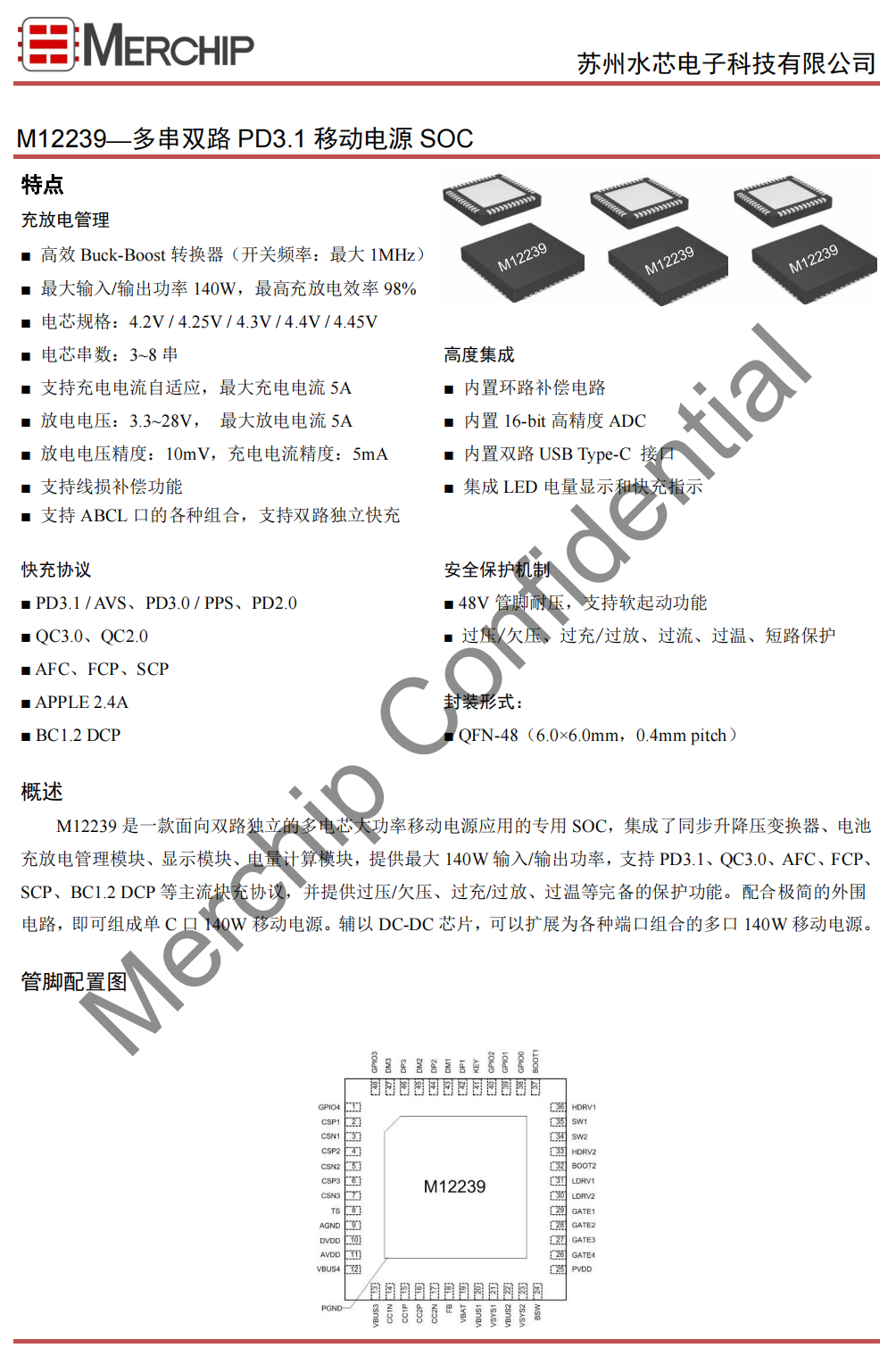 The M12239 supports 3-8 cell series battery applications, offering a wide output voltage range of 3.3-28V, and provides comprehensive protection functions, including overvoltage/undervoltage, overcharge/over-discharge, and over-temperature protection. It is suitable for PD3.1 fast charging power banks and portable power stations with large capacities. It comes in a QFN6 x 6-48 package.
M12349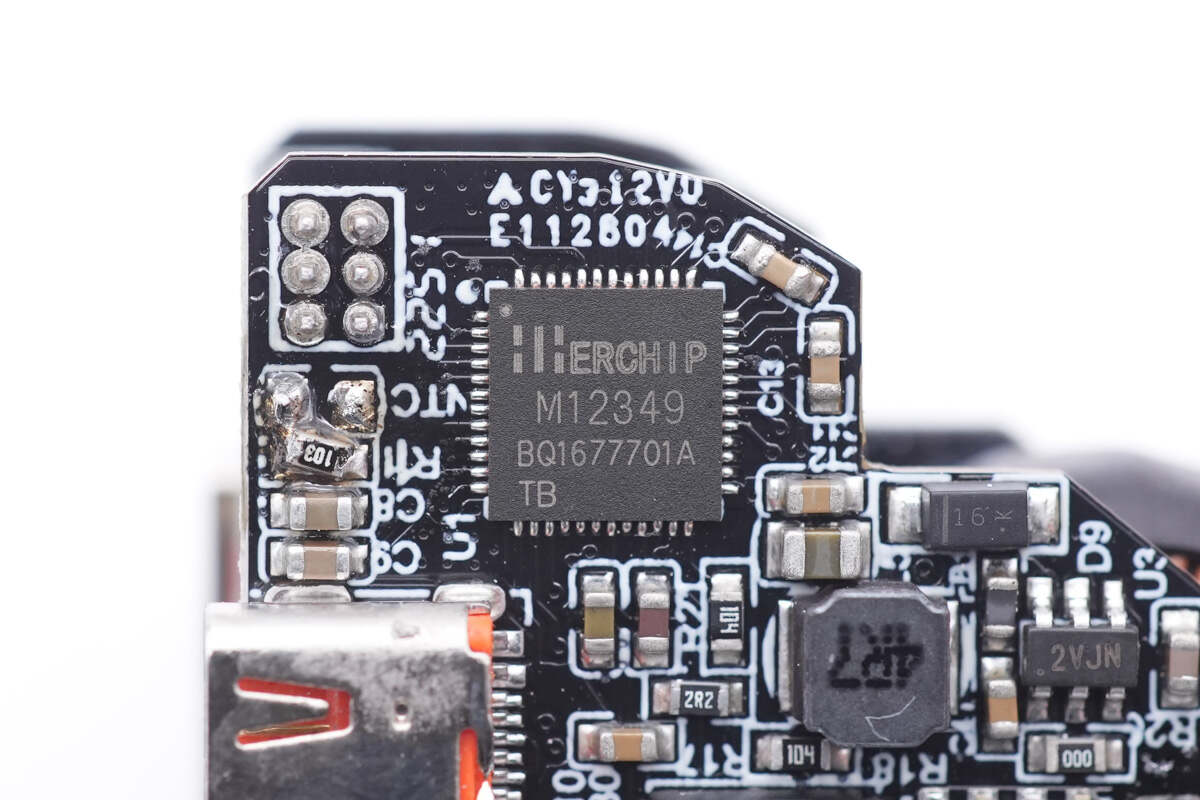 The MERCHIP M12349 is a PD3.1 protocol supported USB-C+USB-A dual independent buck-boost SOC. The chip integrates MCU, and features a 42V input voltage and 3.3-28V output voltage range, with a maximum output current of 5A. It supports dynamic power allocation for dual-port charging and independent fast charging control for dual ports.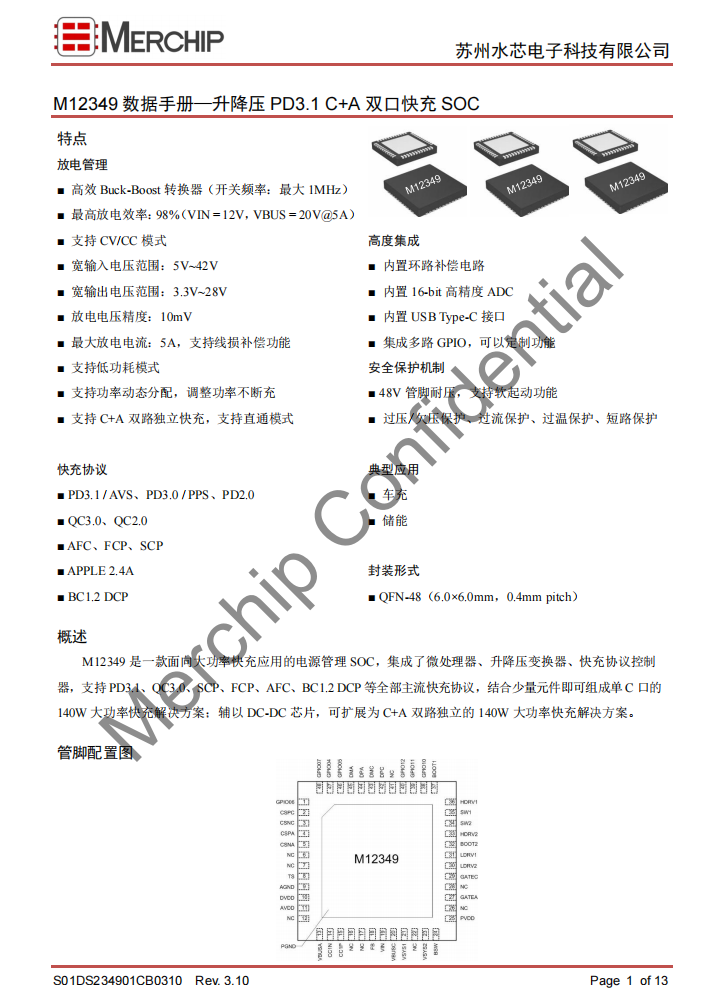 The chip supports PD3.1, QC3.0, SCP, FCP, AFC, and other mainstream fast charging protocols. With external MOSFETs and inductors, it can form a complete high-power USB-C fast charging solution. It also includes an internal loop compensation circuit and comprehensive protection functions.
M12359
The M12359 from MERCHIP is a highly anticipated multi-port fast charging SOC, featuring several breakthrough technologies. It supports the PD3.1 protocol. It employs a seamless dynamic power allocation technique for simultaneous dual-port fast charging from USB-C ports. Additionally, during dual-port fast charging, the USB-A port can also support wireless headphone charging. Both USB-C ports can achieve a maximum output power of 140W.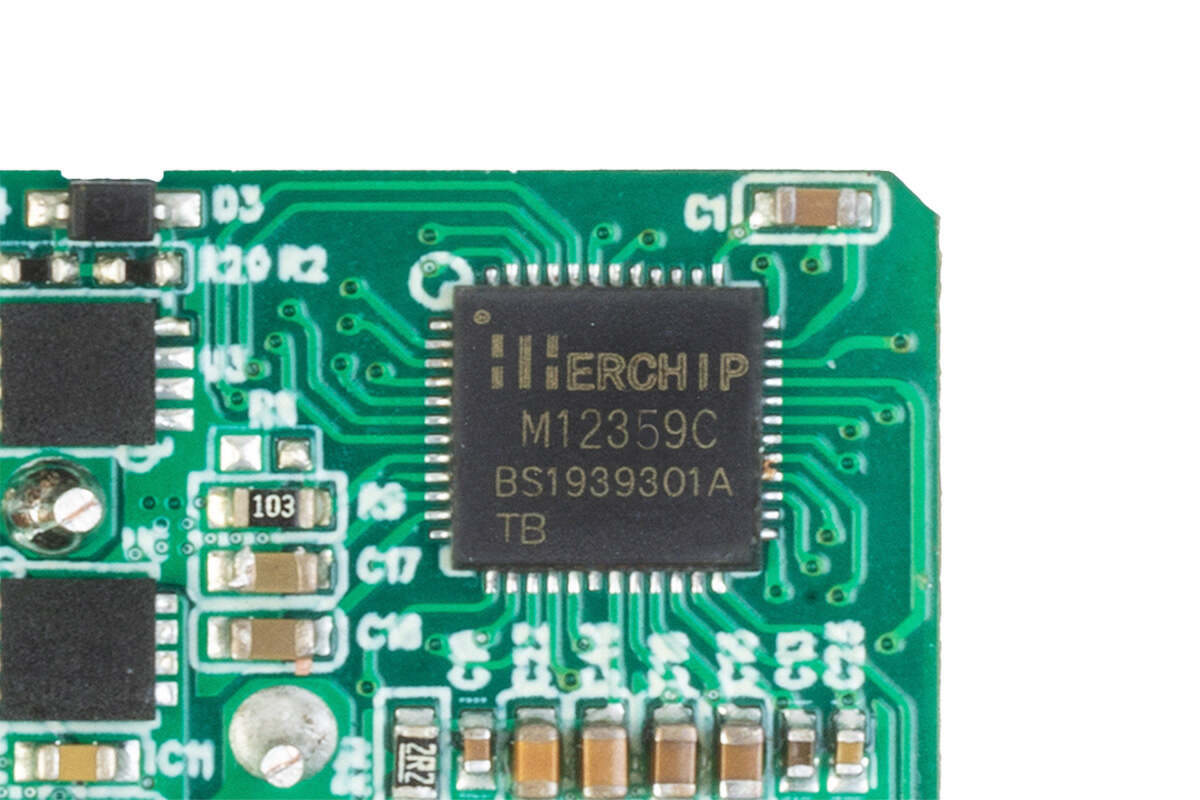 Moreover, this chip breaks multiple industry technological barriers, offering a world-leading integrated solution for simultaneous 140W fast charging of MacBook and iPhone. Its intelligent functions and high performance redefine the industry standards.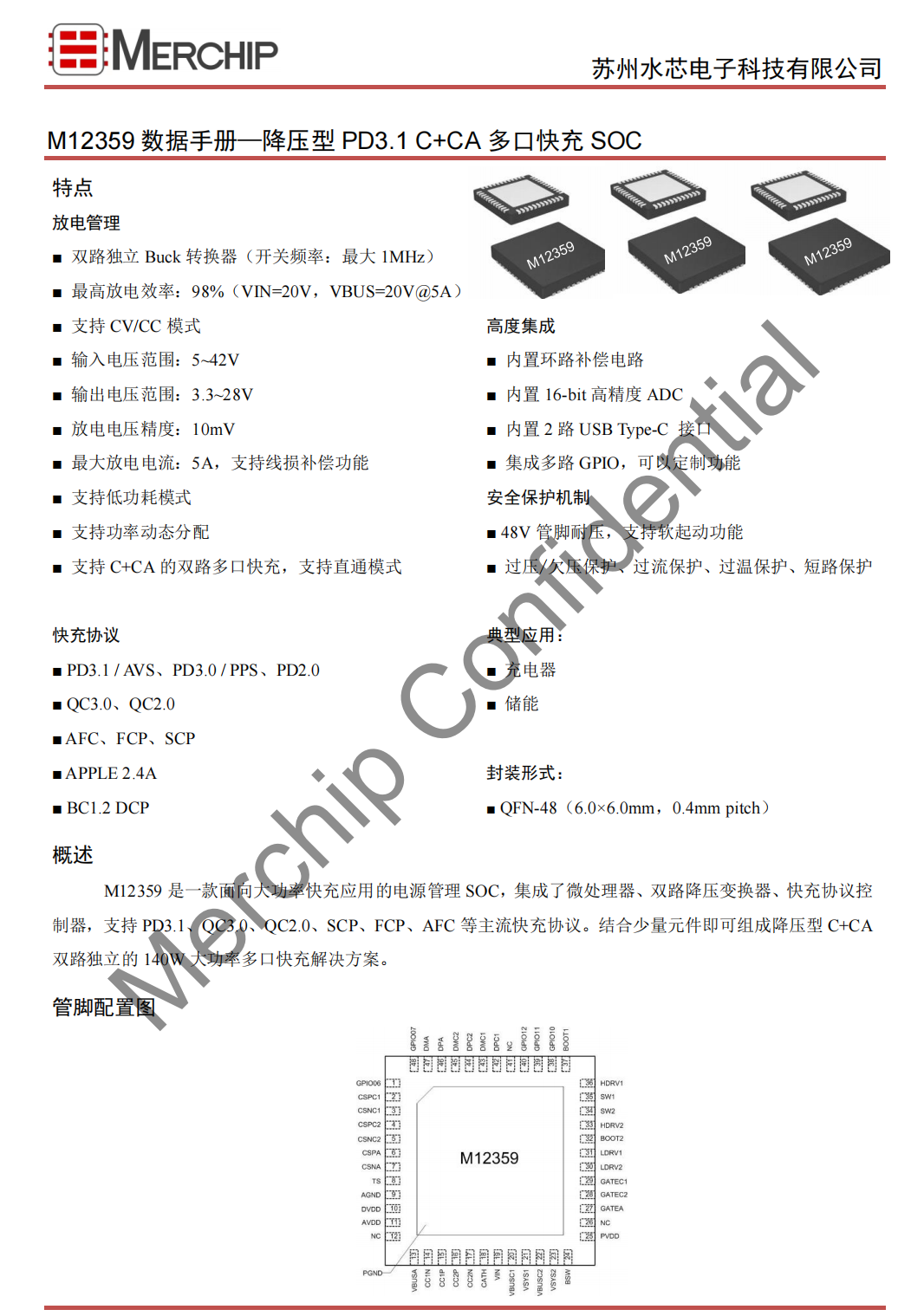 The M12359 is a three-port 140W PD3.1 independent buck SOC, supporting IIC interface and providing an SDK tool package and development environment, allowing for customer secondary development.
Southchip
SC9712
The SC9712 is a highly integrated dual-port fast charging SOC that supports multiple fast charging protocols. It incorporates a 36V high-efficiency synchronous buck controller and comes with one set of USB-C ports and two sets of DPDM fast charging protocol ports, allowing for the maximum reduction of external components. It enables dual-chip collaboration to achieve fast charging for dual USB-C ports, and the 2C1A configuration does not require an MCU.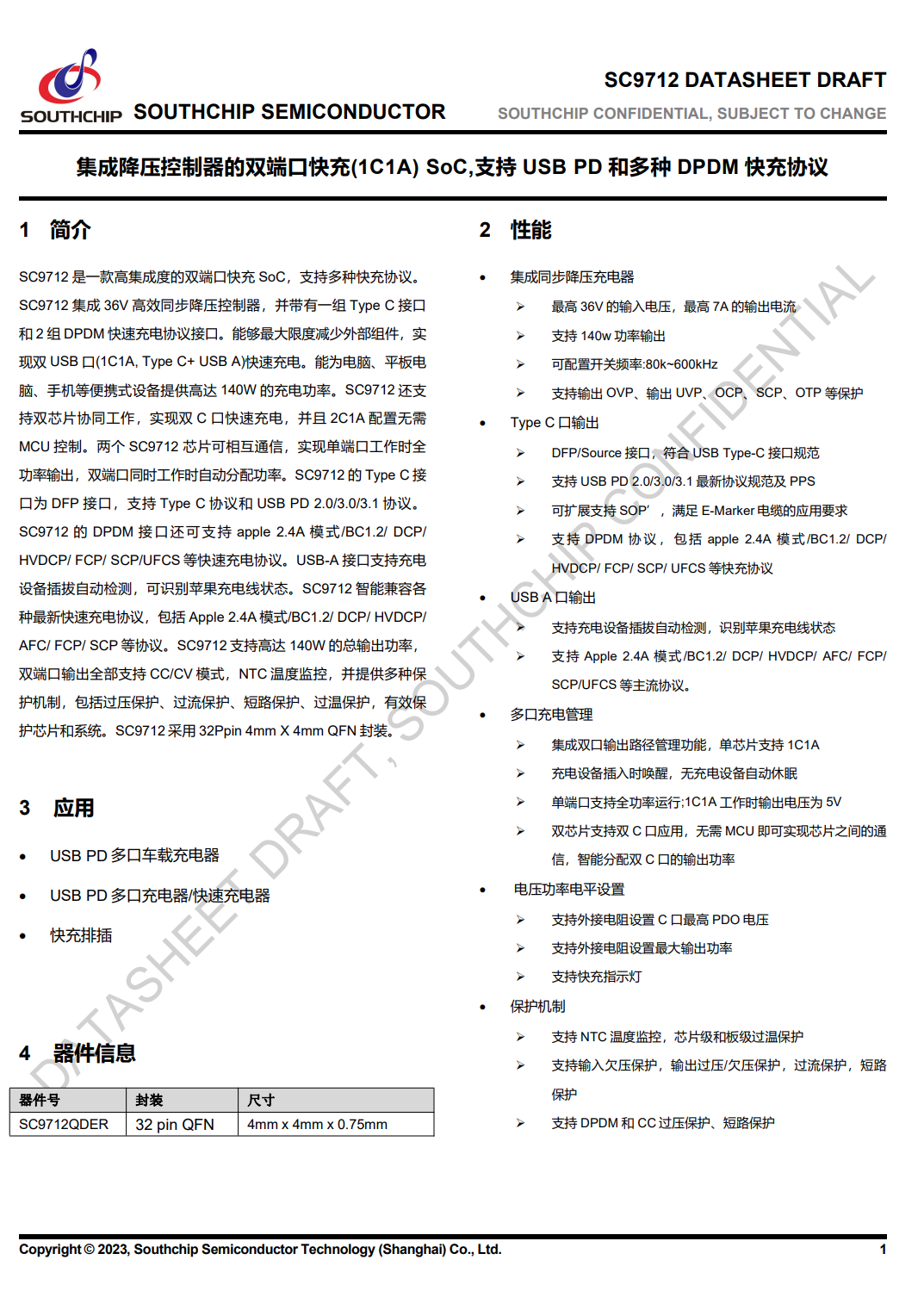 With a maximum total output power of 140W, both ports support CC/CV mode, NTC temperature monitoring, and multiple protection mechanisms. It adopts 32-pin 4 x 4mm QFN package.
Unicmicro
UM3506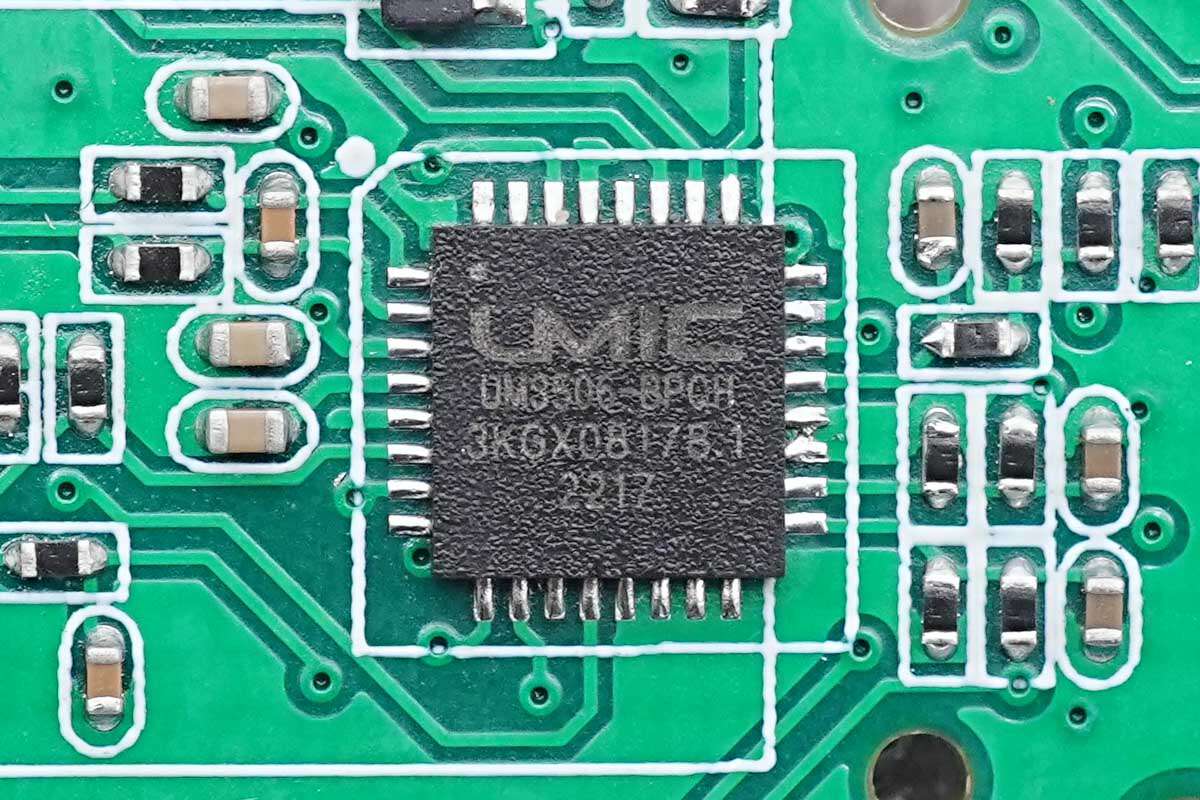 The Unicmicro UM3506-BPQH is a fast charging controller that supports PD3.1 and boasts full SRC/SNK/DRP support capability. It supports SPR, EPR (PD3.1) mode, and PD message chunk mode. The chip comes with a high-voltage LDO and supports 3.3-24V power supply.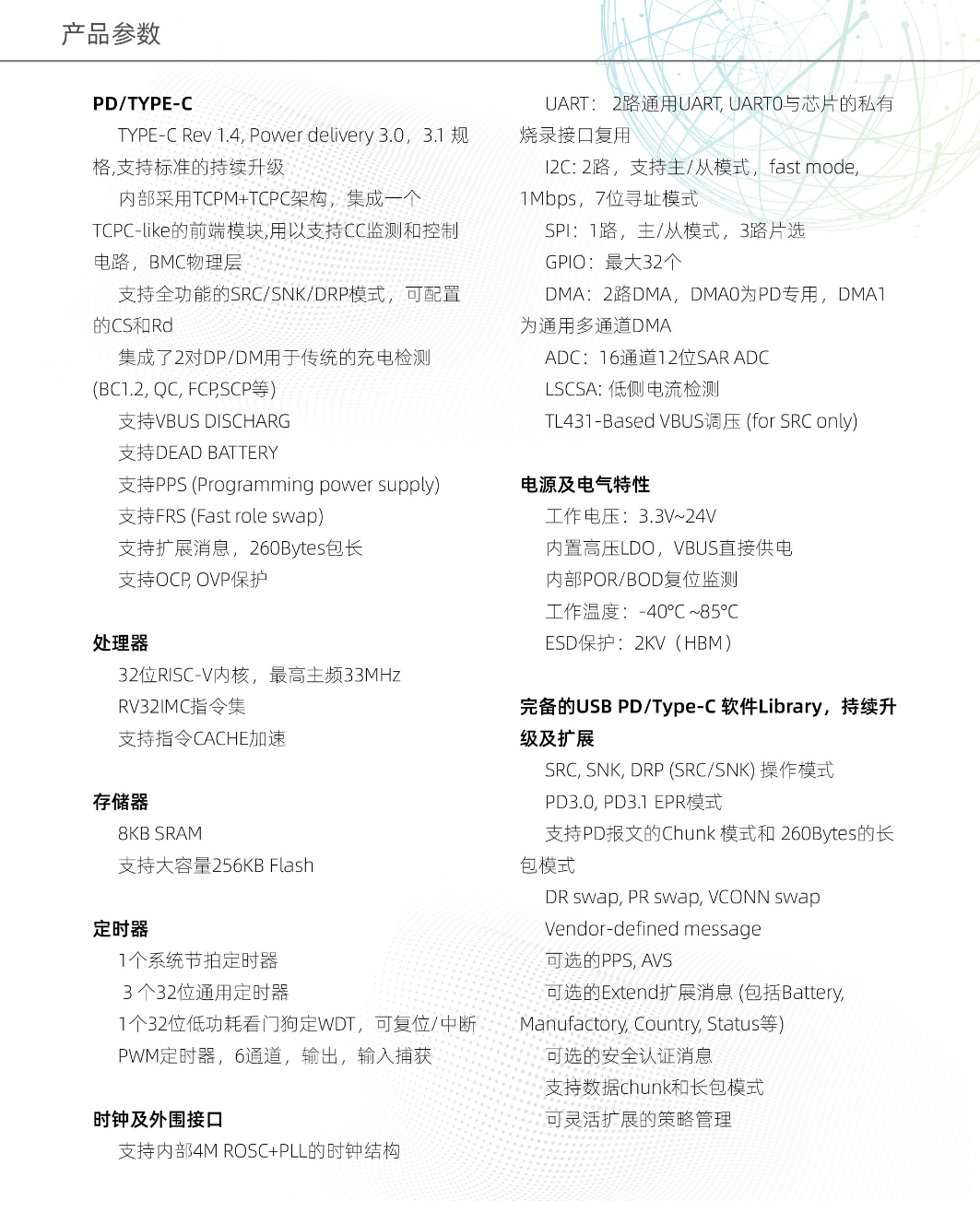 Featuring 2 pairs of DP DM pins, it supports BC, QC, and other protocols, allowing for flexible expansion. The chip is equipped with a high-performance 32-bit RISC-V core, with a maximum clock frequency of 33MHz, 8KB SRAM, and 256KB FLASH. It also has 2 UART and 2 I2C interfaces, along with one SPI interface, and supports low-side current detection. The chip adopts QFN32 package.
Weltrend
WT6676F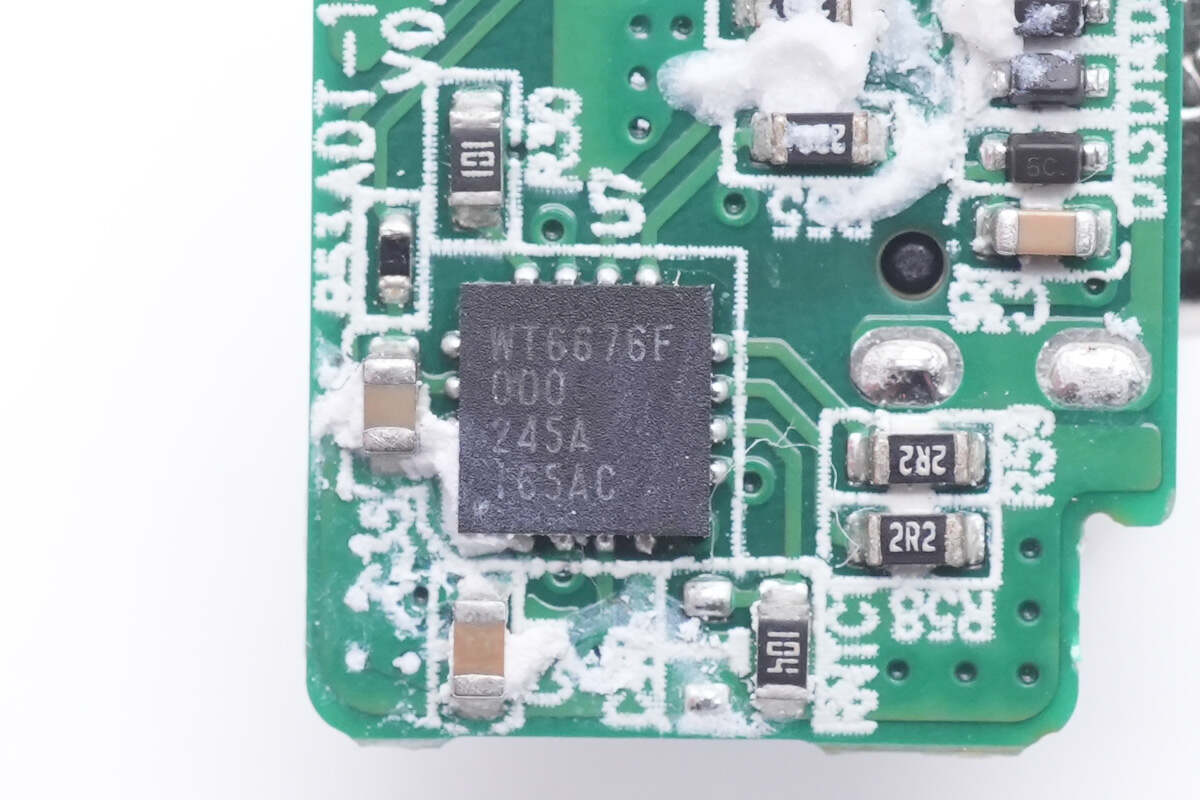 The Weltrend WT6676F is a protocol chip that supports USB PD3.1 and features a 36V output voltage. It supports programmable constant voltage and constant current control, and integrates a low-side current sampling amplifier, supporting line loss compensation. The chip also provides programmable protection functions, including overvoltage, undervoltage, overcurrent, and overheat protection.
Internally, the chip has a 10-bit ADC for voltage and current detection, an 8-bit MCU, an NMOS load switch driver, and a built-in power supply voltage regulator. It supports PFC control and energy-saving mode, with an input voltage of up to 45V. The chip adopts QFN-16 package.
E-marker Chips
It's important to note that as of the end of December, the USB-IF association has terminated the certification process for standard 100W cables. Henceforth, all USB-C to USB-C cables will require 240W certification. This not only imposes higher demands on cable materials but also necessitates the inclusion of the latest standard E-marker chip.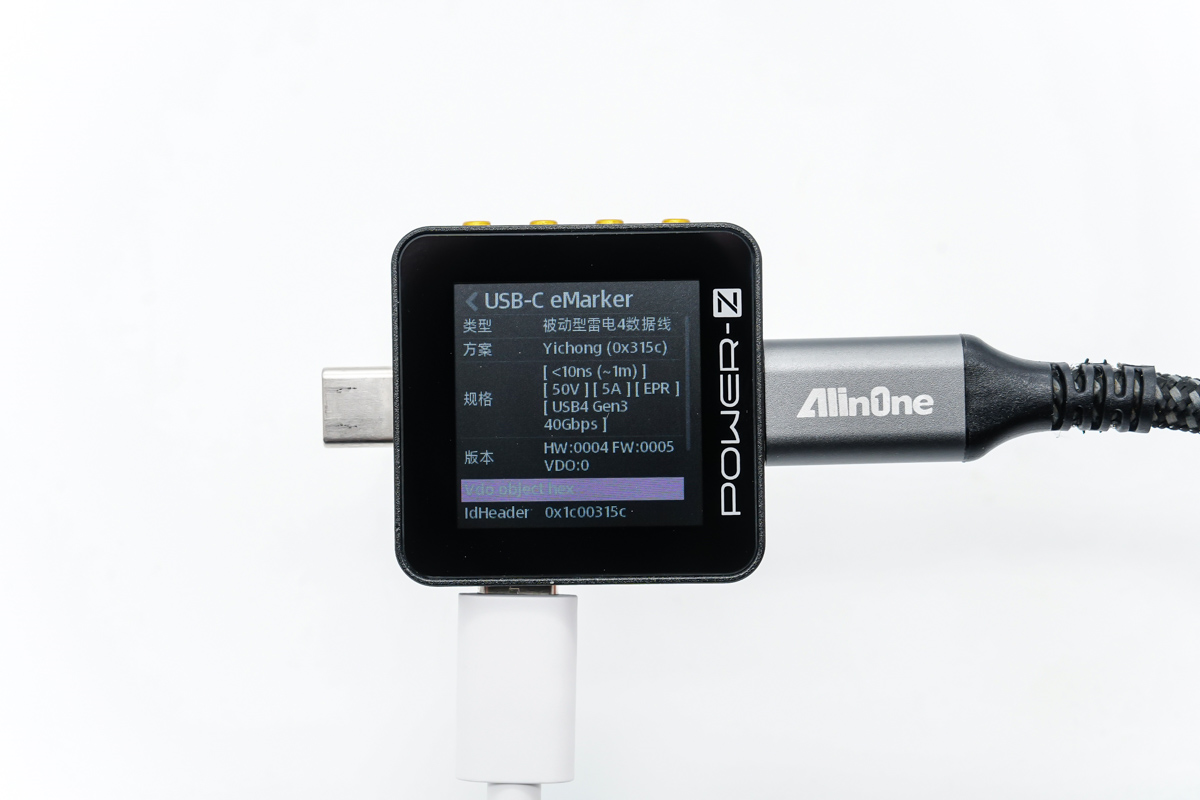 ChargerLAB POWER-Z KM002C has shown that the new EPR cables can support power transmission of up to 50V 5A, which is 250W while maintaining the 40Gbps data transfer standard.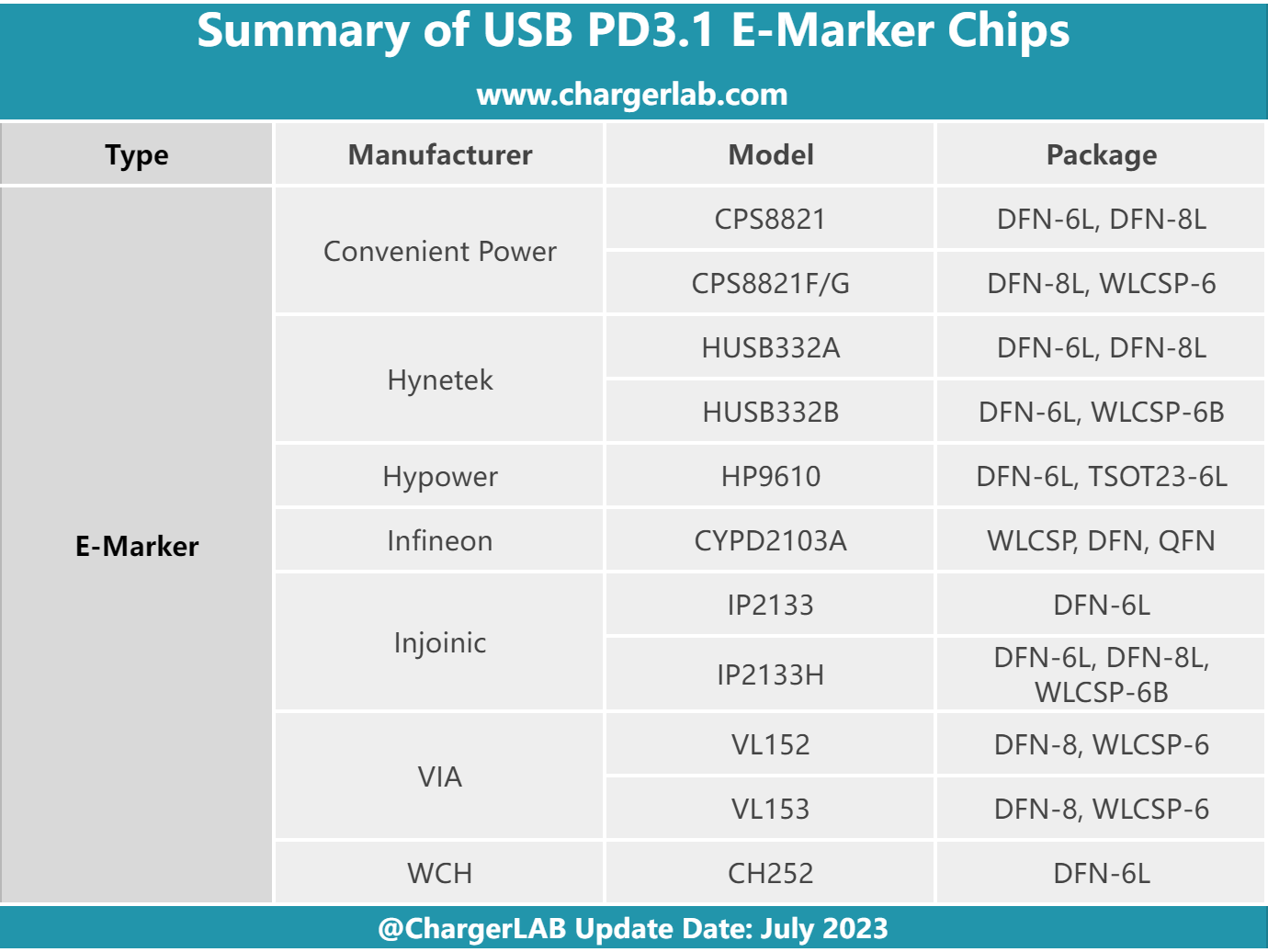 The updated cable specifications have spurred an upgrade in E-marker chips. It is worth noting that various manufacturers, including Convenient Power, Hynetek, Hypower, Infineon, Injoinic, VIA, and WCH, have already introduced E-marker chips that comply with the USB PD3.1 fast charging standard. And today, ChargerLAB will categorize these E-marker chips by brand and provide a detailed introduction to their characteristics.
Convenient Power
CPS8821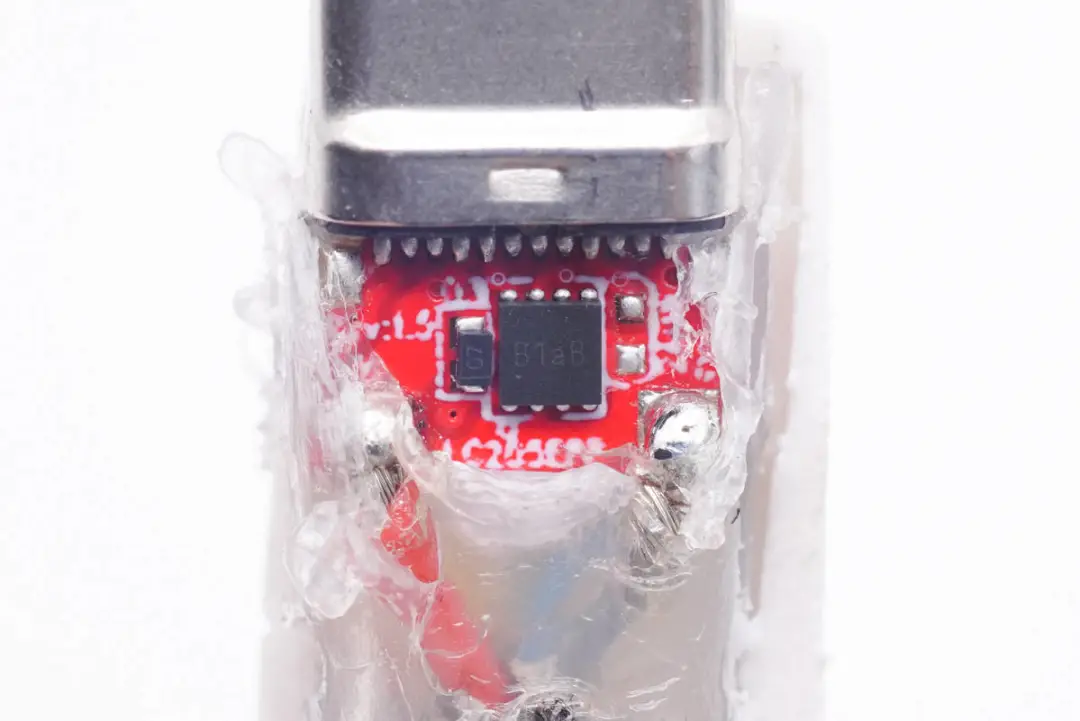 The first E-marker chip is the CPS8821B from Convenient Power, which can handle up to 240W and is compatible with USB4, Thunderbolt 4, Thunderbolt 3, USB3.2 Gen1/Gen2, USB3.1, and USB2.0 data transfer. It is currently in mass production and available for shipment.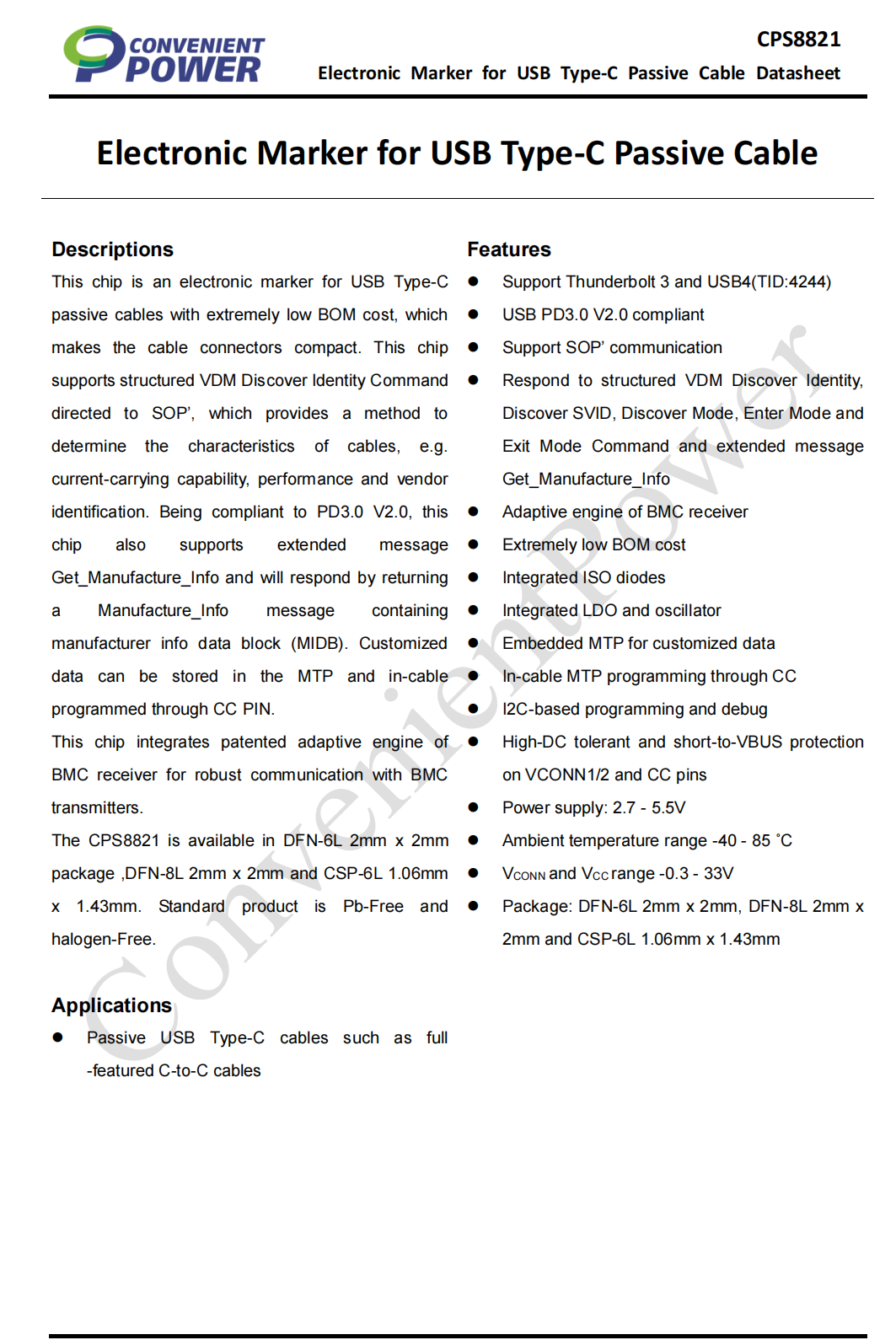 The CPS8821 series supports all the features of USB4, including Discover Identity, Discover SVID, Discover Modes, Enter Modes, and Exit Modes commands.
Moreover, it also supports CC wire programming, providing I²C-based programming and debugging capabilities, which facilitates manufacturers in their development process.
CPS8821F/G
CPS8821F/G is another newly launched E-marker chip from Convenient Power, and its fundamental features are similar to CPS8821, including compatibility with various protocols and support for the same set of commands.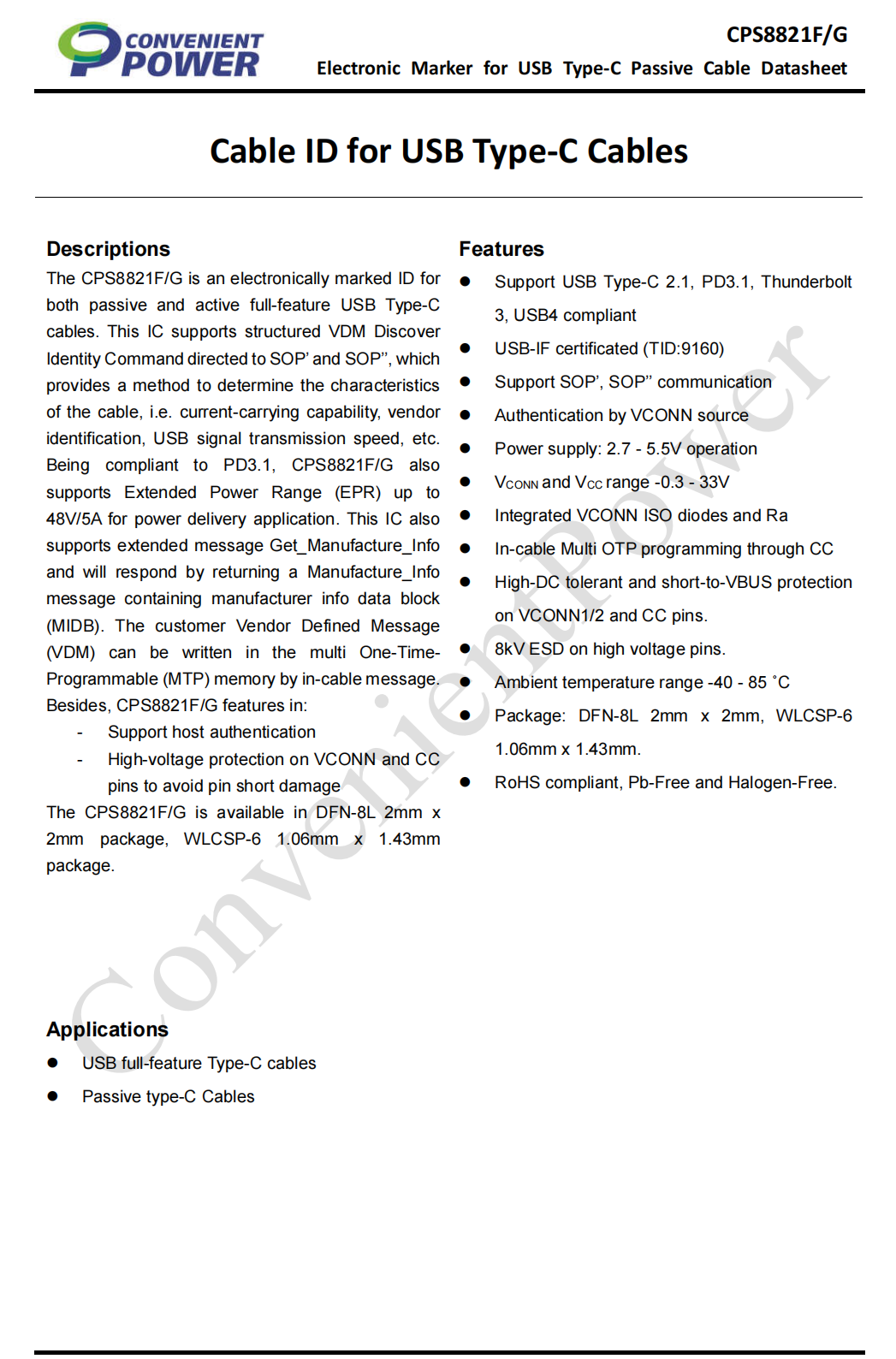 It also features host authentication and high-voltage protection on VCONN and CC pins to avoid pin short damage.
Hynetek
HUSB332A
Continuing with Hynetek, HUSB332A is an E-marker chip introduced by them. It provides backward compatibility with USB 2.0, PD 3.0, USB4, and Thunderbolt 3 specifications, while also supporting the advanced USB PD3.1 EPR. Notably, it has received certification from the USB-IF association, with the TID number being 4324.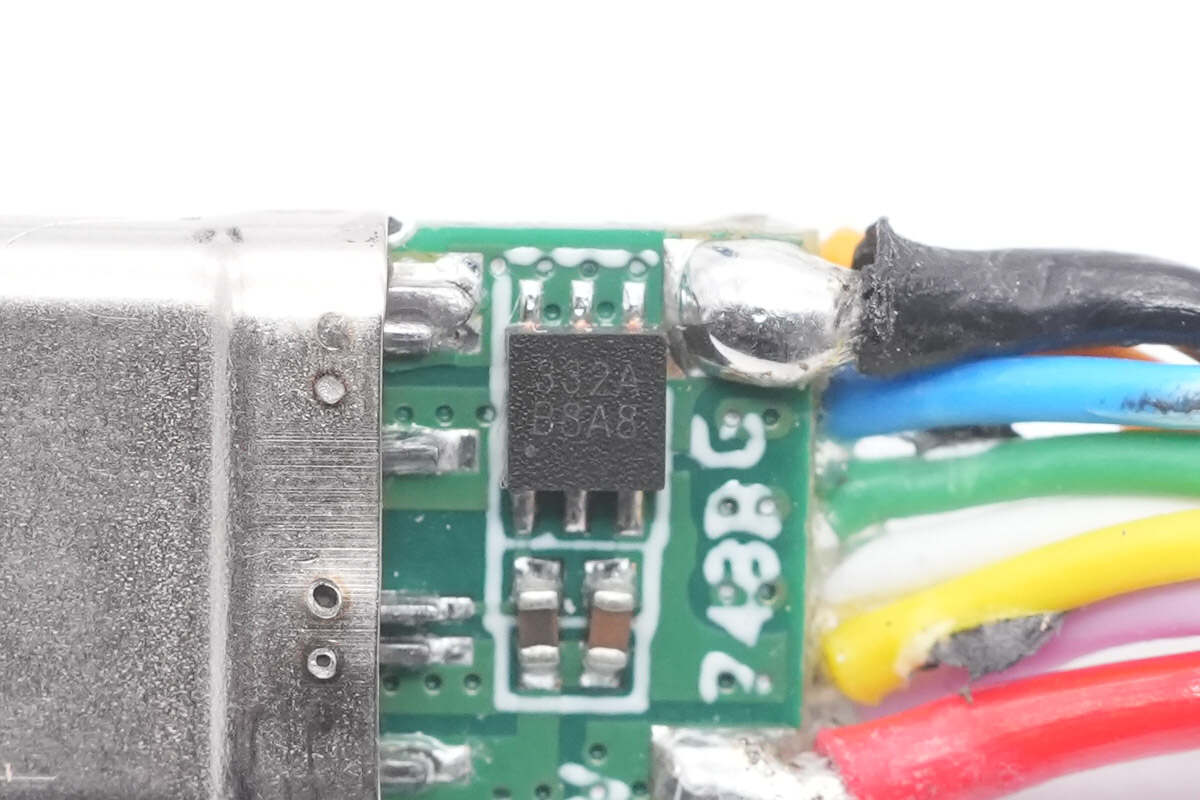 It integrates the Ra resistor and VCONN diode internally, allowing for zero peripheral design. Its built-in One-Time Programmable (OTP) memory unit supports multiple reprogramming cycles.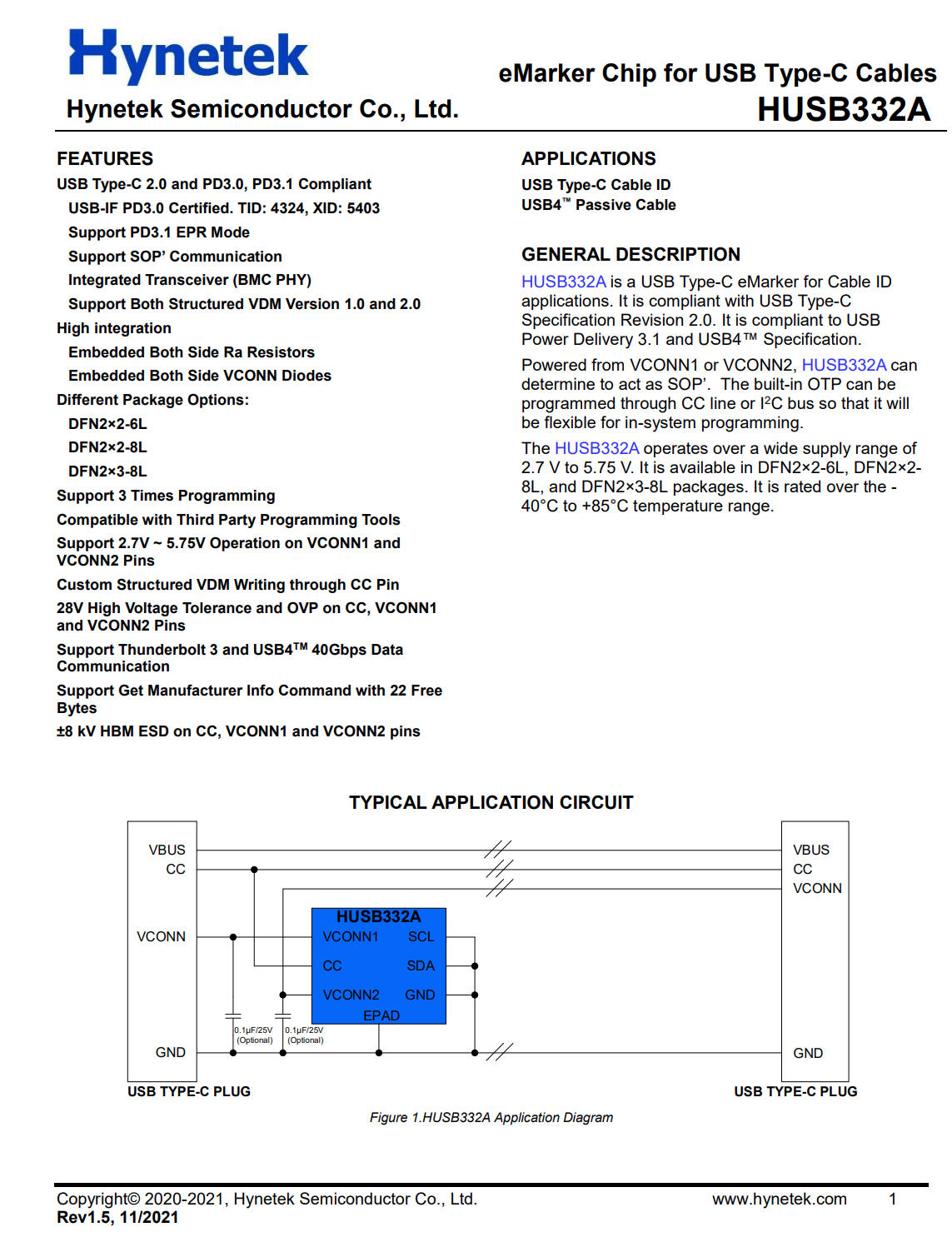 It can support 28V high voltage tolerance on CC, VCONN1 and VCONN2 Pins, and is suitable for PD and USB4 passive cables.
HUSB332B
Next up is Hynetek HUSB332B, which is quite remarkable as it is the industry's first chip to pass the USB PD3.1 E-marker Silicon Certification, with a TID number of 6773.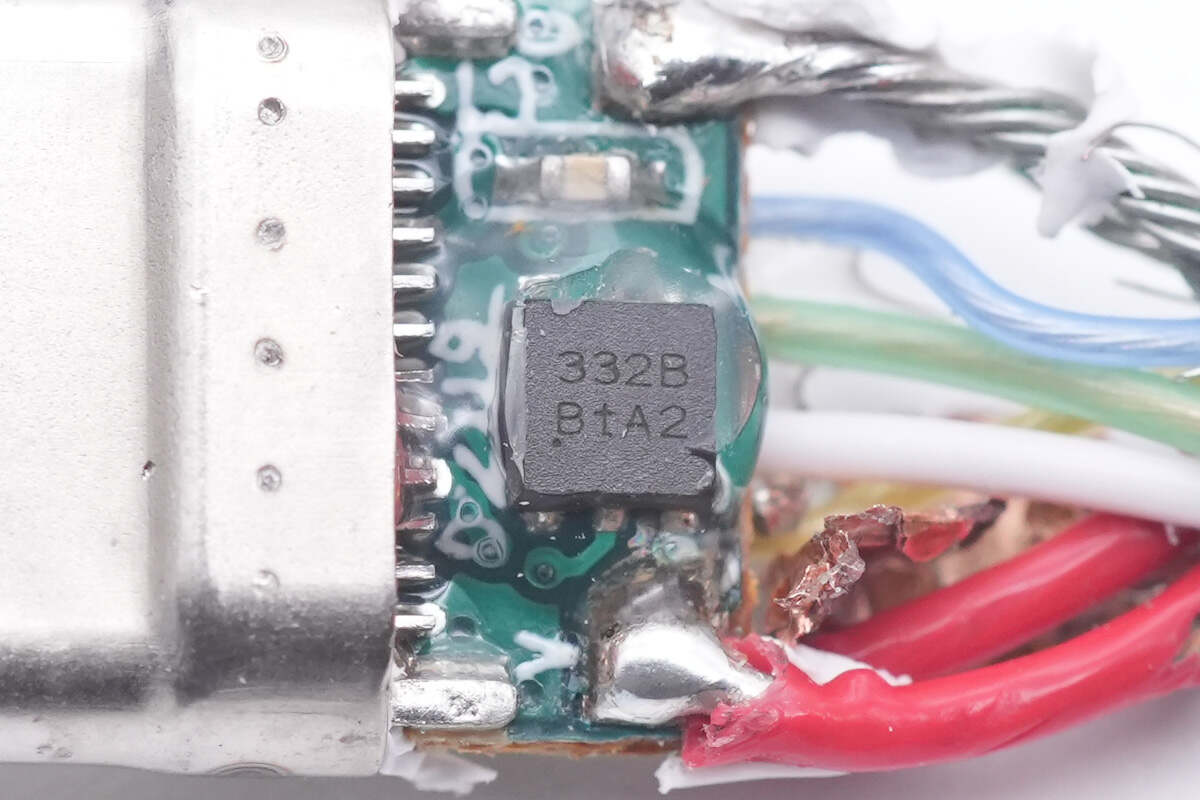 It can support power transmission of up to 240W and data transfer speeds of up to 40Gbps.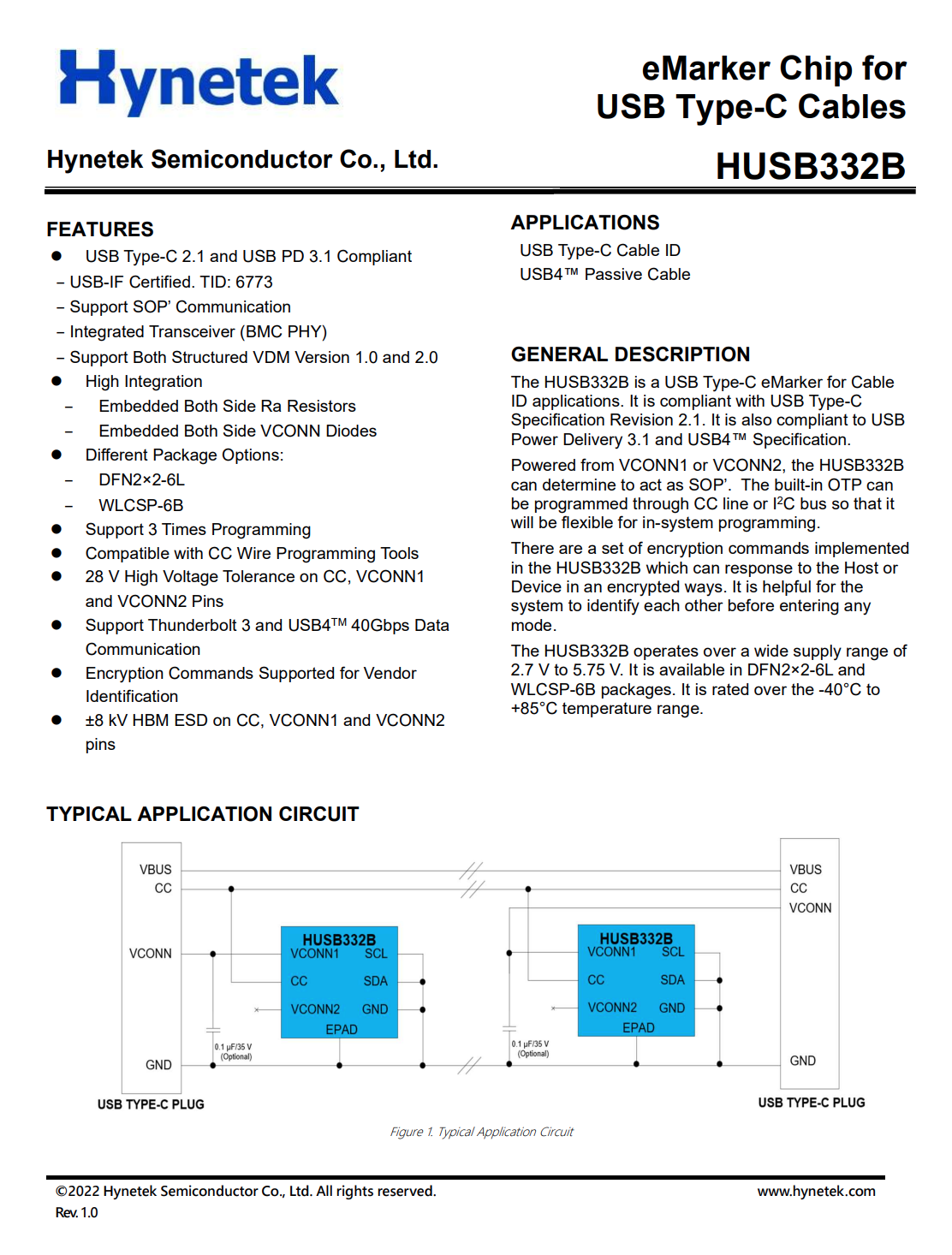 Furthermore, it comes with built-in encryption functionality, which allows devices to identify the cable, making it convenient for manufacturers to customize their products.
HUSB332C
The Hynetek HUSB332C has received certification from USB-IF, identified by the TID: 8655. This chip supports up to four times programming and allows programming via CC wires using tools.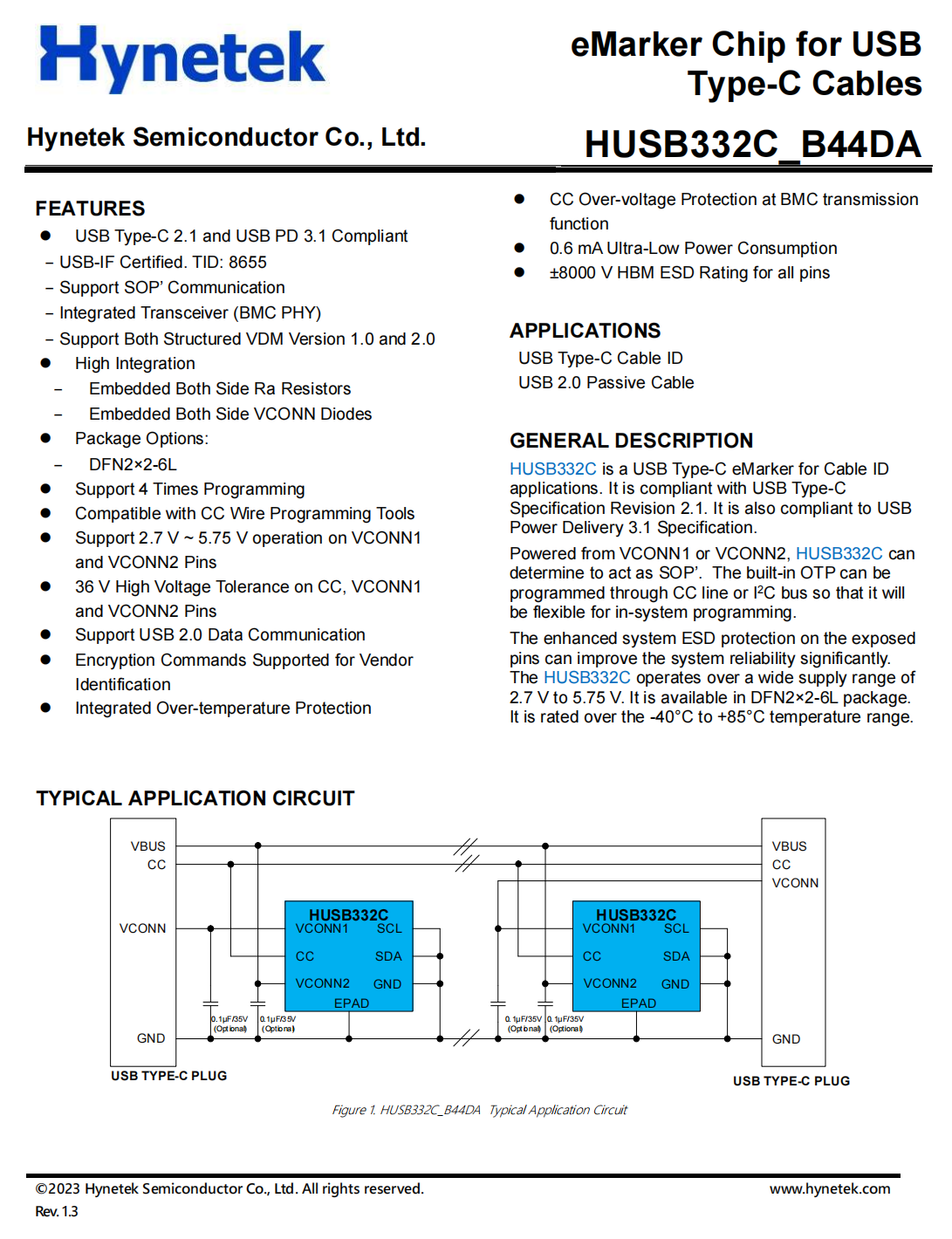 In comparison to its predecessors, the HUSB332C integrates a thermal protection feature. It can automatically cut off power to provide protection in cases of elevated connector temperatures, eliminating the need for additional overheating protection measures. This enhanced reliability makes the chip suitable for Thunderbolt 3 and Thunderbolt 4 cable applications.
HUSB332D
Likewise, the Hynetek HUSB332D has successfully achieved USB-IF certification, marked by TID: 9125. This chip supports up to three times programming and is compatible with third-party programming tools.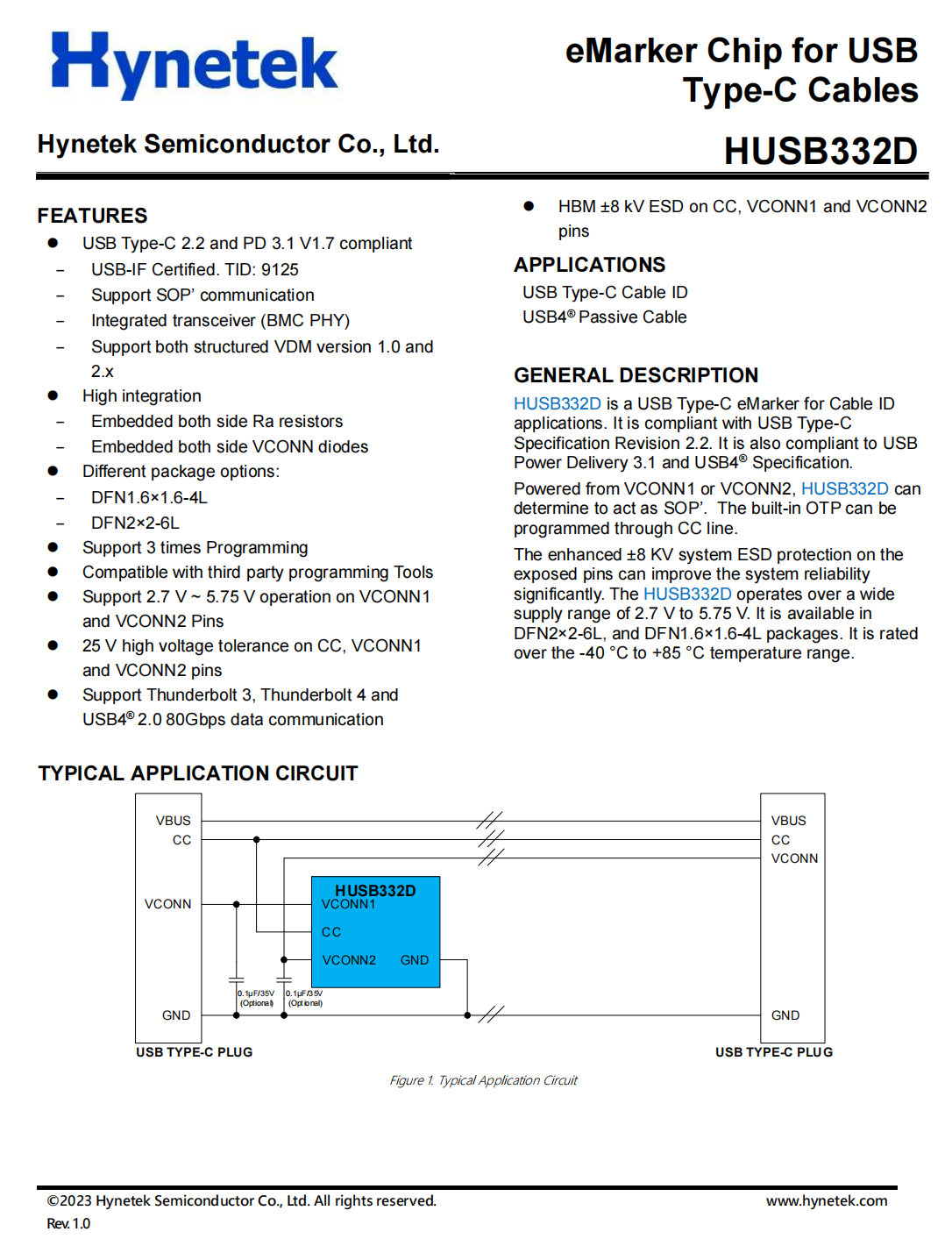 The HUSB332D boasts extensive compatibility, supporting Thunderbolt 3, Thunderbolt 4, and USB4 80Gbps data communication. Its CC, VCONN1, and VCONN2 pins are capable of withstanding 25V, ensuring robust performance. The chip is available in two package options: DFN1.6x1.6-4 and DFN2x2-6. It effectively caters to USB-C and passive Lightning 4 cable applications.
Hypower
HP9610
Hypower's HP9610 E-Marker chip, like the others mentioned, has also obtained certification from the USB-IF association, with the TID number being 8815.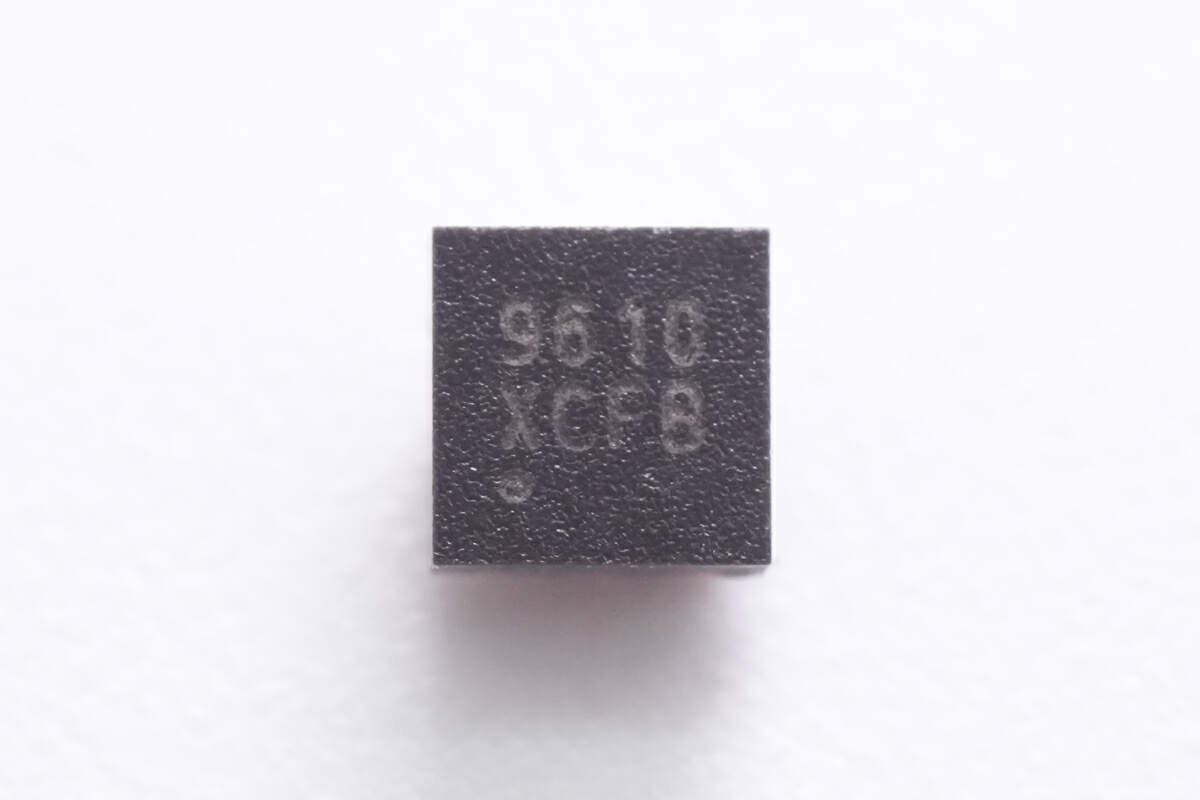 It is a chip that complies with PD3.1 and USB-C R2.1 specifications, fully meeting the E-mark standard for passive cables that meet protocol requirements. With support for dual port VCONN and Ra, a single chip can fulfill the requirements of dual USB-C cables. This provides an incredibly straightforward and cost-effective solution, reducing the Bill of Materials (BOM) for passive cables.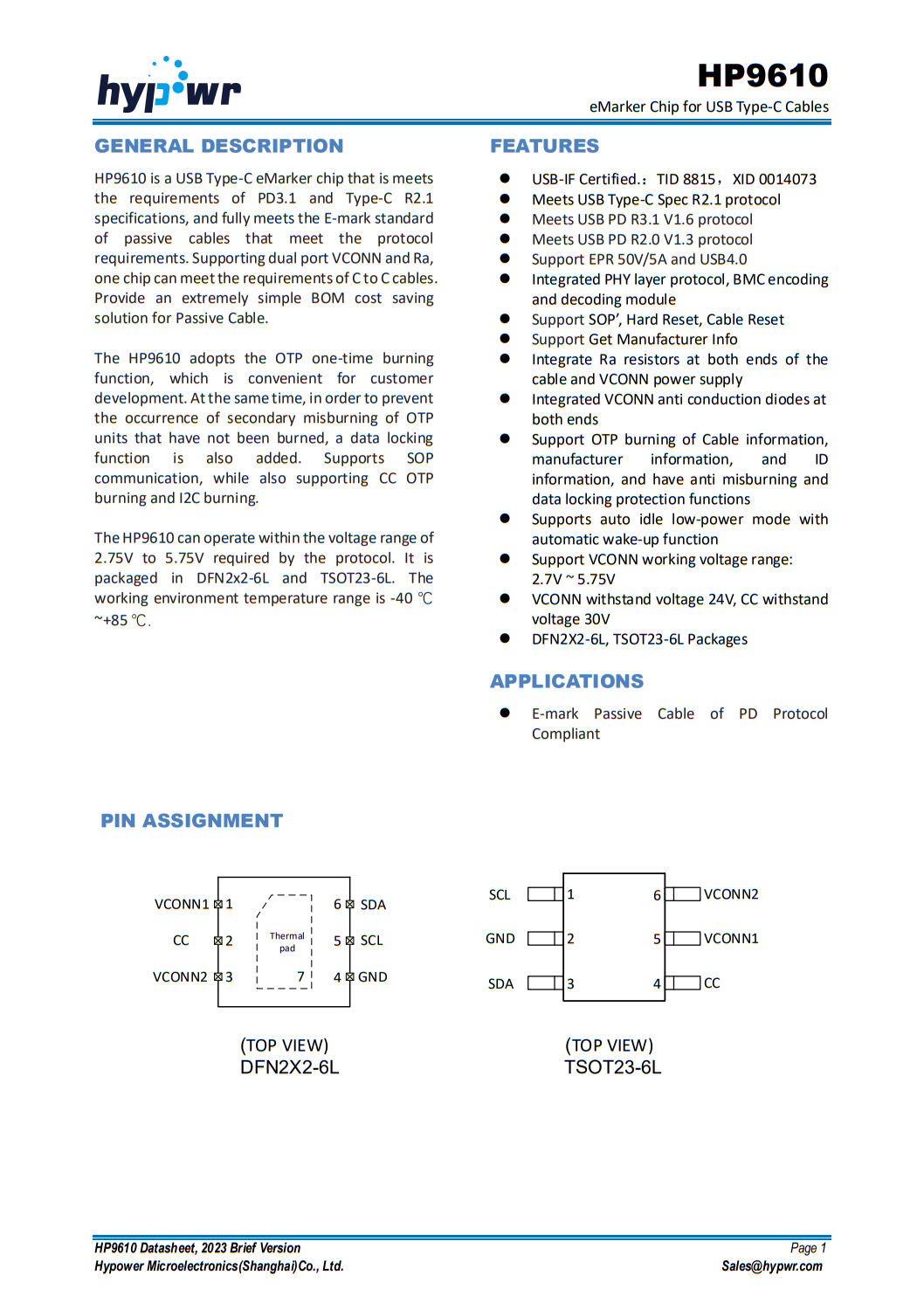 In addition, it supports EPR 50V/5A power delivery and USB4.0. The chip also integrates a VCONN diode and includes a data locking feature.
Infineon
CYPD2103A
Next up is one of our old friends, Infineon, with the model CYPD2103A. This E-Marker chip features a built-in 48MHz Cortex-M0 CPU, 32KB of flash memory, and 4KB of SRAM, supporting repeat programming.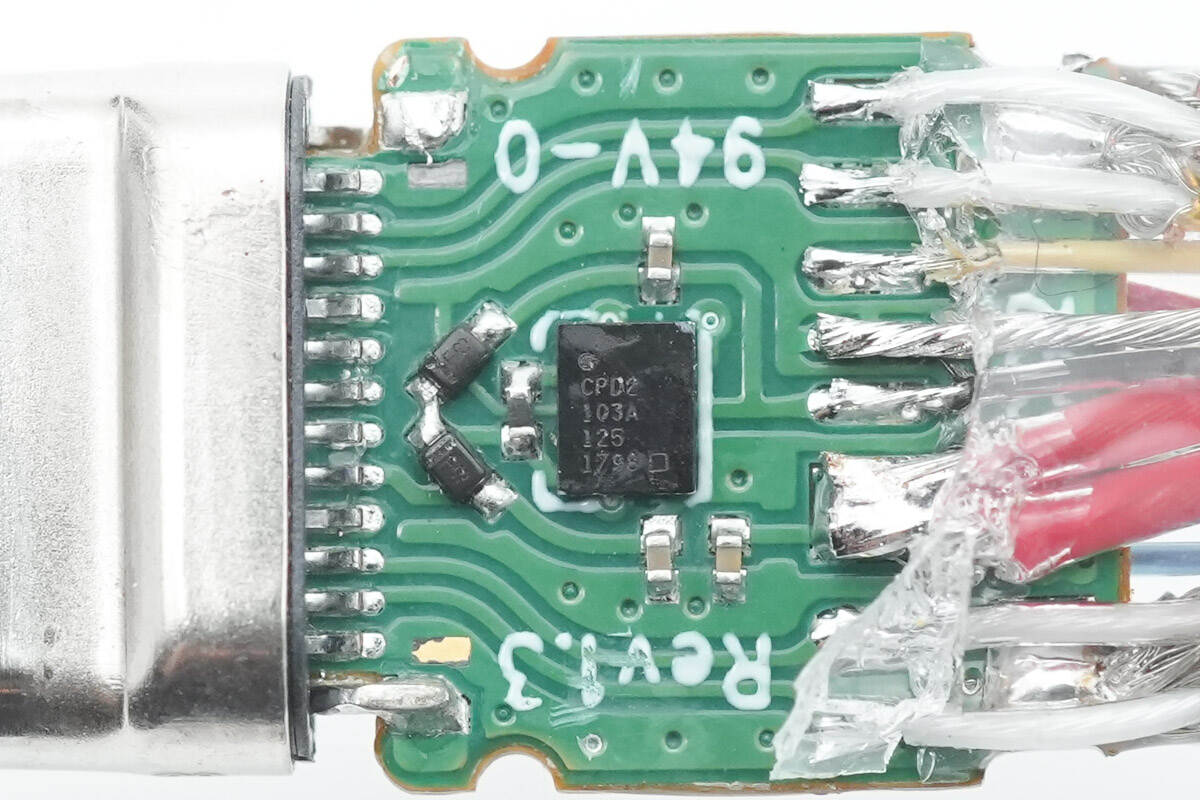 In terms of structure, it integrates timers, counters, oscillators, Type-C baseband physical layer, and UFP (Upstream Facing Port) and EMCA (Electronically Marked Cable Assembly) terminal resistors.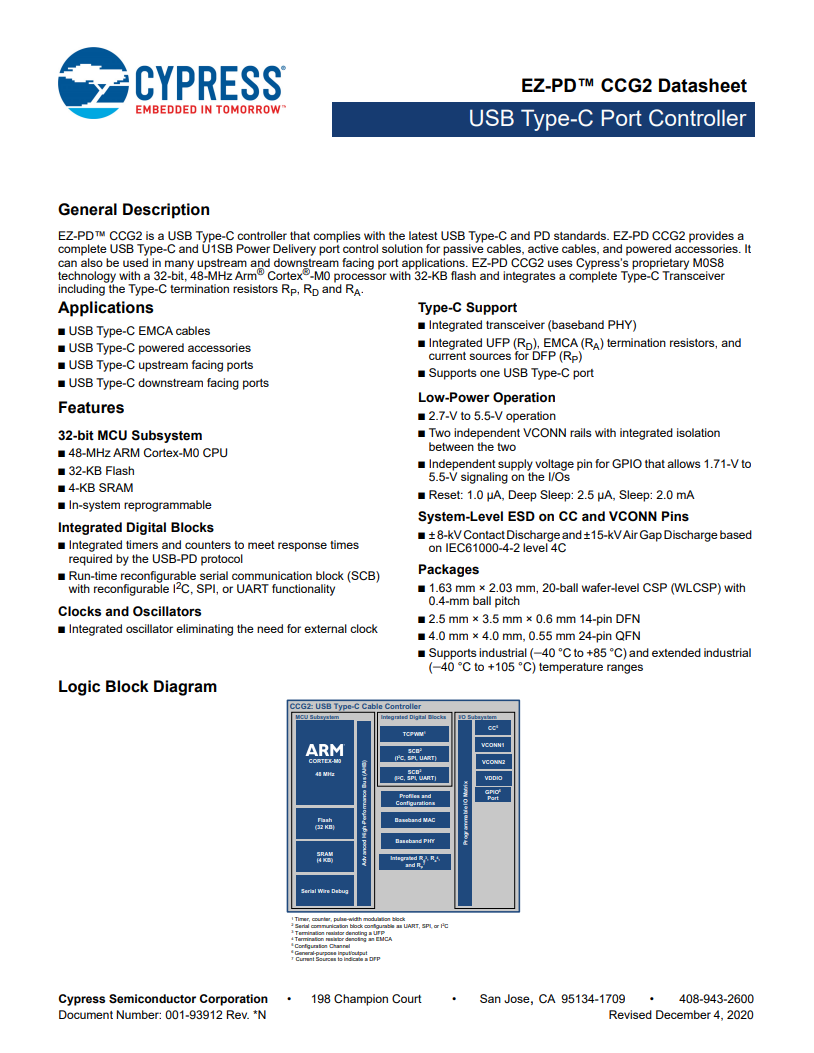 Furthermore, it utilizes Cypress's specialized M0S8 technology and offers three different packaging options to meet various application requirements.
Injoinic
IP2133
The Injoinic IP2133 supports USB PD3.1 EPR applications, SOP' communication, and EPR mode. Additionally, it integrates hardware-level BMC (Biphase Mark Code) protocol and physical layer protocol.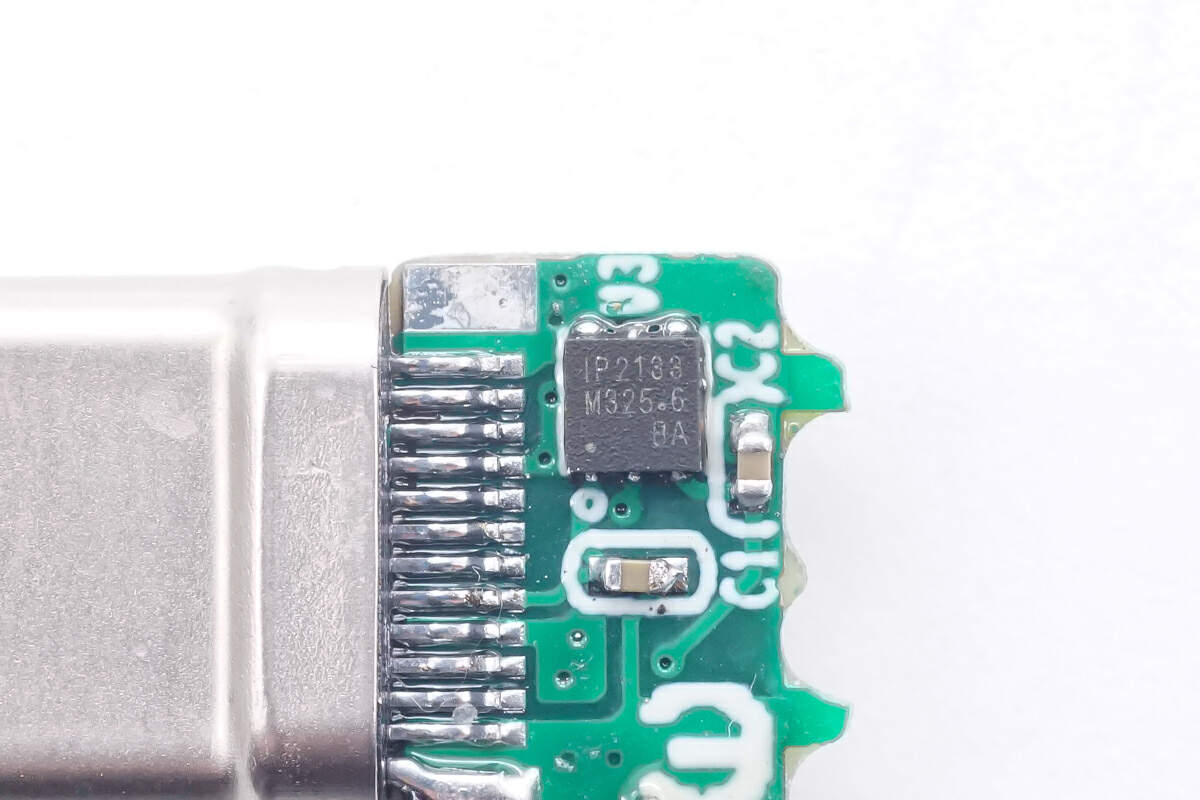 It also incorporates VCONN diode and Ra resistor, resulting in a simplified BOM and an extremely straightforward application circuit. The built-in memory supports write protection, ensuring data security by preventing unauthorized access or modifications.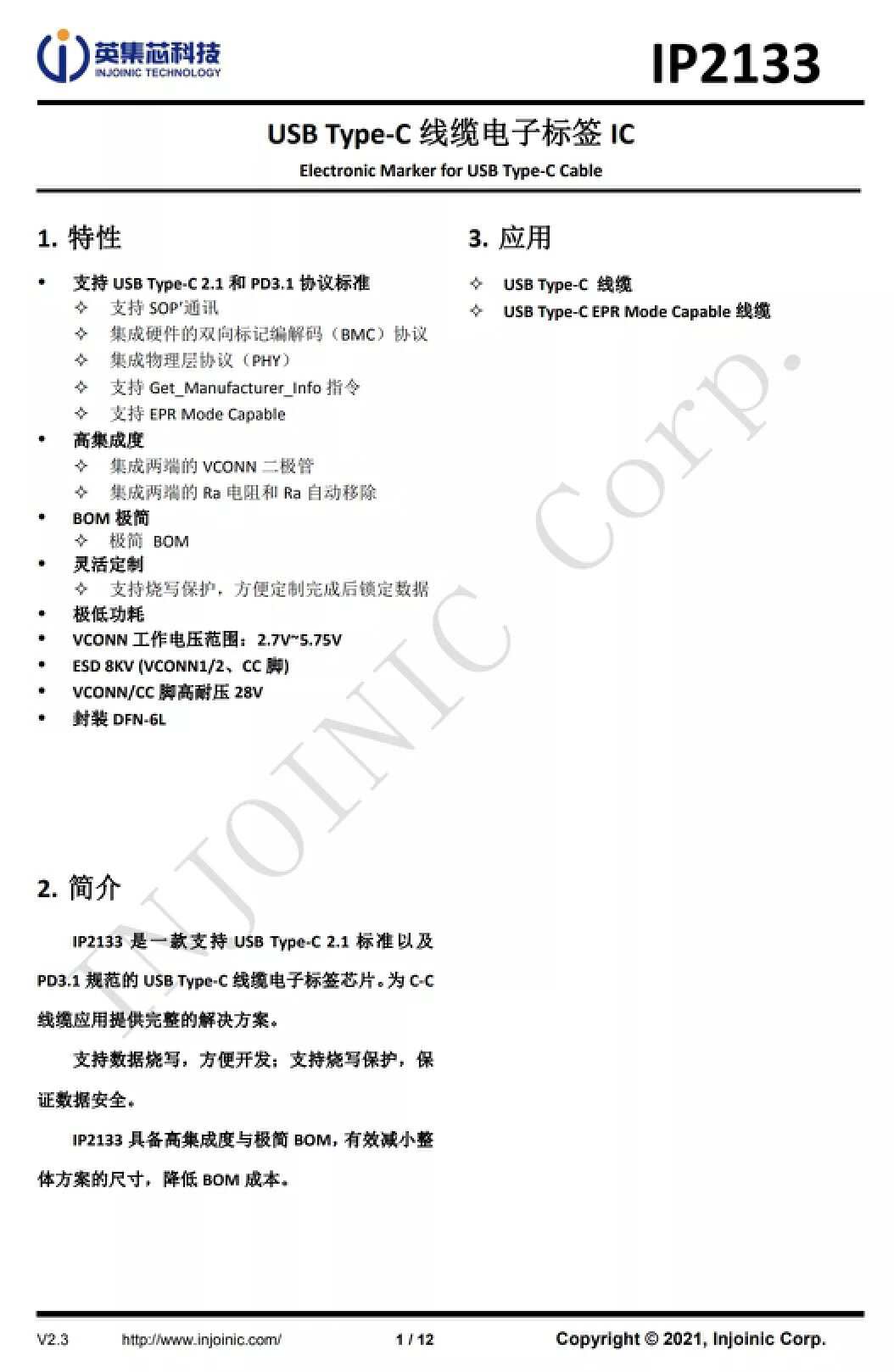 The IP2133 is available in two variants: IP2133, which does not support EPR mode, and IP2133_EPR, which does support EPR mode, catering to different usage requirements.
IP2133H/TH
The IP2133H/TH is the flagship E-Marker chip in the IP2133 series and the first product to be certified under the PD3.1 V1.7 standard. It comes in two packaging options: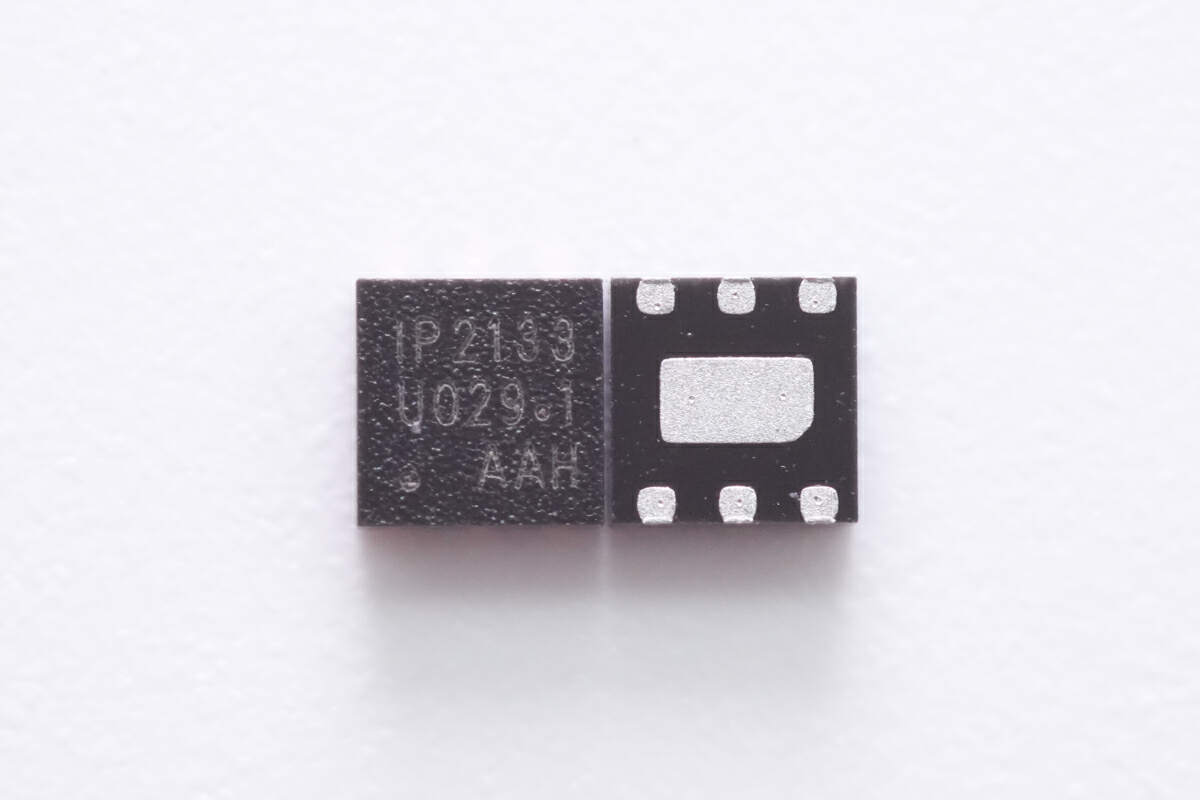 IP2133H in DFN2 x 2-6L package.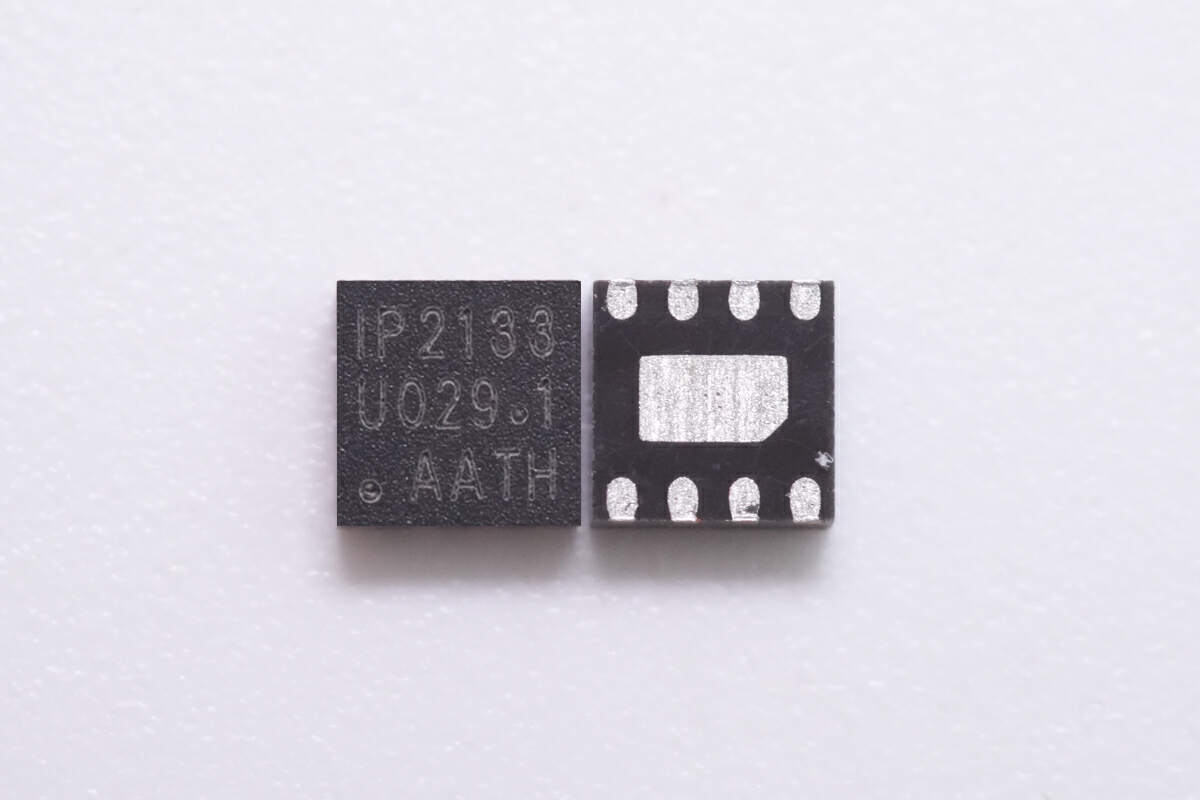 IP2133TH in DFN2 x 2-8L package, featuring additional SCL and SDA pins.
This chip supports USB-C 2.2 standard and PD3.1 specifications, integrating hardware-level BMC protocol and PHY. It also supports commands for obtaining manufacturer information and includes a temperature sensor specifically designed for cables.
IP2133H supports EPR 240W power delivery, SOP' and SOP'' commands, USB4 80G, and is suitable for Thunderbolt 4 and Thunderbolt 3 cables. It allows for four reprogramming cycles and features personalized write protection, providing manufacturers with a comprehensive solution.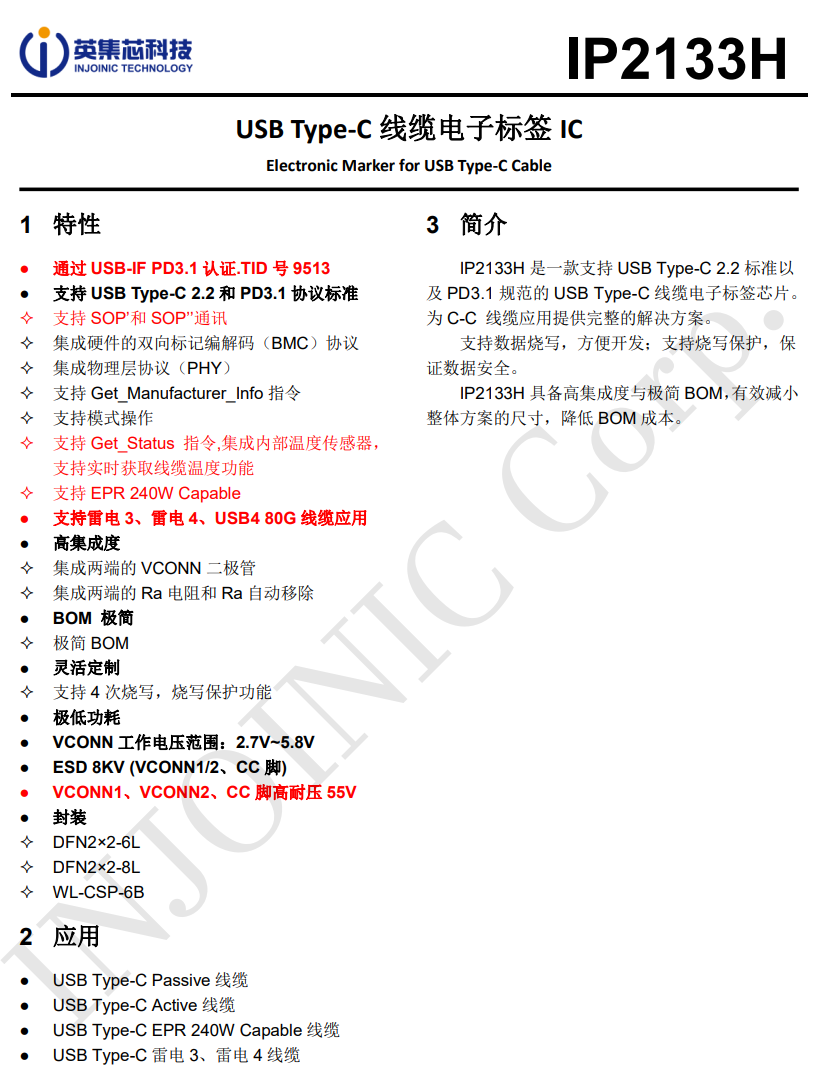 Moreover, Injoinic IP2133H offers a WLCSP-6B package to cater to various cable requirements.
VIA
VL152
This E-Marker chip comes from VIA and bears the model VL152. The chip is compliant with the PD3.0 standard, and its TID number is 1030051.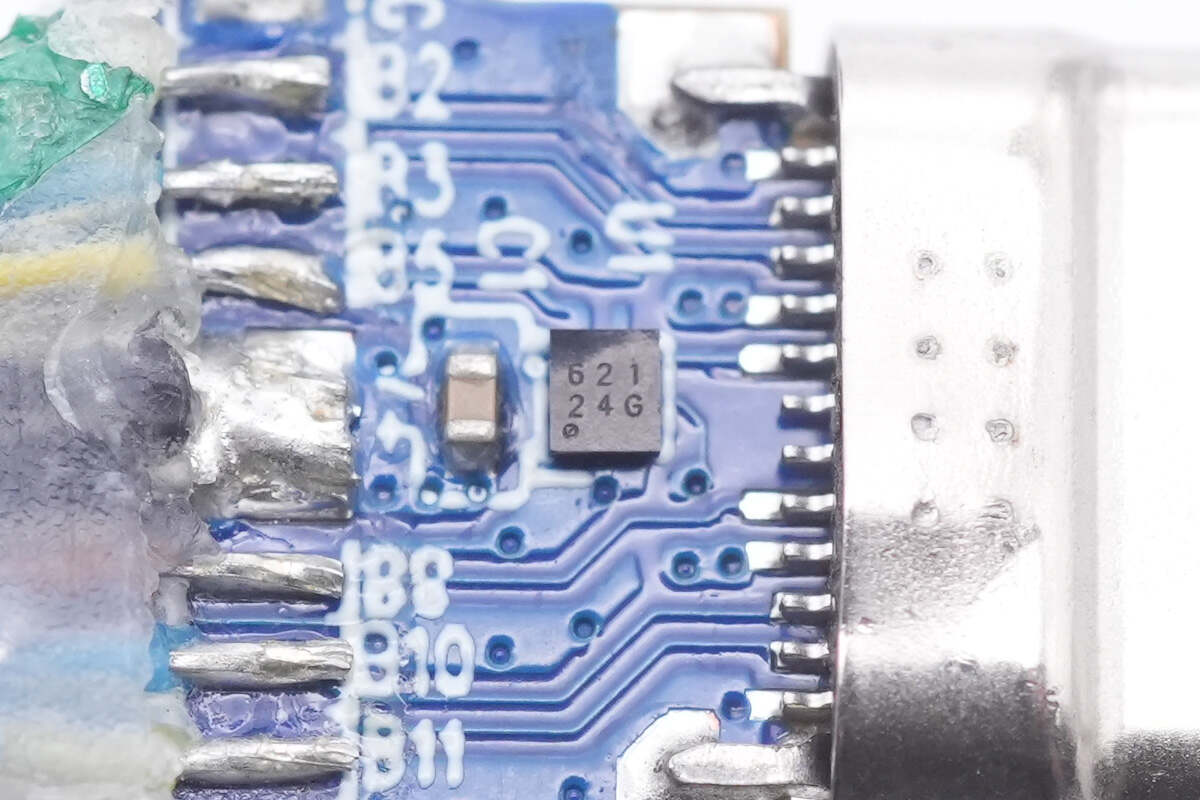 It supports chip programming via the CC wire and can be programmed and debugged through SMBus, while also being compatible with third-party programming tools. The chip integrates a VCONN diode and Ra resistor and is available in DFN2 x 3-8 or WLCSP-6 package.
VL153
VL153 is a brand-new E-Marker chip launched by VIA. It shares the same Pin-to-Pin design as the previous generation VL152, allowing customers to upgrade their products with minimal cost implications. However, it offers DFN-8 and WLCSP packaging options, catering to various application scenarios. VL153 supports multiple programming methods and protective measures, eliminating the need for external components and simplifying the design process while reducing costs.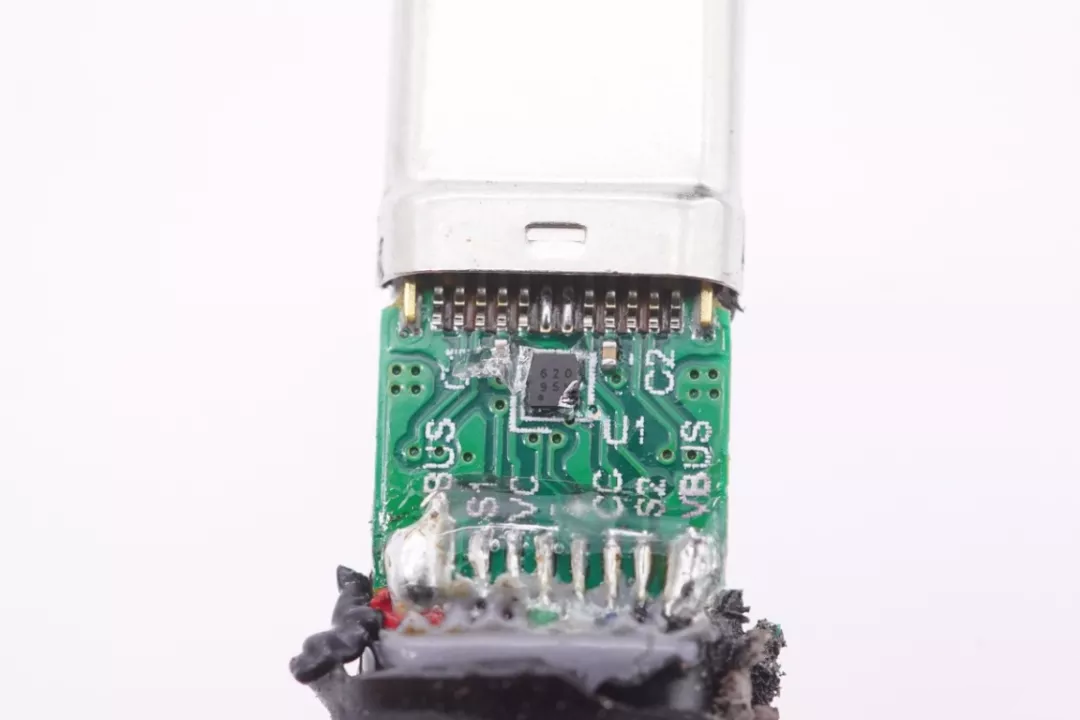 This chip is suitable for USB-C and Thunderbolt 3 passive cables, compliant with both USB PD 3.0 and USB4 specifications.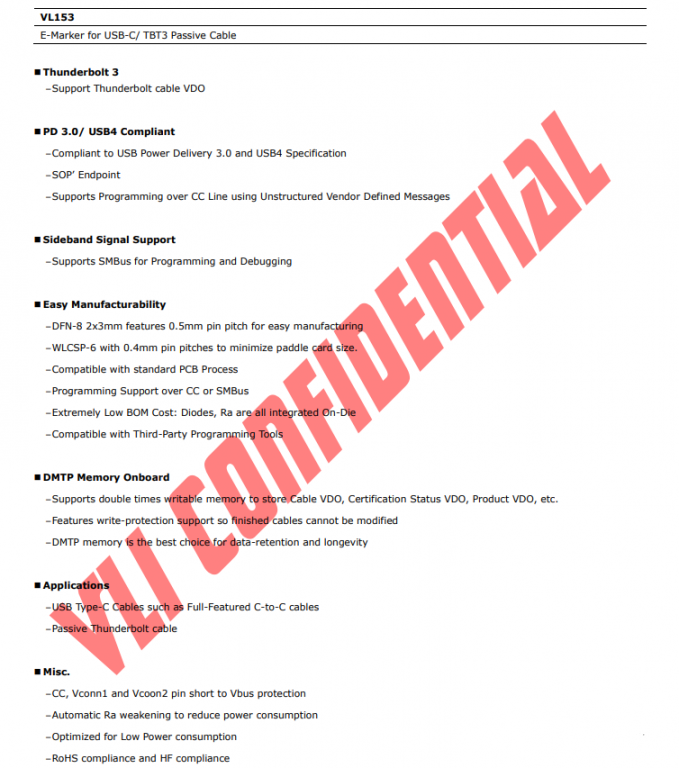 It also supports two write-in information cycles, has write protection capabilities, and boasts the advantage of a long lifespan.
WCH
CH252
The CH252, introduced by WCH, supports USB-C 2.1 and PD 3.1 standards, making it suitable for various USB-C cable-related applications. It has obtained certification from the USB-IF association, and its TID is 9134.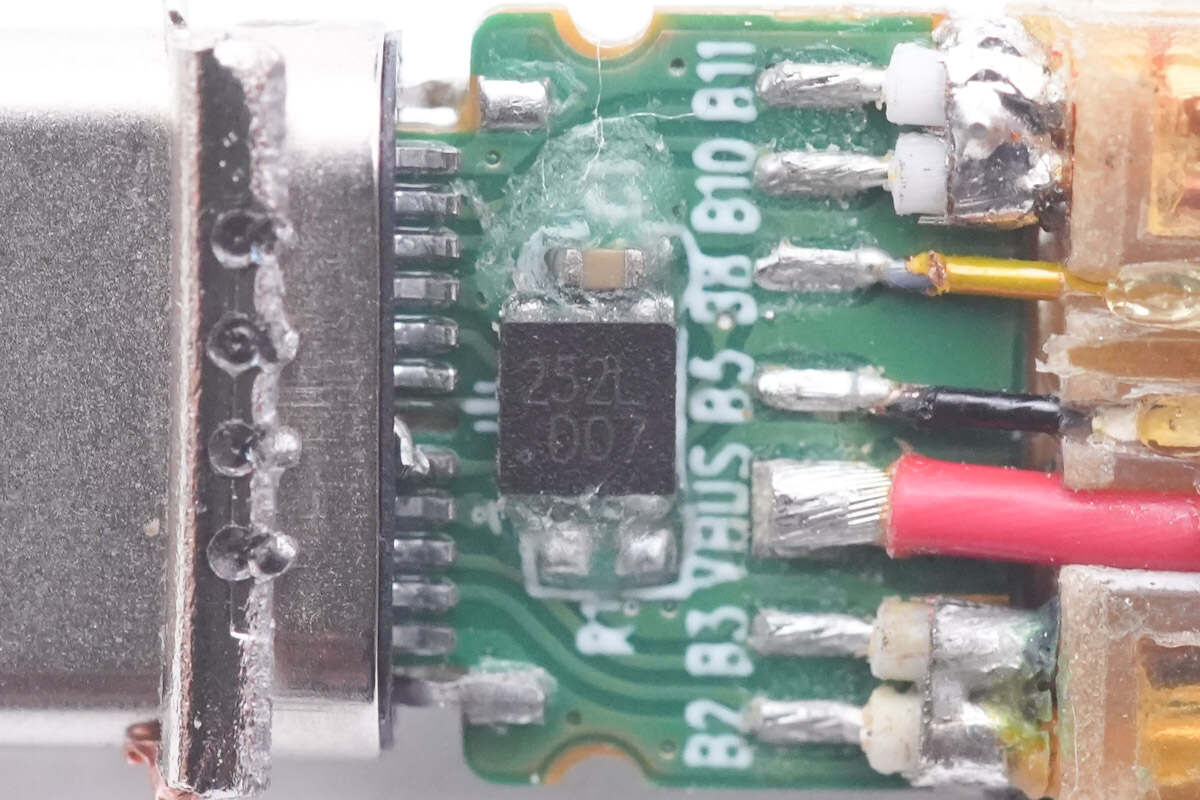 Integrated with a VCONN diode, Ra resistor, and high-voltage LDO, this chip can operate as a standalone unit, eliminating the need for external components.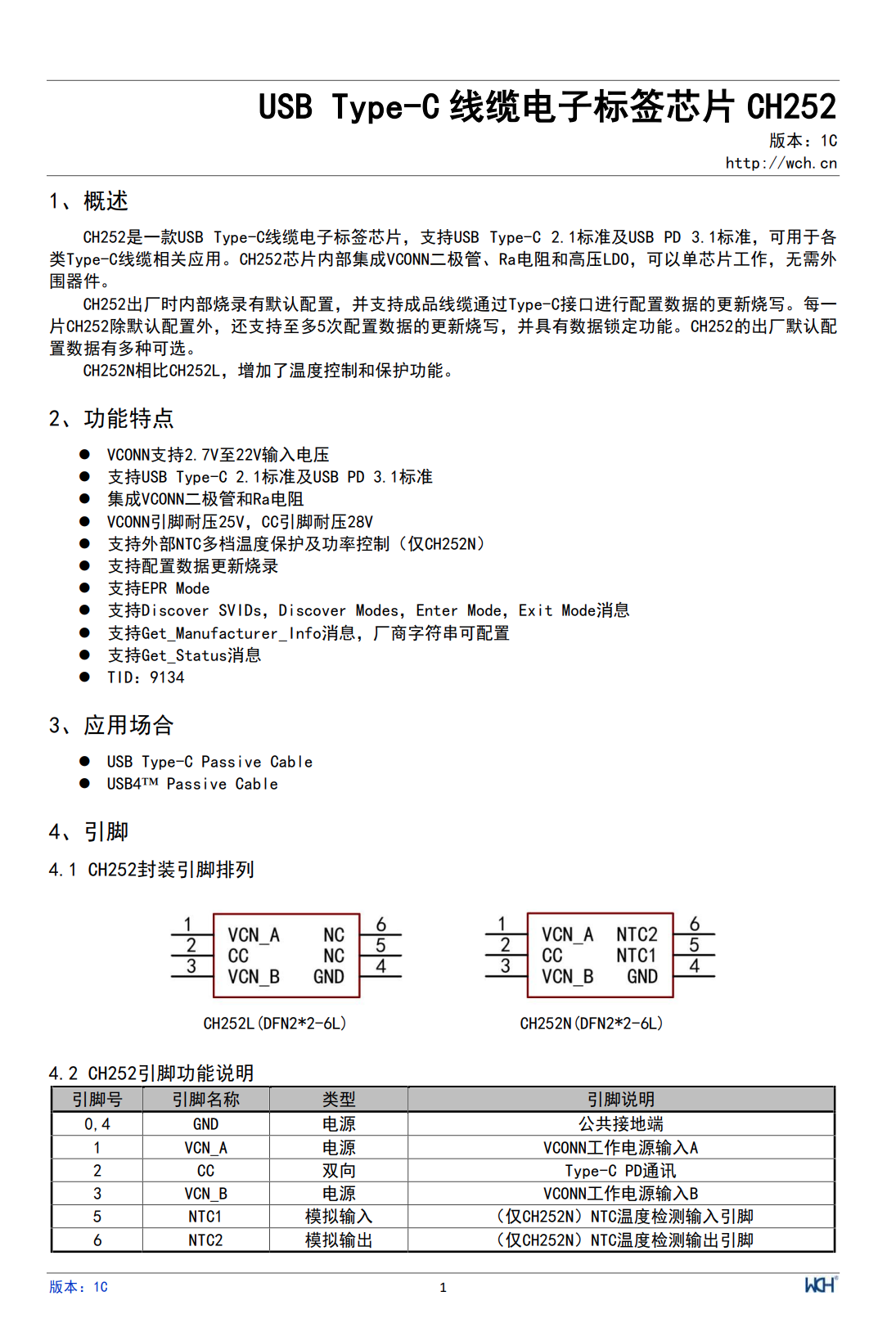 Additionally, the CH252 comes with optional default configurations pre-burnt at the factory. It also supports up to 5 updates for configuration data burning and includes a data locking function for added security.
Summary of ChargerLAB
In short, over the past two years, the PD3.1 market has expanded significantly, with various high-quality charging products emerging. If you've ever found yourself overwhelmed when choosing from these diverse devices or trying to understand the related chips, we hope that this somewhat lengthy guide from ChargerLAB can provide you with some assistance. After all, it's all about charging!
Related Articles:
1. Nice PD3.1 Chargers for Your Laptop and Phone
2. The Era of High-Power Charging | A PD3.1 Cable Buying Guide
3. 30 PD3.1 Protocol Chips and Their 11 Manufacturers: A ChargerLAB Analysis
The article is originally written by @
Joey
posted on Chargerlab. All rights reserved.