Exploring Eleven USB4 Cables for iPhone 15 Series and More
Introduction
To harness the full potential of the iPhone 15 Pro Max and more of your electronic devices, users can use cables that support USB4 or Thunderbolt 3/4 transfer protocols. Below, we share 11 cables suitable for the iPhone 15 series and more, listed in alphabetical order.
USB and Thunderbolt Protocol Evolution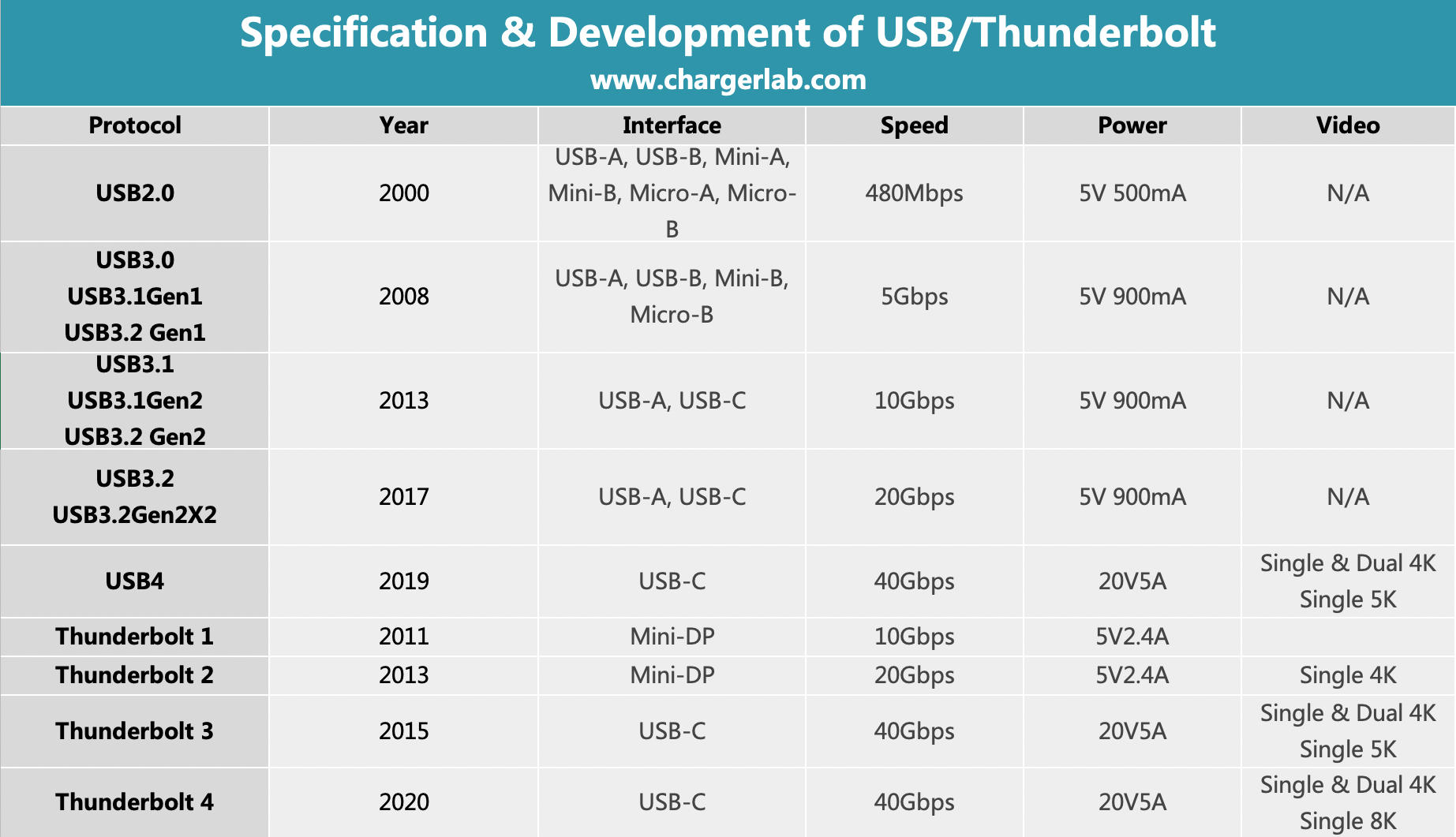 USB 2.0 and USB4 are both specifications introduced by the USB-IF organization and are public and free protocols. Different versions have varying data transfer rates, power delivery (charging), and audio-video transmission capabilities. In contrast, Thunderbolt is a transmission protocol developed through collaboration between Intel and Apple. Manufacturers wishing to use the Thunderbolt 3/4 standard must pay substantial licensing fees to Intel and employ dedicated control chips.
The convergence of these two different transmission protocols began with USB4 and Thunderbolt 3. In March 2019, Intel announced the opening of the Thunderbolt protocol to USB-IF, allowing USB4 to incorporate all of Thunderbolt 3's features and offer them free of charge to manufacturers.
Anker
Anker 515 USB4 Cable
The first cable on our list is the Anker 515 USB4 cable. This all-black cable is crafted from high-quality materials and can withstand over 5,000 bends. Notably, it features the standard certification logo from the USB-IF association on its connector, visually representing its performance and appealing to consumers.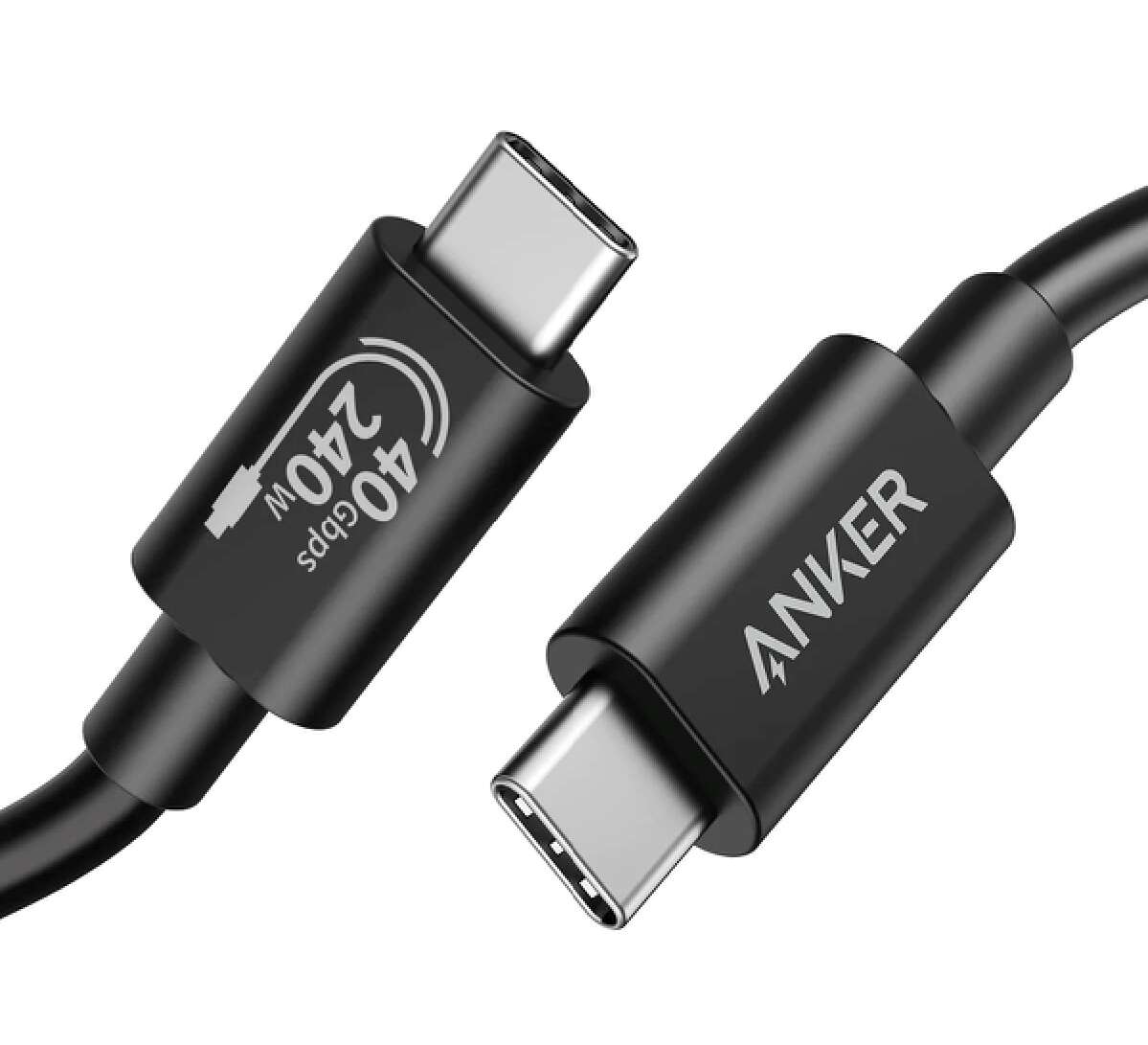 Specifically, it supports 40 Gbps data transfer rates, up to 8K@60Hz or 4K@144Hz video transmission, and power delivery of up to 240W. It is compatible with virtually any USB-C device, including smartphones, tablets, and laptops, making it truly versatile.
Apple
Apple Thunderbolt 4 Pro Cable (1.8 m)
Apple's Thunderbolt 4 Pro Cable (1.8 m) breaks away from the company's traditional minimalist white-gray design, featuring an all-black braided cable that enhances durability and reduces tangling. The connector undergoes a matte treatment and bears the lightning logo representing Thunderbolt protocol compatibility. With a length of 1.8 meters, it suits most everyday cable needs.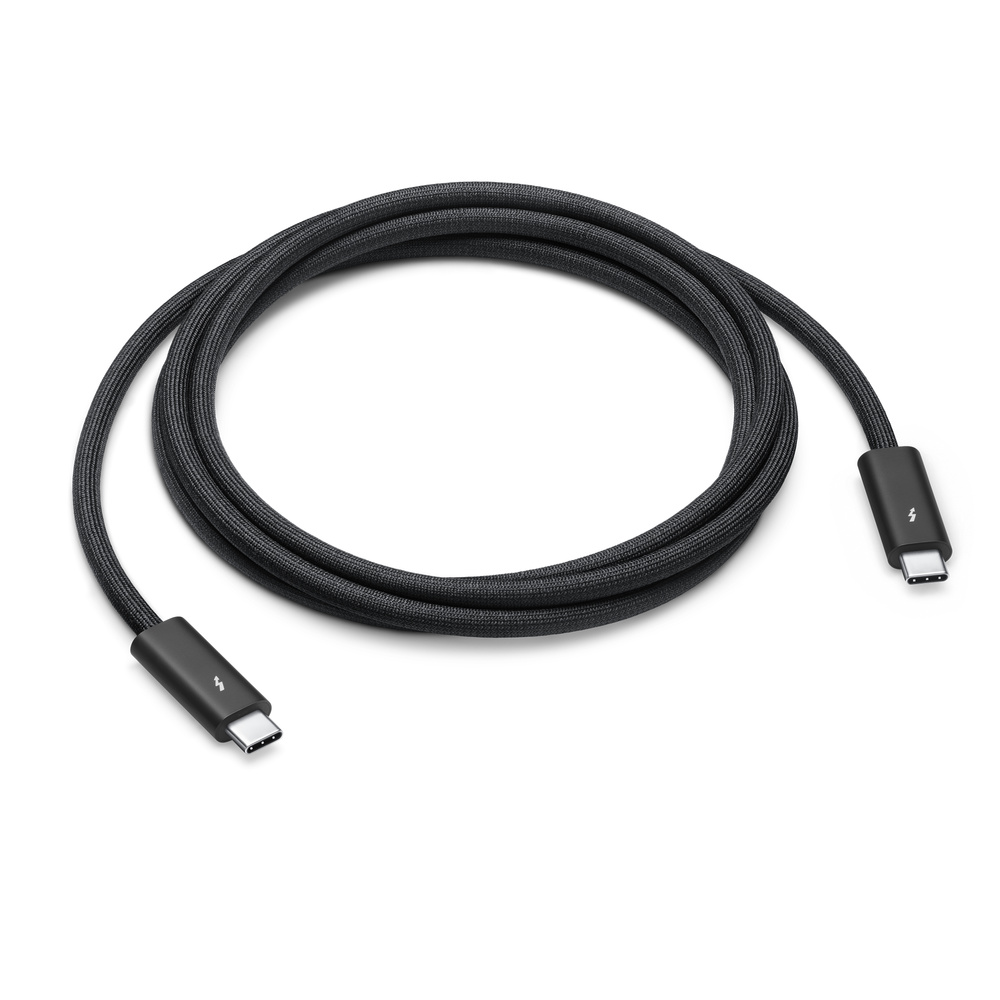 Regarding charging, it supports up to 100W PD charging, data transfer rates of 40Gbps, and signal transmission for up to 8K video, allowing the iPhone 15 series' Thunderbolt/USB4 ports to unleash their full potential.
Apple Thunderbolt 4 Pro Cable (3 m)
The 3-meter variant shares the same design and many advantages as the 1.8-meter cable, providing consistent performance.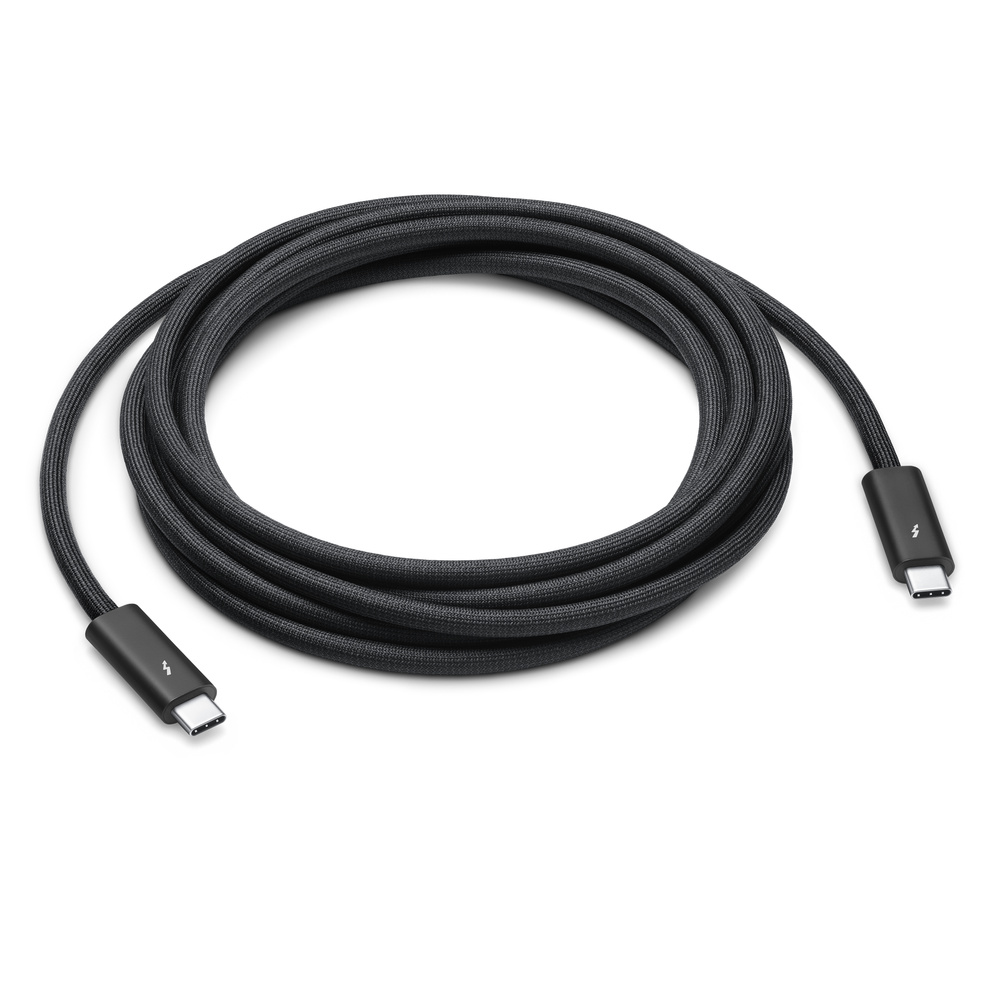 It supports up to 100W power delivery, and real-world testing has achieved write speeds of 1470MB/s and read speeds of 2639.5MB/s in data transfer, making it exceptionally friendly for video and graphics professionals with high-quality requirements.
Belkin
Belkin USB4 Cable
As a deep partner of Apple, Belkin's USB4 full-featured cable boasts USB-IF quality certification, ensuring reliability.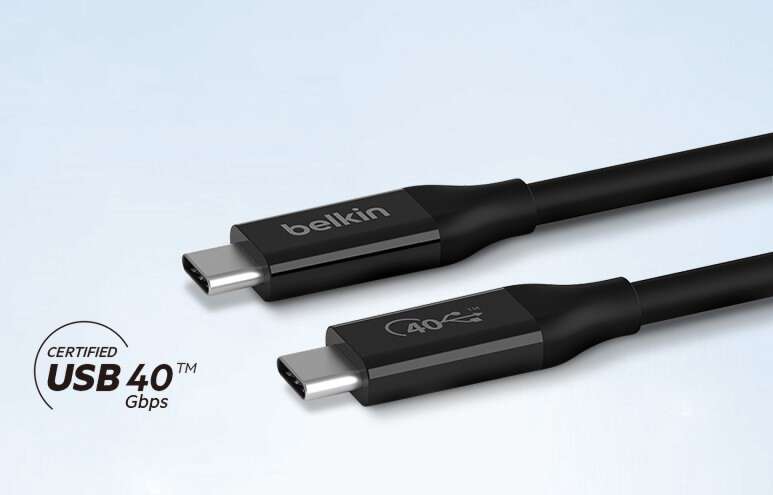 This cable integrates 40Gbps high-speed transmission, 8K display output, and 100W PD power delivery. It is not only a great companion for office work and productivity but also allows the iPhone 15 to unleash its full potential.
Hagibis
Hagibis USB4 Cable
The Hagibis USB4 Cable features a high-density nylon cable body that enhances durability and prevents tangling. Both connectors are made of durable aluminum alloy. Additionally, its 4ft length strikes a balance between convenience and practicality.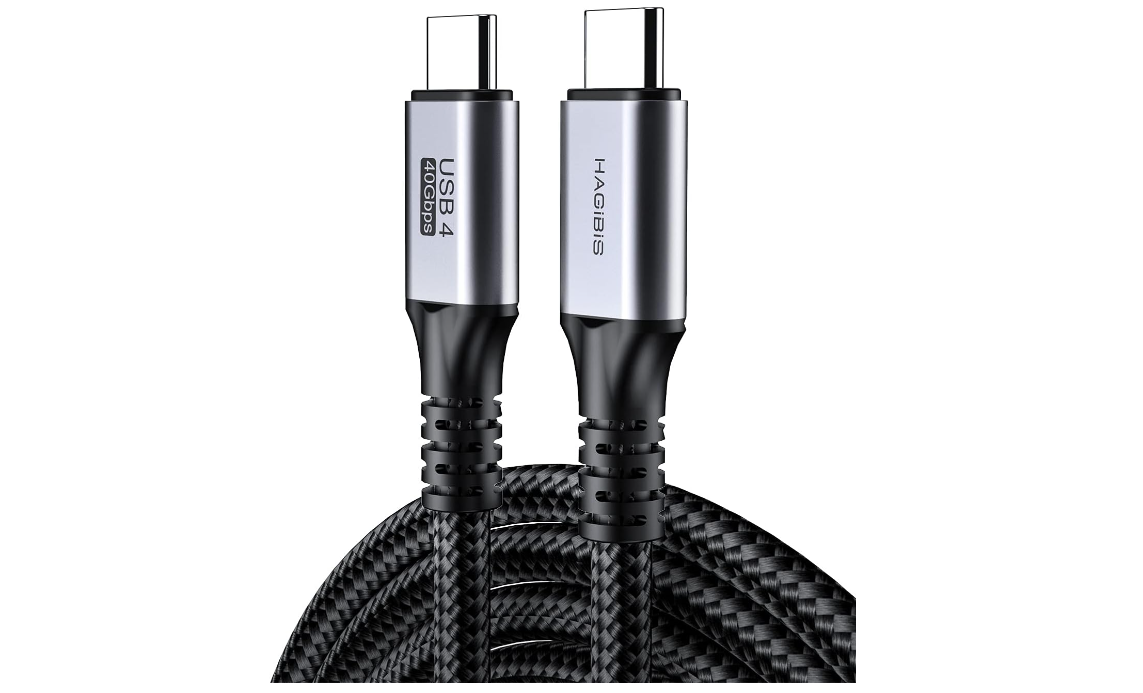 In terms of performance, it supports single-screen 5K/60Hz or dual-screen 4K resolution for video transmission, up to 240W power delivery for charging, and 40Gbps bandwidth for data transmission, making it versatile for charging and transferring data for devices like smartphones, computers, and the Nintendo Switch.
Kaiboer
Kaiboer Silver Plated USB4 Cable
The Kaiboer Silver Plated USB4 Cable is made with high-strength cotton braided wire, providing both flexibility and protection. Its connectors are wear-resistant and rust-proof due to anodized aluminum alloy.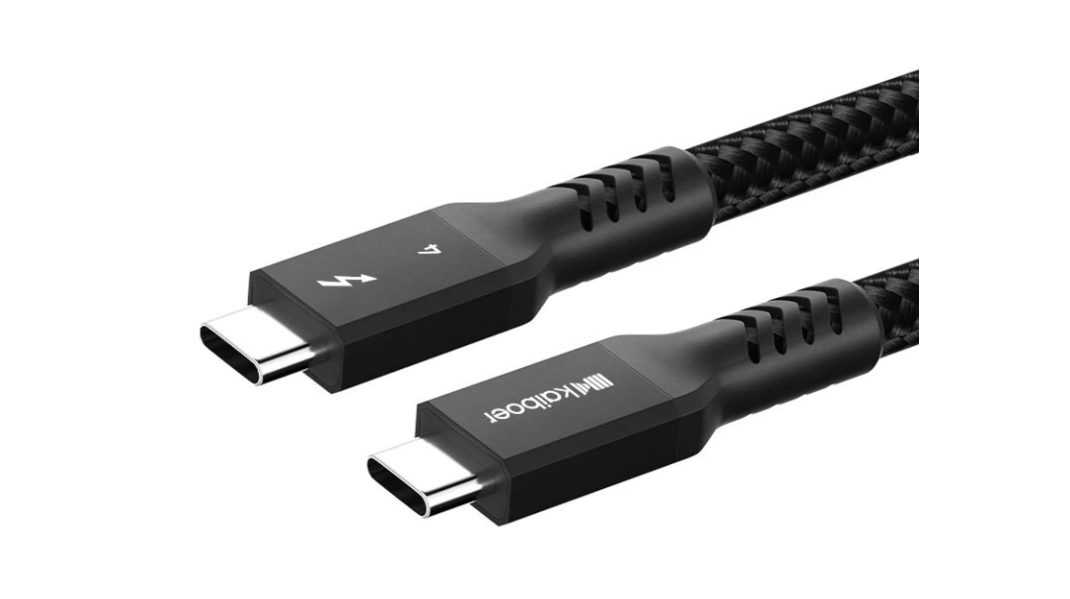 This cable supports a 40Gbps bandwidth, up to 240W fast charging, and daisy-chain expansion, enabling connections to two 4K@60Hz displays, catering to multi-screen office and entertainment needs.
ORICO
ORICO Liquid Silicone 240W USB4 Cable
ORICO's Liquid Silicone 240W USB4 Cable stands out with its unique material and appearance, offering four color options. It employs food-grade silicone material, offering both durability and comfort. TVS diodes are present at the connectors to effectively reduce damage from high currents to delicate devices.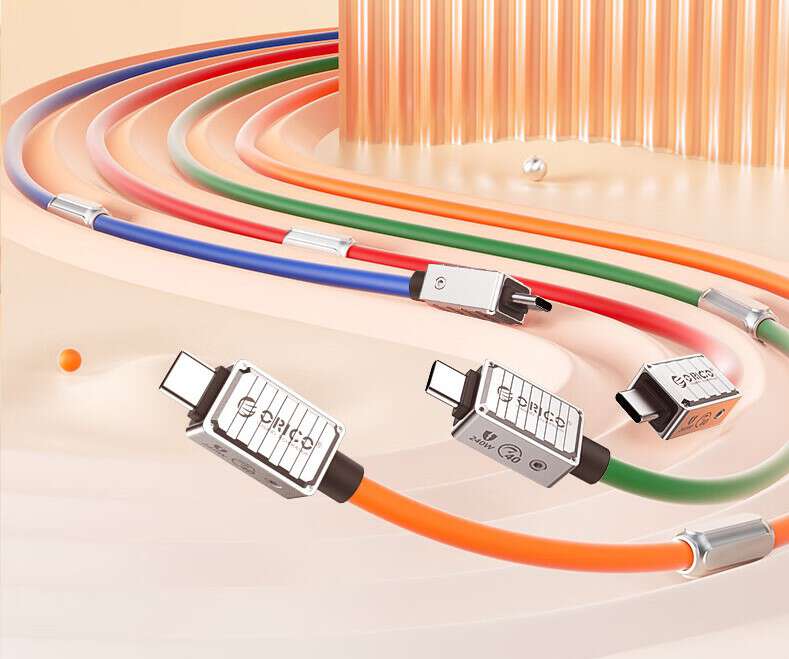 In terms of performance, it supports up to 240W PD charging, 8K@60Hz or dual 4K@60Hz video transmission, and a high-speed data transfer rate of 40Gbps. Overall, this cable is a solid choice with robust materials, a unique appearance, and top-notch performance.
ORICO USB4 Data Cable
ORICO's USB4 Data Cable features precision nylon braided wire with additional reinforcement at the connectors, ensuring durability and stable transmission. It comes in both straight and angled connector options.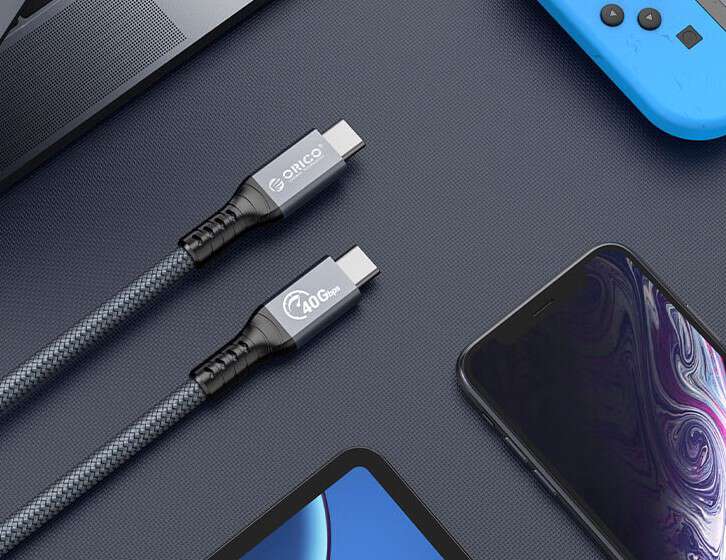 This cable supports 100W PD, daisy-chaining for multi-screen sharing, up to 8K 60Hz single-screen transmission, dual 4K 60Hz display support, and compatibility with the DP1.4 protocol. It also boasts a high-speed 40Gbps data transfer rate, making it a versatile solution for charging, data, and video transmission needs.
UGREEN
UGREEN Full-Featured USB4 Cable
The UGREEN Full-Featured USB4 Cable is constructed using FRPE (Fire Retardent Polyethylene) material, and its connectors are designed to resist breaking, ensuring enhanced durability.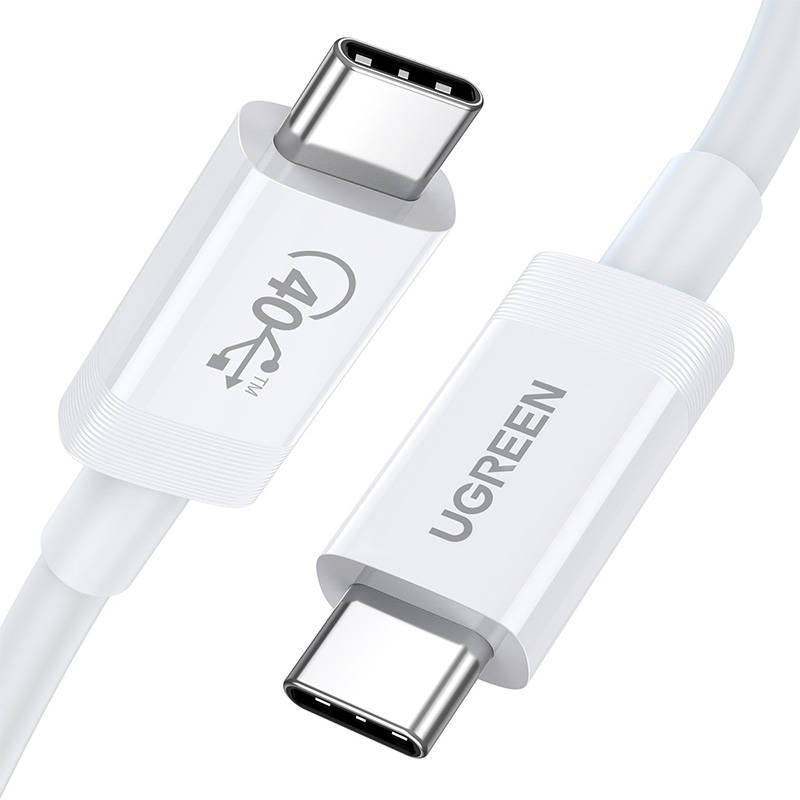 The cable supports 100W PD fast charging and boasts a high-speed data transfer rate of 40Gbps. It also supports daisy-chaining, enabling dual 4K@60Hz displays, meeting the demands of multi-screen office setups.
Zikko
Zikko Thunderbolt™ 4 Cable (0.8 M)
The Zikko Thunderbolt™ 4 Cable features an all-black design with a matte-finished connector, offering a sleek appearance. The cable is designed with a coaxial construction for added flexibility.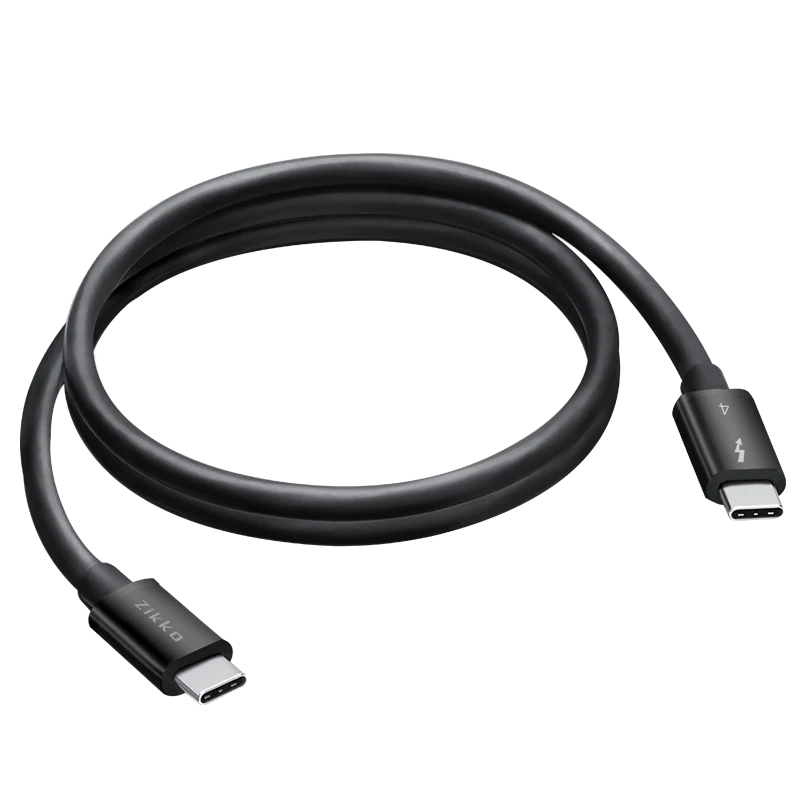 It not only delivers a stable 100W PD fast charge to your everyday electronic devices but also achieves data transfers at 40Gbps. Inside the cable, you'll find the Intel JHL5040D Redriver chip and the Infineon CYPD2105 E-marker chip, which enhance the cable's stability and reliability. While its name includes Thunderbolt™, don't worry, it's also compatible with USB4.
Zikko Thunderbolt™ 4 Cable (2 M)
The 2-meter version shares the same black TPE material and flexible coaxial cable design as the 0.8-meter variant. The connector features a matte finish for easy insertion and removal.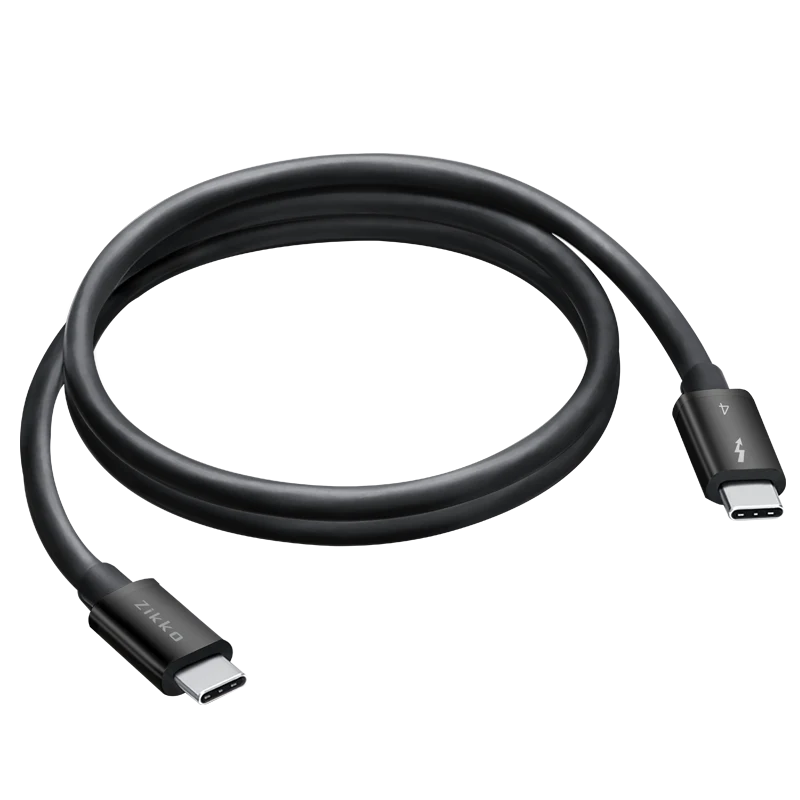 At the cable ends, Redriver chips ensure stable signal transmission over long distances, and the multiple layers of coaxial cable shielding reduce interference and signal loss. Supported by various technologies, this cable can deliver 100W PD fast charging, Thunderbolt-standard data transfer speeds, and extend the use of high-definition displays.
Summary of ChargerLAB
USB-C has become the most popular port type among smartphone manufacturers and users due to its comprehensive charging and data transfer protocols. With the inclusion of USB-C in the latest iPhones, its prevalence will continue to rise, offering consumers greater convenience. A single USB-C cable can now be used with multiple devices, reducing cable clutter and waste, while simplifying the carrying and usage of charging equipment.
Related Articles:
1. ChargerLAB's Ultimate Cable Selection Guide for Everyone
2. The Era of High-Power Charging | A PD3.1 Cable Buying Guide
3. How to Choose the Right USB-C to USB-C Cable
The article is originally written by @
Joey
posted on Chargerlab. All rights reserved.