Enhance Your iPhone 15's Charging Experience with These ZIKE Accessories
Introduction
The iPhone 15 series was officially launched on September 22, with users being able to get their hands on it as early as the same day. What's exciting about this generation of iPhones is the inclusion of the highly anticipated USB-C port, a feature that tech enthusiasts have been eagerly waiting for. So, before you get your hands on the phone, you might want to consider preparing some essential accessories, such as dual USB-C cables, chargers, and MagSafe wireless chargers.
In fact, we've previously introduced and reviewed a variety of ZIKE products, all of which have been quite feature-rich. And when it comes to the new iPhone 15 series, there's a wide range of compatible accessories available, including single and multi-port chargers, USB-C cables, and MagSafe wireless charging solutions. You're bound to find an option that suits your needs.
Comparison of the iPhone 15 Series
Before diving into the accessories for the iPhone 15 series, let's take a brief look at how the four models stack up against each other: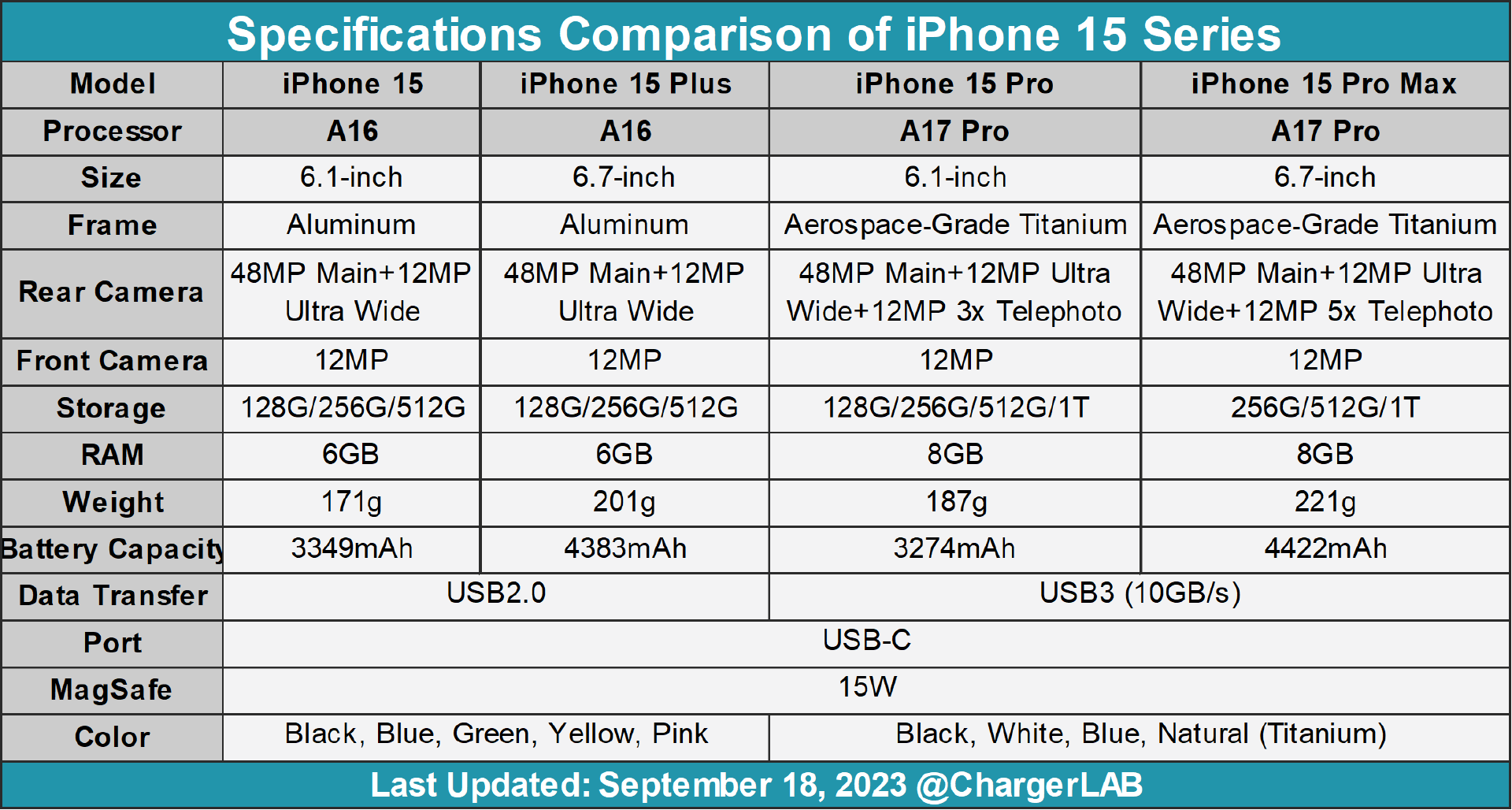 The iPhone 15 and 15 Plus, like their predecessors, come equipped with the A16 processor from the previous Pro series. They've also transitioned to a dynamic island design for the notch and made the switch from Lightning to USB-C for the charging port, although the transfer rate remains at USB 2.0. These models are available in a palette of five colors, including pink, yellow, green, blue, and black.
On the other hand, the iPhone 15 Pro and 15 Pro Max boast the more advanced 3nm A17 Pro processor, delivering significant improvements in both performance and power efficiency. Additionally, the frame has been upgraded to a titanium alloy, resulting in a notable reduction in weight. Furthermore, the USB-C port now supports the USB 3 (10GB/s) transfer speed. The 15 Pro Max even features an exclusive 5x optical zoom telephoto lens with a four-fold reflection prism design. When it comes to colors, the Pro models offer options like black and white.
Chargers
ZIKE 35W GaN Dual USB C Charger
The ZIKE's dual USB-C charger comes in a sleek white design with smoothly rounded edges. It's not only compact thanks to the GaN technology but also highly convenient for those on the go with the foldable prongs design.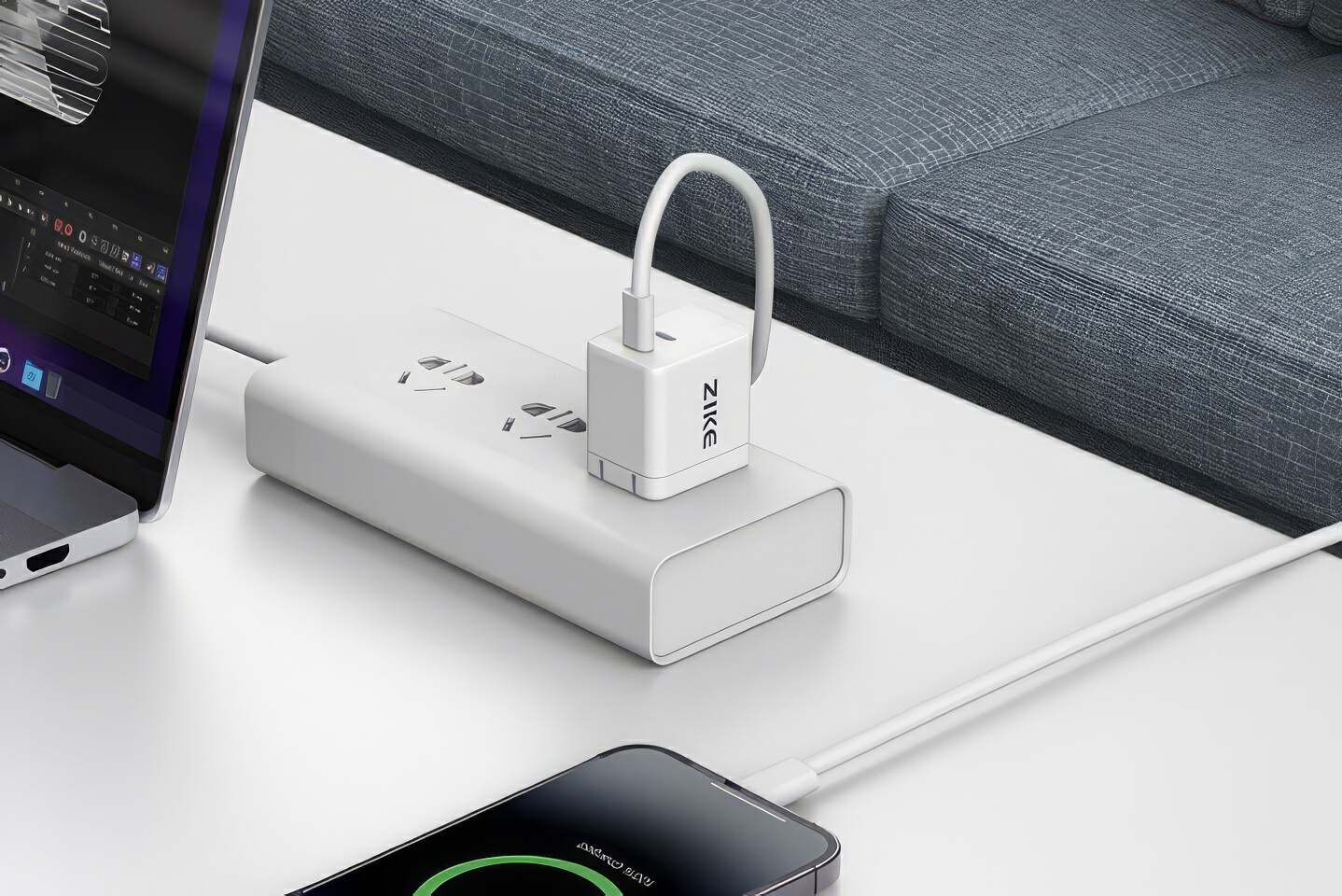 Featuring two USB-C ports, it can provide a maximum charging power of 35W when using a single port, and it adopts a power distribution strategy of 27W+8W when both ports are in use simultaneously. Whether you opt for a single or double port, rest assured that it's more than capable of handling the charging needs of the iPhone 15 series. What's impressive is its broad compatibility, supporting a wide range of fast charging protocols for laptops, iPhones, and various Android smartphones. It's even compatible with low-power Bluetooth headphones like AirPods, making it an all-around performer.
ZIKE 35W GaN Dual-Port Charger
In comparison to the last one, this charger exhibits a more cubic design, complete with a charging indicator on the front to keep you informed of the charging status. It, too, takes advantage of GaN and foldable prongs technology.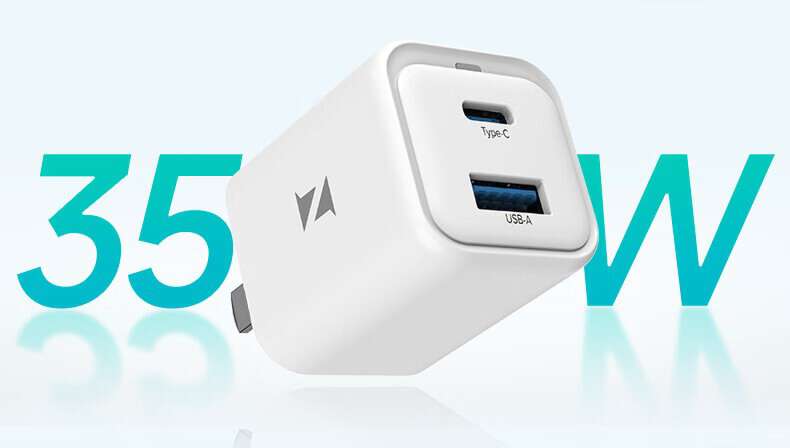 When it comes to ports, it features a 1A1C configuration. The USB-C port still offers a maximum output power of 35W, while the USB-A port supports up to 18W. This charger is compatible with a wide array of common fast charging protocols available on the market. It can simultaneously charge two devices and offers multiple protection functions. If you happen to have older devices that rely on USB-A cables for charging, this charger is a practical choice.
ZIKE 66W GaN 3-in-1 Charger
The ZIKE 66W GaN 3-in-1 Charger features a fire-retardant shell in white PC material. Its design is square, although the edges themselves offer a slightly smoother feel. GaN technology allows it to be 30% smaller in size compared to conventional chargers with similar power capabilities. Additionally, its foldable prongs design makes it highly portable for travel.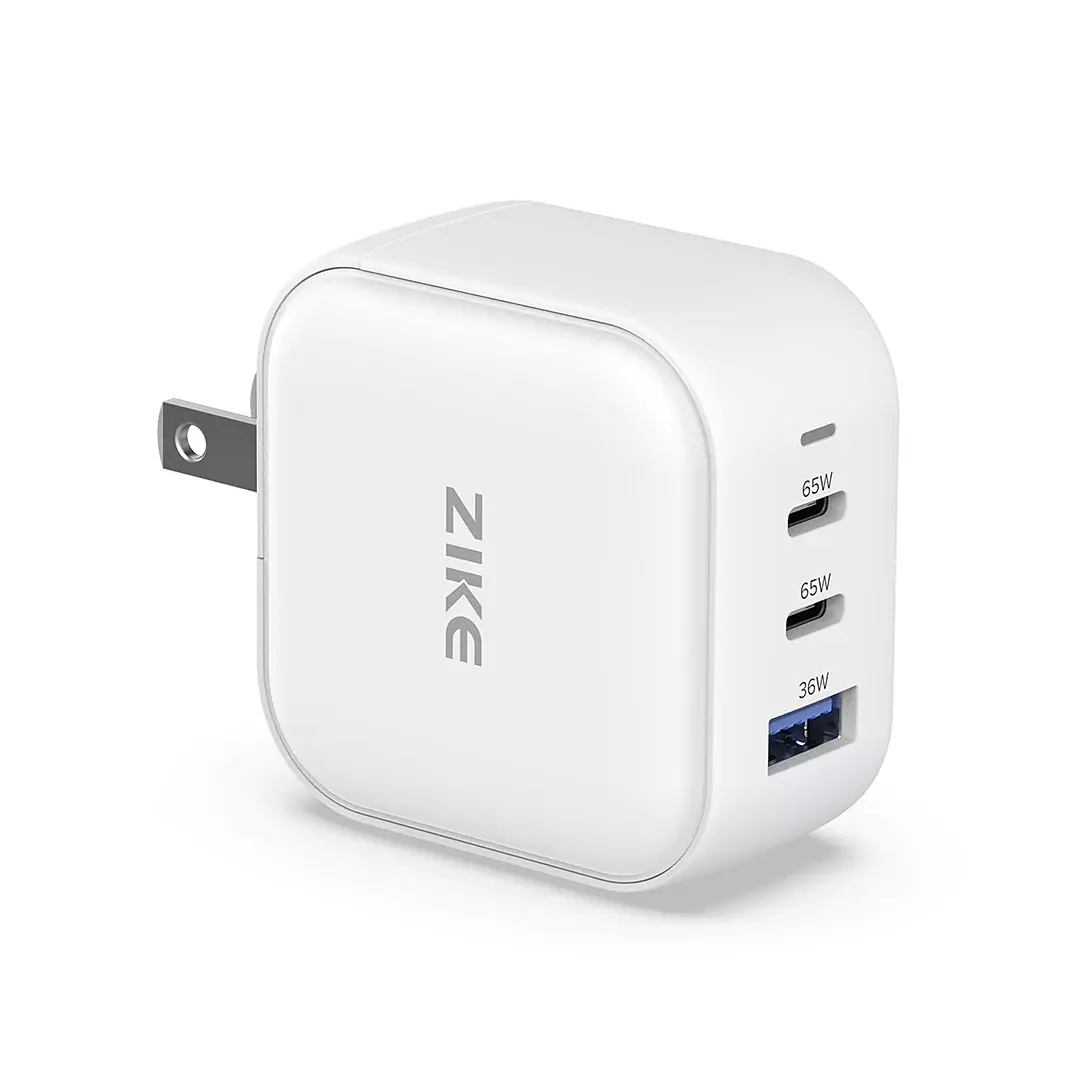 Equipped with 2C1A ports, each USB-C port can deliver a maximum power of 65W individually, while the A port can provide 36W on its own. When all three ports are utilized simultaneously, it can deliver a total of 66W fast charging, making it ideal for charging three devices simultaneously. It supports a variety of mainstream fast charging protocols, including PD3.0, QC3.0, FCP, PPS, Apple2.4A, ensuring excellent compatibility and charging performance.
Cables
ZIKE 100W USB-C PD3.0 Cable
This ZIKE's cable boasts a smooth nylon fiber braided design, offering a comfortable tactile experience. Its high-quality aluminum alloy is seamlessly molded, undergoing anodization to ensure durability even after 60,000 bends. With a length of 1.5m, it's suitable for most usage scenarios. Furthermore, it comes with a handy scratch-resistant zip tie for effortless cable management.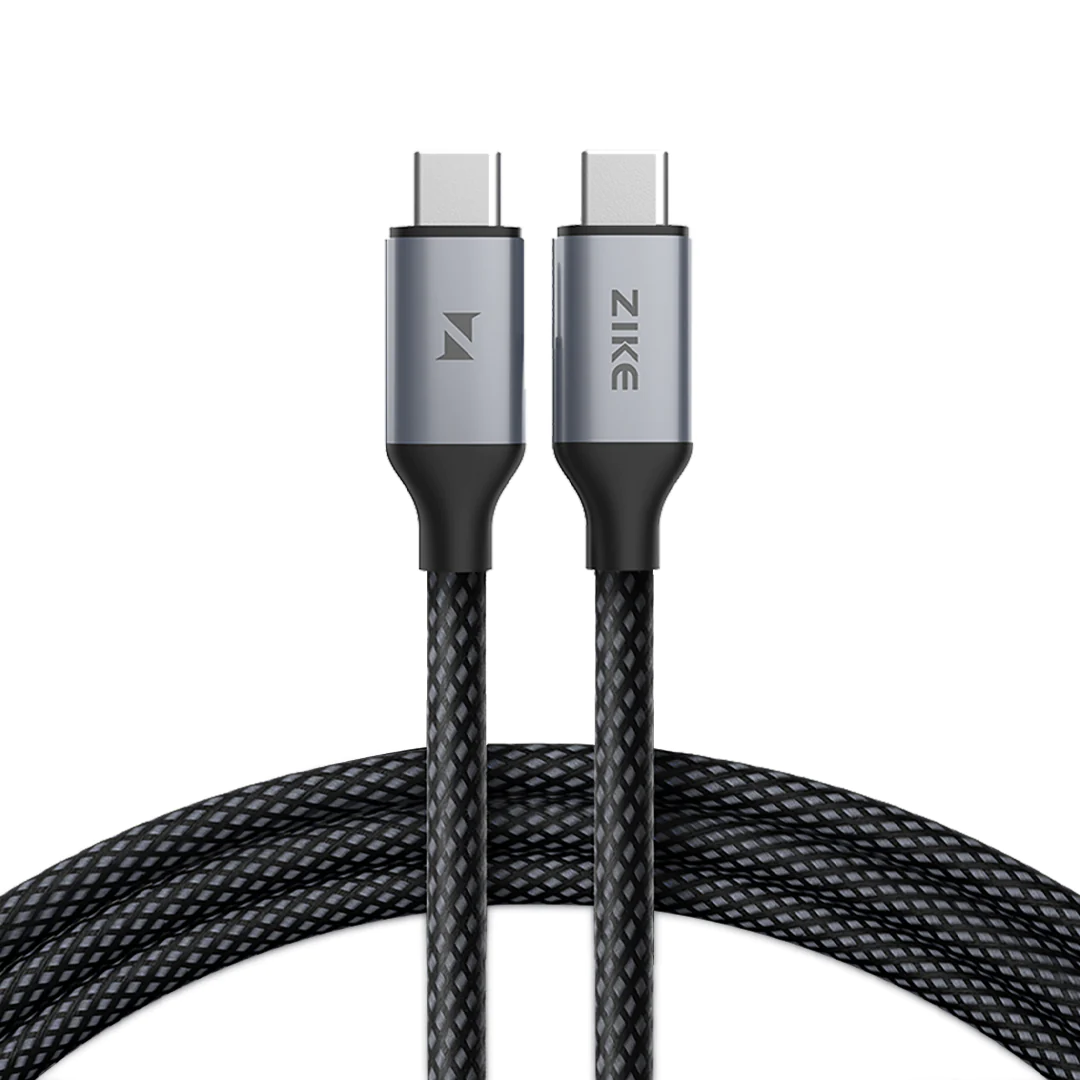 Featuring dual USB-C ports, it supports a high current of 5A and can deliver a maximum output power of 100W. Data transfer follows the USB 2.0 specification. Its compatibility extends to a wide range of laptops, smartphones, gaming consoles, smartwatches, and other common devices, making it a versatile choice for both charging and data transfer needs.
ZIKE 240W USB-C PD3.1 Cable
This cable shares the same material quality and craftsmanship as its 100W counterpart but extends its length to 2m. What's most significant is its ability to support a maximum power output of 240W.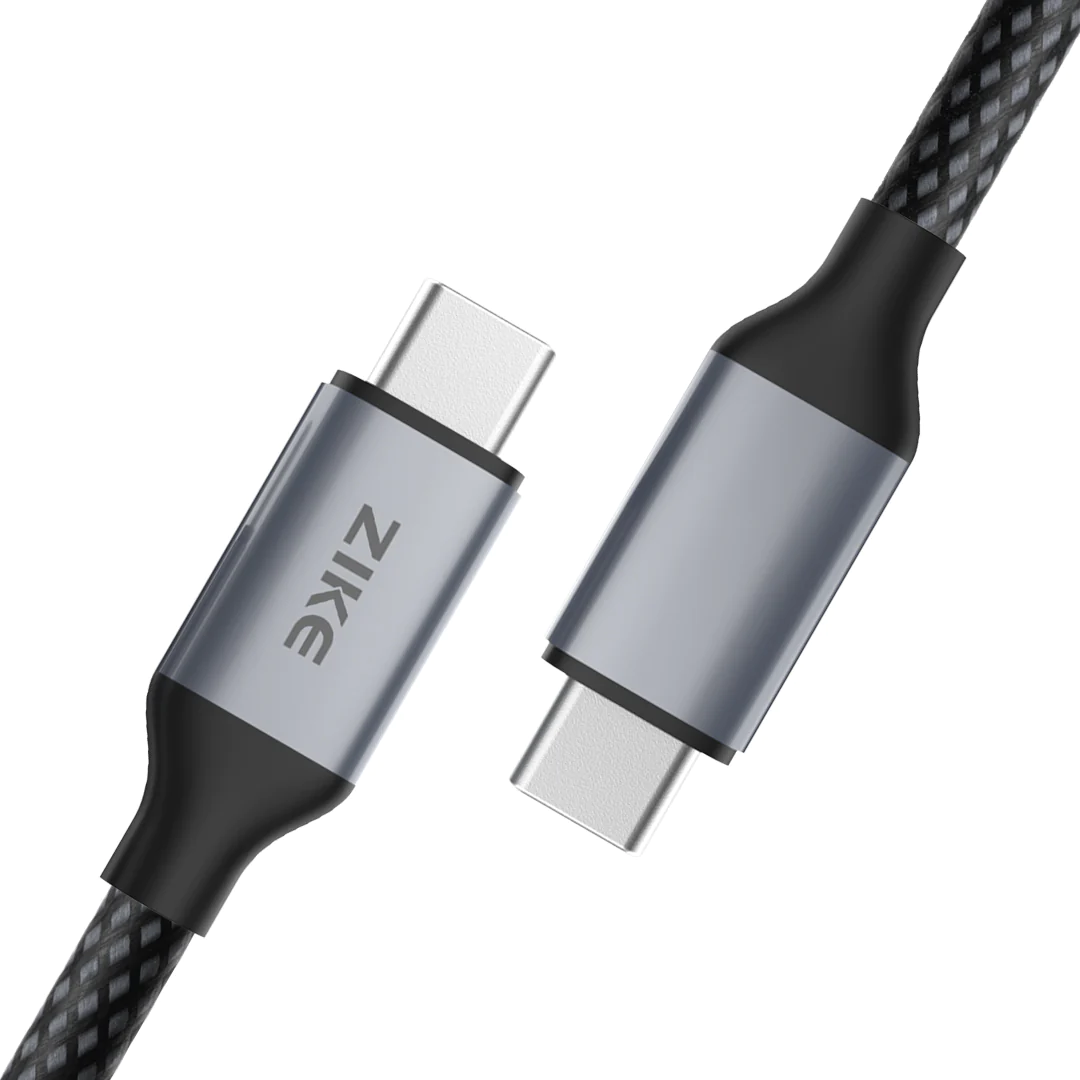 Given its 240W capability, it naturally aligns with the latest PD 3.1 specification. Unfortunately, data transfer remains based on the USB 2.0 specification. Although currently no electronic device actually utilizes 240W PD fast charging, investing for the future is not a bad idea, as 240W can at least meet the demands for the next three years.
MagSafe Wireless Charging
ZIKE 2-in-1 MagSafe Wireless Charger
Thus ZIKE's MagSafe wireless charger features Apple's official magnetic charging module, certified with MFM. Its stand, metal support rod, and base all sport a sleek gray-black aluminum alloy construction, lending it a rounded and premium appearance. The base is thoughtfully designed with physical counterweights and anti-slip pads to enhance stability.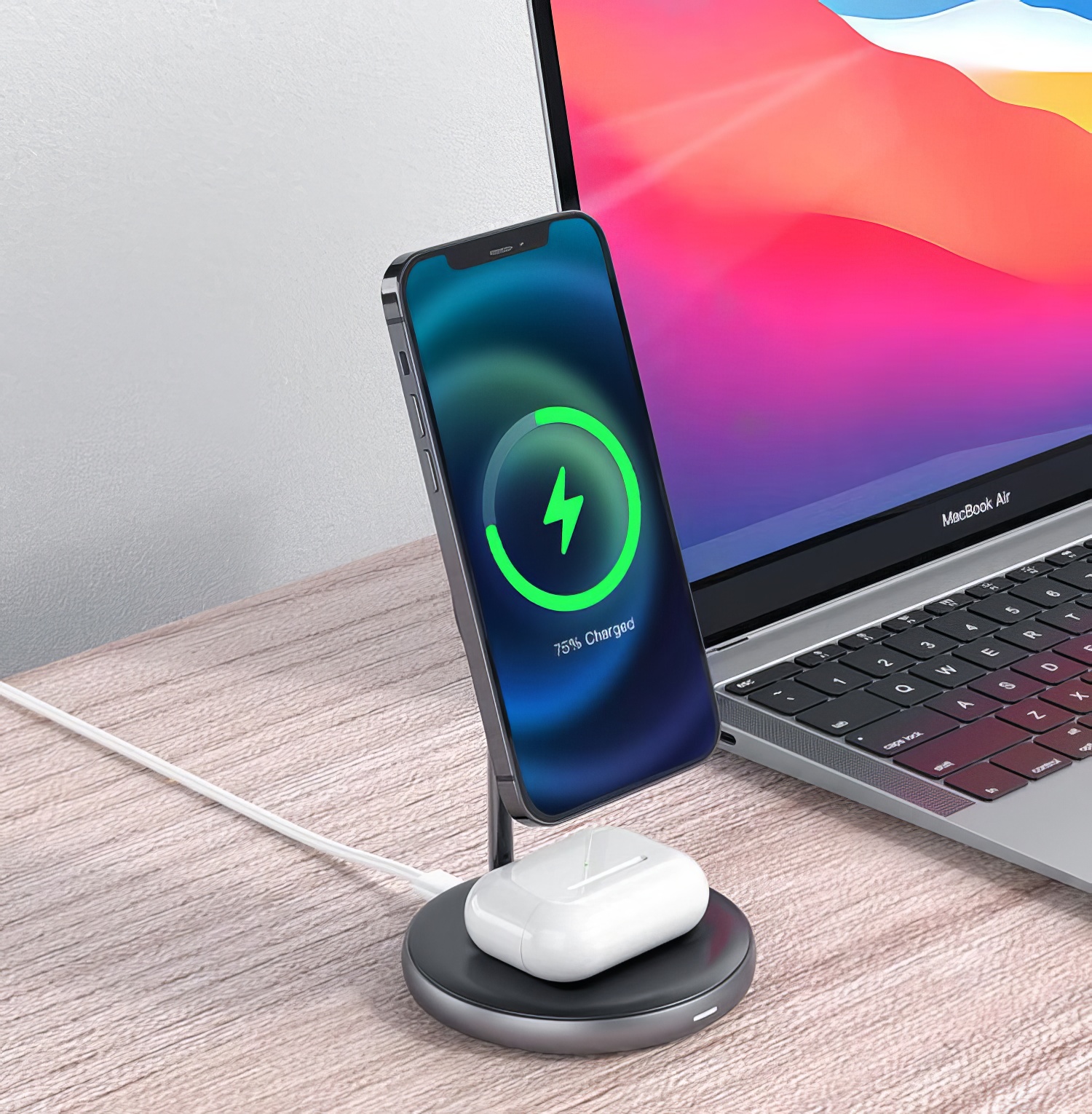 The base also features a recessed design, accommodating charging for Bluetooth headphones like AirPods. The top module provides 15W of MagSafe magnetic wireless charging for iPhone 12-15 series. What sets it apart is its dual functionality as a stand, supporting a 45° angle adjustment, allowing for both horizontal and vertical phone usage.
ZIKE Active Cooling MagSafe Charging Stand
This one is made of aluminum alloy, stainless steel, Polycarbonate, and other materials, with a high input power of 15V3A. The magnetic wireless charger suspended at the top is made of Apple's official MagSafe charging module. It has passed Apple's "Made For MagSafe" certification and has good compatibility, efficiency, and safety.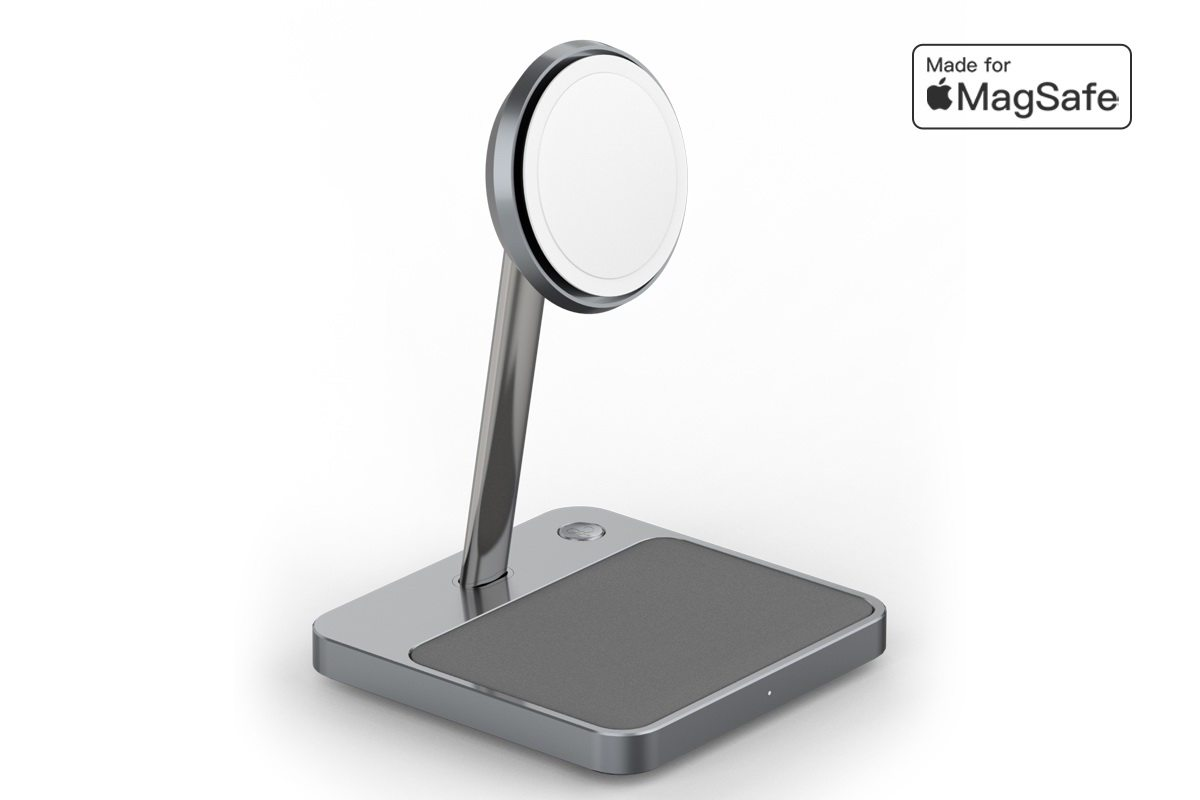 There is a button in the upper right corner of the base. After pressing it, it will enter the "charging acceleration" mode. ZIKE's comparison test shows that the charging speed in the "charging acceleration" mode can be increased by 30%-45% compared with the standard charging mode. As for whether the official statement is valid, you can click here to watch the review video we made ourselves to find the answer.
Summary of ChargerLAB
ZIKE has introduced a variety of high-quality accessories for the iPhone 15 series, including chargers, cables, and MagSafe wireless chargers, catering to the diverse needs of different users.
When it comes to selecting chargers, if you need to charge a laptop or three or more devices simultaneously, it is recommended to choose the 66W model. However, if your primary purpose is to charge the iPhone 15 series for daily use, both of the 35W dual-port chargers will do the trick.
Regarding cable selection, both options are more than capable of charging the iPhone 15 series. If you happen to have a power bank that supports the PD3.1 protocol, it is advisable to prioritize the 240W one.
Finally, for MagSafe wireless chargers, one is compact and suitable for basic magnetic charging needs, while the other comes with an active cooling fan, providing more stable wireless charging.
Related Articles:
1. Fast Charge Your iPhone 15: Five Top 35W Charger Picks
2. Get Ready for iPhone 15 | A MFM Certified MagSafe Charger Buying Guide
3. Five Charging Stations for iPhone 15 and More
The article is originally written by @
Joey
posted on Chargerlab. All rights reserved.