Apple Starts 15W MagSafe Wireless Charging Certification
As we all know, Apple has various certifications. ChargerLAB was informed that Apple will start 15W MagSafe wireless charging certification soon, and major third-party manufacturers have been looking forward to this for a long time.
Apple announced: "We are pleased to announce the new Apple MagSafe Charger Module! This module offers secure wireless charging up to 15W and may be integrated into MFi accessories to wirelessly charge Apple devices with MagSafe.
MFi Licensees can now submit Product Plans that incorporate this module and order sample and mass production quantities from an MFi Authorized Distributor. Log in to the Authorized Distributors' website for pricing.
Accessories that integrate the module and complete MFi certification will be able to use the "Made for MagSafe" badge on product packaging and communications. "
Application Procedures

If a brand that has passed MFI certification wants to launch a 15W MagSafe wireless charger, it can submit a product plan that includes a 15W MagSafe charging module, and order samples from authorized MFi dealers.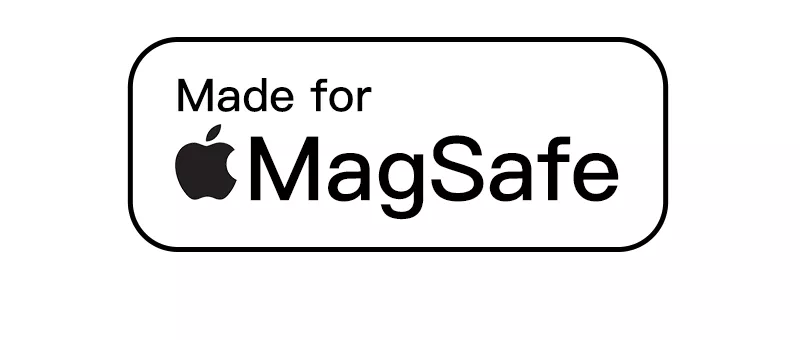 We need to know, if the third-party brand has passed MFi certification and integrated Apple's 15W MagSafe charging module, they can print the "Made for MagSafe" logo to their packaging and do the promotion. Typically, the "MFM" logo will enhance the consumers' evaluation of these brands.
Details of Apple 15W MagSafe charging module
We have dissembled this module before. The module is like a flat round pie, the front is pure white, and the back is encapsulated with a metal shielding cover. At the same time, this wireless charger module also reserves five pads for connecting power and communication cables, namely VBUS, V+, V-, CC, and GND.

According to the picture, it can be seen that the MagSafe wireless charging module adopts the standard USB PD, the power supply is 9V standard, and it also has USB2.0 D+ D- cable core. USB CC core is the most important, used for PD charger handshake. And of course, it also has a ground wire.
This module integrates a complete circuit of voltage regulation power supply and circuit of wireless charging control and drive as a component sold separately to third-party manufacturers. The third-party manufacturers only need to provide an adapter of more than 20W and connect the positive and negative to power supply. Then, it can achieve 15W wireless fast charging for the iPhone 12 series. Simple and easy.
ChargerLAB has known from the industry that the price of MagSafe wireless charging module is $17.95, and the bulk product is $15.
Summary of ChargerLAB
For now, Apple has firm determination to promote the MagSafe ecosystem. In addition to MagSafe charger, Apple's official website also has various ecological products such as magnetic mobile phone cases, magnetic wallets, and magnetic holders. MFM certification will be officially opened soon, so let's look forward to more excellent magnetic products!
The article is originally written by @
Yi
posted on Chargerlab. All rights reserved.