VOLTME Launches First 140W Multi-Port PD 3.1 GaN Fast Charger
Recently, VOLTME Launched two models of 140W Multi-Port GaN Fast Charger with the latest PD 3.1, and it is slightly smaller than an original Apple's 140W inbox charger.
Revo 140 Duo
Revo 140 Duo with two ports can support almost all fast-charging technologies. It's powered by 3rd Generation GaN Power IC & the latest PD 3.1 charging protocol, which can provide smaller size and higher power. It can also charge two laptops simultaneously at 65W or one laptop at 140W (28V 5A).
Revo 140 Pro
The Revo 140 Pro is a 4-in-1 fast charger, which can simultaneously charge four devices at full speed, such as two laptops and two smartphones.
It's powered by VOLTME V-Dynamic™ smart charging technology, enabling them to charge virtually any USB-C device at its fastest possible speed.
"VOLTME has continued to develop its family of GaN powered chargers, which unlike most Si and earlier discrete GaN devices, are provided in very small, low-profile, and powerful for different application requirements," said Tommy Tse, COO of VOLTME Innovations. "With latest update of PD 3.1, which enables higher power over a full-featured USB Type-C cable and connector to applications up to 240W, including larger Notebook PCs, Gaming PCs, Desktops, Workstations, Docking Stations and Displays. From now on, consumers can rely on a single charger to virtually fast charge all of their devices".
Here are the specs of those two chargers.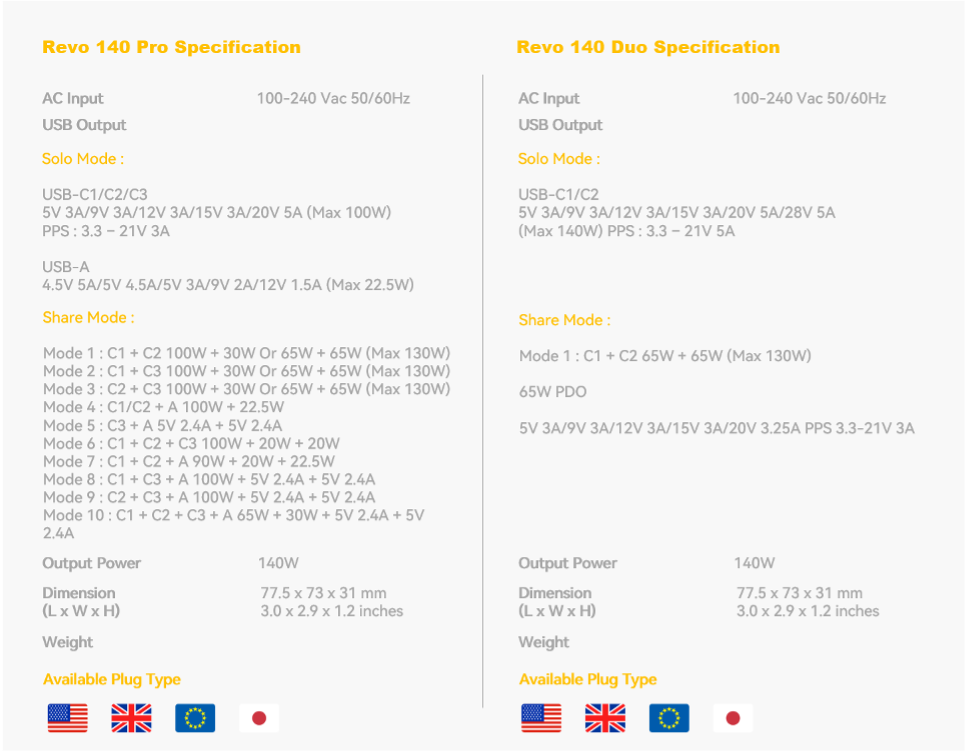 About VOLTME
VOLTME is part of Voltnex Innovations. Voltnex Innovations Technology Ltd. is a Tier 1 developer in charging technology and a creator of innovative consumer devices for indoor & outdoor with offices in the US, Japan, and China. Voltnex aims to deliver high-quality mobile charging solutions, such as portable batteries, mobile chargers, and portable power stations worldwide.
For more information about VOLTME, you can visit www.voltme.com.
The article is originally written by @
Yi
posted on Chargerlab. All rights reserved.