Apple Outlined The Power Distribution of 35W Dual USB-C Port Chargers
A reproduction article from Apple
After the WWDC22, ChargerLAB has posted many review and teardown articles and videos of the new Apple 35W dual USB-C port chargers.
Apple recently began taking orders for the two new 35W dual USB-C port chargers unveiled at WWDC22. Then, Apple released a new document outlining how power is distributed when the devices are connected to both ports. Let's have a look.
Power Distribution
First, in most cases, the 35 watts of total power will be distributed equally between the two connected devices. If you connect a 35W dual USB-C port charger to a MacBook and an iPhone or iPad, you'll get up to 17.5W per device.
Second, when one of the devices has a relatively low power requirement, such as connecting to a MacBook or iPhone and Apple Watch or AirPods, the MacBook or iPhone can receive up to 27.5W and the Apple Watch or AirPods can receive up to 7.5W.
However, if either device needs more power, unplug the other device and its charging cable from the charger.
Availability
The traditional version of the dual USB-C port charger is available worldwide and has removable prongs compatible with replaceable international prongs and extension cords. The compact version is only available in the U.S., Canada, China, Japan, Mexico, and a few other countries using Type-A prongs.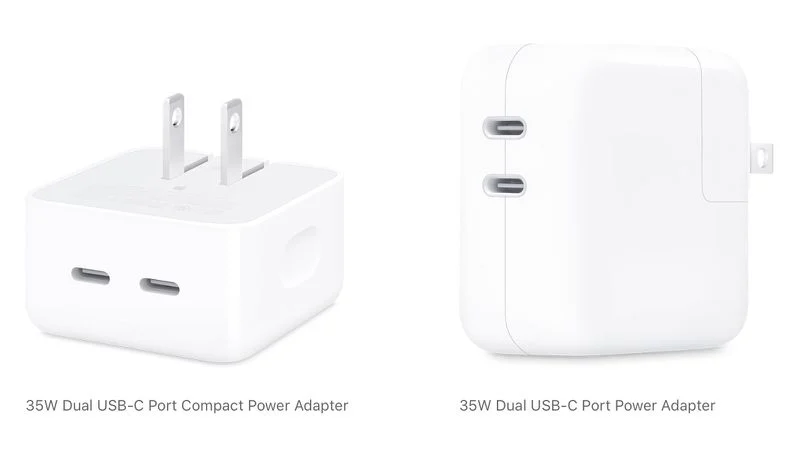 Both versions are priced at $59 in the U.S., and the new chargers will be shipped with the new MacBook Air.
A reproduction article from Apple
Related Articles:
1. The Prices of the Apple New 35W Dual USB-C Charger Vary by Region
2. Same but Different | Teardown of Apple 35W Dual USB-C Traditional Power Adapter
3. Completely Different | Teardown of Apple 35W Dual USB-C Compact Power Adapter
The article is written by @
Apple
posted on Chargerlab. All rights reserved.