Up to 3000W Output | Review of VTOMAN FlashSpeed 1500 Power Station
Introduction
If you're a regular follower of ChargerLAB, you're probably aware that we've recently been conducting a series of reviews on portable power stations. These reviews aim to provide valuable content in the form of videos and articles to outdoor camping enthusiasts.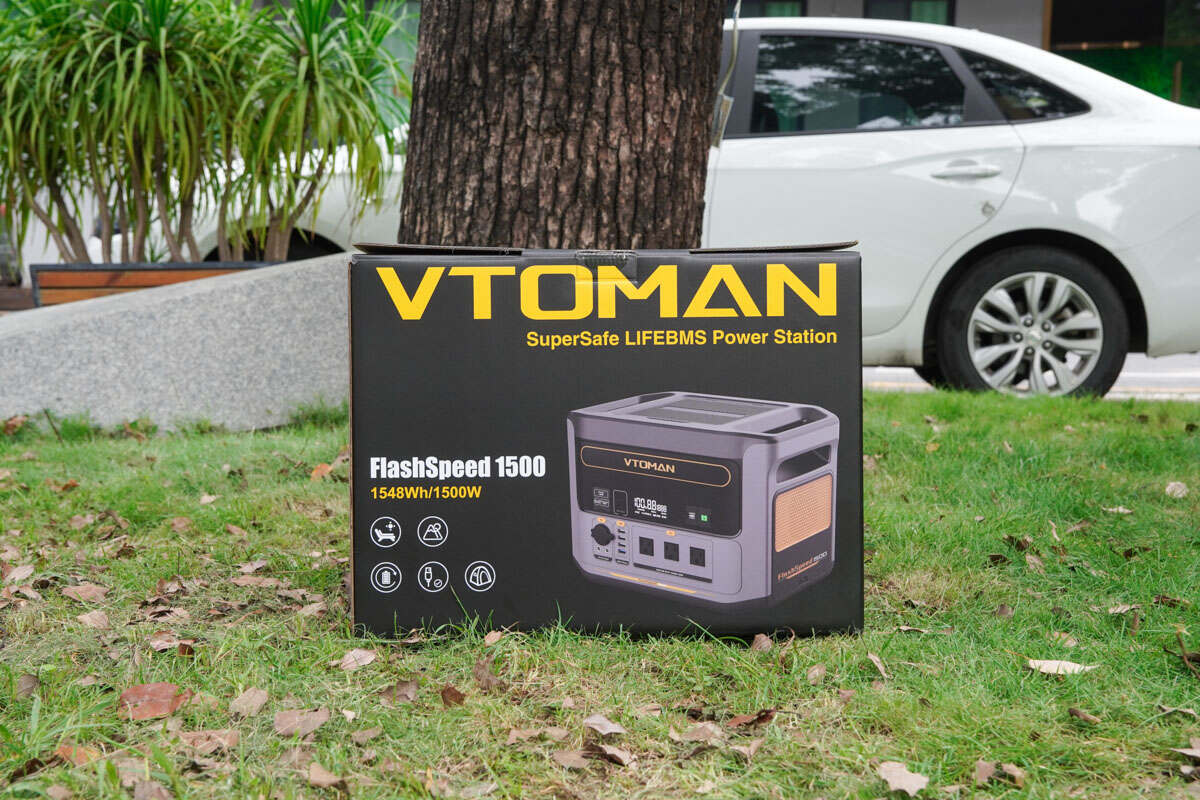 This time, we've acquired the VTOMAN FlashSpeed 1500 Power Station. With an AC output power of up to 1500W and the integrated V-Beyond Tech, it effortlessly handles high-power appliances that reach 3000W. Additionally, it features USB ports to accommodate a variety of electronic devices for charging. Next, let's dive into its performance.
Product Appearance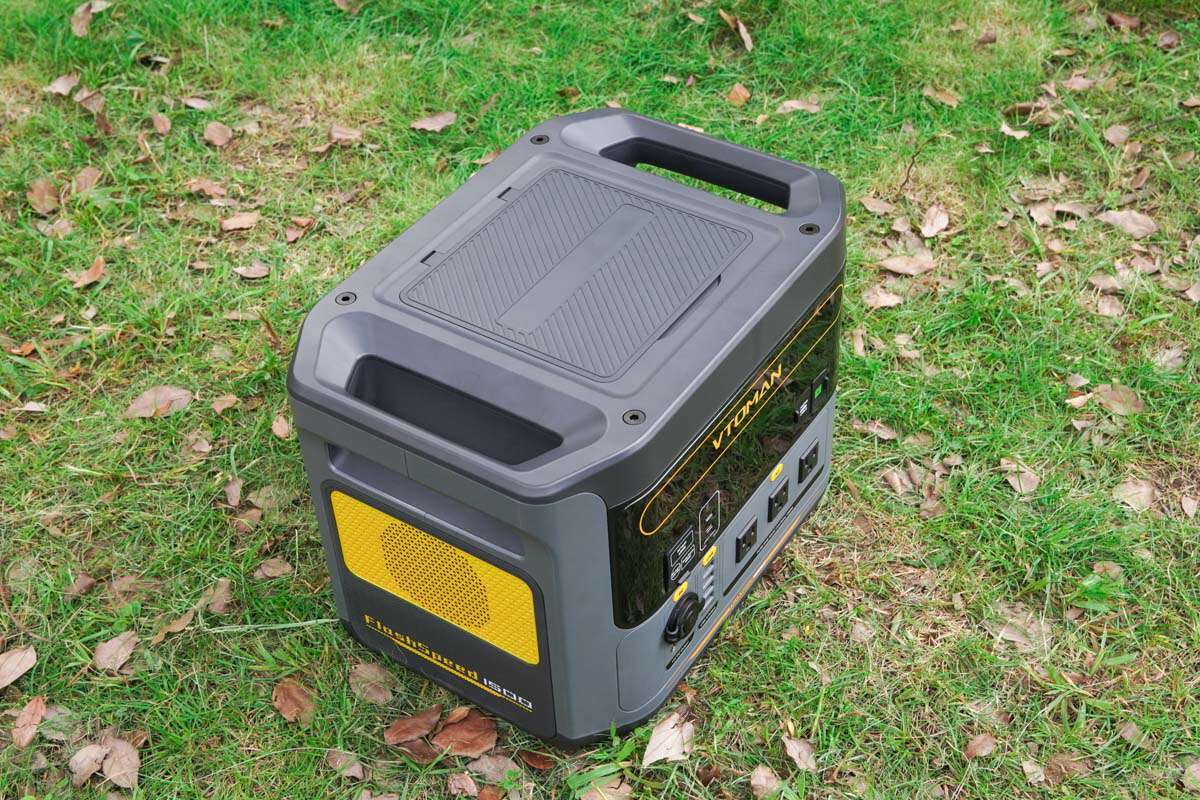 The VTOMAN FlashSpeed 1500 Power Station boasts a main color scheme of black and gray, accented with vibrant yellow highlights. Its matte texture not only resists fingerprints but also withstands wear and high temperatures.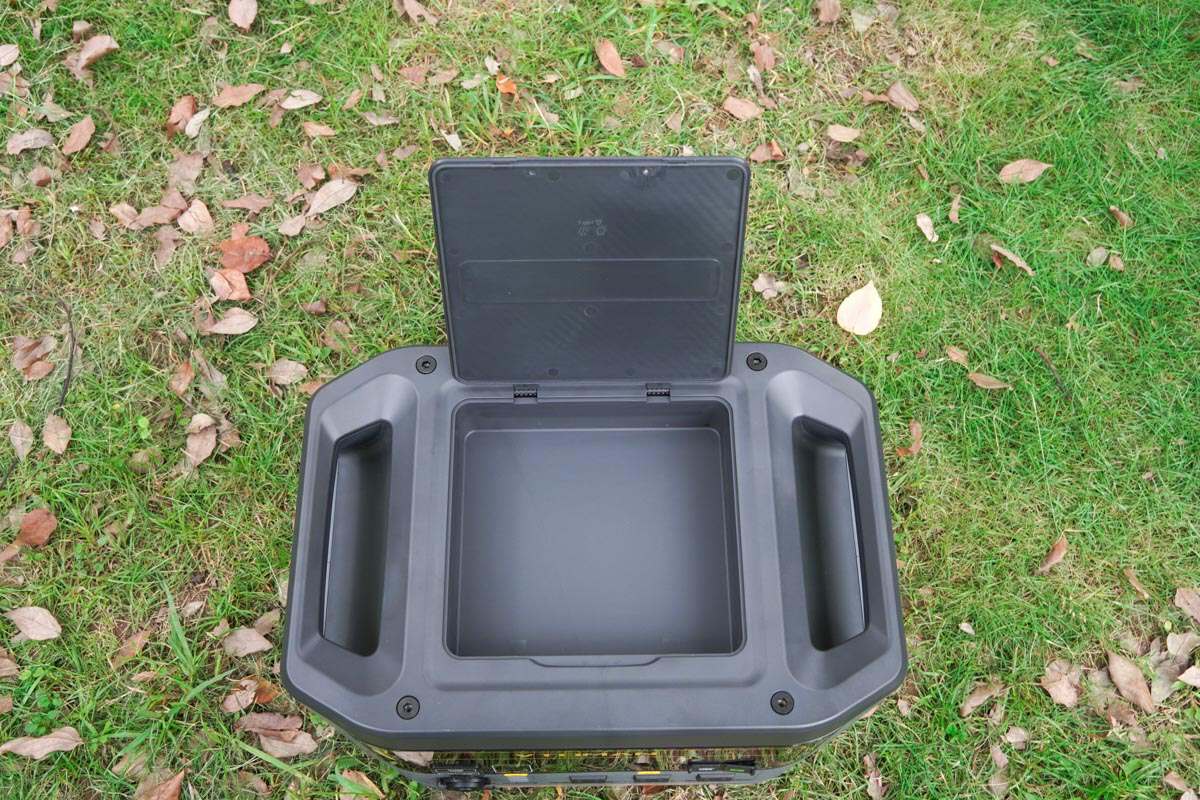 Moreover, the top panel includes a concealed storage box, perfect for keeping charging cables organized and conveniently portable.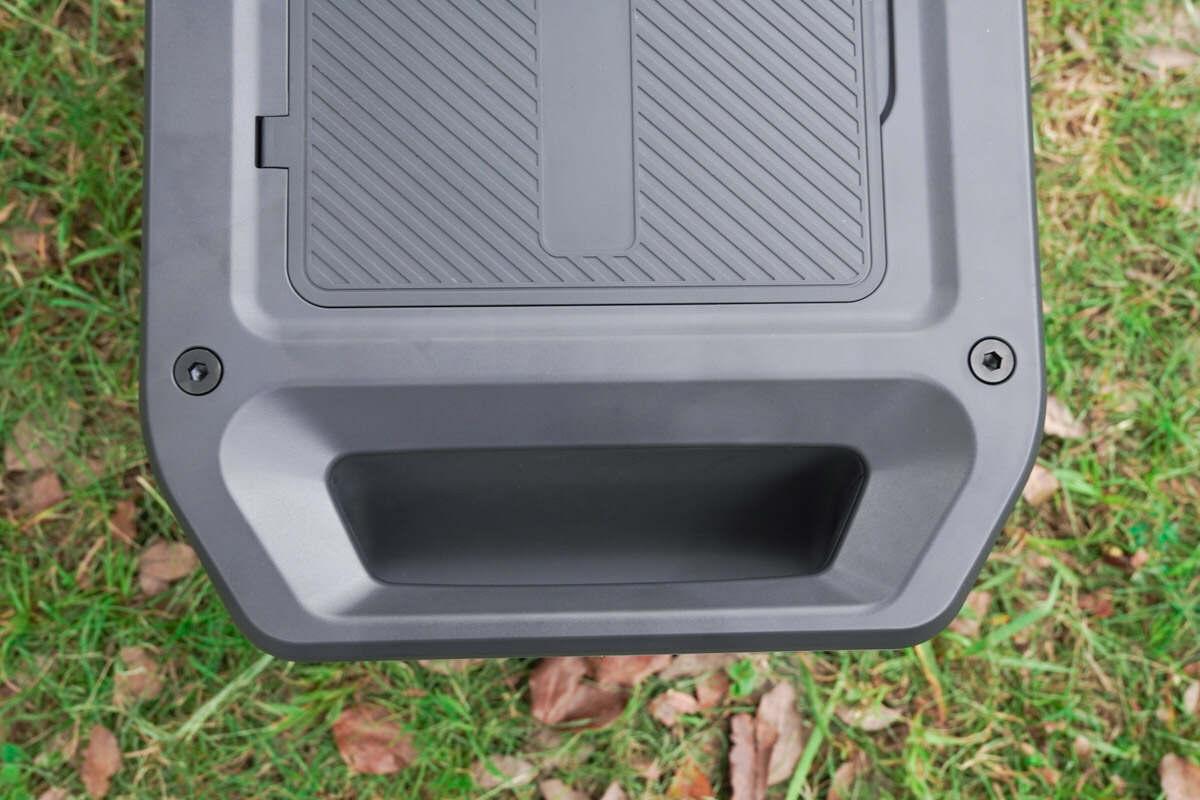 The ergonomic design of the integrated anti-slip handles on both sides makes single-person movement effortless.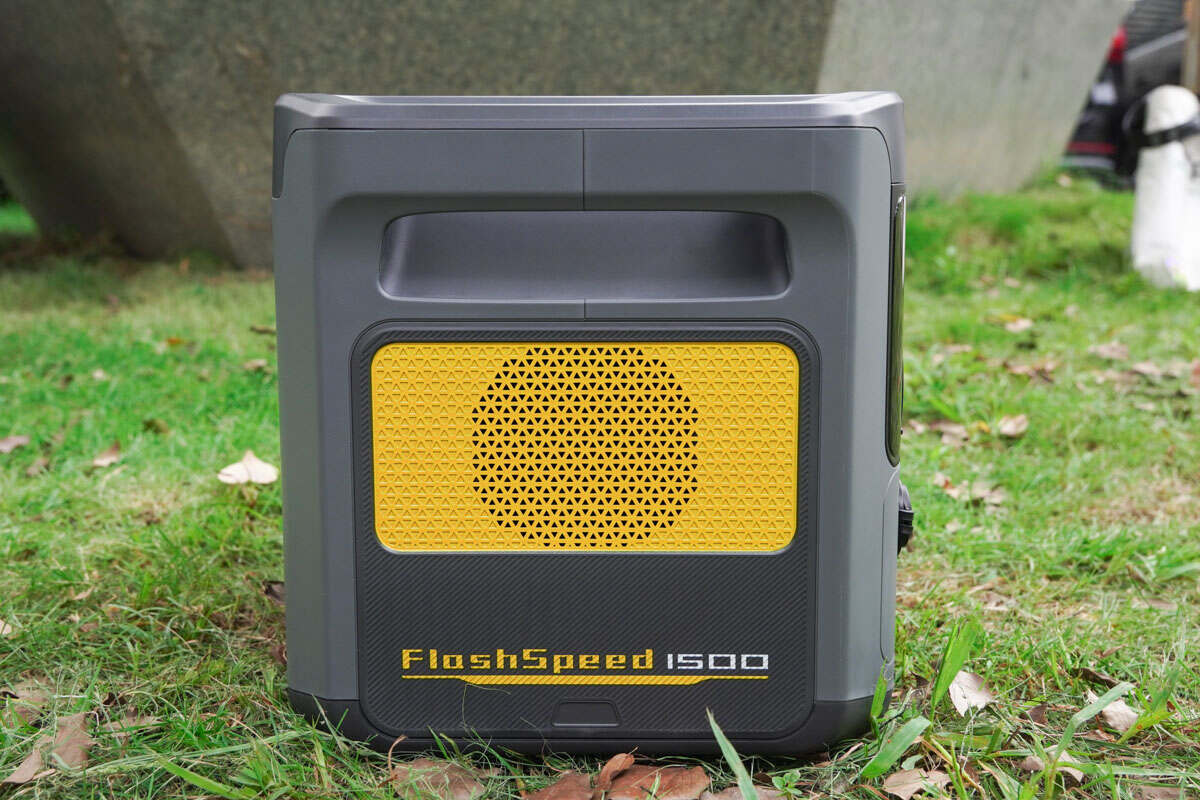 The side panels of the unit showcase a yellow rectangular grid pattern, with a central fan opening to enhance heat dissipation for prolonged use.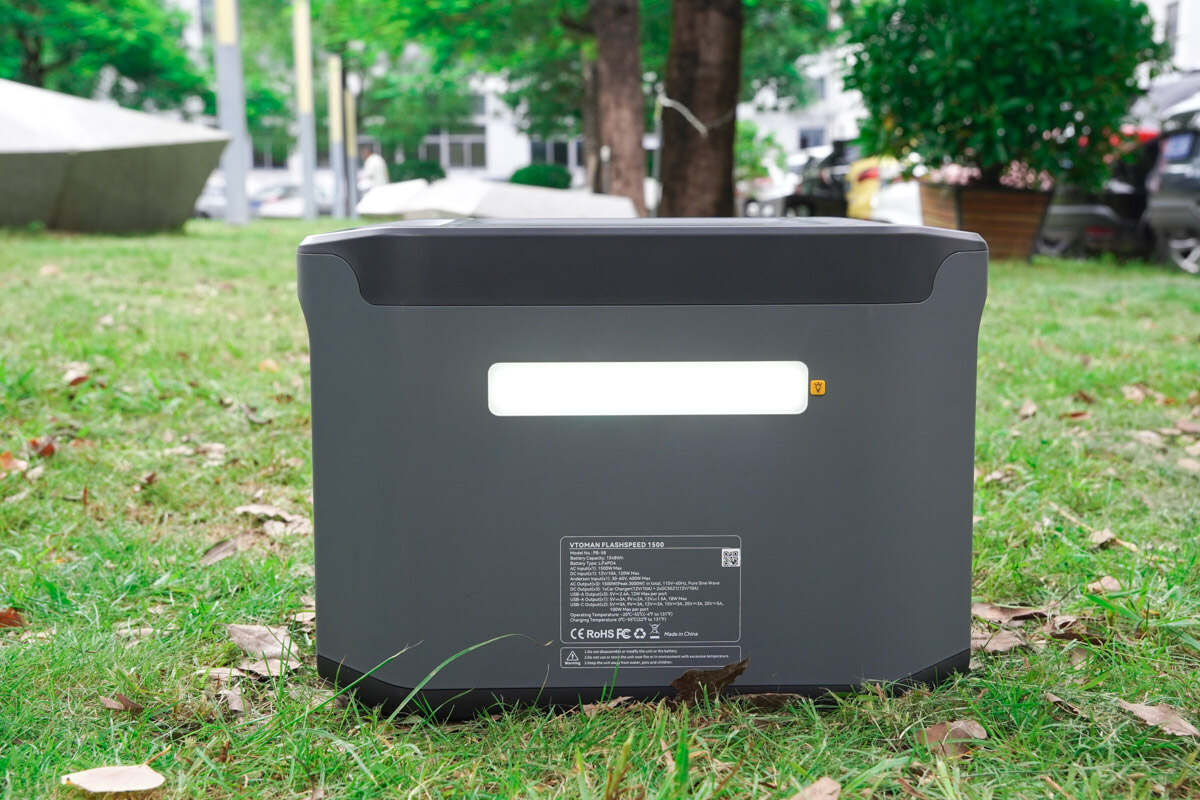 Furthermore, the backside features a strip of LED lighting, complete with an independent three-level brightness switch, offering constant illumination for camping, flashing alert, and SOS signals.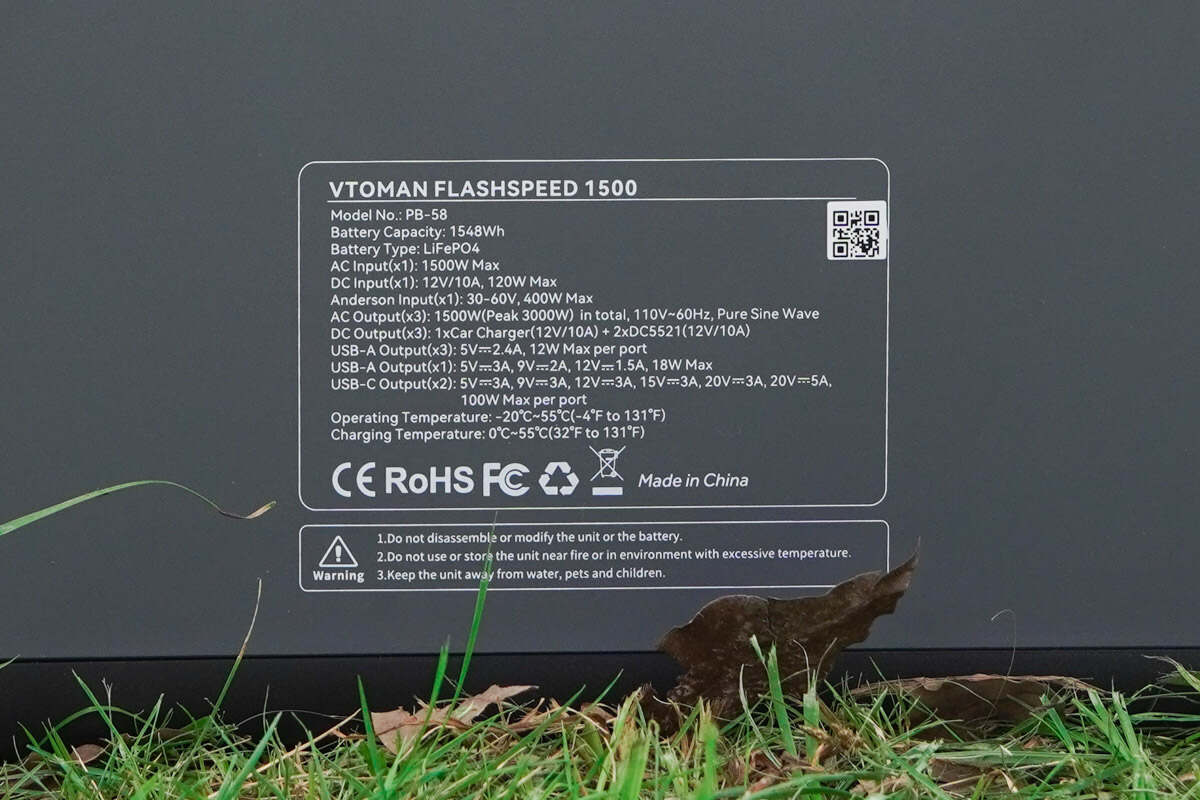 All specs info are printed on the back. Model is PB-58, and the 1548Wh batteries are made of LiFePO4. It has a 1500W output power, with a maximum instant output of 3000W, and the input power can be up to 400W with the Anderson port. As for the USB part, the maximum output power is 100W. It also has passed CE, RoHS and FCC certifications.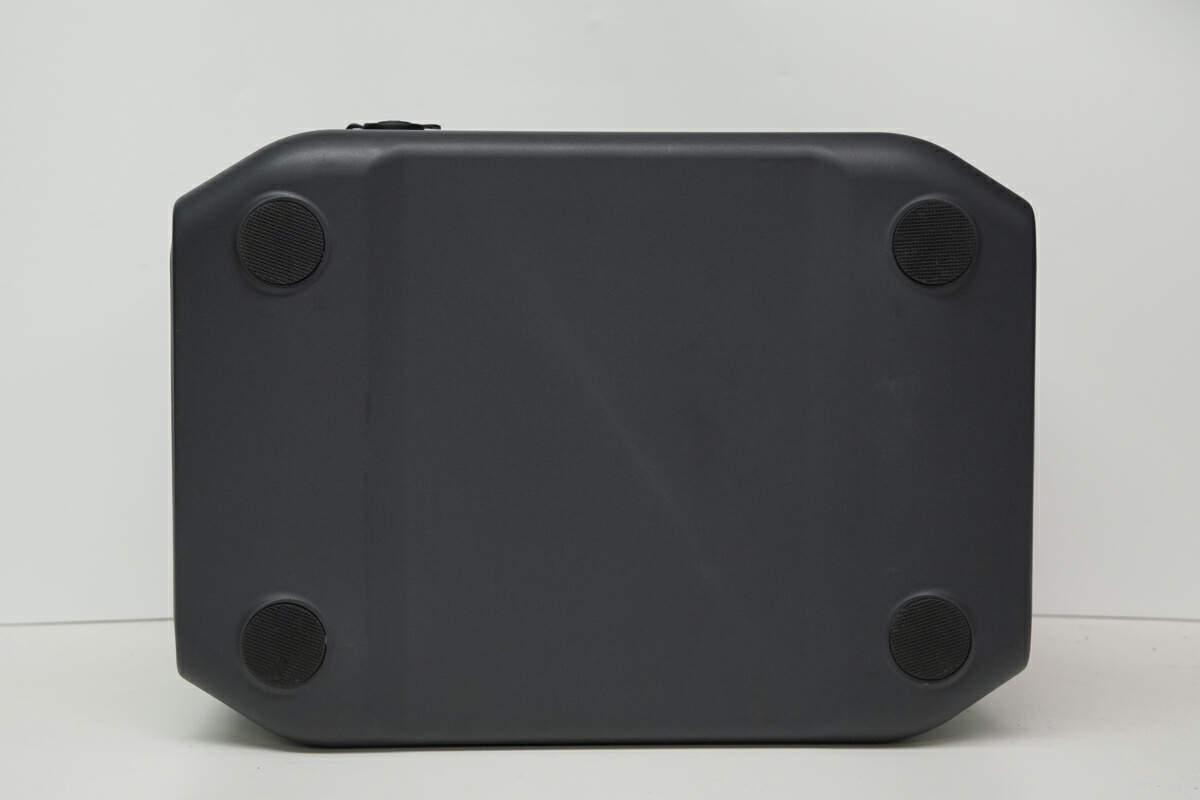 The bottom corners are equipped with circular anti-slip pads to minimize movement and collision during bumpy car rides.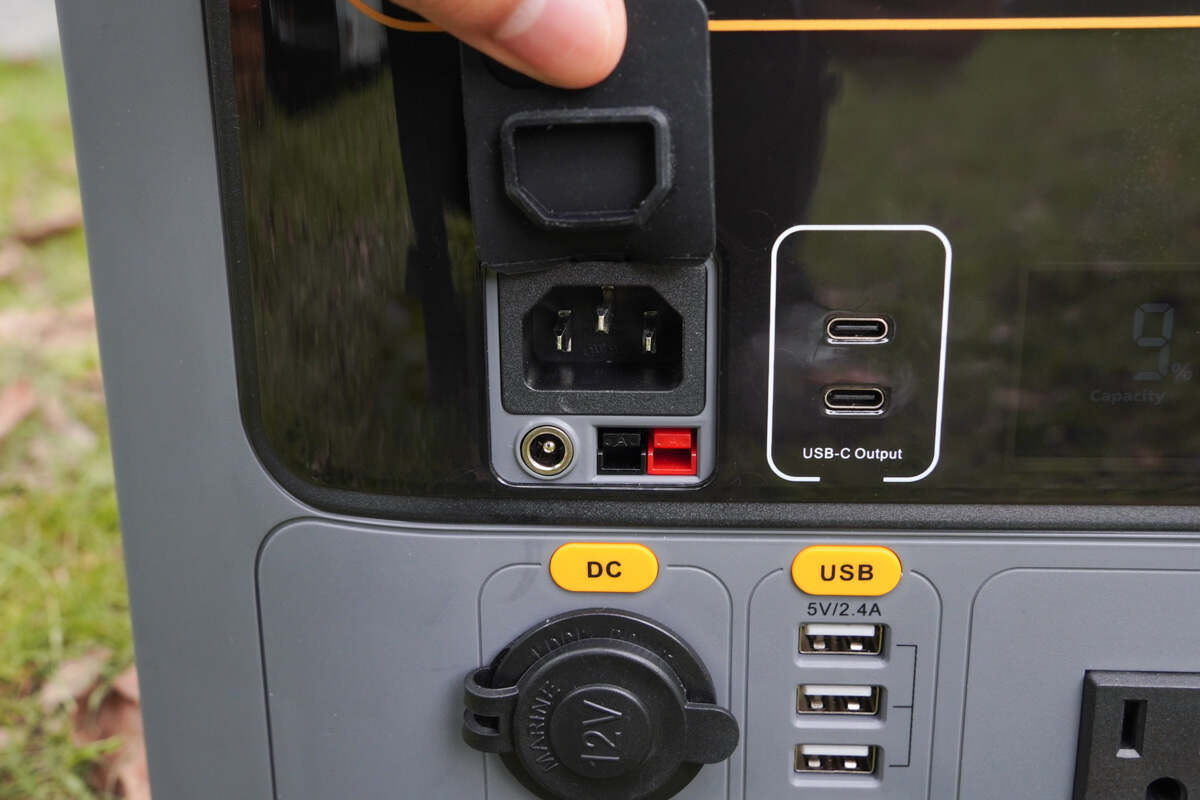 Let's take a look at the ports. The front panel's upper-left corner holds the AC input, DC input, and Anderson input, all protected by a rubber cap. On the right side, you'll find two USB-C ports, capable of supporting PD 100W output.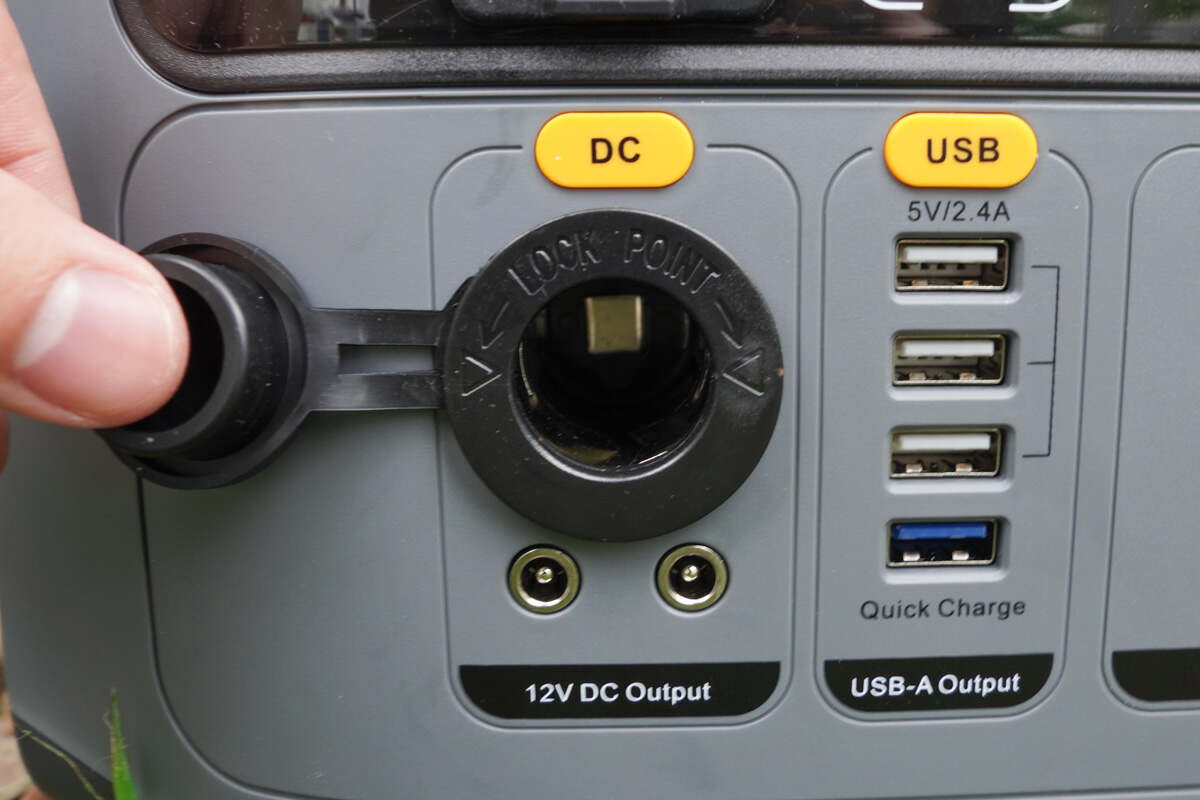 On the lower-left side, there's the DC section, featuring a car output port supporting a maximum of 12V/10A 120W output, suitable for powering various in-car electronics. Additionally, there are two DC 5521 output ports, ideal for things like portable routers. On the right side is the USB section, equipped with four USB-A ports, with one blue USB-A port offering QC fast charging.
A noteworthy feature includes the elevated yellow rubber protrusions located above each section, which serve as buttons that grant users the ability to activate or deactivate the power supply for their corresponding segments.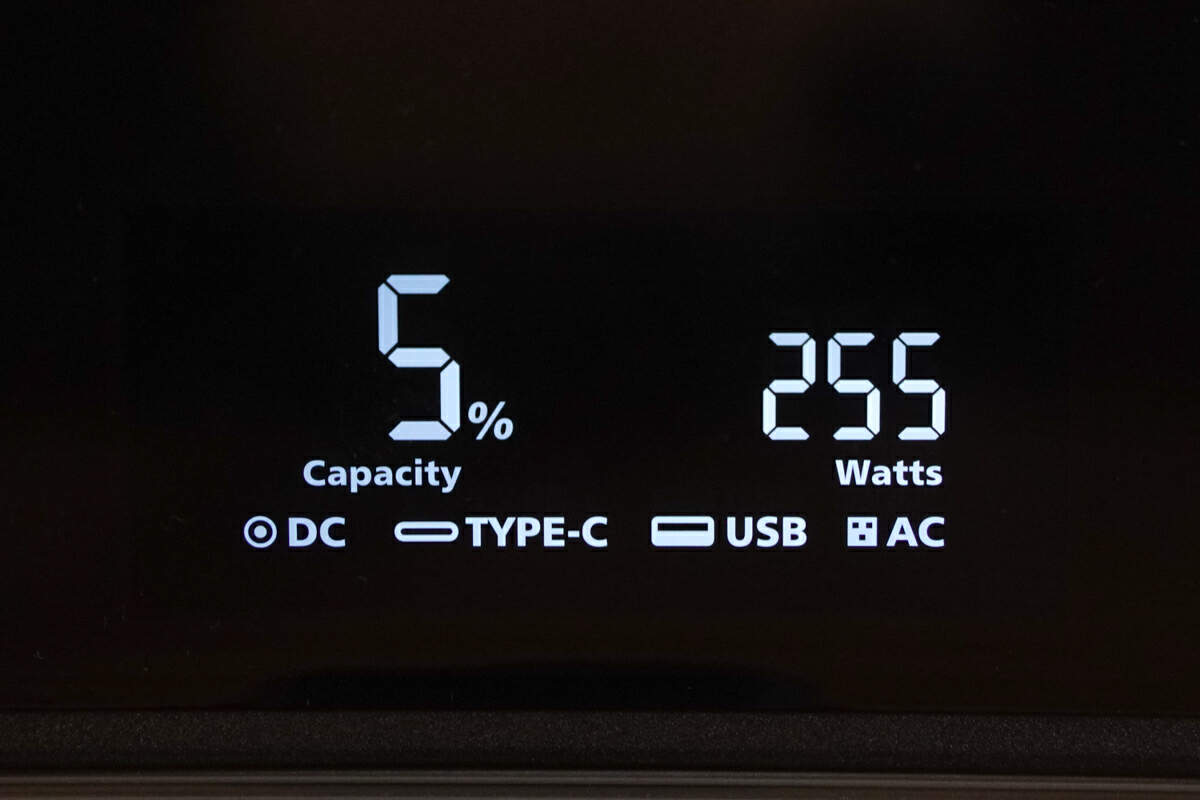 The front middle area hosts an LED display, providing real-time information on input/output power, usage time, and the status of each port.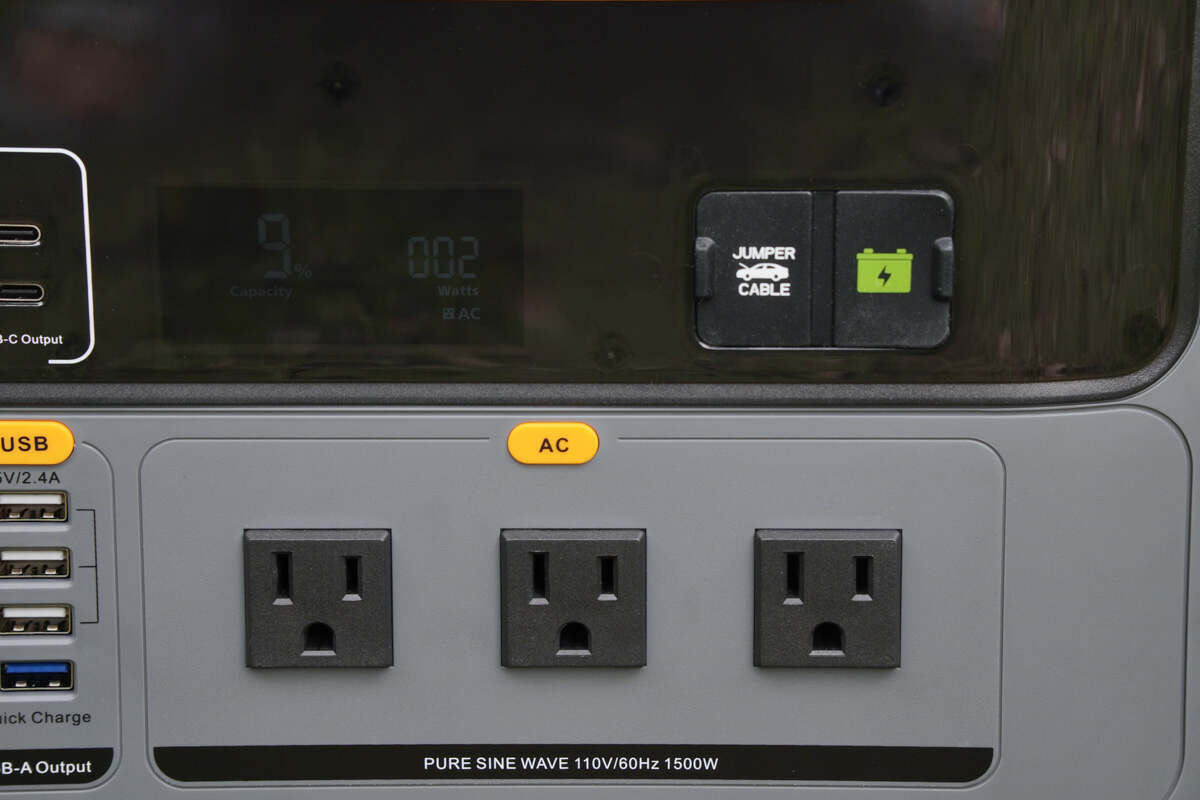 Beneath the display are three AC outlets supporting voltage outputs from 110V~. When the V-Beyond feature is activated, the maximum instant output can reach 3000W.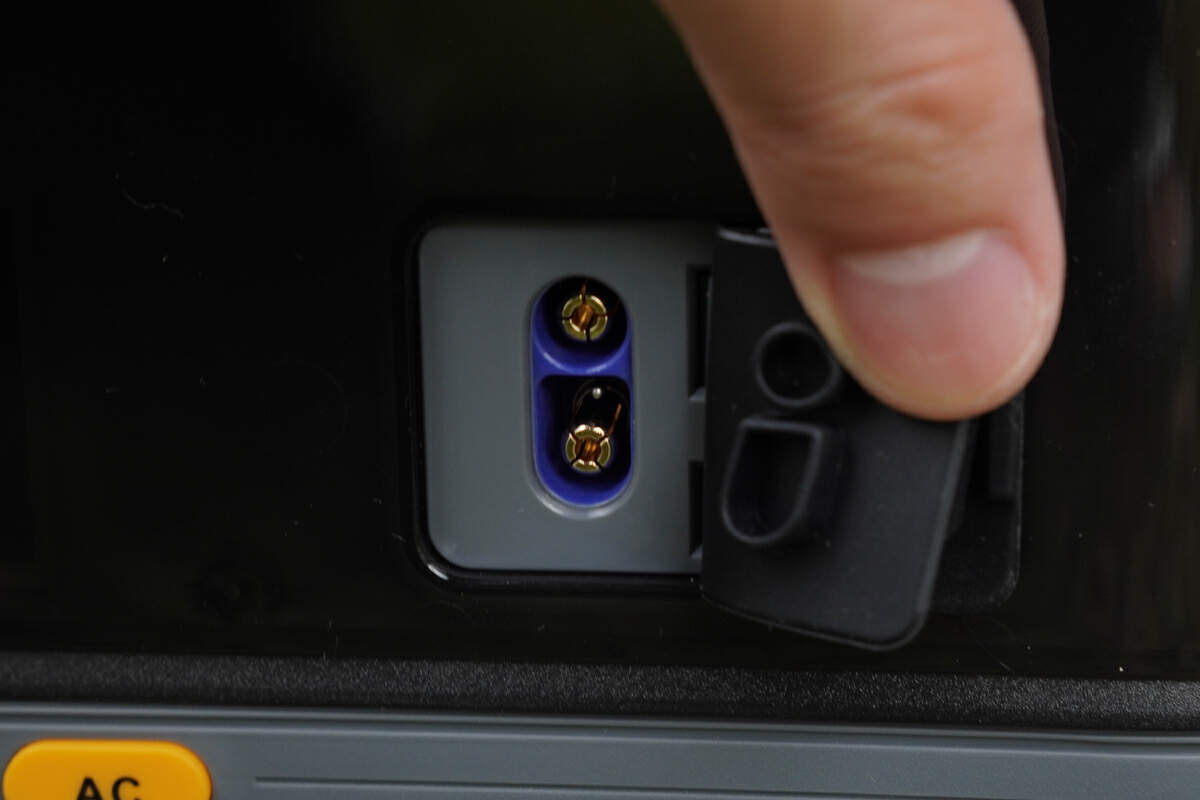 To the right of the display, you'll find a car jumper designed to address common battery drain issues during long road trips.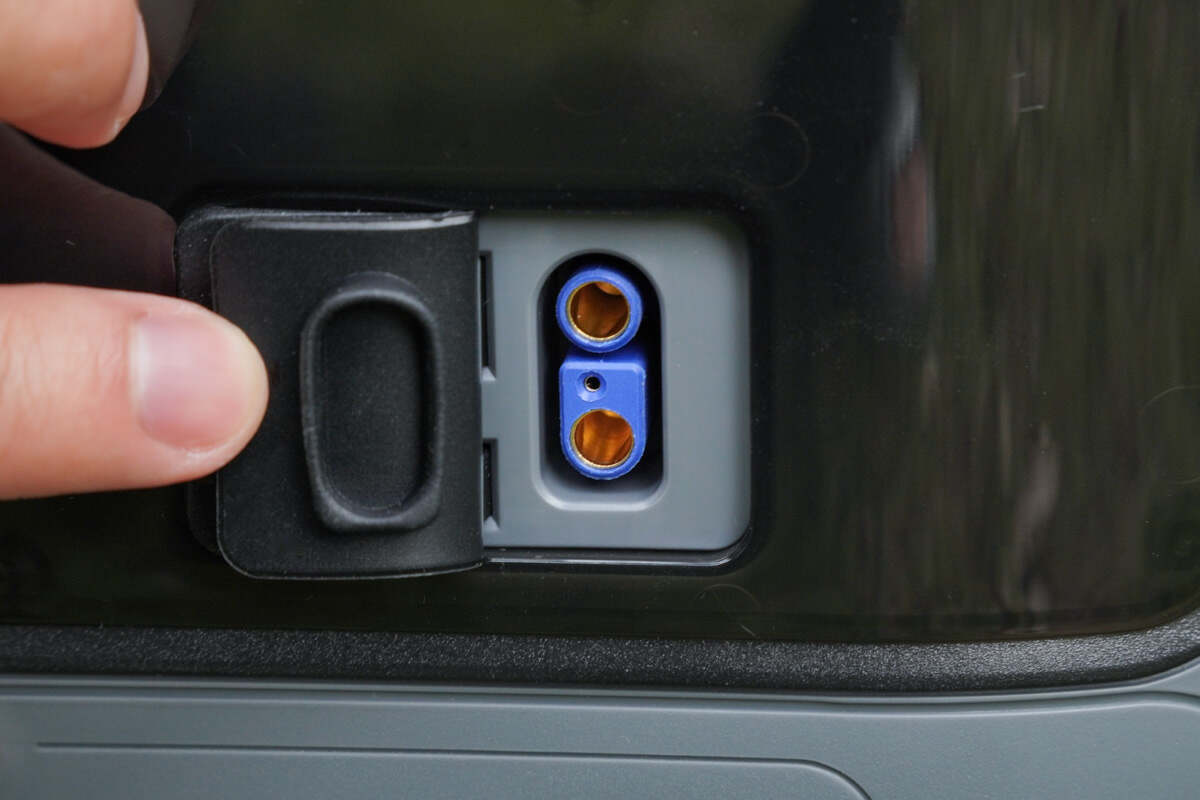 Another one serves as a battery connection port, facilitating capacity expansion with an extended battery.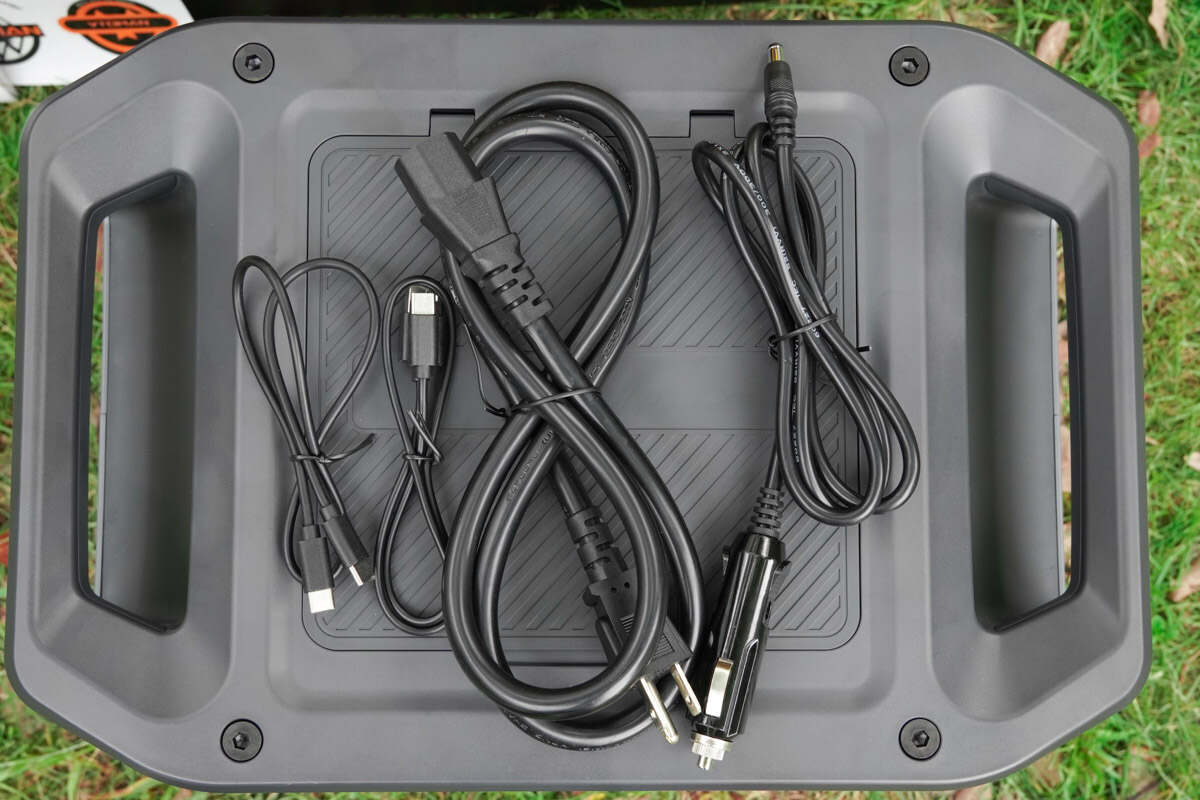 It also contains a USB-A to USB-C cable, dual USB-C cable, AC cable, and DC cable.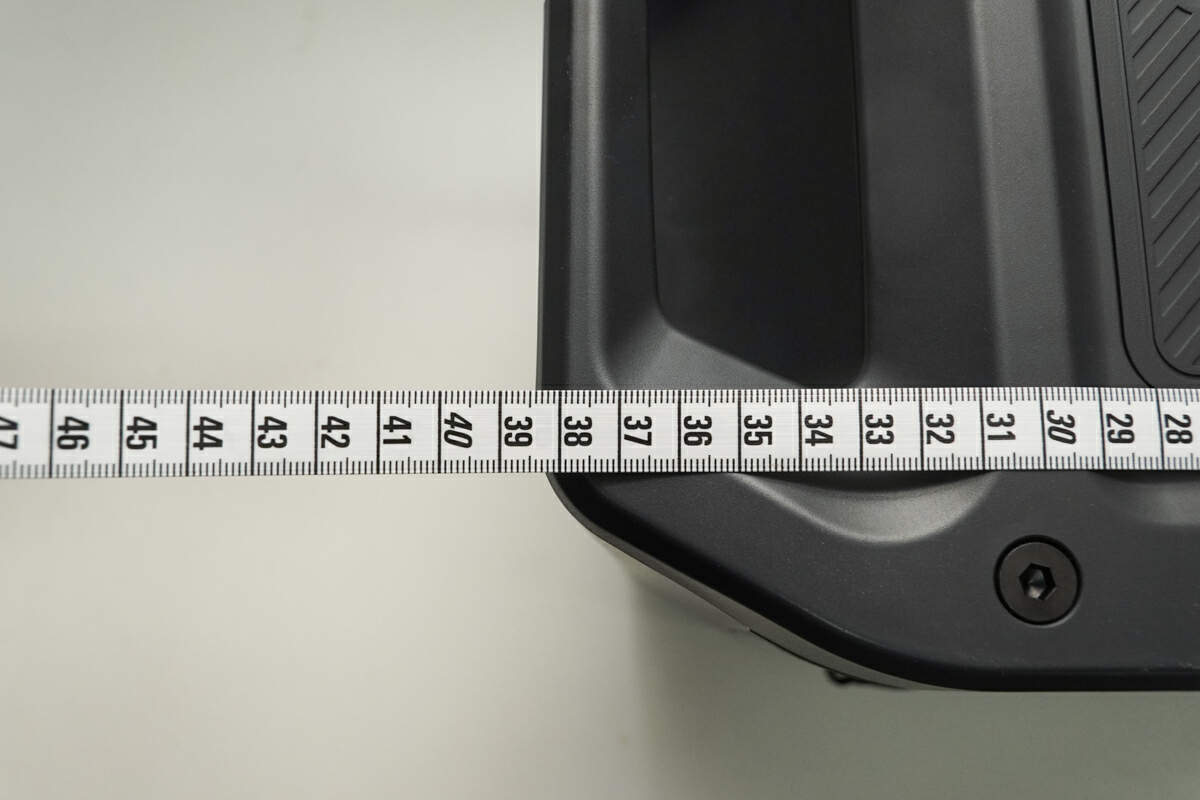 The length of the power station is about 38.5cm (1.26 ft).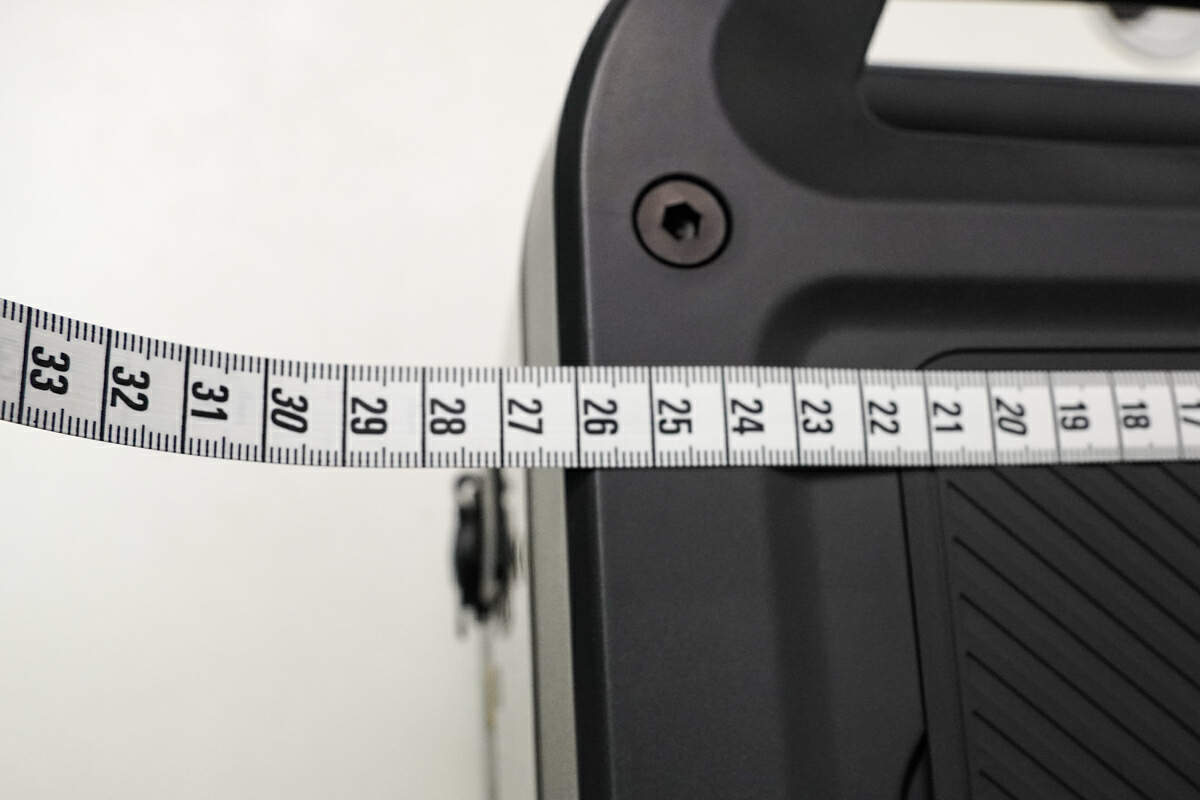 The width is about 26cm (0.85 ft).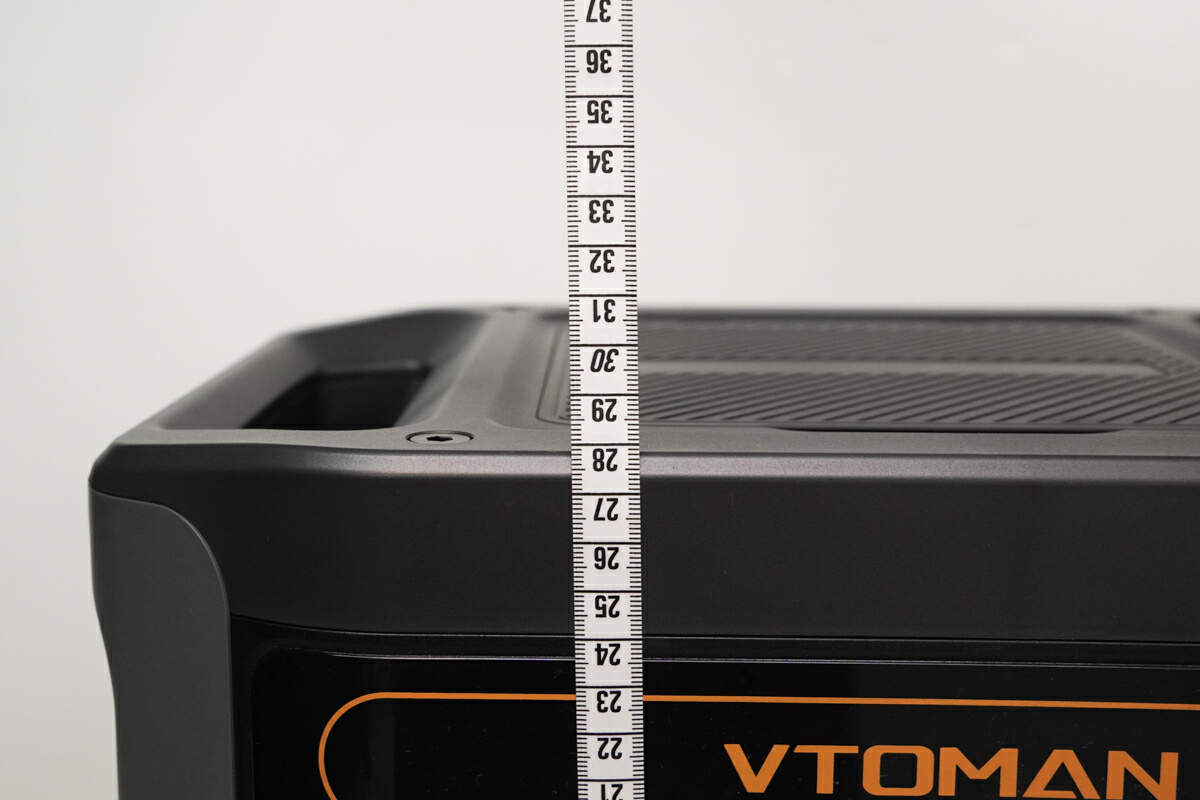 And the height is about 28cm (0.92 ft).
Capacity Expansion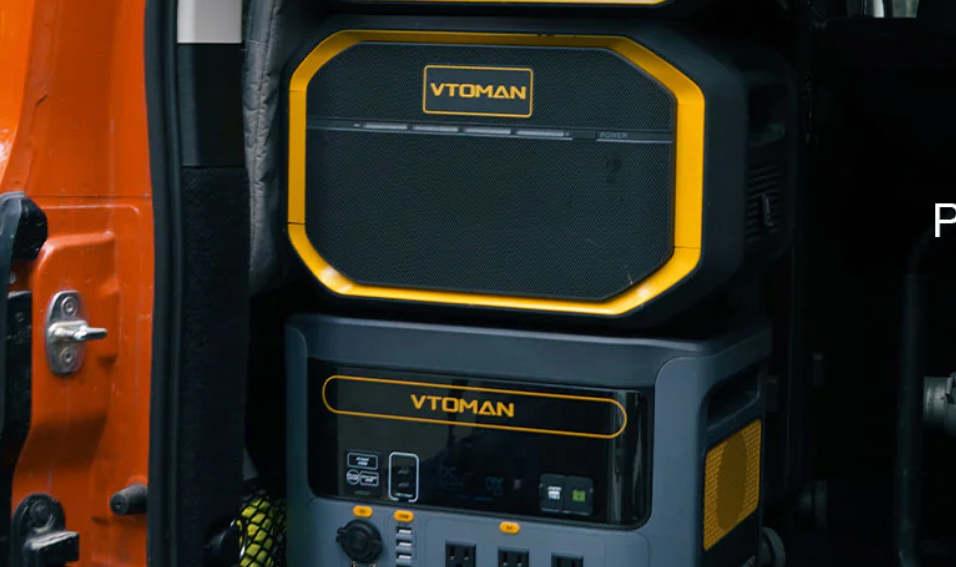 The power station offers the convenience of expanding its capacity by accommodating an additional battery, which means it can boost the overall power storage from the initial 1548Wh to an impressive 3096Wh, providing users with even more extended usage periods and enhanced power reserves.
UPS
Moreover, the VTOMAN FlashSpeed 1500 Power Station comes equipped with a UPS function, providing reliable power backup for various emergency scenarios.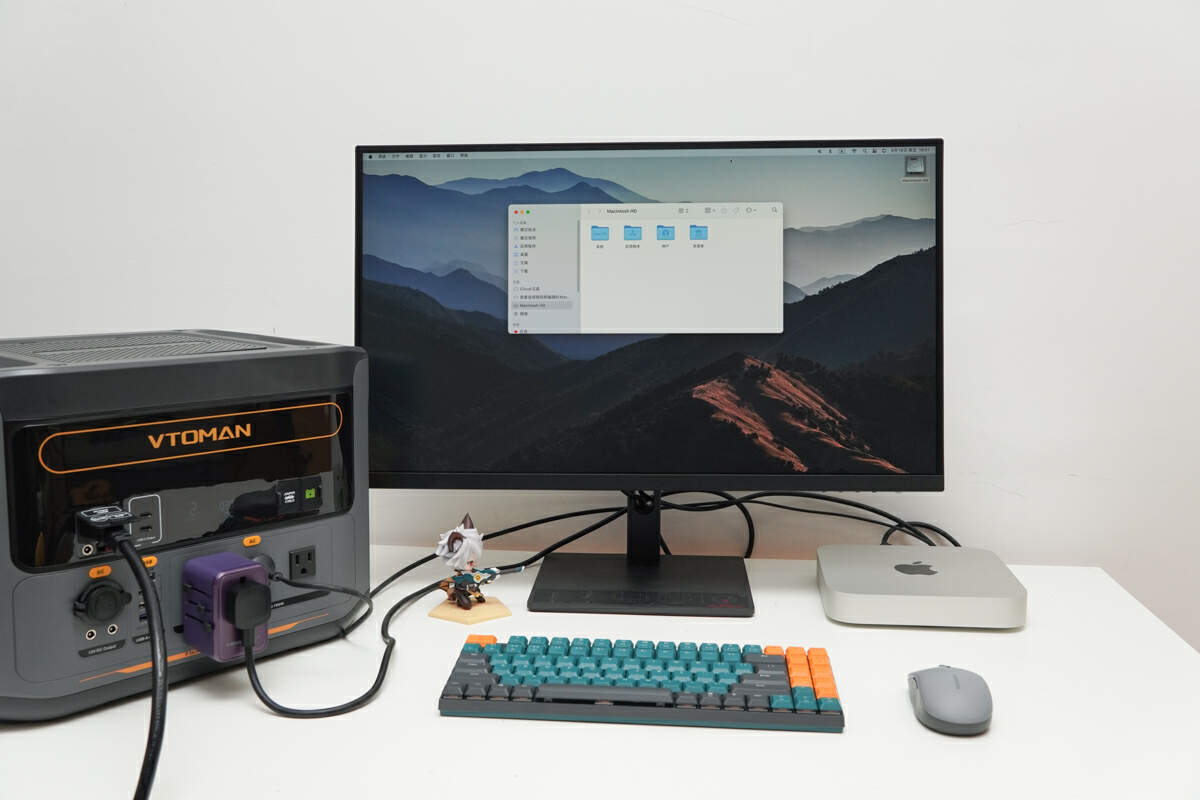 The UPS function automatically kicks in upon connecting to a power source, simultaneously charging other devices. In the event of a power outage, the internal circuitry swiftly switches to battery power mode within just 20 milliseconds, ensuring an immediate emergency power supply.
Our tests demonstrated that while the power station was being charged and simultaneously providing power to an iMac, abruptly unplugging the AC input plug did not disrupt the iMac's normal operation. It's important to clarify that this functionality isn't certified as a professional-grade UPS feature and isn't suitable for certain specialized equipment such as medical devices.
LiFePO4 Batteries
Given the potential safety hazards posed by accidental collisions during bumpy rides or battery aging due to extended usage, safety is paramount for portable power stations.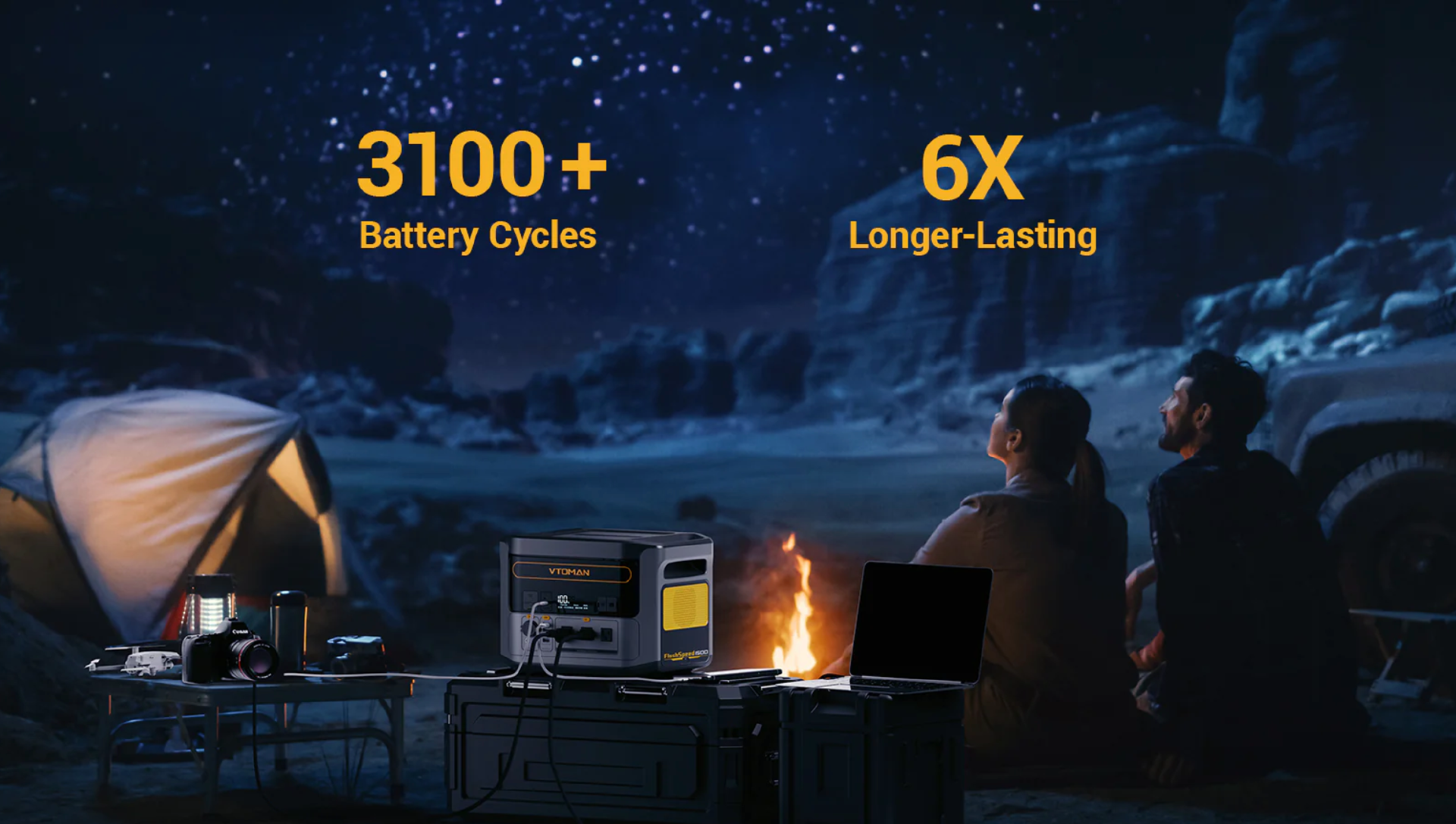 The VTOMAN FlashSpeed 1500 Power Station is equipped with Tesla-similar LiFePO4 batteries, known for their stable chemical properties and heightened safety. Additionally, it incorporates the SuperSafe LIFEBMS battery management system, minimizing battery loss and extending overall lifespan.
Charging and Discharging Test
Today's test is centered around three key aspects: evaluating the compatibility of USB ports, conducting fully charging assessments, and scrutinizing the performance of the AC output.
USB Ports
For this round of tests, specs info for USB ports of the same type remains consistent, and only one of them will be detailed.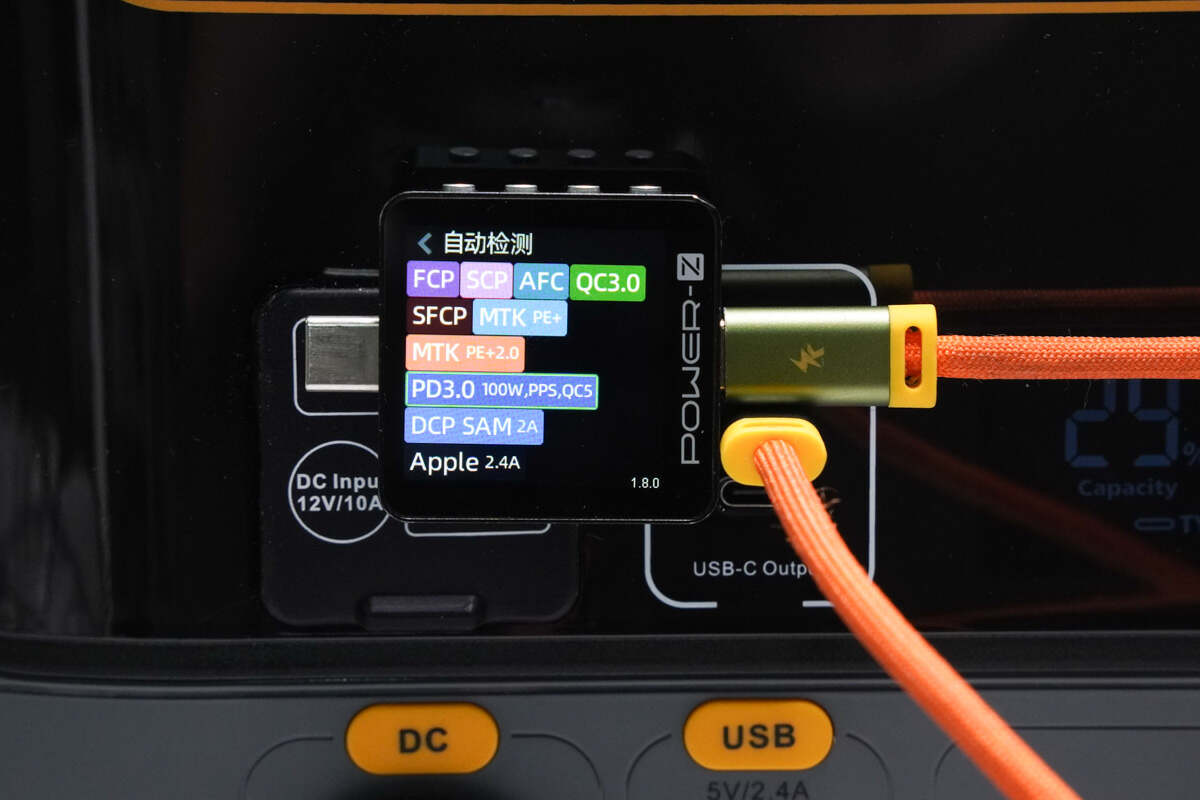 The ChargerLAB POWER-Z KM003C shows the USB-C port supports FCP, SCP, AFC, QC3.0, SFCP, MTK, PD 3.0, PPS, QC5, DCP, SAM 2A, and Apple 2.4A protocols. This highlights its exceptional compatibility.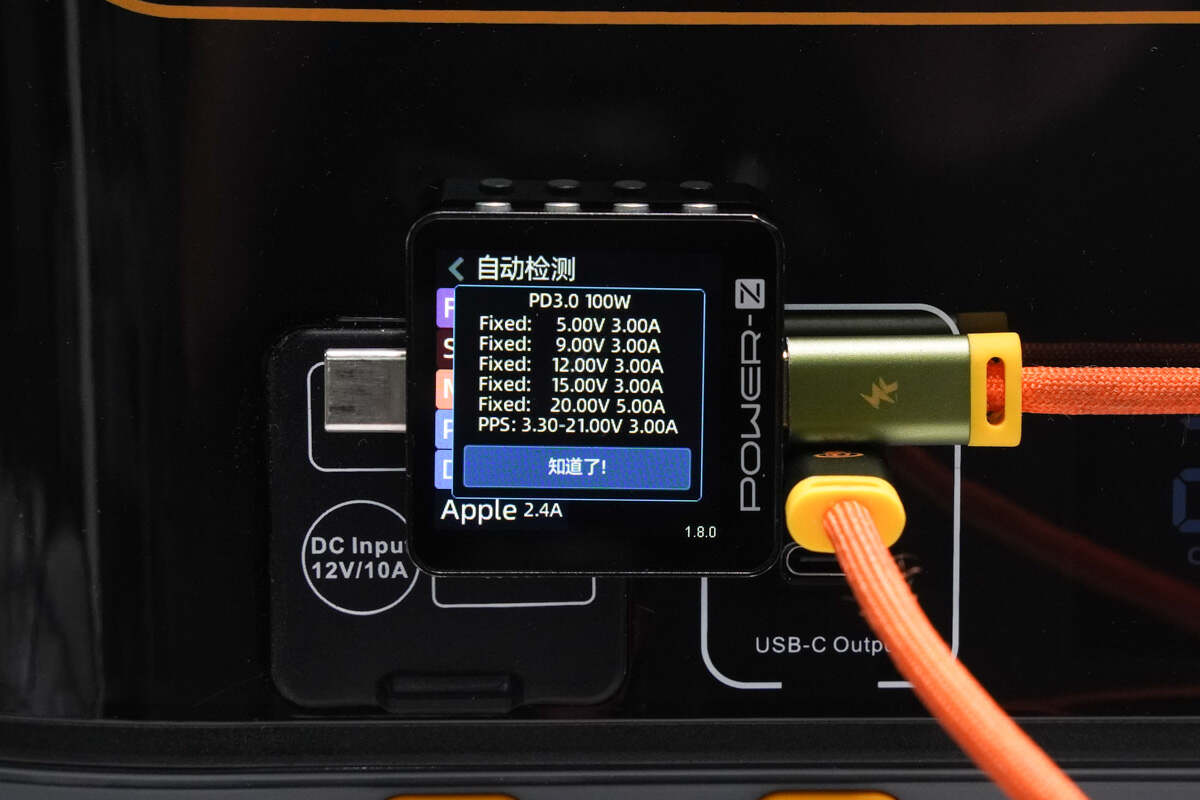 And it has five fixed PDOs of 5V3A, 9V3A, 12V3A, 15V3A and 20V5A, and a set of PPS.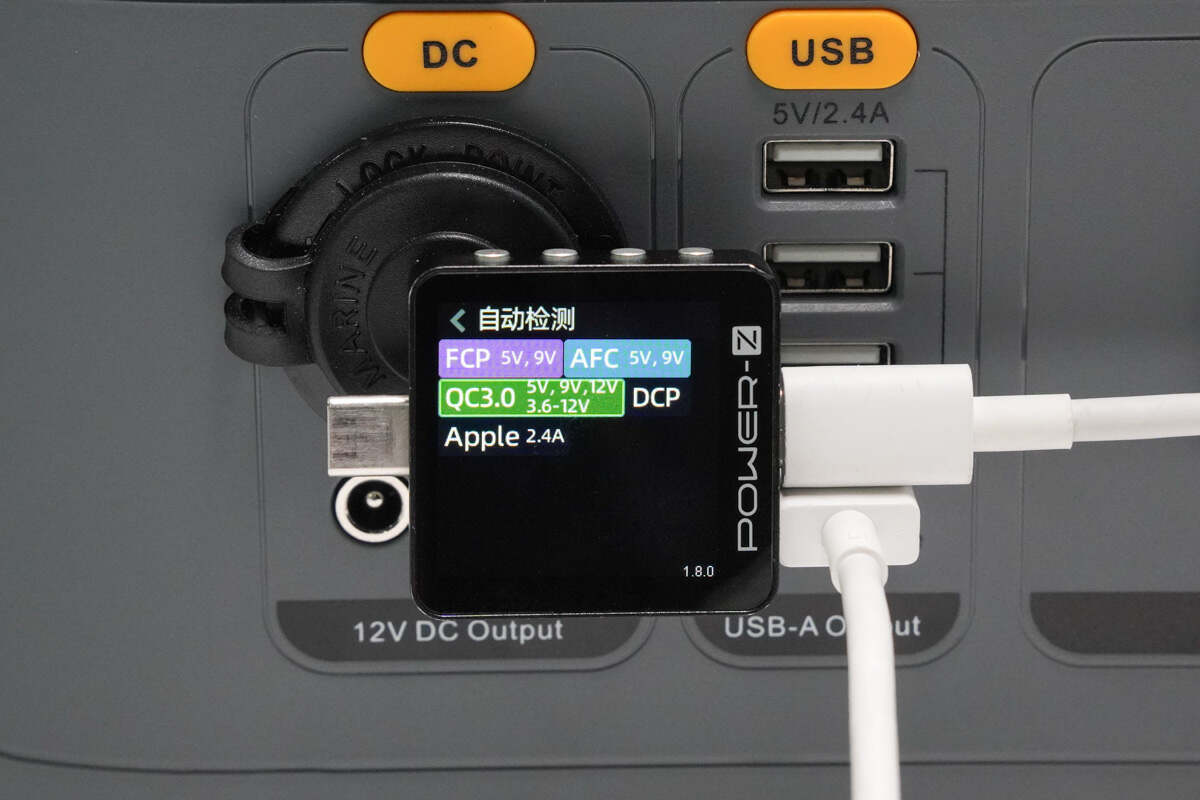 As for the blue USB-A port, it only supports FCP, AFC, QC3.0, DCP and Apple 2.4A charging protocol.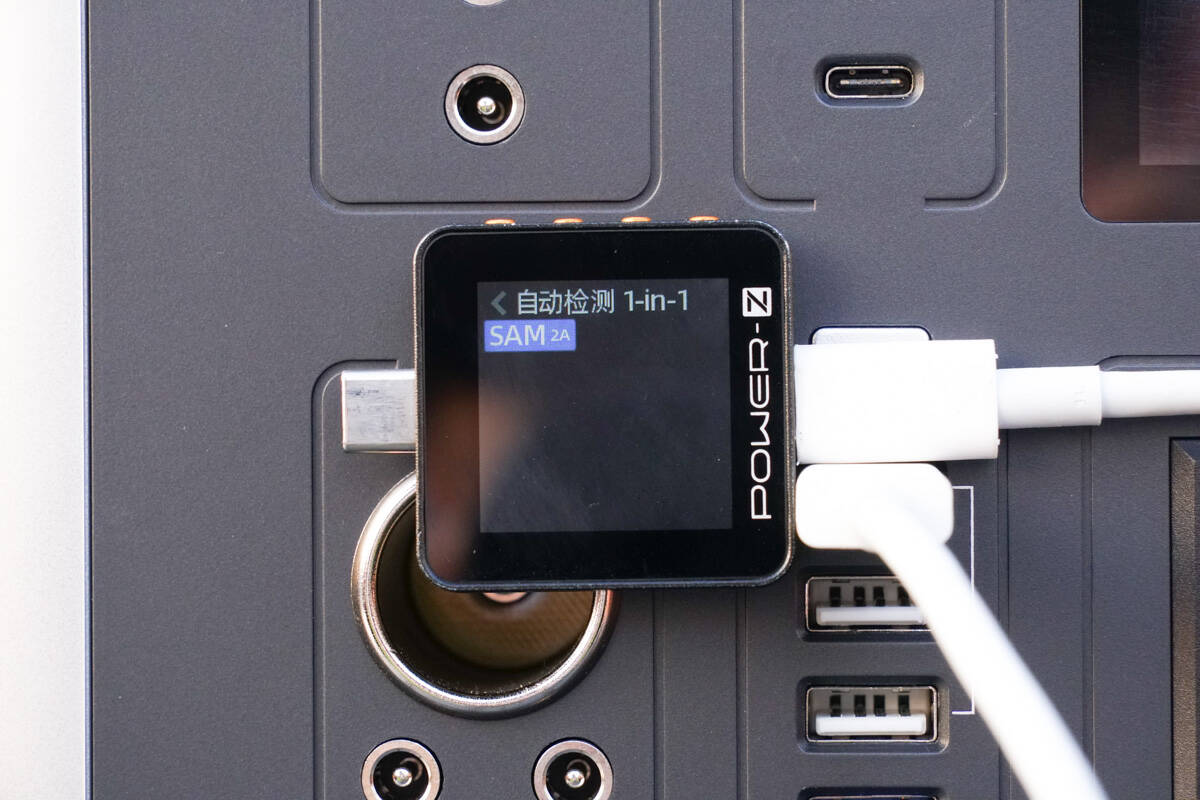 The white USB-A port only supports the SAM 2A charging protocol, which is suitable for charging older electronic devices or wireless headphones.
Charging Compatibility Test
Next, ChargerLAB will do compatibility tests on dozens of different devices, such as smartphones, game consoles, tablets, and laptops with USB port. These tests aim to simulate everyday charging scenarios, allowing everyone to gain valuable insights into optimal charging techniques.
USB-C (100W)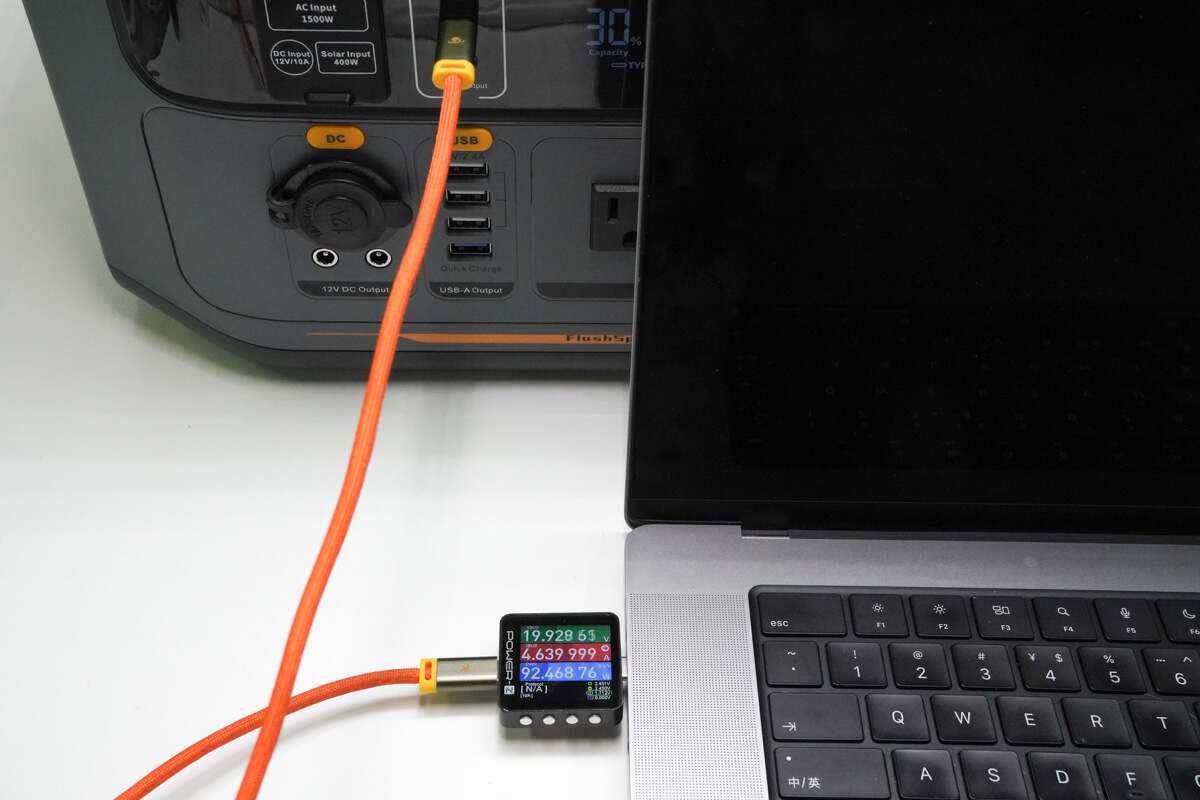 The USB-C port can provide 92W to the 16-inch MacBook Pro M1 Max 2021.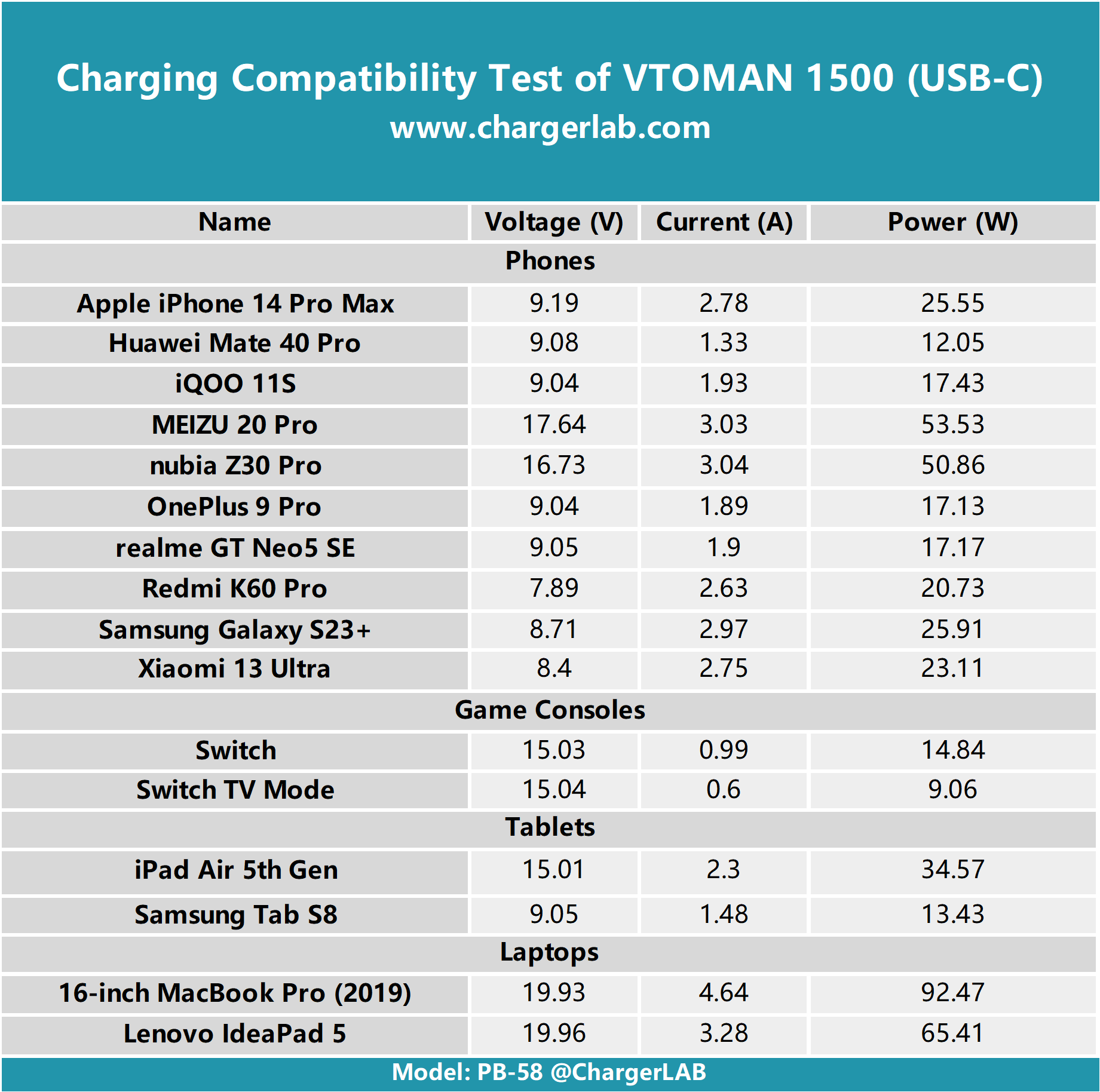 After compiling data for various models in a table, it's evident that most smartphones hover around a voltage value of 9V, while gaming consoles and tablets trigger 15V and laptops trigger 20V, aligning with the specified 100W PD output.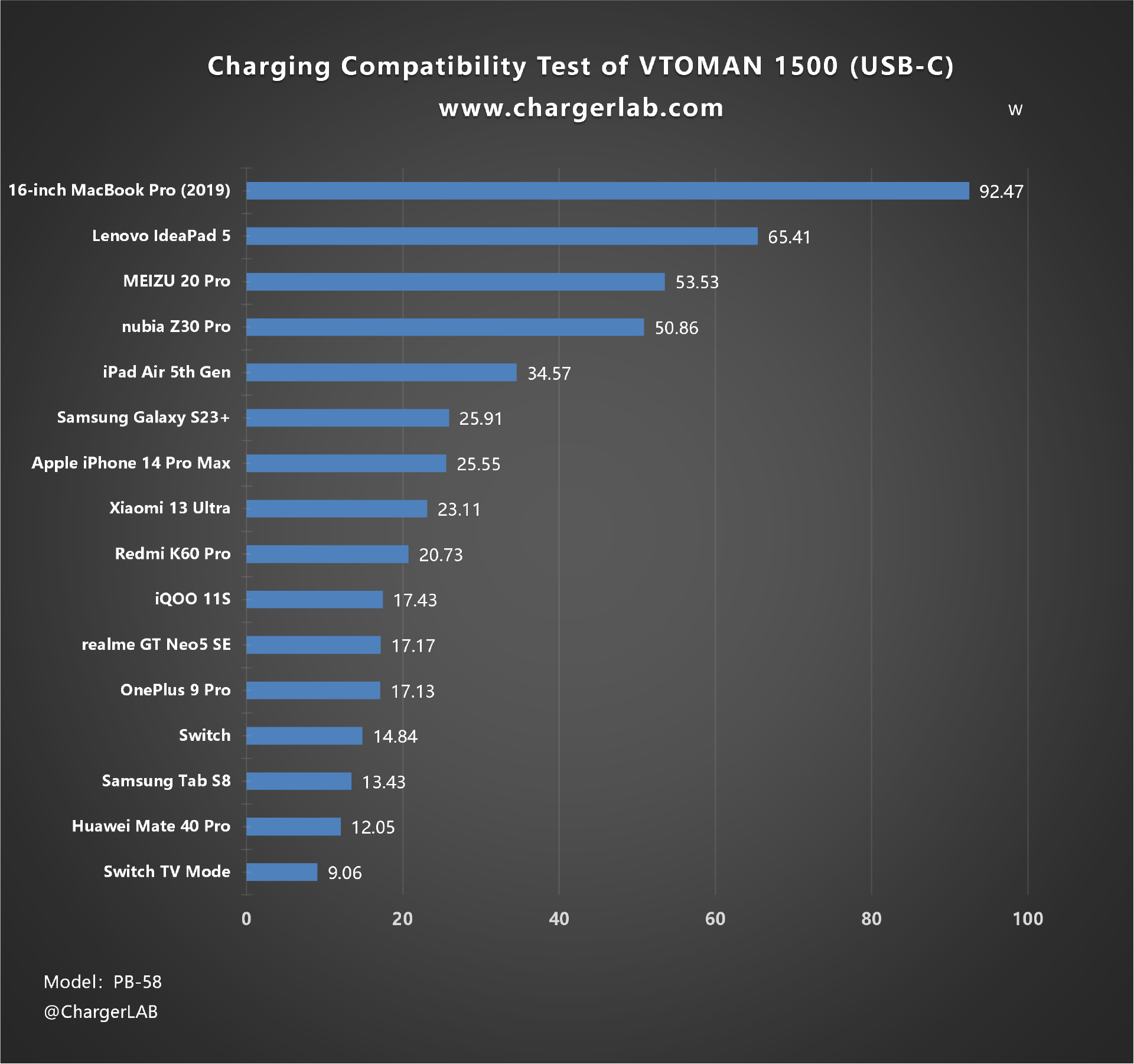 The data from the table was then used to create a bar graph. This graph highlights that the 16-inch MacBook Pro M1 Max 2021 attains the highest charging power at 92.47W, followed by the Lenovo IdeaPad 5 at 65.41W. In terms of smartphones and tablets, models that support the PD protocol display a more friendly compatibility.
Blue USB-A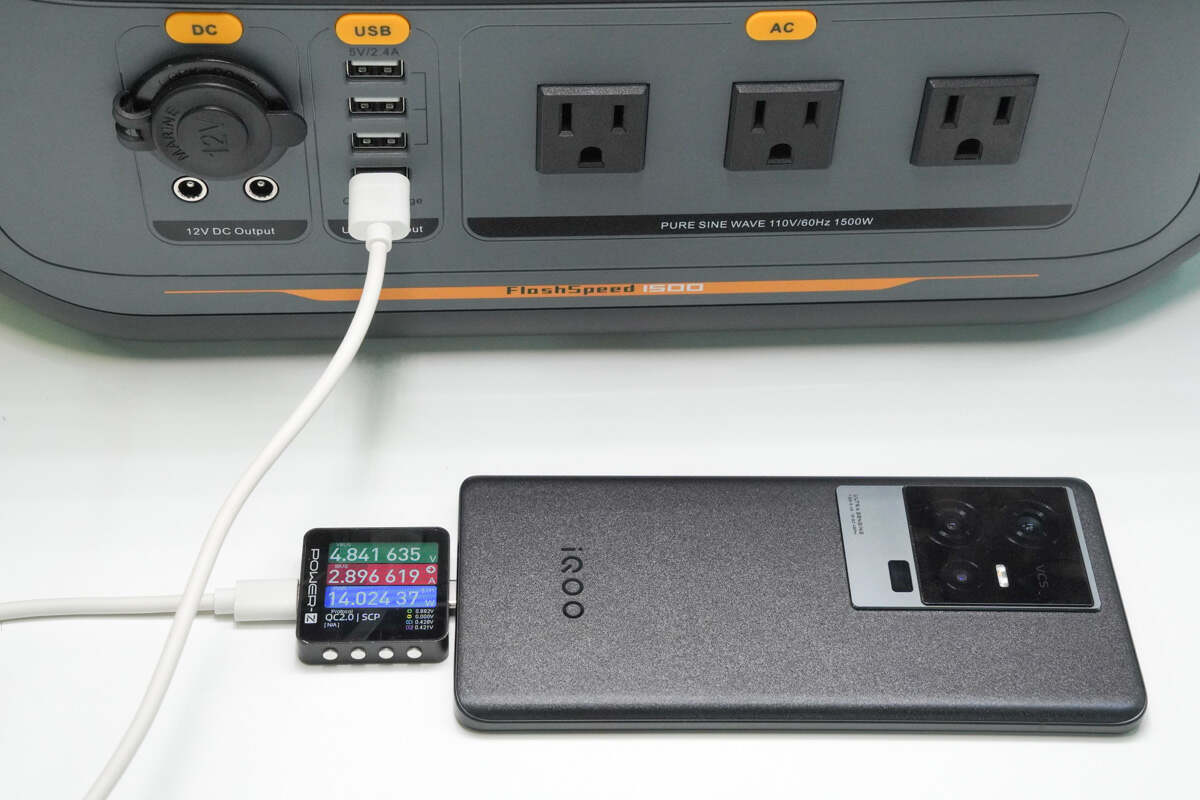 Next is the USB-A part, the blue USB-A port can provide 14W to the iQOO 11S.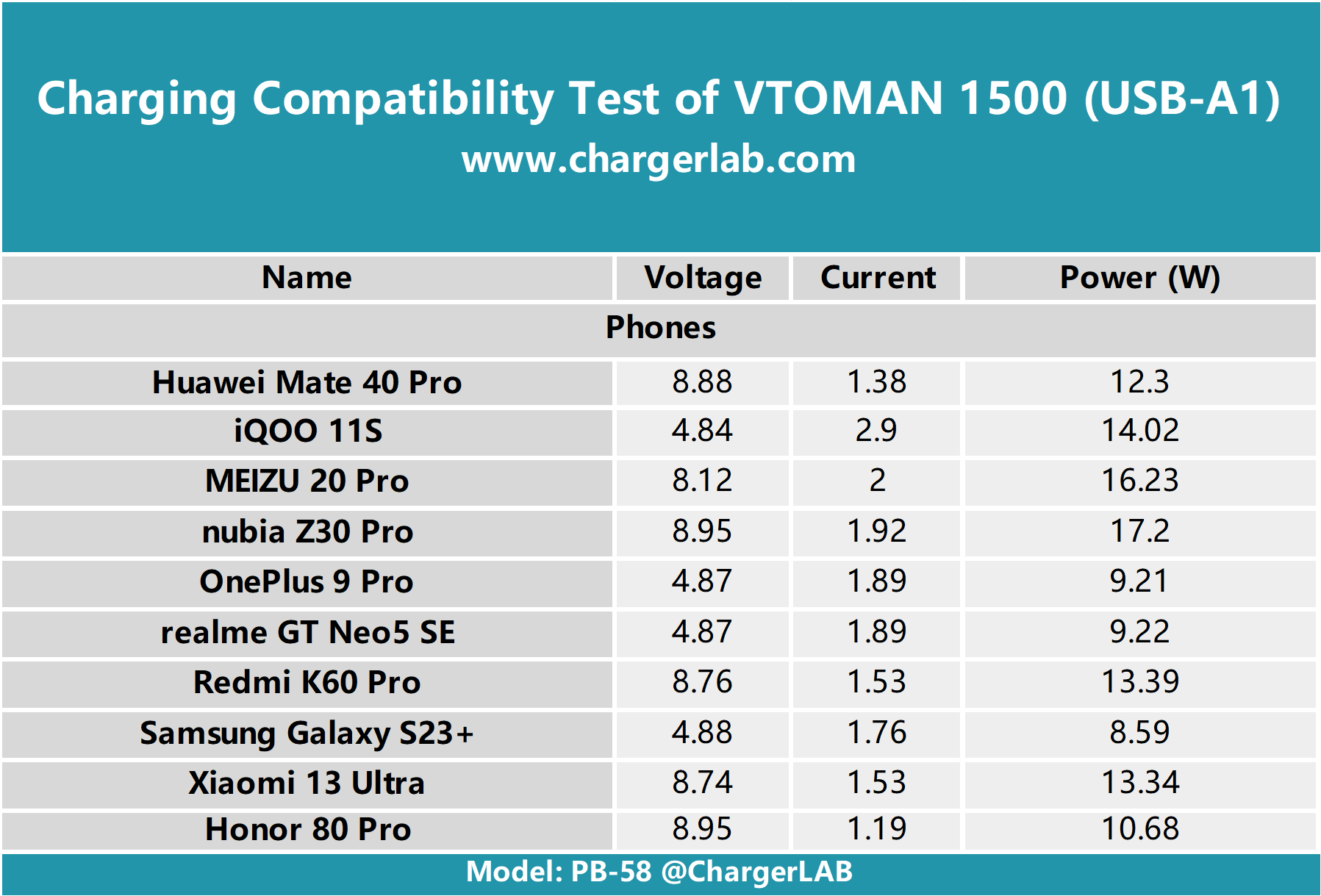 Similar to previous tests, data was gathered in a table, indicating that smartphones trigger voltage values of 5V and 9V.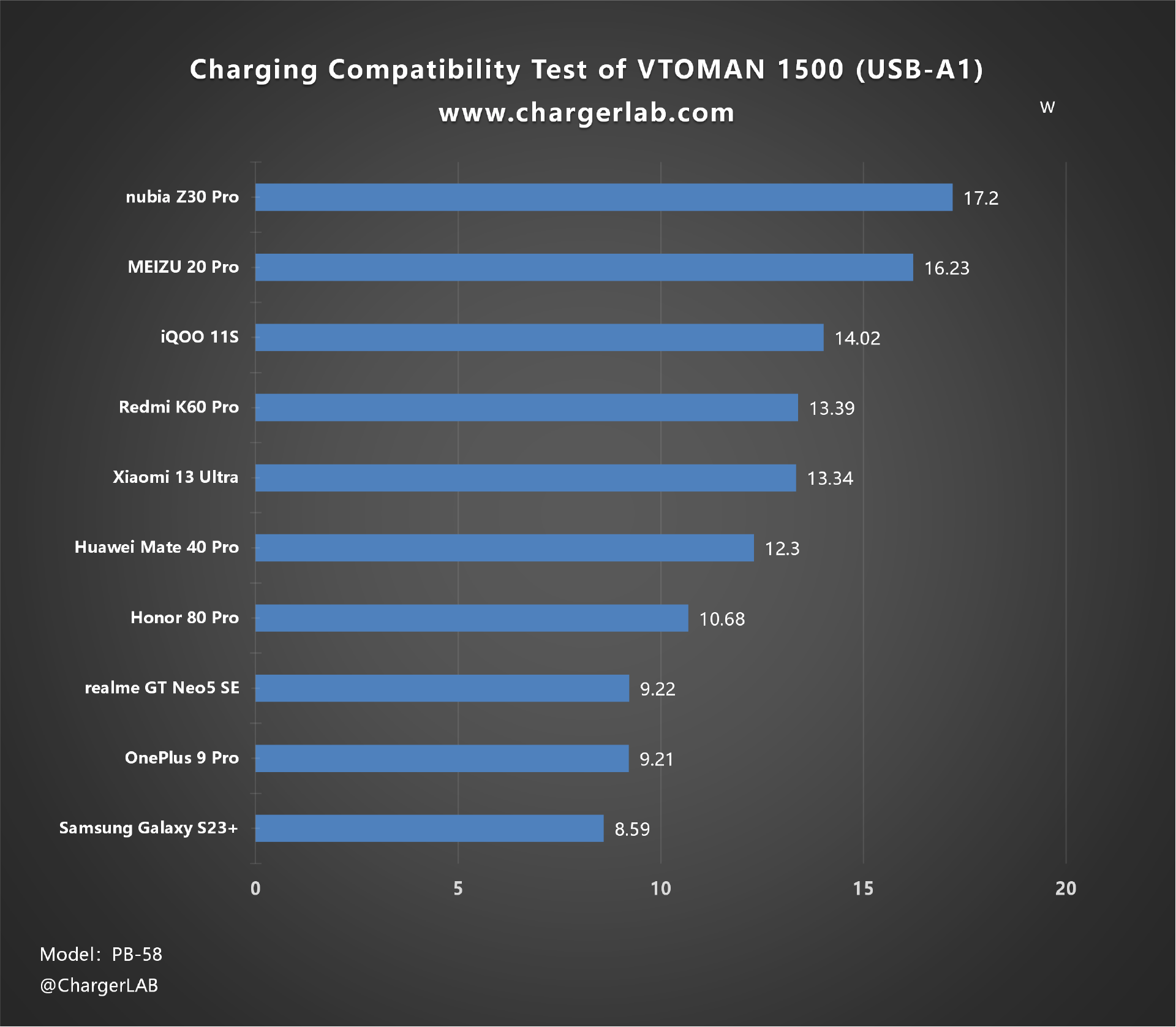 A bar graph illustrates that the USB-A port can provide over 9W of charging power to smartphones, with the Nubia Z30 Pro registering the highest power at 17.2W.
White USB-A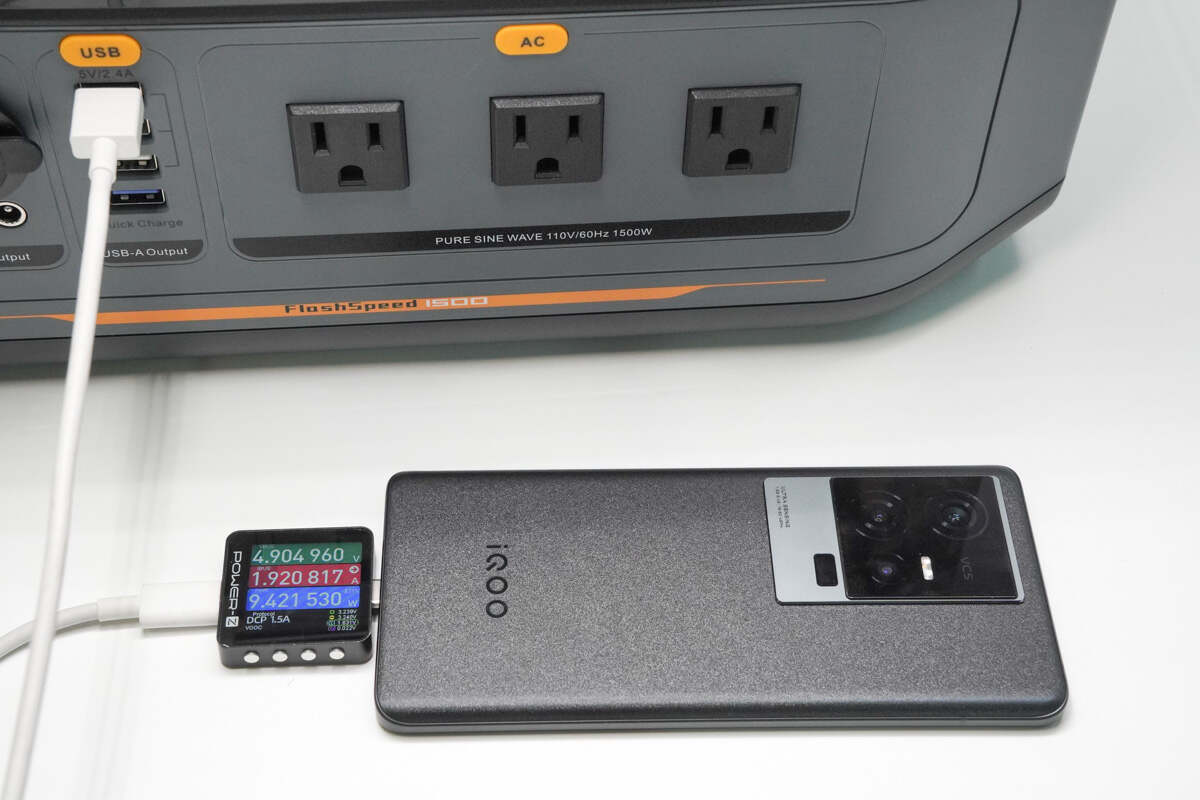 The White USB-A port delivers less than 10W of power, showcasing a rather average performance.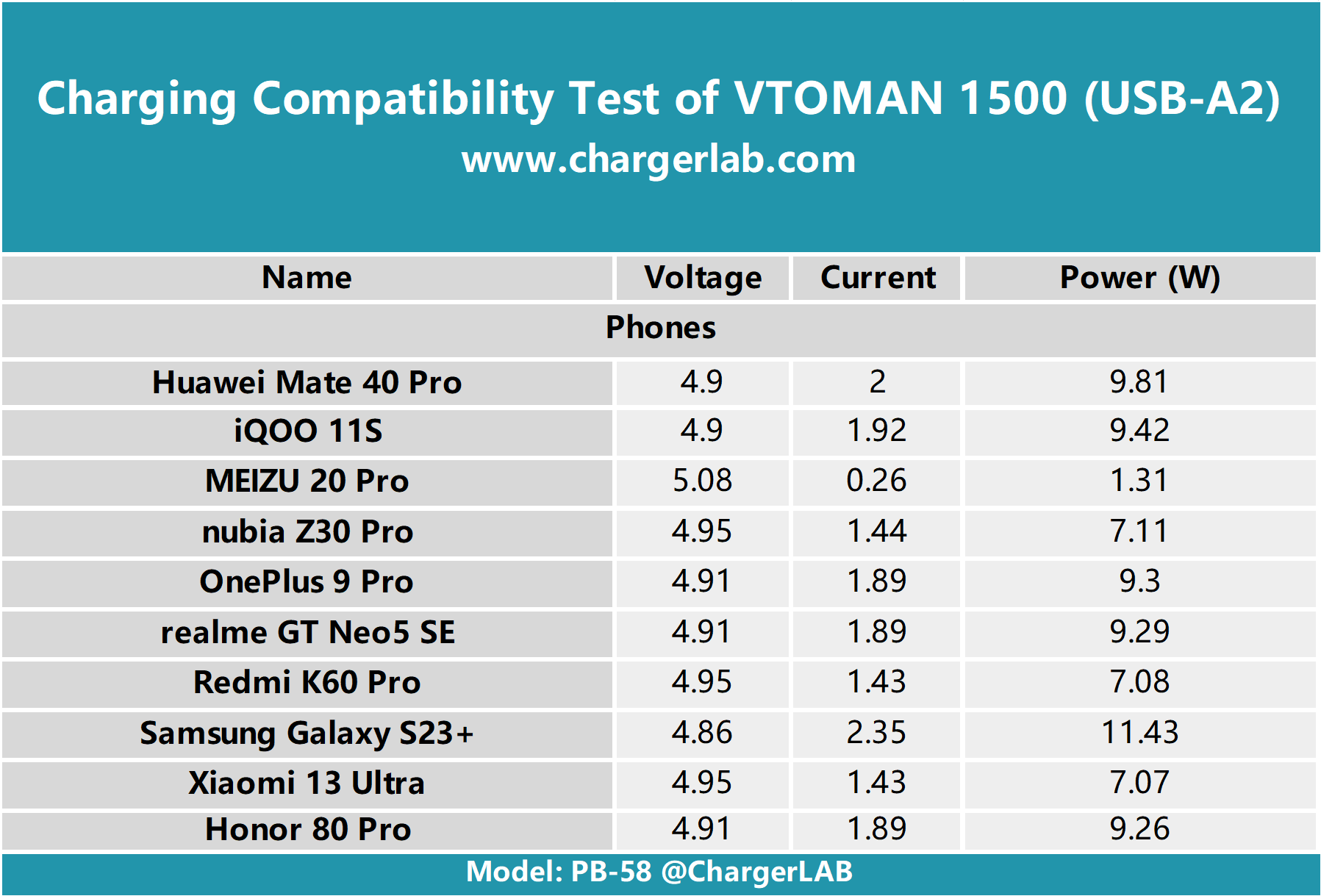 Data from the charging tests was compiled into a table, revealing that all tested smartphones trigger a voltage value of 5V, with current not exceeding 2.4A, maxing out at 2.35A.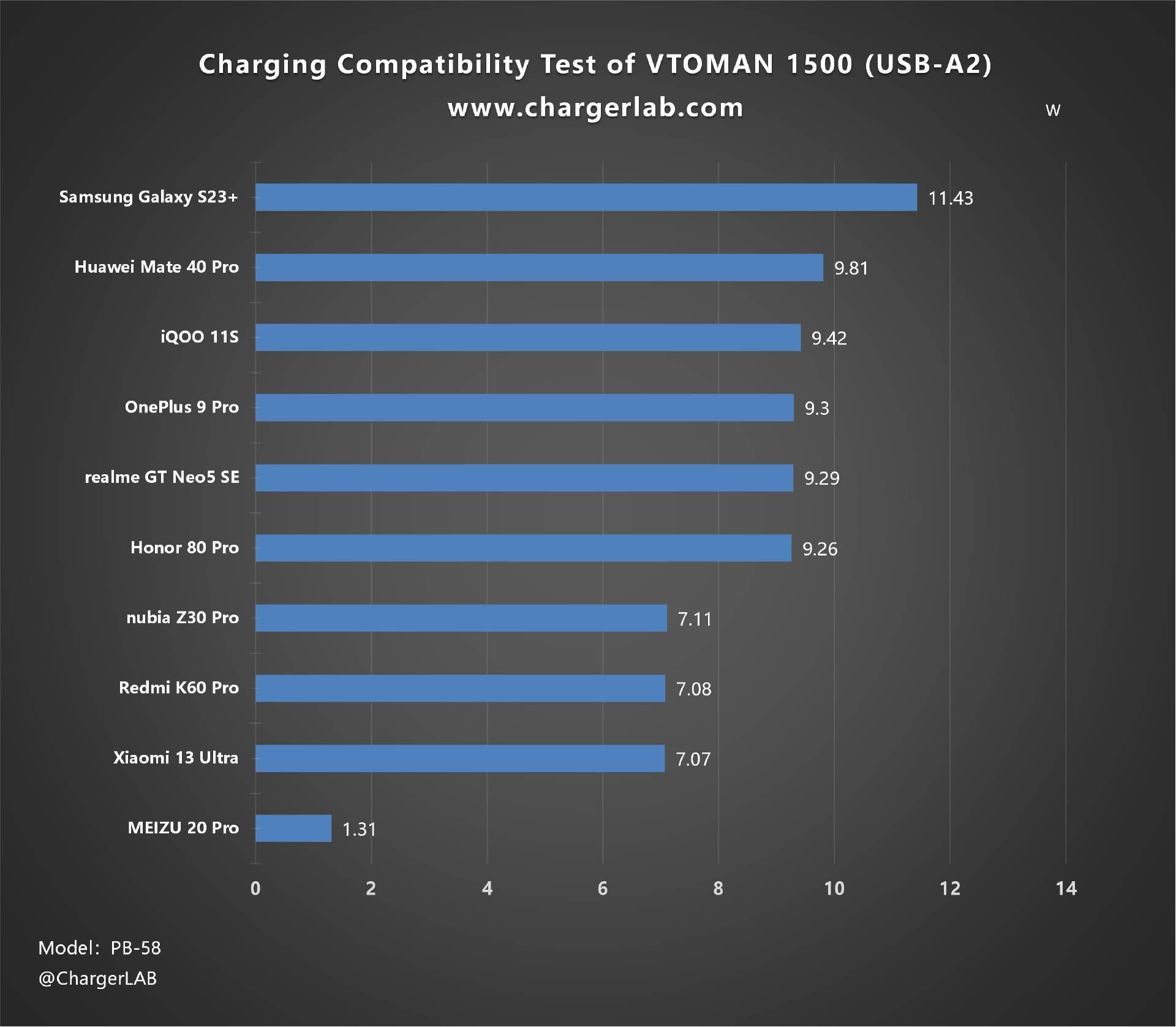 A bar graph of charging power shows that, apart from the Meizu 20 Pro, most smartphones hover around 10W, peaking at 11.43W. Although this is rather modest, it aligns with the 5V 2.4A output specification of this port.
Charging Methods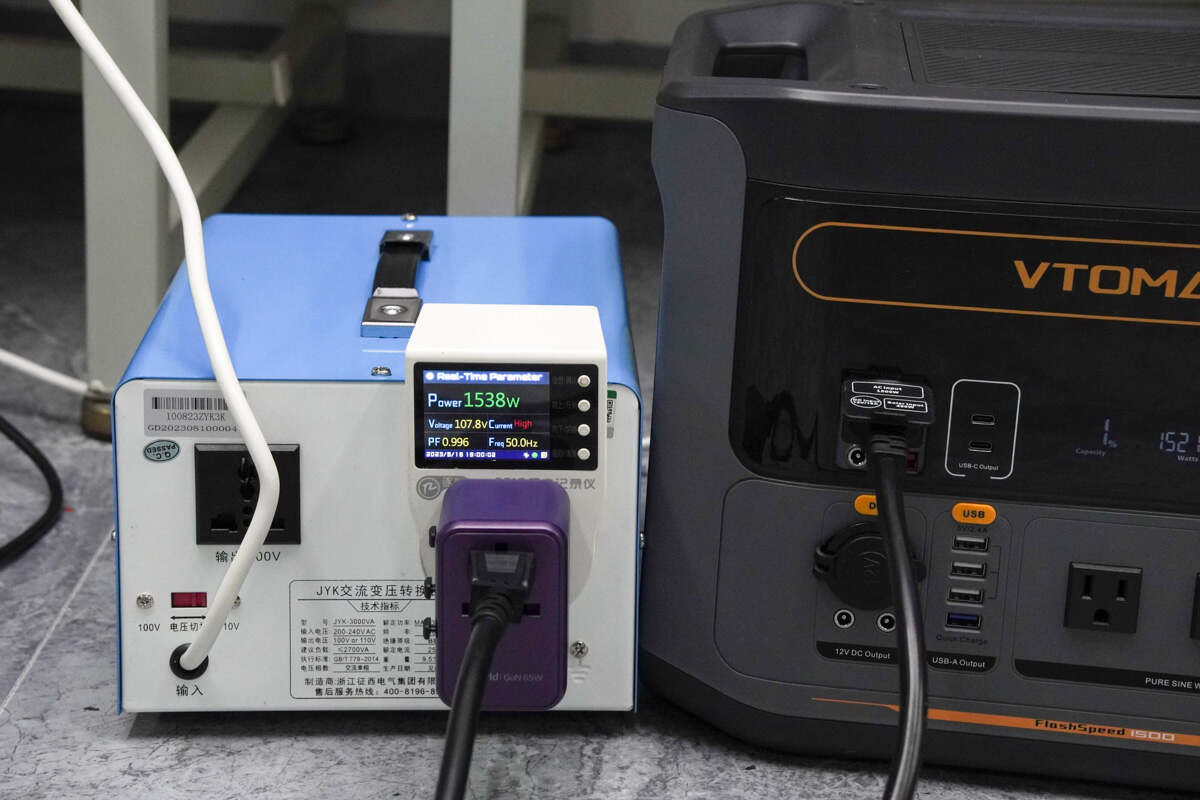 The VTOMAN FlashSpeed 1500 Power Station not only boasts robust AC output but also features high-spec AC input, supporting a maximum input of 1500W. Direct power can be drawn from household wall outlets using the provided AC power cord. Our tests indicate that under 110V~ voltage, the maximum input power can reach around 1538W.
Furthermore, if in a car, the power station can be charged using a car charger. When outdoors without a power source, solar panels can also be employed to provide power.
Fully Charging Test
As mentioned earlier, this power station supports 110V AC 1500W input. Charging it using the original power cord and connecting it to the PA300 series power meter for data recording yielded the following results: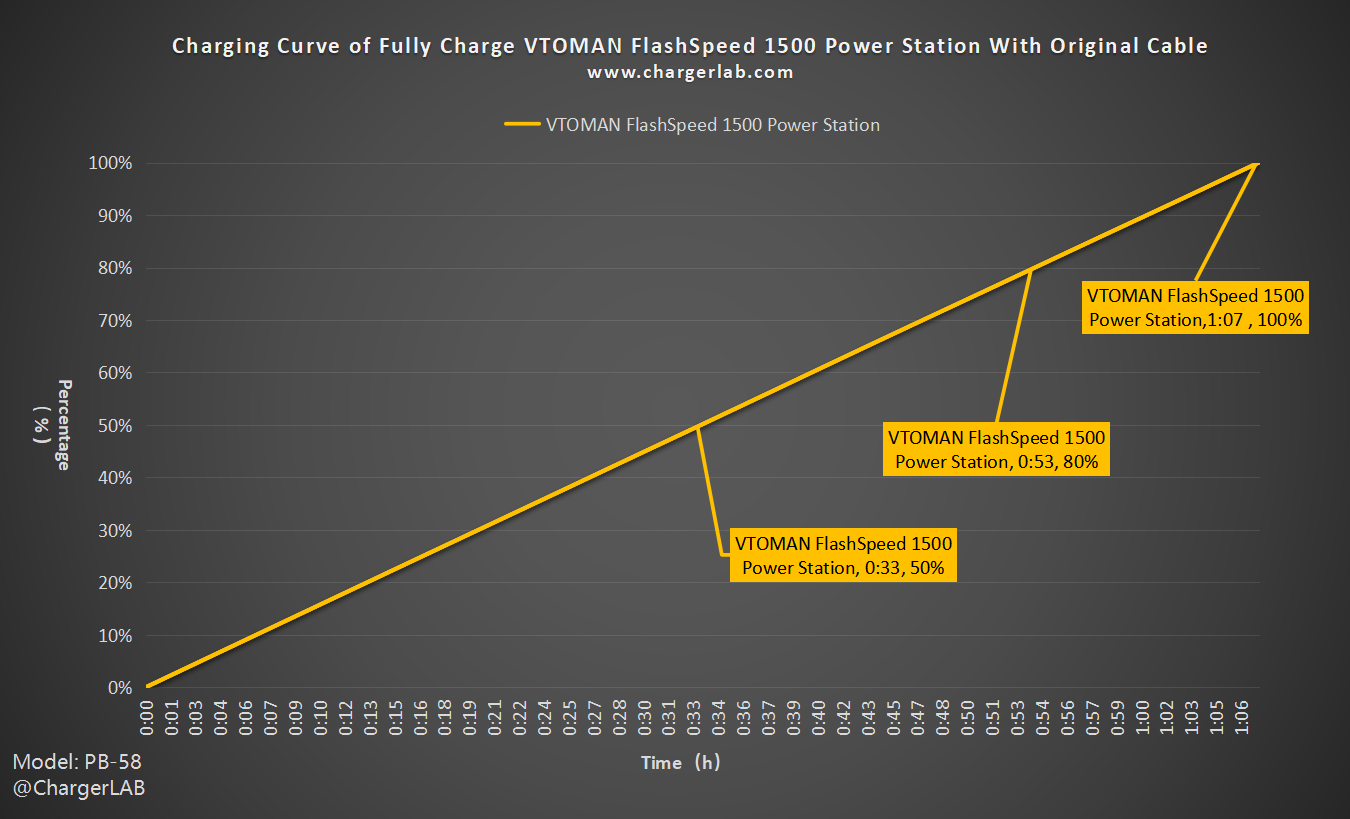 Unlike typical smartphone chargers, the charging power remains remarkably stable throughout the entire process. It takes 33 minutes to charge to 50%, 53 minutes to reach 80%, and a total of 1 hour and 7 minutes to fully charge.
AC 1500W Output
Continuing, the AC module was set to deliver a continuous 1500W output until the battery was depleted. The recorded data from this test is as follows: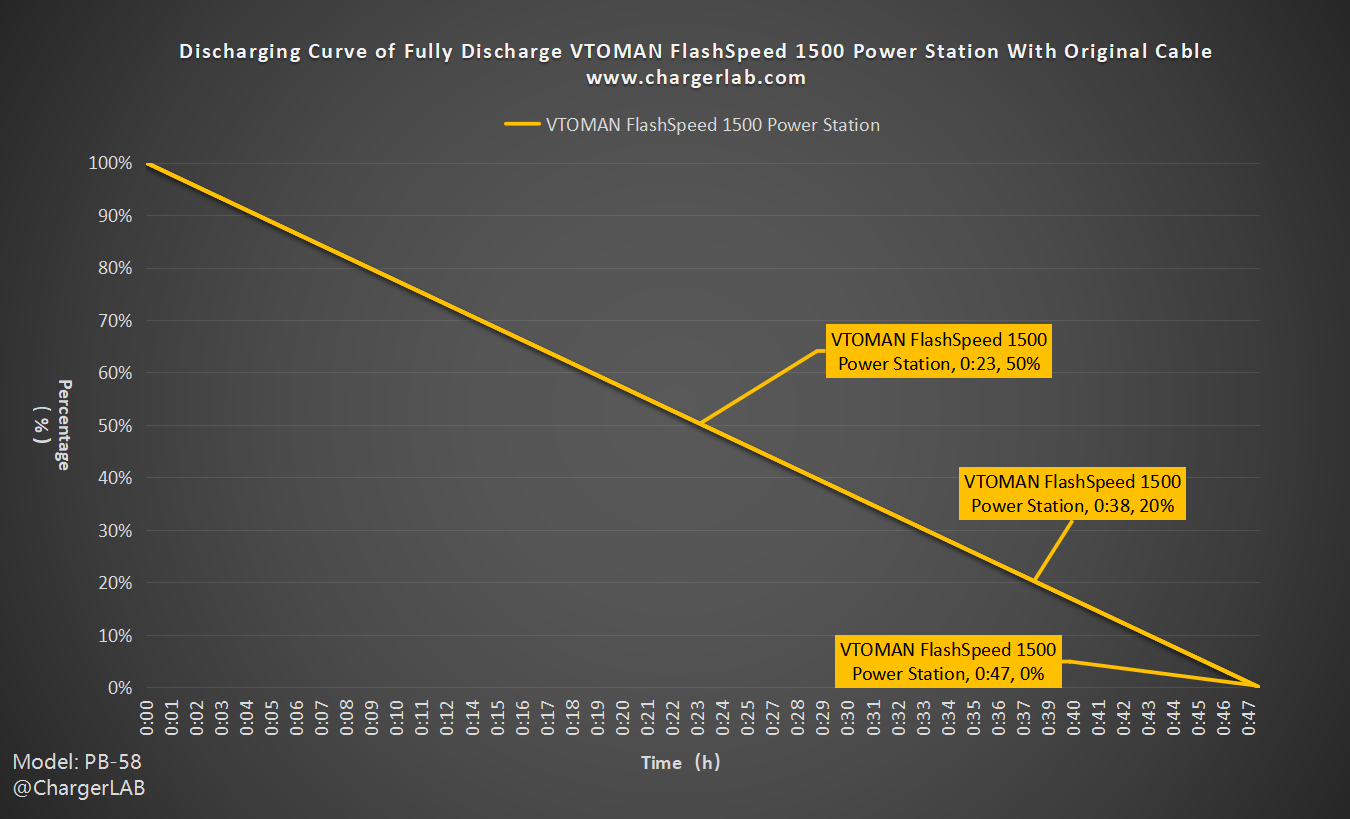 The graph illustrates that it takes 23 minutes for the battery to reach 50% , 38 minutes for 20%, and 47 minutes to deplete entirely.
Real-World Usage
Powering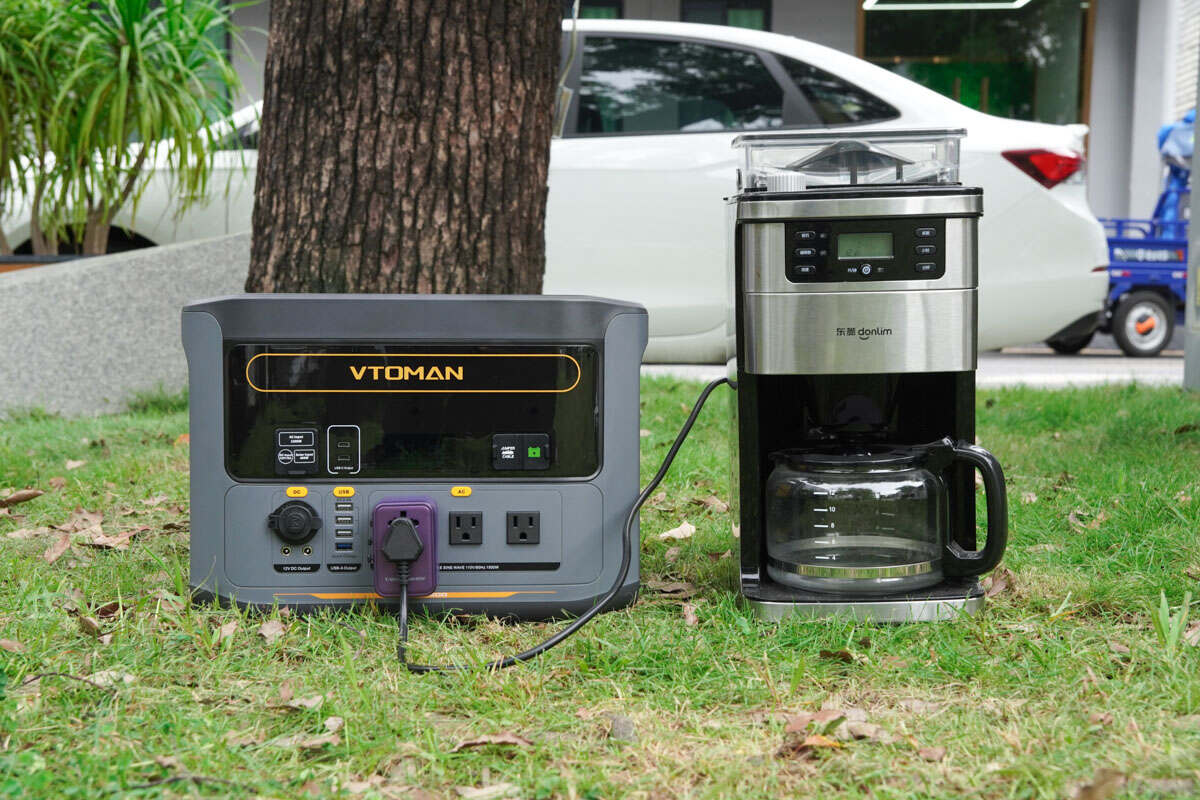 For coffee enthusiasts, a coffee maker is an essential companion around the clock. Even in outdoor settings, this power station can meet the power demands of coffee makers.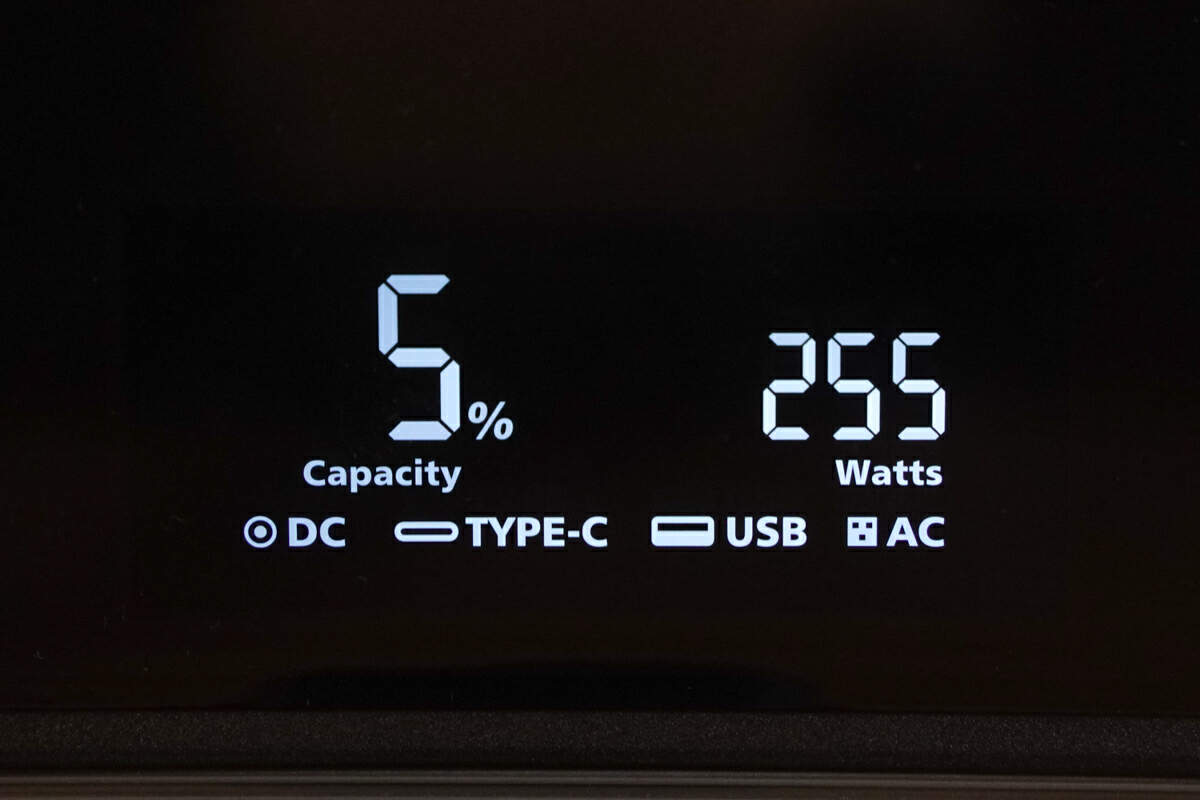 Powering a coffee maker (AC 220V~), the display shows a power level of 255W, enabling the coffee maker to function. However, it's advisable to use appliances compatible with 110V voltage for optimal performance.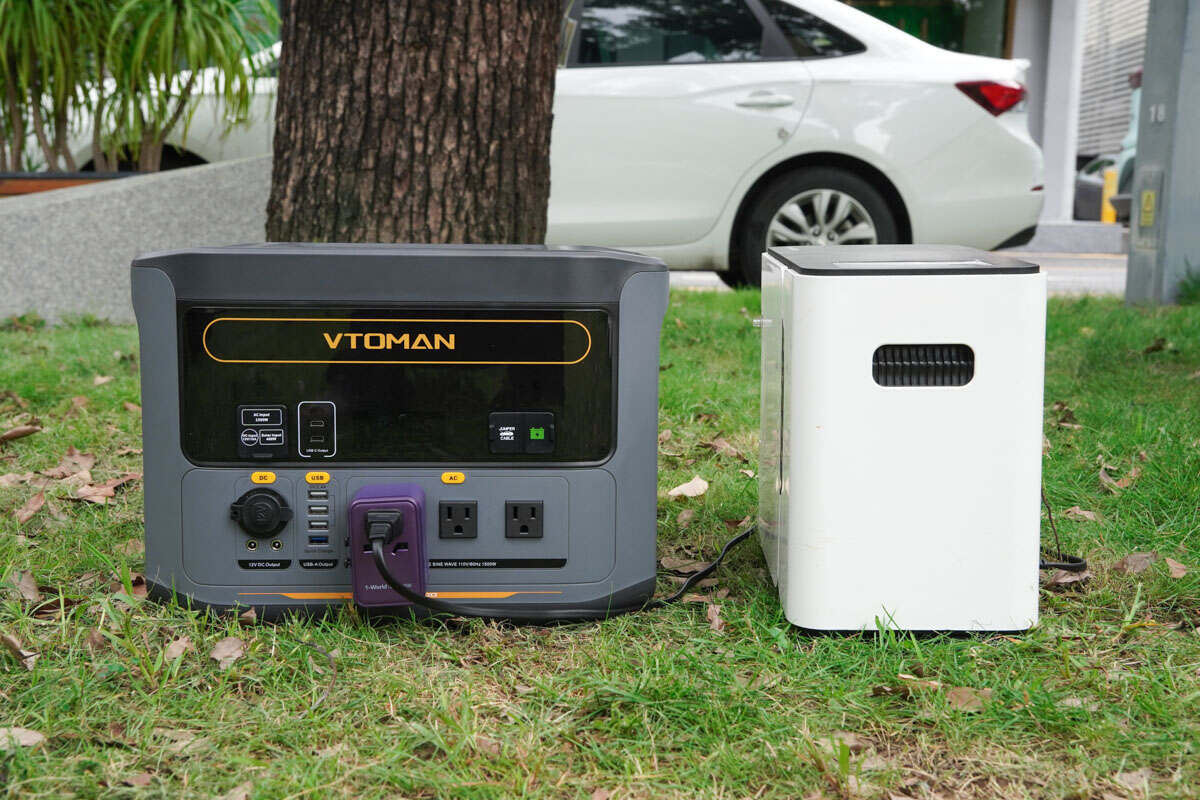 In high-altitude regions with thin air or during emergency rescue operations, oxygen deficiency can pose a serious threat to life. Oxygen cylinders or oxygen supply machines become indispensable in such scenarios.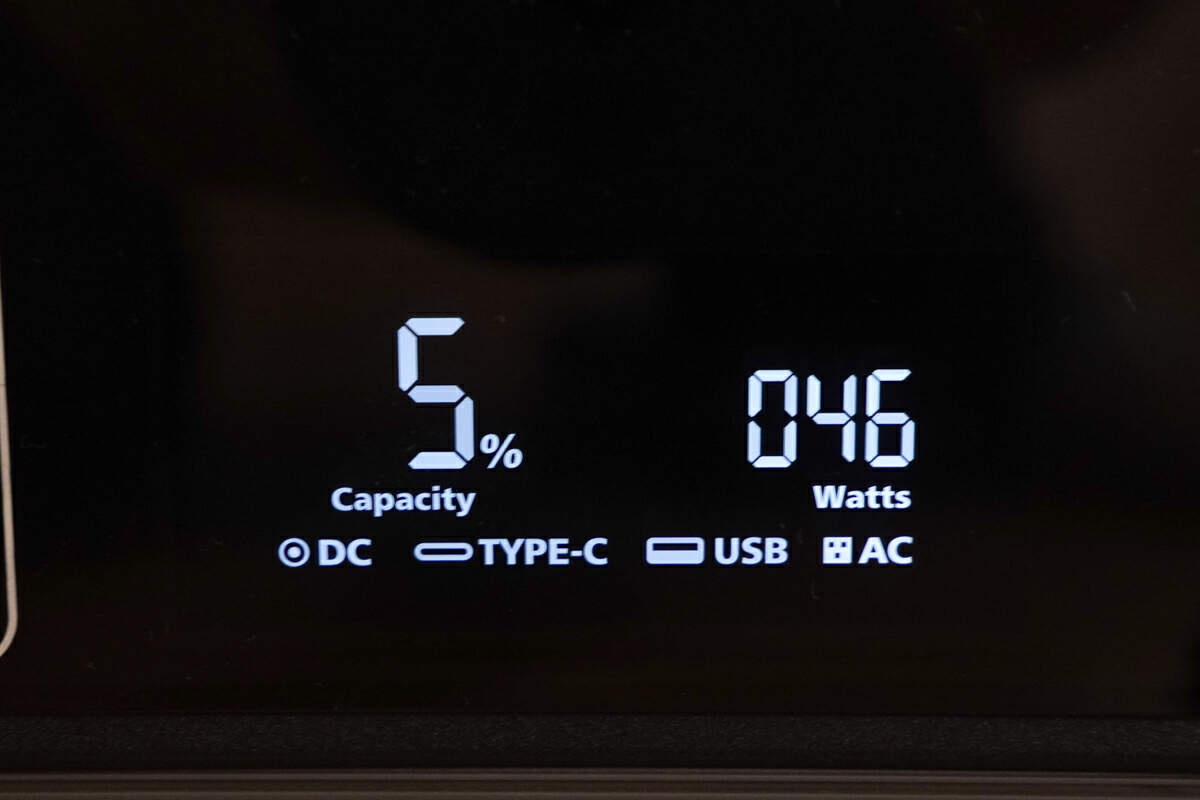 Likewise, it can provide power to oxygen generators that operate with a wide voltage range. Our tests reveal an output power of approximately 46W, fully meeting the operational power requirements.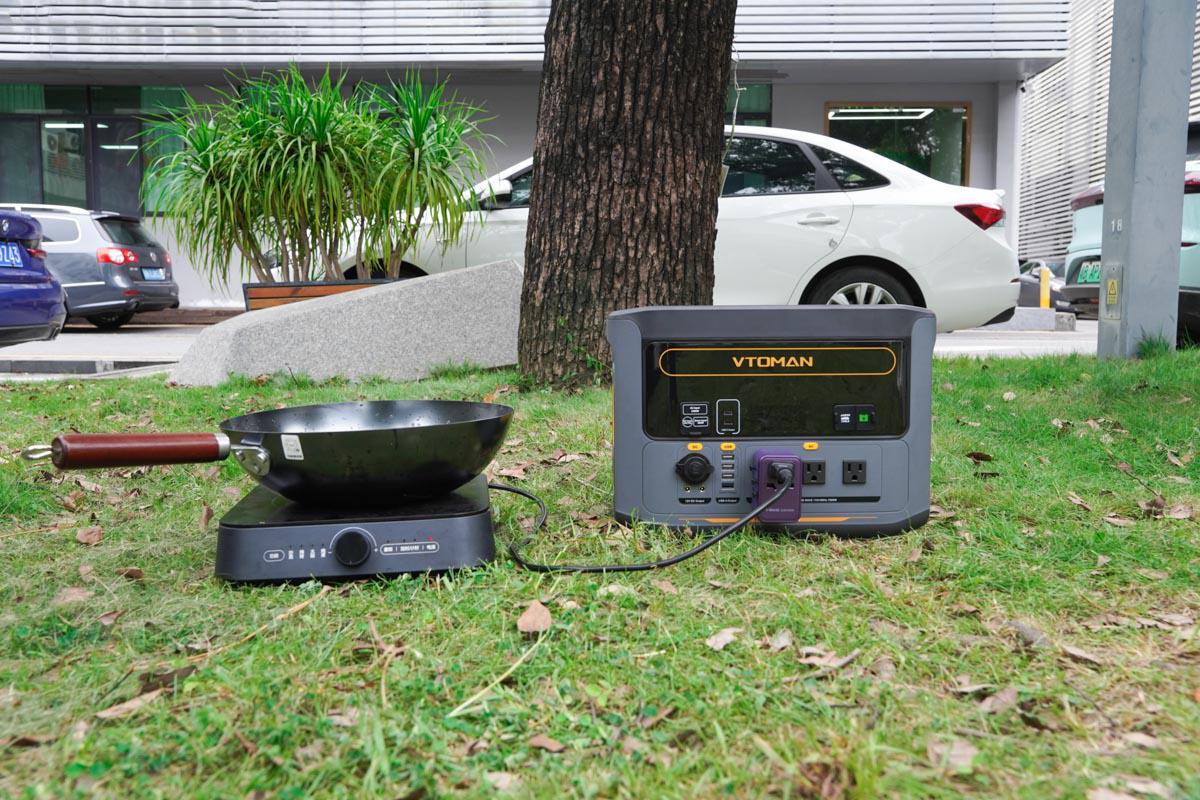 Lastly, the power station's highest output power isn't confined to 1500W. Thanks to its V-Beyond Tech feature, it's capable of driving high-power appliances up to 3000W. Although ChargerLAB currently lacks high-power appliances that support 110V~ voltage and therefore cannot test the officially promoted functionality. Plus, it's important to avoid exceeding the load limit for user safety when using high-power appliances outdoors.
Charging
Apart from household appliance usage, as demonstrated in the compatibility section earlier, the power station's array of USB ports cater to a wide range of electronic devices such as smartphones, tablets, laptops, and gaming consoles.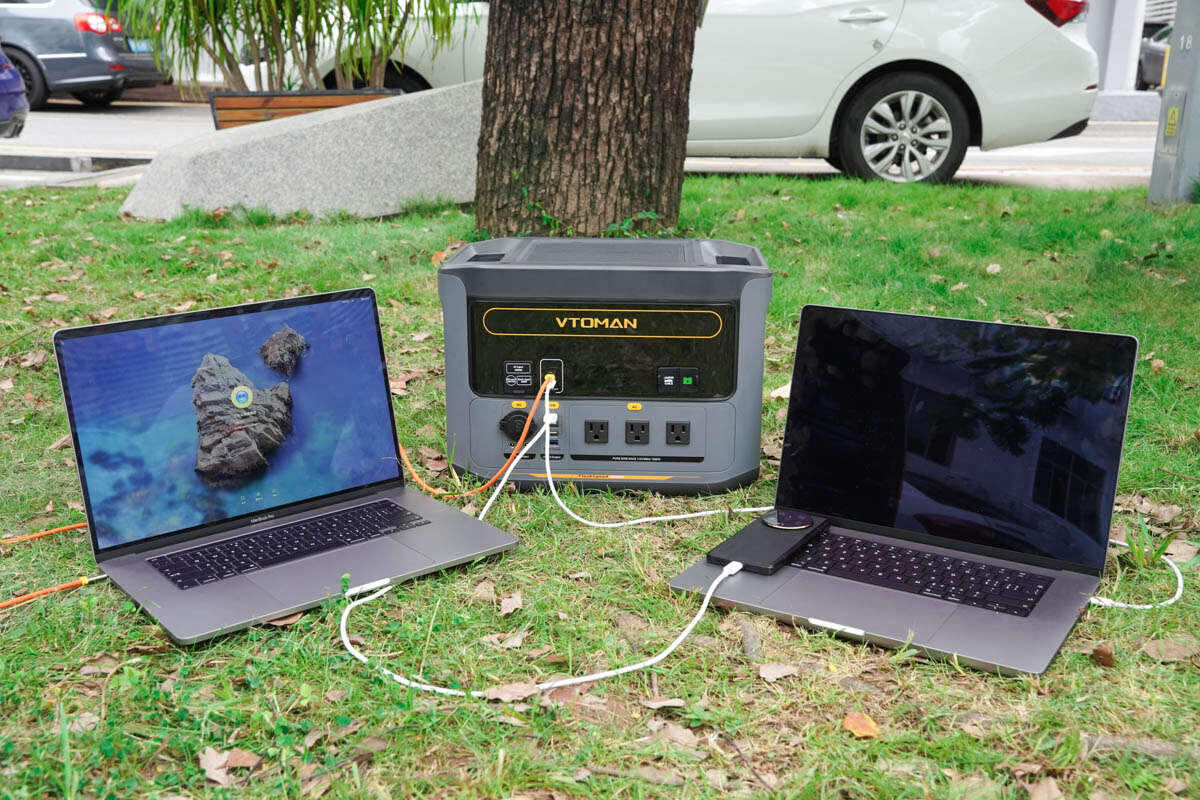 Even when a family ventures out for a day of fun, there's no need to wait in line for charging. The power station can simultaneously charge two laptops and four other devices.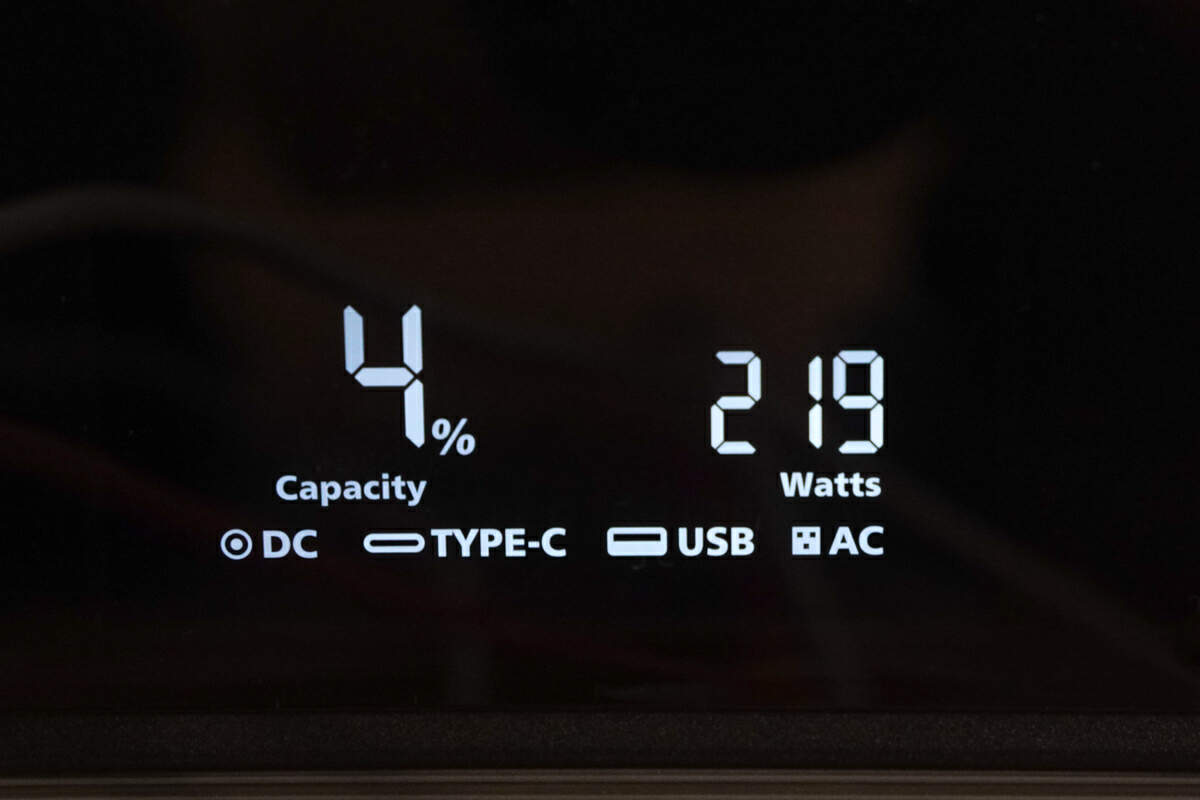 For instance, when charging two laptops and one smartphone, the LED display indicates an output power of 219W.
Summary of ChargerLAB
In conclusion, the VTOMAN FlashSpeed 1500 Power Station is an impressive portable power solution. With a remarkable AC output power of up to 1500W and the innovative V-Beyond Tech for handling high-power appliances up to 3000W, this power station caters to outdoor enthusiasts.
Its sleek design, characterized by black and gray tones with vibrant yellow accents, is both durable and resistant to fingerprints. The unit's top panel includes a hidden storage case for cables, and ergonomic anti-slip handles enhance portability.
The array of USB-C and USB-A ports offers diverse charging capabilities for various devices. Additionally, the UPS function can provide swift battery power during outages. While the LiFePO4 batteries and battery management system contribute to safety and longevity, real-world usage scenarios demonstrate its ability to power coffee makers and oxygen generators. Overall, the VTOMAN FlashSpeed 1500 Power Station stands out as a versatile and reliable solution for both outdoor adventures and power emergencies.
Related Articles: 
1. Up to 2400W丨 Baseus Launched 600W Portable Power Station with Digital Display (Parallel Operation)
2. UGREEN 200W Portable Solar Panel: The Reliable Power Source for Outdoor Adventures
3. Review of Jackery Explorer 2000 Plus LiFePO4 Portable Power Station
The article is originally written by @
Joey
posted on Chargerlab. All rights reserved.