UGREEN 200W Portable Solar Panel: The Reliable Power Source for Outdoor Adventures

In response to the surging demand for portable power stations as COVID-19's impact gradually recedes and global travel resumes, an increasing number of ordinary households are enjoying the various pleasures brought by worry-free electricity from portable power stations, which has also spurred the demand for accessories surrounding them, with portable solar panels being an important part of this ecosystem. As long as there is light, a portable solar panel can provide power supply for the portable power station, ensuring that long-term outdoor activities have sufficient power.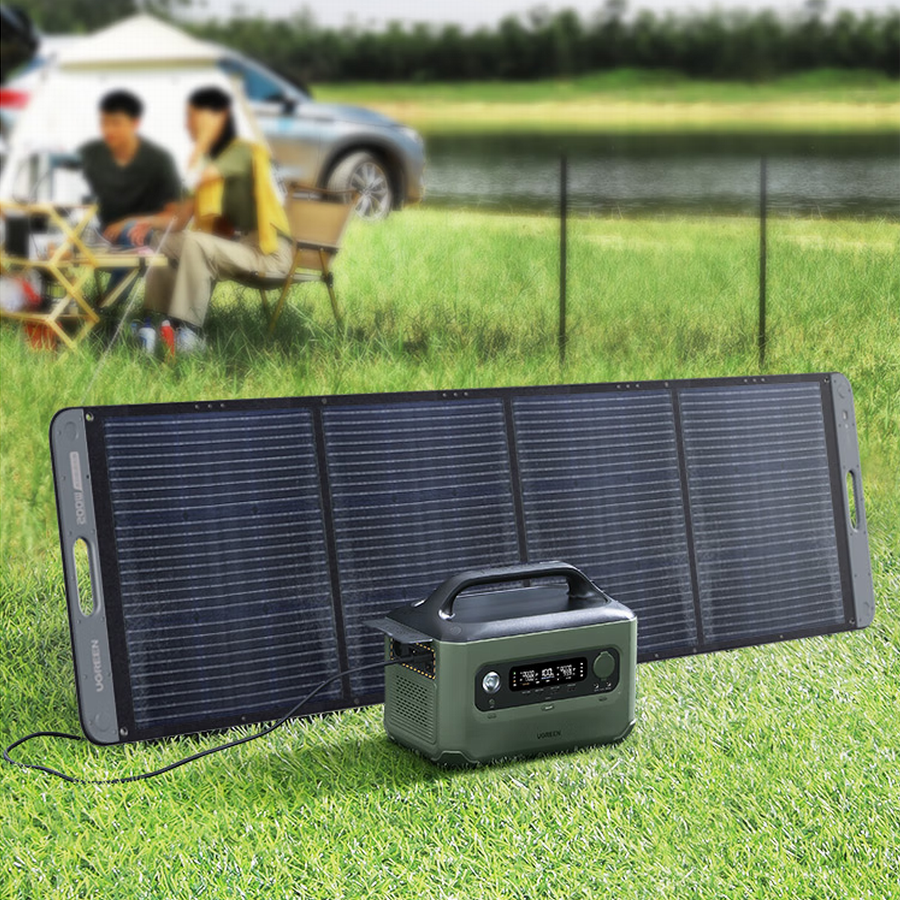 UGREEN, which entered the portable power station market in 2022, is also perfecting its photovoltaic accessories ecosystem. The UGREEN 200W Portable Solar Panel is the best proof, with greater power and faster charging speed. The output interface of the UGREEN 200W Portable Solar Panel is the XT60 high-current interface, which is used to connect to the UGREEN portable power station with the corresponding cable for charging. It takes about 4 hours to fully charge the UGREEN PowerRoam 600 portable power station.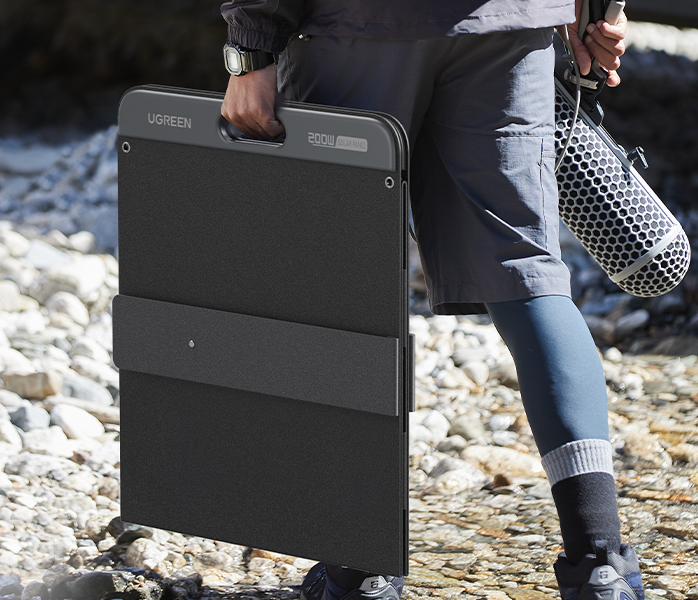 The UGREEN 200W Portable Solar Panel adopts a four-segment folding design, with a storage size of 64 x 54cm (25.2 x 21.3 inches), total weight of 8.48kg (18.7 lbs) and a handle for easy carrying, that means you can carry it like a briefcase just like the picture shows. When unfolded, it has a full length of 238cm (93.7 inches), allowing for better absorption of sunlight for power conversion.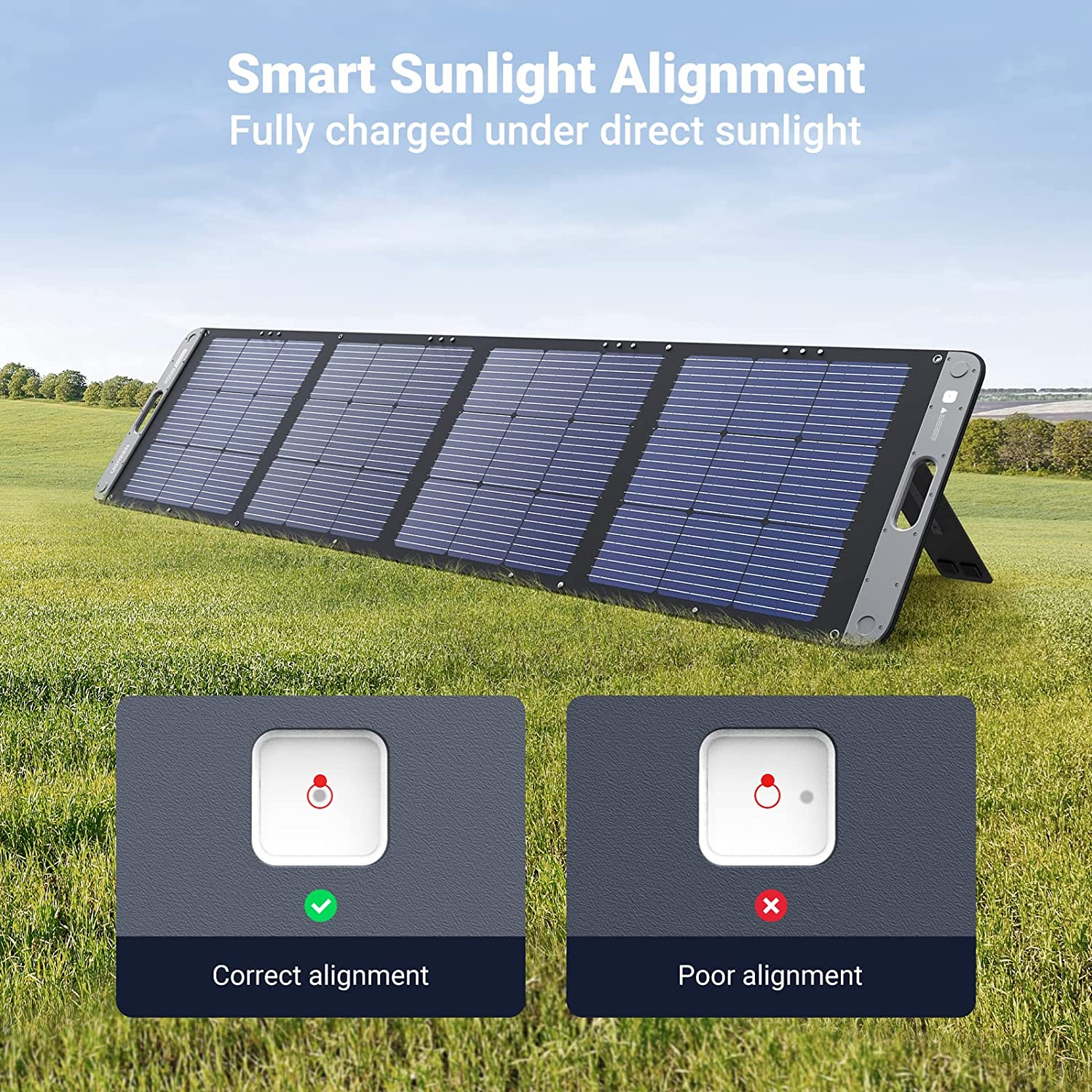 The UGREEN 200W Portable Solar Panel is also made with high-performance monocrystalline silicon material and a special arrangement of silicon chips using laminated process technology, with a maximum photovoltaic conversion efficiency of 23%, allowing the solar panel to function optimally even on cloudy days. For example, the ugreen PowerRoam 1200 can be fully charged in 3 hours with two 200w solar panels. The back of the solar panel is equipped with an adjustable kickstand and a heliostat, allowing users to adjust the optimal angle of the solar panel based on the position of the heliostat's shadow, maximizing the photovoltaic conversion efficiency.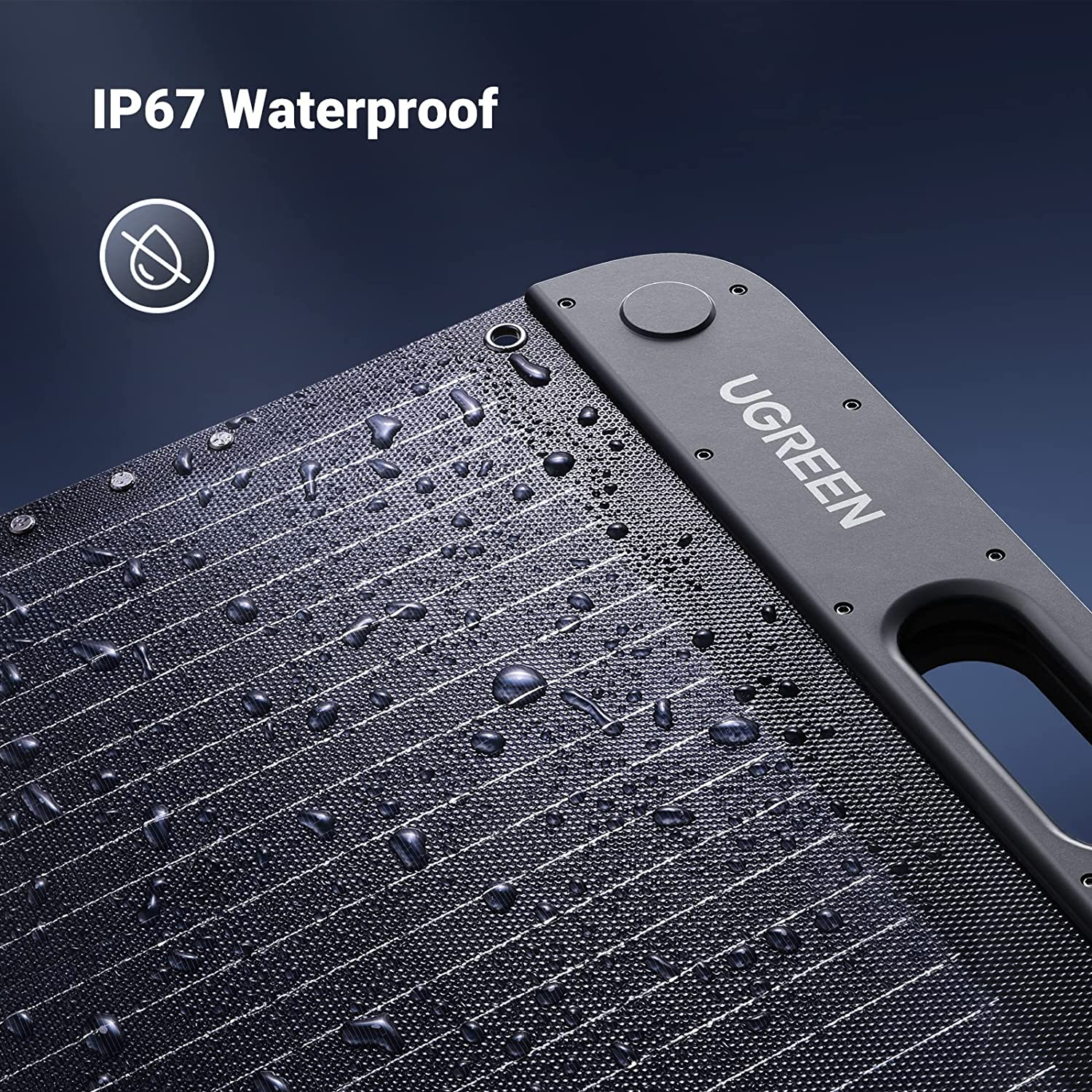 To cope with harsh outdoor weather conditions, the UGREEN 200W Portable Solar Panel is made of tough and long-lasting ETFE (ethylene tetrafluoroethylene) material, which has high tensile strength and excellent chemical resistance, with a protection rating of up to IP67, making it impervious to sudden conditions such as sandstorms and rain on a certain level. But keep in mind, do not place it under the rain, or soak it in water on purpose, as it only has an IP67 rating instead of IP68.
Summary of ChargerLAB
In conclusion, the UGREEN 200W Portable Solar Panel is not only a simple bundle for the UGREEN portable power station, but also a game-changer for outdoor enthusiasts, providing a reliable and efficient power source that can be easily transported and deployed in various outdoor environments. Its high-performance and durable construction, combined with its ability to maximize photovoltaic conversion efficiency through an adjustable kickstand and a heliostat, make it an essential accessory for those who rely on portable power stations for extended outdoor activities. As global travel resumes and the demand for portable power stations and related accessories continues to grow, the UGREEN 200W Portable Solar Panel is a standout product that will undoubtedly meet the needs of a wide range of outdoor enthusiasts.
You can click the button at the beginning or the end of the article to get one if you're interested.
Related Articles: 
1. UGREEN Launched PowerRoam 1200 Portable Power Station
2. Review of Jackery SolarSaga 200W Portable Solar Panel
3. EcoFlow Launched River Max Plus Portable Power Station Limited Edition
The article is originally written by @
Joey
posted on Chargerlab. All rights reserved.