UGREEN Wireless Charging Pad (CD186) Teardown Review
Recently, one of UGREEN's newly launched wireless charging pad (CD186) became a bestseller. At 49RMB(7USD), with its Apple and Android universal support, and 5W/Apple 7.5W/Samsung 10W wireless charging, it offers much higher cost-performance ratio than its 99RMB(14USD) counterparts. Now let's give it a teardown to get a deeper look.

I. Unboxing

It comes with a sleeve and brown carton package.

Specifications on the back.

Input: 5V2A, 9V1.67A. Max output: 15W. Model: CD186.

Package contents: wireless charging pad, USB-A to Micro USB cable, warranty card, and user manual.

USB-A to Micro USB cable.

UGREEN logo on the center front, with random dots all over the surface, a clean and lively look.

It has a diameter of 100mm and a non-slip rubber pad on the back.

The shell is made of PVC with a tactile coating to avoid slipping.

It looks like an elegant flying saucer, what do you think?

Micro USB input port on the side.

It has a thickness of 11.5mm, which is about 1/3 of the diameter of a 1 Yuan RMB coin, and is ultra-thin and portable.

It weighs 112.1g(4.0oz).

There is an LED indicator on the side. Steady green light indicates that it is charging or charging is completed. The green light flashes to indicate that the position of the phone is off or there is something blocking the charging.

Using the wireless charging aging tester, we read a "PPP" which means it passed the 5W, 7.5W and 10W wireless charging. So it supports normal 5W, Apple 7.5W, and Samsung 10W wireless charging.

iPhone XS Max on the UGREEN wireless charging pad (CD186).

It starts charging instantly when we put the phone on top.

Specifications on the bottom.

II Teardown

Removing the rubber ring on the bottom reveals 6 screws.

Unscrew and open the shell.

In the middle is a wireless charging coil, and in the middle of the coil is the thermistor for temperature measurement.

The wireless charging circuit board is relatively simple, with only two main ICs.

A large iron plate on the back for heat dissipation and counterweight.

From the bottom, on the iron plate is a heat-dissipating silicone pad, a magnetic separator, and the coil.

JURCC's special resonant capacitor for wireless charging, 0.4μF, withstand voltage 100V.

The coil solder joints are full and the end is wrapped with a heat shrinkable tube to prevent the coil enameled wire from being scratched.

It adopts a wireless charging solution from Xiamen Newyea which consists of NY7503S, SY03, a small amount of resistance capacity, and coils totaling about 50 components.

Xiamen Newyea NY7503S wireless charging transmitter chip is a 10W highly integrated wireless power transmitter IC, compatible with WPC Qi 1.2.4 specification, with efficiency up to 80%, and support FOD and other protection functions.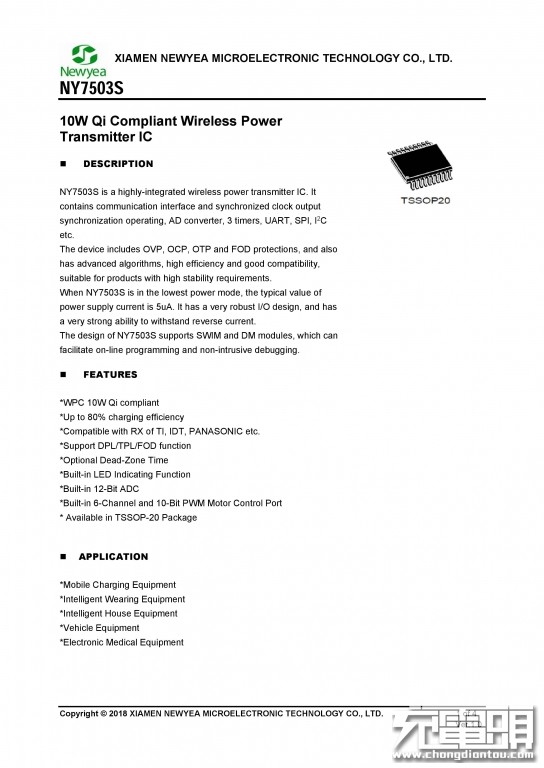 Detailed specification of the Newyea NY7503S.
The Newyea SY03 is a highly integrated wireless power transmitter analog front end that contains all of the analog components required to implement a WPC compliant transmitter. The Sy03 integrates a full-bridge power driver with MOSFETs, current sense amplifier, bootstrap circuit, communication demodulator, linear regulator and protection circuit. The SY03 can work with transmitter controller to create a high-performance wireless transmitter that complies with both the WPC V1.2.4 Extended Power Profile (EPP) and Baseline Power Profile (BPP). Once an EPP receiver is detected, the transmitter will provide with up to 15W of output power. If a BPP receiver is present, the transmitter will deliver only up to 5W of output power.The system supports foreign object detection (FOD) by continuously monitoring the amount of power transferred and comparing that to the amount of received power, as reported by the receiver. In order to do this, the SY03 measures the input DC current very accurately using a current sense amplifier. Besides, the SY03 also supports input under-voltage lockout (UVLO), over-current protection (OCP), short-circuit protection (SCP) and over-temperature protection (OTP). These protections further enhance the reliability of the total wireless power transmitter system.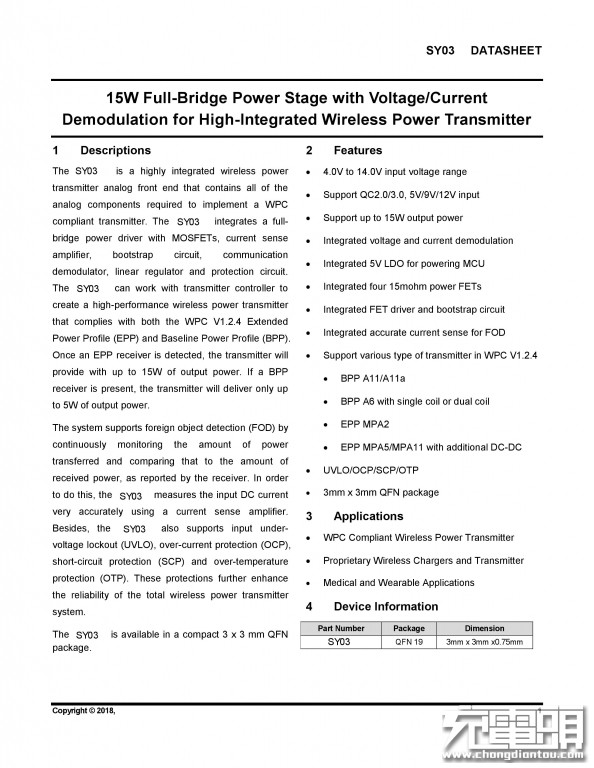 Detailed specification of the Newyea SY03

Micro USB port.

UGREEN logo, below is the temperature probe solder joint.

It is designed with two indicator lights, only one is soldered for mass production.

All the components.

III ChargerLAB conclusion

1. Being a cost-effective product, the UGREEN wireless charging pad (CD186) adopts a highly integrated chip solution with very few peripheral components.
2. Despite the low price, it features dual heat dissipation by using heat-dissipating silicone and metal plate to effectively control the influence of temperature rise on wireless charging efficiency during the charging process. The attention to detail and user experience is appreciated.
3. The wireless charging pad adopts Xiamen Newyea NY7503S+SY03 wireless charging solution. This solution has many advantages including wide range of authentication, multiple functions and high integration. The two main chips can form a complete wireless charging solution, which greatly simplifies design and mass production process.
Source: chongdiantou