Trendy & Cool | IDMIX Launched 65W GaN Power Adapter Socket
The fast-charging power adapter has become a popular device that combines the functions of an AC socket and USB charger. However, many of these adapters are becoming more and more similar in design. IDMIX has recently released a gallium nitride "Little Magic Box", the IDMIX 65W GaN Power Adapter Socket. This new product breaks the trend of traditional designs and introduces a fresh take on the multifunctional power adapter.
IDMIX is an innovative electronic accessory brand that has launched various fast-charging products such as "MR CHARGER" and CH series. These products balance performance and design, and have won over ten international product design awards including the "Red Dot Design Award" and "Golden Pin Design Award". The 65W GaN Power Adapter Socket is another example of IDMIX's cutting-edge design philosophy.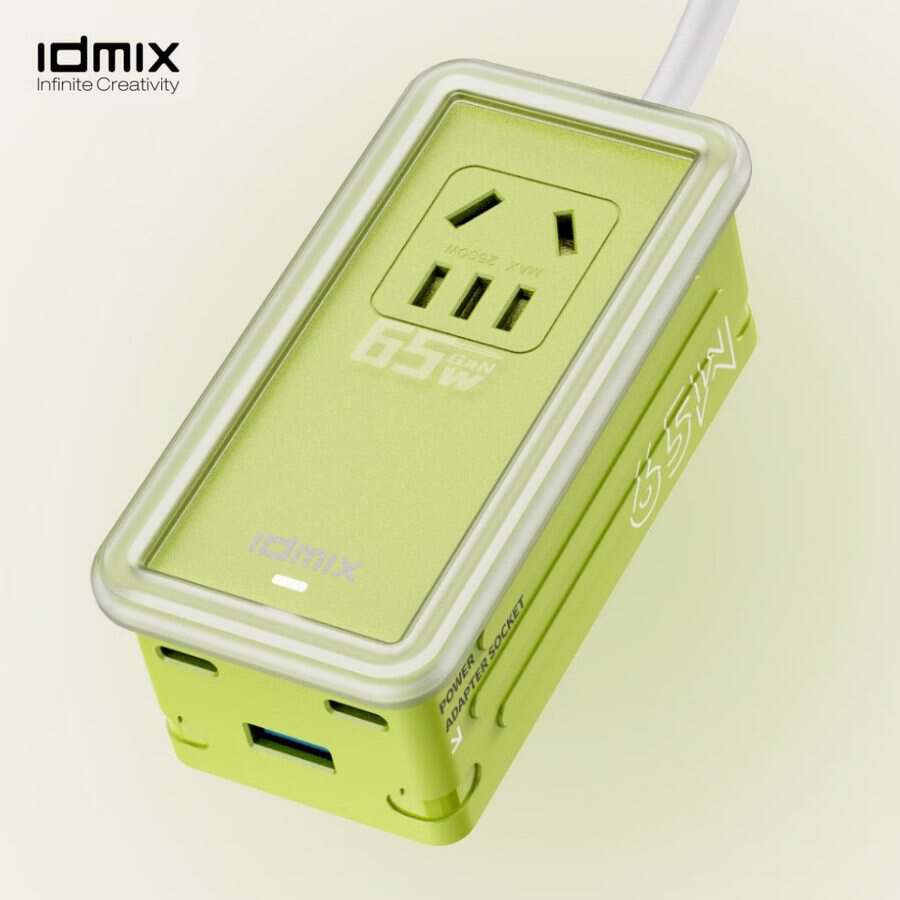 The IDMIX 65W GaN Power Adapter Socket model is P65D, although the name sounds a bit strange, it is actually a desktop multifunctional fast-charging power adapter, which integrates AC sockets and multi-port chargers to create a colorful storage box-like appearance. The top is an AC socket, and the USB module is set on the side. The top of the body comes with a soft rubber protective cover, which can be placed on the top as waterproof and dustproof or installed on the bottom as a non-slip pad, maintaining a simple and stylish appearance while perfectly solving common problems.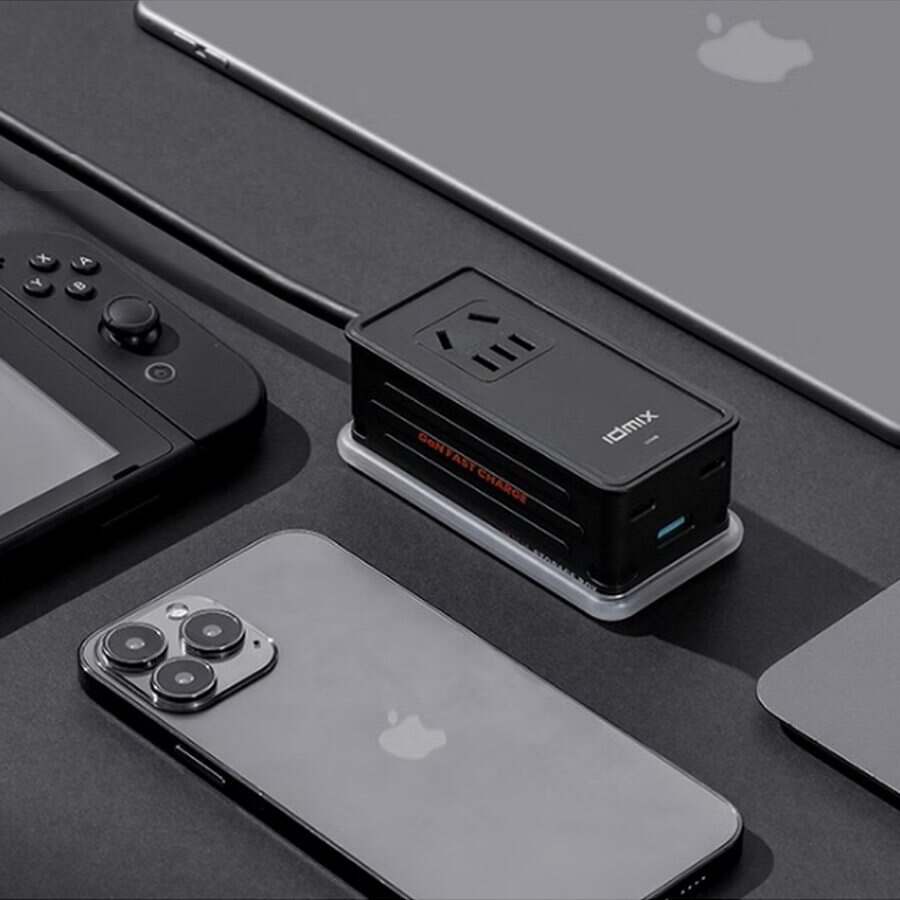 The top of the IDMIX 65W GaN Power Adapter Socket body has a 2+3 combination socket, and a safety gate is built-in to prevent safety problems caused by foreign objects or children sticking their fingers in. The maximum power consumption is 250V10A (2500W), and the power cord is made of 1.5m thick core, with better load capacity and no overheating when using high power devices such as air conditioners, refrigerators, ovens, stoves, water heaters.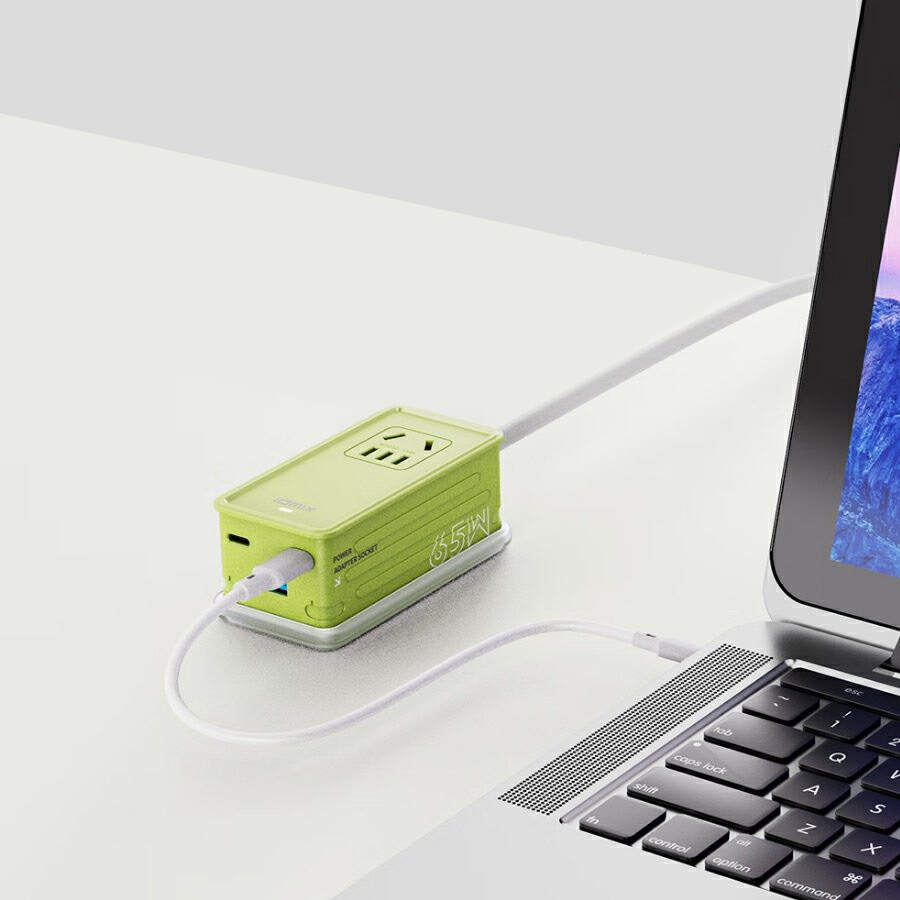 The USB module part adopts two USB-C and one USB-A ports configuration, both USB-C ports supports a maximum of 65W of power when used separately, which means that you can get the best experience no matter which port you use. When USB-A is used alone, it supports 18W QC fast charging. It also supports the USB PD fast charging standard, which can charge MacBook Pro 14" by 50% in 40 minutes and iPhone 14 by 55% in 30 minutes.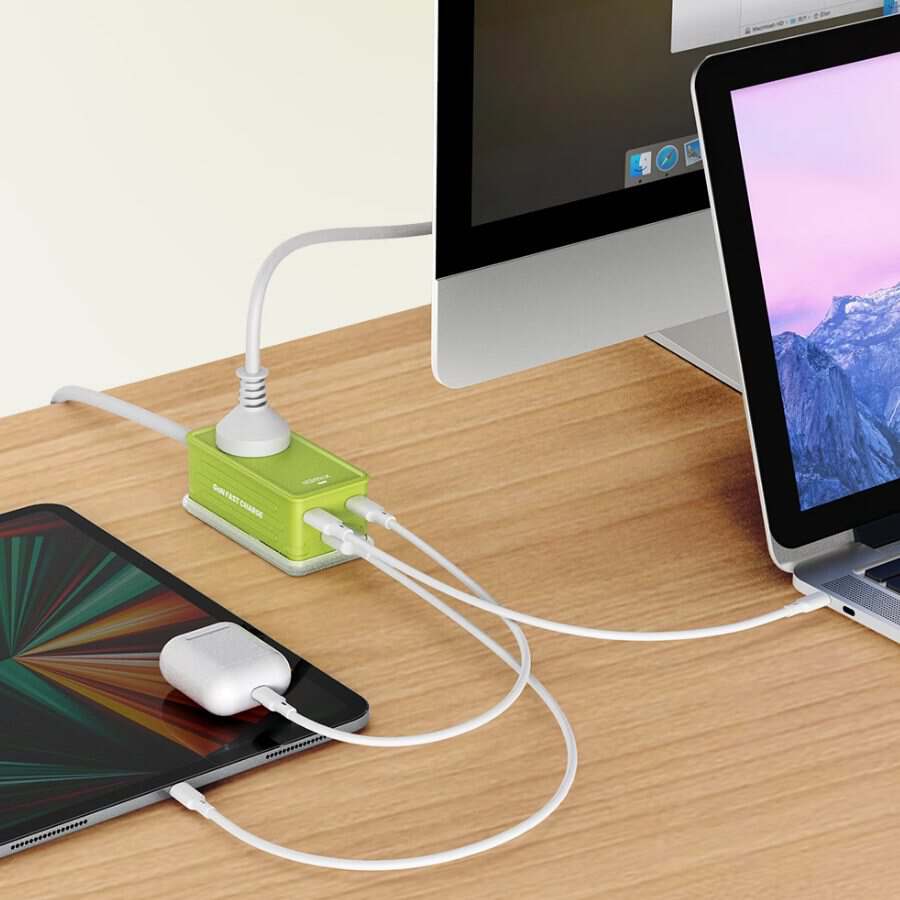 The IDMIX 65W GaN Power Adapter Socket uses high-frequency and high-efficiency GaN technology and a partitioned heat dissipation layout. The overall size is as small as 98.9 x 48 x 36.7mm (3.90 x 1.89 x 1.44 inches), and the weight is only 310g. It can provide 220V power for electrical equipment and also provides high-power fast charging for consumer electronic products.
Summary of ChargerLAB
The IDMIX 65W GaN Power Adapter Socket inherits the excellent design language of the IDMIX family, and condenses the AC socket and USB charger into a small space with the GaN technology. The socket supports 2500W output power, and the 2C1A USB module supports a maximum of 65W fast charging output, supporting dual device fast charging of 45W+20W at the same time, and can charge up to three digital devices simultaneously. Compared with traditional power adapters, the IDMIX 65W GaN Power Adapter Socket greatly simplifies the desktop layouts by condensing multiple chargers into one compact unit. Overall, the IDMIX 65W GaN Power Adapter Socket is an excellent choice for those seeking a powerful and innovative charging solution.
The IDMIX 65W GaN Power Adapter Socket comes in three colors: tender leaf green, cloud mist black, and desert yellow. It comes with a USB-C to USB-C cable and a velvet storage bag for easy travel.
Related Articles:
1. 50% Discount of IDMIX 100W 3C1A GaN Charger at Amazon
The article is originally written by @
Joey
posted on Chargerlab. All rights reserved.