RICOMM Launched 370W PD3.1 Charging Station
Introduction
With the widespread use of mobile devices and continuous technological advancements, people's reliance on electronic devices has grown significantly. Smartphones, tablets, laptops, and more have become an integral part of our daily lives. However, the battery life of these devices often falls short of our long-term usage needs. Traditional chargers can only provide power to one device at a time and are not very convenient.
Charging stations, on the other hand, can not only power a single device but also simultaneously charge multiple devices. They are typically equipped with intelligent chips and recognition functions, allowing them to automatically adjust the output current and voltage according to the specific needs of different devices, thereby achieving optimal charging results. Moreover, some charging stations offer fast-charging capabilities, reducing device charging times and improving overall efficiency. This centralized charging approach not only saves desktop space but also makes the charging process more efficient and convenient.
ChargerLAB has learned about RICOMM's latest charging station, which boasts a high power output of up to 370W, features four ports, and supports the PD3.1 protocol. Let's delve into the details.
RICOMM 370W PD3.1 Charging Station
This charging station is equipped with four USB-C ports, allowing simultaneous charging of multiple devices. It features built-in chips that intelligently allocate charging power, ensuring that each device charges at the most suitable and safe speed.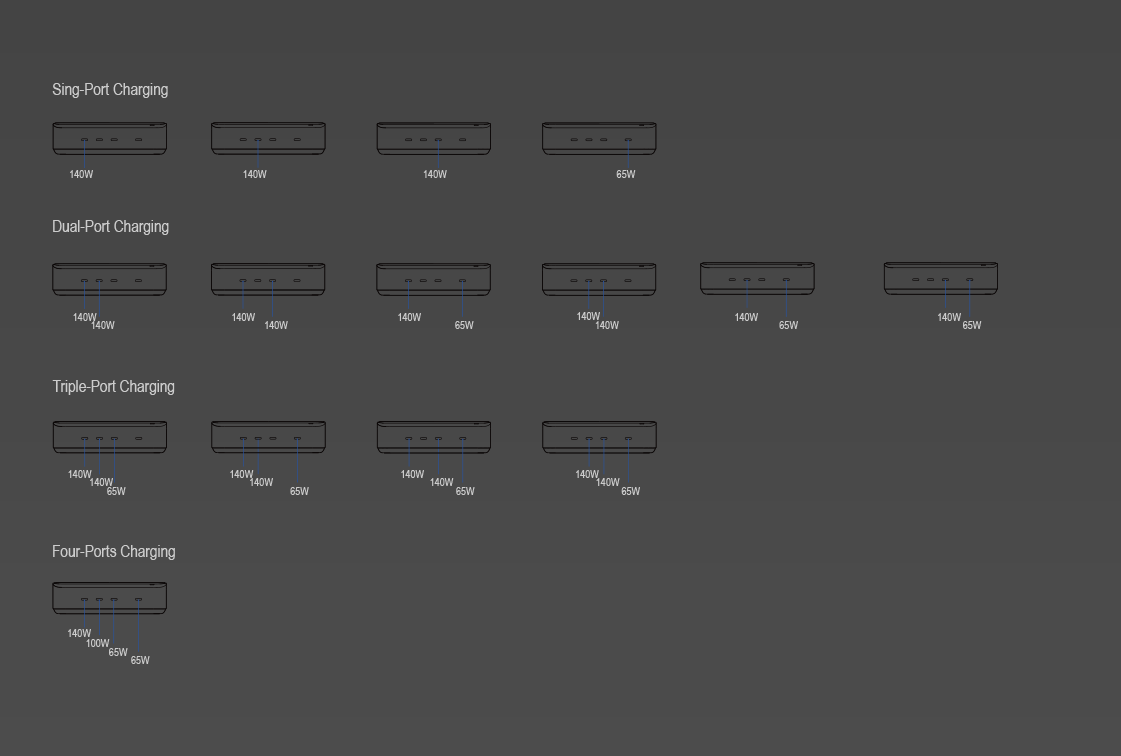 Specifically, USB-C1, 2, and 3 all support a maximum output of 140W each, while USB-C4 provides a slightly lower output of 65W. When charging 4 devices at the same the the power distribution is 140W, 100W, 65W and 65W, and that's definitely a outstanding performance for a charging station. For more power distribution strategy when using multi-port, you can check out the detailed guide above.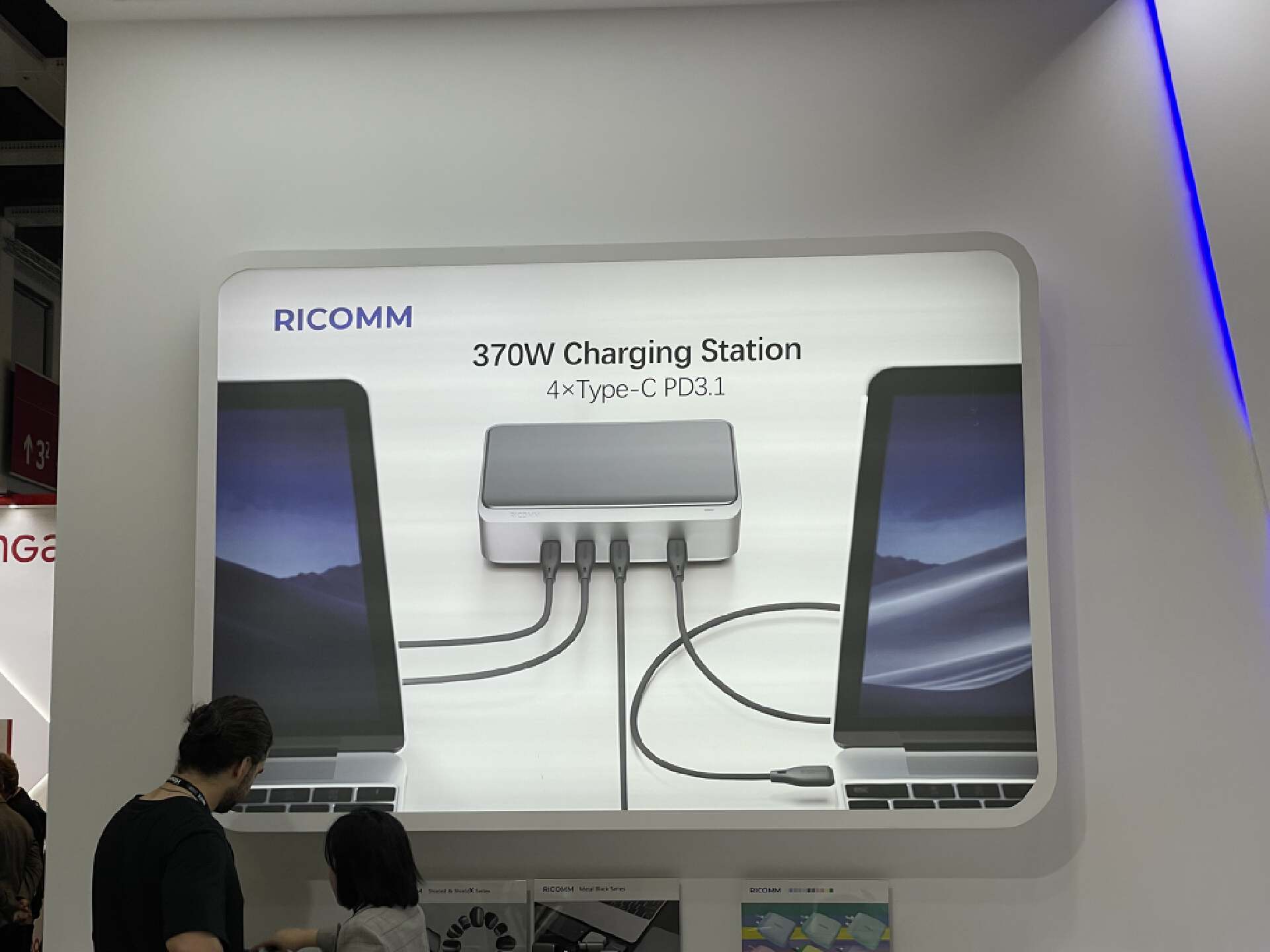 Most importantly, its four ports can deliver a maximum total output power of 370W. This means it can rapidly power large devices such as laptops and tablets, meeting the charging needs of most devices. Furthermore, this charging station is compatible with mainstream fast-charging protocols, including the latest PD3.1, and, when combined with next-gen Gallium Nitride (GaN) technology, it provides a faster and more efficient charging experience.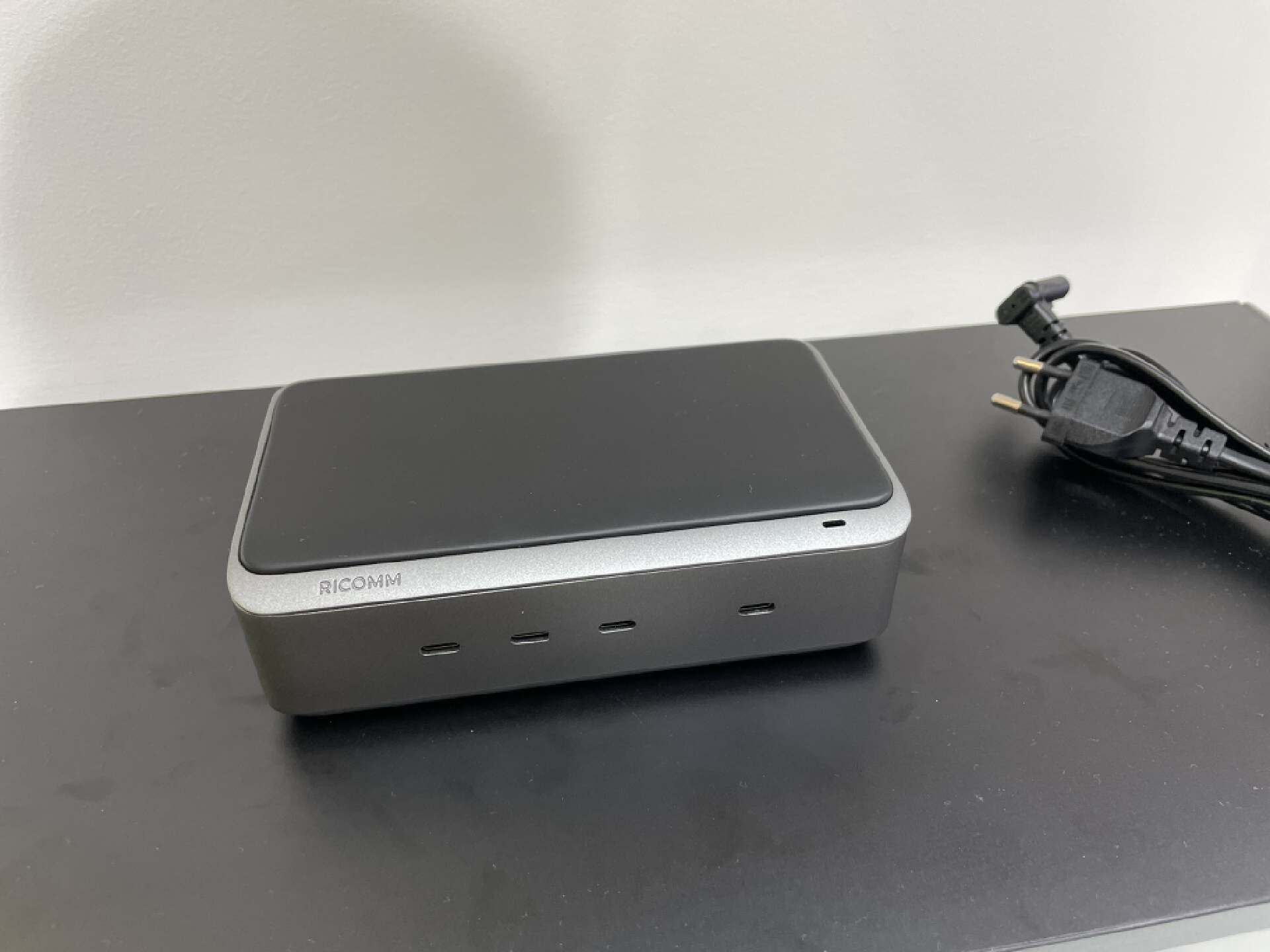 On top of the RICOMM 370W PD3.1 Charging Station, there is a layer of black anti-slip pad. This design aims to provide users with a more convenient and secure charging experience. When users place their devices on the charging station for charging, this anti-slip pad offers additional friction, ensuring that devices do not slide or tilt during use. This design not only enhances device stability but also boosts user confidence in using the charging station for device charging.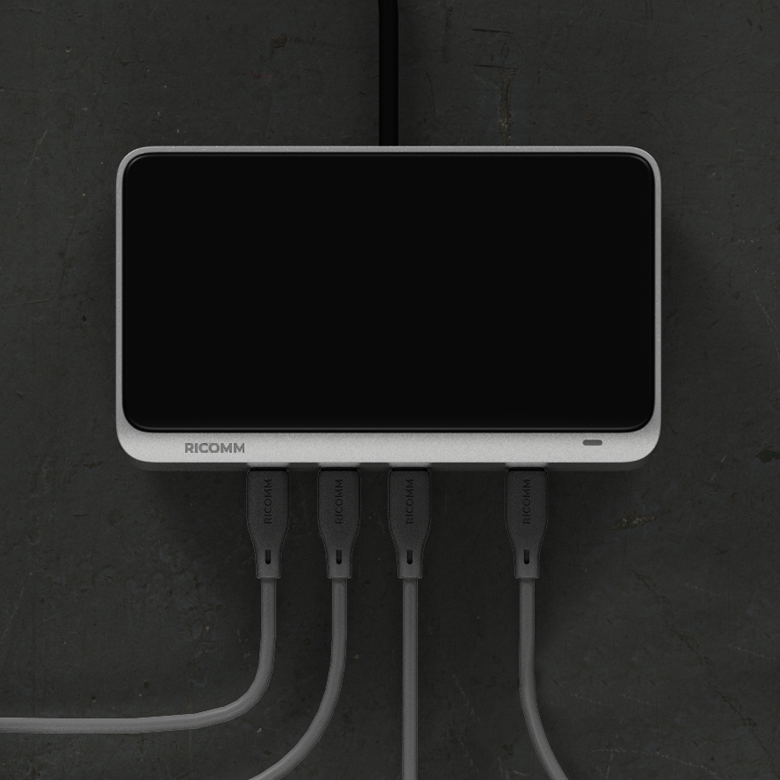 Apart from the anti-slip pad on the top, the rest of the unit features a silver metallic design. This design imparts a modern and high-end aesthetic while also enhancing the overall quality of the charging station. The appearance is not only aesthetically pleasing but also durable and corrosion-resistant. Whether placed in an office, home, or any other setting, this charging station seamlessly blends with its surroundings, creating a stylish and refined atmosphere.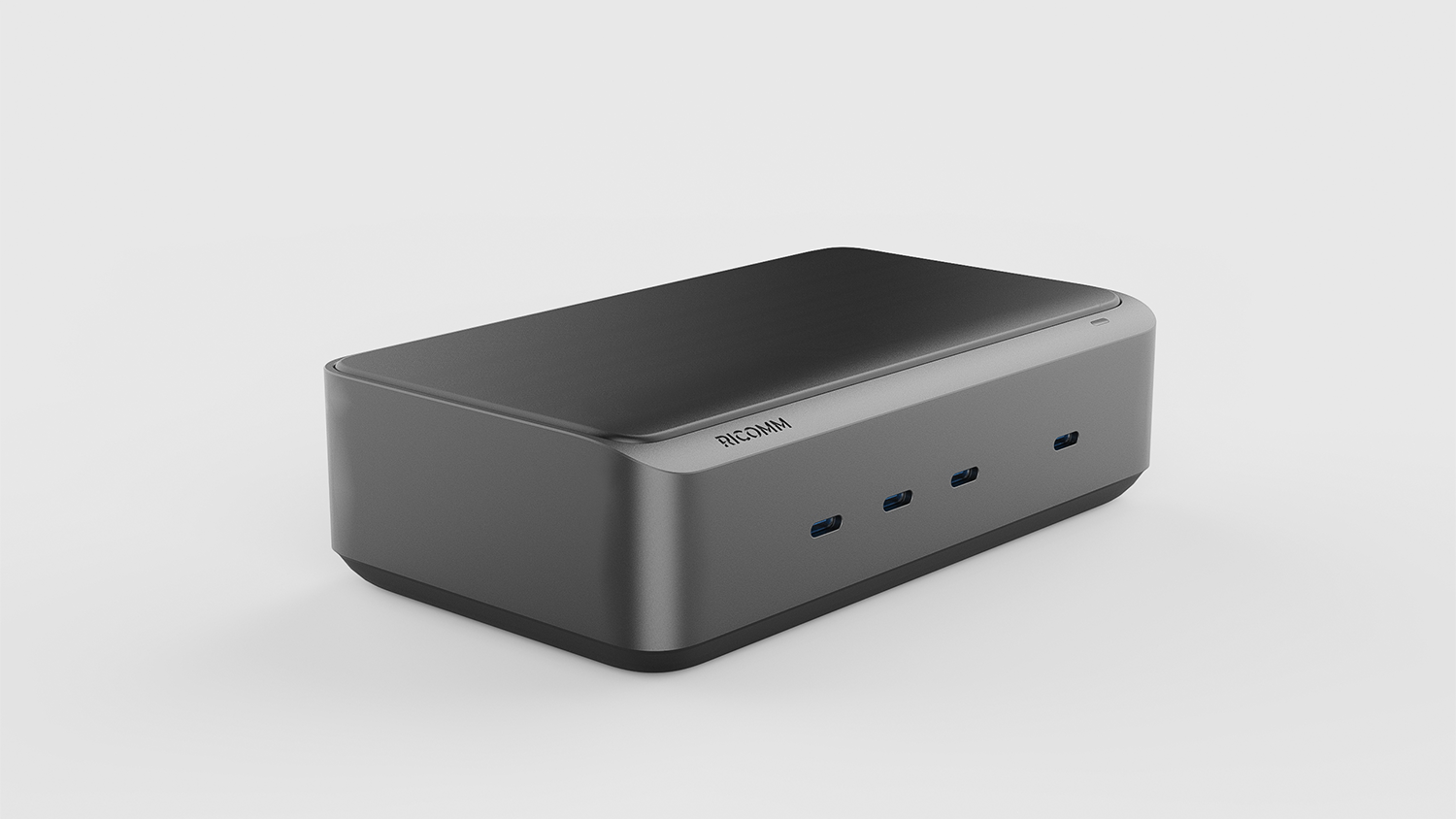 The multiple sides of this charging station are designed with an incline, making it convenient for users to pick up and place down their devices. Between the sides and the top anti-slip pad, you'll find RICOMM's logo and a small indicator light, which displays the charging station's operational status.
Summary of ChargerLAB
In conclusion, RICOMM 370W PD3.1 Charging Station features four USB-C ports and built-in intelligent chips for smart power distribution. Its maximum 370W total output power supports rapid charging for large devices like laptops. Additionally, it is compatible with mainstream fast-charging protocols, including PD3.1, providing users with a faster and more efficient charging experience.
Related Articles: 
1. Review of REDMAGIC 150W GaN Desktop Charger From DAO Series
2. Five Charging Stations for iPhone 15 and More
3. Aesthetics & Performance | REDMAGIC Launched 150W GaN Transparent Charger
The article is originally written by @
Joey
posted on Chargerlab. All rights reserved.