Aesthetics & Performance | REDMAGIC Launched 150W GaN Transparent Charger
On May 10th, at its esports universe new product launch event, REDMAGIC unveiled a brand-new gallium nitride charger. This new 150W GaN charger with a transparent design and an interactive full-color display received strong attention from various media outlets and consumers at the event. As a leading brand in the field of GaN chargers and a professional mobile esports equipment manufacturer, REDMAGIC's so-called "new species of esports" exemplifies what the perfect aesthetic design and ultimate performance of GaN charging products should be.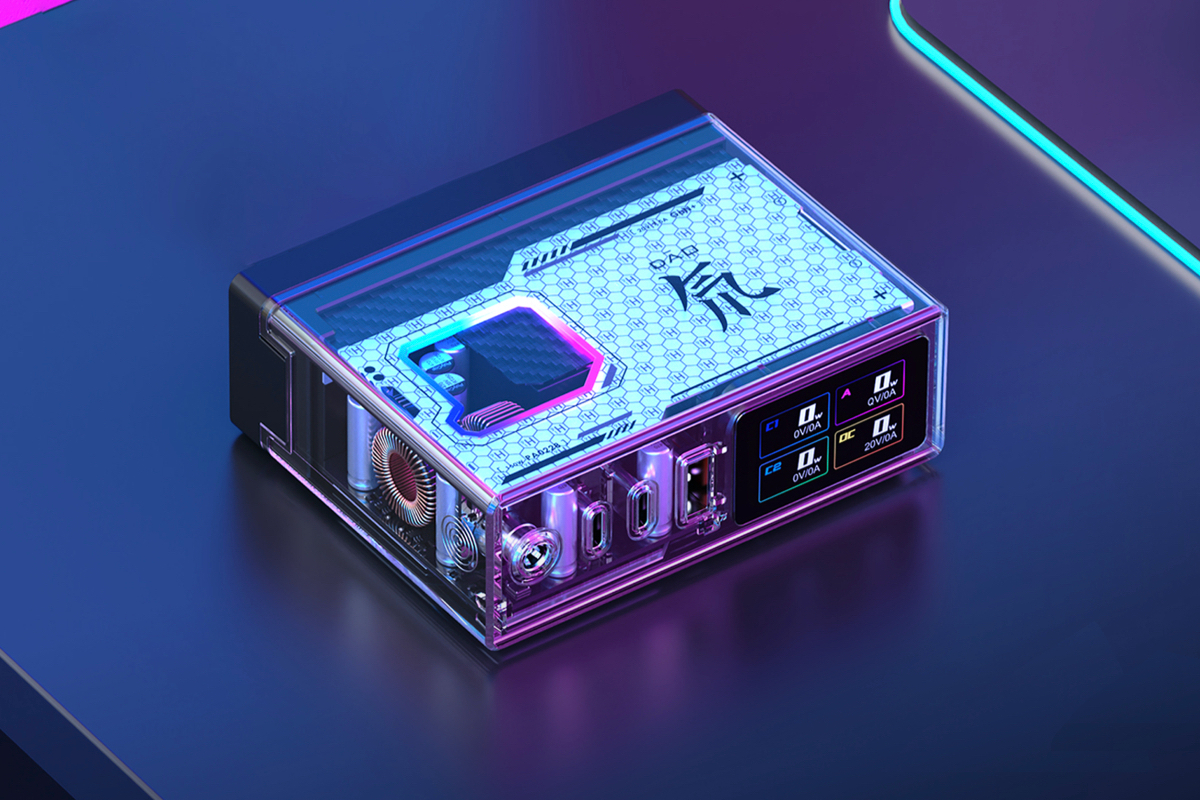 Ultimate Aesthetics
When you first lay eyes on this product, you will be captivated by its outstanding design aesthetics. Not only does it possess the noblest transparent design within the REDMAGIC family lineage, allowing the internal components and superconducting heat dissipation metal to be visually showcased, but it also incorporates a tech-inspired lighting effect inspired by the classic Disney movie "Tron: Legacy." Additionally, with the inclusion of an interactive full-color display and RGB light strip, at first glance, you may find it hard to believe that this is a GaN charger.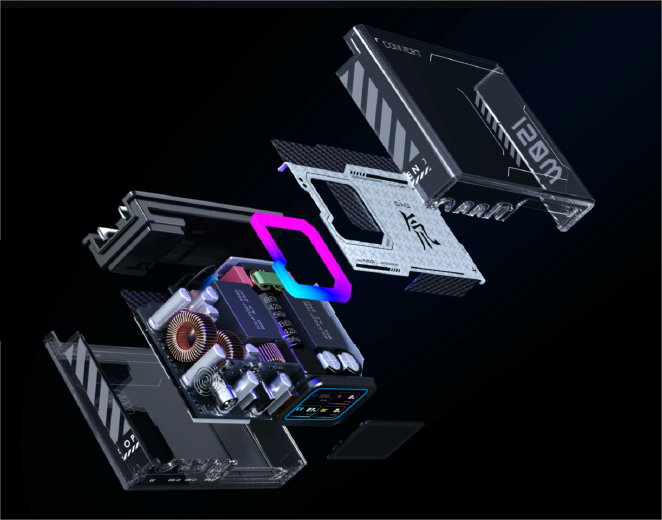 However, the REDMAGIC 150W GaN Transparent Charger is not just a superficial decoration. Its internal superconducting heat dissipation metal adopts the latest metal+gel dual heat dissipation form in the industry, not only has better heat dissipation effects than those of the same level, ensuring low temperature and prevents overheating, but also integrates new technology that creates exquisite craftsmanship on the heat dissipation metal, making the product unique in both aesthetics and quality.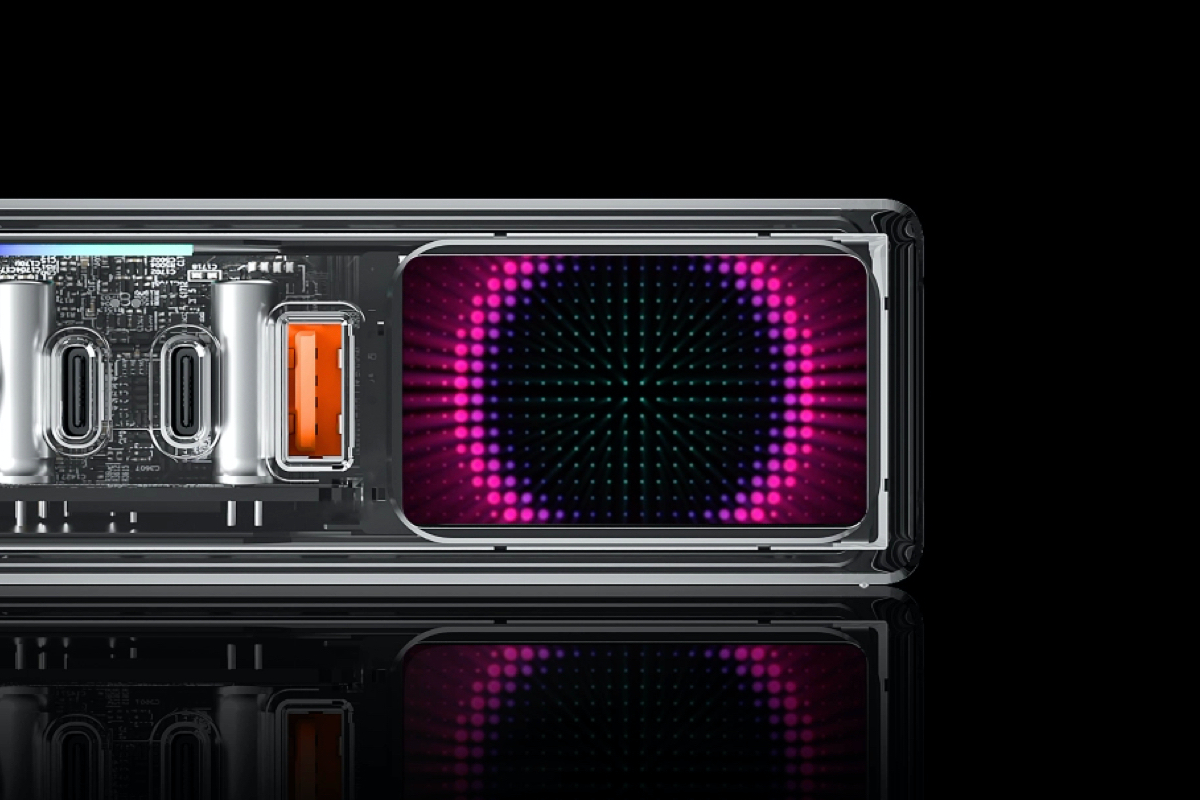 Considering that users often need to monitor real-time charging status such as fast charging speed, REDMAGIC also applies an interactive full-color display to fast charging products for the first time. Also, users only need to connect via Bluetooth and can experience hundreds of desktop dynamic standby animations while understanding the charging status of multiple ports in real-time, which is equivalent to integrating multiple mini POWER-Z KM003C.
Ultimate Performance
In addition, it is equipped with an independent desktop superpower module for the first time, which adopts a plug-and-play + multi-port design to provide power interfaces for multiple devices on the desktop, and can even extend the power from the wall outlet to the charger via an extension cord. This perfectly realizes the REDMAGIC 150W GaN Transparent Charger's lightweight usage standalone and integration into the desktop superpower module as a perfect, minimalist charging combination, which satisfies users' dual needs for home and travel.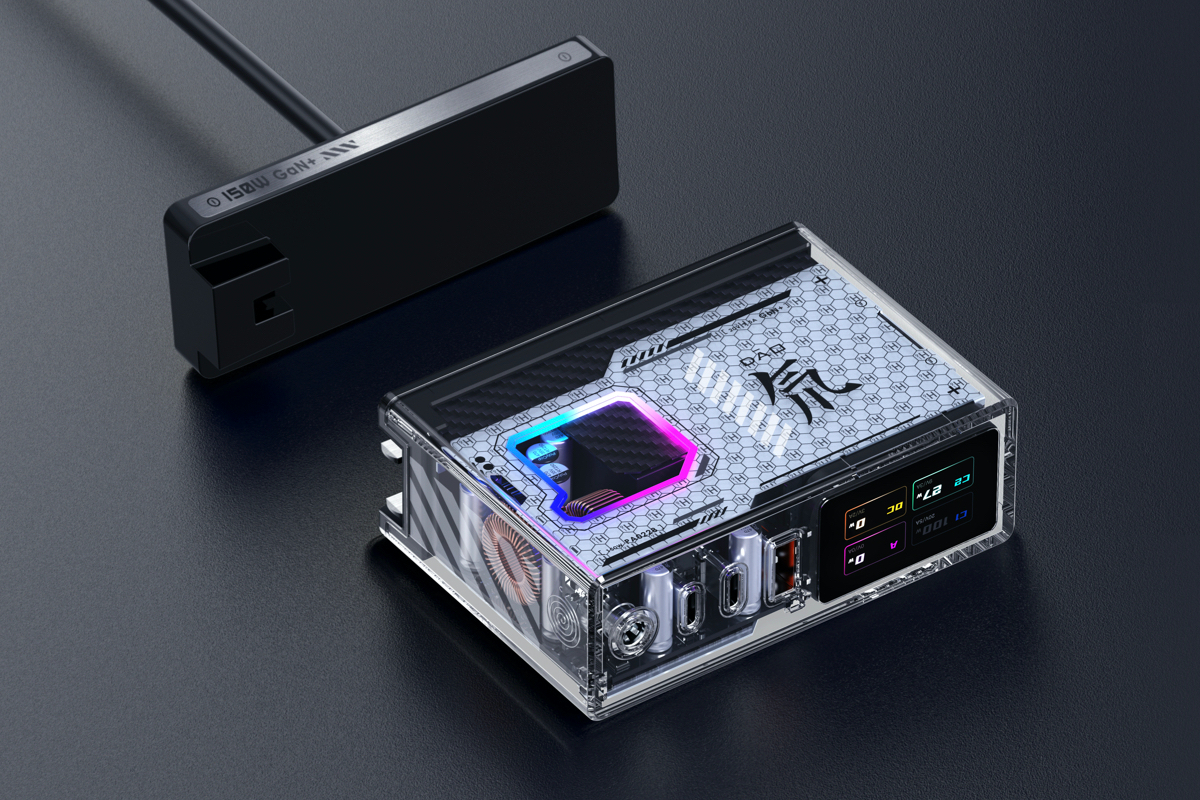 In terms of performance, as an esports-grade product, the REDMAGIC 150W GaN Transparent Charger has the current industry-leading configuration. Its 1A+2C+1DC multi-port design can simultaneously meet the fast charging requirements of mobile phones, tablets, laptops, handheld game consoles, and other different devices. To meet the demanding requirement of gamers for high-power charging, it even has a dedicated DC port, which supports a maximum of 7.5A current through the built-in DC adapter cable, perfectly adapting to the 150W fast charging requirement of high-power gaming laptops on the market.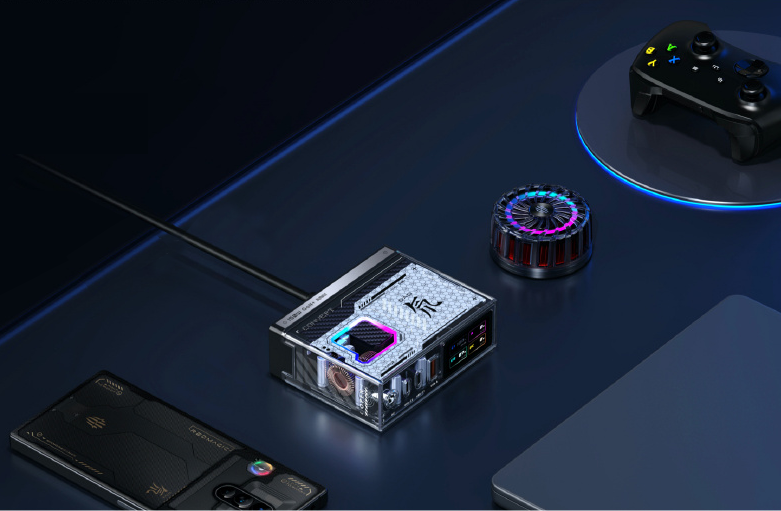 It also supports the PD3.1 protocol, and the USB-C port supports a maximum output of 140W, providing fast charging for your digital devices at any time. Moreover, it adopts a new generation of GaN chips and the latest architecture, which significantly improves charging efficiency while intelligently allocating power, enabling this small transparent charger to release stronger performance in the same size, making it the most reliable charging partner by your side.
Summary of ChargerLAB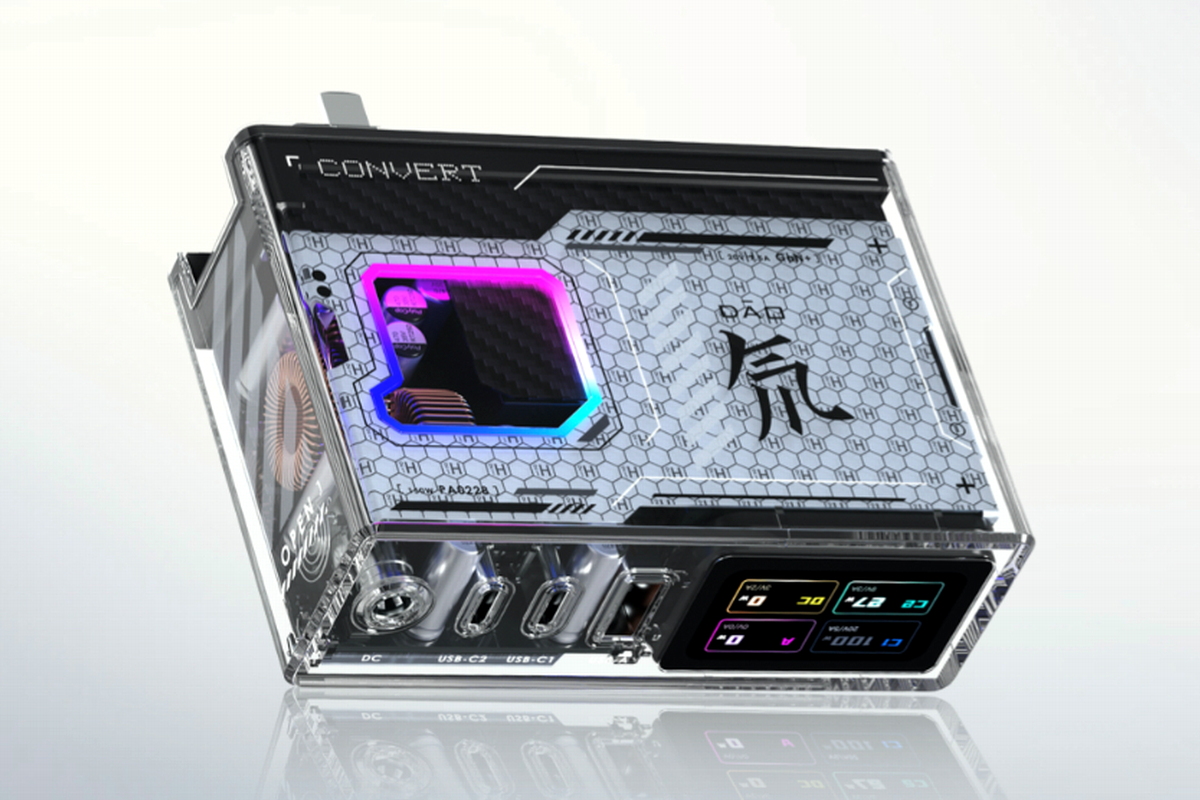 In conclusion, REDMAGIC's new product, the 150W GaN Transparent Charger, is a perfect example of the ideal combination of aesthetic design and performance for GaN charging products. Its outstanding design aesthetics, including a transparent body that displays the superconducting heat dissipation metal inside, a Tron: Legacy-inspired light effect, an interactive full-color display, and an RGB light strip, make it a "new species of esports" that shows you everything. Meanwhile, its excellent performance, such as a multi-port design that meets fast charging requirements for various devices, a dedicated DC port that supports high-power charging, and a new generation of GaN chips that improve charging efficiency, combined with the desktop superpower module, satisfies users' dual needs for home and travel. Overall, this GaN charger is a reliable and powerful charging partner that combines aesthetics and performance to provide the ultimate charging experience for consumers.
Related Articles:
1. TEGIC Launched the NIO Edition 210W GaN Power Station
2. First Teardown of SHARGE / STORM 2 100W Transparent Super Power Bank
3. Fully Charged in 12 Mins | Tegic Quickbee 2-in-1 Multifunctional Power Station
The article is originally written by @
Joey
posted on Chargerlab. All rights reserved.