Review of LG 240W USB4 Cable with Full Pin Design
Introduction
With more and more devices such as tablets, laptops, and even computer motherboards equipped with full-featured USB Type-C ports, users can experience the performance improvement it brings.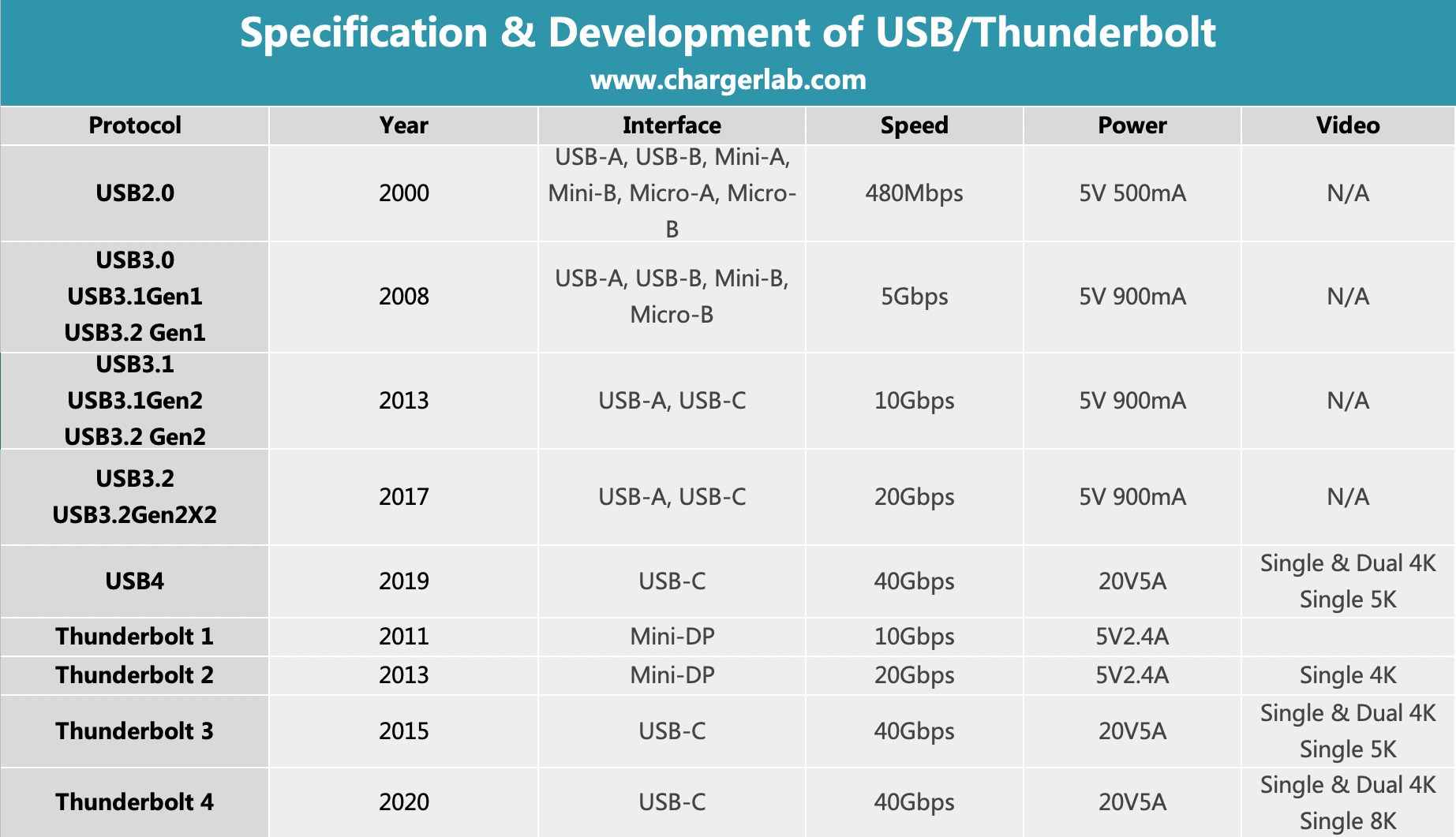 Today, ChargerLAB brings a USB4 40Gbps cable from LG, which has been tested to support up to 50V5A 240W EPR power transmission. The connector has a full-pin design, allowing for more practical features.
Product Appearance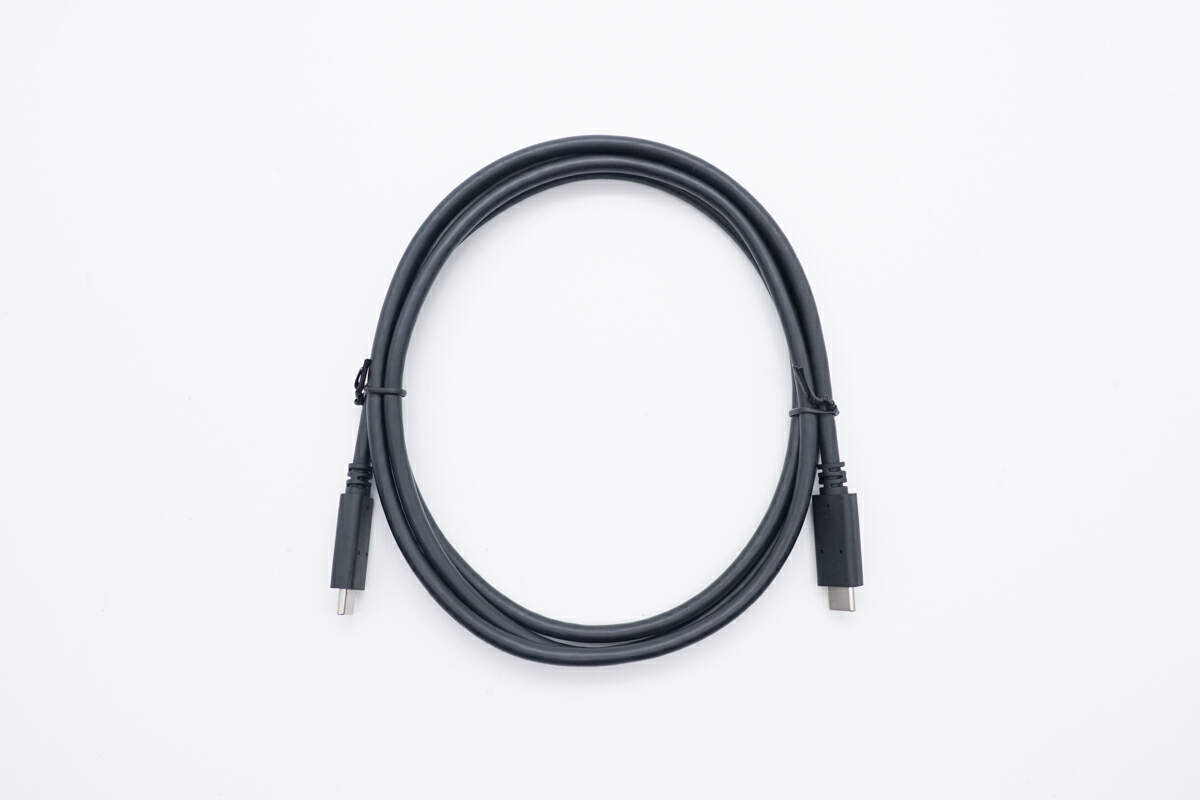 The LG USB4 Cable is made of PC material and is bound and fixed with a steel wire coil, making it resistant to bending and folding.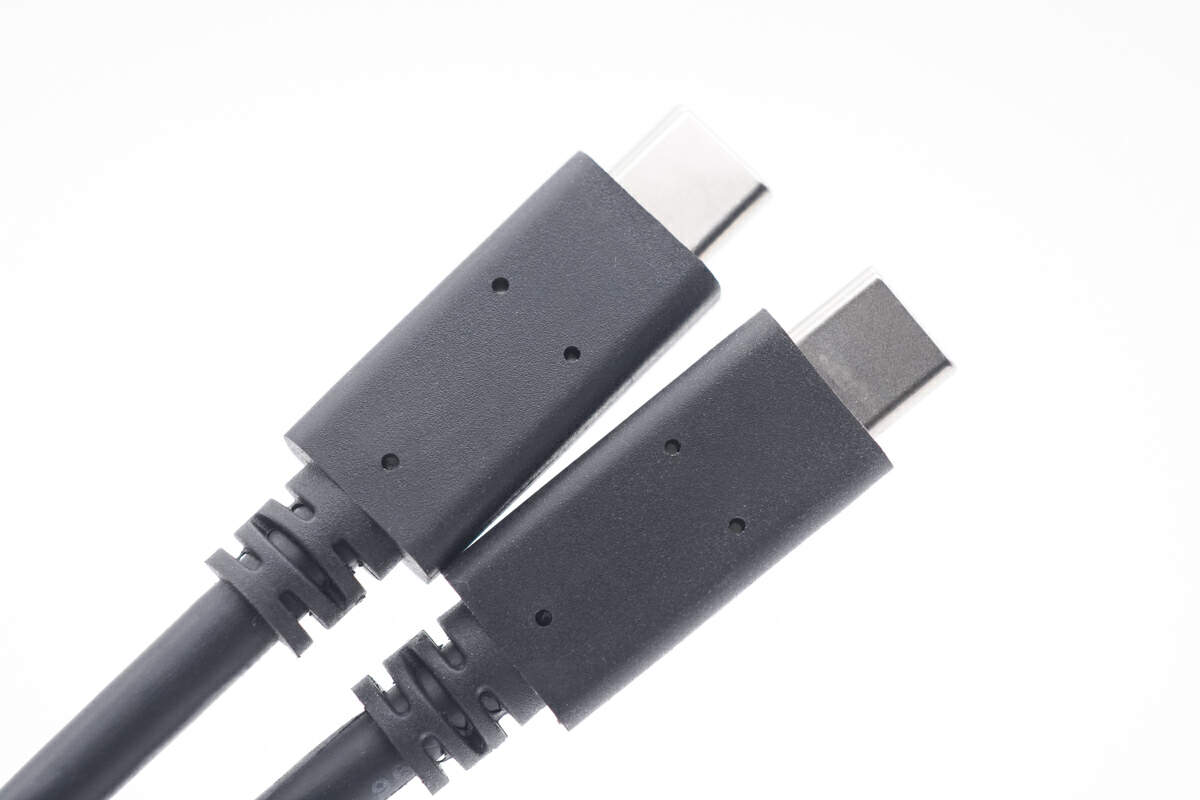 The USB-C connector of the LG USB4 Cable features an extended injection molding design, approximately twice the length of a regular USB-C port. Additionally, the internal alloy can be seen through three small openings.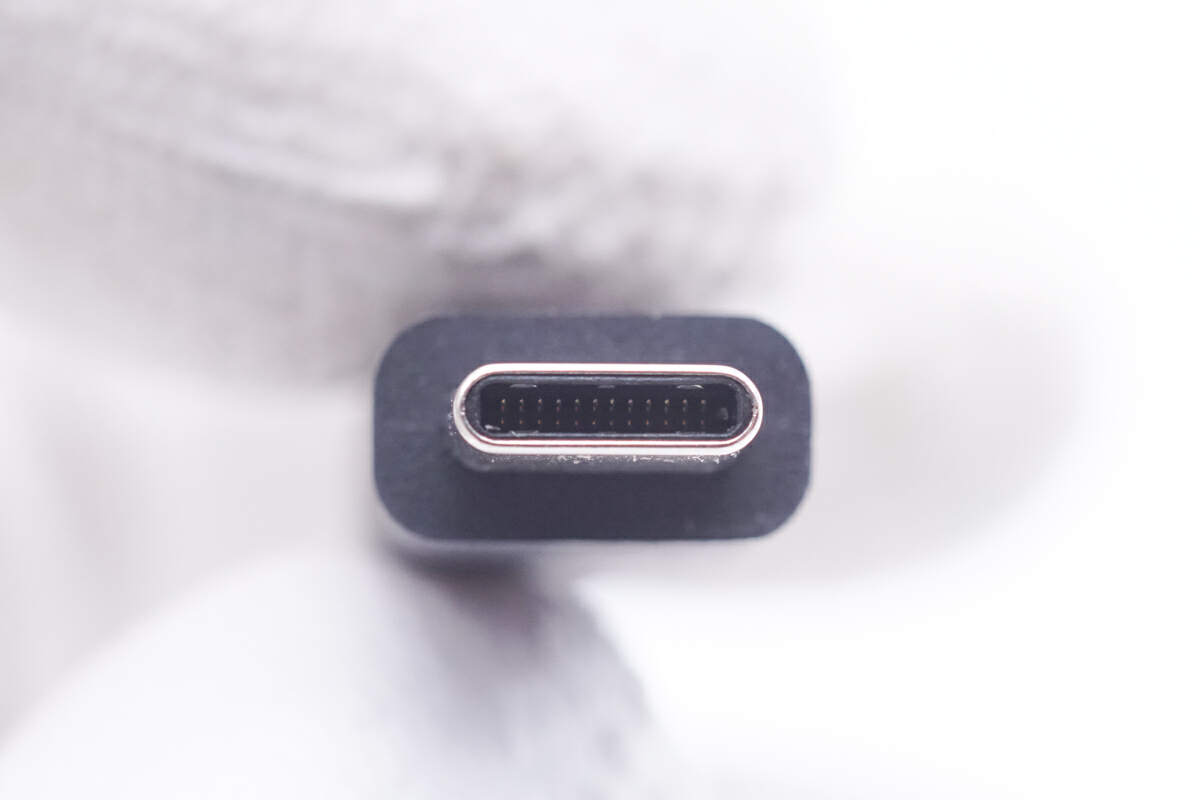 The Type-C connector adopts a 24-pin design, and the specific supported features will be tested and explained in the following text.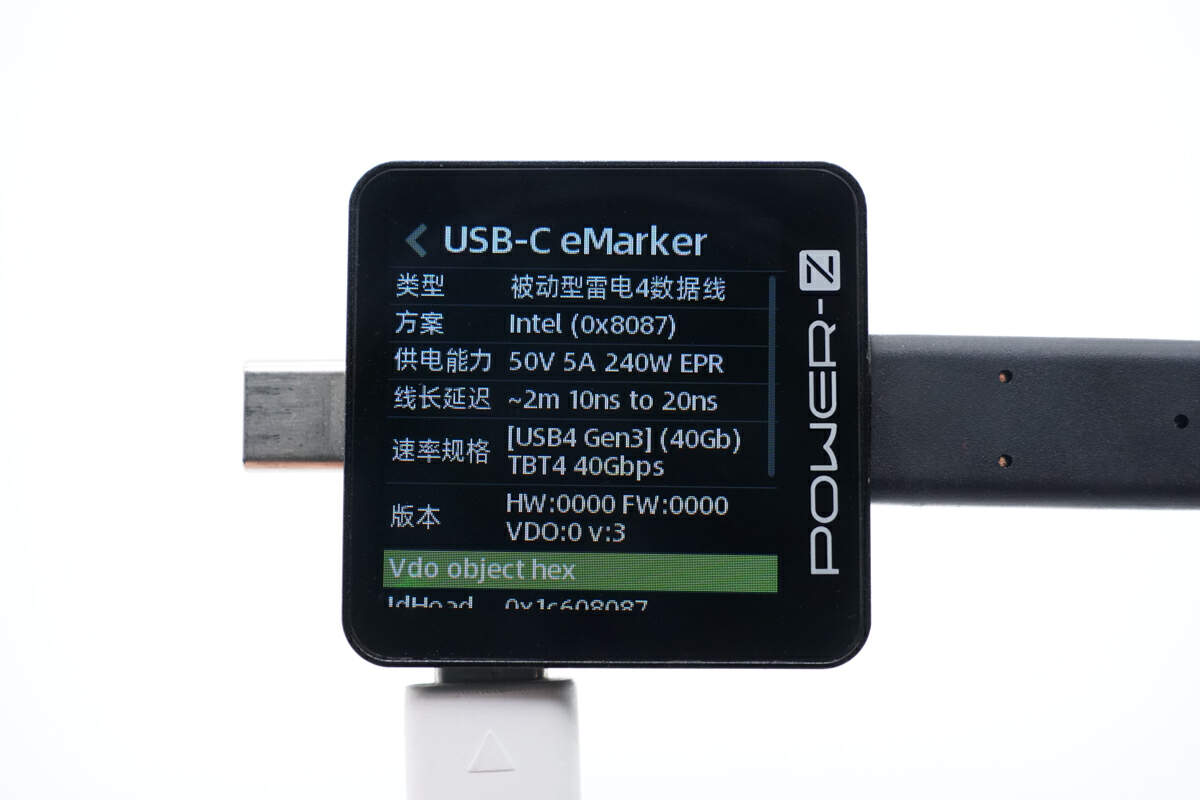 ChargerLAB POWER-Z KM003C shows that it has an E-Marker chip, supporting 50V5A 240W EPR power transmission and USB4 Gen3 (40Gb) data transfer capability. It belongs to Thunderbolt 4 coaxial cable.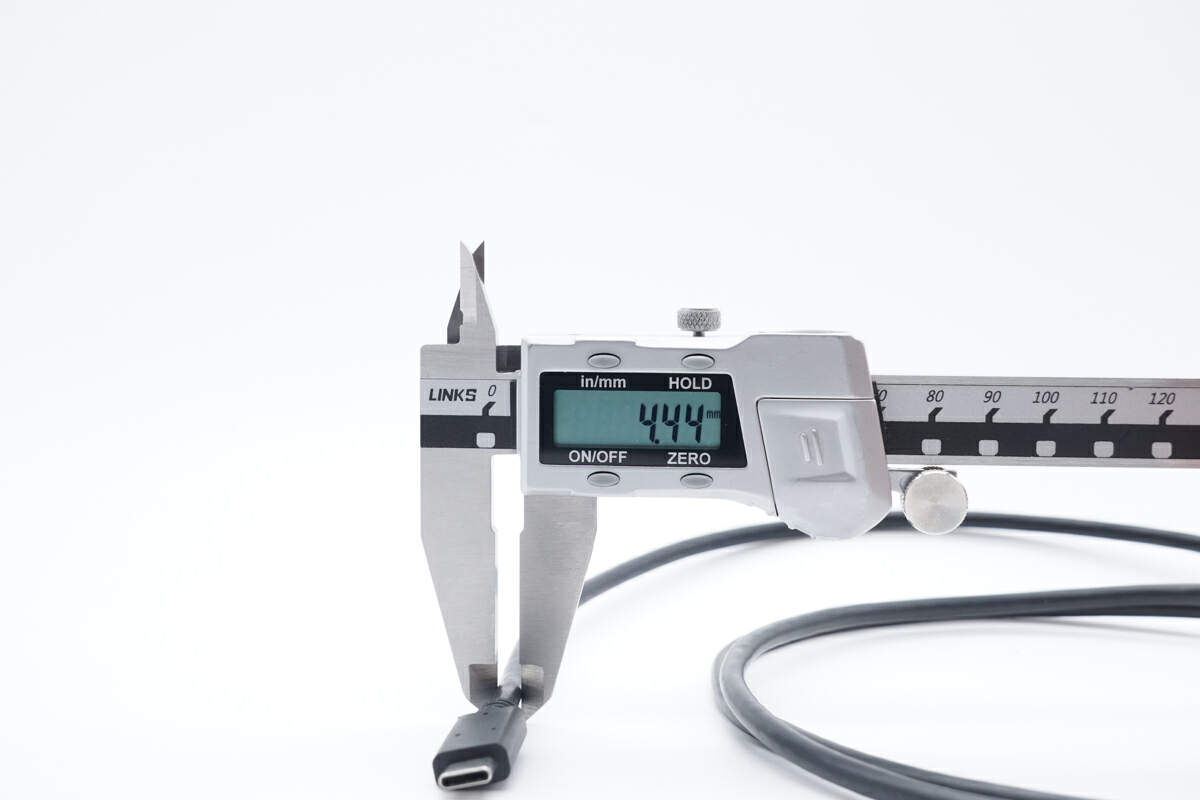 The diameter is approximately 4.4mm (0.17 inches).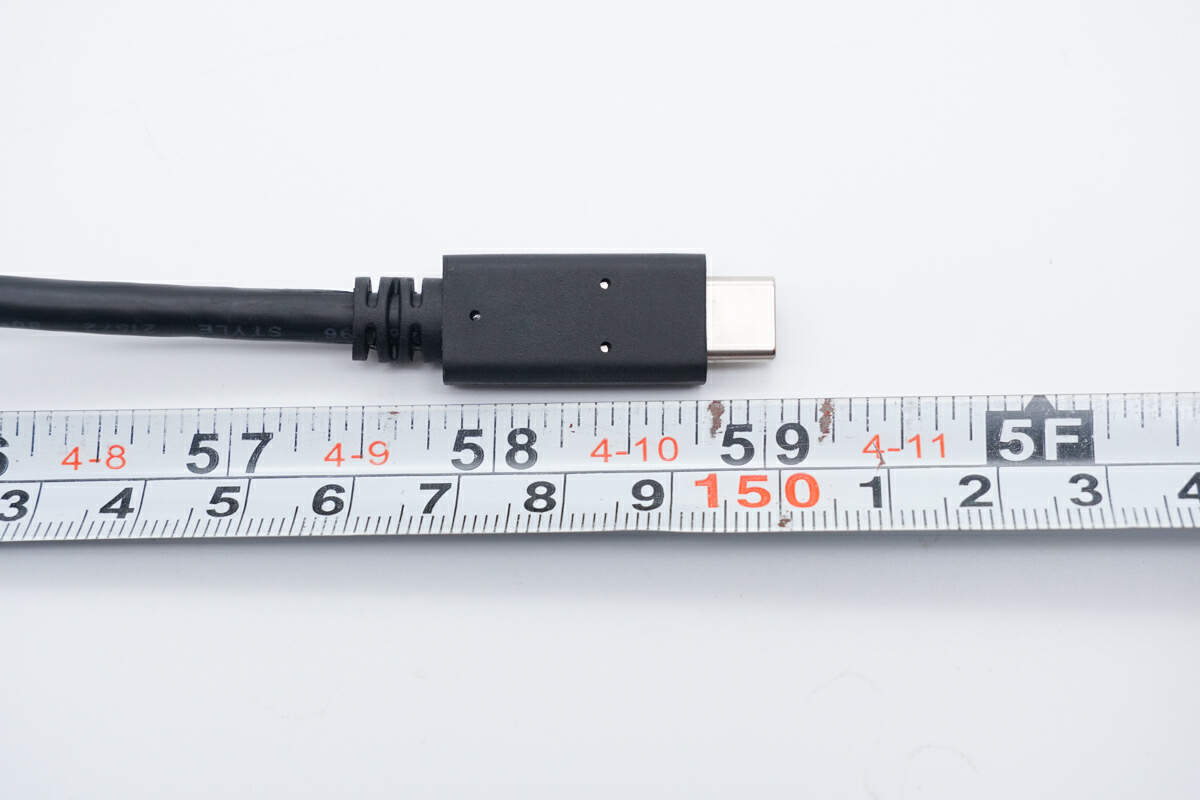 The overall length of the cable is about 1.5m (4.92 ft), which can meet the length requirements for device charging and data transfer on a desktop.
Performance Test
The test primarily centers around two aspects: functional testing and quality testing. The former mainly tests whether the cable supports specific functions; the latter mainly tests the internal quality of the cable. Now, let's explore the test results regarding its functionality.
Fast Charging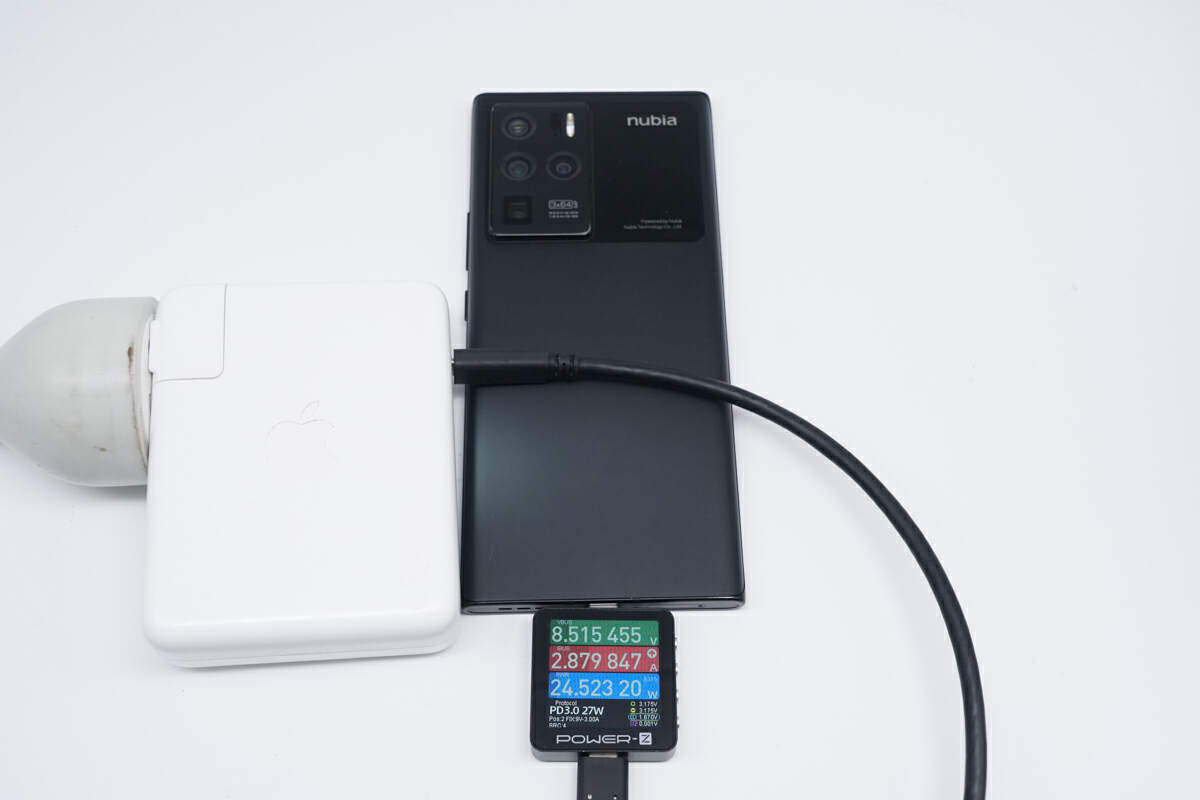 When using the Apple 140W charger in combination with this cable to charge a Nubia Z30 Pro, the charging power displayed is 8.52V 2.88A 24.52W.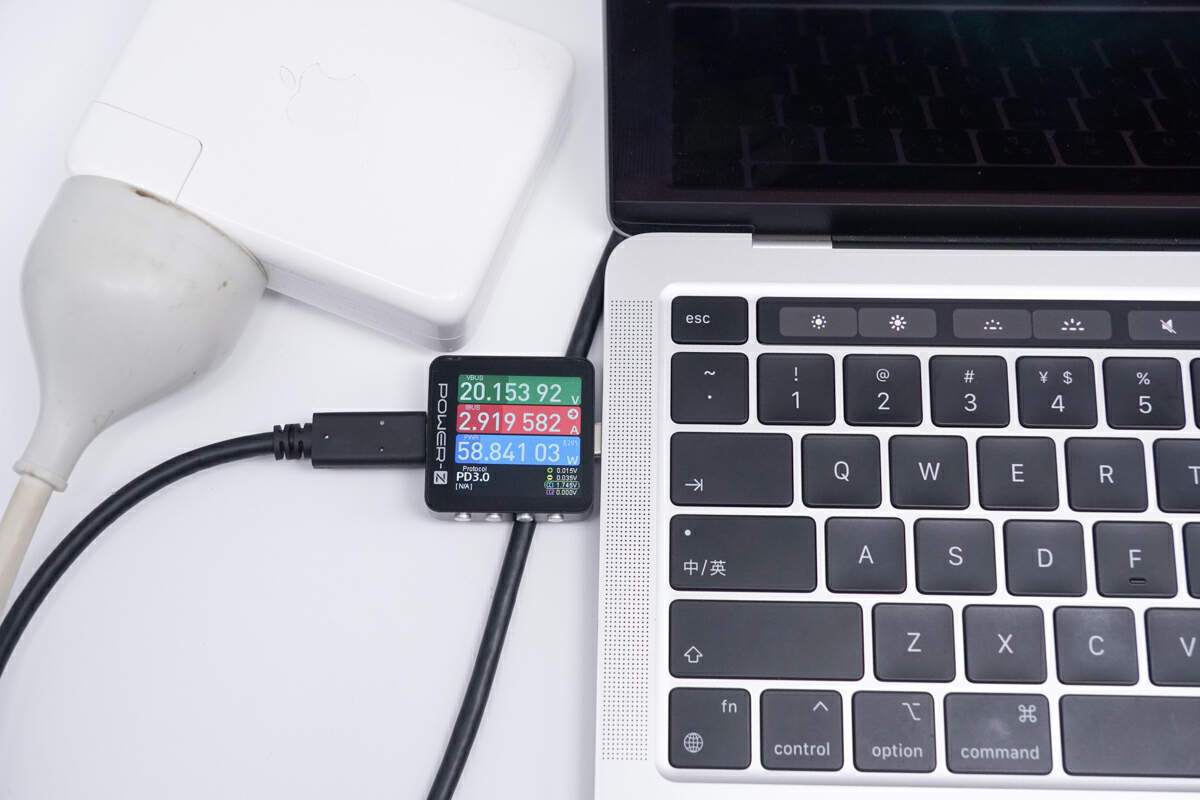 When moving on to the MacBook Pro M2, we observe a power increase to 20.15V 2.92A 58.84W, indicating its capability to support a current transmission of 3A.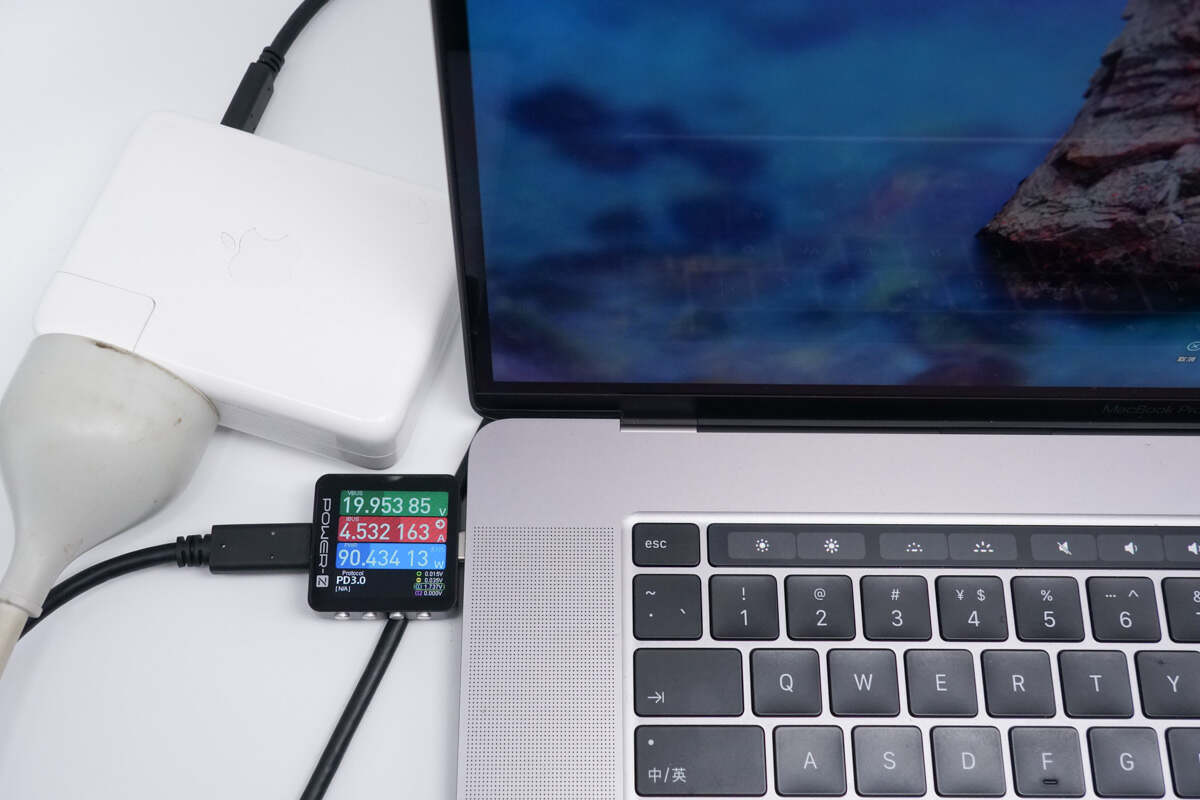 As for the 16-inch MacBook Pro M1 Max 2021, the power reaches 19.95V 4.53A 90.43W, suggesting that it can support a current transmission of 5A.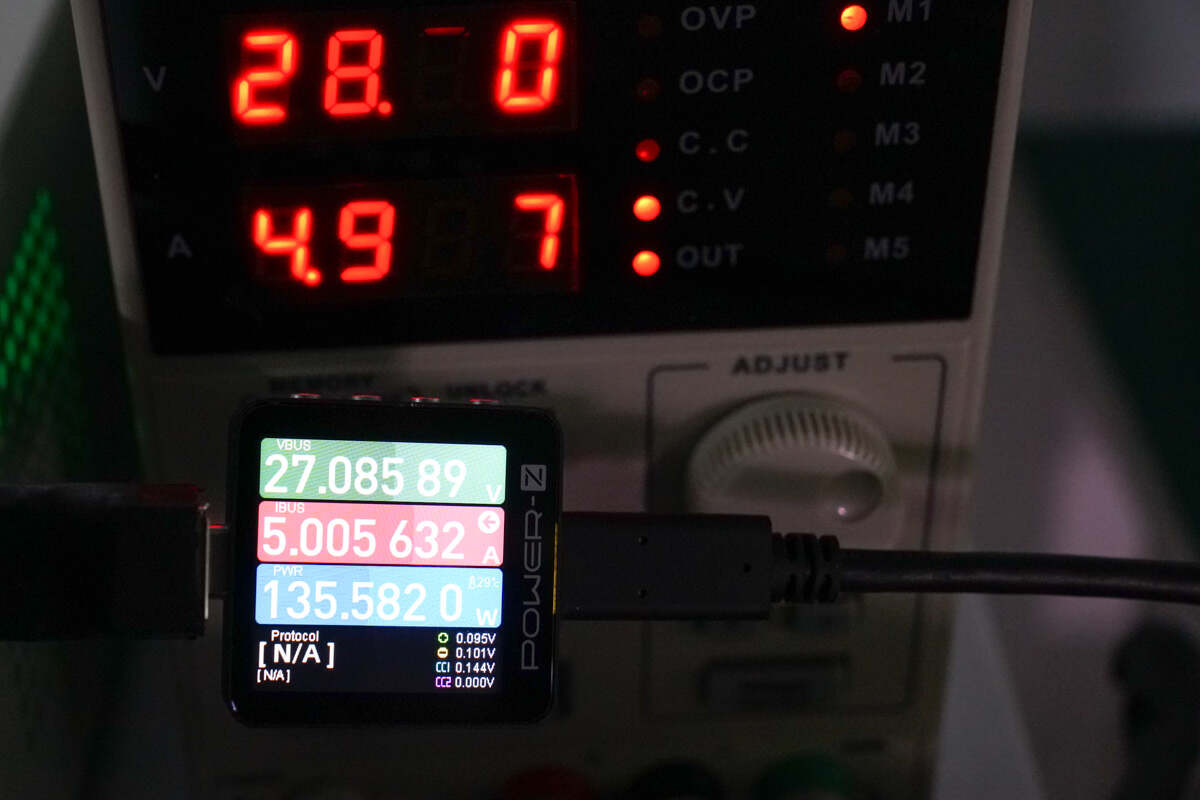 Furthermore, the cable underwent testing for charging power at even higher levels by connecting one end to a power supply and the other end to a load. The test results revealed a charging voltage of 28V and a current of 4.9A.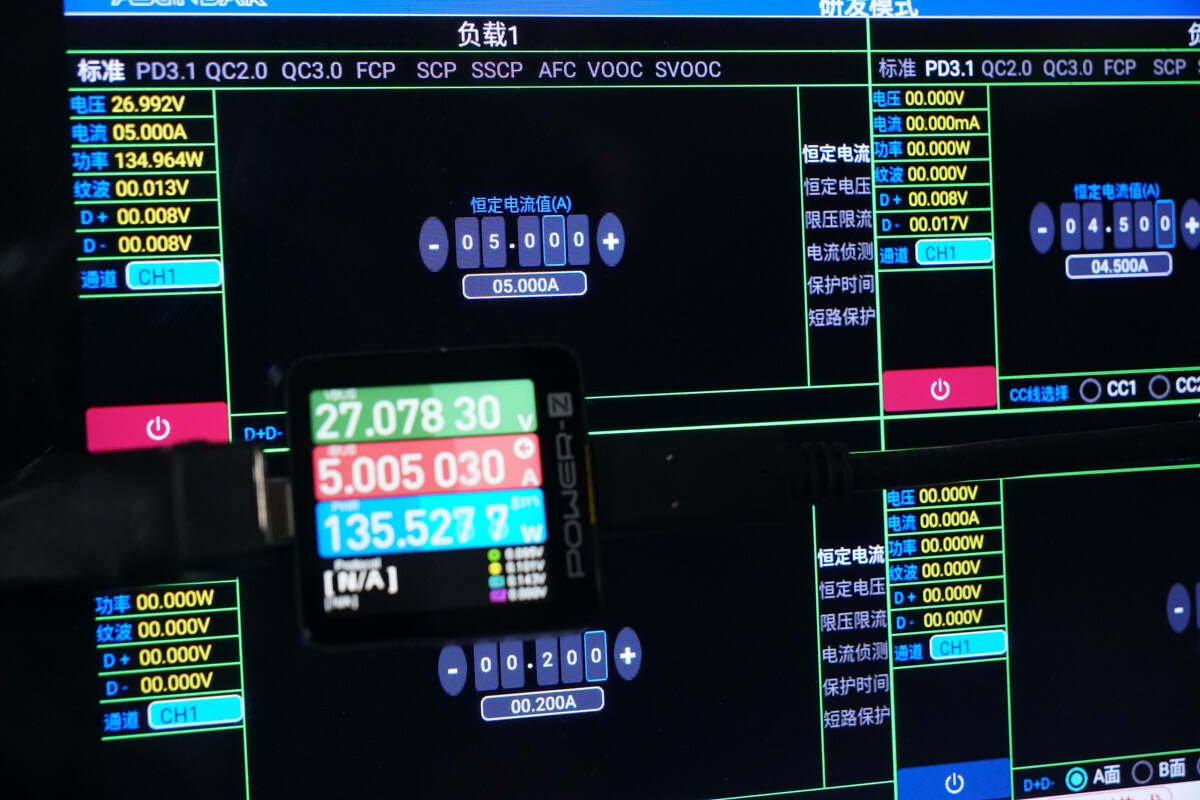 When examining the load side, KM003C indicates a power reading of 135.5277W, while the load's screen displays a slightly lower power of 134.964W.
In summary, ChargerLAB has confirmed that the LG USB4 Cable is capable of supporting power transmission up to 28V5A 140W, ensuring efficient charging performance. This cable is suitable for a wide range of charging scenarios, including smartphones, tablets, and laptops equipped with USB-C charging ports that support PD fast charging.
Data Transmission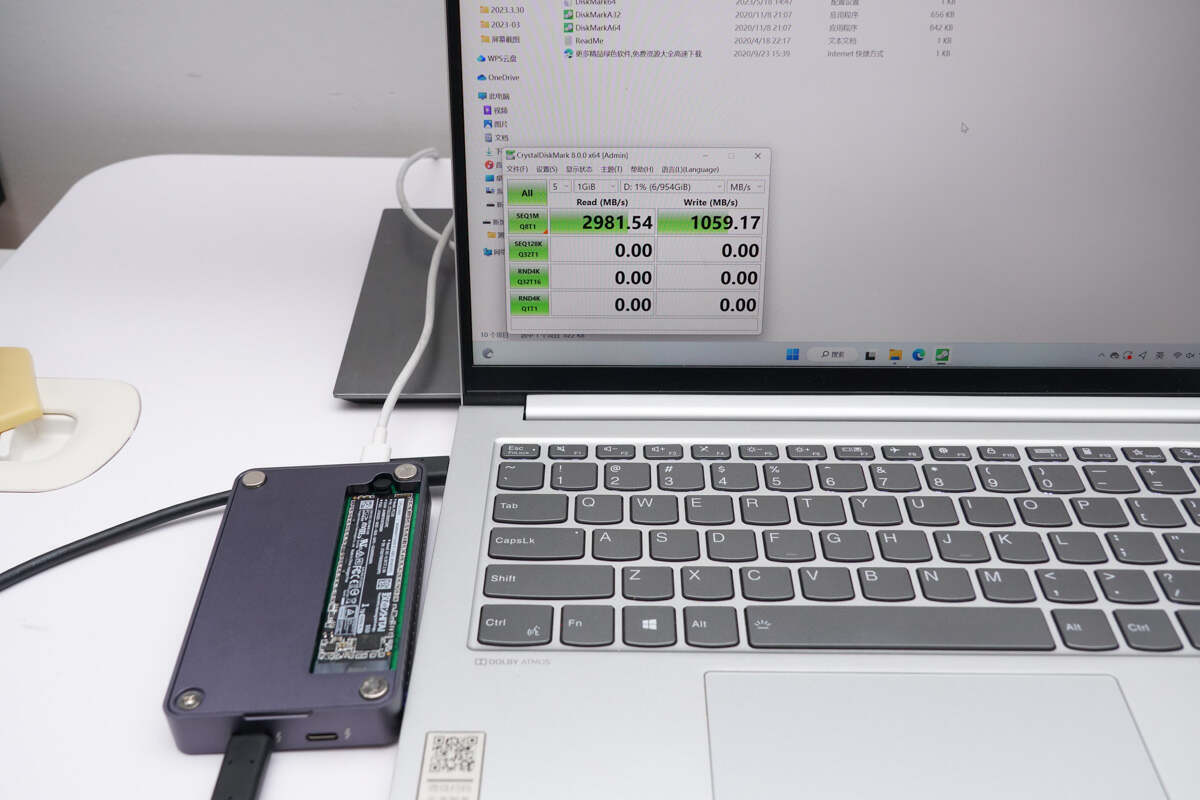 We performed a transfer speed test using CrystalDiskMark by connecting the cable to the USB-C port of a Lenovo Pro 14 and a USB4 hard drive enclosure with a TiPlus5000 512GB SSD. The results revealed a write speed of approximately 1059.17MB/s and a read speed of around 2981.54MB/s, meeting the Thunderbolt 4 data transfer standard.
Video Transmission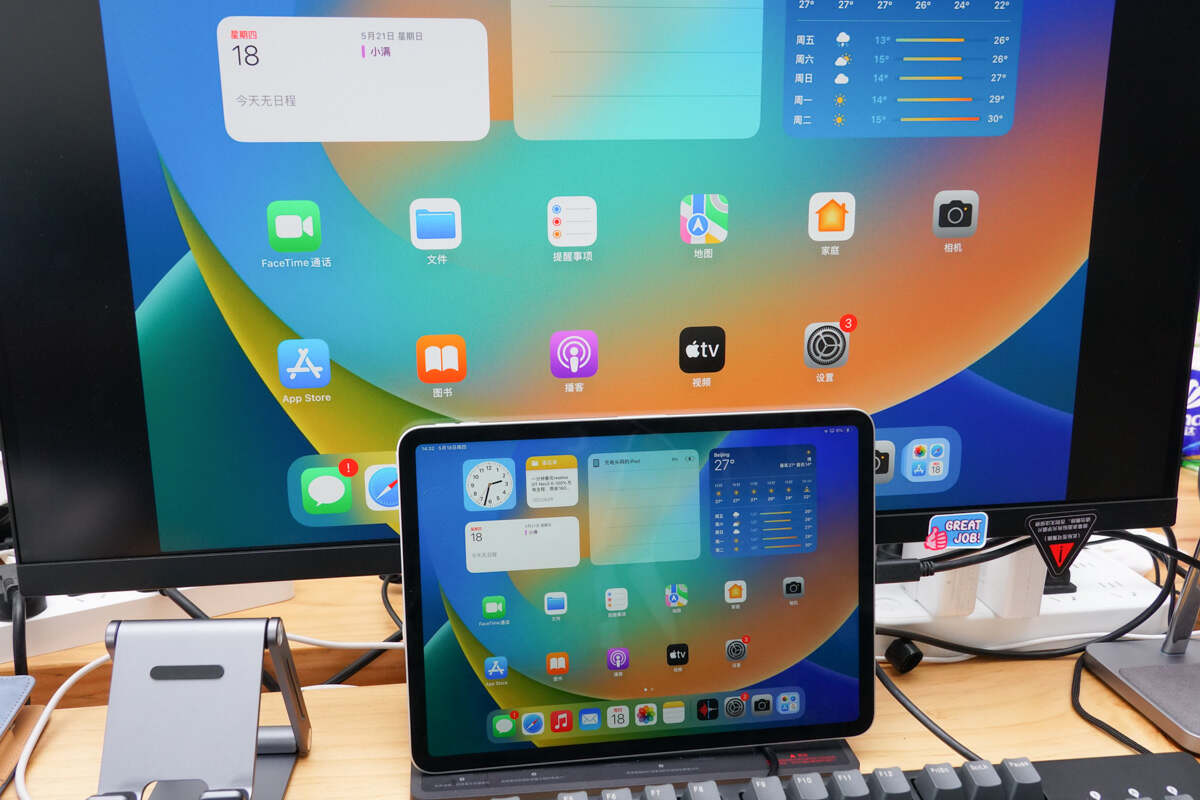 By connecting the cable to the Thunderbolt port of the fourth-generation 11-inch iPad Pro and a 4K resolution display, we successfully activate the display, confirming the cable's capability to transmit video signals.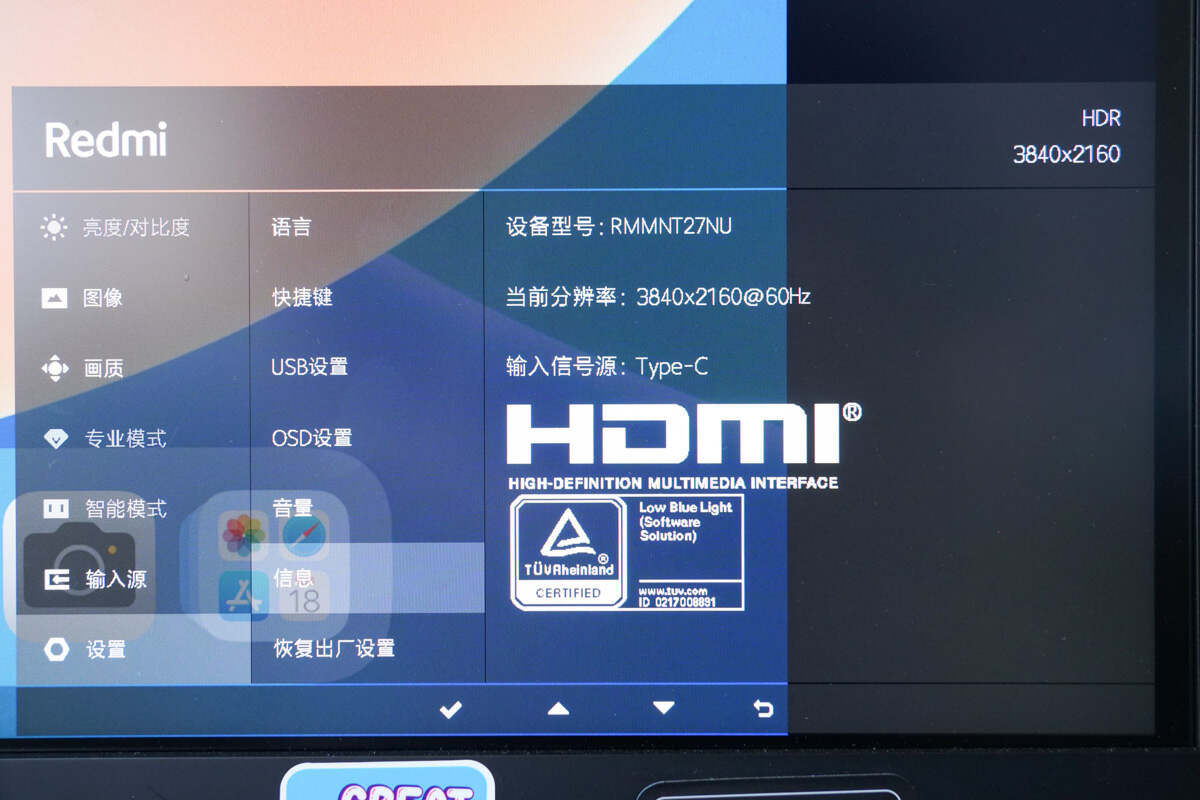 After revealing the display resolution, the display had a resolution of 3840x2160 60Hz, which is commonly known as 4K 60Hz.
Voltage Drop Test
The voltage drop test is a crucial element in assessing the cable's quality. During regular usage, as the charger supplies voltage and current to one end of the cable, it traverses through the cable to the other end, resulting in a voltage drop.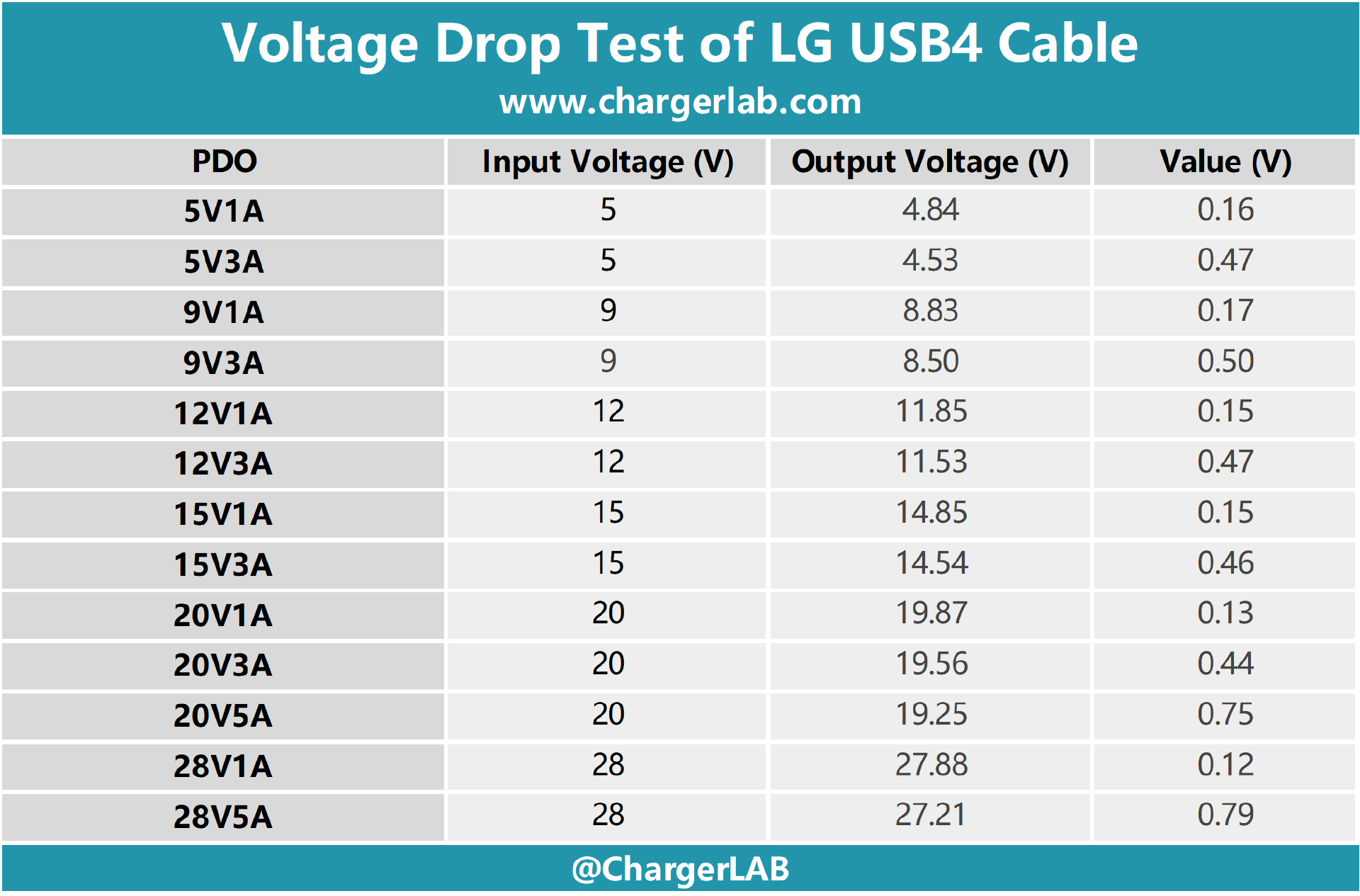 By connecting the cable to the power supply and the electrical load separately, we conducted tests to measure the voltage drop at various voltage and current levels. Here are the results obtained.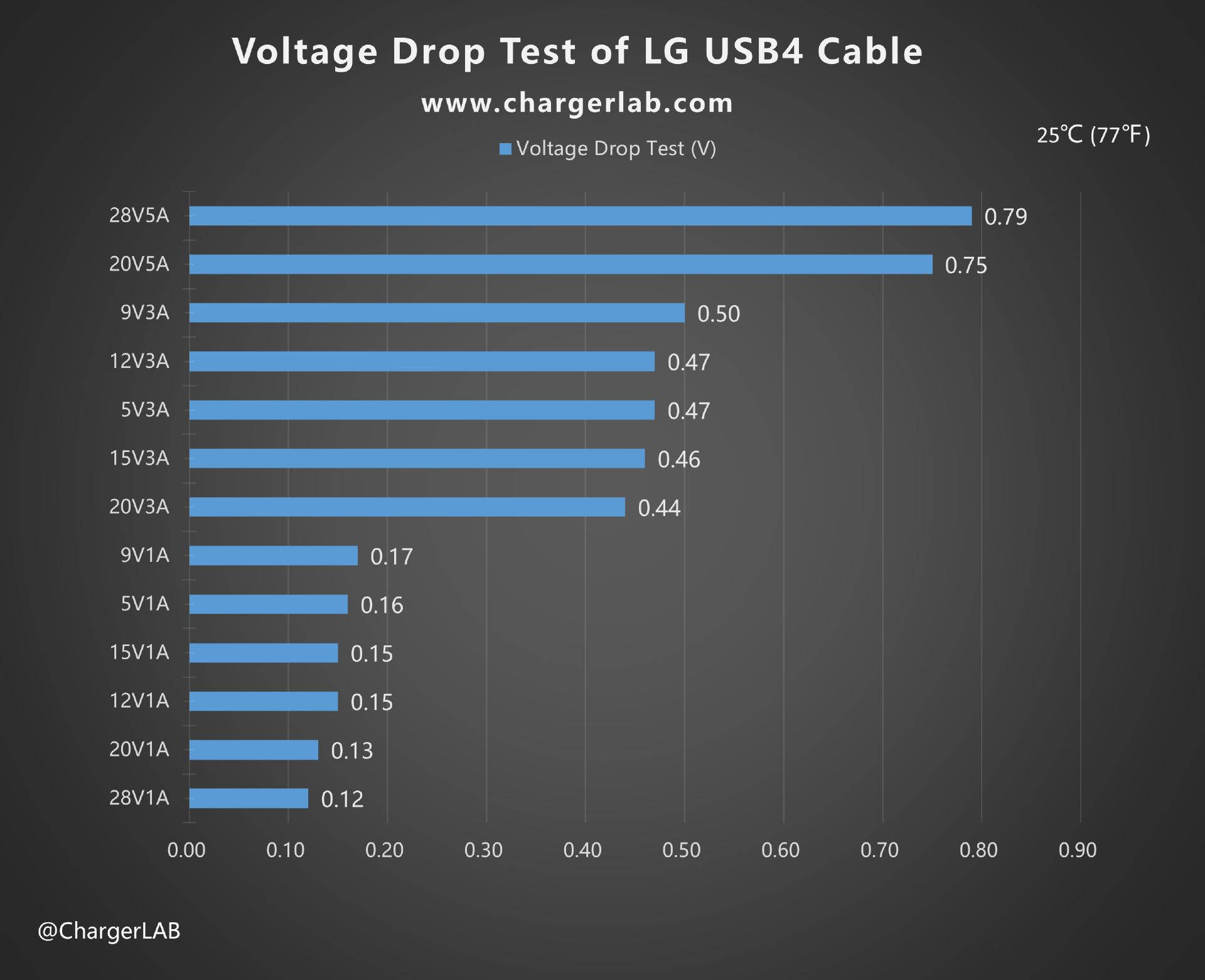 When plotted on a bar graph, it is evident that the highest voltage drop value occurs at the 28V5A level, with a difference of 0.79V. Conversely, the lowest voltage drop value is observed at the 28V1A level, with a difference of 0.12V. For the 3A current, the voltage drop ranges between 0.44V and 0.5V. Under a 5A current, the voltage drop ranges between 0.75V and 0.79V. At 1A, the voltage drop ranges between 0.12V and 0.17V.
Summary of ChargerLAB
In conclusion, the LG USB4 Cable is a high-performance USB Type-C cable that supports fast charging, data transmission, and video signal transmission. It can efficiently transmit power up to 28V5A 140W, making it suitable for various devices equipped with USB-C ports. Additionally, it meets the Thunderbolt 4 data transfer standard, delivering impressive speeds of approximately 1059.17MB/s for write and 2981.54MB/s for read. The cable also successfully supports video signal transmission, enabling connectivity between Thunderbolt ports and 4K resolution displays.
In terms of quality, the cable underwent a voltage drop test, with results showing different voltage drop values at different voltage and current levels. It demonstrated reliable performance across various scenarios, making it a versatile choice for users seeking efficient charging, high-speed data transmission, and video connectivity for their devices.
Related Articles:
1. Teardown of Apple Thunderbolt 4 Pro Cable (1.8 m)
2. Review of HP Thunderbolt 4 Cable
3. Review of Mcdodo 100W Dual USB-C Fast Charging Cable with LED Display
The article is originally written by @
Joey
posted on Chargerlab. All rights reserved.