Jackery Explorer 2000 Plus Portable Power Station Review
Introduction
Hi, guys. Welcome back to today's ChargerLAB. Let's go outside today and introduce a portable power station from Jackery. This is the latest released 2000 Plus, which can be fully charged in two hours and has a long battery life of 2 kWh. The total output can be up to 3000W, and it also supports up to 5 expandable battery packs with power expanded from 2kWh to 12kWh. We also did a report back when it was launched at Intersolar Europe 2023, you can click here to take a look.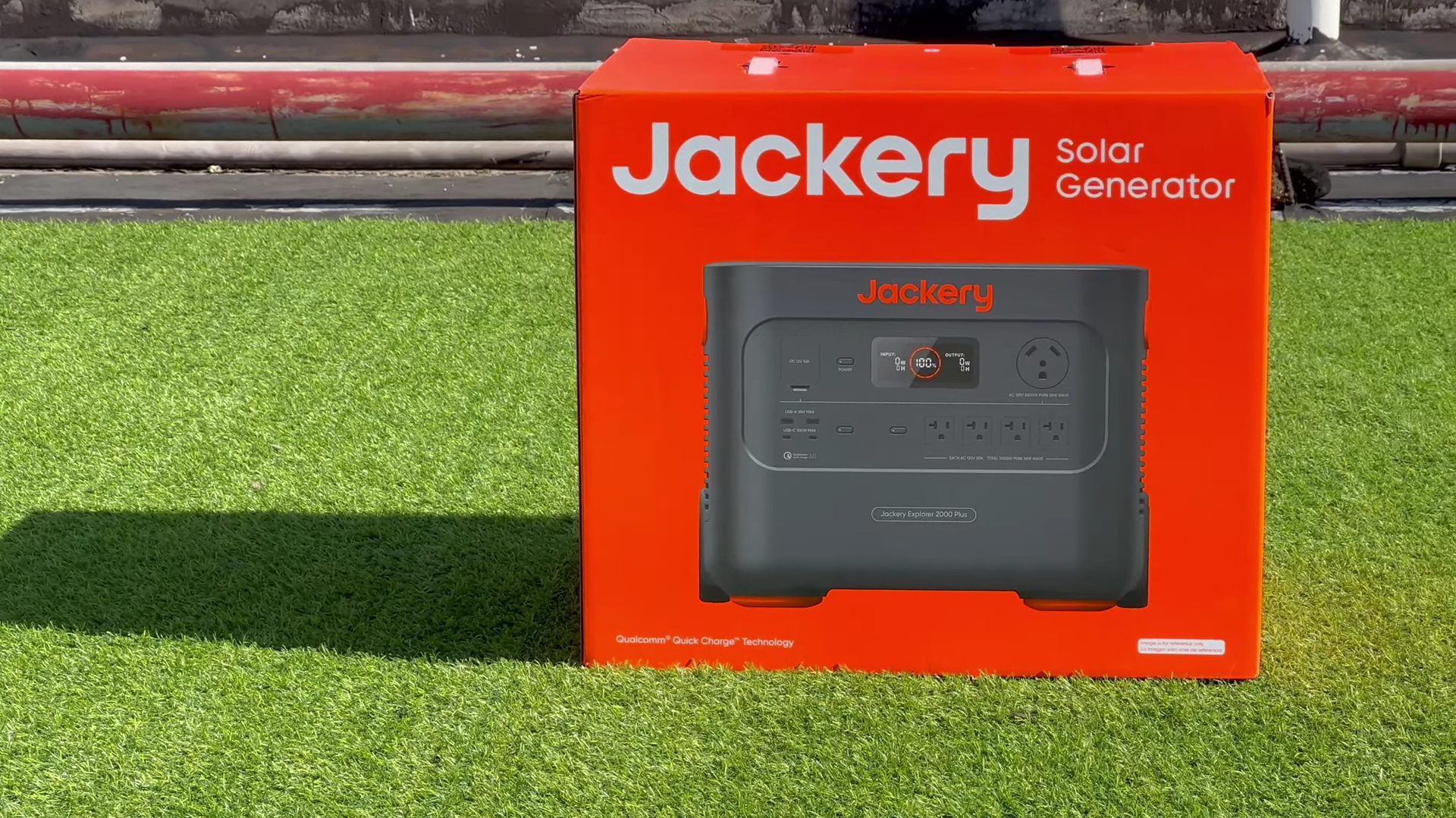 First, let's check what's inside the box.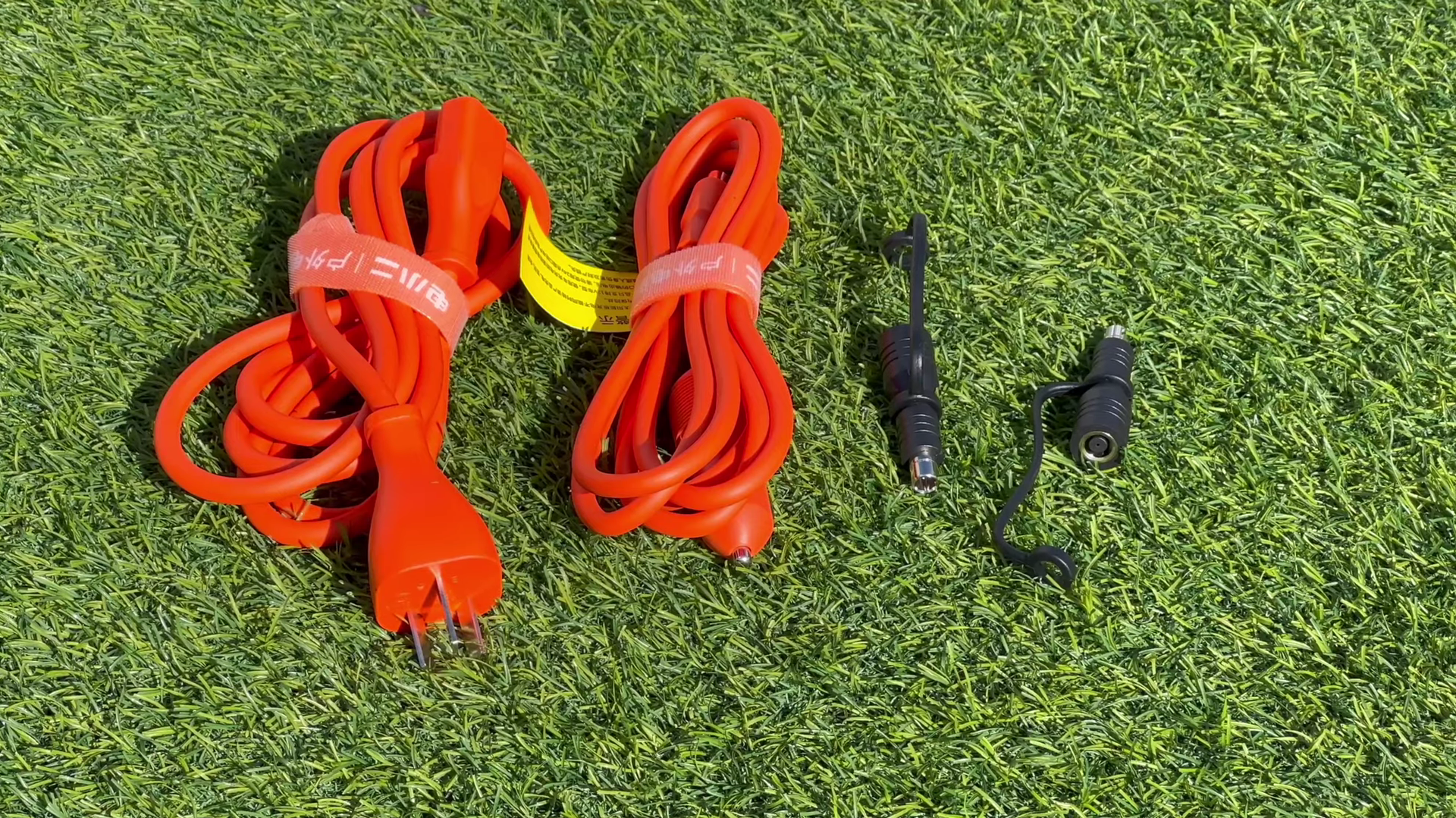 Except for the power station, it comes with an AC charge cable, a car charge cable, and two DC adapters.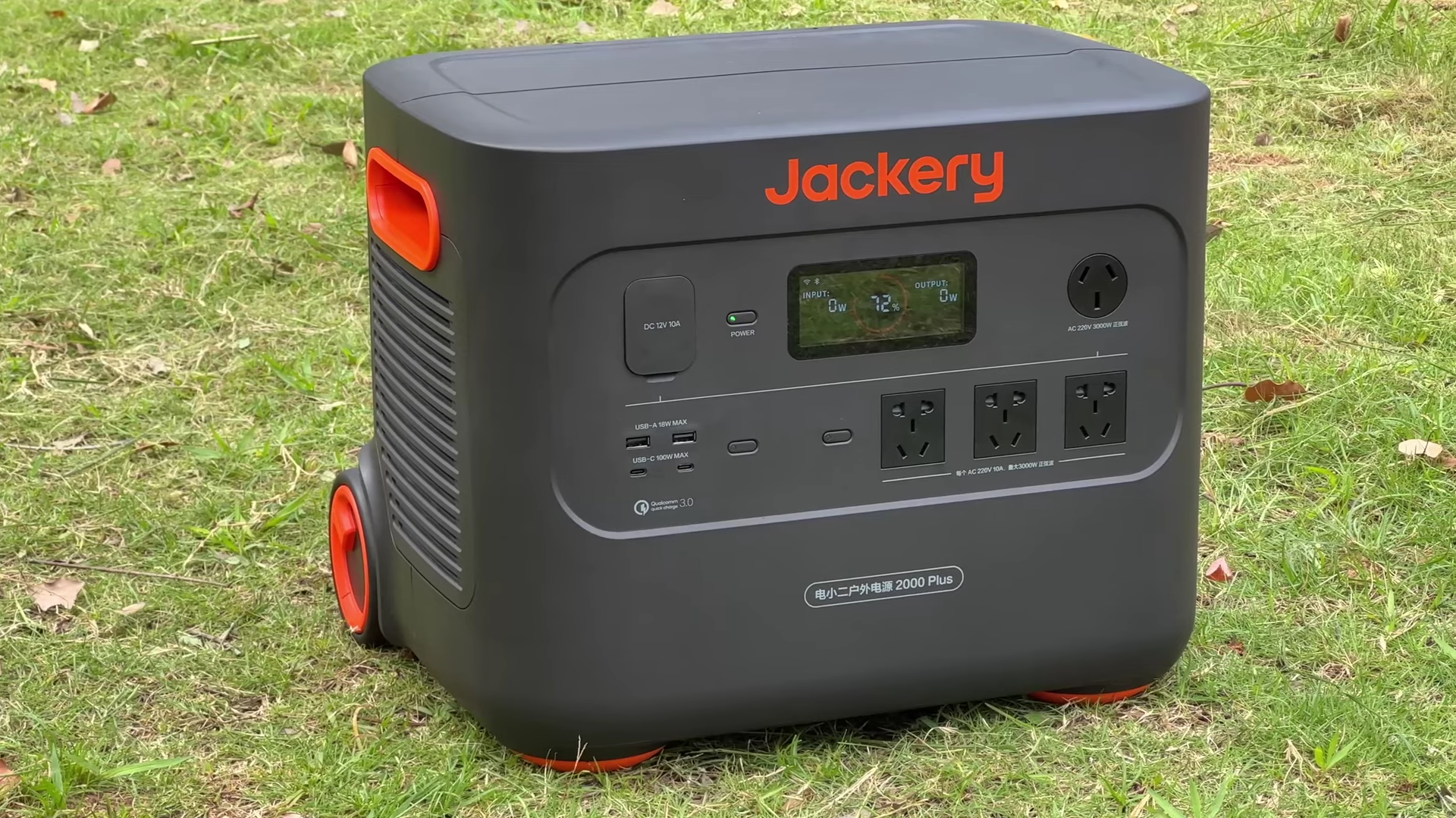 And the appearance still adopts Jackery's classic design. The black outer case and orange handles, wheels, and brand name make it very recognizable. It features a high-grade aluminum alloy frame, which provides characteristics such as shock resistance, fire resistance, and leakage protection.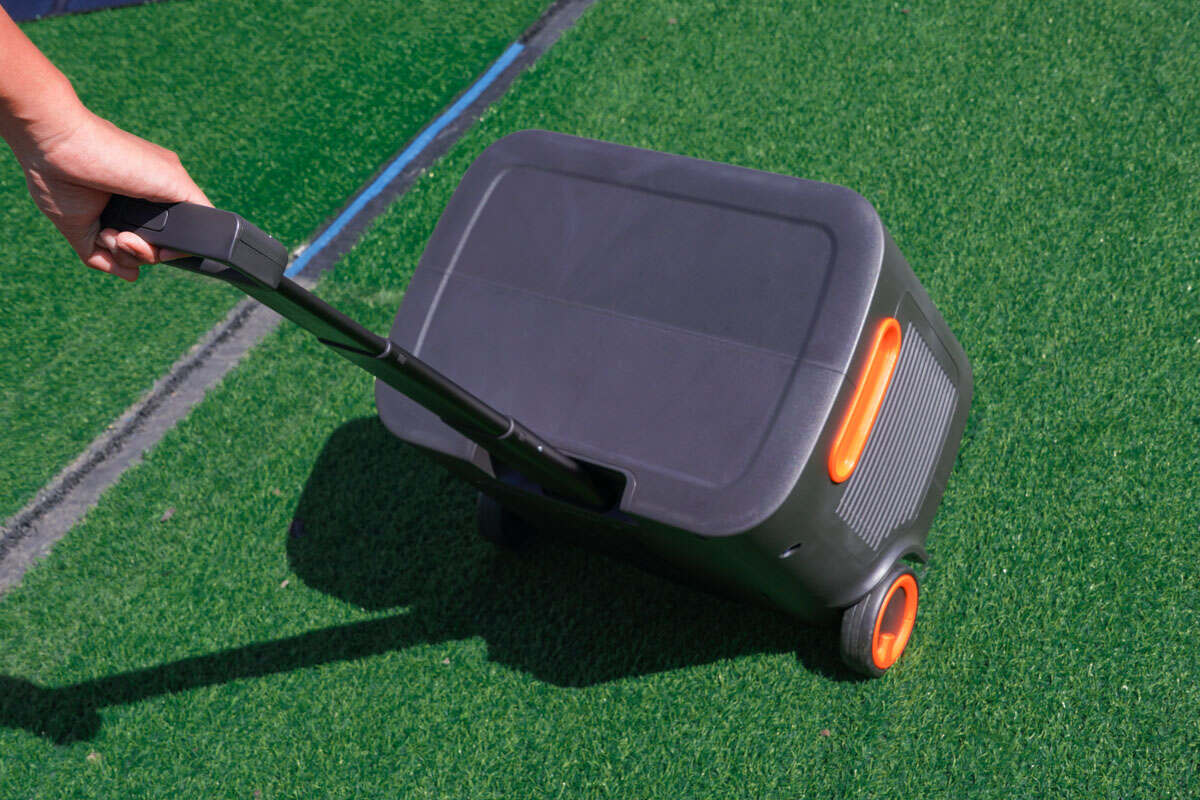 Except for two handles on the side, it's also equipped with a retractable handle on the back and two wheels at the bottom. You can drag it like a suitcase.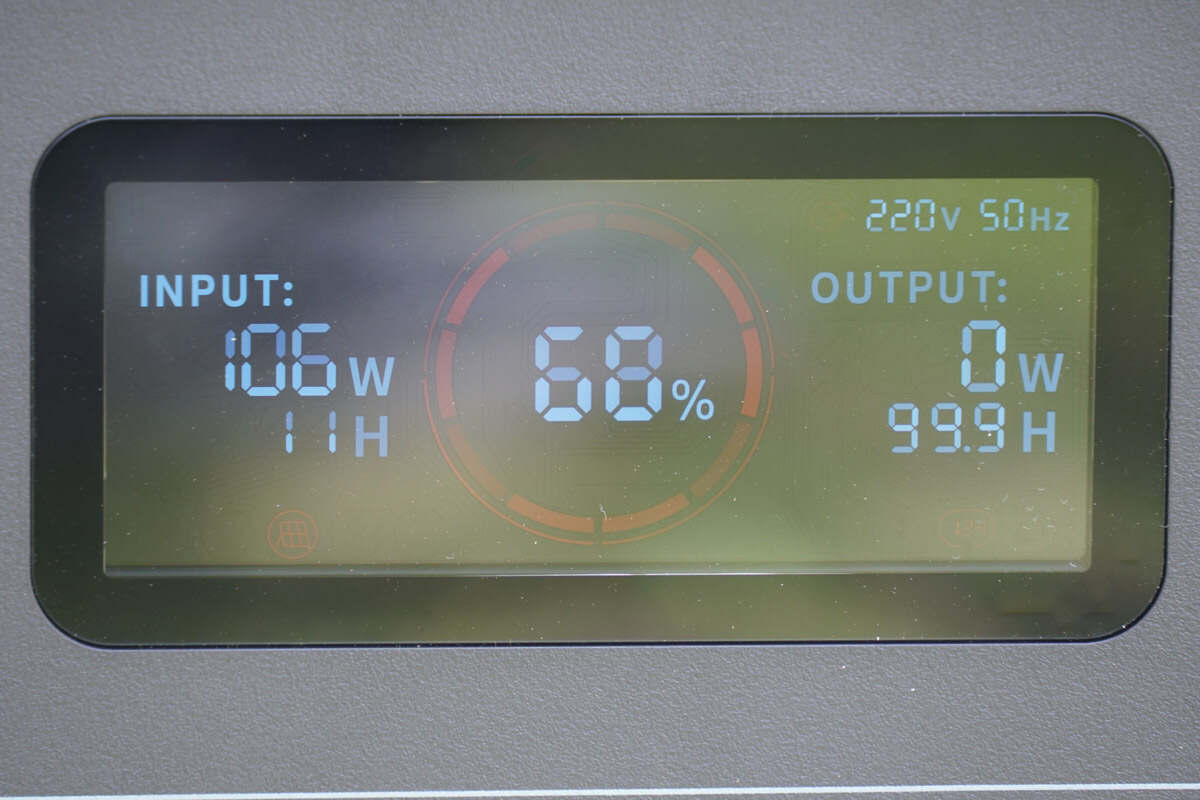 There's a display on the front. You can get basic info from that, like battery percentage, power, usage time, etc.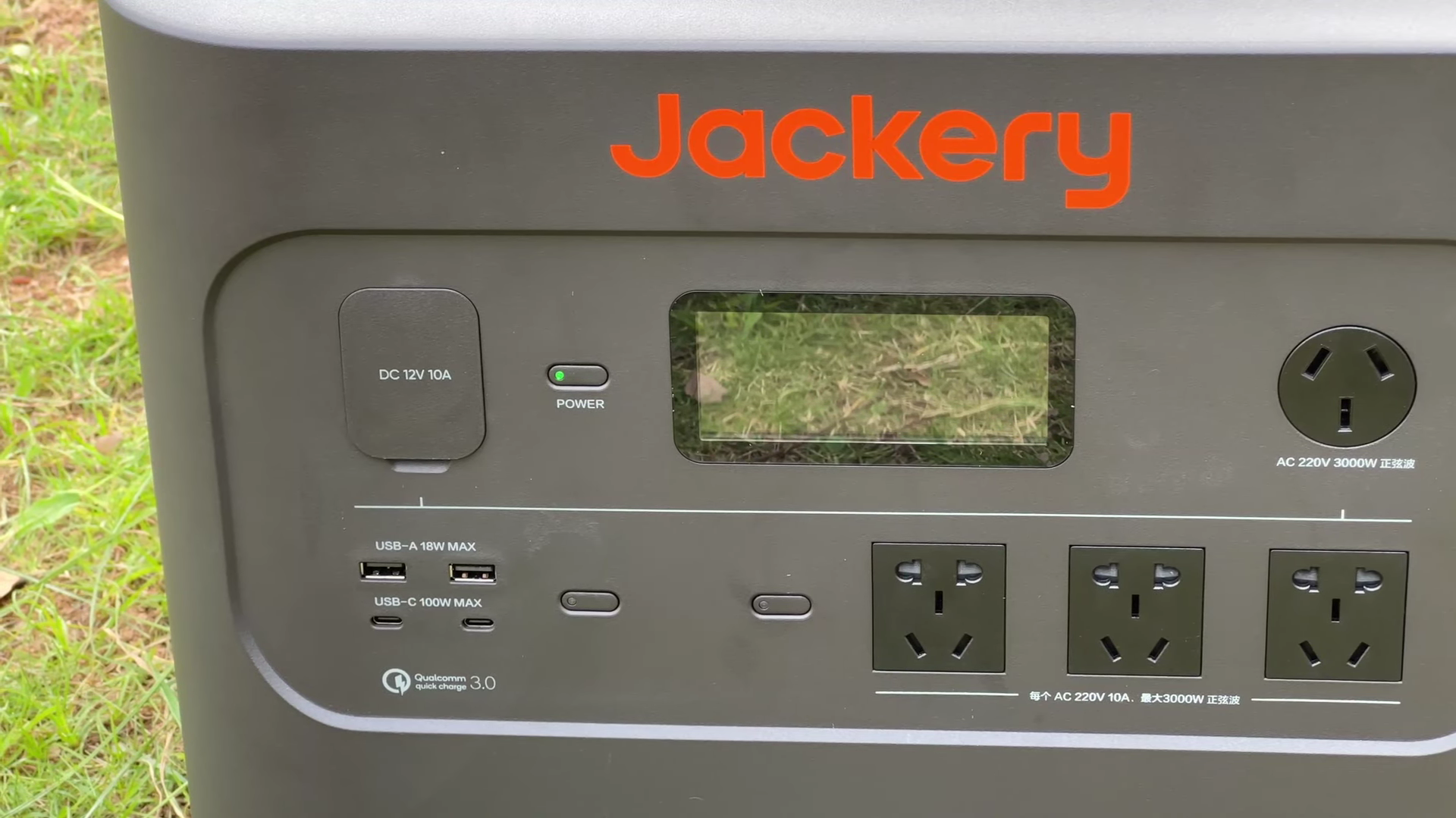 All output ports are on the front, including 4 AC outlets, two USB-C for 100W output, two USB-A for 18W output, and a car port.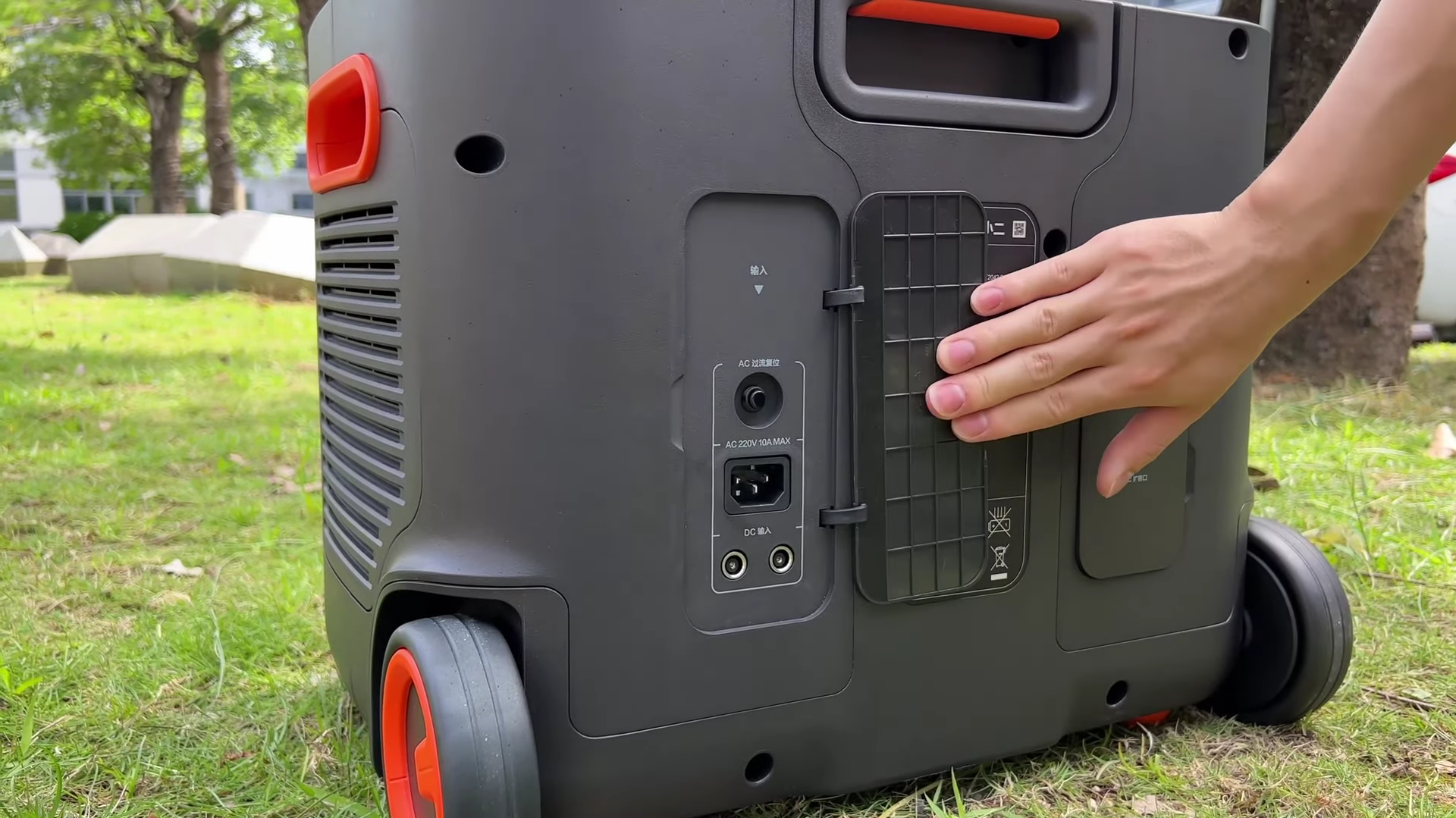 Those input ports are on the back. The AC and DC input ports are on the left.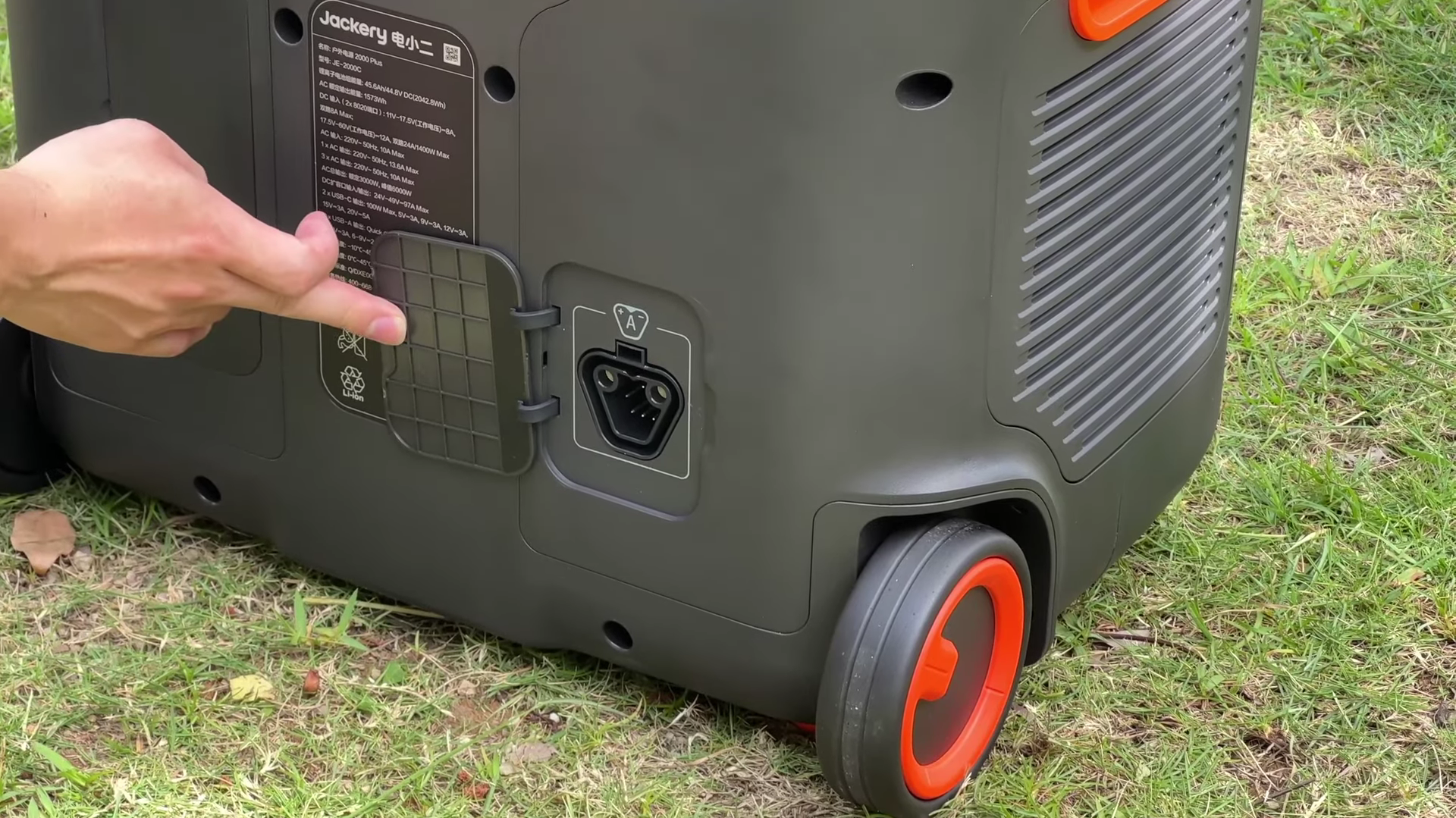 And the DC expansion port is on the right.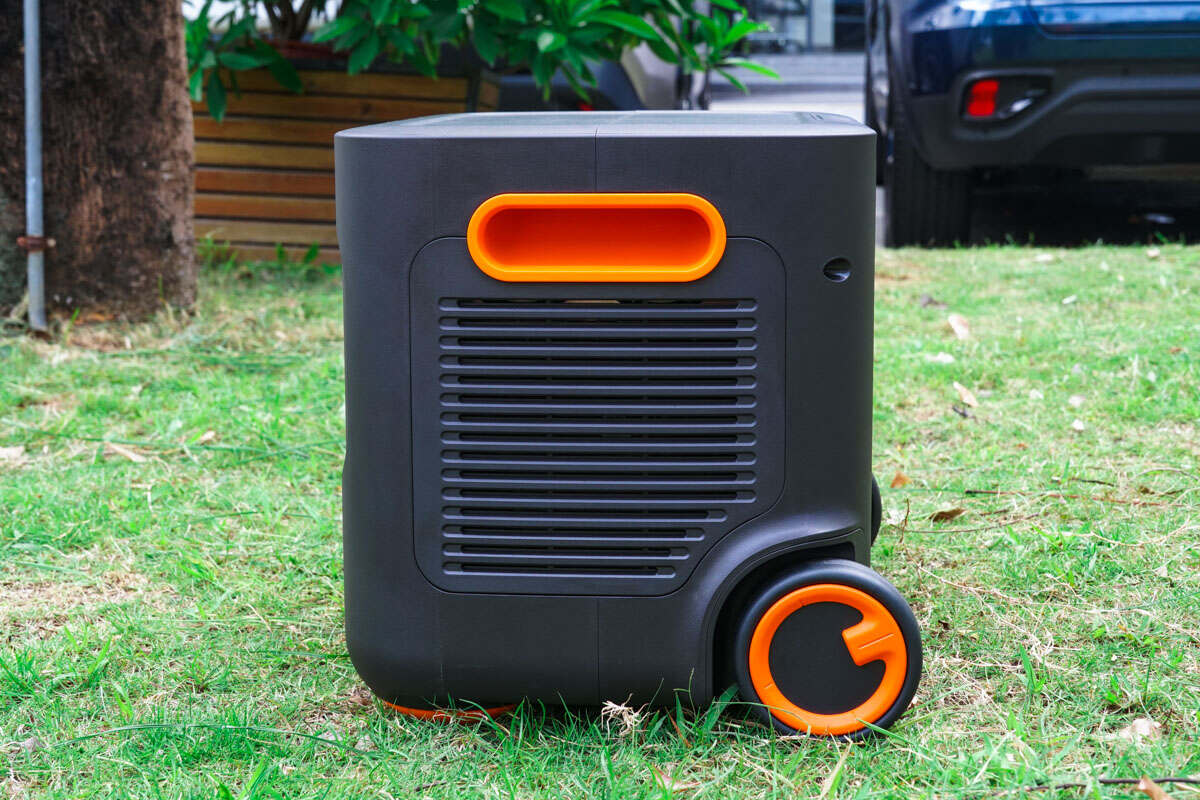 The ventilation grid and cooling fan are below two handles. The regular charging mode under cosy weather produces a maximum fan noise of 42dB, while the silent mode reaches a maximum of only 30dB, which is not significantly different from the decibel level found in a library.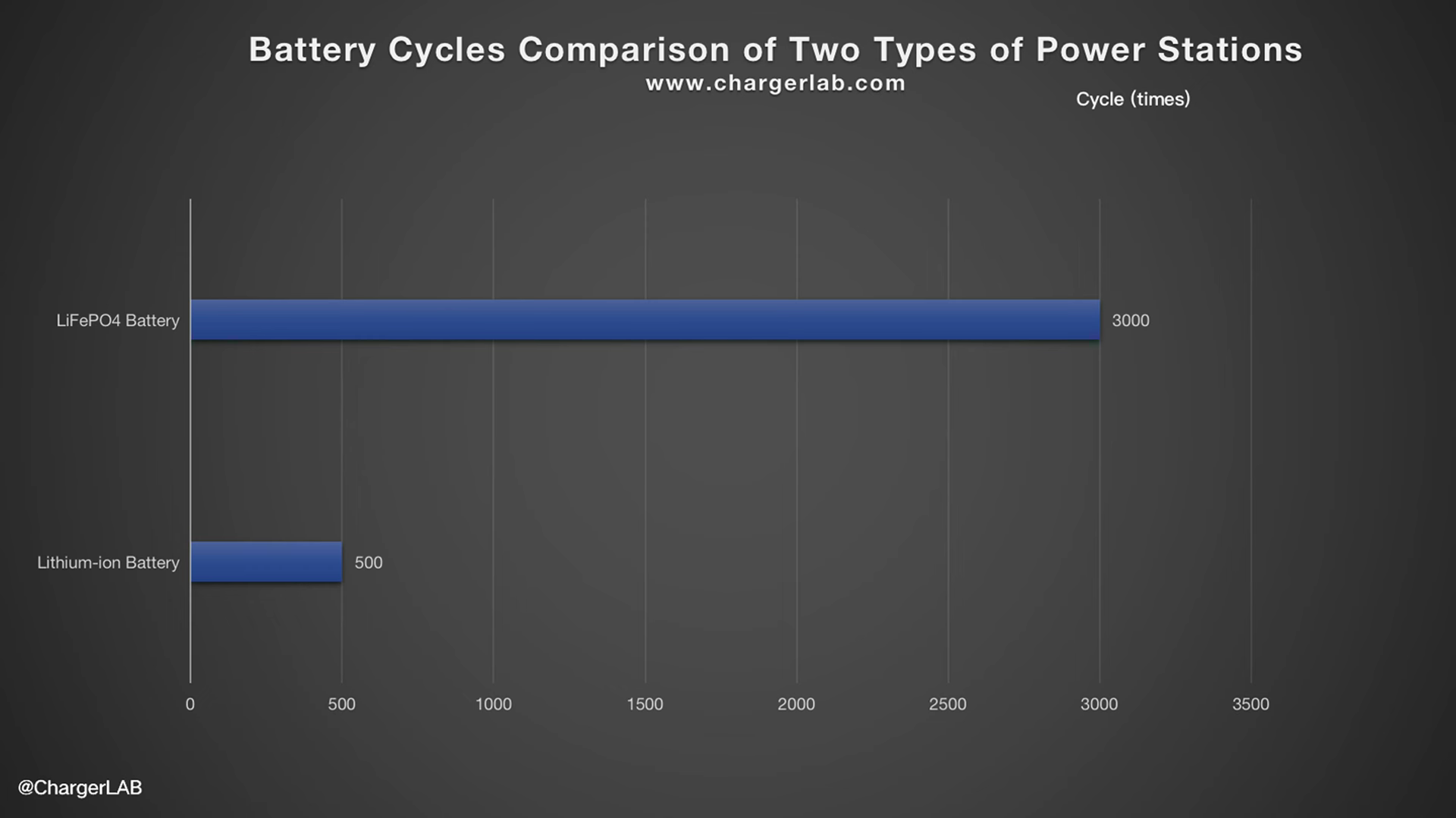 It integrates a 2042Wh LiFePO4 battery, which has much longer battery cycles than the lithium-ion battery.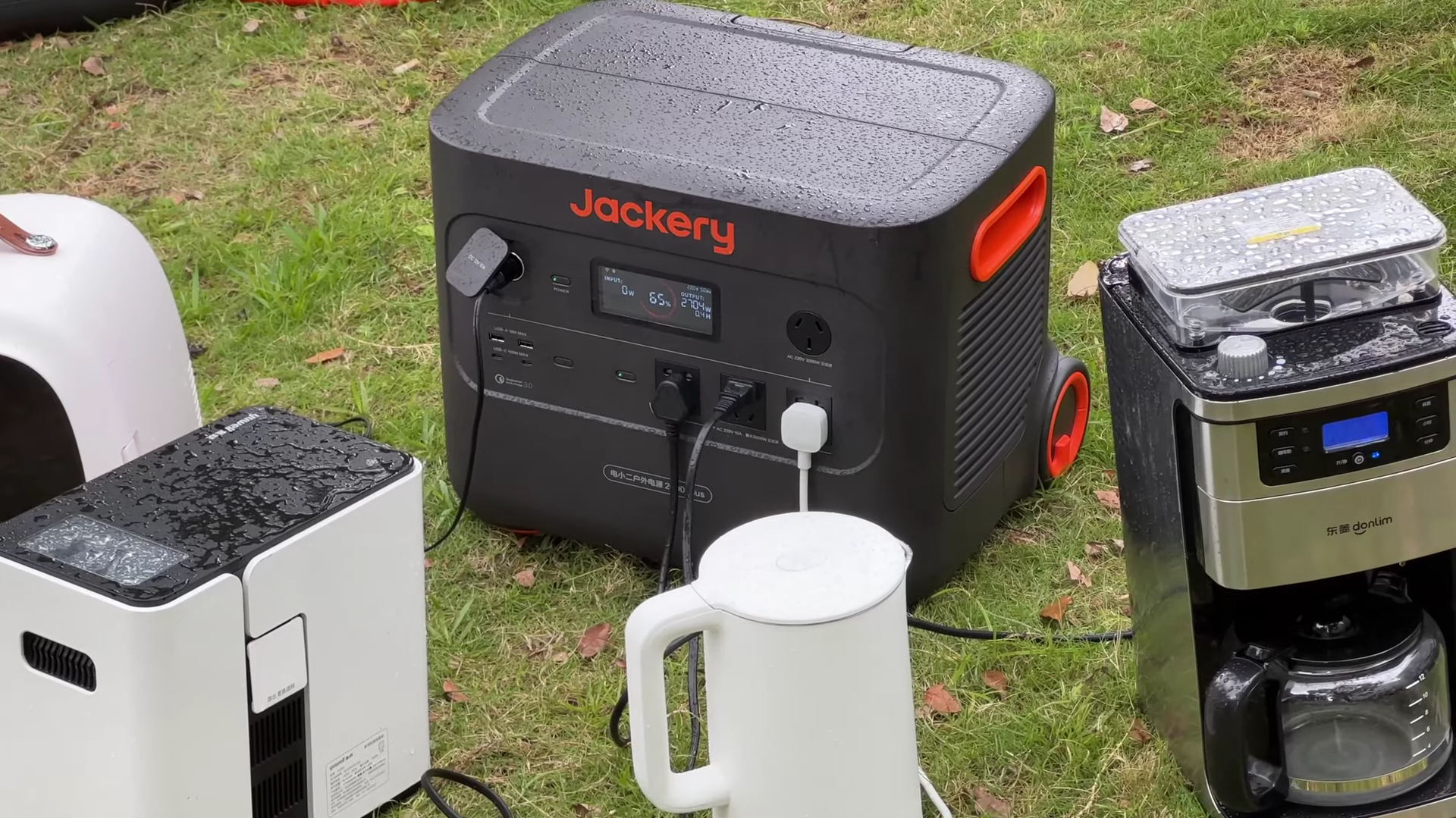 And the LiFePO4 battery is more stable in extreme cases, and is more suitable for outdoor environments, like high temperatures and rain.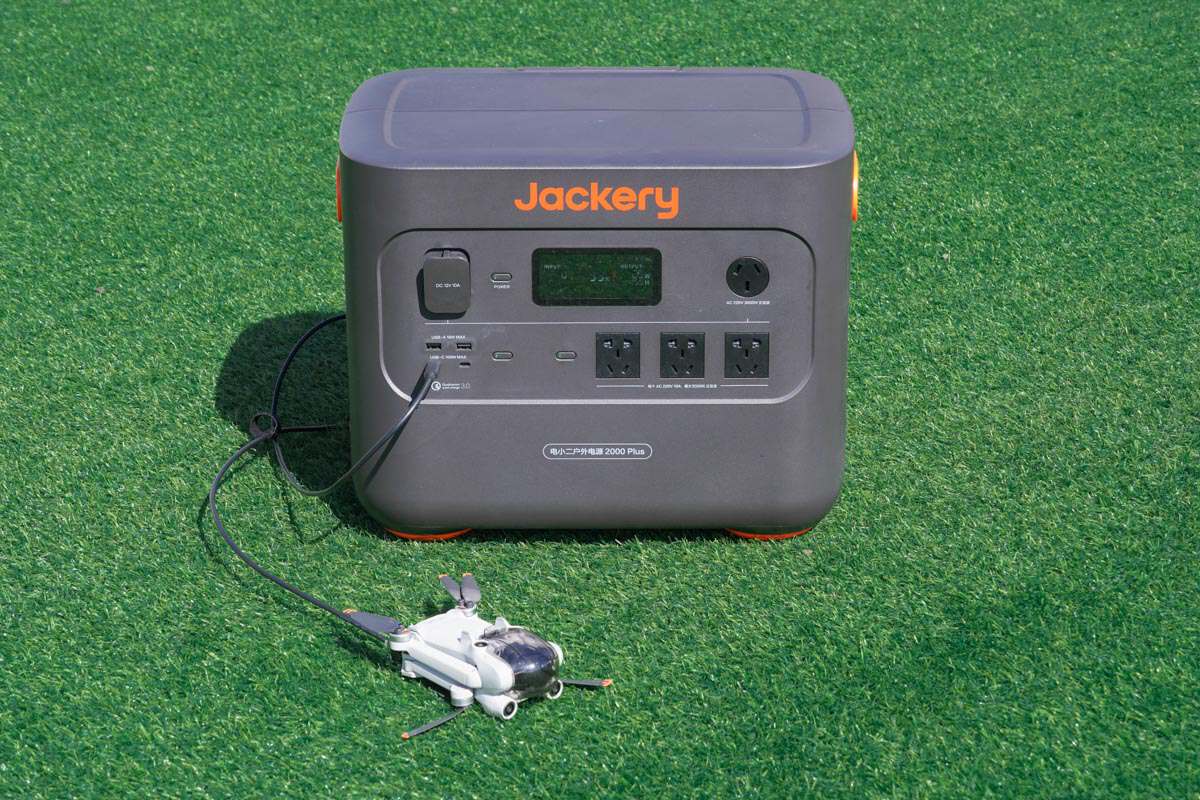 The 100W USB-C output can be used to fast charge most portable devices, like your phone, laptop, tablet, watch, and even the drone, and the USB-A can do 18W, good enought for some older phones.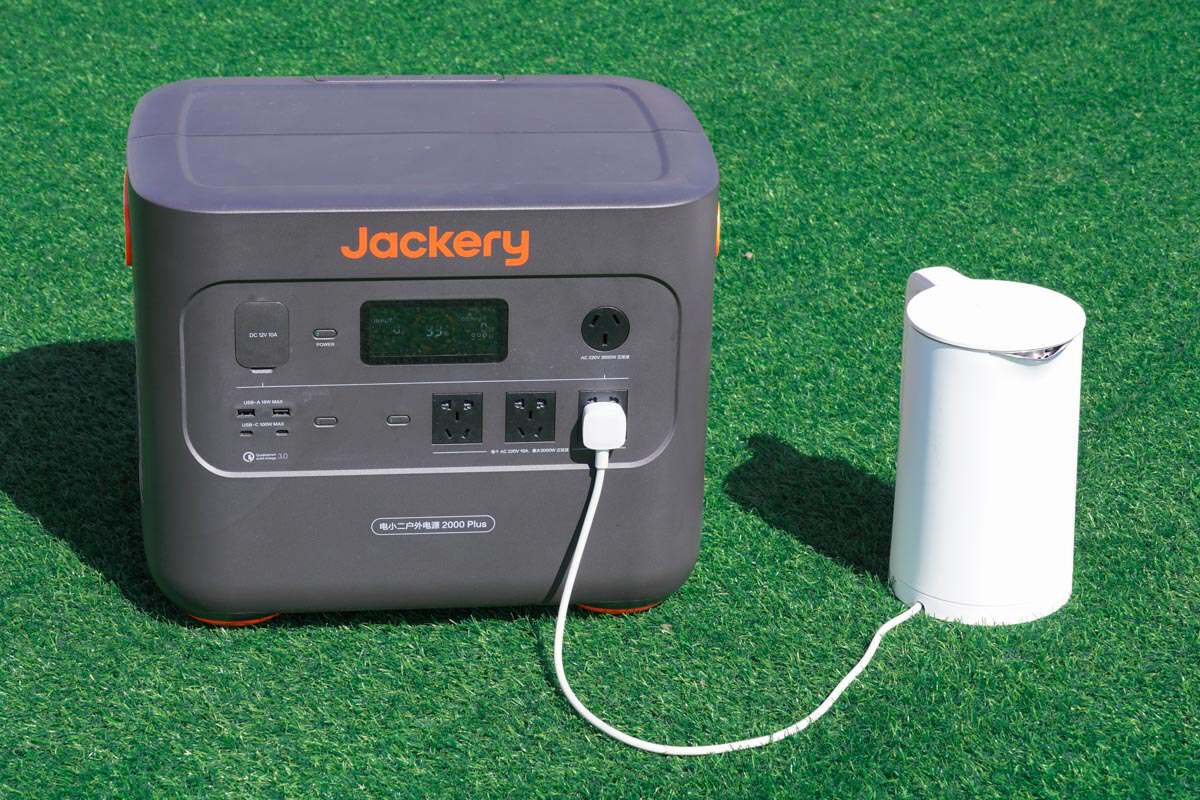 As for the AC part, the rated power can be up to 3000W, which covers 99% of household appliances. For example, you can bring your cooker, kettles, electric drills, ventilators, and coffee maker for camping meals. When faced with multiple devices running simultaneously, the 3000W power is more than sufficient, especially considering that the maximum power rating of most household outlets is around 2200W.
When it comes to camping, there's a critical problem, how to charge outdoors?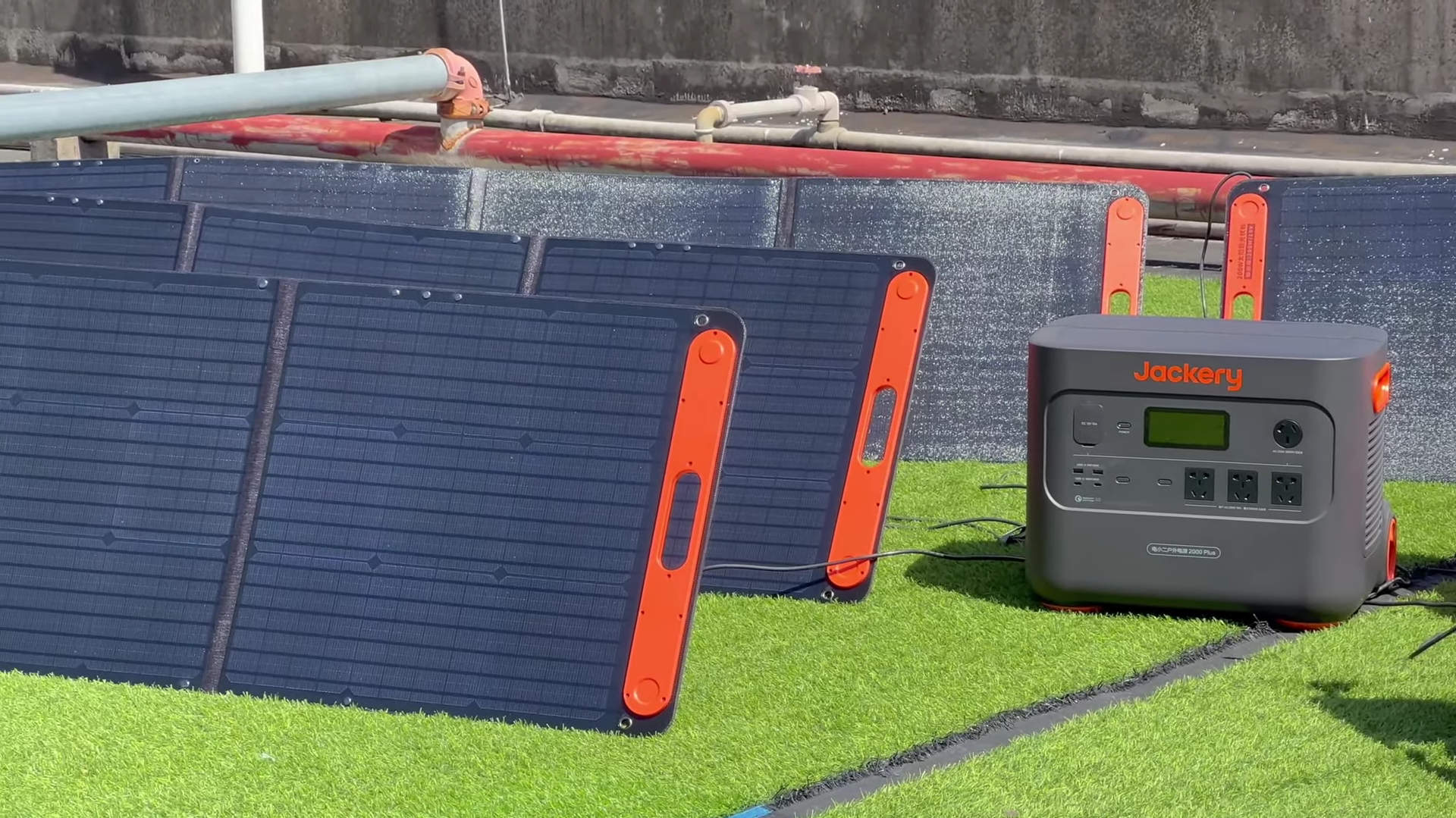 Jackery 2000 Plus supports up to six 200W SolarSaga solar panels. The total input power can reach 1200W, and it can be fully charged in 2 hours. Furthermore, this 200W solar panel has obtained the world's first IEC TS63163 consumer-grade photovoltaic product certification issued by TÜVSÜD, ensuring its charging performance is guaranteed.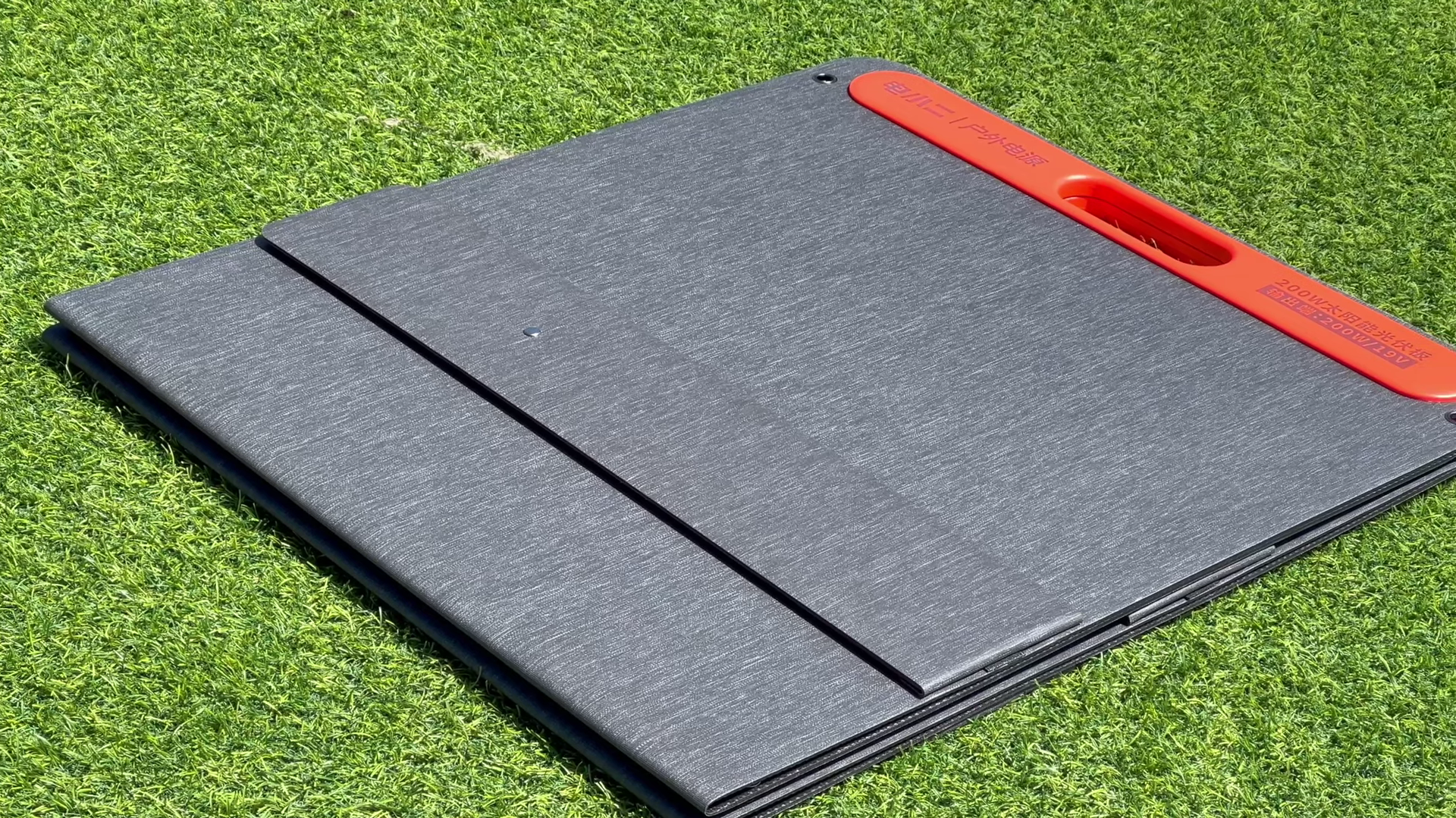 The solar panel integrates industrial-grade IBC batteries. The handle on the top makes it easy for you to carry around.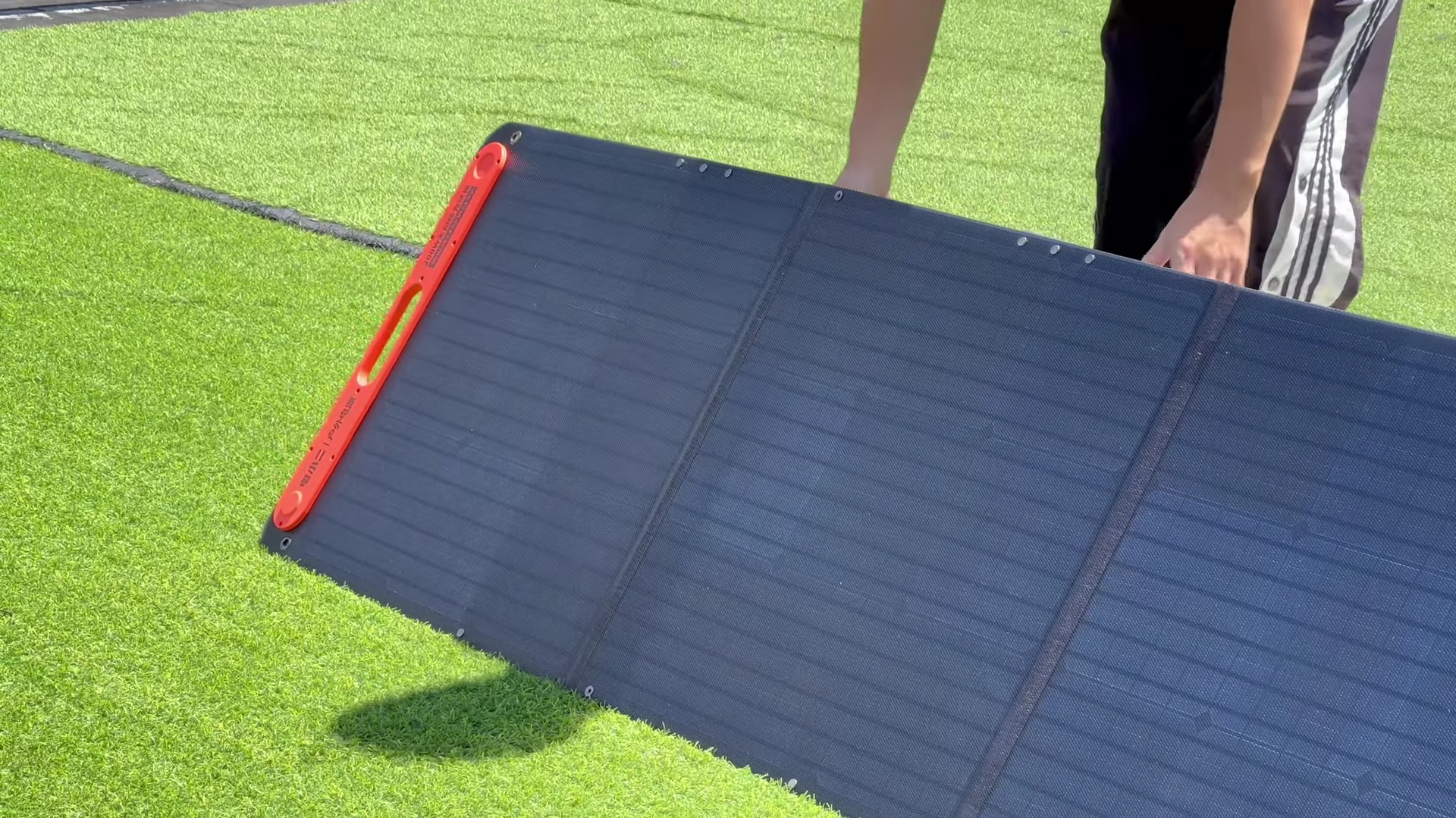 And it's also easy to set up.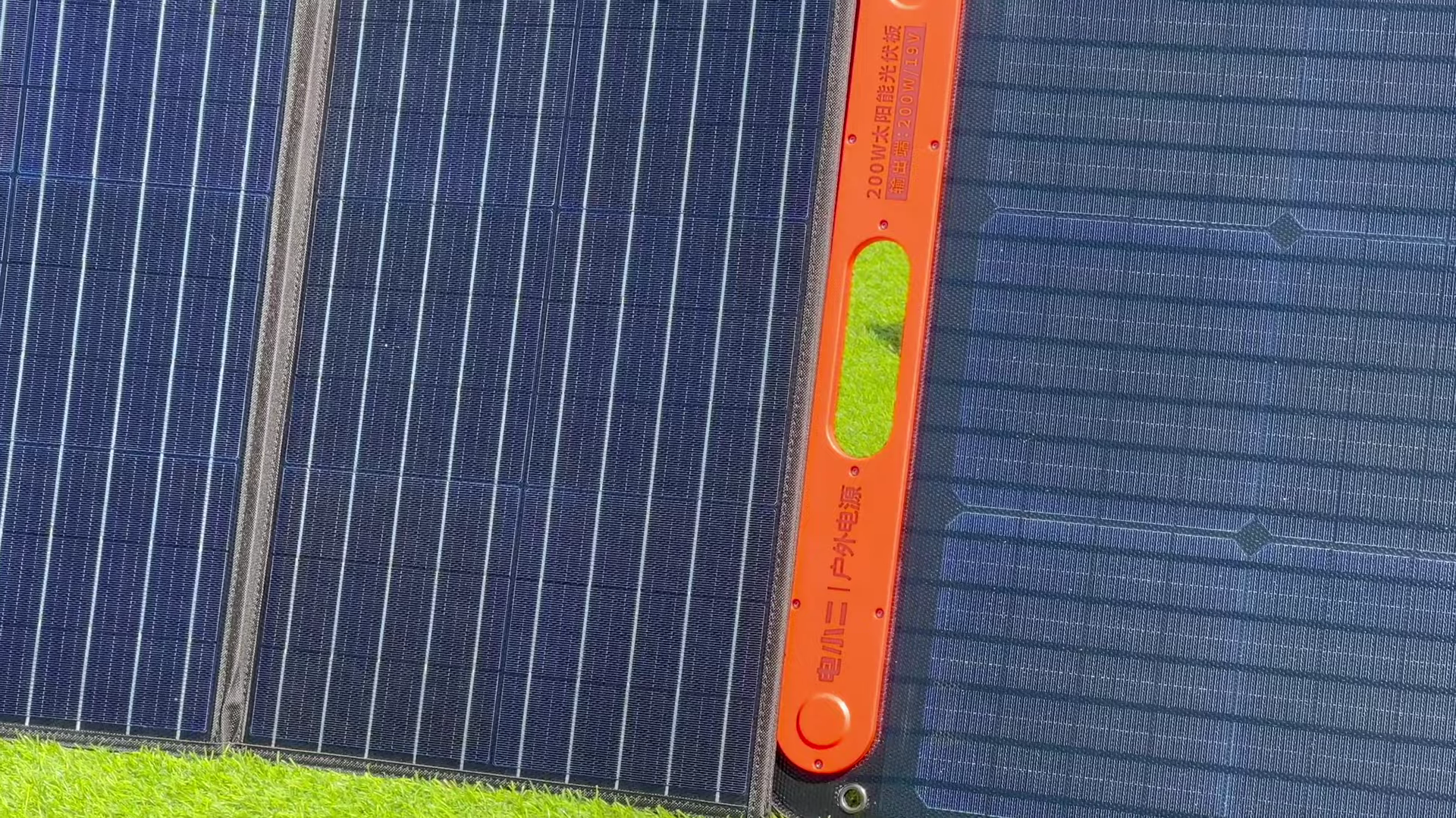 Unlike the SolarSaga 100W, there is no silver metal grid on the front of SolarSaga 200W. So, it can provide higher output power under the same conditions. The energy conversion efficiency can be up to 25%.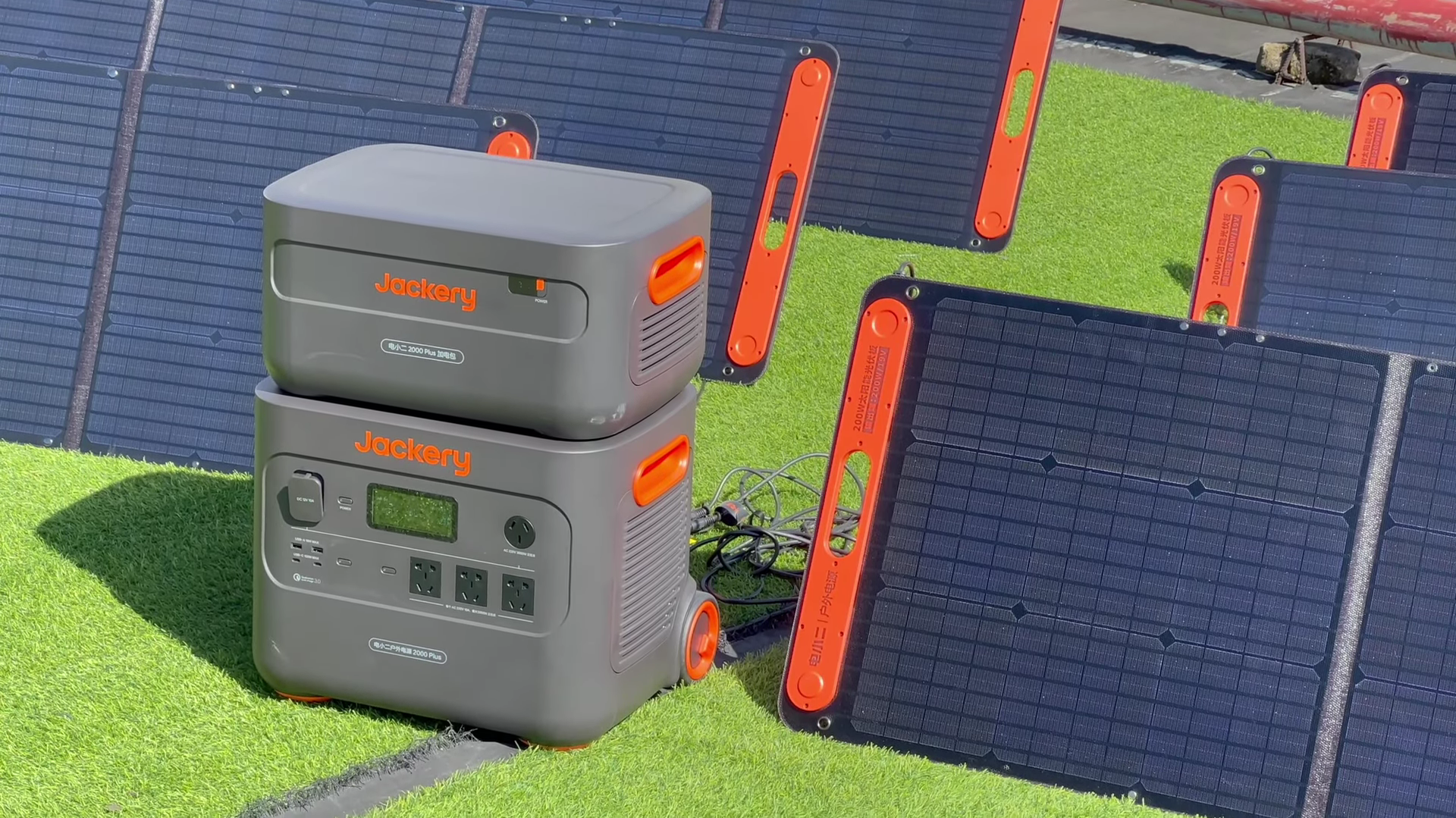 As we all know, light intensity will affect the conversion efficiency. In this case, IBC batteries can generate 50% more electricity than conventional batteries, and have better photoelectric conversion.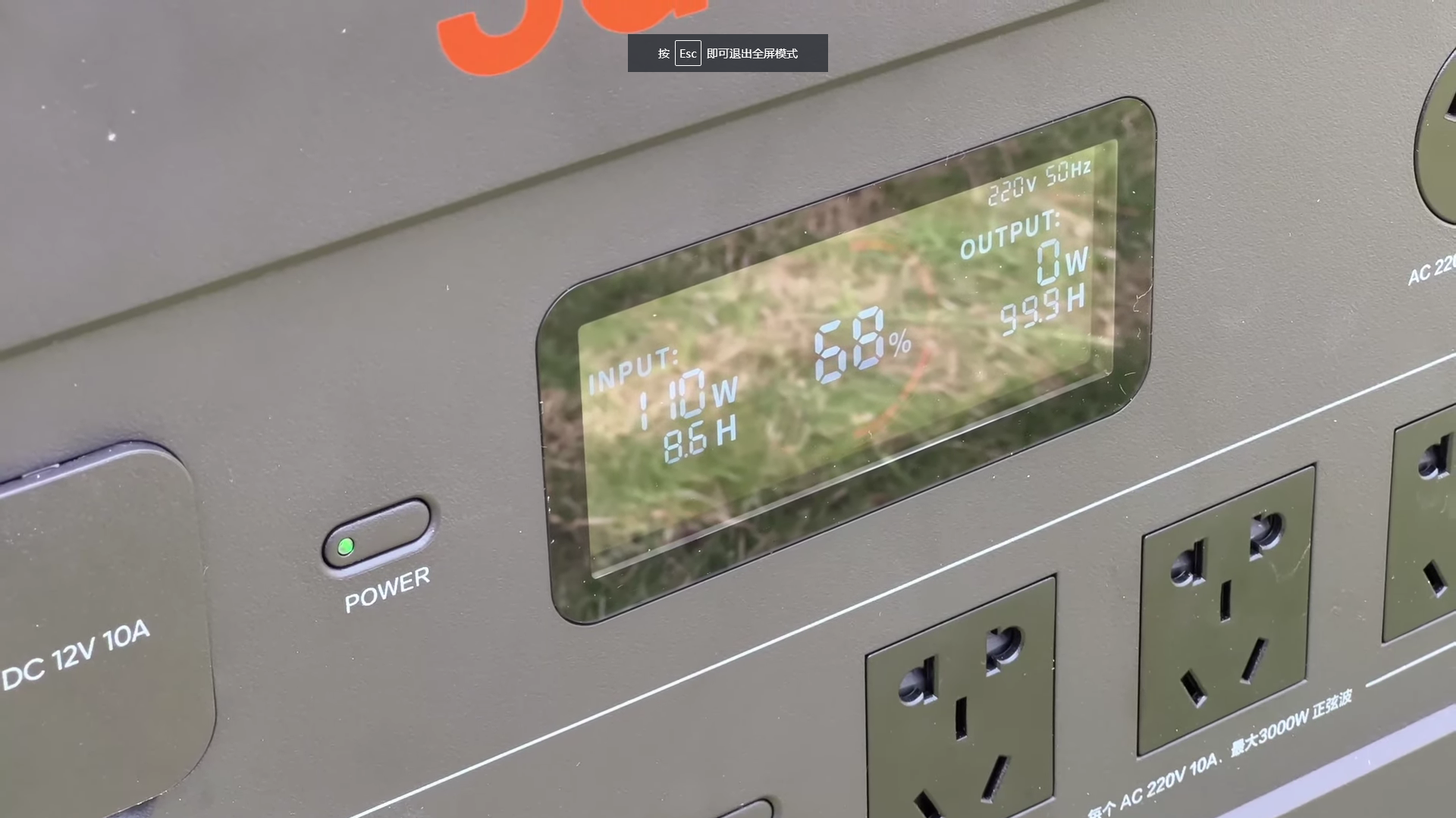 Our test shows that the real-time input power of a single solar panel can reach more than 100W under cloudy and rainy conditions.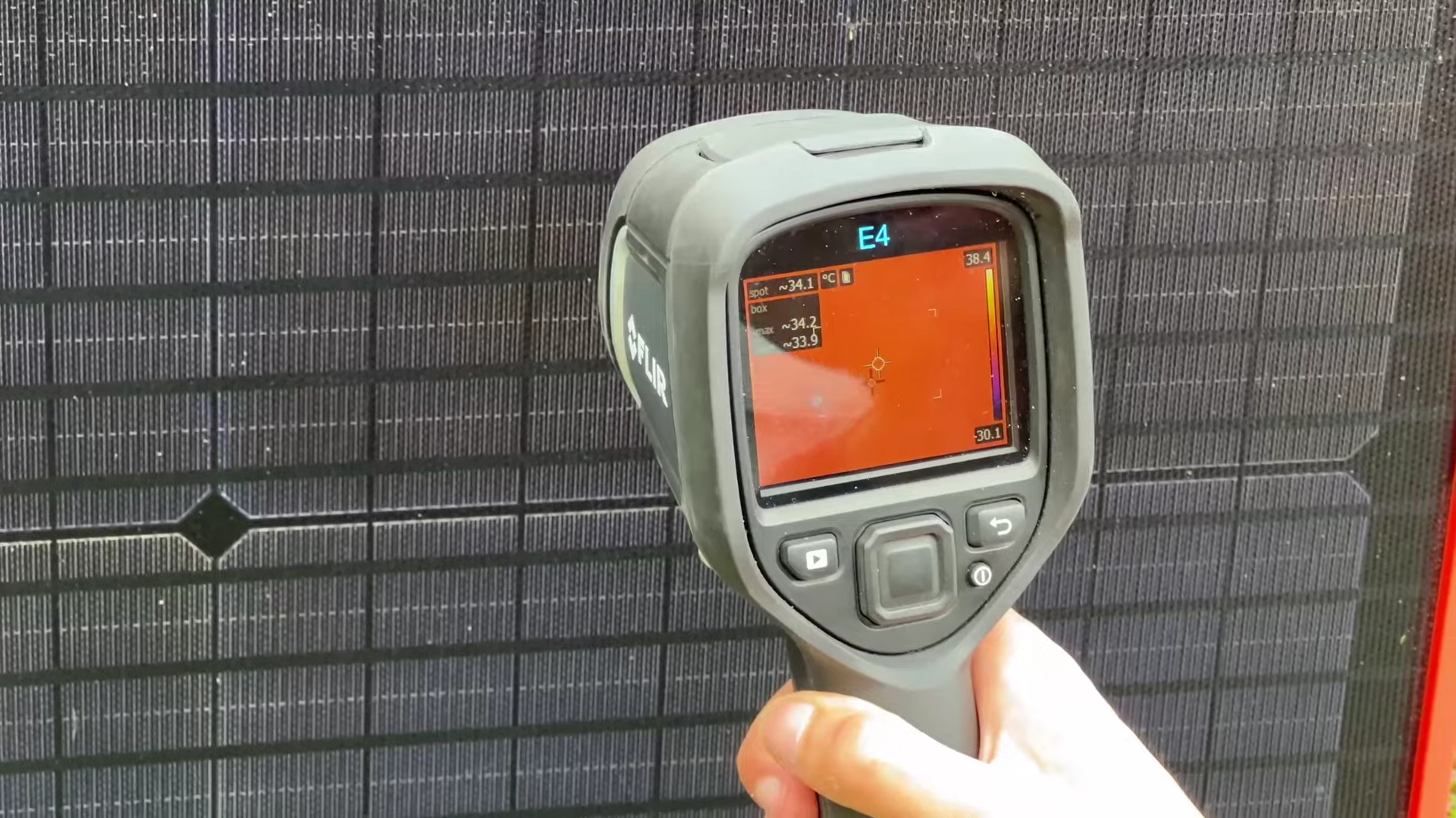 Likewise, power loss can be reduced by 40% in high-temperature environments.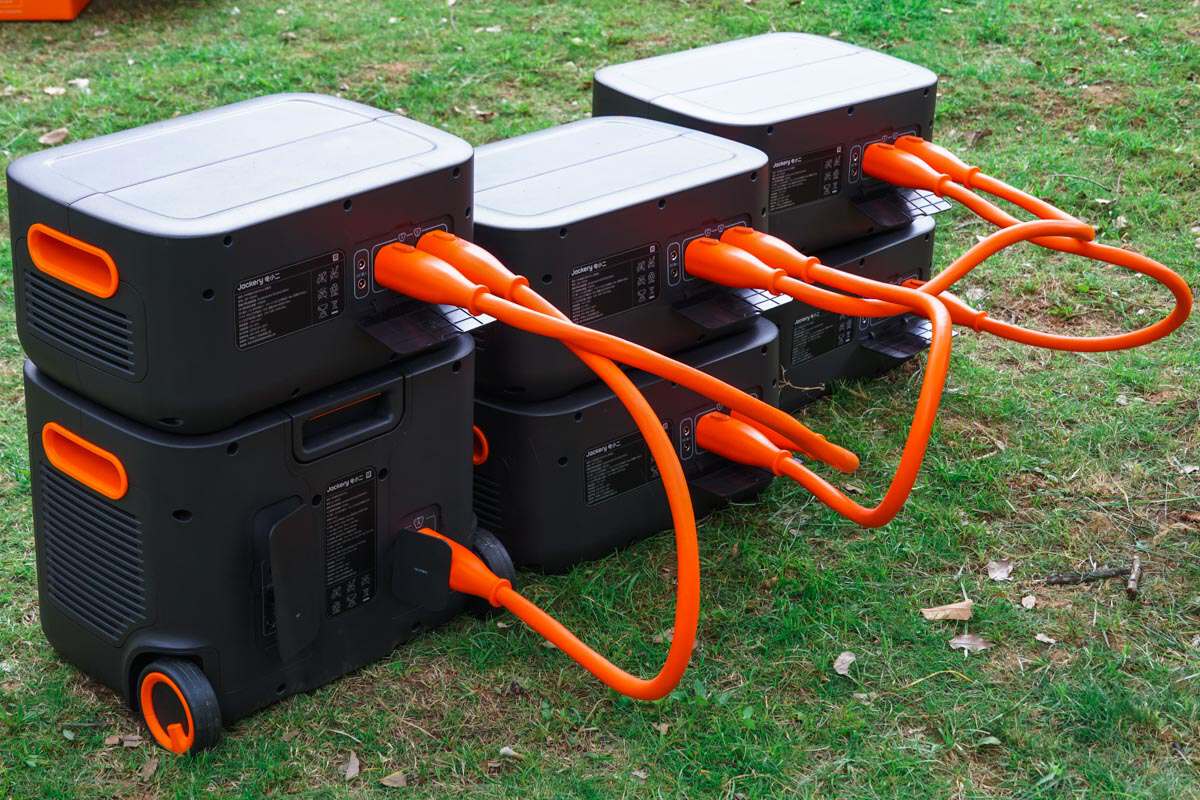 But for some extreme disasters, such as hurricanes, forest fires, earthquakes, wars, etc., we may not have a way to get power from AC outlets. And extra battery packs can be prepared in advance. Just connect the battery pack to the DC expansion port we just mentioned. The total energy can reach 12KWh, which can last for a week.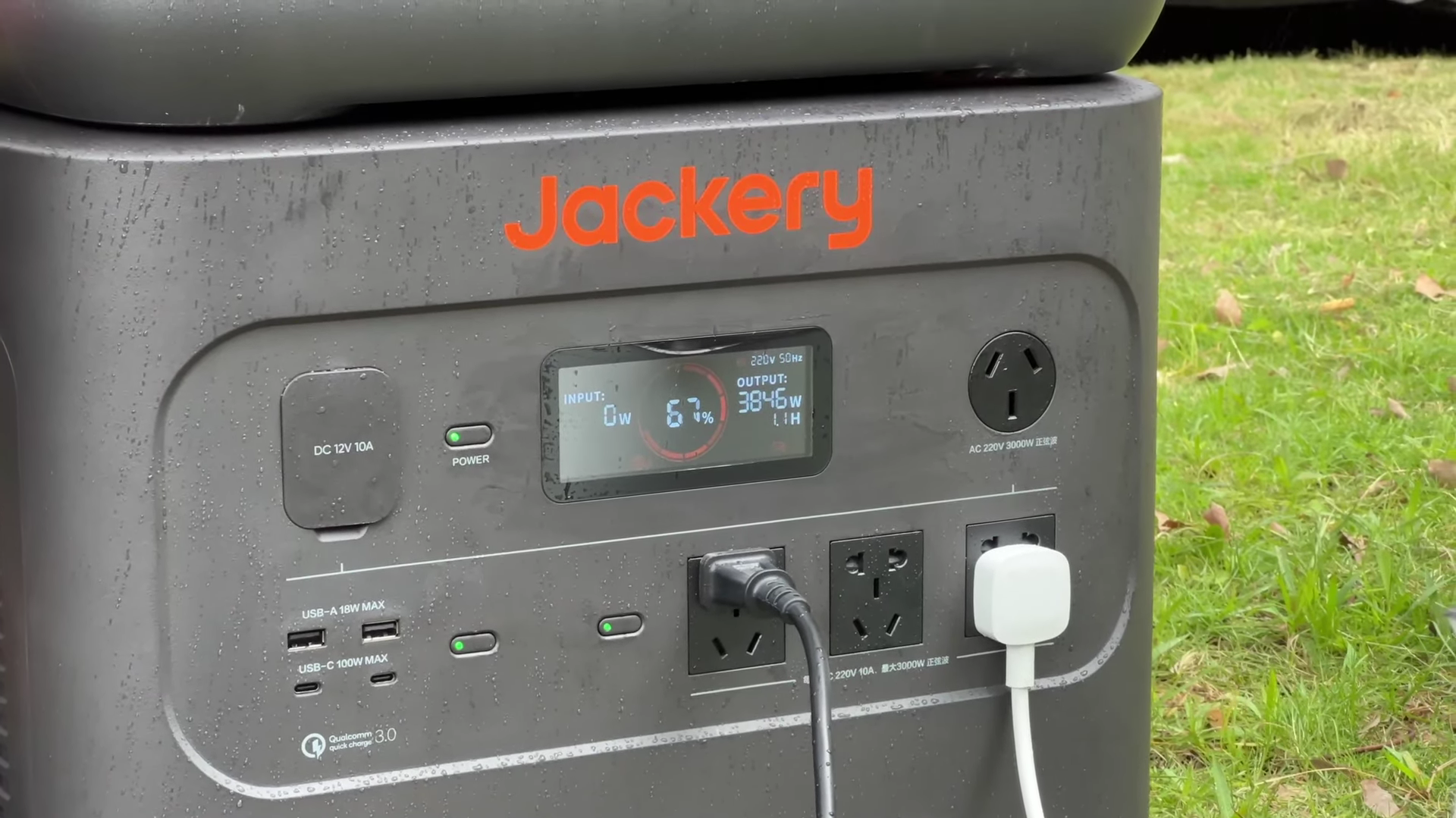 The highest total output power can even exceed the limit of 3000W.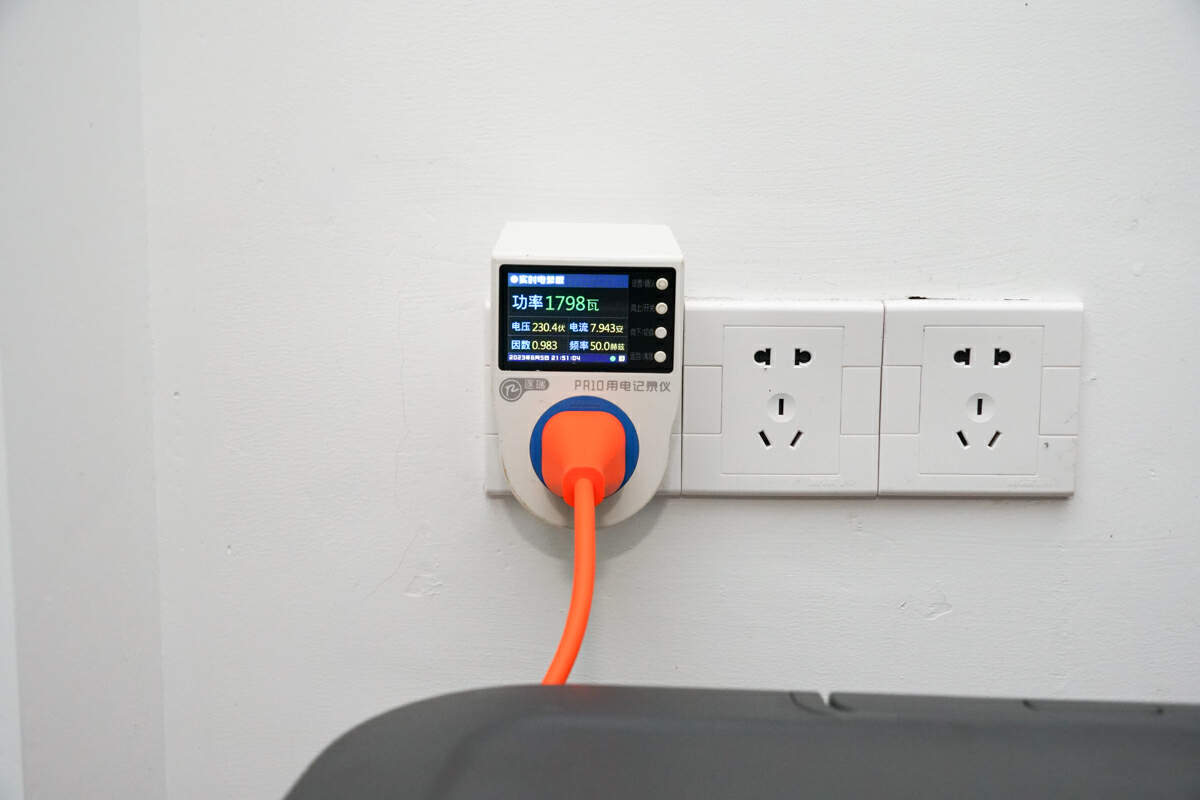 Of course, the most convenient way to charge it is to plug it directly into the AC outlet. As for that, the 2000 Plus supports 220V10A input and is equipped with ChargeShield safe fast charging technology. This ensures that the battery operates at its highest efficiency and optimal state, reducing the risks of charging in low and high-temperature conditions. Even in a high-temperature environment of up to 45℃, safe charging is guaranteed. We tested the charging curve of fully charging the Jackery 2000 Plus at 220V 10A. It's faster than we expected.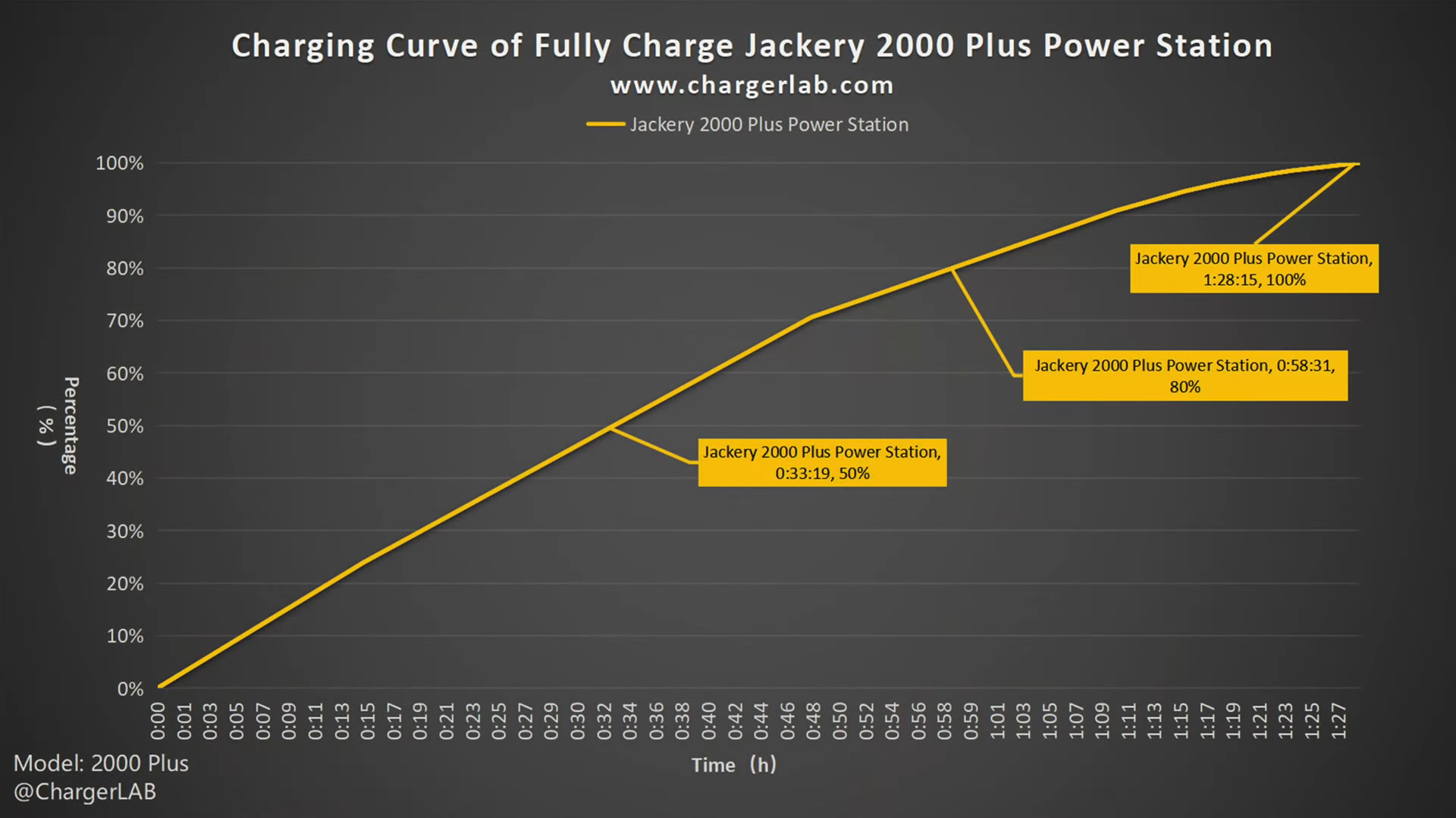 It only takes 33 minutes to reach 50%, 58 minutes to reach 80%, and it takes 1 hour and 28 minutes to be fully charged. Of course, the AC input of 120V 15A will be slower.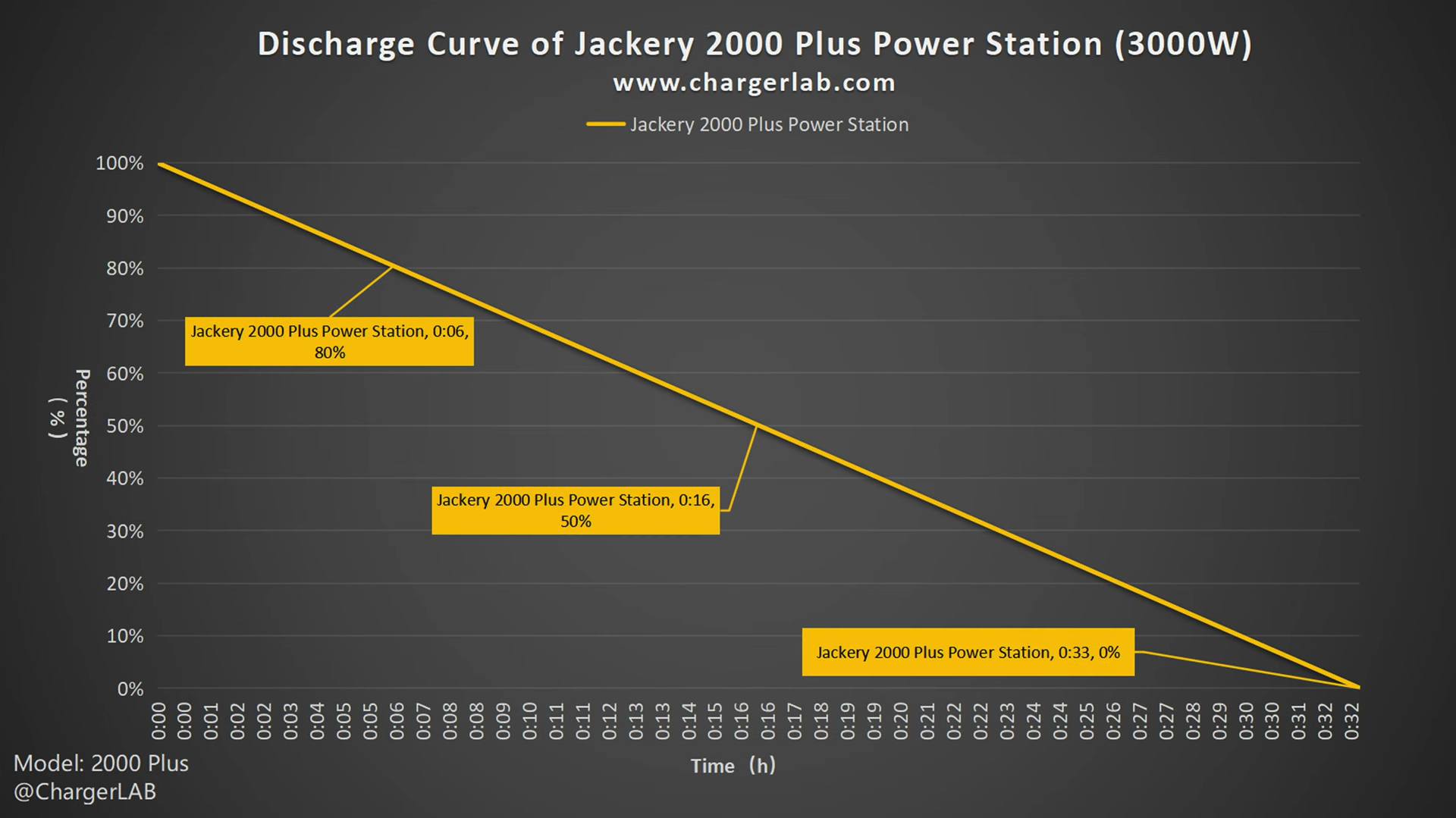 We also tested how long it last at a peak power output of 3000W. It drops to 80% in 6 mins, 50% in 16 mins, and it can be fully discharged in just 33 minutes. Additionally, Jackery has designed an exclusive app for the 2000 Plus, allowing remote control through Bluetooth or WiFi. The app provides a variety of customizable settings, including the ability to set shutdown times and enable family sharing features. Users can enjoy the convenience of managing the power station from their smartphones, enhancing the overall user experience.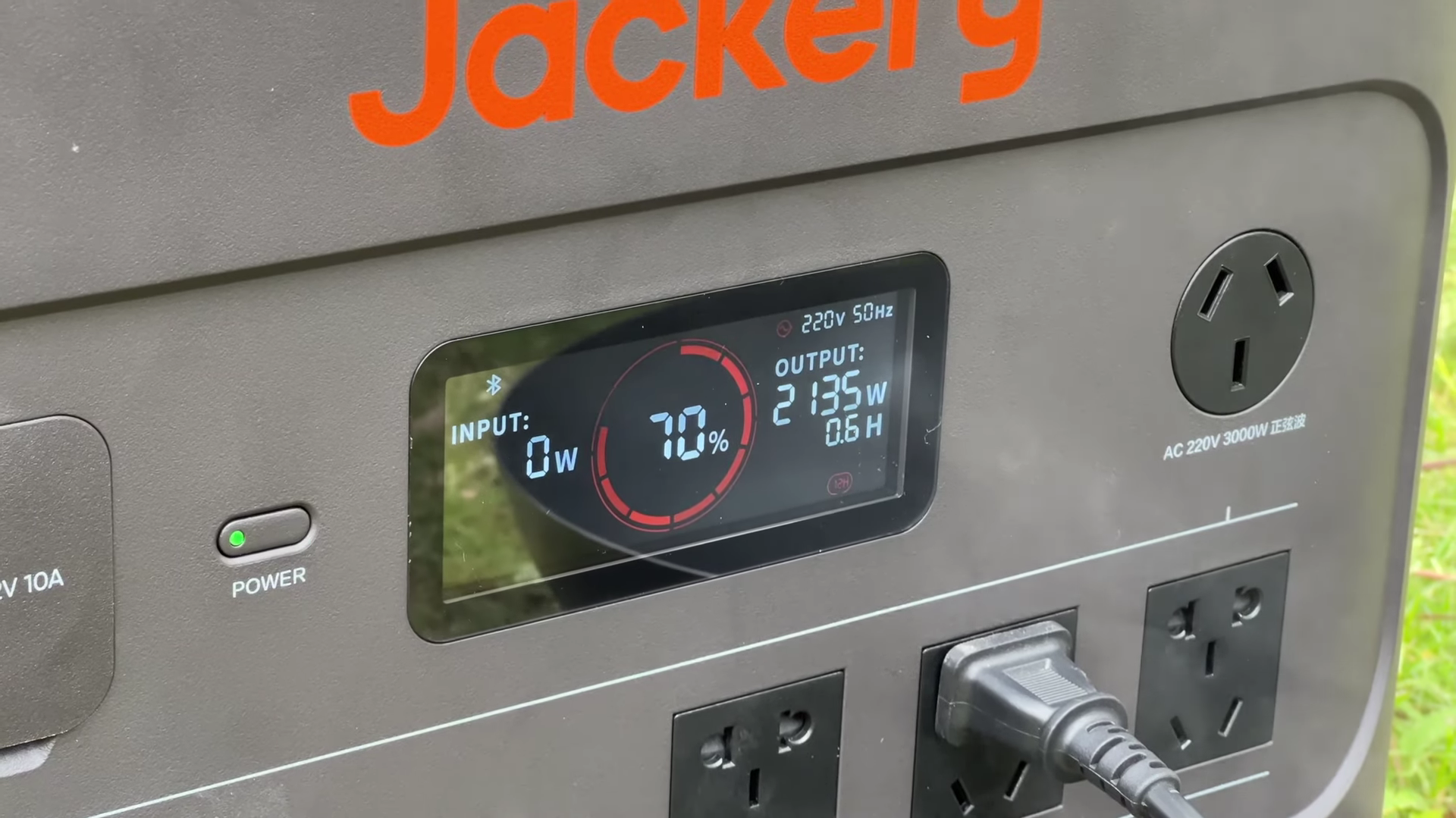 But for daily use, we do not need such a long-time high output, the test results are for reference only.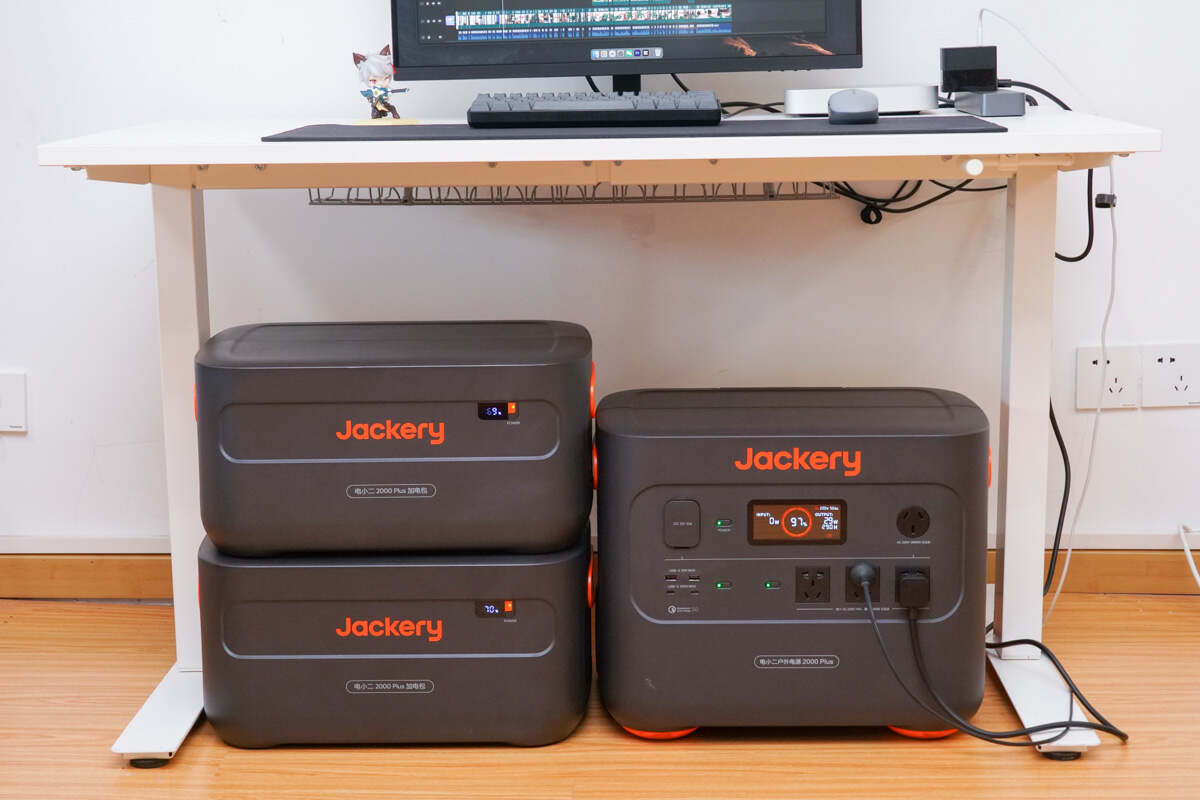 Finally, the 2000 Plus is equipped with the Emergency Power Supply (EPS) function, which allows for automatic switching to emergency power supply within 20ms in the event of a sudden power outage from the grid. This feature ensures uninterrupted power supply for devices with relatively low requirements for continuous power, such as monitors and computers. However, it should be noted that this function is not intended for professional-grade UPS (Uninterruptible Power Supply) use.
Summary of ChargerLAB
Well, this is the latest release Jackery 2000 Plus we introduce today. It's bigger, heavier than previous generations, but it's more powerful. The input and output conversion efficiency have been significantly improved. Thanks to Jackery's ecosystem, it can be charged through solar panels, and extra battery pack makes it expandable, which is critical in a time of frequent extreme natural disasters.
In recent years, there has been a global shift towards green and low-carbon energy consumption, catalyzing the rapid development of portable and renewable clean energy markets. Leveraging its leading position and expertise in green energy, Jackery has made comprehensive strides in markets such as China, the United States, Canada, Japan, South Korea, Germany, and the United Kingdom. Their products are widely used in various fields, including self-driving travel, aerial photography, surveying and exploration, mobile healthcare, picnics, camping, and entertainment.
Related Articles:
1. Review of Jackery SolarSaga 200W Portable Solar Panel
2. Jackery Explorer 2000 Plus Steals the Show at Intersolar Europe 2023
3. Review of Jackery Explorer 2000 Plus LiFePO4 Portable Power Station (Video)
The article is originally written by @
Joey
posted on Chargerlab. All rights reserved.